Pulled Pork Sandwich with Cucumber Slaw
Photos by Megan Welker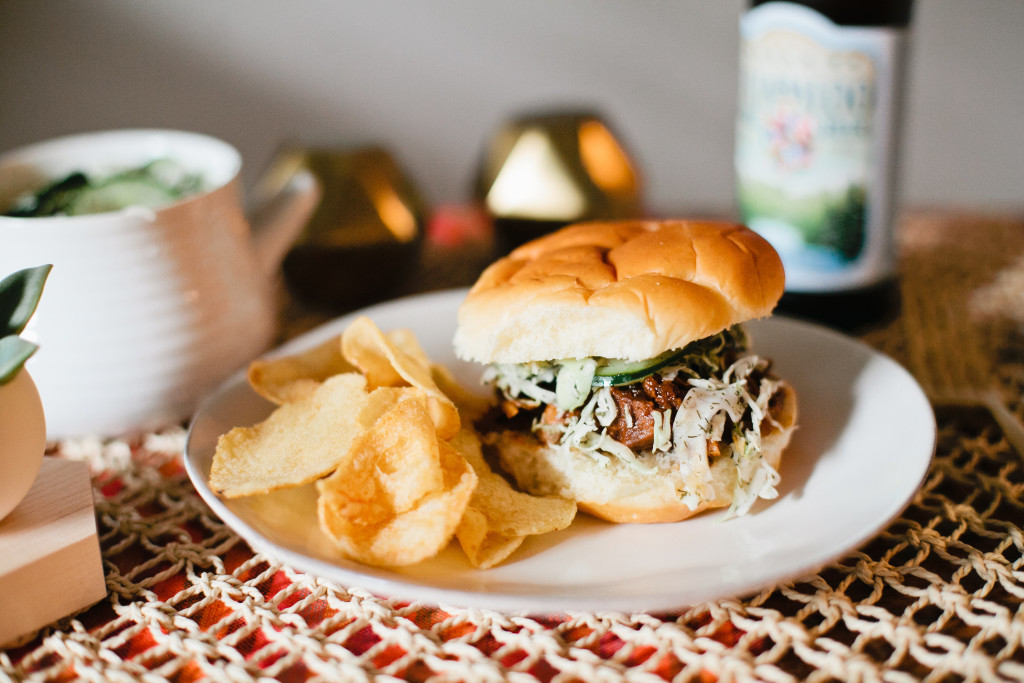 Yesterday we gave you the perfect party set up inspiration to host your own Super Bowl soiree, today it's about the food!
This delicious and savory dish will have both you and your man happy, along with all of your guests for Super Bowl Sunday!  This is another great recipe I have gotten from my sister, she has made this one a few times, and it just gets better every time.
Ingredients
Pulled Pork
1 Pork Tenderloin, about 1 Pound, Cut into 4 Pieces
3 Tsps Vegetable Oil
1 Small Onion, Chopped
2 Cloves Garlic, Chopped
Kosher salt and Freshly Ground Pepper
2 Tsps Chili Powder
1 Tsp Ground Cumin
1/2 Tsp Ground Cinnamon
1/4 Tsp Cayenne Pepper
1 1/2 Cups Low-Sodium Chicken Broth
1/3 Cup Ketchup
1/3 Cup plus 1 Tbsp Apple Cider Vinegar
2 Tbsps Molasses
 Directions
In a large pan or Dutch oven heat 2 teaspoons of oil over medium heat. Add the onion and garlic and season with salt and pepper. Cook until softened and lightly browned, about 5 minutes. Add the cumin, chili powder, cayenne, and cinnamon and cook until toasted, 1 minute more. Stir in the broth, ketchup, 1/3 cup vinegar, and molasses. Bring to a simmer and add the pork. Simmer, covered, until the pork is just cooked through and tender, about 20 minutes
When done, remove the pork to a cutting board and let stand for 5 minutes. Increase the heat on the remaining sauce in the pot to medium-high and cook until thickened, about 5 minutes. Remove from the heat.
Shred the pork into large chunks and add back into the thickened sauce. Toss well to coat. Let stand 10 minutes, tossing occasionally, to let the pork absorb the sauce. We prefer to serve ours on Hawaiian Sandwich Buns :)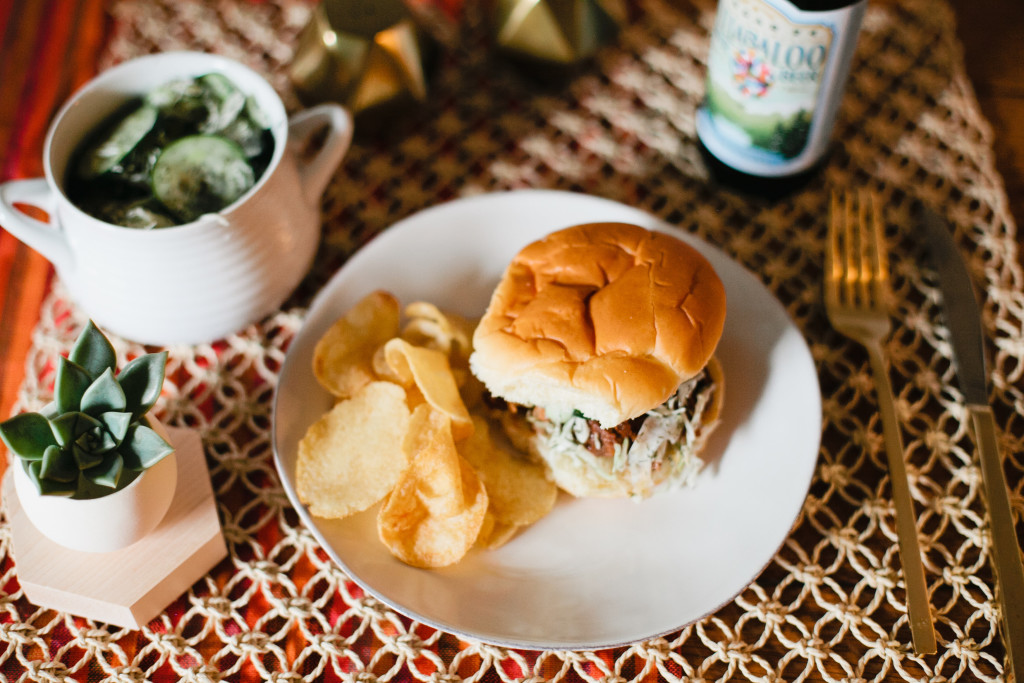 Cucumber Slaw
(Borrowed from The Smitten Kitchen Cookbook)
Ingredients
1 medium head cabbage (about 2 pounds) cored and thinly sliced/shredded
1 large English cucumber (about 1 pound) thinly sliced
2 tablespoons fresh dill, finely chopped
1/2 cup white wine vinegar
2 tablespoons salt
4 tablespoons sugar
1/2 cup cold water
Directions
Whisk together the dressing ingredients and stri in the 1/2 cup water. Toss with the cabbage and cucumber, then let sit in refrigerator for an hour or two before serving. If you need to make it further in advance, that is totally fine as the flavor will only get better.
Enjoy!!