I had so much fun designing my son Court James' nursery and also loved sharing it on Glitter Guide earlier this year.  We are thrilled to say that his nursery is being featured in Fit Pregnancy magazine's February/March issue, which hits newsstands today!
I had lots of help with this nursery from my husband, family, partners Abby & Leah and the lovely Sarah Swanson of Sarah Swanson Design.  More on her in tomorrow's post!
Today I am sharing some of the photos from our shoot for Fit Pregnancy along with sharing where some of my favorite pieces from Court's room are from.  I have had lots of questions sent our way asking where we found certain items so I thought I would share all the little details with you, starting with his bookcase!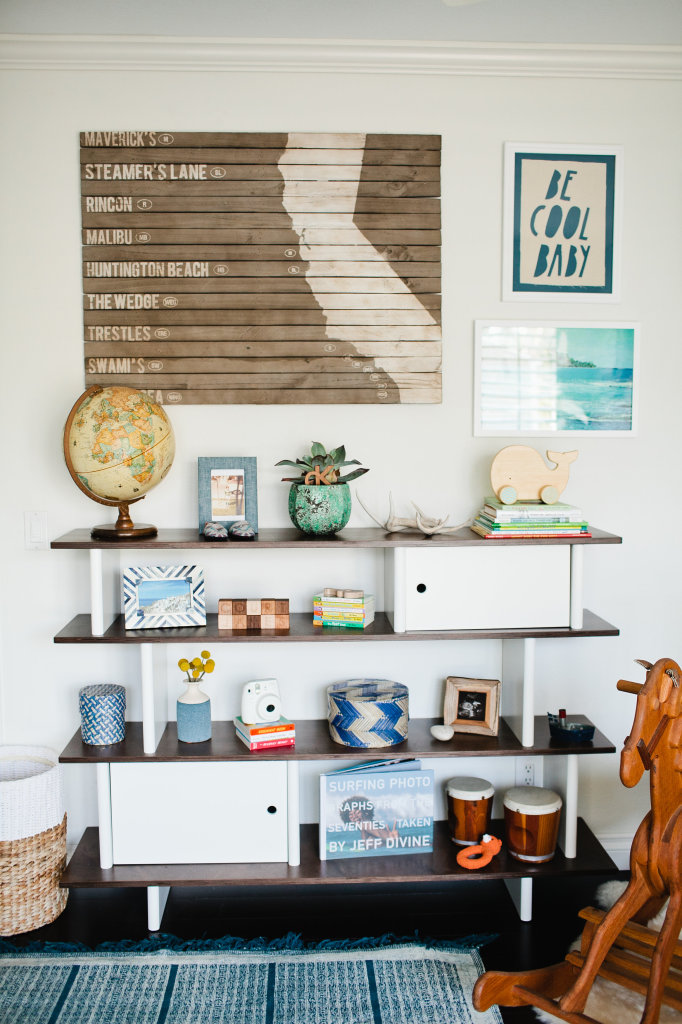 We purchased the bookcase from Bel Bambini and the brand is Oeuf… I am SO happy with this purchase, although my husband wasn't to happy with me when he was putting it together, ha!  I love the modern feel of it and know that Court can use it as he grows older in his room, hey, I would have it in my own room!
The bookcase is a great place to display his books, toys, photos, and other fun items we had collected during my pregnancy and a few more we have added now that Court is here.
I love this wooden push Whale toy, and Court is starting to play with it now!  I decided to display it on a few of my favorite books we have bought for him, although they are a little ahead of his time now I can't wait to sit and read them with him very soon!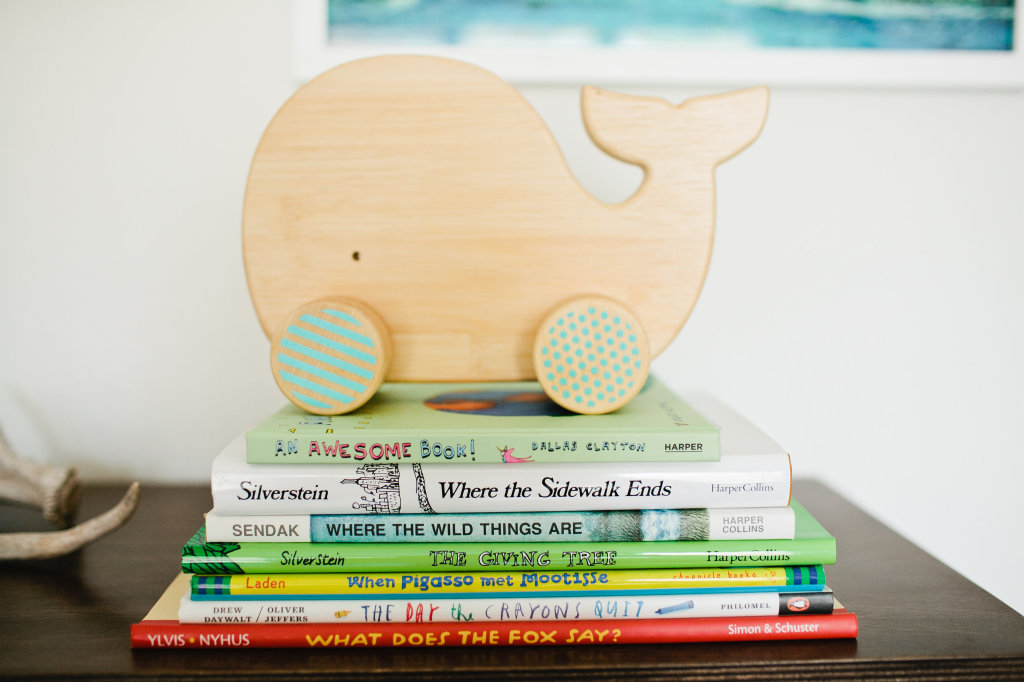 Books: An Awesome Book, Where the Sidewalk Ends, Where the Wild Things Are, The Giving Tree, When Pigasso met Mootisse, The Day the Crayons Quit, What Does the Fox Say?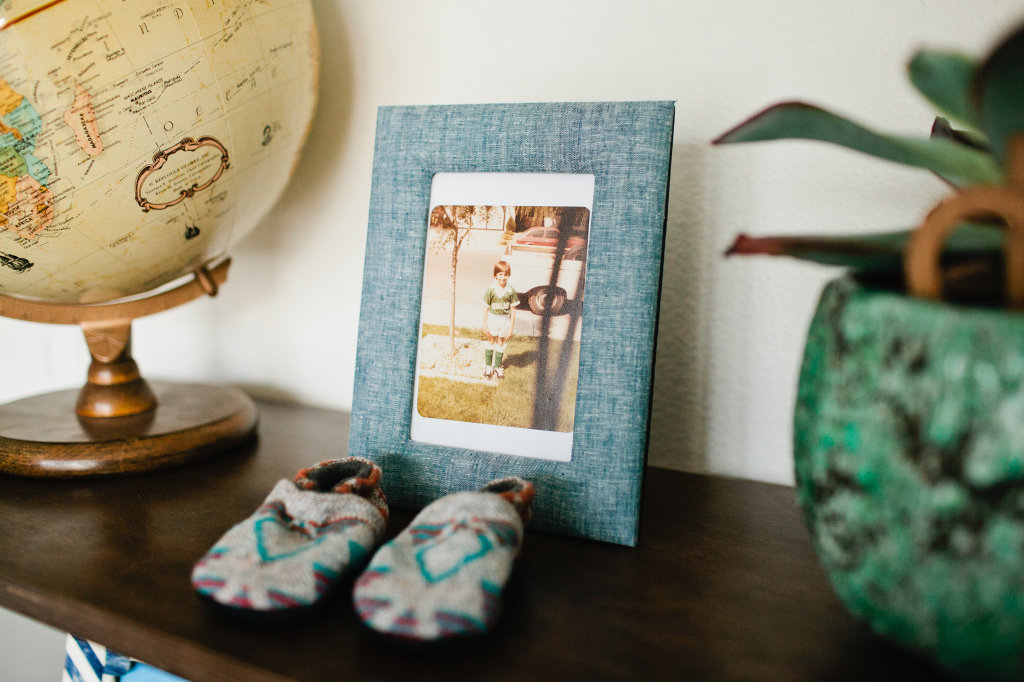 I found the globe in Court's room at the Rose Bowl Flea Market, Court loves to spin it around and we show him where his Grandpa was born (the Azores) and where his Daddy's family is from (Greece).
His God Mother Leah gave him the chambray picture frame from J Crew (it's no longer available but I found it here) and I decided to use a photo of my husband when he was young playing soccer to give Court some inspiration ;)  And the booties are a gift from his Auntie Abby and are from Etsy.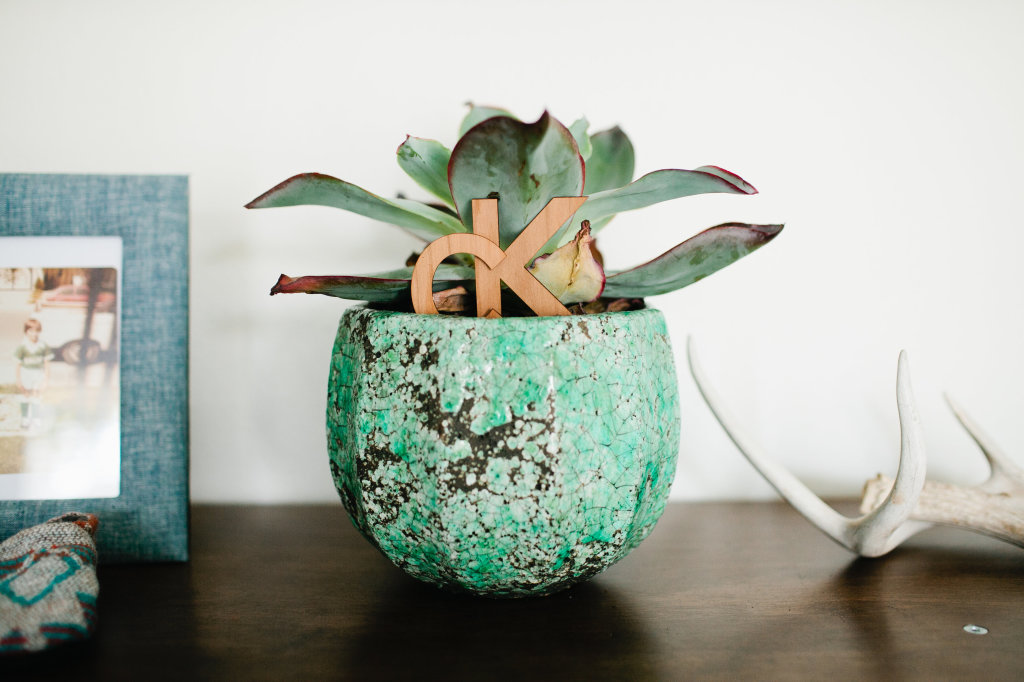 I really wanted to add some plants into Court's room and I fell in love with this planter from Anthropologie, love the color and it adds a fun texture to his room.  The C & K are from the cake at my baby shower and are by Little Cat Design Co.
I love the wall that Court's crib is on, it's the only wall with wallpaper, and all though it's subtle it really makes an impact.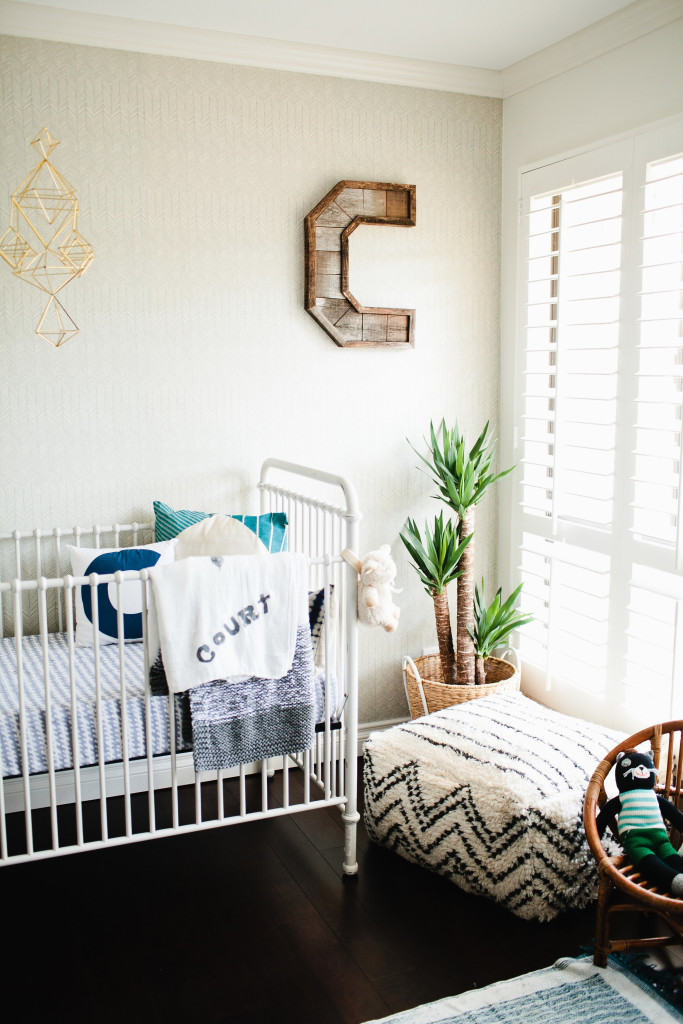 The wallpaper is from Spoonflower and I fell in love as soon as I saw it, it fits in seamlessly.  The wooden C was a gift from my best friend, partner, and God Mother to Court, Leah.  It is one of my favorite pieces in his room and extremely sentimental.  And the pouf is from West Elm, but no longer available, I'm a sucker for that store… I just want everything in there every time I shop there!!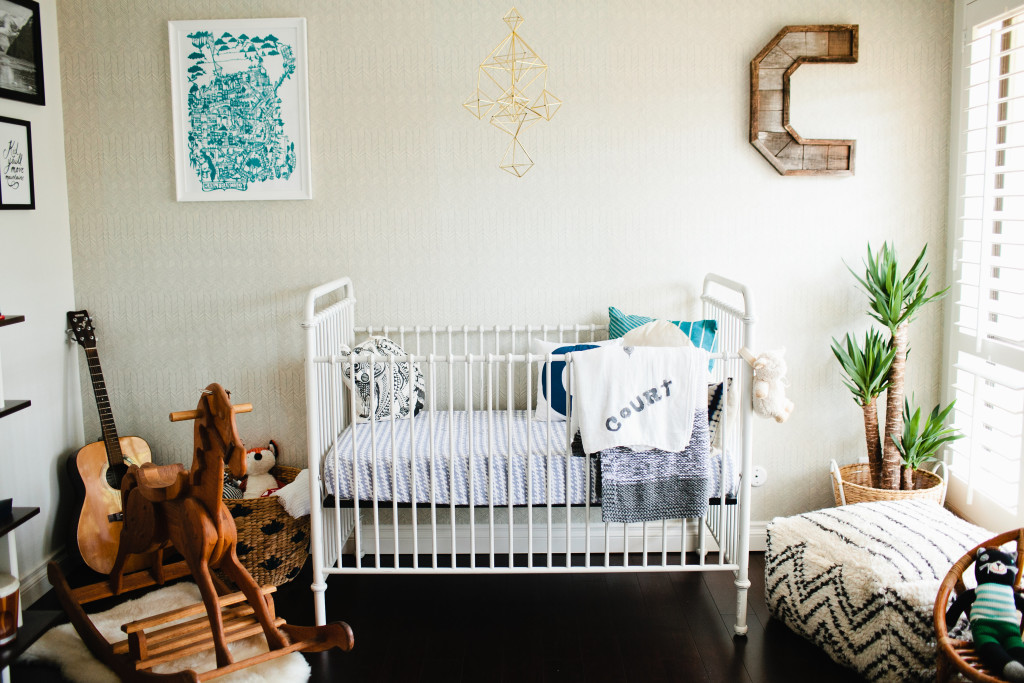 My parents gave us Court's crib, I chose this crib because I thought it would work well for a boy or a girl, so it could work for the possible future.  I also loved how it had a vintage and classic feel, it's something that I could pass on to Court when he has his babies.  The crib is from Restoration Hardware Baby, they don't have the same one any longer, but they have a similar one here.
The crib sheet is from Serena & Lily, I absolutely love it!  And the Court blanket is from Wee Vintage, just about the cutest Etsy shop you ever did see!  Lastly, Court's rocking horse was mine as a kid, made for me by my Uncle Jack.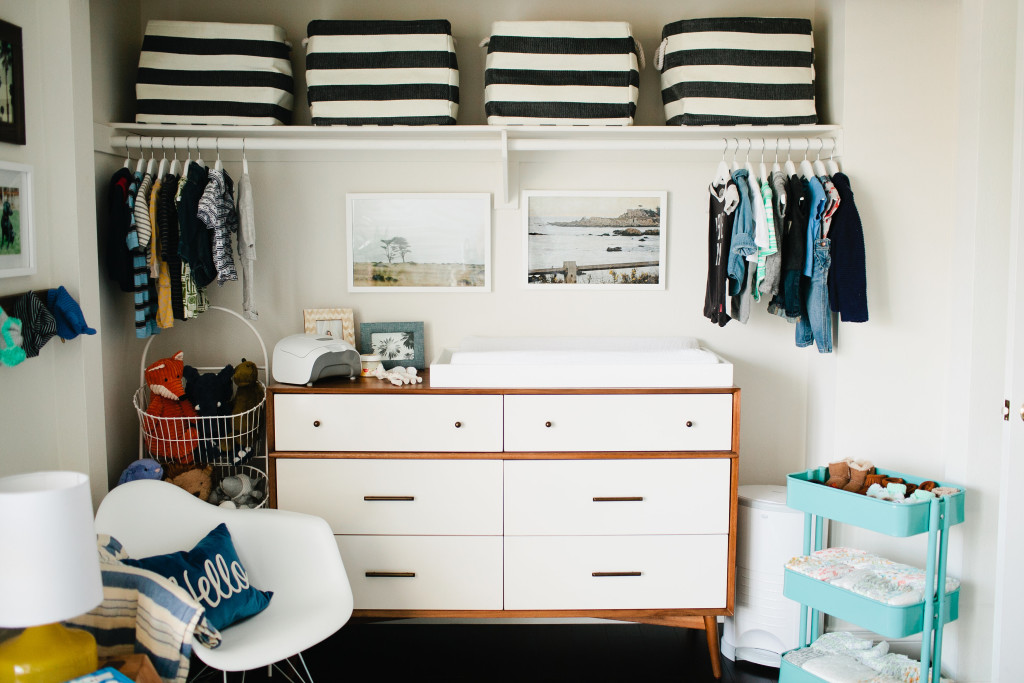 This area used to be a closet with sliding mirrored doors, I decided to take out the doors and open it up to add more space to the room.  It also gave me the opportunity to show off Court's cute little wardrobe!  I love what it did to the room, opening it up so much more.  Court's changing table is from West Elm, and I would honestly have this piece in my own room as well, it's the perfect piece to grow with.  I love the Mid Century feel and the white against the wood.  The storage bags above are from the Container Store and I use them for so many things!  They are great to tuck away any little messes if needed :)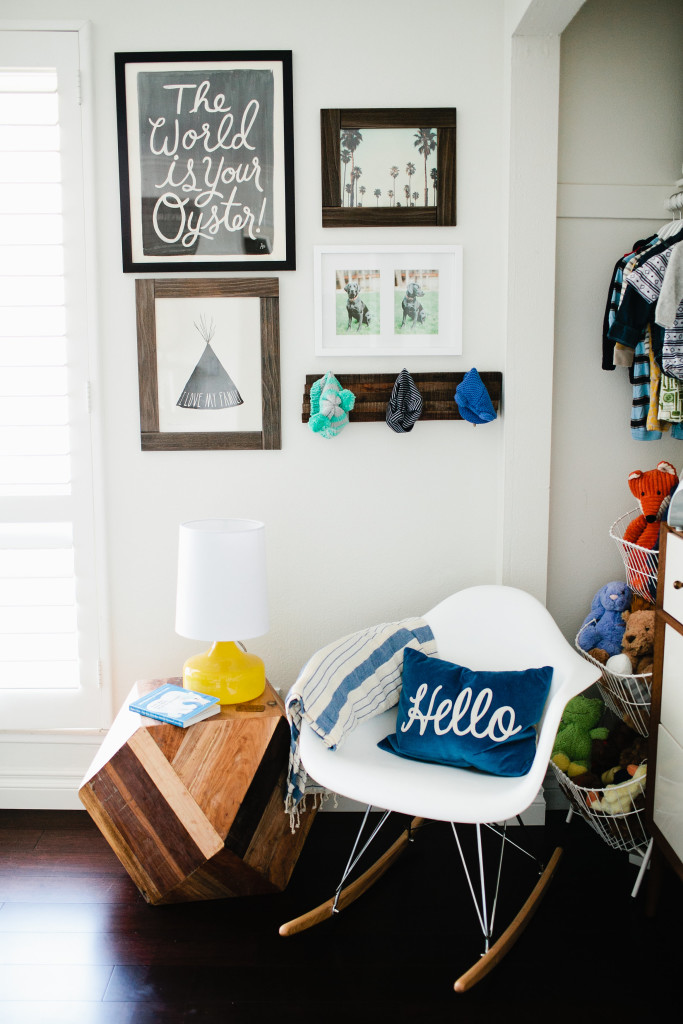 I love this part of Court's room as well, it's where I rock him to sleep and read him stories.  It's our little love nook in the room…  The rocker is from Dot & Bo, I've wanted an Eames style chair forEVER, so why not use it for my first born's room!  The side table is from Urban Outfitter (now on sale!) and I love, love, love it!  It's so different and unique and is full of character.
I love his yellow lamp from West Elm, it adds a little pop of color!  They don't have the same one, but here is something similar.  And of course that Hello pillow from The Land of Nod is just the cutest…
The art on the wall is from the following:
The World Is Your Oyster, Palm Tree Print, Tee Pee I Love My Family
Here are some shots from the Fit Pregnancy Magazine shoot of our family.
All photos are by the lovely Megan Welker