It feels like summer just began, but alas, it's September… And according to the calendar it's over!  However…  Living in California we are lucky enough to get a few extra months of sun!  This is the perfect end of summer picnic you can plan for your family or friends, but hey, you can do it any time of year really!
Our friends at Geese & Ganders have some really cute tabletop options for any celebration or event, you may remember how we used them for our honey inspired shoot here… I was especially inspired by their "At the Beach" collection, and just like that, this little set up was born!  I mixed the serene blues from their plate collection with some gorgeous yellow florals from Wild Darling Floral and the outcome is pretty darn stunning…  Keep scrolling to see more and head over to see us featured as one of Lauren Conrad's Friday Favorites!!
Photos by the talented Alison Bernier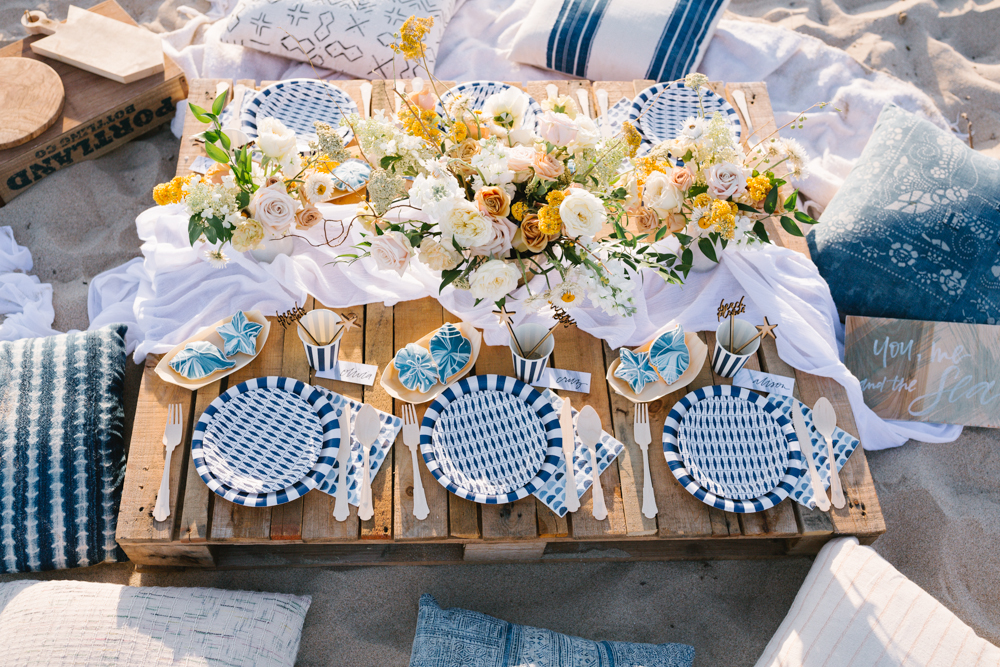 The beach is my family's favorite spot, we love to go on the weekends or even during the week through-out summer.  It's a special place to us and our friends.  So when I think of a place to share a special evening with our closest friends it's at the top of my list!!  The kids get to run around and play while us parents enjoy some delicious food and drinks!  How about this set up you guys?!  I think it's pretty dreamy….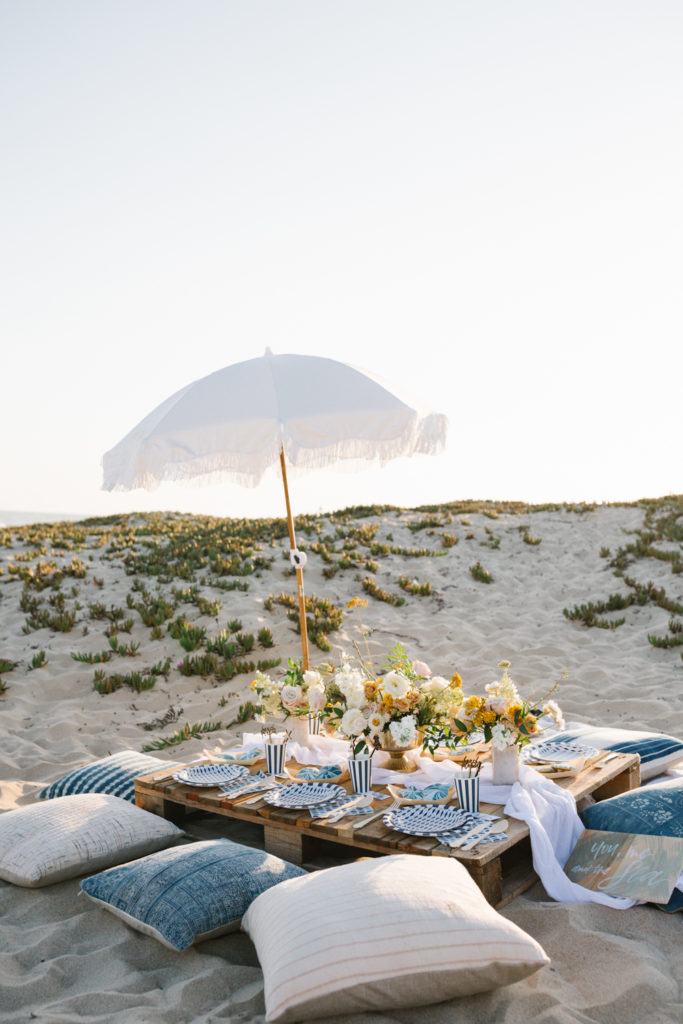 Meghann Miniello created all of the paper goods for this special night, including this sweet invite and menu.  I will never get enough of her gorgeous hand writing…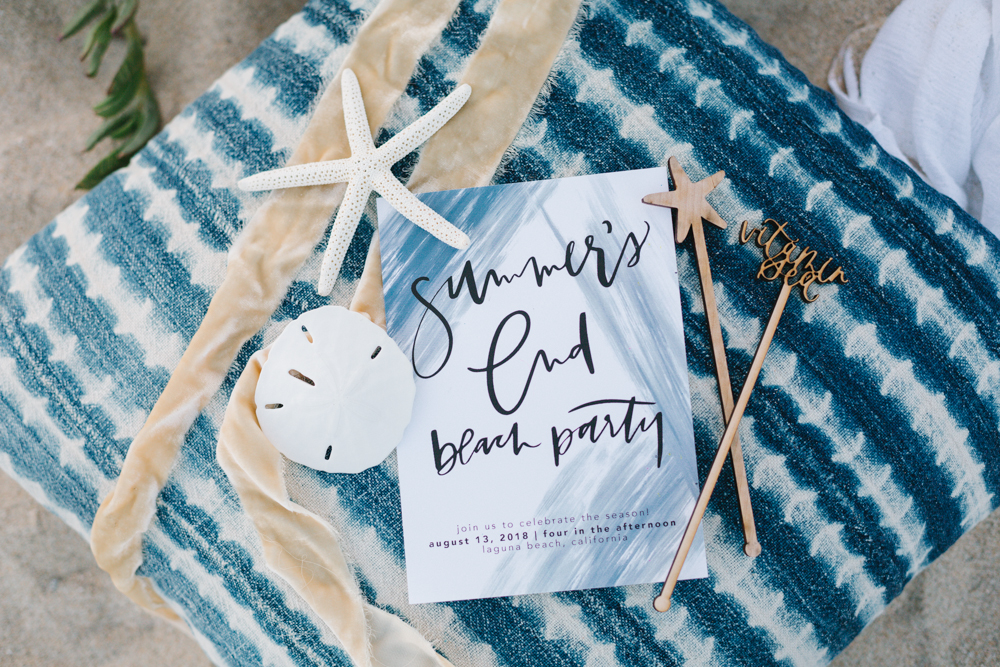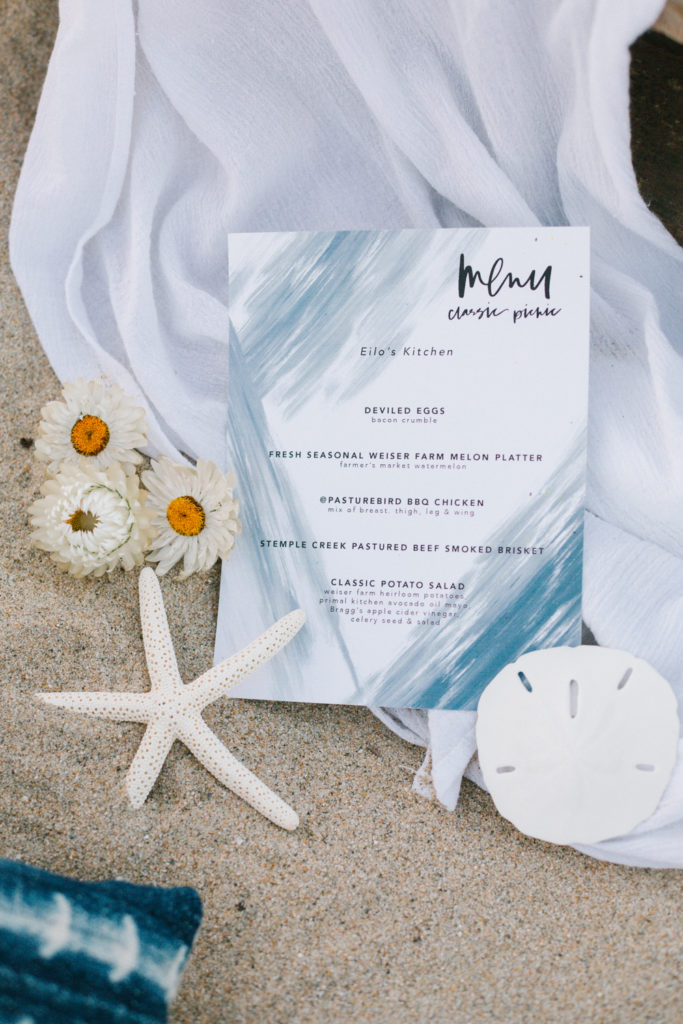 Speaking of not getting enough – I want these flowers on every table in my home!!!  Wild Darling Floral is pretty new to the game but she is definitely like a pro already!  I was so in love with these florals, they were the perfect compliment to this already pretty set up!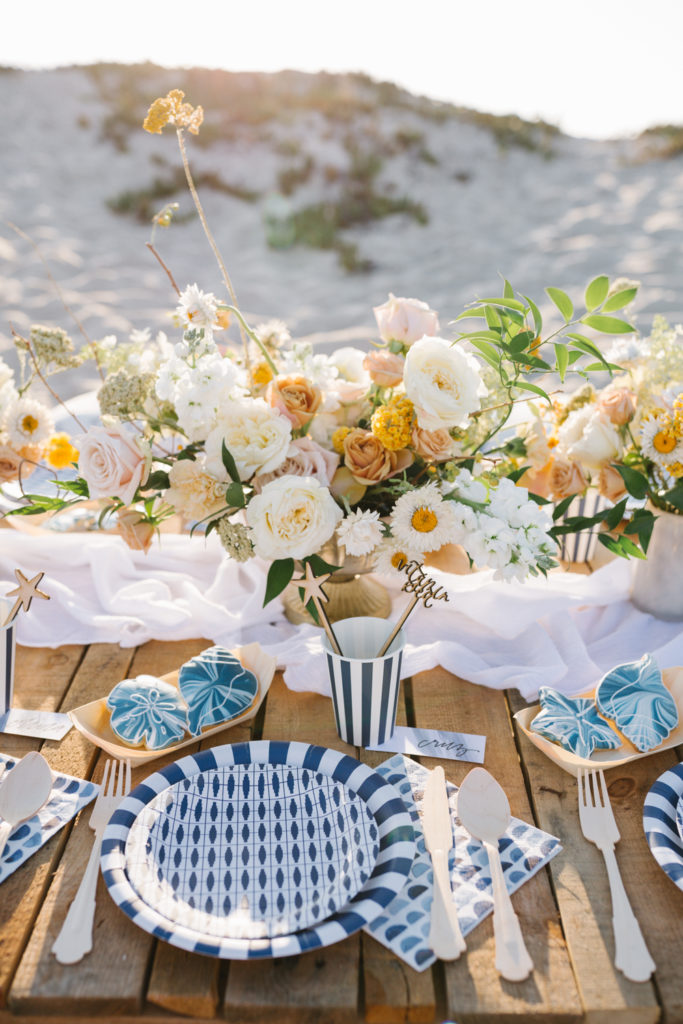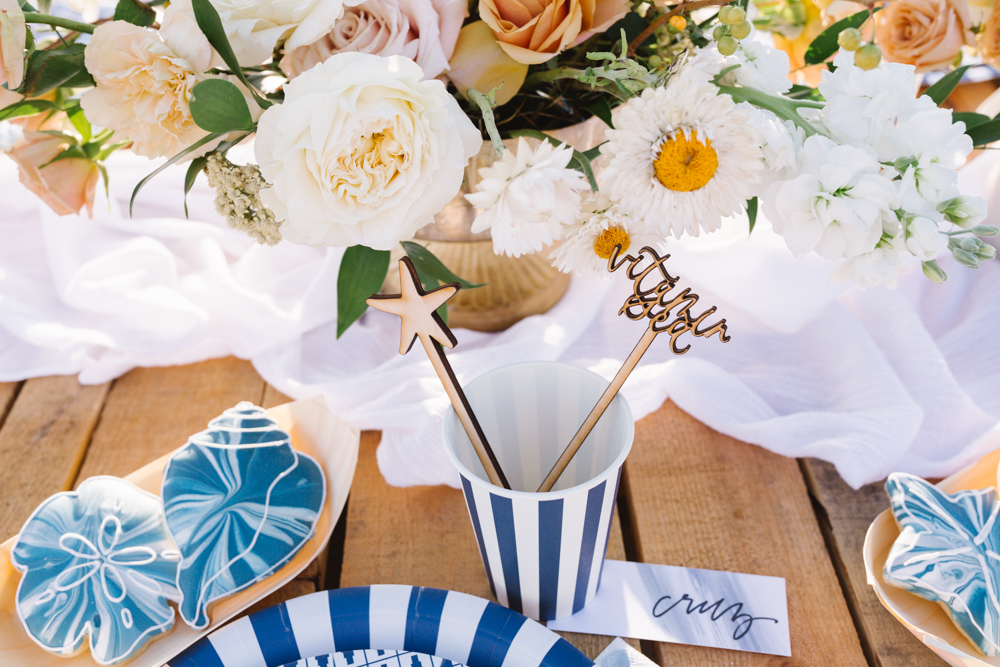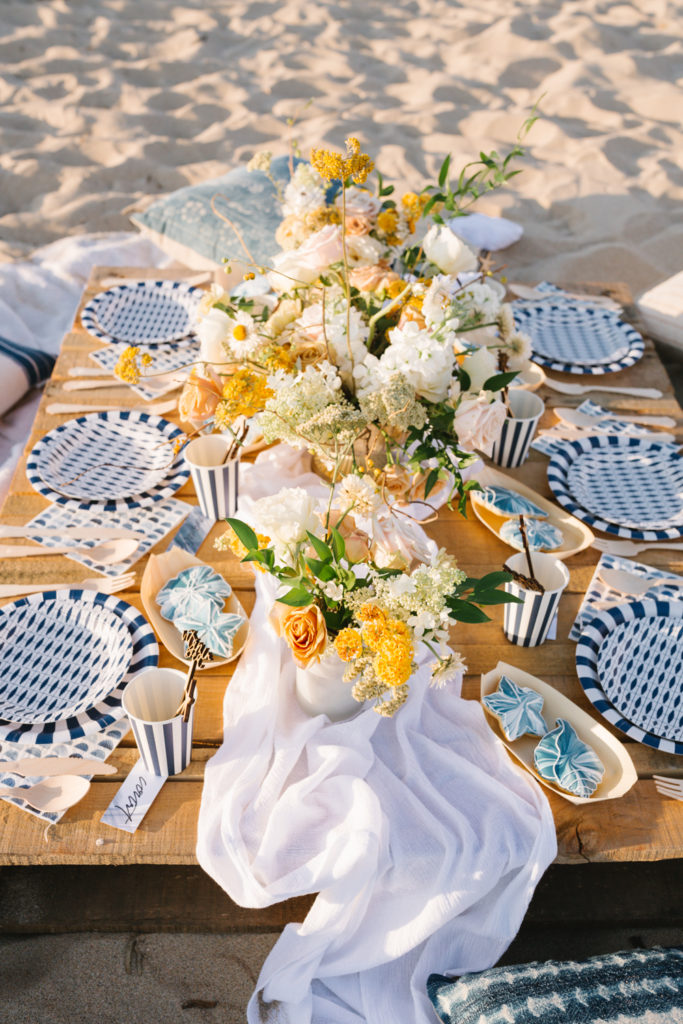 The details really made this table…  First of all I had so much fun layering Geese & Ganders goodies!  The blue plates and napkins are so cute together and I love their little plates I used for the cookies!  Speaking of the cookies – how great are those seashell inspired ones?!  The Sweet Lemon Bakeshop always blows me away with her creations!!  And of course I had to throw in some cute drink stirrers from Poppy Jack Shop – Beach Please and Vitamin Sea – no brainer right there…
With a party on the beach you have to make it comfy so we added the prettiest pillows from our pillow dealer Boho Pillow.  We also had my favorite Gunn & Swain blanket, a beach necessity of course!!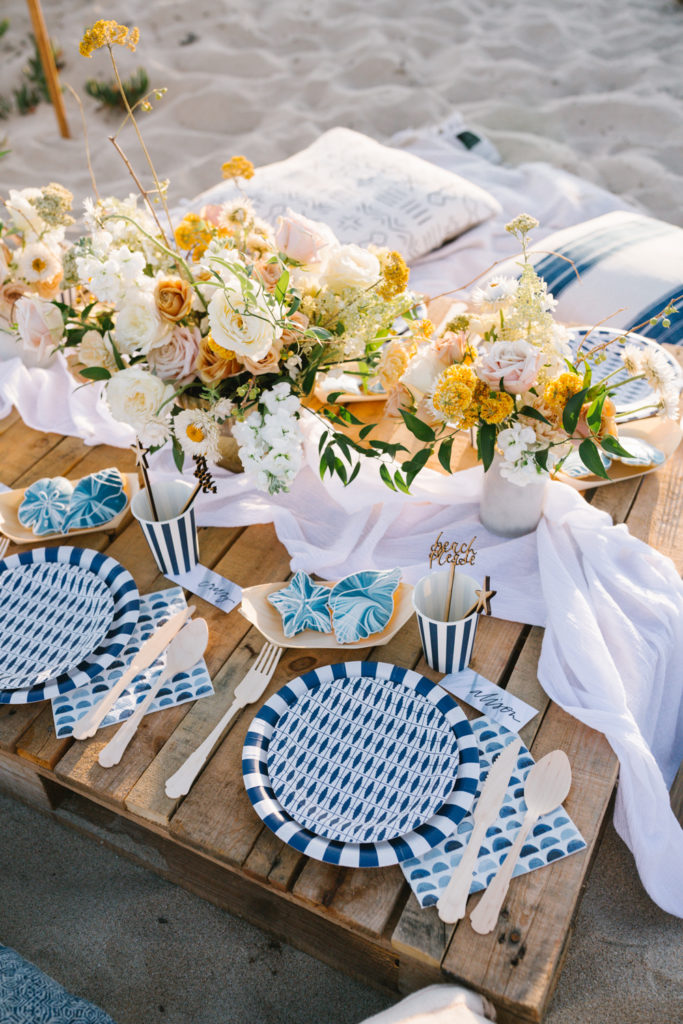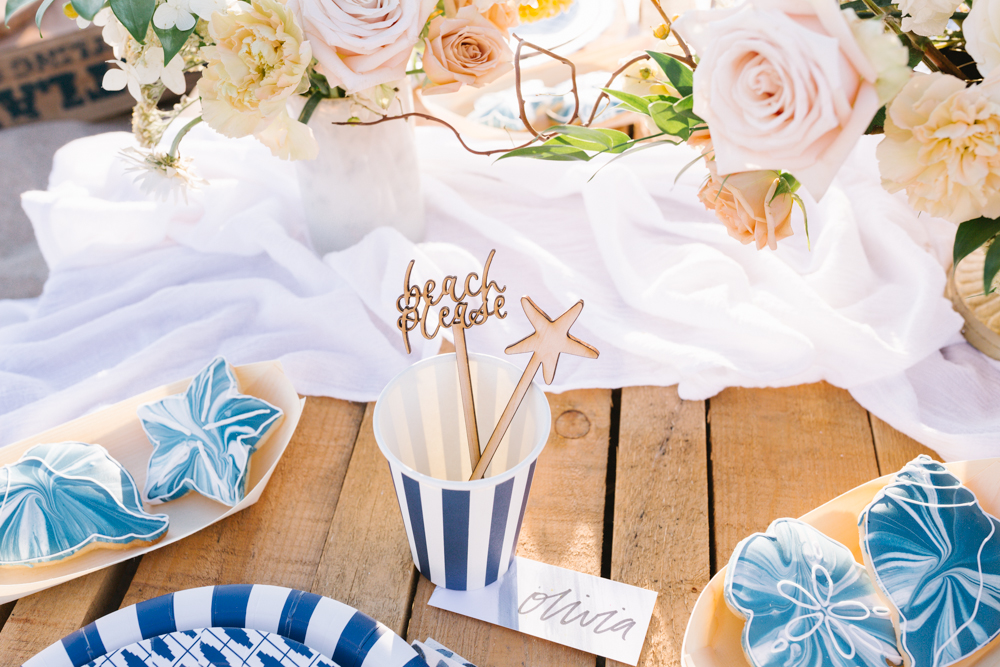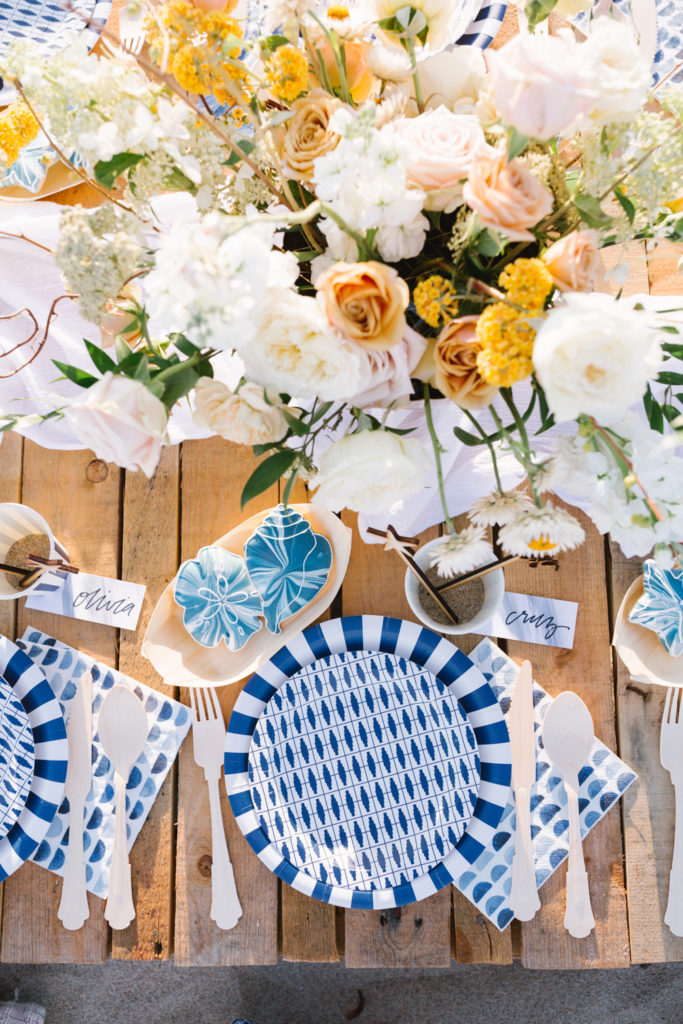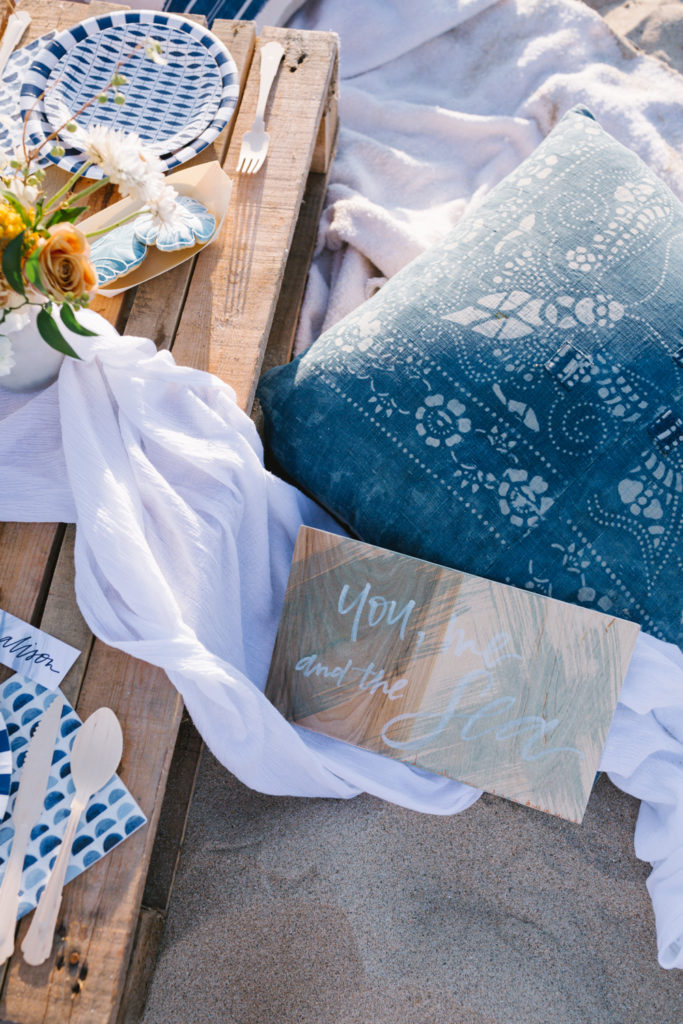 Those flowers and those details… I can't get enough!!!  Love this set up so much!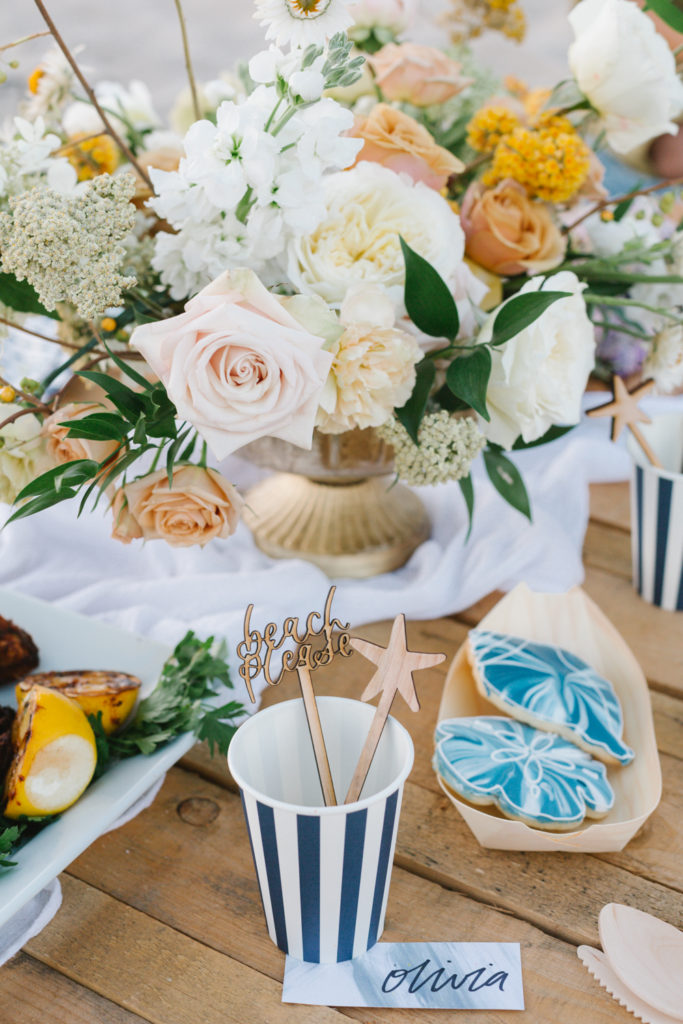 I purchased this umbrella this summer and I am never looking back!  Business & Pleasure, thank you for making a cute umbrella, because there literally aren't any out there!  This mama is grateful!!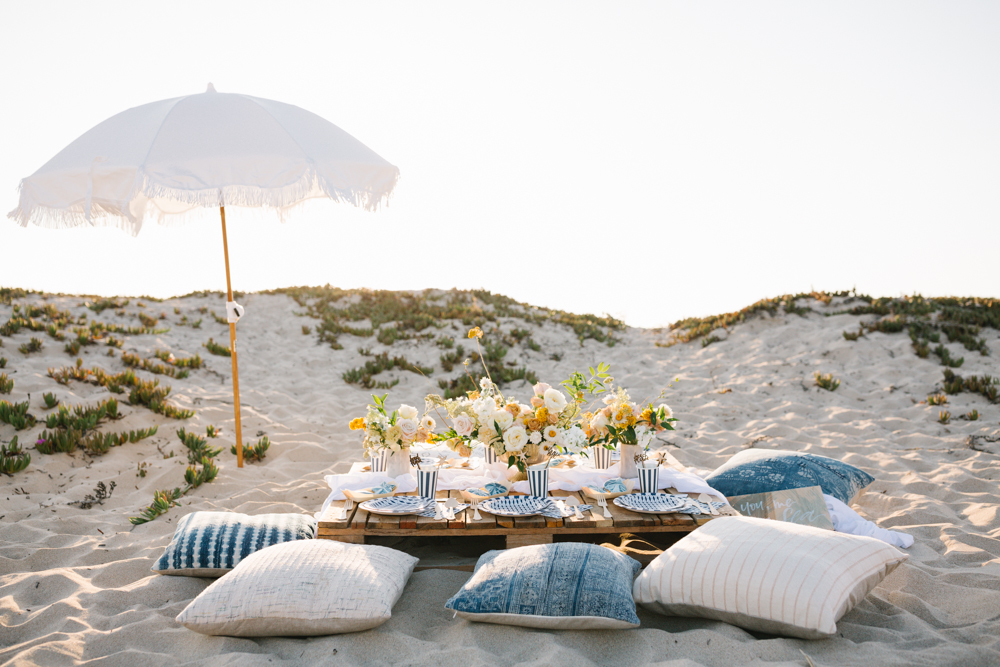 It ain't a beach party with out some wine!!!!  My family and I had the best summer with our little friends – we did quite a few beach days and had the best time..  The mamas got their wine and the kiddos got super tired playing – definitely a win/win situation!  Of course, our wine of choice is always One Hope!!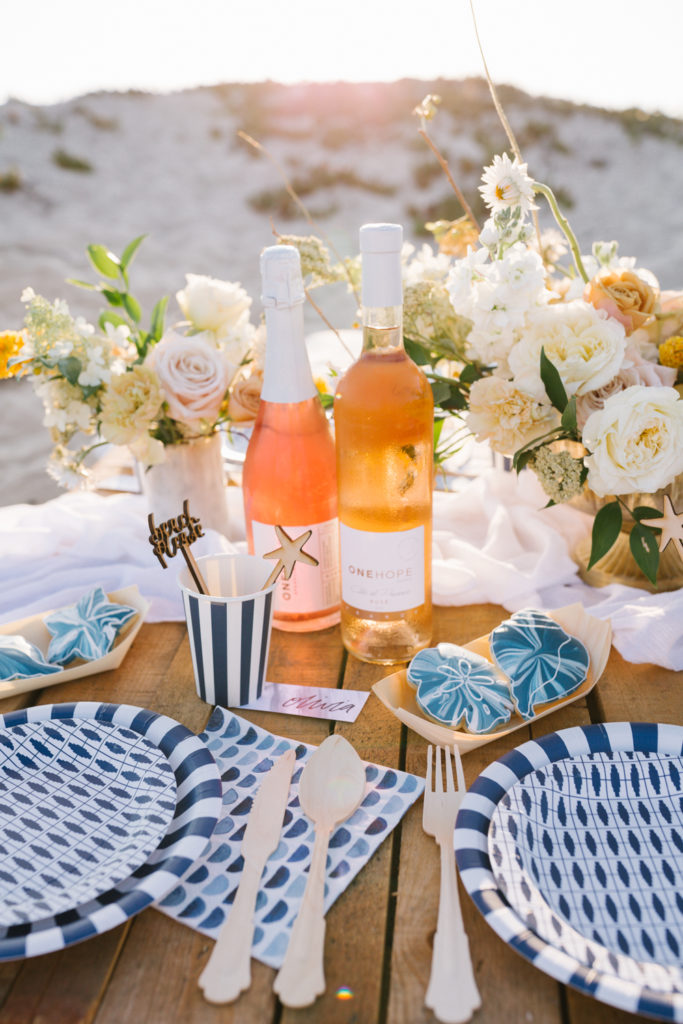 For food we had our friends at Eilos Kitchen hook us up!!  All of their food is gluten free, grain free, and dairy free.  They also source everything locally, which we love!  Their food is not only delicious but also beautiful…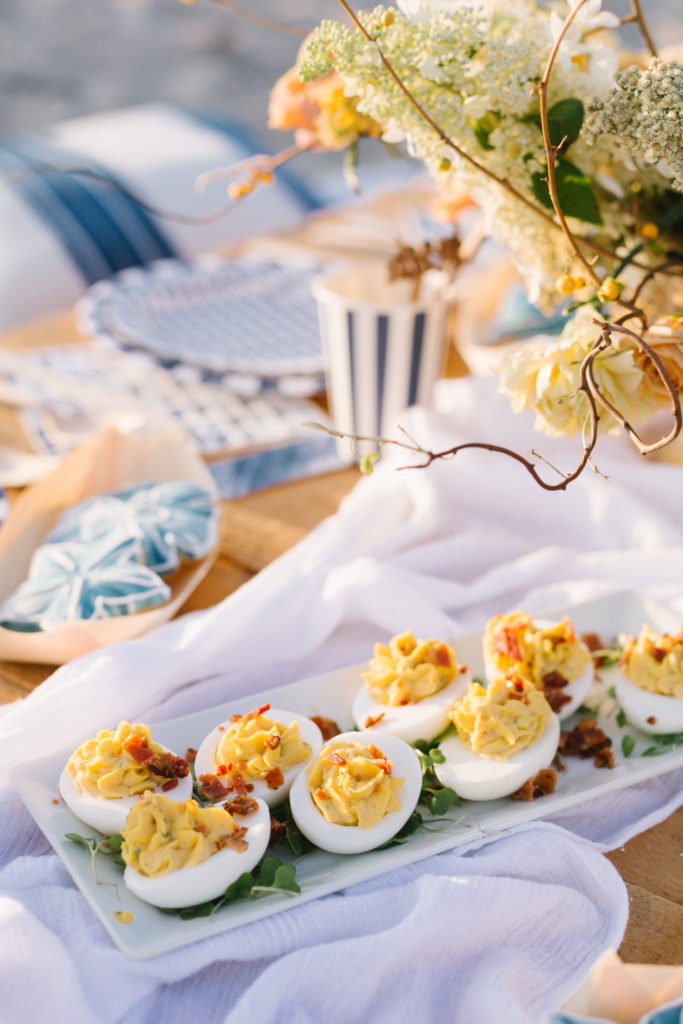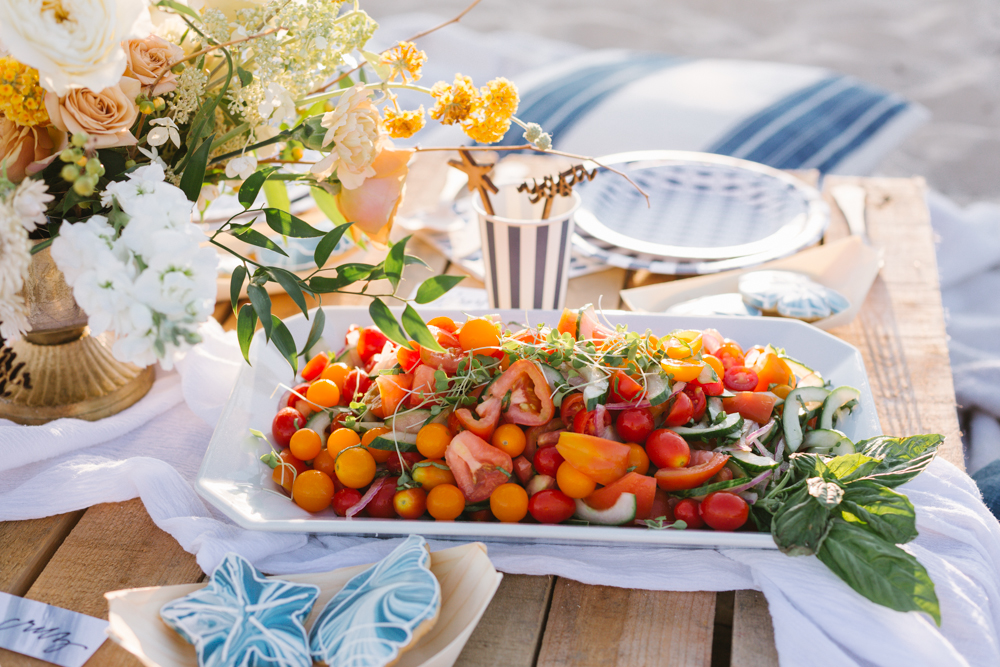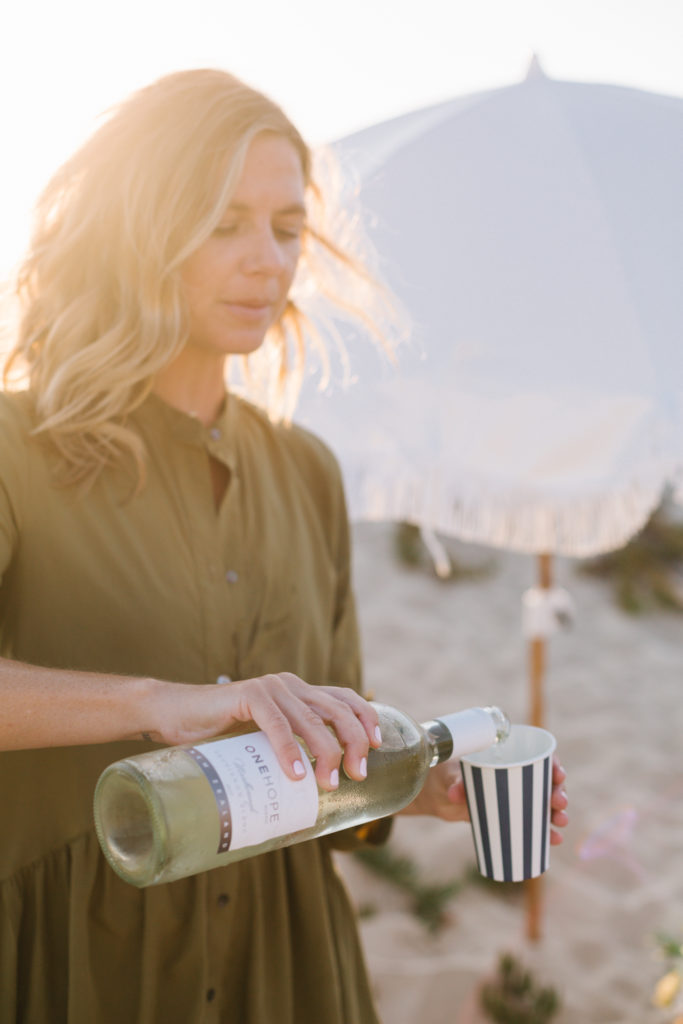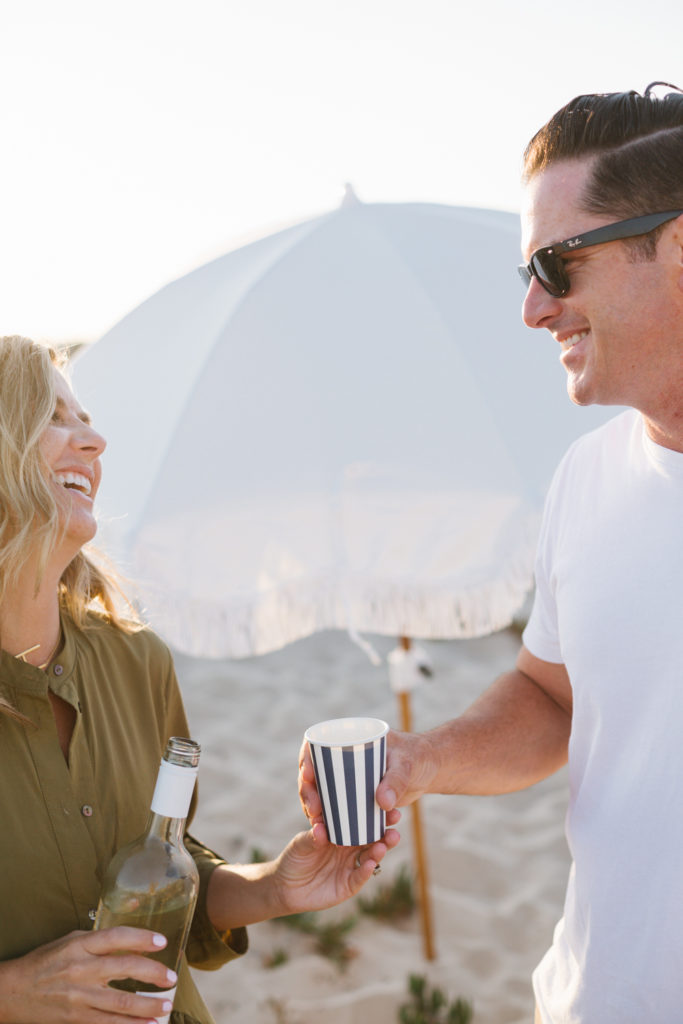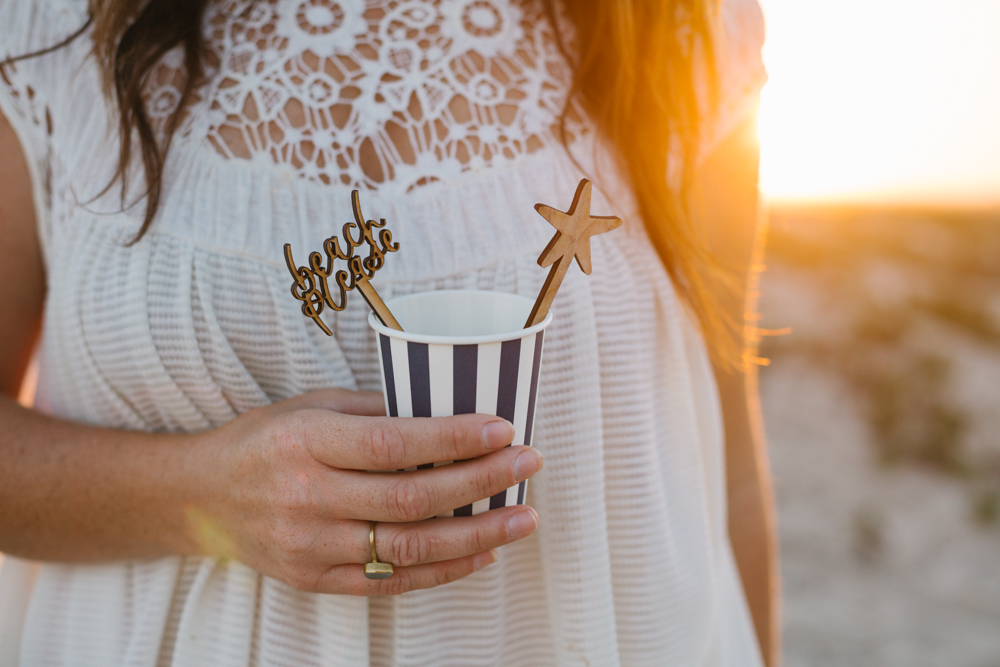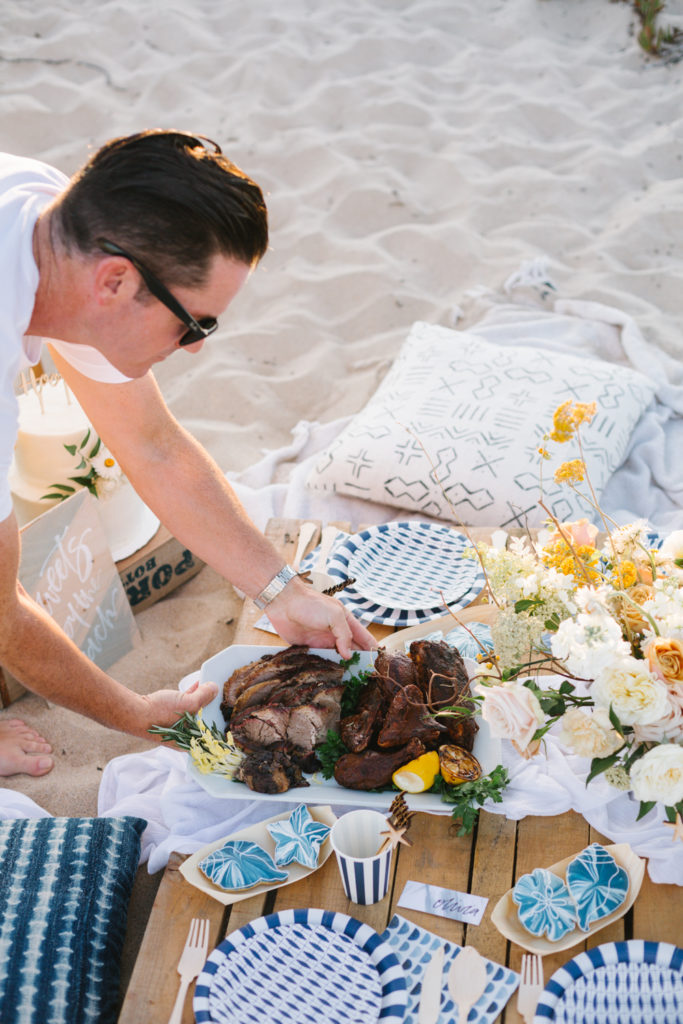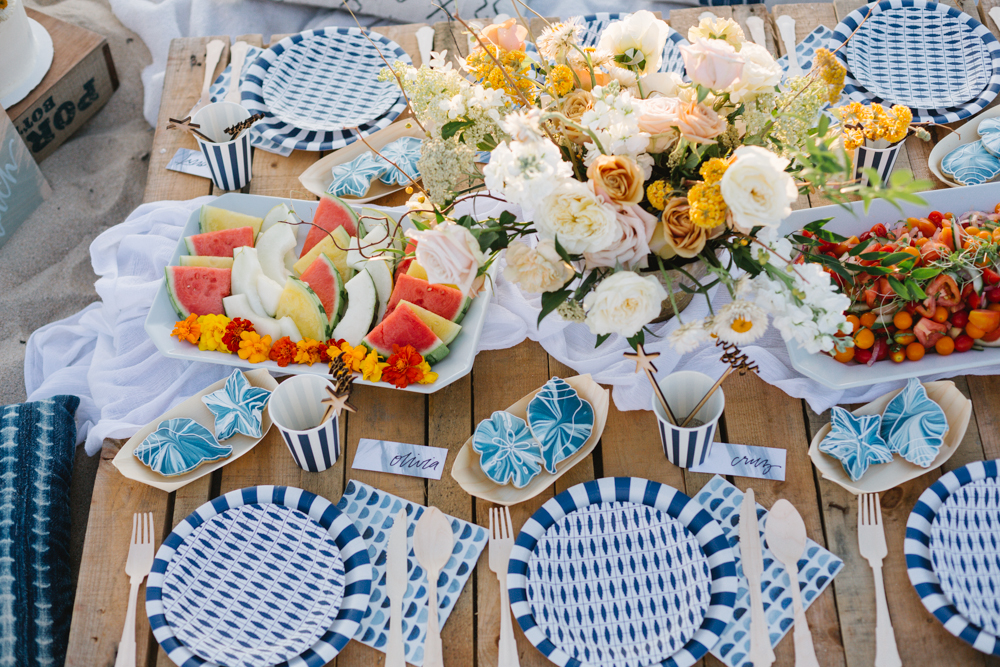 How cute is little Harlow?!  She makes eating watermelon look better than ever!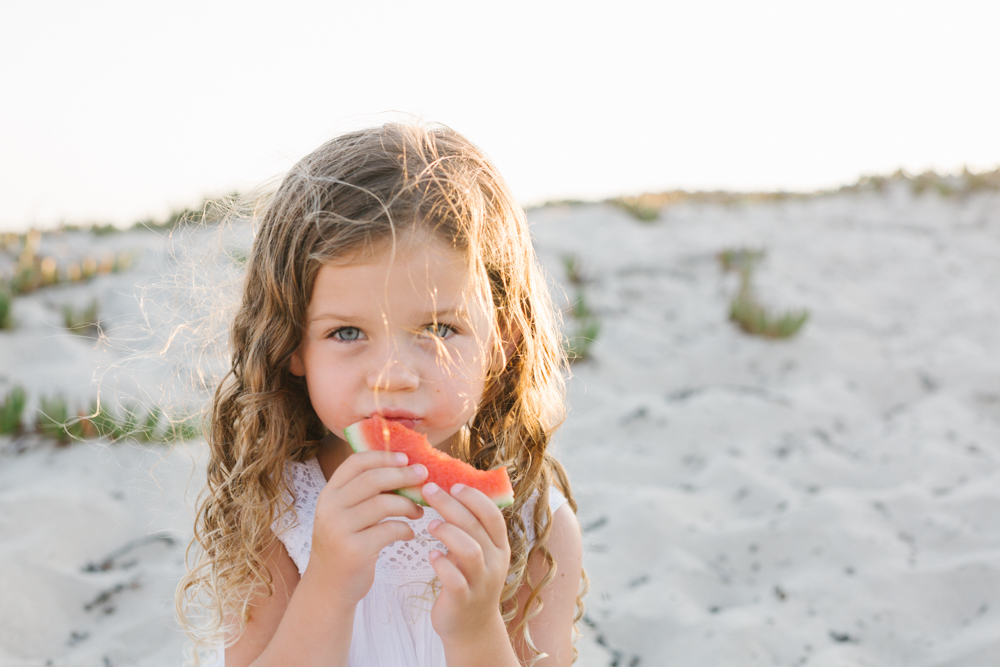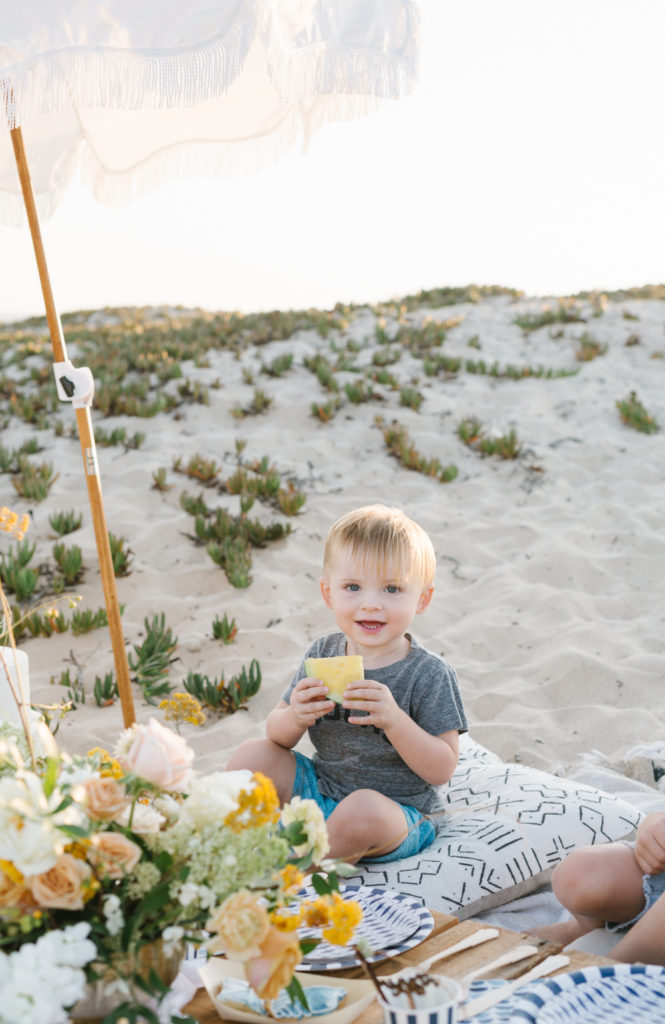 These two share some major love for each other…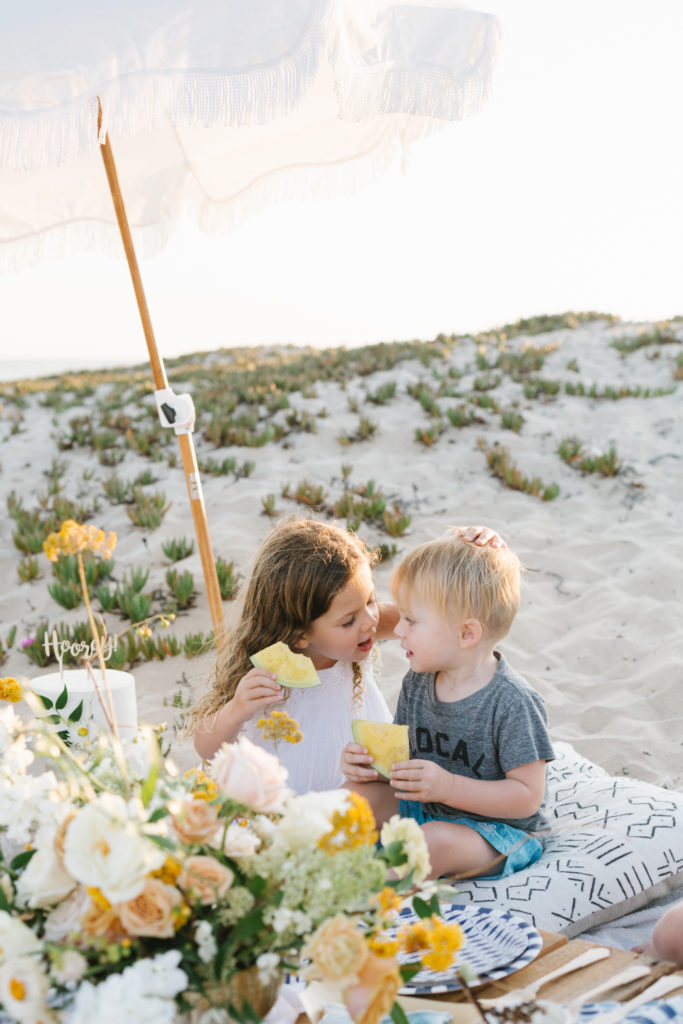 Yay for watermelon!!!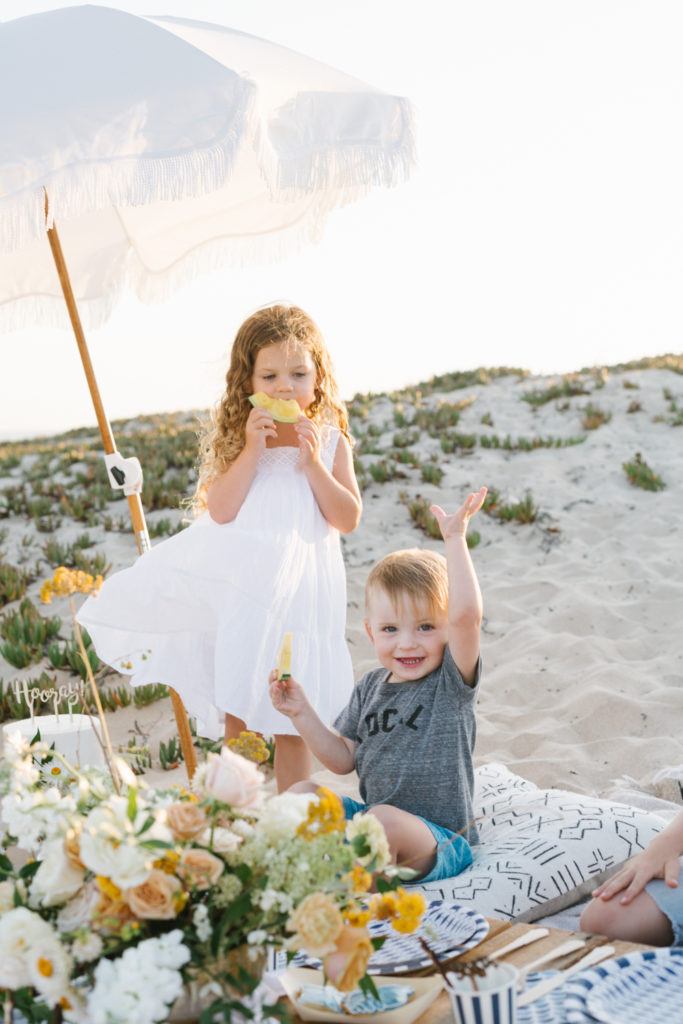 We love sharing this time with our friends the Werners, I feel lucky to have them to go through these crazy days with…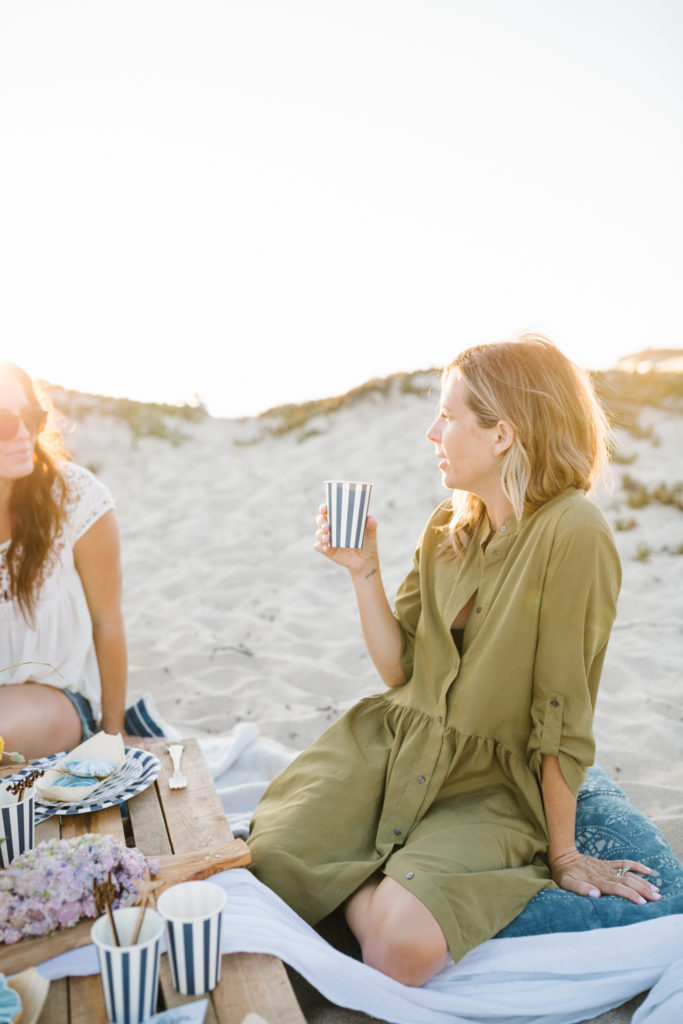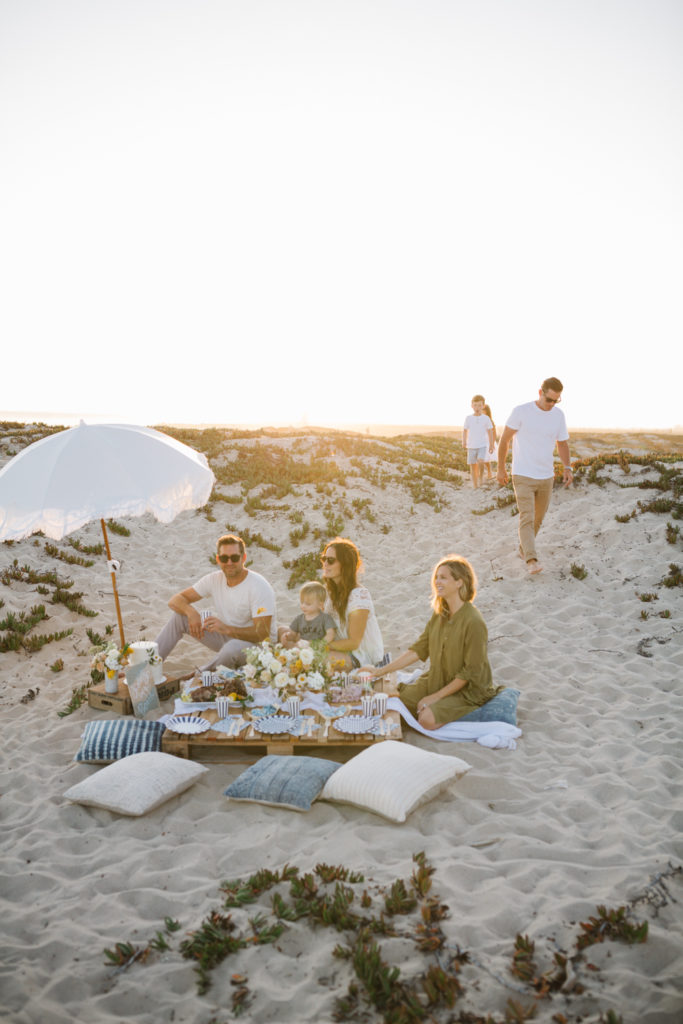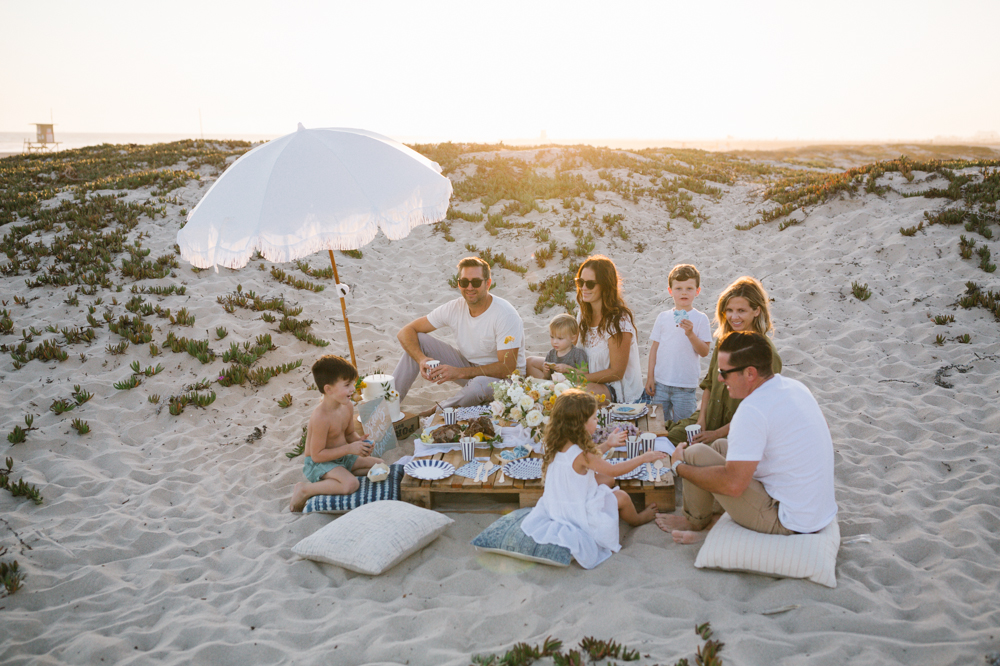 The Sweet Lemon Bakeshop spoiled us even more with this cake!!  I simply added greens an a few florals and a cute cake topper from Geese & Ganders!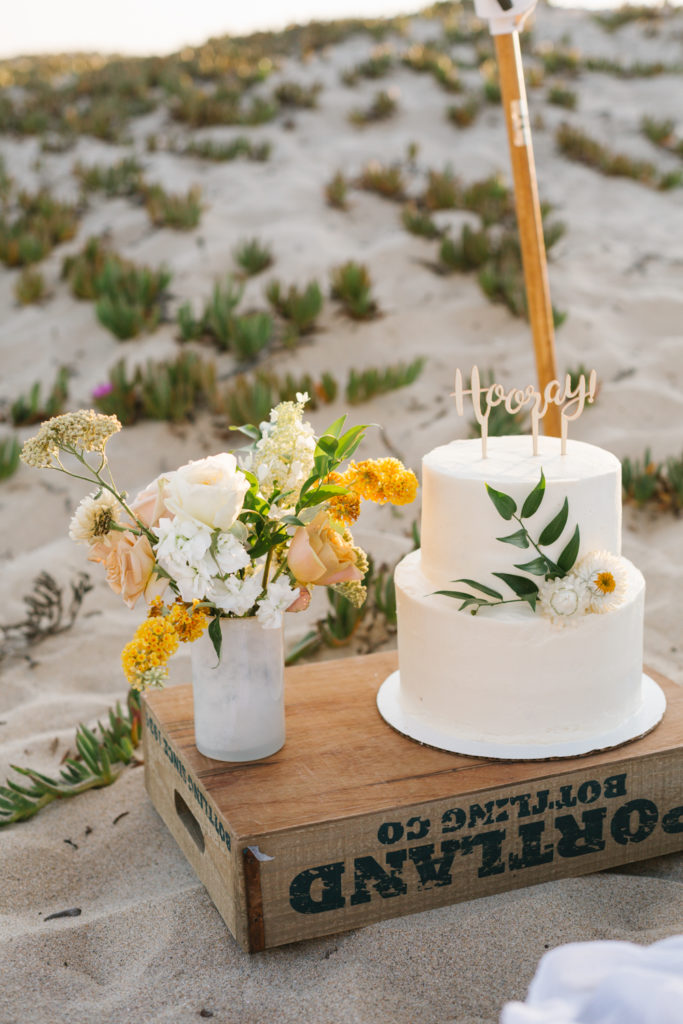 This sandy boy loved his cookies!!  He's pretty cute in his Seaesta Shorts too!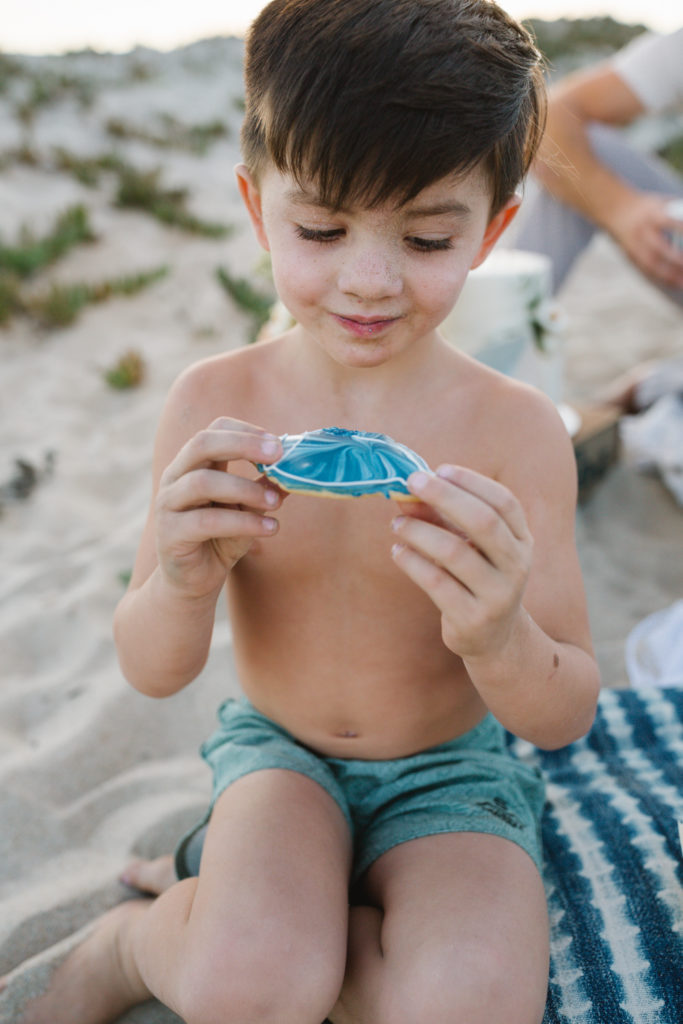 Harlow had a little bit of fun too!  The camera loves this one, and I think she loves the camera!!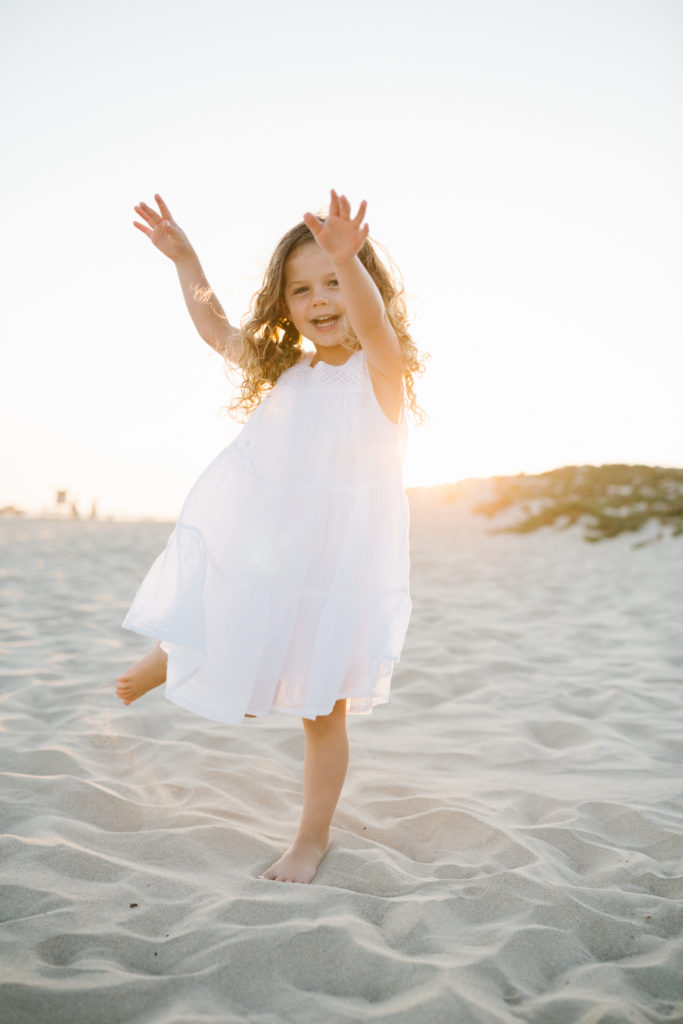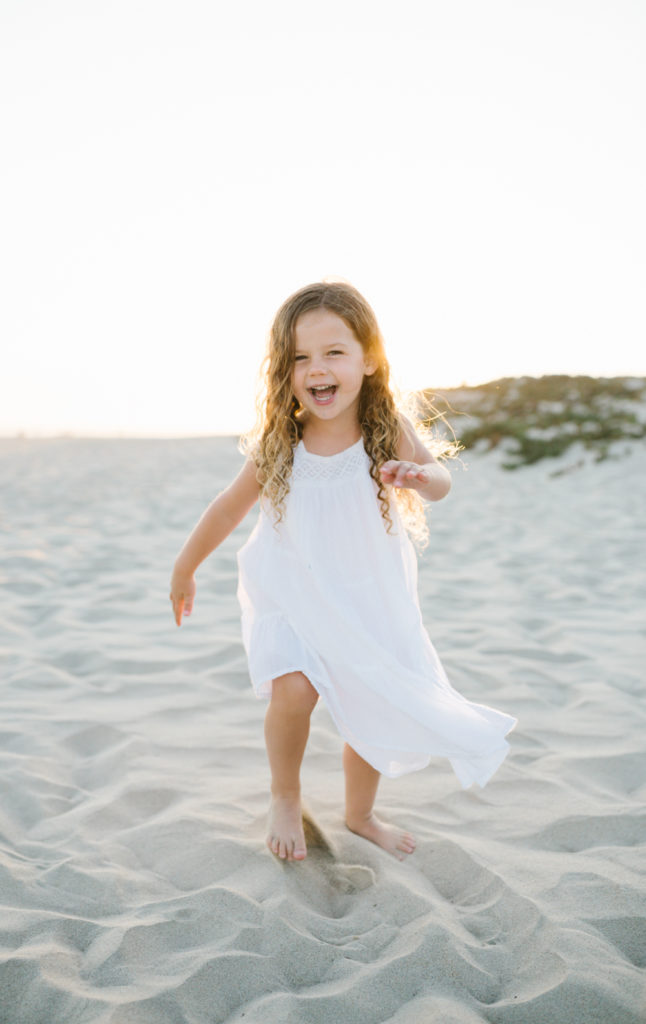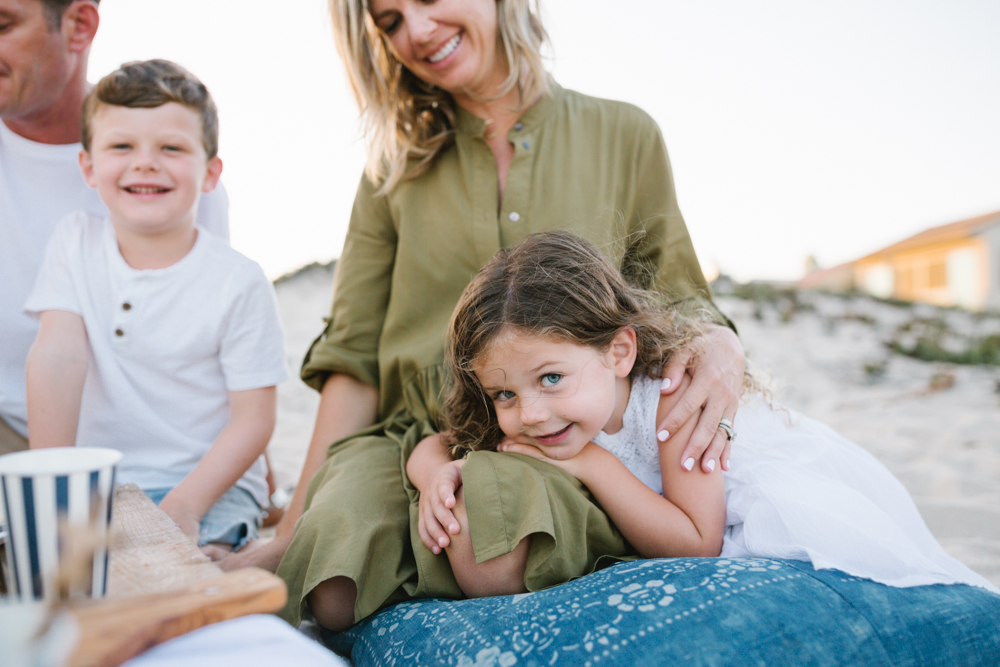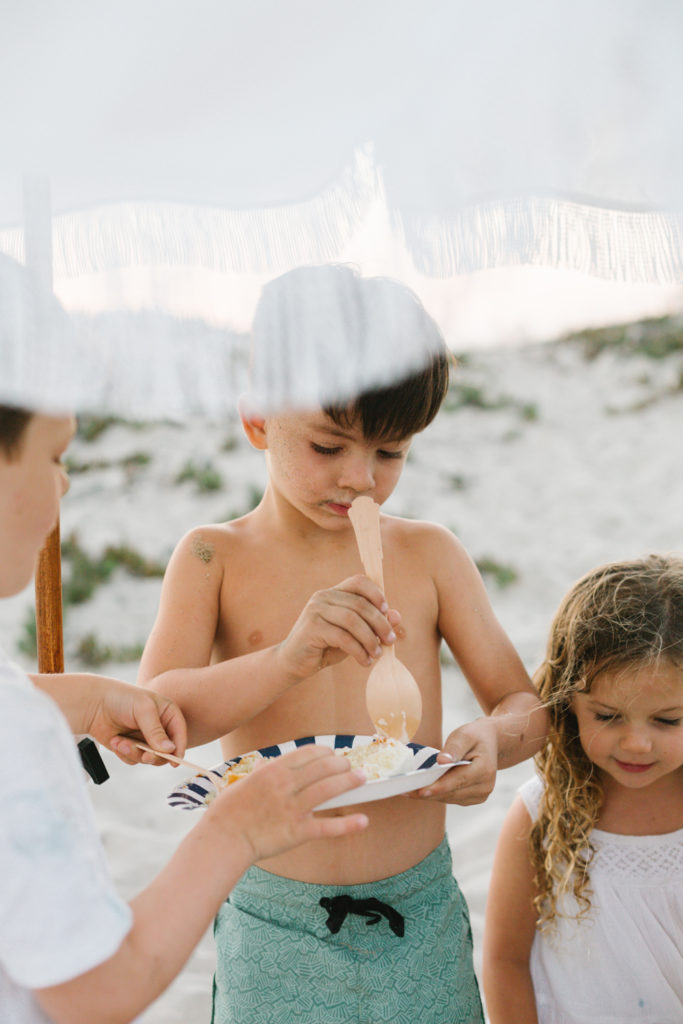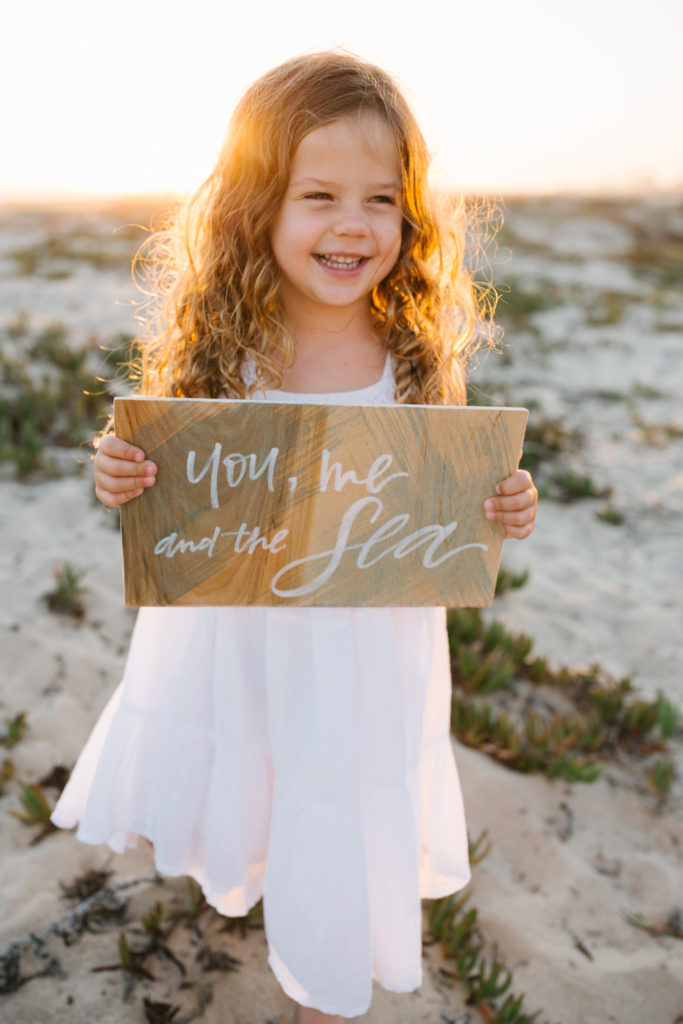 It was a pretty amazing night filled with dear friends and making memories for our kiddos, and that's what summer is about!!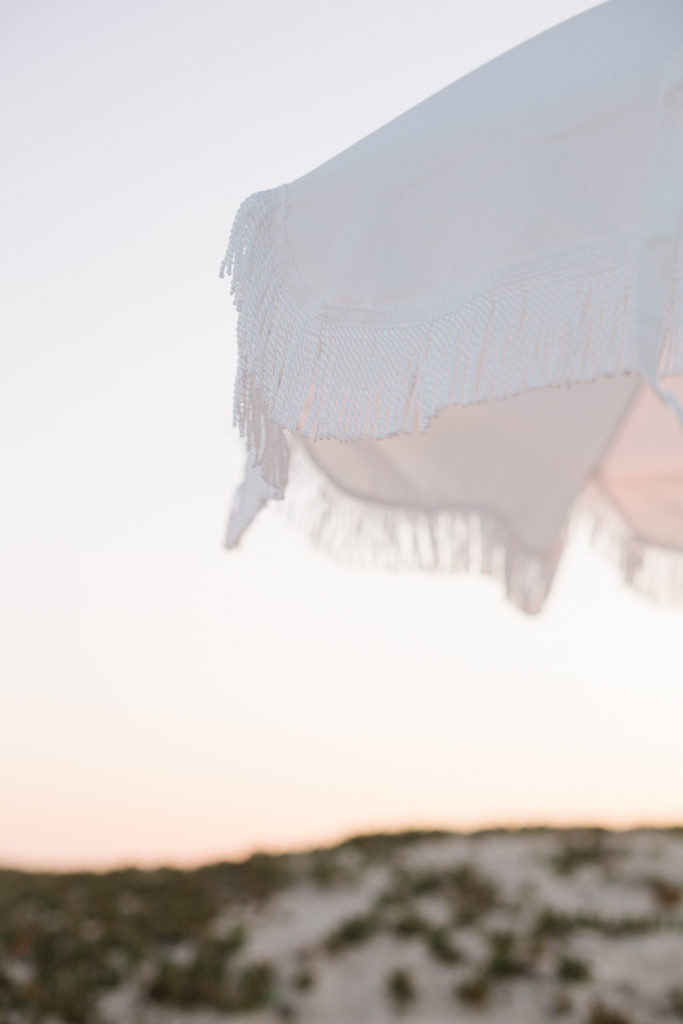 xx
Jacquelyn