With the holidays fast approaching, the dinner parties are getting marked into the calendar. We love throwing a dinner party, duh! Setting the table is our favorite part- we love any excuse to get our fun flatware, dinnerware, glassware, and textiles! So with fall dinner parties coming up, I ran to my nearest World Market (aka Cost Plus) to get some fall essentials to use. If you haven't heard of World Market, well you are leaving under a rock. Jk… if you still really haven't then I highly suggest checking them out here. They are awesome for any entertaining needs! The prices are point on. You won't be spending a fortune on items. Trust me…. your sideboard will be filled to the top with all the fun entertaining items.
Sooo… where was I? oh yes, I ran off to my nearest World Market to get some fall essentials for an upcoming dinner party. Well I was so excited with all their fall colors and styles, I'm showing you how I did two yes two different tablescapes! Get excited people!
Lets start with the 1st look….
Indigo Floral Fall
This one screams fall to me. Dark blues, greys, and a black charger… Hello fall nice to see you!
These are the following items you will need to set your table. We did a table of 4 so adjust for the size of your party.
Olivewood Trencher Board– Qty 2
Wood Baroque Chargers– Qty 2-4 (served food on)
These come in a set of 4 which is a great staple to have. I used them here for putting food on. Anything you can use different ways is a must!)
Also check out their selection of wooden bowls that you can use to serve more food in, these are all so great to have in your collection!
Indigo Blue Washed Jute Table Runner – Qty 1
Indigo Blue Floral Baroque Napkins – Qty 1 (comes in a set of 4)
Wood Stump Napkin Rings – Qty 1 (comes in a set of 4) Sadly the ones we used aren't in stock anymore, but you can easily use these or even these
Arc Flatware Collection – Qty 4 sets
Black Organic Rimmed Charger Plates– Qty 1 (comes in a set of 4)
Clear Moderno Dinner Plates – Qty 1 (comes in a set of 4)
9″ Aegean Melamine Plates Color: Grey- Qty 1 (comes in set of 6)
I love love love these!!
Vivian Wine Glasses Color: Grey- Qty 1 (comes in set of 4)
Fez Embossed Tumbler Glasses Color: Blue, Qty 1 (comes in a set of 4)
Glass Josie Tealight Candleholders – Qty 1 (comes in a set of 5)
How to set your table:
Start with putting on your table runner in the middle of the table. Align your black chargers evenly so they are properly in front of your chair and aligned with the charger across from it. Not having it aligned so they match, just makes it look messy. Believe me!
Once aligned, place your clear modern dinner plate and grey aegean plate on black charger.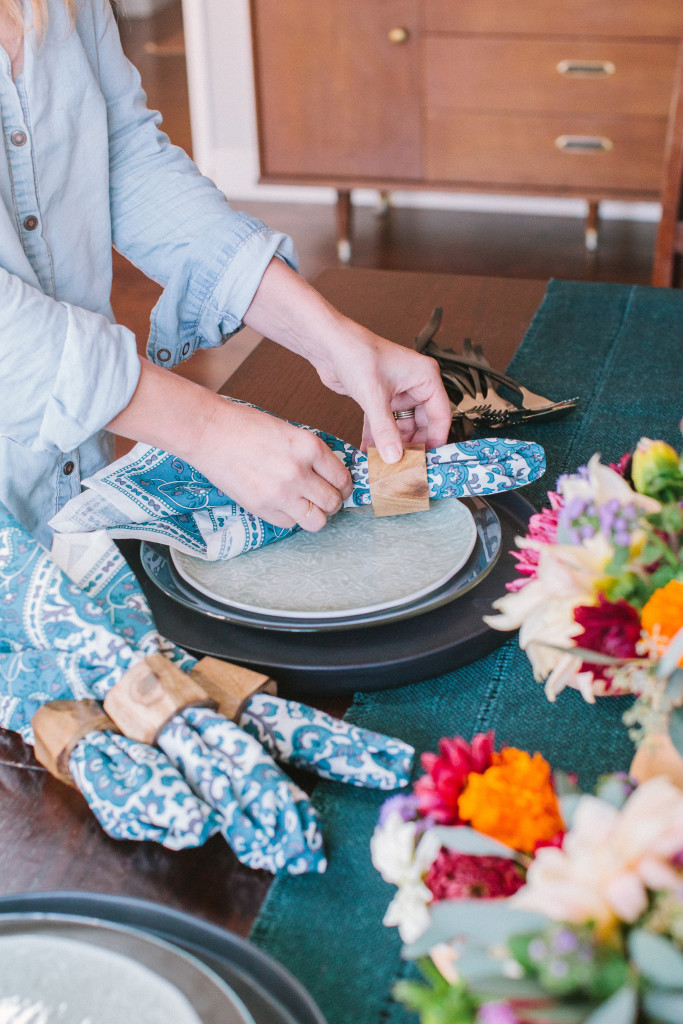 Then place your indigo blue floral baroque napkins on top of your plate, giving it a slight slant.
Place your black flatware on each side of your black charger. You can do this so many ways, be creative with it! See how we slant the napkin so you can still see your gray plate?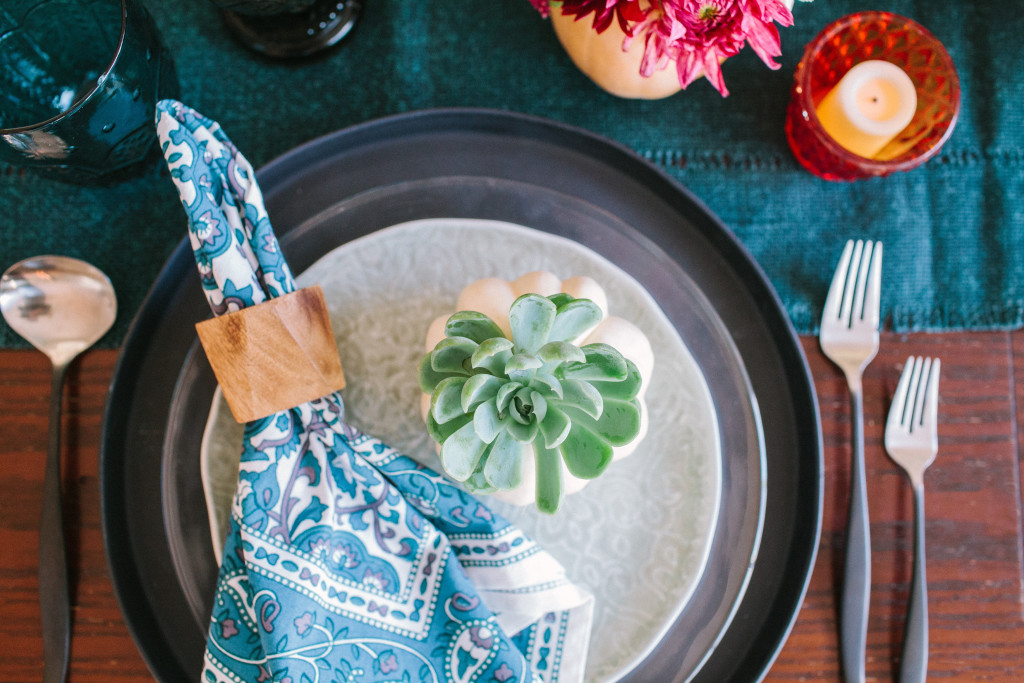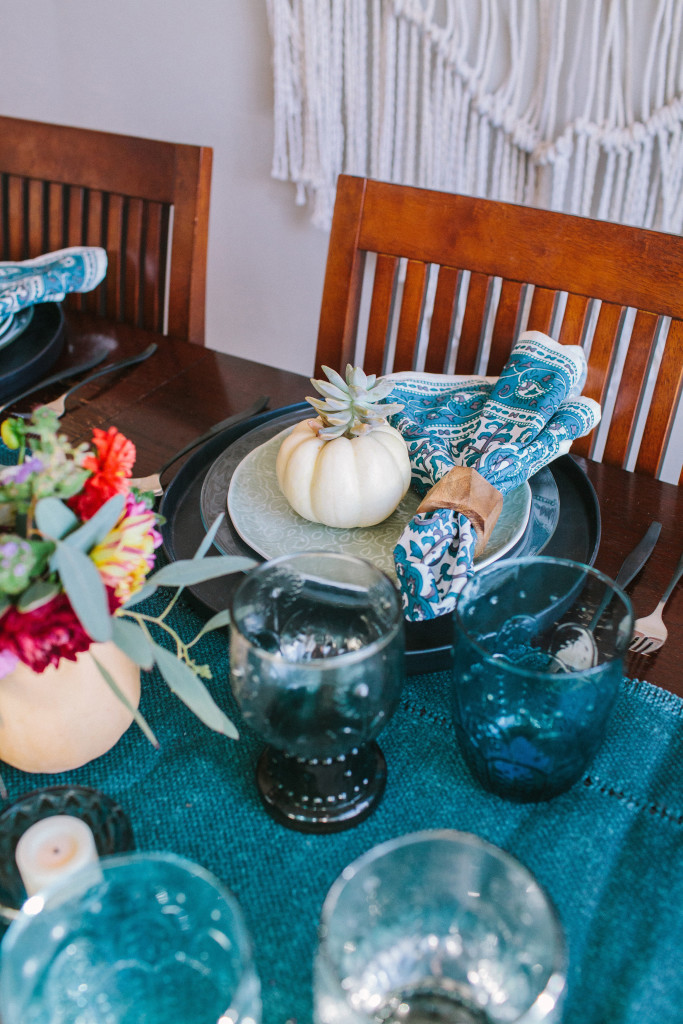 Set your glassware above your charger either to the right or the left. We like to put the smaller tumbler in front of the wine glass.
Then add your tea light candle holders to the table.
A succulent pumpkin to sit on top of your plates for a personal touch and is a great favor for your guests to leave with. See more on how easy we made these tomorrow on the blog!
For flowers, I simply went to Whole Foods and got some pretty fall colors and assembly the bouquets into butternut squash.
To make: Take 3-4 butternut squashes, and cut off the tops at different levels. Using a drill or knife hallow out the squash and place flowers inside. I did put a little water inside to keep the flowers fresh. If you are doing this for your dinner party, assemble and cut a few hours prior to your guests coming over. You don't want a moldy soft squash or dried mushy flowers. Assemble and simply put in your fridge just minutes before the doorbell rings.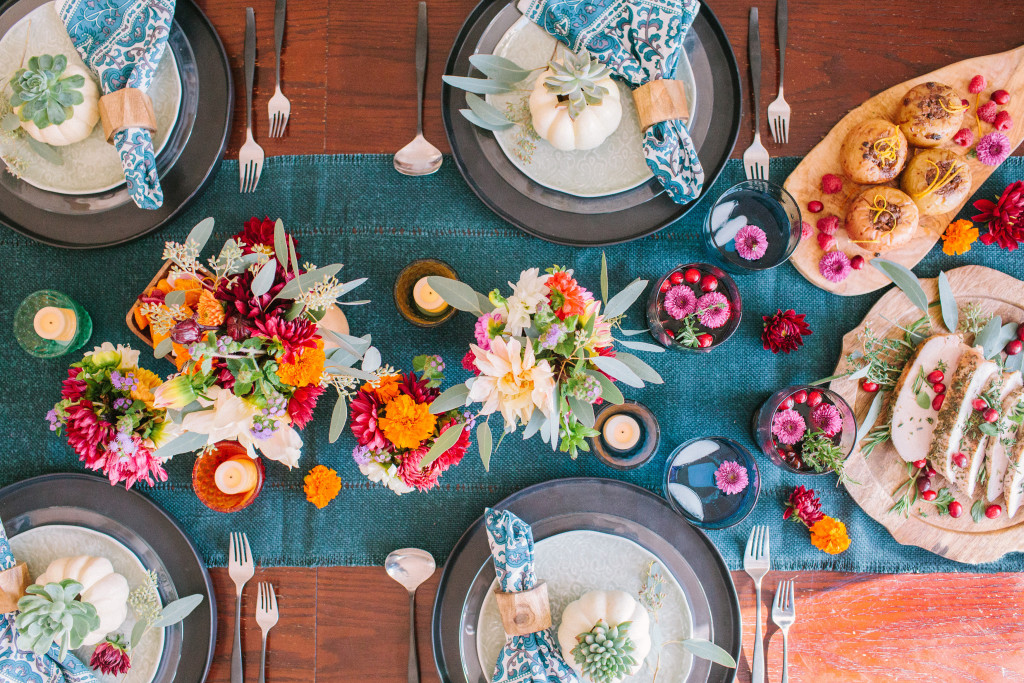 Add your food and pour your wine! I love how the food adds pops of color to the table, so pretty.
Mouth watering emoji insert here.
Lastly, add garnish and flowers for a pretty detail. Flowers truly give you a pop of color for the table, and you will wow your guests.
There you have it!
So pretty, doesn't that just scream fall! Perfect table for thanksgiving!
If the dark colors aren't for you, or you have another dinner party and want a slightly different look… here you go!
I can't decided which look I like better, both are just so perfect for this time of the year.
To achieve this look, simply take out: indigo runner, black charger, blue tumbler, black flatware, tea lights and blue indigo floral napkin.
Replace with the following:
Woven Fiber Table Runner– Qty 1
Ivory Organic Rimmed Charger Plates, Qty 1 (comes in set of 4)
Purple Thistle Napkins, Qty 1 (comes in set of 4)
Sawyer Flatware Collection– Set of 4
Vivian Glasses Tumbler Color: Plum Qty- 1 (comes in set of 4)
Warm Copper Mercury Glass Votive Candleholders, Qty 1 (comes in set of 6)
Pink Mercury Glass Votive Candleholders, Qty 1 (comes in set of 6)
All photos by Yasmin Sarai
We hope you love! Happy Fall!
xx
Abby