Another Friday so another Fall recipe for you…  It's getting close to the time where you will be carving up those pumpkins!! Although it's fun to get all messy and creative with your friends and family, one of our favorite parts of that tradition is the yummy pumpkin seeds you get out of it!  So we decided to try to do our pumpkin seeds a few different ways with some fun seasonings and flavors.  The good old olive oil and salt standby is always amazing, but why not add a little flair?!  We tried some out and are here to share the results, which by the way were delicious!
Photos by Megan Welker
Textiles by Rachel LaBarre
We did a little sweet, a little spice and a little savory!
With all of your pumpkin seeds, you'll want to clean them off and then soak them… For the sweet you'll soak in plain water, and for spicy and savory you'll soak in water with salt.  After they have soaked for about an hour or so you can drain them and place on a baking sheet.  We sprayed PAM on the sheet before laying them out.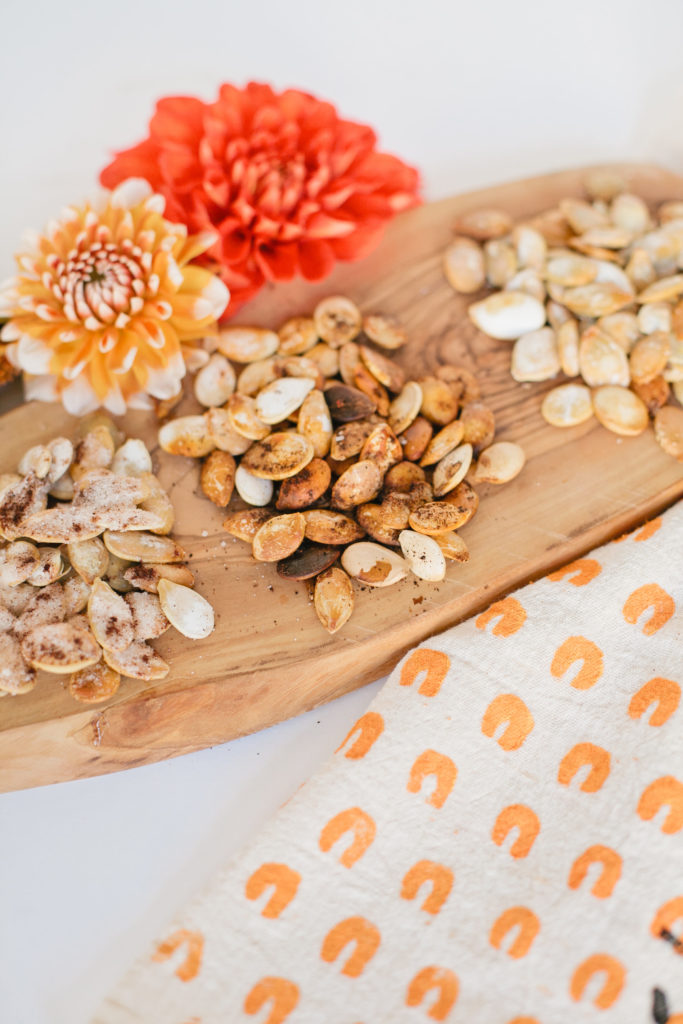 Now for the sweet…  We simply poured some melted butter (yummy) and then sprinkled with cinnamon and sugar.  Then bake at 400 for about 20 minutes.  These were super yummy for those of you with a  sweet tooth!
Then for the spicy…  For these you don't have to add anything but you could do some olive oil or use the PAM, then we sprinkled garlic salt and cayenne pepper.  Then bake at 400 for about 20 minutes.  We loved these, what can we say, we have a thing for spicy!!
Last up, the savory…  These were delicious, probably our favorite!  You can do butter, olive oil or PAM – the butter is extra delicious but obviously extra calories, hehe…  But we added garlic salt and fresh minced garlic on top of that, baked at 400 for about 20 minutes again.  For these, you could definitely add herbs like rosemary, thyme or sage to add even more flavor… We plan on trying that when we carve pumpkins in a few weeks!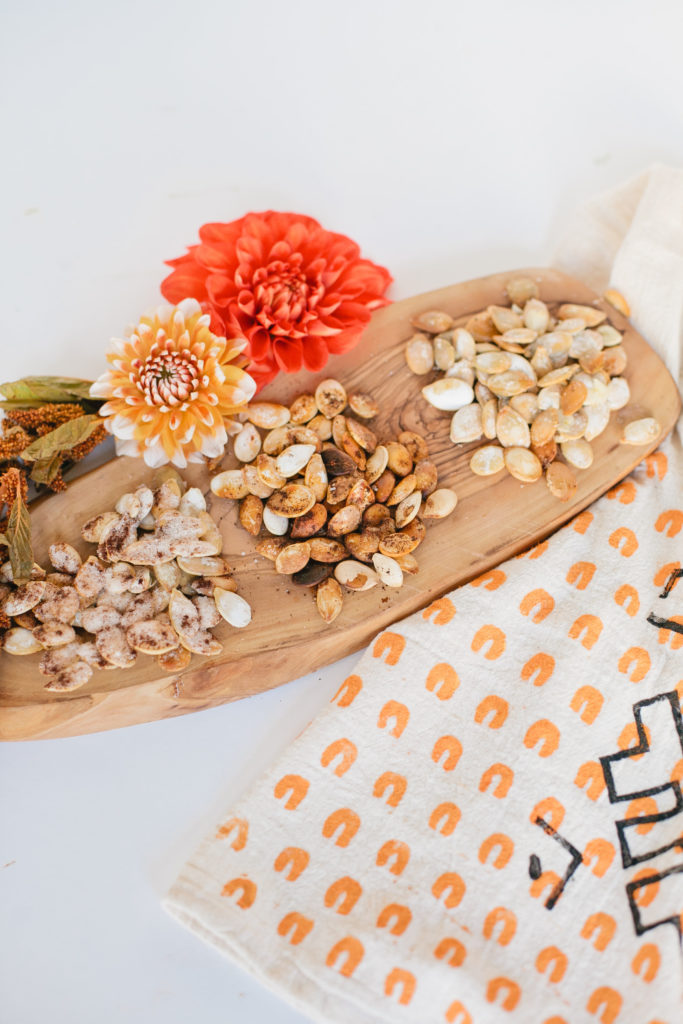 Hope this inspires you to get creative after your pumpkin carving!  If you have any fun pumpkin seed recipes please let us know in the comments below… We are all about trying new flavors this season!
xx
Jacquelyn