Since we couldn't do too much traveling this year, we thought we'd take you on a few vacations via the blog! Today we are going to Mexico to celebrate Christmas – Feliz Navidad! It's one of those Christmas songs that get in your head and never leaves, but hey, we still love it! It's fun, bright, colorful, and full of amazing food and drinks. Get ready for tons of inspiration, you'll definitely want a margarita after this!
Photos by the talented Gillian Le Brun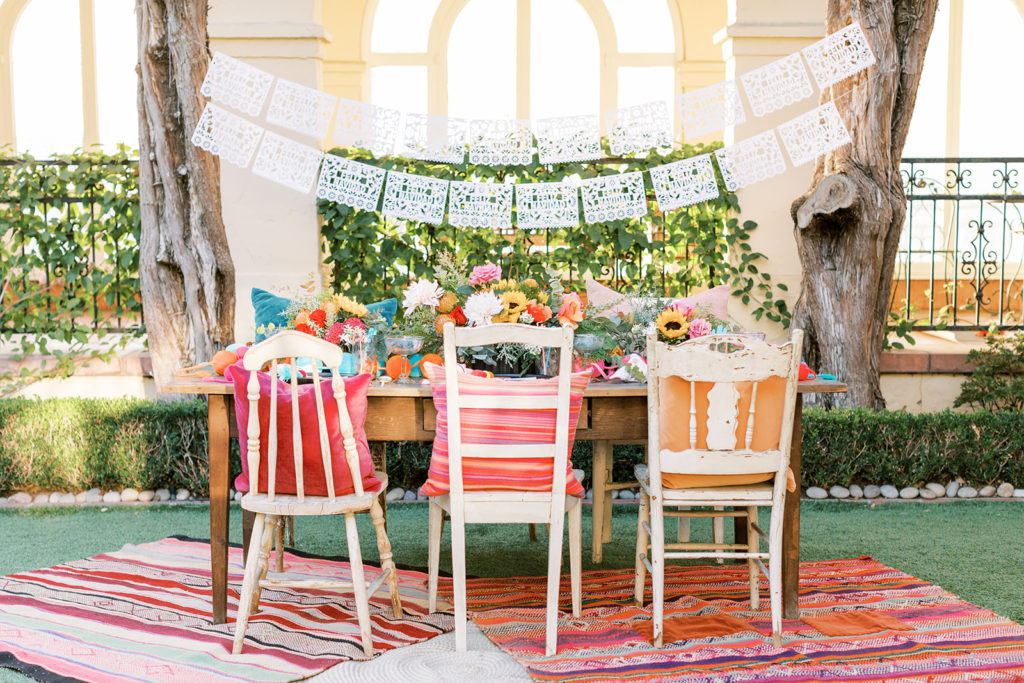 A festive invitation and details by Proper Letter is always a must! Along with some Papel Picado by Lula Flora Designs!! With all this color we thought styling everything on this dark Chasing Stone mat would be fun and I love how it turned out!! It's always fun to play with a little something unexpected.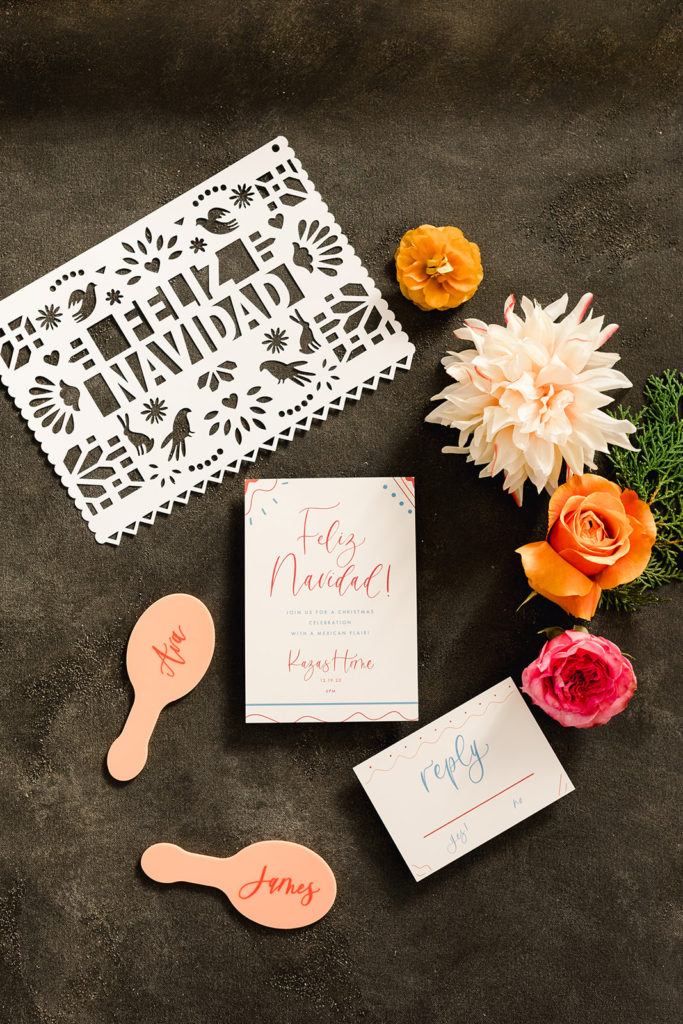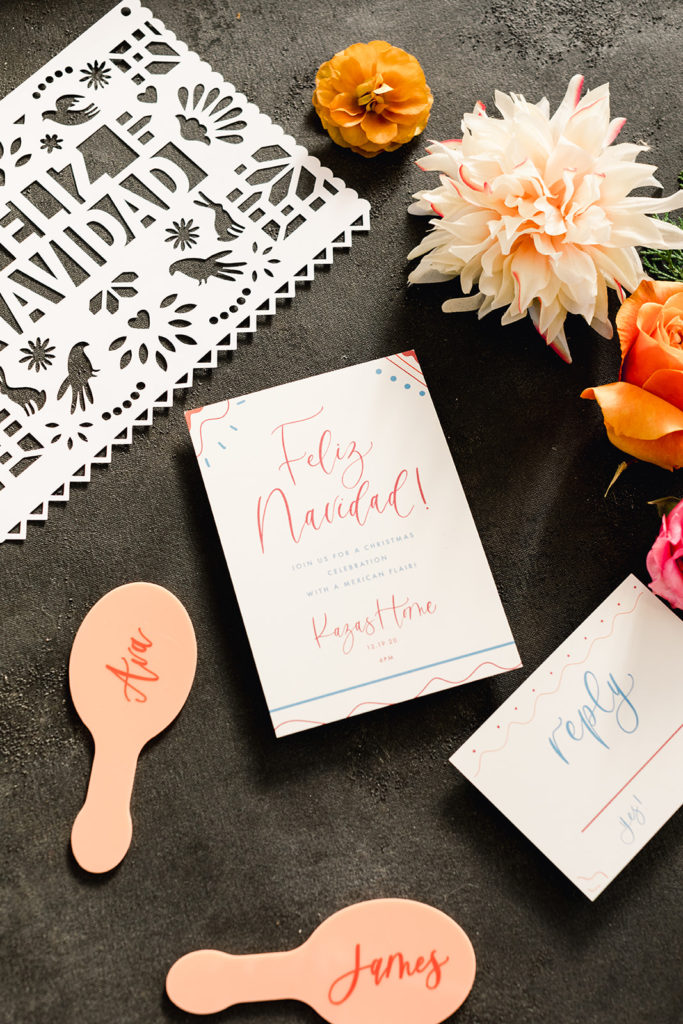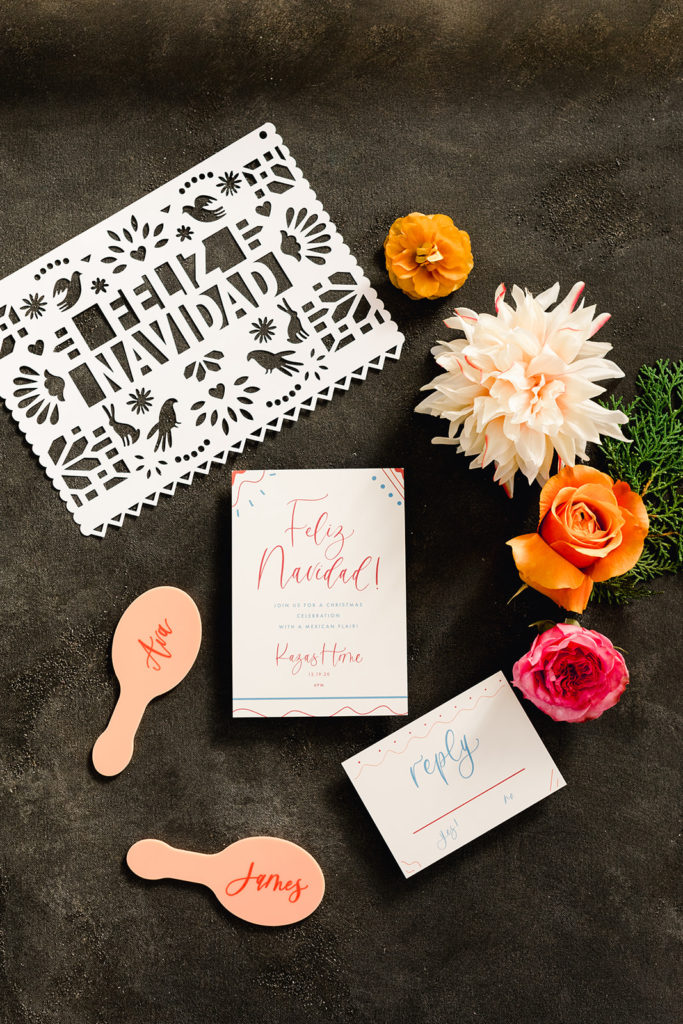 I'm pretty in love with those cute little maraca place cards Aislinn from Proper Letter created!!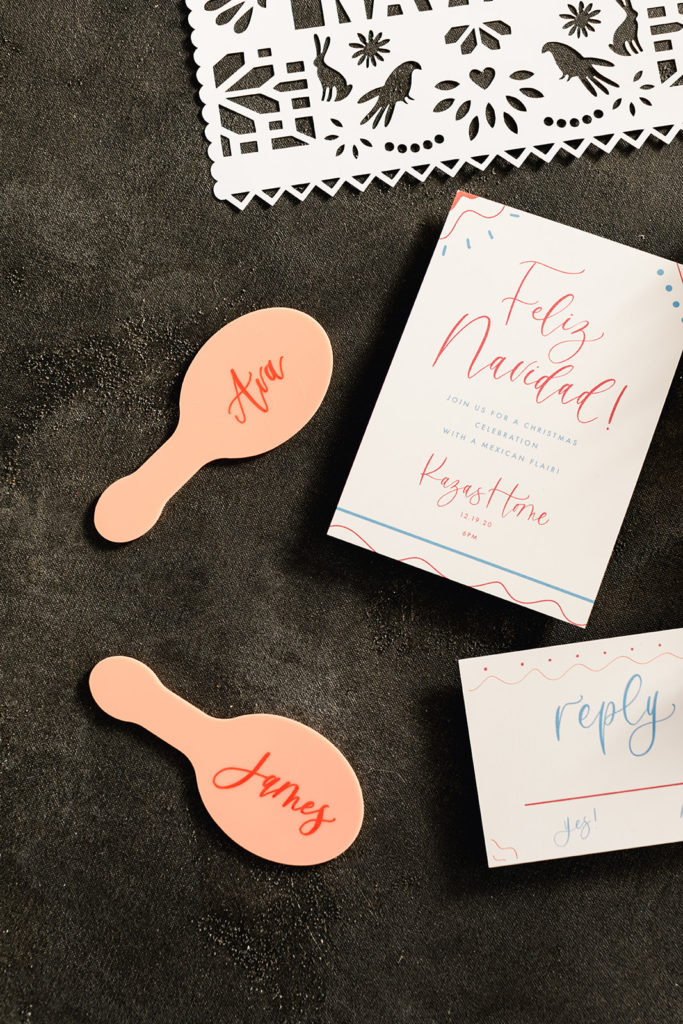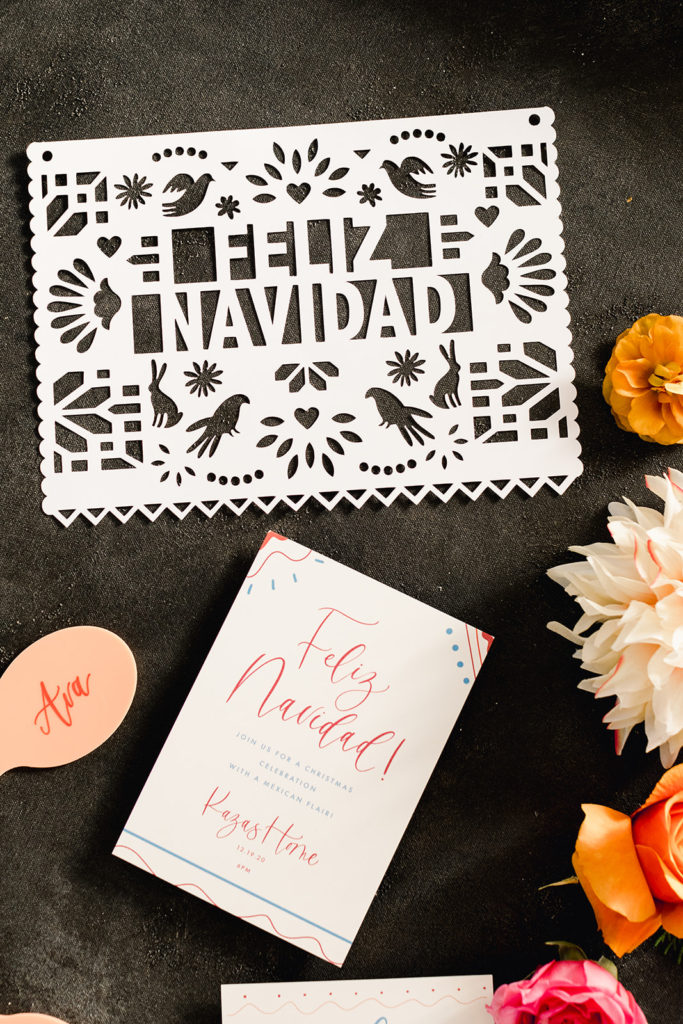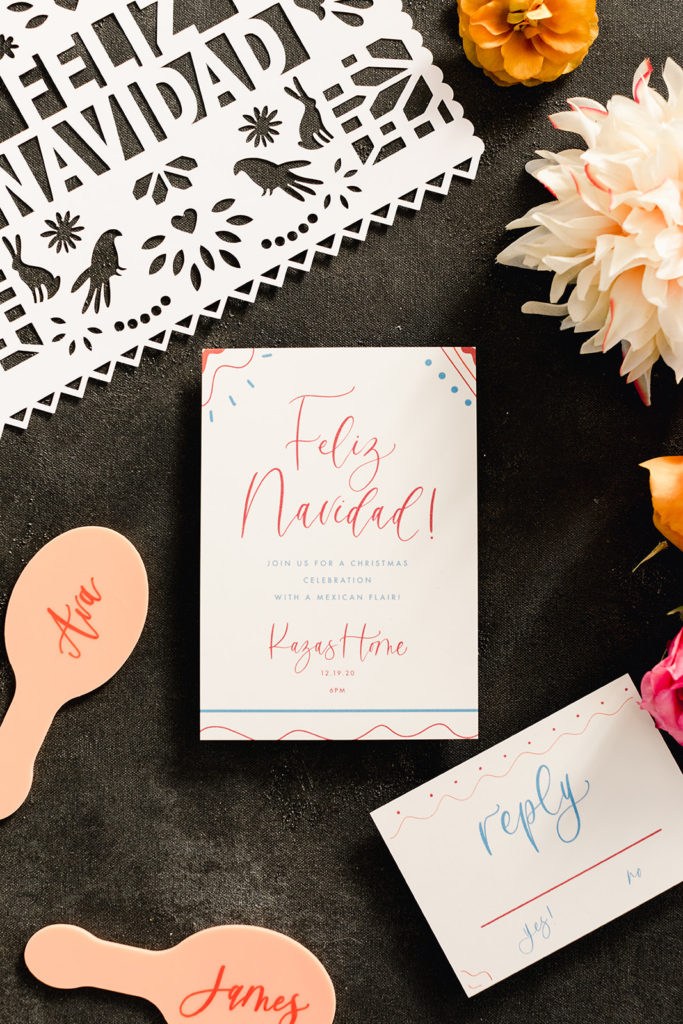 Along with these adorable cocktail stir sticks and the bar menu – more on those amazing drinks you see later!!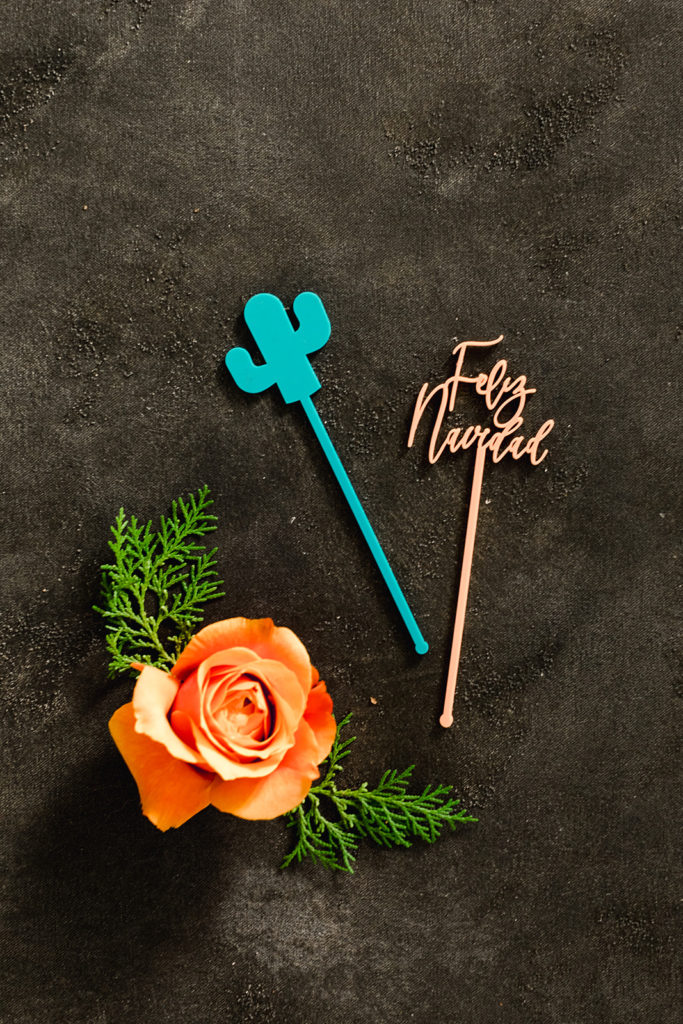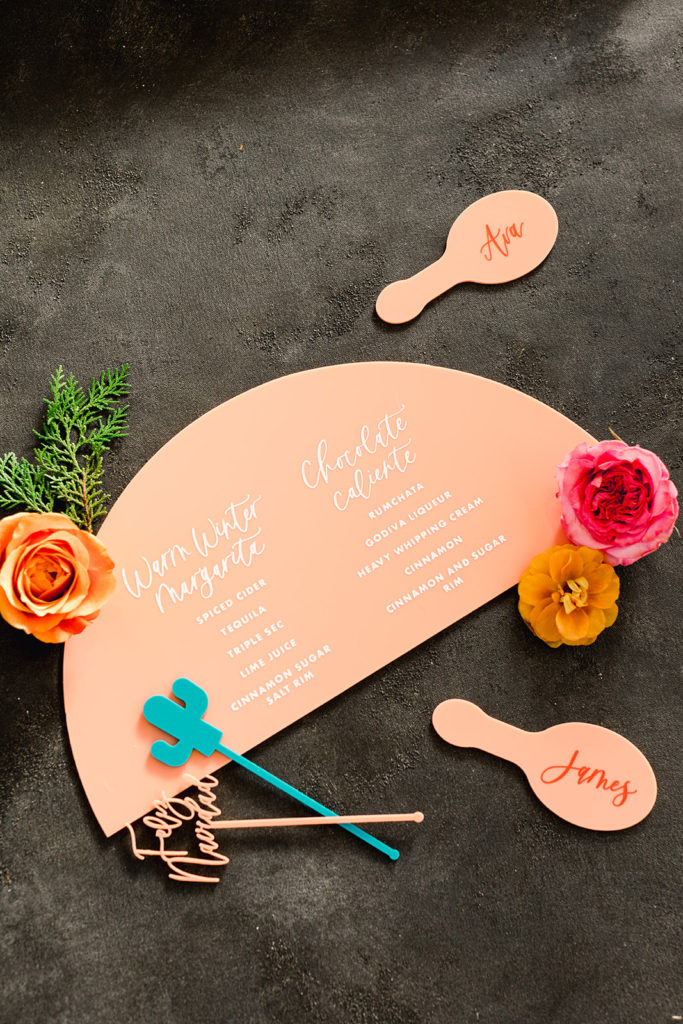 And don't forget about these pretty ornaments from Lula Flora, she always has the cutest details in her shop!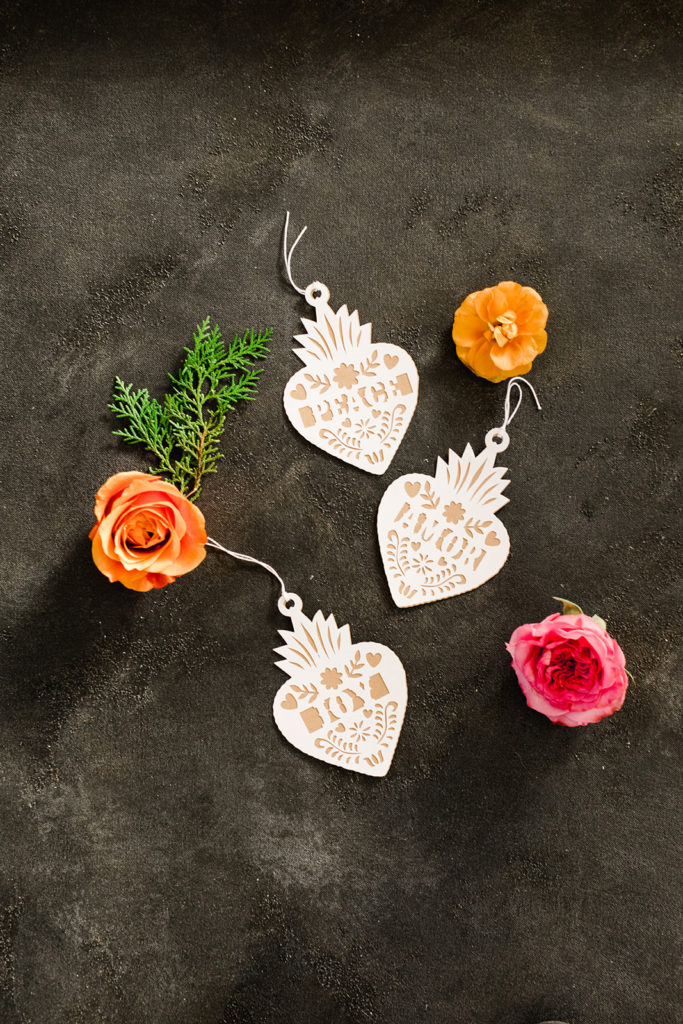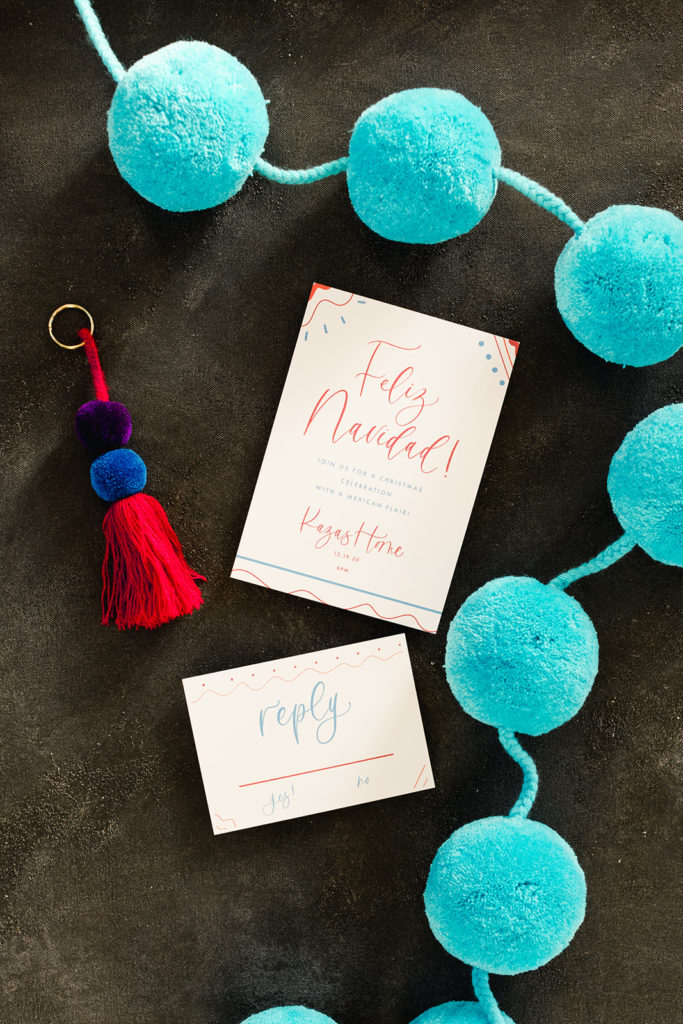 On to the fiesta!!!! Our table was set and looking oh so colorful! Makes me want to hop on a plane, fly to Cabo, and meet Santa down on the beach! I loved playing with Sweet Salvage Rentals' different textiles and of course, enjoyed those pretty vintage mismatched chairs! The beautiful Lula Flora Papel Picado banner behind the table really sets the tone as well.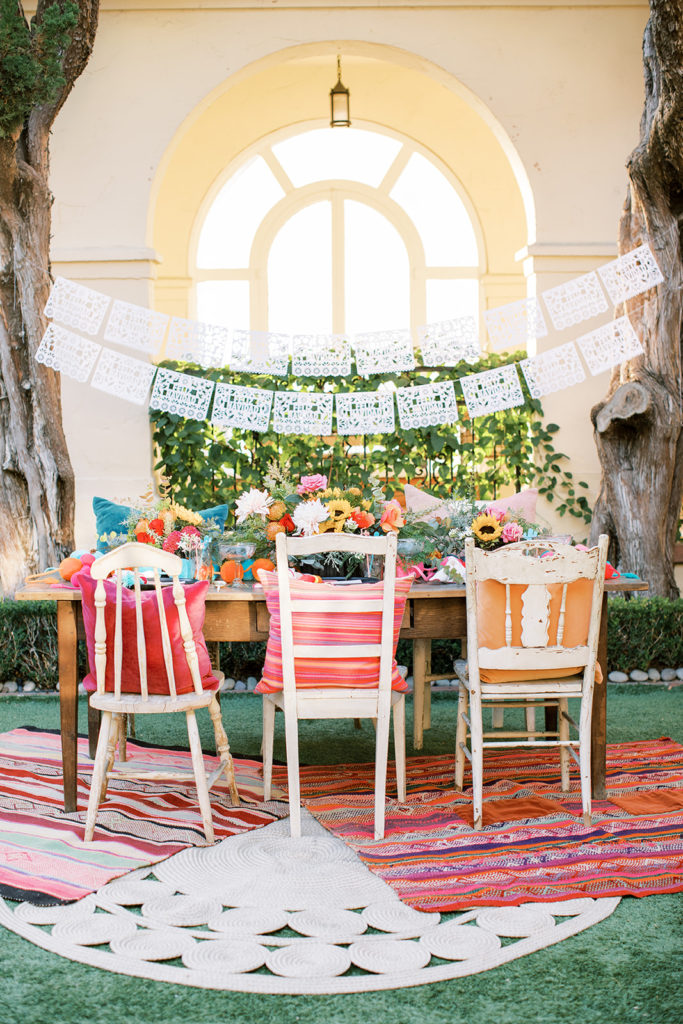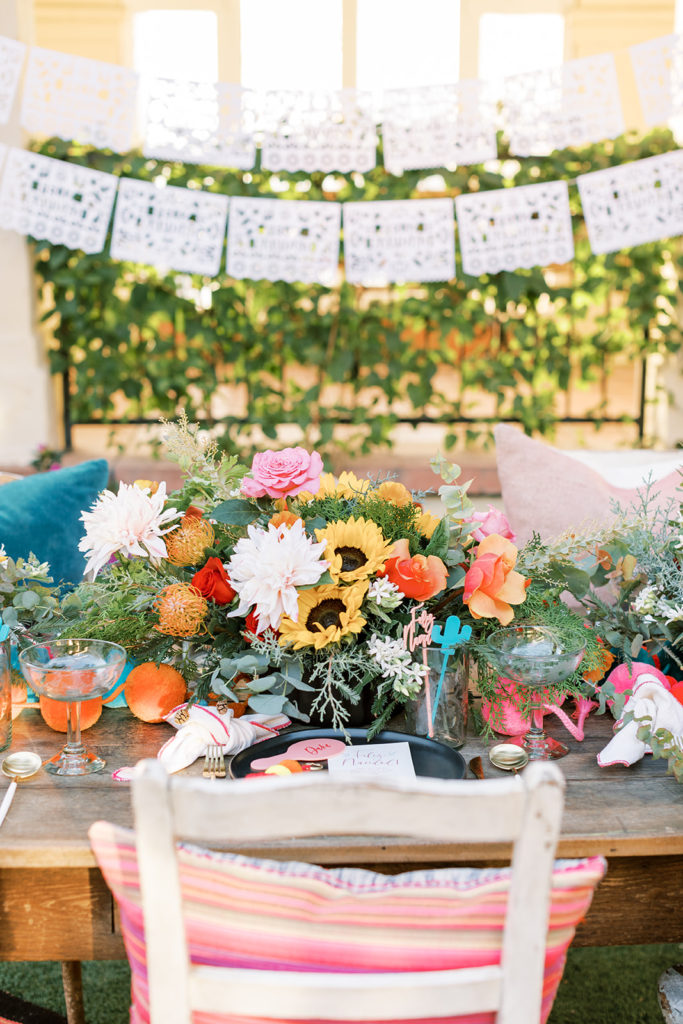 I'm so in love with all of this COLOR!! But I also love how we paired it with the black plate – just to mellow it out a bit! Still gotta have the color though! And Susanna from French Buckets wowed us with these amazing florals! The colors were so vibrant and definitely make Christmas a little more fun!!
The beautiful glassware is from The Little Market, and always a Beijos favorite! They are actually from my own collection at home. I topped it off with napkins from Hostess Haven, that pop of pink was the ultimate touch!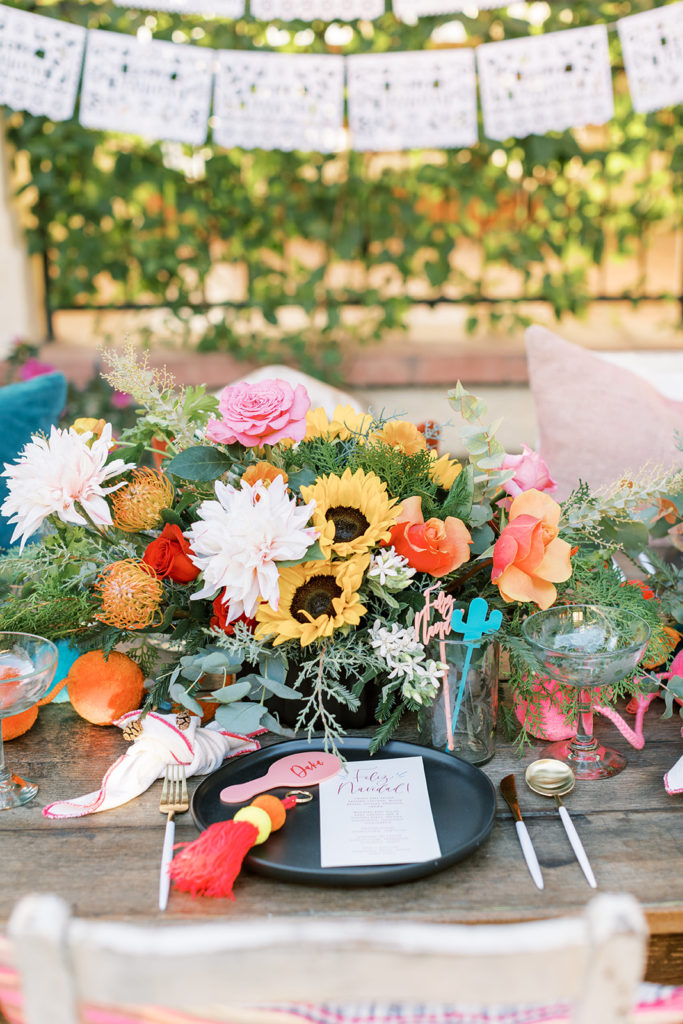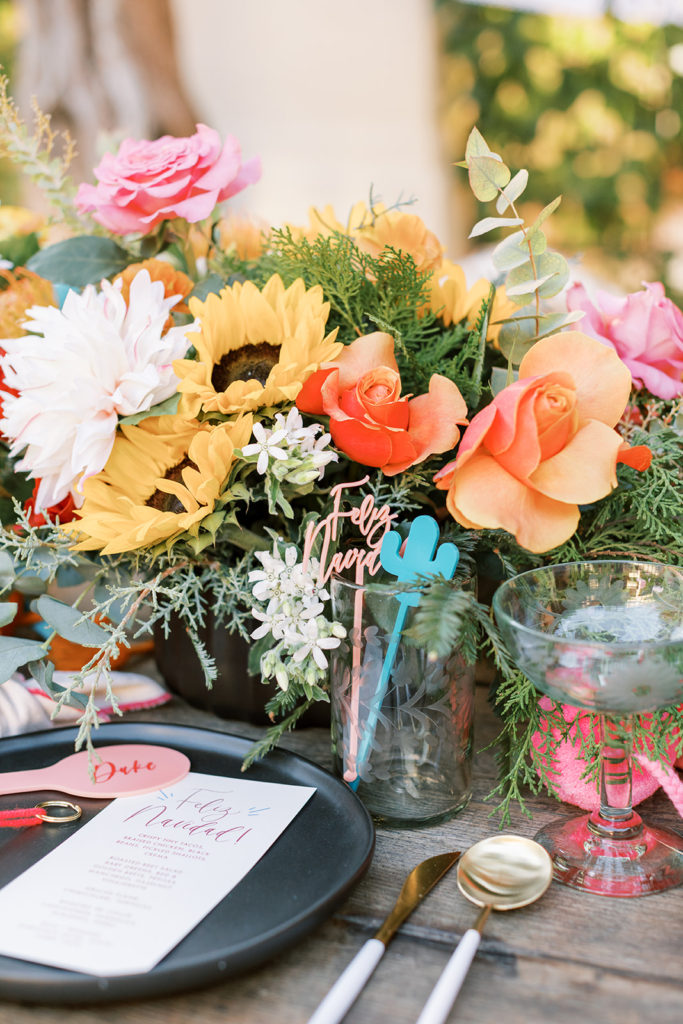 Did you notice the Pom Pom keychains on the plates and the Pom Pom garlands placed on the table?! Also from The Little Market and I absolutely adore them! They are so fun and would even be cute in a kid's room! I loved adding them to this pretty table.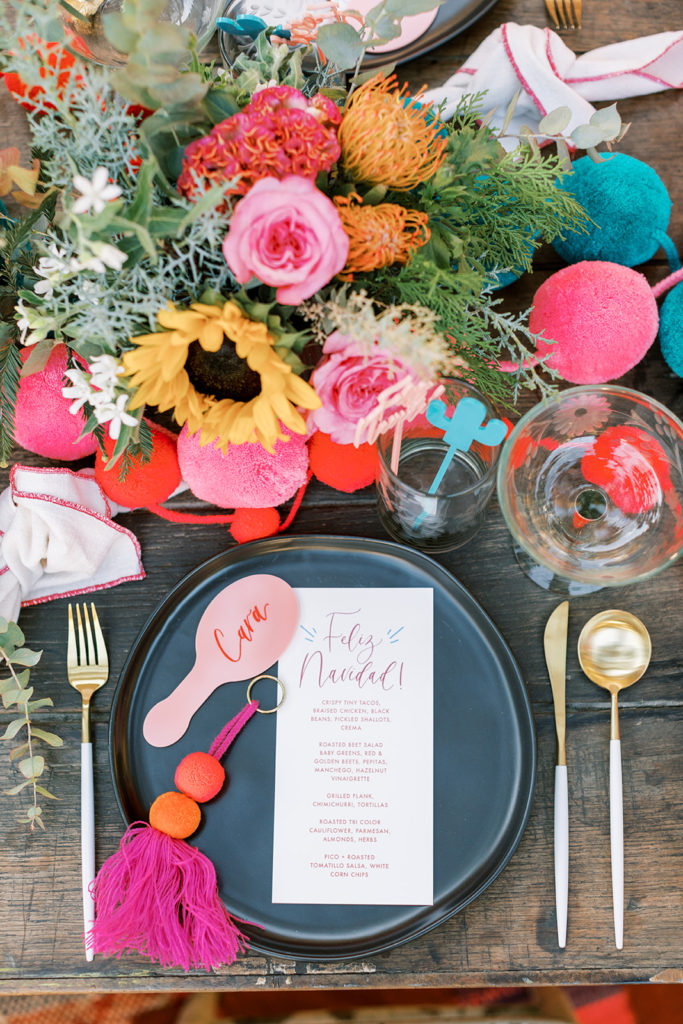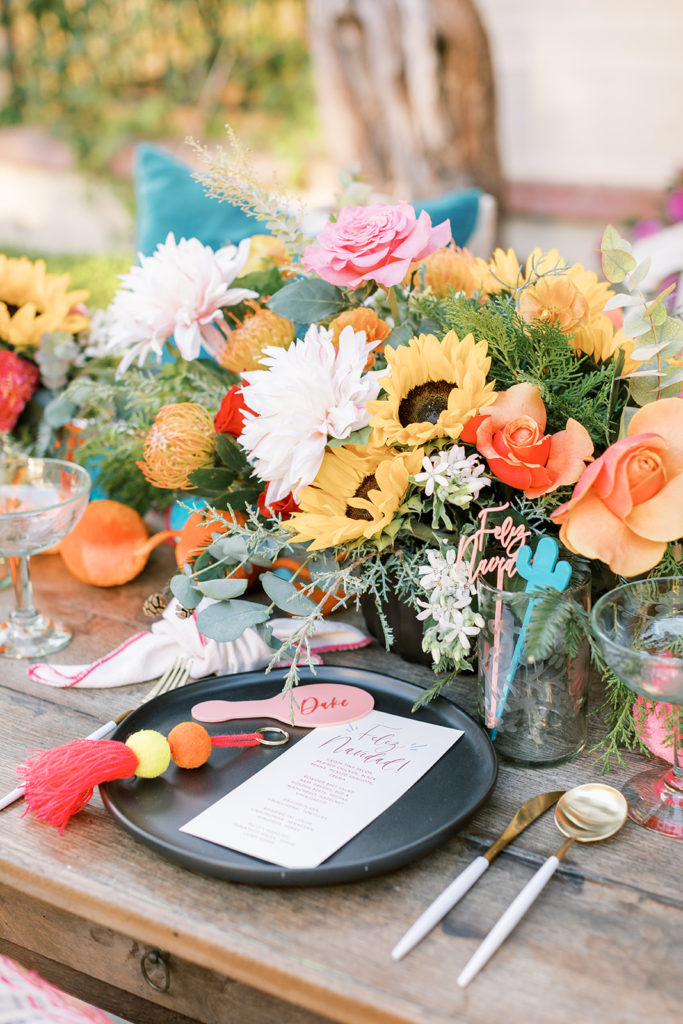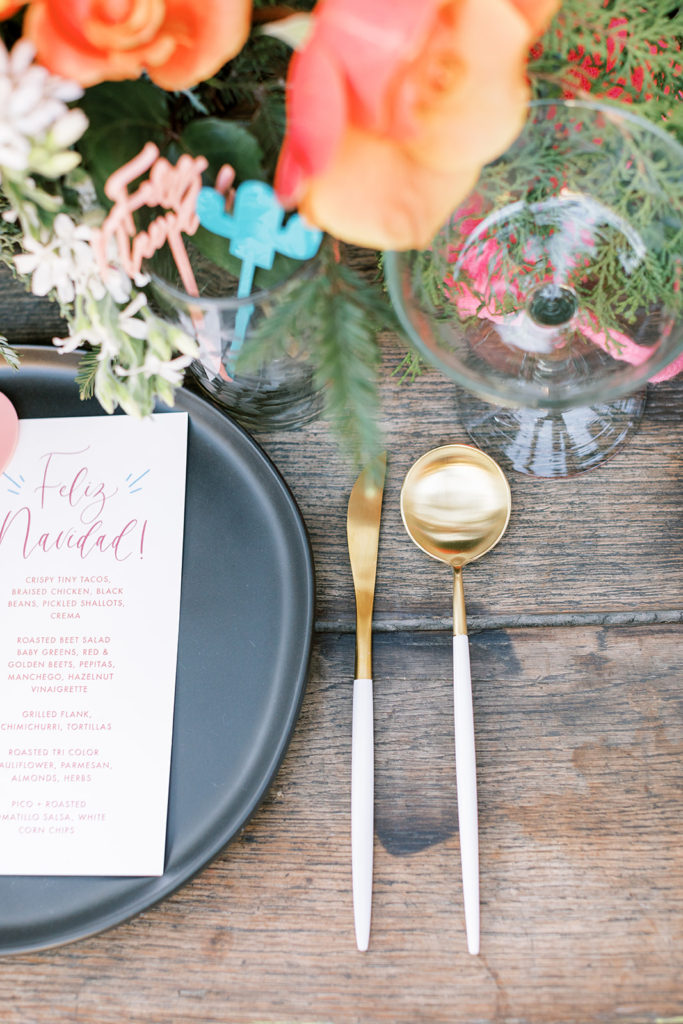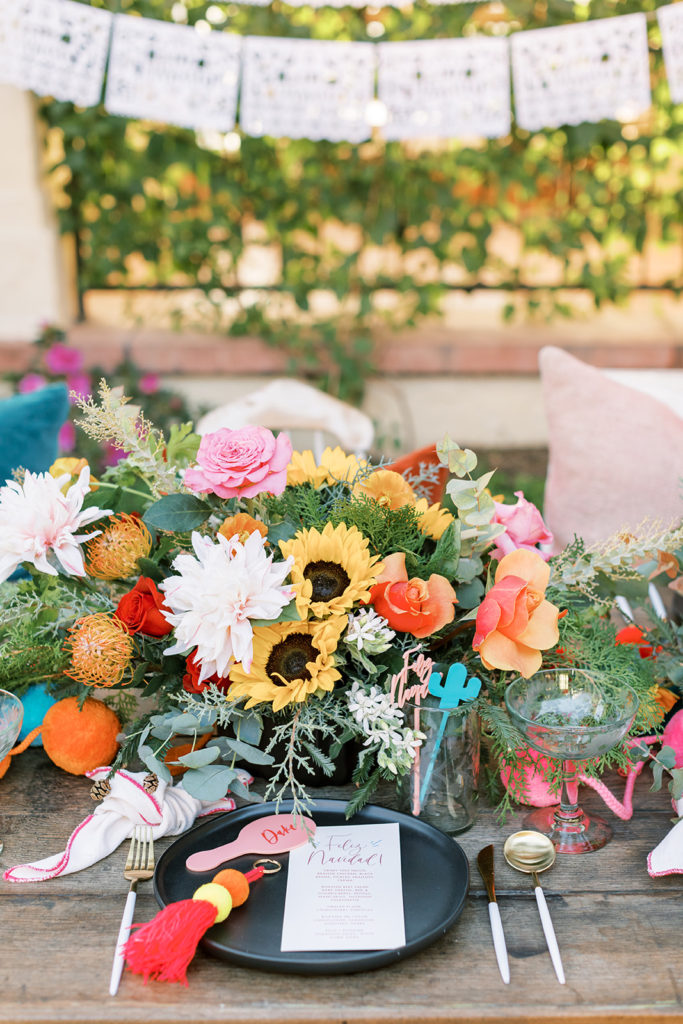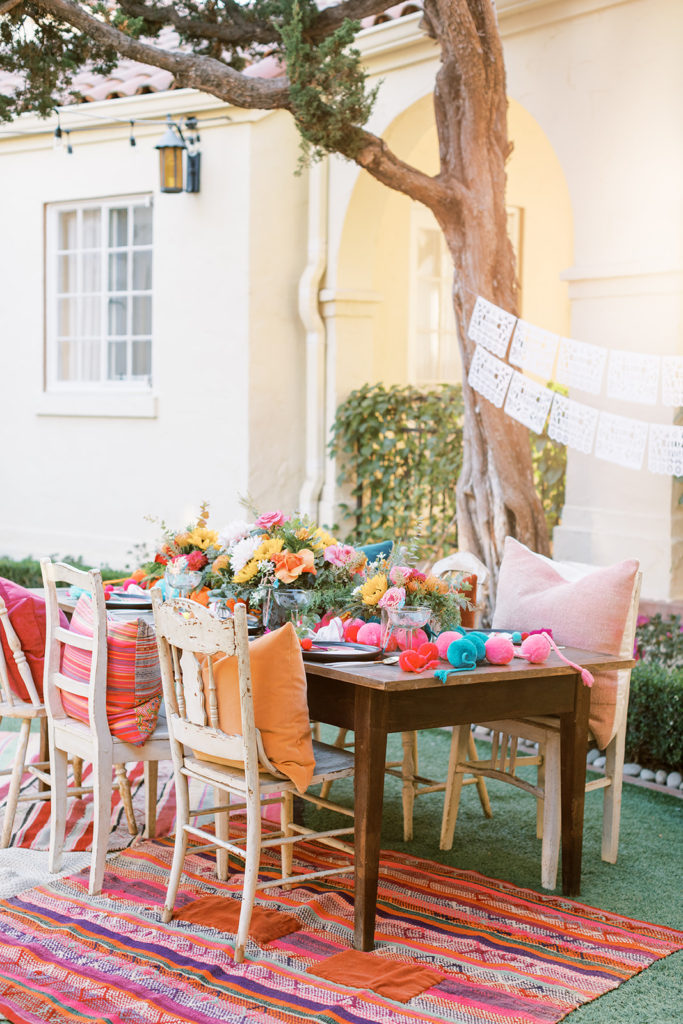 It all came together so beautifully! Loving all of those details by Proper Letter. From the menus to the place cards, and even to the cocktail stirrers!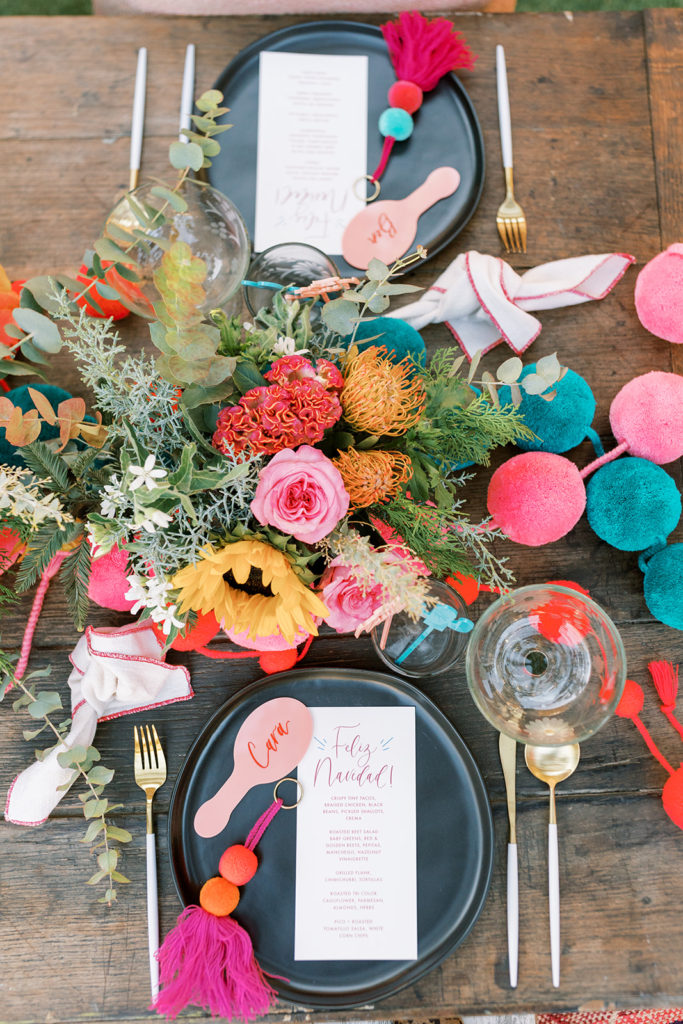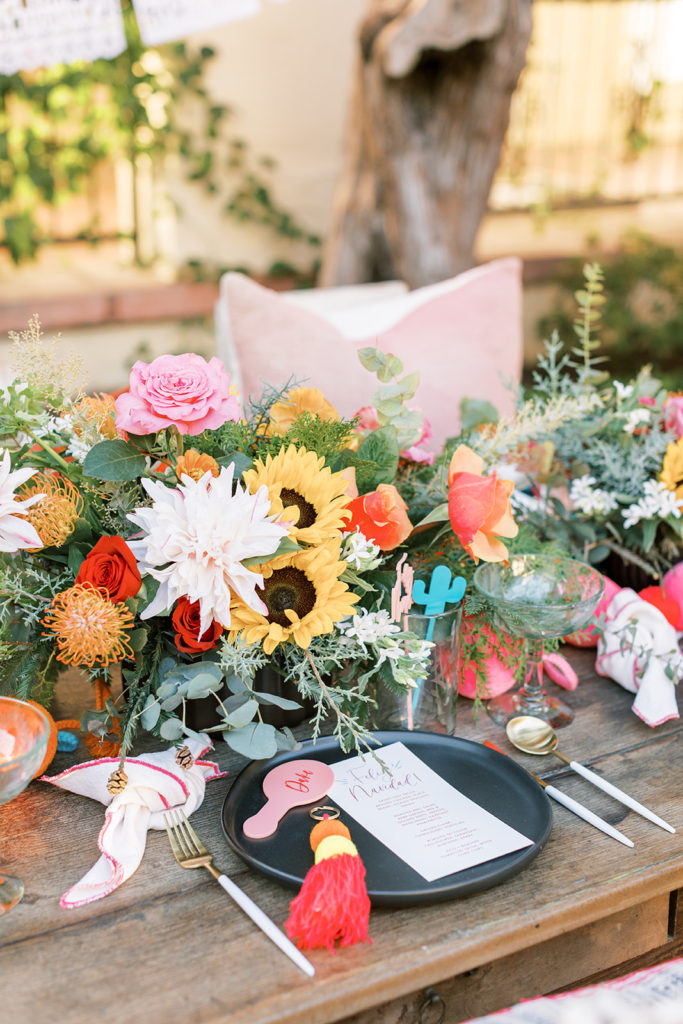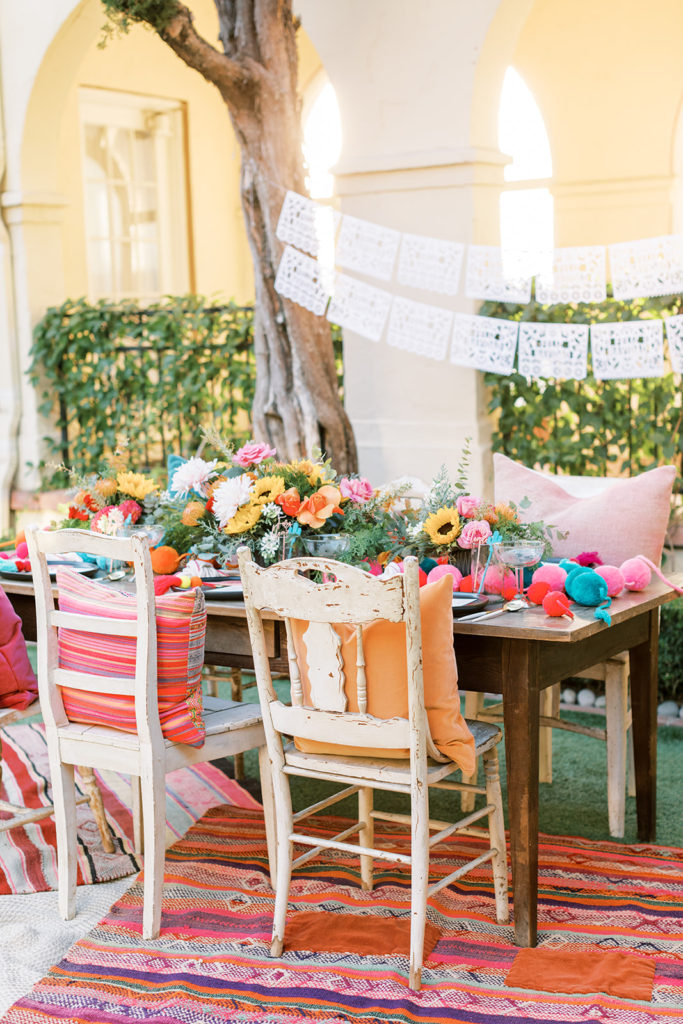 Excuse my while I continue to show all of these GORGEOUS photos by Gillian Le Brun. She captured everything so beautifully.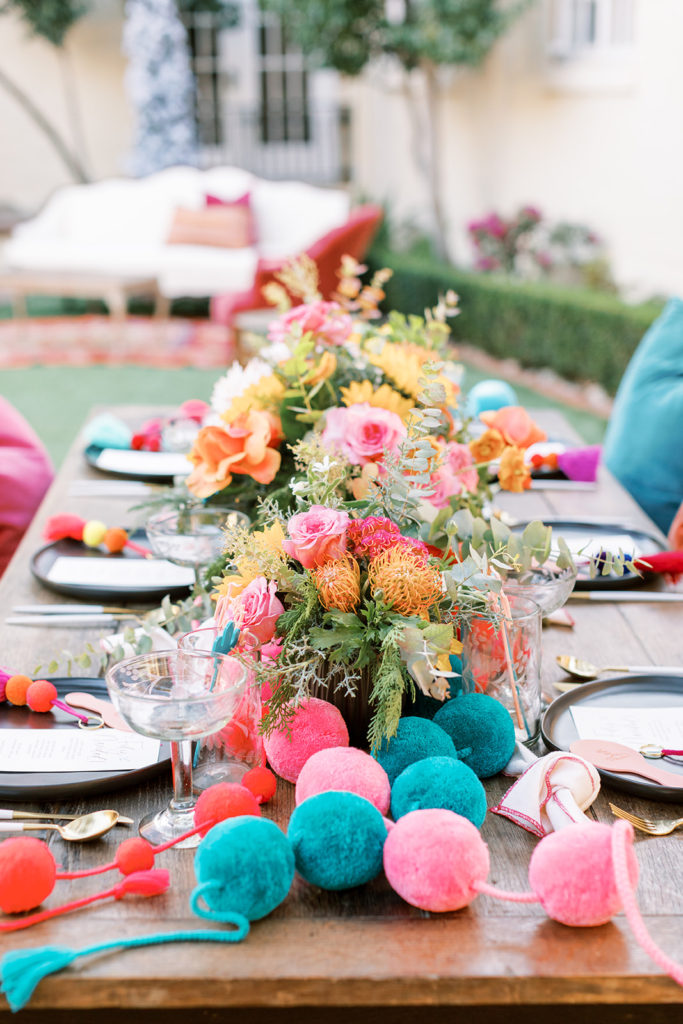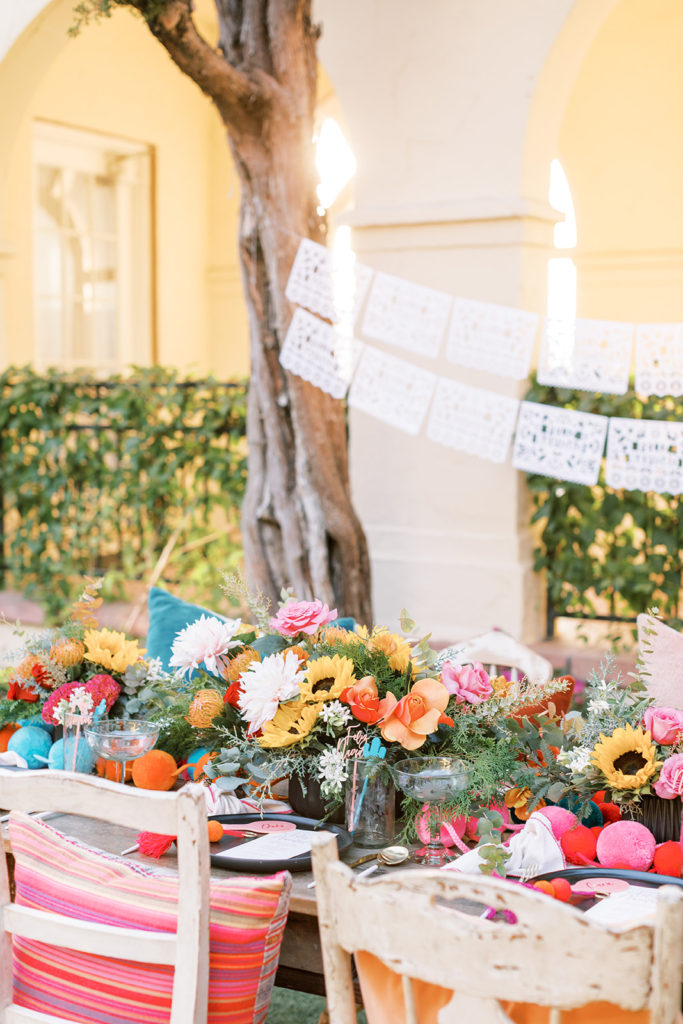 All the pretty details!!! So obsessed with this!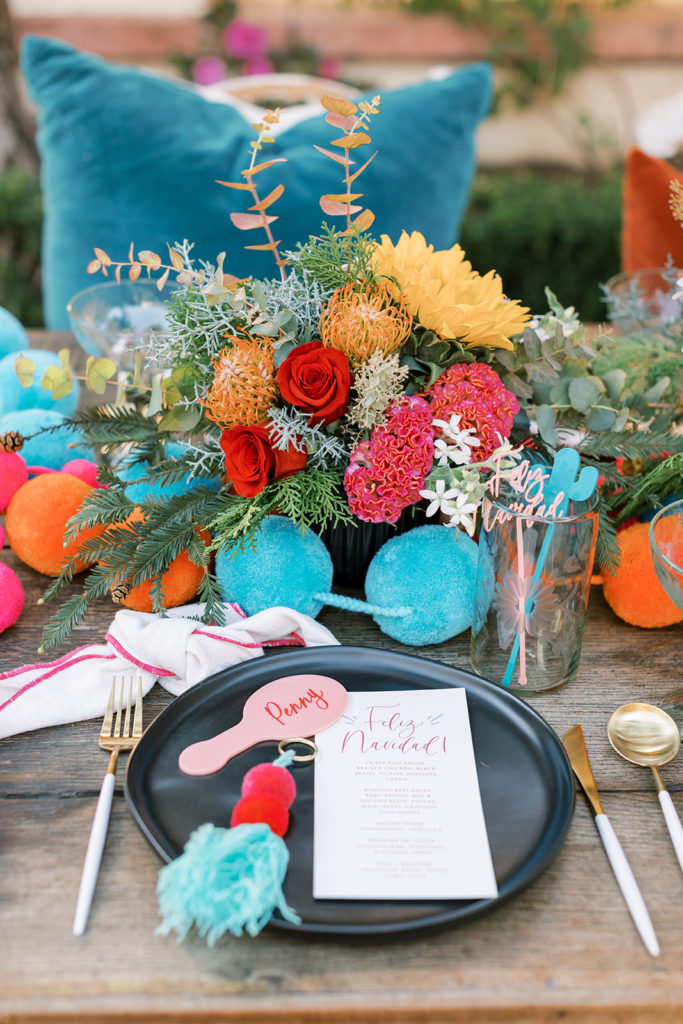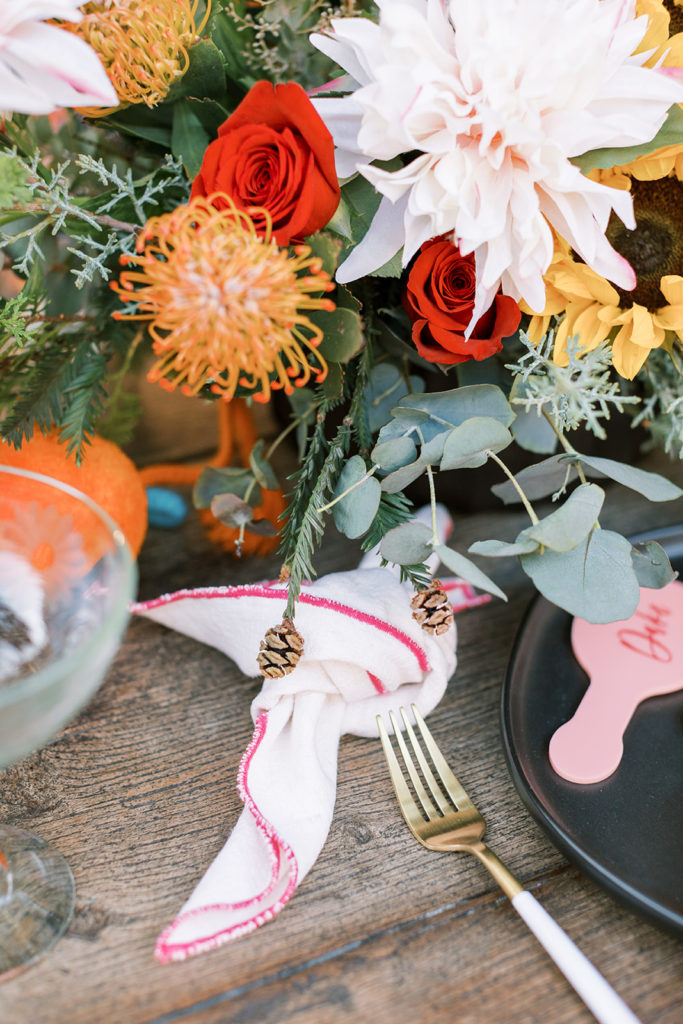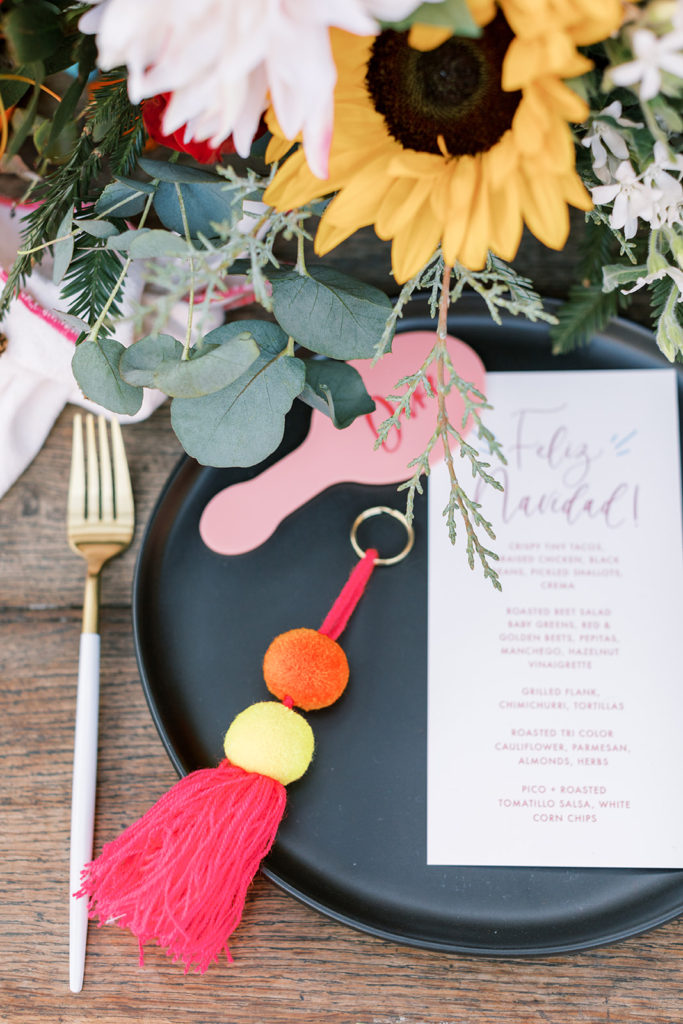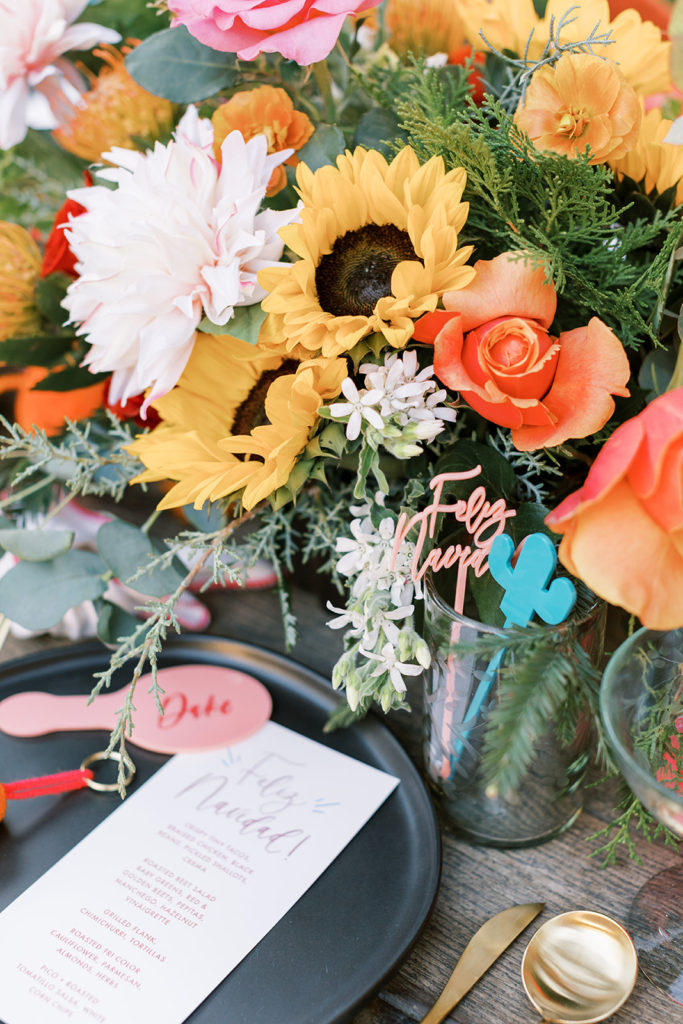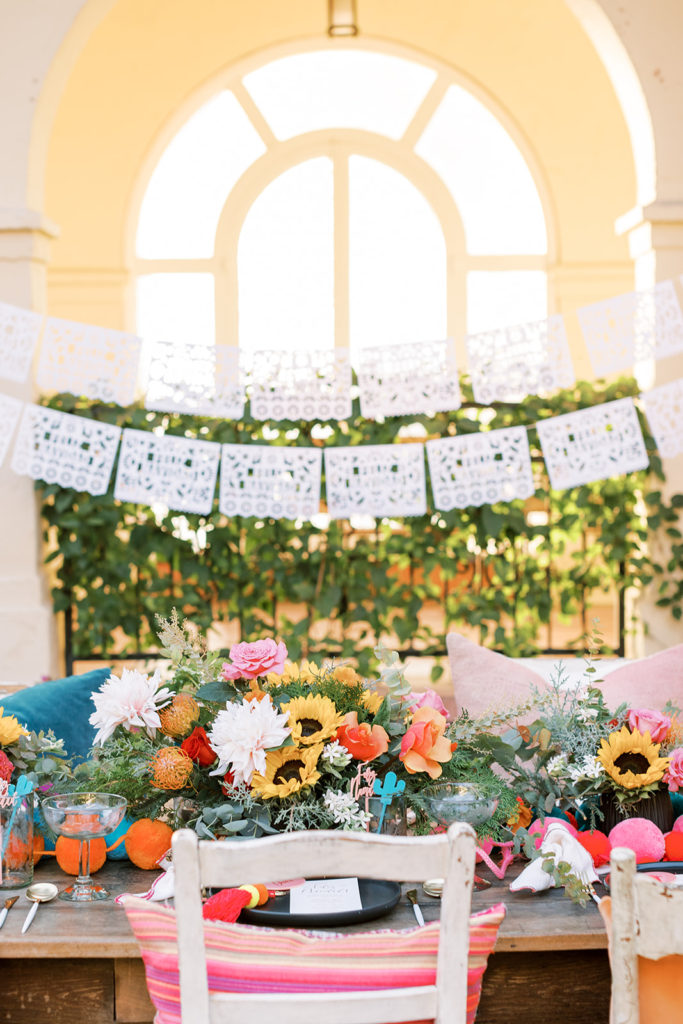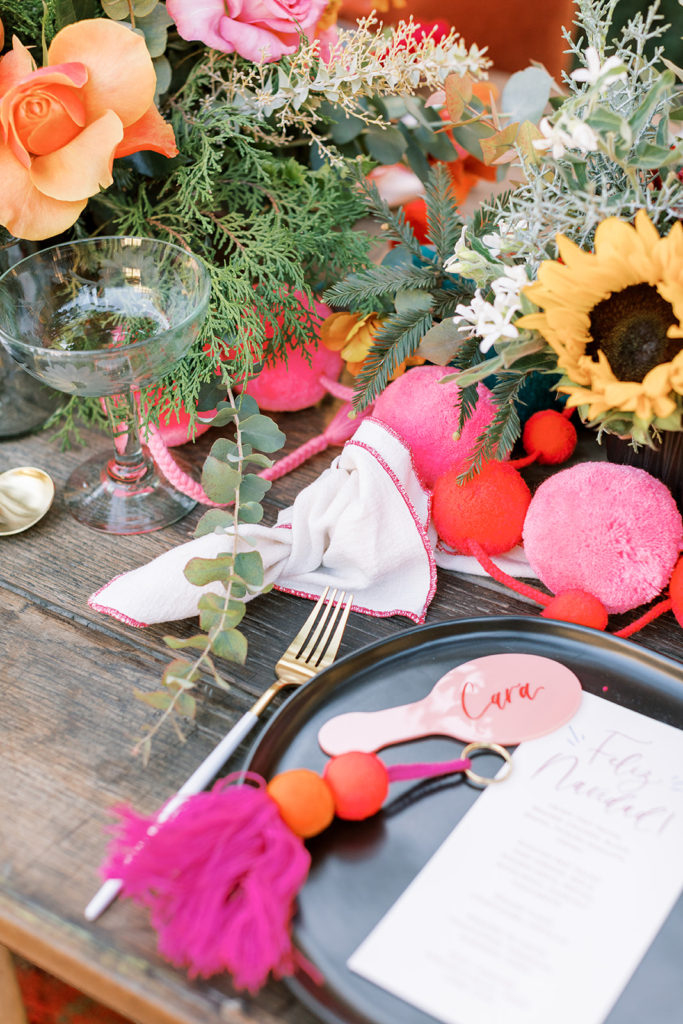 We did this photoshoot at the Ebell Club of Santa Ana. It has a beautiful Spanish vibe that was perfect for our Feliz Navidad theme. Aren't those windows stunning? There is so much history and beauty here!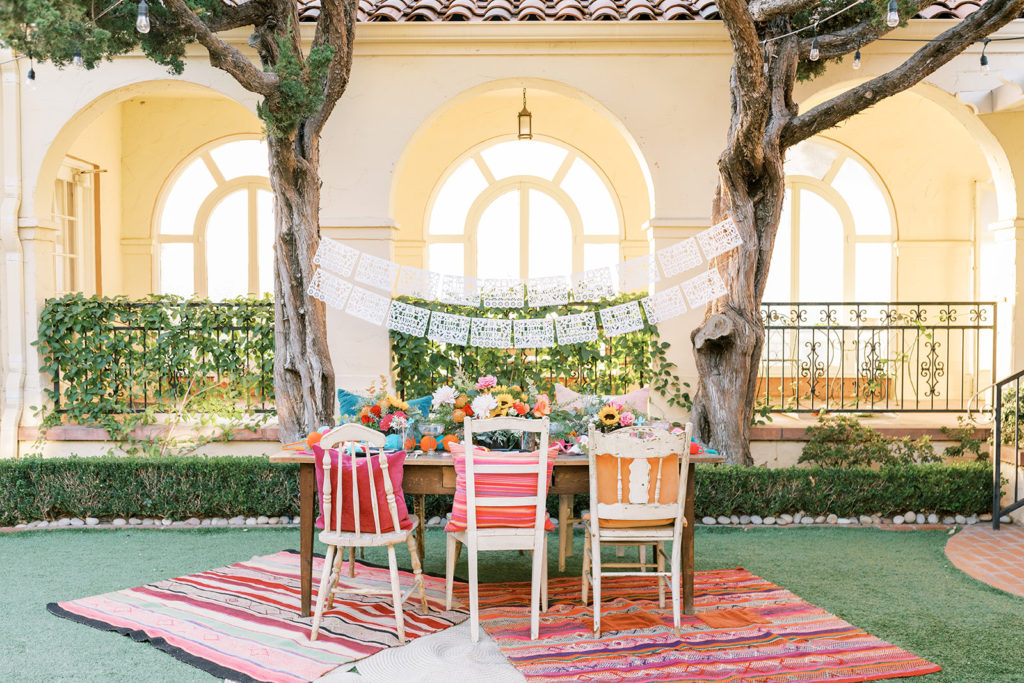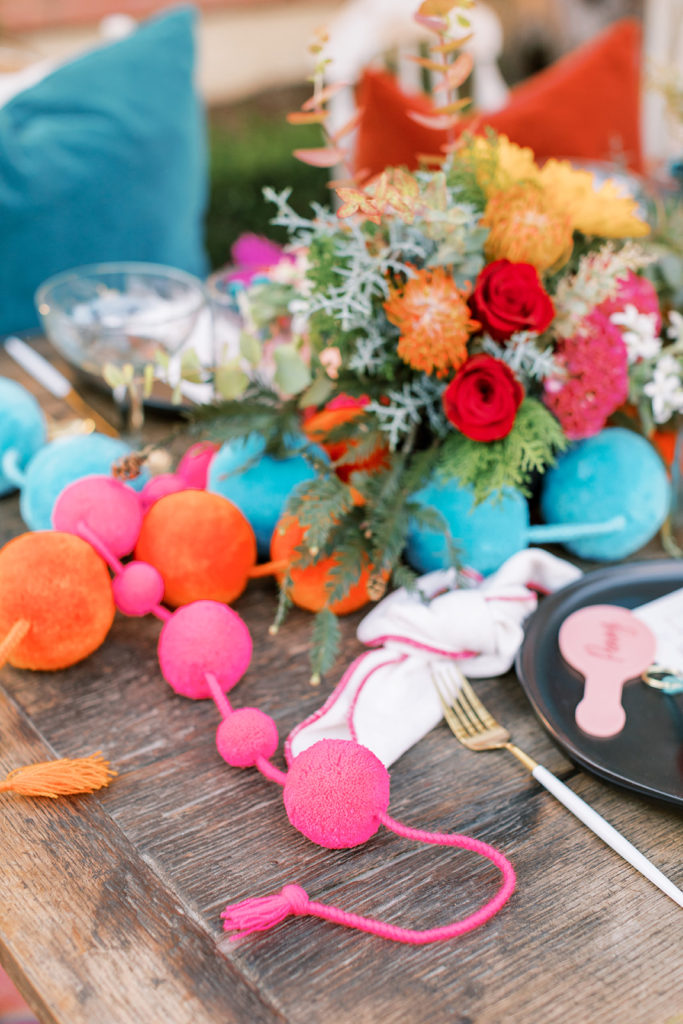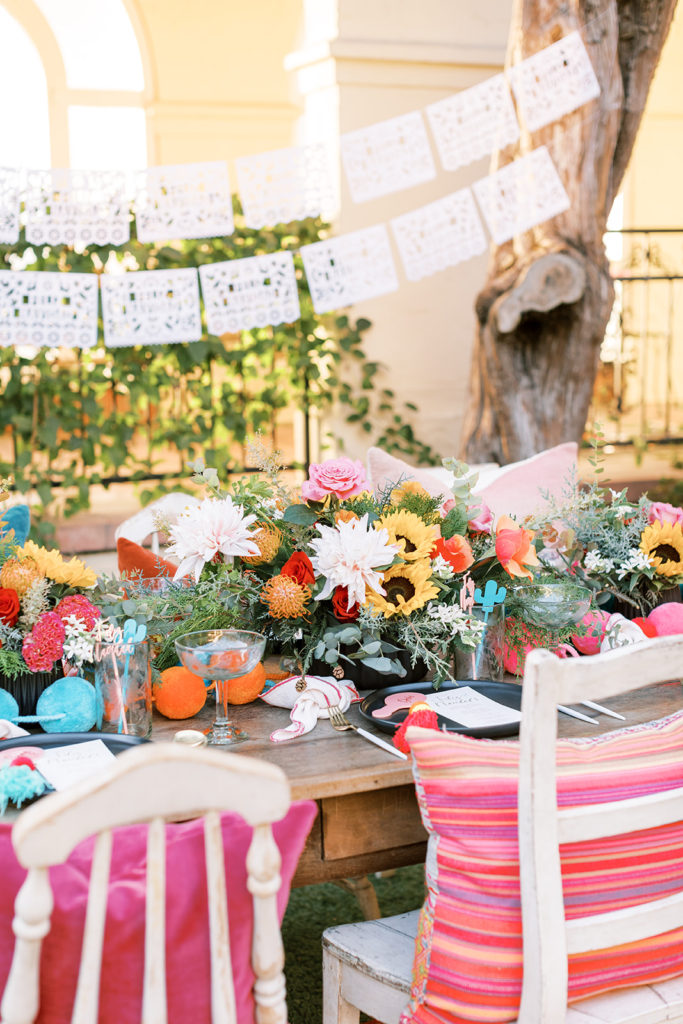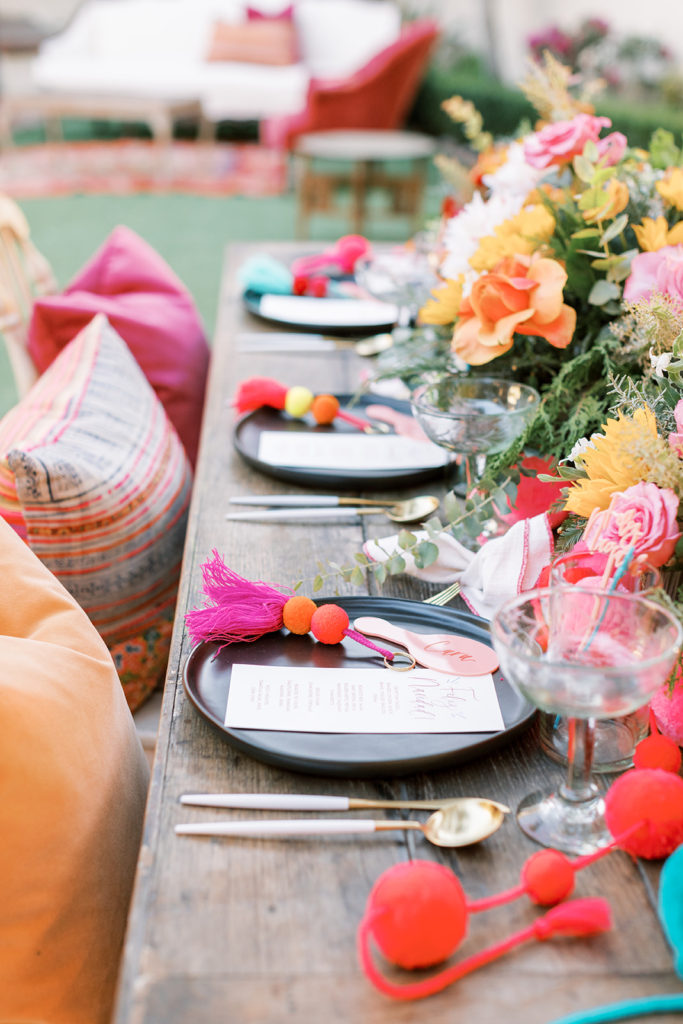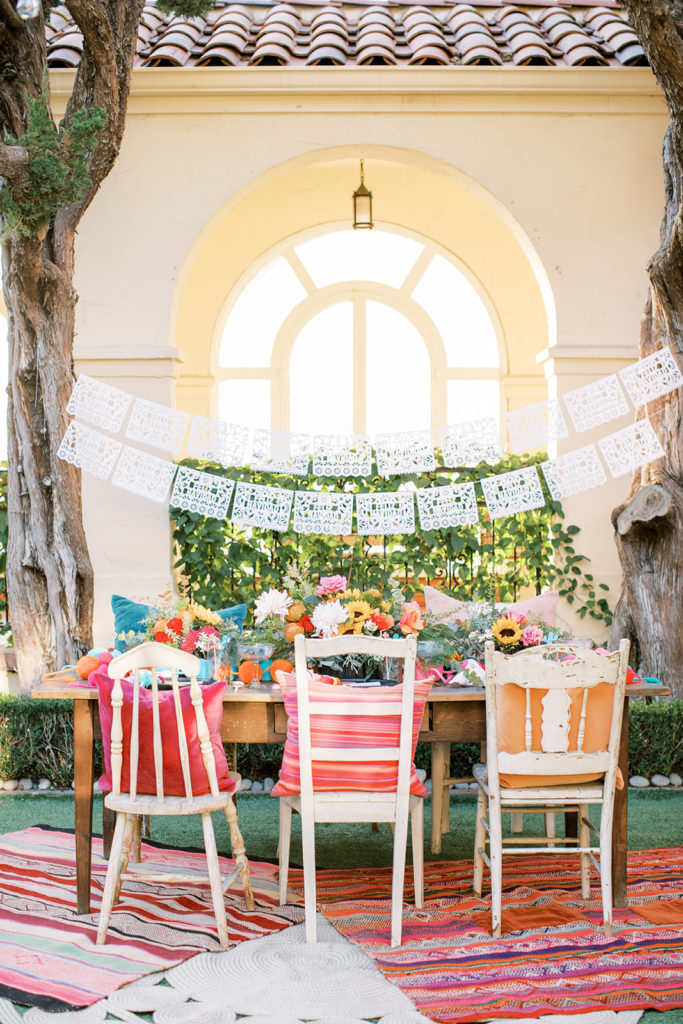 Onto the good stuff, food, and cocktails! Did you know Colette's Catering is the exclusive caterer for the Ebell Club of Santa Ana? So of course there was an amazing spread of yumminess! We also brought along the gals at Bottles & Blooms to whip up some tasty cocktails. It was absolute perfection!
More stunning florals by French Buckets! Along with serape blankets from The Little Market and my favorite Pom Poms!!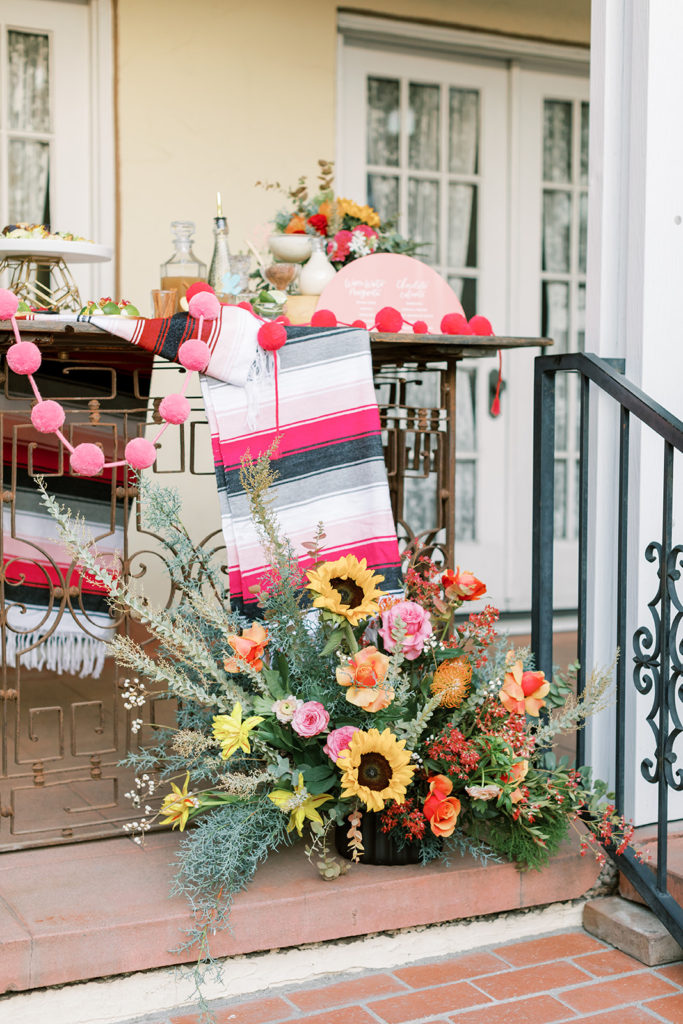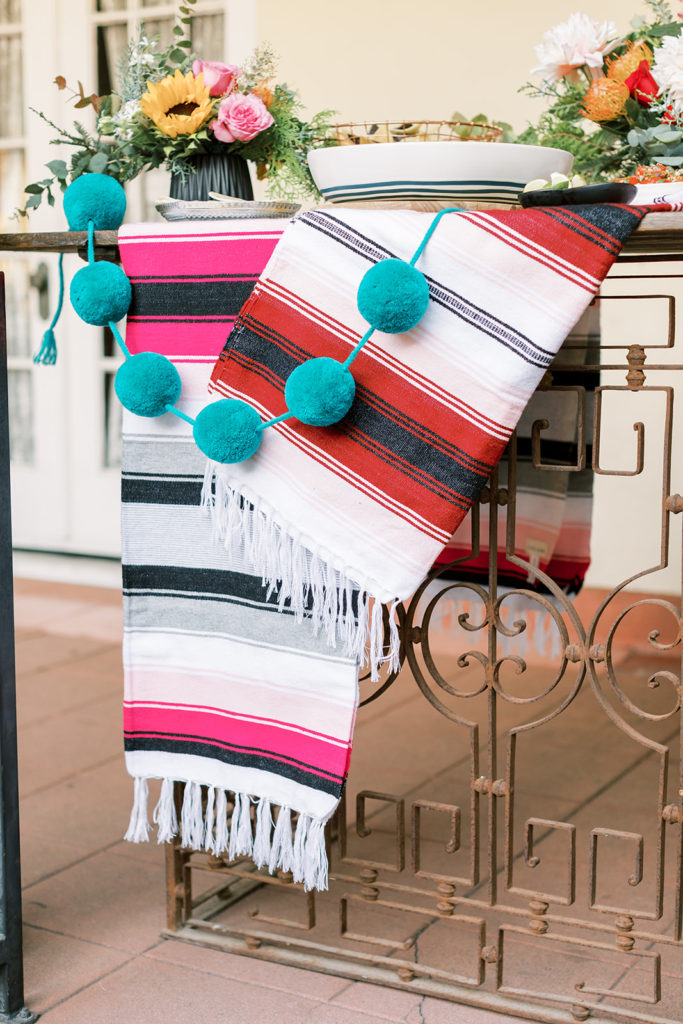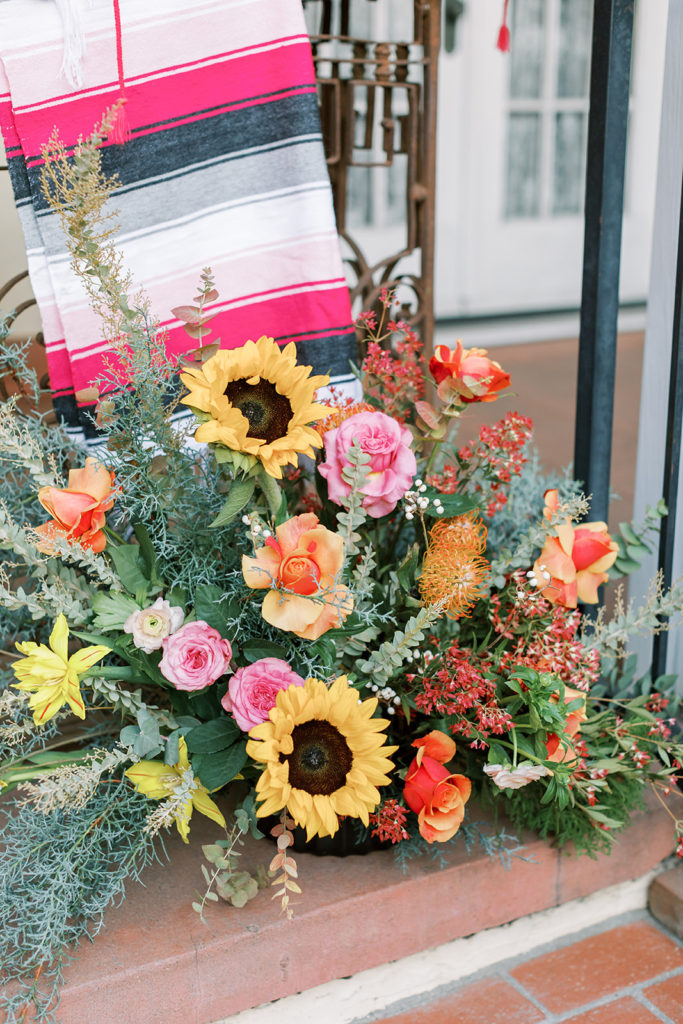 The bar itself is from Sweet Salvage Rentals, isn't it a beautiful piece? It's one of my favorites in her collection.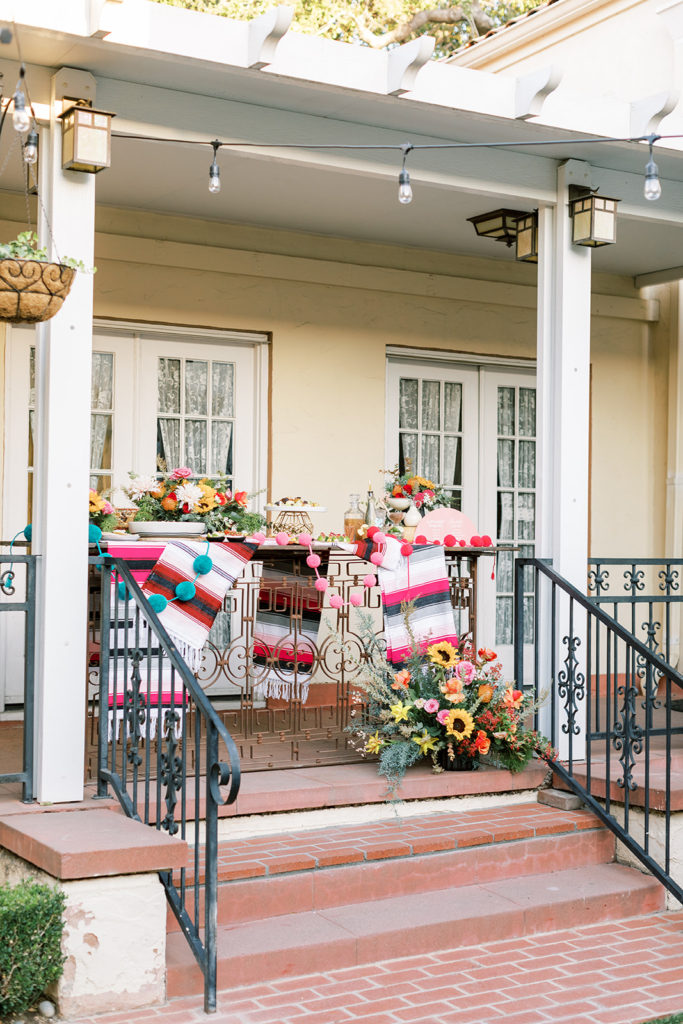 Let's start with the cocktails! Bottles & Blooms always spoils us with the most incredible cocktails. And as usual, they are sharing the recipes with us. If you feel like getting festive with Mexican flair this Christmas, these are for you!!!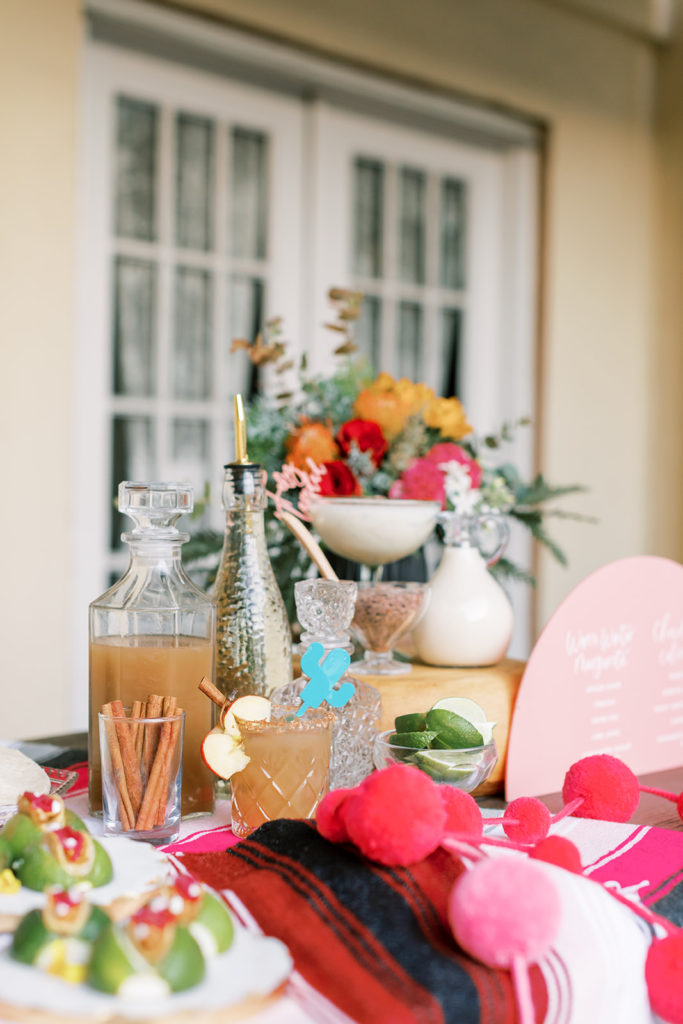 There were two cocktails on the menu, the Warm Winter Margarita and the Chocolate Caliente!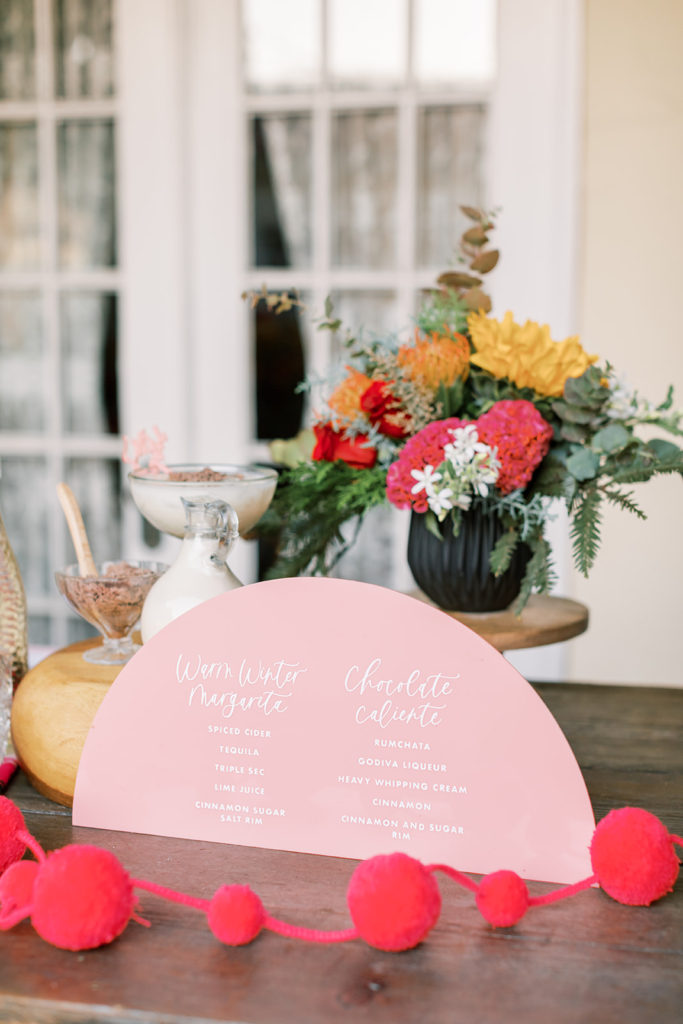 Warm Winter Margarita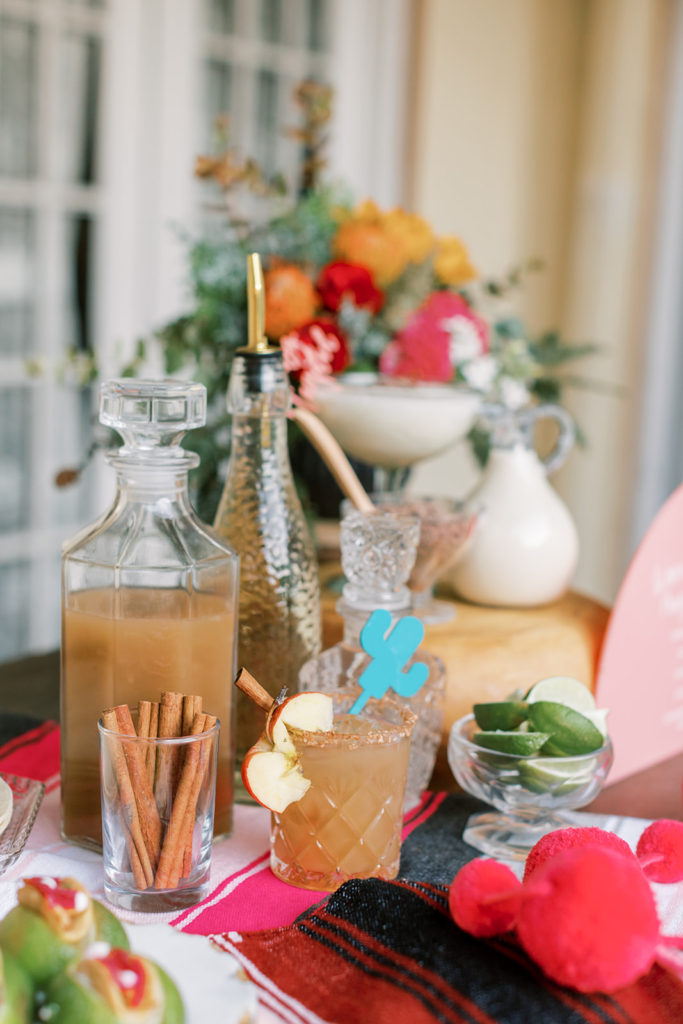 In a cinnamon, sugar & salt rimmed glass with ice add:
4oz Spiced Cider
1.5oz Tequila
1oz Triple Sec
.5oz Lime Juice
Garnish with a Fresh Apple Slice
To rim your glass, pour equal parts cane sugar, cinnamon, and salt onto a small plate.
Lightly rim your coupe using your lime juice.
Turn your coupe upside down and gently tilt the edges of the glass into the mixture.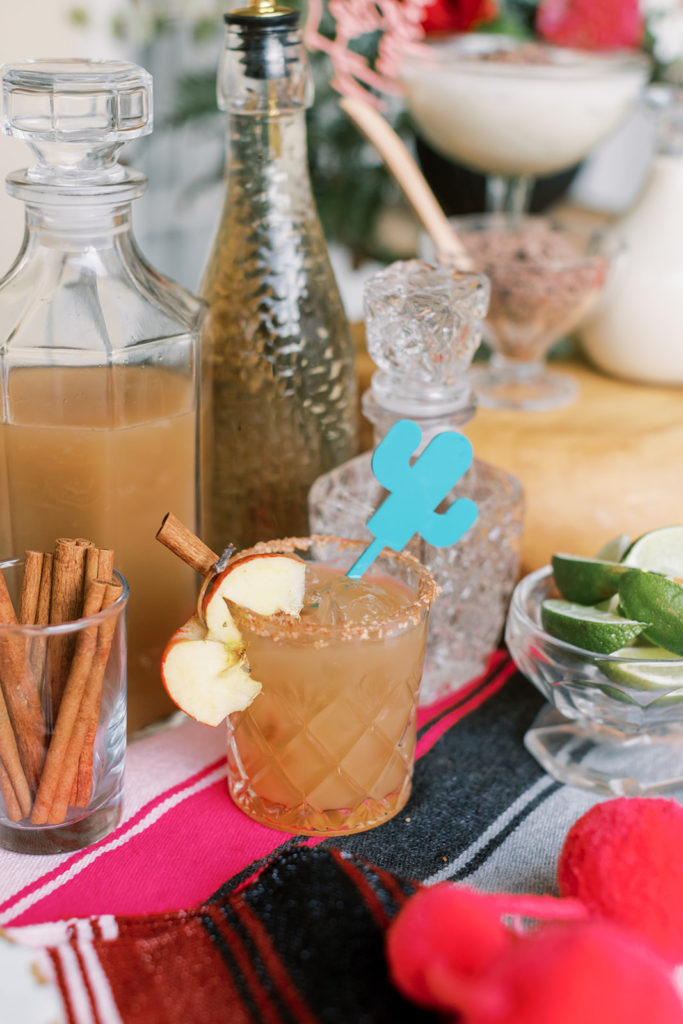 Chocolate Caliente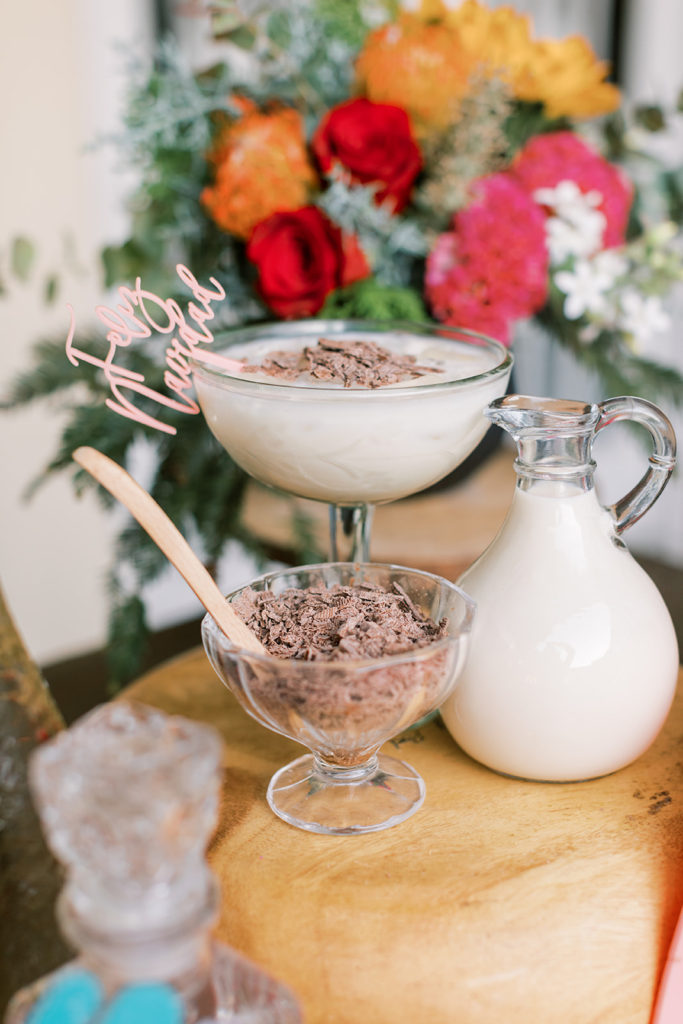 In a shaker with ice add:
3oz Rumchata
2oz Godiva liqueur
1oz Heavy whipping cream
Pinch of Cinnamon
Shake until contents are combined
Pour contents into glass
Garnish with dark chocolate shavings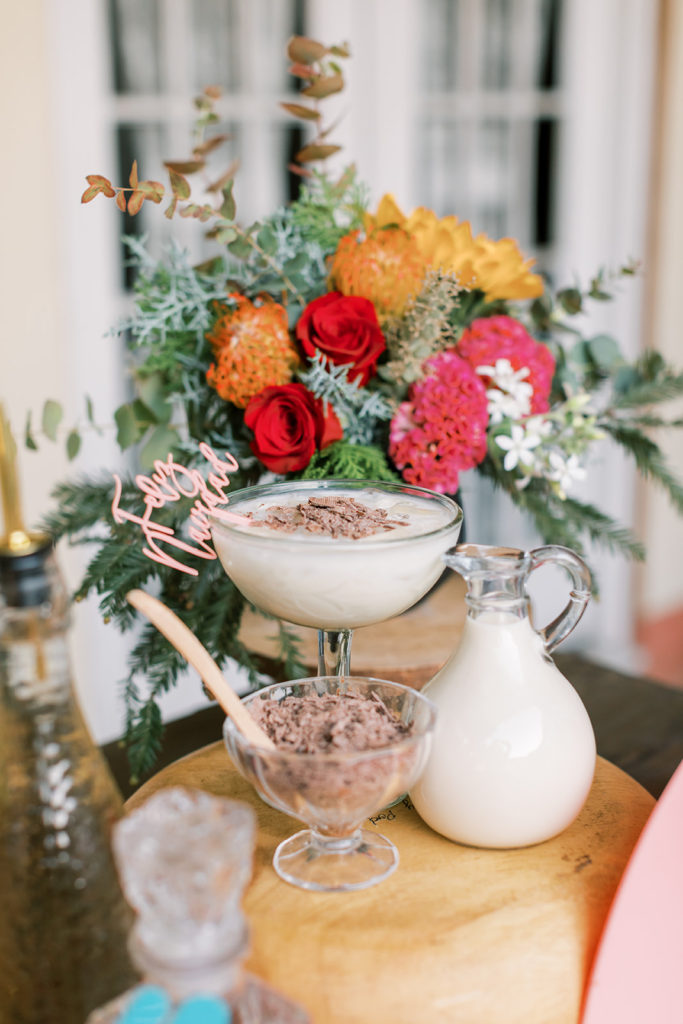 Now for the delicious food!! I think if you'd ask most people what their favorite food is they'd say, Mexican. It's definitely one of mine. Having it on Christmas Day would definitely be a crowd-pleaser! So much yumminess here, my favorite was the mini tacos and their presentation was killer! Colette's Catering always does the best job.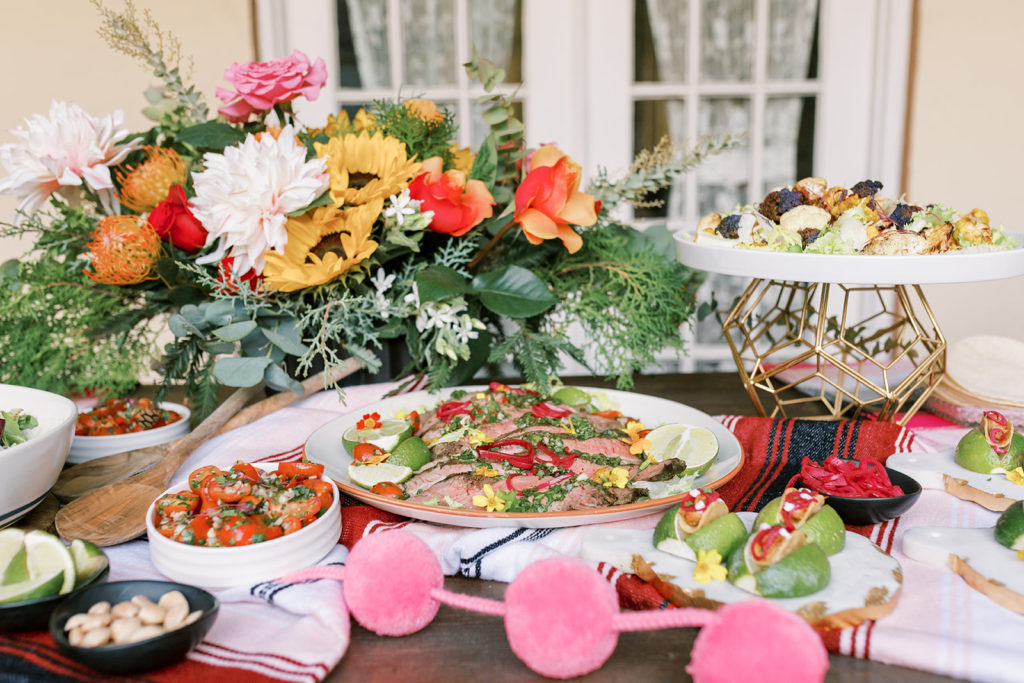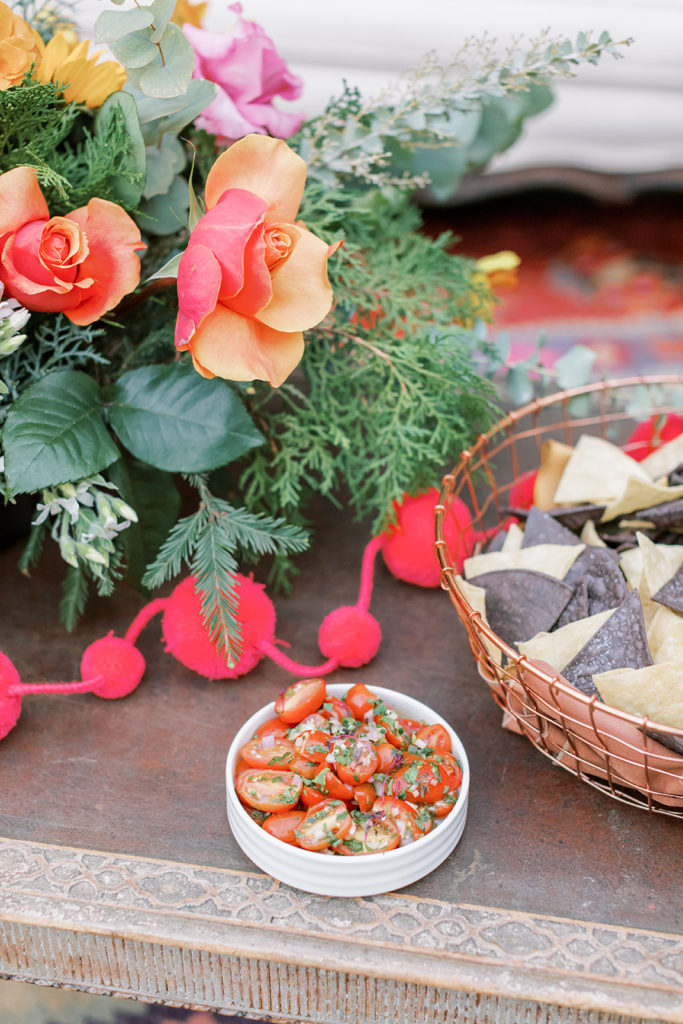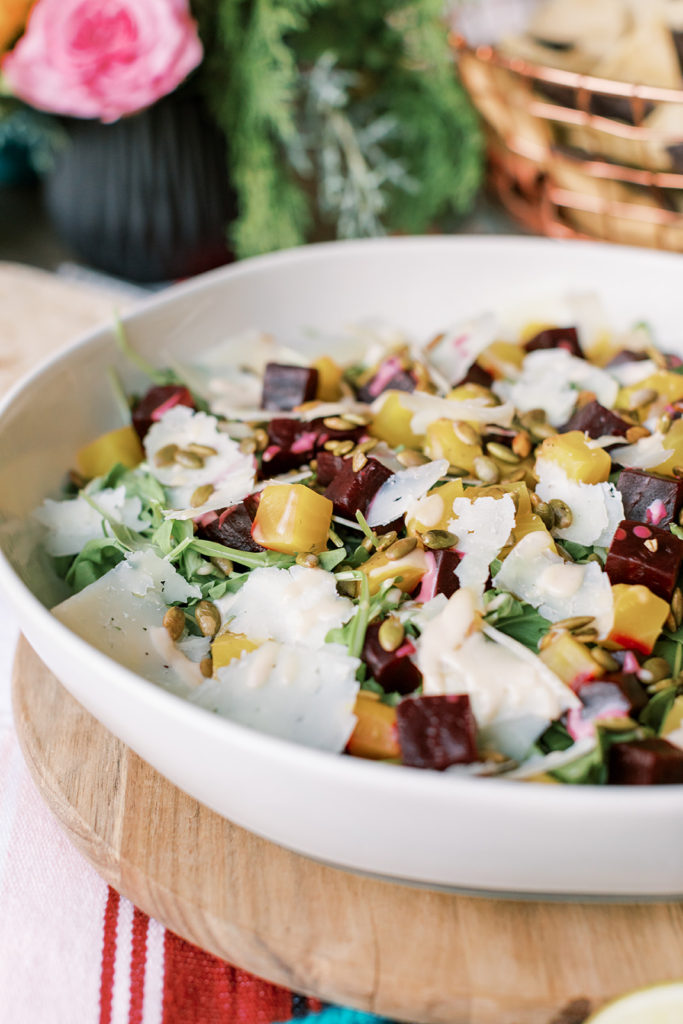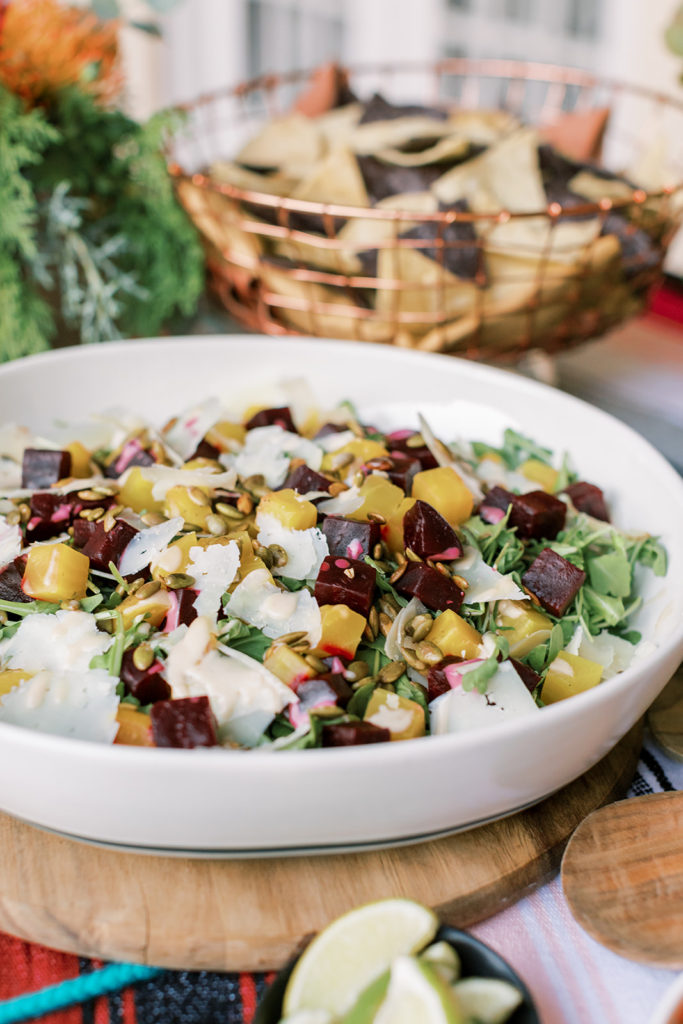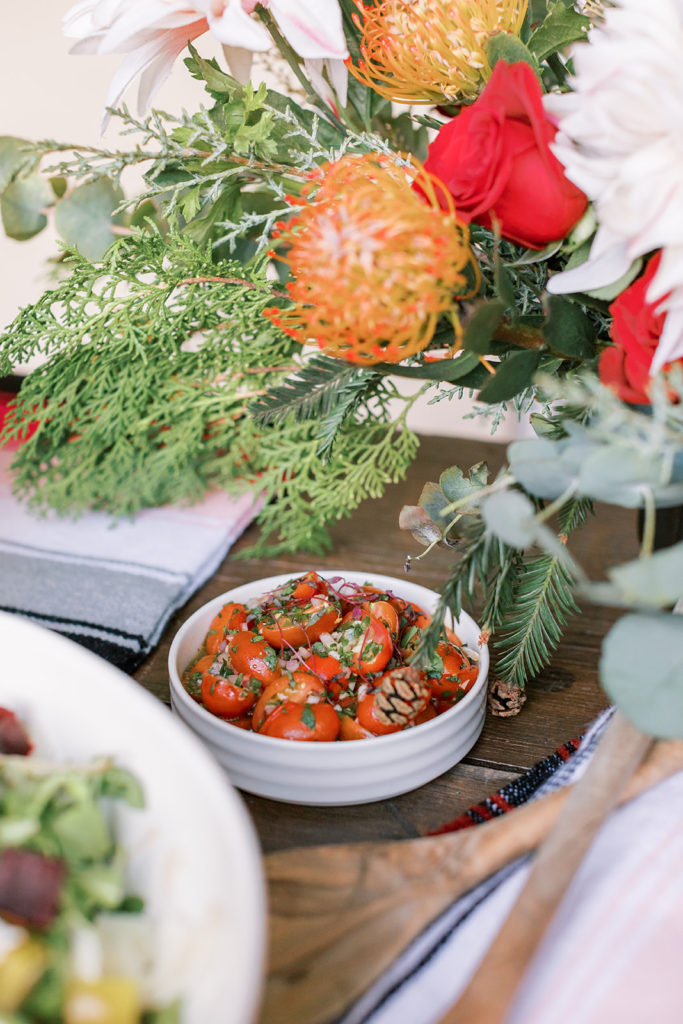 So cute, right?! No words for this cuteness!!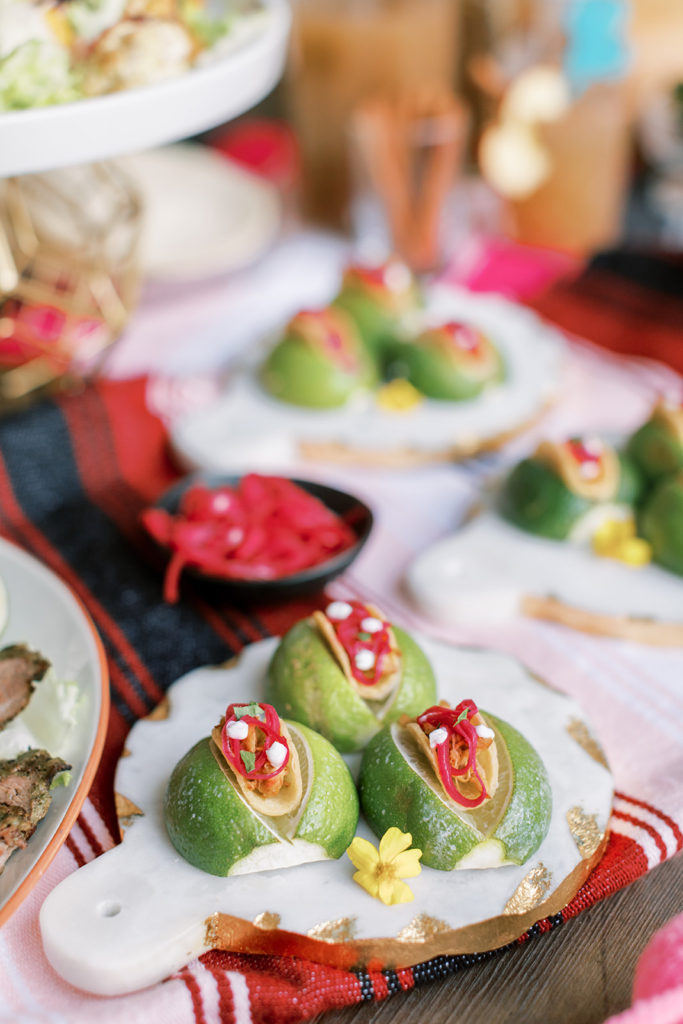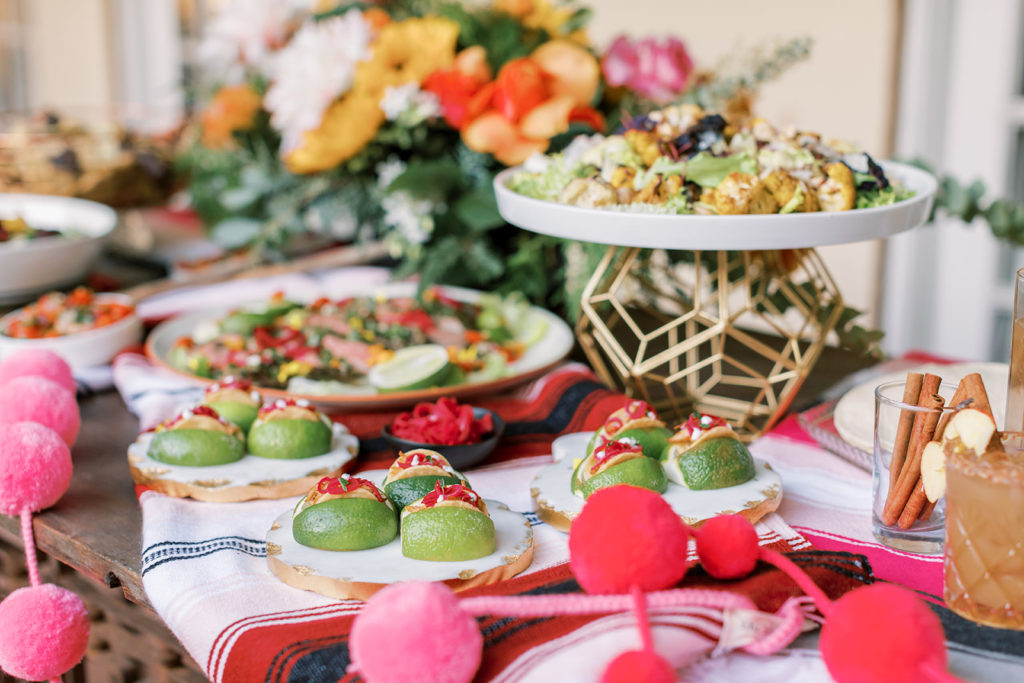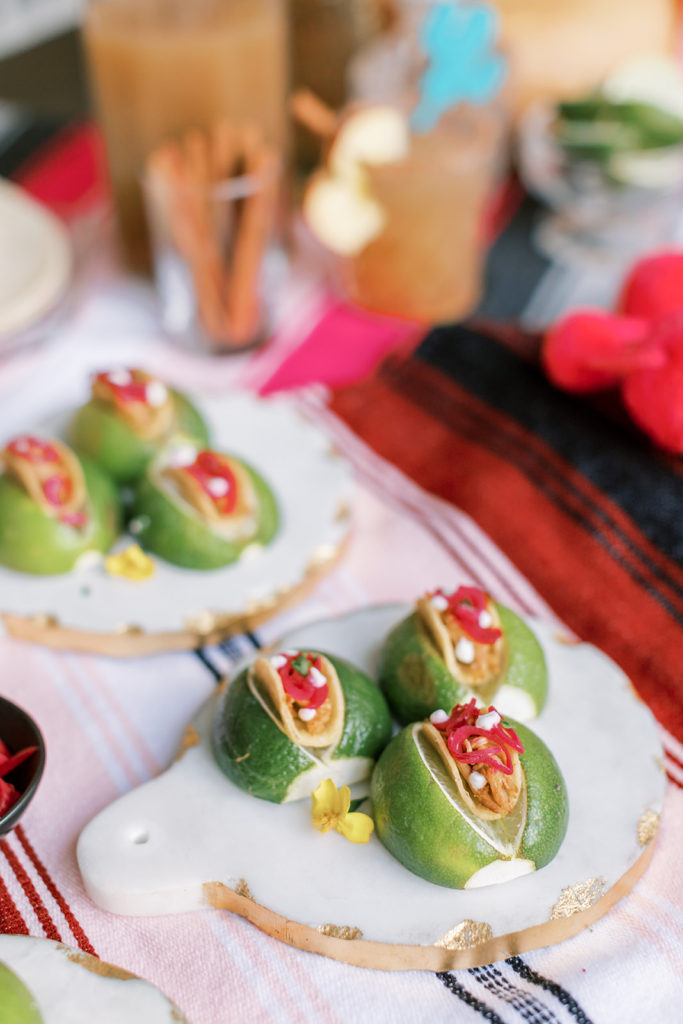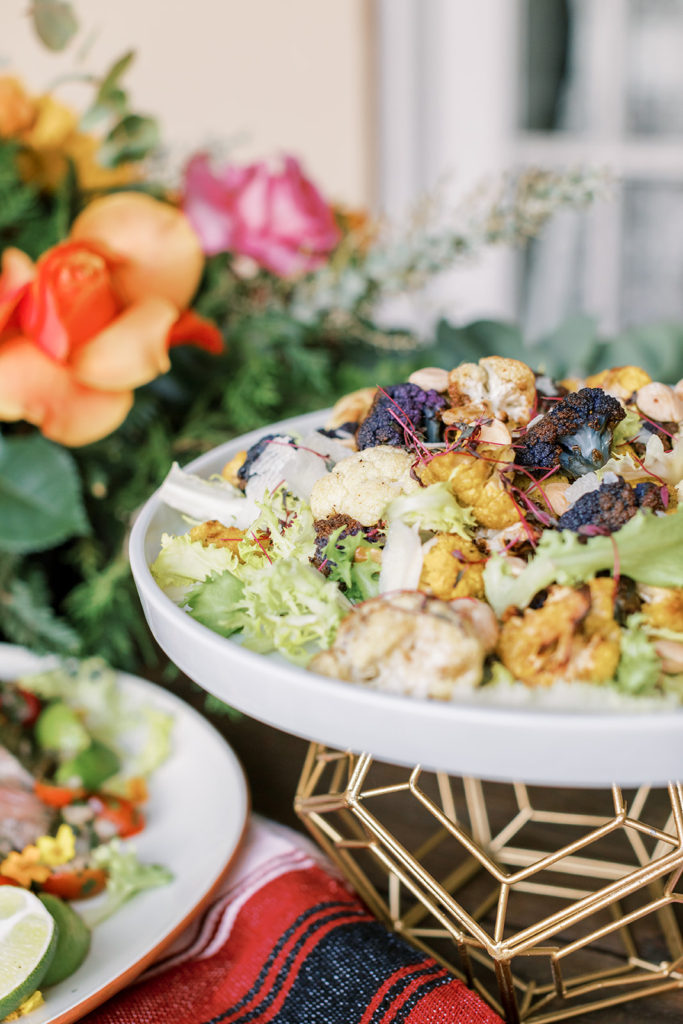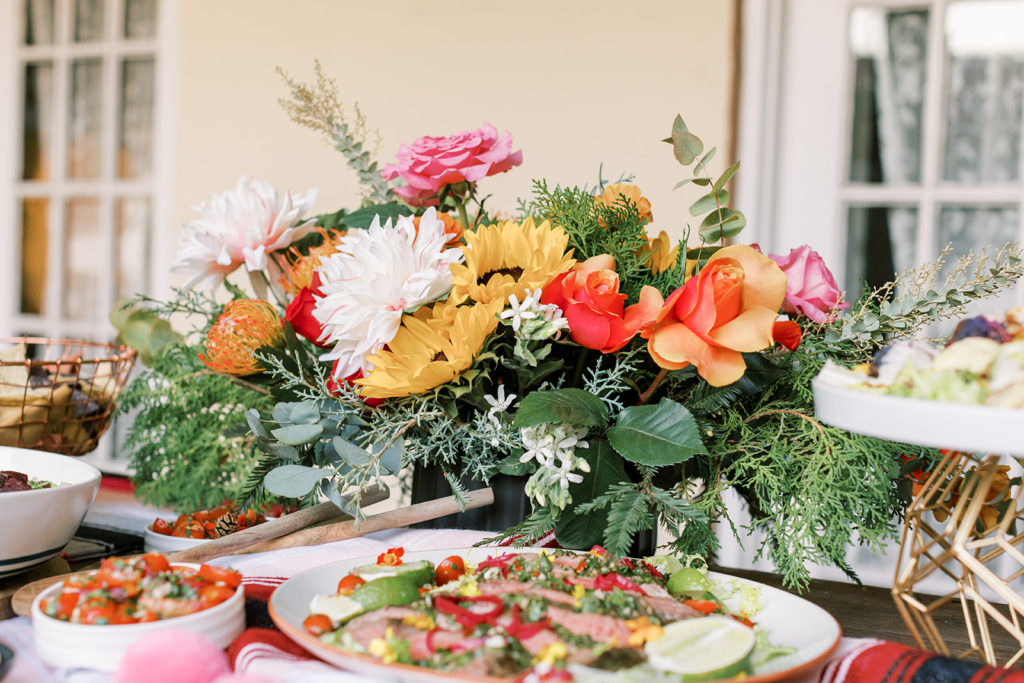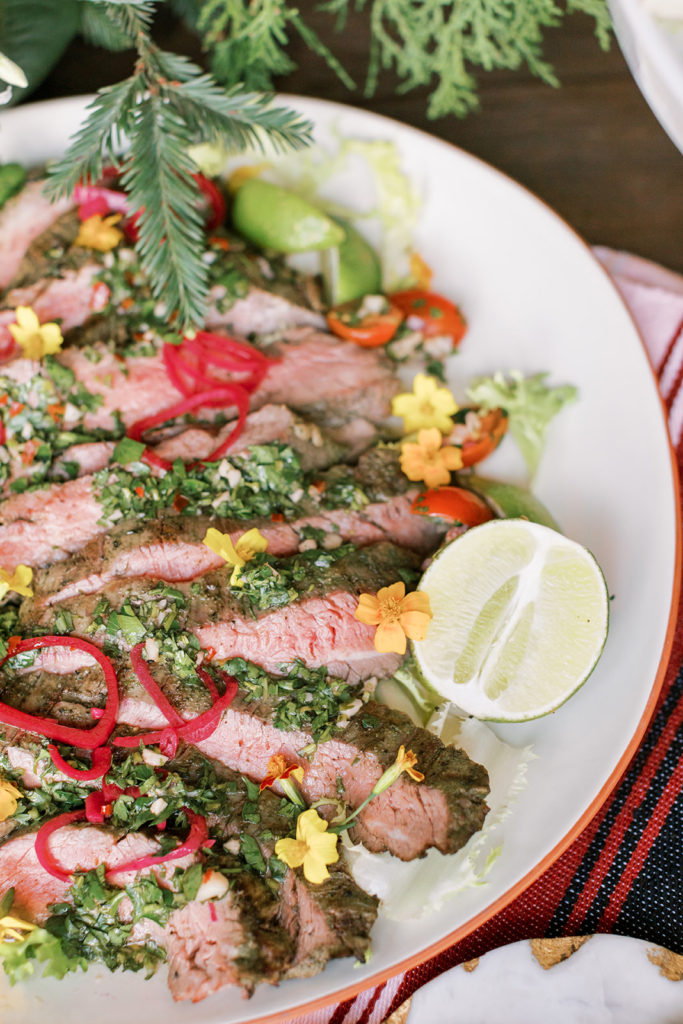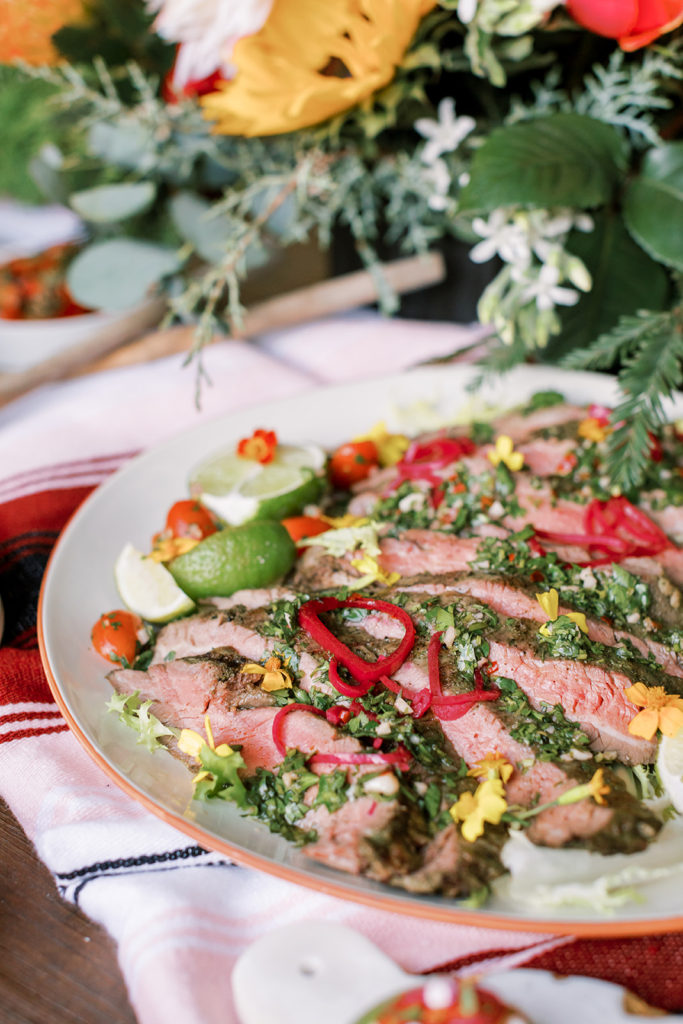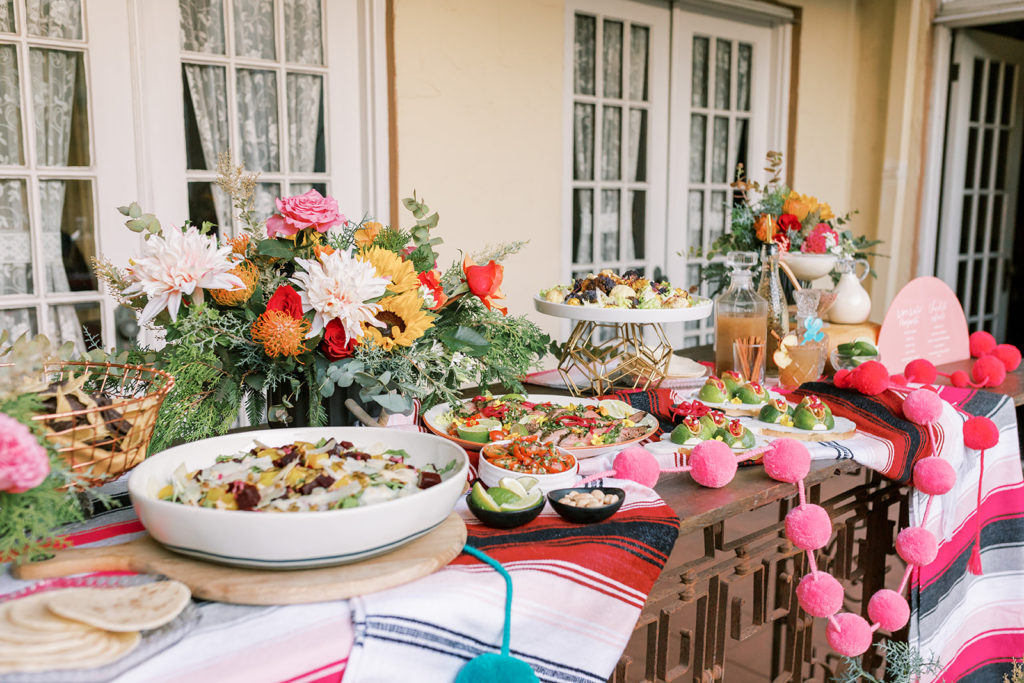 Now that's some spread!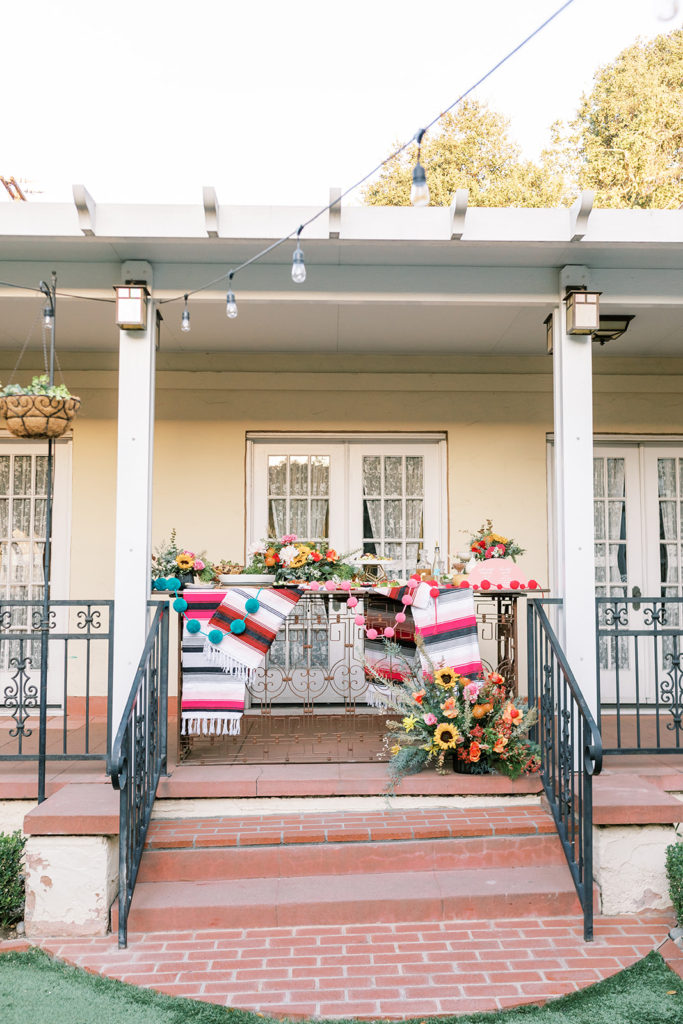 On to our beautiful lounge courtesy of Sweet Salvage Rentals. The perfect ending to a lovely event, sitting here and enjoying a cocktail with loved ones. Of course, we kept it colorful!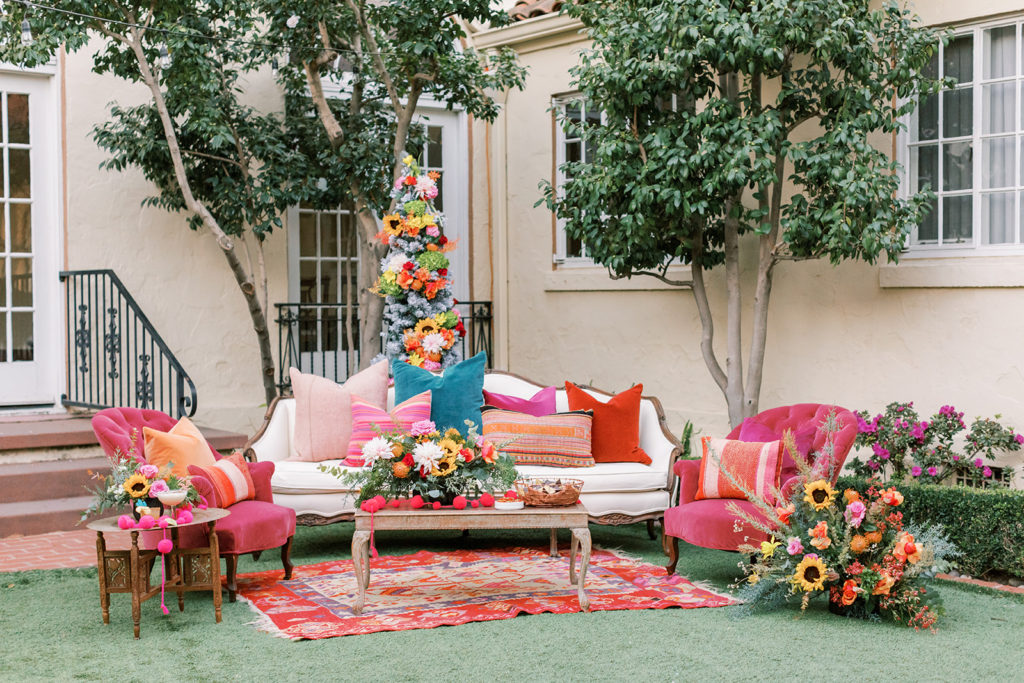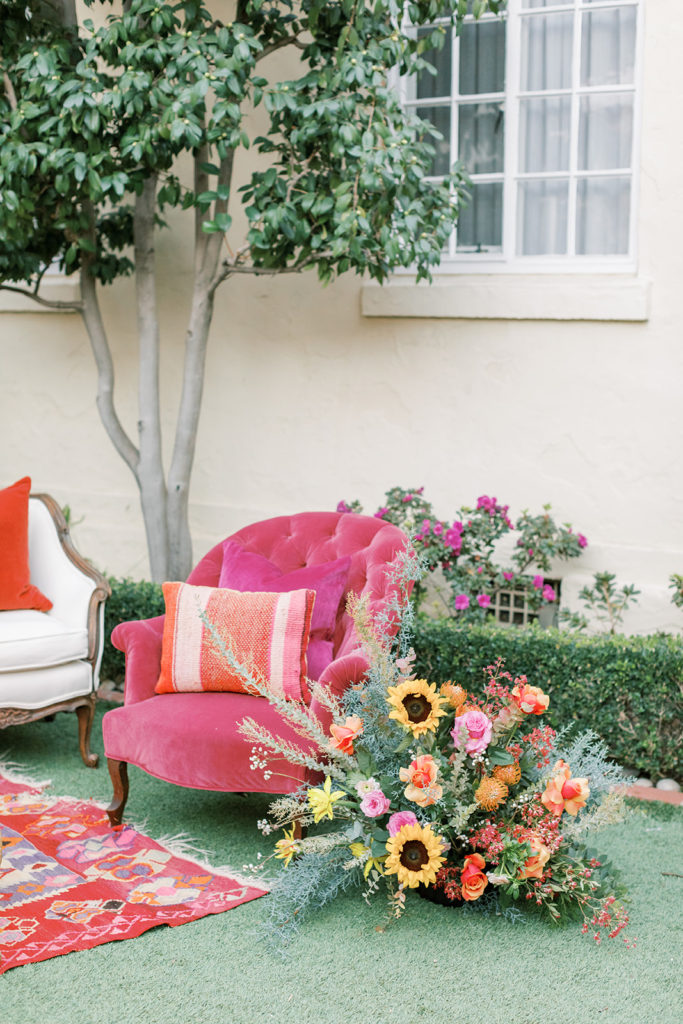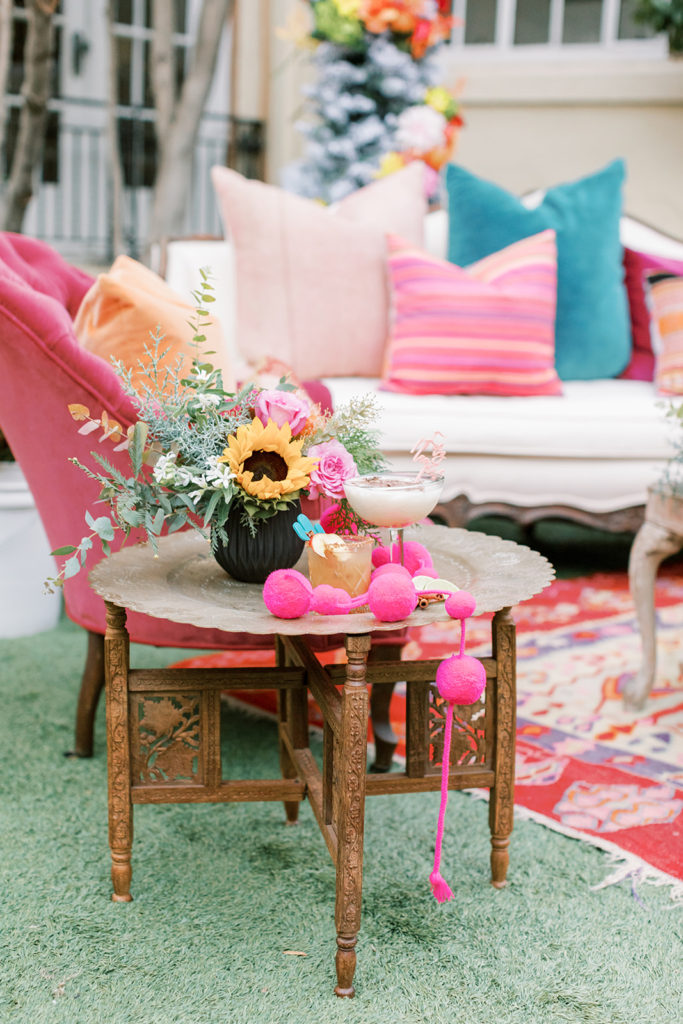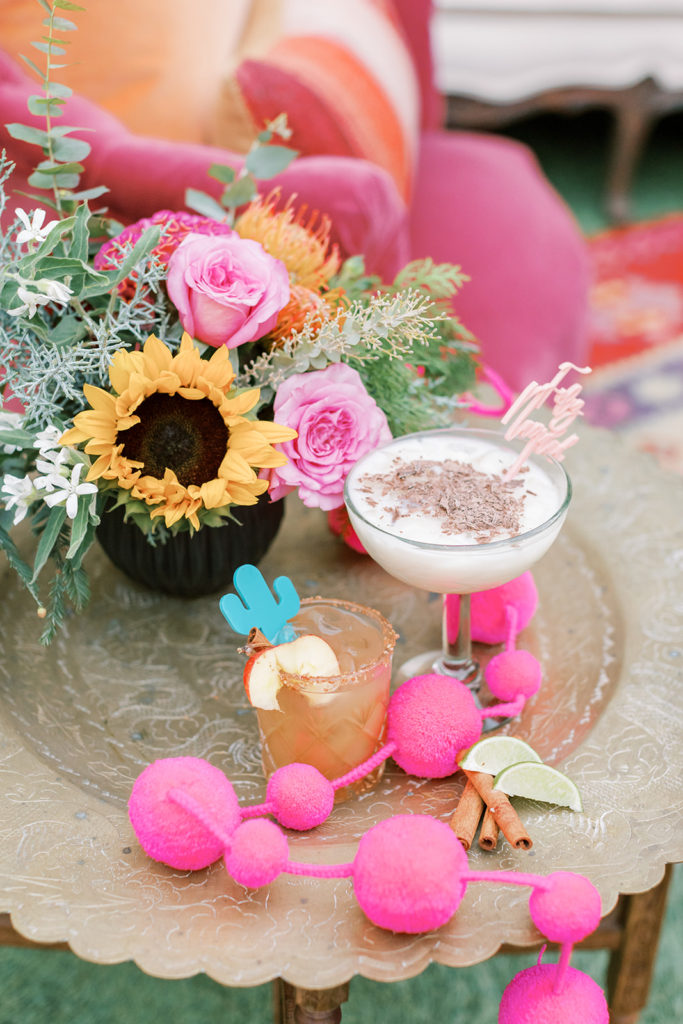 Now that's a view I could get used to!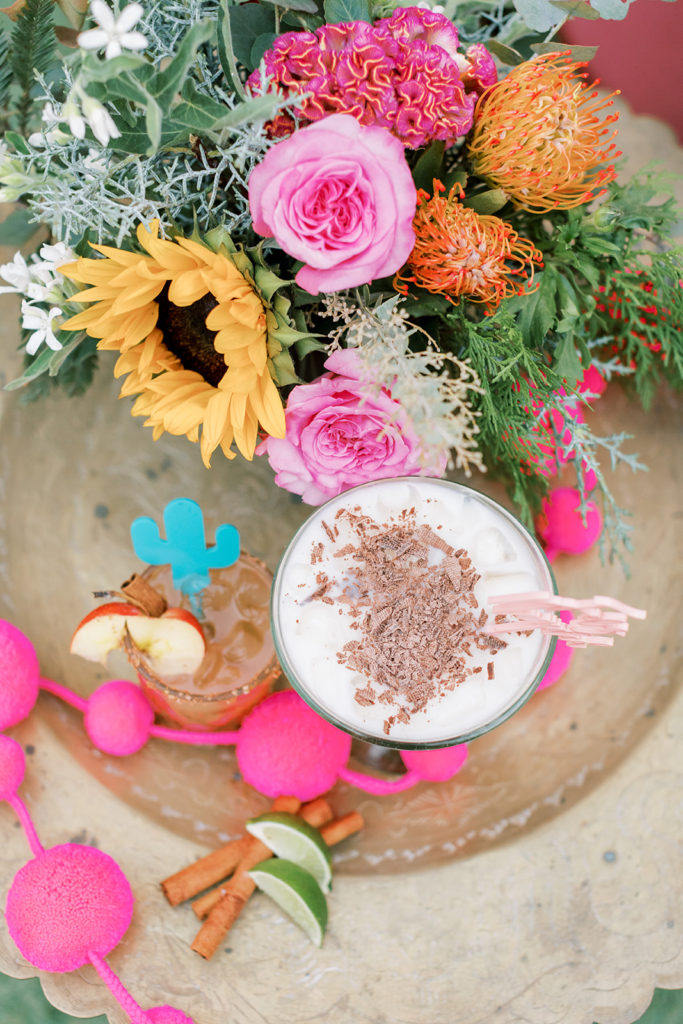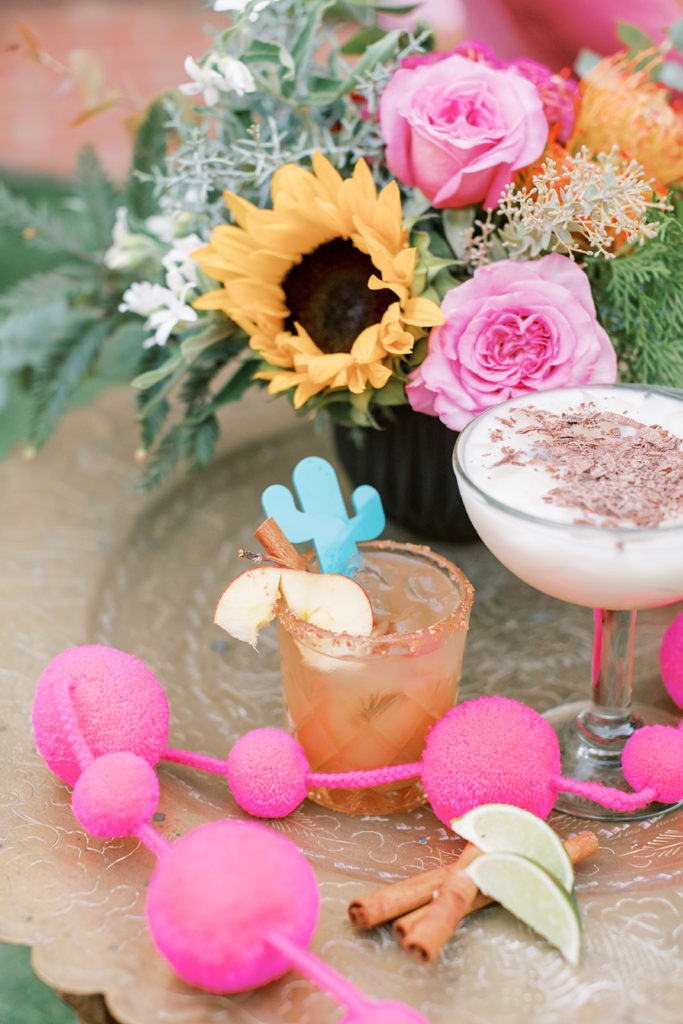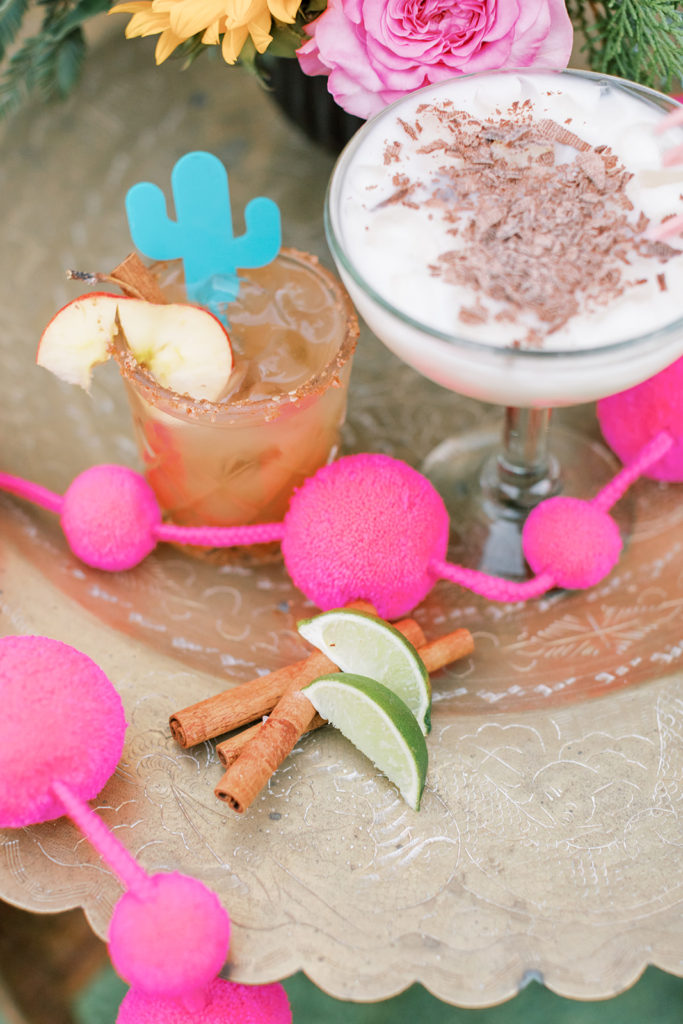 And if you're like me, you definitely need some chips and salsa to cap it off!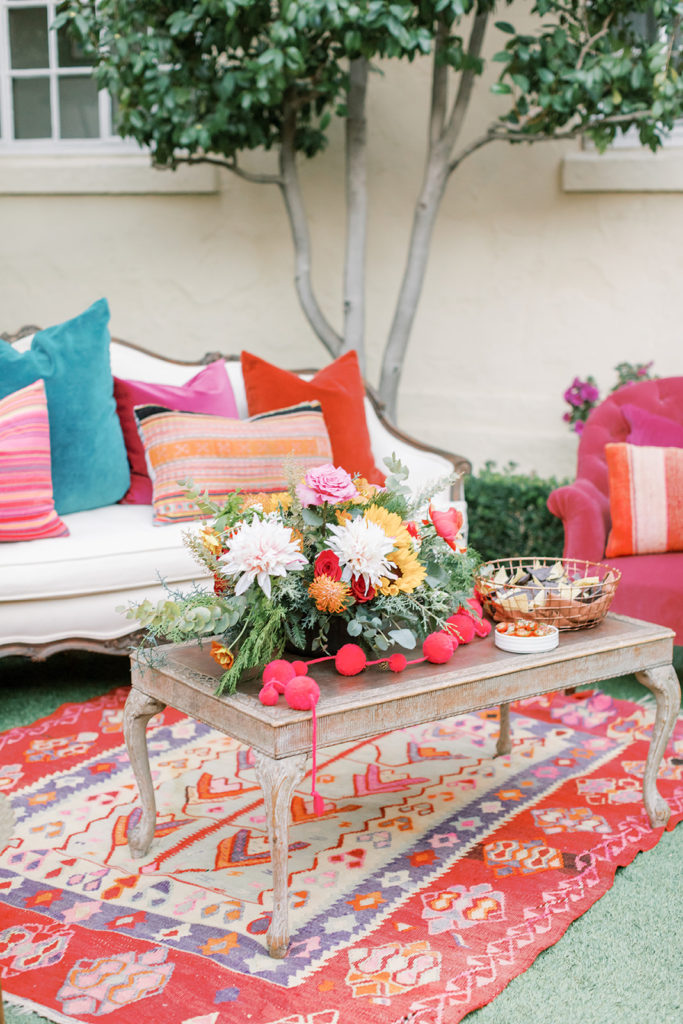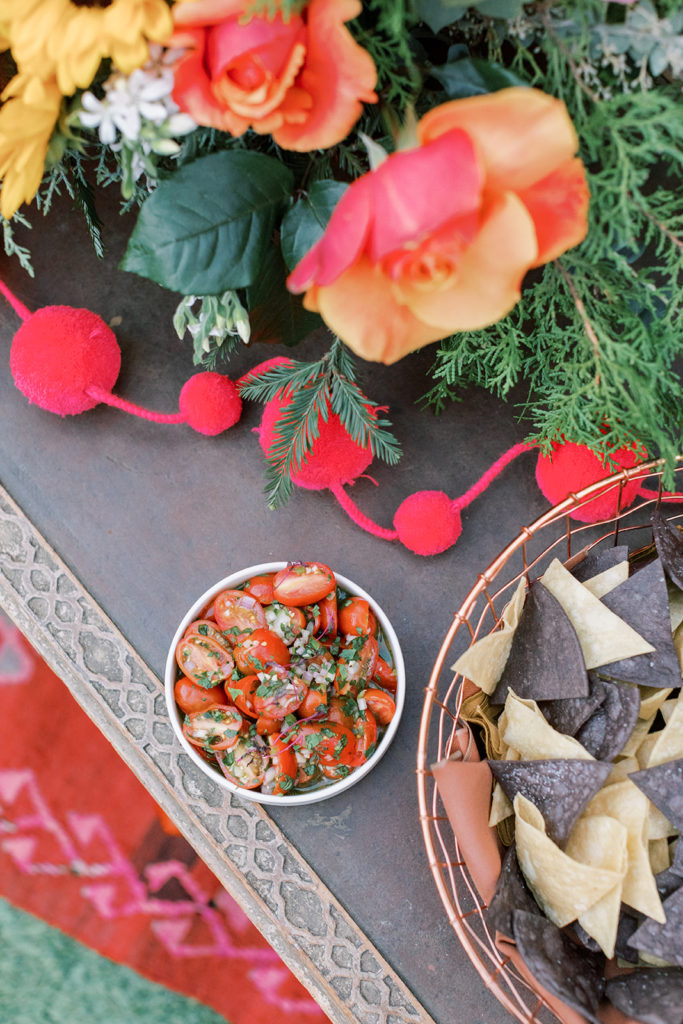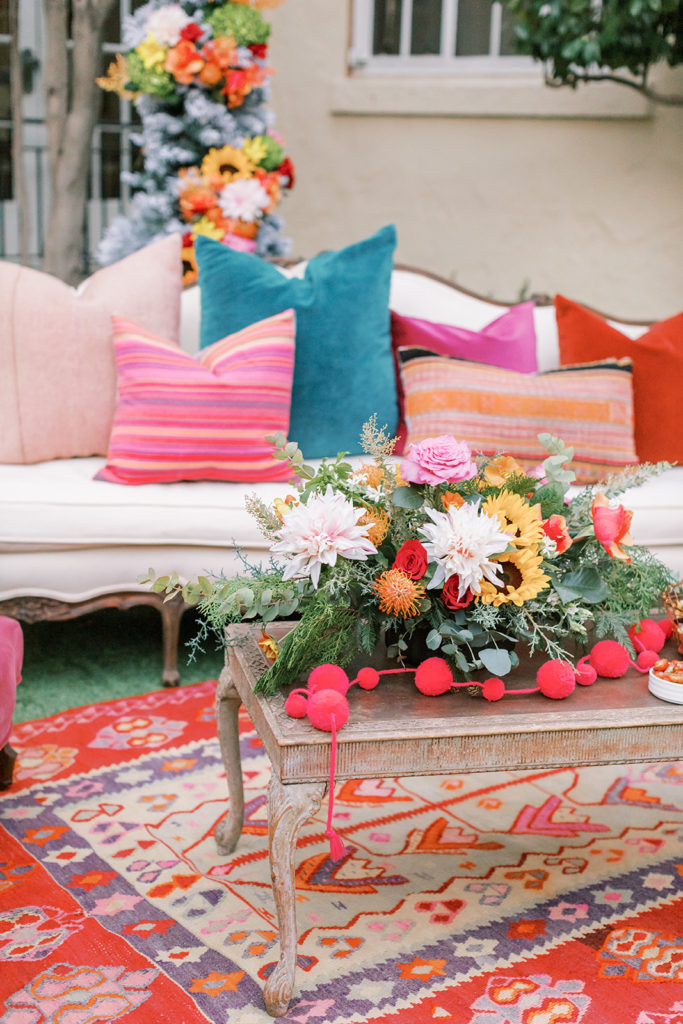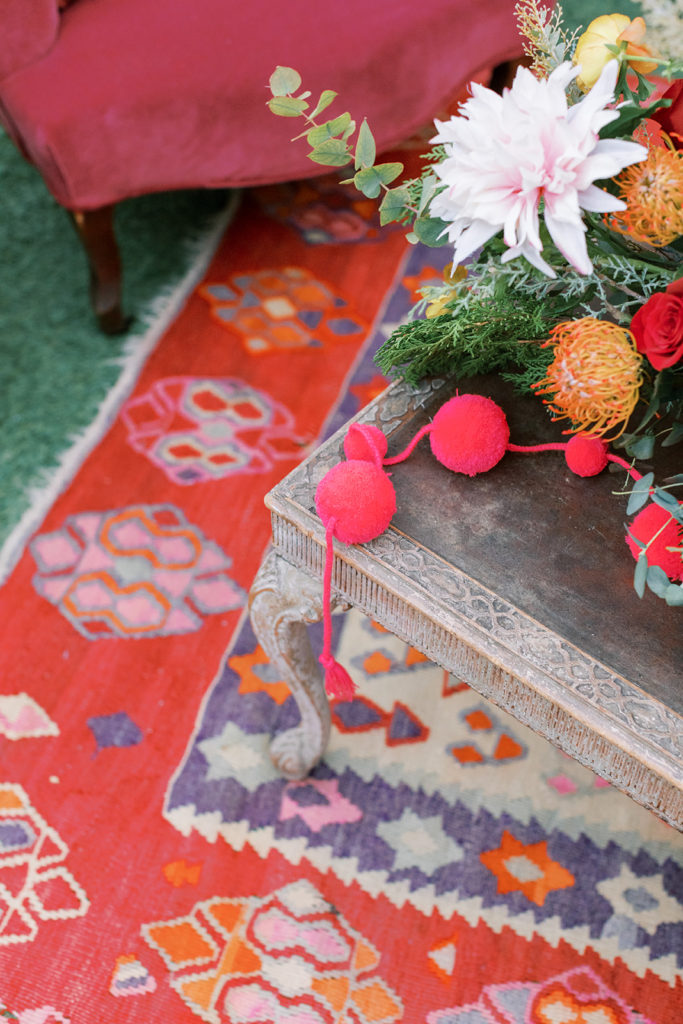 The colors of the rug and those amazing chairs are so breathtaking!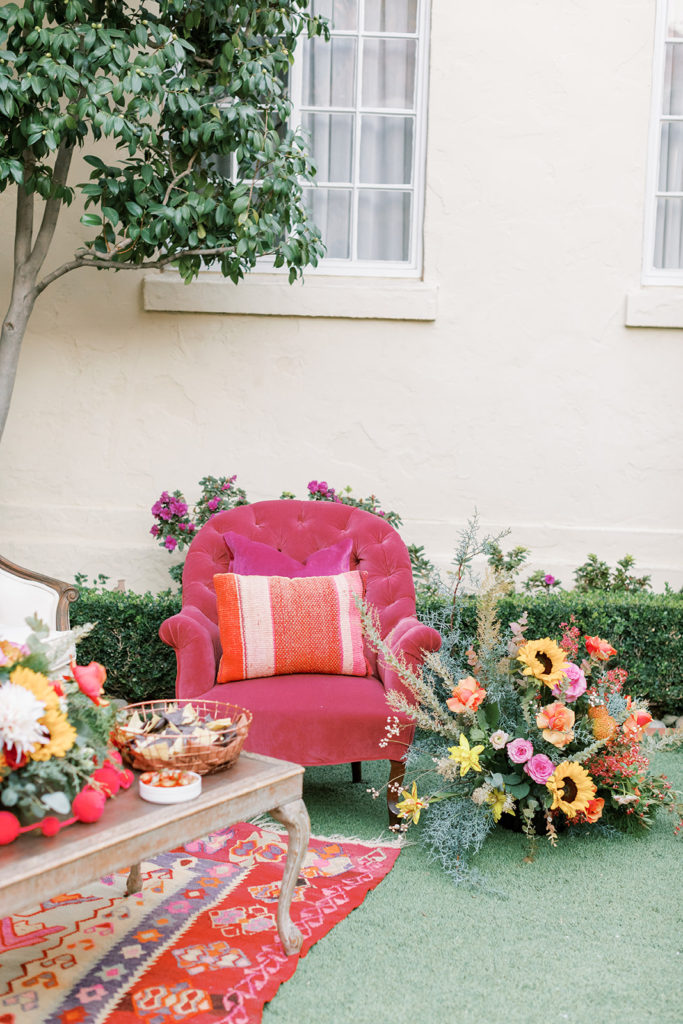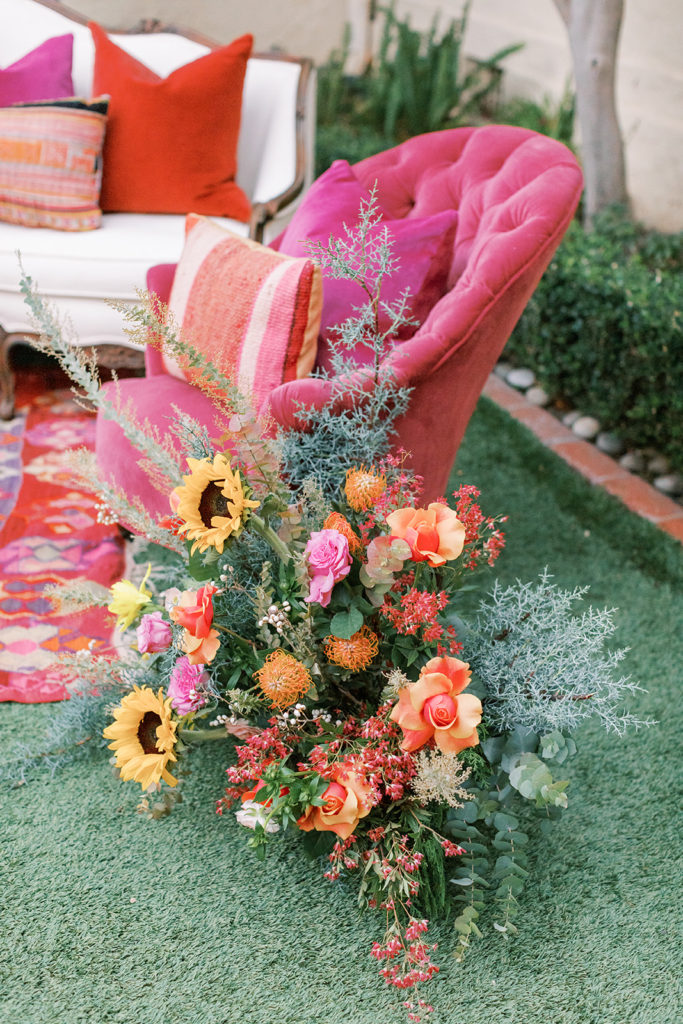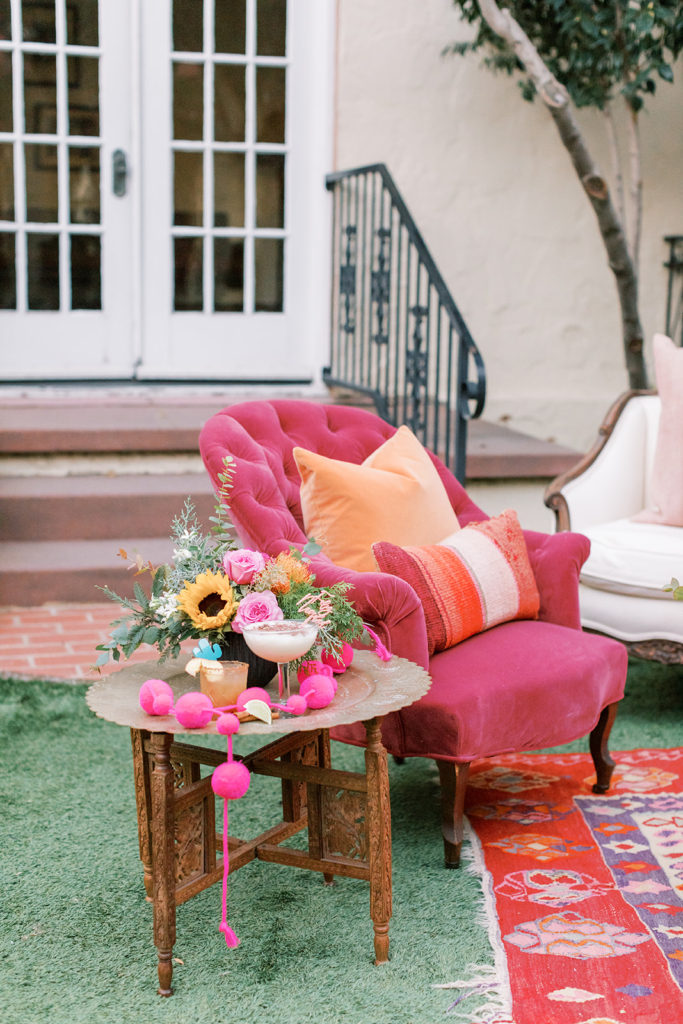 Did you notice our cute tree that French Buckets dolled up with an abundance of flowers? Just keeping all that color going in all the right places!!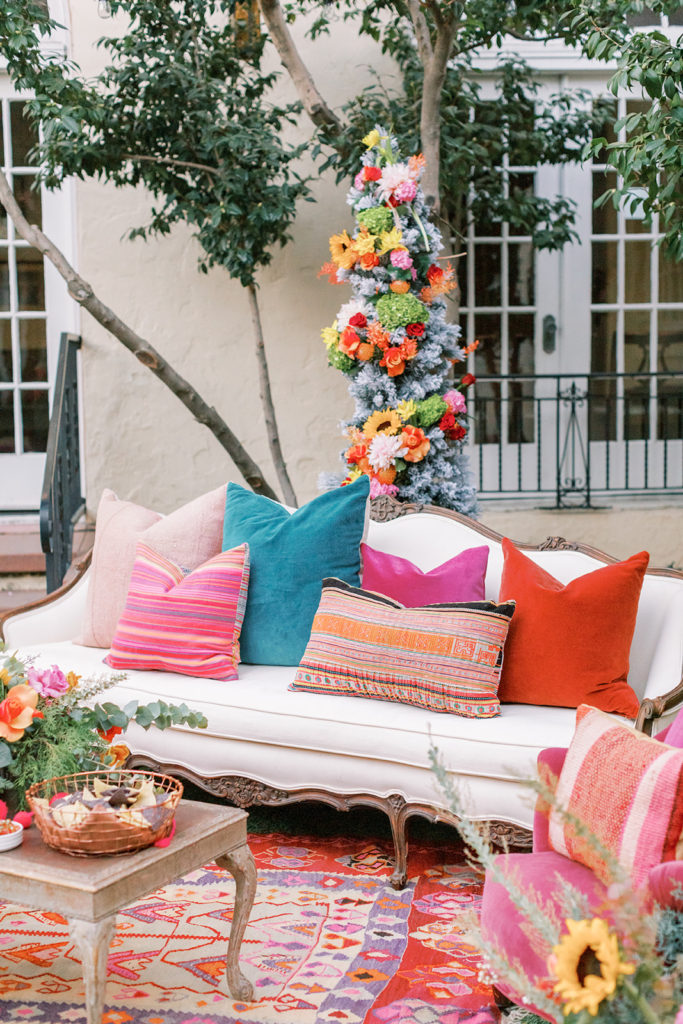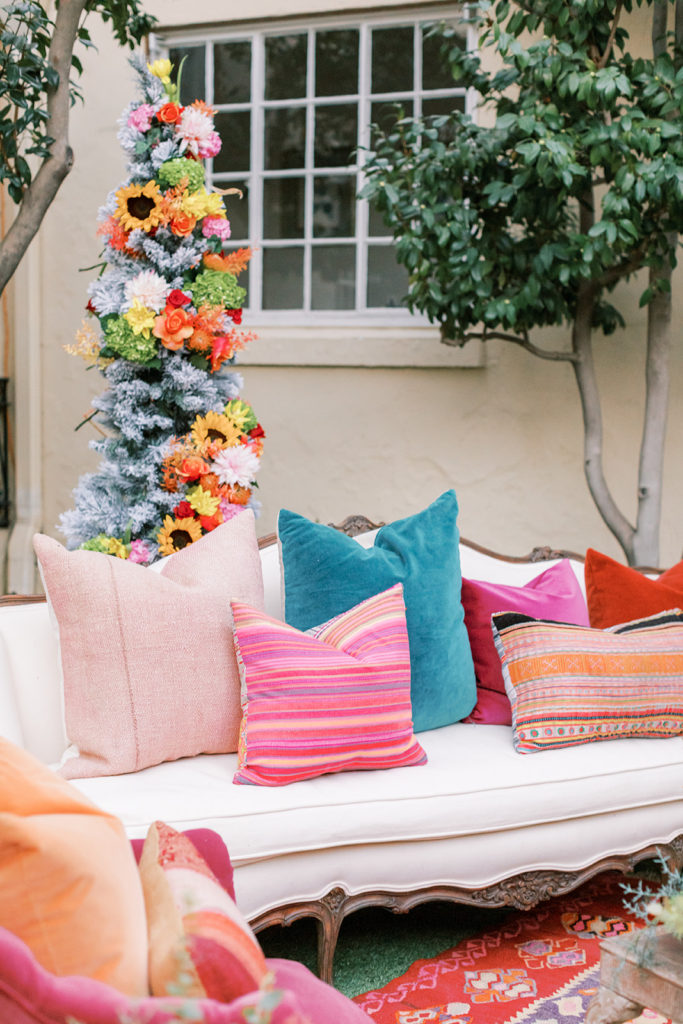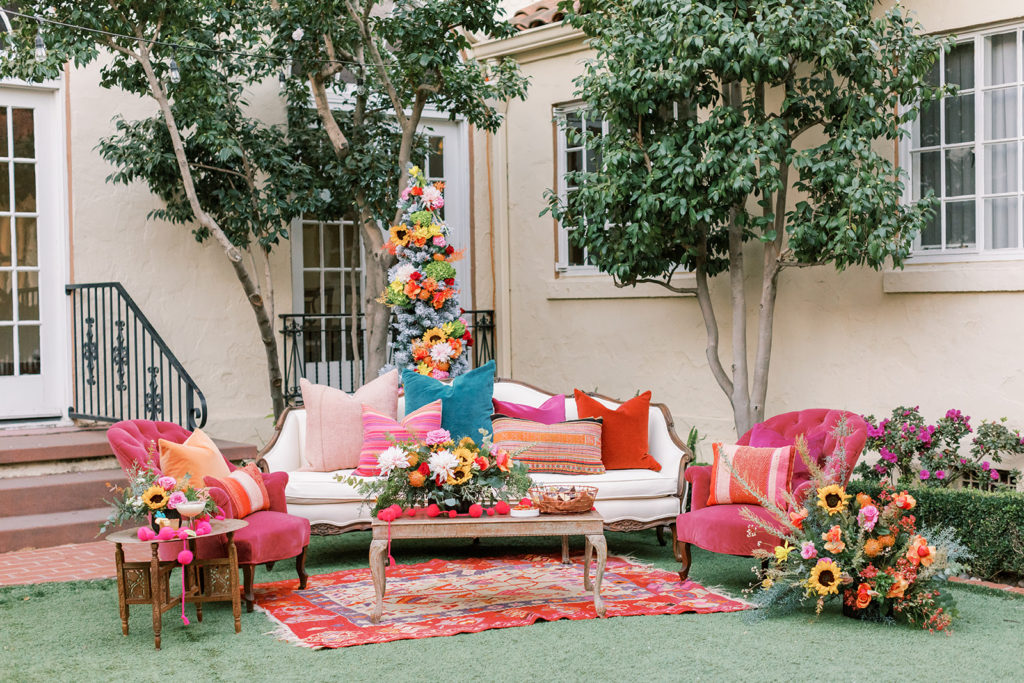 And there you have it! A Beijos Feliz Navidad!! I want to wish you a Merry Christmas from the bottom of my heart!
Próspero Año y Felicidad!
xx
Jacquelyn