---
The fourth of July is one of those essential party holidays that everyone loves, no matter what kind of party-goer you are. From small casual get-togethers to neighborhood block parties, there is always a party around the corner for the 4th of July. I mean who doesn't love a day filled with great friends and family, hot dogs and burgers galore, maybe a cocktail or two, and fireworks to end the night! I have gathered up some of my favorite 4th of July party essentials to share with you! What I love about most of these items is that you can use these thru out the year, just not on the 4th. Truly, equip your pantry with items that are in a natural color or one color theme like blue here to use all year long. Patterns and textures will die out thru the years, but solids like white, blue, black, cream, and even red will last a lifetime.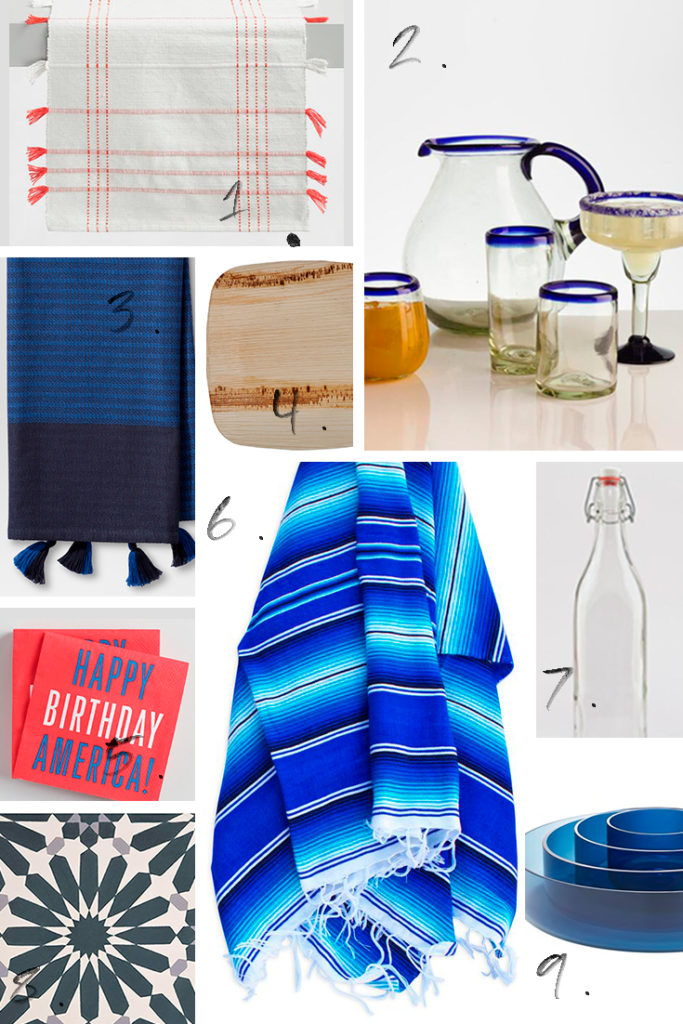 1. WOVEN ZIVA TABLE RUNNER |  2. BLUE ROCCO GLASSWARE COLLECTION| 3. NAVY STRIPE KITCHEN TOWEL – THRESHOLD™ | 4. ECO-FRIENDLY DISPOSABLE ARECA PALM LEAF PLATES  | 5.  HAPPY BIRTHDAY AMERICA BEVERAGE NAPKINS 20 COUNT| 6. THE LAGOON: BRIGHT BLUE MEXICAN SERAPE / SALTILLO BEACH BLANKET | 7. SQUARE GLASS BOTTLE WITH CLAMP STOPPER | 8. MOROCCAN MOSAIC | 9. STOCKHOLM SERVING BOWLS
No party of any size is complete without our favorite blankets- Gunn & Swain Mexican blankets!  I must have at least ten colors, and I love using them for parties, kids sports games, the beach + lake, picnics… I mean you name it! World Market has a great selection of table runners, glassware, and towels. I'm not a huge fan of red, so I usually tend to use a lot of blue for the 4th. However, World Market Woven Ziva Table runner had all the heart eyes for me. The Happy Birthday America cocktail napkins are also from there, which a fun little detail. If you know me, there will always be infused water around, so I always have glass water bottles ready to go in the outside fridge. Just add your fruits + herbs the night before guests come over. Lastly, on my World Market love affair, is their Blue Rocco glassware. These are classic glassware to have in your pantry, great for summer entertaining!
A fun new thing I have been doing is using cement tile as trivets. By moving into a new house, I have been getting samples of concrete tiles we soon use in some areas of our house. They are sturdy with being made out of cement, so they are perfect for putting hot food on. Plus, they are pretty cool looking, so its add detail to your table. Keeping on the navy trend here, tassel towels from Target, I use as napkins sometimes, especially in times for events like the 4th of July where you will have fingers drenched in bbq sauce. Its a messy eating holiday with all the bbq, so have some stylish towels in hand. Throw in some blue outdoor serving bowls from Ikea to round out your navy blue event!
Whatever its a small gathering or large, these fun party essentials will have be one stylish host for years to come!
xx
Abby
SaveSave
SaveSave