Another fun day of gift giving! With the holidays fast approaching there are a lot of people that you need to remember, hairstylist, housecleaner, sitter, and the most important one are the teachers that mold your children's mind. When you think about it, it probably is one of the most important gifts to deliver.
To show our appreciation to our children's teachers we automatically thought of our pals at Wee Structed. I'm sure you have seen their products all over the place, especially the "raising tiny humans is exhausting" tees and mugs. We love the "teaching tiny humans is exhausting" mug + card. What teacher wouldn't get a quiet chuckle out of this needed mug?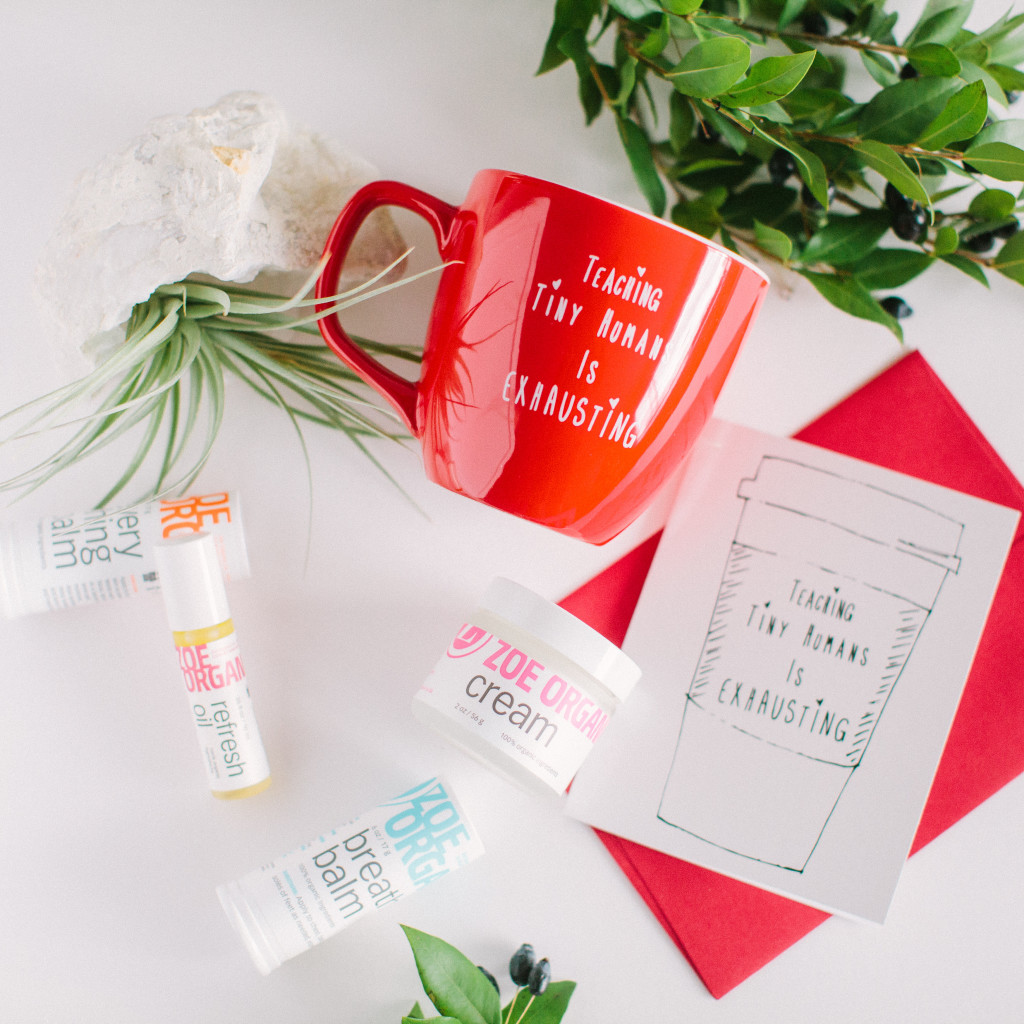 To go along with much needed caffeine fix, another key item we think a teacher will love are the organic products from Zoe Organics. We are huge fans of this  100% organic line. Not only are they local to Northern California :) but the products speak for themselves. My whole family are teachers (insert black sheep of the family emoji here) and they are in love with Zoe Organics. Obsessed with the Everything Balm, it's perfect, well, for everything! You can apply to face, lips, hands, chapped skin, scrapes, burns, rashes, and so much more. With how many times a teacher washes their hands to prevent germs, the everything balm is perfect to grab out of your pocket to use at any time during the day.
"A truly versatile balm, utilizing the naturally moisturizing and restorative properties of shea butter, coconut and jojoba oils."- Zoe Organics
Another favorite item is the Cream. This stuff is amazing! Such a favorite for winter time. A little seriously goes a long way! and the smell… so good!
"Developed specifically for very dry skin and conditions such as eczema. This ultra rich cream is packed with vitamins and nutrient-rich oils and botanicals that naturally heal and restore sensitive and damaged skin. Unlike lotion, this product contains no water, fillers or chemical preservatives – a jar of our Cream is packed with only premium organic ingredients. A little bit of this product goes a long way! This product is also "naked" with no added fragrance or essential oils to irritate sensitive noses." – Zoe Organics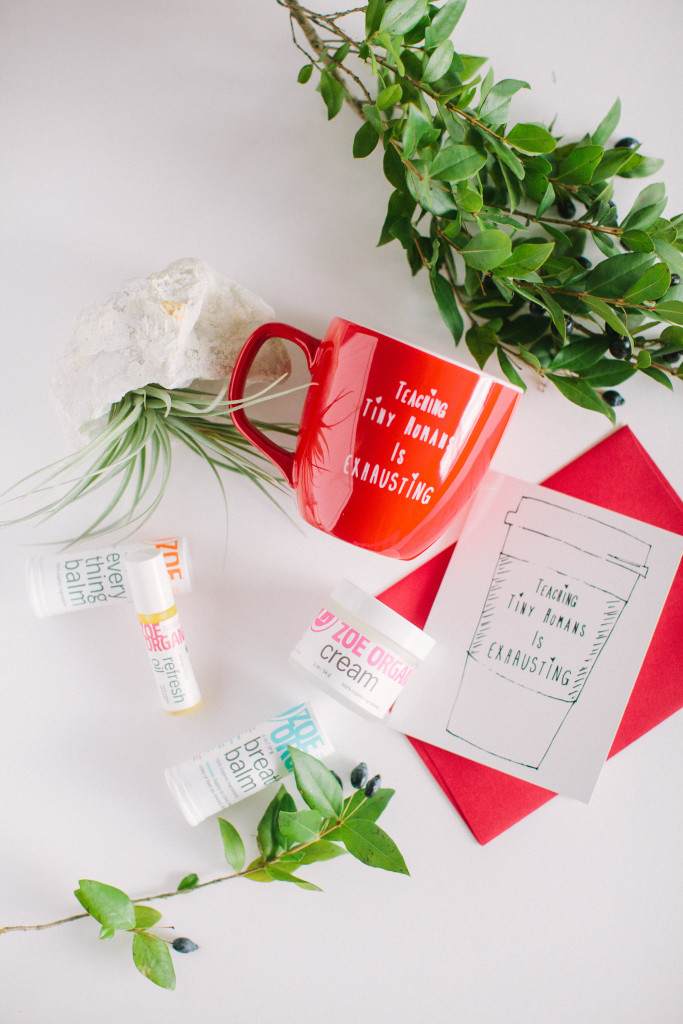 The next two products are good for not only a teacher but everyone! I'm a personal fan of these two products and you will find these two in my purse at all times.
The Refresh Oil. The Bomb. Yes I just said the bomb.  I'm a huge fan of oils, especially aromatherapy oils. I get motion sickness, pretty much any time. The refresh oil has been a life saver. Its a perfect pick-me-up for a queasy tummy, motion sickness or an anxious parent. This is great for a teacher who is exhausted and just needs a little pick me up to finish out the day.
 Lightly roll aromatherapy oil behind ears, on neck, chest, temples or under nose as needed. Lime peel, ginger and mint refresh and de-stress.
It smells so good, and just makes everything better!
Lastly, the Breath Balm. Stuffy nose?
"Breathe easier and soothe a cough with our 100% natural balm. Organic essential oils of eucalyptus, tea tree, lavender and cedar work together to provide relief from cold and flu symptoms" – Zoe Organics
Another tool to have in your purse for trying to get thru that long day when you may not feel good.
Check out Zoe Organics! Our family are huge fans, and so will you and your teacher when you gift him/her with these 100% organic products.
Happy Holidays to all the teachers who mold our children everyday!
Photos by Yasmin Sarai
xx
Abby