When my friends Royale of But First Party and Alexis of The Shift Creative come calling, I know to answer! These girls were planning Alexis' daughter Sophia's 6th birthday party and asked if I wanted to help style it. Again, I obviously couldn't say no!! I jumped at the chance to work with these fellow creatives and boy was it fun!! Alexis had taken the idea of a mermaid party and made it her own and I was happy to be along for the ride…
Also featured today on Green Wedding Shoes!

Photos by Tade Creative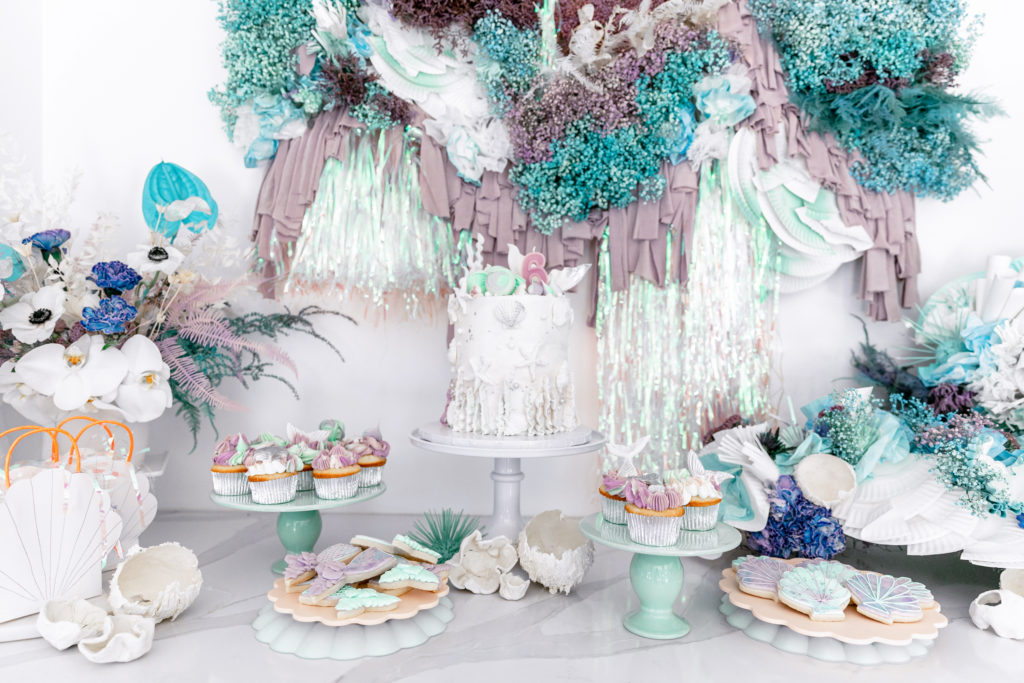 Like I said, taking that mermaid thing and truly making it her own!! Alexis created not one, but multiple amazing installs for this party. She is known for her creative and outside the box installations and this time she truly outdid herself! This one below was a wave installation that was layered and guests could stand in it making them look like they were in the waves of the ocean! She used shades of blue and purple along with iridescents for this take on mermaid fun which I loved, a step away from pink.
We placed the kid's table in front of the waves and added flowers by Mustard Seed Florals. Speaking of talent, she really amazed me with hers!! Just wait till you see the beautiful arrangements she put together. We also added signage by Creative Amme in front of the table. She helped with all of the incredible details you'll see through-out the party!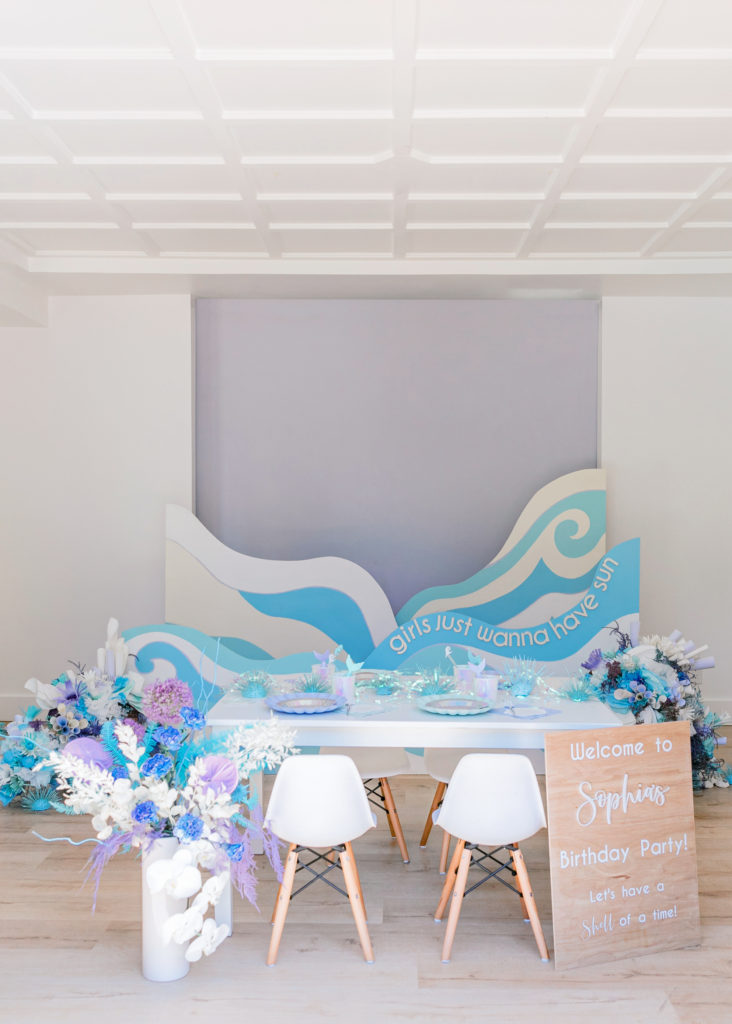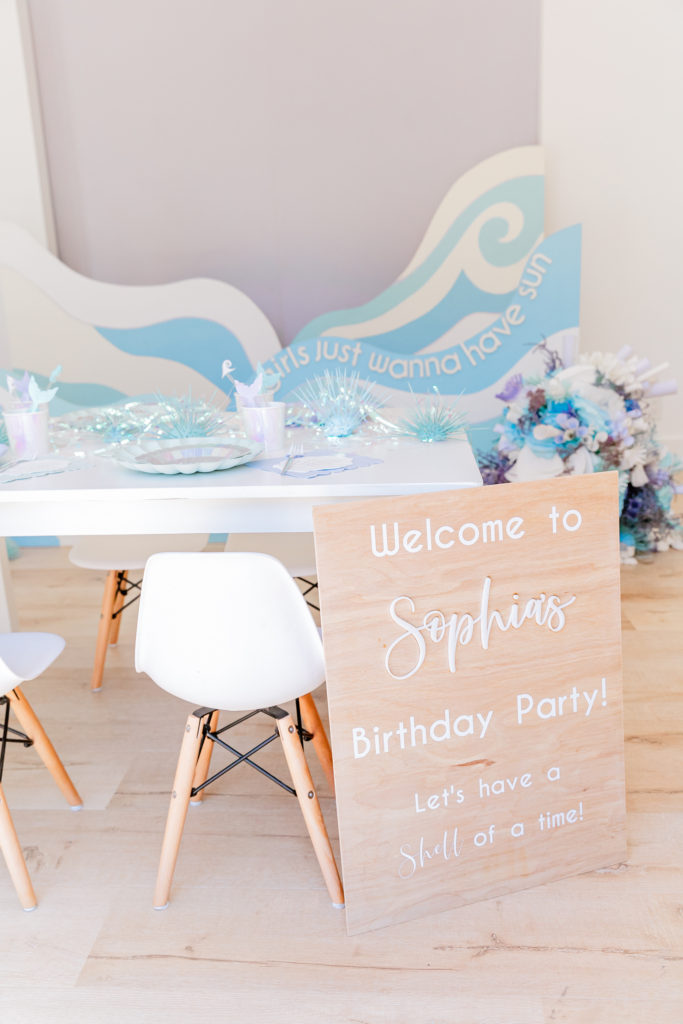 Royale chose all of the tabletop items, all by Meri Meri in fact, and I came to style them! We used their new eco friendly tabletop collection along with their mermaid collection and it fit so well together. In addition to the Meri Meri we added other items picked up from Bonjour Fete plus little sea urchins made by Alexis and details by Creative Amme. Guest's names were on their little seashell plates and seahorse and wave stir sticks were in their cups! And of course iridescent streamers and sea shells were strung along the length of the table. Don't you just love it?!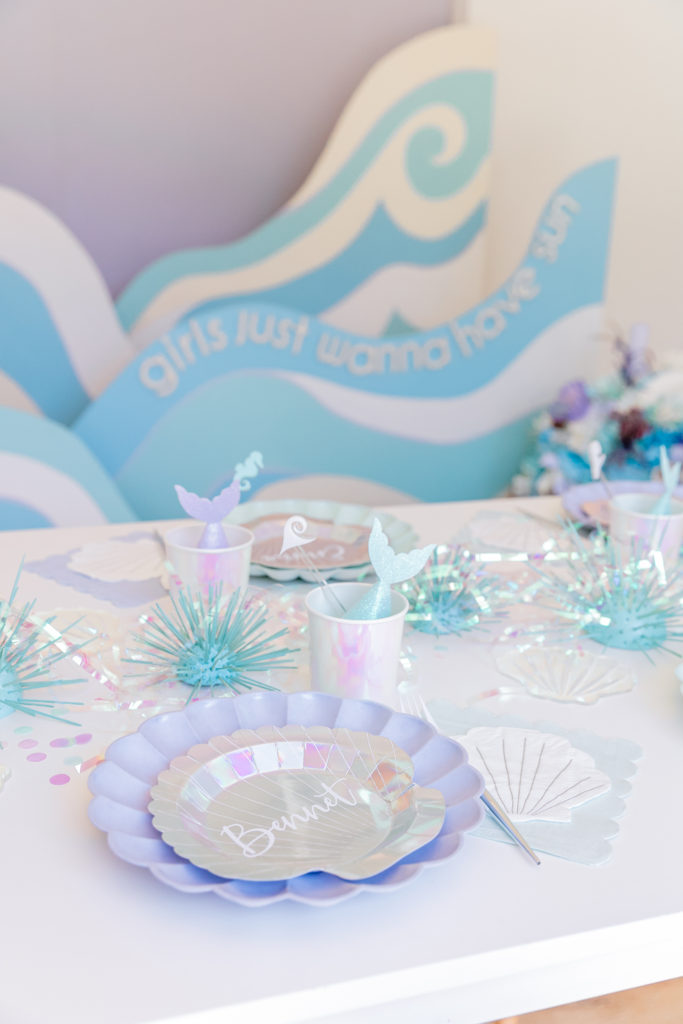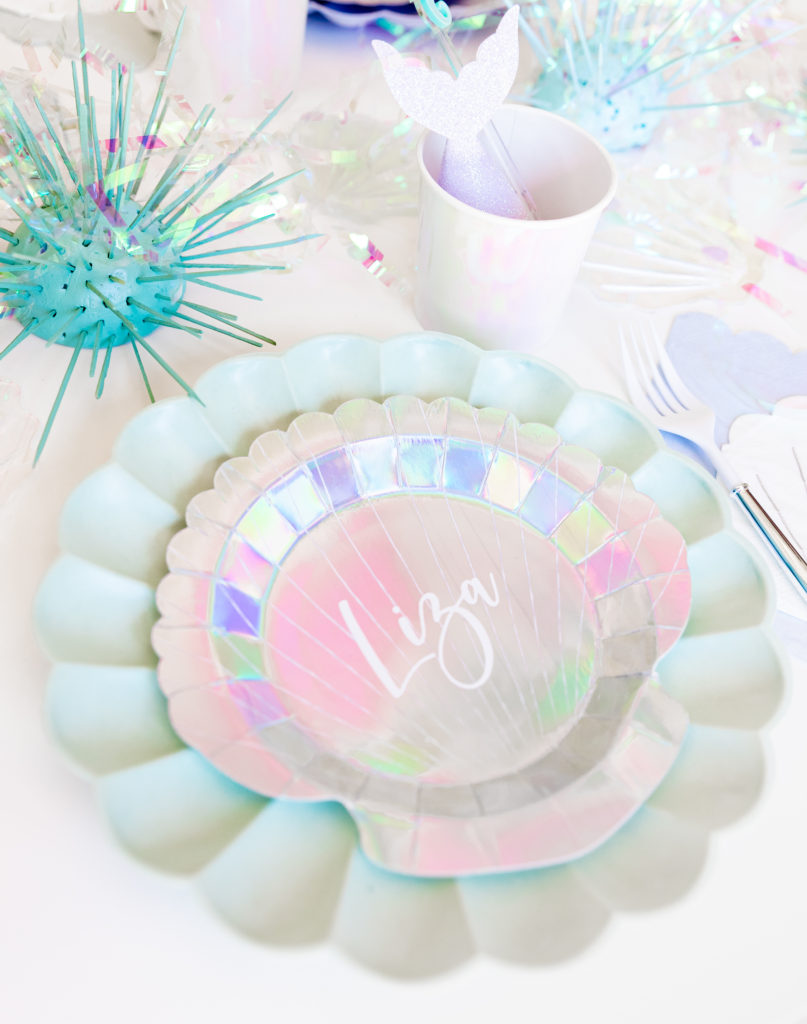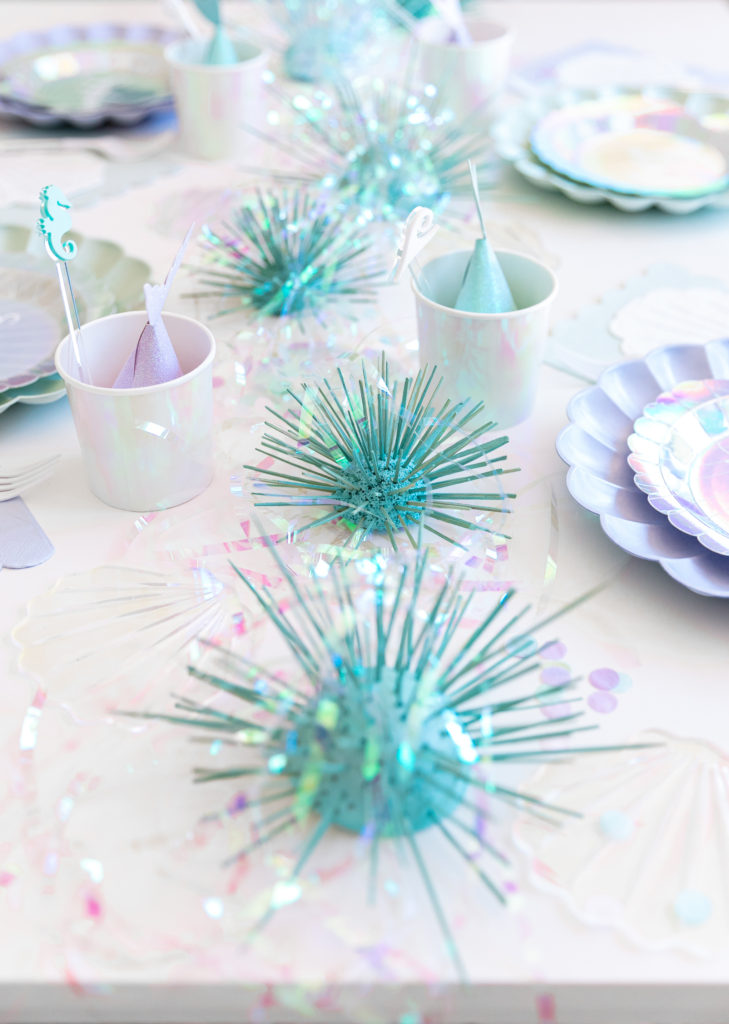 Aren't the colors so fun and such a great take on the whole mermaid party trend!! It was a really fun one to style!!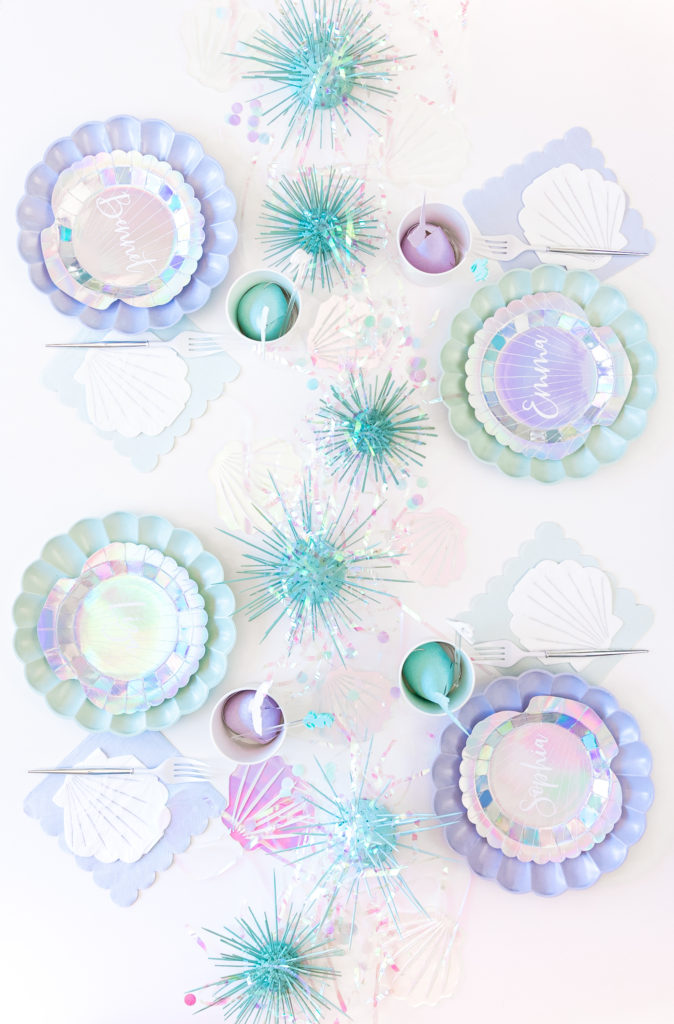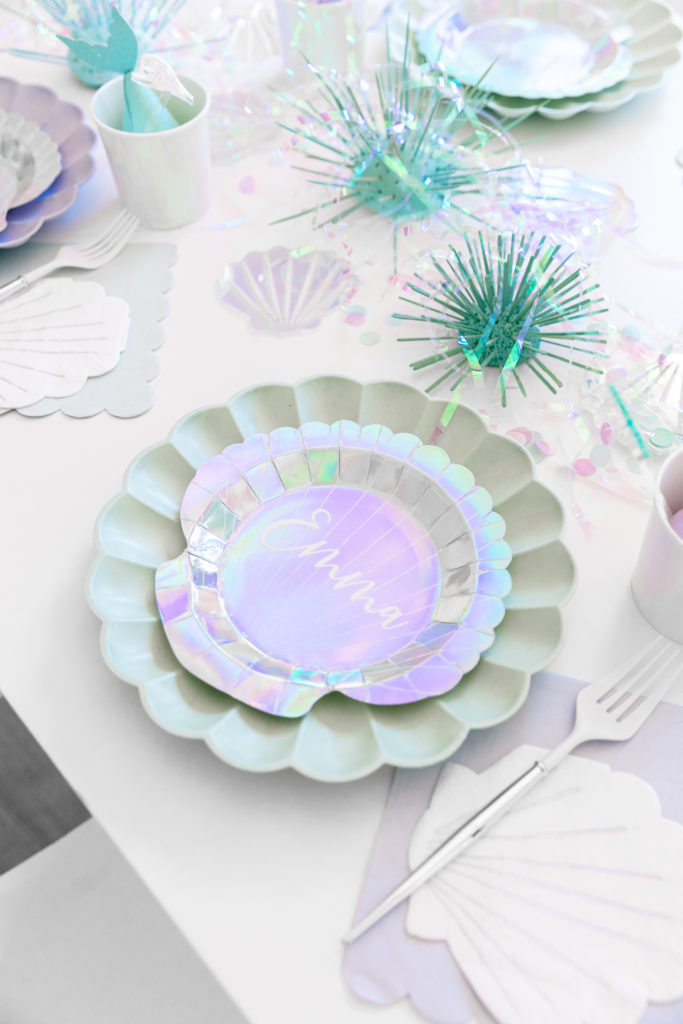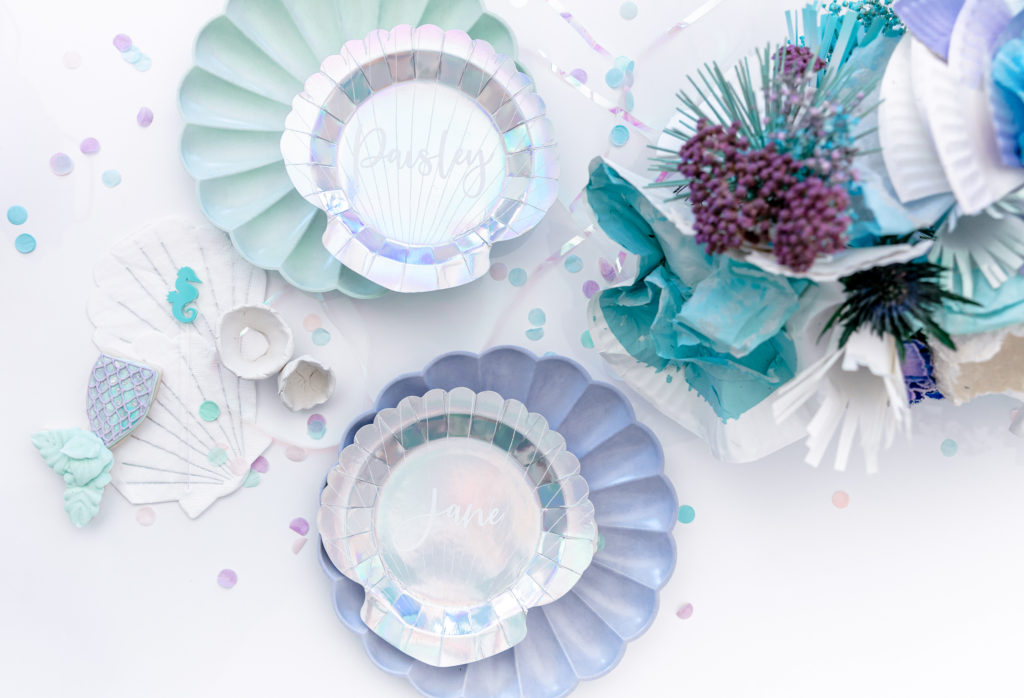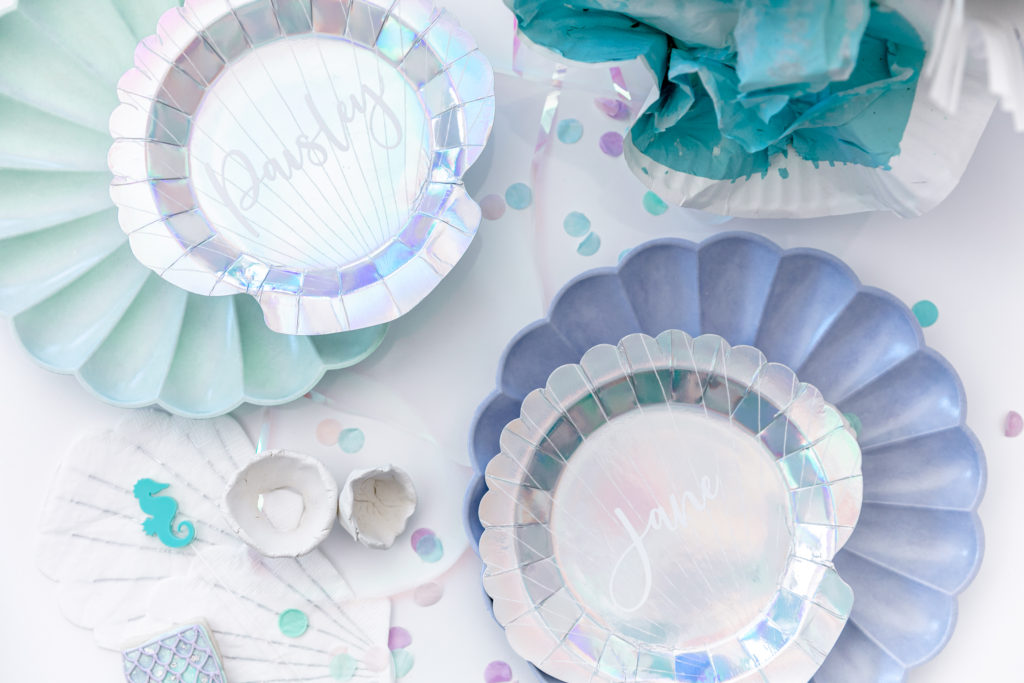 I told you that you'd be amazed by Mustard Seed Florals arrangements, the textures and colors were really insanely good!!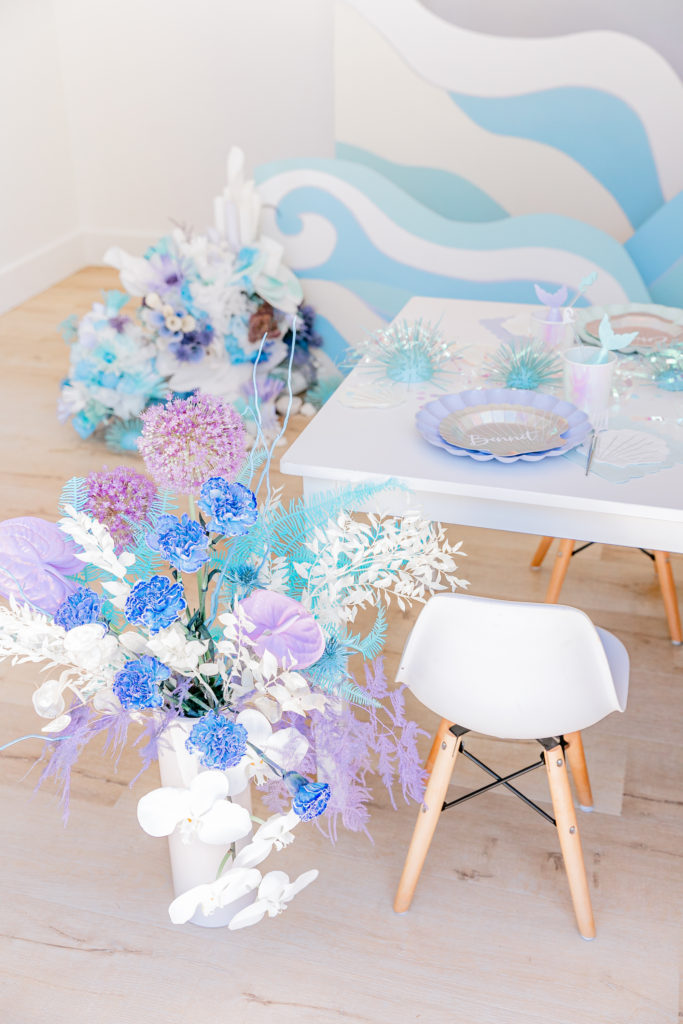 And here's the birthday girl herself!!! Sophia is such a sweet girl and was so excited for her party!! Look a her in this adorable Meri Meri Mermaid Costume!! So much cuteness!!! Also LOVE that Meri Meri has costumes now to go with their party-ware – GENIUS!!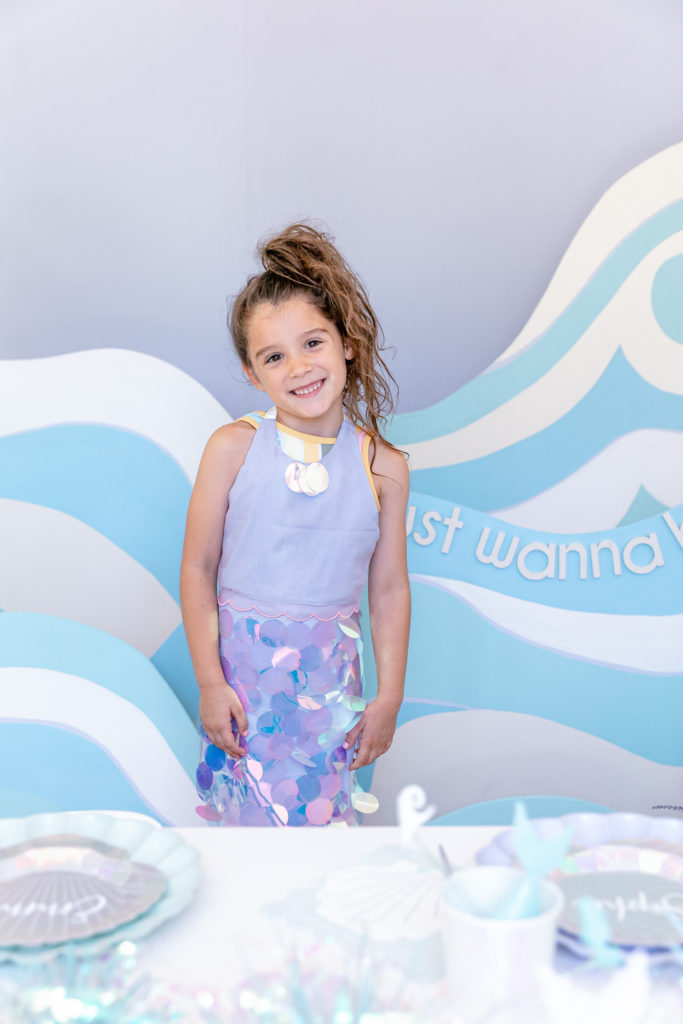 Here she is with her mama in front of that amazing installation! I didn't have anything to do with building this beauty but I will say that I came up with the cute saying – Girls Just Wanna Have Sun!!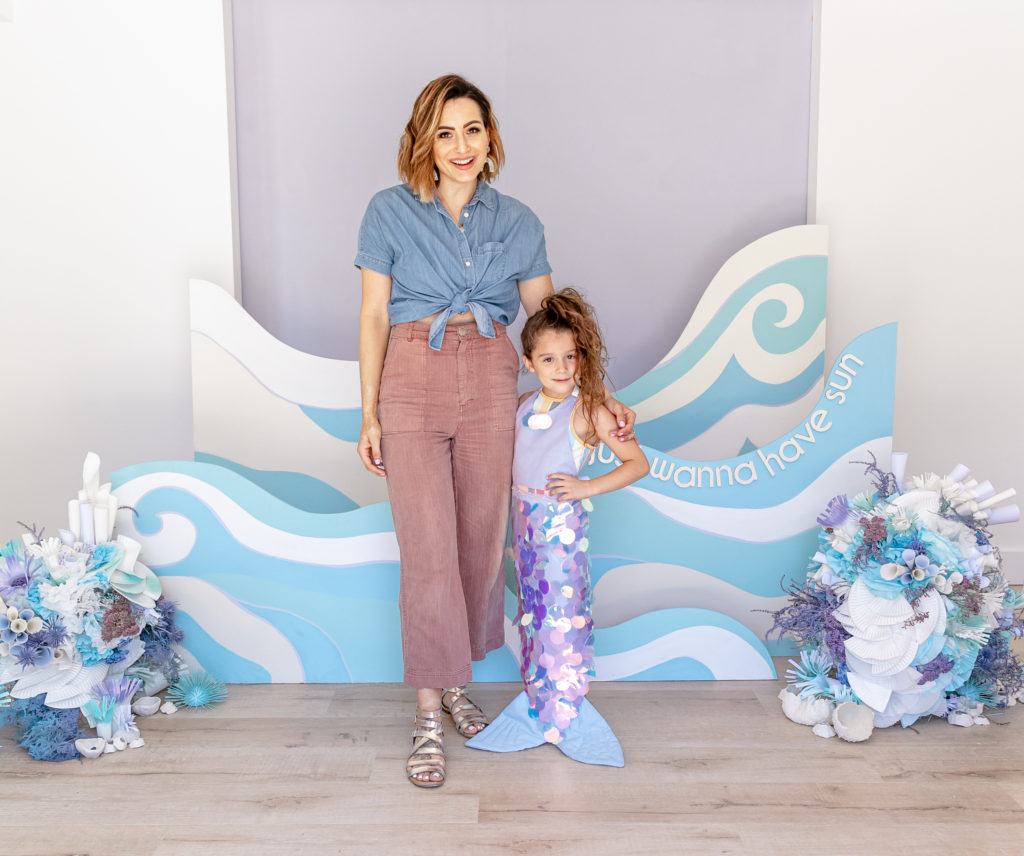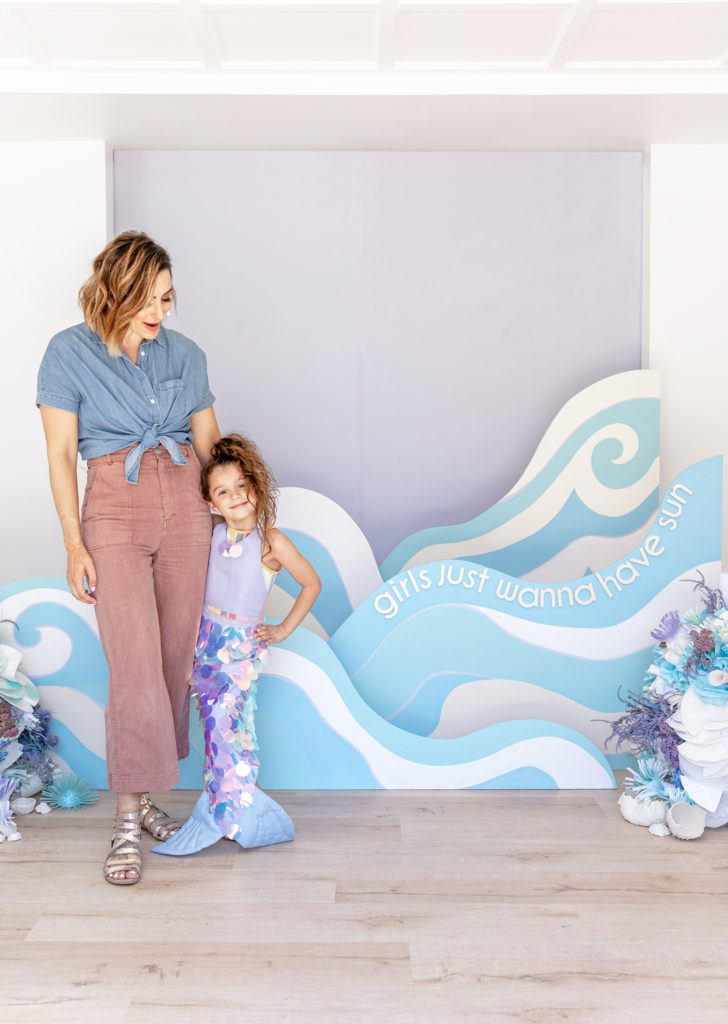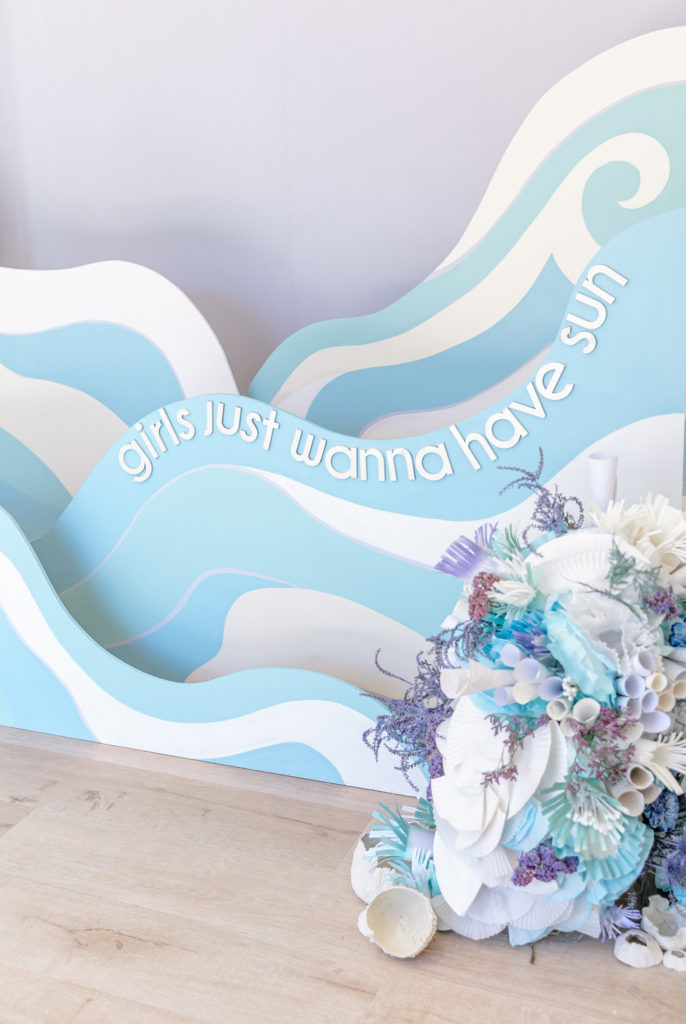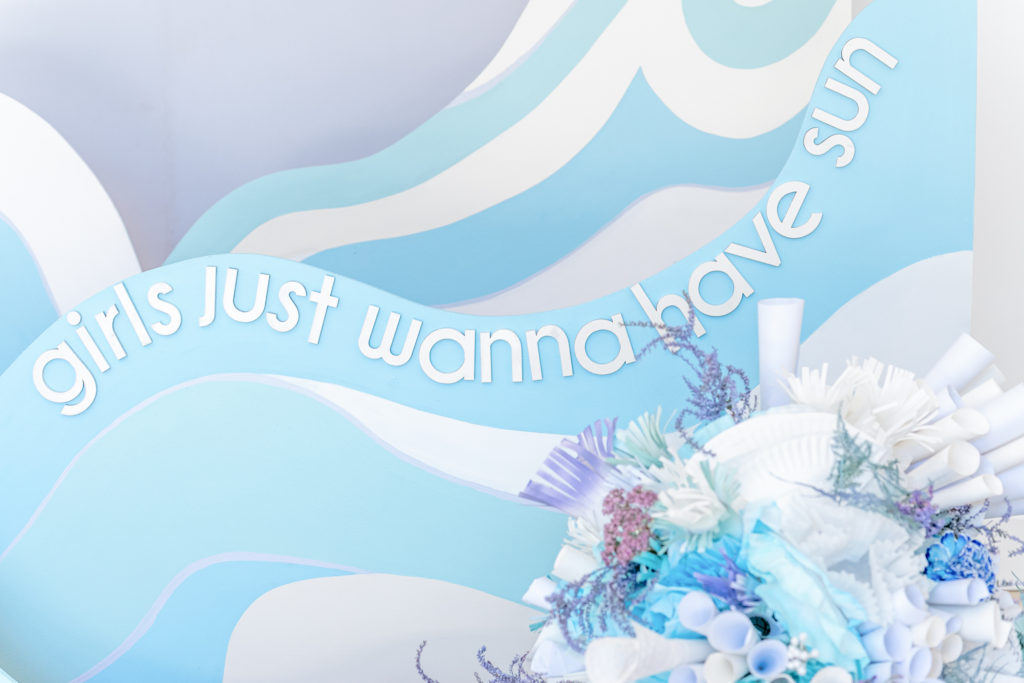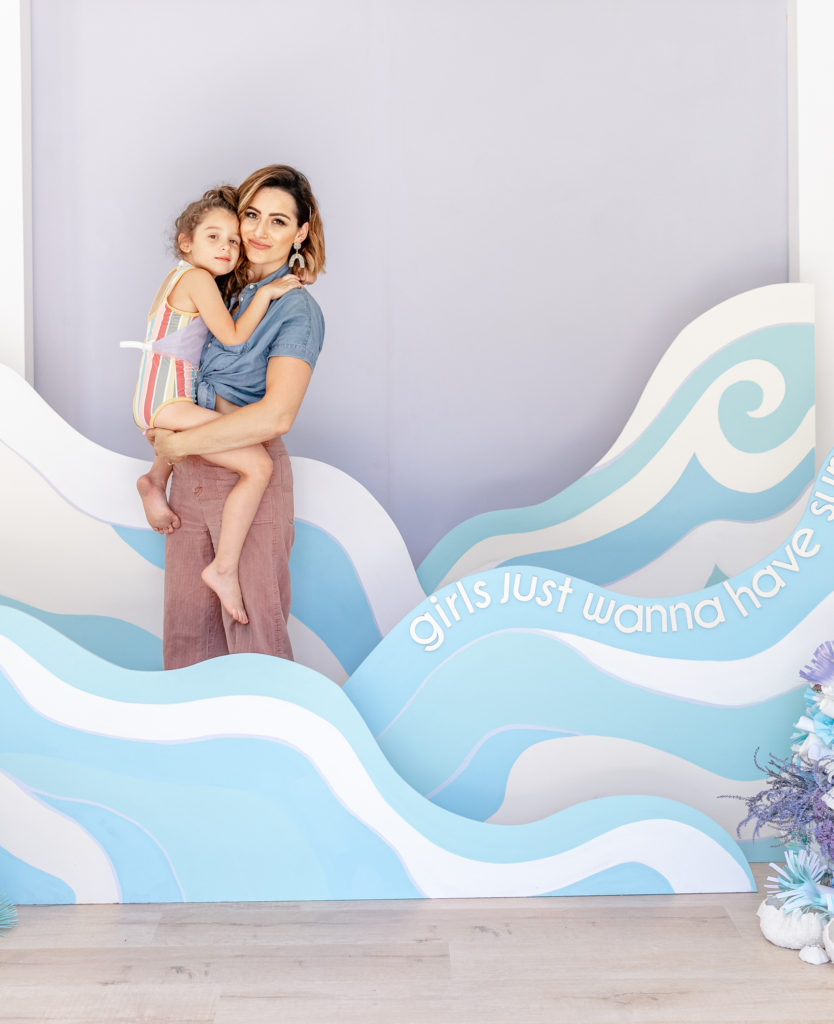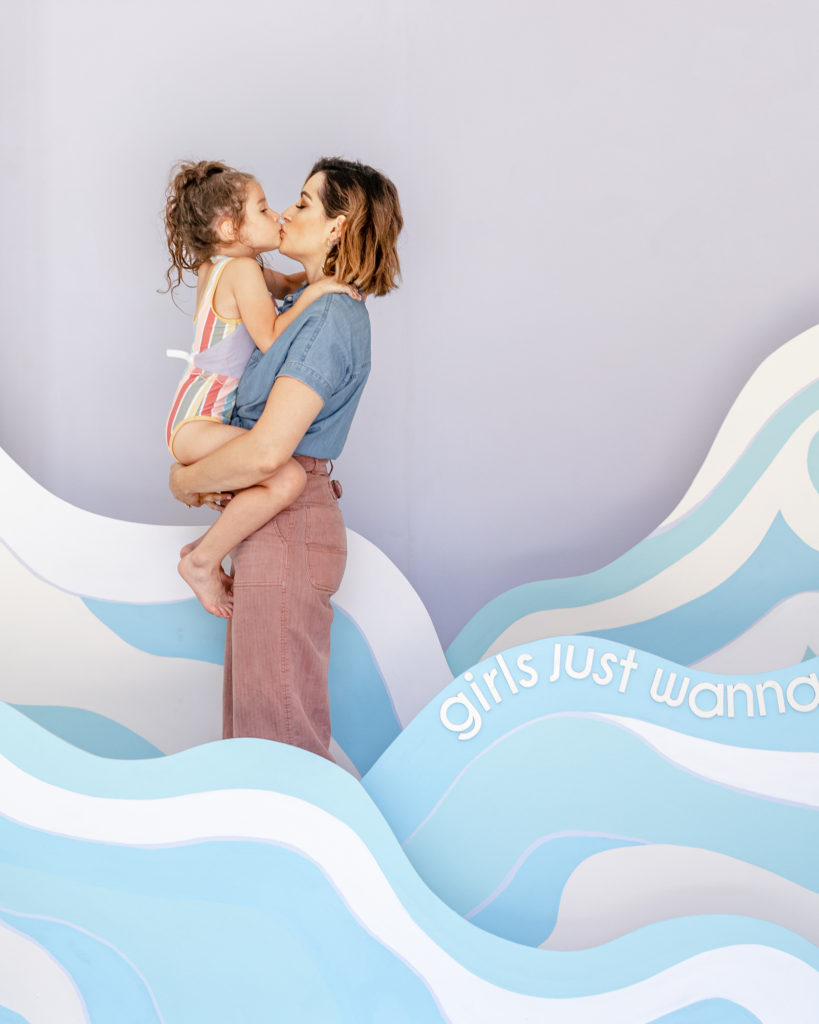 You may have seen this guy peaking in through-out the photos so far. Alexis and her team created these pieces with all sorts of materials like paper plates, coffee filters, toilet paper rolls, and q-tips to name a few. Mustard Seed Floral added her touch and voila, beautiful coral was recreated for this amazing party! I mean the talent to go into this was just insane!!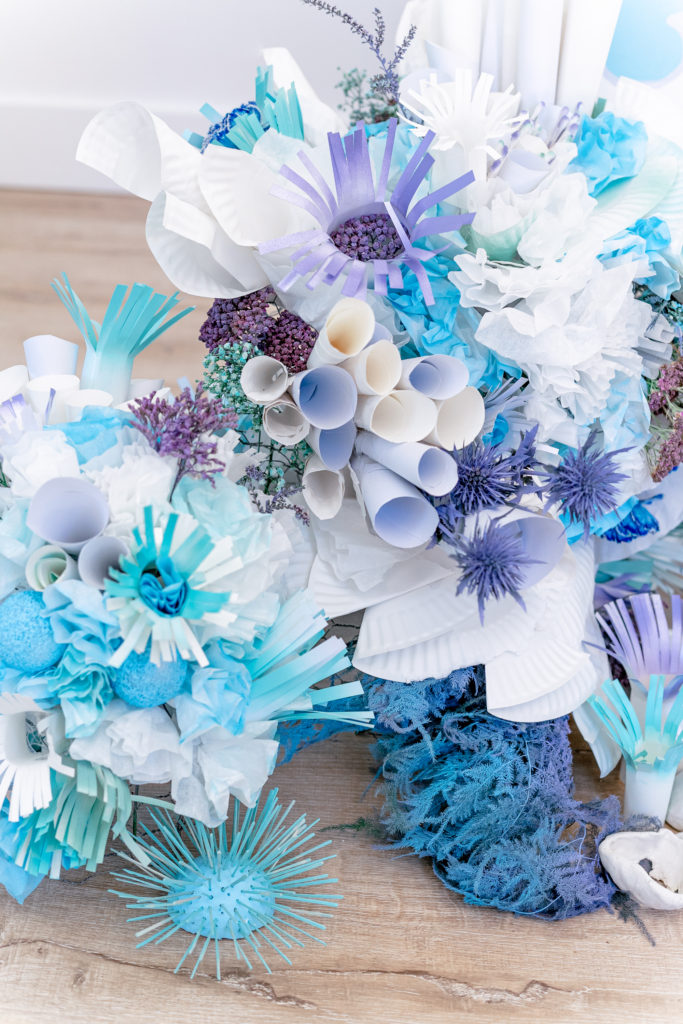 Nope, those aren't real shells, those are all hand made by The Shift Creative with paper mâché!!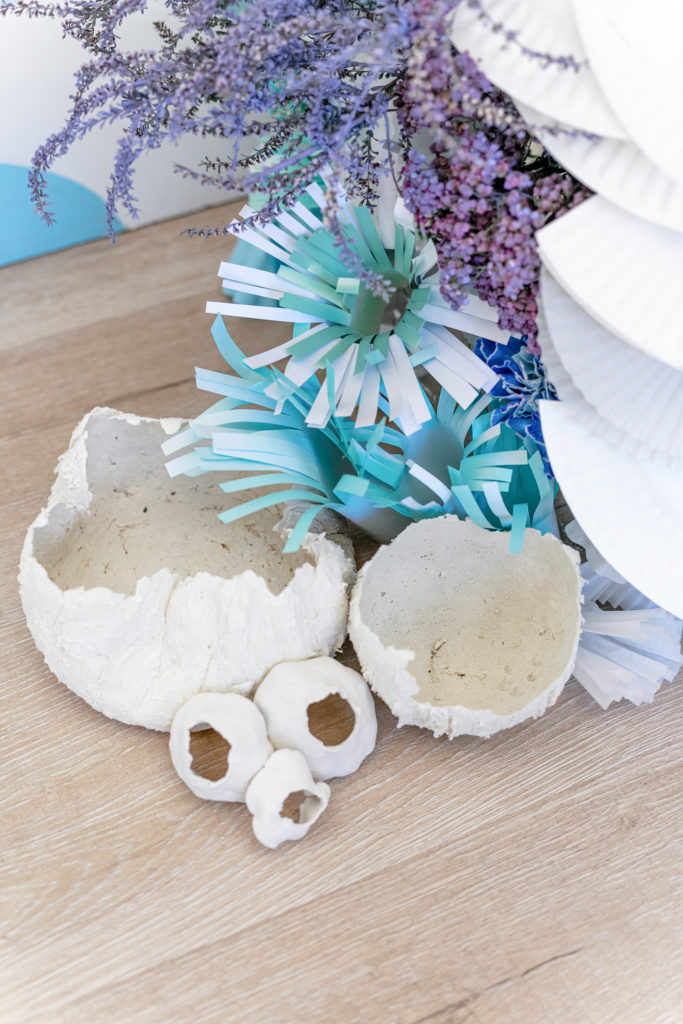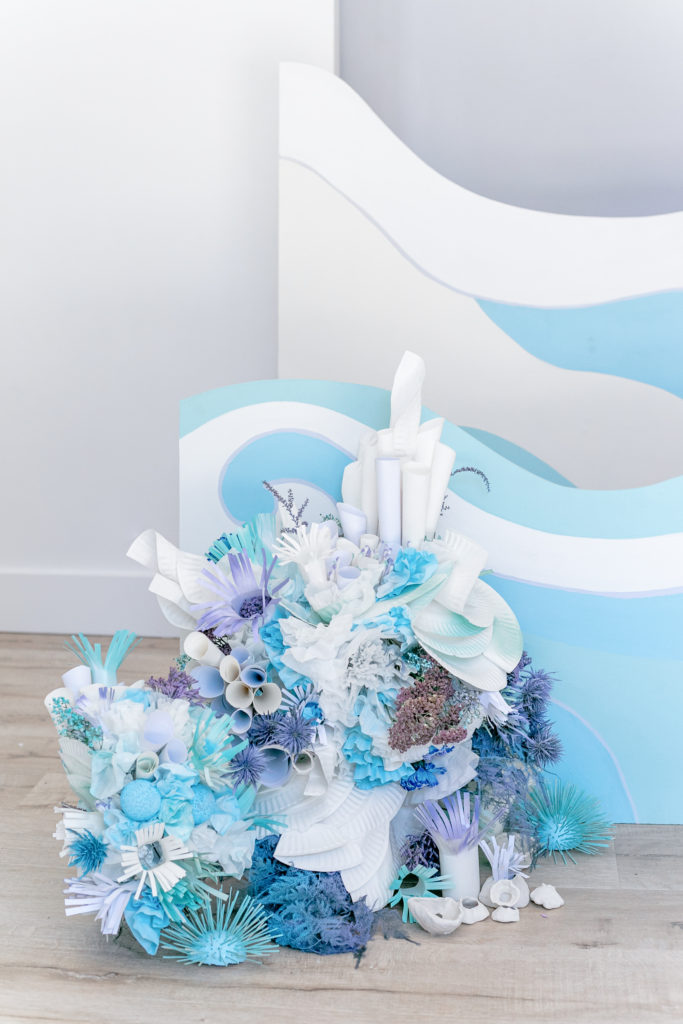 When you take a step back and look at it, you can really appreciate all of the hard work that went into creating this!!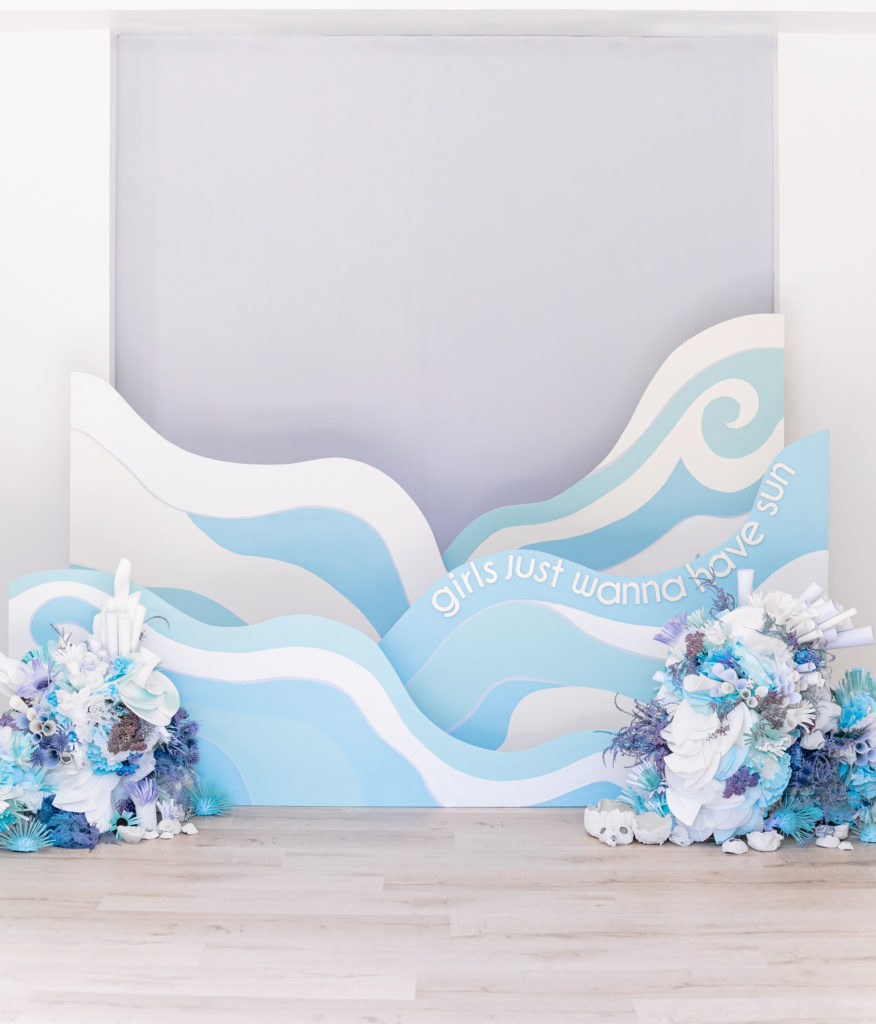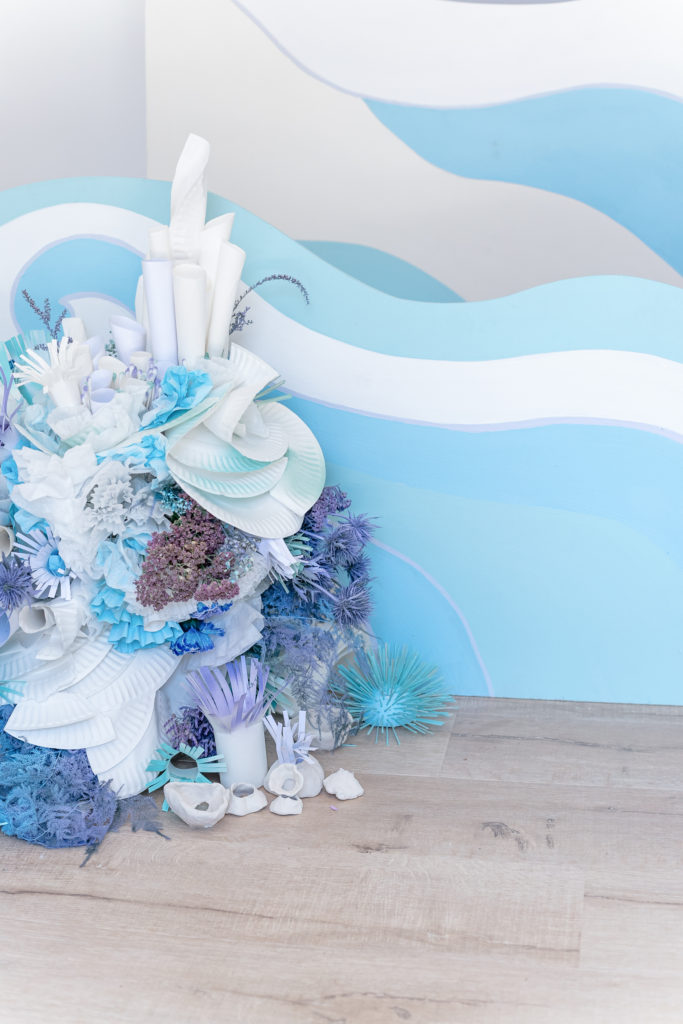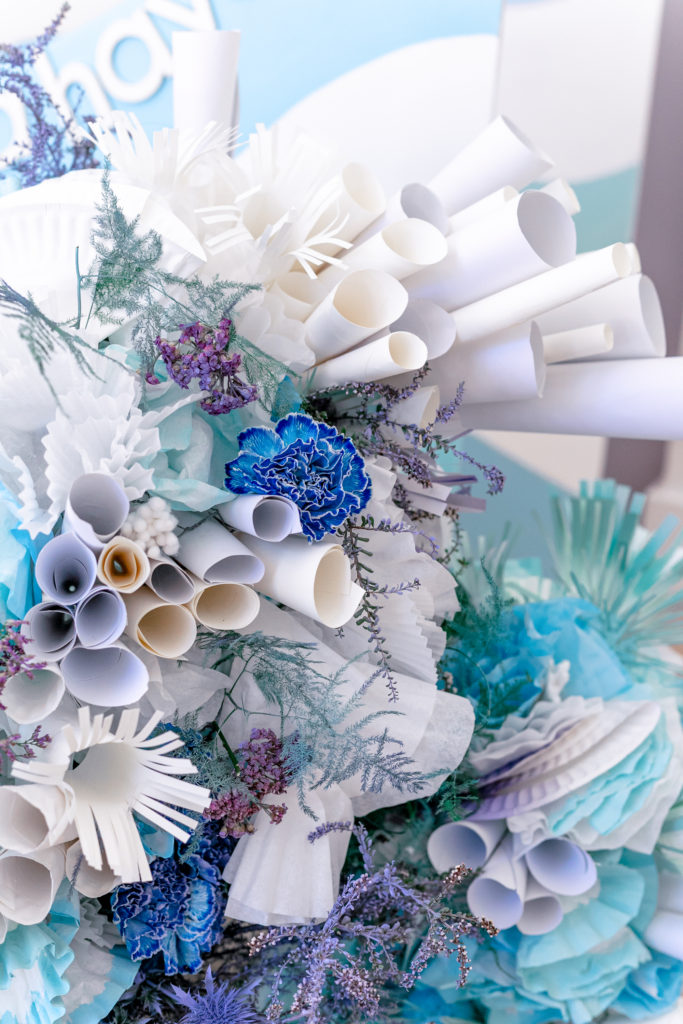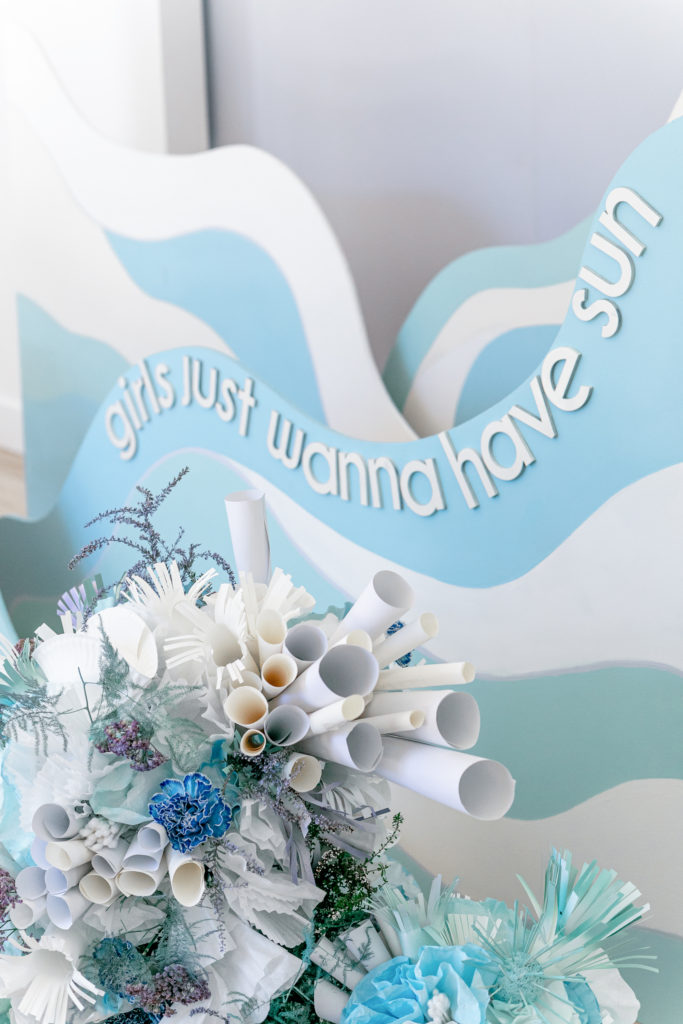 Now for the other important birthday party element – the dessert set up!! Yes, there's another installation and dare I say it's the best one?! Alexis took those incredible coral arrangements we had on the floor and table and made this beautiful piece to go behind the desserts. All of the textures and added elements from Mustard Seed Florals was truly a sight to be seen! Talk about a statement, right?!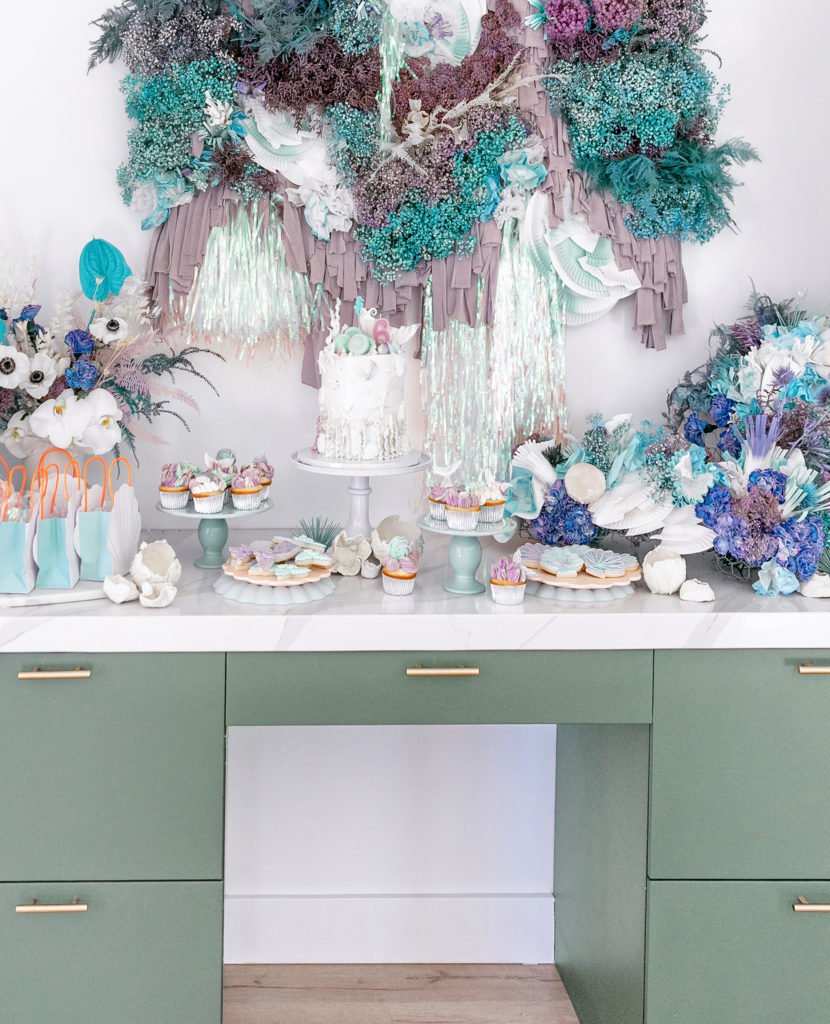 The desserts were amazing!! The cake and cupcakes were all done by the talented Sugar Crush Sweets. The cake was absolute perfection, I mean I've never seen a cuter mermaid inspired cake!! It sat well along with cupcakes and cookies!! The cookies were from Cookies by Heather, SO much talent in one party, I can't even really begin to say how lucky I am to work along side these ladies and call them my friends!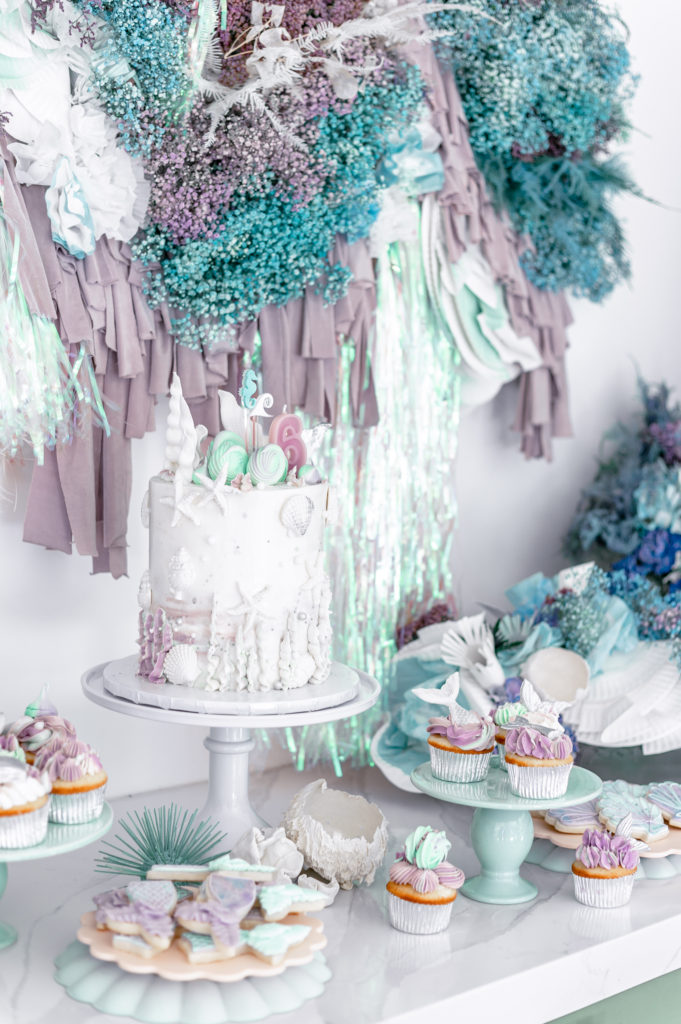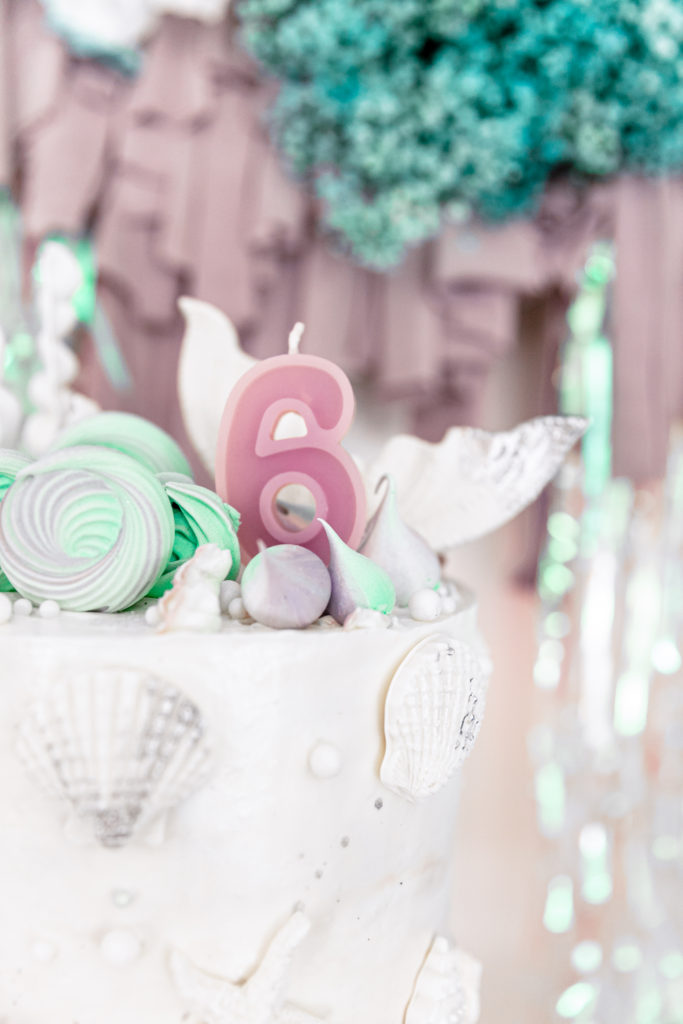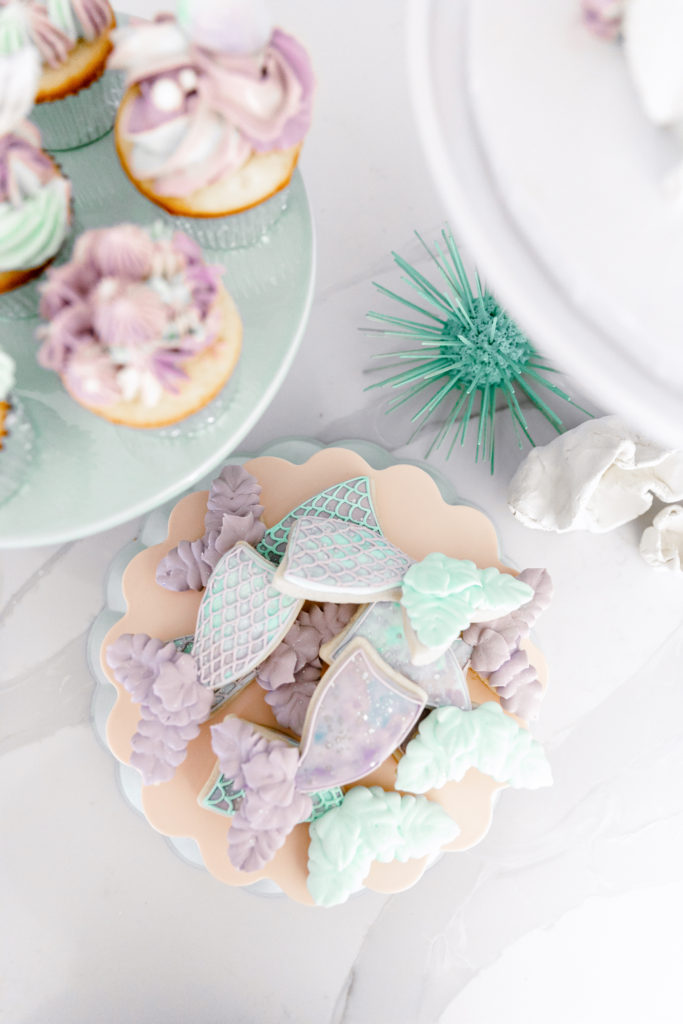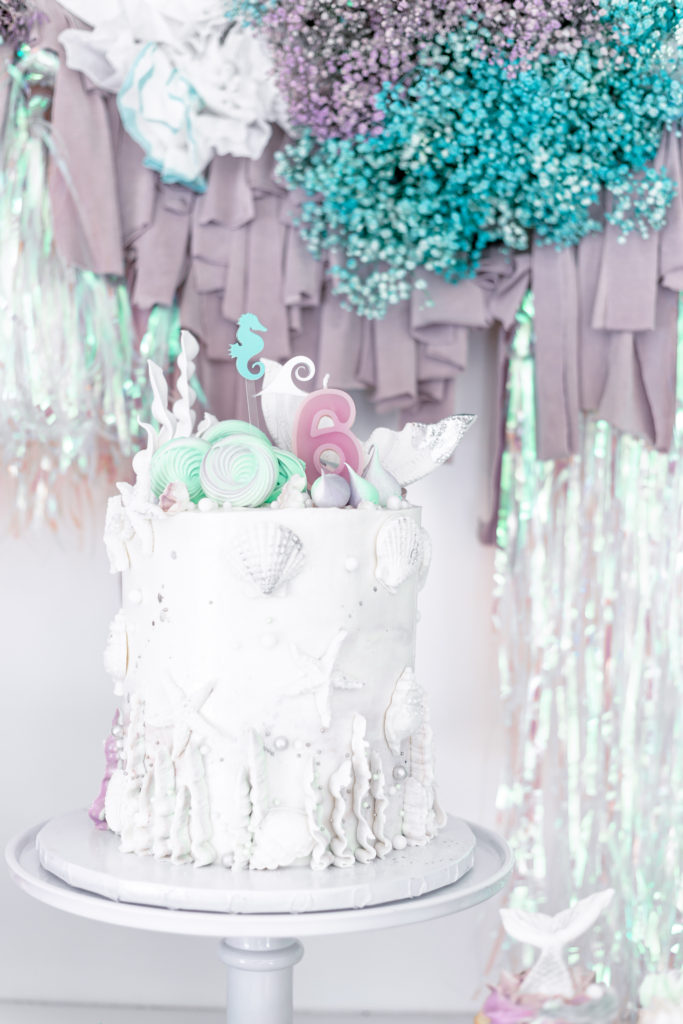 I love all of the florals and that iridescent shining through!!!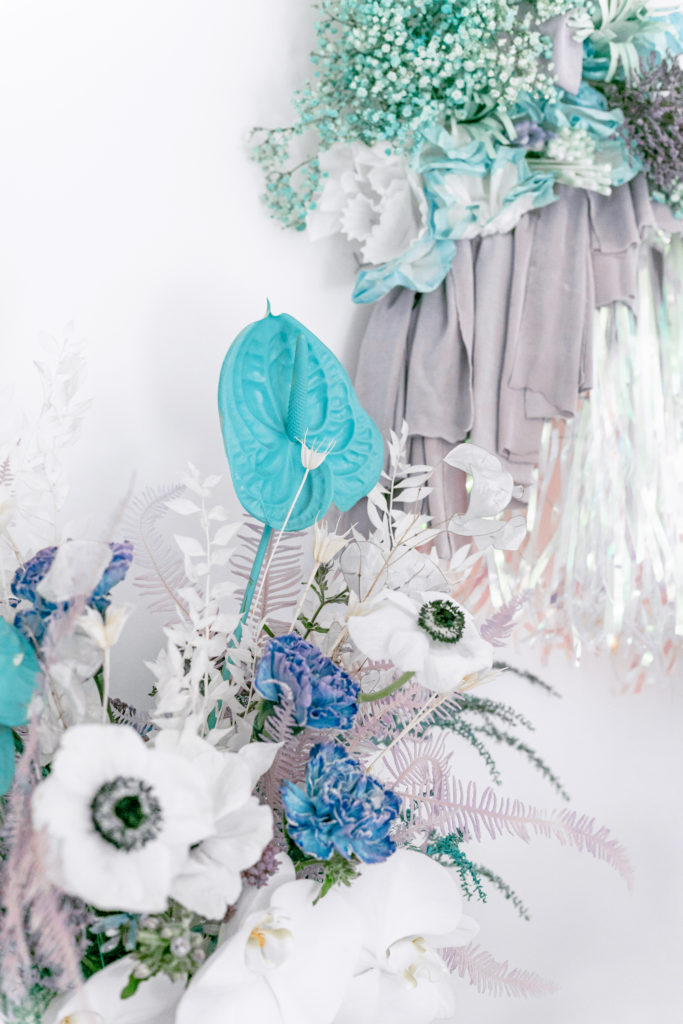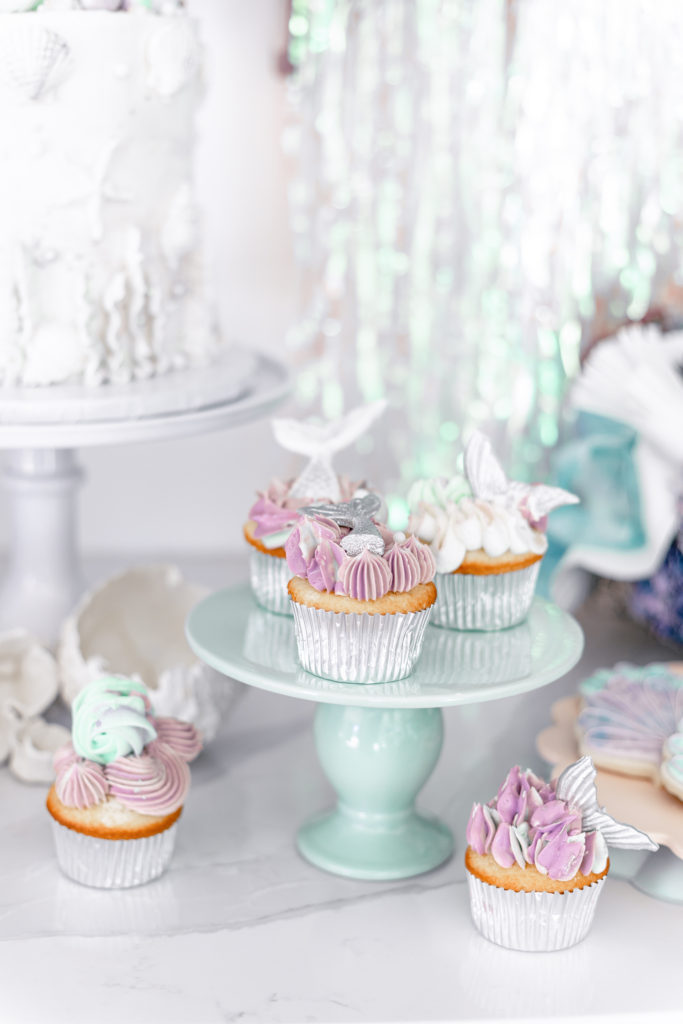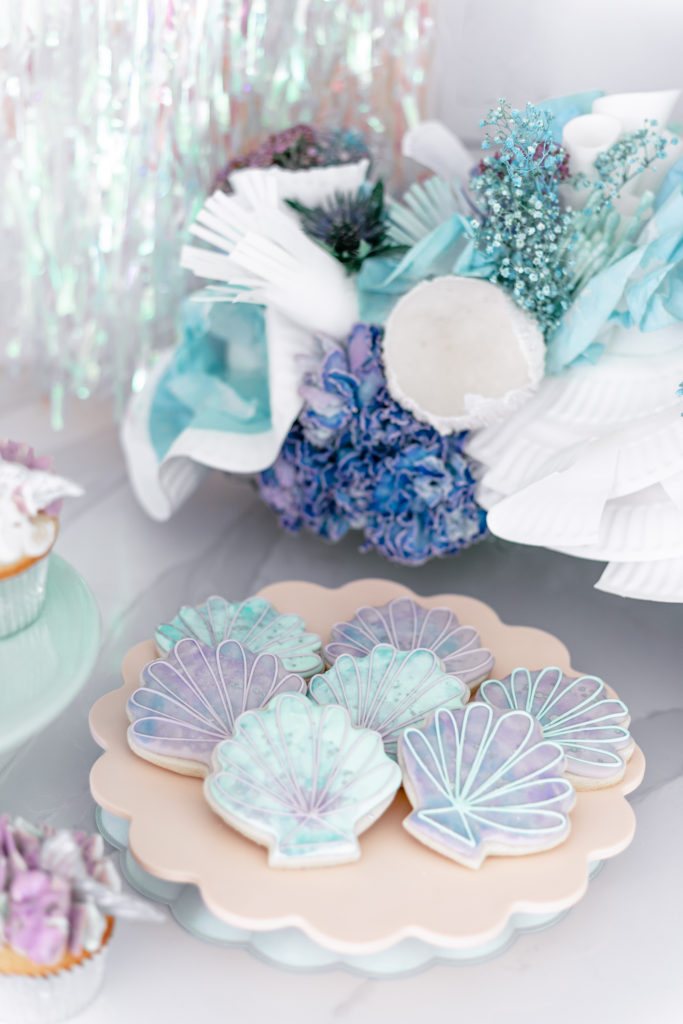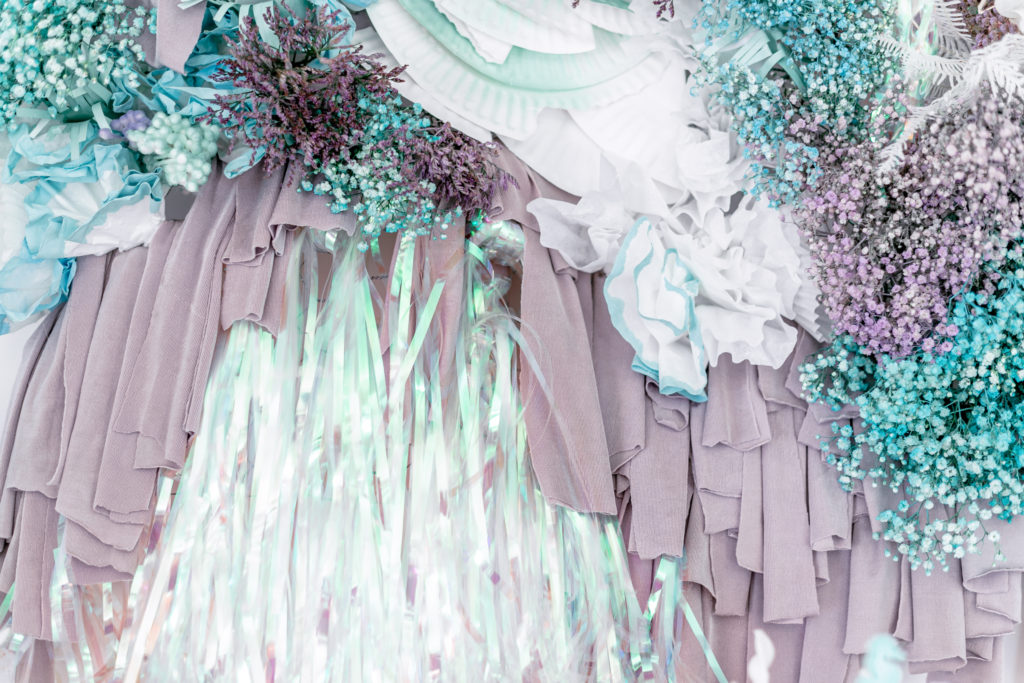 Cutest mermaid tail cookies by Cookies by Heather!!!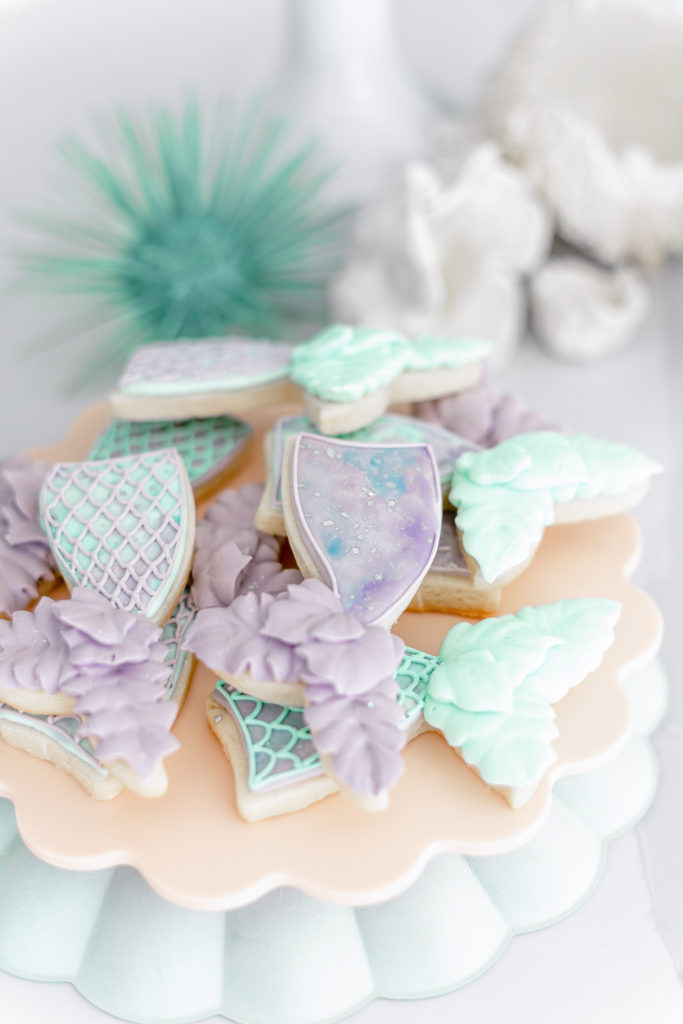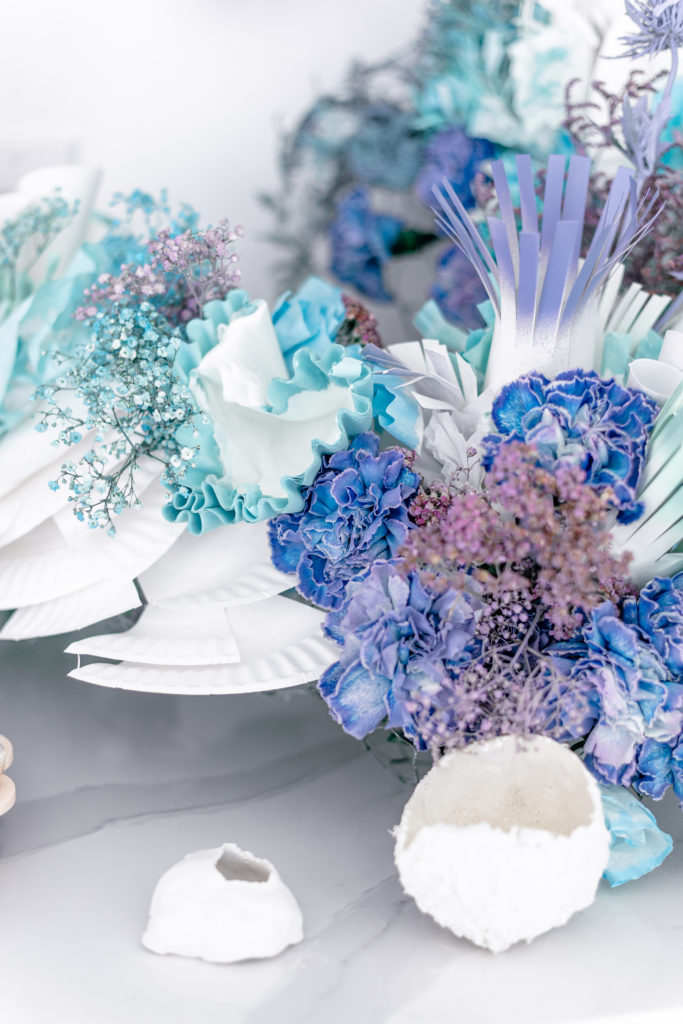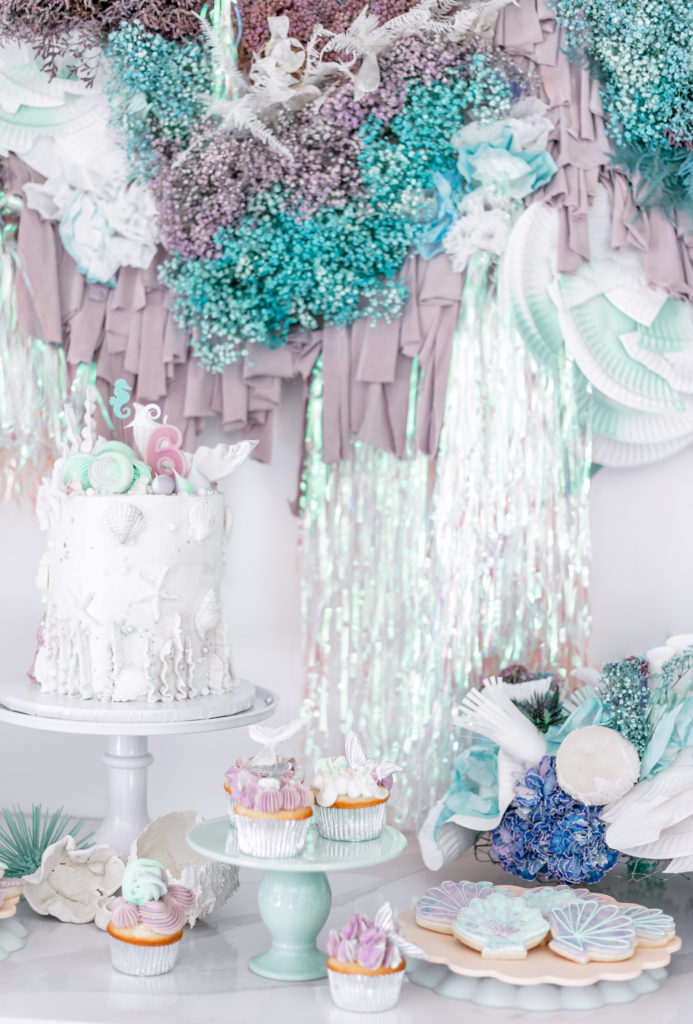 And that's a wrap!! SO inspiring, right?! I love this party and love this unique take on all things mermaid!! Thank you Royale & Alexis for bringing me on board for this fun one!!
xx
Jacquelyn