Another year has gone by and my not-so-little guy Court is now 7!! We have celebrated him year after year with fun and different themes. Even last year during lockdown we found a way to celebrate him! But as they get older it gets a little harder with themes, at least for me with boys! I'm not a "gun person" but Court and his brother have so much fun with their Nerf Guns so that lead to this year's party idea. A camo-themed party with a BIG Nerf gun battle and lots of fun details!! It made for one happy 7-year-old, and I'm very excited to share it with you today!
Photos by our talented friend Alison Bernier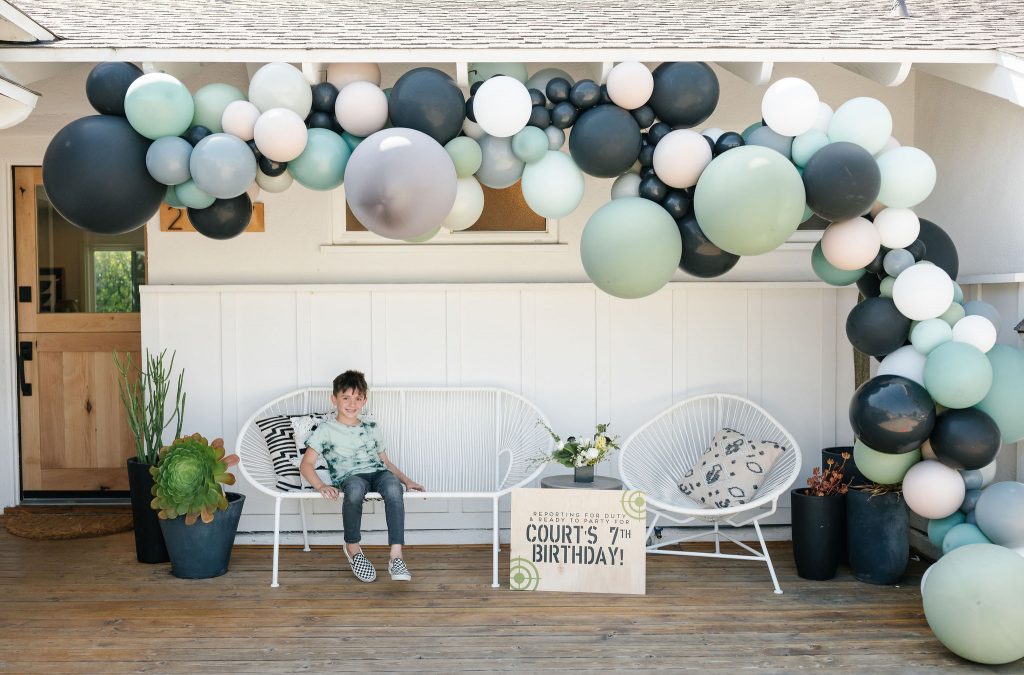 I'm kicking it off with this amazing invitation that Poppy Jack Shop created for me! I love how it turned out and especially all the details she created to go along with it. The stir sticks and place cards were so fun – and the kids got to wear the place cards after! We also had the perfect 7 cookies in a camo print from Sweet & Saucy Shop, aren't they fun?! I added the little army men that I ordered from Amazon to complete the flat lay! All styled on Stile & Co's amazing mat.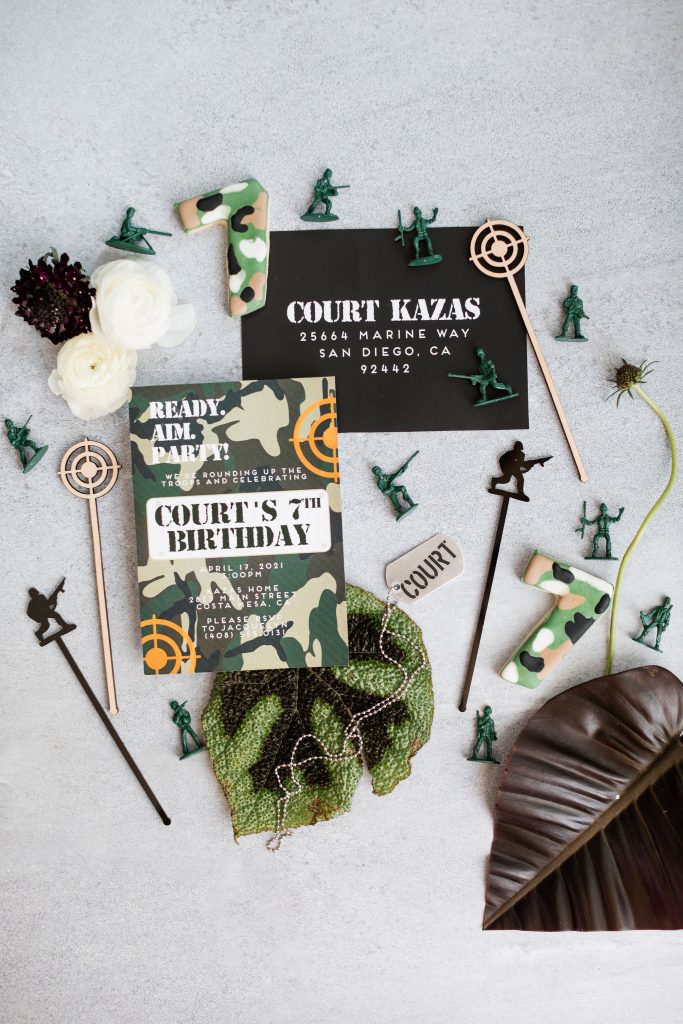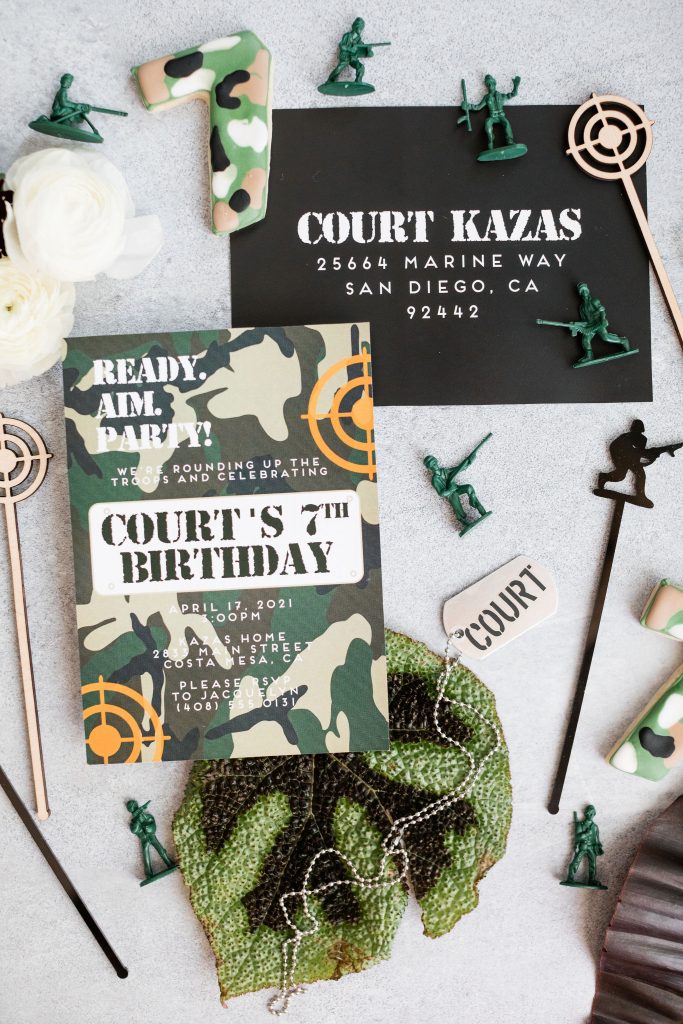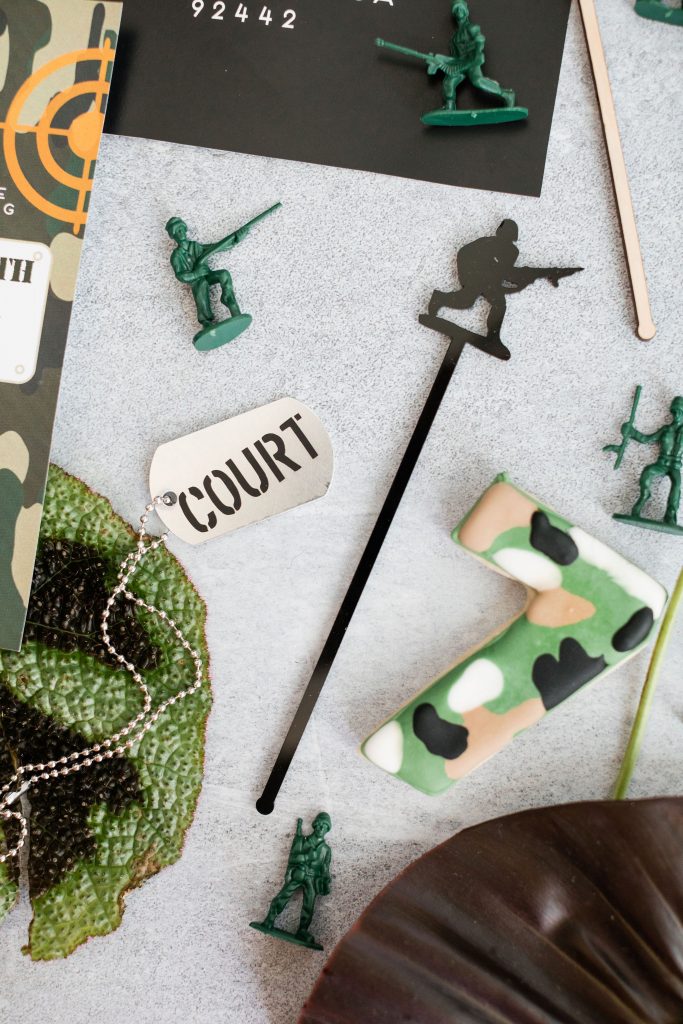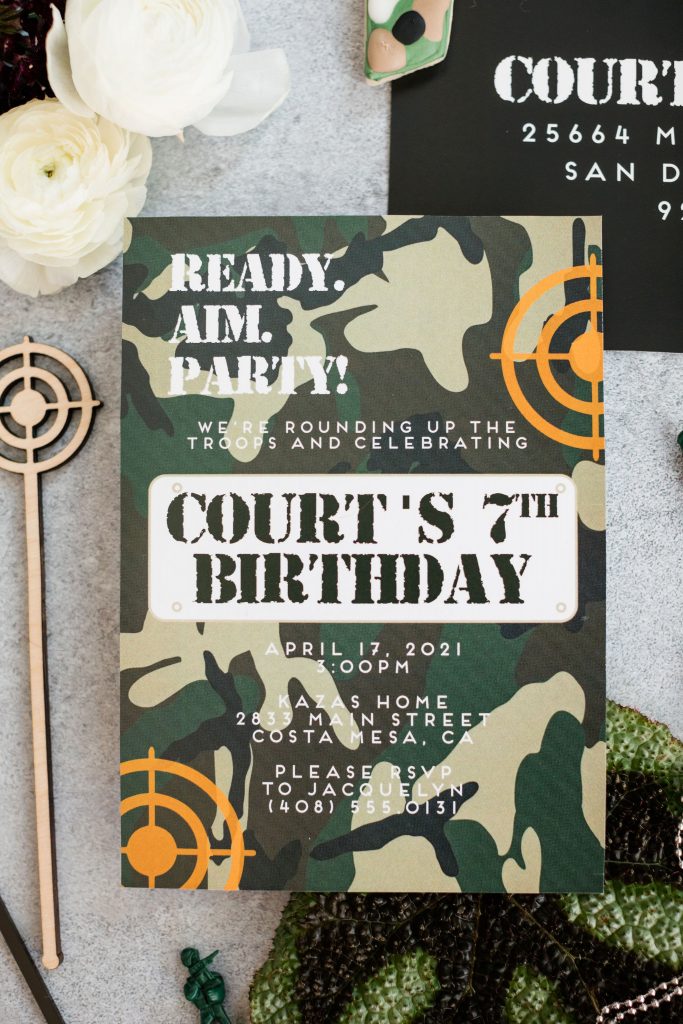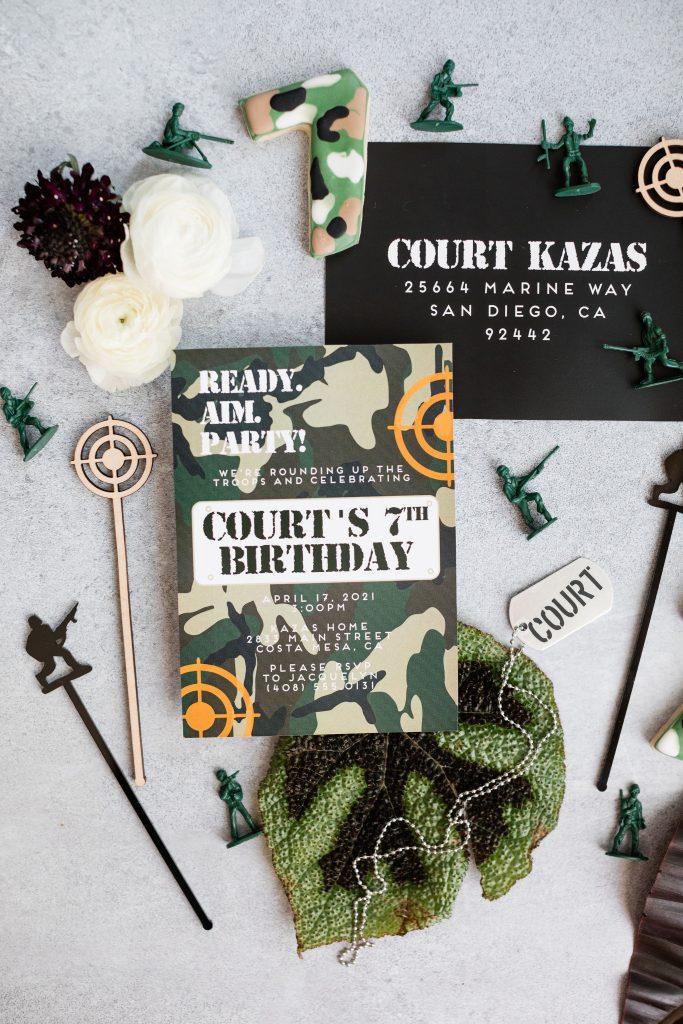 Courtney from Poppy Jack also made these adorable signs to have at the party – she has them as an instant download! The sayings are absolutely perfect for a party like this!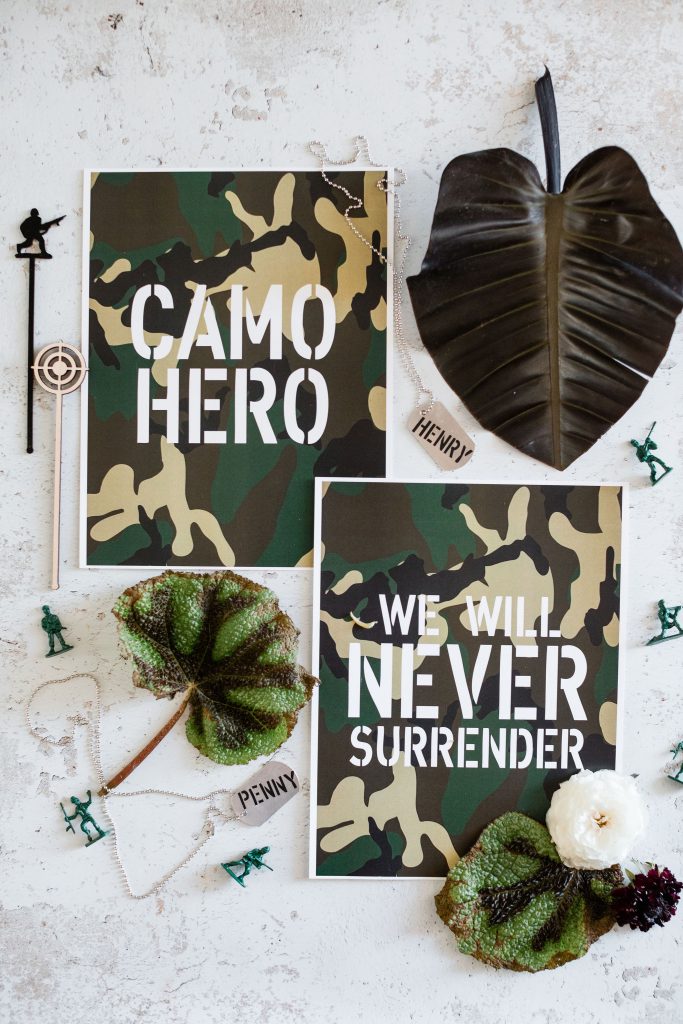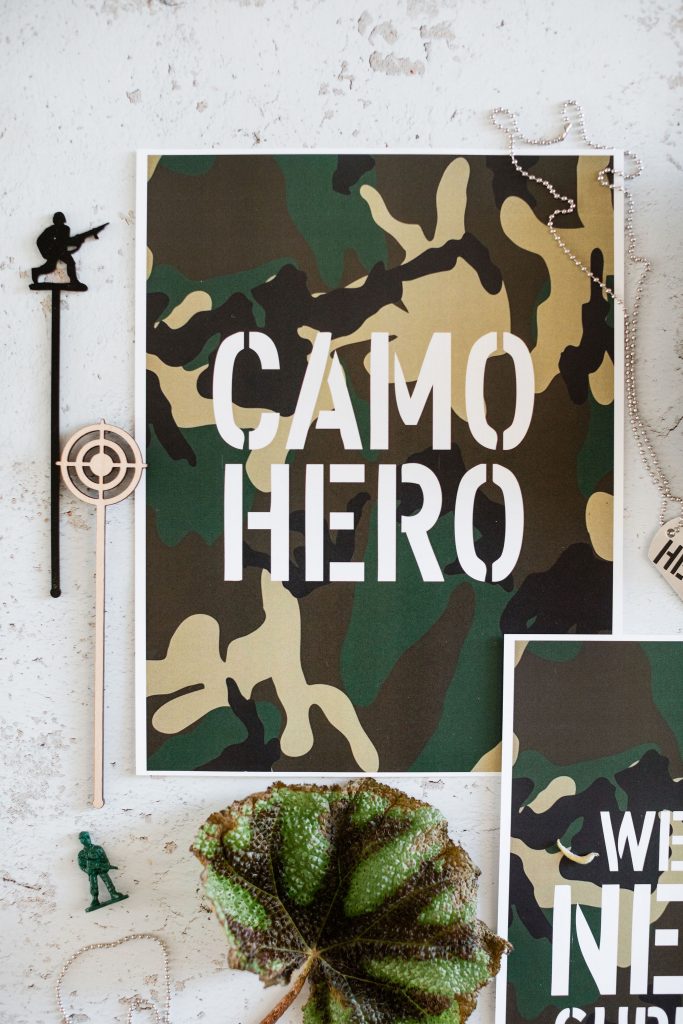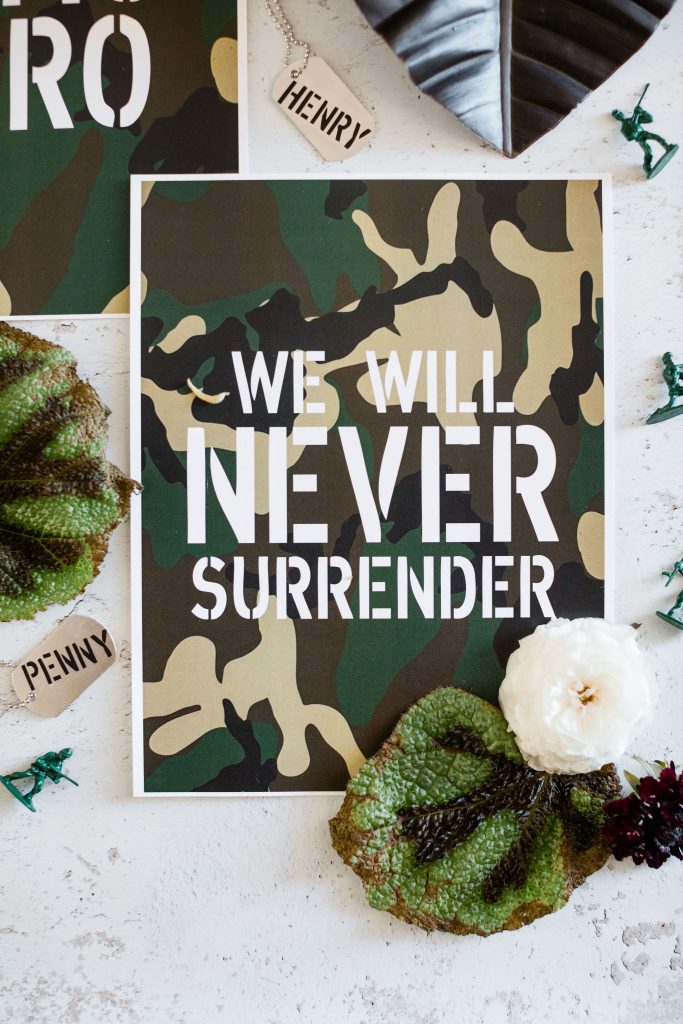 Now, onto the party! There's my cute kiddo! He was so excited to have a big party, I have created a monster as far as parties go, haha! This boy starts having ideas for his party months in advance and we work on them together. For decor we had our friend Ellen of The Pop Shop come by and deck out our home with balloons. The colors she used were perfection! And that welcome sign by Poppy Jack Shop was the perfect way to greet guests.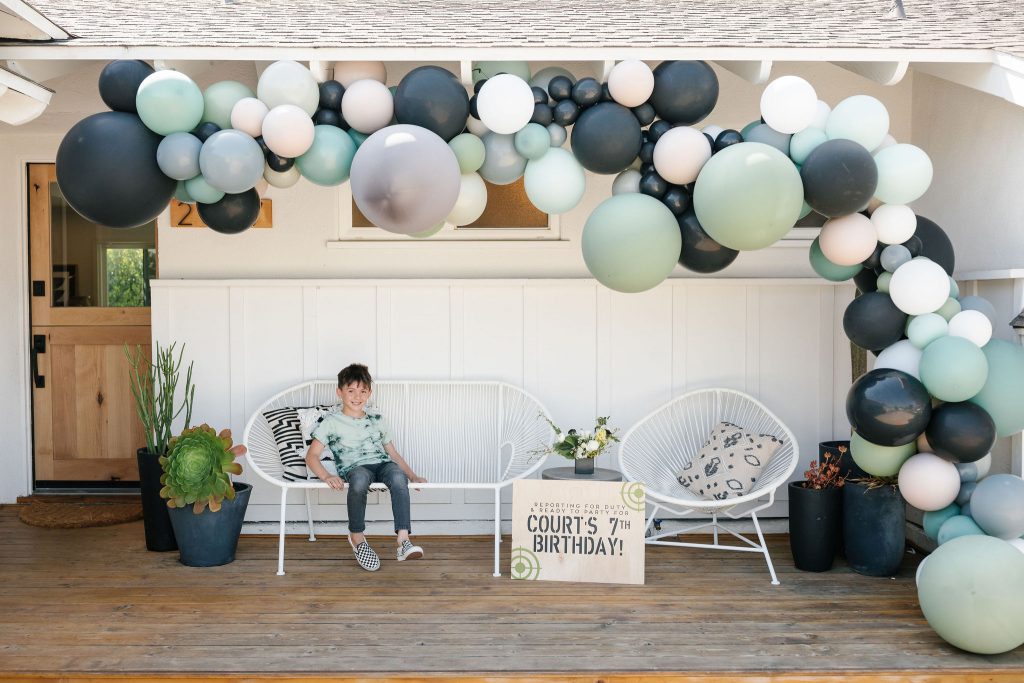 Jumping for joy! He's SEVEN!!!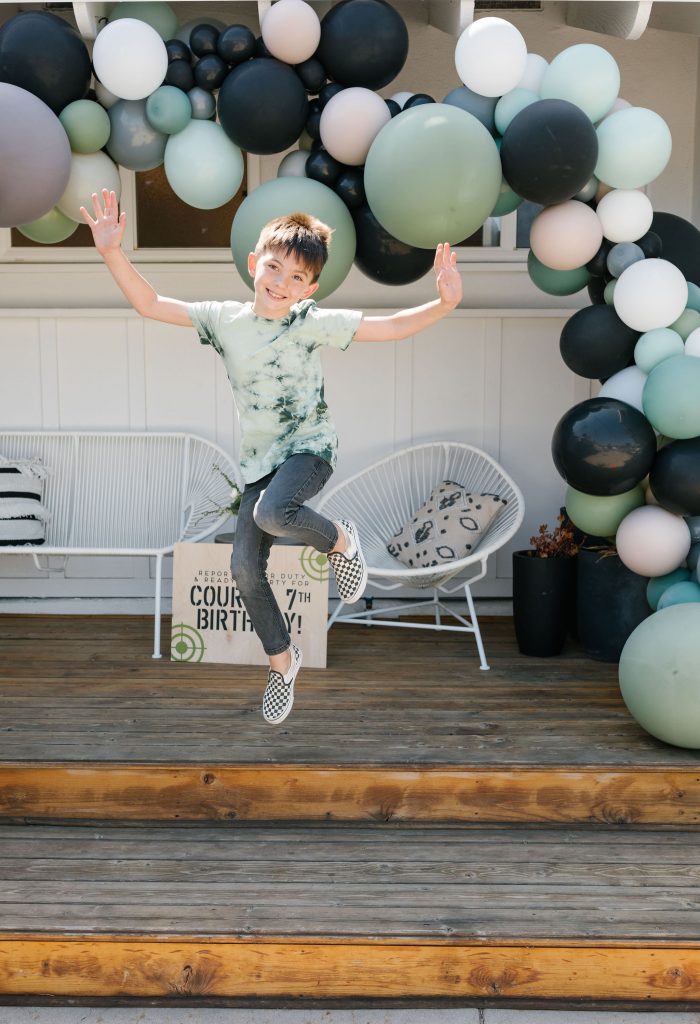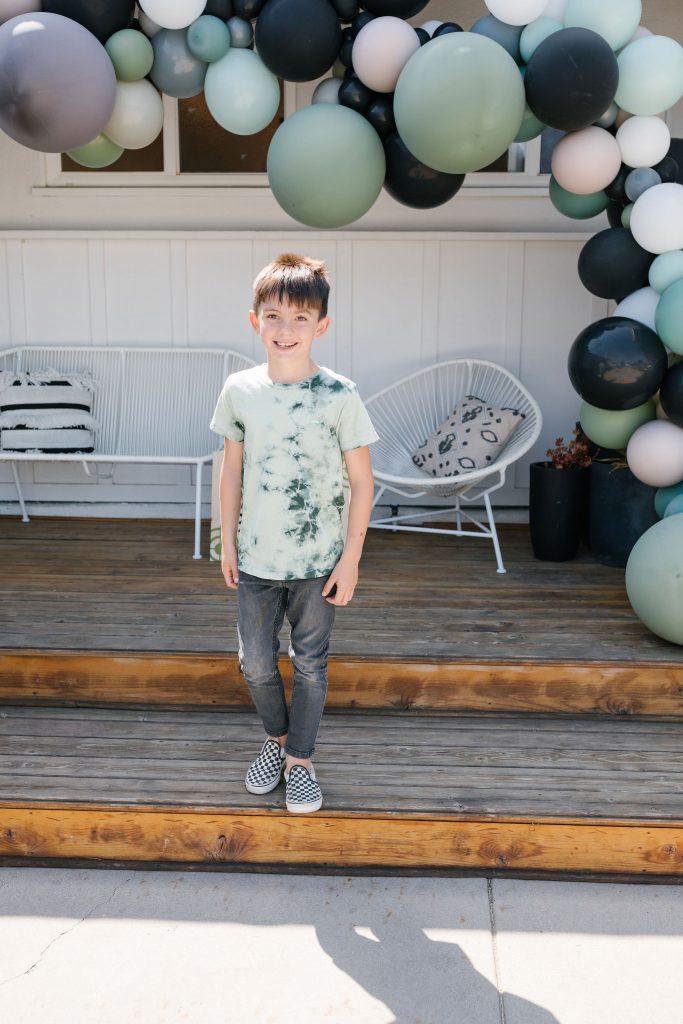 What a set up! We kept the party in our front yard mostly, there's just a lot of space out there so it works really well. Hey, maybe front yard parties are here to stay?!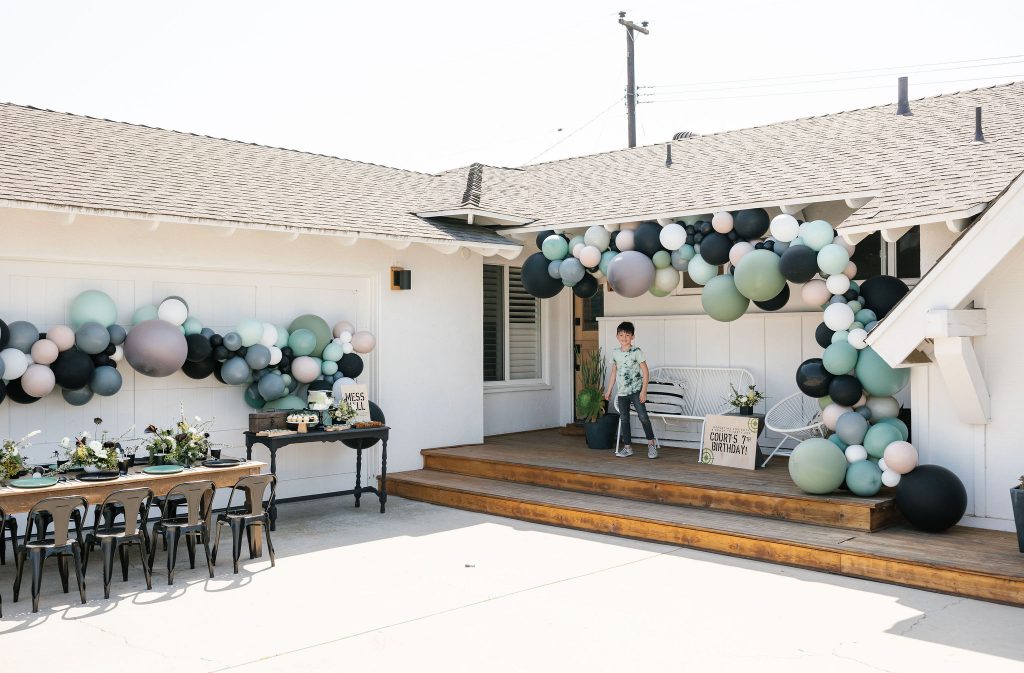 Isn't that welcome sign adorable?!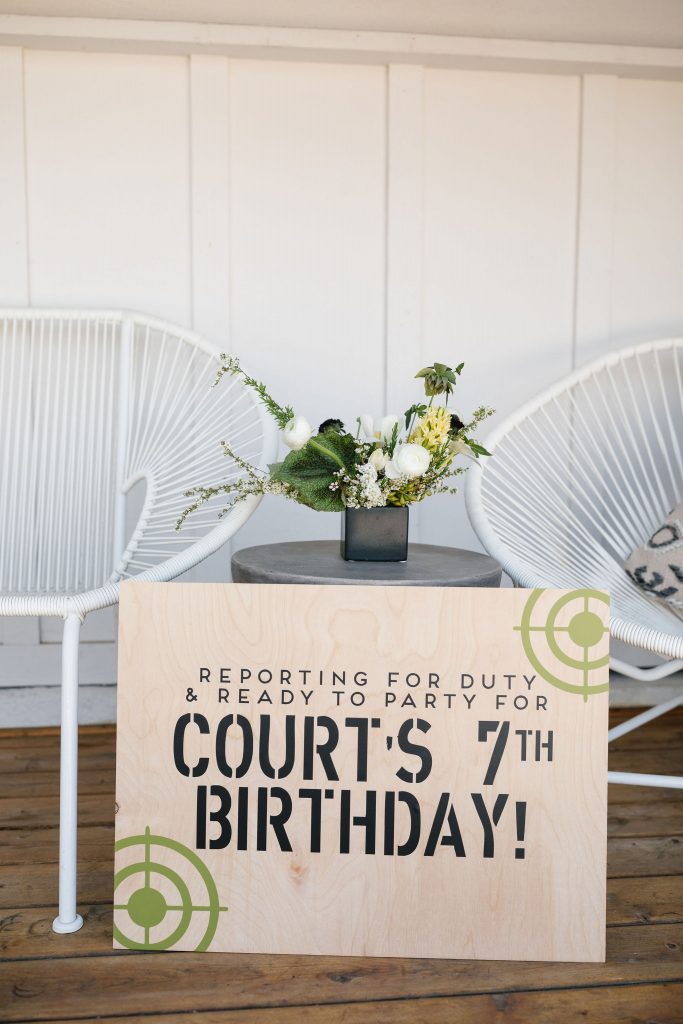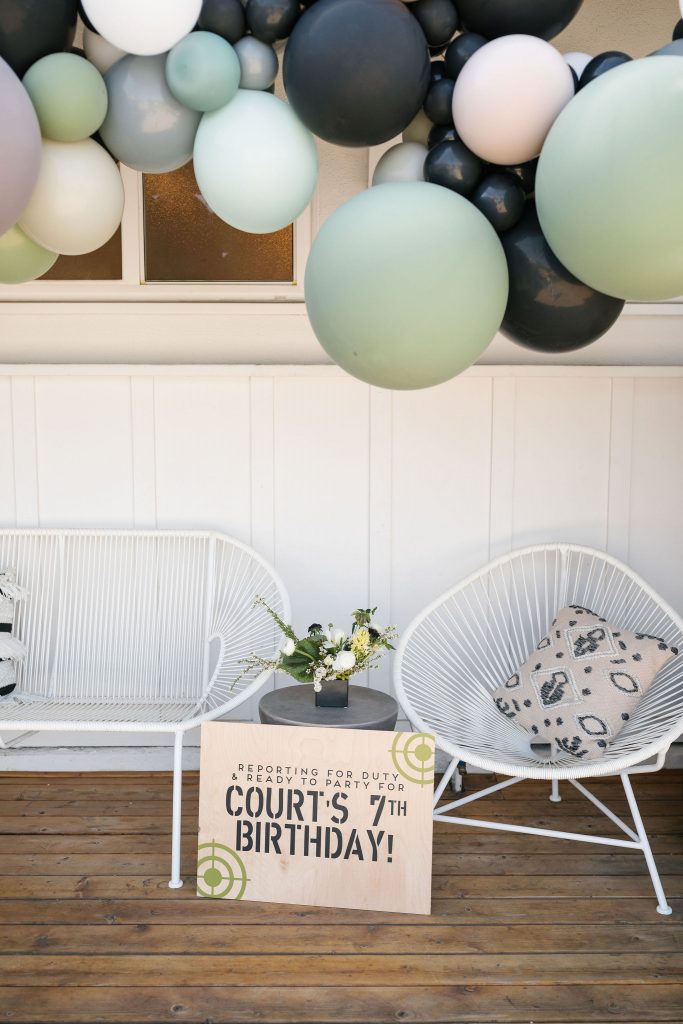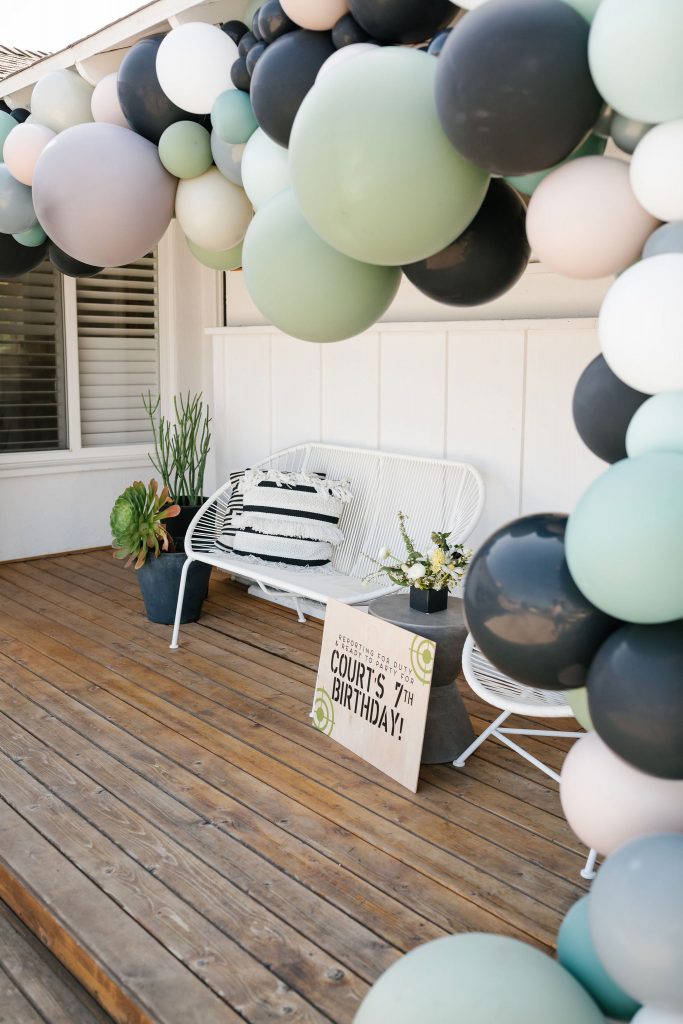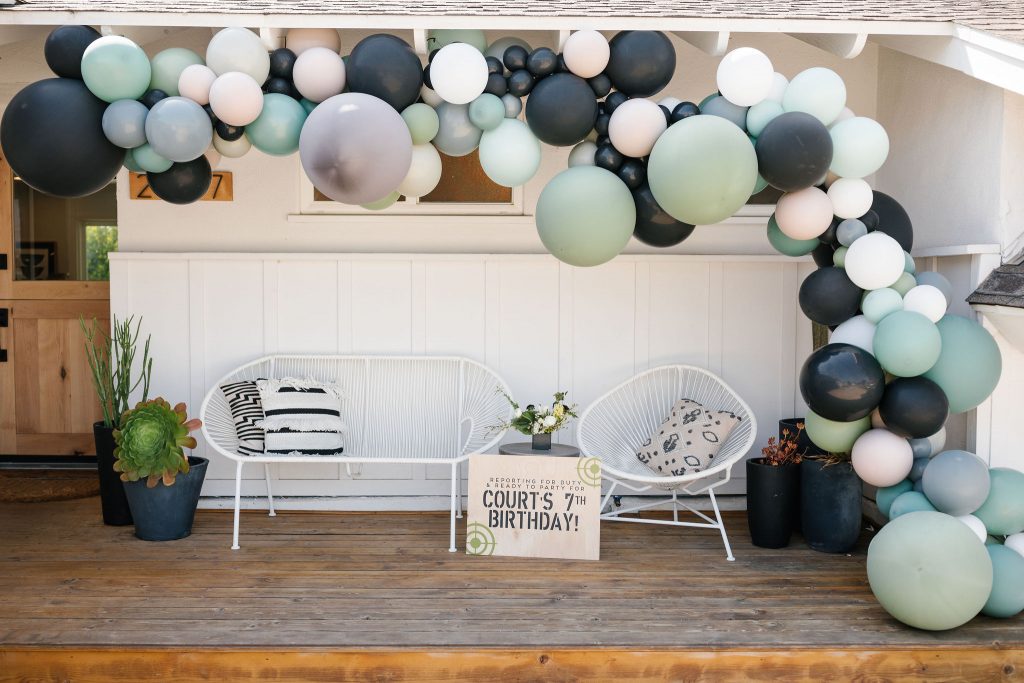 The table was set and it was cuter than ever! I love the muted green tone of the plates and the balloons mixed with the black, tan, and grey! I got the plates from Target, flatware from Sophistiplate, cups from Oh Happy Day, and napkins from Hobby Lobby.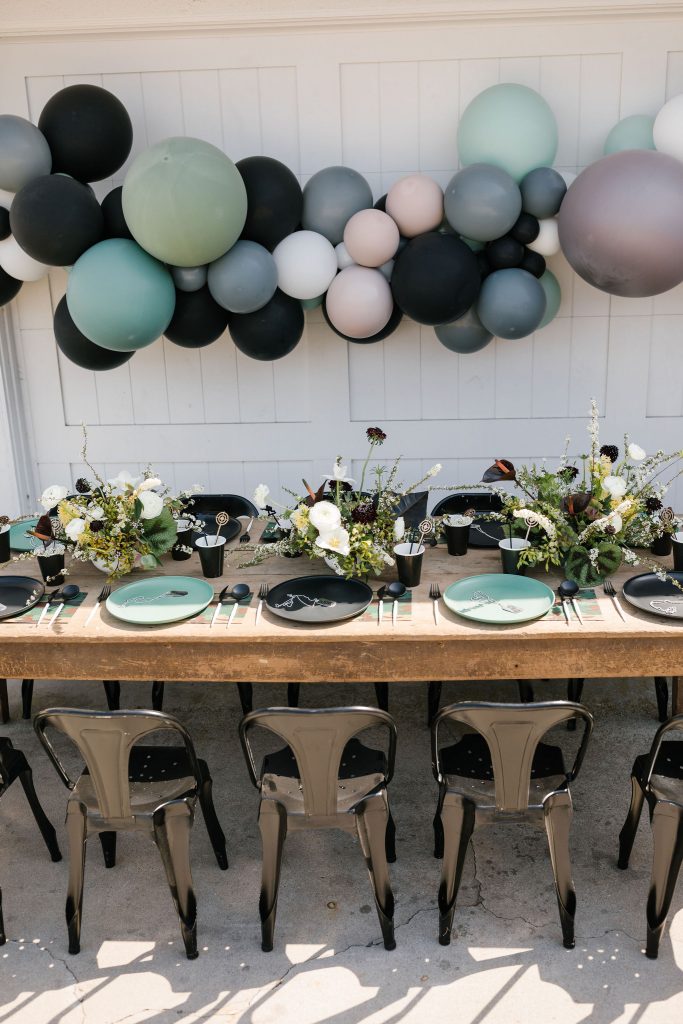 Of course, the perfect rentals are from Sweet Salvage Rentals! It's really incredible that she has something for every single theme. I used her wood kid's table and black chairs here, but she also had so many fun accessories to play with for each little vignette at the party!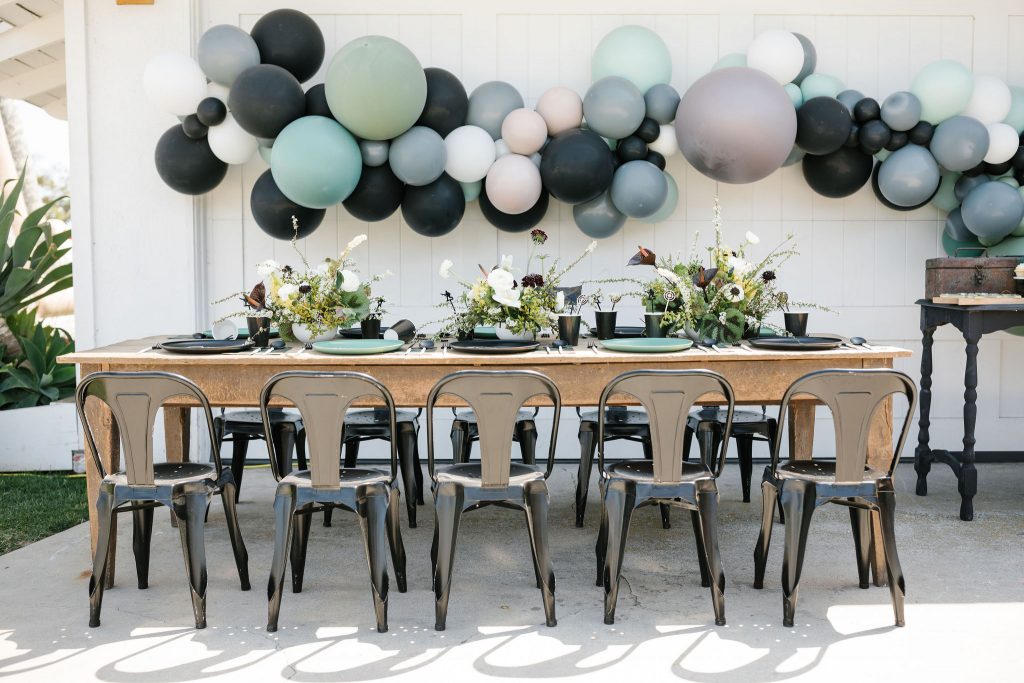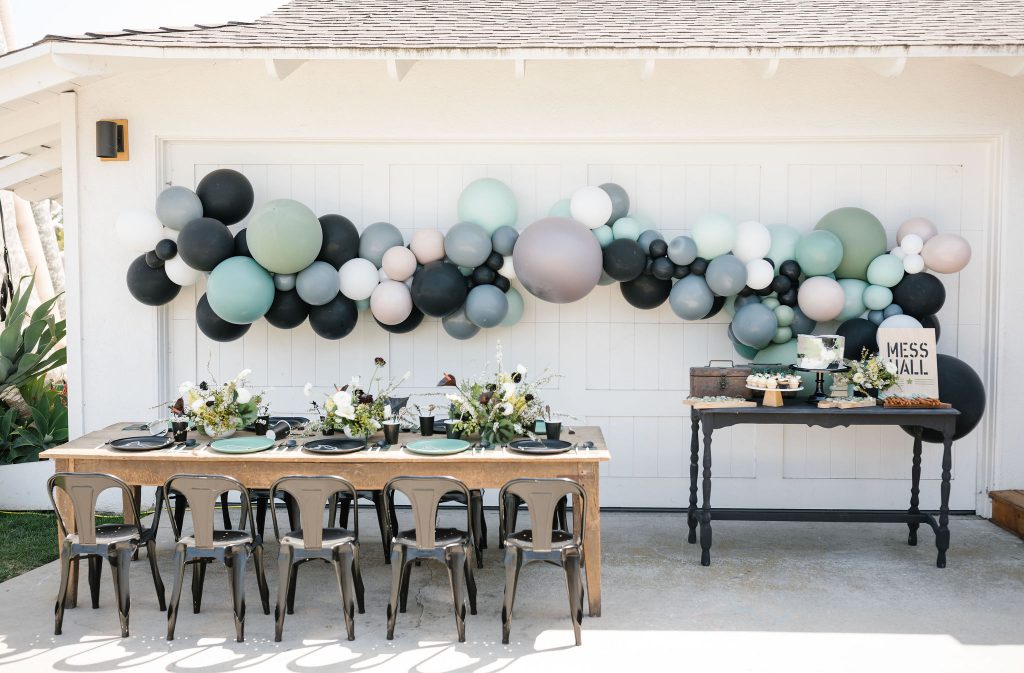 Obviously, the flowers were incredible, they were created by Not Just in Novels! Krista always works wonders but these couldn't have been more perfect. She mixed plants and florals for me to make them more masculine and used all the right colors! I absolutely love her work!!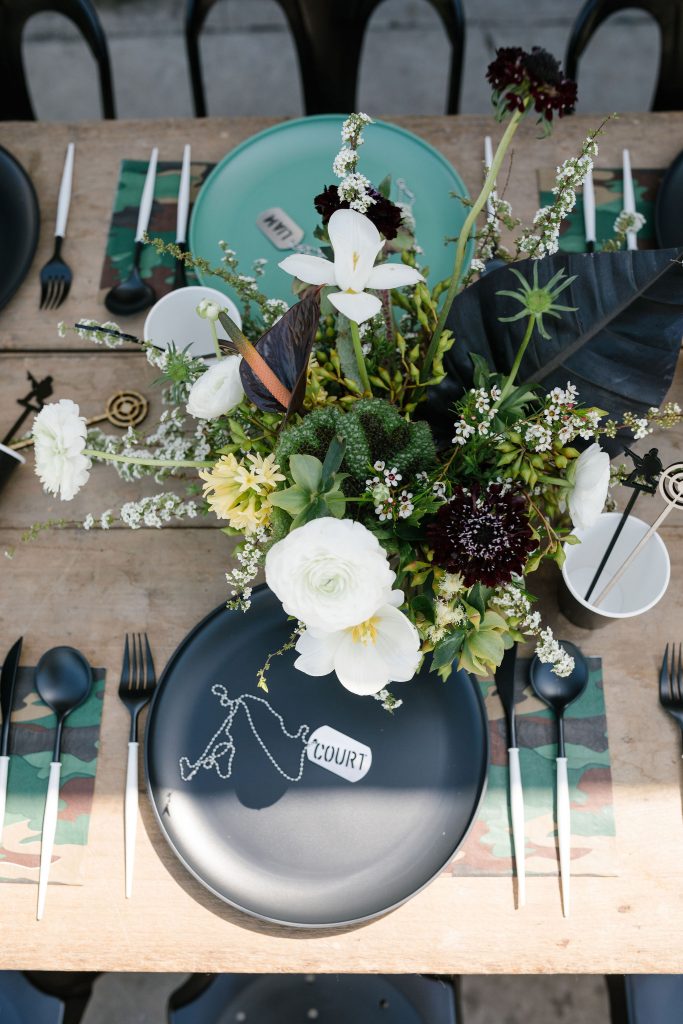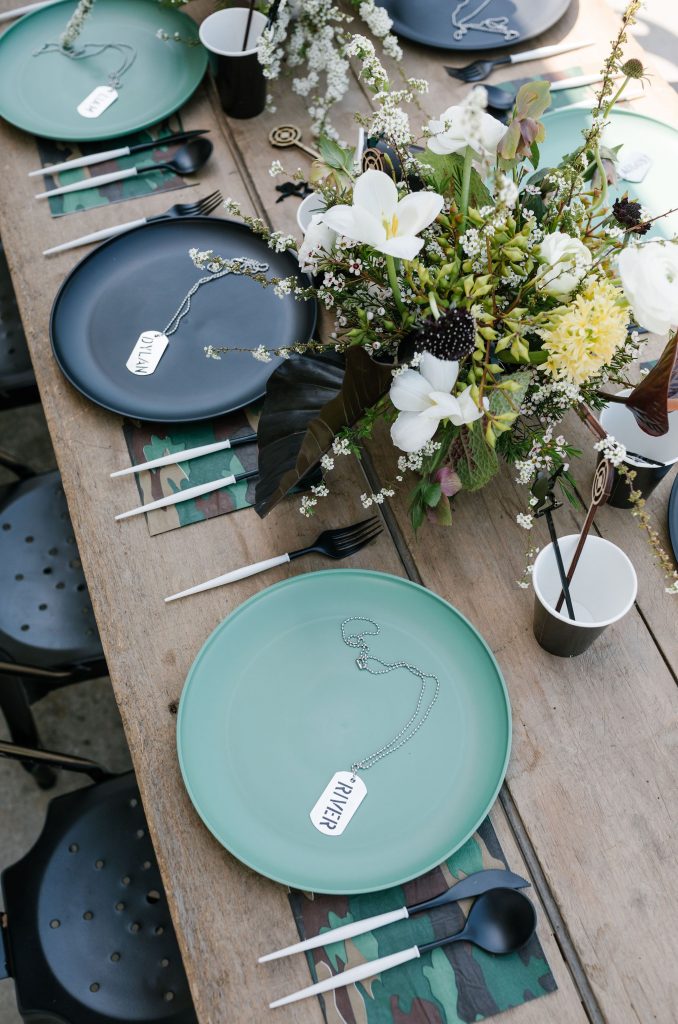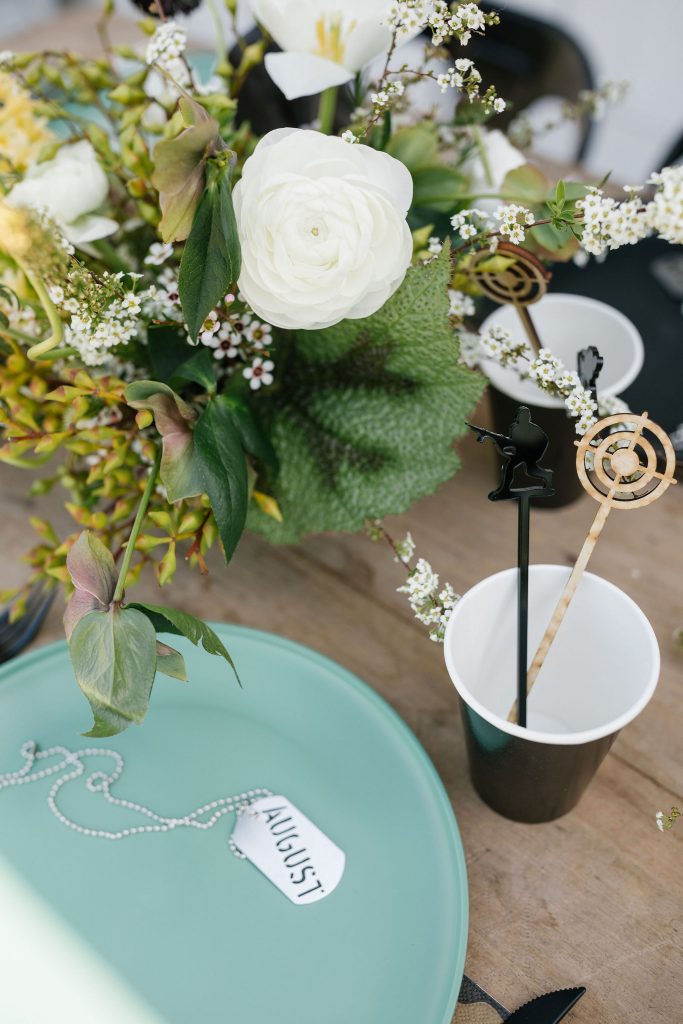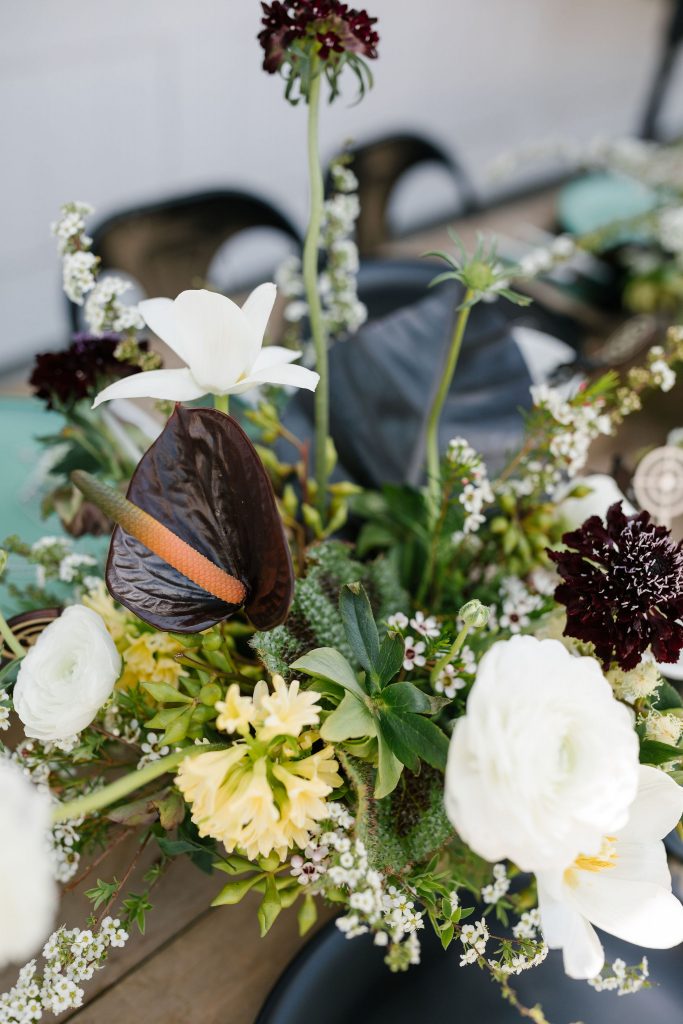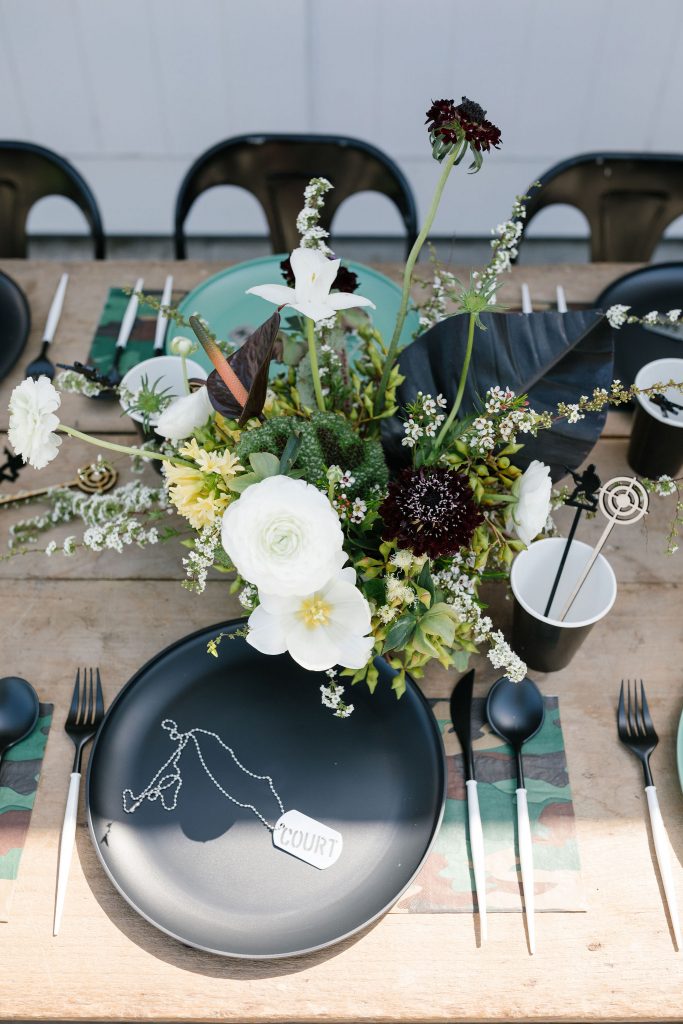 I really loved this table! It was so much fun to create – boy parties can be fun too!!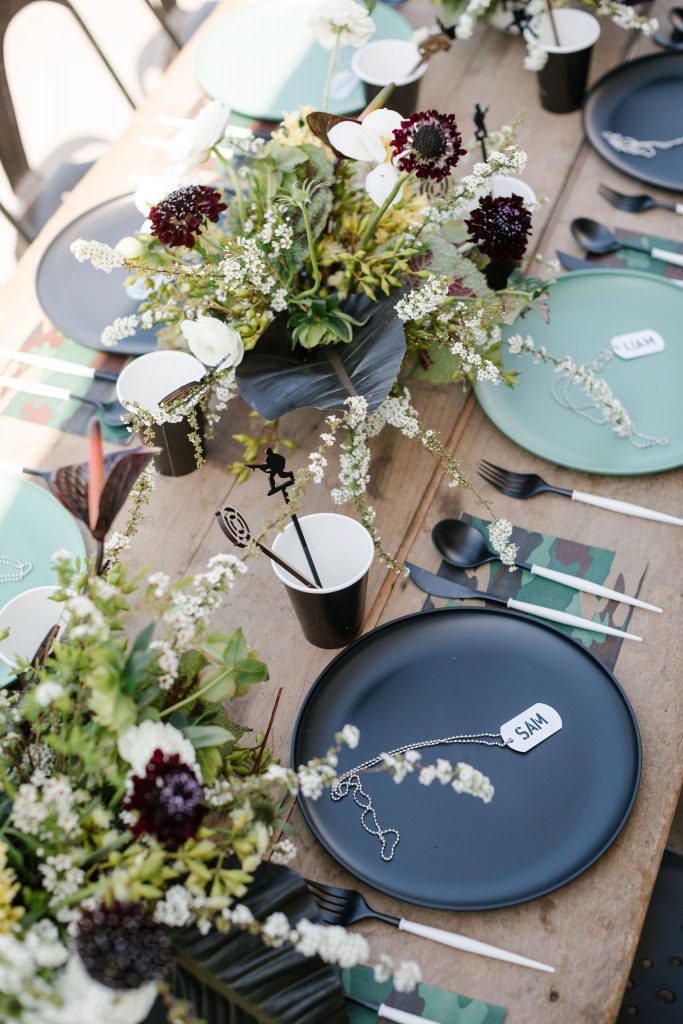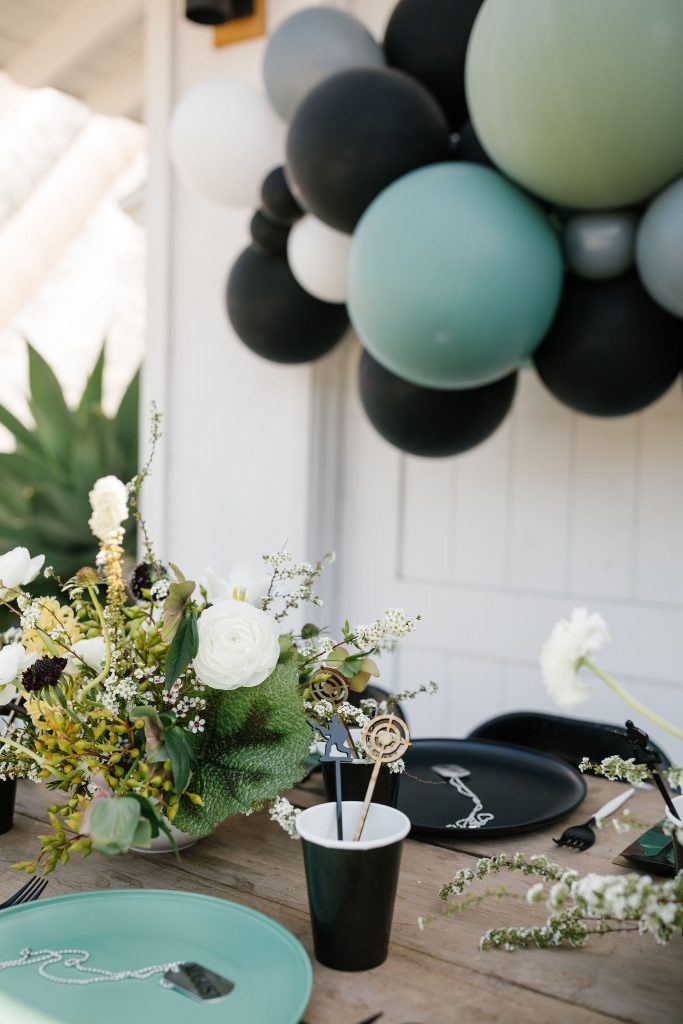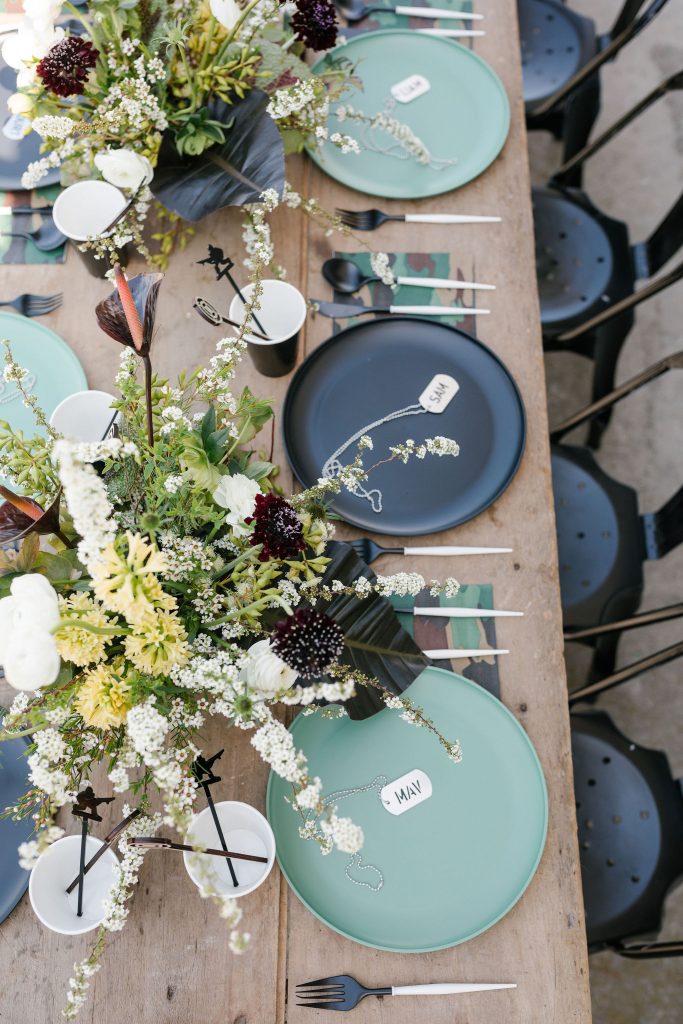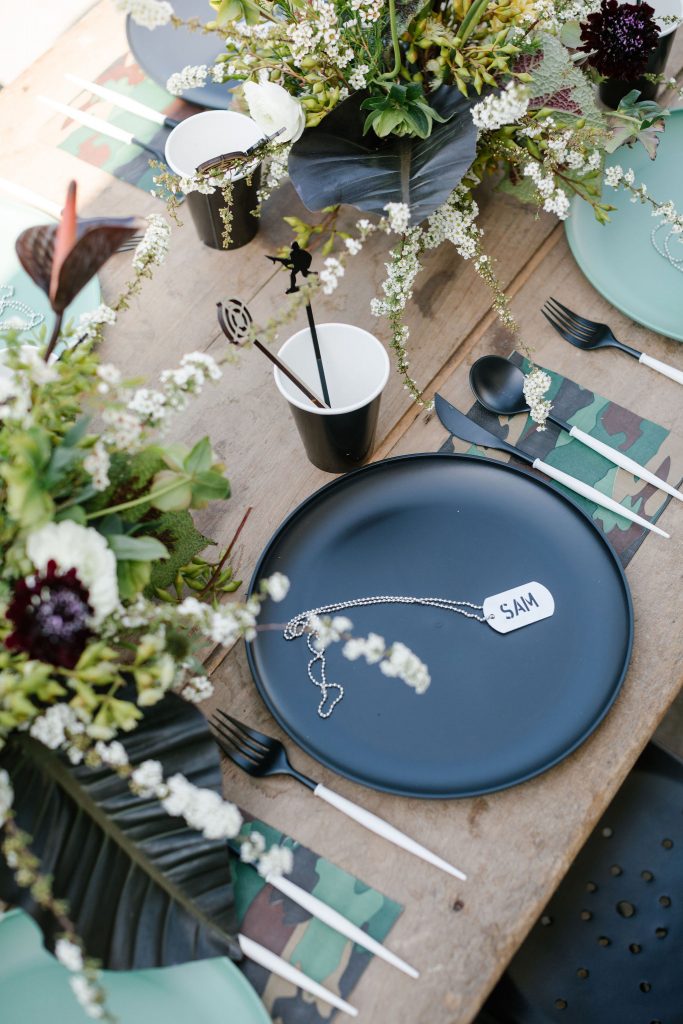 Just WOW!!!! Can you even with these gorgeous arrangements by Not Just in Novels?! We have clients ask a lot about flowers for boy or male parties in general – I always love adding in plants!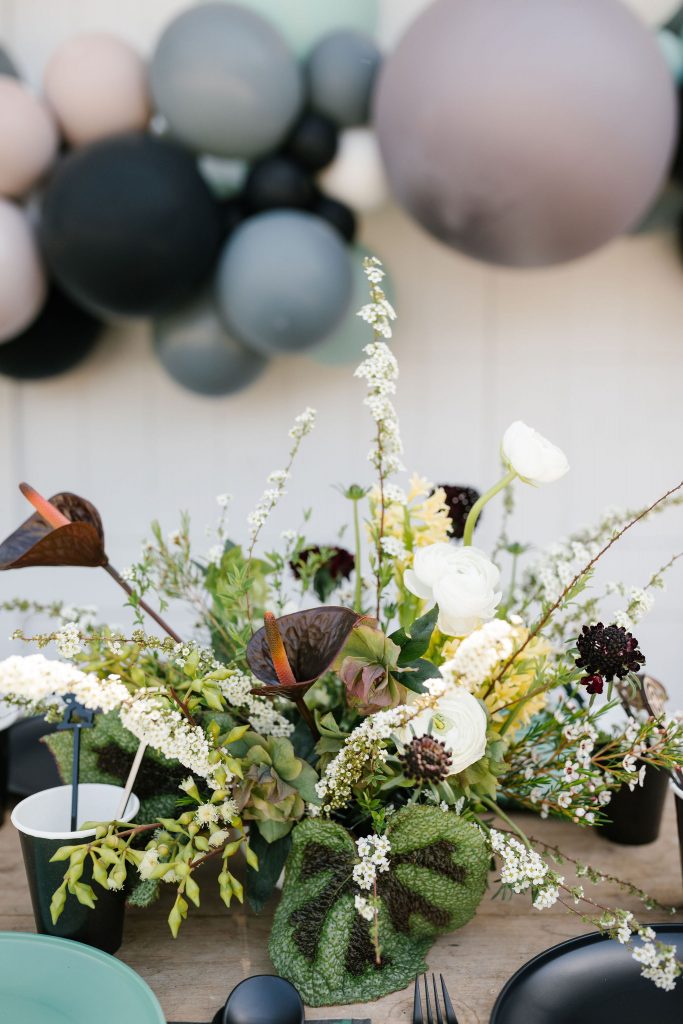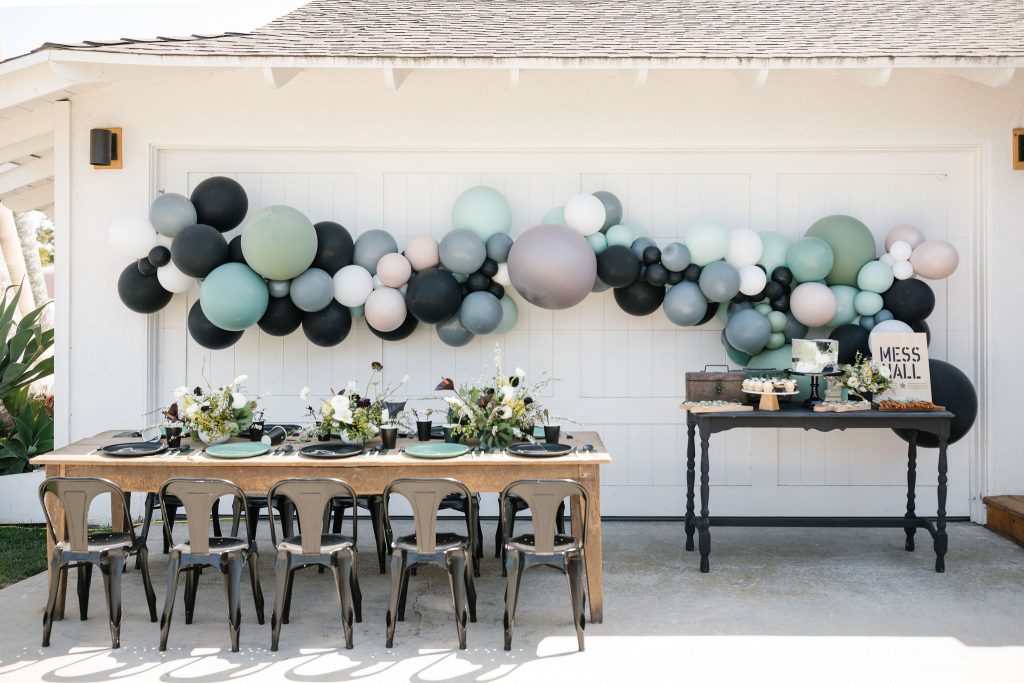 We love celebrating our boys!!! My husband puts up with my big parties, even though I think he secretly loves every moment. Court had the best time and his little friends were talking about his party for a while. I love seeing my boys happy, it's a mom's mission!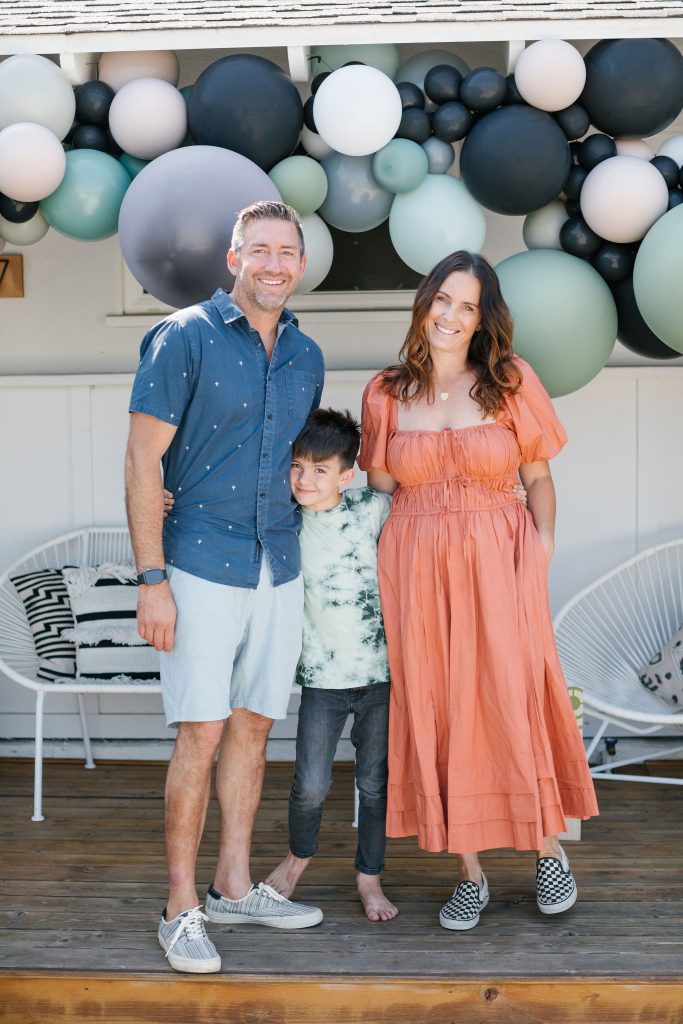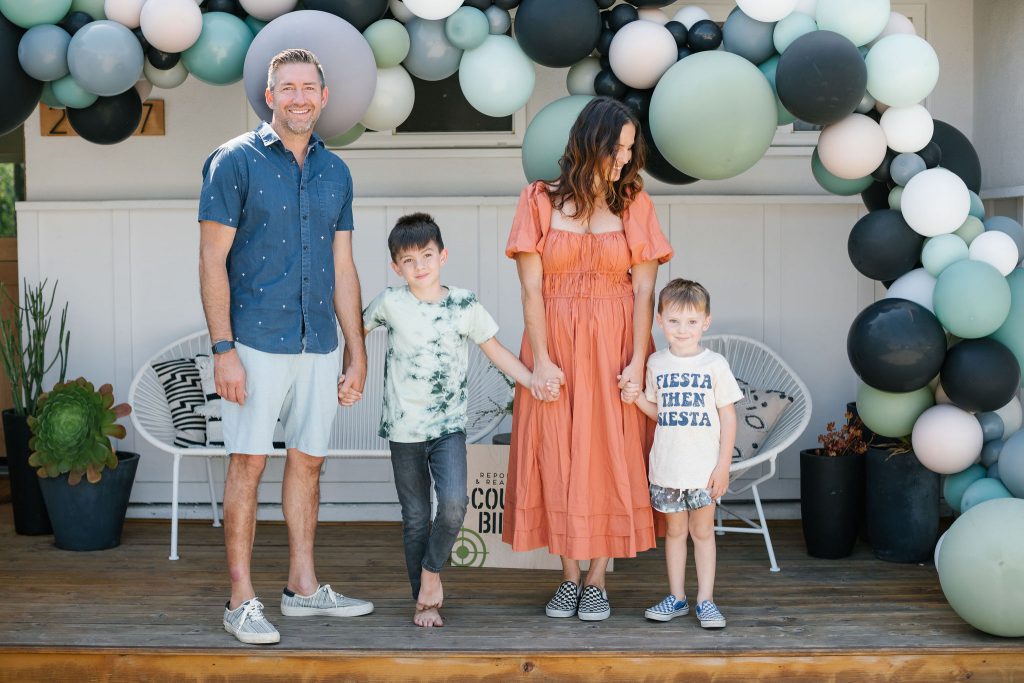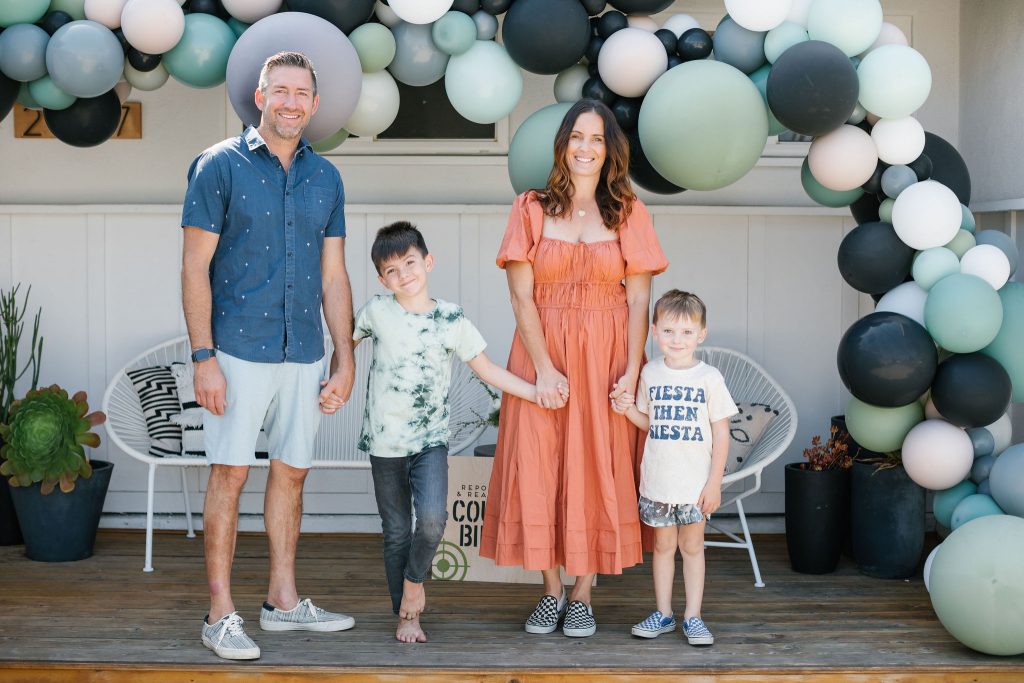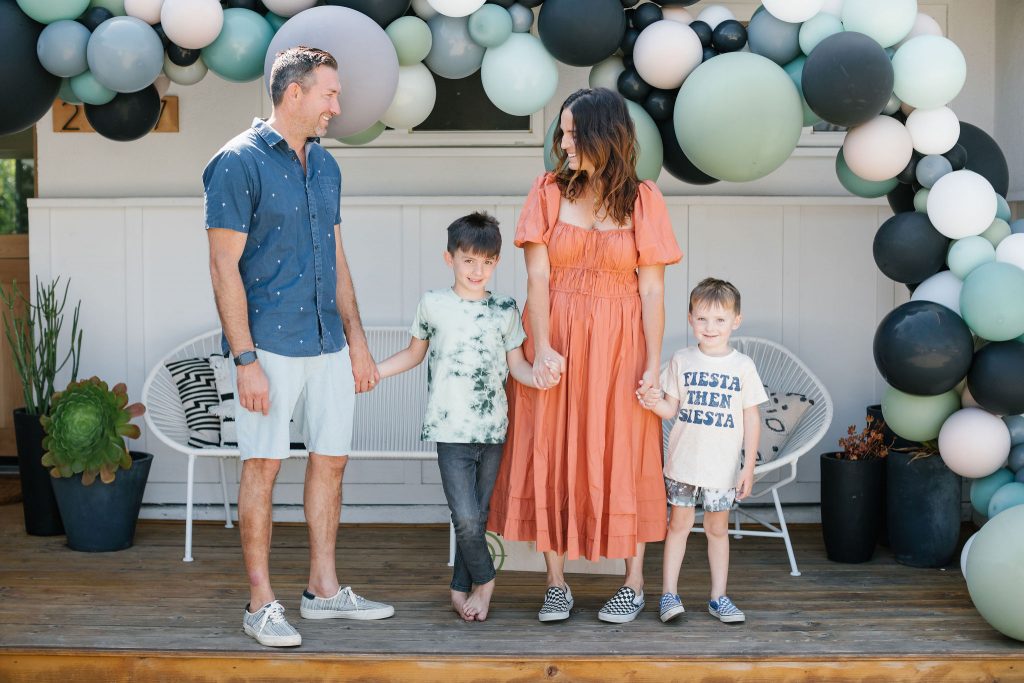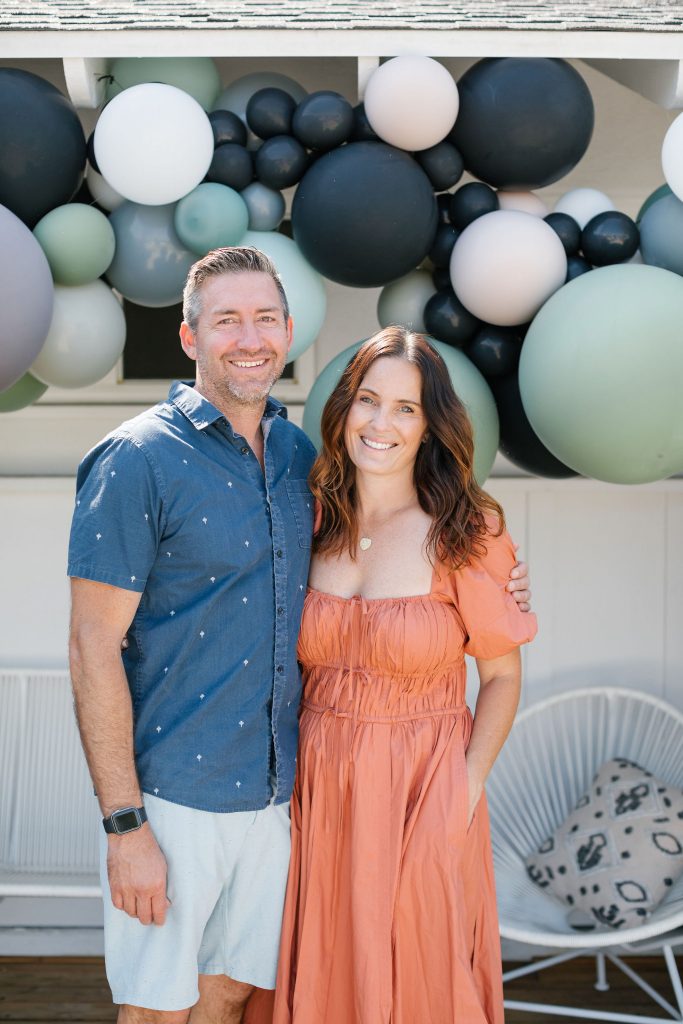 We got the biggest bounce house known to man, haha! It covered mine and my neighbor's front yards. I am a big fan of the obstacle course bounce houses. It all started when we did Court's 4th birthday party and he had just gotten his cast off from a broken arm/surgery. I just didn't want a bounce house with kids jumping on top of each other, since then we've loved using obstacle courses instead!
This one was even camo colored, so it fit the theme perfectly!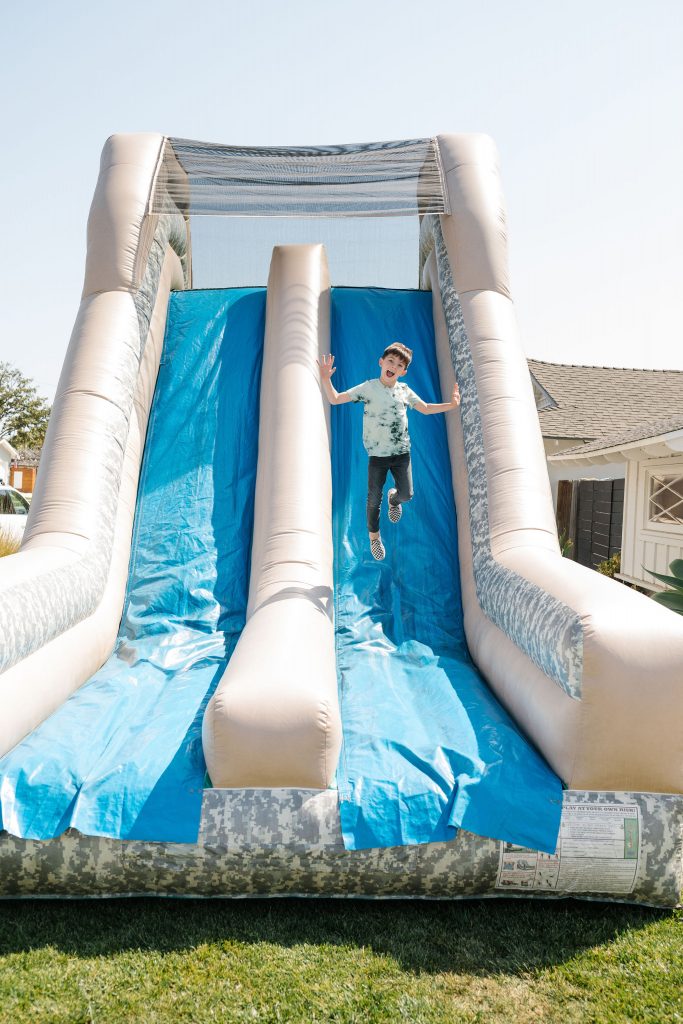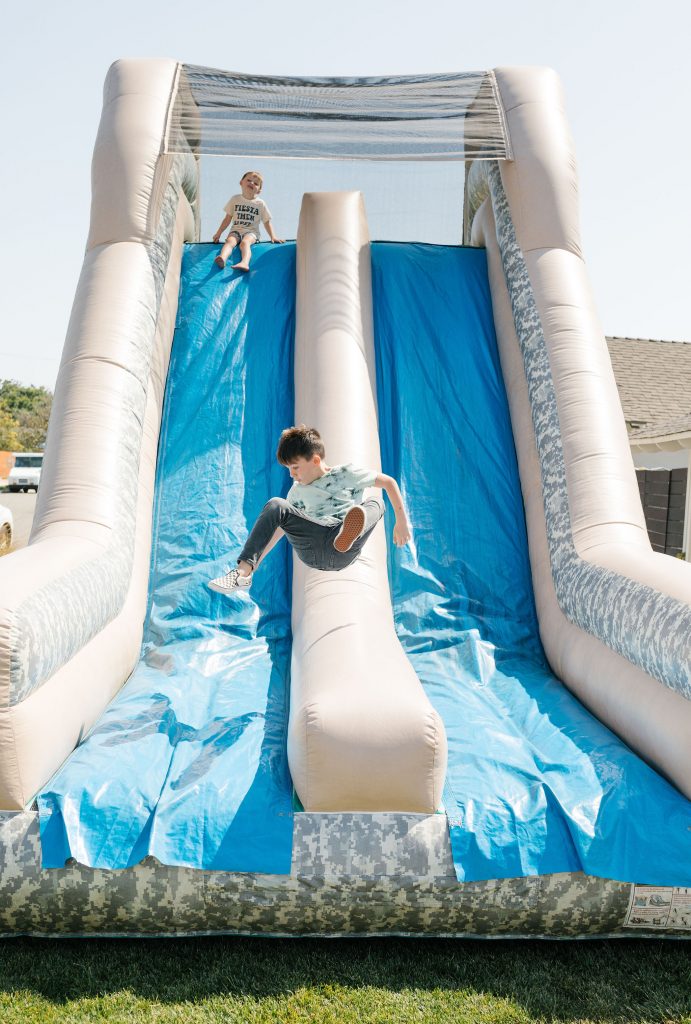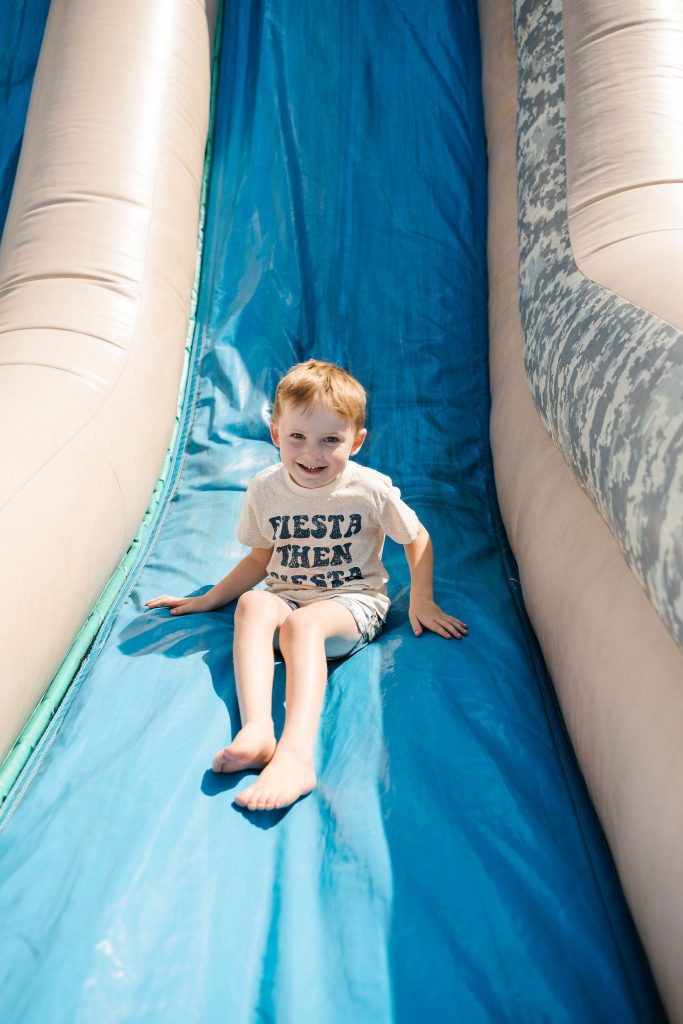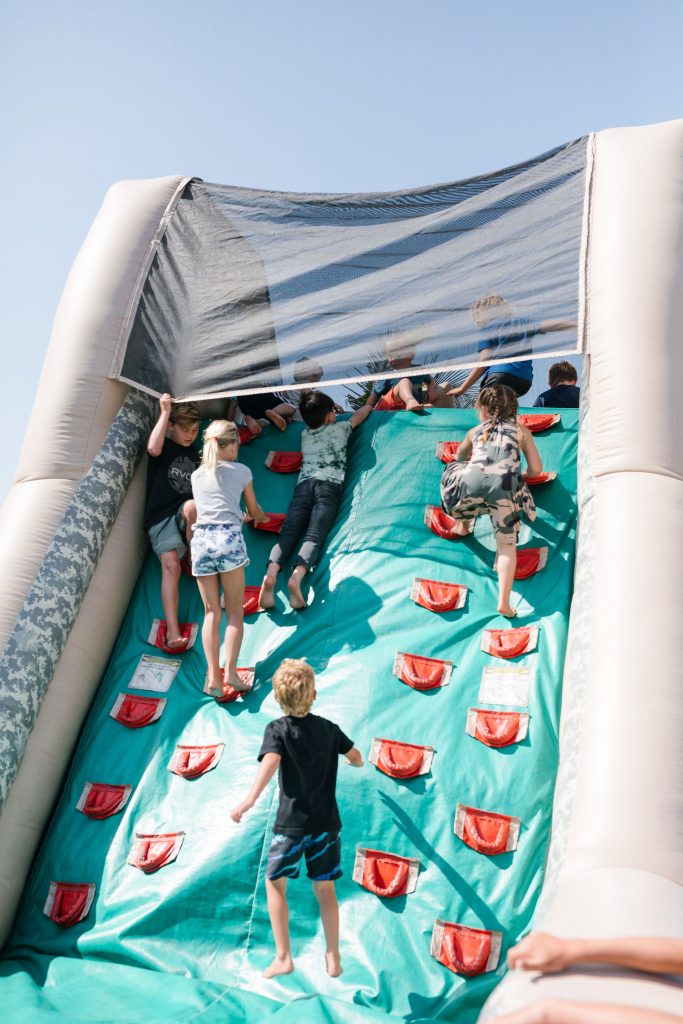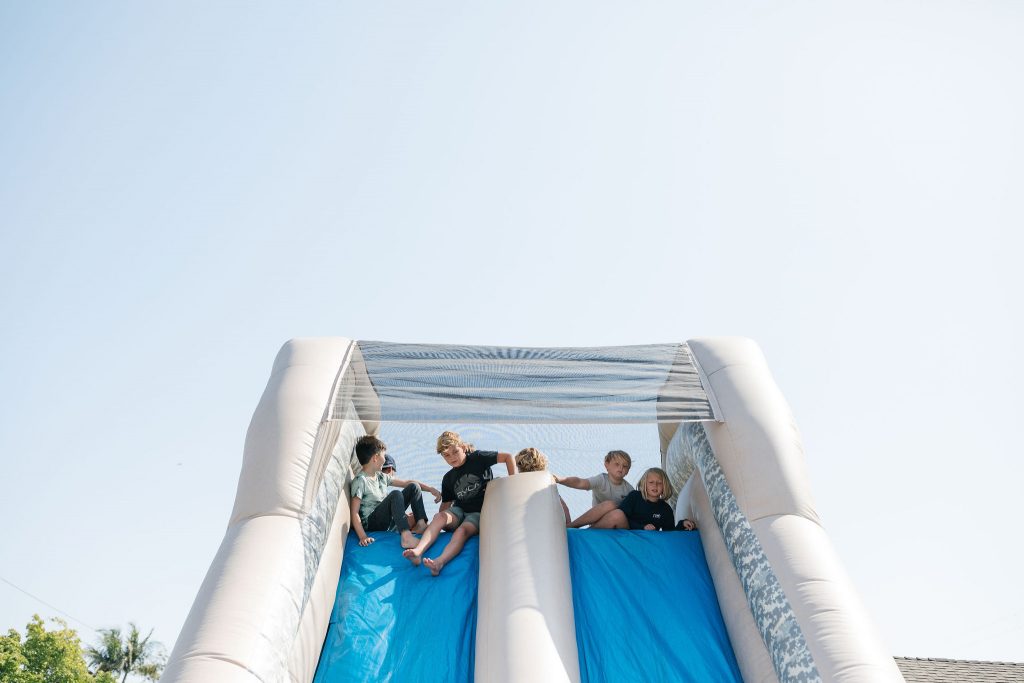 On the other side of our front yard, we had this set up for people to sit and eat or just hang out! I mixed my Gunn & Swain blankets with a few camo blankets from Sweet Salvage Rentals also adding in her poufs and accessories.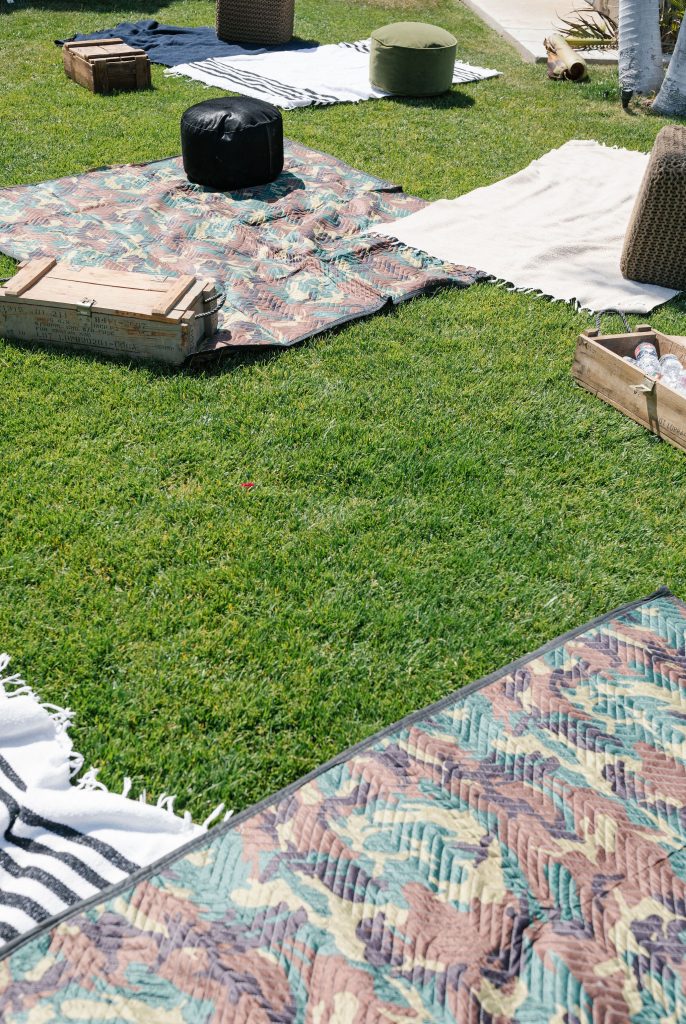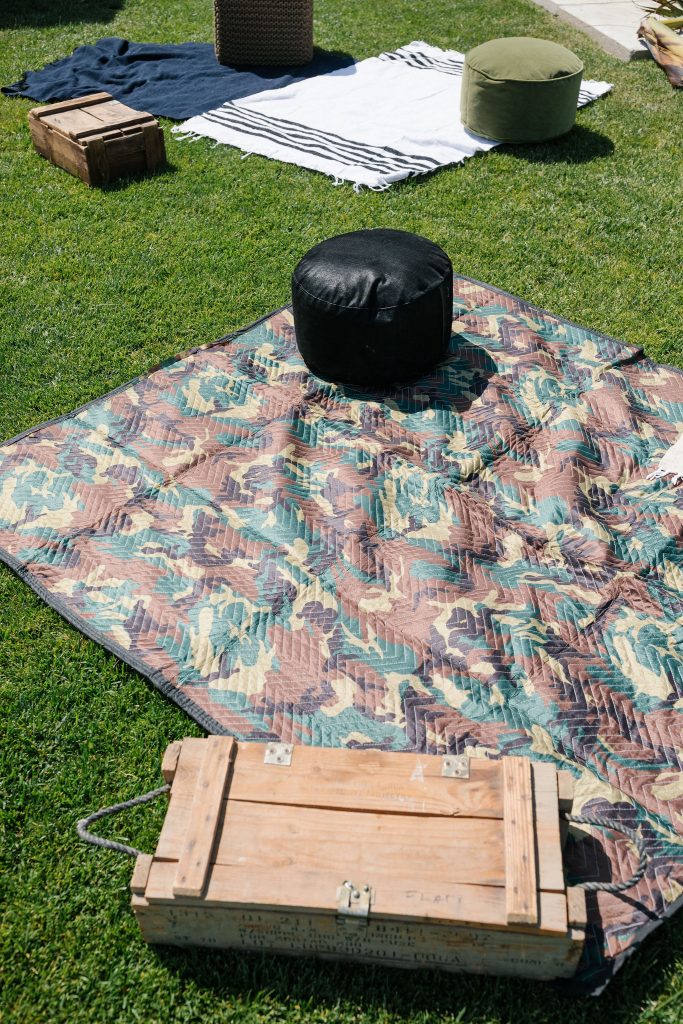 I did a little setup in the backyard, which we ended up using after the party for some fire pit hangs! The more decor the better in my book ;) I can never have enough of The Pop Shop balloons or Not Just in Novels florals!!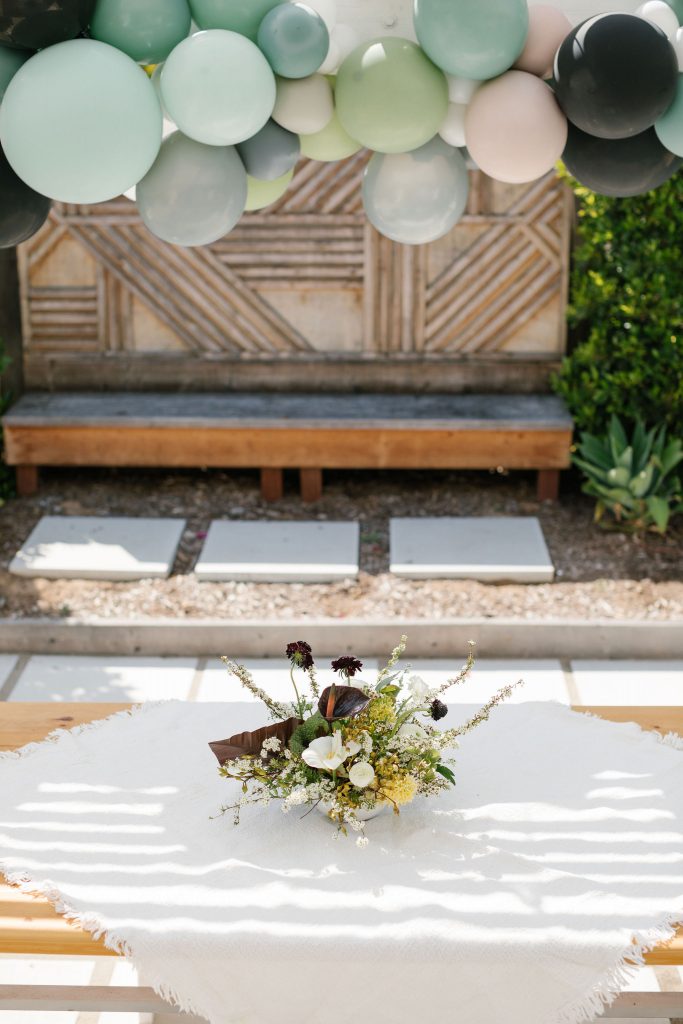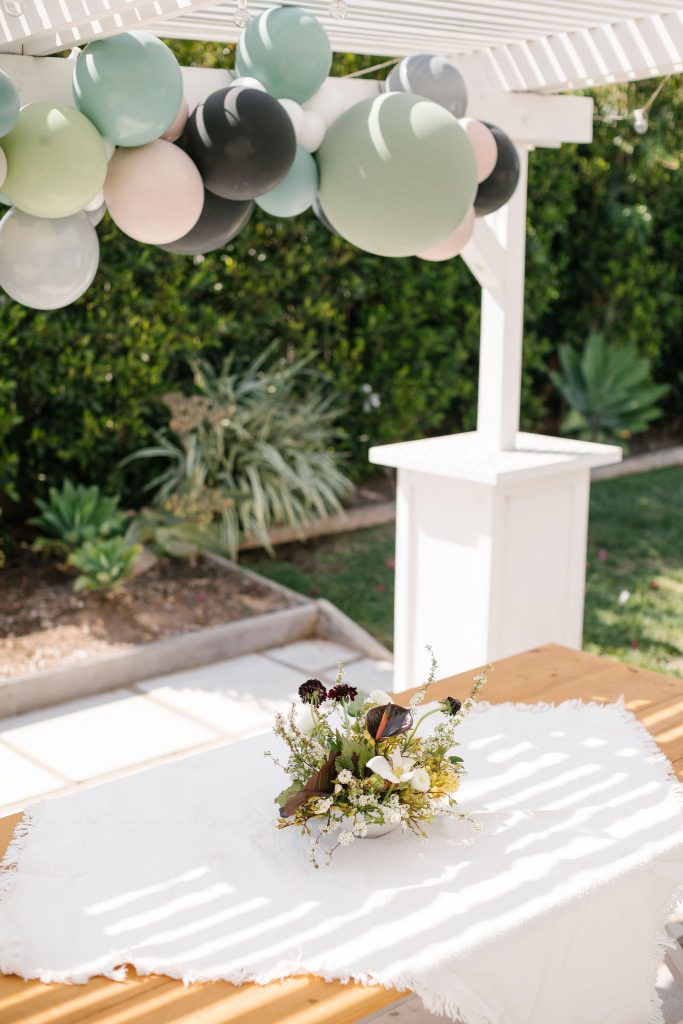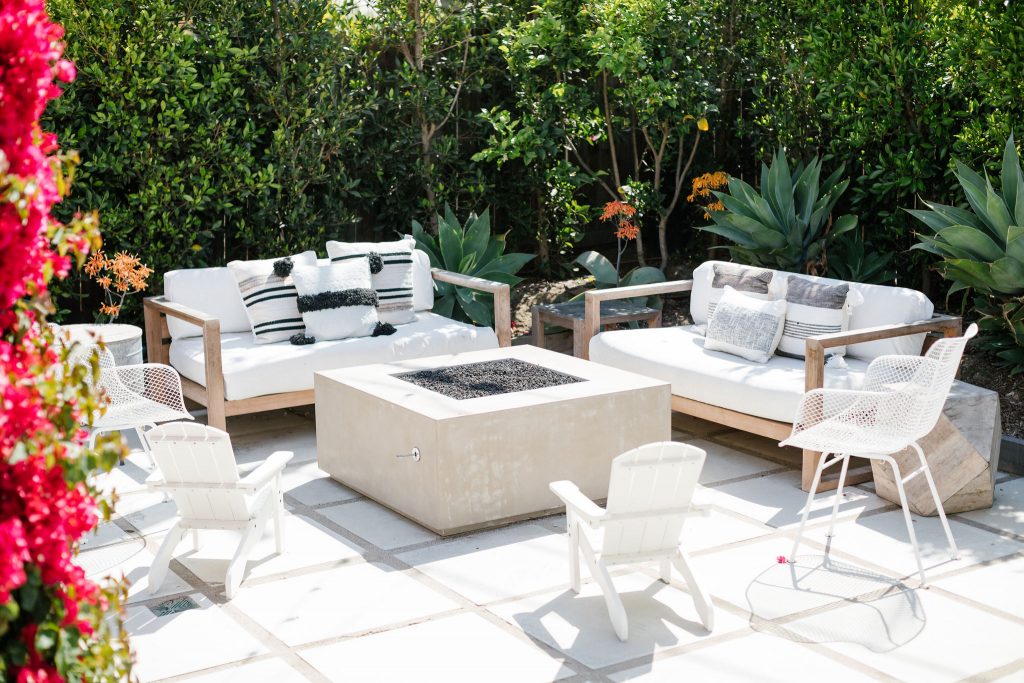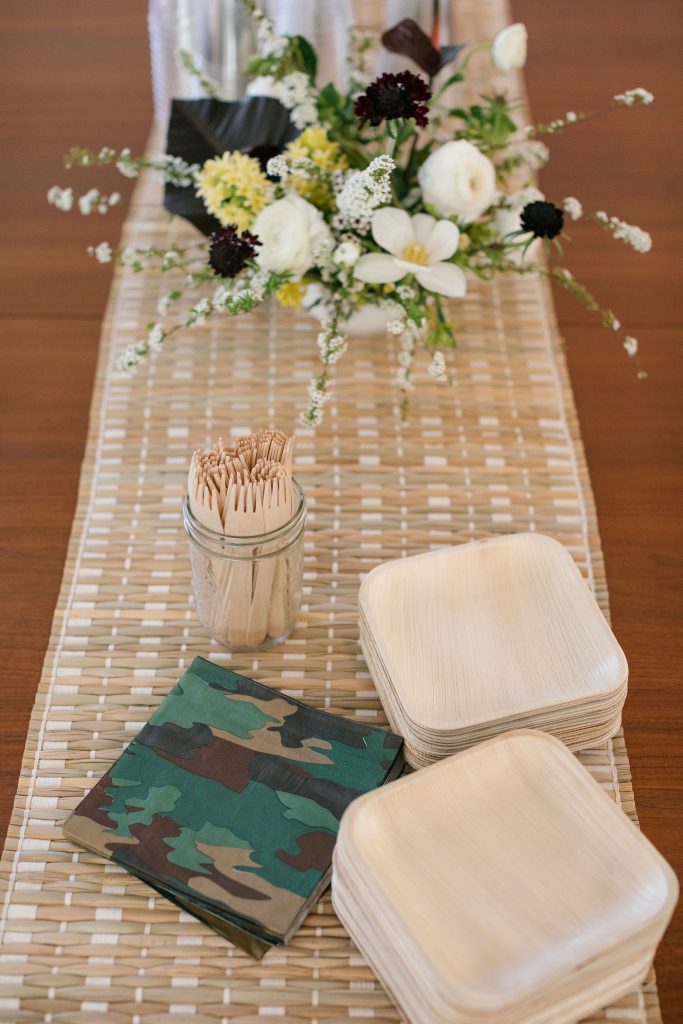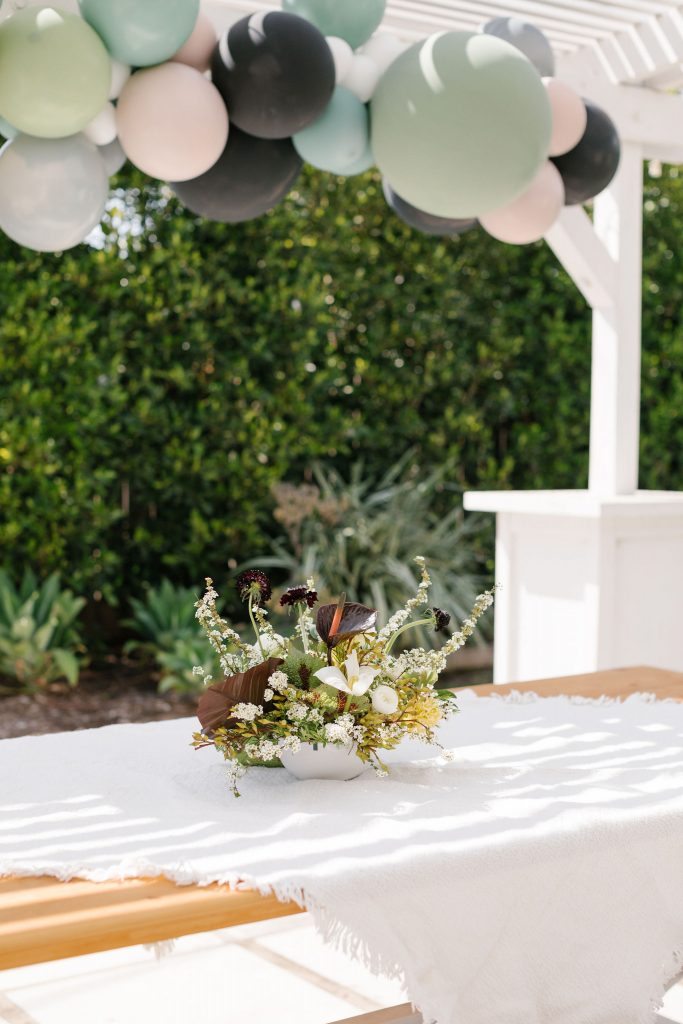 How adorable is this little guy!? Noah was born during Covid and this was the first time we got to meet him!! Love him and his family!!!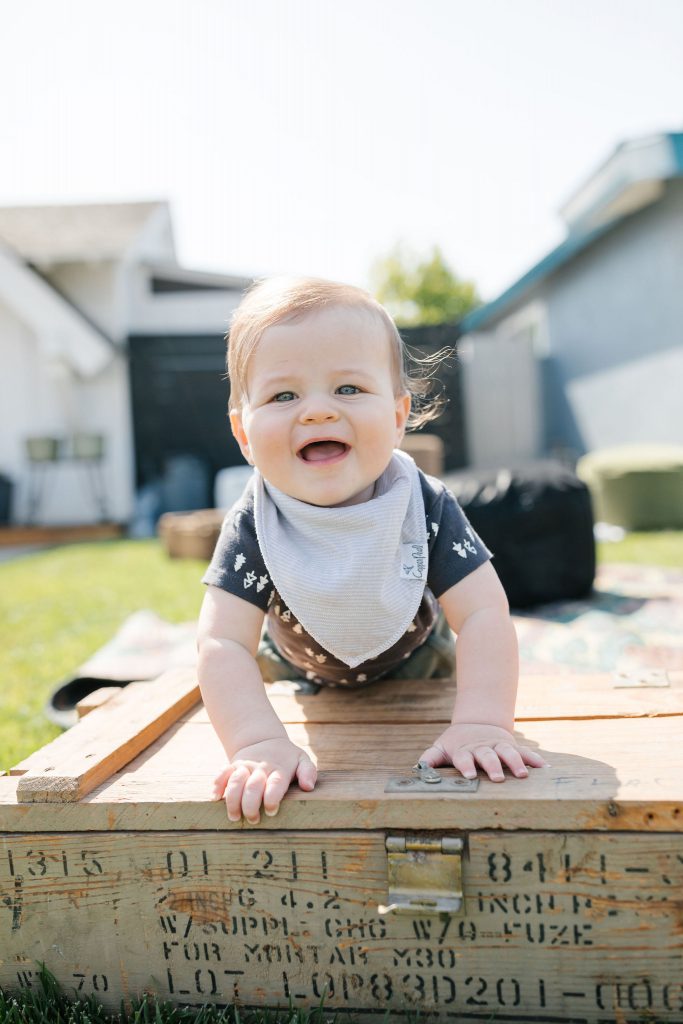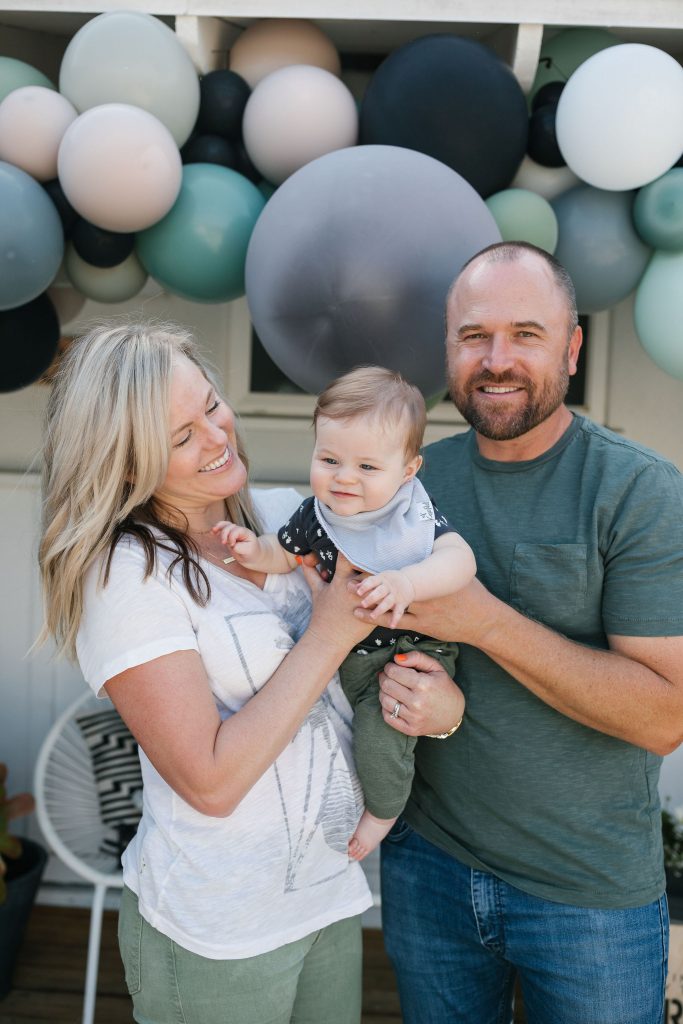 So happy my sister and my brother in law came down for the party with my sweet little nephew Augie!!!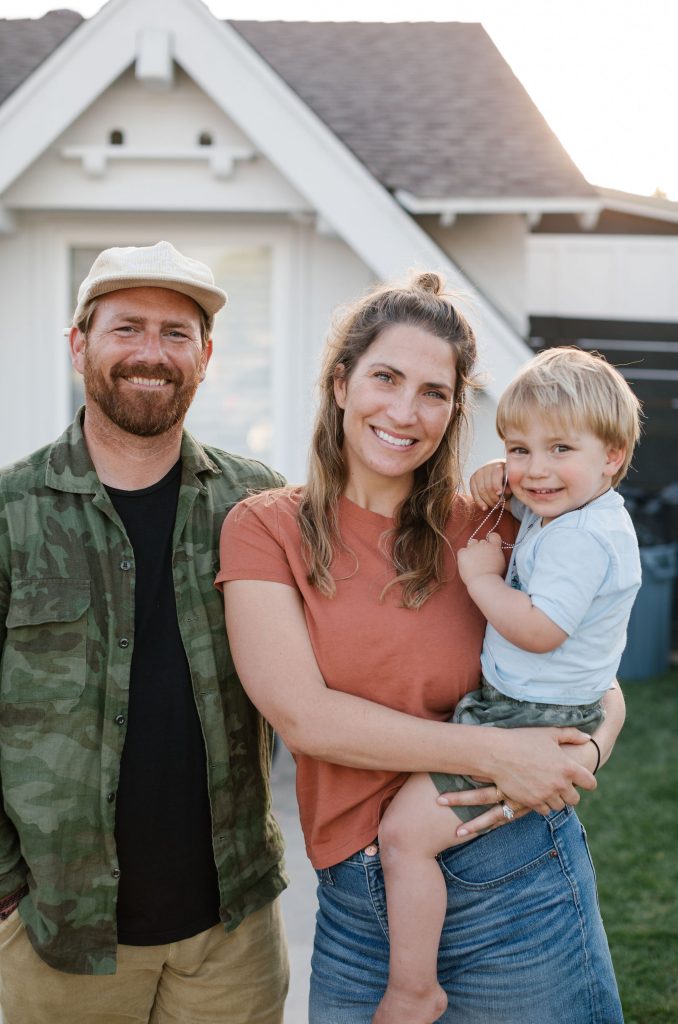 Remember when I said there was an epic Nerf battle?! Well, here it is! We golf carted all the kids and parents over to the park near our house for this fun setup! Nerf Party OC created the perfect battle scene and lead the kids so well. The kiddos were engaged and happy the whole time playing and battling it out! I seriously can't recommend them enough!! Such a fun activity!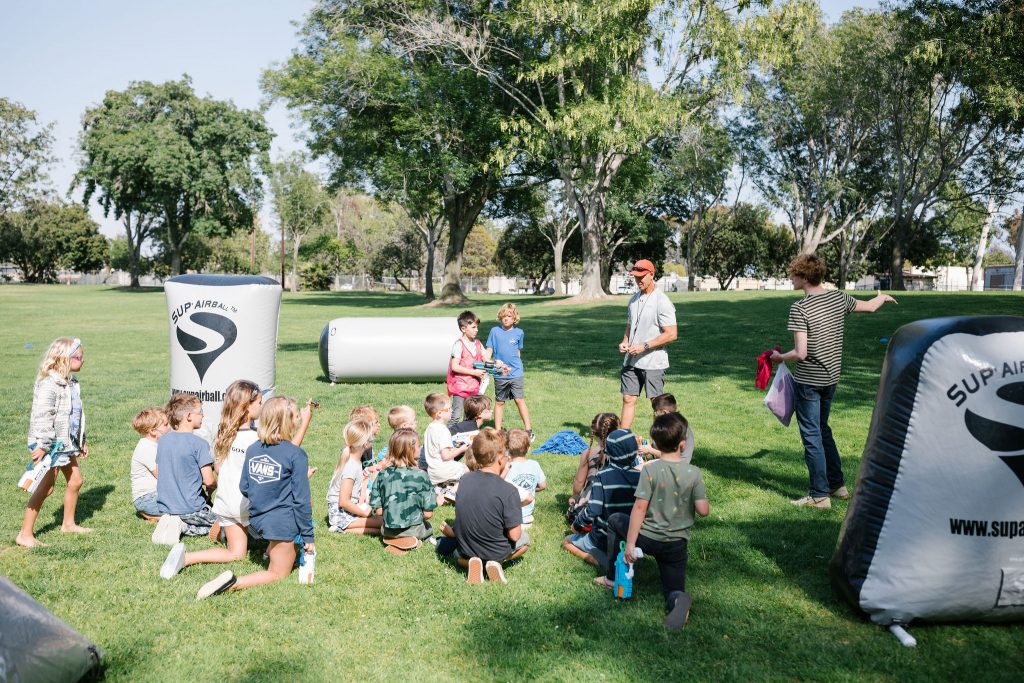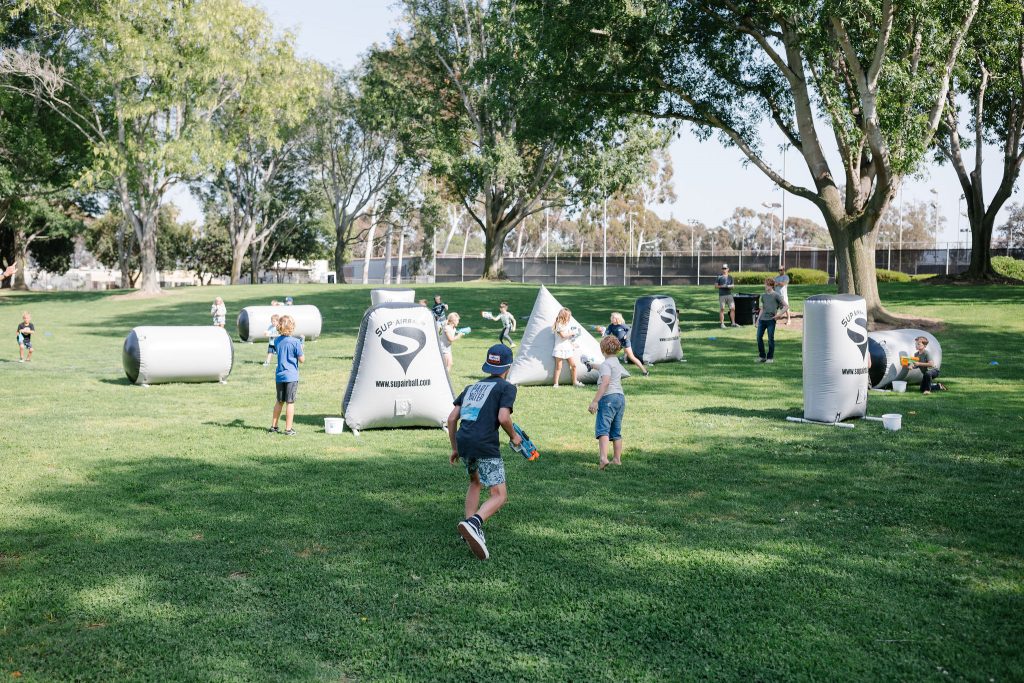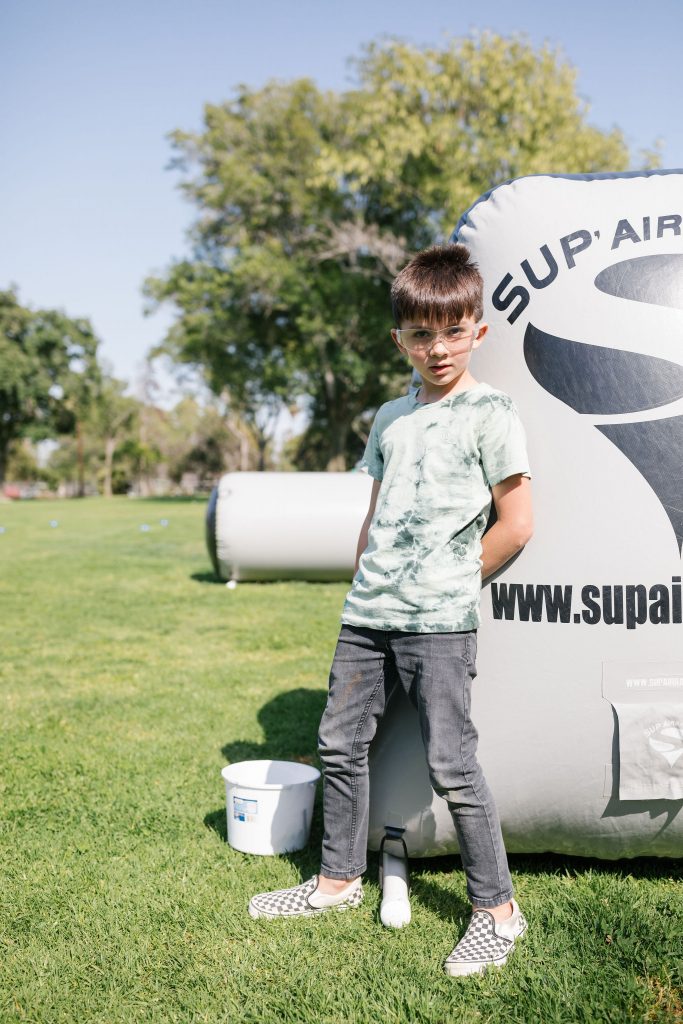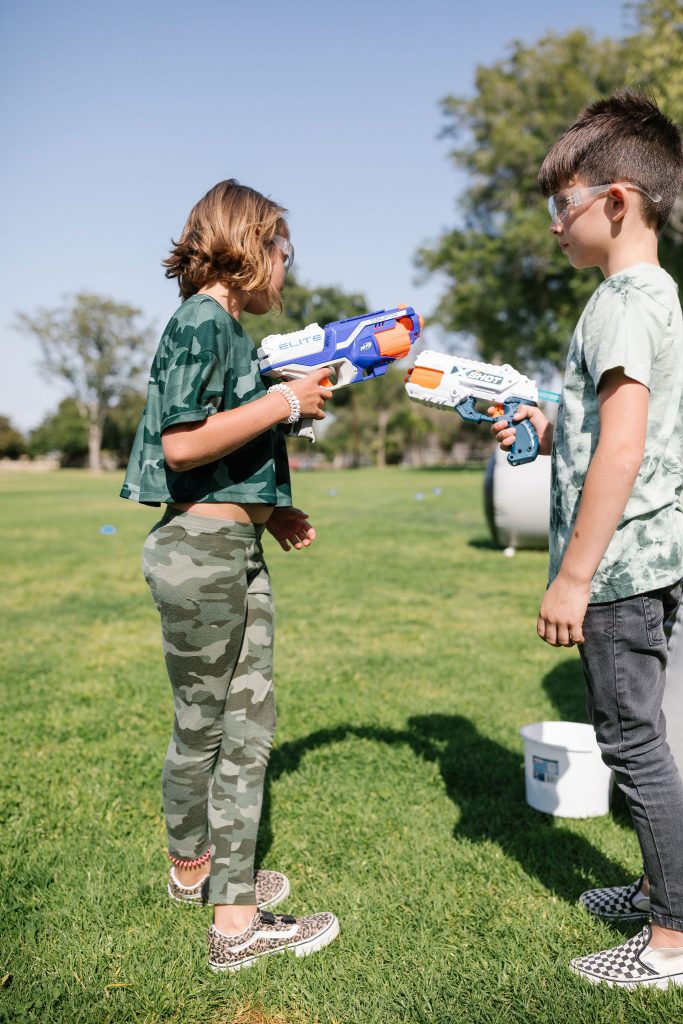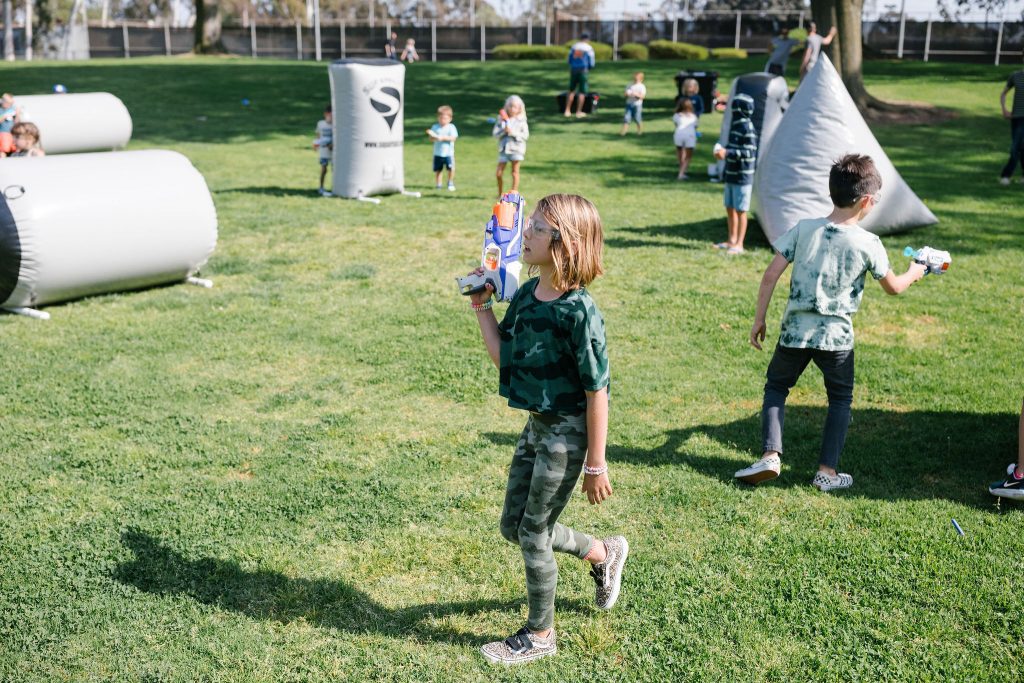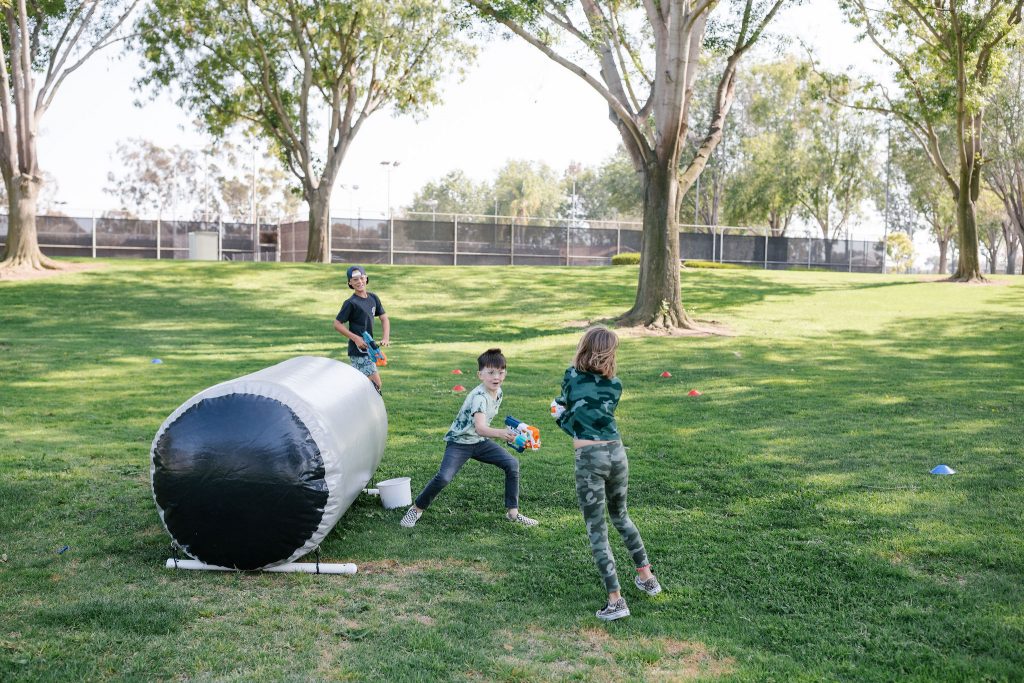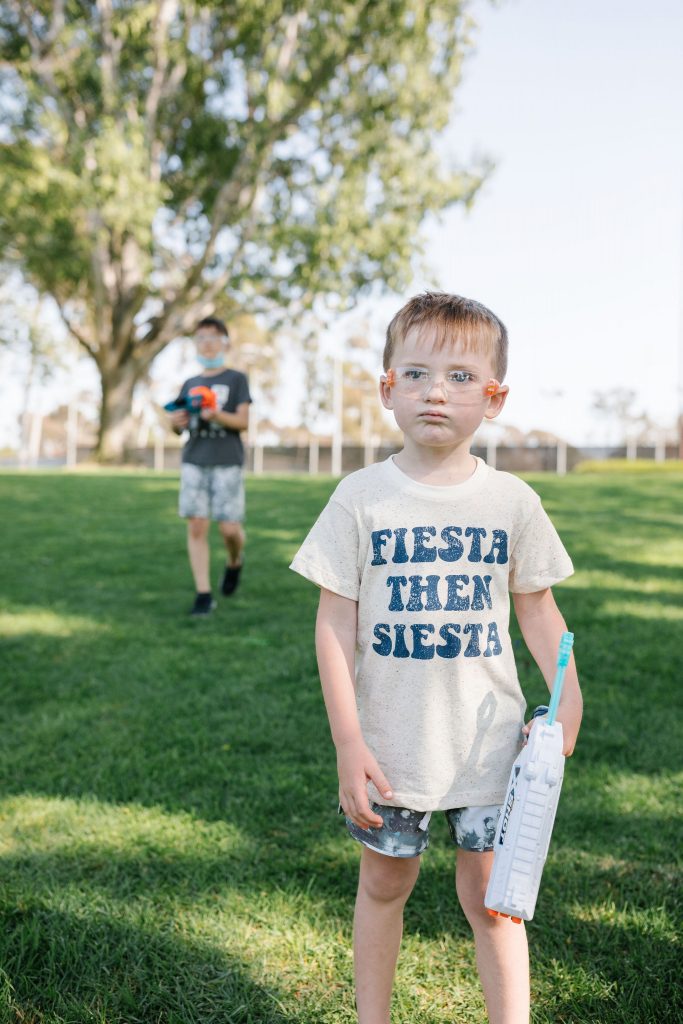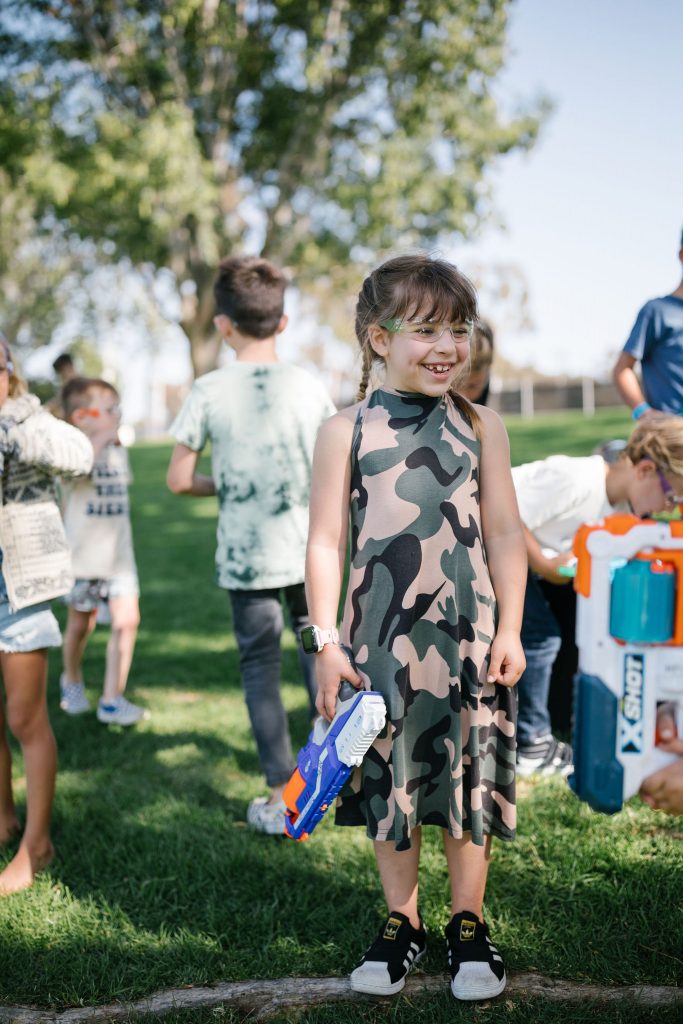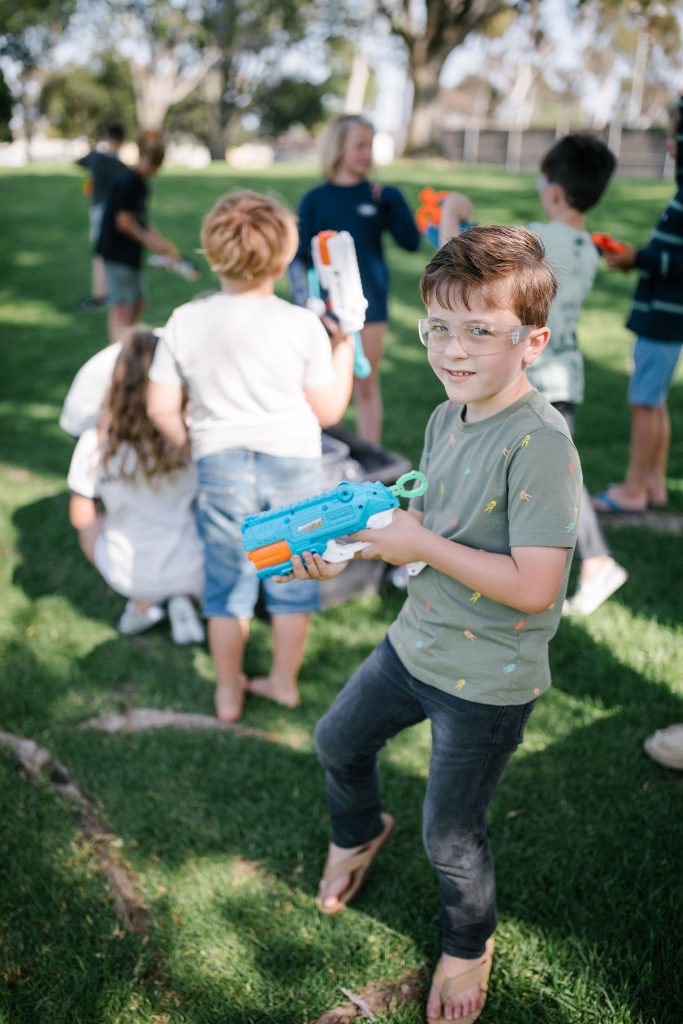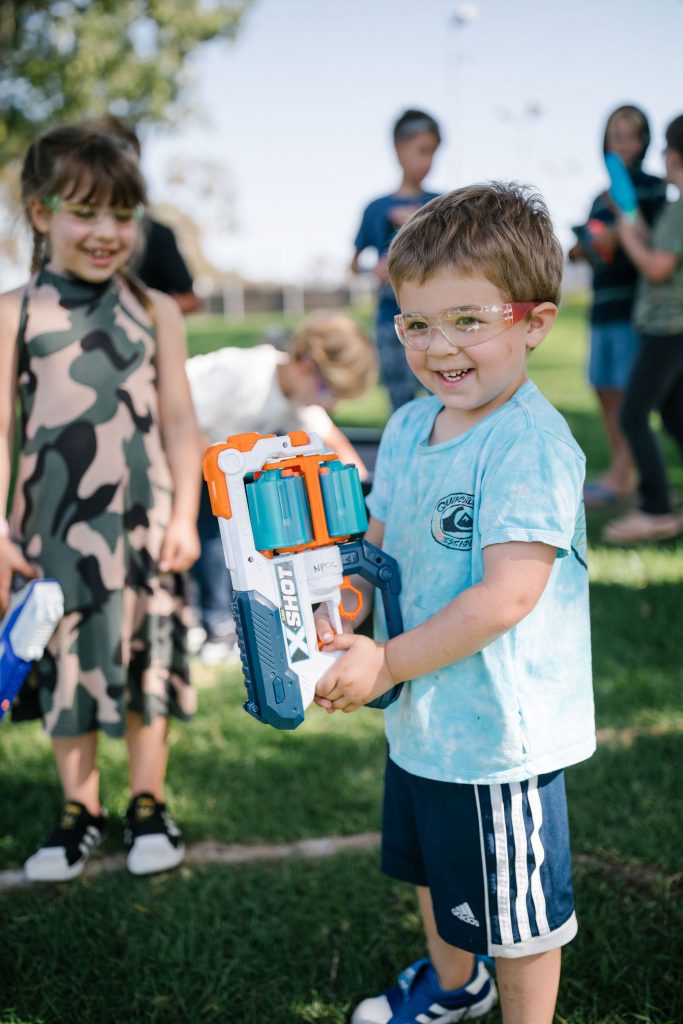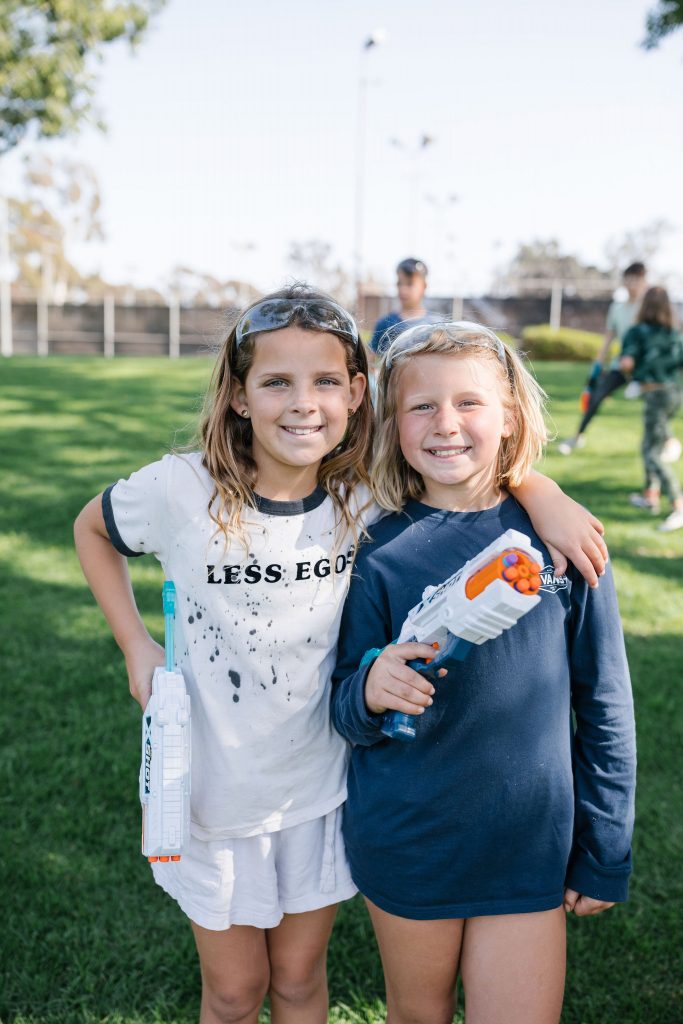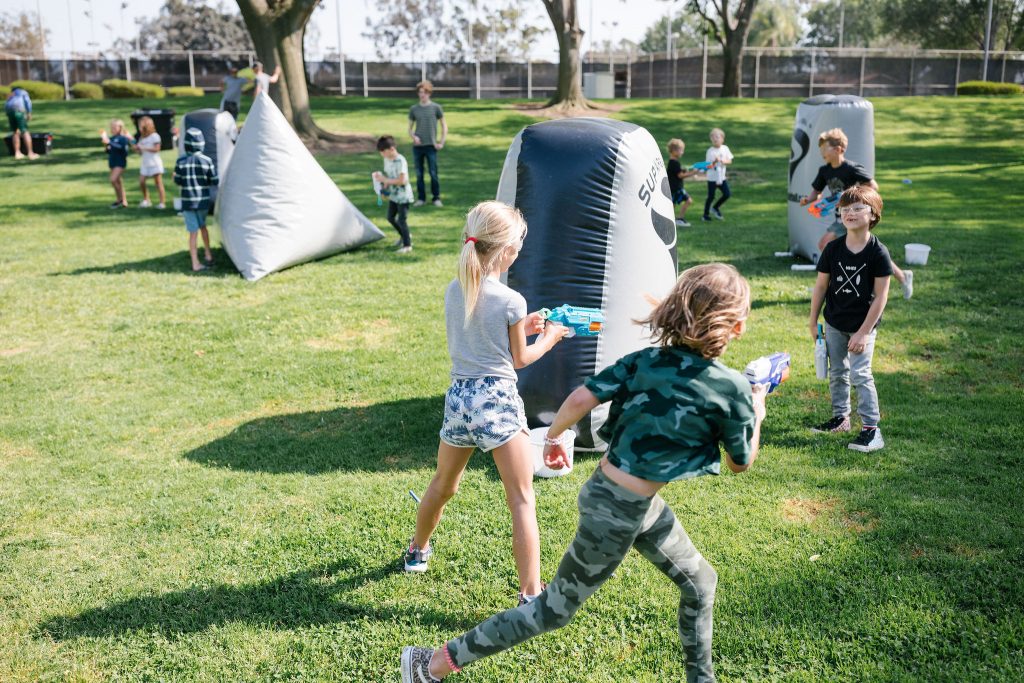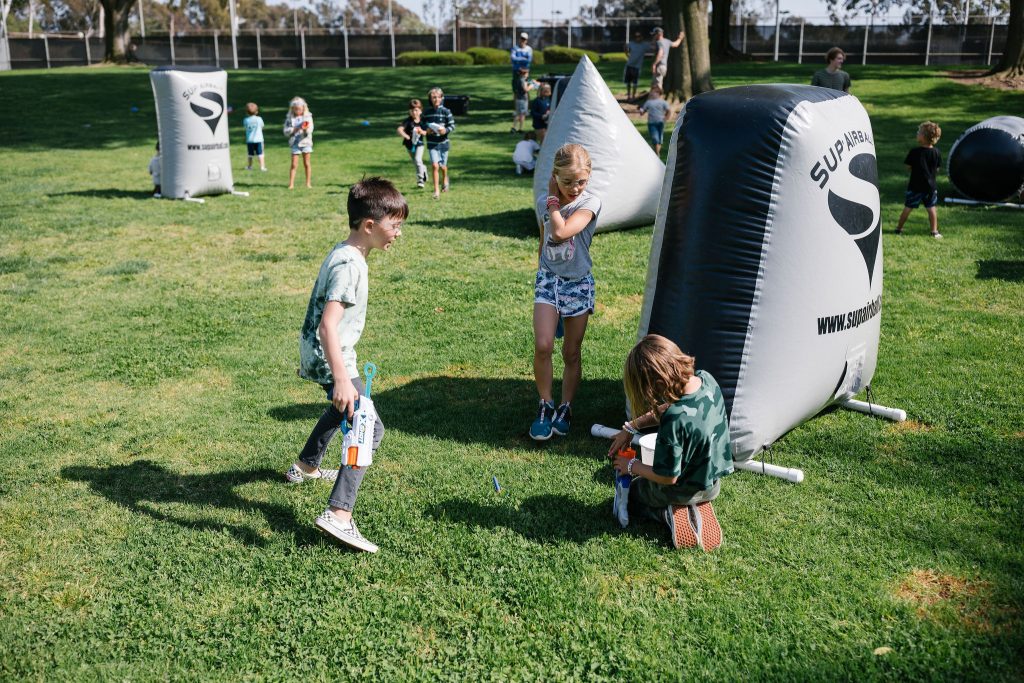 Rosé and Nerf battles! Doesn't get much better than that!!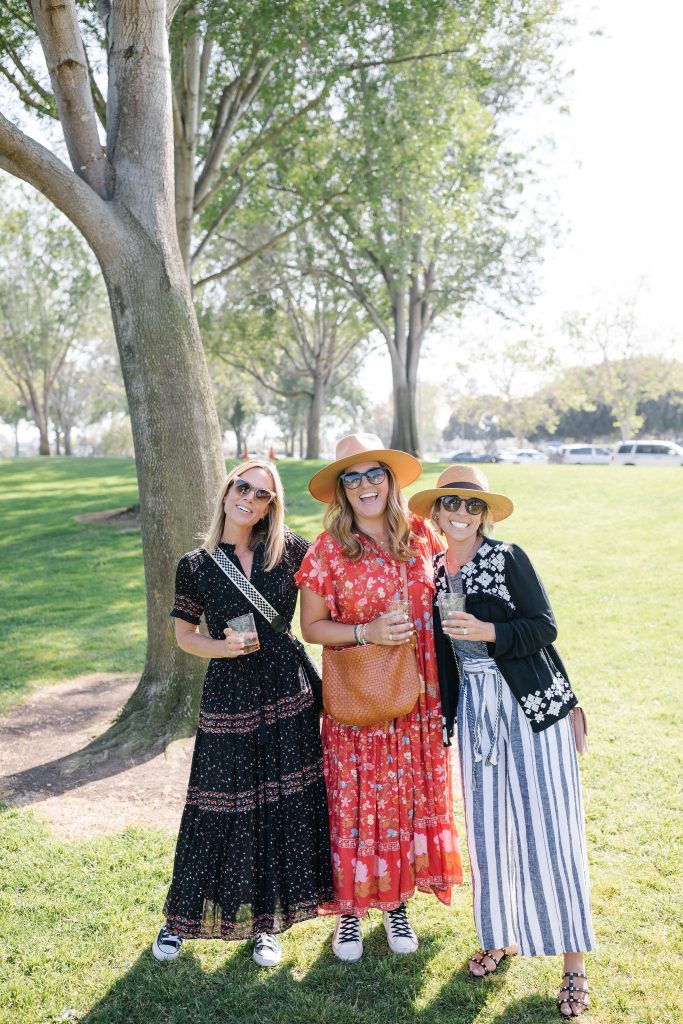 A cute dessert table is needed at every party!! Court's 7th birthday was no exception! I turned to my neighbor and friend Sweet & Saucy Shop for these adorable and tasty treats! My favorite has to be the camouflage cake, it was Oreo flavor – YUM!!! The Mess Hall sign was clearly necessary!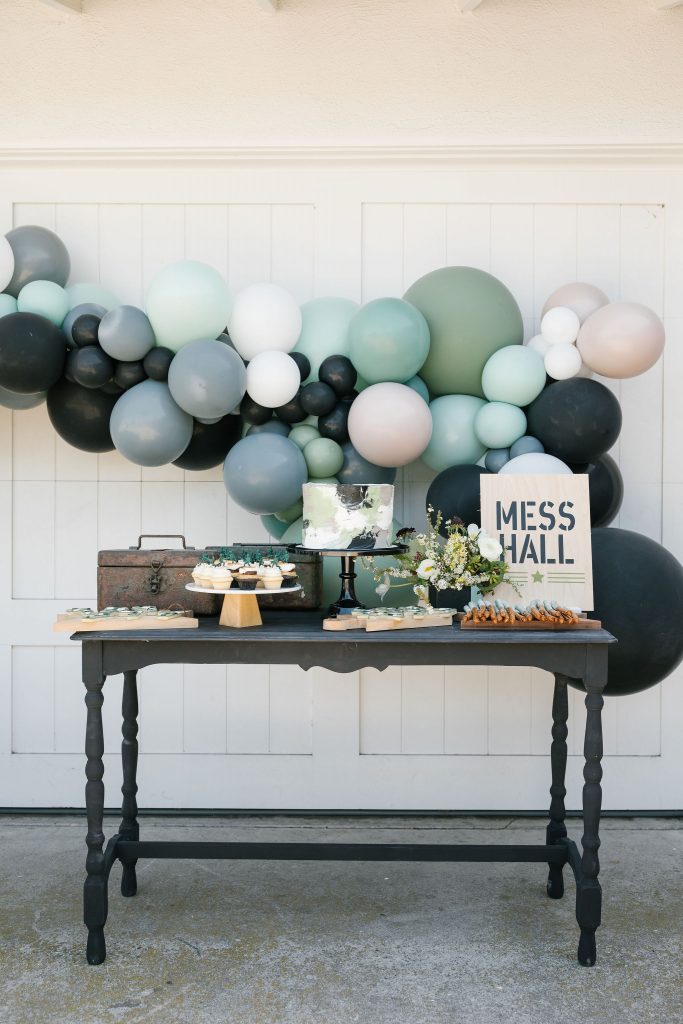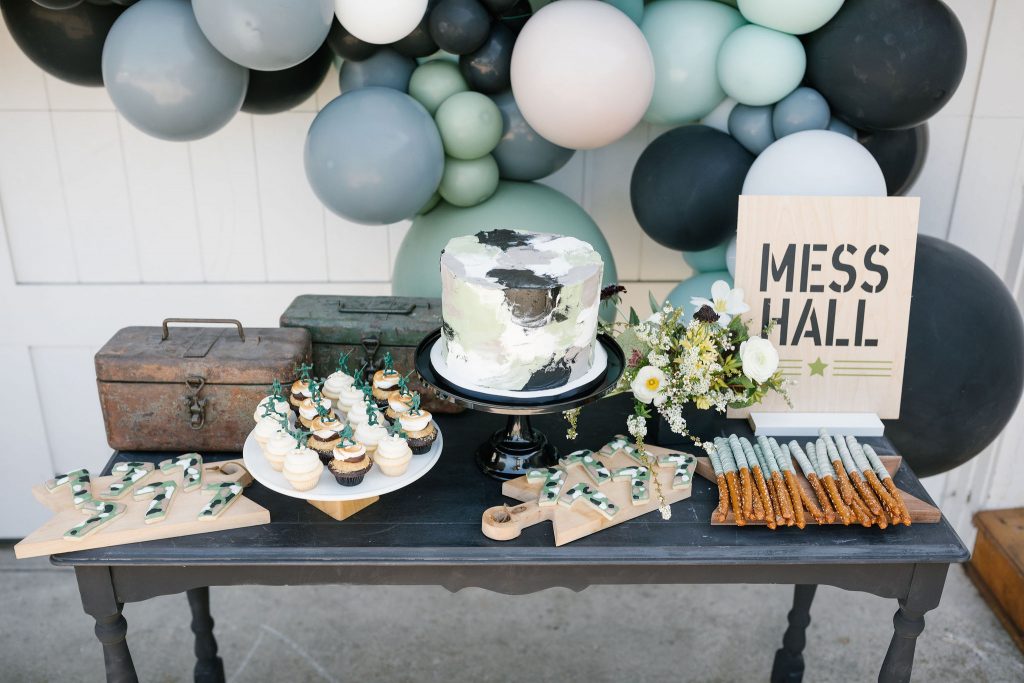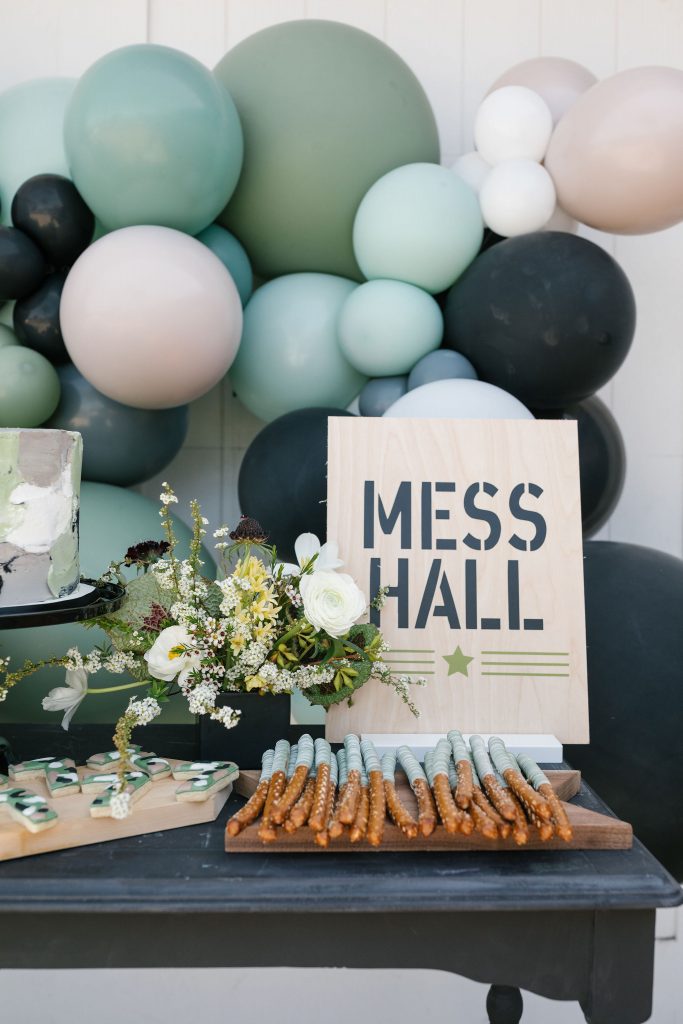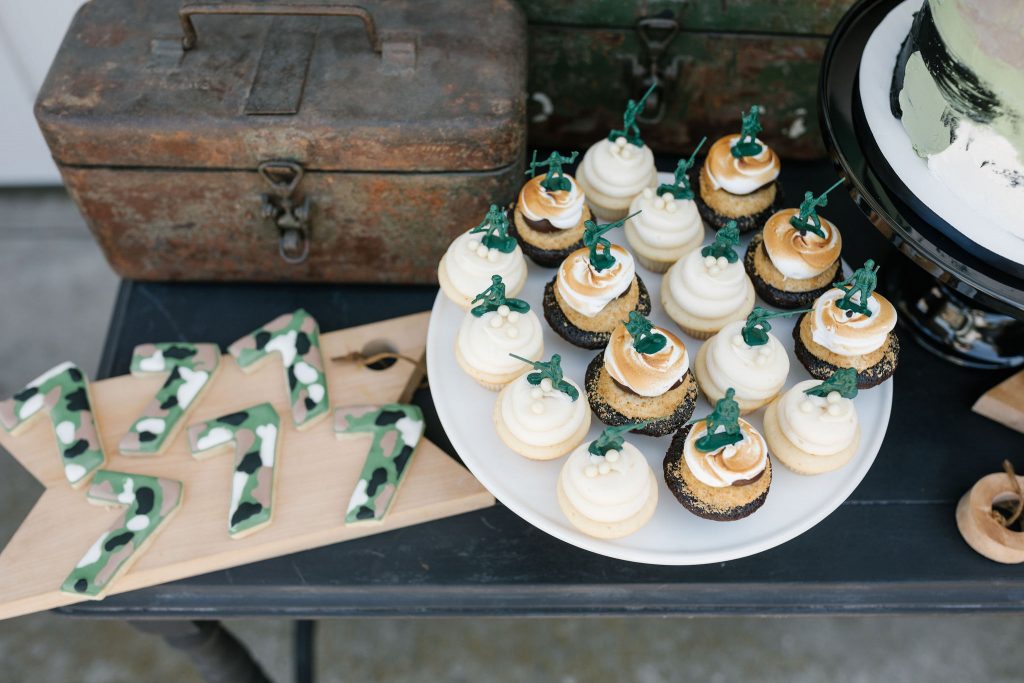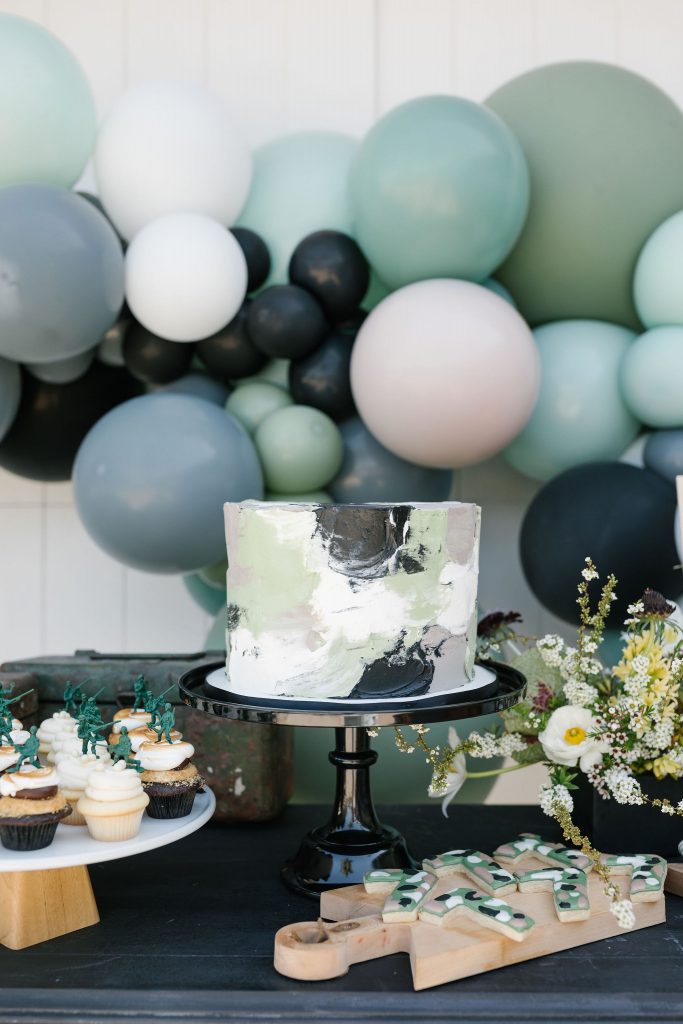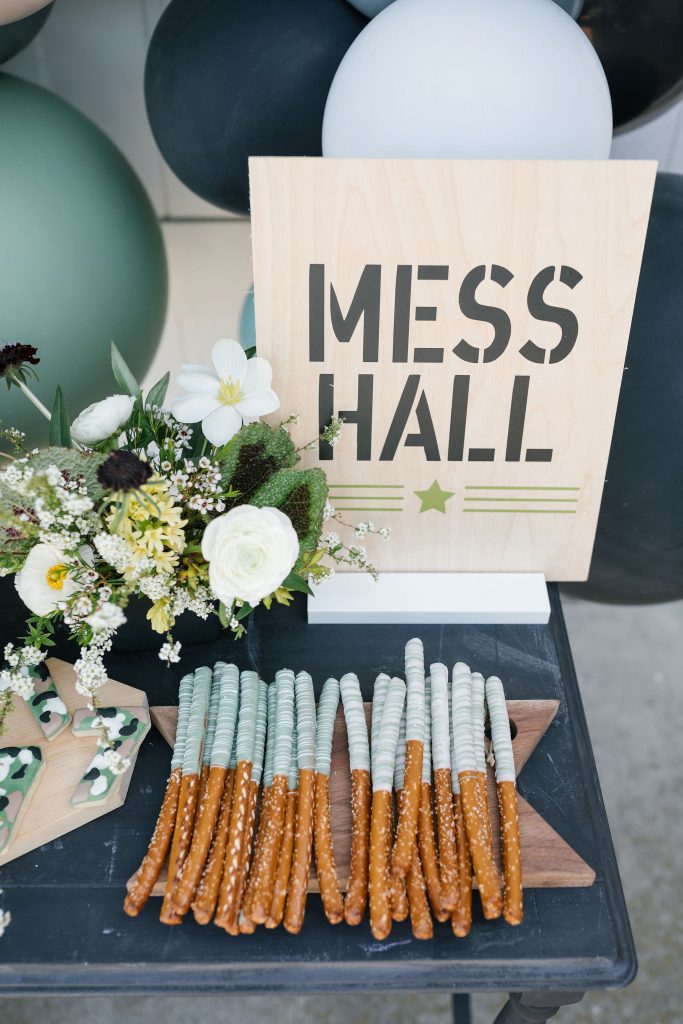 We also had frosted pretzel sticks, the 7 cookies, and cupcakes topped with little army men! A whole buffet of treats!!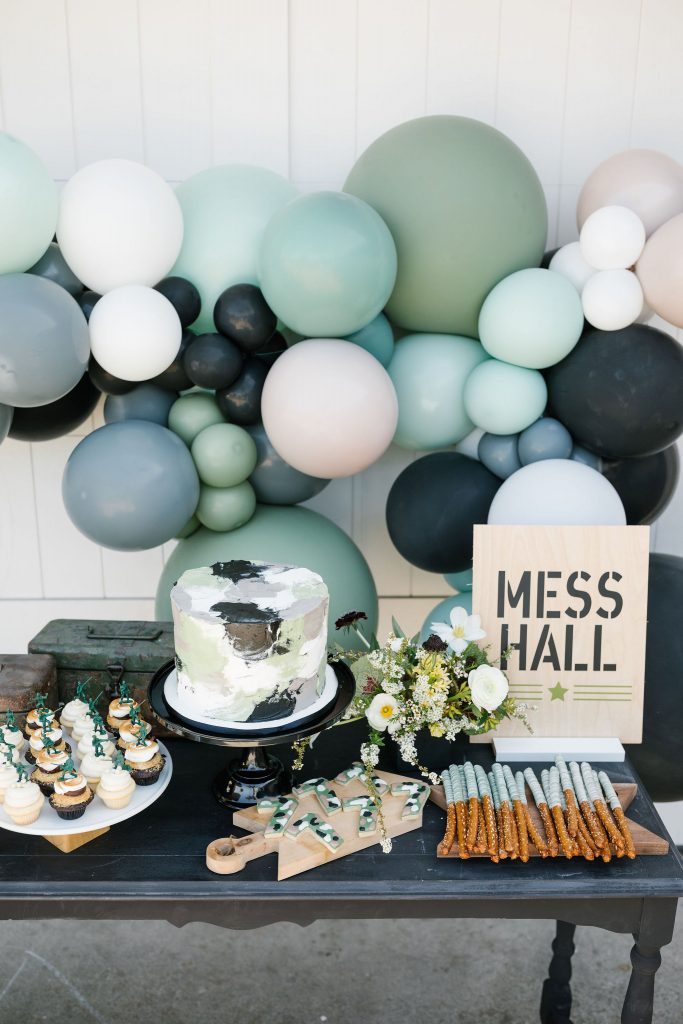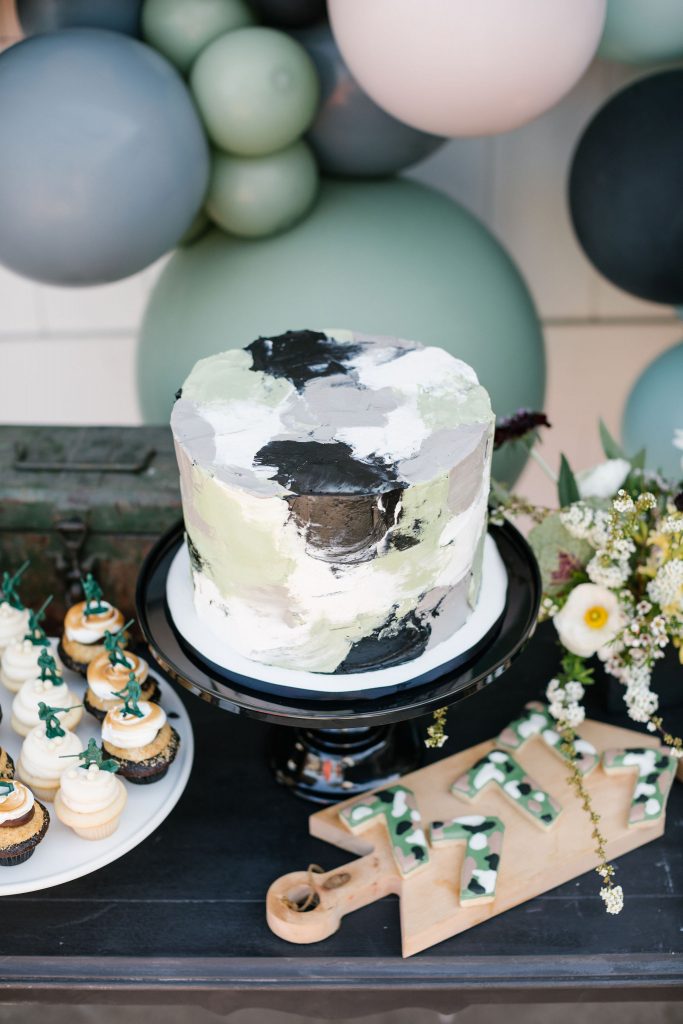 I'd say this birthday boy had a blast!! I hope all your wishes come true little love!!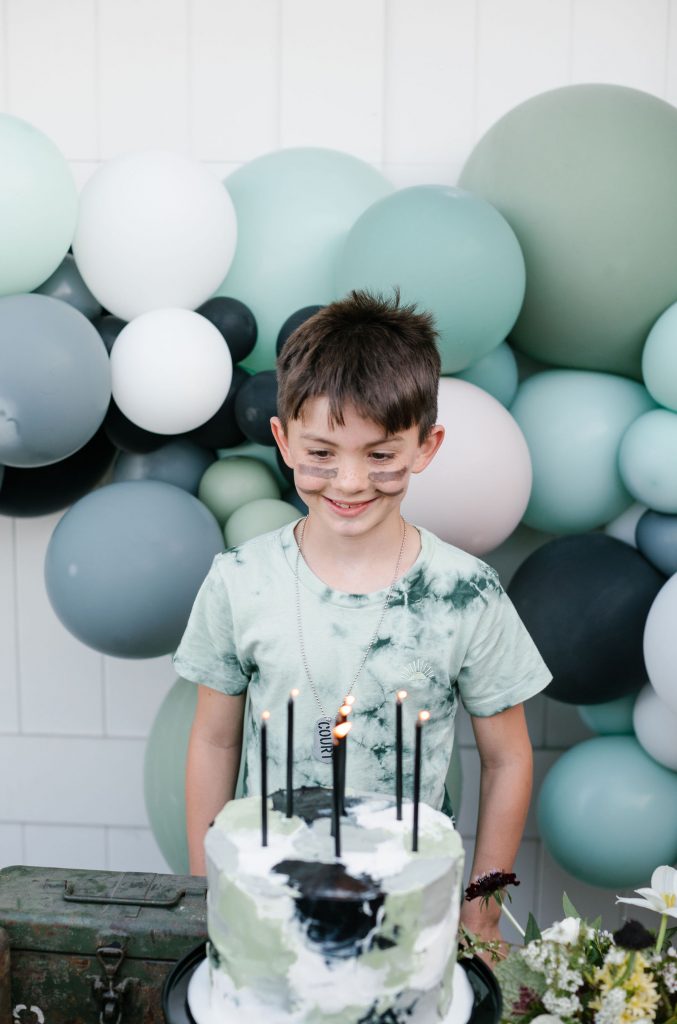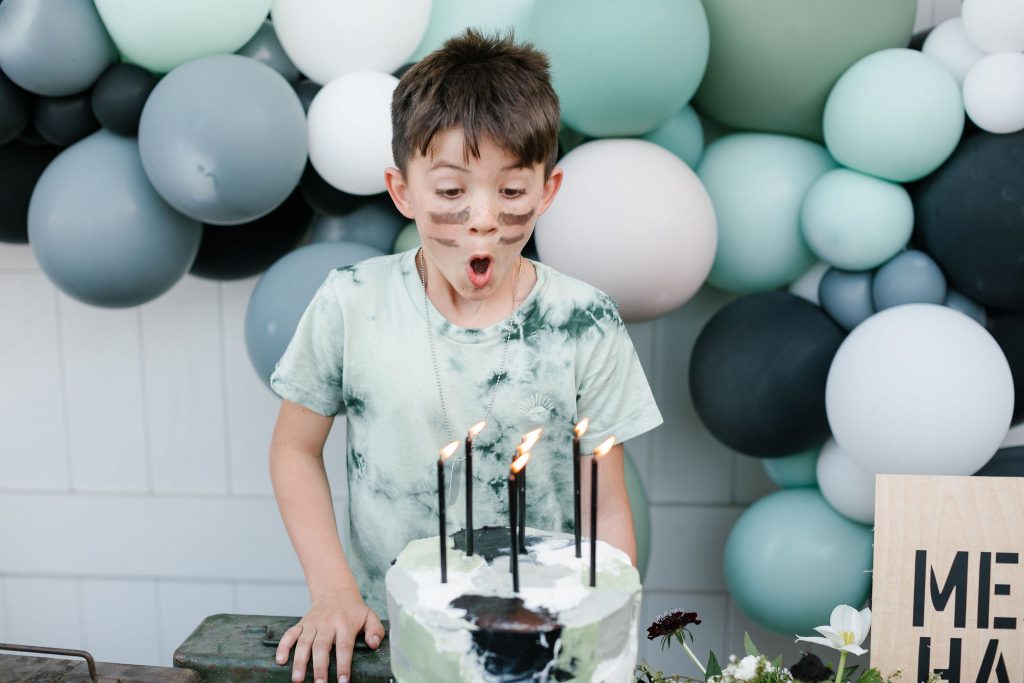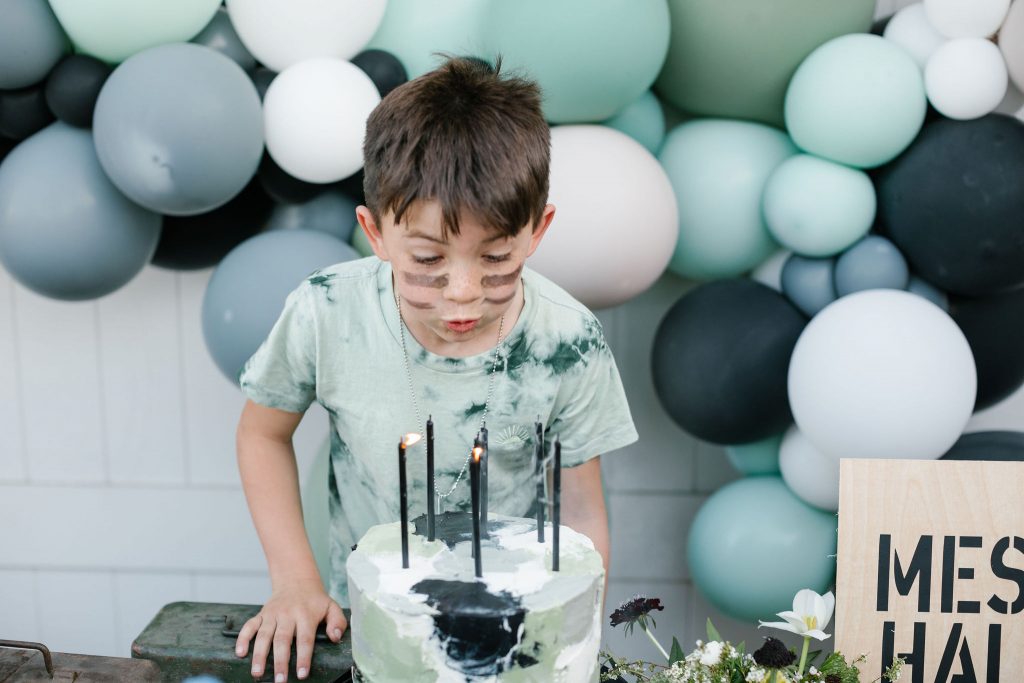 He even had his own live karaoke moment courtesy of his dad! Love this boy!!!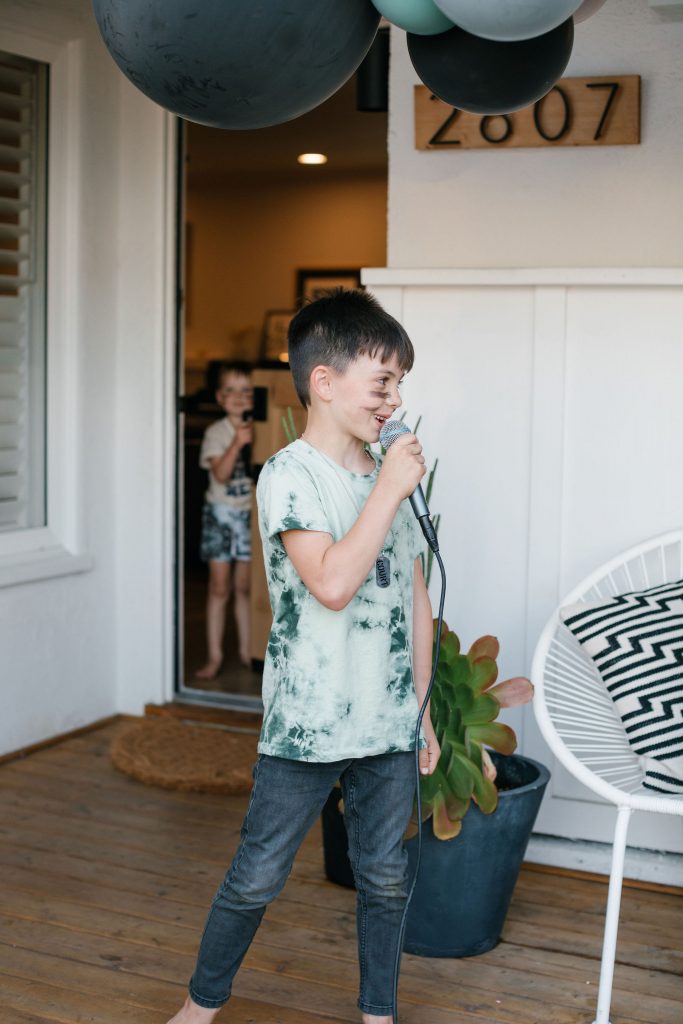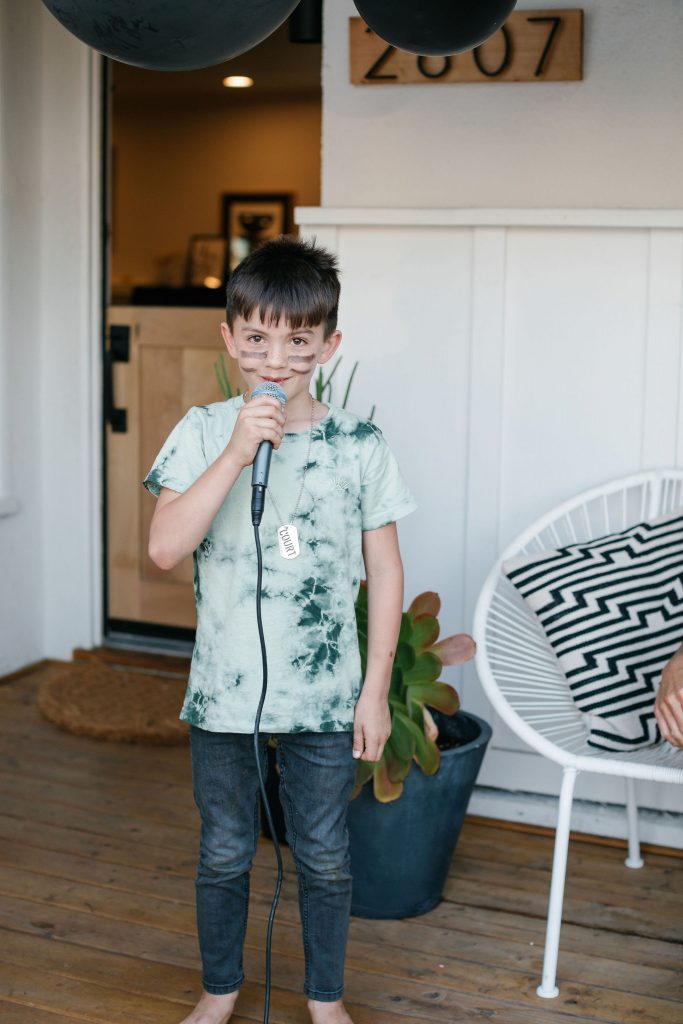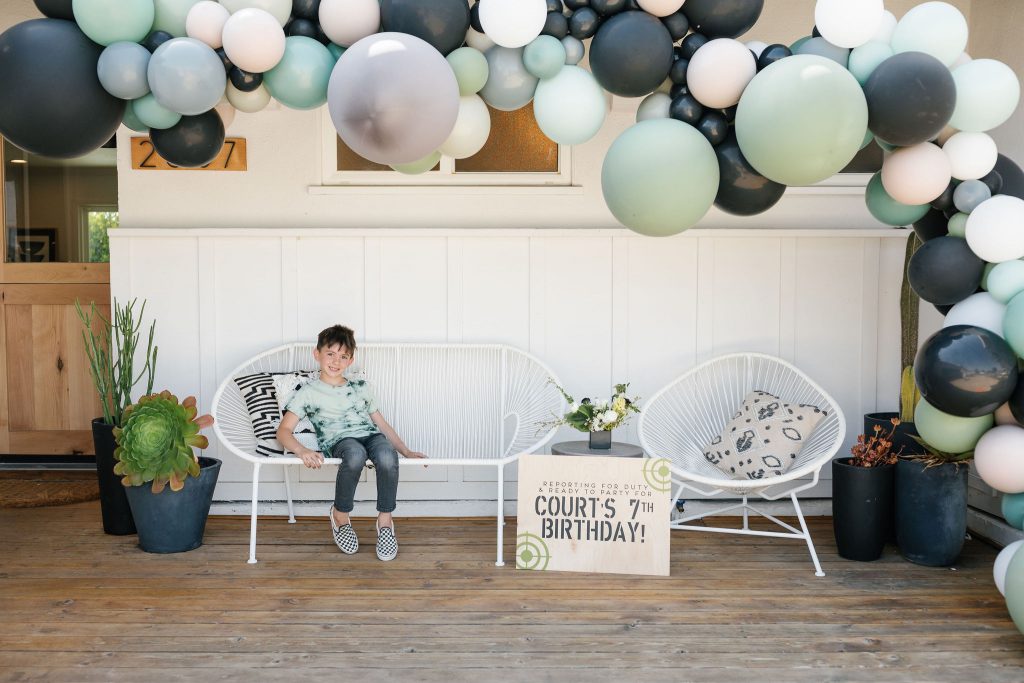 That's the face of one wild and thrilled 7 year old!!! Hope this gives you great boy party inspiration!!!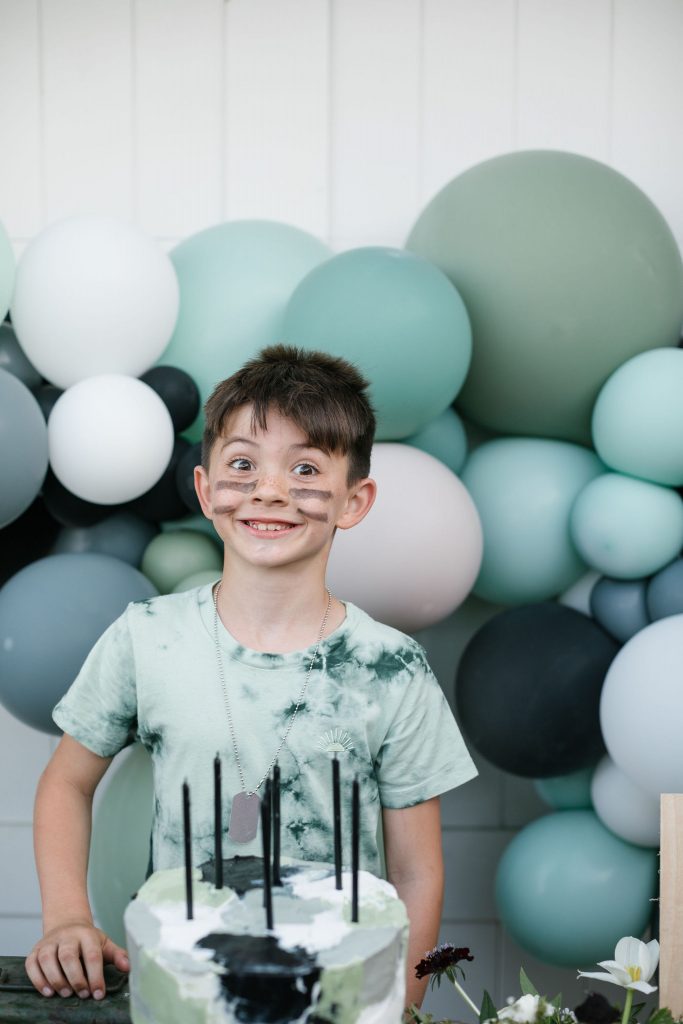 Shop this party below!

xx
Jacquelyn