This summer has been a hot one, and I have had to force myself to drink more water. I'm not a fan of plain water so infused fruit waters to the rescue! I started making infused waters this summer, and I can't get enough. The best part, they are so good for you! Detox, cleanse and drink away the toxins. I always have water carafes in my fridge for last minute dinner plans. I get mine at IKEA and keep about four always filled in my fridge. Grab a couple of bottles out of the refrigerator and place them on the table, and you are ready to go! A little entertaining tip for ya.
Let's take a peek at some of my favorite combinations that I have kept in my fridge this summer. If you are having last minute guests, simply just put your fruit in as soon as possible to allow the fruit to do its thing. A bonus, makes your table look gorgeous.
Photo by Yasmin Sarai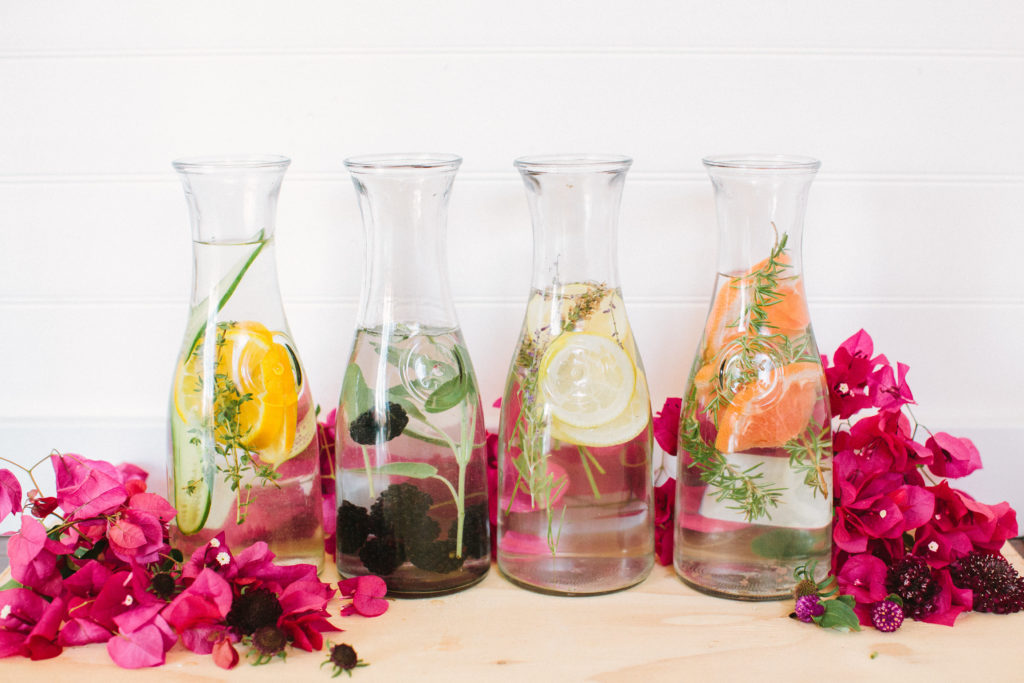 There are so many combinations that you can do! It's really up to your taste buds here. I like to use herbs mixed with fruits, both together give you a very organic fresh taste.
Orange, Cucumber, and Thyme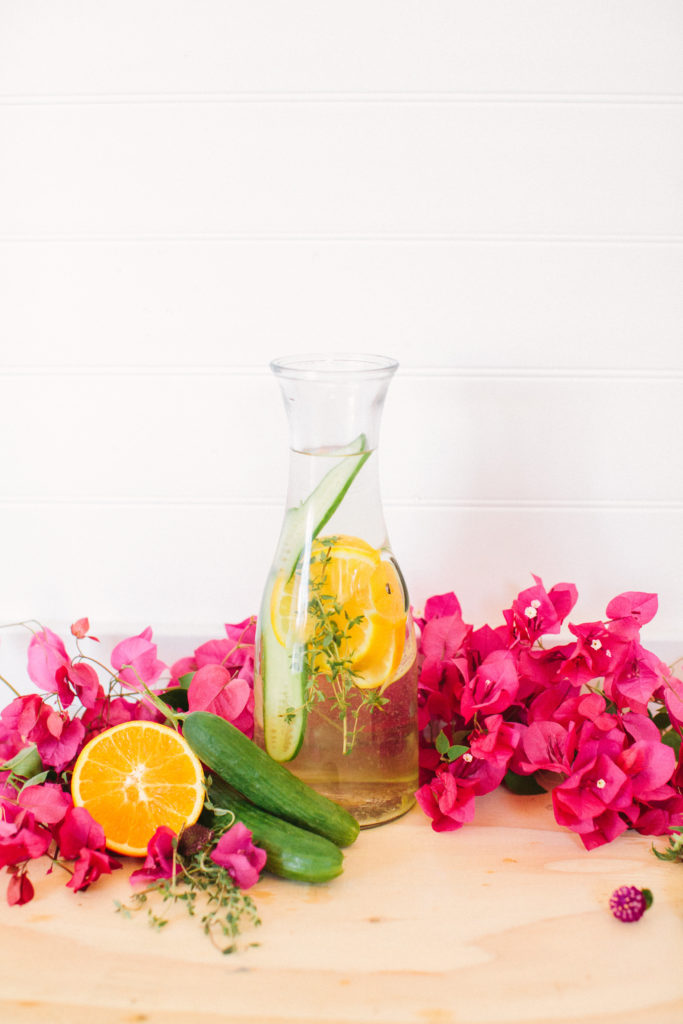 Orange, Cucumber, and thyme is the ultimate spa water. Throw on a robe and slap a face mask on, and you will feel like you are at the spa in your very own house.
Ingredients
Water
Oranges
Cucumber
Thyme
Directions
Using a madeleine or a knife, thinly slice the cucumber lengthwise. Slice your oranges. Put a couple of slices each in your water, and then put a sprig or two of thyme. Let sit in the fridge for at least an hour. Overnight is best.
Lavender and Lemon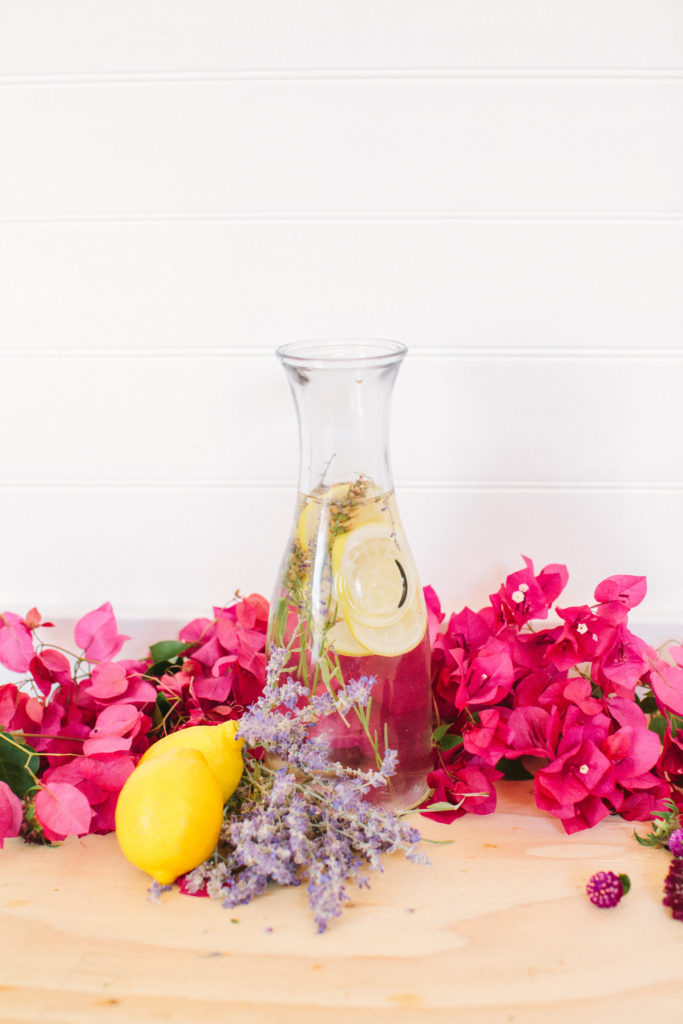 A twist on the classic lemon water. A crowd pleaser.
Ingredients
Water
Lavender
Lemons
Directions
Thinly slice the lemons, and add to the water. Take a couple of sprigs of lavender and place in the water as well. Make sure that your lavender is safe to consume. You can grow it yourself or buy it at specialty stores. Best overnight in the fridge. The more time it has for the lavender to release its flavors.
Blackberry and Sage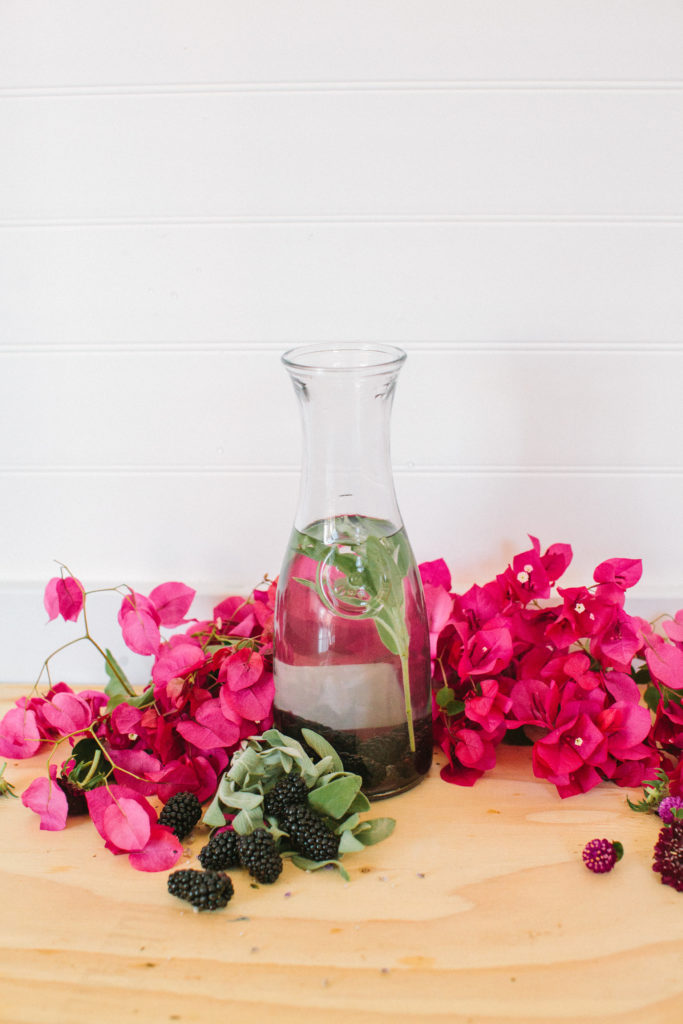 The blackberry and sage water is one of my favorites! I was a little hesitant at first about the sage; I wasn't sure how it was going to taste. But I was pleasantly surprised. I like to use this combination when we are serving a red meat. I think it plays off well with the sage.
Ingredients
Water
Blackberries
Sage
Directions
Throw everyone into the pool! Again, best to wait overnight, but you can drink after a couple of hours.
Grapefruit and Rosemary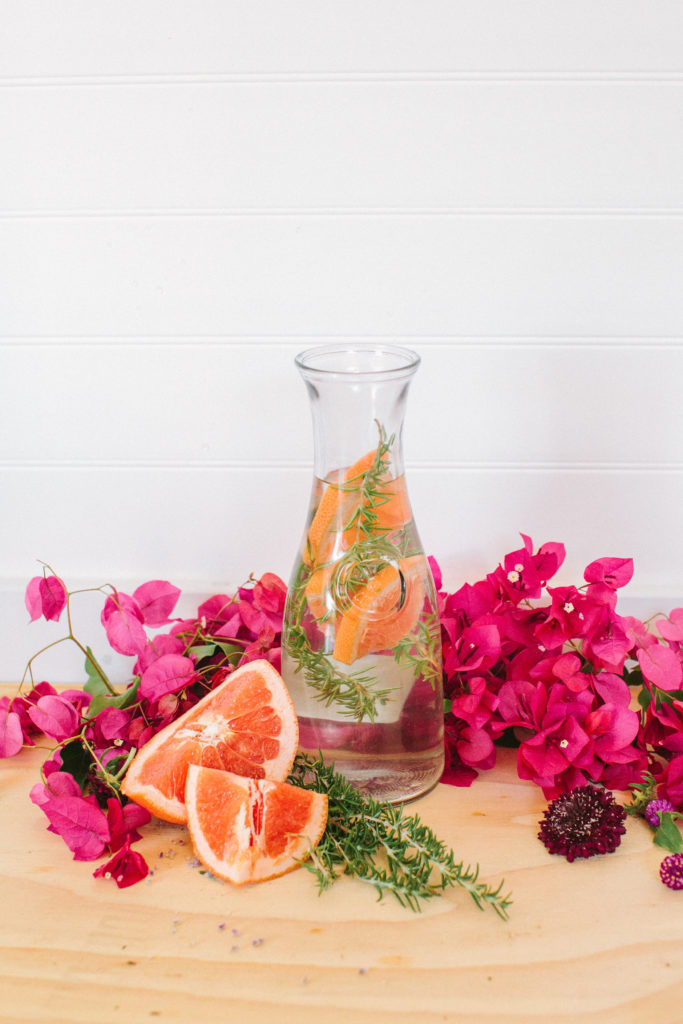 Saved the best for last! This one is a keeper. I grow rosemary in my backyard, so we have this infused water every day at our house. I like to serve this one at brunch for my guests.
Ingredients
Water
Grapefruit
(try to get a smaller one, cause it will be hard to fit thru the top)
Rosemary
Directions
Cut the grapefruit into little wedges. I like to squeeze some of the juice in as well. More flavor. Throw in a couple of sprigs of rosemary, and let sit overnight.
 Hope this brings some creativity when it comes to infused waters! Wow, your guests next time they come over instead of serving just plain bottled water.
xx
Abby