Happy International Women's Day!!! I am so excited to finally share this amazing shoot with you!!! This year I knew I wanted to do an International Women's Day shoot as a collaboration with other women vendors. My thought was to gather all women-owned businesses to work together to create something amazing. Women who even do the same thing in our industry and show that we can work together, for example, multiple planners, florists, designers, etc. Don't hate, collaborate was the main message.
I first reached out to Sabrina of Golden Arrow Event Design, Alexis of The Shift Creative, and Michelle Rogers as I had been an admirer of their work for some time. Alexis and I had worked together before but I had never worked or even met the other girls. Once they were on board we began the design process, which was a total collaboration between us all. Next, we gathered all female-owned businesses to bring our vision to life. From the rentals to the catering, to the desserts, and even art! I was in awe of how well we all worked together and how seamlessly it all came through.
On the day of the shoot, the vibe in the room was that of respect and love, no jealousy or intimidation. It really is incredible to see what women can do together! There is room in this industry and world for us all to succeed and I'm so proud to say that we all can support and encourage each other to create and live up to our best potential! Who runs the world?! GIRLS!!!
Beautiful photos by the talented Jessica Lynn Photo and featured today on Green Wedding Shoes!!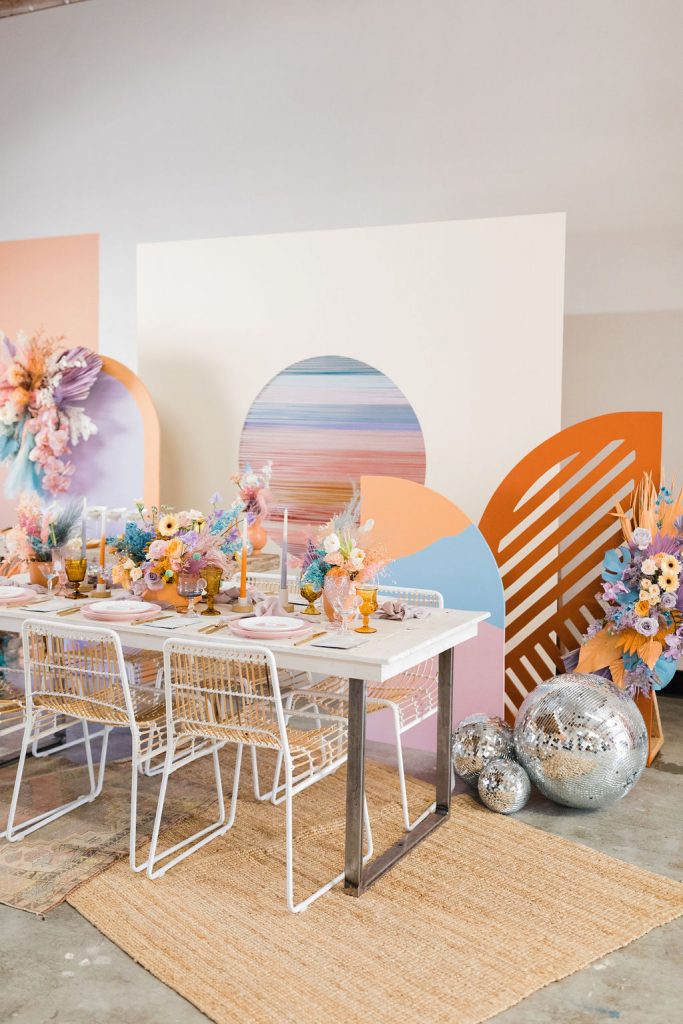 You may have noticed that I'm sort of an invite freak… I love seeing pretty invites for our shoots and the ladies who we work with that create them are always so talented and inventive!
Kaylyn from Pirouette Paper is responsible for this beauty and she just took the direction Sabrina and I had and made magic! We had her do quotes from inspirational women to go on the table along with that gorgeous line drawing of a woman's face. I'm obsessed with how it all looks together and in love with how Jessica styled it all!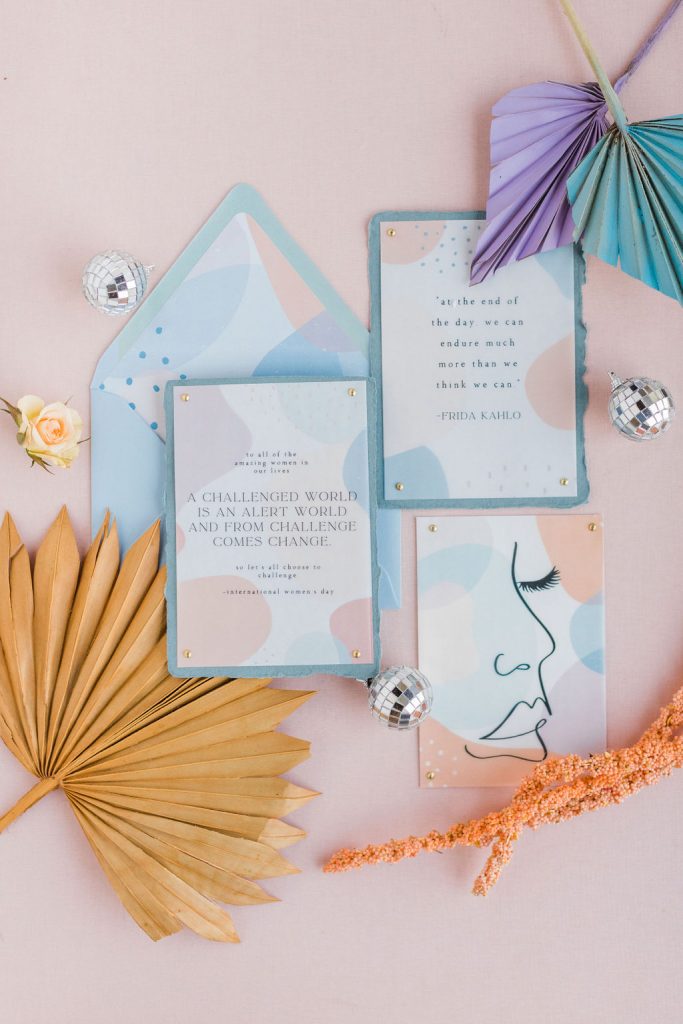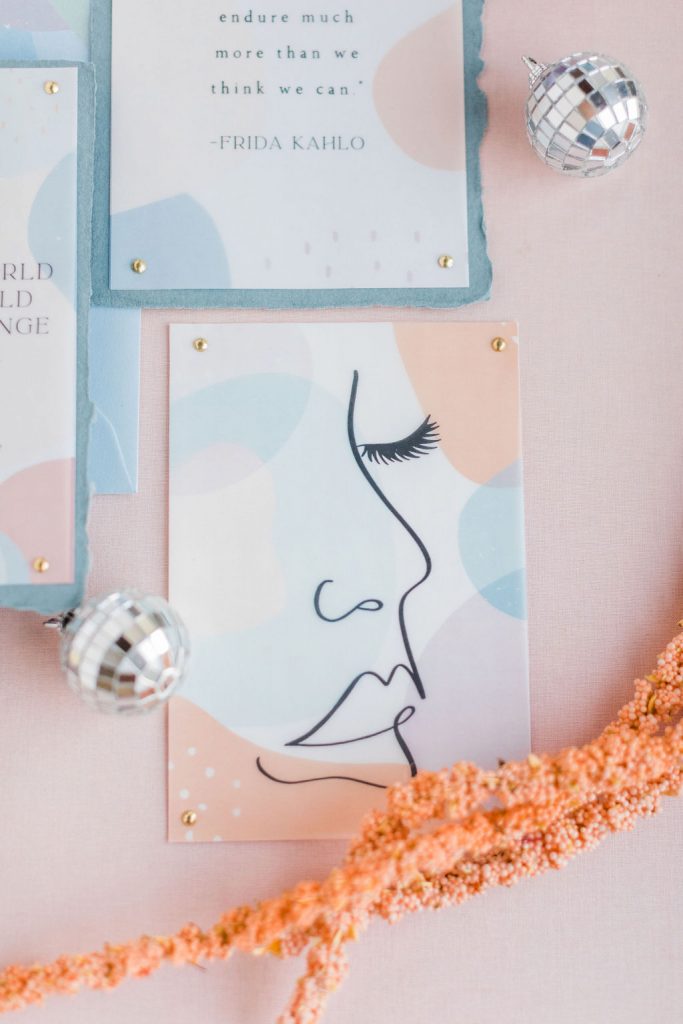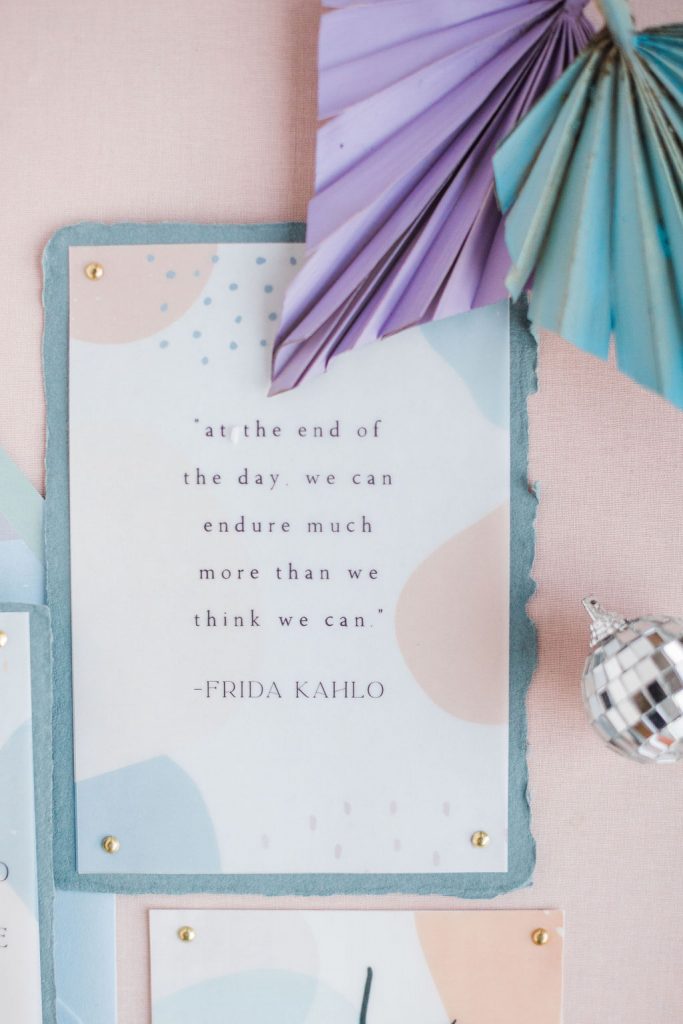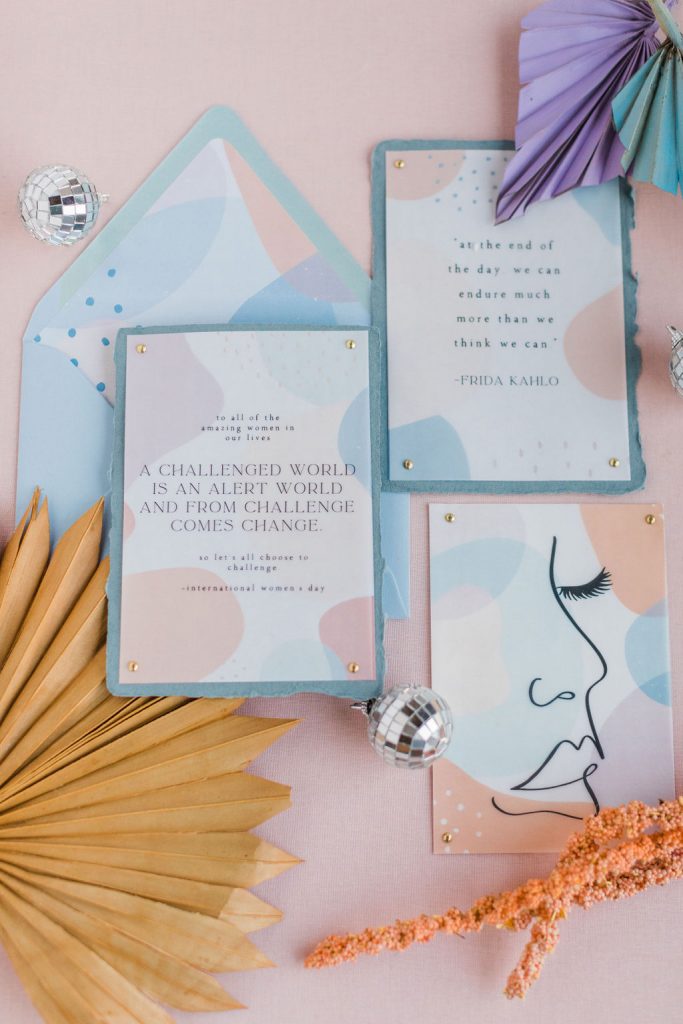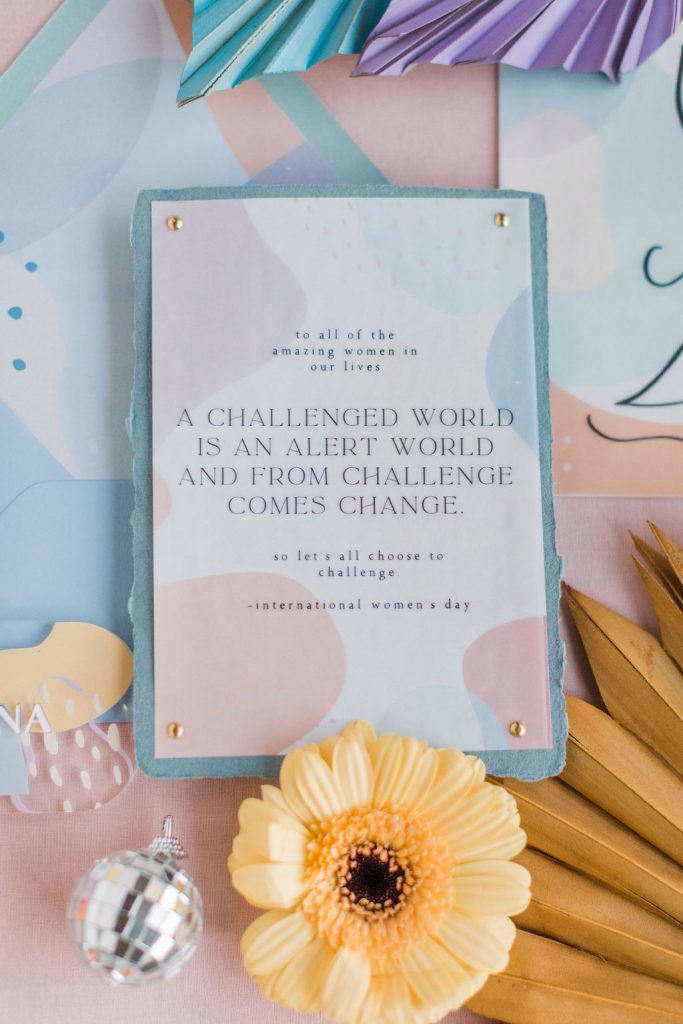 Those adorable place cards are by the talented Malisa from Creative Amme. She is always offering such a unique spin on signage and acrylic goods, so of course, she came up with these amazing place cards for our table!!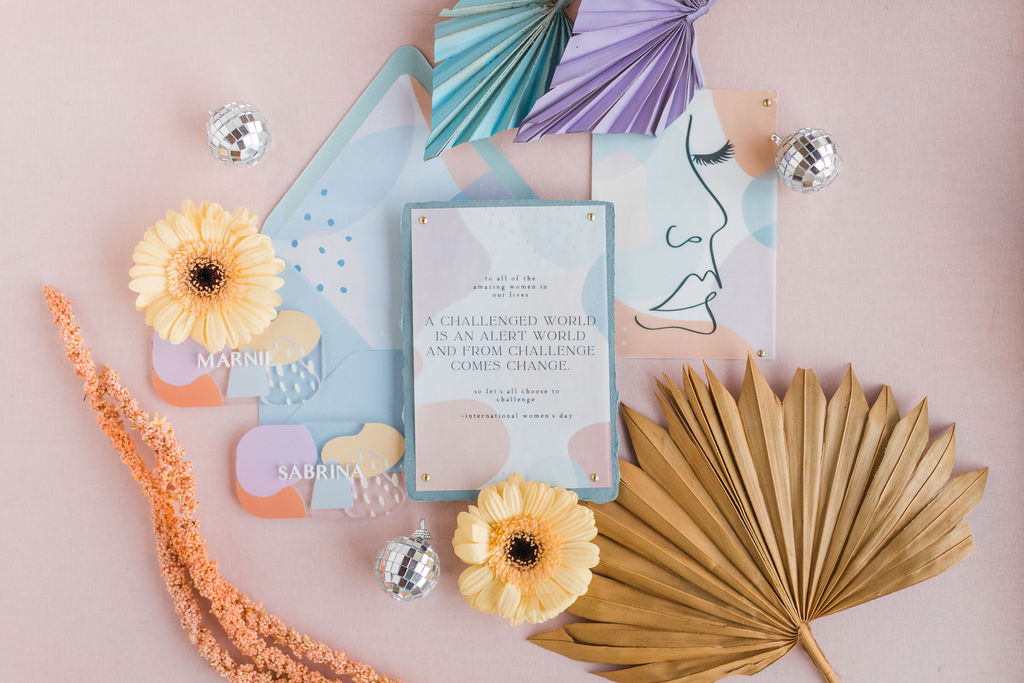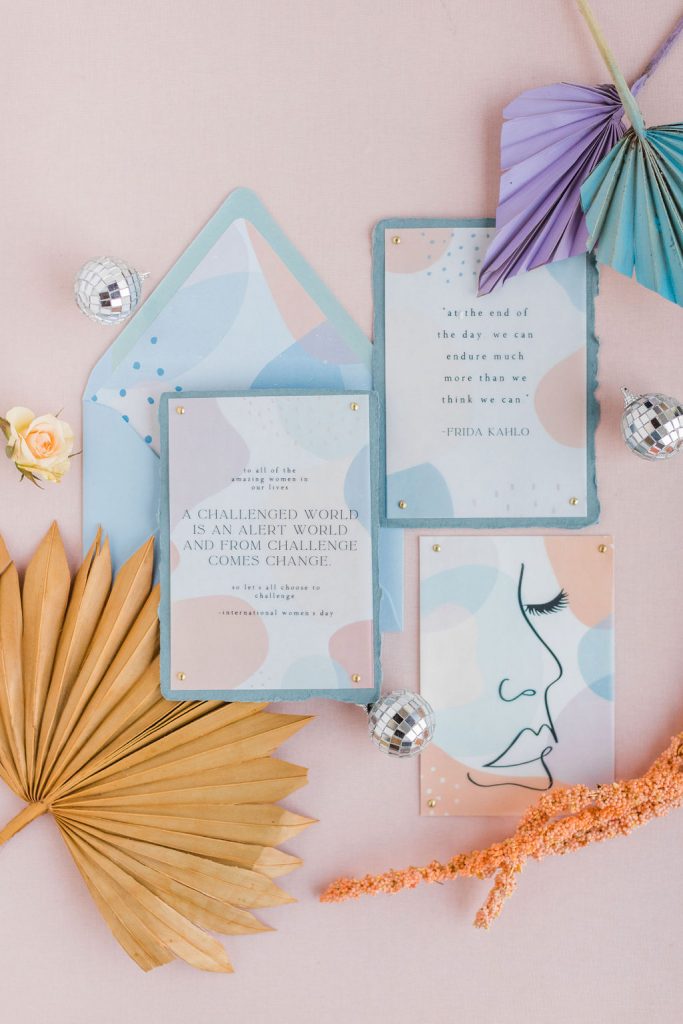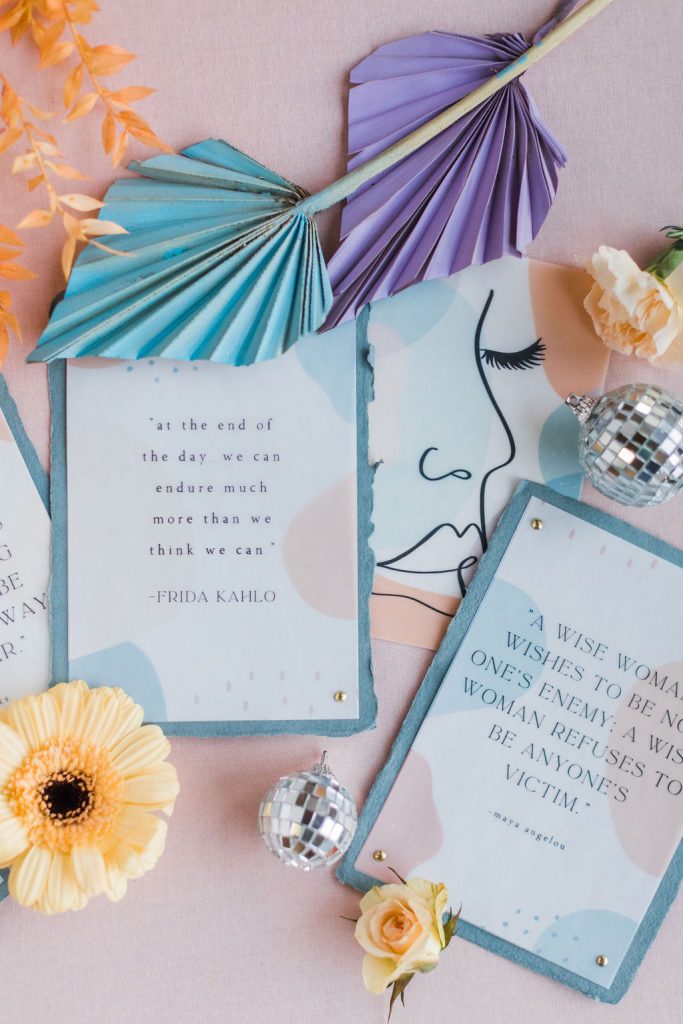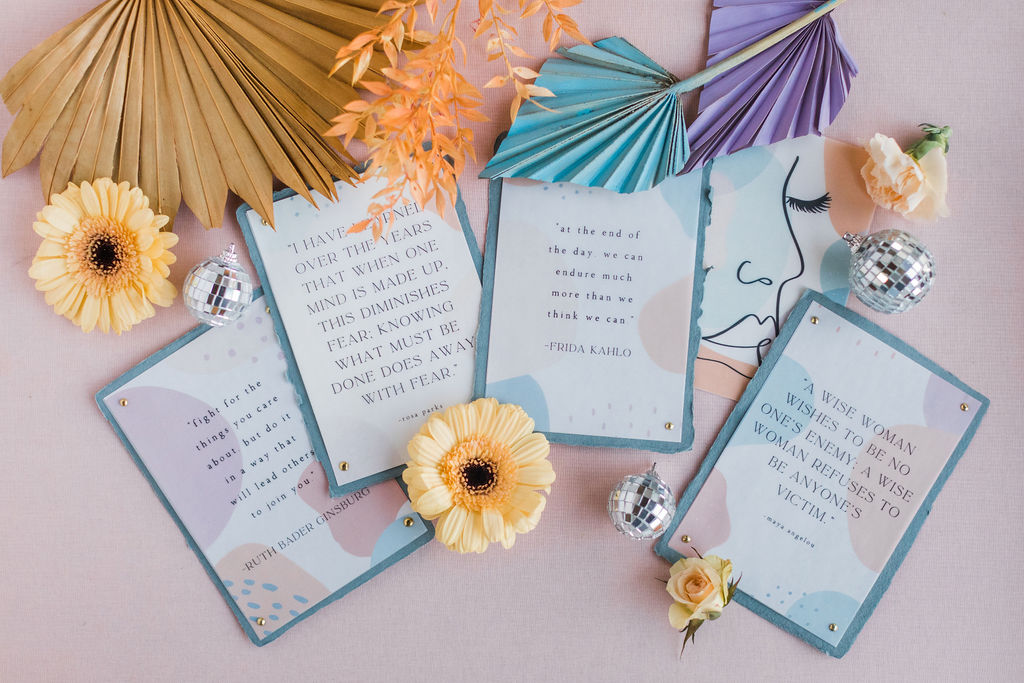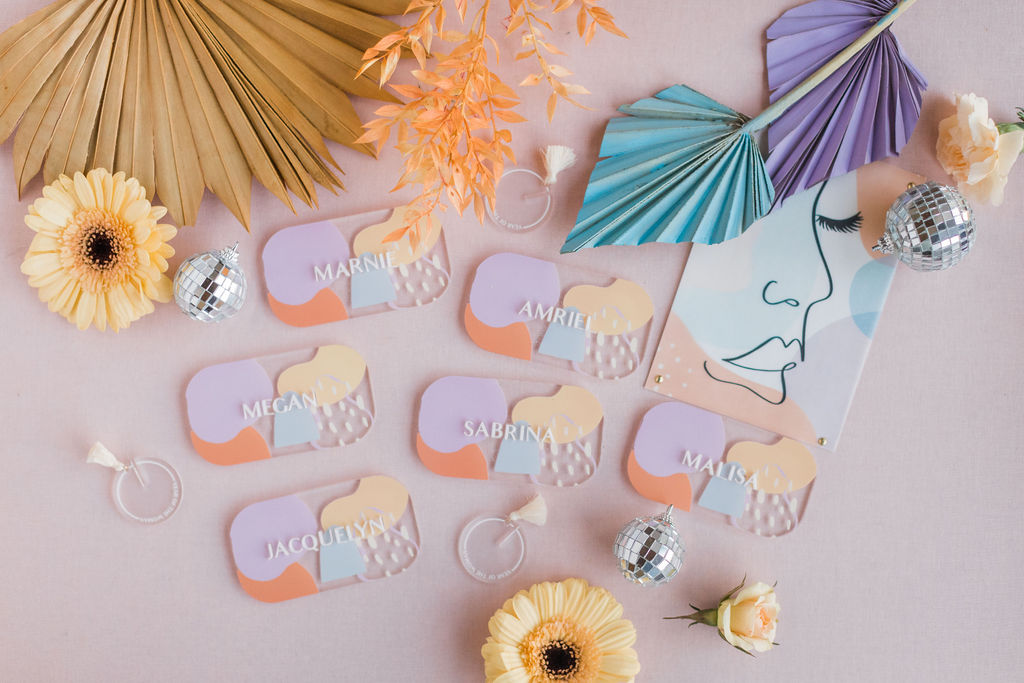 Onto our GORGEOUS table!! First off, can we talk about these colors?! I'm so in love with them!!! Muted tones mixed with a few pops make it even more fun!!! The design was pretty seamless with Sabrina, she is so easy and fun to work with! I love how we bounced ideas off of each other and it was pretty easy because we were definitely on the same page from the start.
Let's start with all the pretty tabletop goodies from Hostess Haven. I truly think Samantha, the owner, offers the most beautiful and unique options in Southern California. We used her pretty pink plates and placed that delicate white plate on top. The detail on the white is just beautiful! Then used her modern gold flatware and lilac napkins. After that, we went with fun colorful glassware – pink, blue, and amber! All of our pretty colors in one!!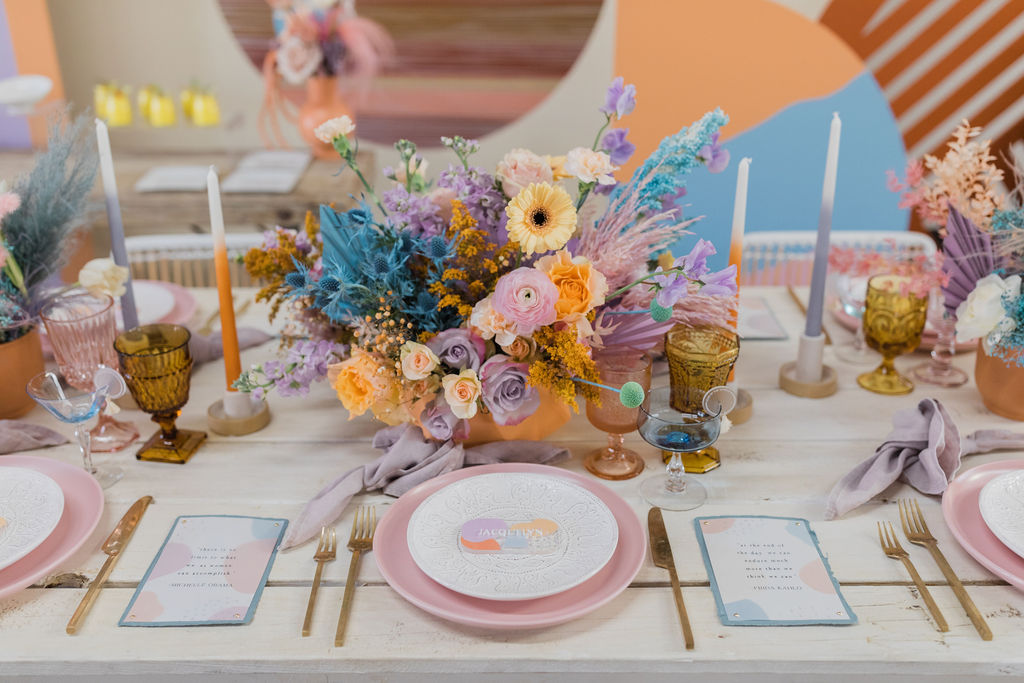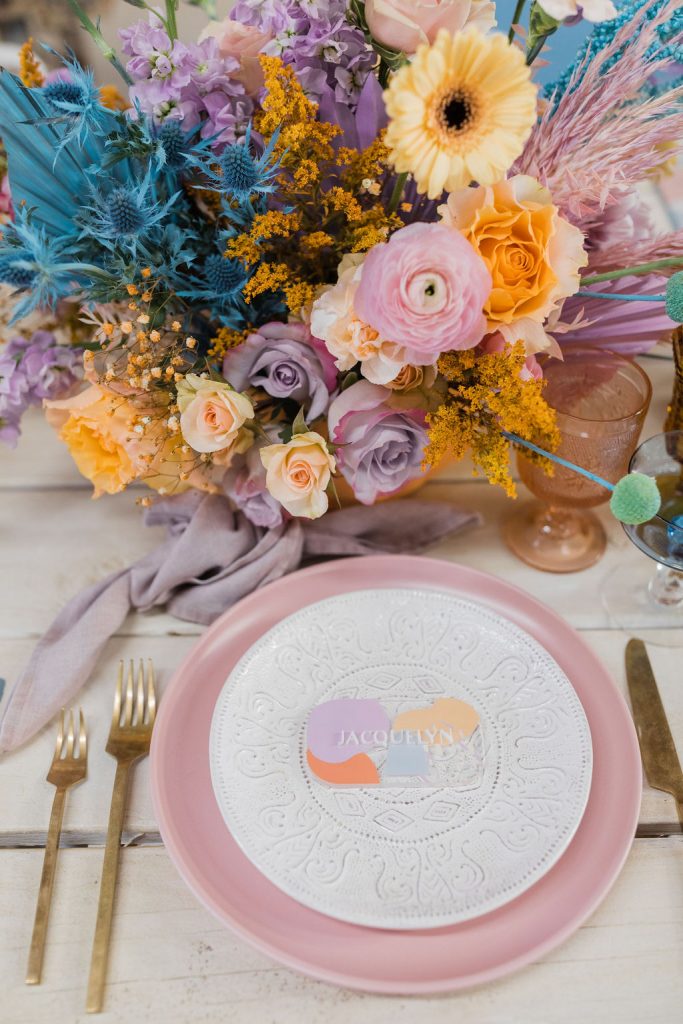 There's those rad quotes by Pirouette Paper in action on our table!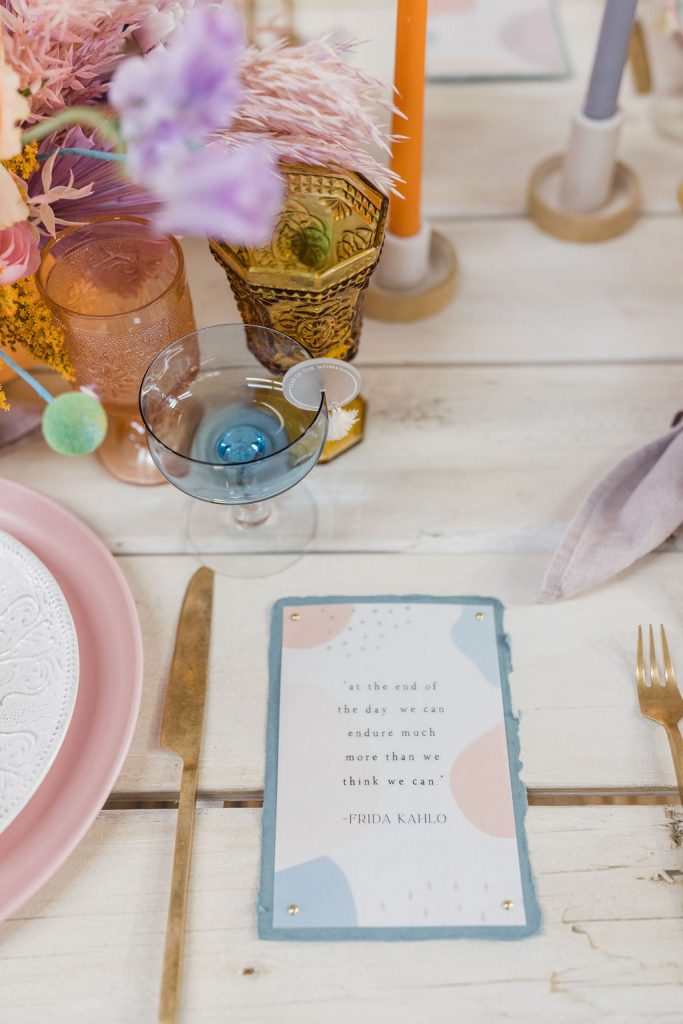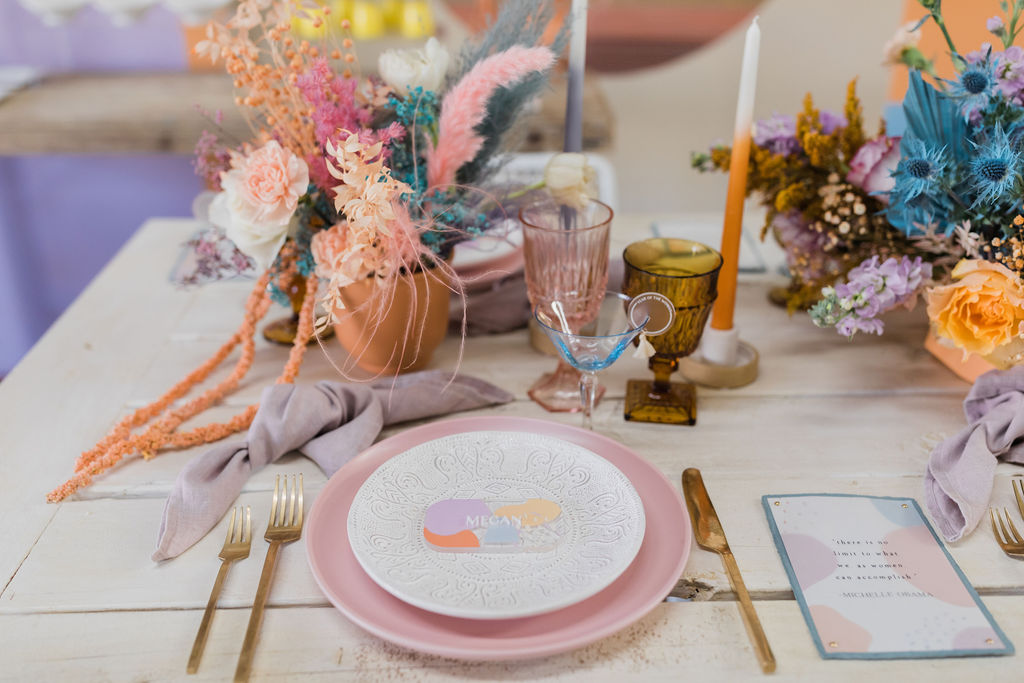 I always love these overhead shots!!! Did you notice those amazing candles? Sabrina added those in and I think they made such a fun statement!!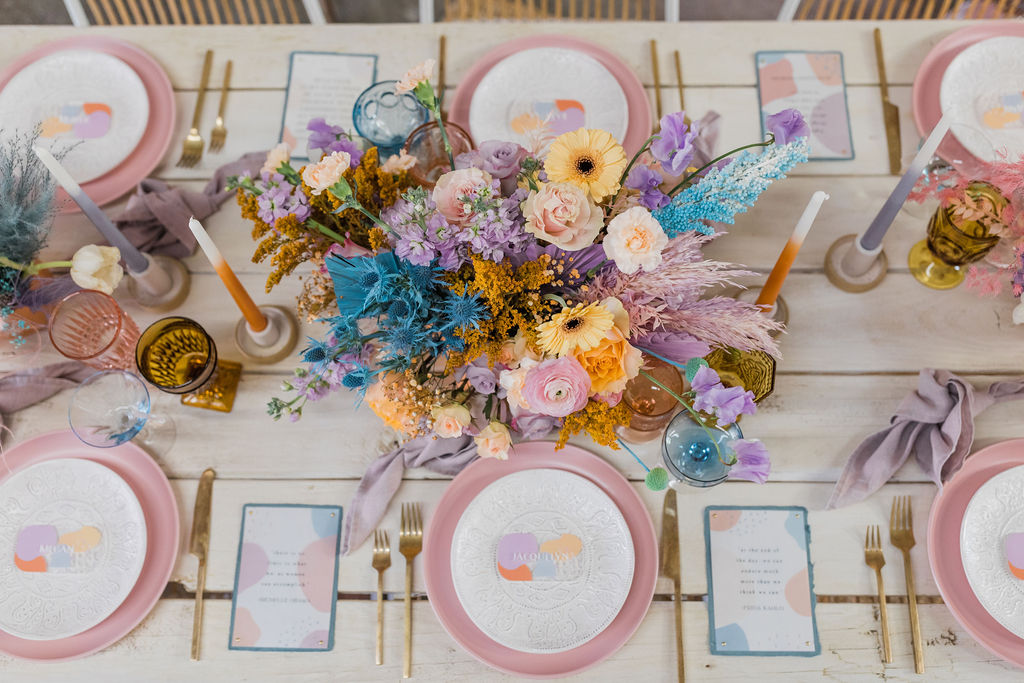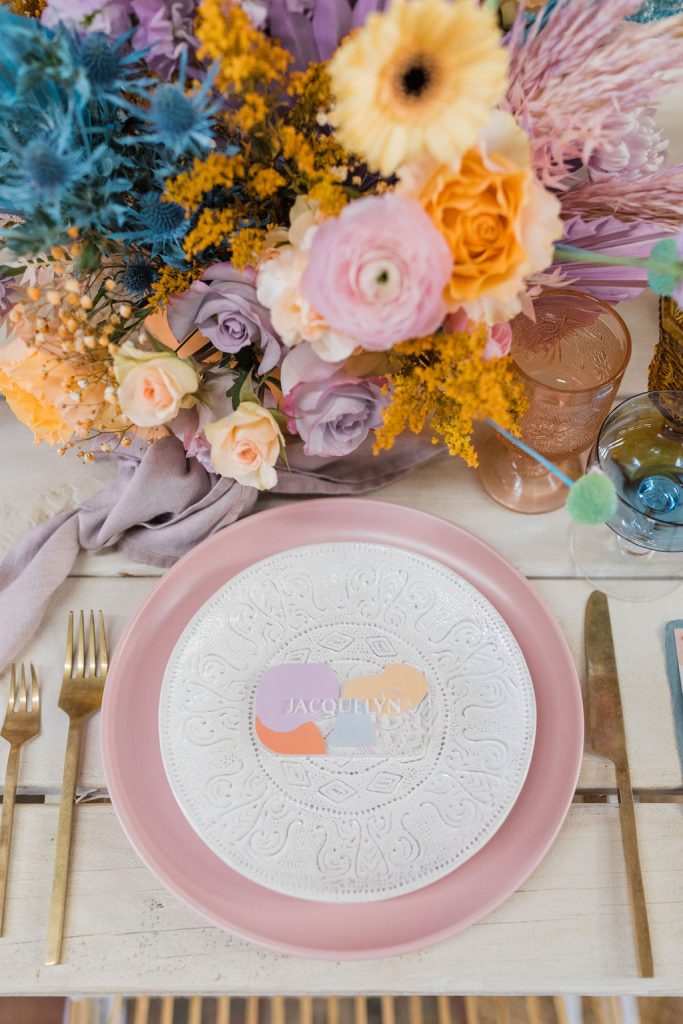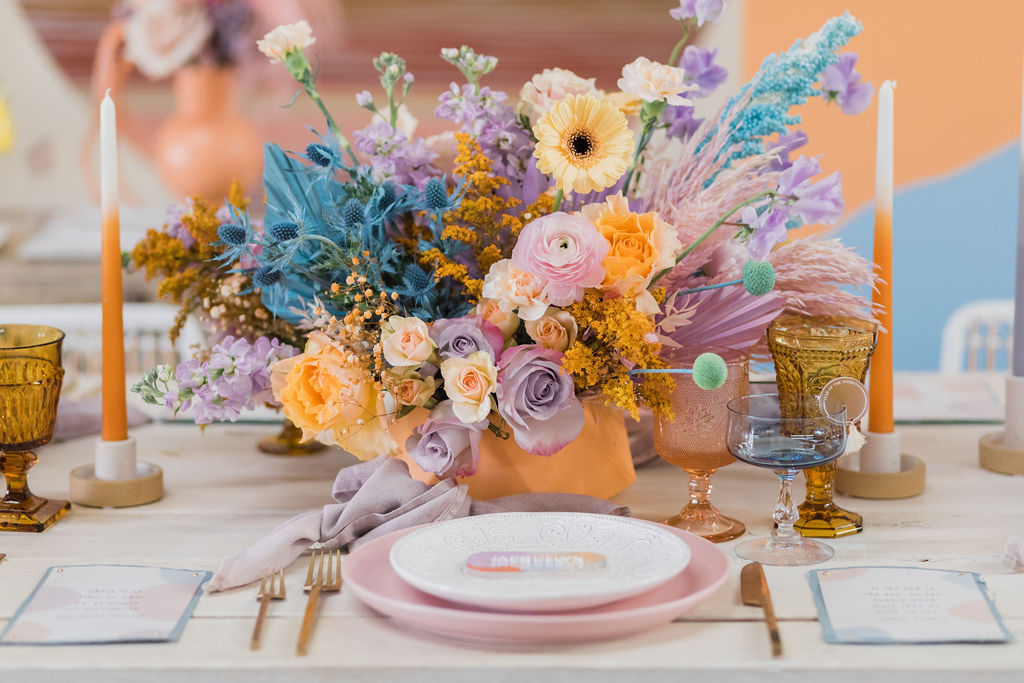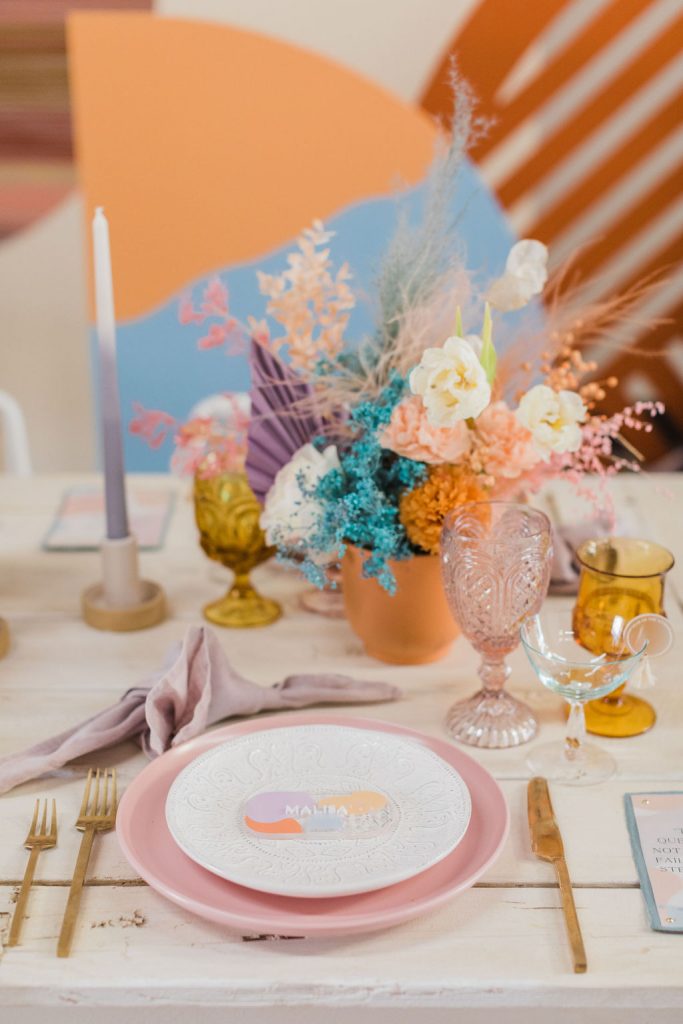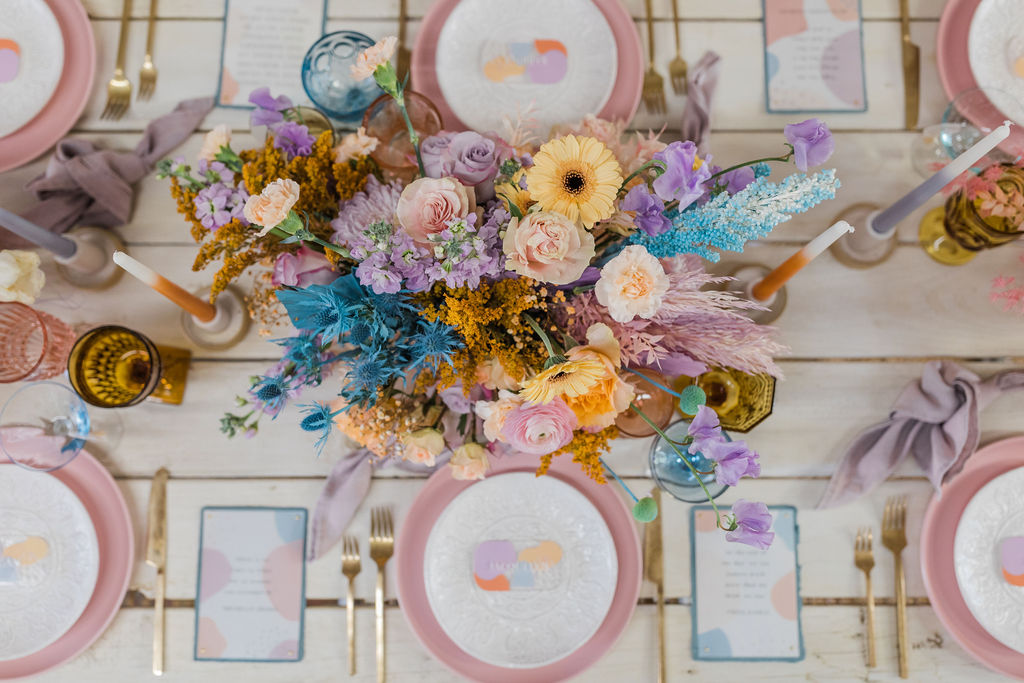 We'll get to that backdrop later – but man oh man!!! Alexis of The Shift Creative and Michelle Rogers blew all of our minds!!!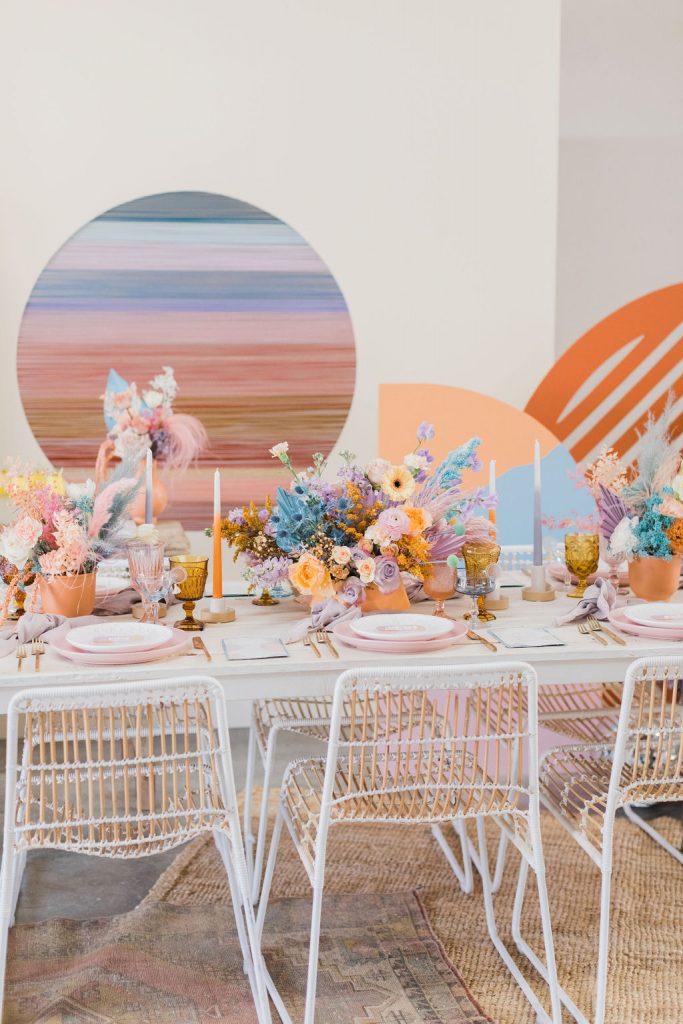 How about that pretty detail by Creative Amme? Those drink tags were so delicate and pretty, but with a strong statement! Just like us, women can be…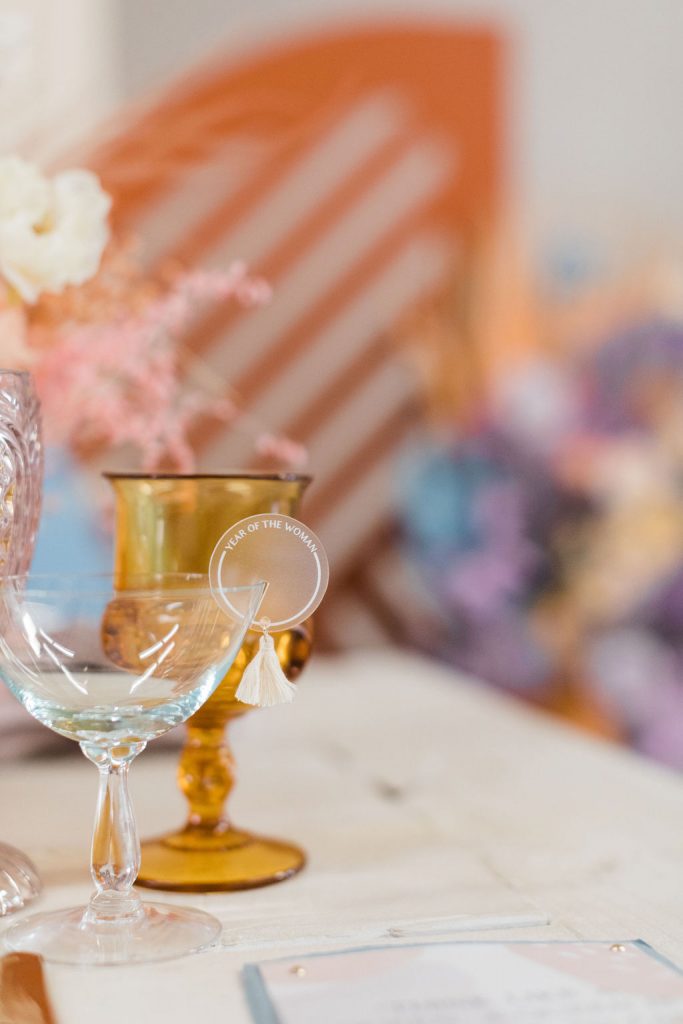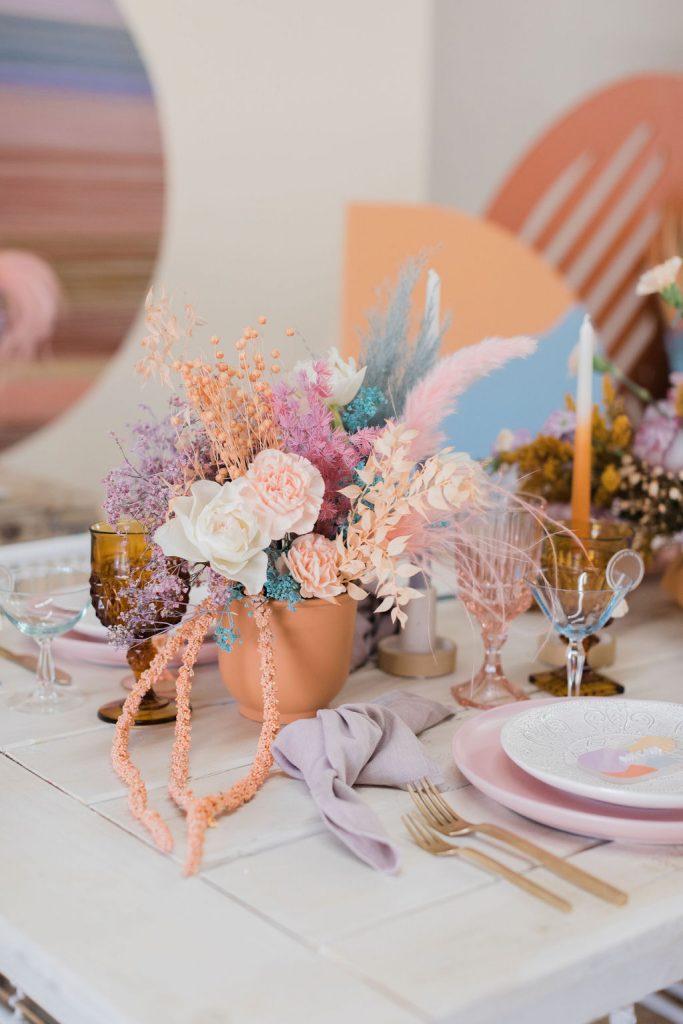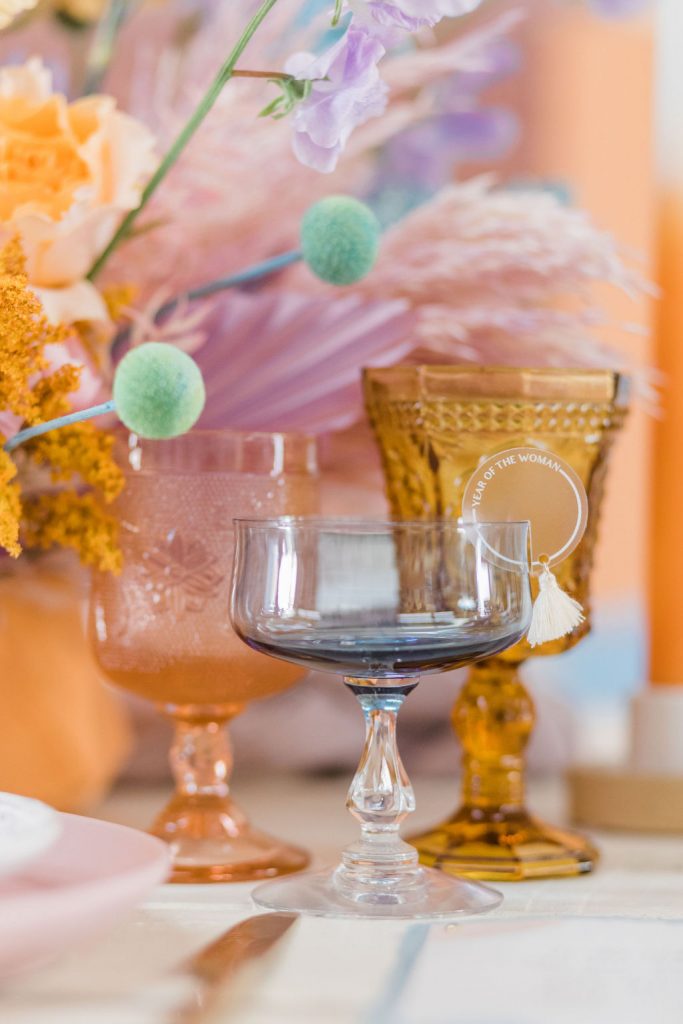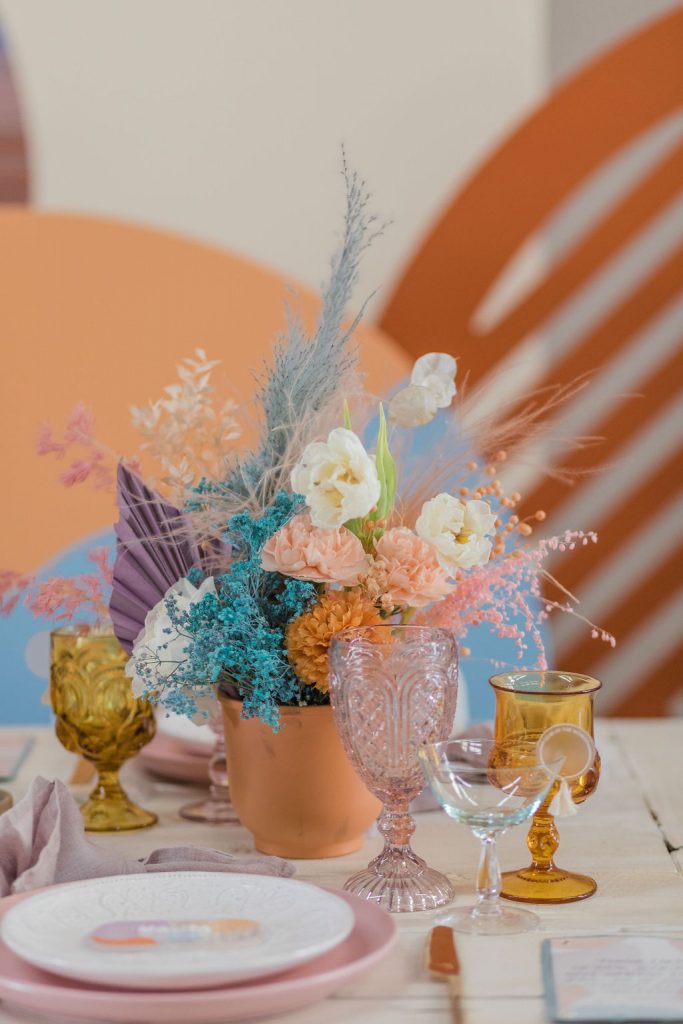 Another incredible element to the shoot were the florals! We worked with two talented florist companies – Lovestruck Blooms and Goldie Blooms. Together they have three bad-ass babes who knocked it out of the park with their amazing arrangements. They each took certain sections of the shoot and created beautiful pieces, but they all flowed together so well! Teamwork at its best!!!
Sabrina and I decided to throw in the disco balls through-out the shoot because to us they represent a celebration, and International Women's Day is a true reason to CELEBRATE!!!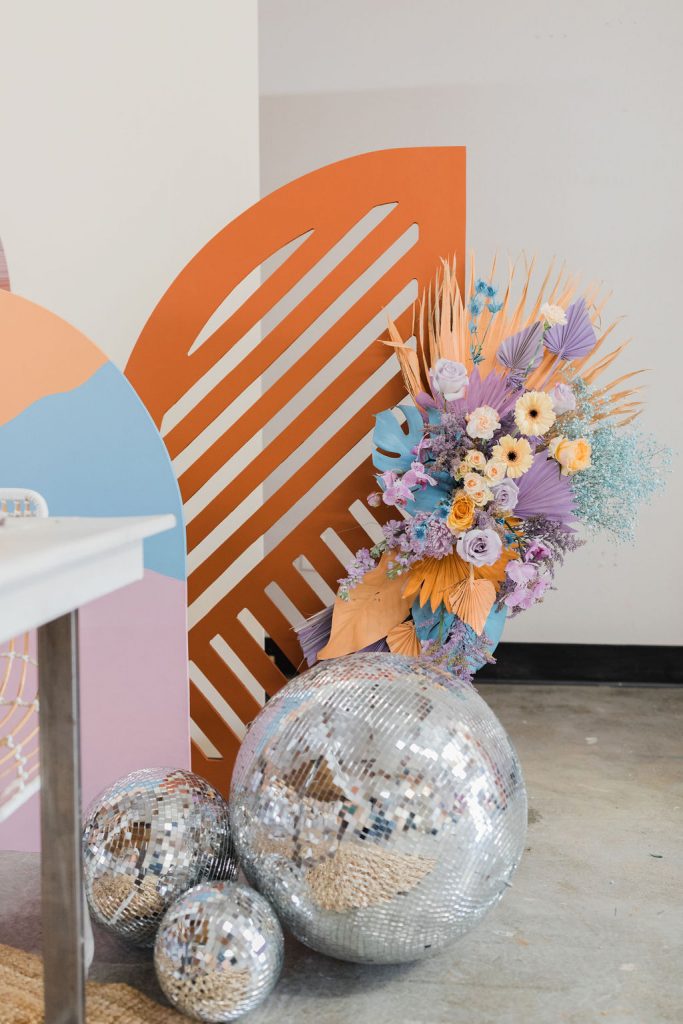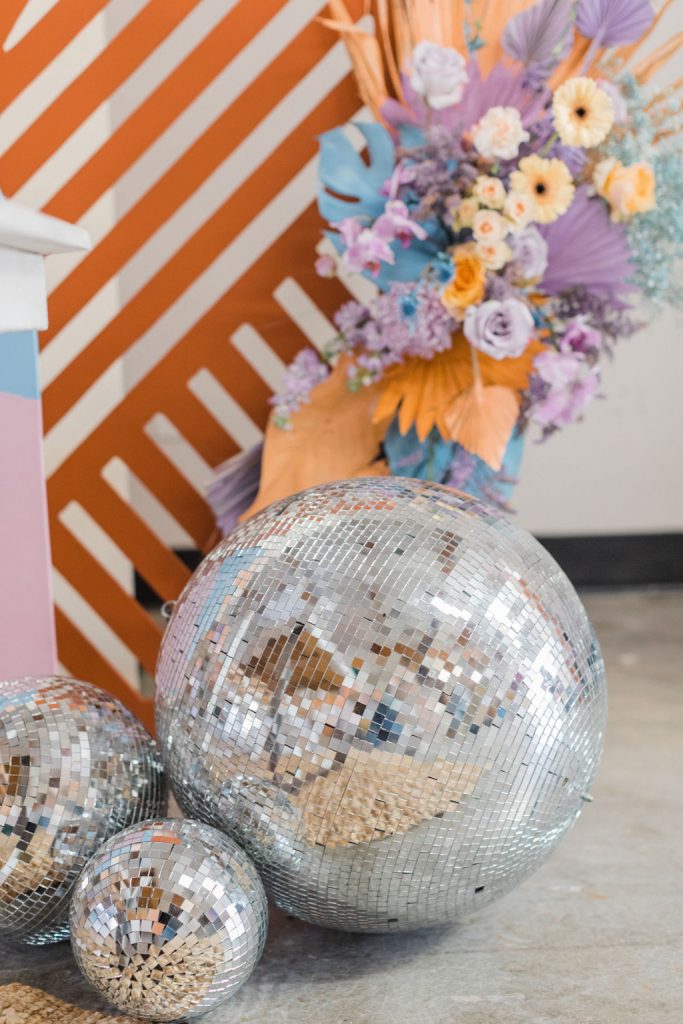 Isn't our table gorgeous?! I'm just so happy how it all came together and so proud of what us creative women can do!!!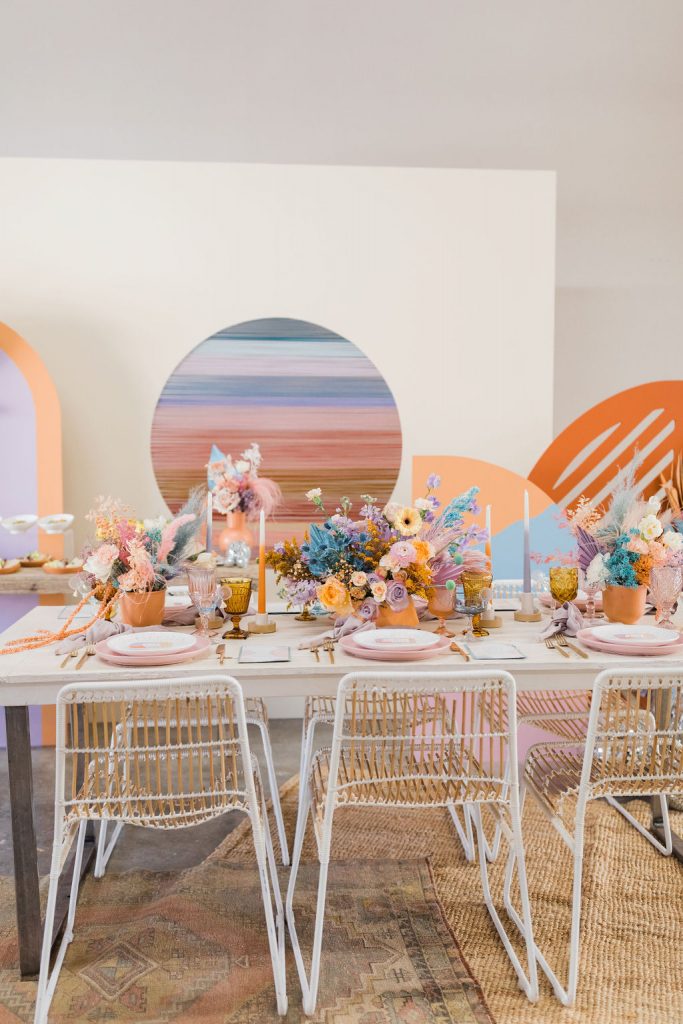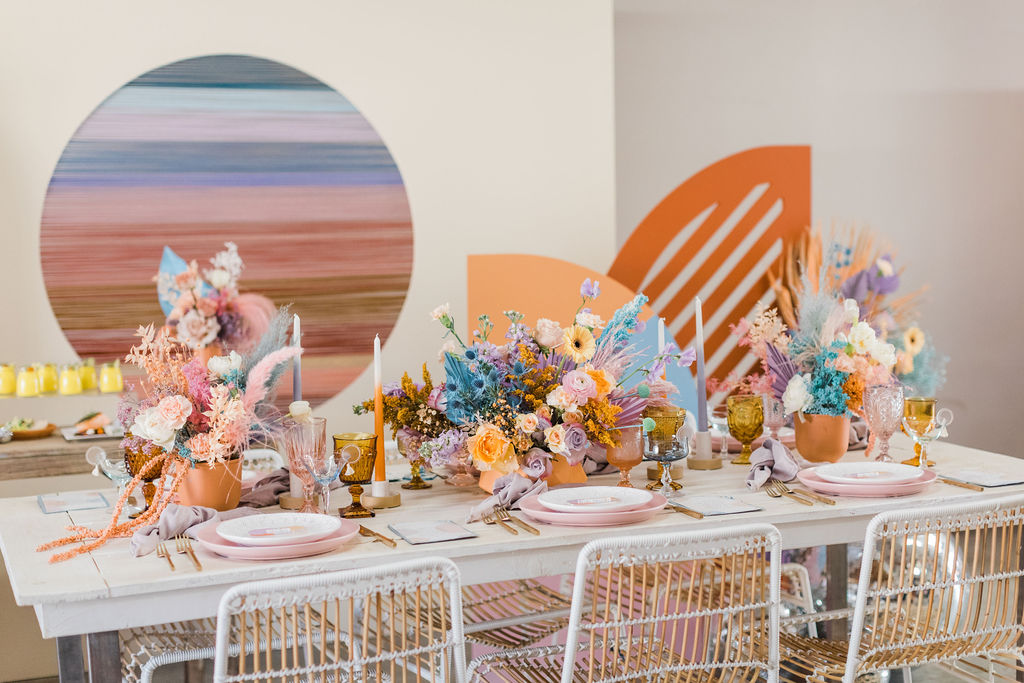 There's my girl Sabrina from Golden Arrow Events & Design and myself! I had so much fun with her on this one, look out for more teamwork from us in the future!! It's amazing that we can work together doing the same thing so well and support each other in our own businesses. There's enough work out there for everyone, so better to share the love than be competitive in my opinion!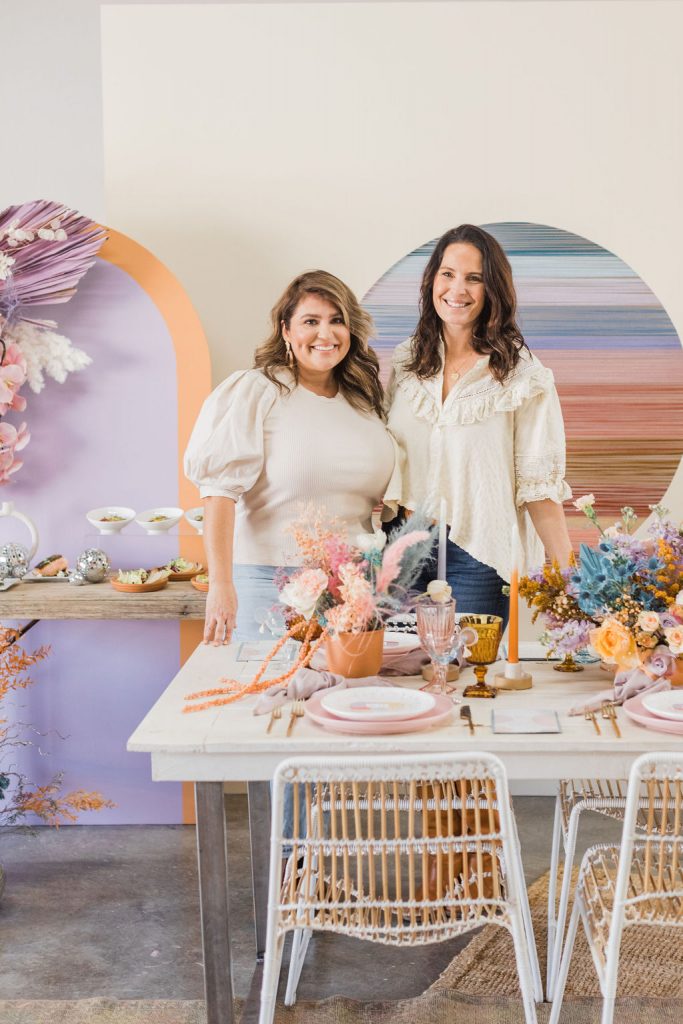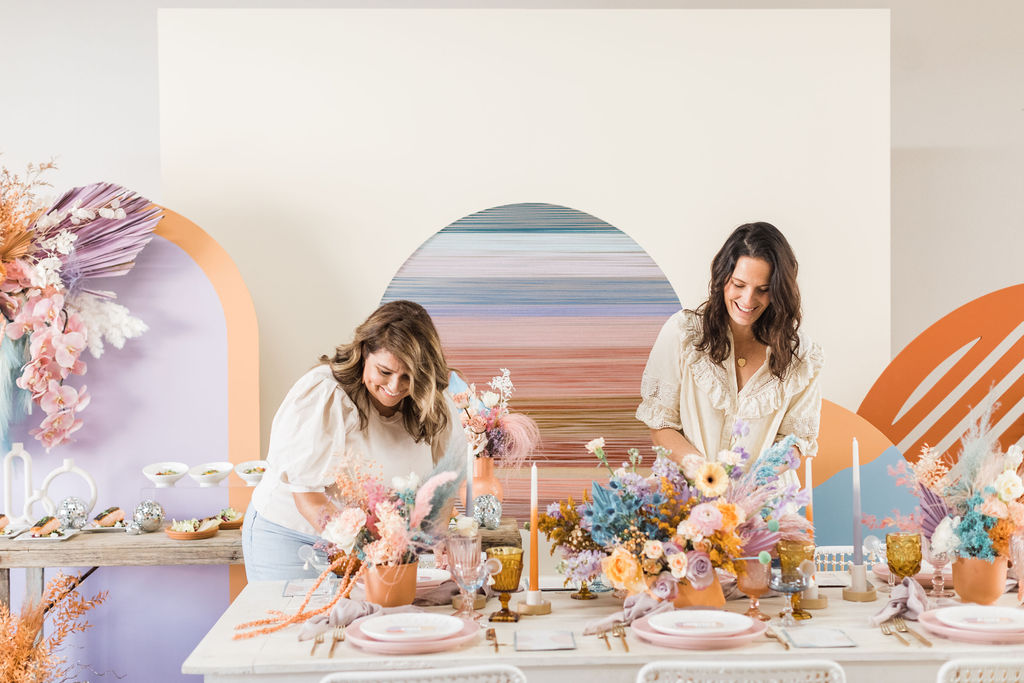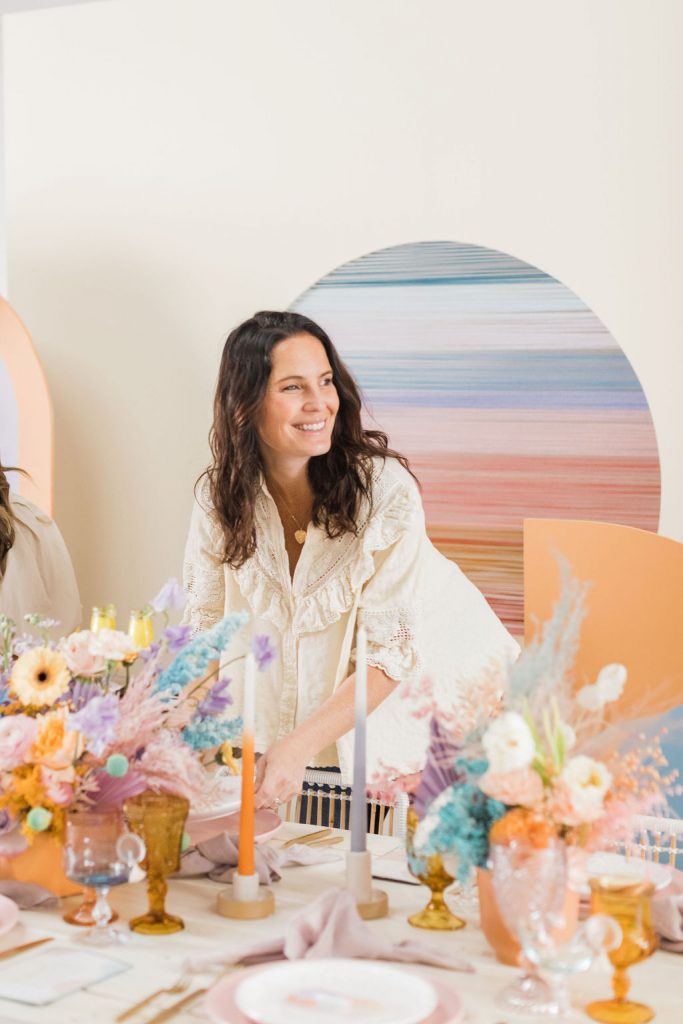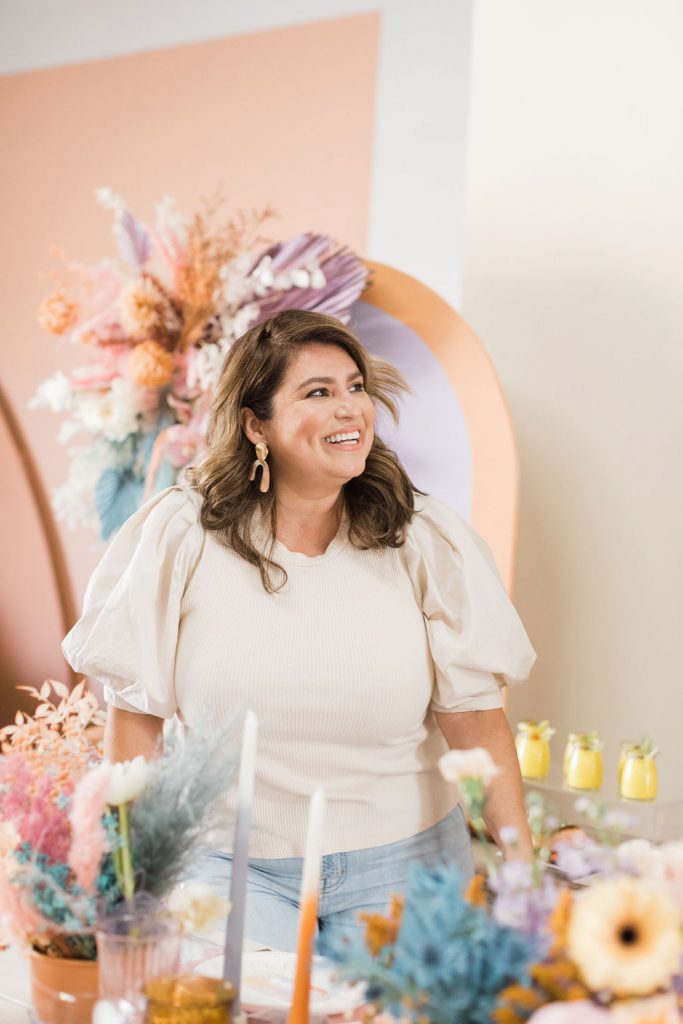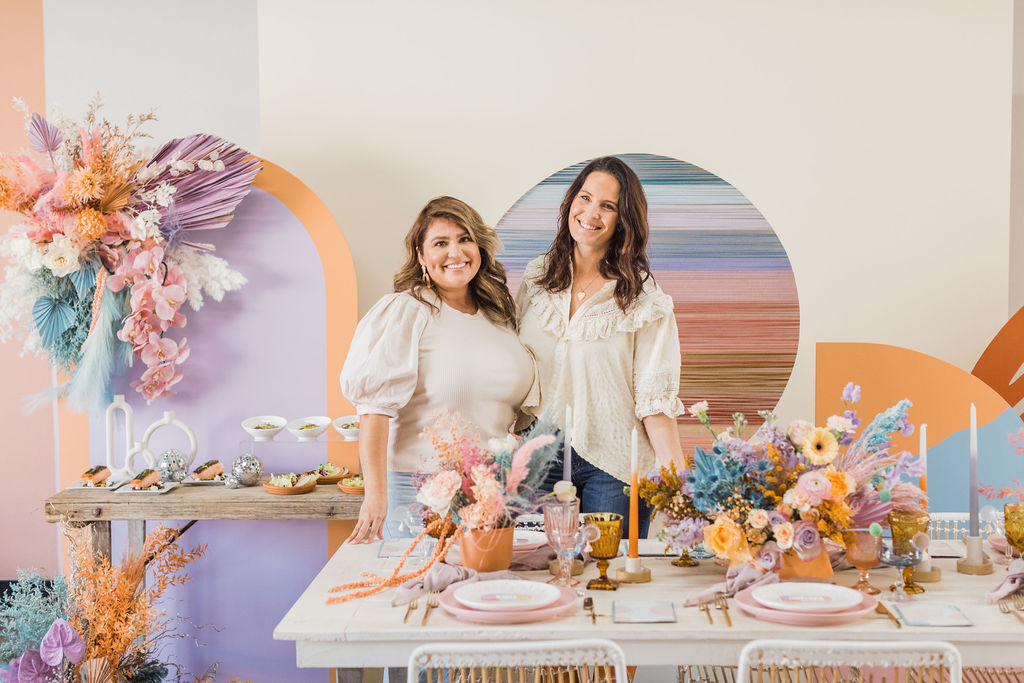 Hard work pays off! This set up is a dream!!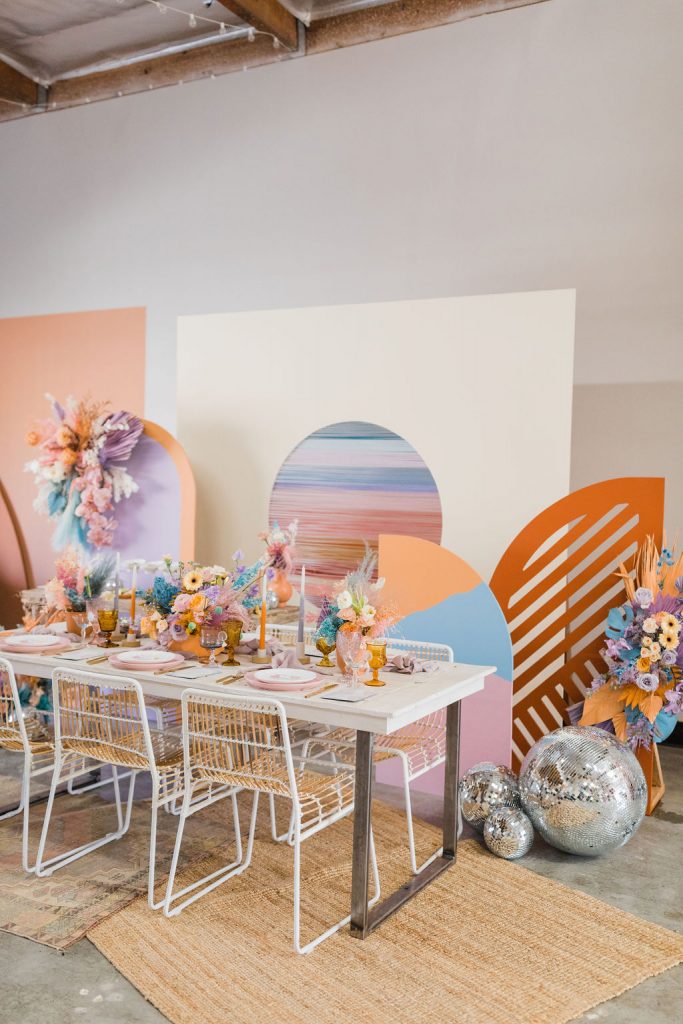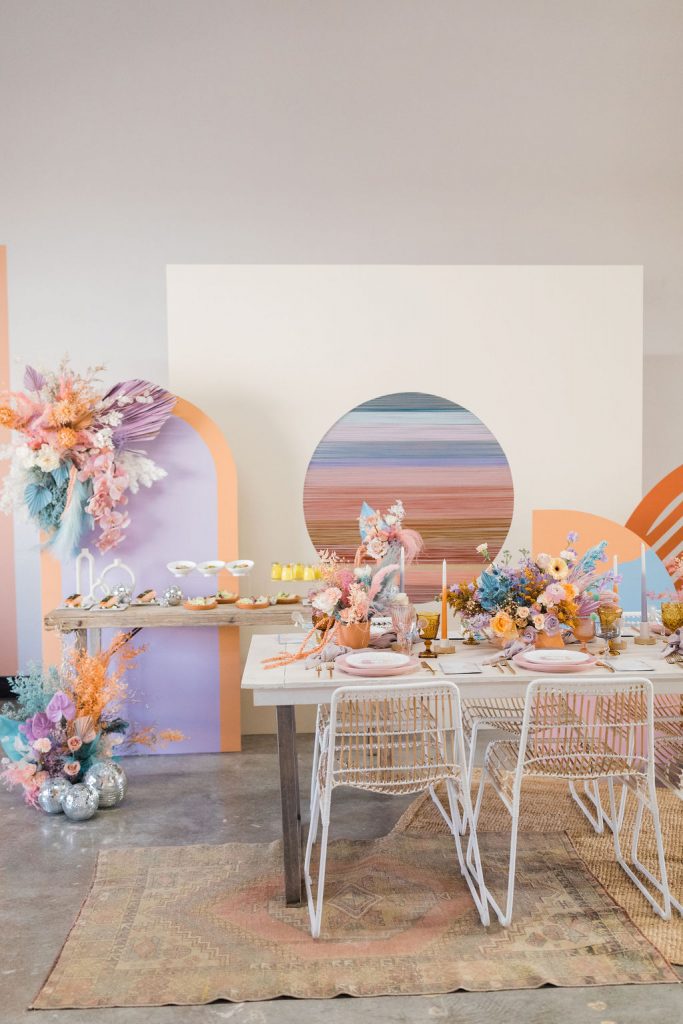 You didn't think we'd have a shoot without some delicious food, did you?! It can make or break a party… Great food is always memorable!! Of course, we turned to our friends at Colette's Catering, a woman-owned catering company. They created a variety of bites that were not only delicious and colorful but also Covid friendly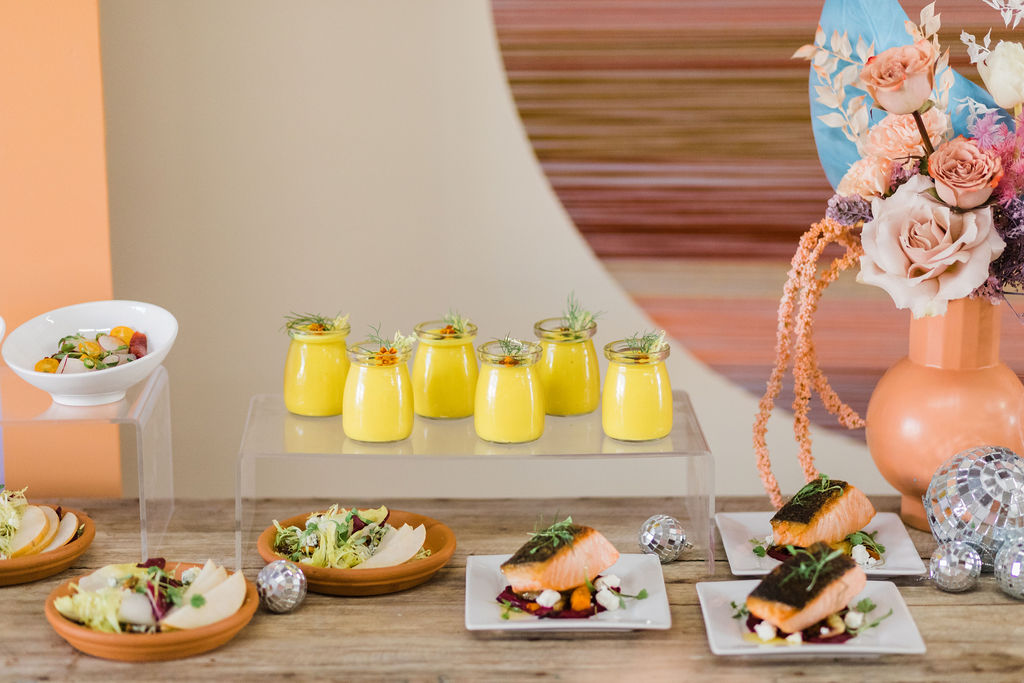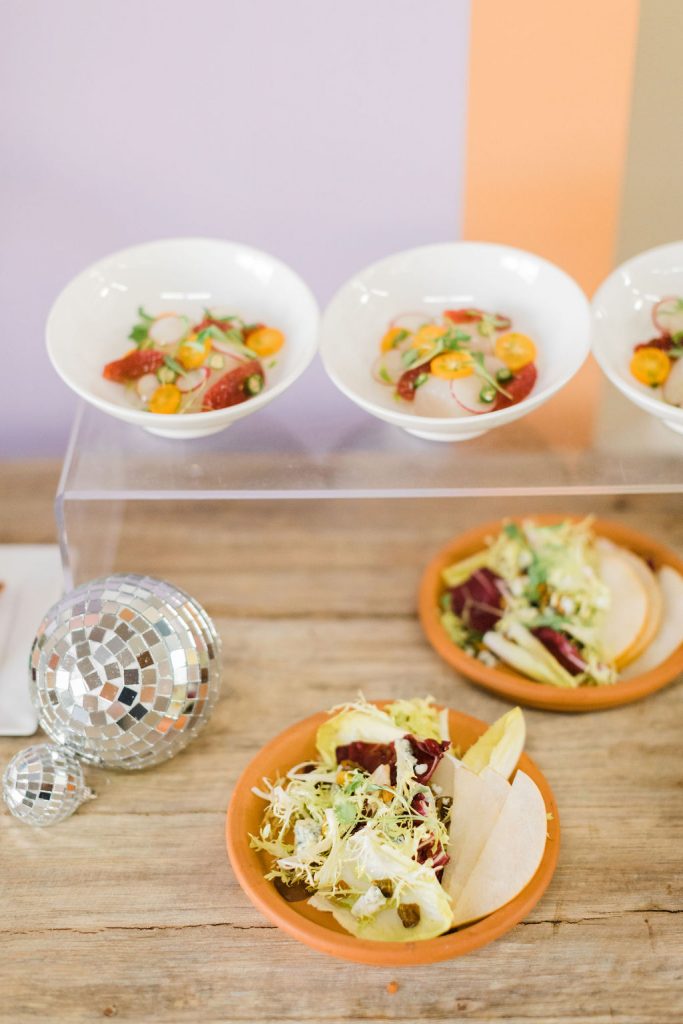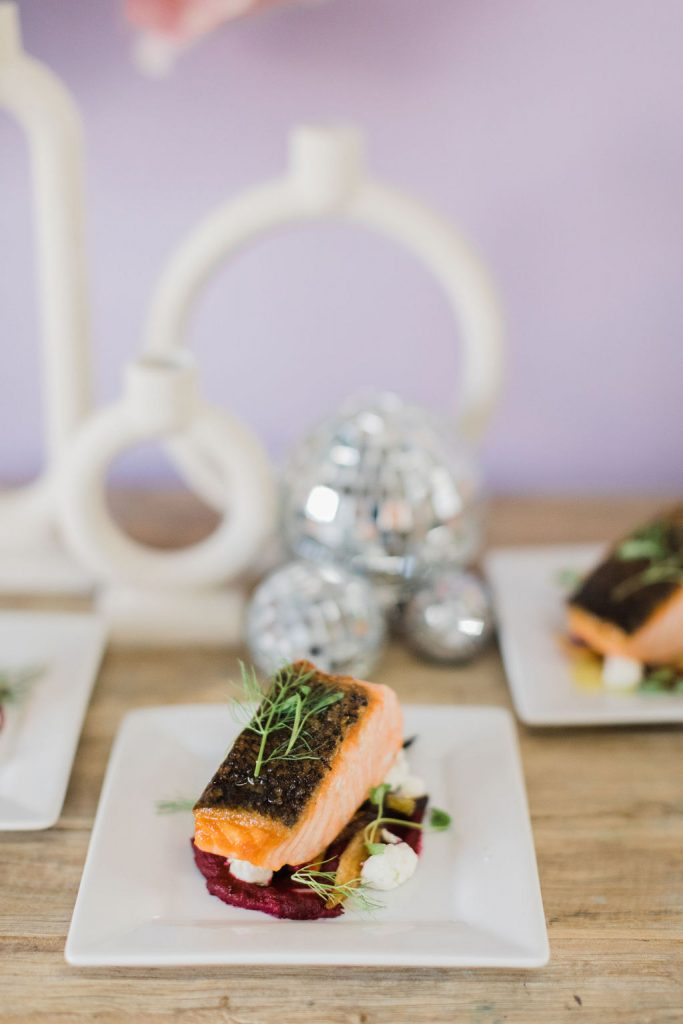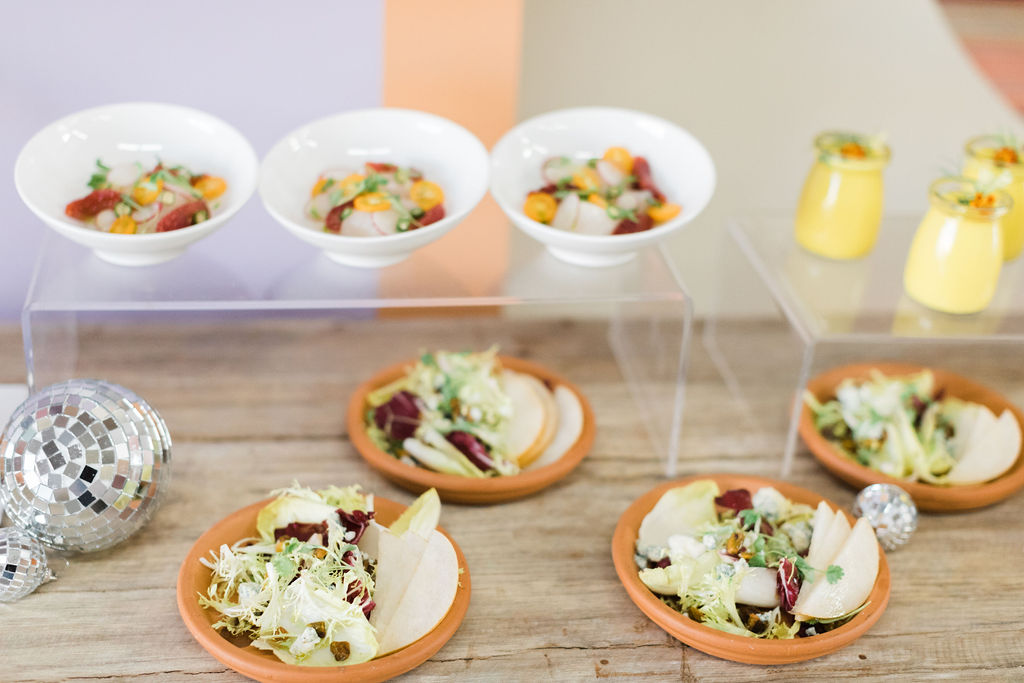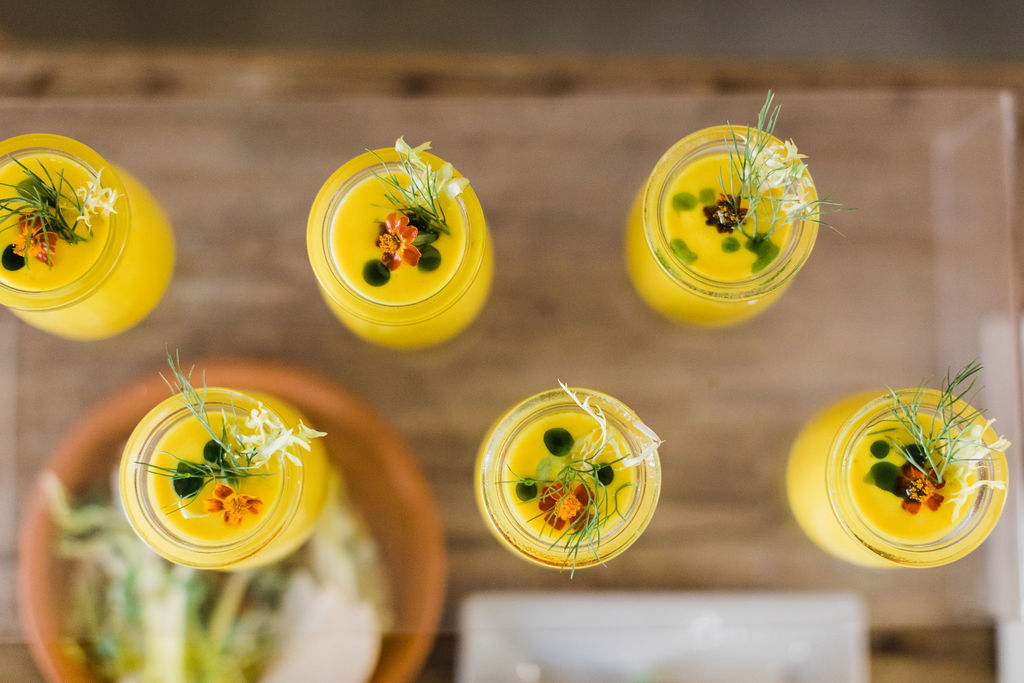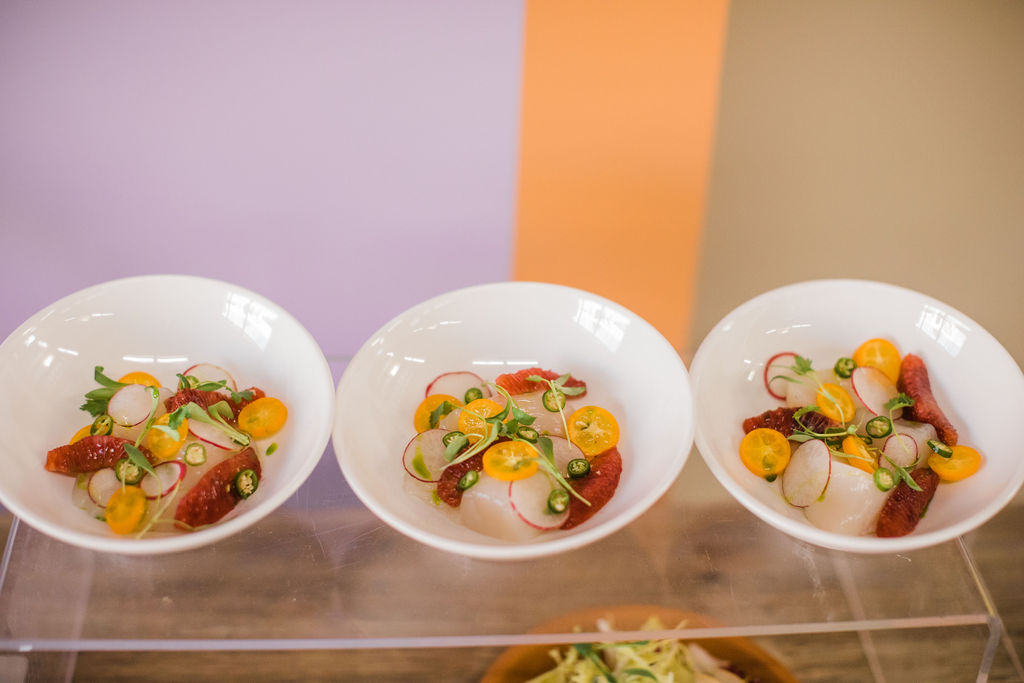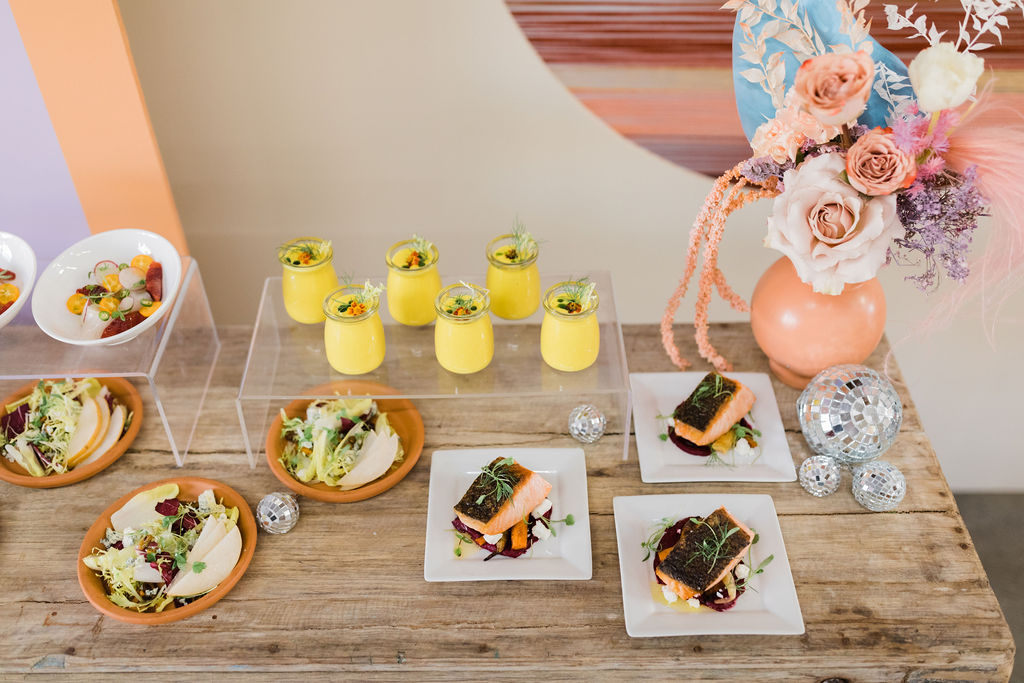 There's Sarah, the Creative Director of Colette's Catering. She is the mastermind of all of their creative endeavors and works closely with the chef on all events. We love and appreciate her so much!!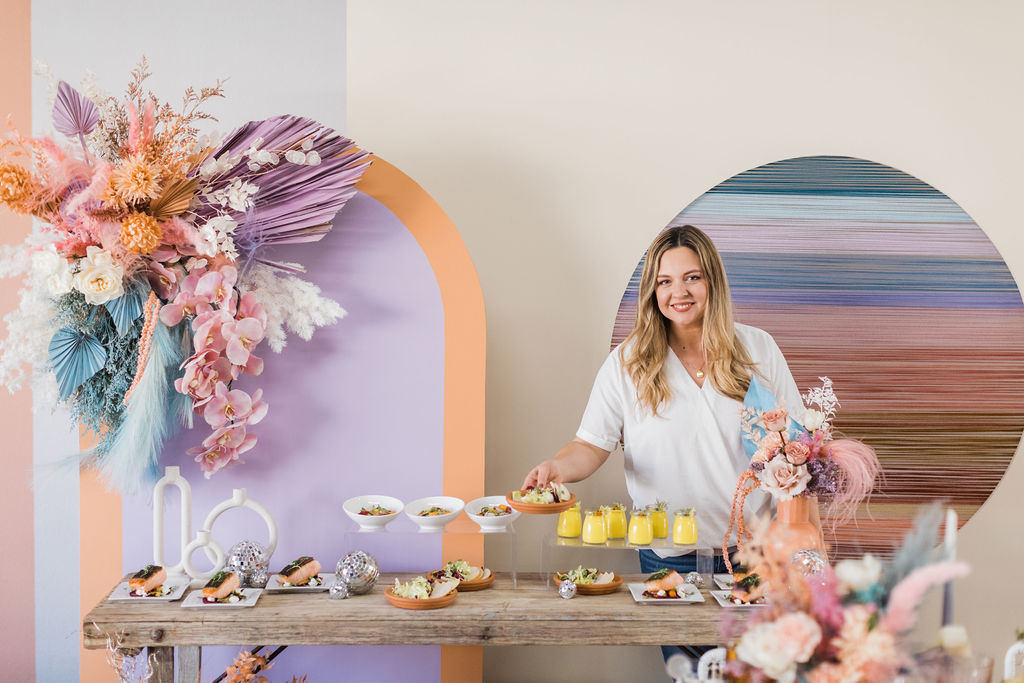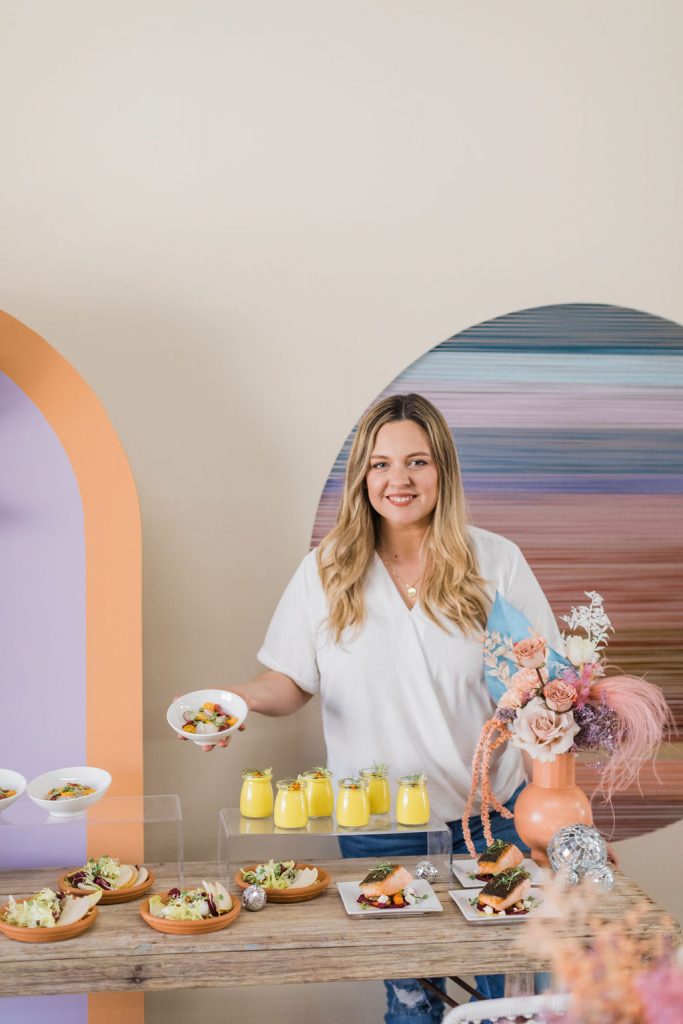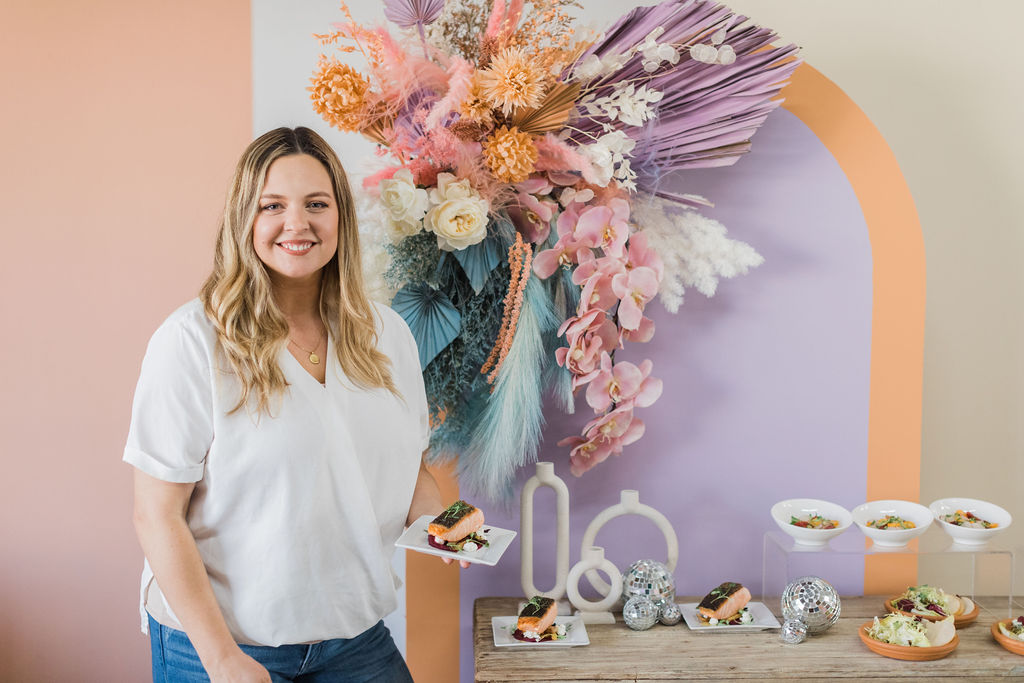 I know I already gushed over the florals, but let's do it a little bit more because WOW!!!! These are just so amazing and as I always say, flowers make the event!! The vibrant colors and mixture of dried and fresh florals are just too good!!! Cheers to Lovestruck Blooms and Goldie Blooms for making magic!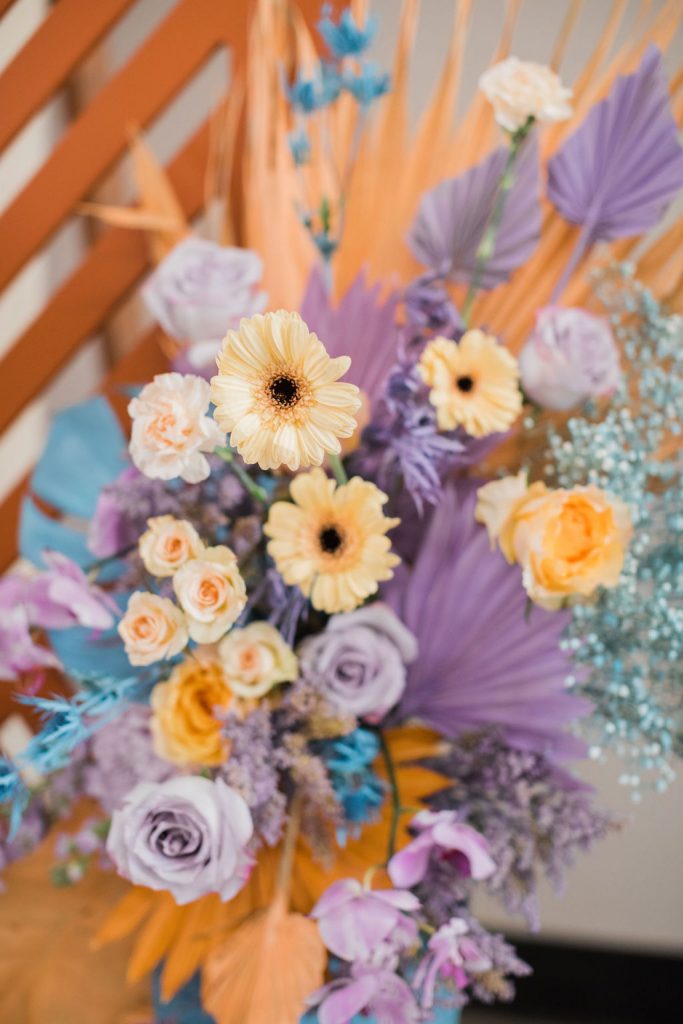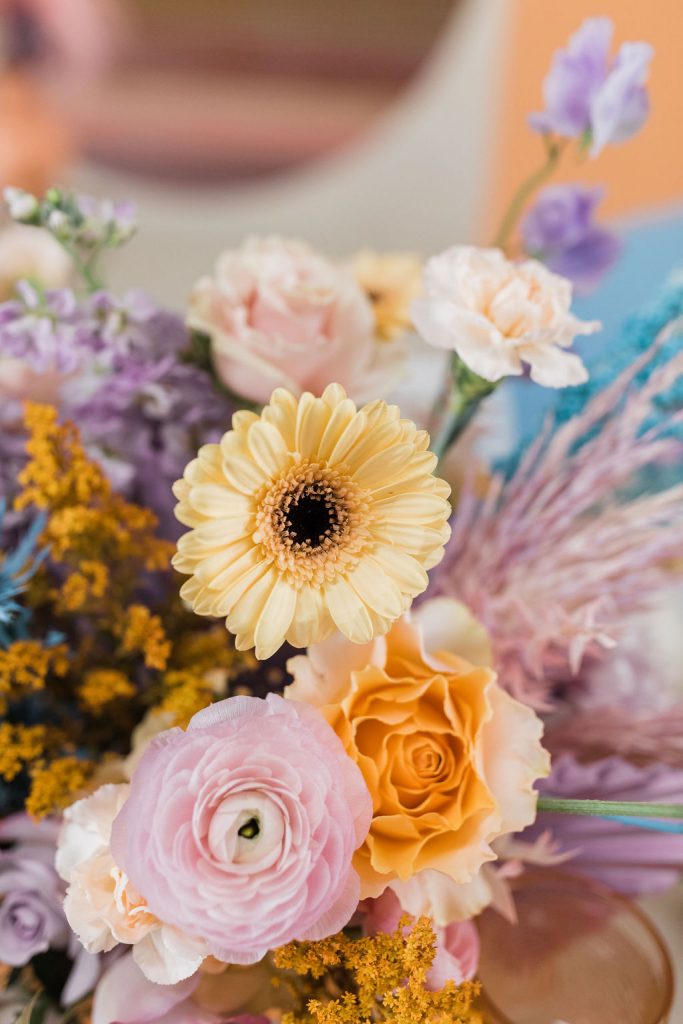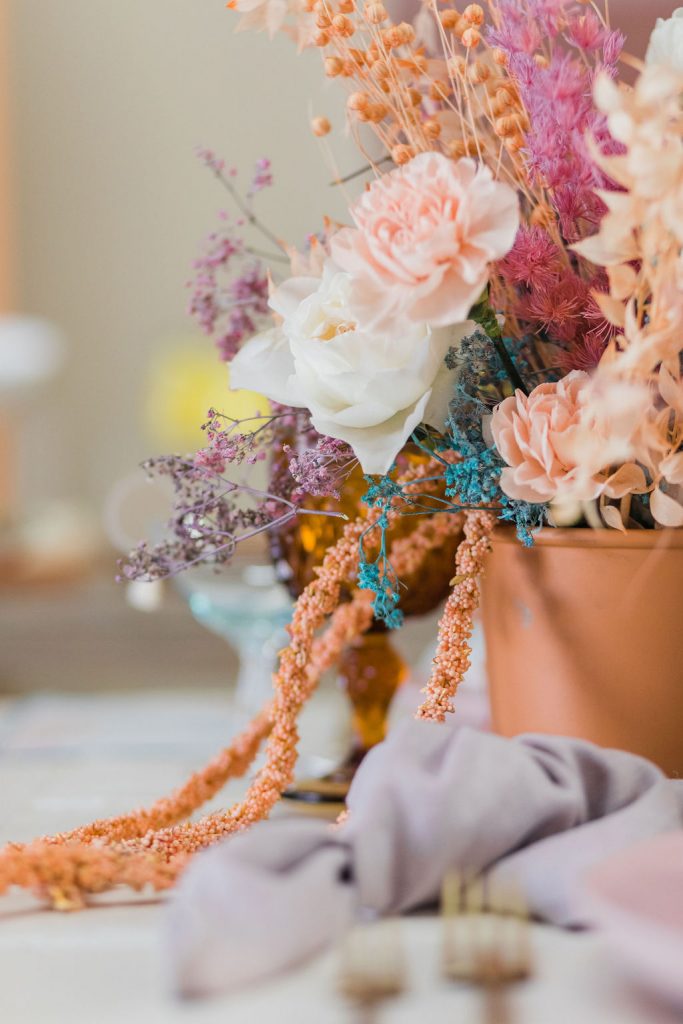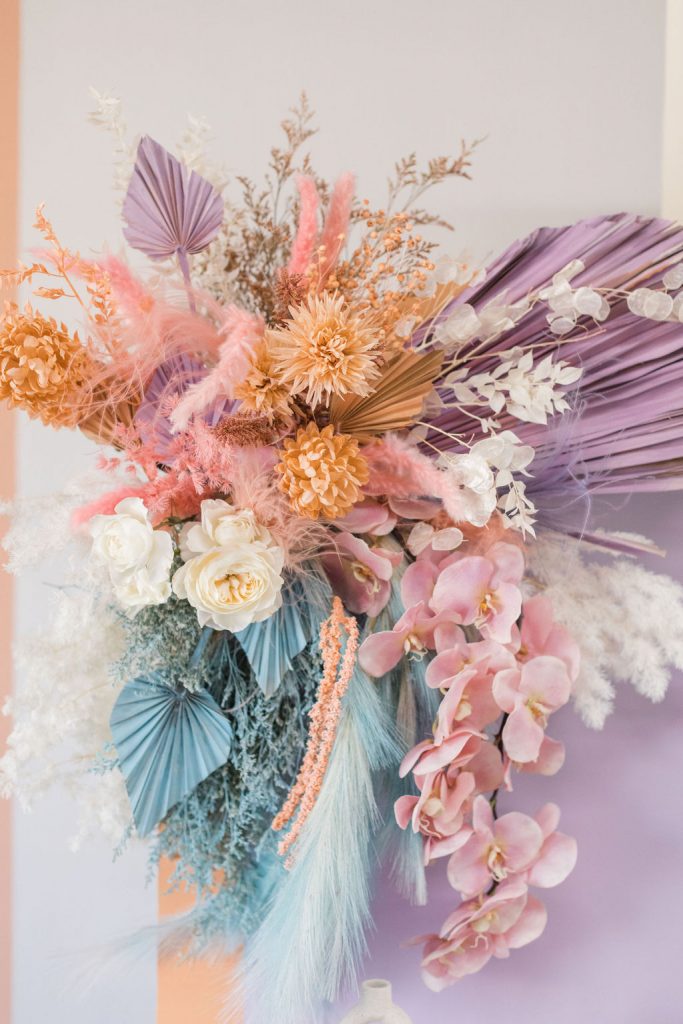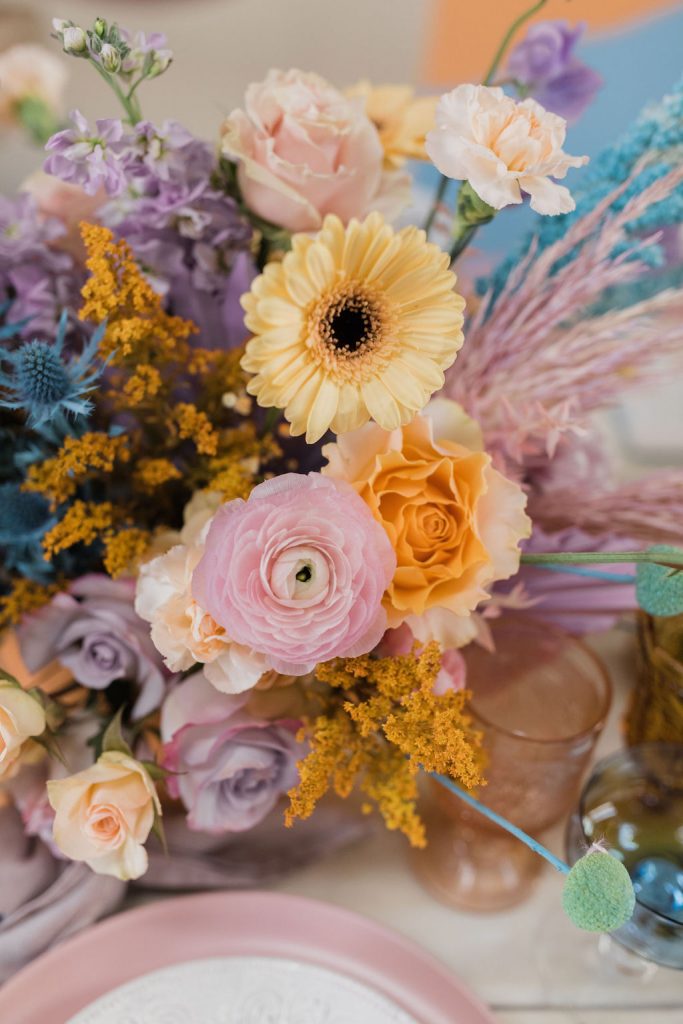 Here's Gabby from Goldie Blooms working away on their gorgeous install!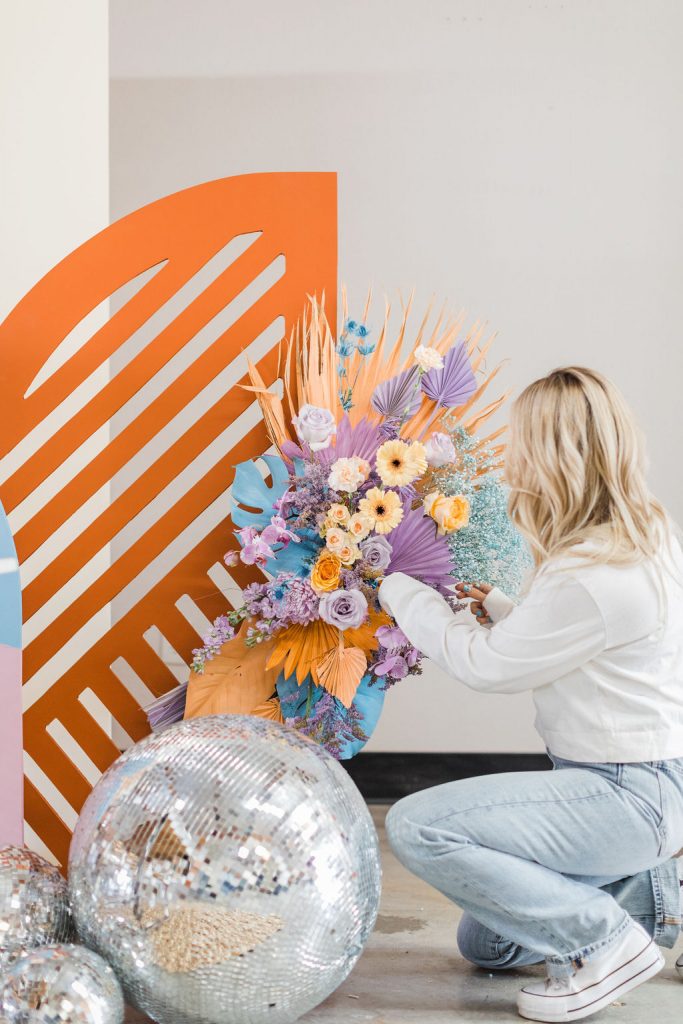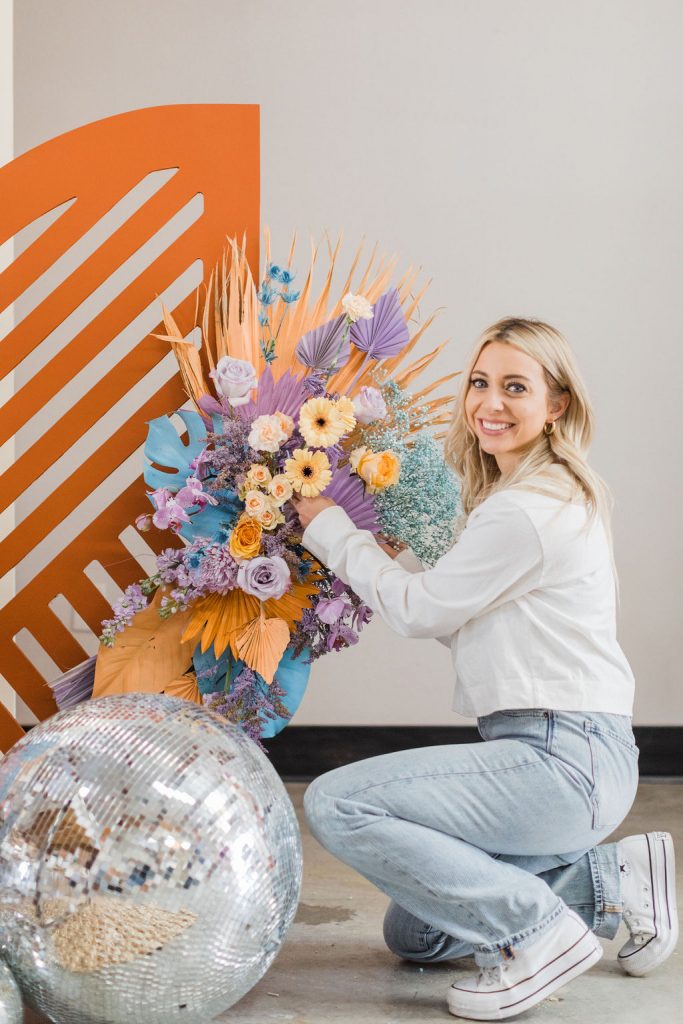 And her partner in crime, her sister Angel! These sisters work so well together, I love their work!!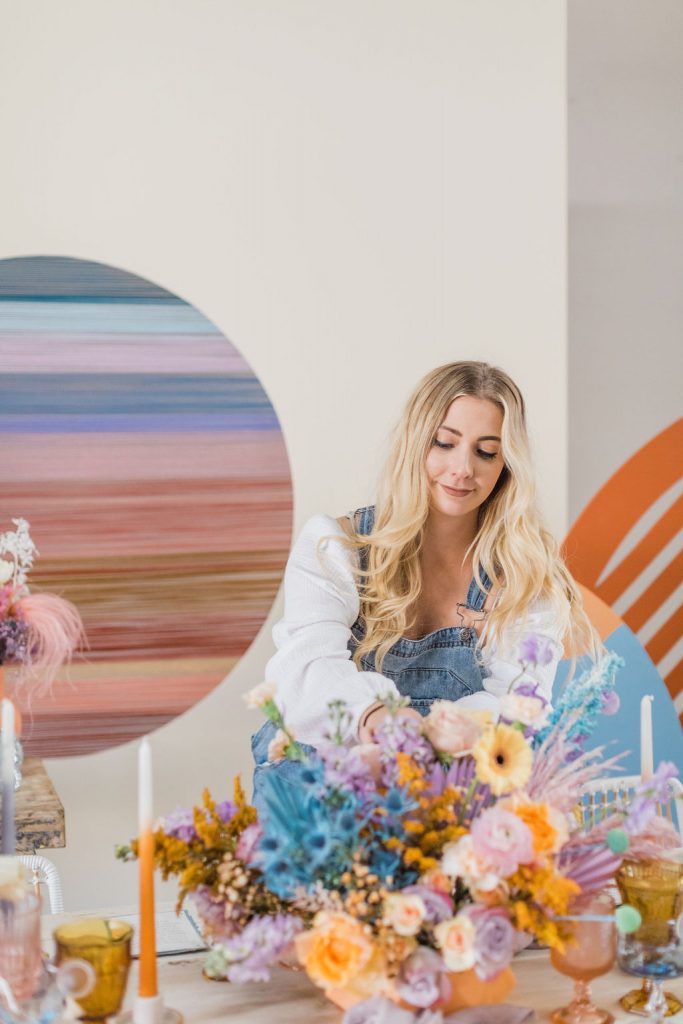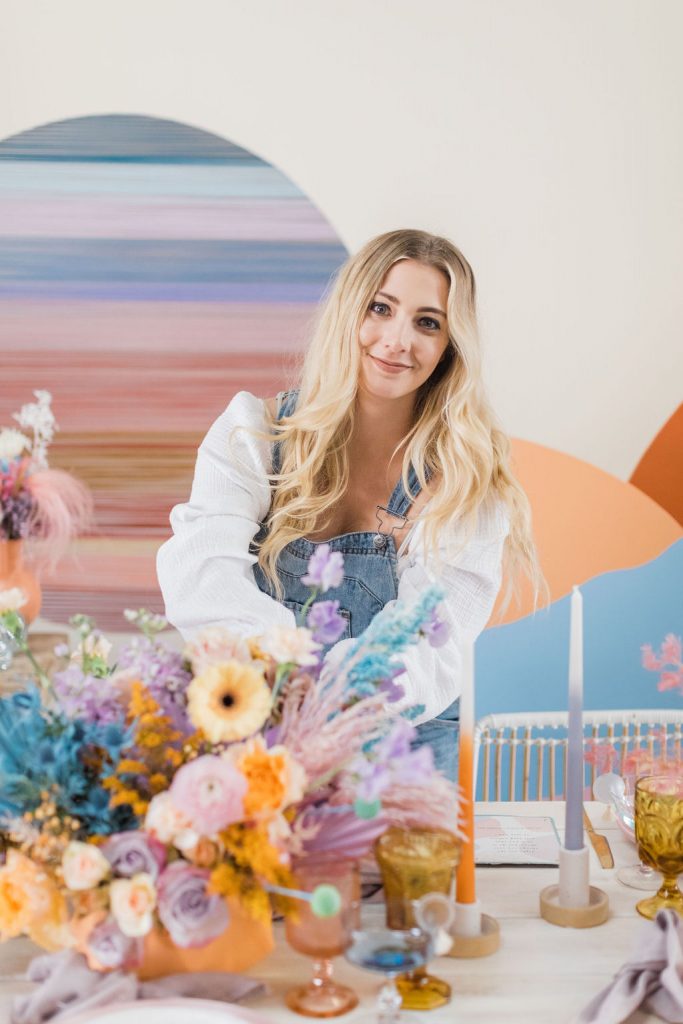 And here's Megan of Lovestruck Blooms who is so fun to work with! All three of these ladies are super talented and I'm so glad I met them through this shoot!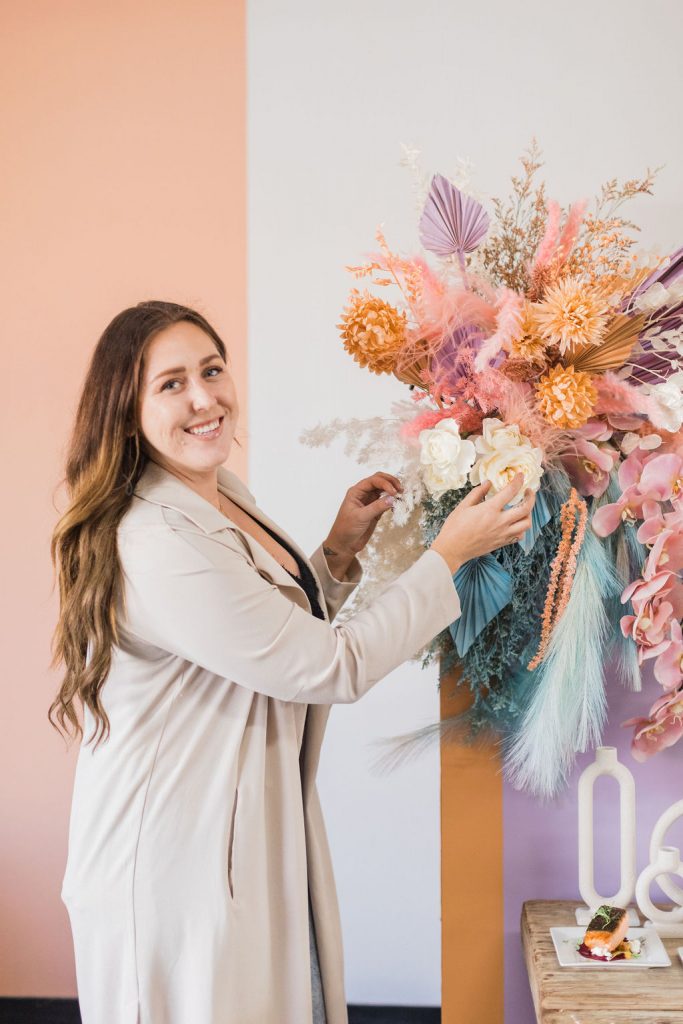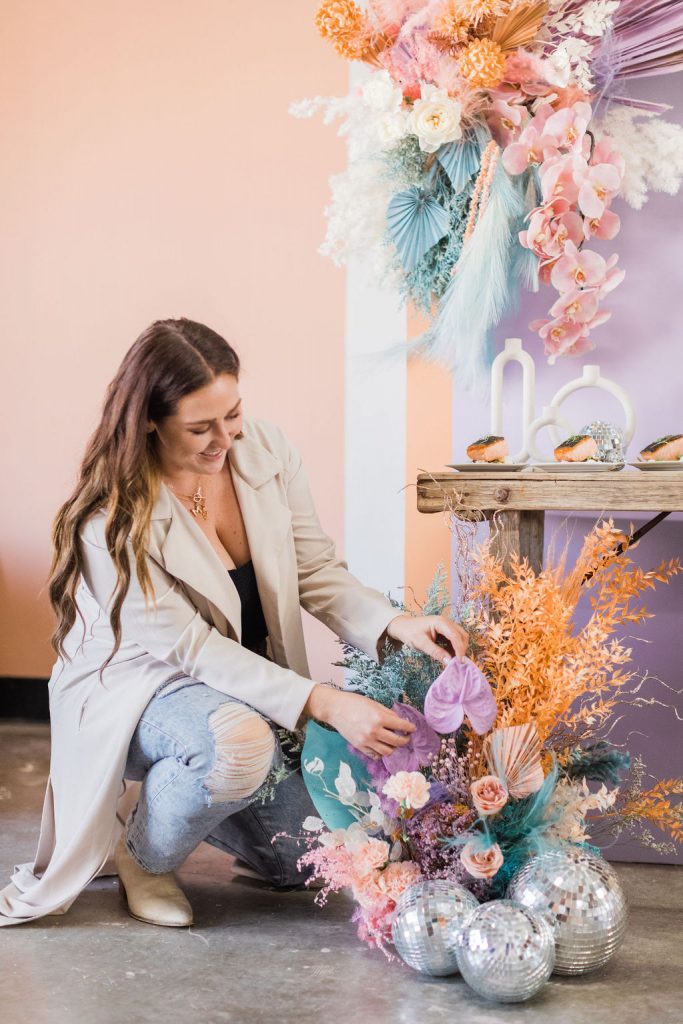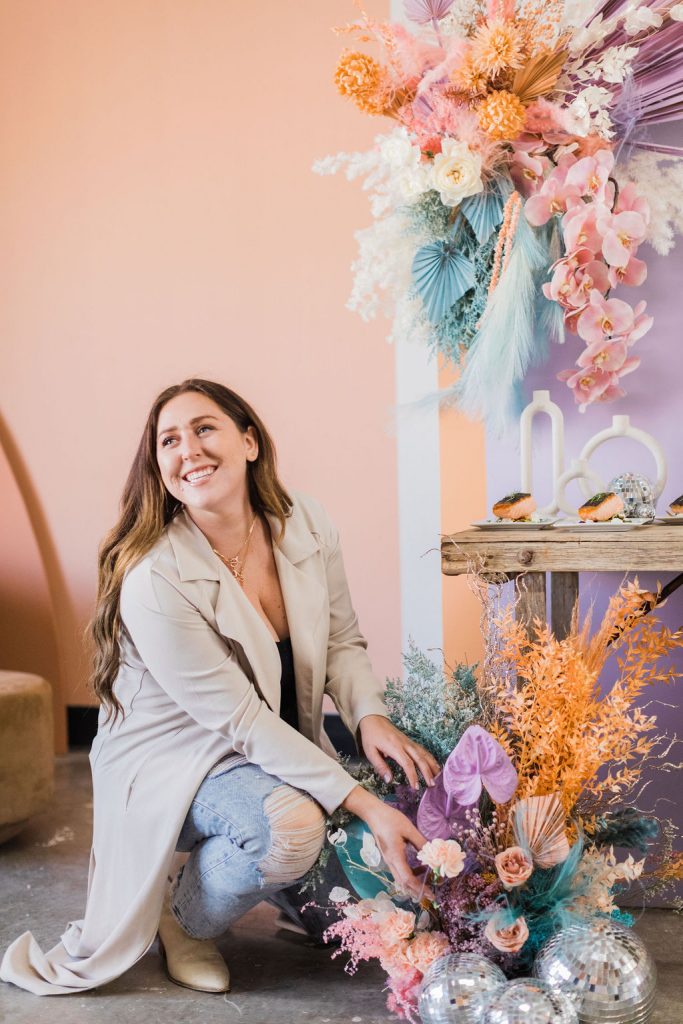 Here are a few other pretty faces from our rad shoot! Malisa of Creative Amme and Samantha of Hostess Haven! It was so fun having everyone in one place for this shoot!!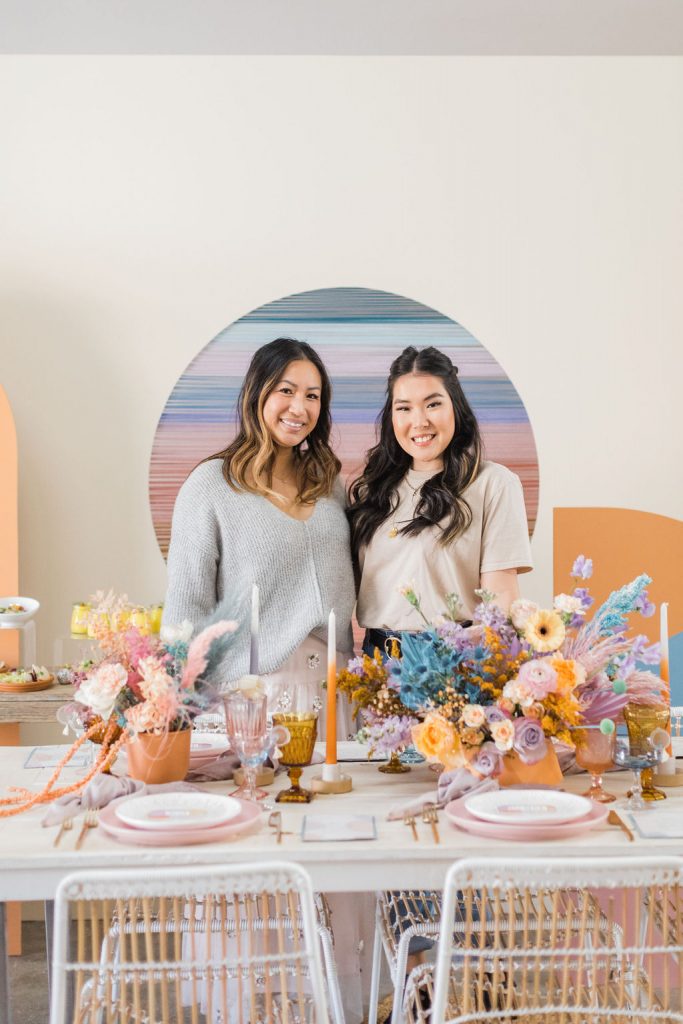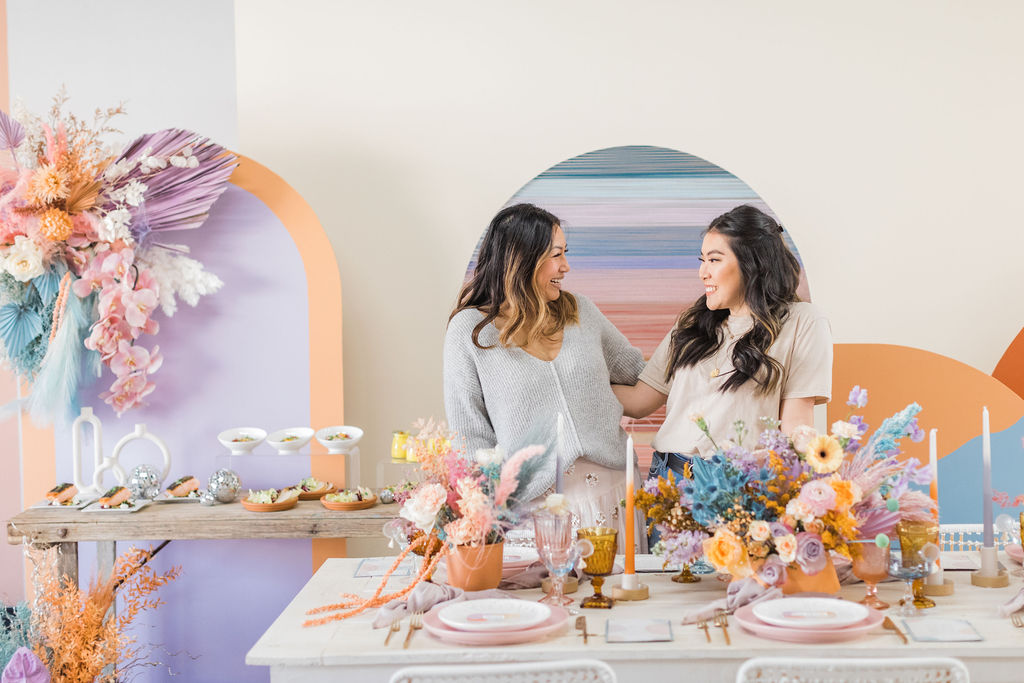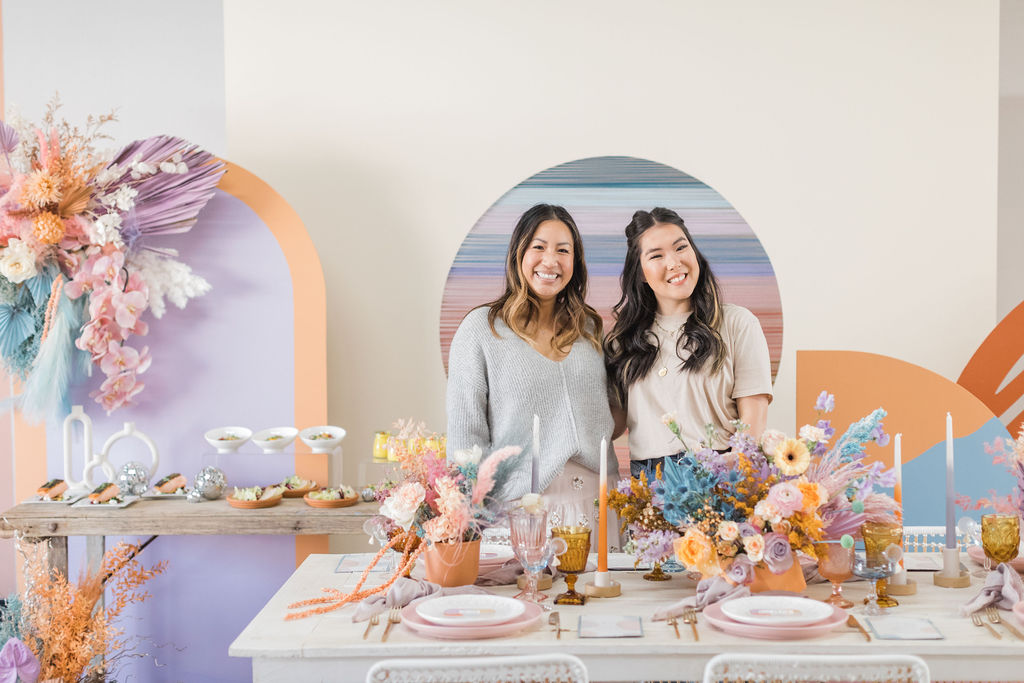 Moving on to desserts!!! And boy is there a lot of talent here as well!! There were lots of color and fun details that we were all fawning over! But first off, how about that gorgeous rattan shelf? All of the rentals for this shoot were from my favorite Marnie of Sweet Salvage Rentals. I'll share more on her later… First, dessert!!!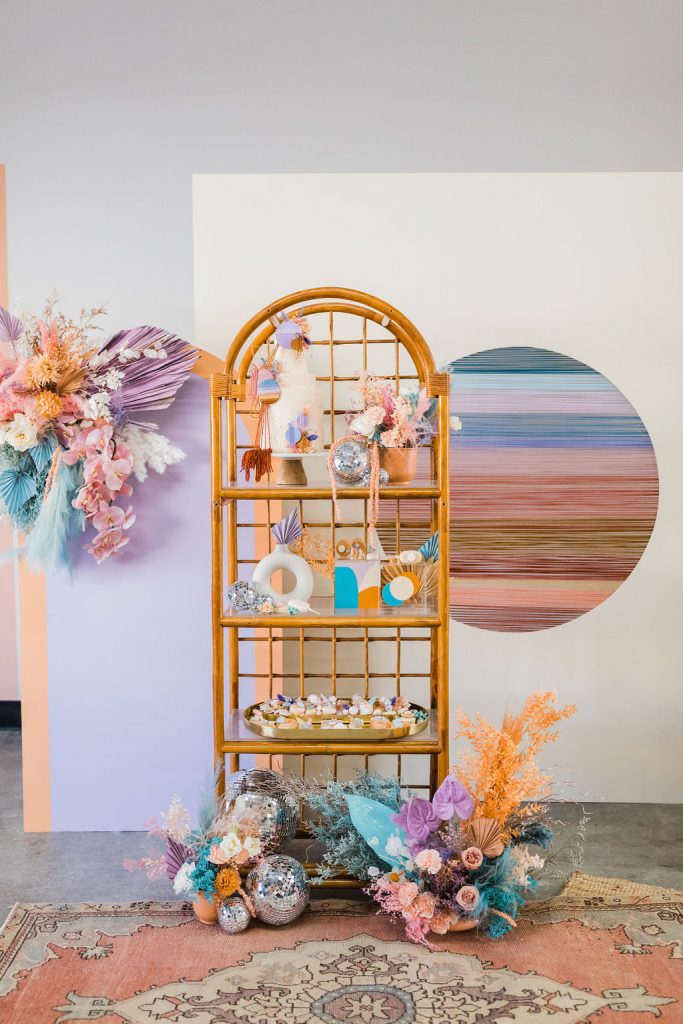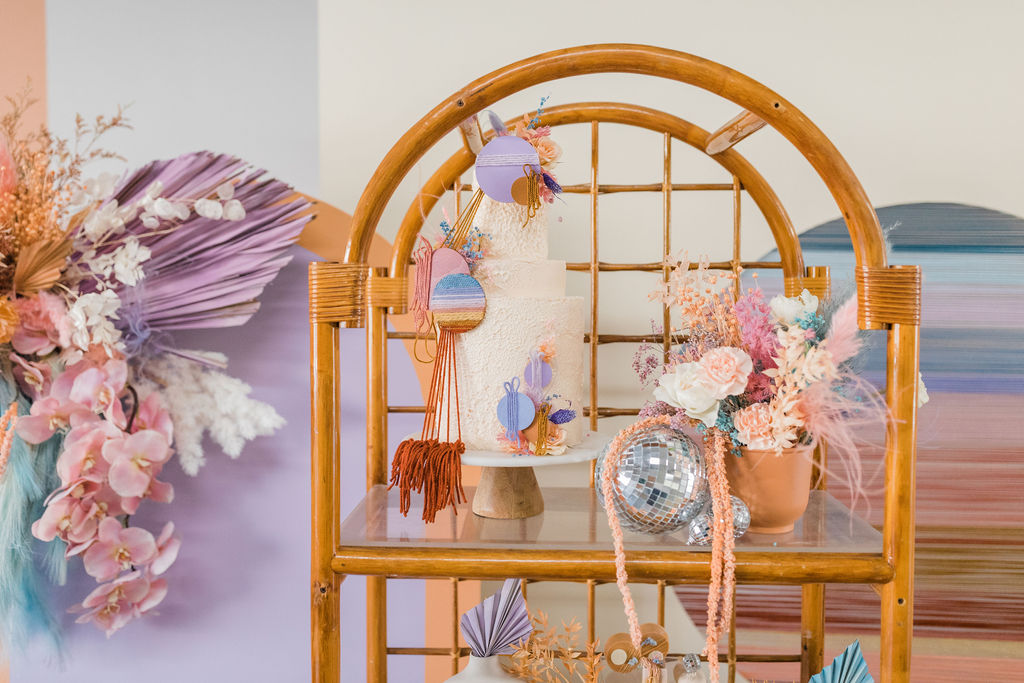 Ok… THAT CAKE!!!! Amriel's Cakes created this insanely amazing cake and we were all in awe!! Aren't you?! I've never seen anything like it, she is so creative in her work!! Just amazing!!! And yes, we literally have to share every single angle, haha!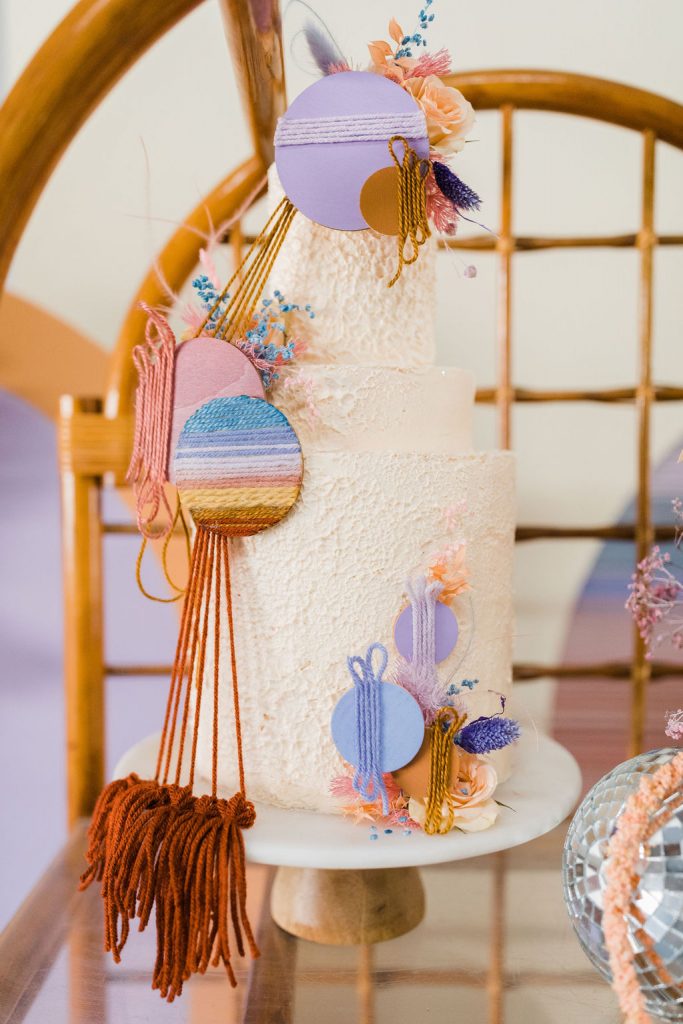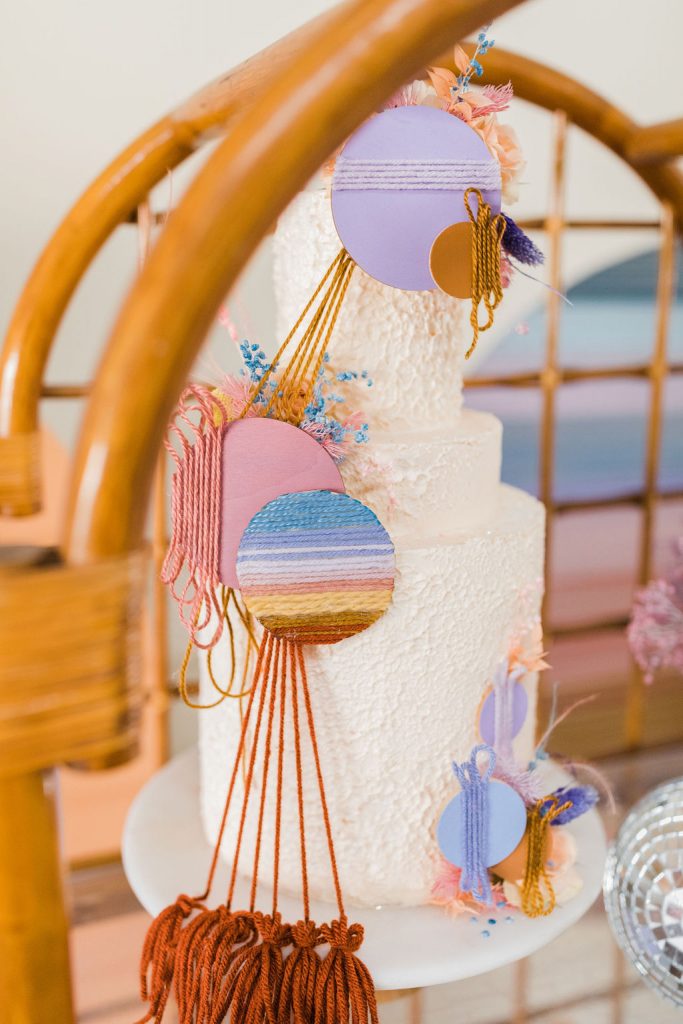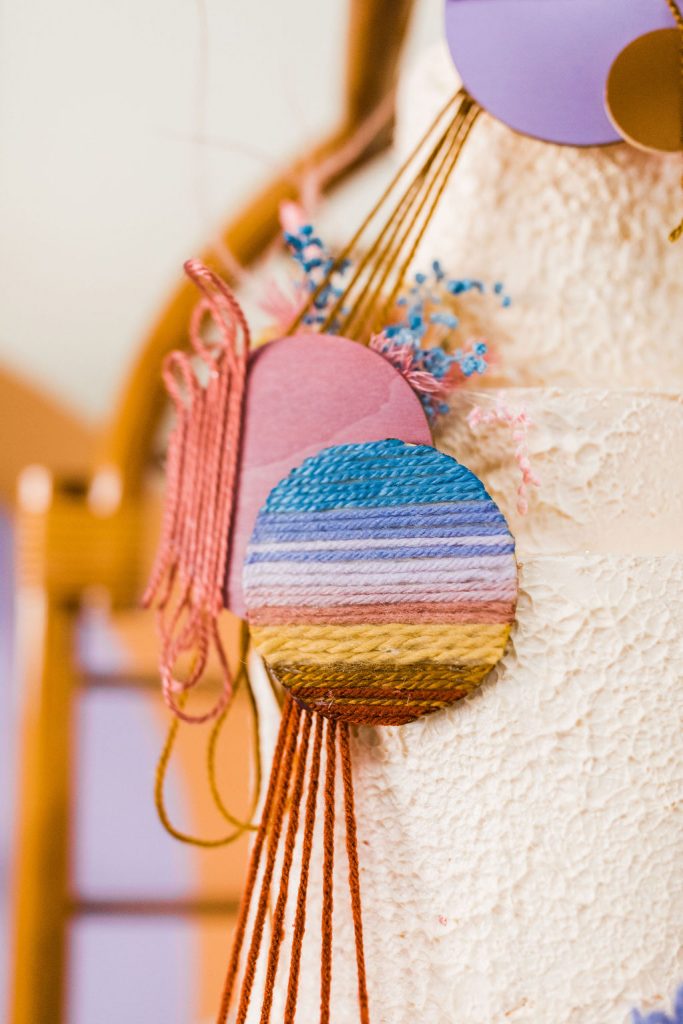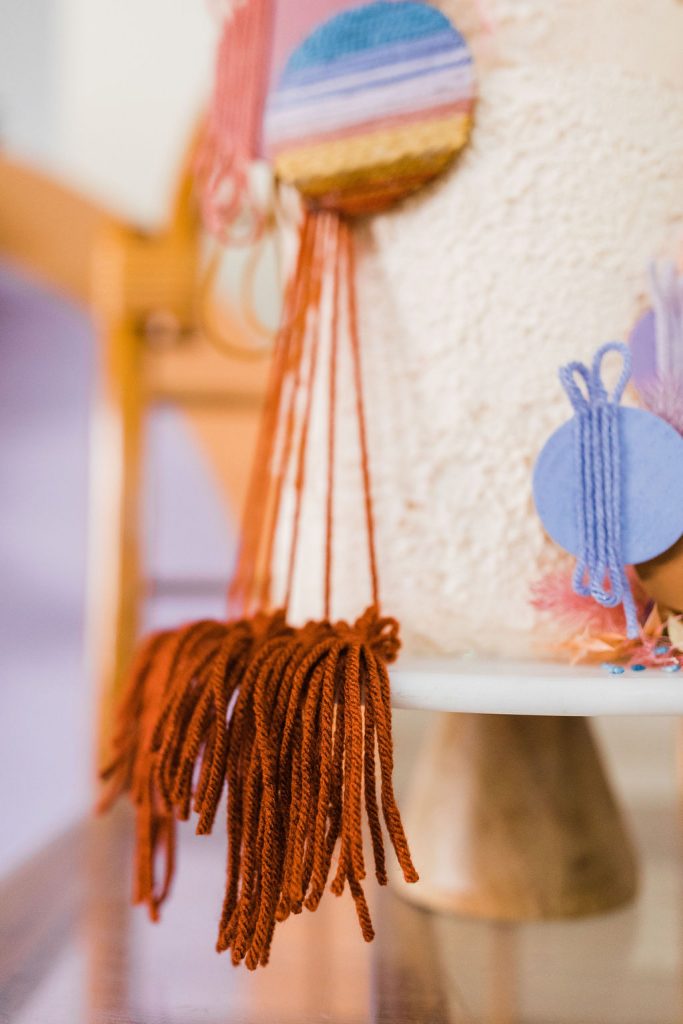 Then of course Sugar Crush Sweets added to the fun!!! Her desserts are ALWAYS a wow factor at any event or shoot we do! Love her to pieces and all these pieces of deliciousness she creates!!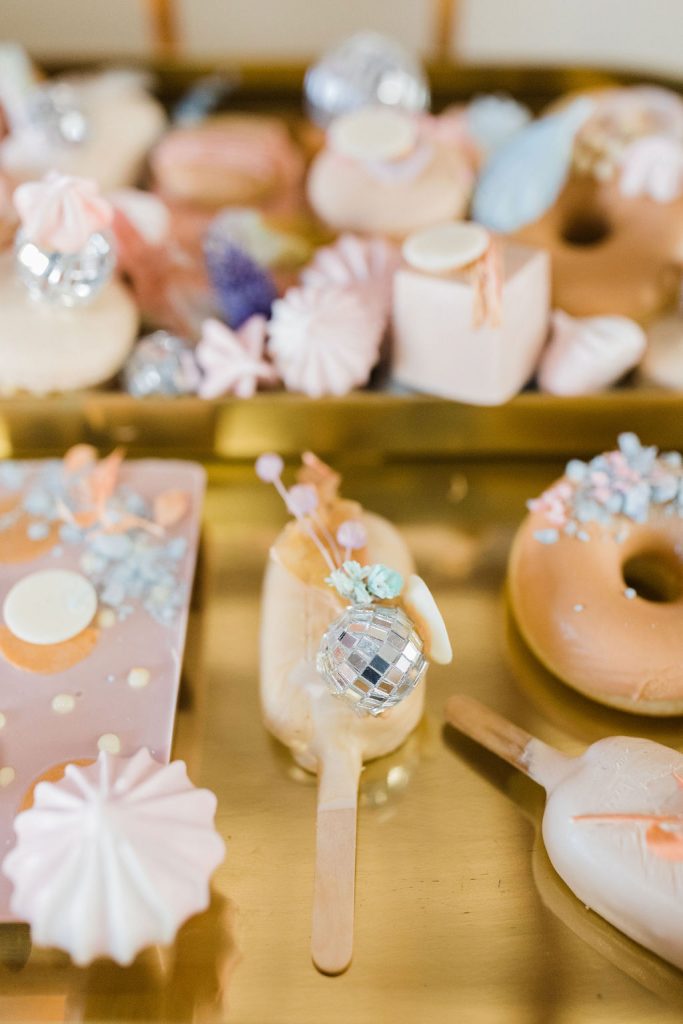 We were lucky to have Monica Lewis Art add to our shoot with these gorgeous dessert stands. She is beyond talented and I loved how these made such a statement in our dessert display!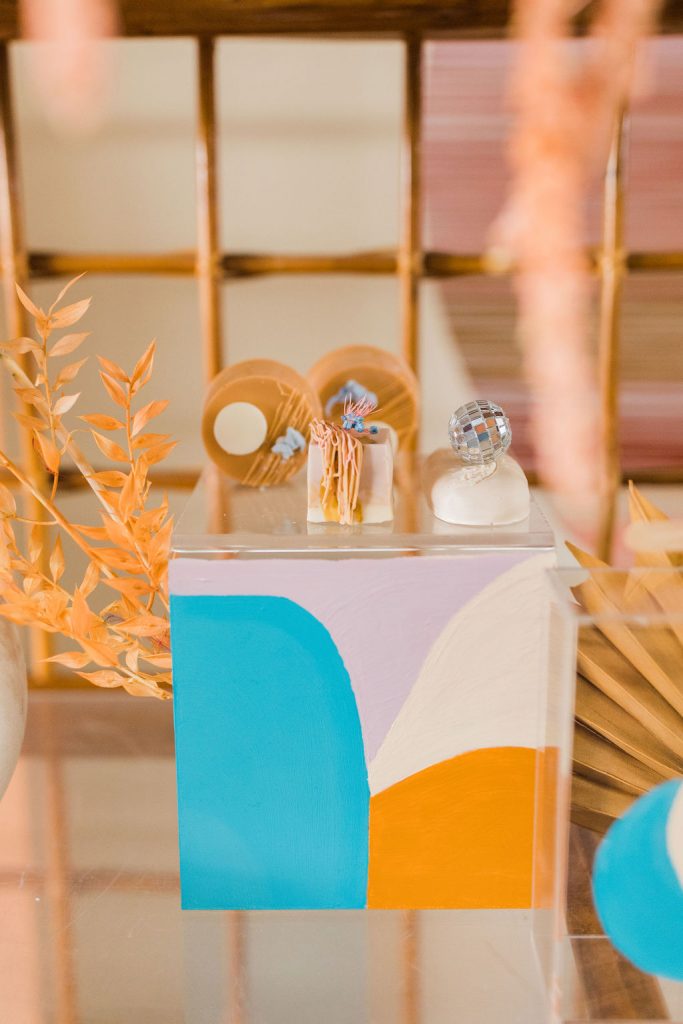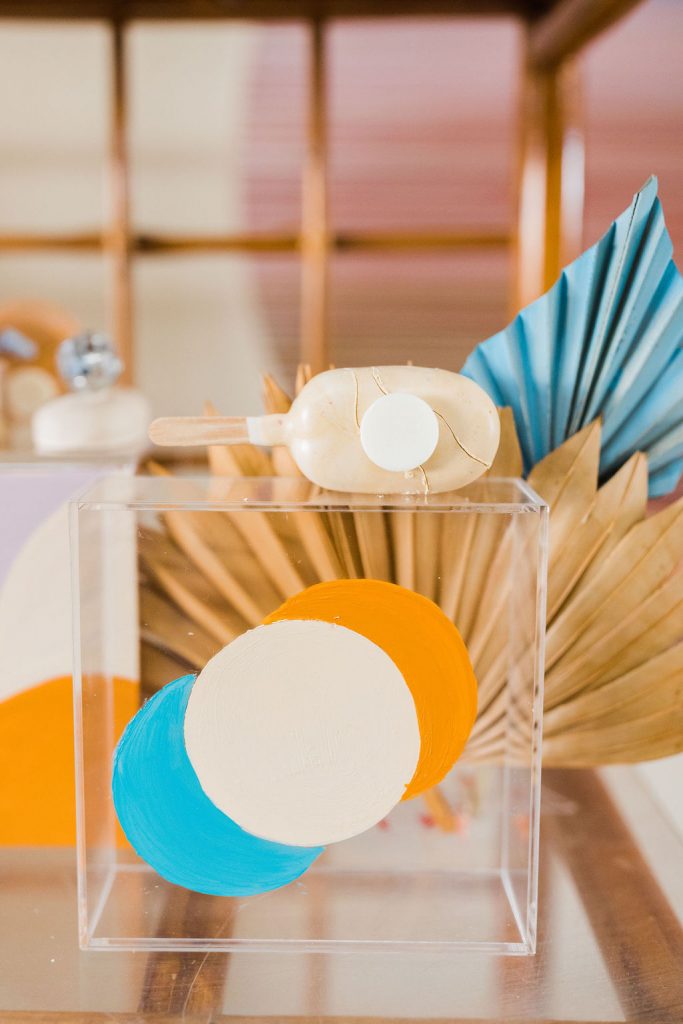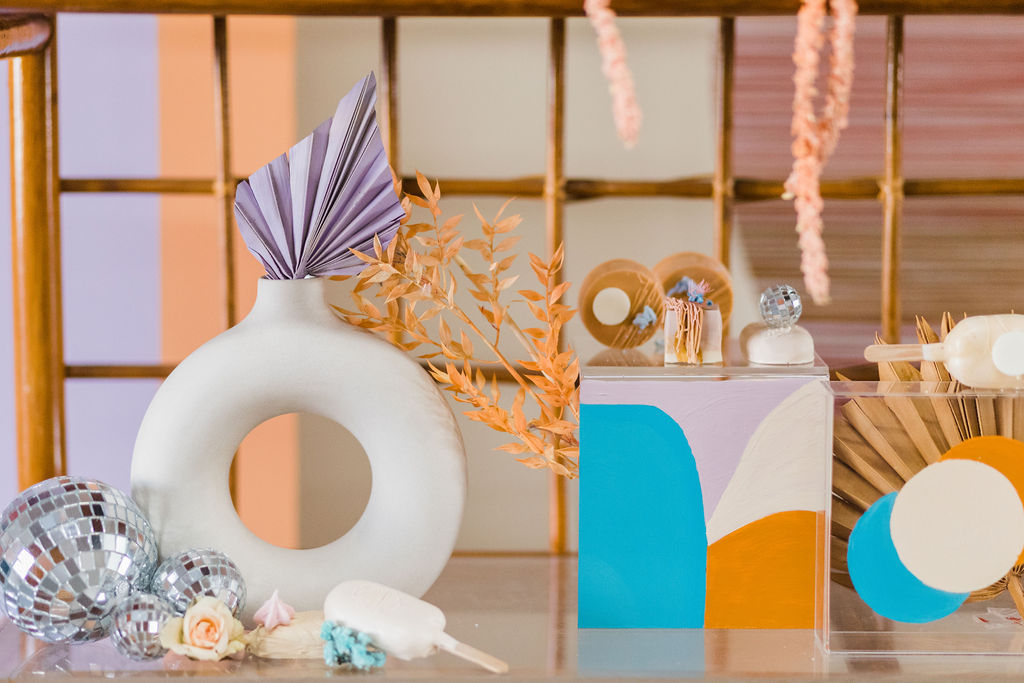 All the pretty details!!!!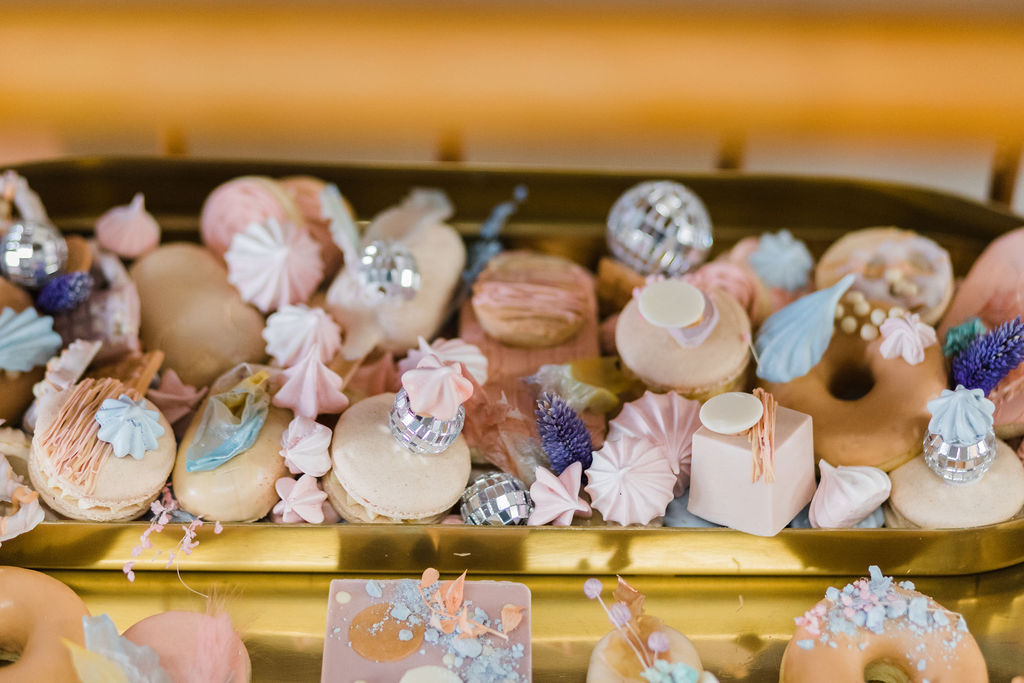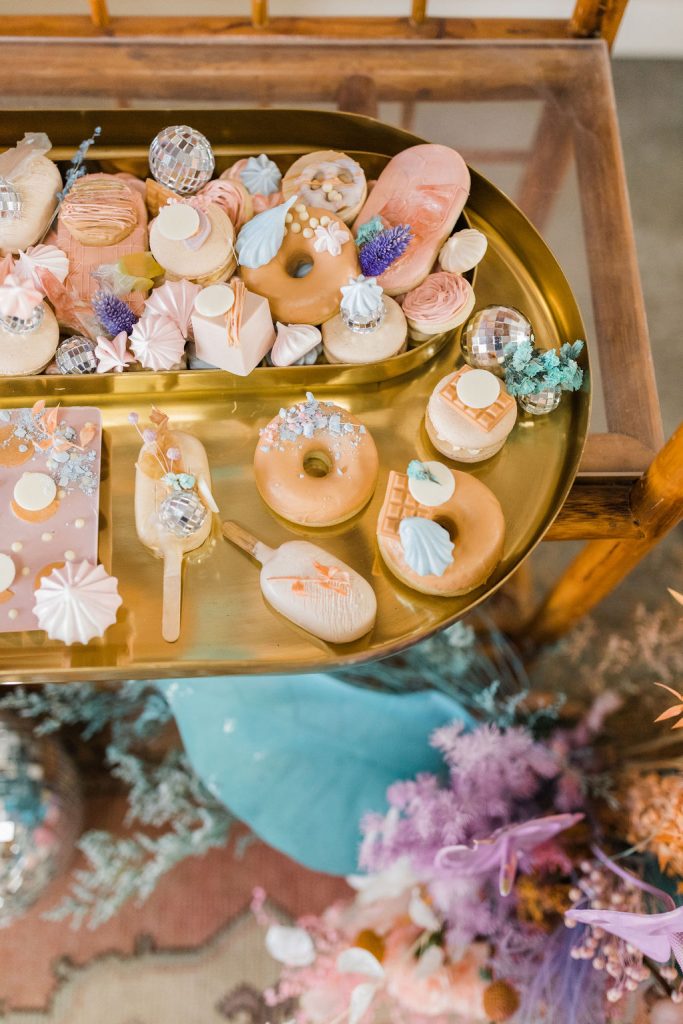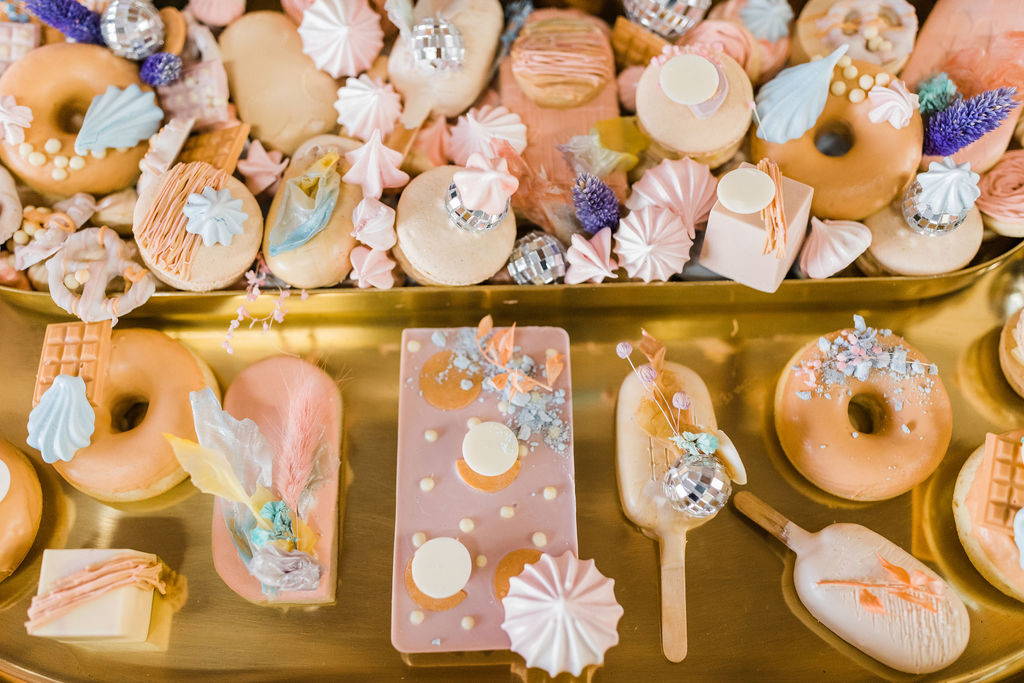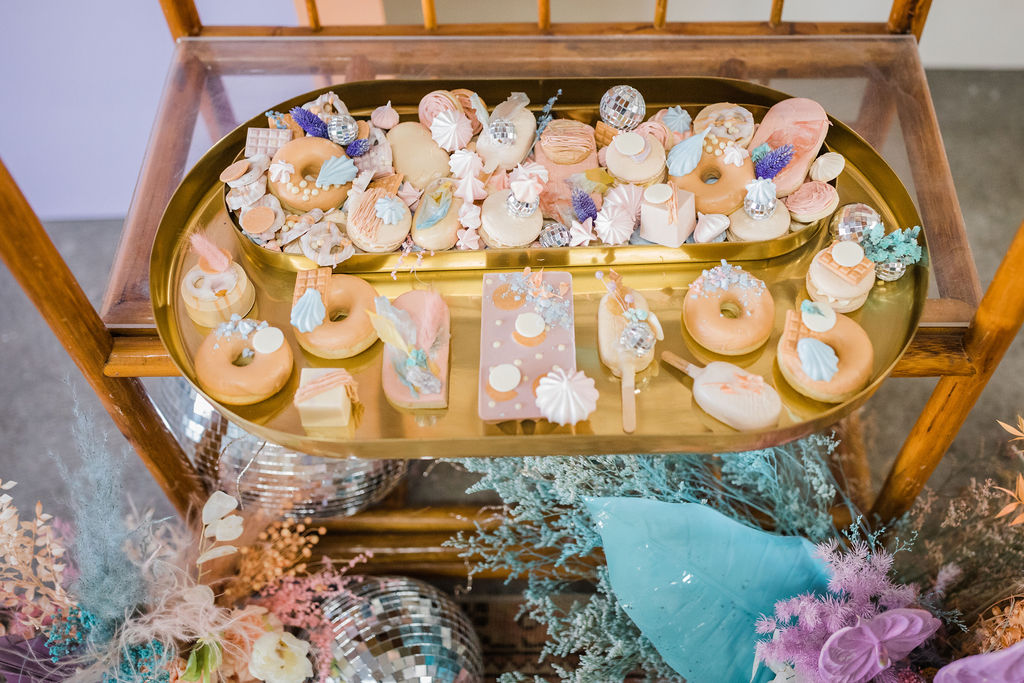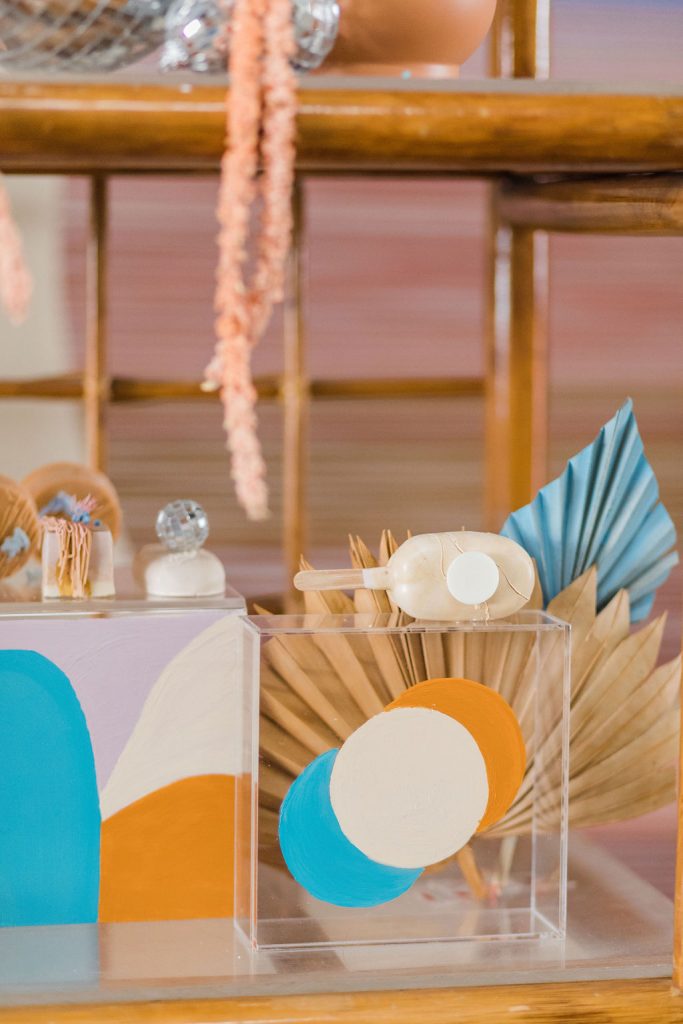 I seriously can't get enough of this set up! Often clients will tell us they want a really awesome dessert display, well this is how you do it!!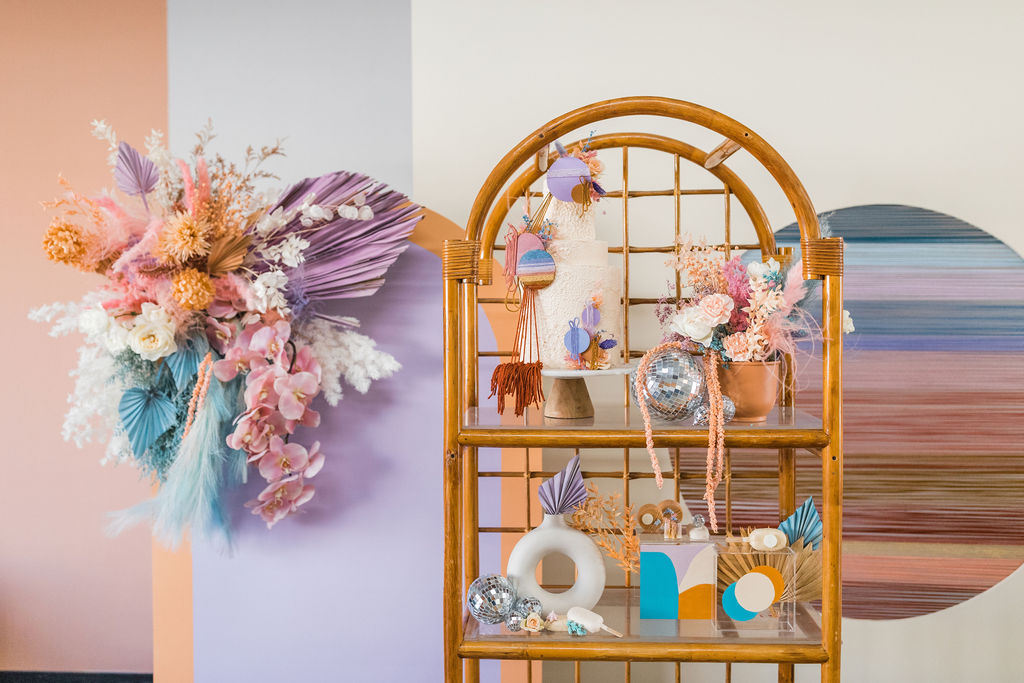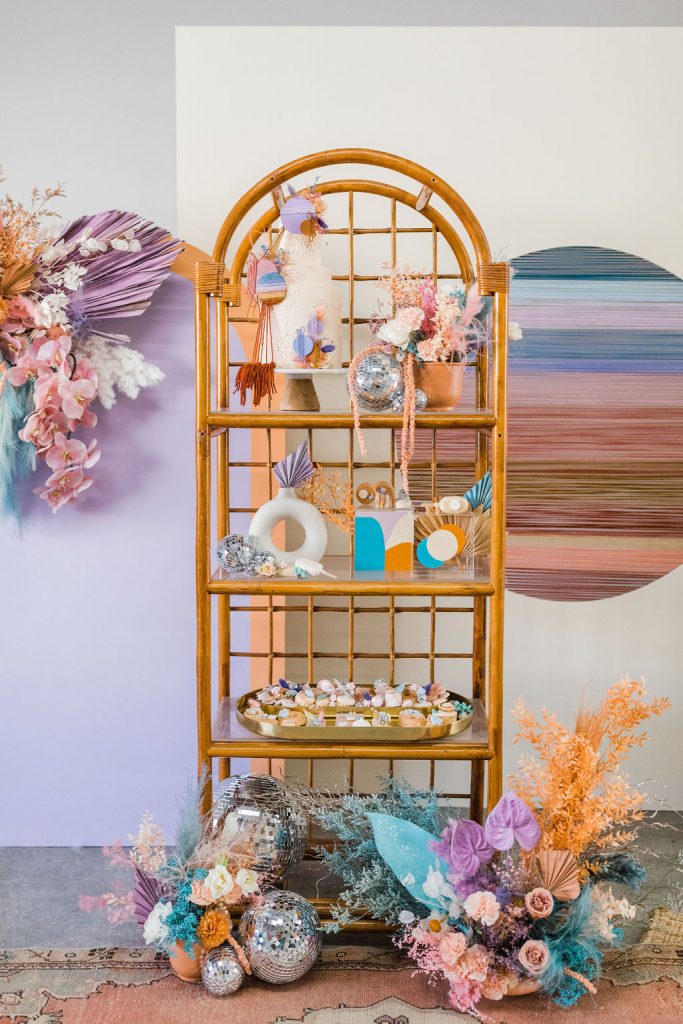 And here are our dessert magicians!!! Diana of Sugar Crush Sweets on the left and Amriel of Amriel's Cakes on the right. These ladies work together so well and I love how supportive they are of each other!!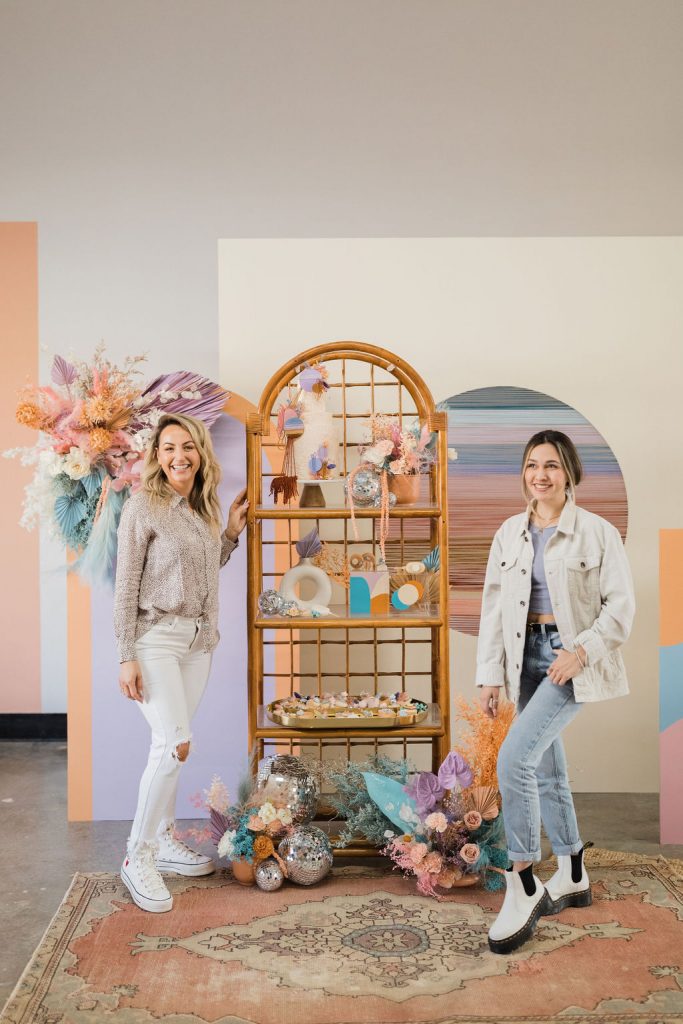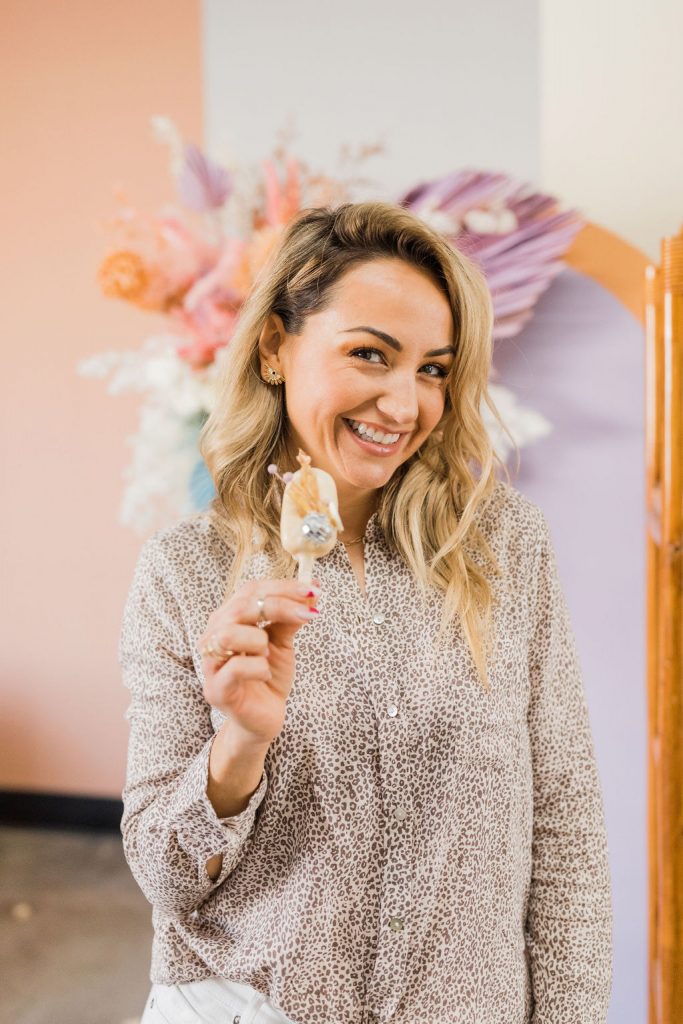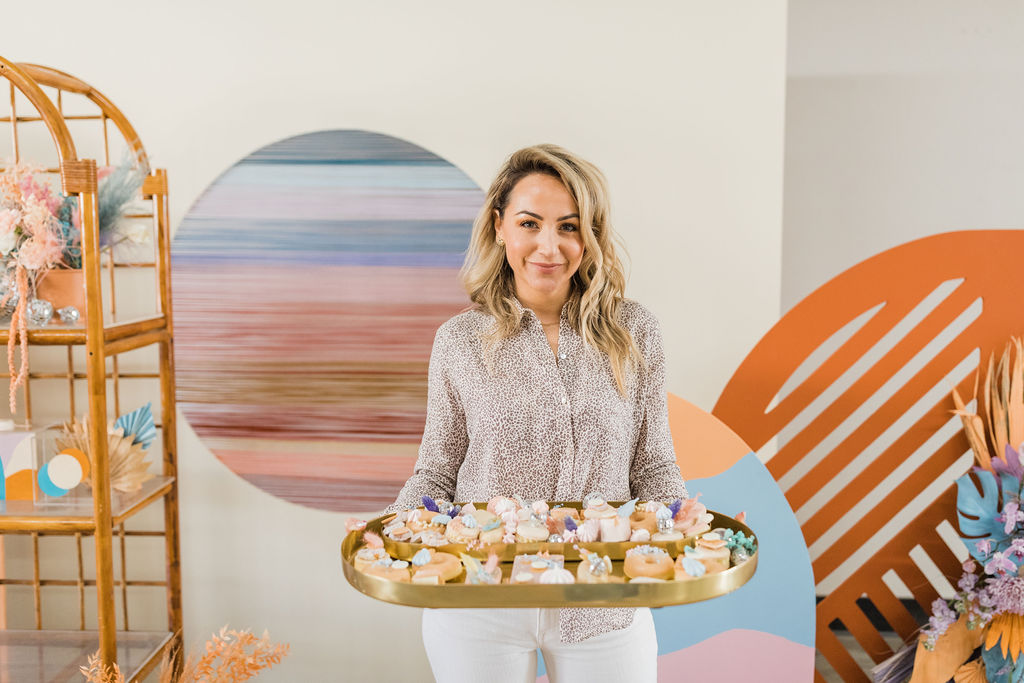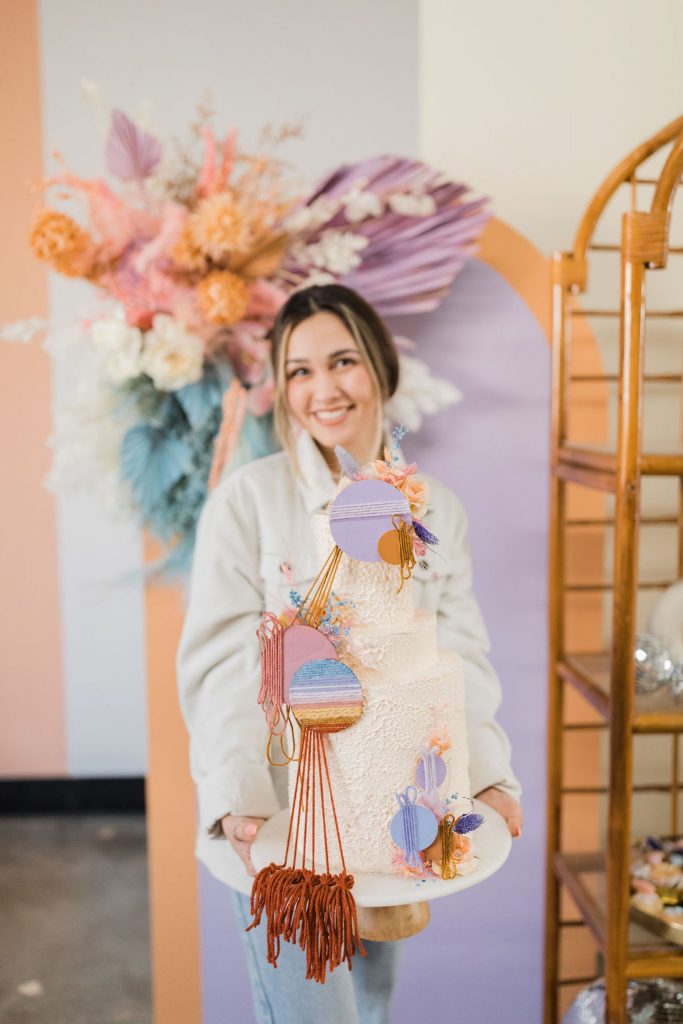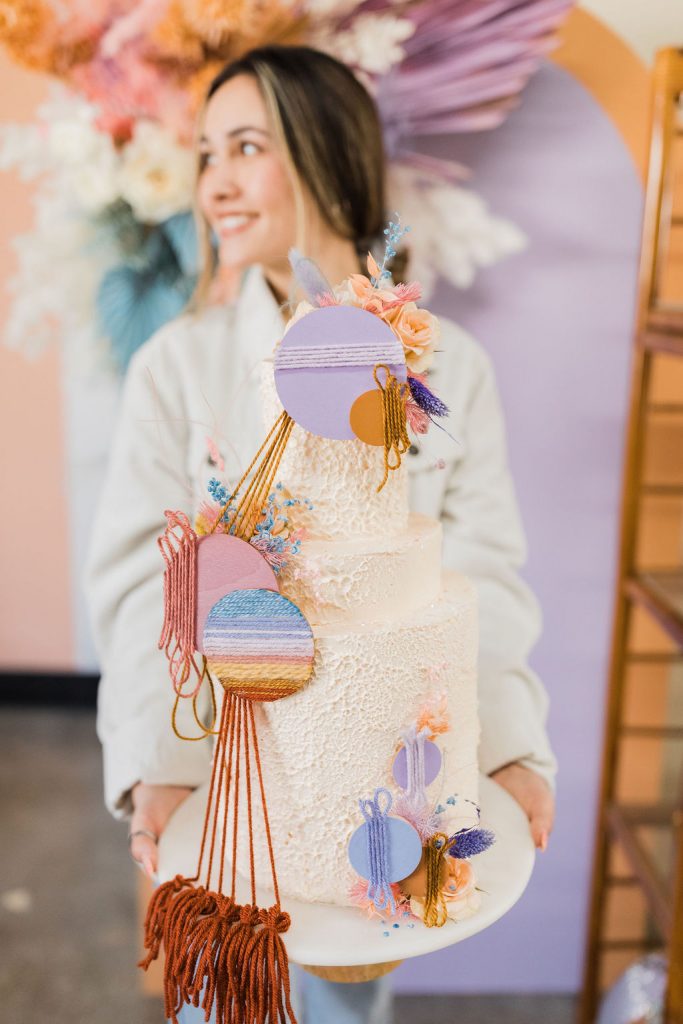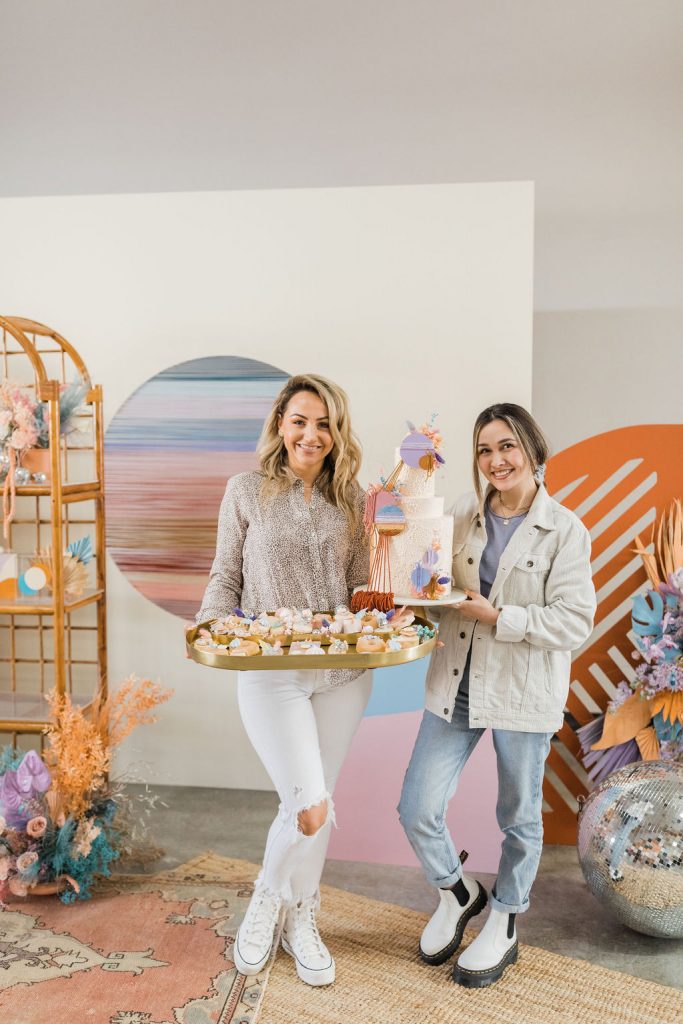 And there is the talented Monica of Monica Lewis Art! If you don't follow her you should, her work is inspiring!!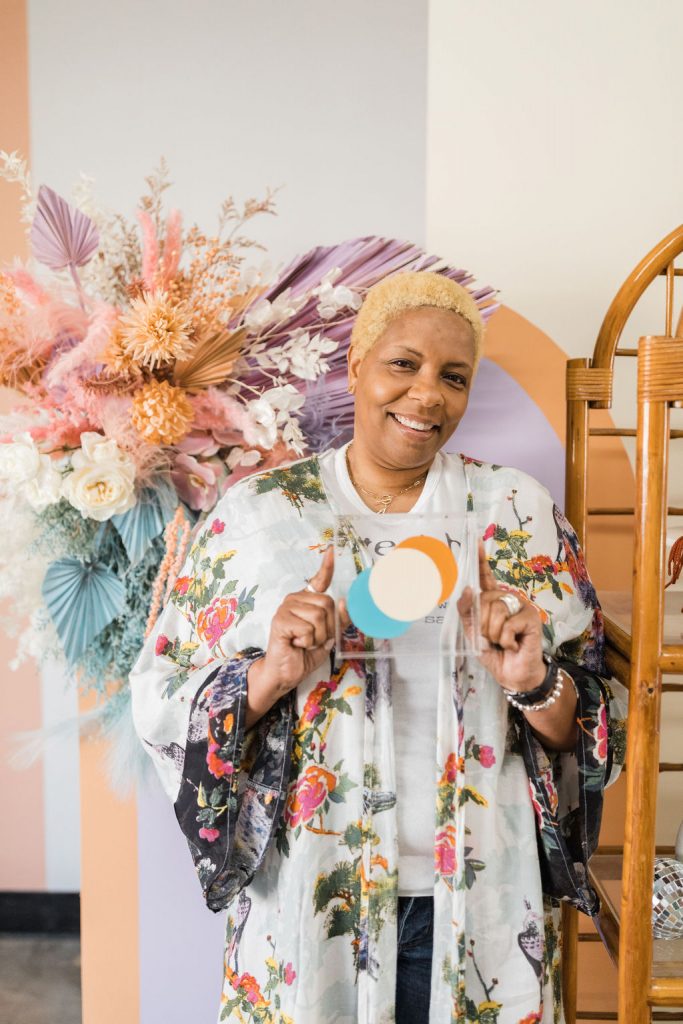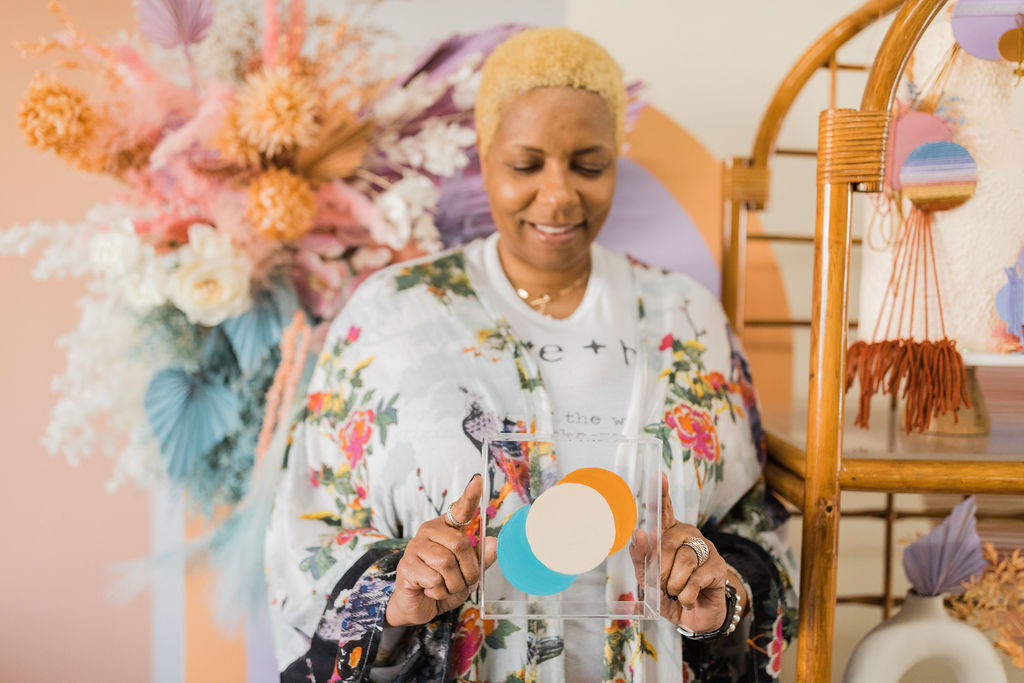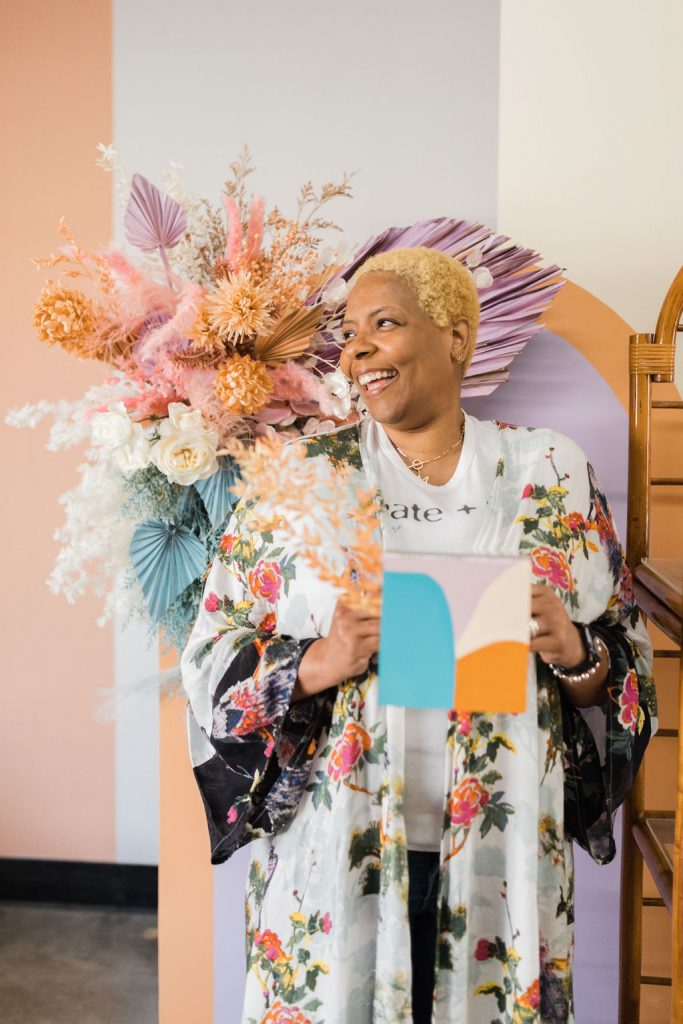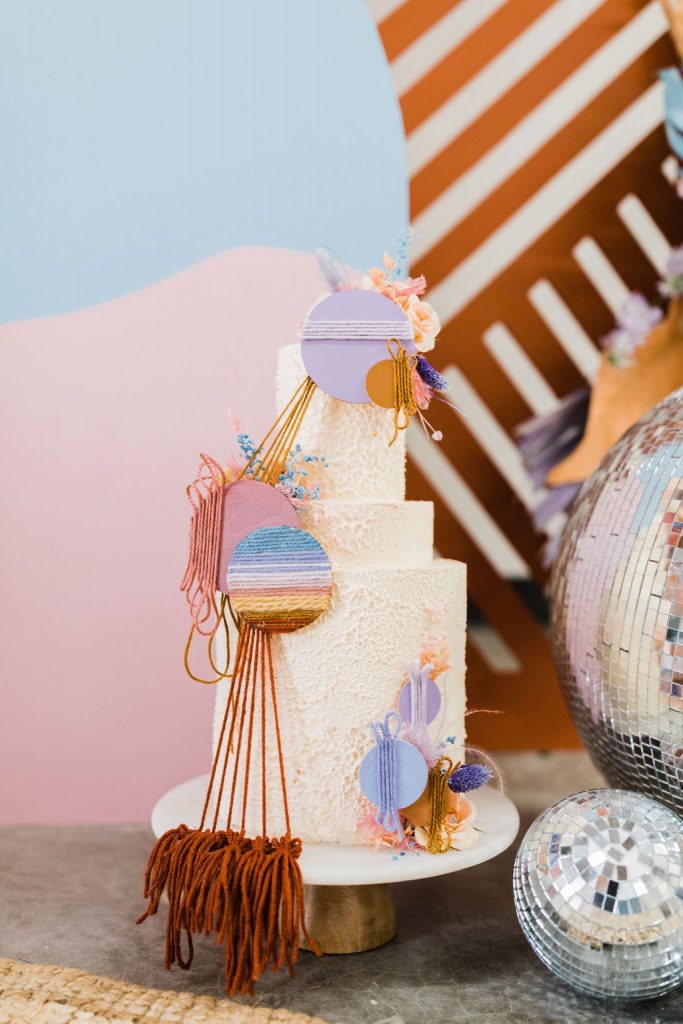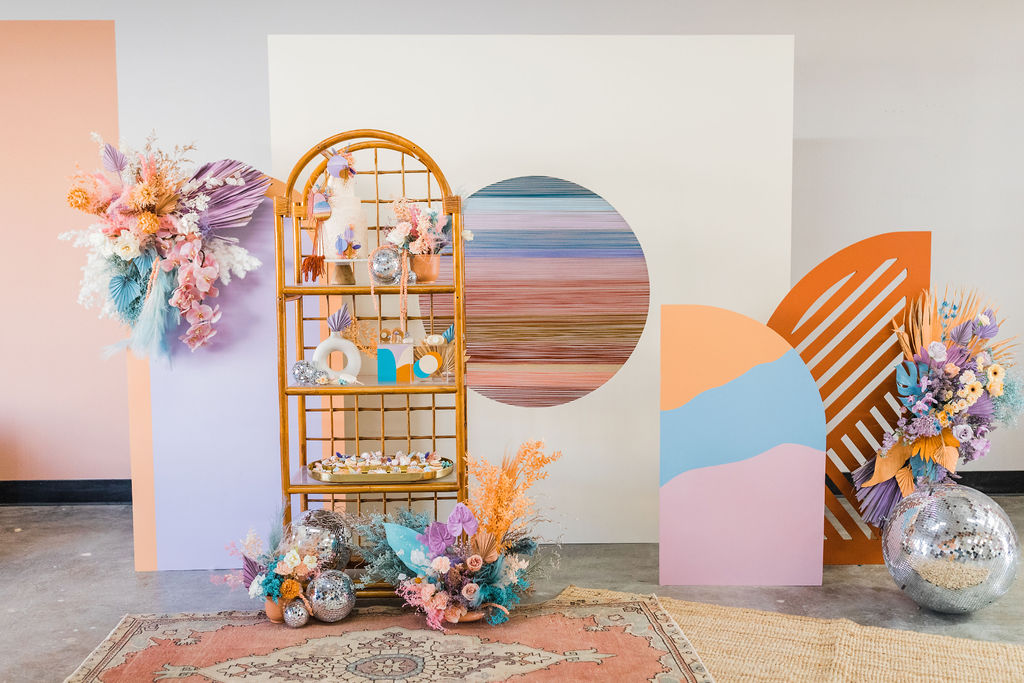 Of course I have mentioned the backdrop but lets take a look at the talented ladies behind it!!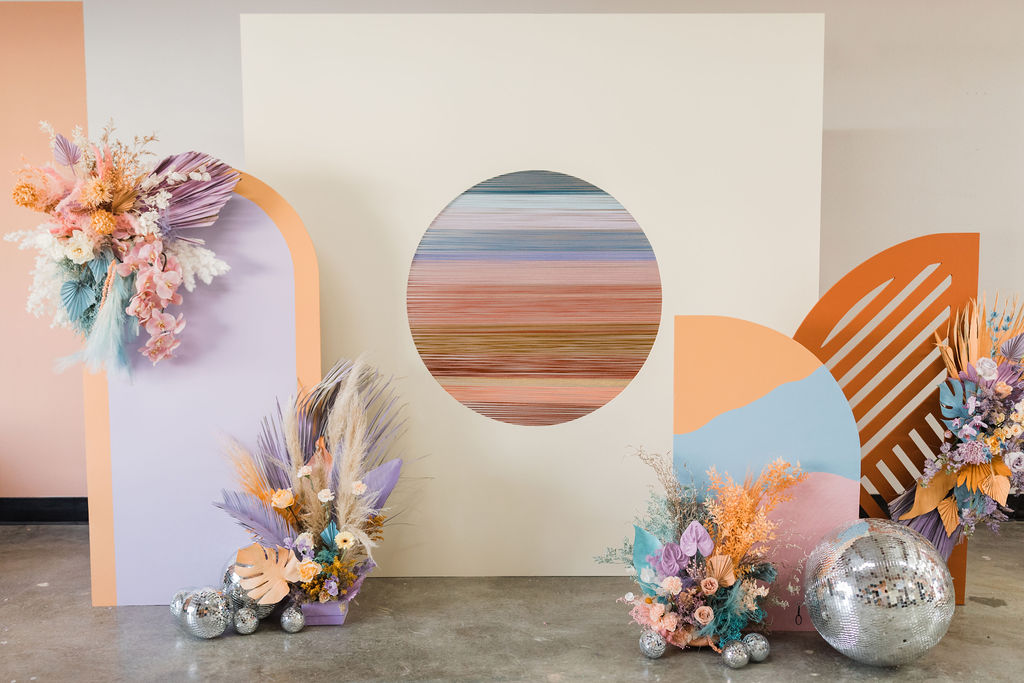 Michelle Rogers and Alexis of The Shift Creative are super talented, creative, and above all else – FUN!! These ladies amaze me with their creativity and how inventive they are. I wish I had a pinkies worth of their talent!! And best of all, they did this together as a team! Love it!!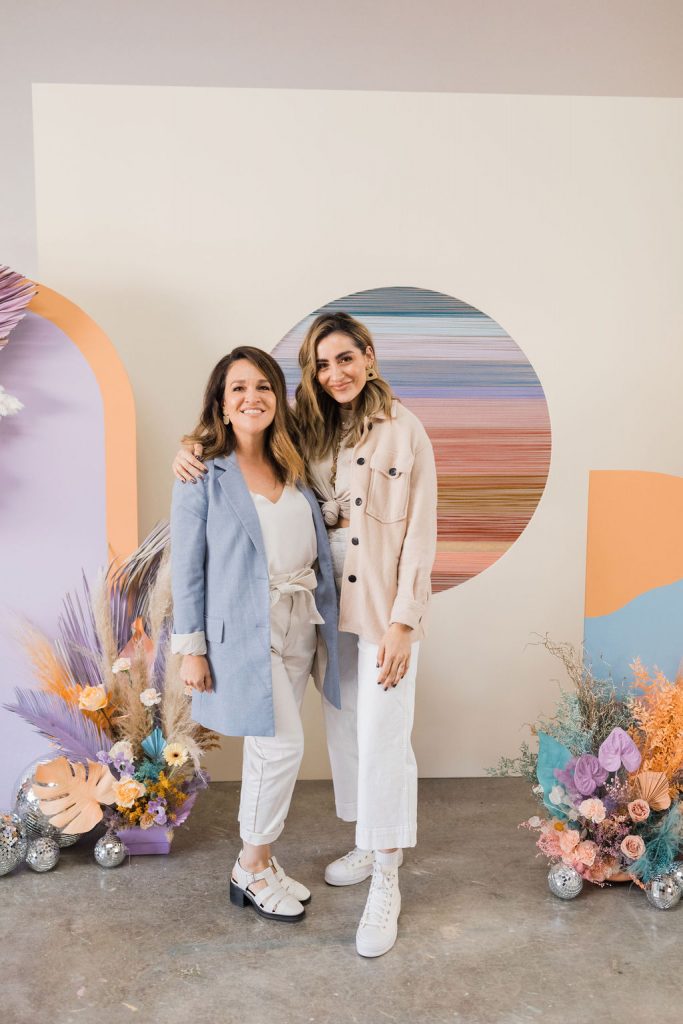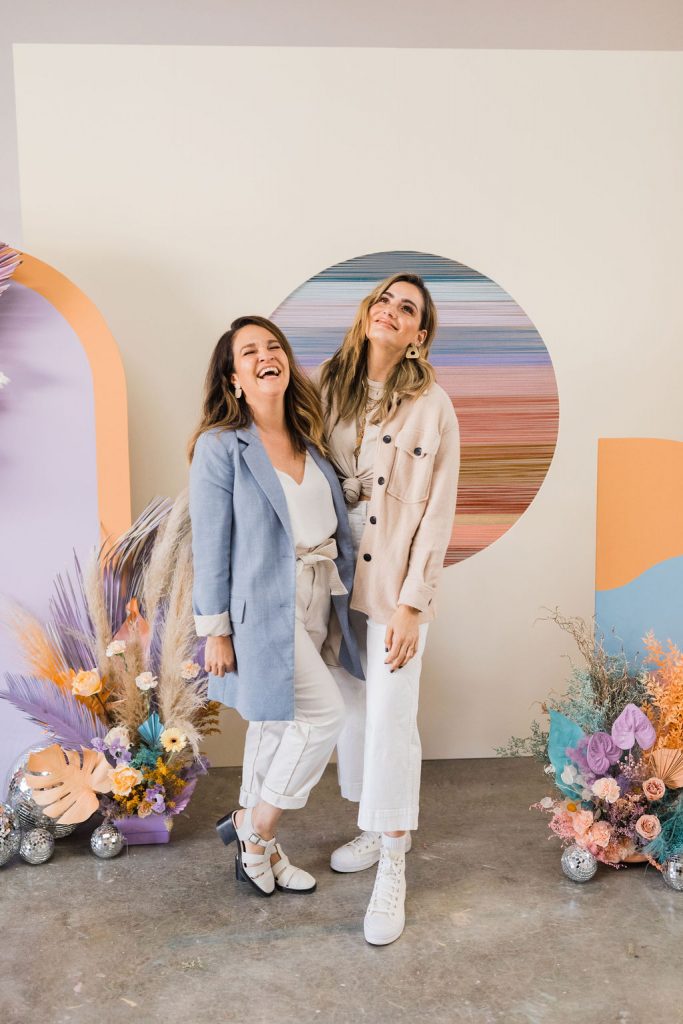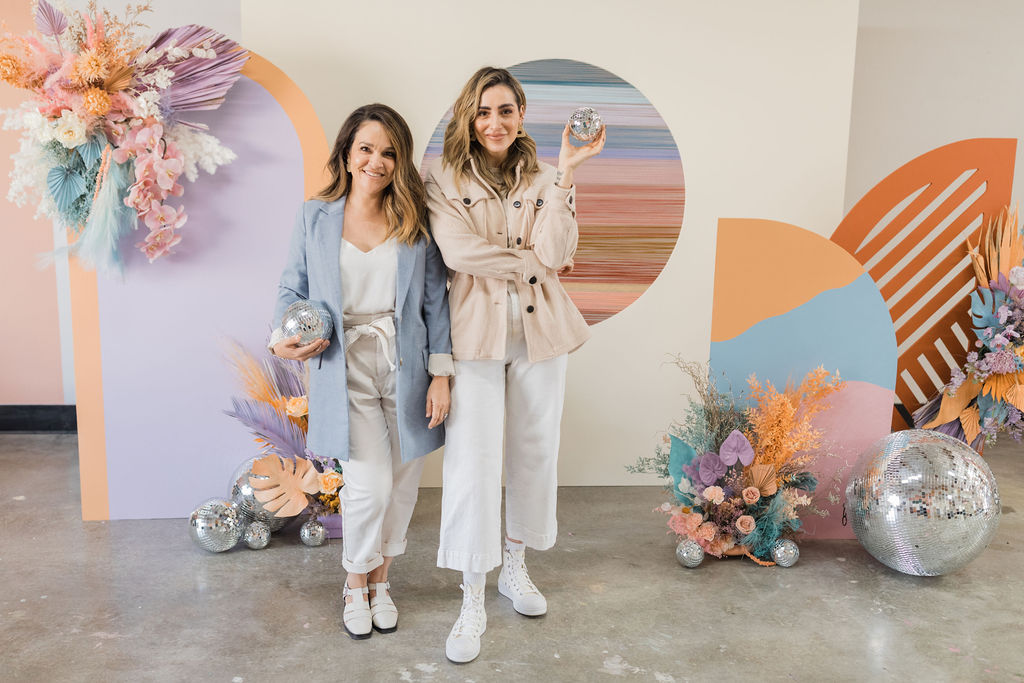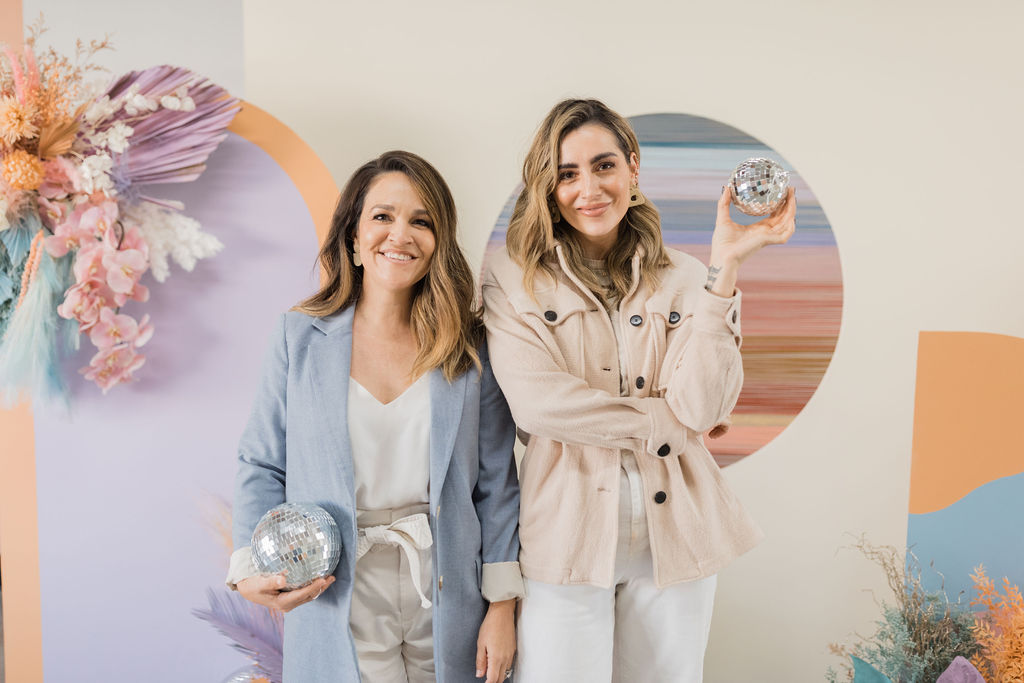 How beautiful is this?! Sabrina and I had a vision of colors, shapes and wanted to use yarn somehow… And this is what they came up with!! Seriously incredible!!!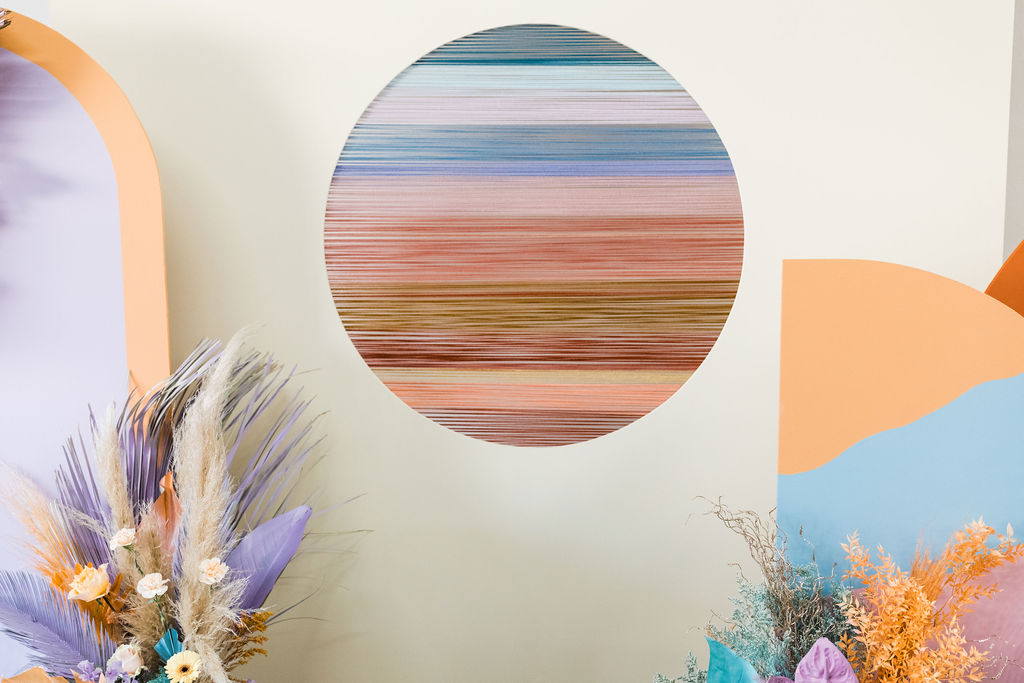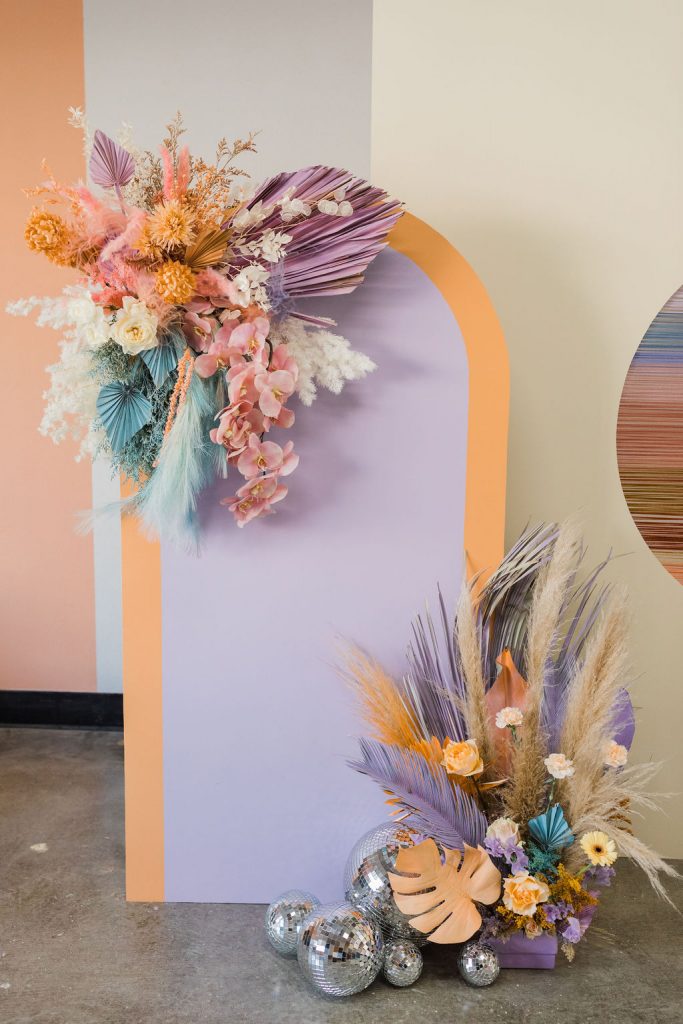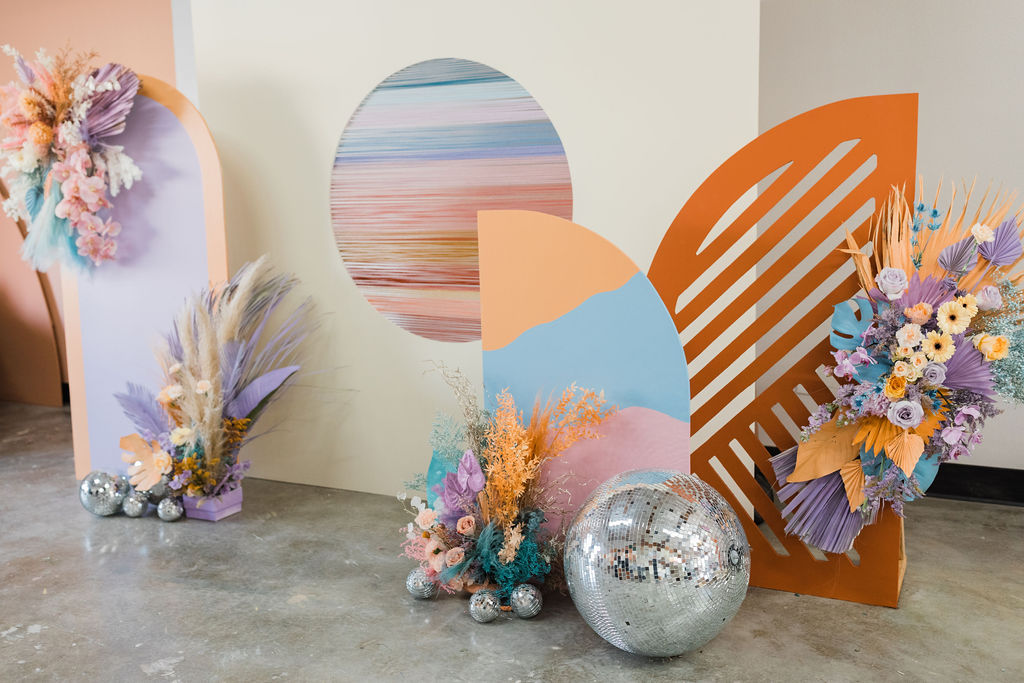 Onto the last piece of our puzzle, the lounge, and bar! Because at a lady's night cocktails are a must!!!
Sweet Salvage Rentals is responsible for this fun setup! Marnie, the owner, has cultivated the most amazing selection of furniture and textiles. I love playing with her beautiful pieces!! This lounge in particular is one of my favorites to date!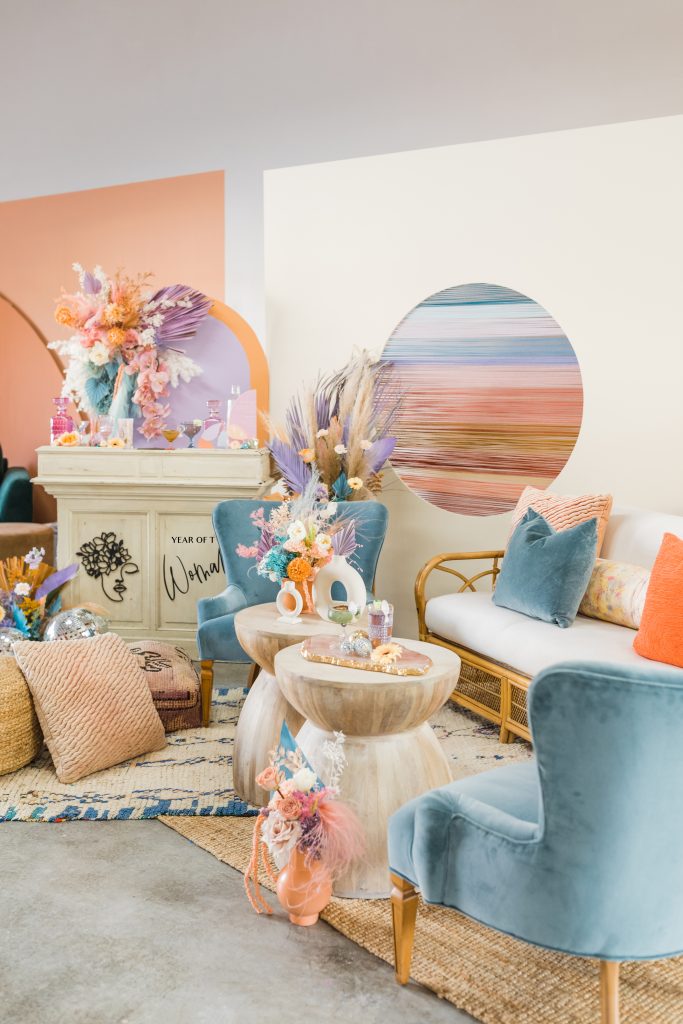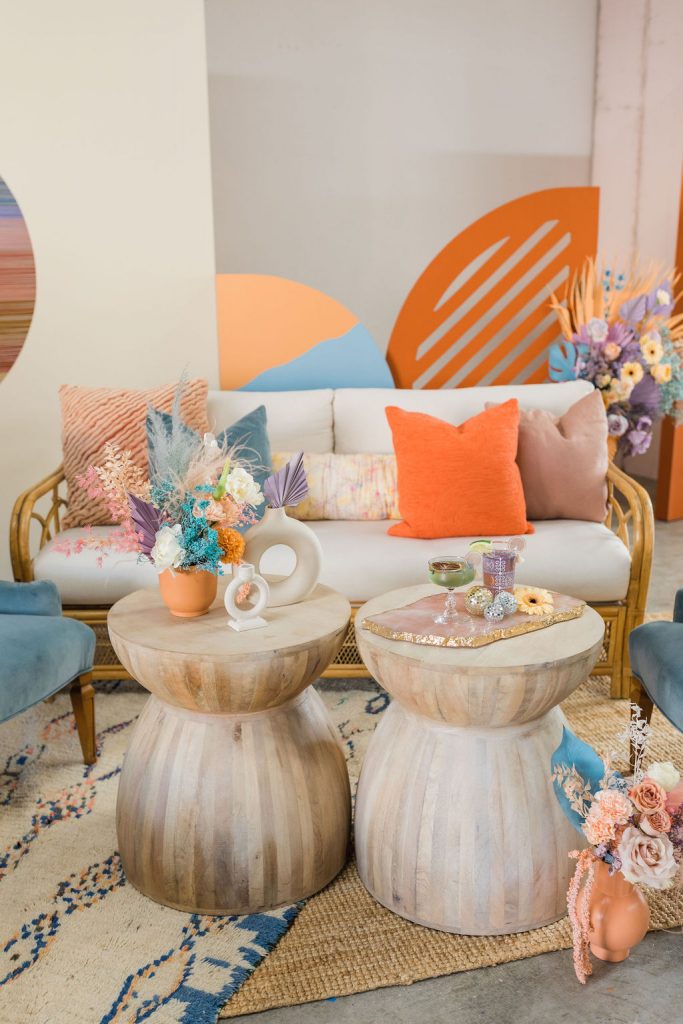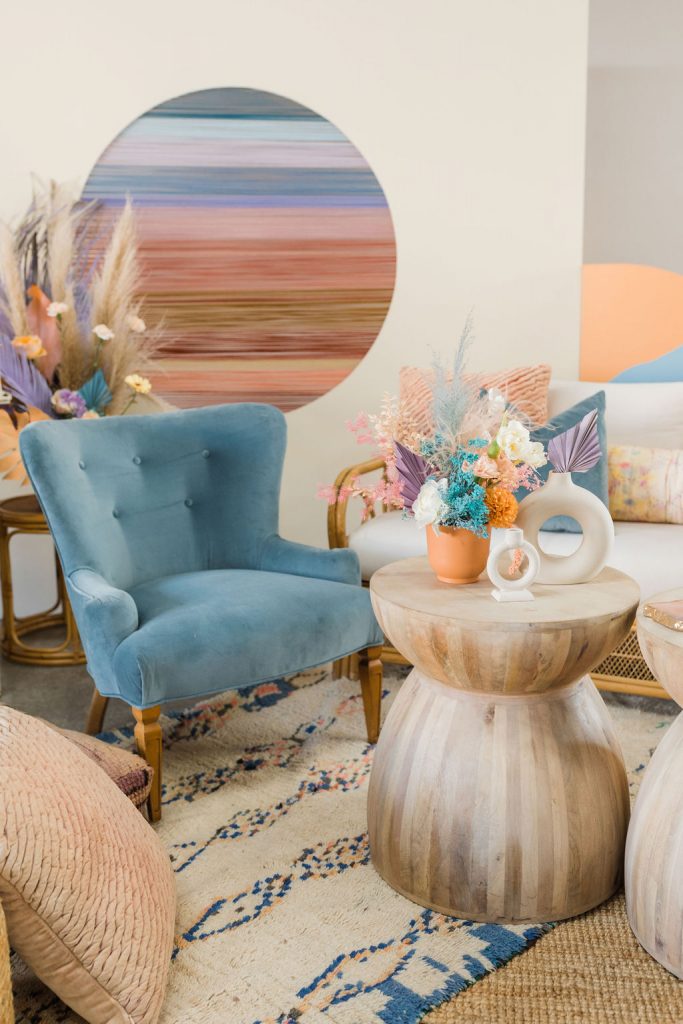 The signage on the bar is by Malisa of Creative Amme of course! Isn't it so fun?! I love how she continued the line drawing from the invite to the bar! We've come full circle!! And that beautiful Sweet Salvage Rentals bar was decked out by our girl Katie, the owner of Bottles & Blooms!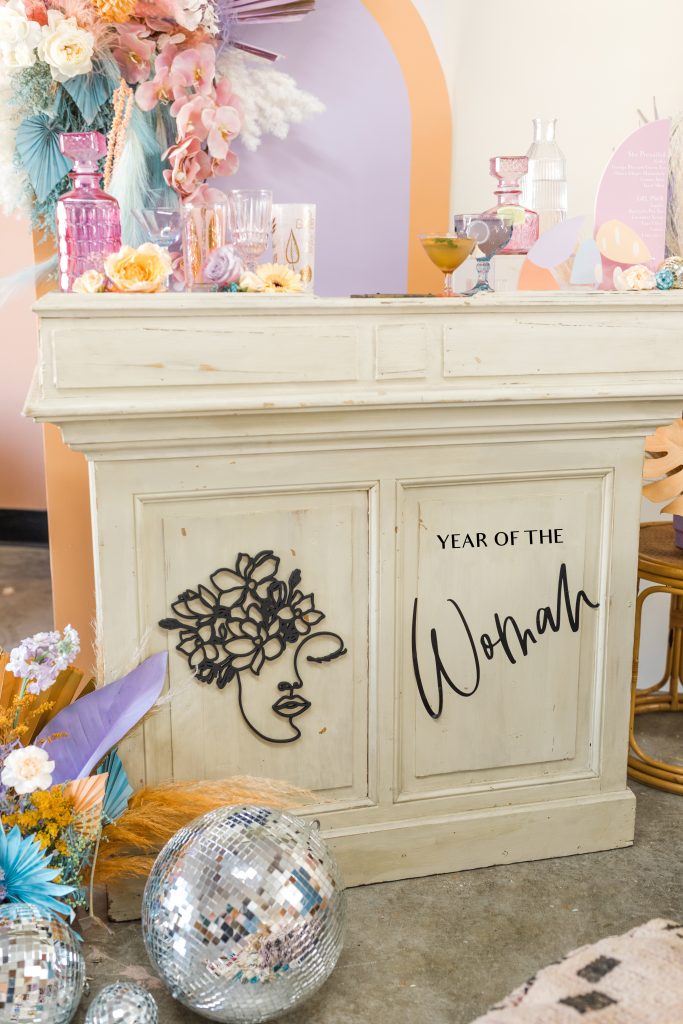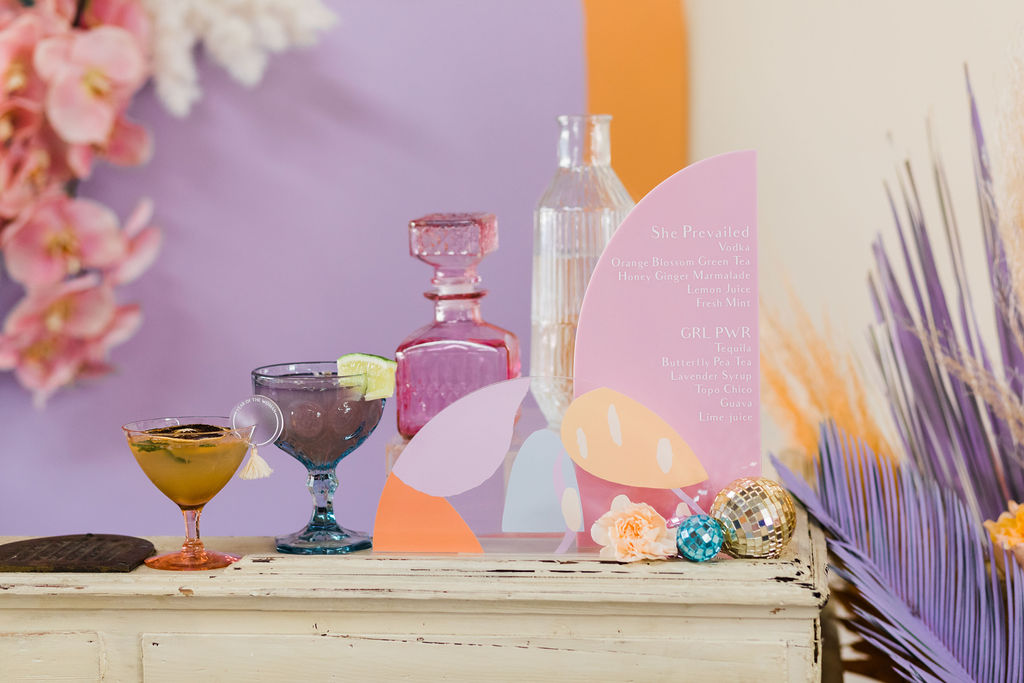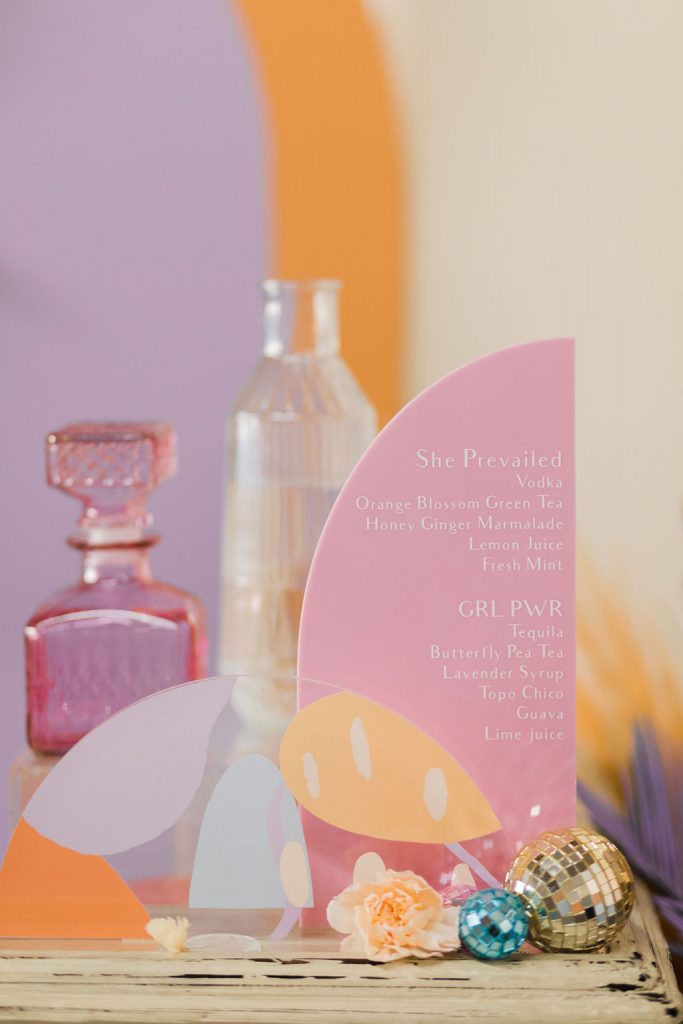 There is Katie looking as cute as ever with her pink hair!! She always creates the best cocktail recipes!!! She's a good friend to have ;)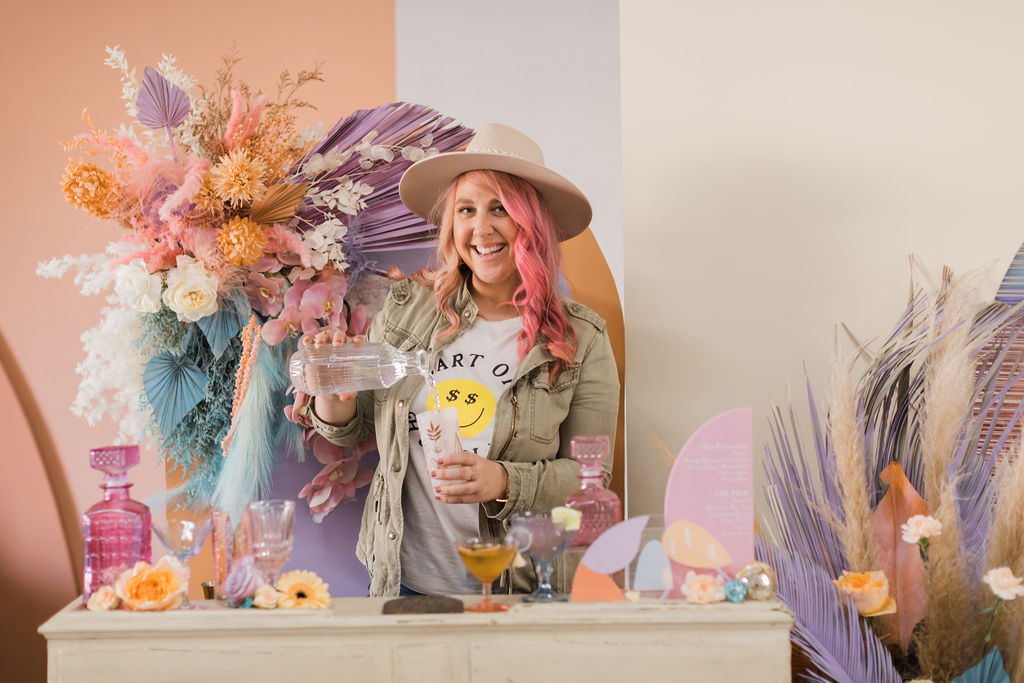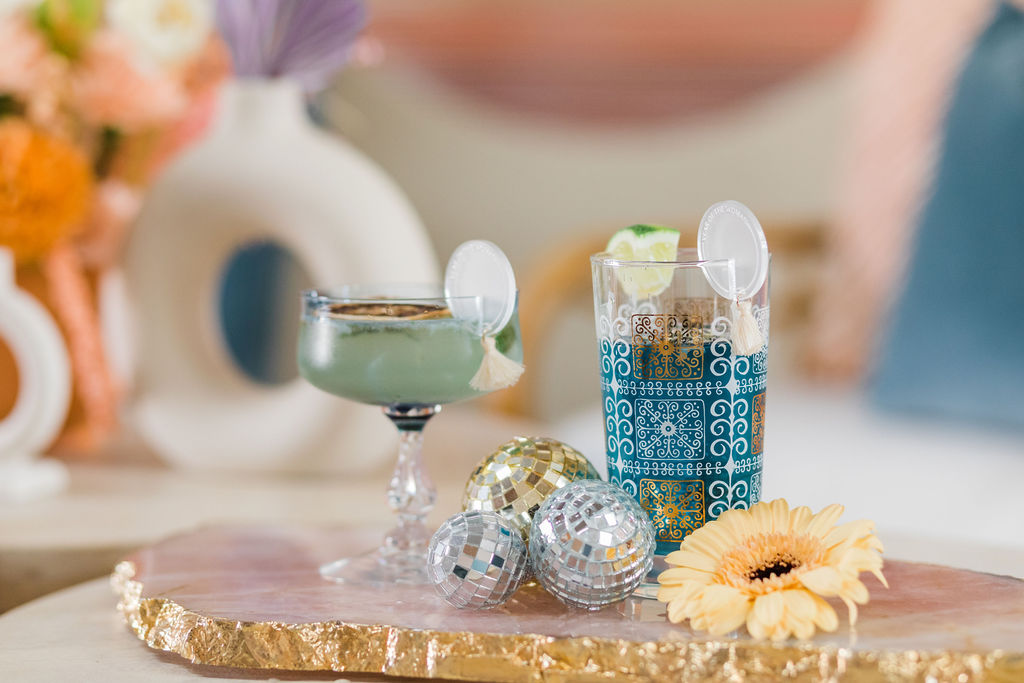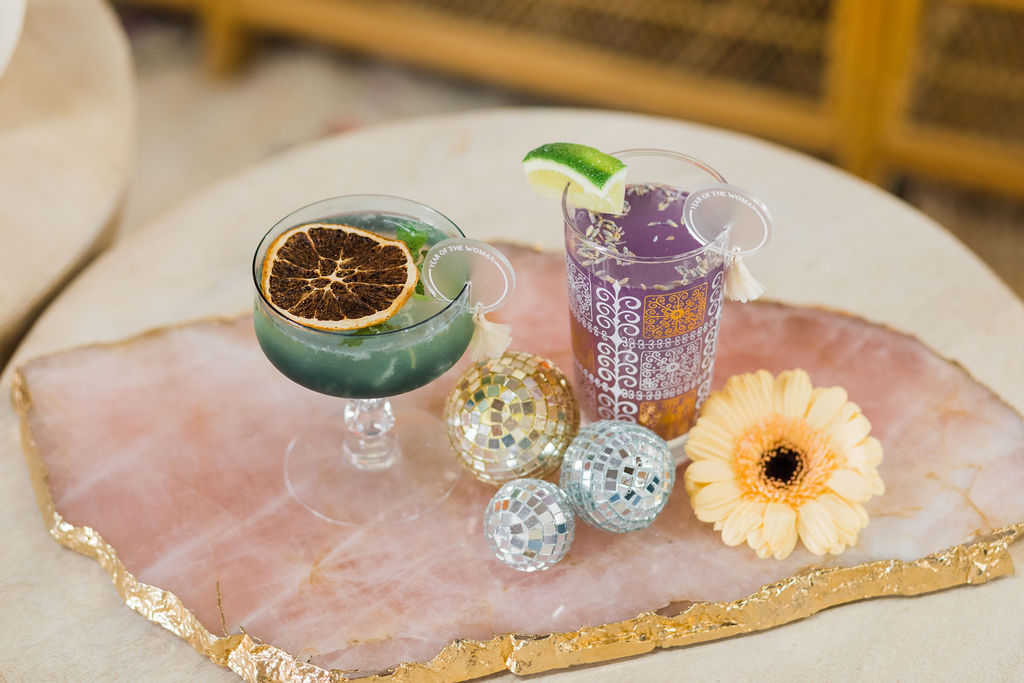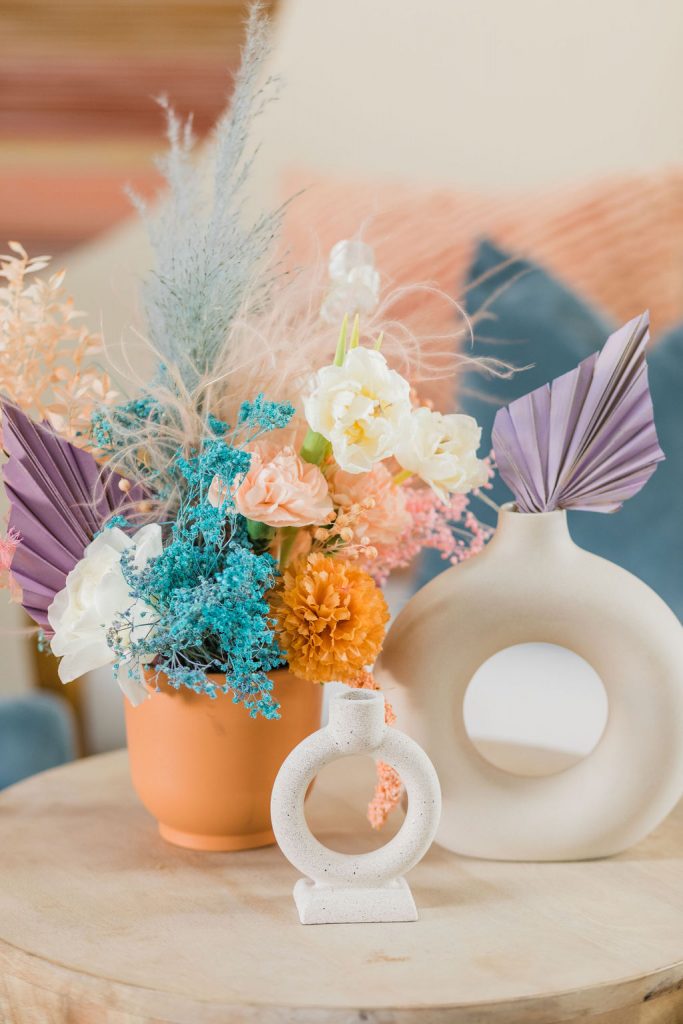 A color-changing cocktail?! Yes, please!! Love how it all looks together in those pretty Hostess Haven glasses adorned with the Creative Amme drink tags!!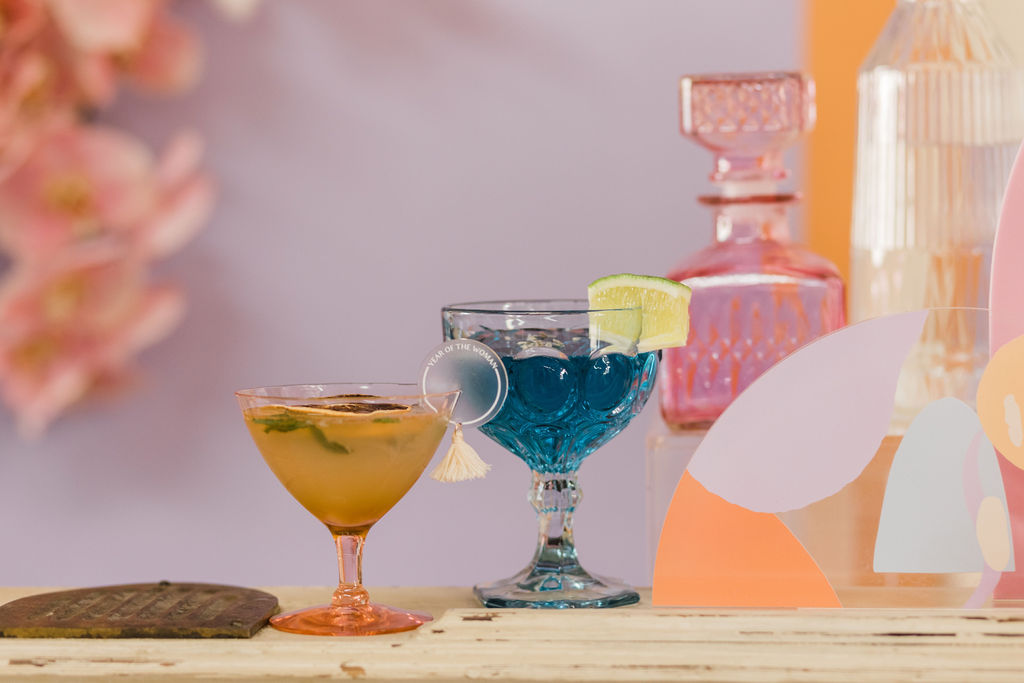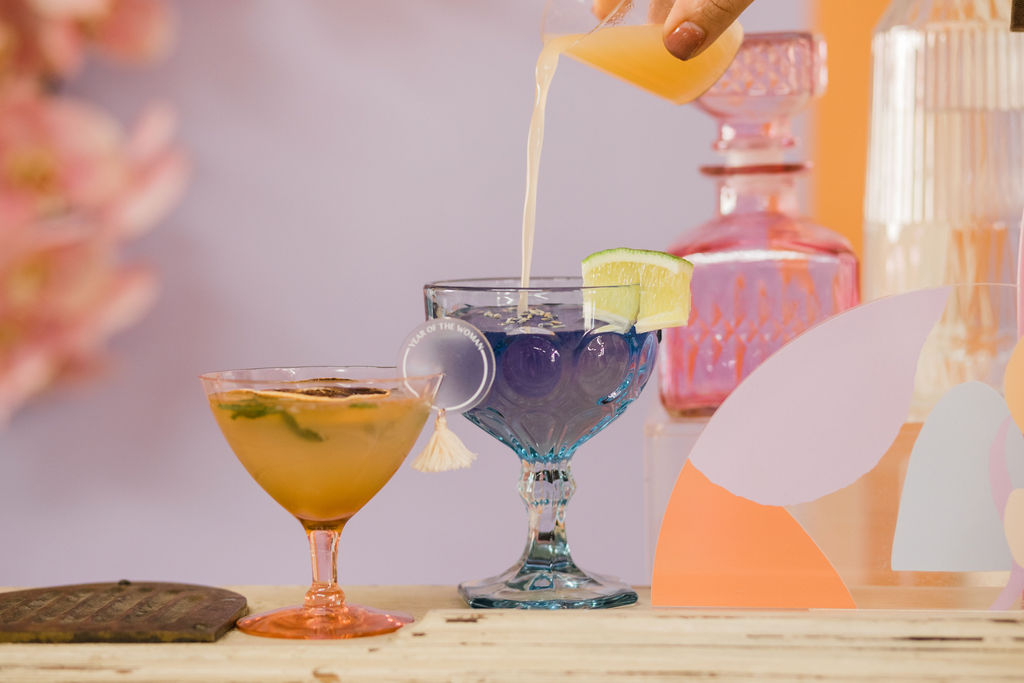 Marnie joined in on the fun, how could she not?! Enjoying a delicious cocktail in her gorgeous lounge?! It's a must!! Thanks for always bringing the fun Katie!!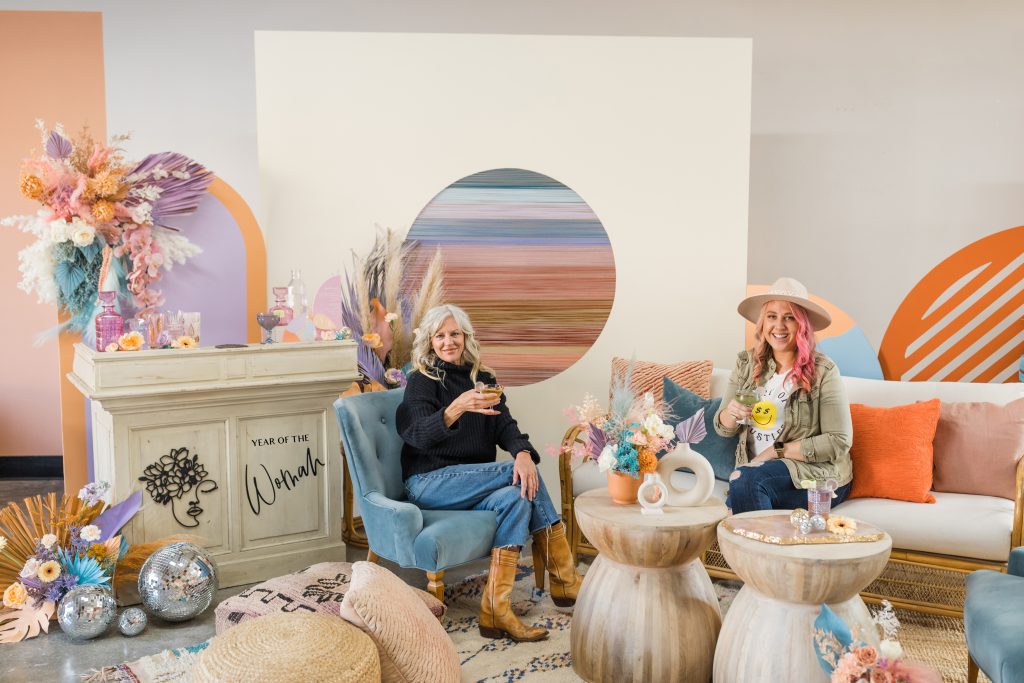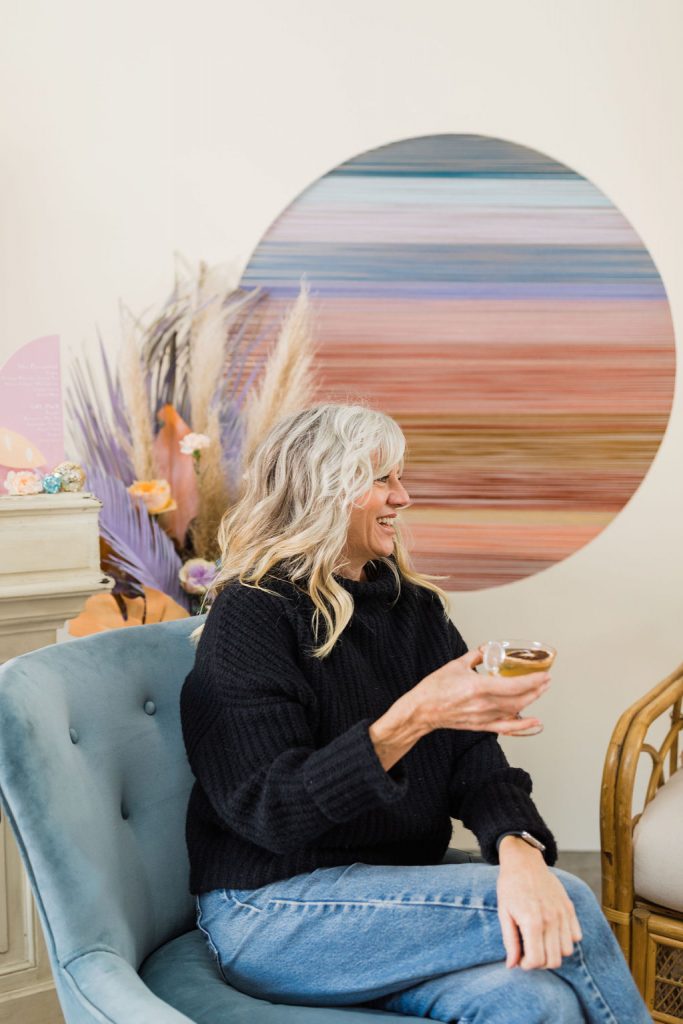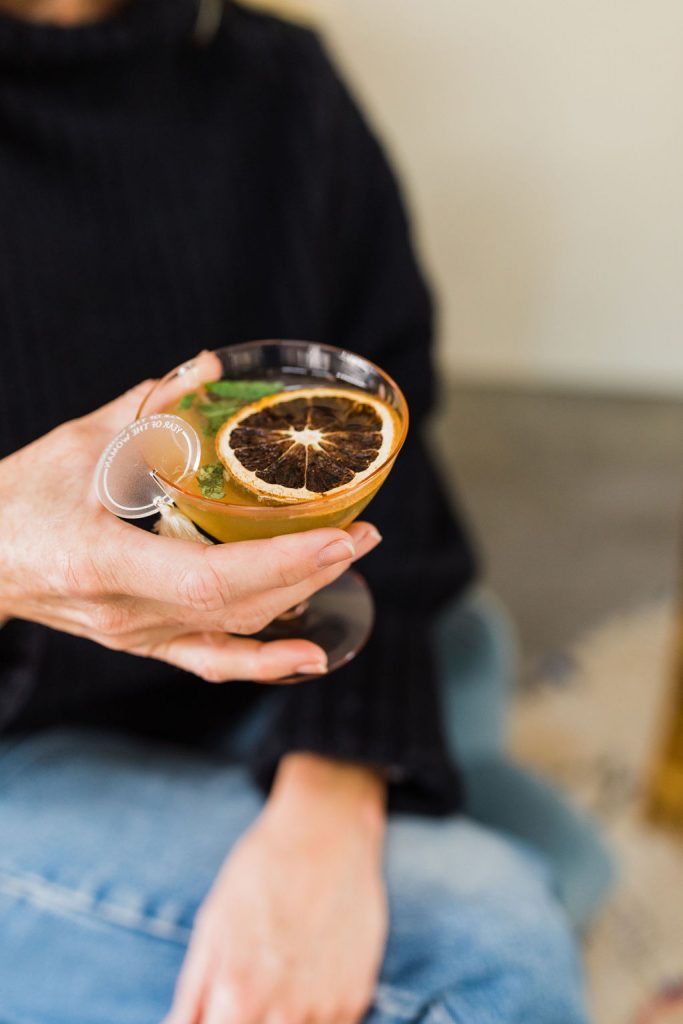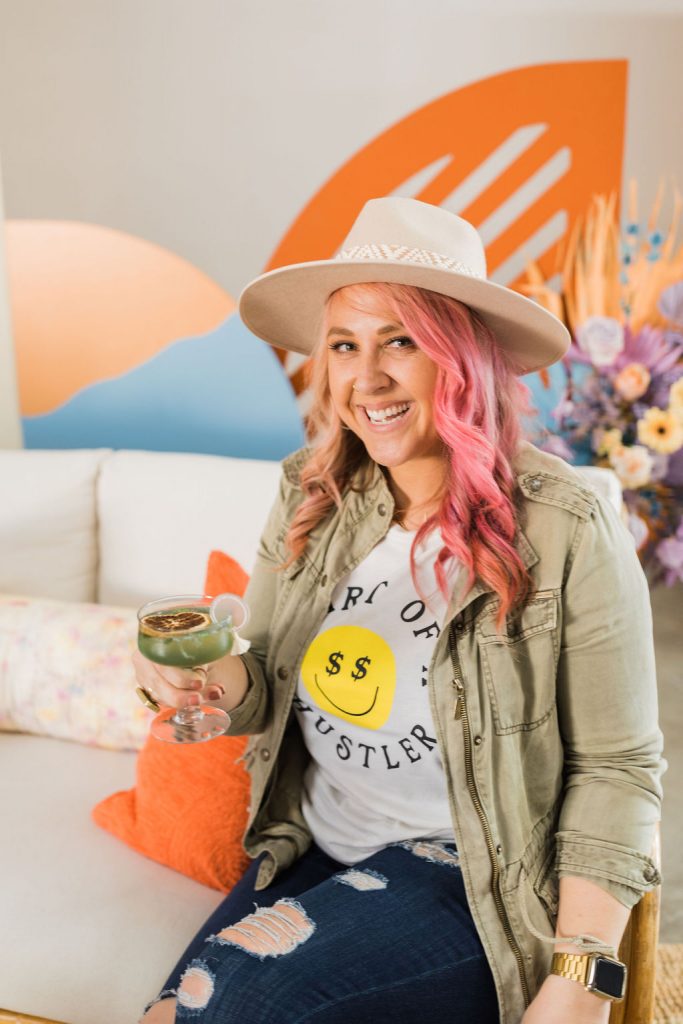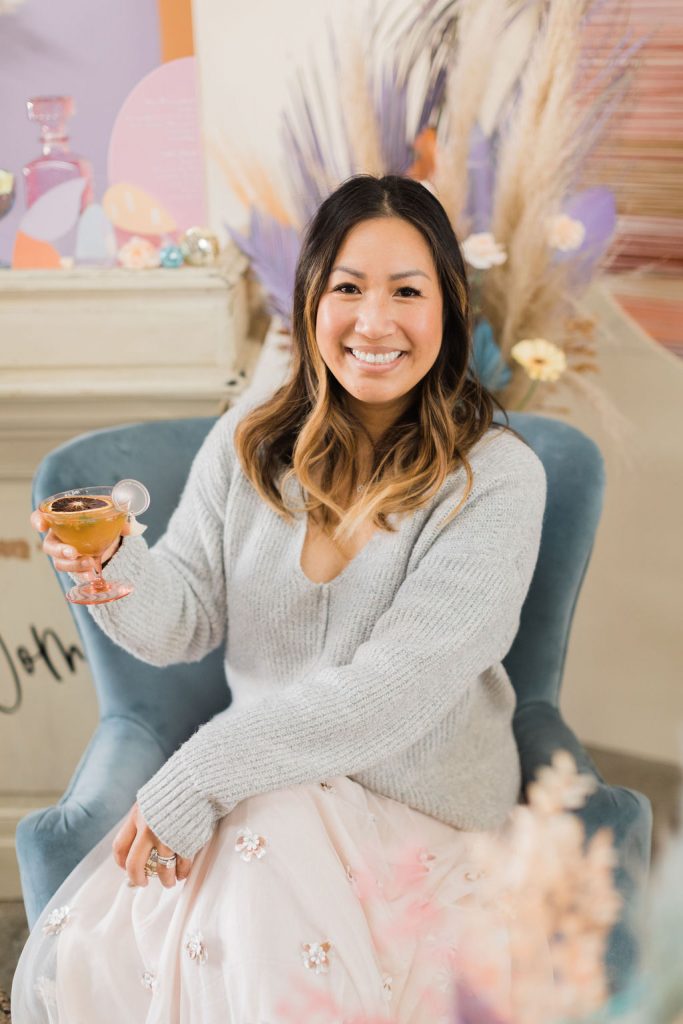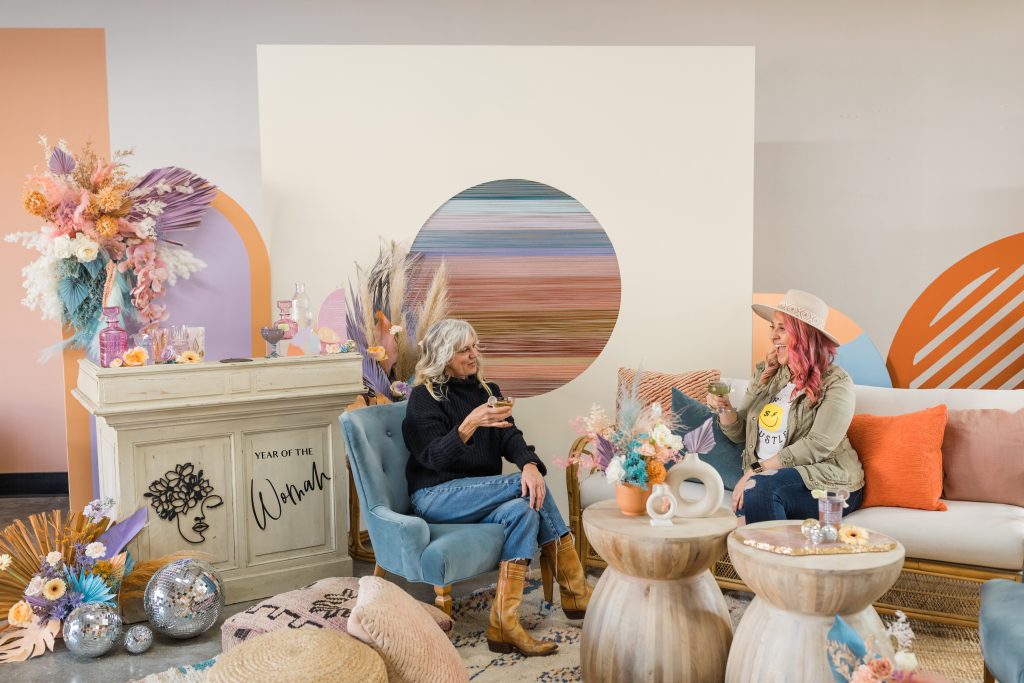 Cheers to coming together to create something beautiful, inventive, and fun!!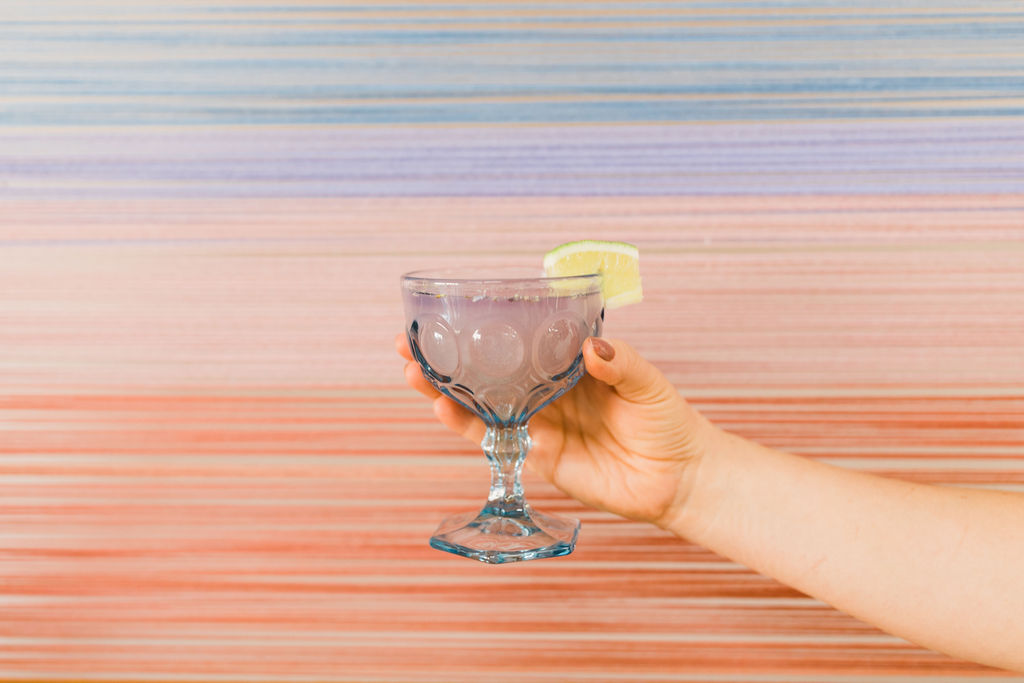 I am grateful to each of these women for inspiring me with their talent, their drive, and their kindness!!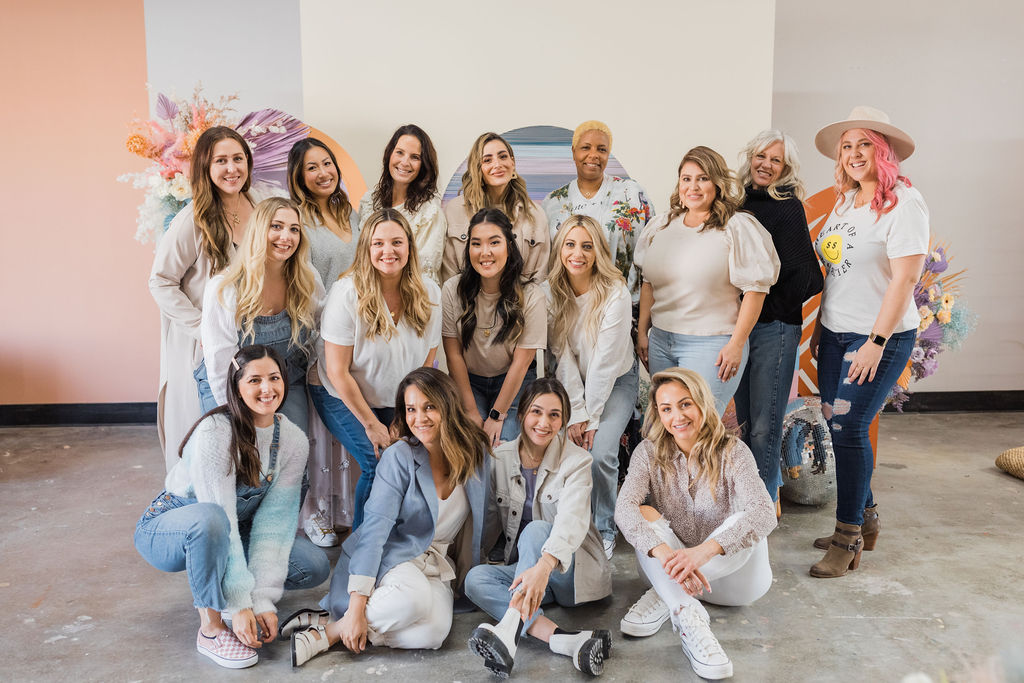 Happy International Women's Day!!!
xx
Jacquelyn