Memorial Day is just in a couple of days… and are you looking for last minute ideas to set that perfect casual table? How do you have the time to go out and get all this decor? It's simple… Amazon. I'm sure you have heard me talk about it several times, but it's just so easy! Of course, you can go to your local target or party store, and I'm sure you can find a bounty of themed decor. Which is totally cool in my books, but I like to go the non-traditional themed route sometimes. Plus, it's always an excuse to get more tablescape items. Which I'm totally guilty of! Amazon shopping has become my new routine late at night before I go to bed. They have so many fun things on there; it's so hard to resist! Score some of these items just in time for Monday…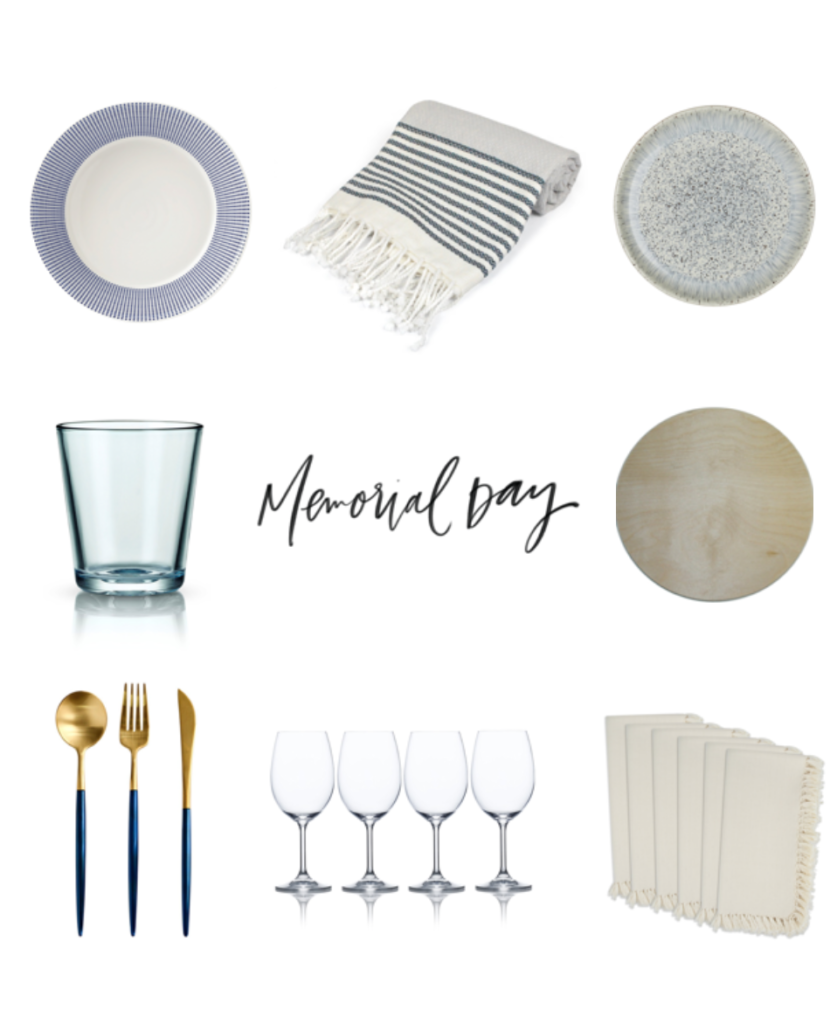 I'm all about this layered blue look. All the elements you can totally use again! I love the idea of layering a Turkish towel as a tablecloth. If you haven't discovered Turkish towels, you really should incorporate them into your home. They are great pieces to have in your bathroom, outside for picnics, pool, beach and of course as dining decor options. And who can resist those fringe details? Layer two different blue plates like this
Layer two different blue plates like this blue dot plate and this speckled plate, it will add cool blue textures to your tablescape. I fell in love with this navy + gold flatware; it was a must for sure. Rounding out the rest of the table are classic wine glasses which everyone has, blue toned tumblers to keep with that blue look, and fringed cream napkins. In addition, check out some cool serving trays also that will fit right at home with this tablescape, here and here. I love adding an element like a wood tray to the table to break up all the blue.
All these items you can for sure use again for holidays like Father's Day and 4th of July, and just use as your everyday summer tablescape. It all can be mixed and matched with other colors as well; it makes it easy to hit that add to cart button.
Shop all the items below.

Happy Memorial Day friends!
Be safe and have fun!
xx
Abby