This summer's favorite cookie! These bright, fresh, sweetly tart, and tender lemon daisy cookies scream all the fun that will be had this summer. Super simple and easy to make and let me tell you; you will need to double the batch. They lasted a couple of hours in my house. Truly, nothing better than a lemon and poppyseed combo. So grab some butter and fresh lemons, and lets get to it!

Photos by Dayna Studios
---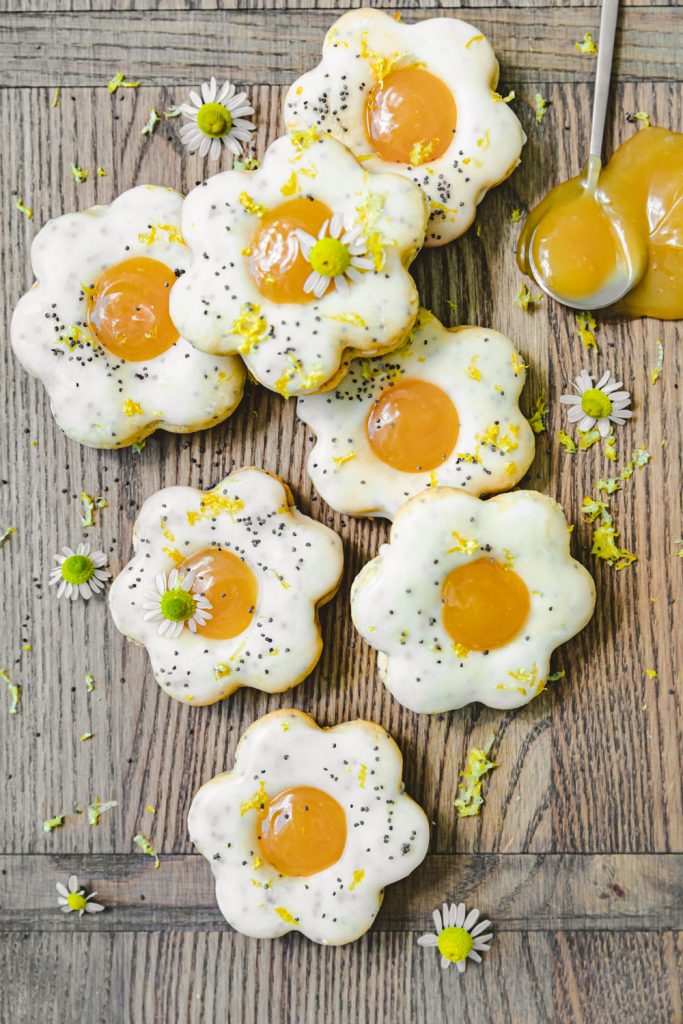 ---
Lemon Poppyseed Daisy Cookies
SERVES: about 20 daisy cookies | PREP: 15 MINUTES | COOK: 12 MINUTES
W H A T Y A N E E D
Cookies
2 cups all-purpose flour
2 teaspoons baking powder
1 teaspoon cornstarch
1/2 teaspoon fine salt
10 tablespoons unsalted butter, at room temperature
1 cup granulated sugar
1 tablespoon fresh lemon zest (about 2 lemons)
1 large egg
1 large egg yolk
1 tablespoon honey
1 1/2 tablespoons fresh lemon juice
2 tablespoons poppy seeds

Glaze
1 cup (125 grams) powdered sugar
1 tablespoon fresh lemon juice
Lemon zest for garnish, optional
Poppy seeds for garnish, optional
B U S T   O U T
Stand Mixer or Hand Mixer
Cookie Sheets
Daisy Cookie Cutter
Piping Bag
Parchment paper
---
I N S T R U C T I O N S
Preheat the oven to 350 degrees F. Line two baking sheets with parchment paper or use a slipmat.
In a medium bowl whisk together the flour, baking powder, cornstarch, and salt.
In the bowl of an electric mixer or a hand mixer with a glass bowl, beat the butter, sugar, and lemon zest until light and fluffy, about 3 minutes. Beat in the egg, egg yolk, and honey. Add the lemon juice and poppy seeds and mix until combined. At low speed, gradually add in the flour mixture until just combined. Be careful, as the flour can get a little messy.
Dust the counter with flour and your rolling pin. Lightly roll out portions and begin to cut out the daisy cookies. Use a small cap, and make a hole in the center of some of the daises. I used a cap from a medicine bottle.
Bake for 12 to 14 minutes or until cookies are just set and slightly golden brown. Cool cookies on a baking sheet for 2 minutes, then transfer to cooling racks to cool completely.
For the glaze, take a small bowl and combine the powdered sugar and lemon juice until a thick glaze forms. Add more sugar or juice as needed. Dip each cookie into the glaze. Sprinkle with more zest and poppy seeds, if desired. Let the glaze set, about 20 minutes.

Lastly, time to assemble. Put your lemon curd into a piping bag. Place the daisy with the hole on top of a solid daisy, to create a sandwich. Then simply and carefully, fill the hole with lemon curd. Let the cookies set, and enjoy! These can store in an airtight container at room temp for up to 3 days.
---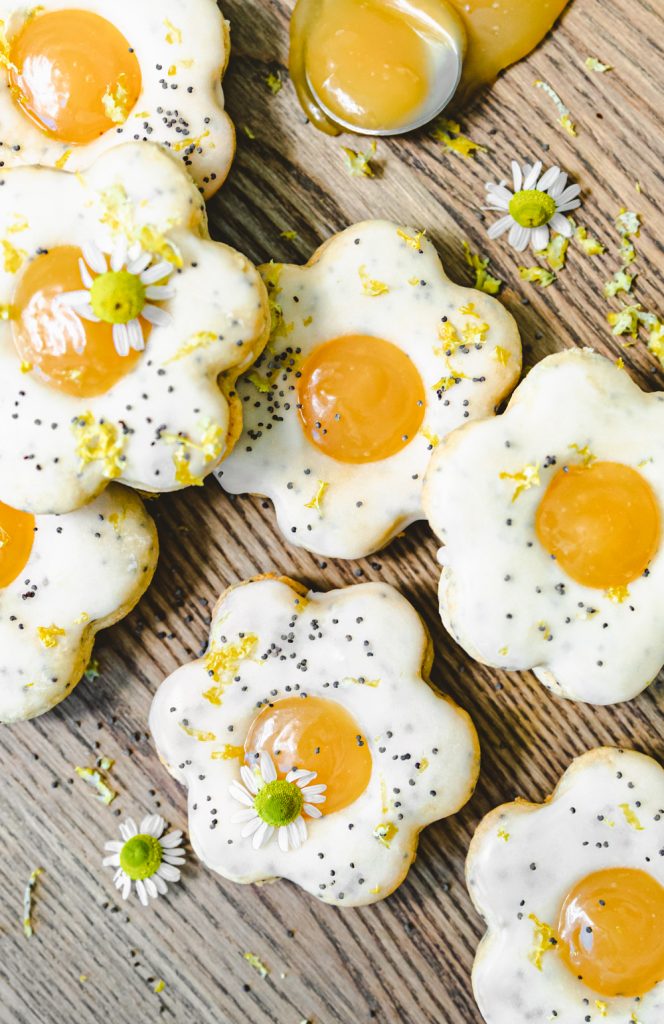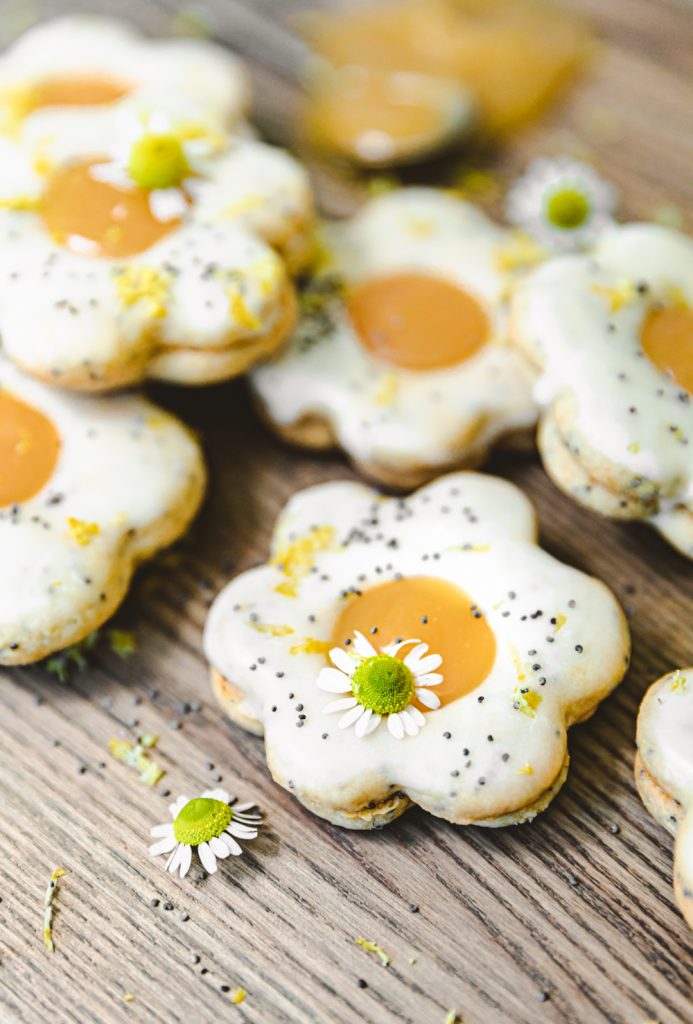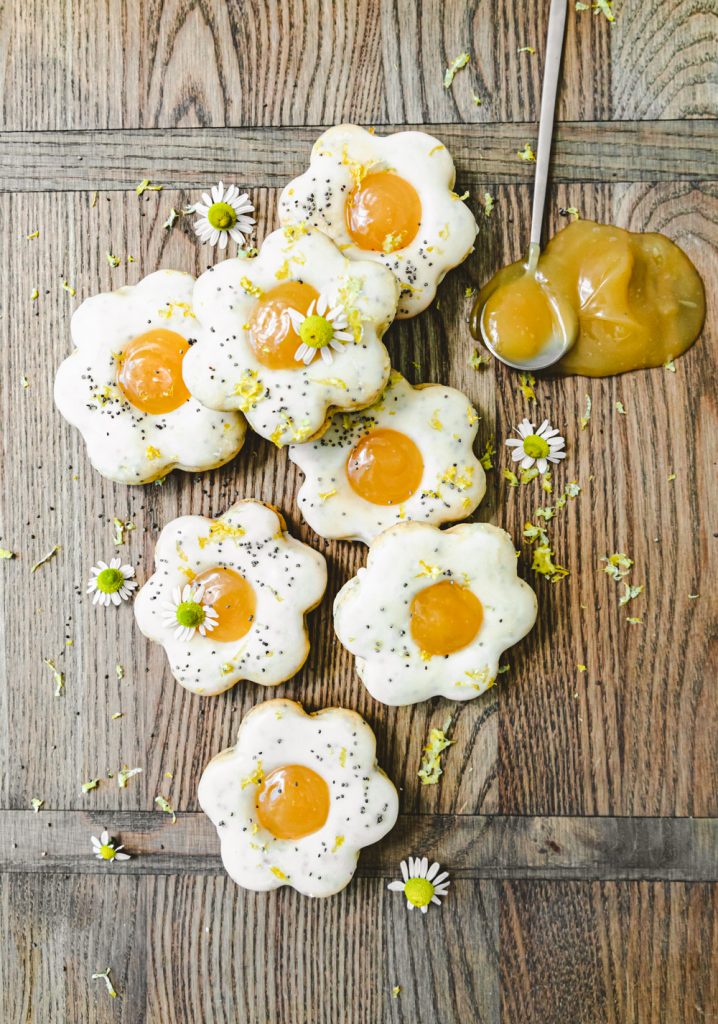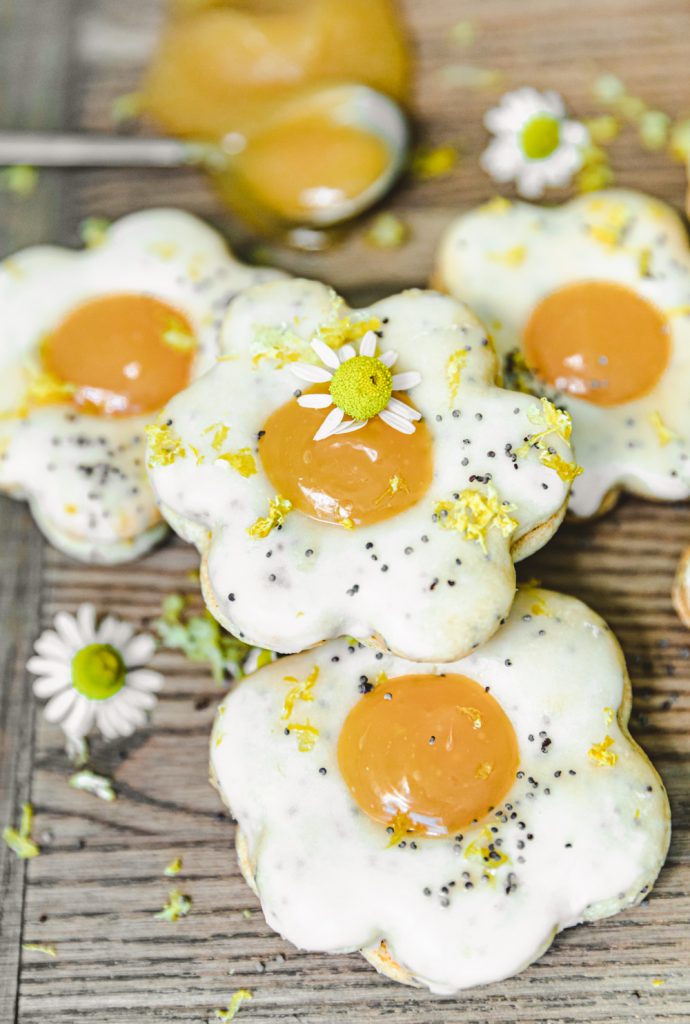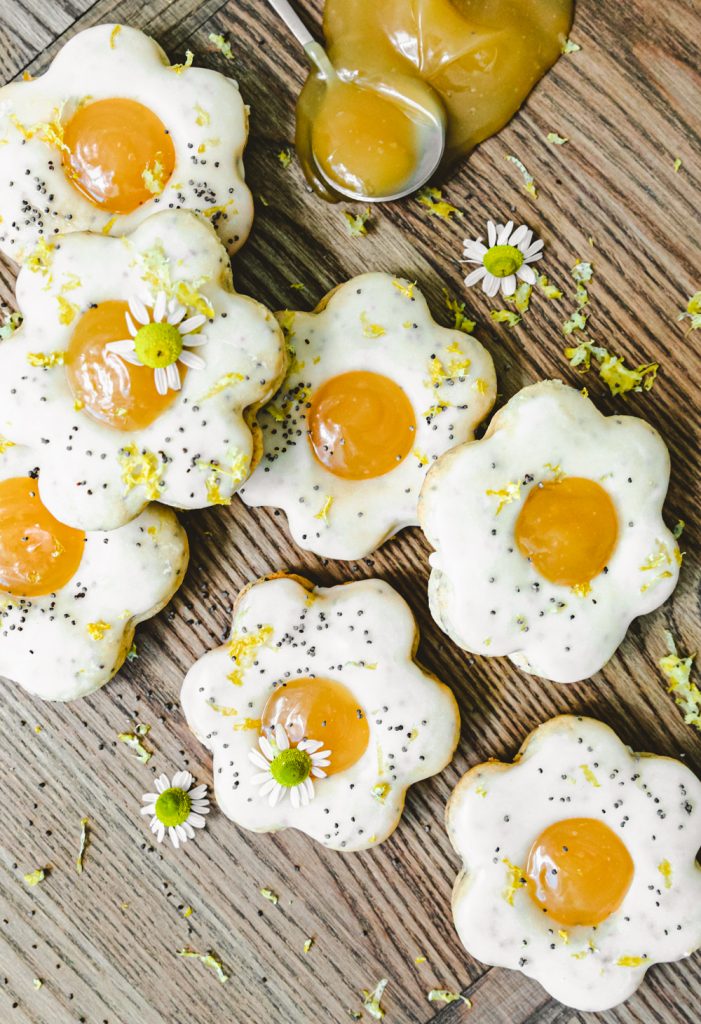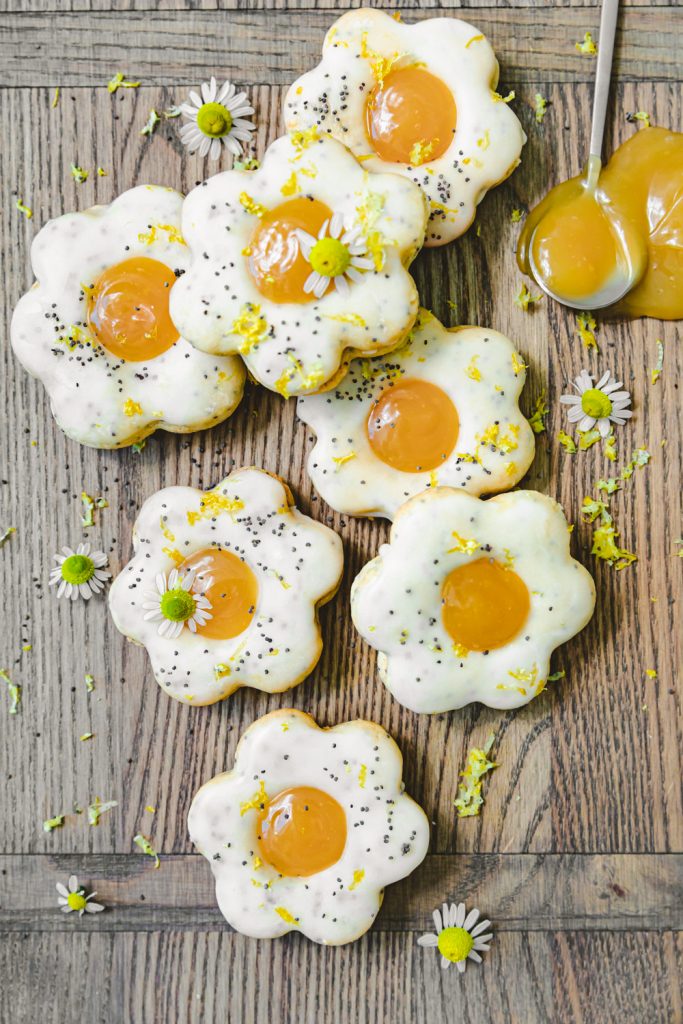 ---

xx
Abby