Thanksgiving is right about the bend… and your probably trying to figure what your bringing over for thanksgiving dinner just like us right? Well The Sugar Studio is here to save the day with some modern fun desserts to wow your family. Move over lame pumpkin pie, and say hello to the new babes of thanksgiving dessert!
We love working with The Sugar Studio, she creates mouth watering desserts that are out of this world. Today is your luck day, she gave us the recipes to three of her favorite pumpkin desserts! You can thank us later.
Hilary what do you got for us girl?
How cute is this pumpkin menu done by Abby Setti from As Written Calligraphy? So good!
Mouth is already watering….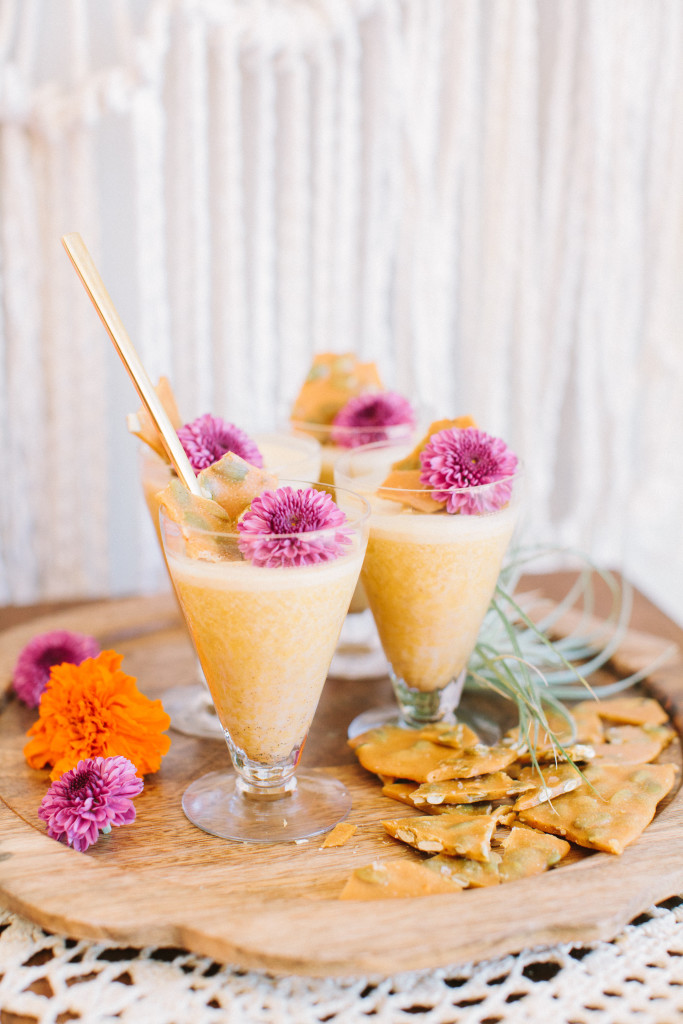 Pumpkin Panna Cotta
Ingredients:
1 ½ cups milk
1 envelope unflavored gelatin or 2.5 teaspoons
1 cup heavy cream
1 cup pureed pumpkin
½ cup sugar
½  teaspoon ground cinnamon
½ teaspoon cloves
½ teaspoon ginger
zest of 1 orange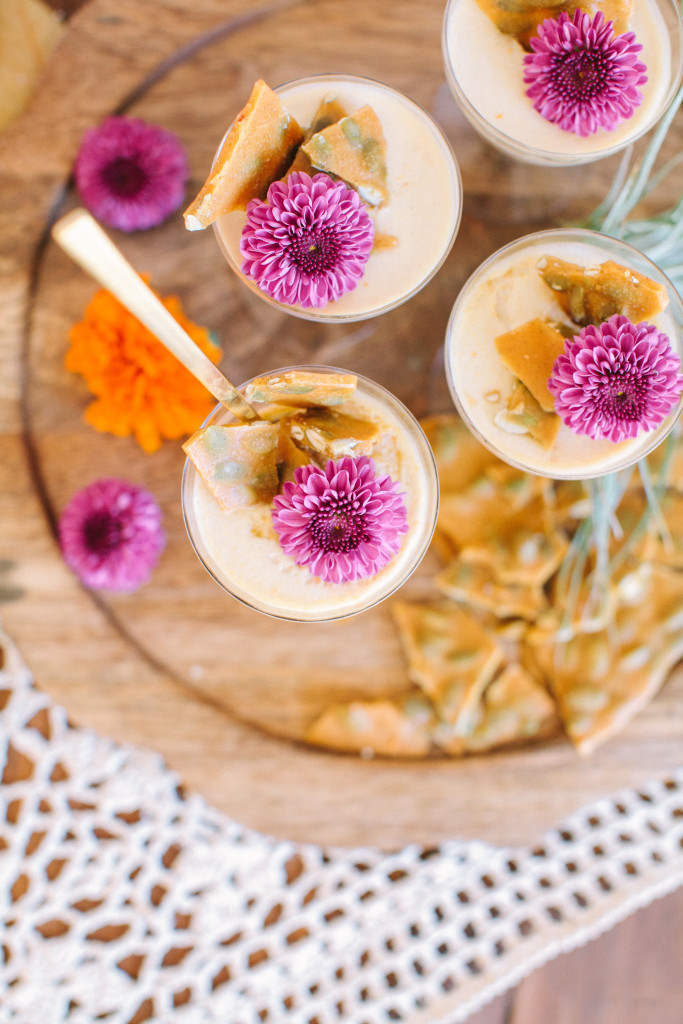 Put 1/2 cup of the milk in a 6- or 8-cup saucepan, and sprinkle the gelatin over it. Let sit for 5 minutes. Meanwhile, blend together the remaining milk, cream, pumpkin, sugar and cinnamon. The mixture should be perfectly smooth, so it is best to use a blender.
Turn the heat under the saucepan to low, and cook the milk, stirring occasionally, until the gelatin dissolves. Pour in the cream mixture, and turn the heat to medium. Cook, stirring occasionally, until steam rises. Turn off the heat, and ladle or pour the mixture into 8 4-ounce ramekins or other containers.
Chill the panna cotta until firm, and serve, with bourbon whipped cream and topped with a piece of pumpkin seed brittle.
Spiked whipped cream:
1 cup cold heavy whipping cream
¼ powdered sugar
1 tablespoon vanilla extract
2 tablespoons bourbon
Combine all ingredients in a cold mixing bowl and beat until soft peaks form.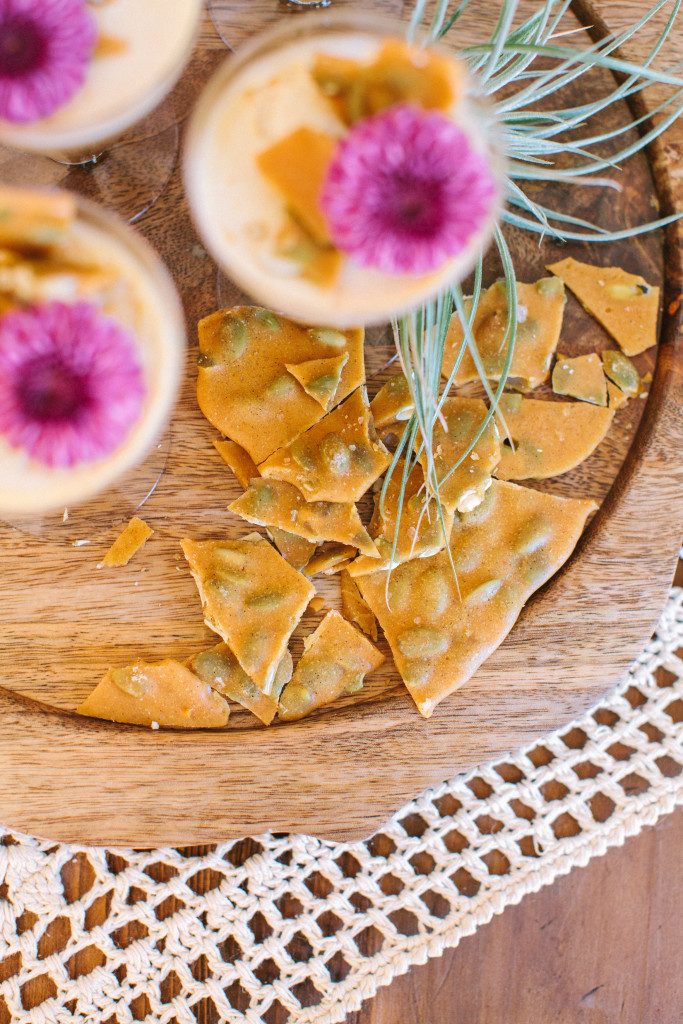 You need this brittle in your life! its amazing!!
Spiced Pumpkin Brittle:
Ingredients:
Nonstick vegetable oil spray
1 cup sugar
½ cup light corn syrup
1 cup raw shelled pumpkin seeds (pepitas)
2 tablespoons unsalted butter
1 teaspoon kosher salt
¾ teaspoon baking soda
¼ teaspoon ground cinnamon
¼ teaspoon ground cloves
½ teaspoon vanilla extract
¼ teaspoon flaky sea salt
Method:
Spray a parchment-lined baking sheet with nonstick spray; set aside. Bring sugar, corn syrup, and 3 Tbsp. water to a boil in a medium saucepan over medium heat, stirring to dissolve sugar. Fit saucepan with thermometer and cook until thermometer registers 290°, 3–4 minutes.
Stir in pumpkin seeds, butter, vanilla and kosher salt and cook, stirring often, until pale brown and thermometer registers 305°, 5-7 minutes.
Stir in baking soda and cinnamon (mixture will bubble vigorously), then immediately pour caramel onto prepared sheet. Using a heatproof spatula, quickly spread out and sprinkle with sea salt; let cool. Break brittle into pieces
So So good!
Up next one killer pumpkin cake roll…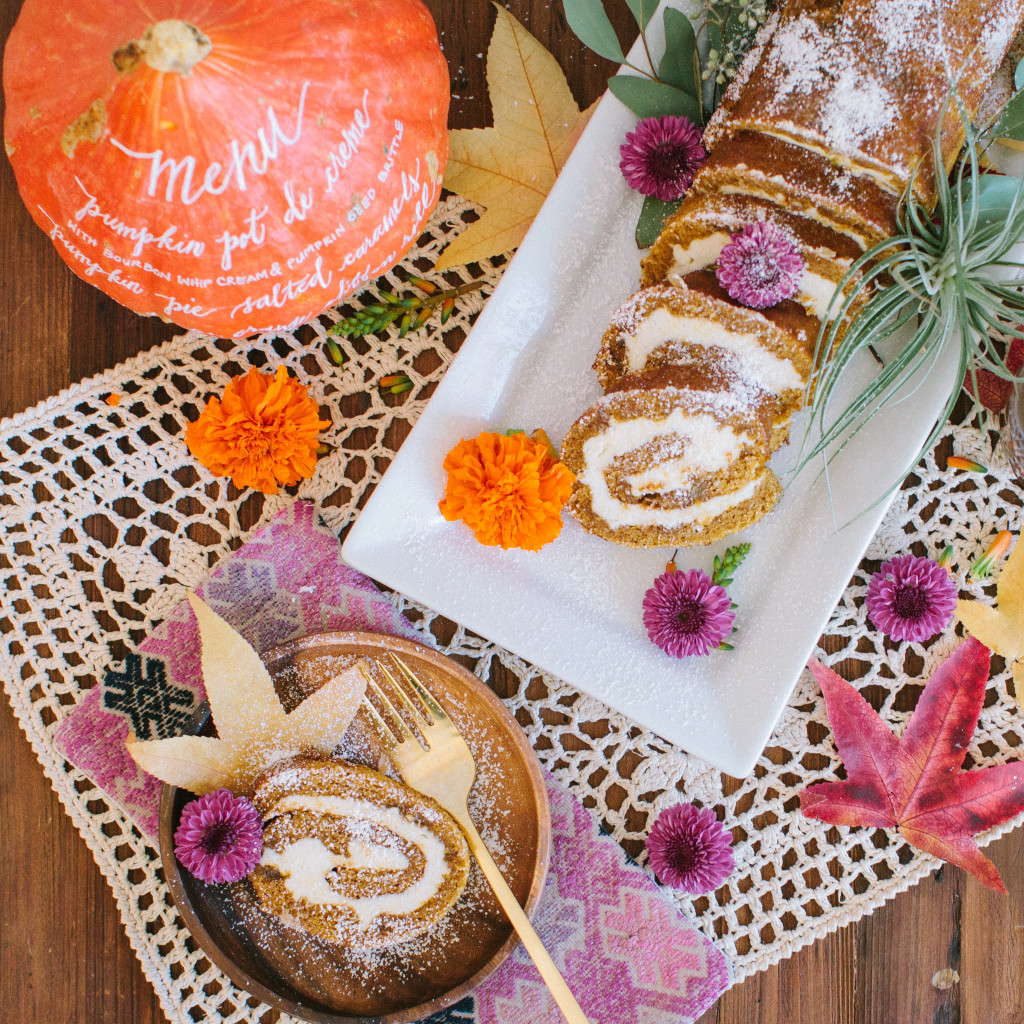 Orange, Ginger Pumpkin Cake
CAKE:
1/4 cup powdered sugar (to sprinkle on towel)
3/4 cup all-purpose flour
1/2 teaspoon baking powder
1/2 teaspoon baking soda
1/2 teaspoon ground cinnamon
1/2 teaspoon ground cloves
½ teaspoon ground ginger
½ teaspoon ground cardamon
1/4 teaspoon salt
3 large eggs
1 cup granulated sugar
2/3 cup  Pure Pumpkin
1 cup candied ginger (optional), chopped
Icing
1 pkg. (8 oz.) cream cheese, softened
1 cup powdered sugar, sifted
6 tablespoons butter
1 teaspoon vanilla extract
1 teaspoon orange zest
1/4 cup powdered sugar (optional)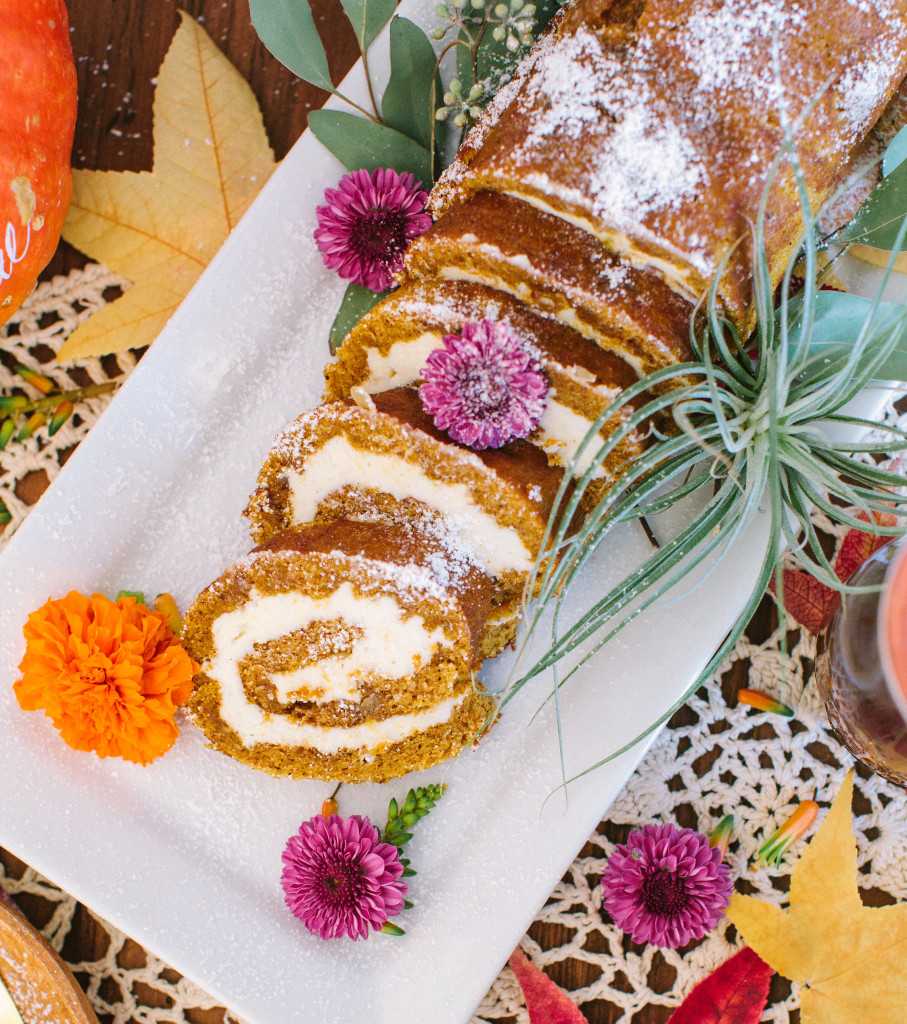 FOR CAKE:
PREHEAT oven to 375°F. Grease 15 x 10-inch jelly-roll pan; line with wax paper. Grease and flour paper. Sprinkle a thin, cotton kitchen towel with powdered sugar.
COMBINE flour, baking powder, baking soda, all spices and salt in small bowl. Beat eggs and sugar in large mixer bowl until thick. Beat in pumpkin. Stir in flour mixture. Spread evenly into prepared pan. Sprinkle with candied ginger
BAKE for 13 to 15 minutes or until top of cake springs back when touched. Immediately loosen and turn cake onto prepared towel. Carefully peel off paper. Roll up cake and towel together, starting with narrow end. Cool on wire rack.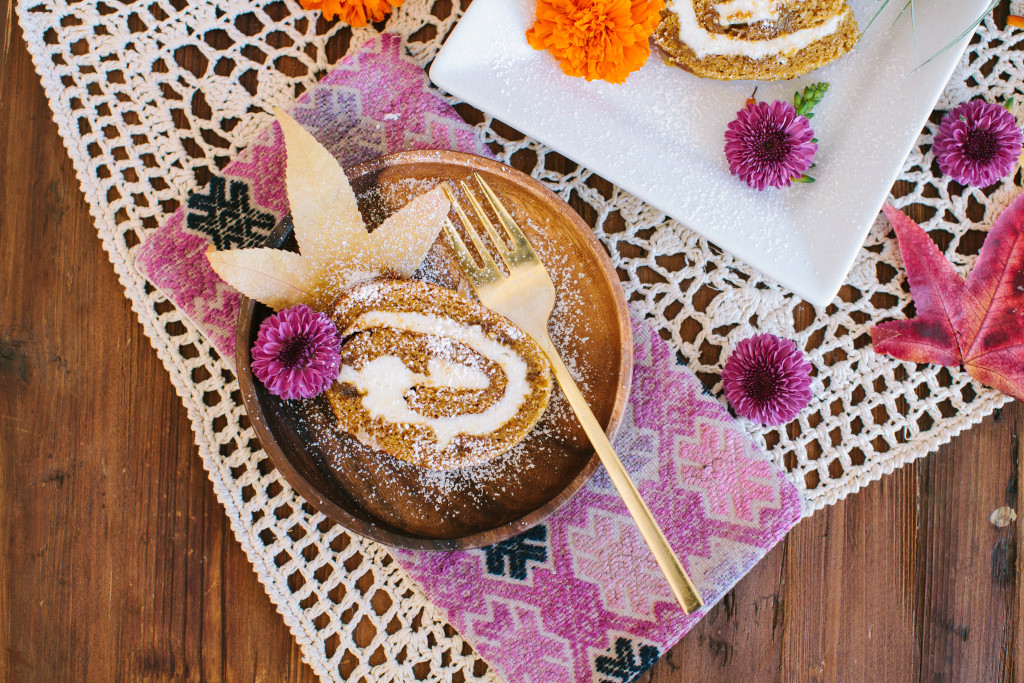 FOR FILLING:
BEAT cream cheese, powdered sugar, butter,zest and vanilla extract in small mixer bowl until smooth. Carefully unroll cake; remove towel. Spread cream cheese mixture over cake. Reroll cake. Wrap in plastic wrap and refrigerate at least one hour. Sprinkle with powdered sugar before serving, if desired.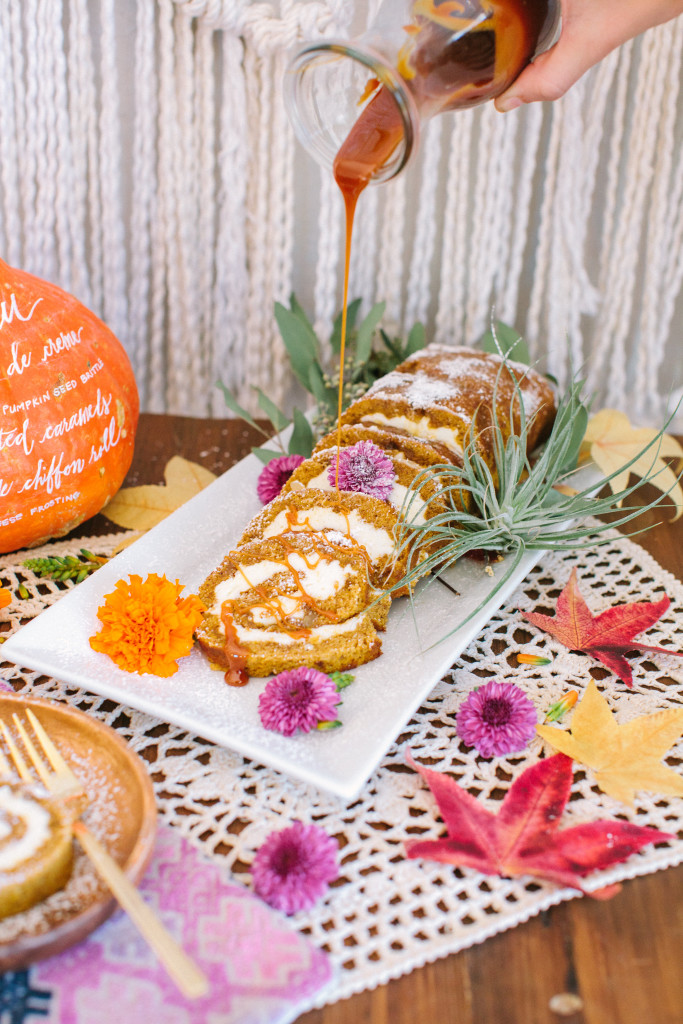 Drizzle with caramel sauce right before serving.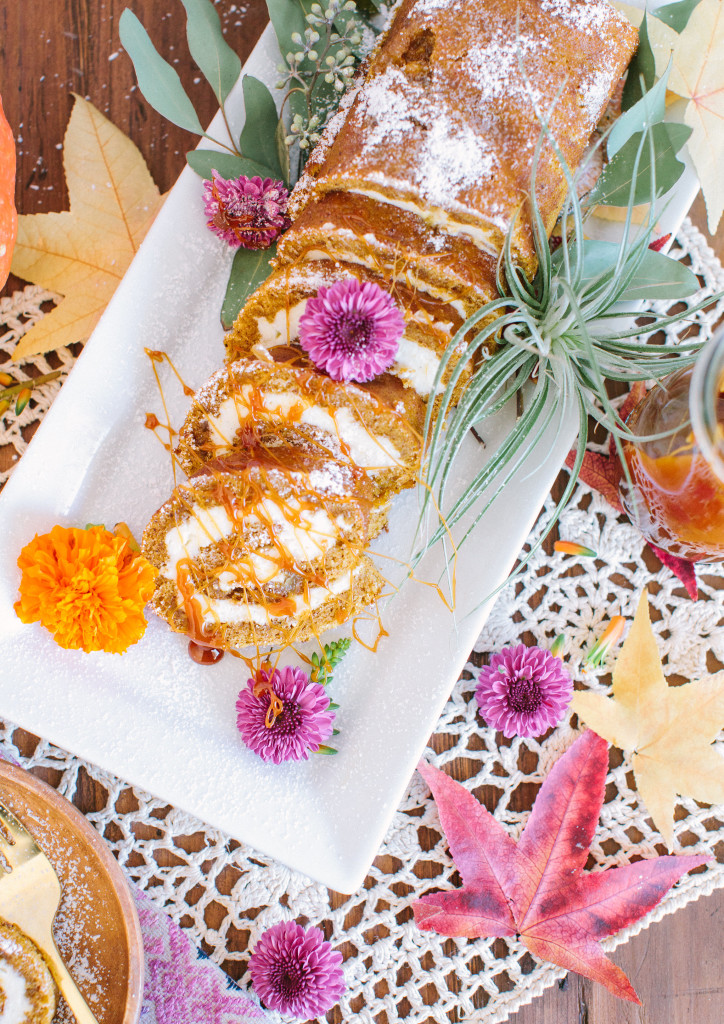 Note: Be sure to put enough powdered sugar on the towel when rolling up the cake so it will not stick.
Salted Caramel Sauce:
Ingredients:
1 cup granulated sugar
½ cup heavy cream (heated and set aside)
1 tablespoon butter
1 tablespoon vanilla extract
Coarse grain salt (Maldon, Fleur de sal)
Method:
Heat sugar in a large sauce pan until completely melted and golden brown. Be sure to dissolve all the sugar crystals. When golden brown carefully add the heavy cream and whisk to combine.
Whisk in the butter, vanilla and salt.
We love this one for bringing over for a crowd! If you do so, prepare the roll prior to your feast, and then powder sugar it up and caramel when its time to eat!
Last but not least…..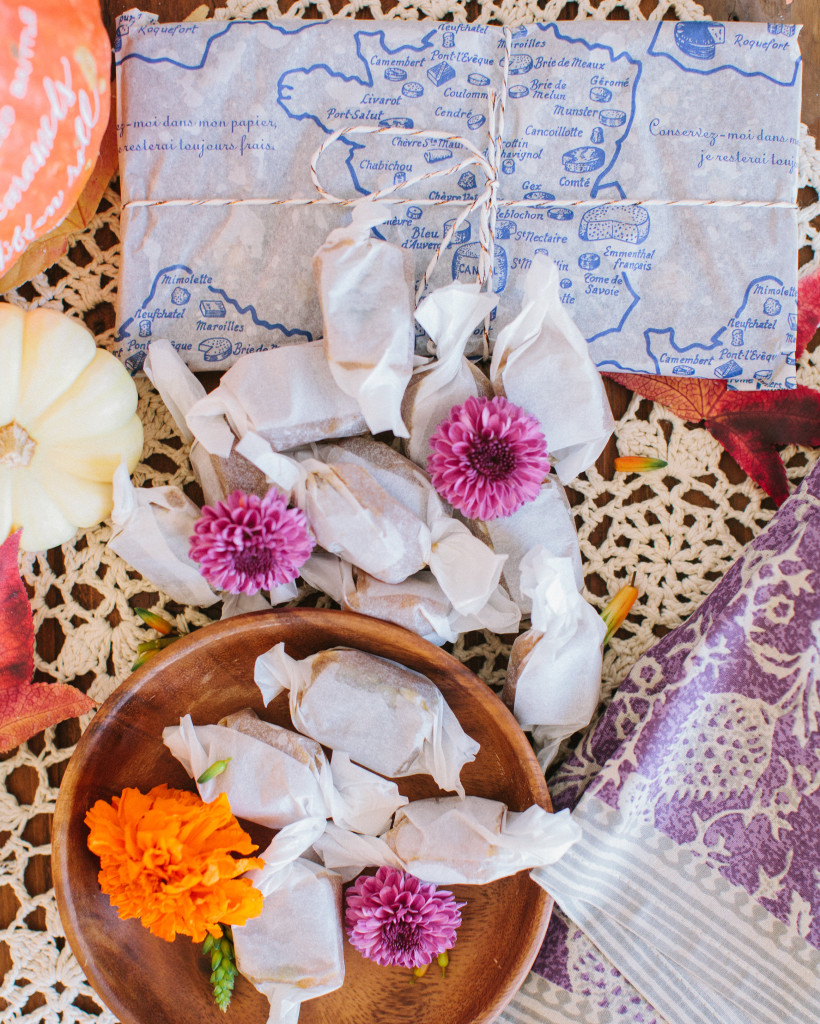 Pumpkin Spiced Salted Caramels
3/4 cup pumpkin seeds (pepitas)
1 1/2 cup heavy cream (35% or whipping cream)
3/4 cup pumpkin puree
1 1/2 tsp. pumpkin pie spice (or 1/2 tsp. cinnamon, 1/4 tsp. ginger, 1/4 tsp. nutmeg, and 1/8 tsp. each allspice and cloves)
2 cups white  sugar
1/3 cup water
2 tablespoons butter
2 tsp. fresh orange juice
1 tsp. fleur de sel or kosher salt
Line the bottom of an 8-inch square glass pan with buttered parchment paper. Spread out the pumpkin seeds on top of the parchment in the pan.


In the saucepan, combine the cream, pumpkin puree, and the spices. Heat it until warm, but do not let it boil. Remove from heat.


In a medium heavy-bottomed pan, combine the sugar, and water. Stir until the sugar is melted. Allow it to boil until it reaches 250 degrees (the upper limit of "soft ball" point on a thermometer). Add the cream and pumpkin mixture, and stir gently until incorporated. Allow this mixture to boil and bring it to 240 degrees on the candy thermometer. This is the part that can take time, around 30 minutes, so be patient and watch it carefully, stirring often so it doesn't burn, particularly in the last stages when it gets very thick.



Once it has reached 240, remove it from heat and stir in the butter and juice swiftly, stirring well until both are fully incorporated and butter is melted. Now pour the caramel into the pan, on top of the pumpkin seeds. Sprinkle with salt.   Wait at least 2 hours for caramel to fully set before slicing. Use a hot knife to slice them more easily, cutting them into 1-inch squares. If you have trouble cutting them because they are too soft, you can always chill them for 20 minutes before cutting. Wrap them individually in waxed paper or eat the entire thing yourself!
All we got to say is Hilary from The Sugar Studio just put you on the favorite list with your family cause these desserts are beyond amazing! Contact this lady asap for your next event or just a craving for something yummy! Sign up for her newsletter here!
Thanks lady for saving Thanksgiving! We know we are going to be making these next week.
Happy Sunday!
xx
Abby