Snail Mail is something we all love here at Beijos.  Doesn't it put a smile on your face whenever you check your mailbox and find something special from a friend or family member and NOT a piece of junk mail?!  This Valentine's Day we decided to spread the love to all our family and friends with the help of our friends at Minted.  One of the best traditions of Valentine's Day is sending cards to say you love someone, and Minted has some of the best!!
See which cards we Beijos ladies will be sending out this year.  Because if there's any year where you should send some love, it's this one!!
Photos by Dayna Studios, Jessica Lynn Photo, and Alison Bernier
---
A  B  B  Y
Valentine's Day is one of my favorite holidays. It's a day you can give that extra hug, kiss, smile, and love to family and friends. We all know the world needs more love right now. We aren't able to give that extra hug and kiss in person, but we can send it in the mail. It's a fun surprise that will put a smile on your family and friends. A little way to let them know that you are thinking of them!
I picked the Rough Edge Valentine's Day card for its color palette and the clean simple look it had to it. When I pick out cards, I try to have them flow with the color scheme of the photo, and these caramel and pink rustic tones went well with the colors my kids were wearing. It's almost like the card was designed for that picture. I picked the picture of them squeezing each other cause you feel like we are sending a hug in the mail for our dear family and friends. The funny, thing about this pose is we do it every year. It started when they were super little, and it's something family and friends like to see each year. Sending this photo of them felt extra special this year.
We also added an elegant touch with Artisaire's "With Love" wax seals. Don't you think it ties it all up in a pretty bow? A great touch to make your card extra special.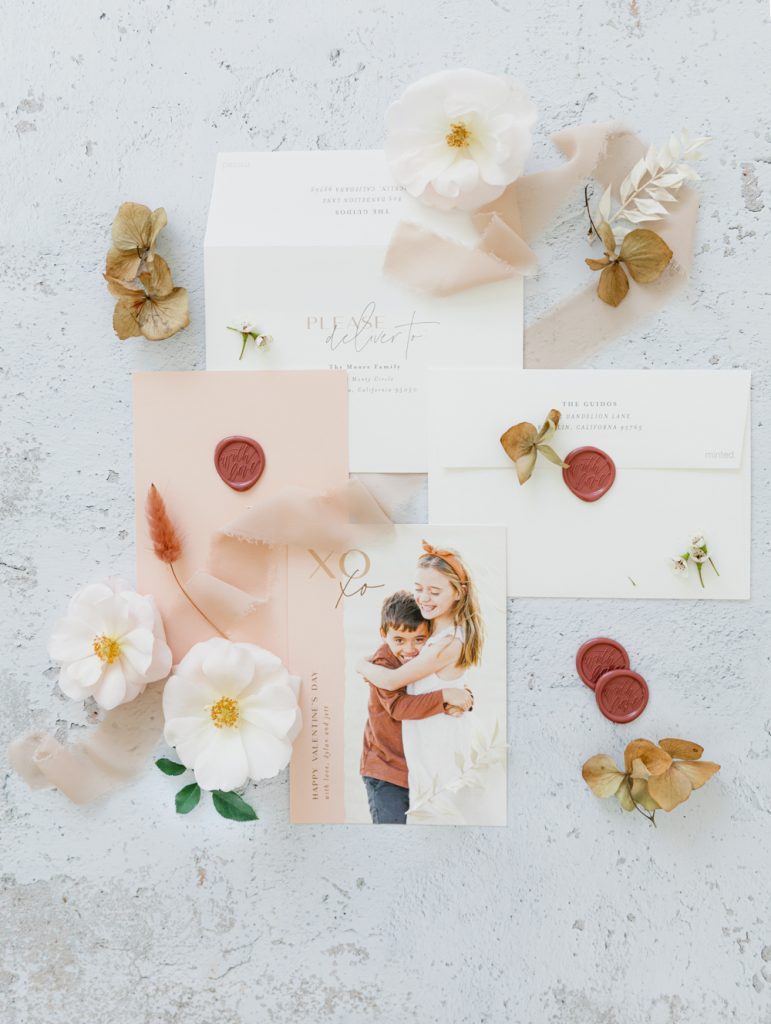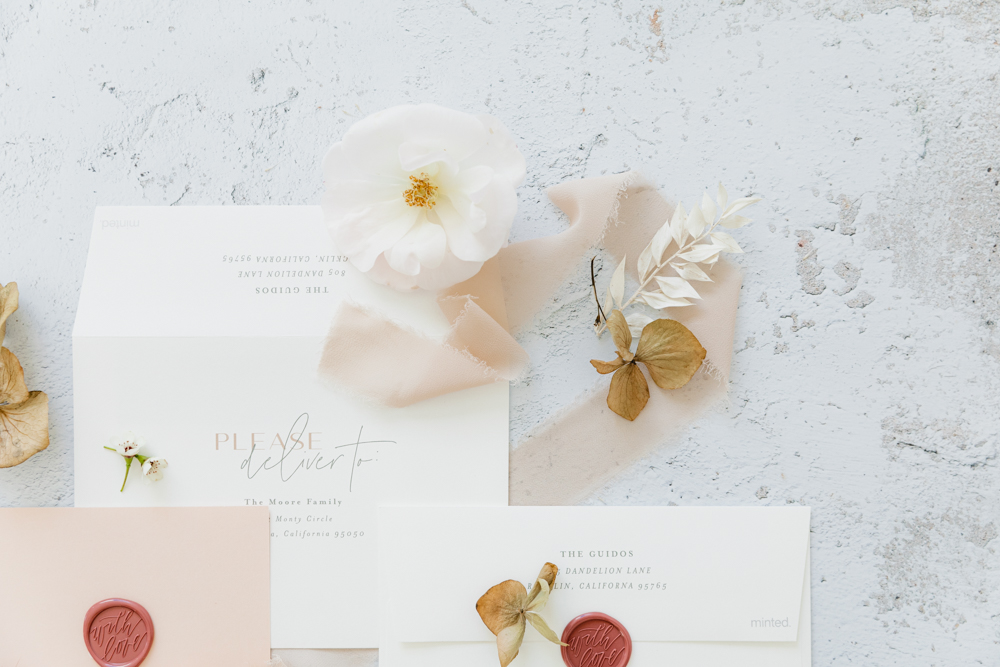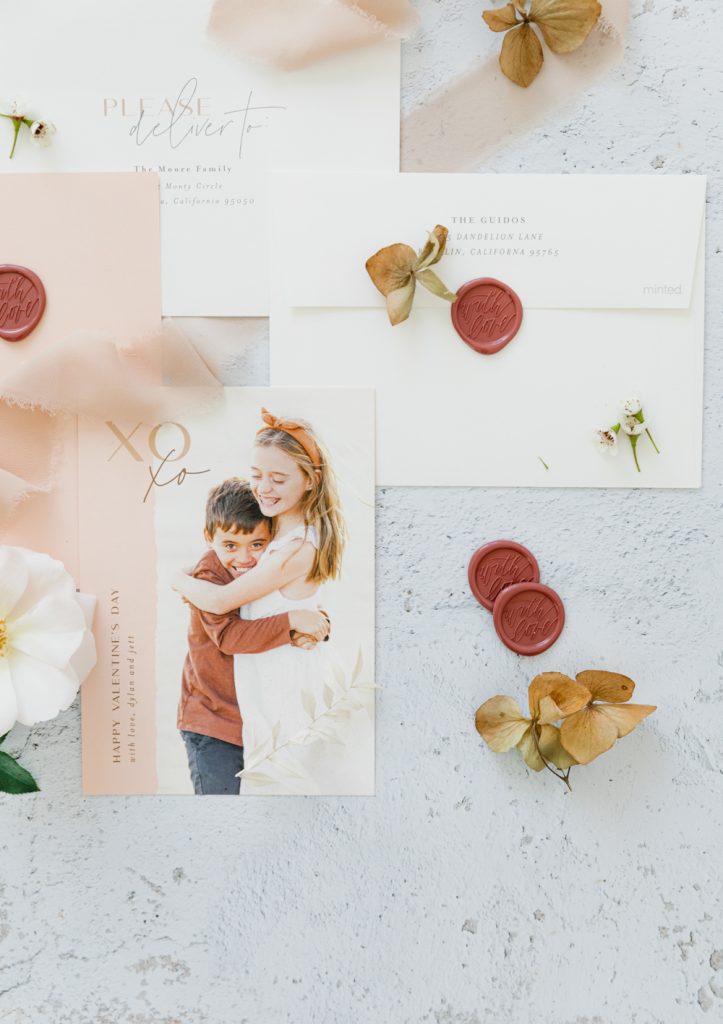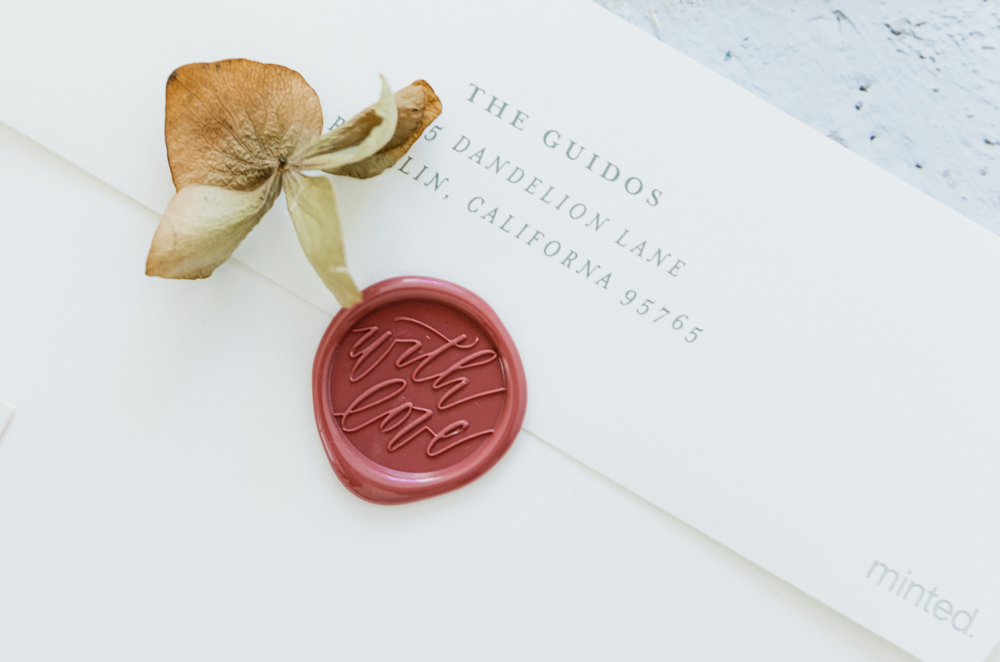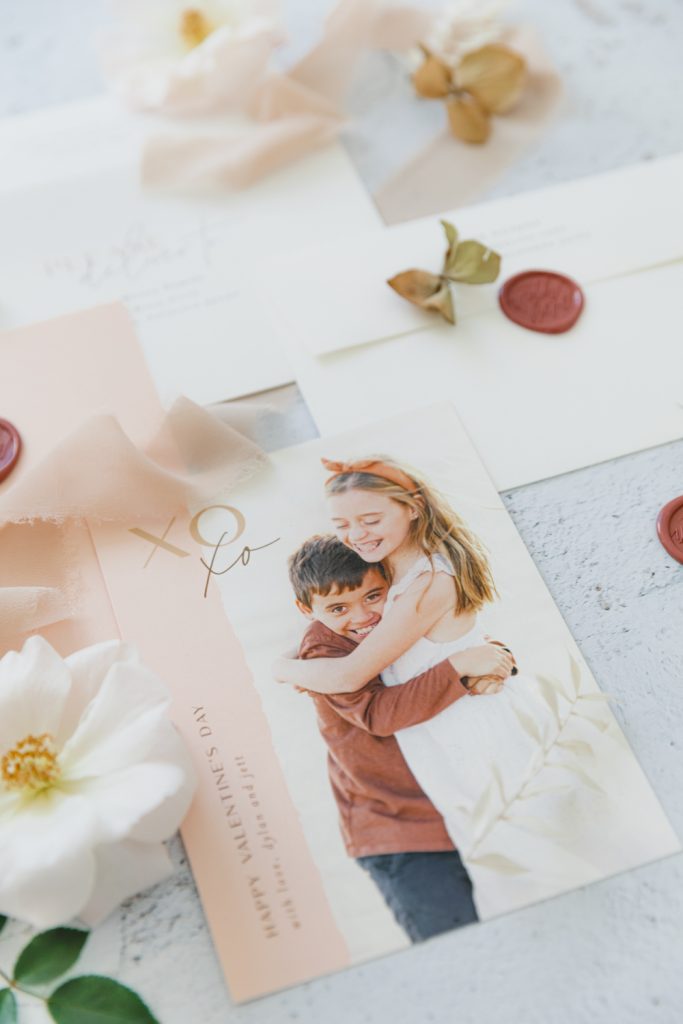 ---
J  A  C  Q  U  E  L  Y  N
This year I definitely wanted to send something special to our family!  We haven't seen most of our family in over a year, since last Thanksgiving as a matter of fact!  My family has yet to make a trip up to Northern California since Covid.  We have canceled multiple flights in the past year because both times we were about to fly something happened.  Whether it was the fires that devastated California or Covid ramping up, it seems that we just can't get up there!  Basically, this was the year to send some love!!
I chose the Eternal Love foil print card because I loved the modern feel, simplicity, and who doesn't love that pretty foil detail?  I did a simple photo of my boys loving each other that I know our friends and family will love!  Also, I love the copper envelope liner that I added, it's all about those little details, don't you think?  Lastly, the Artisaire "With Love" wax seals were the perfect final touch!  What a great idea to make those into stickers and add some pretty in an easier way!
I can't wait to send these out to all of our loved ones both near and far this year.  I also can't wait to FINALLY get a trip up to see everyone!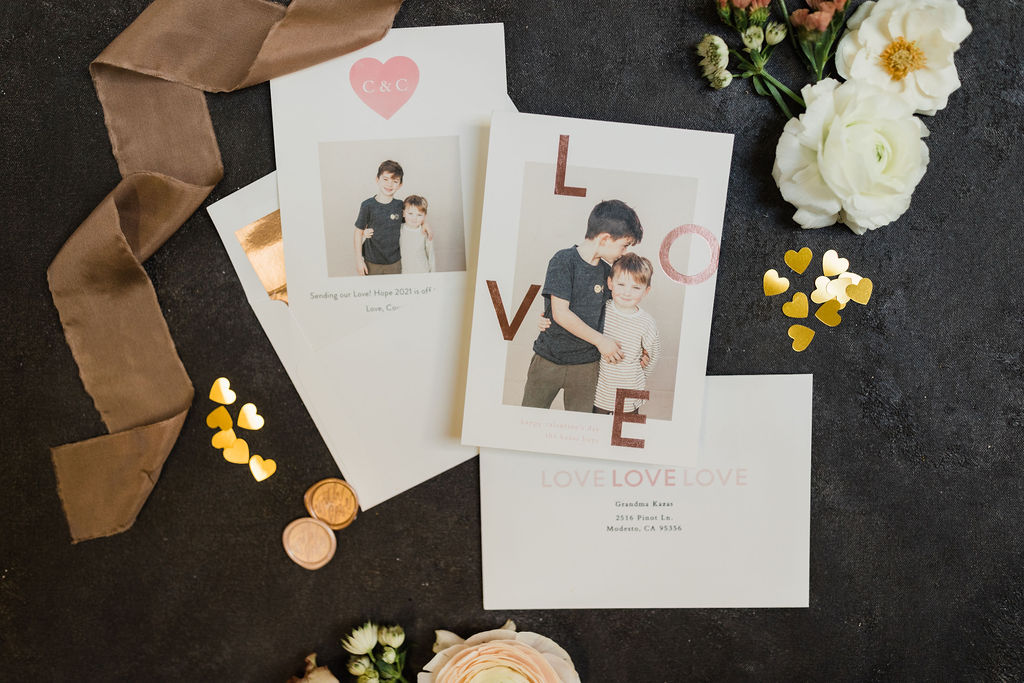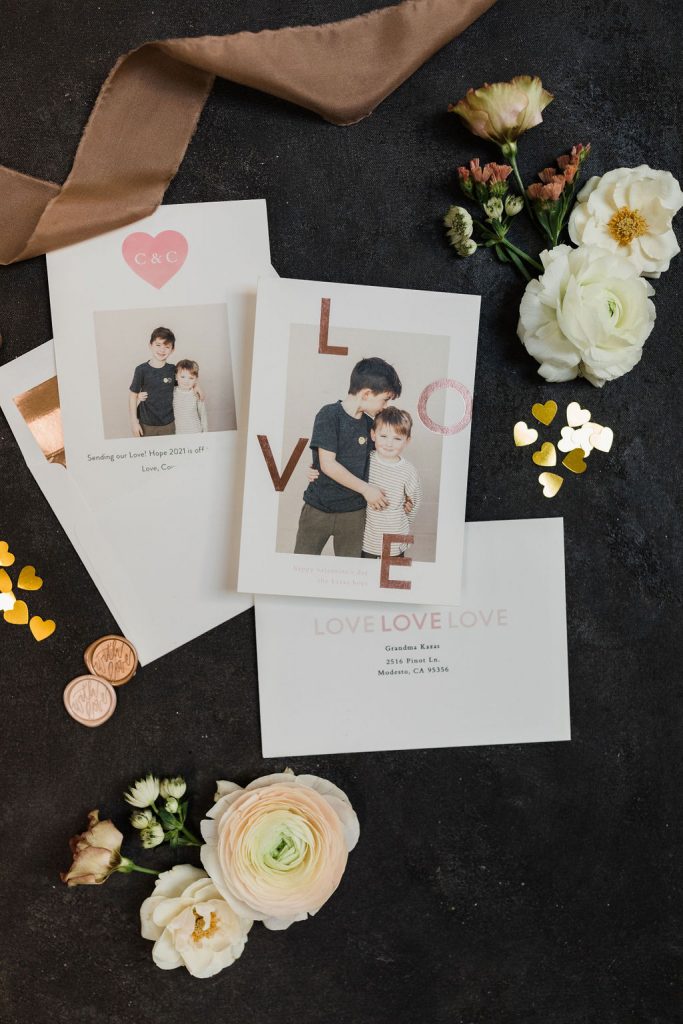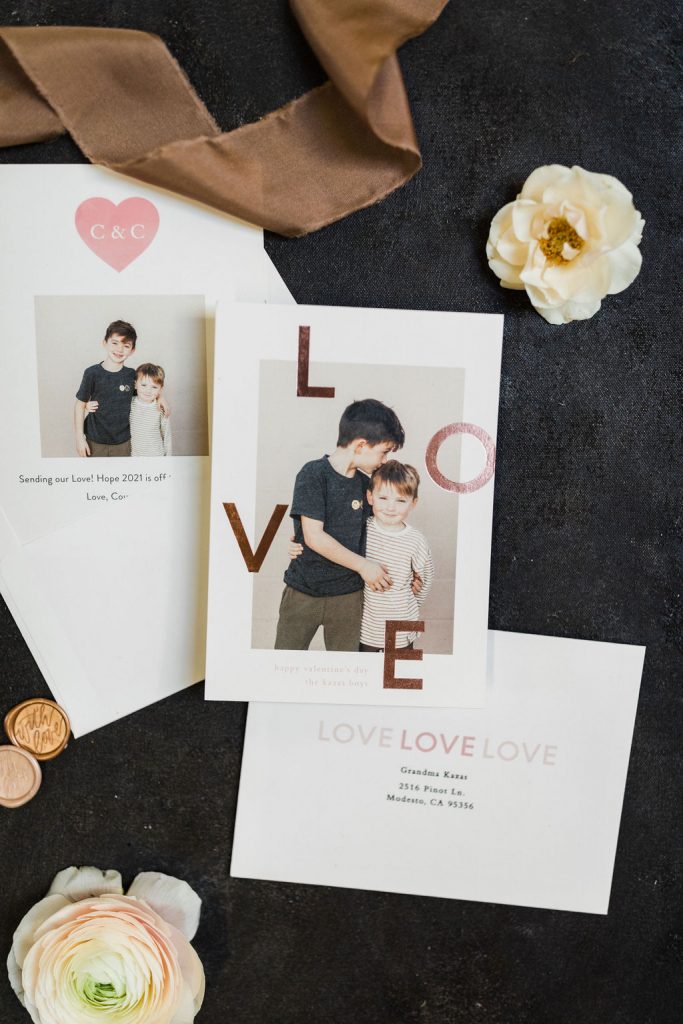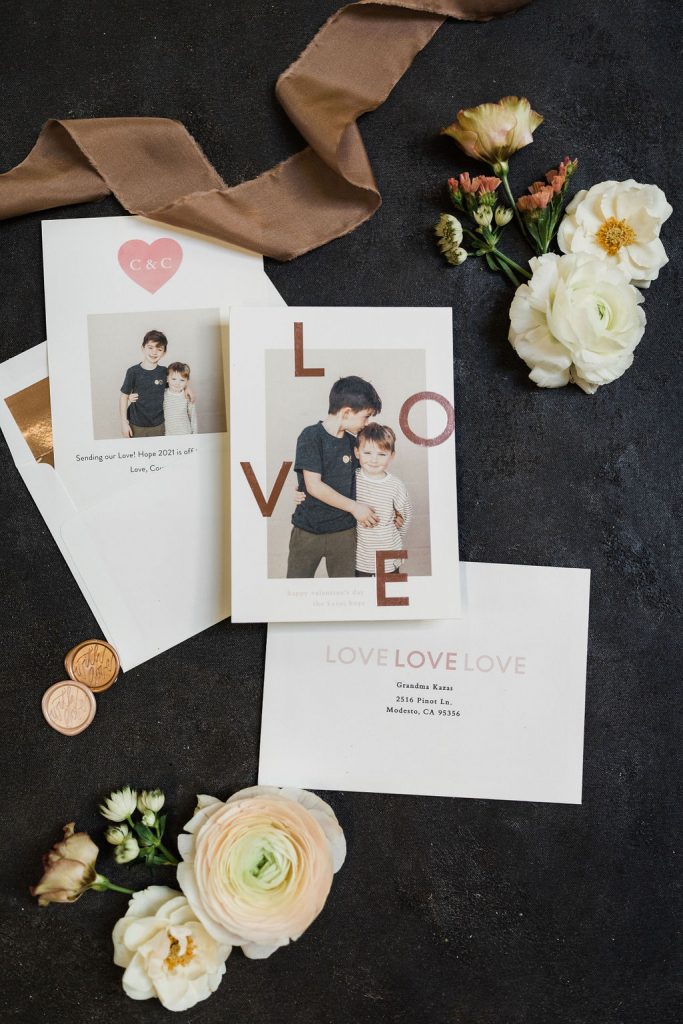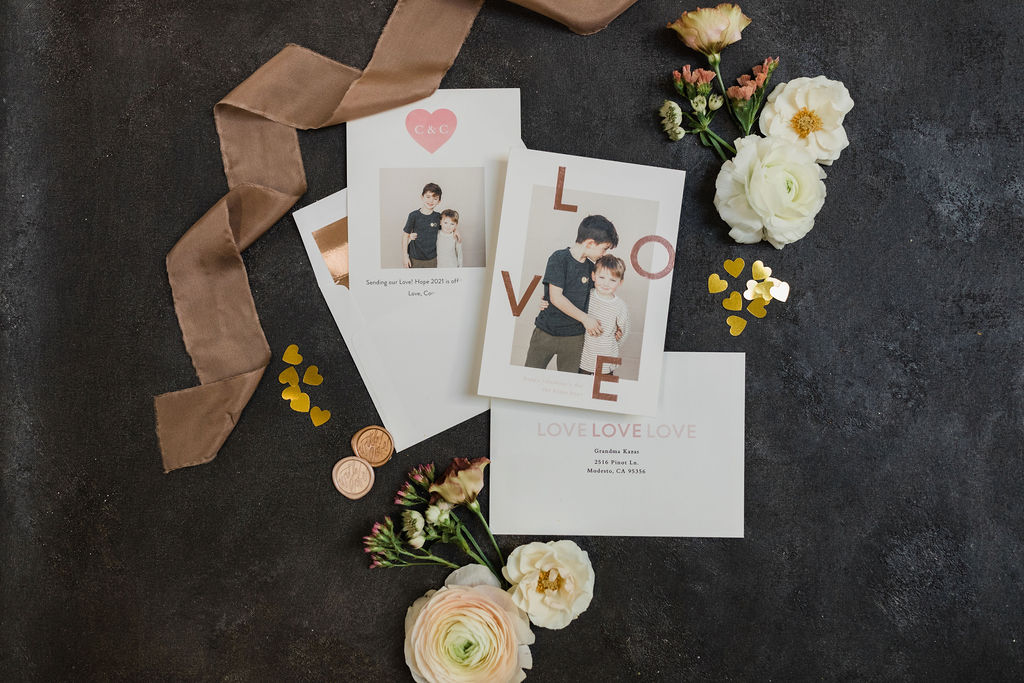 ---
L  E  A  H
Coming off of 2020, these Valentine's Day cards of the kids seemed like a "no brainer".  It's that little spontaneous smile that we are hoping to spread with these fun little cards.  Even though we love all of our family and friends every day of the year, I thought it would be a nice little reminder, and fun gesture to let them know they are loved and are very special to us.
I chose the Love All Around design because I like the traditional wording and curved corners.  The white hearts throughout on the front of the picture spreading to the black background on the back really make it fun, lighthearted, and original.  And last, but definitely not least, the three cuties and their "laughing" smiles in this picture make my heart so happy.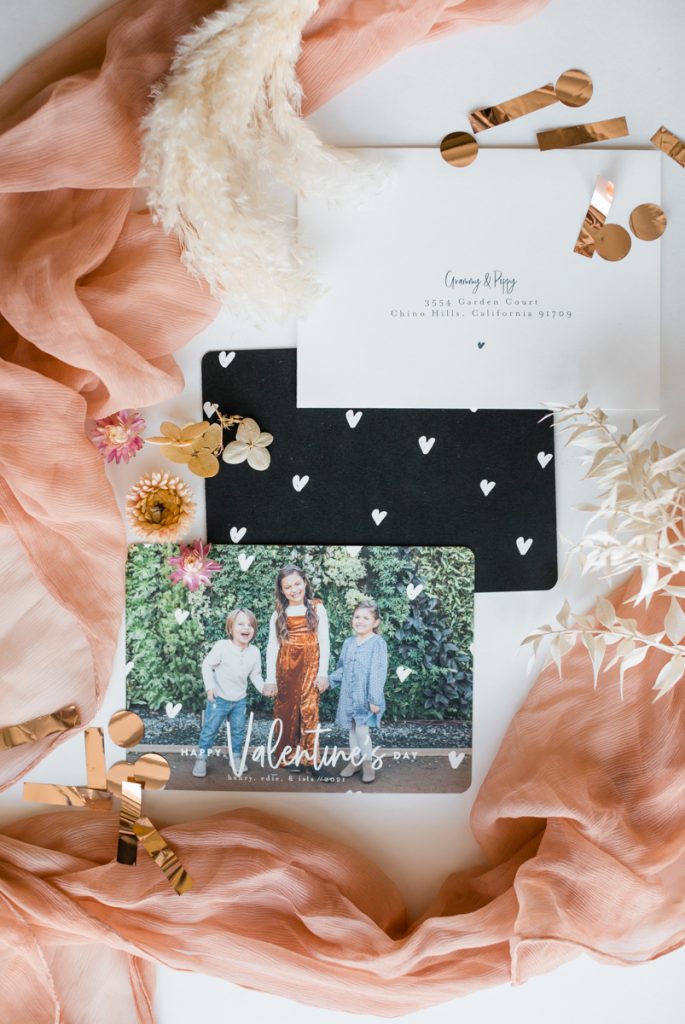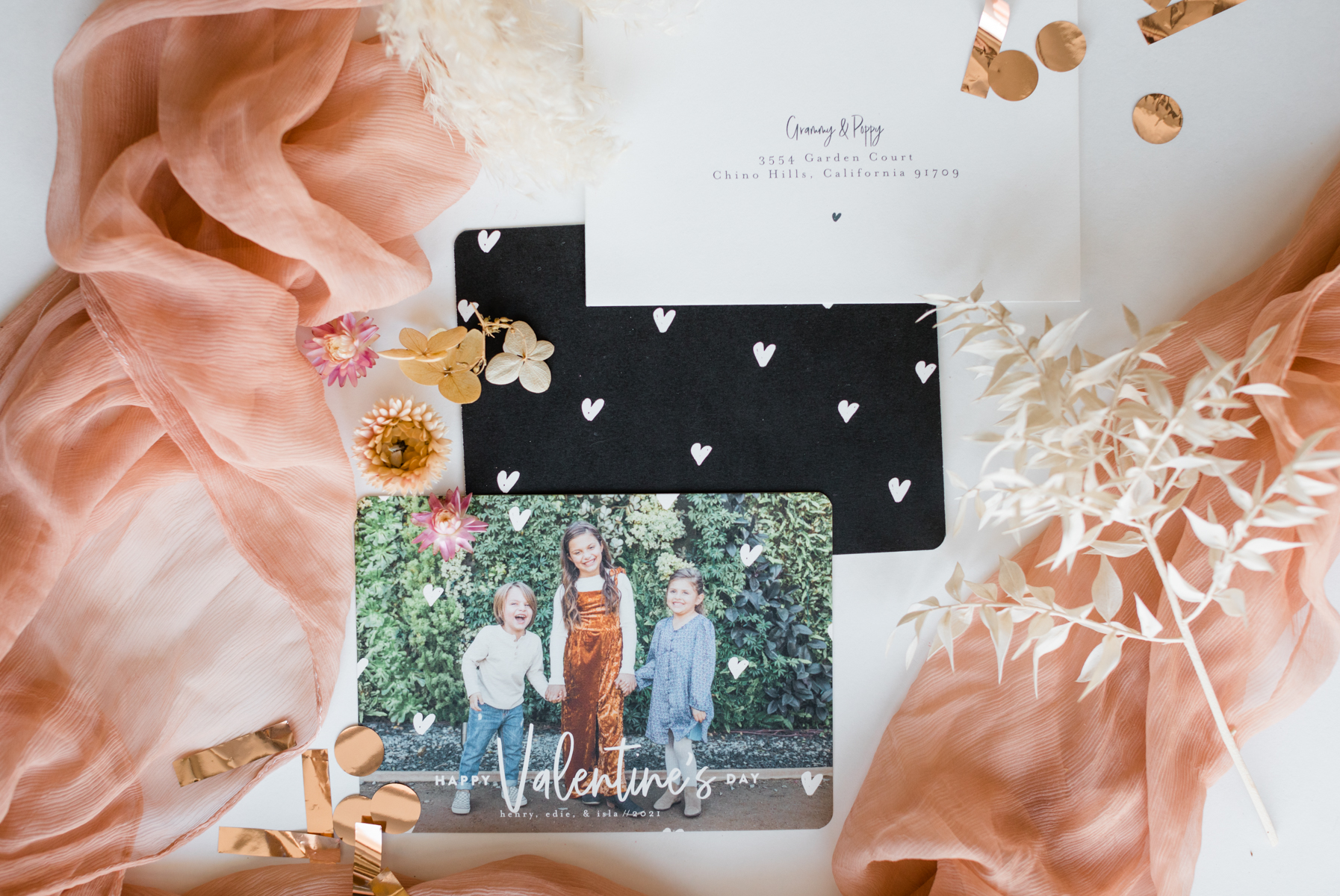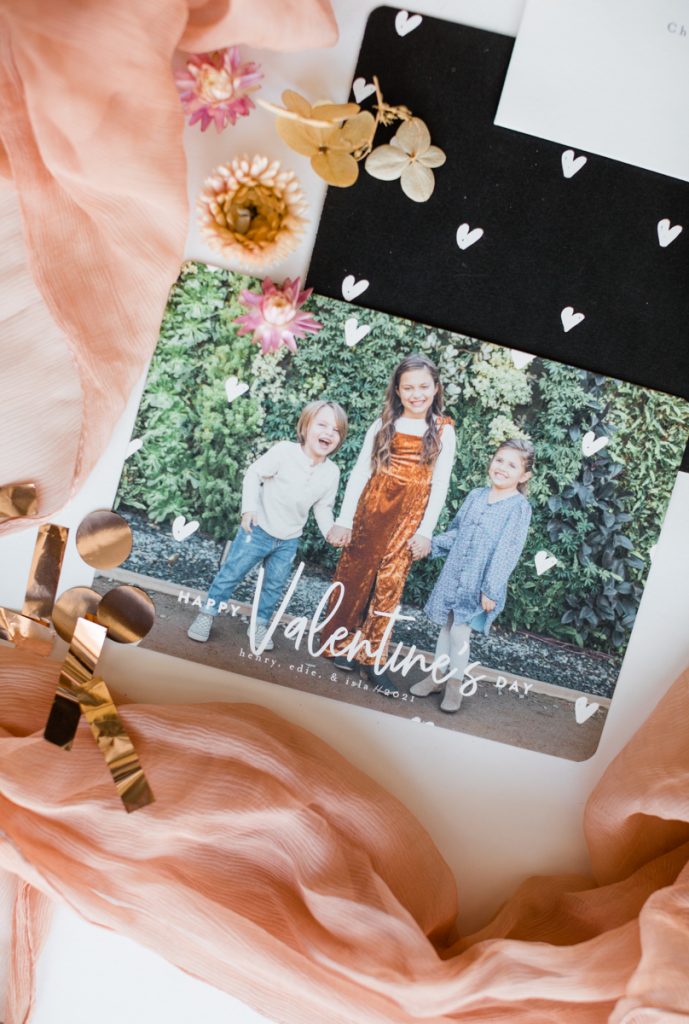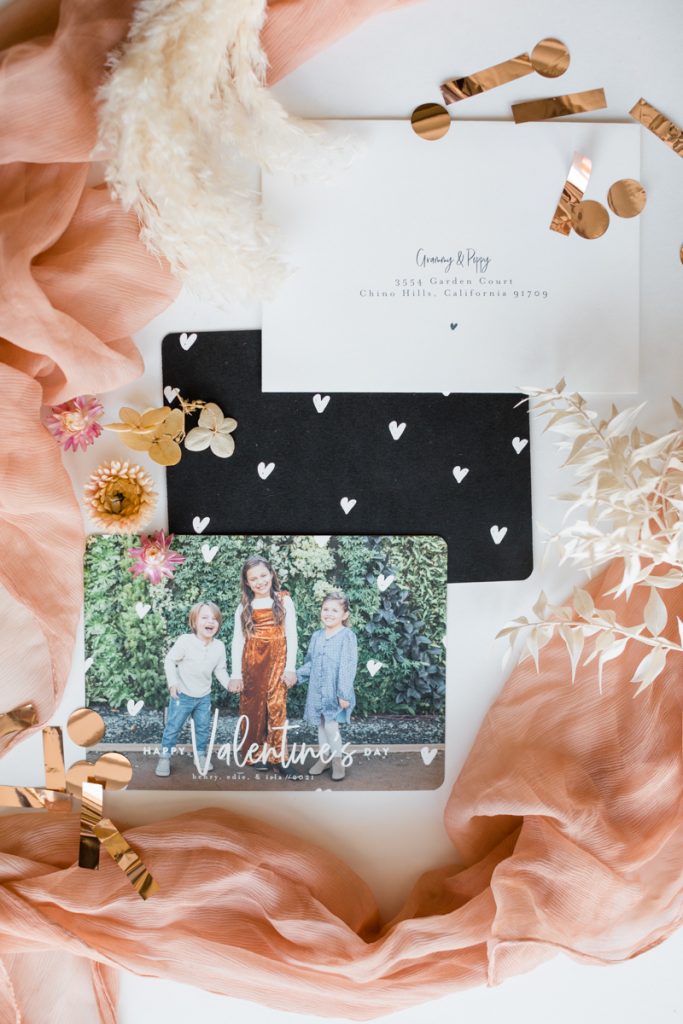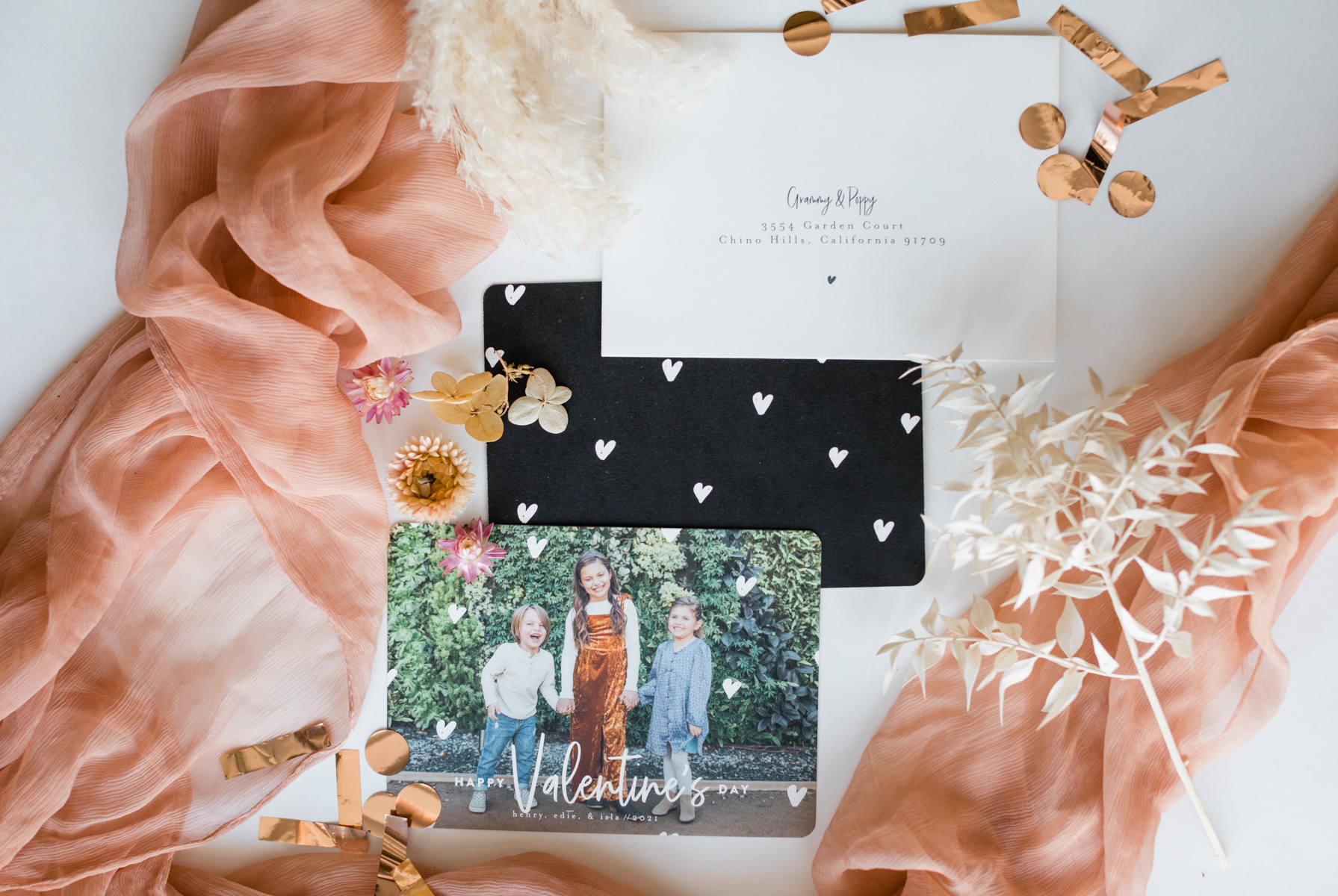 Shop our favorite Minted Valentine's Day Cards below!!

xx
The Beijos Girls