Each year for the holidays I like to add a little bit more to may decor collection. It's always fun to add different things here and there to commemorate what was special that year. This year I am hosting Christmas for the first time at our new home! Our home isn't anywhere near being done, but I still want to make it special. Since we are on a budget (hello, home remodel and a new mortgage!!) I turned to everyone's favorite store, Target.
Lucky me, this year they have Hearth & Hand by Magnolia! I'm sure you are just like me and totally love Joanna & Chip Gaines. I've especially fallen more in love with them since we started remodeling our home. There are many nights where you will find me in front of the tv, watching Fixer Upper on Hulu working on my computer. Basically my MO these days!
Well, I also fell in love with their collection they just released for the holidays! It's clean, minimal and stylish all in one! Today I'm sharing some pieces I picked up and how I plan to style them for Christmas. I am especially thinking it would be pretty for Christmas Day brunch!!
Keep scrolling for all the pretty, and shop my picks at the bottom!
Photos by Corrie Lynn Photography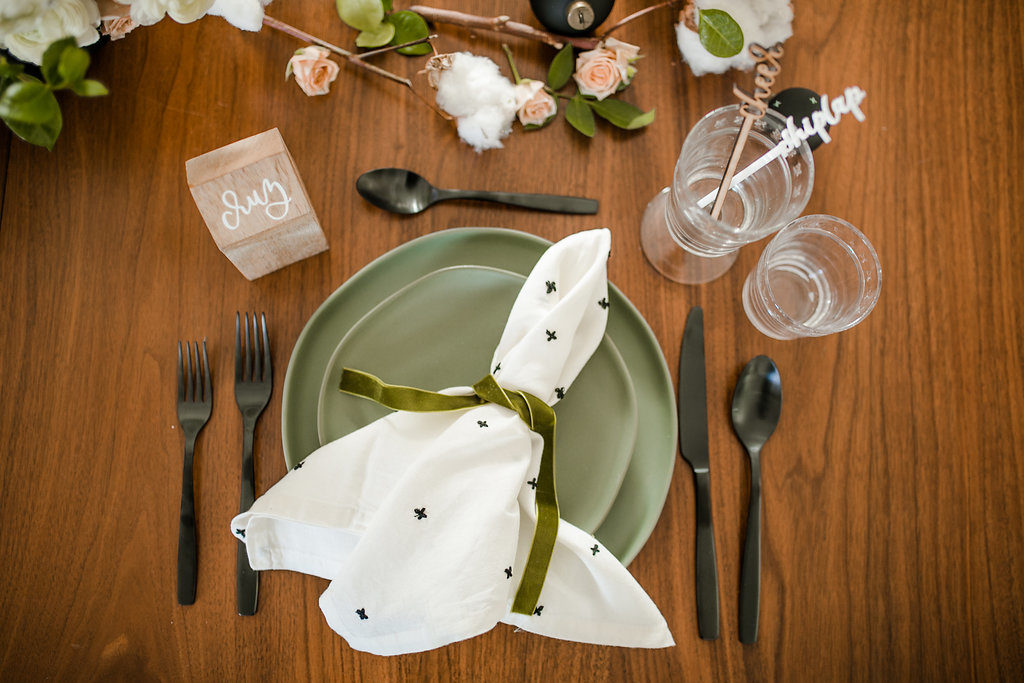 Let's just go ahead and start with this AMAZING floral arrangement by Lily of Olive & Blooms! I told her I didn't want to go the traditional Christmas route, no poinsettias up in here! But I wanted whites, greenery and soft pinks. Plus, I really wanted to add in some cotton because it just screamed Joanna to me… Who doesn't live their life with the motto WWJD?! J as in Joanna… So with this beautiful piece anchoring the table, you know we're in good shape!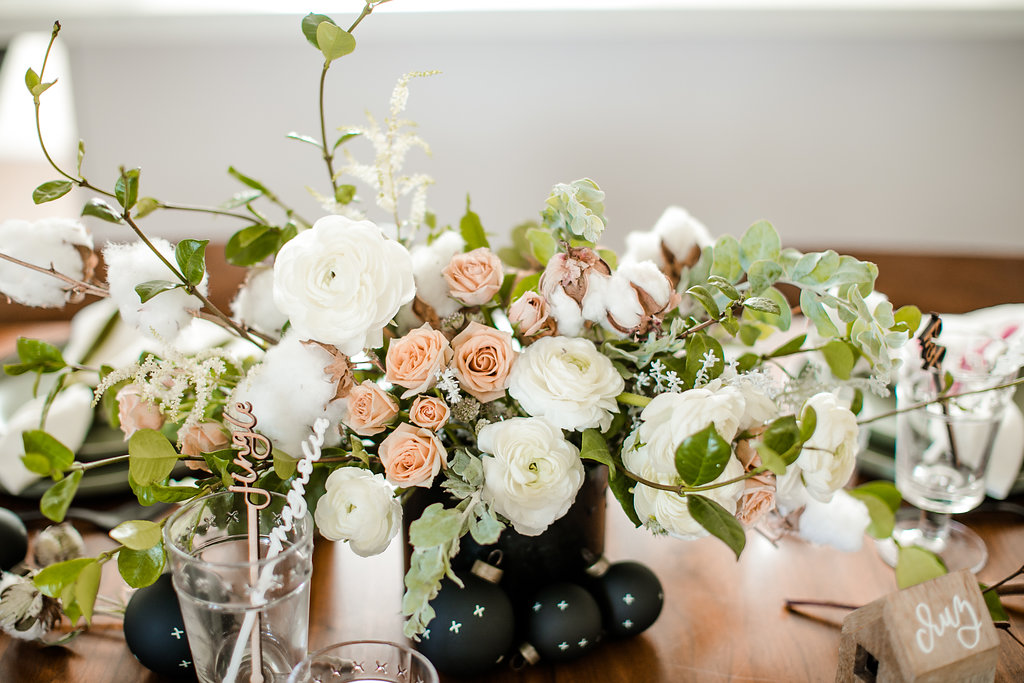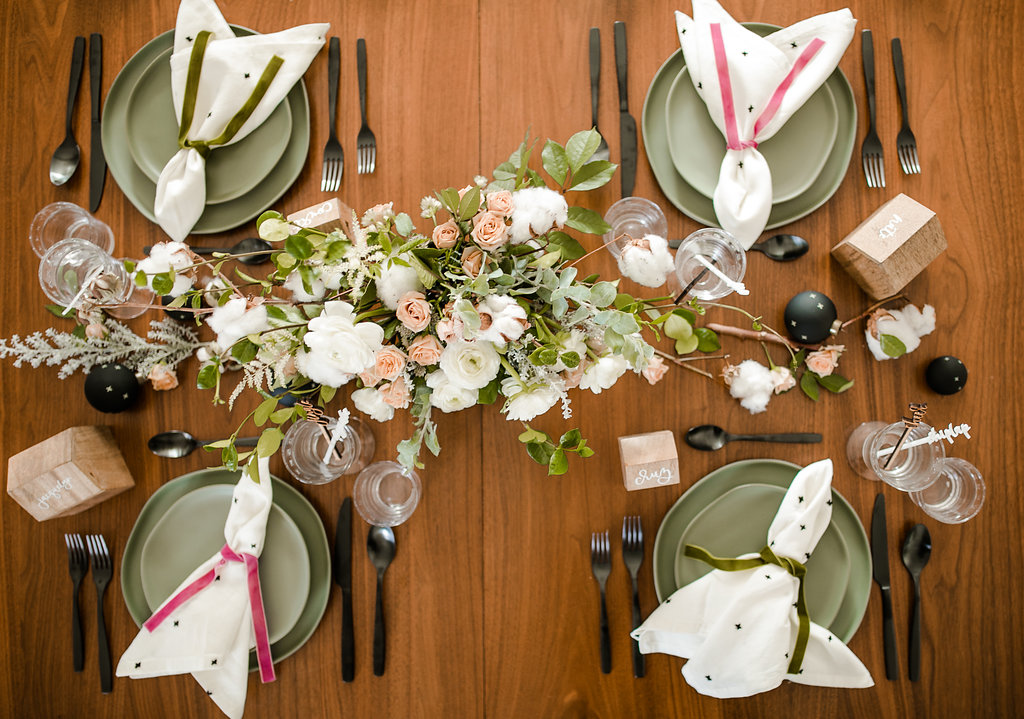 Now, I'll start with the plates. I really love them!!! Hearth & Hand has them in black, green and white. Obviously I went with the green, but was really torn with the black. But since I had to get the amazing matte black flatware, I thought some contrast would be nice! The green is just nice for Christmas also, I can see my family using these plates for years to come!
The glassware is also so fun and timeless. I purchased the wine glass and tumbler in clear. They also have a pretty green color, but I figured these were easier and could be used more frequently through-out the year! I love the pretty detail on them…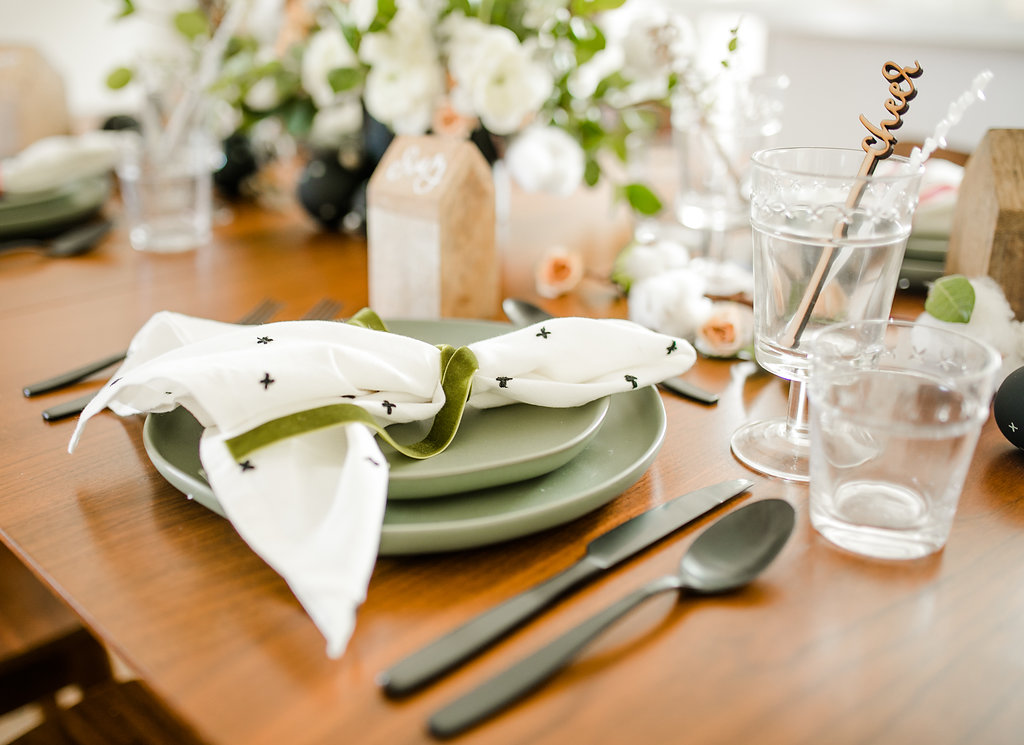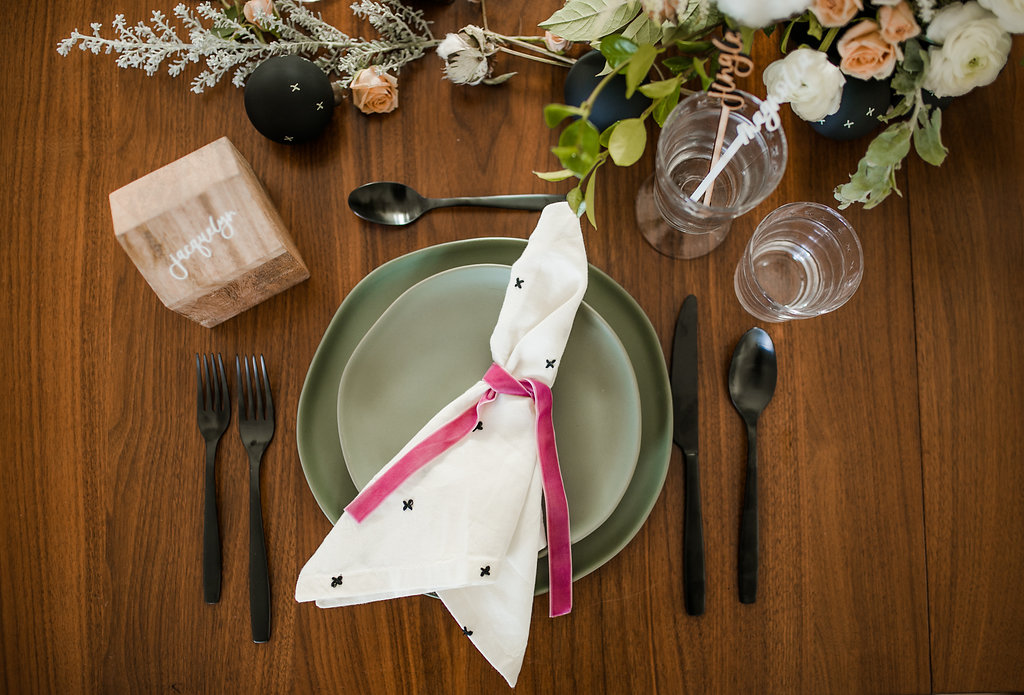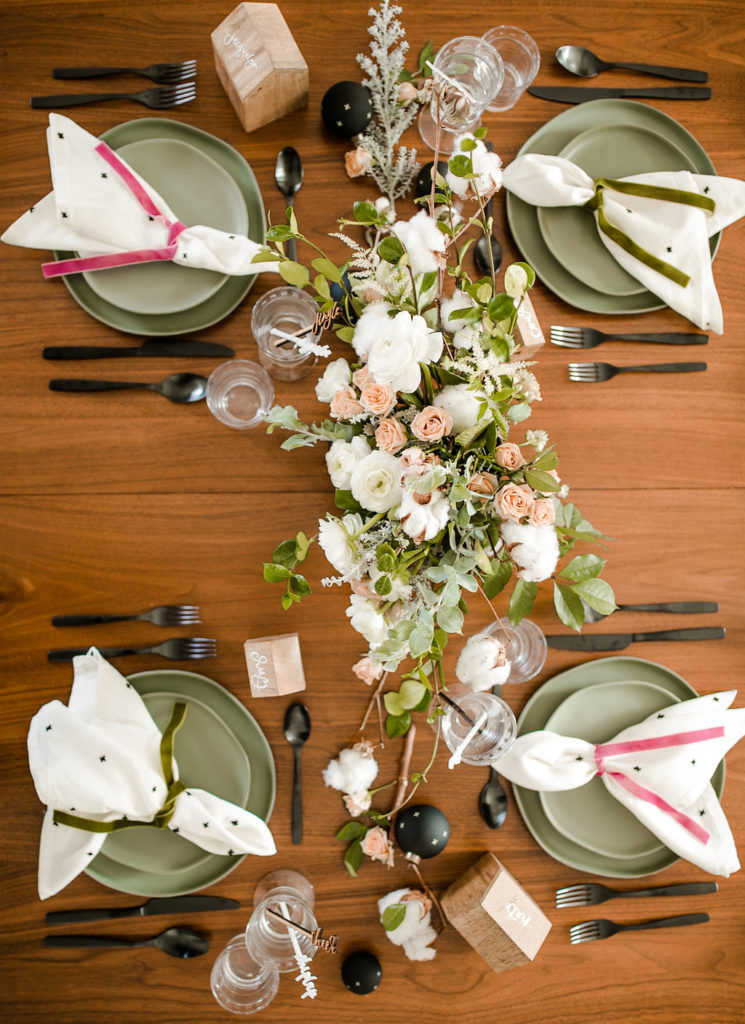 For the pretty details I turned to my friend Courtney from Poppy Jack. I can always count on her to whip up something clever and fun! Plus, this girl also has an affinity for Chip & Joanna, she even visited Magnolia last month!!! Color me jealous…
We decided to do some cute stirrers for the glassware in a wood and white color. We did holiday themed and Magnolia themed, because it just seemed appropriate! Shiplap was the first to come to mind…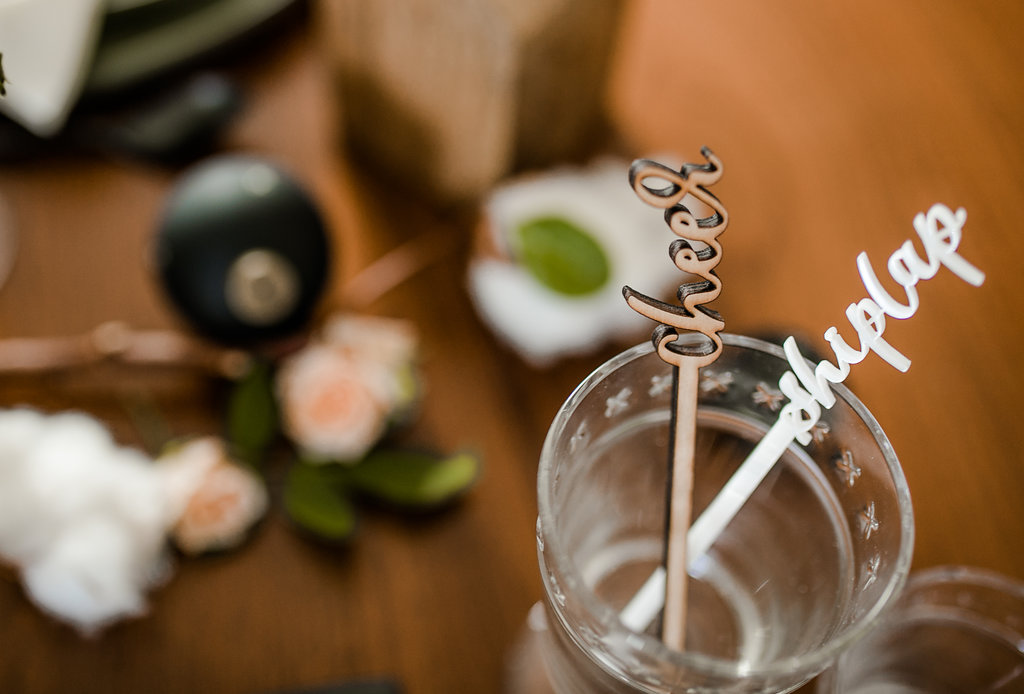 The white and black cross-stitched napkins are up there as one of my favorite pieces in the Hearth & Hand collection. I added my own velvet ribbon to each napkin for that special touch and because I'm a little obsessed with velvet right now!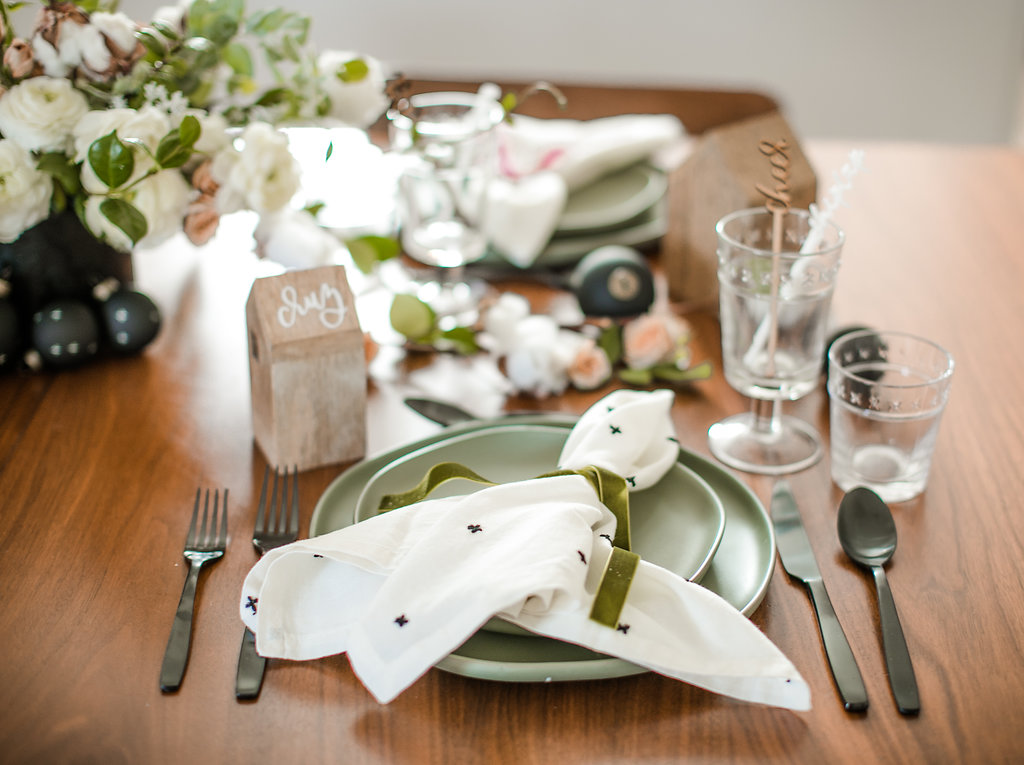 Other little details… I absolutely adore these little wooden houses in the collection. Have to say, they are my favorite Hearth & Hand piece! They are currently on my mantle but I had Courtney from Poppy Jack personalize them to use as place cards! I love having place cards on the table, especially for a special occasion like Christmas.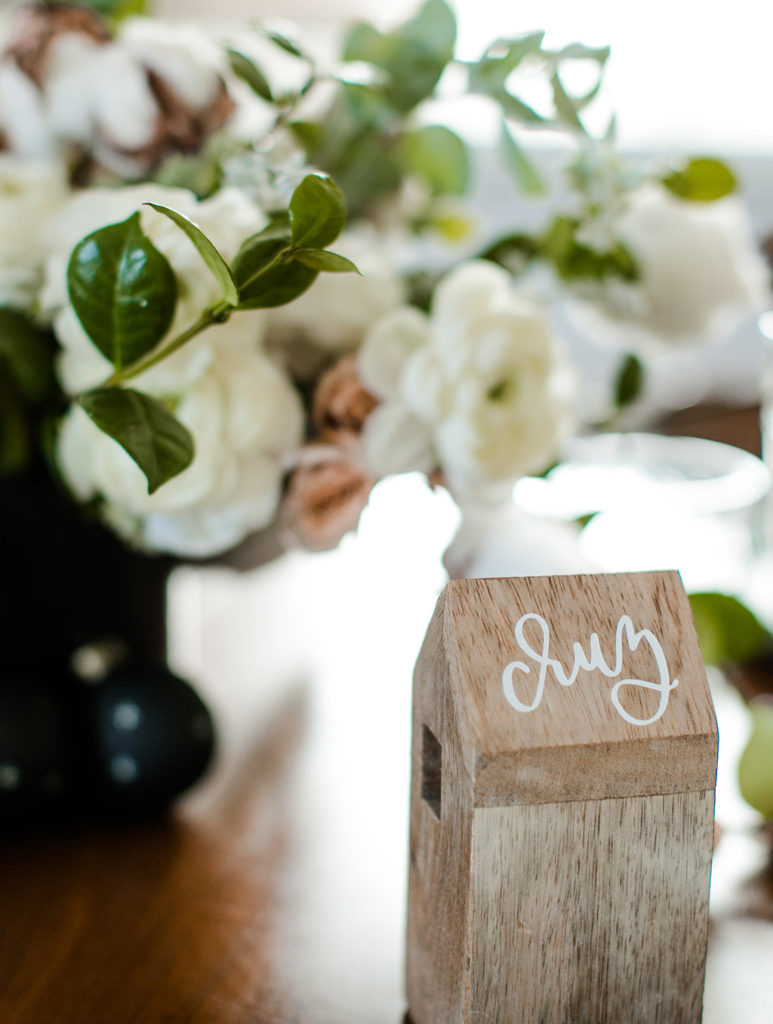 These ornaments also made the cut. But instead of using them on the tree, I'm using them on the table! They play off the napkins well and add another element to the talbescape.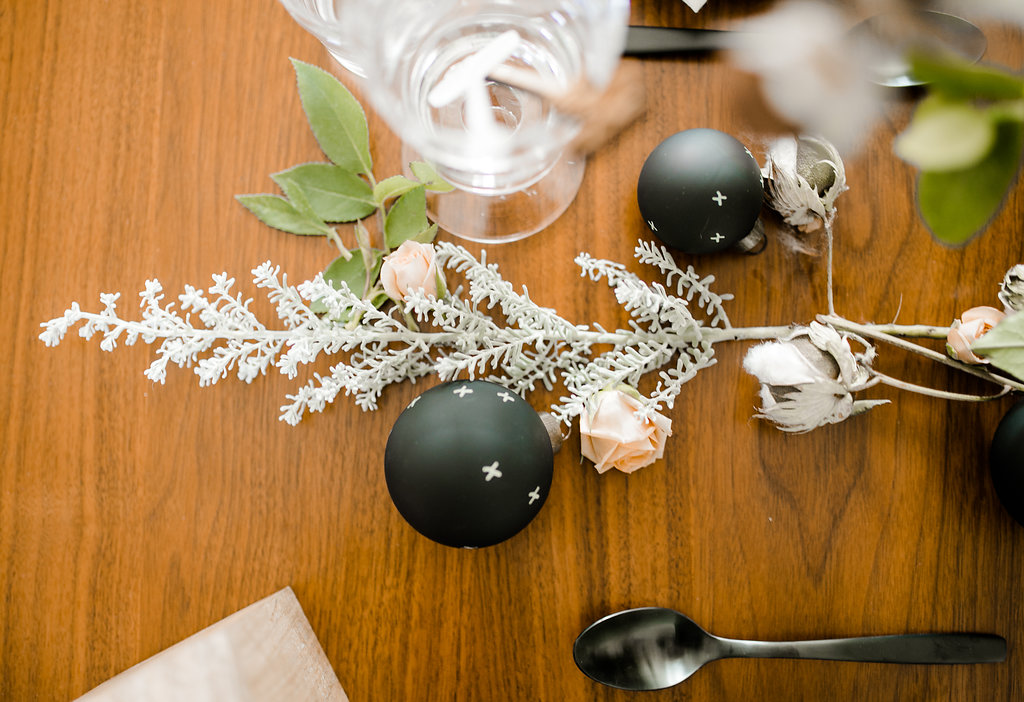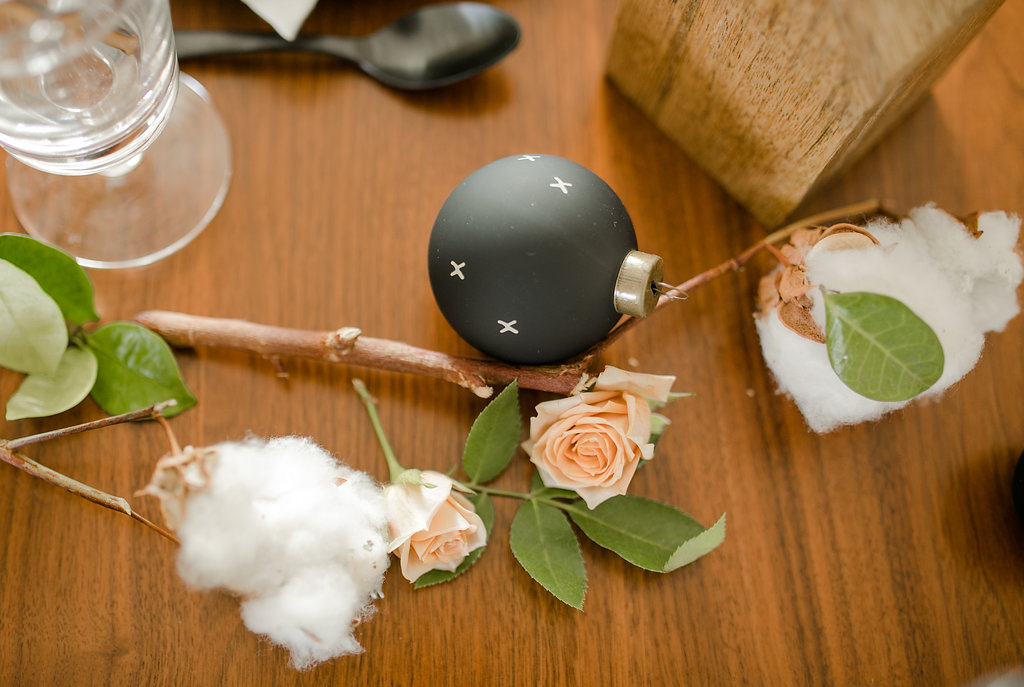 One last look at this festive Hearth & Hand table…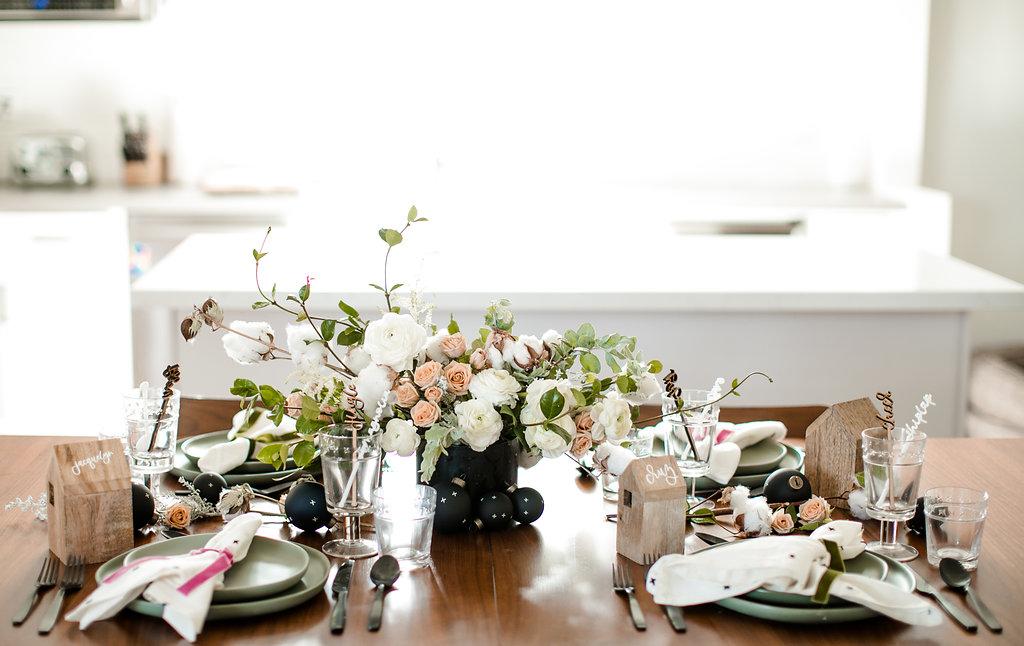 Since I wont' have this set up till Christmas Day, I am still going to enjoy these goodies! So I set them up on my mantle, and really love how it looks! I even got the boys stockings from the collection too! How sweet does this set up look?!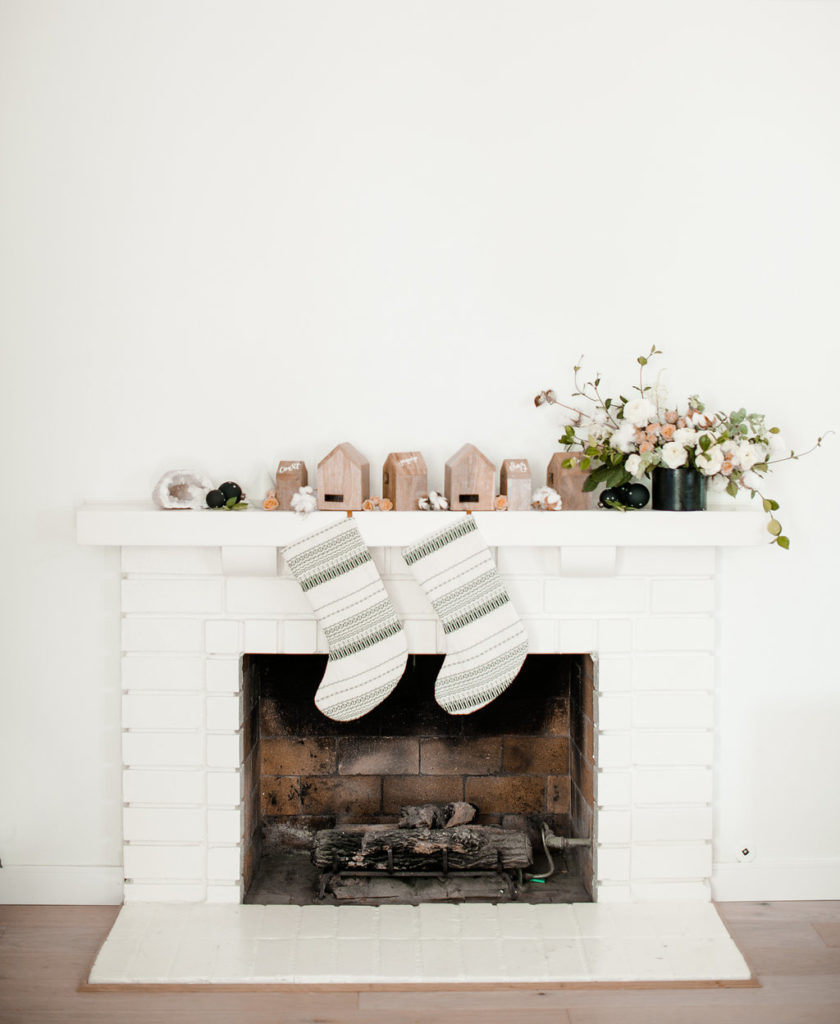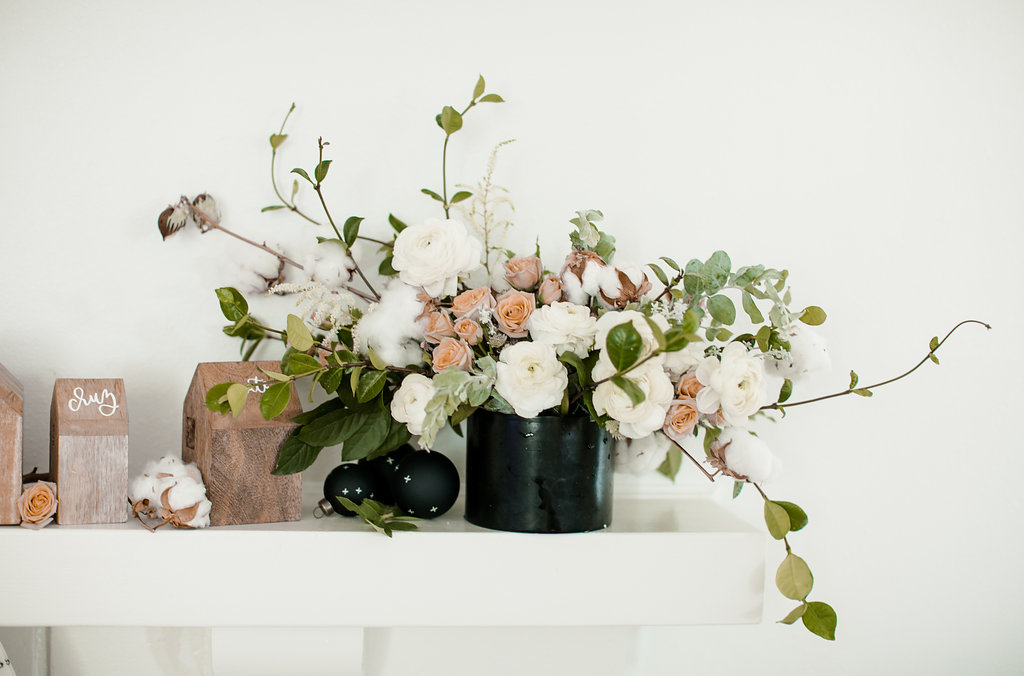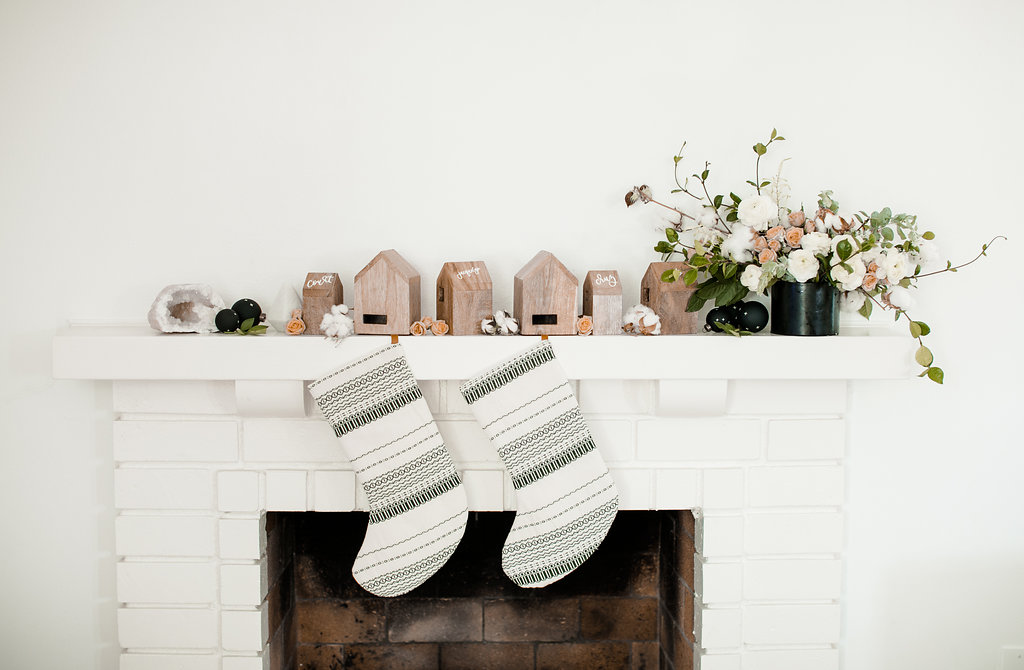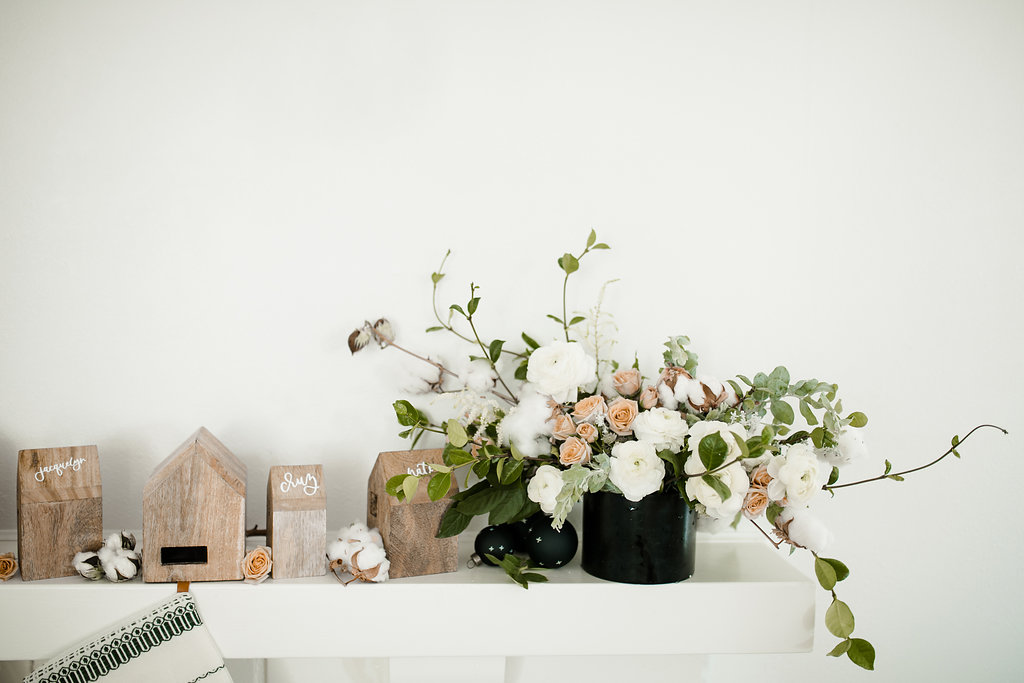 Shop all of my favorites from my table and decor below!!

xx
Jacquelyn