The fourth is one of those holidays that you can have so much fun with the food and drinks. From star shapes to actual fireworks in your cocktail, is endless fun! I love me some deviled eggs, and I try to do them at any holiday I see fit cause they are a crowd pleaser in my family! The only way to do for the forth is the good old star shape! This was relatively easy, as I thought it would be a little tough. I was for sure thinking the egg whites would break. Nope, they slid right out and didn't break while using the star cookie cutter. The one step that got to me was trying to find the perfect blue and pink. I wanted to do pink and blue, but that darn blue gave me a run for my money! But hey it's still fun! Who says you can't have teal and pink colors for the 4th!
---
STAR-STUDDED DEVILED EGGS
SERVES: 4 Dozen | COOK: 35 MINUTES | TOTAL: 55 MINUTES
W H A T   Y A   N E E D!
Cooking spray (I like to use Coconut Oil Spray)
12 large eggs
1/3 cup mayonnaise
1 tablespoon white vinegar
2 teaspoons yellow mustard
Kosher salt and freshly ground black pepper
Paprika and sliced chives, for garnish, optional
Food Gel Coloring (in any sorts of blues and pinks)
Edible Silver Stars
B U S T   O U T:
Square Baking Dish
Spatula
Star Cookie Cutter
Piping Bag
---
I N S T R U C T I O N S
1st, let's preheat the oven to 350 degrees F. Coat an 8-inch square baking dish with cooking spray, I like to use Coconut oil.
Next up, separate the egg whites and yolks into 2 small bowls; set aside those yummy orange yolks. Whisk the whites until just foamy and then transfer them to the prepared baking dish. Cover the dish with foil and bake until the whites have fully set about 20 minutes or so. Keep an eye on them! Let cool completely in the baking dish.

While the egg whites are baking, beat the yolks until smooth and silky. Lightly coat a medium nonstick skillet with cooking spray. Add those yolks, and scramble away over medium-low until fully cooked and slightly dry, about 4 to 5 minutes.

Transfer the yolks to a food processor. Add the mayonnaise, vinegar, mustard, 1/4 teaspoon salt and a few grinds of pepper, and pulse until smooth and creamy. Taste and adjust to your liking. I will sometimes add wasabi for a kick! Once mixed, this is where you put in your food coloring.

I put in a couple of drops of pink in one bowl, and blue in the other. I wanted to do different shades of pink and blue. My blue came out a little bit to teal for me, but hey they are still cute, right?

Transfer the yolk mixture to two pastry bags or Ziploc bags fitted with a small round tip. Turn the egg whites out of the baking dish onto a cutting board. Cut using your star cookie cutter. Pipe dollops of the two colored egg yolk mixtures onto each star. Sprinkle each with seasoning, and silver stars to complete the festive look!

---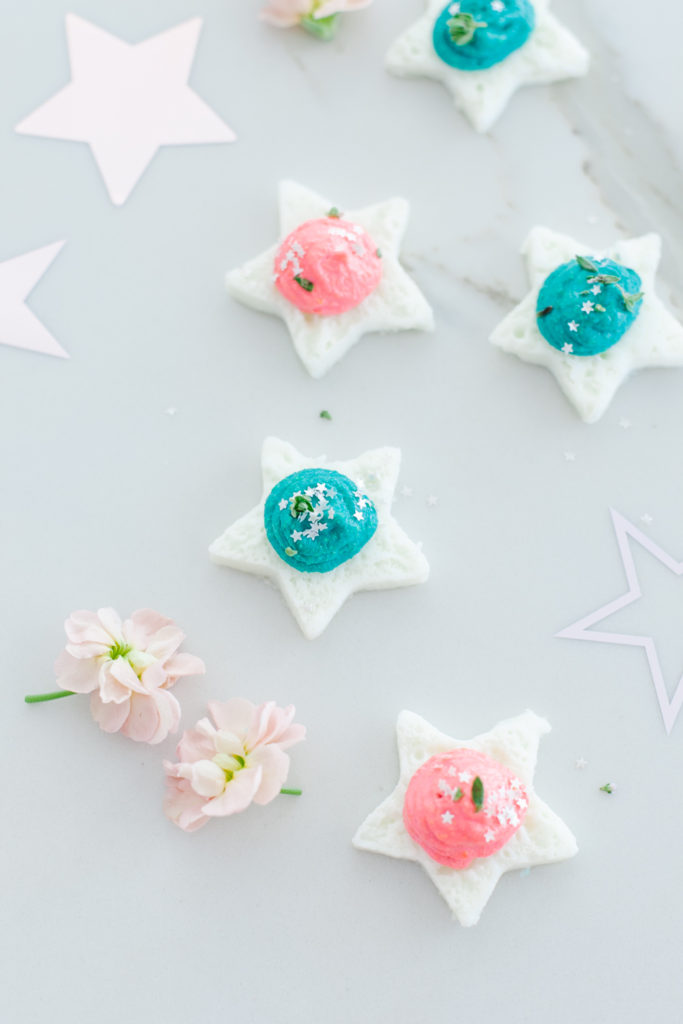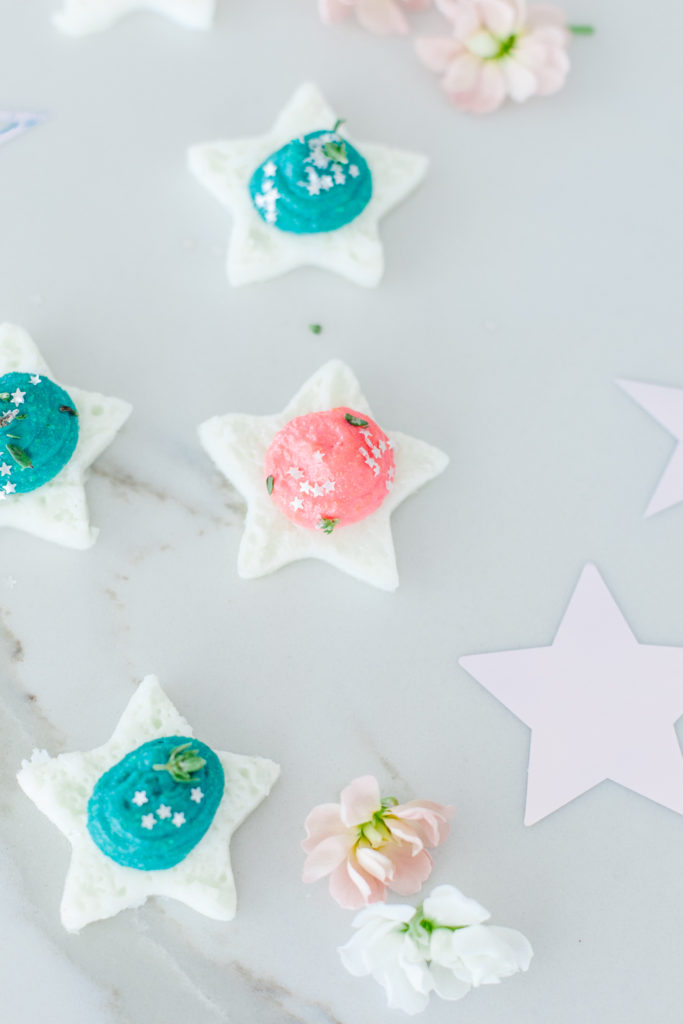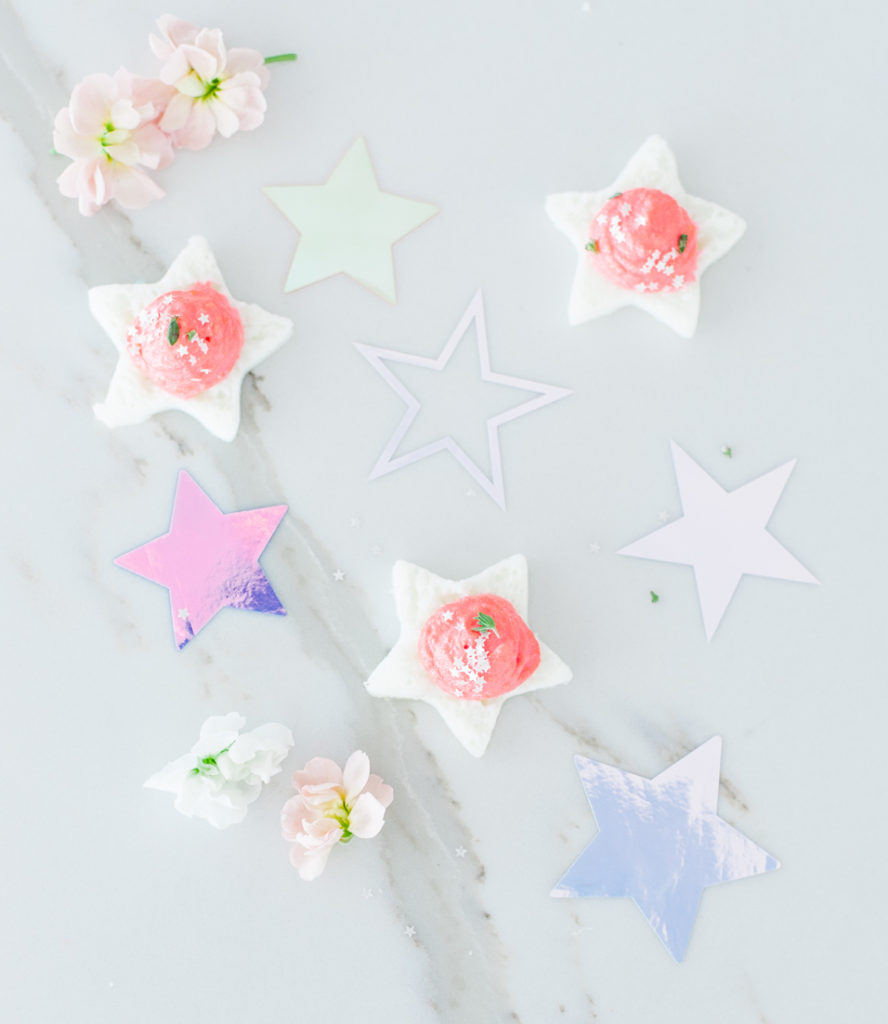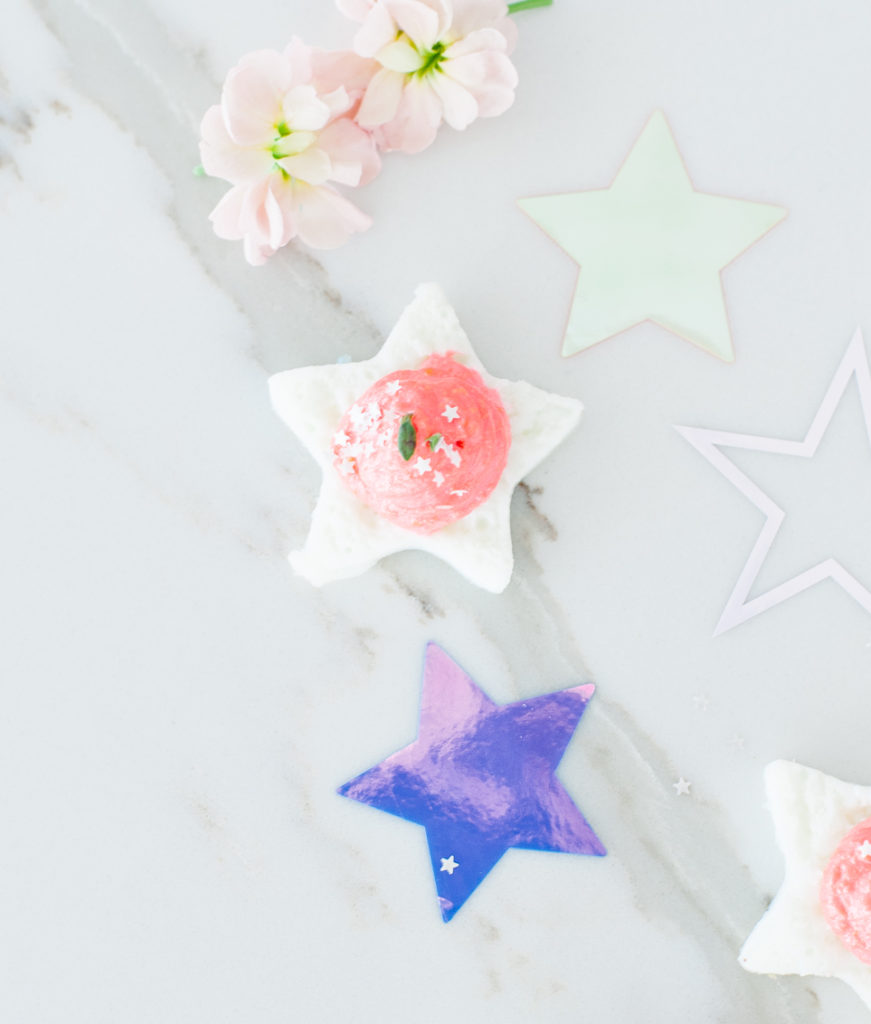 B E I J O S K I T C H E N

xx
Abby