So… What's going on with this California weather lately?!  It's raining, like a lot, and I am not used to it!!  When you add kids to the rainy day equation there can be some major cabin fever!!  These Winter months can do that to us all, right?  So we looked into some ways to relieve that with an indoor playdate with Pottery Barn Kids, and we got to check it off from our Winter to do list!
This particular playdate turned into a fun Star Wars themed sleepover!!  If you have a little boy then you know, this is pretty much the ultimate idea.  Even if the guests don't really "spend the night" it's fun for them to pretend!  My husband, like any boy who grew up in the 70's/80's, loves Star Wars.  Therefore our son Court is already obsessed with it too.  Being a jedi is a real high priority in our house…
So excited to share all of the adorable Star Wars gear that Pottery Barn Kids has to offer!  This playdate is full of yummy treats, fun activities and lots of cute little jedis…  All photos by the Jedi Master Megan Welker.
This playdate is also featured on 100LayerCakelet and Pottery Barn Kids Blog today!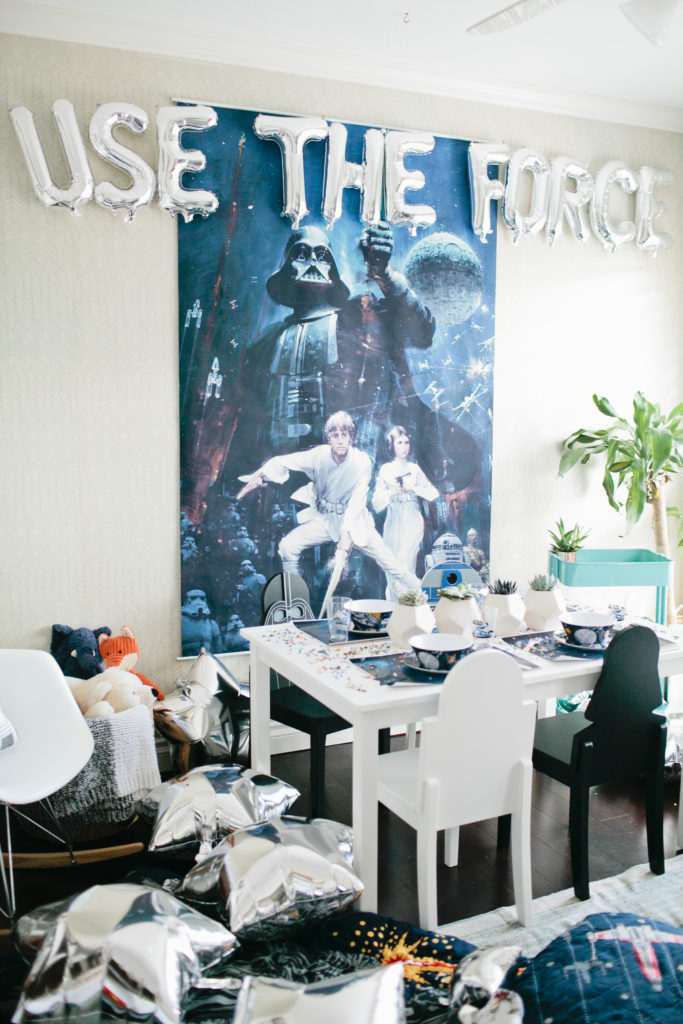 I always like to start any party I throw with the ultimate invite.  I mean, this is a Beijos playdate after all.    We can always count on Meghann Miniello to create some magic for us.  This theme was just so fun and these invites could work for any "space themed" party.  I'm really loving the metallic touch!!  So good, right?!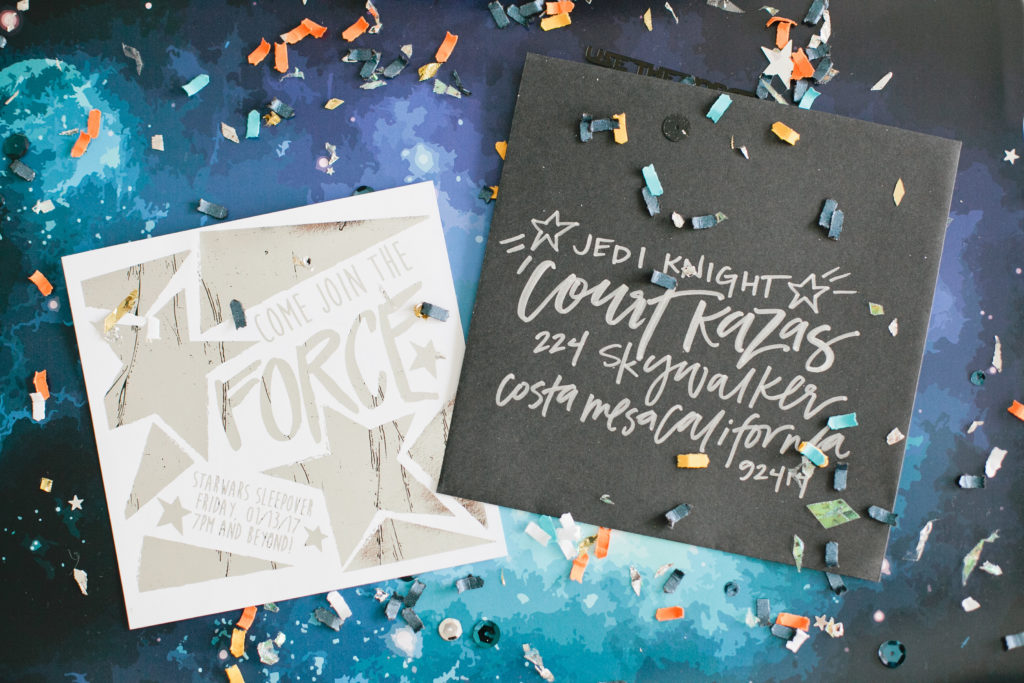 This sweet set up had all of our guests smiling!  Pottery Barn Kids has the cutest Star Wars themed sleeping bags that you can have monogrammed!  We had them set up for our little friends complete with Star Wars PJ's to get cozy.  Lots of silver mylar balloons from North Star Balloons were tossed around the room for the boys to go crazy with as well!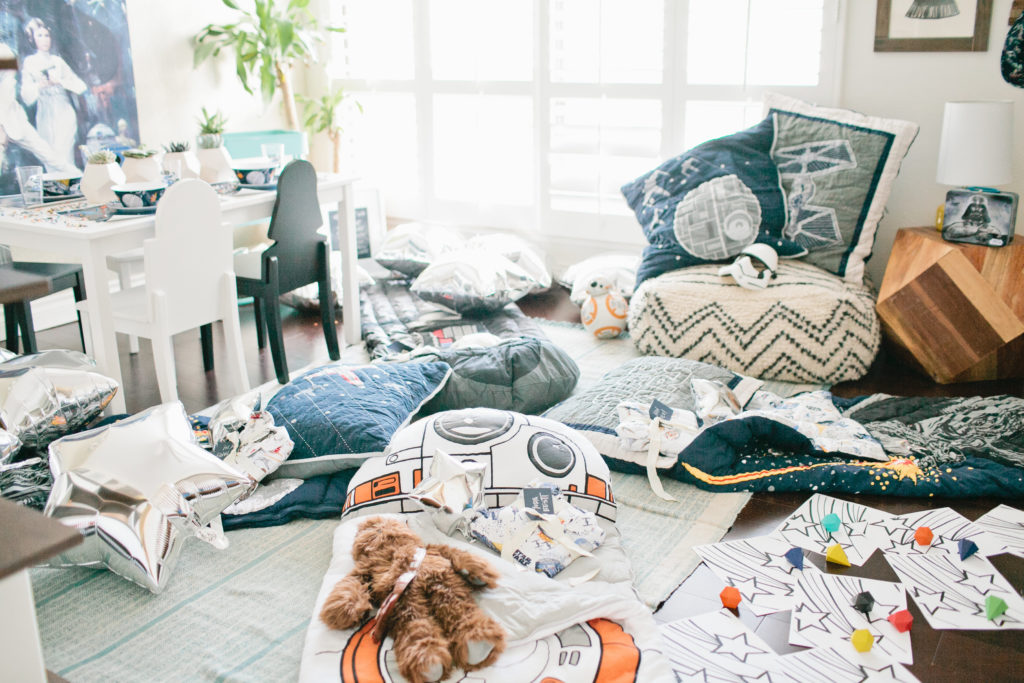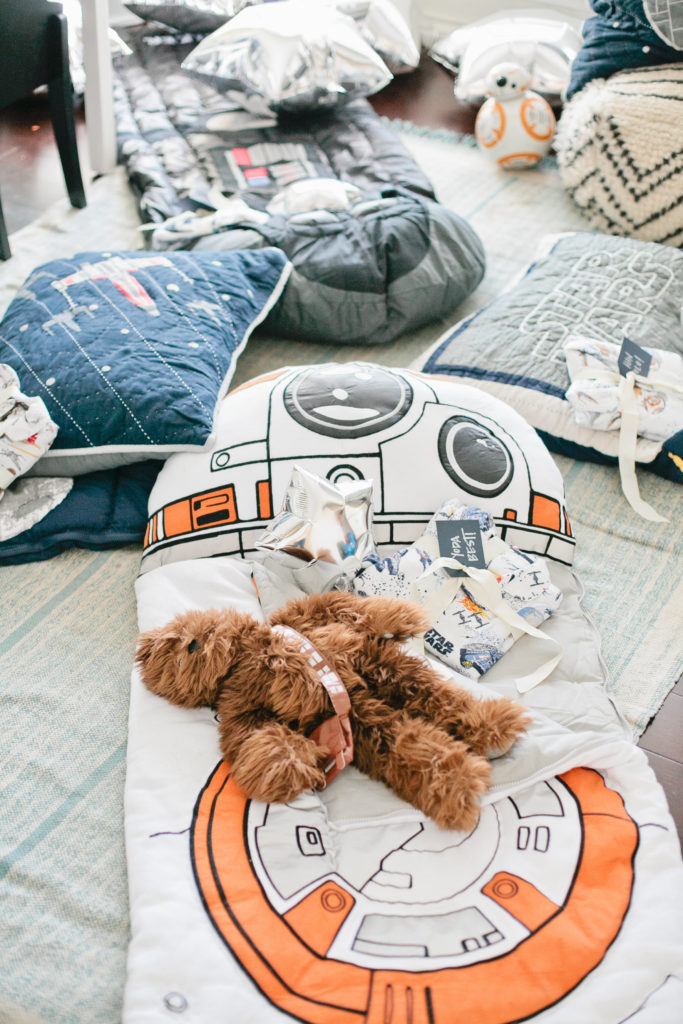 Court loves his Chewie toy, and how clever is Meghann Miniello with her tags for each kiddo?!  I also love the font for the monogramming, very retro Star Wars!!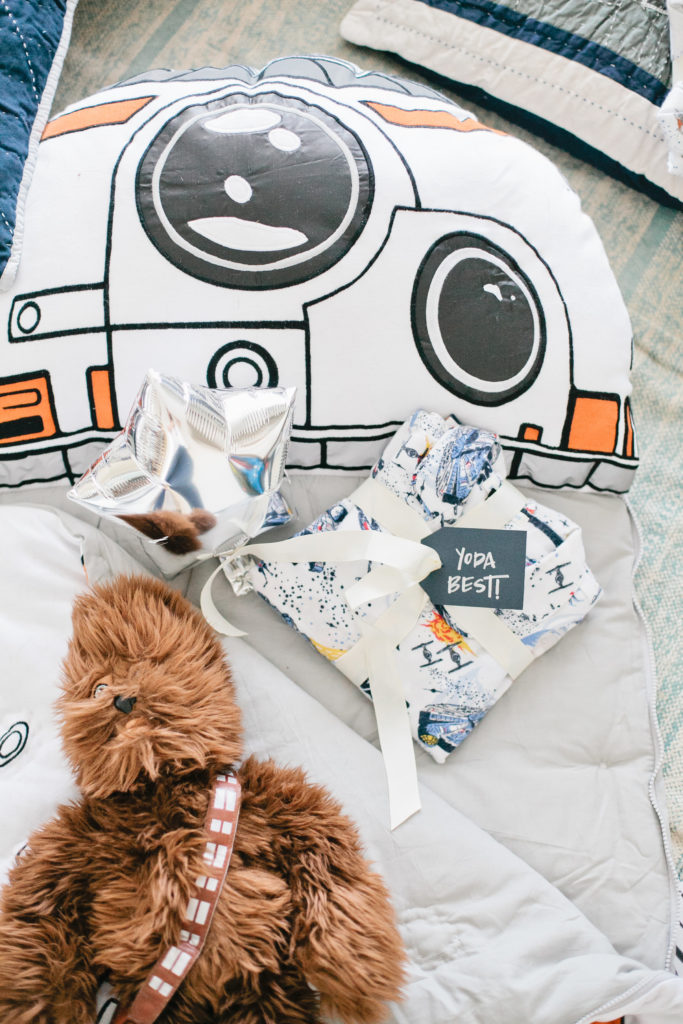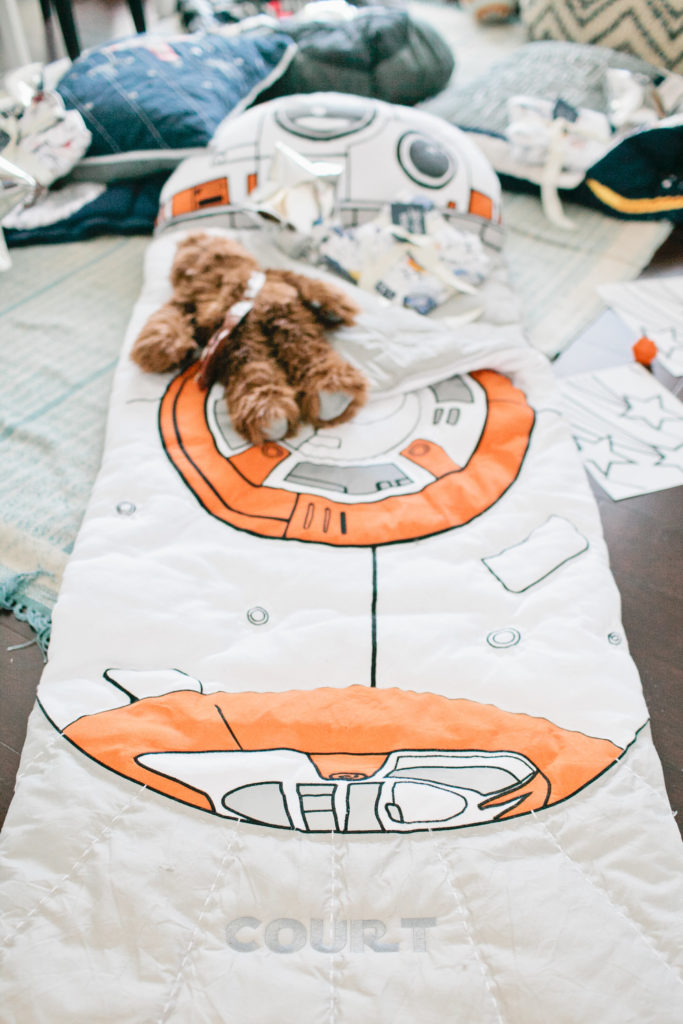 Han Yolo!!!!  This one has to be my favorite!!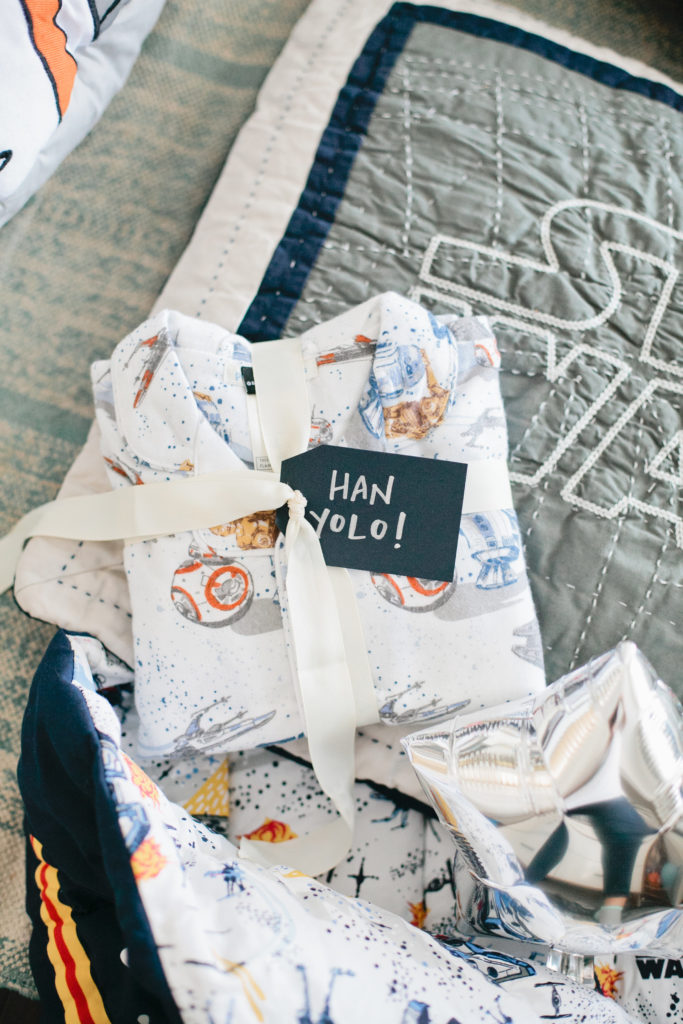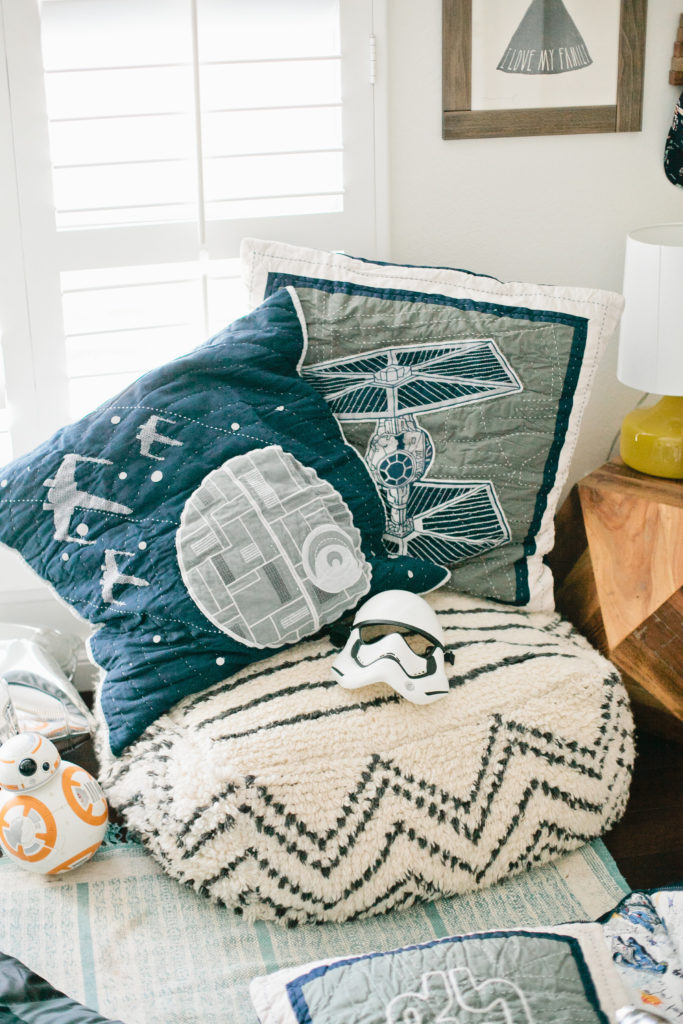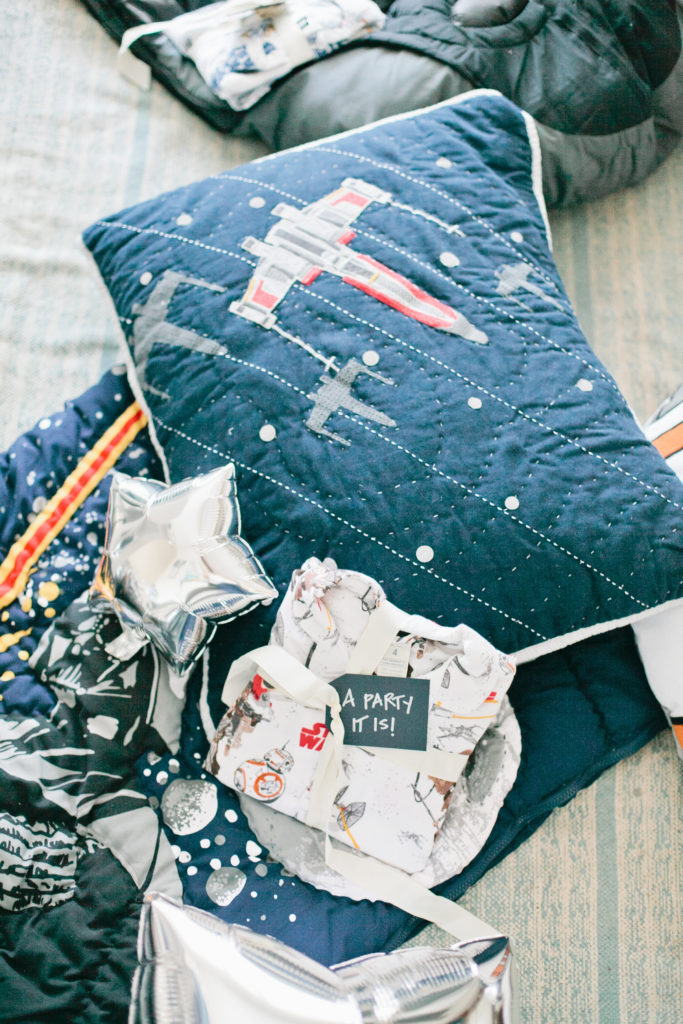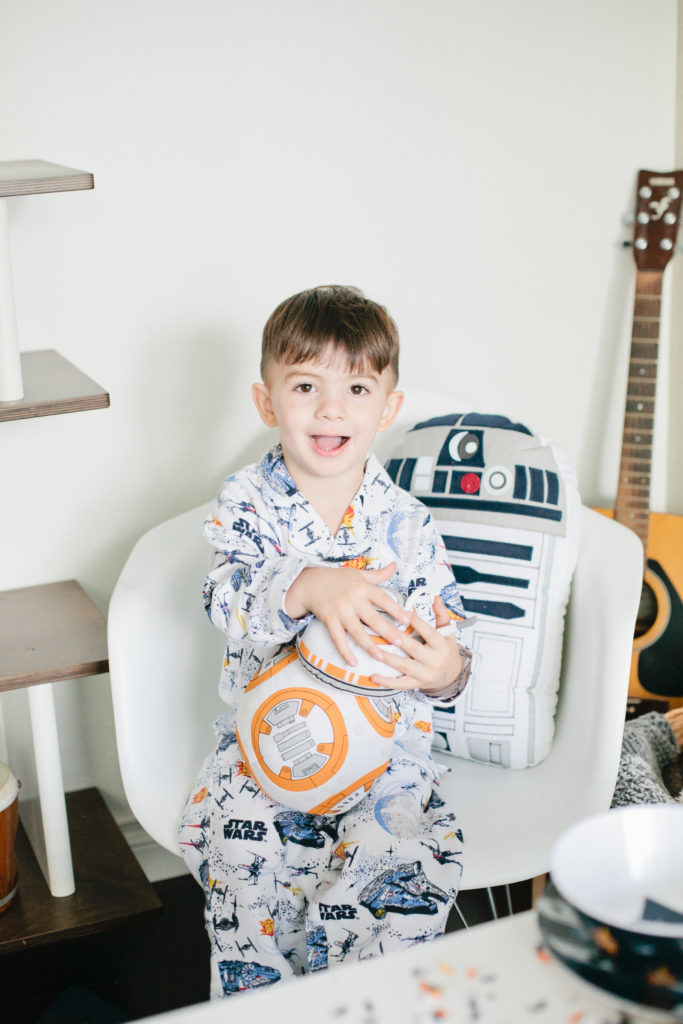 The table looks out of this world, right?!  Meghann did these amazing space placemats and place cards.  Pottery Barn Kids has the best tabletop that we love for our little ones as well!  Then I scattered the table with custom confetti from The Confetti Bar… I mean, I scattered it all over really… And wait till you see the adorable chairs!!  They thought of everything over at PBK!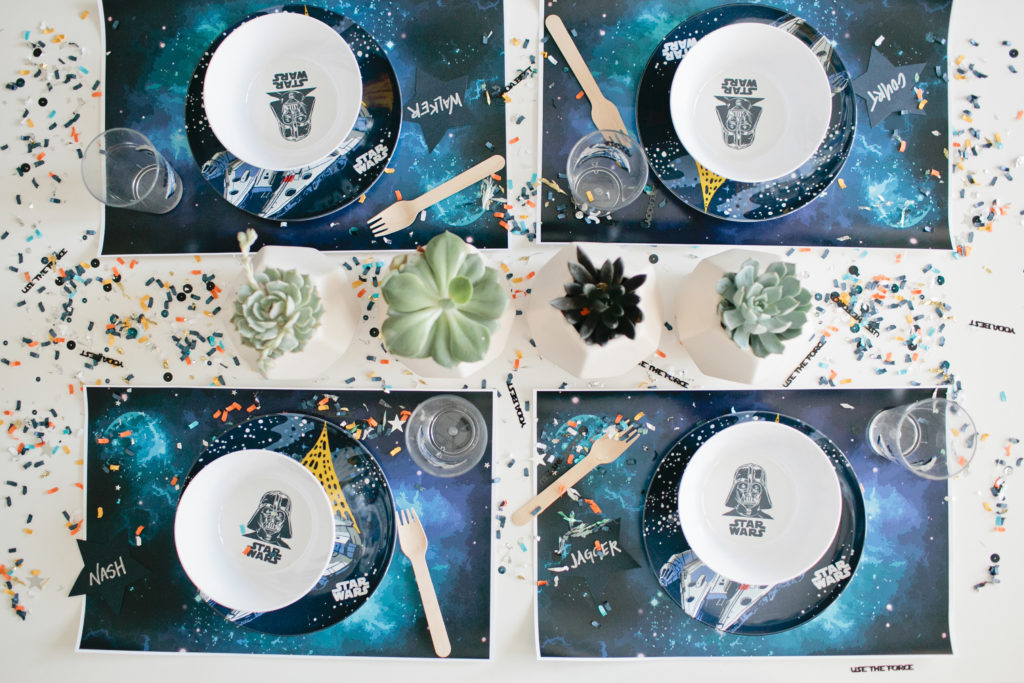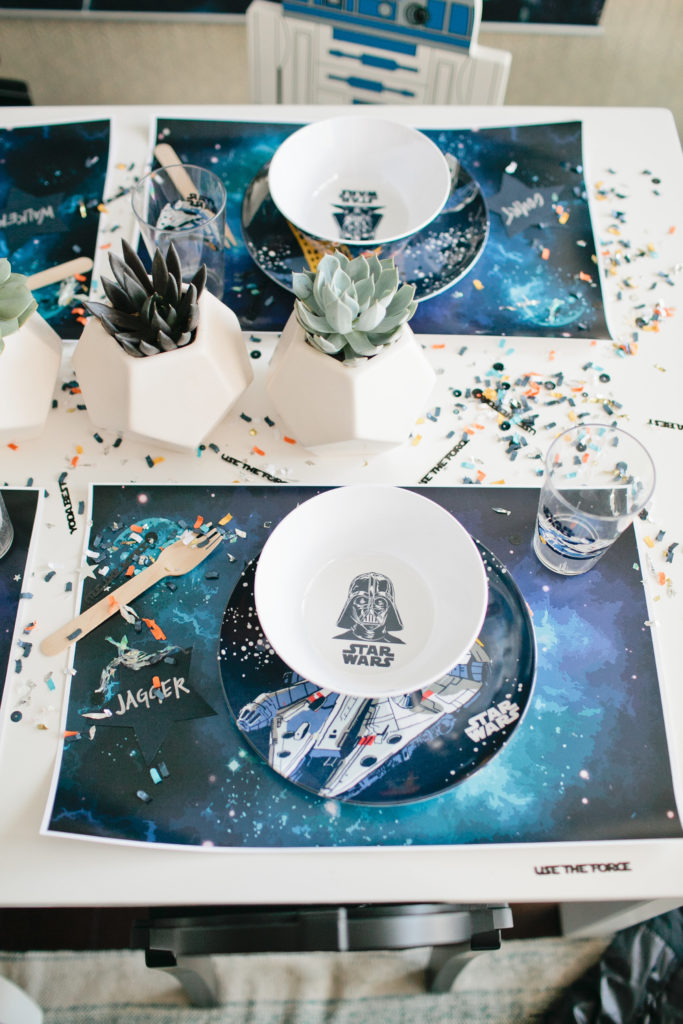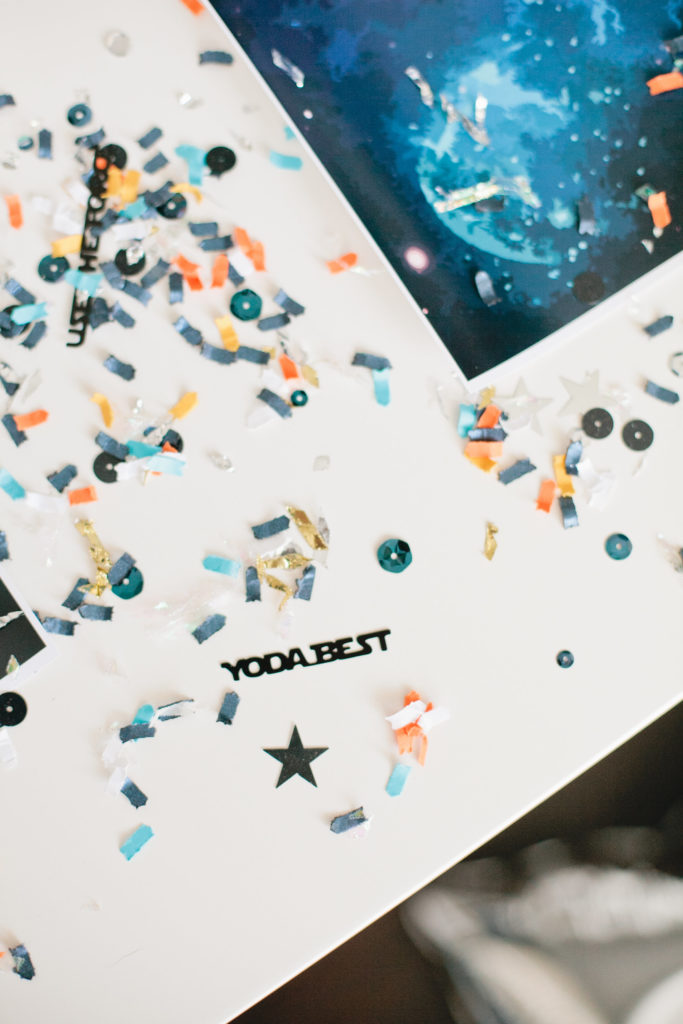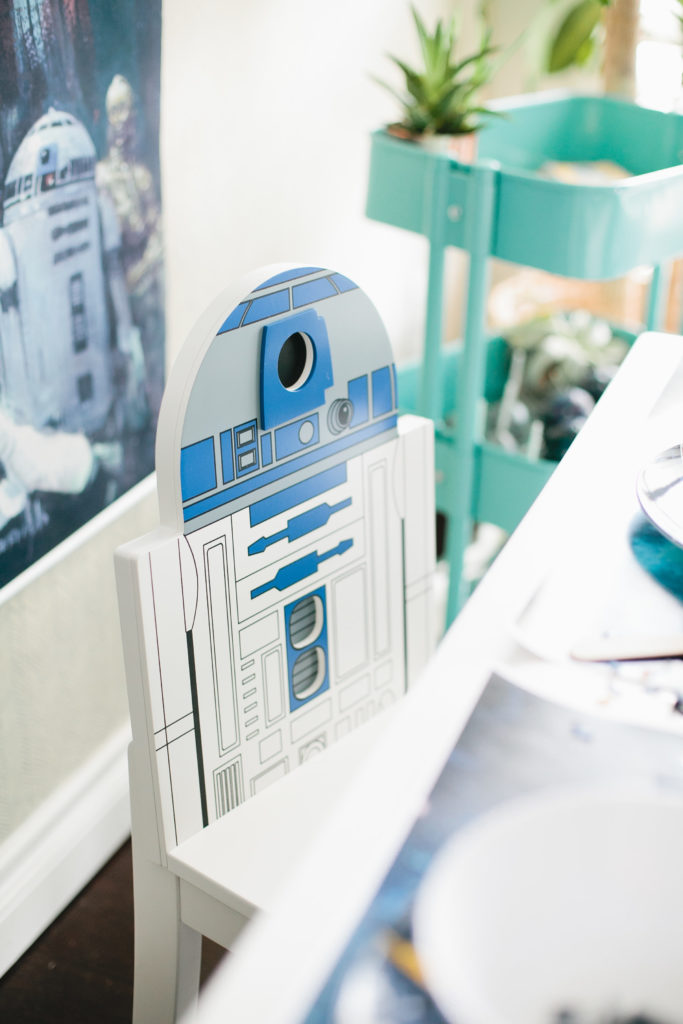 We had puzzles and coloring too!!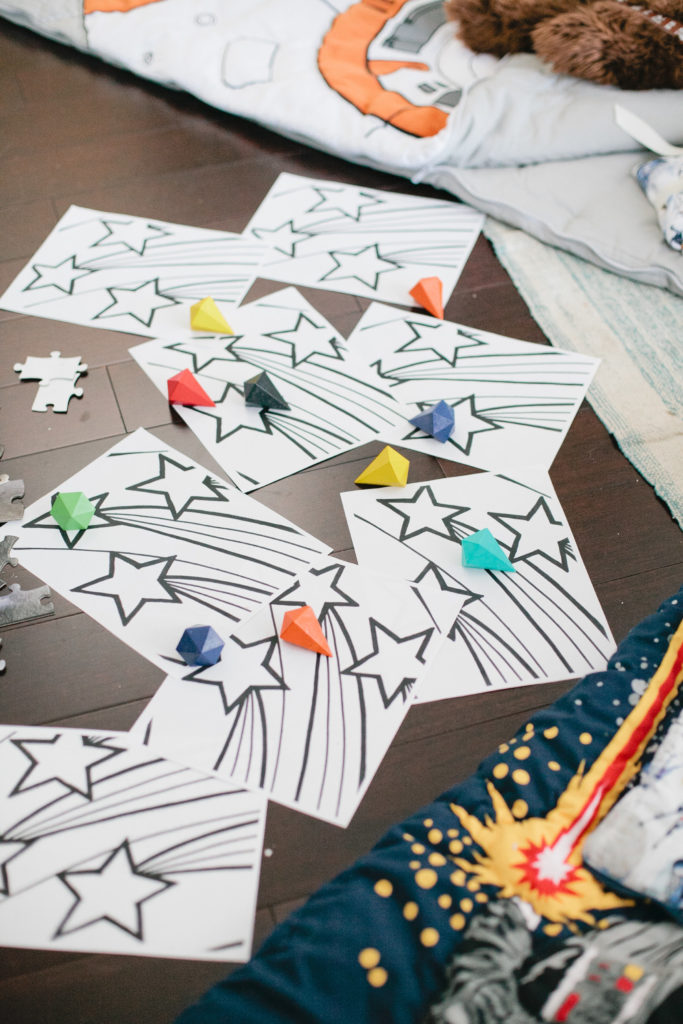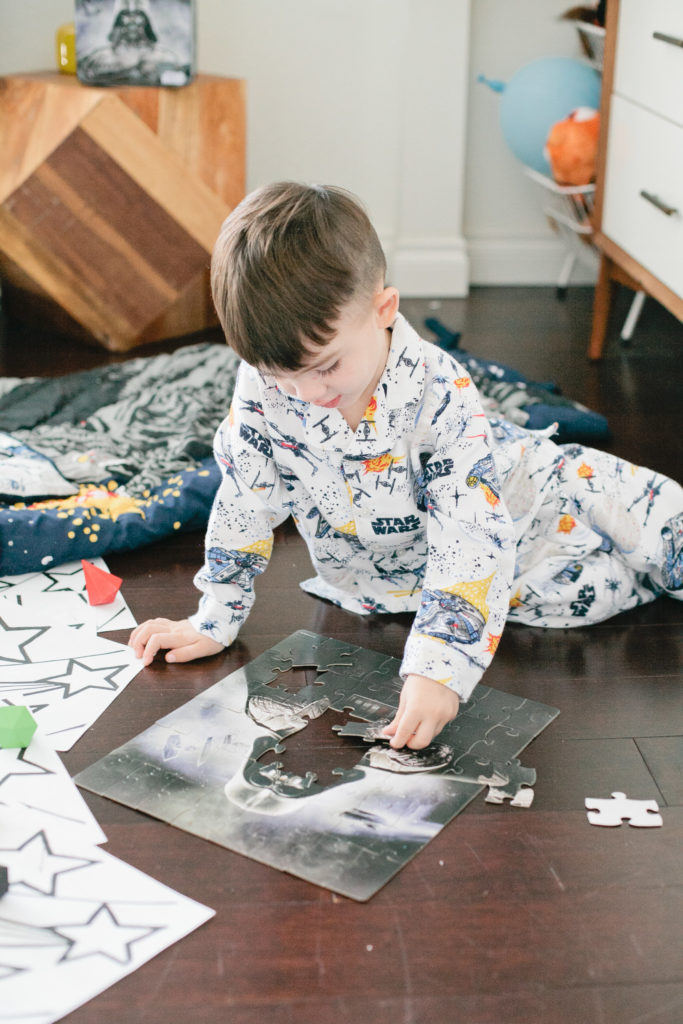 These boys seriously crack me up… Such goofballs!  They look so cute in their jammies and loved their new sleeping bags!  Popcorn is an essential at any sleep over, so we asked Meghann to make these amazing cones.  Popcorn it is!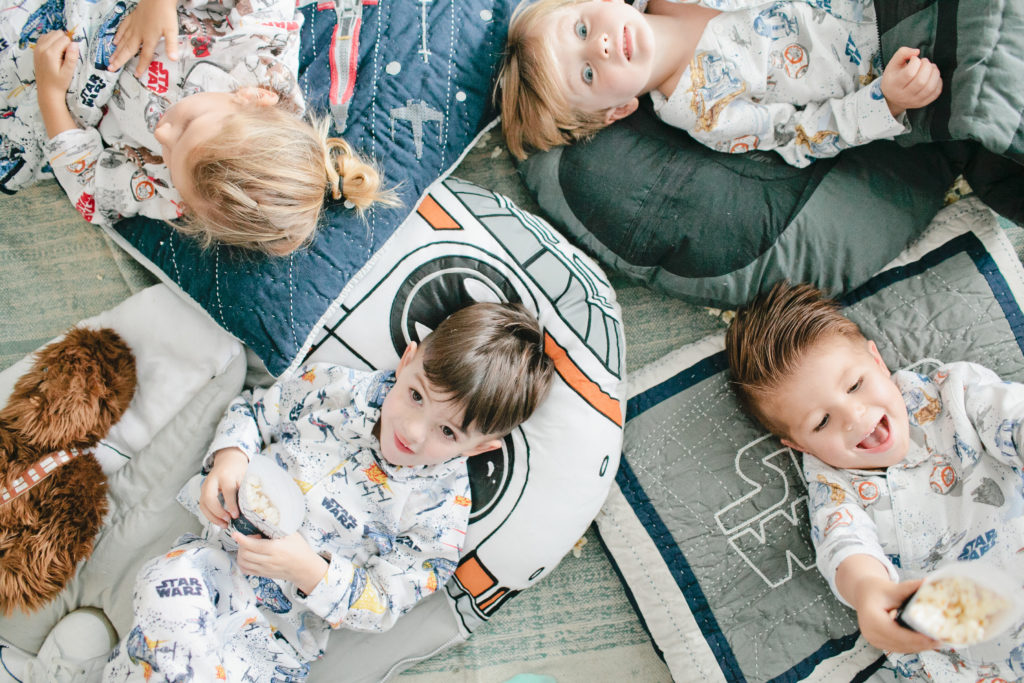 Cheers Bro… That's a serious cheers right there…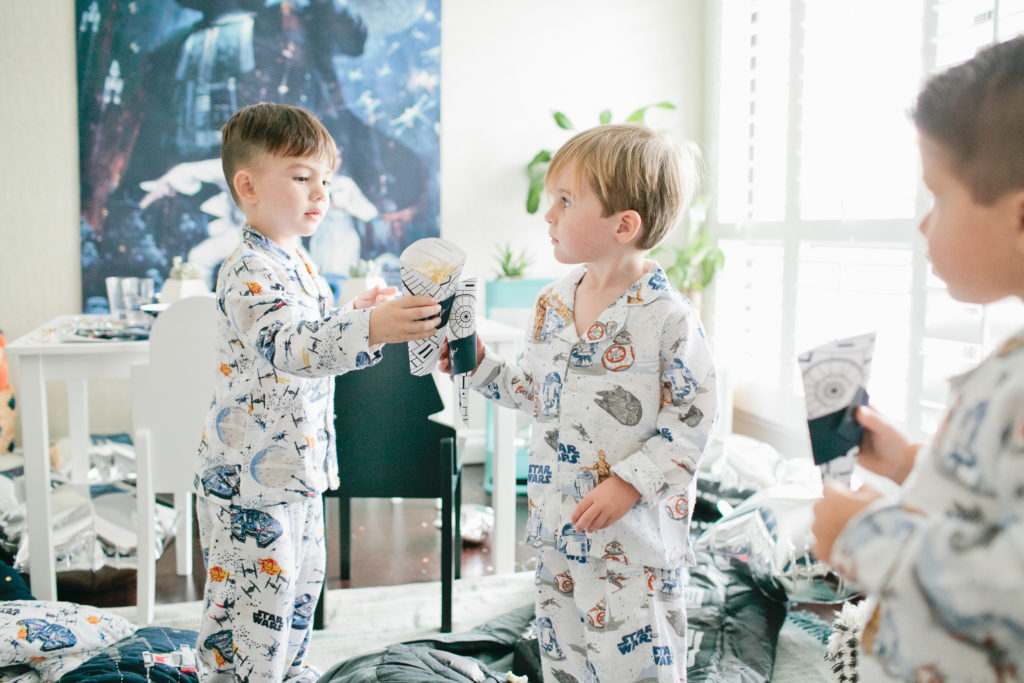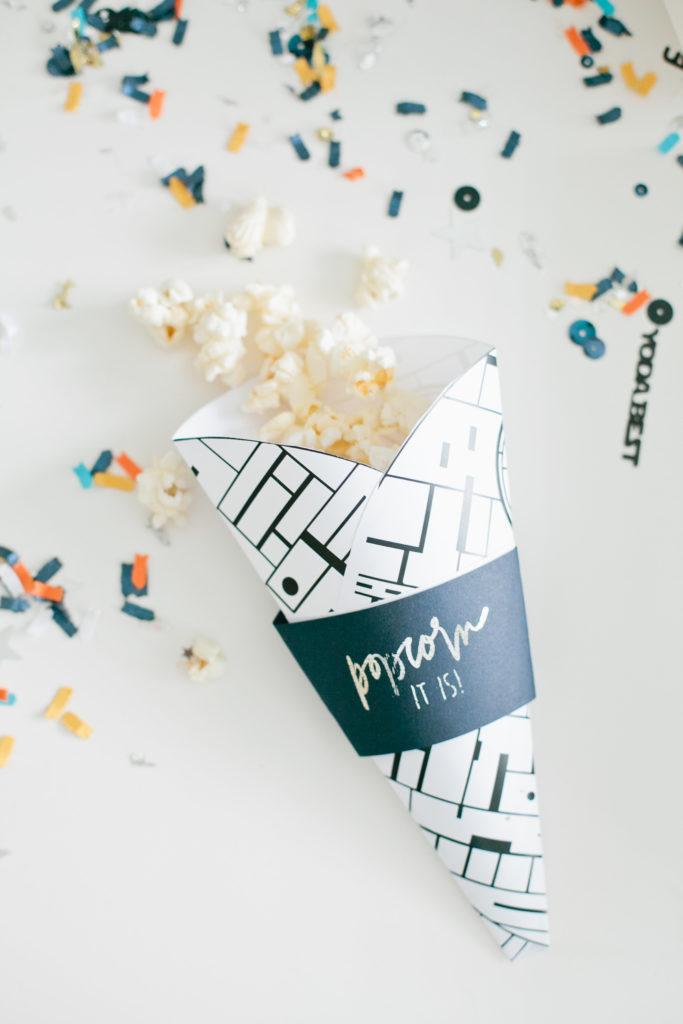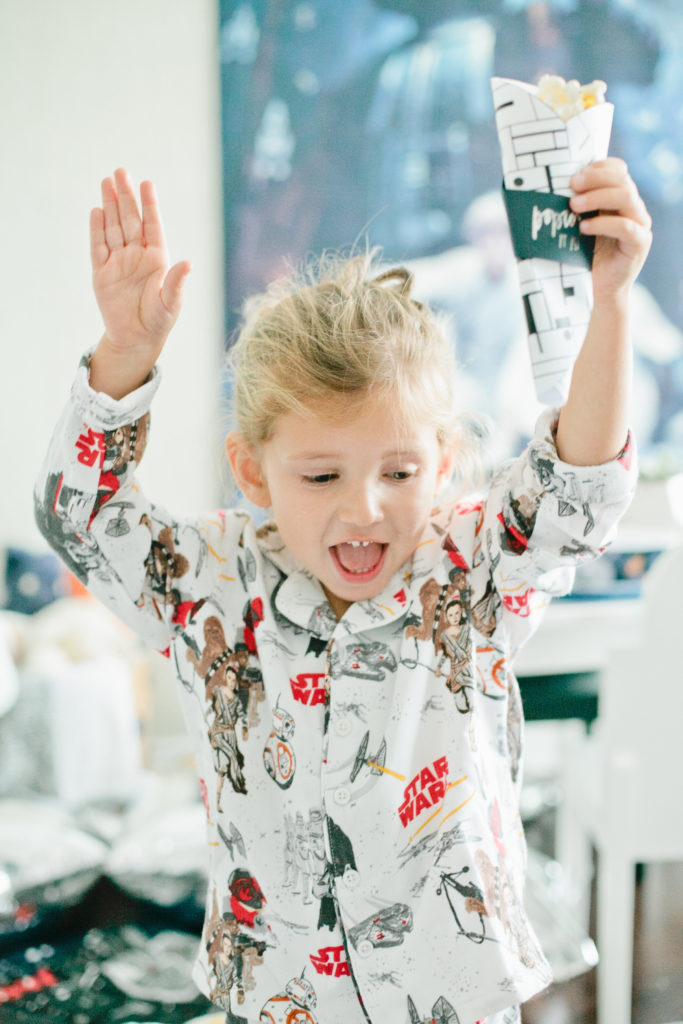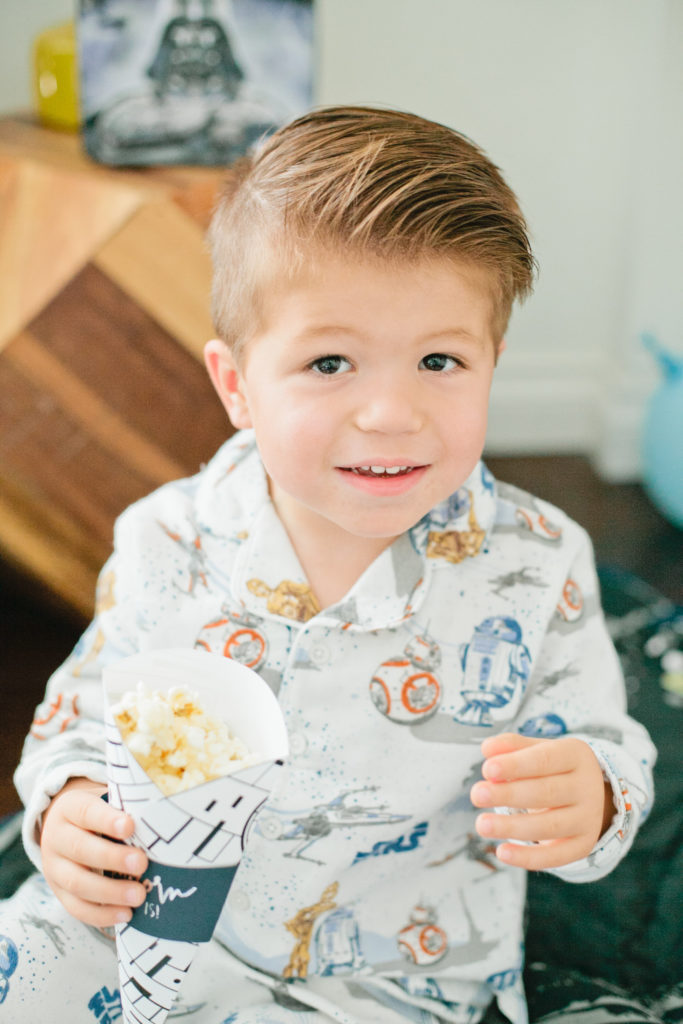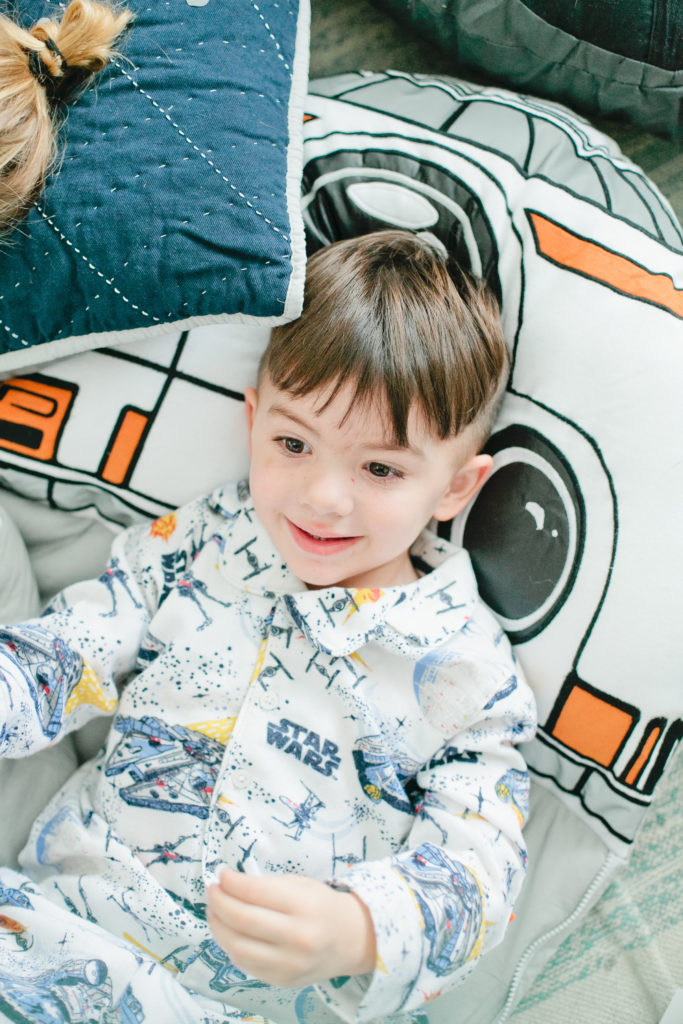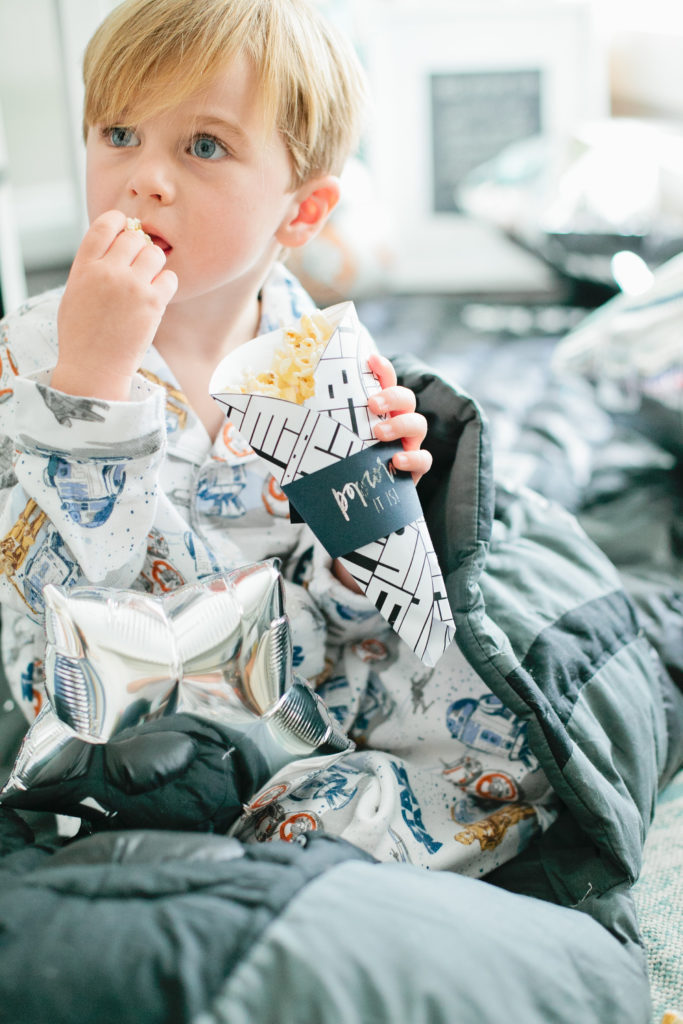 We asked Beverly's Bakery to help us out with some desserts and they blew our minds!!  Apparently Star Wars brings out the creativity in us all!  Wait till you see the hand painted cookies, they are real art!  We called our dessert set up "The Dessert Side", not to be confused with "The Dark Side" (unless you're trying to lose some baby weight like me, waaa!)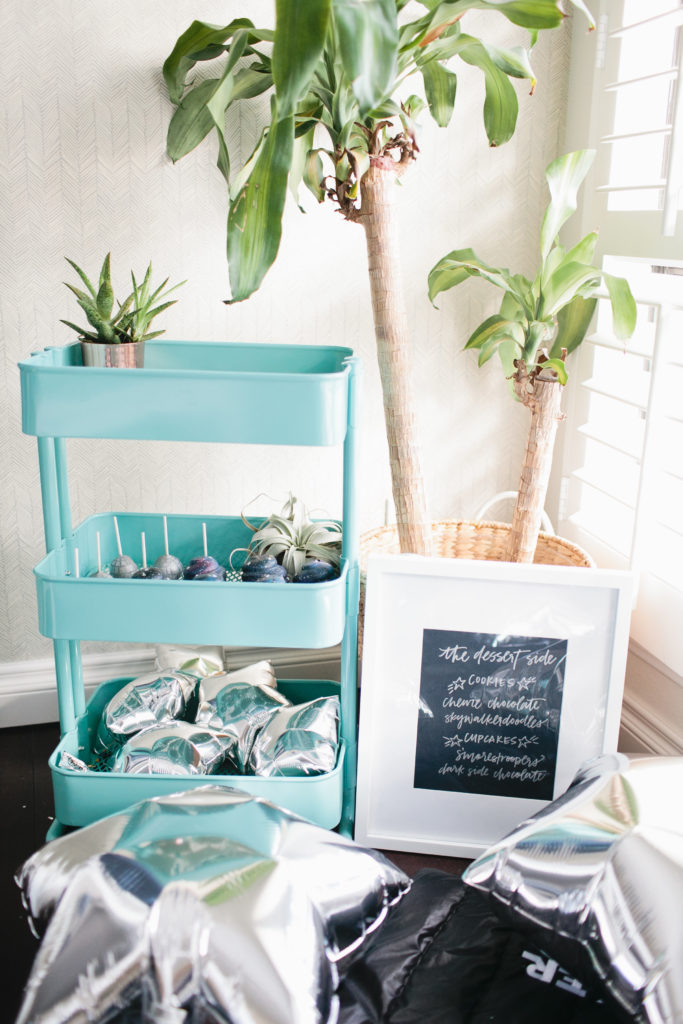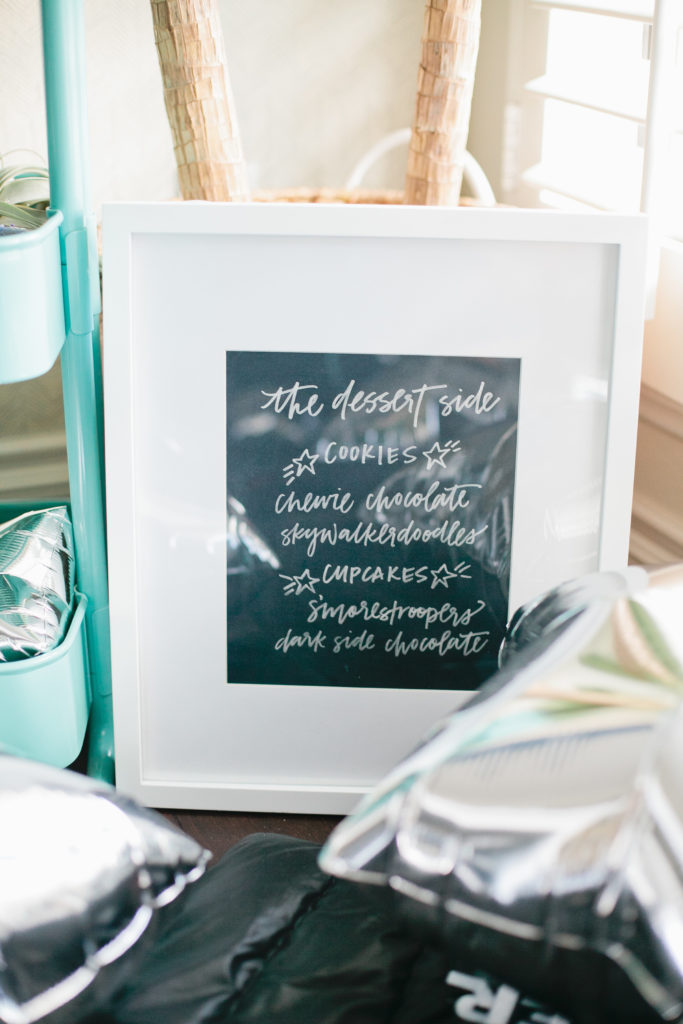 You guys, the detail is AMAZING!!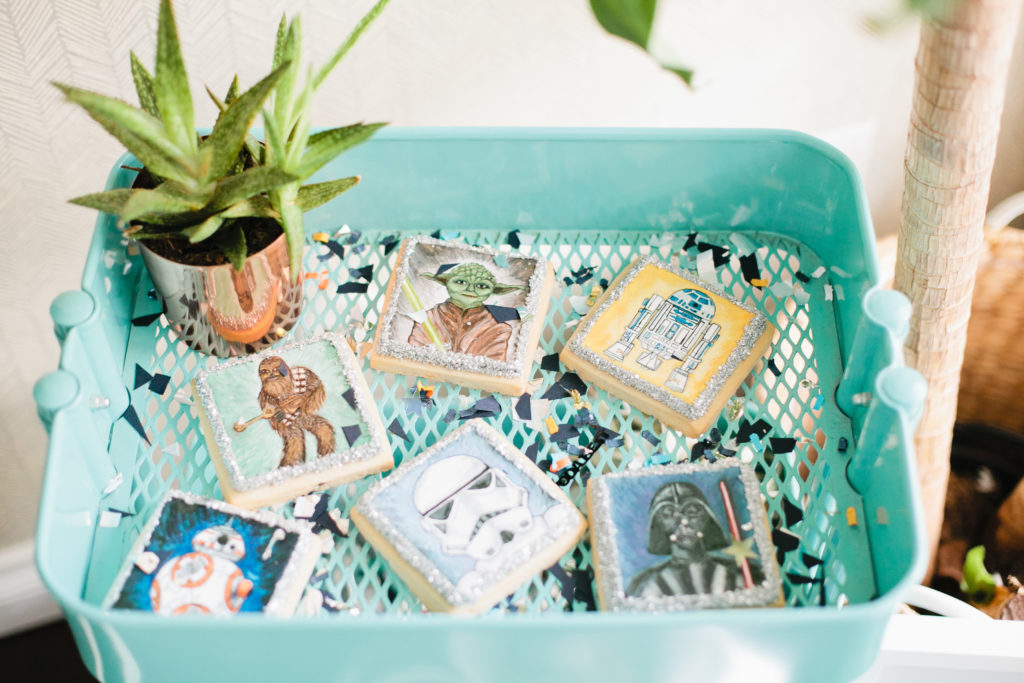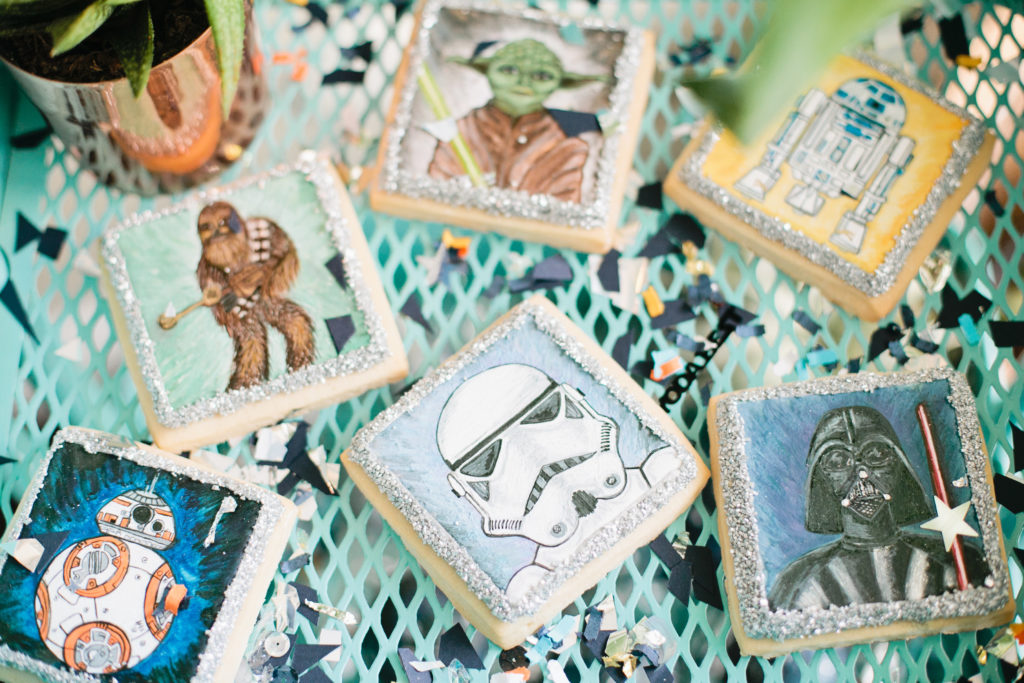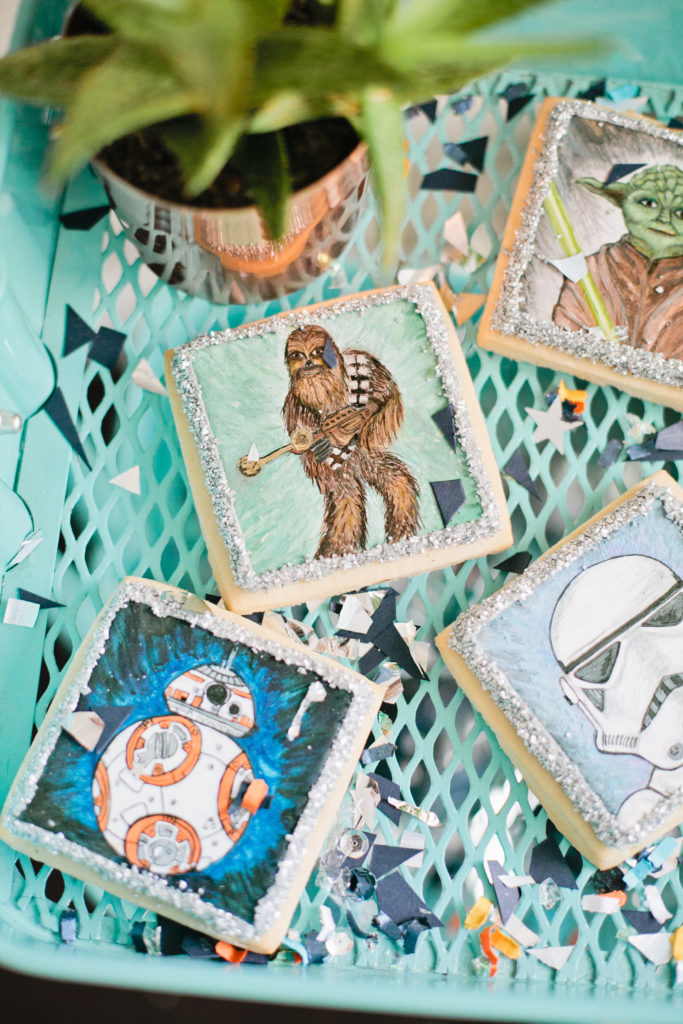 I have to say these space themed cupcakes were my favorite!  And they were BEYOND yummy!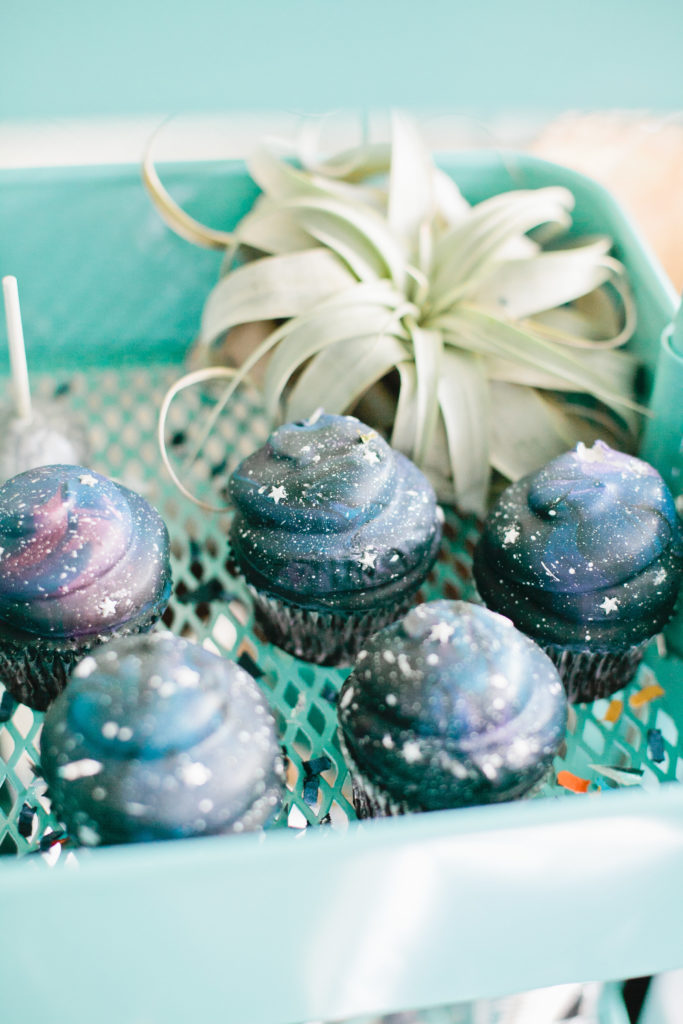 Ummm… Death Star cake pops?!  Yes please!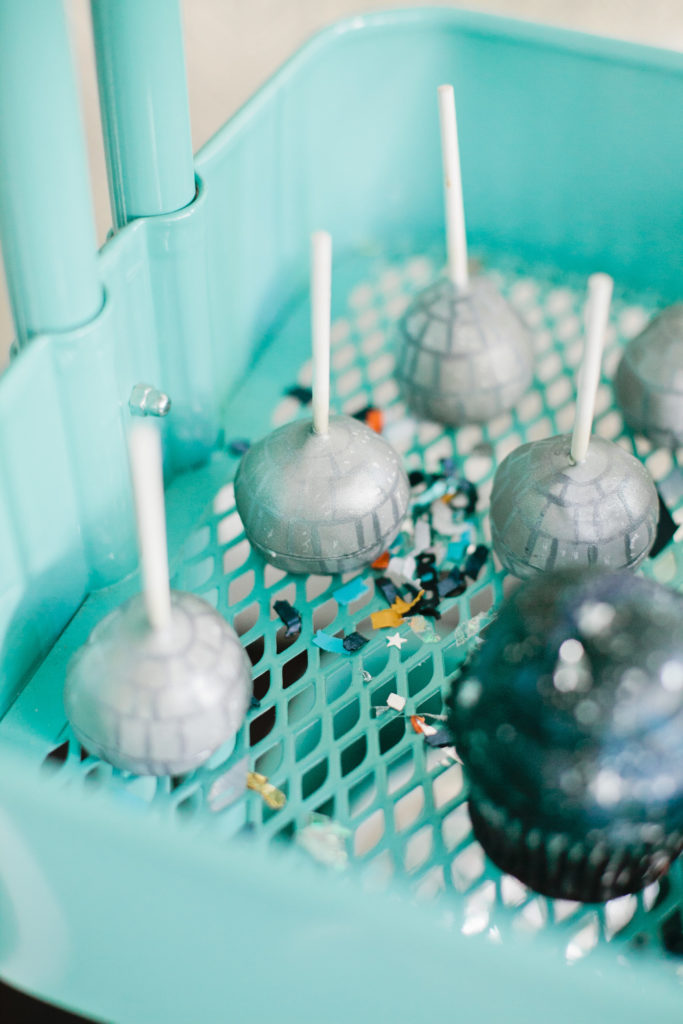 These crazies had so much fun!!  But really, they just couldn't wait to get into those desserts, haha!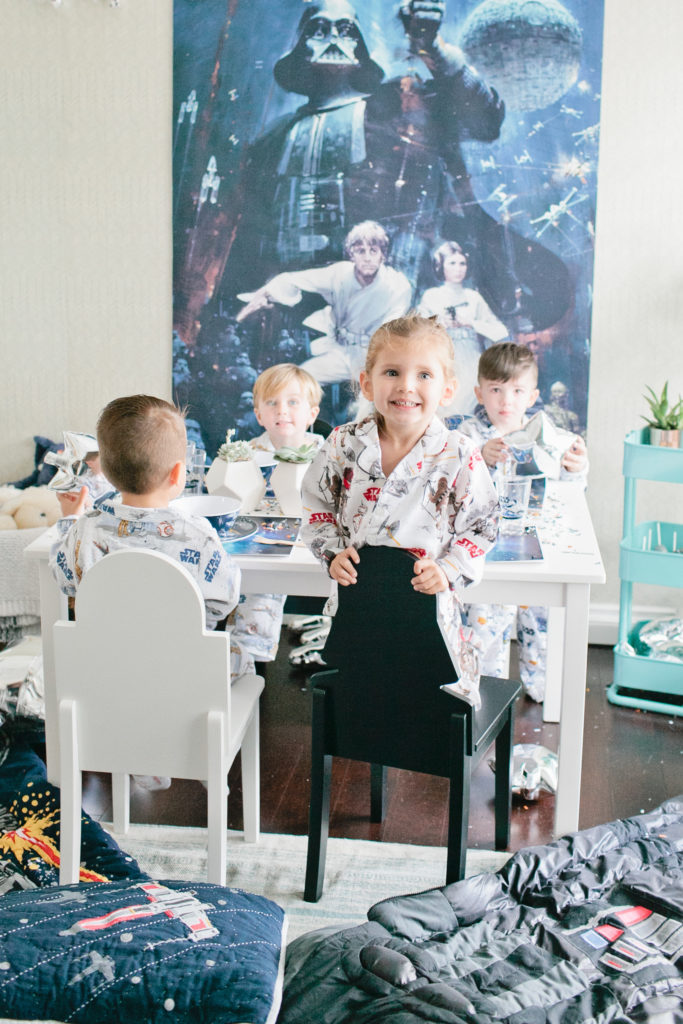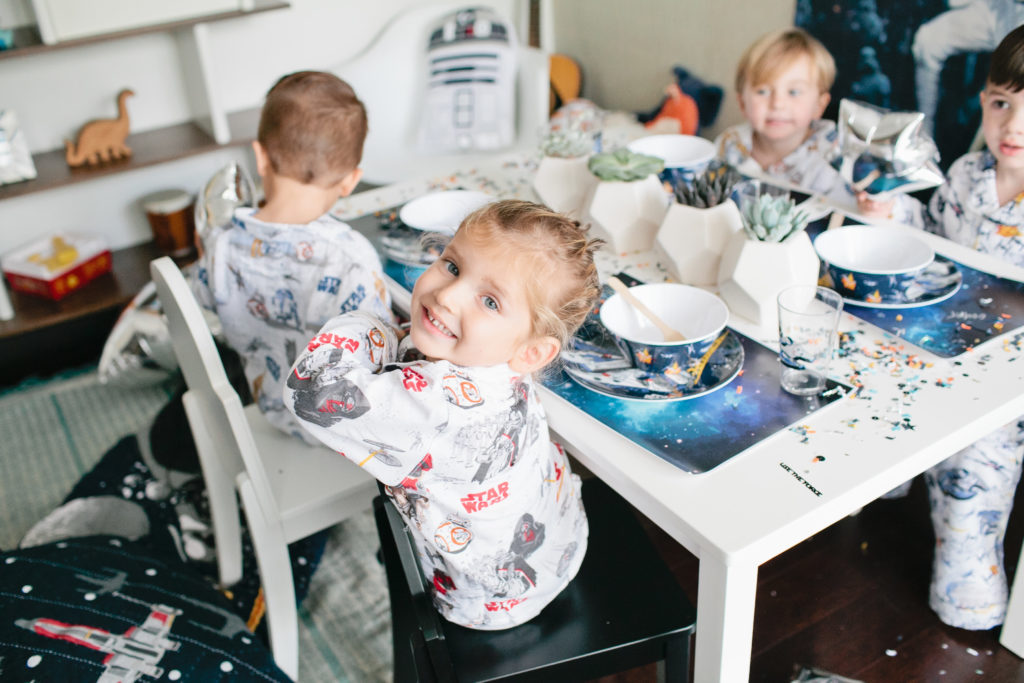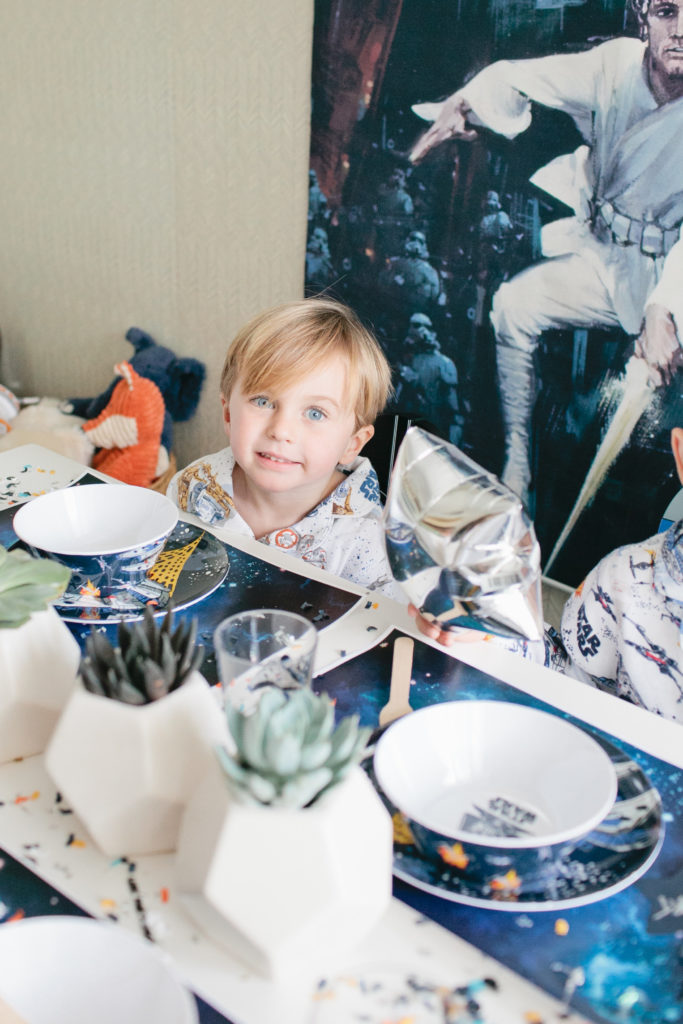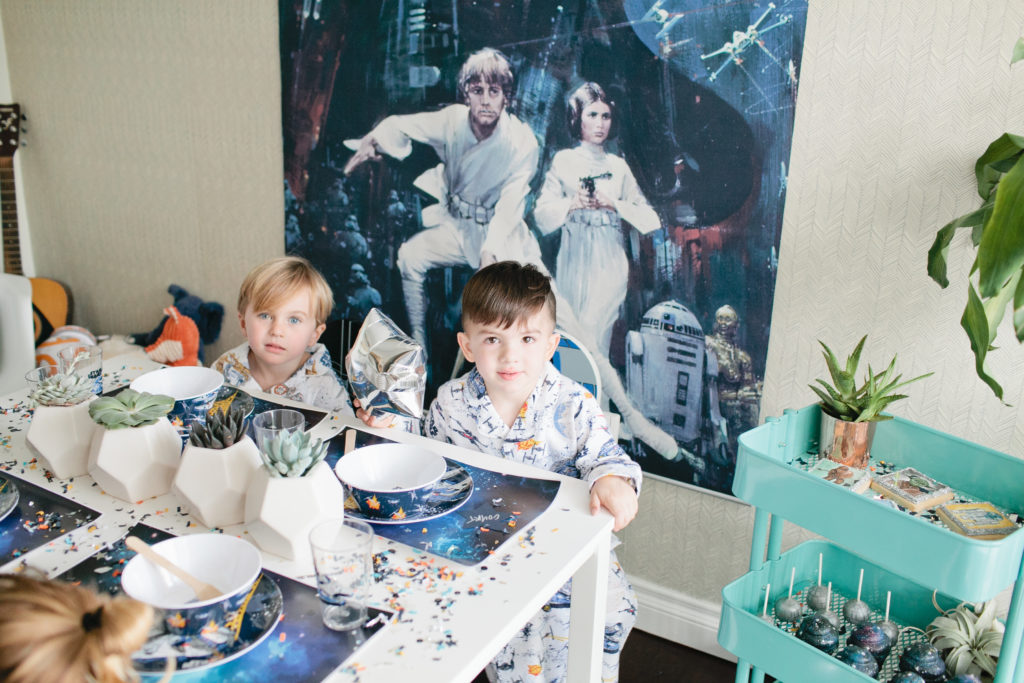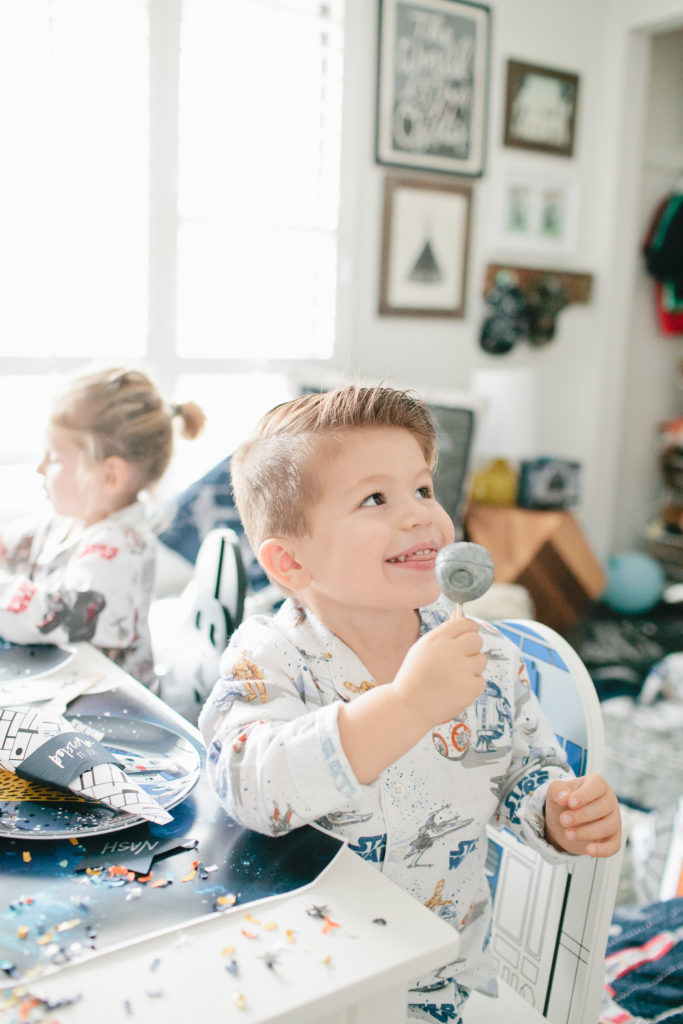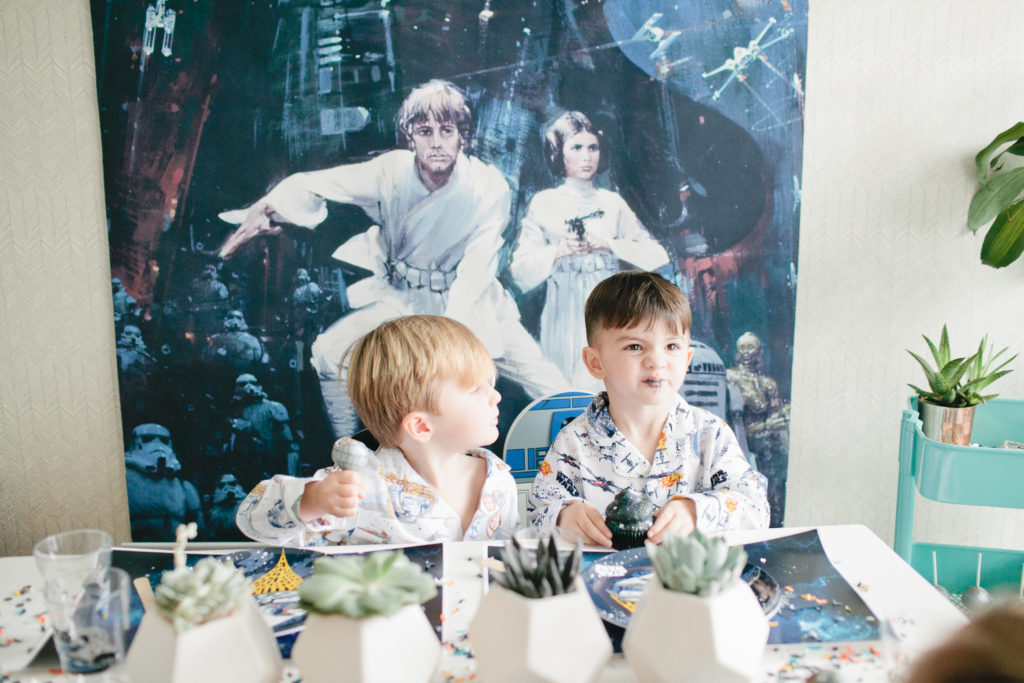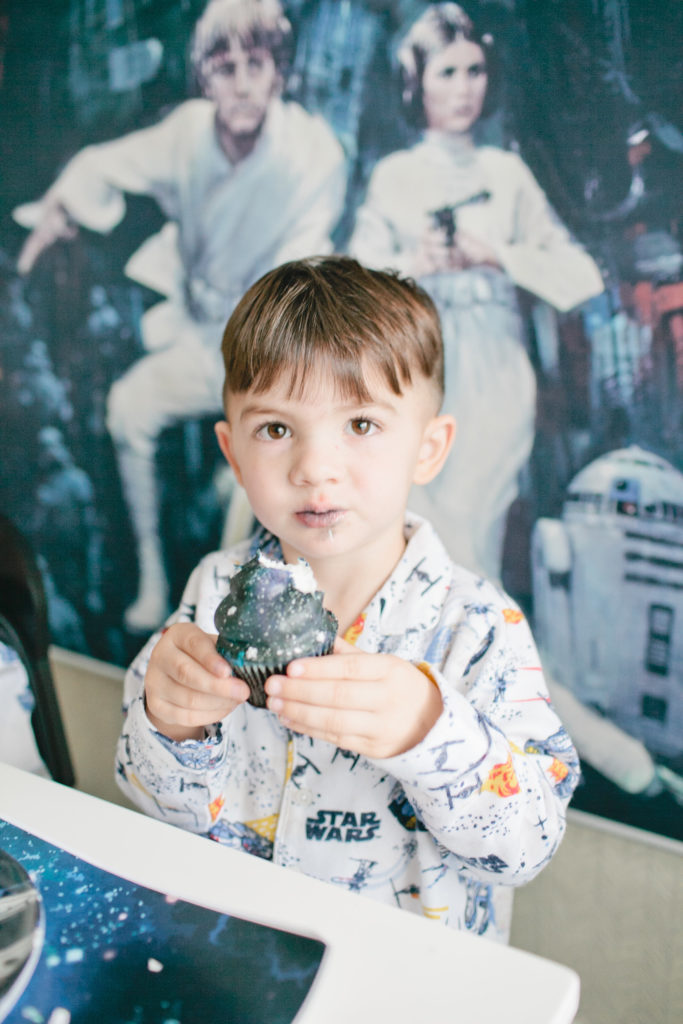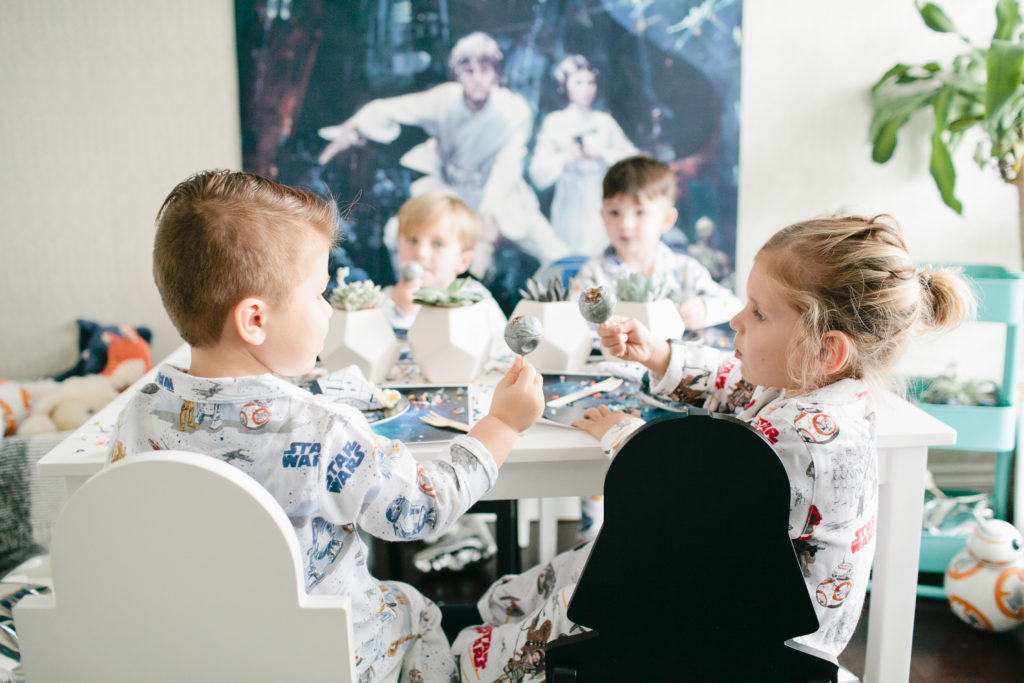 It was such a fun day and so fun seeing these little guys so happy!  Gotta make some fun happen inside, even if they do tear up the house… And trust, they did, haha!  But these memories are definitely worth it!!  Shop the post below!
xx
Jacquelyn