If this doesn't scream Southern California Halloween, I don't know what does! We took Halloween to the beach this year with the coolest boy surf and skate themed spooky party! The sun is still shining down here and October happens to be one of my favorite beach months, so why not?! Skulls, Surfboards, Skateboards, and Checkerboard – my kind of scene! I used some Halloween neutral colors, Meri Meri's cute tabletop, and Newport Beach to make this one come to life. Not to mention the cutest little groms to add to it all! Check out the fun below and on 100LayerCake today!
Photos by the talented Jessica Lynn Photo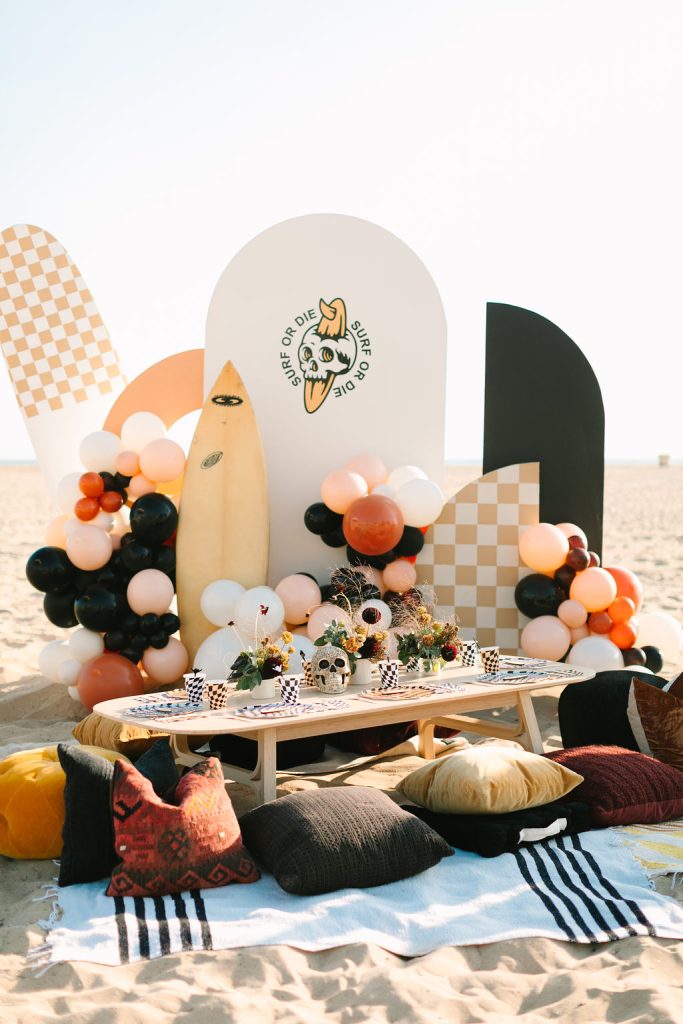 Gotta start a rad party off with the raddest little invite!! Chelcea Creative does it again, she always takes my vision and just nails it!! I'm obsessed with these invites that Jessica styled to perfection on my Chasing Stone mat. Chelcea did all of the details and I didn't have to turn far for all the cute surfer names to use, I just used all of my son's friends names! Haha!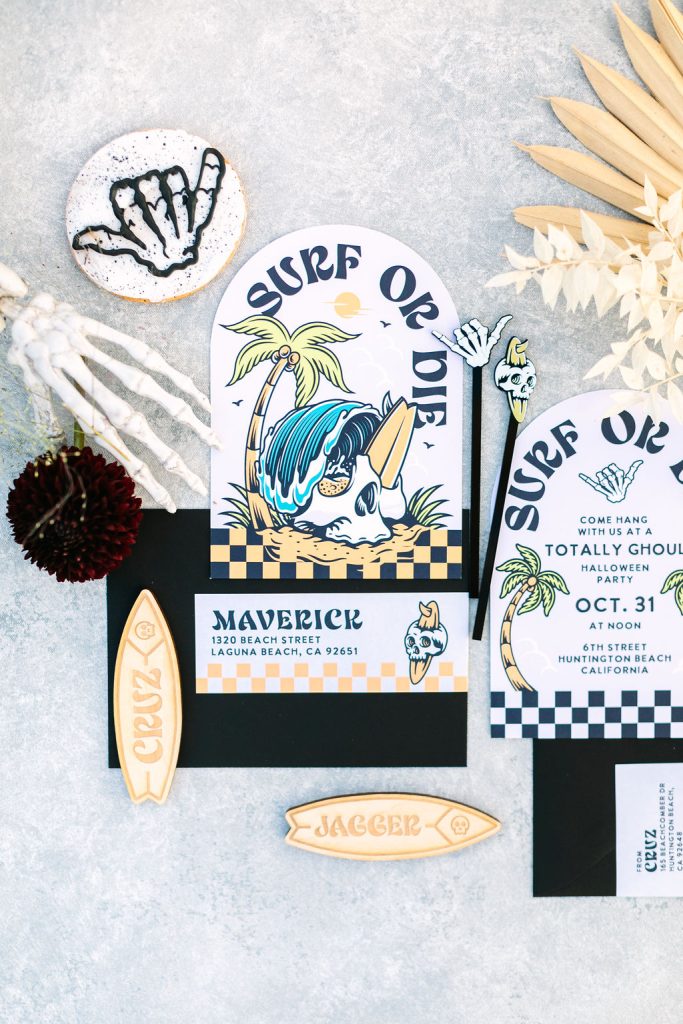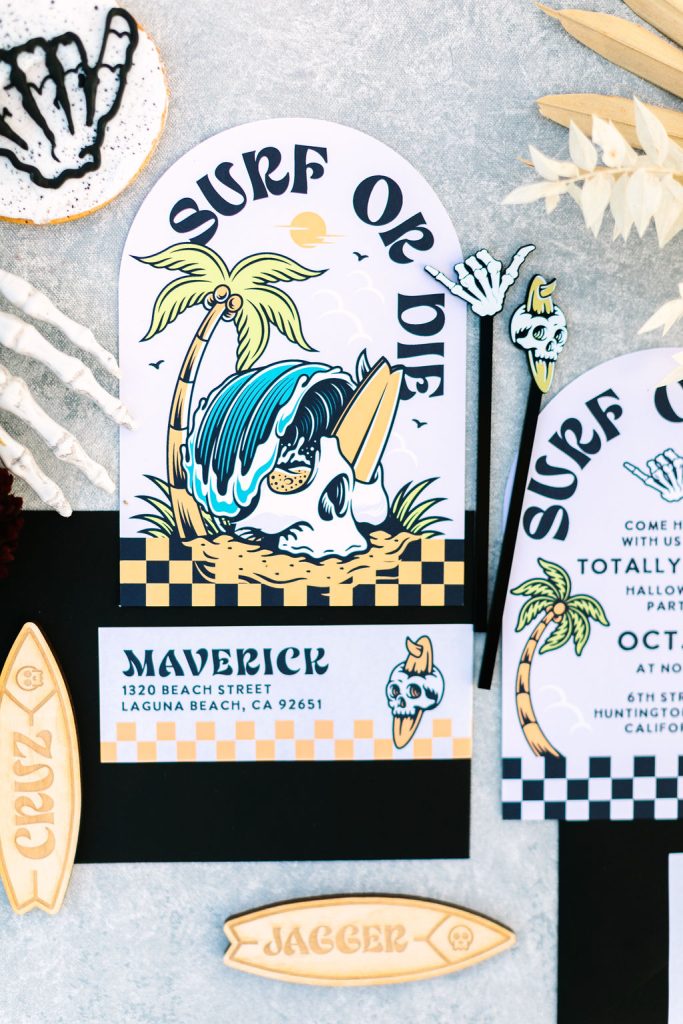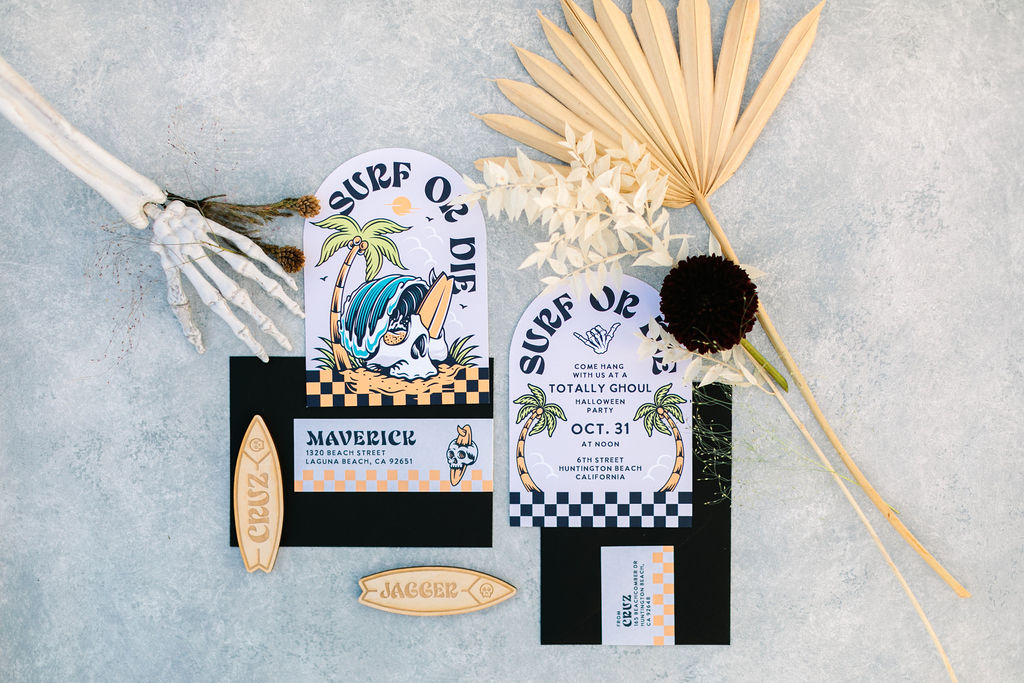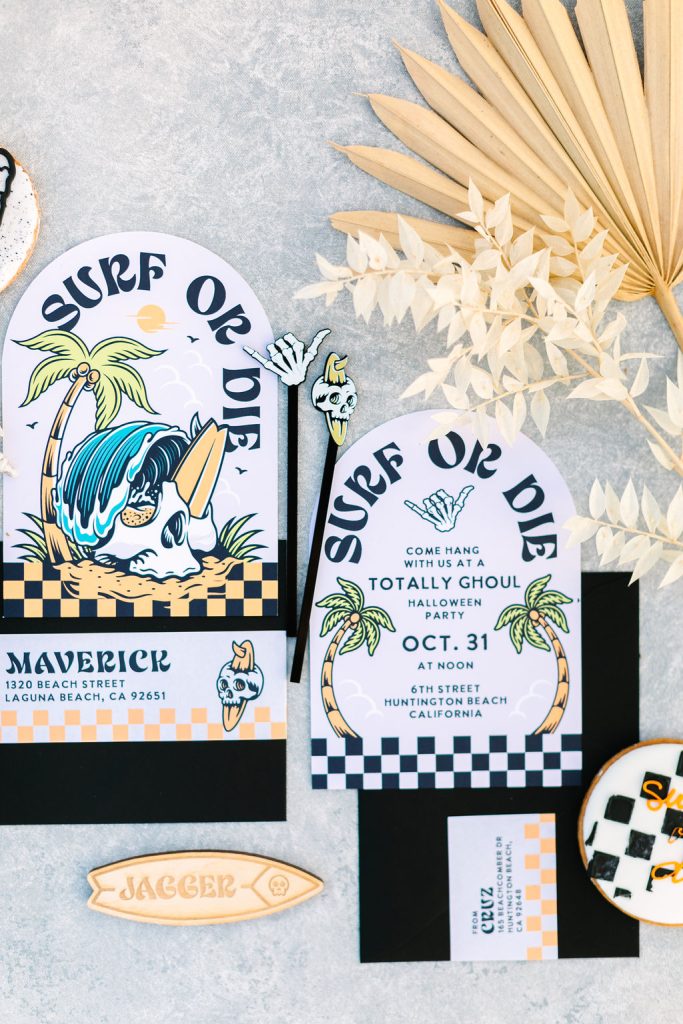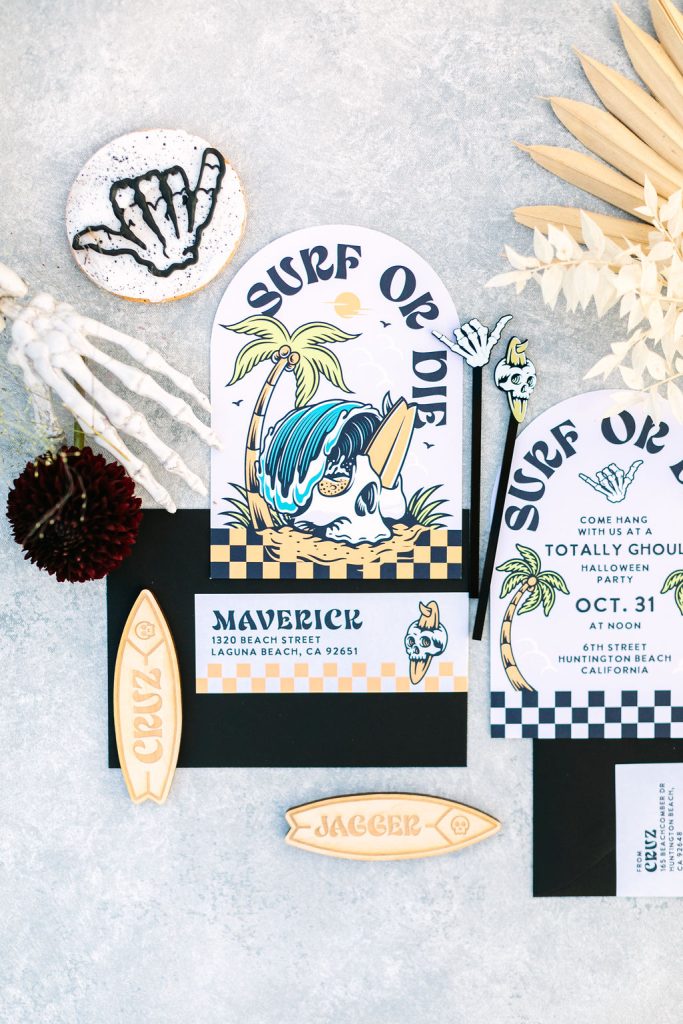 Onto our cute party set up! The beach is a blank canvas and we had our friends at Goldie Crew Creative really dress it up for us!! That backdrop is next level amazing, they truly made the best kind of magic for us. The Pop Shop decked it out with balloons making it even more fun. I love these colors for Halloween, don't you?!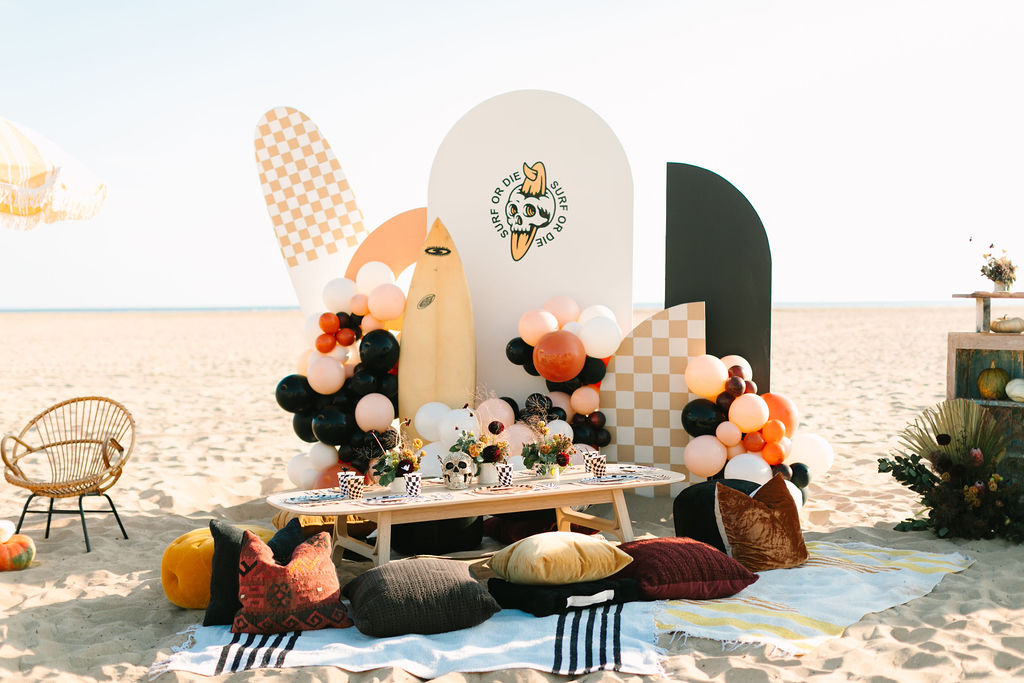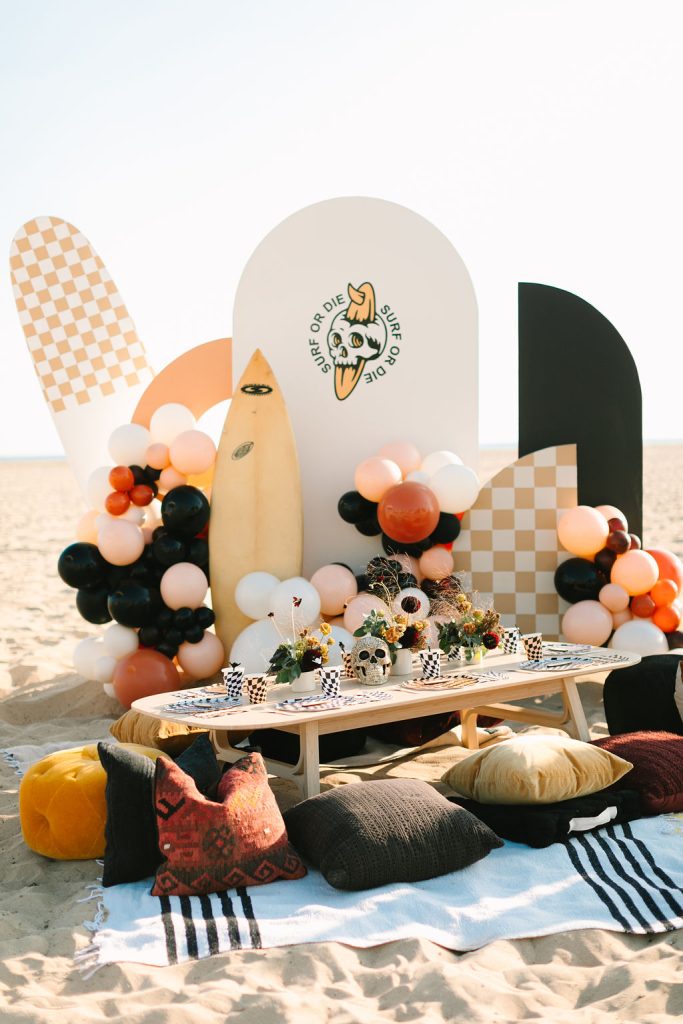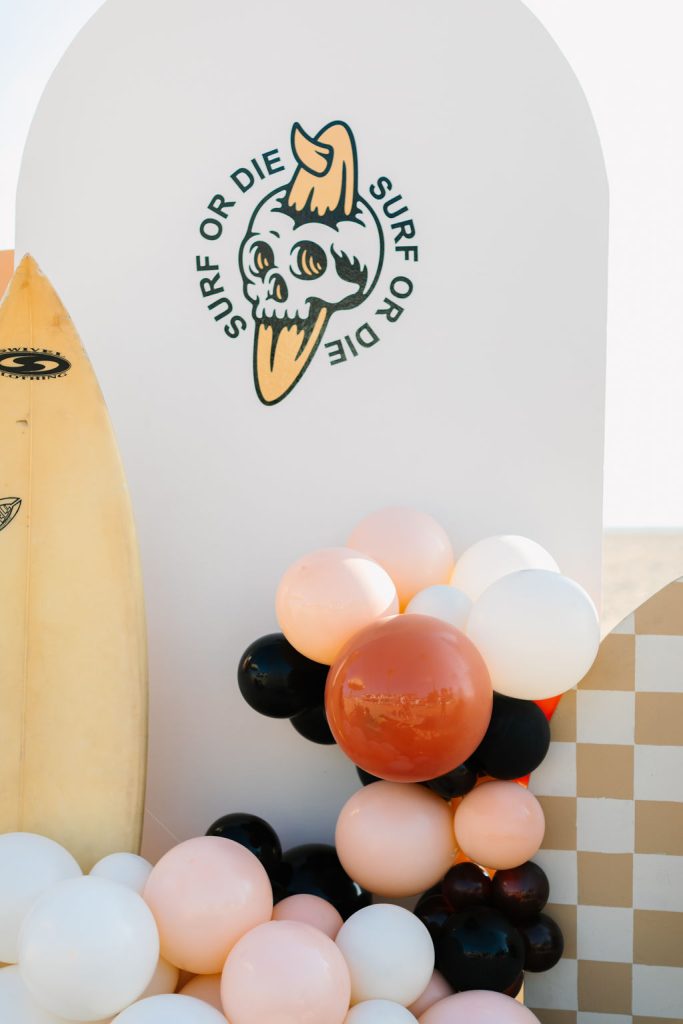 The table was set with Meri Meri's awesome checkered Halloween collection. The perfect amount of cool in all the right colors. I used their plates, cups, and napkins mixing all the fun colors and added this flatware. Of course Chelcea Creative added the cutest wooden surfboard place cards and the Shaka and Skull stir sticks all laser cut by Creative Amme. Those little details were killer!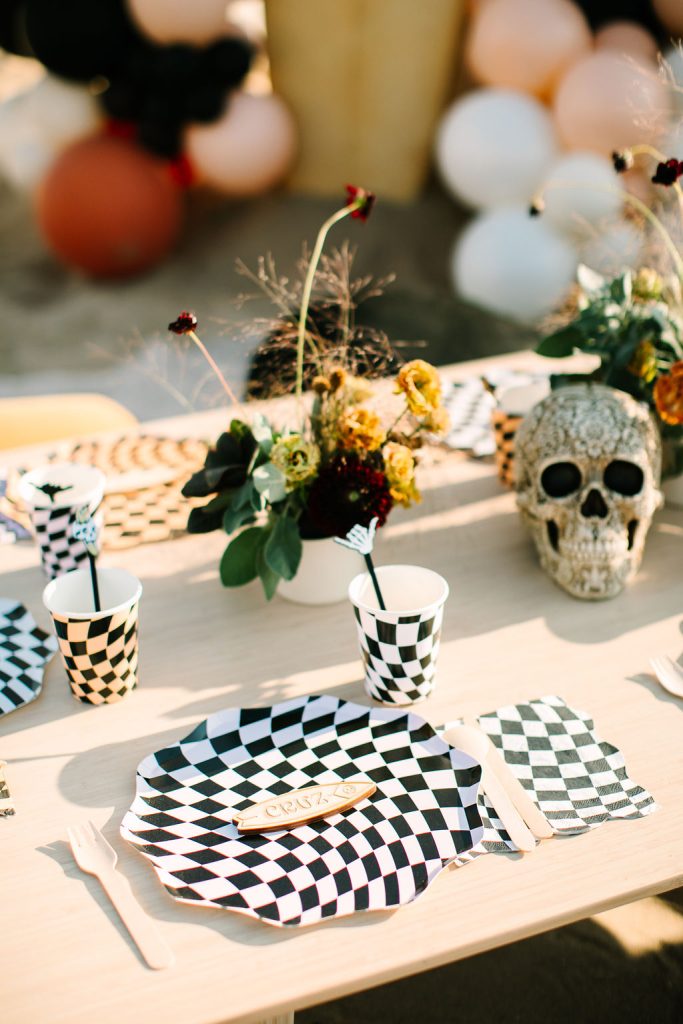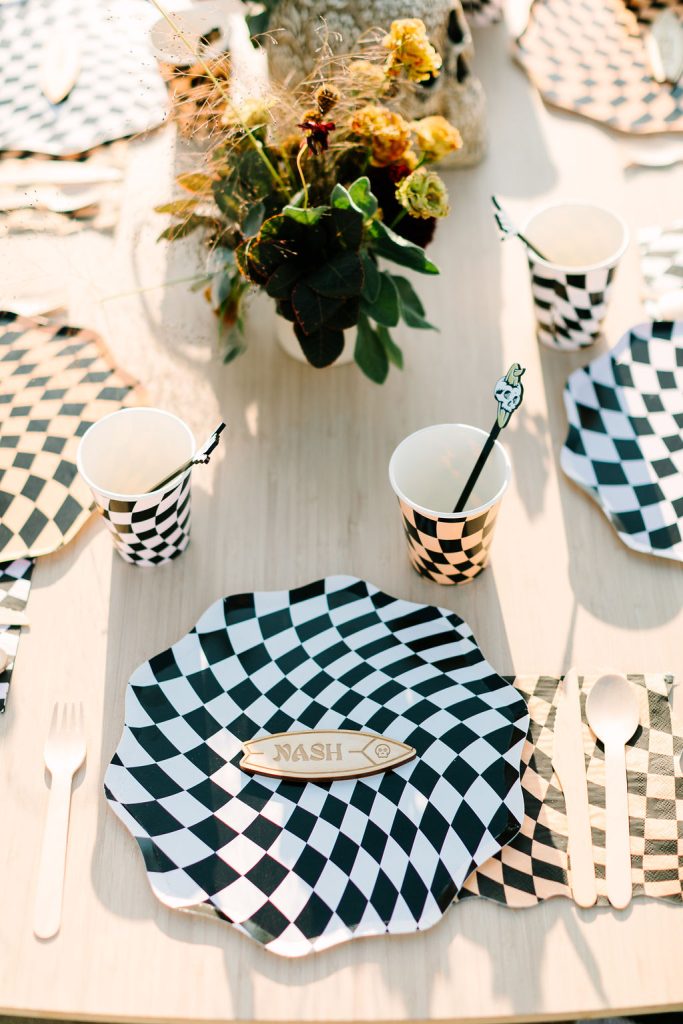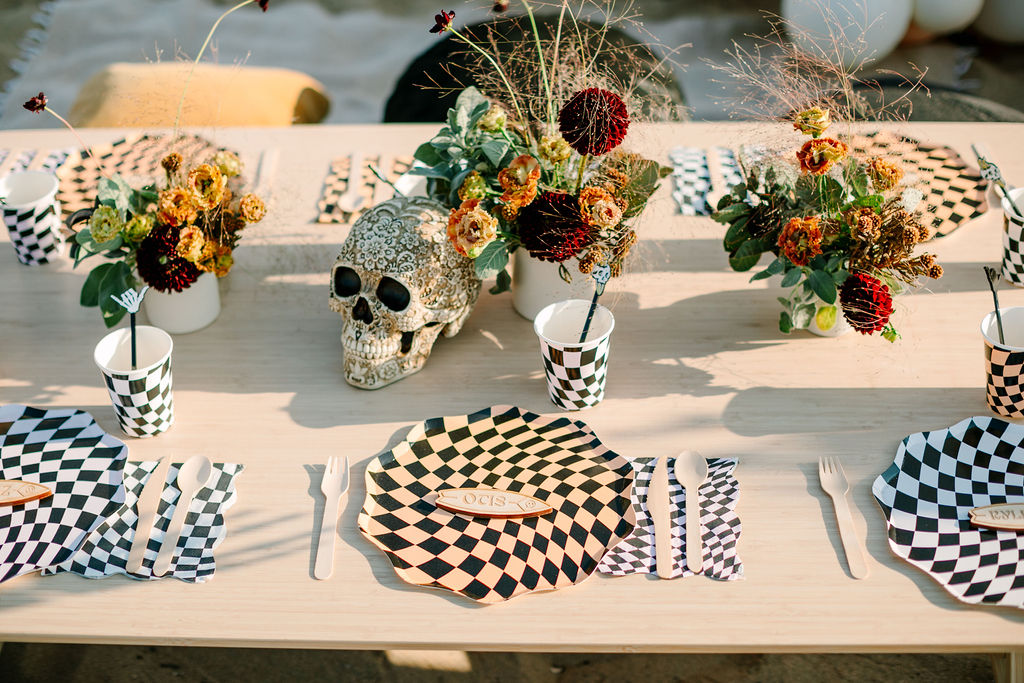 Those beachy yet moody flowers were absolute perfection on this table. Earth & Grace made magic yet again for us!!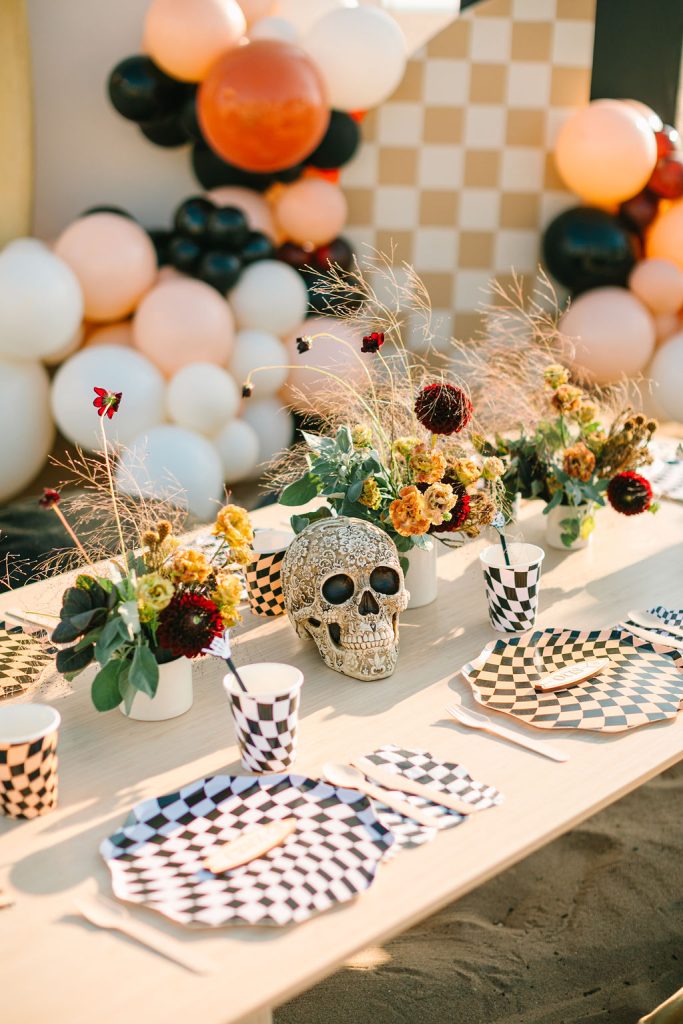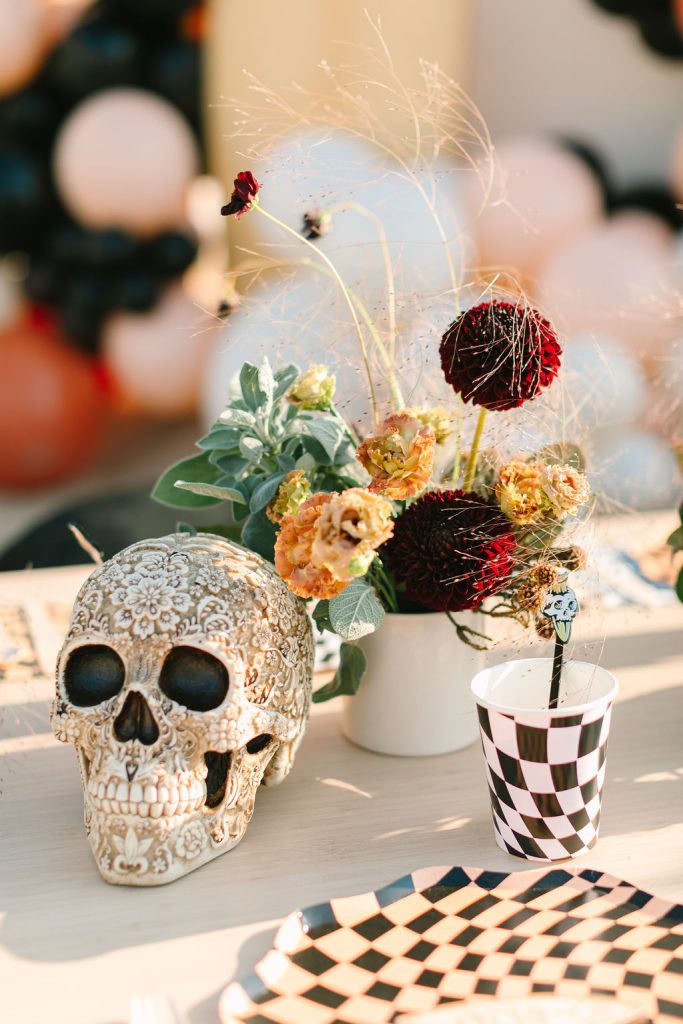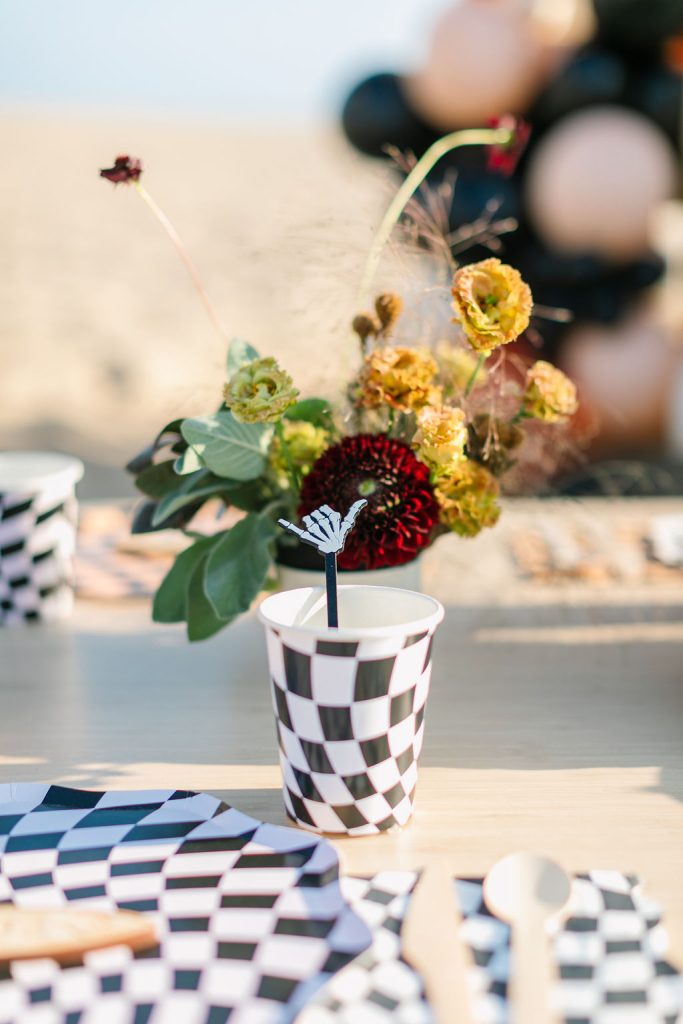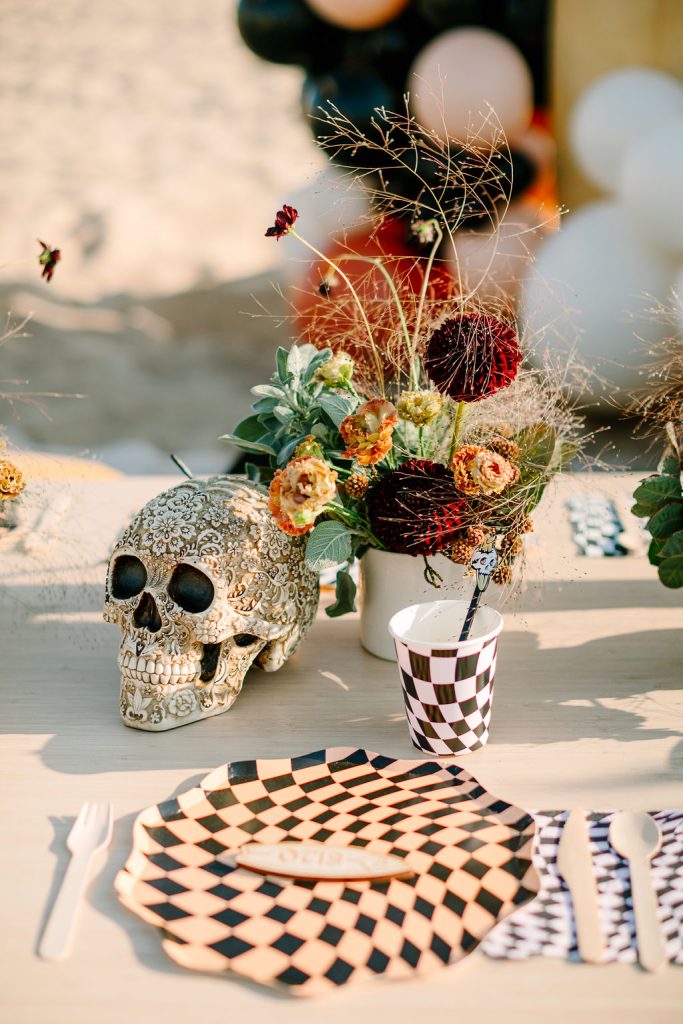 So freaking RAD!!!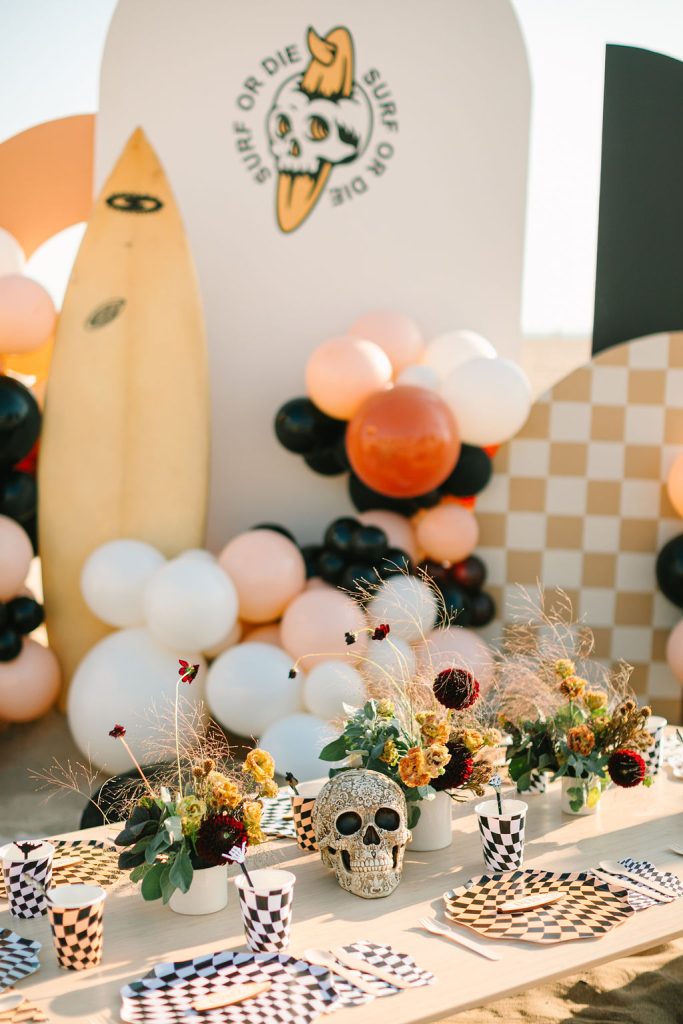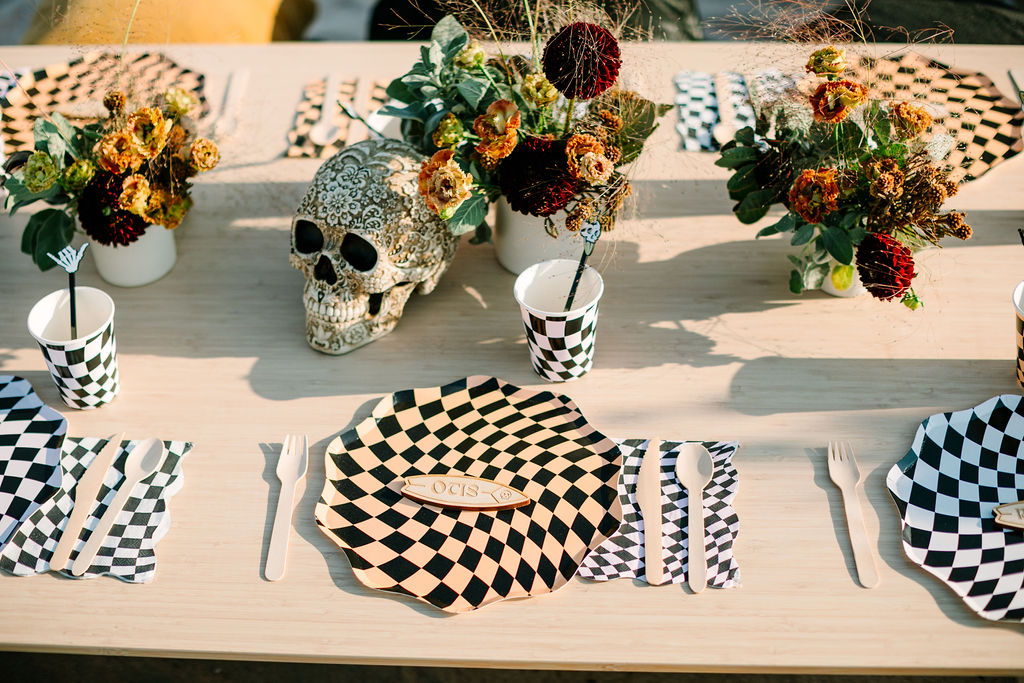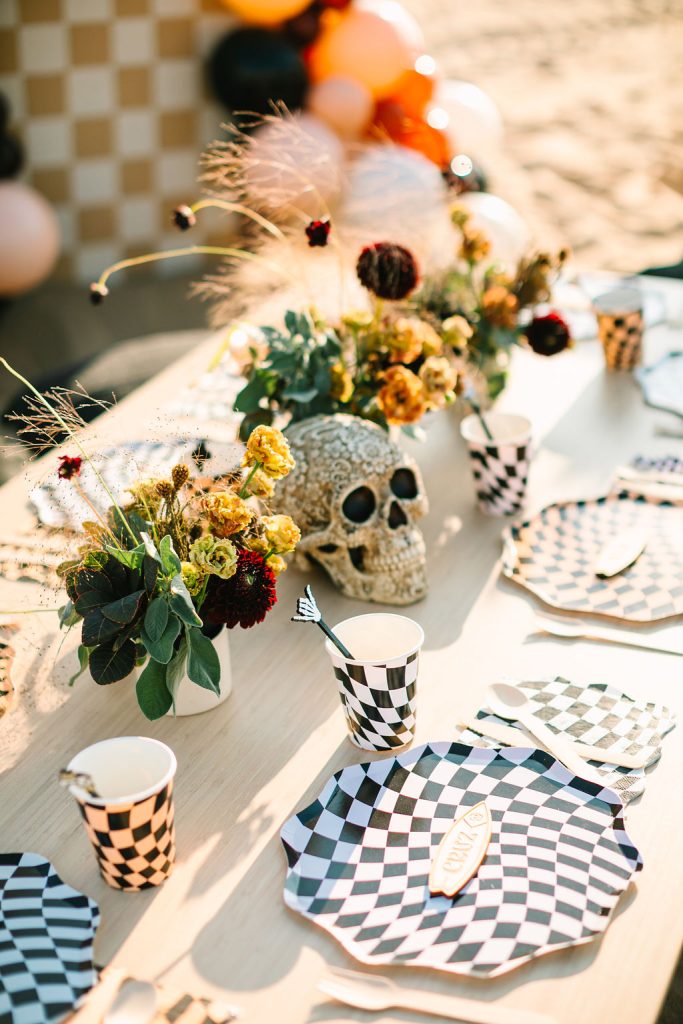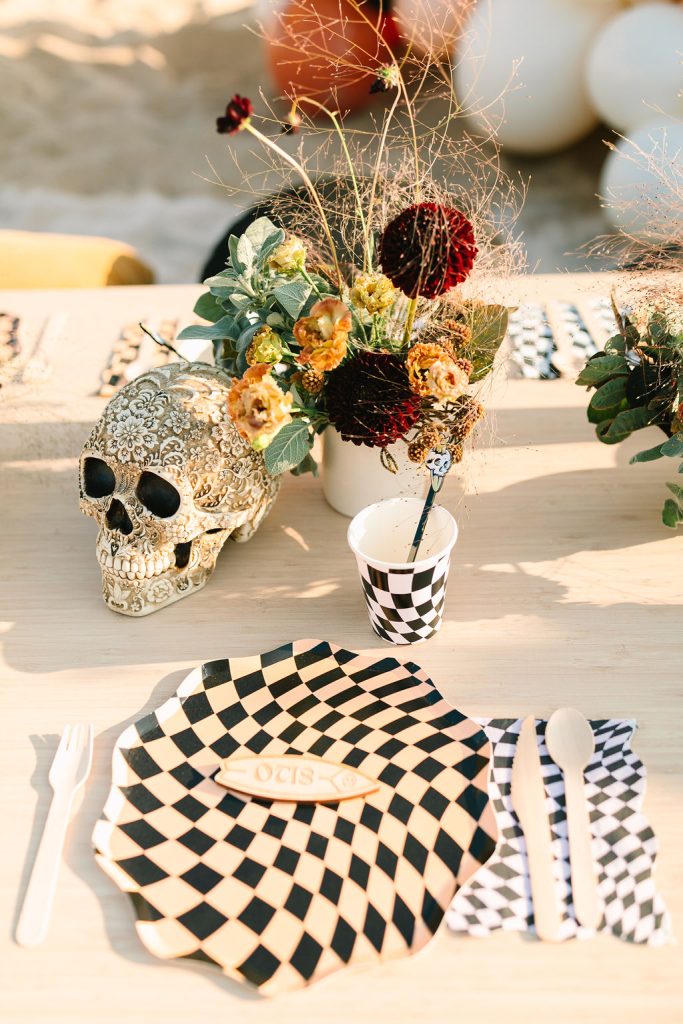 Our amazing friends at Sweet Salvage Rentals brought out all the furniture for us. They have such great pieces for a beach picnic, and it's not like those cookie cutter beach parties – every event is different and custom with their beautiful pieces. I added a few beach blankets to go with the party set up as well.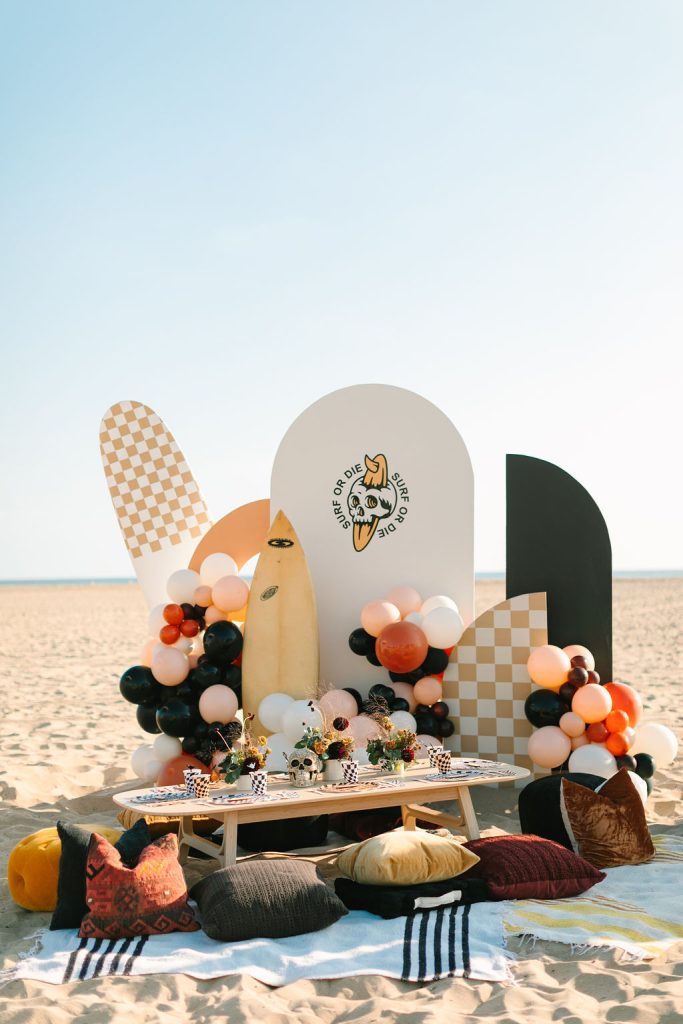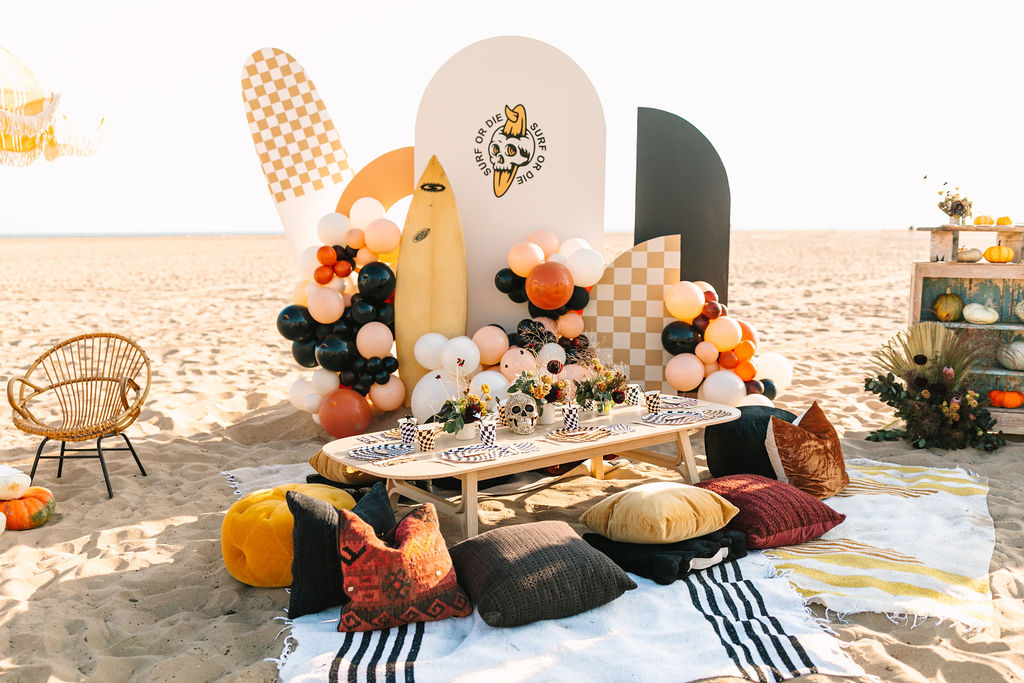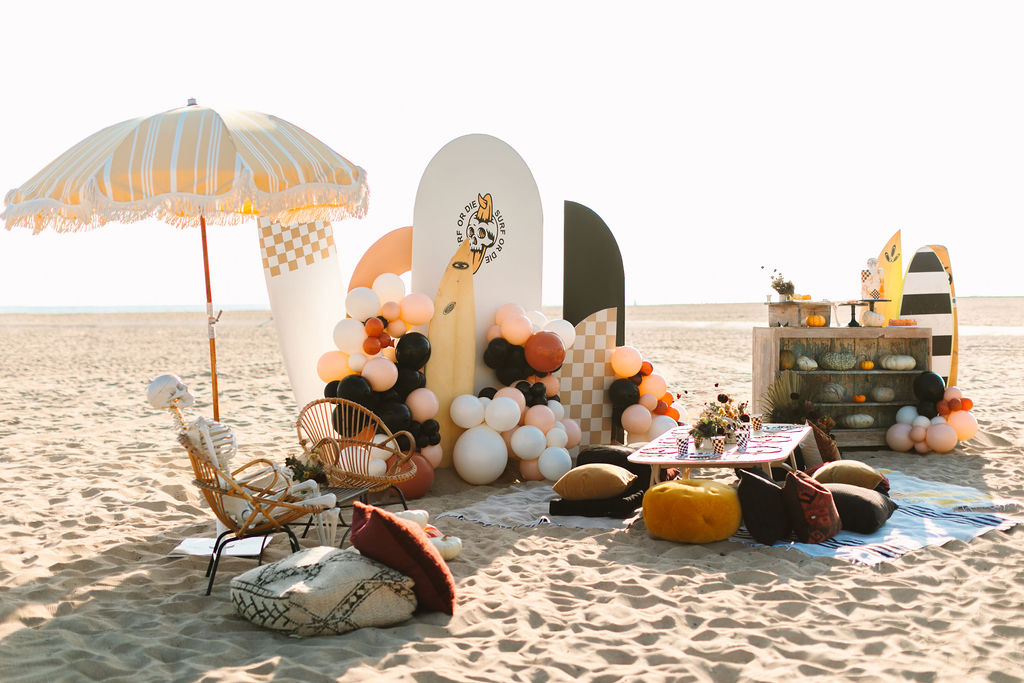 A little lounge area from Sweet Salvage Rentals with our friend Jerry the Skeleton. He's a big hit with the kiddos!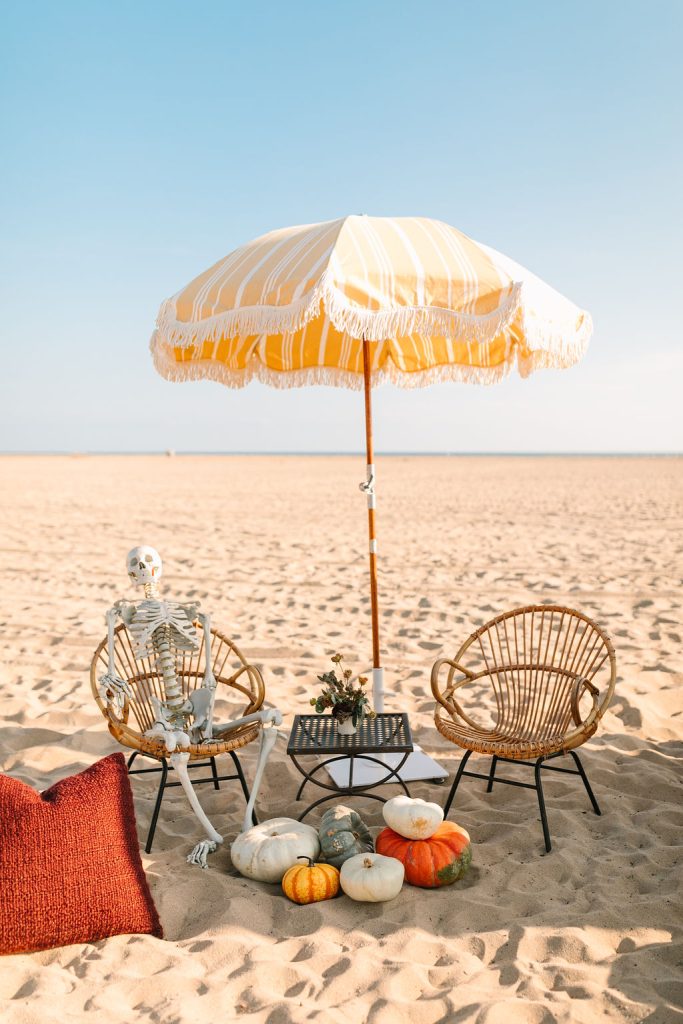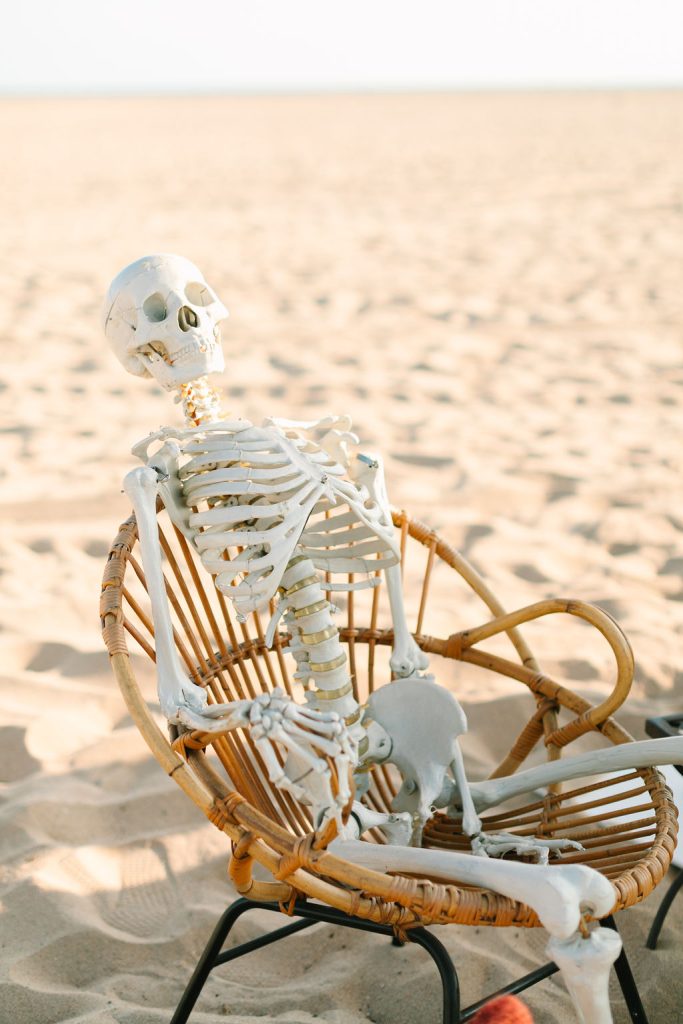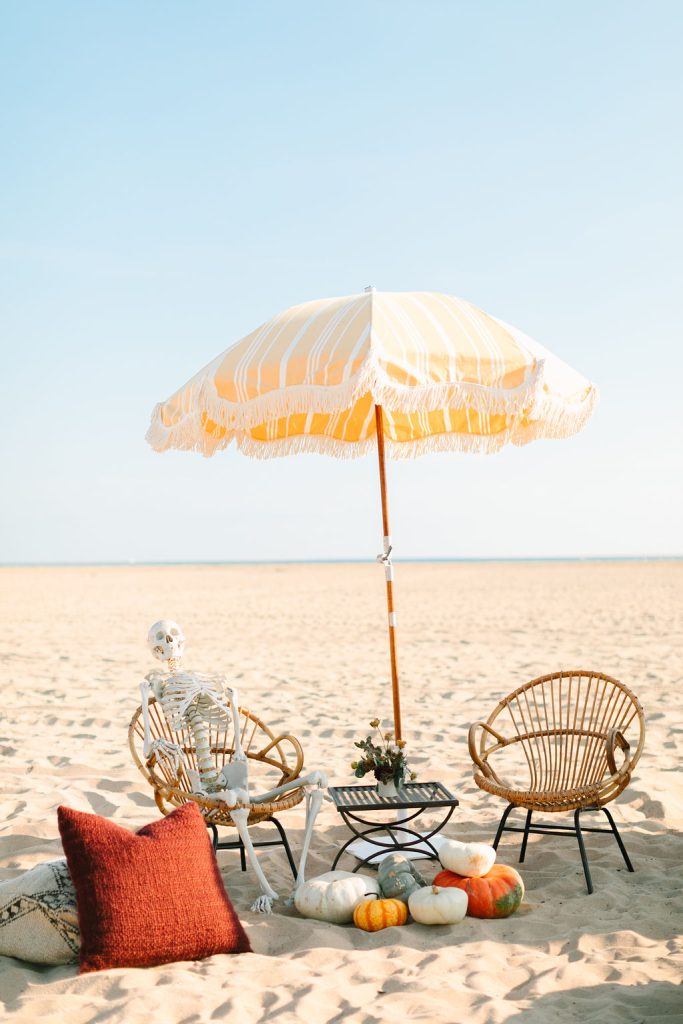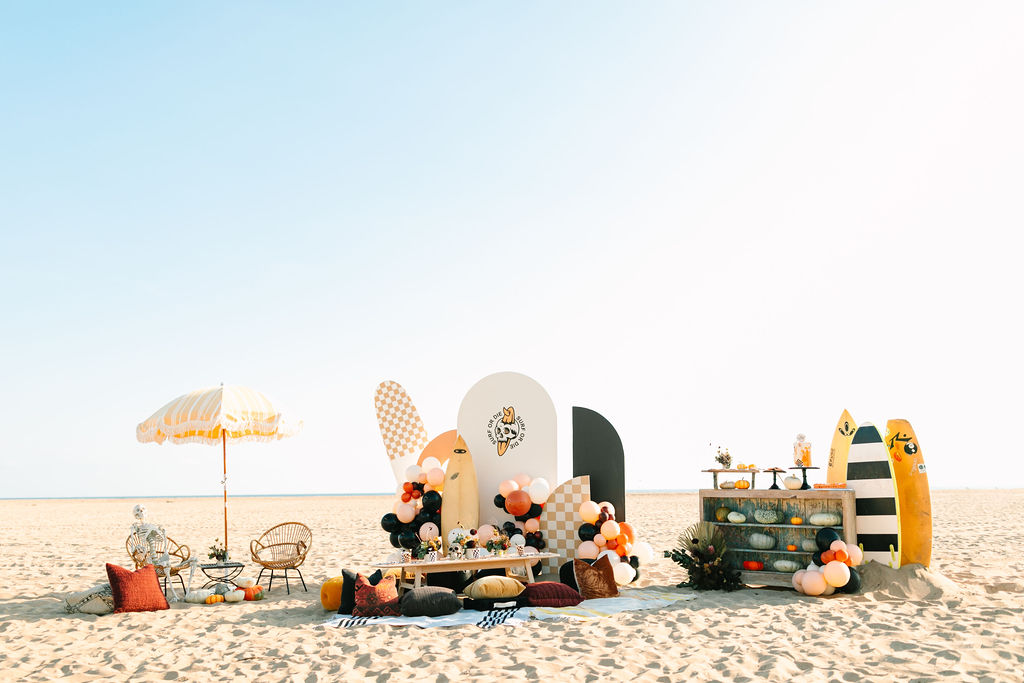 And onto dessert!!! My favorite part! Especially when Danielle from Sheila Mae is behind it all! She made one of my favorite cakes ever, the YUMMIEST chocolate chip cookies, a cookie grave cake, and the cutest sugar cookies. I die for this stuff!!!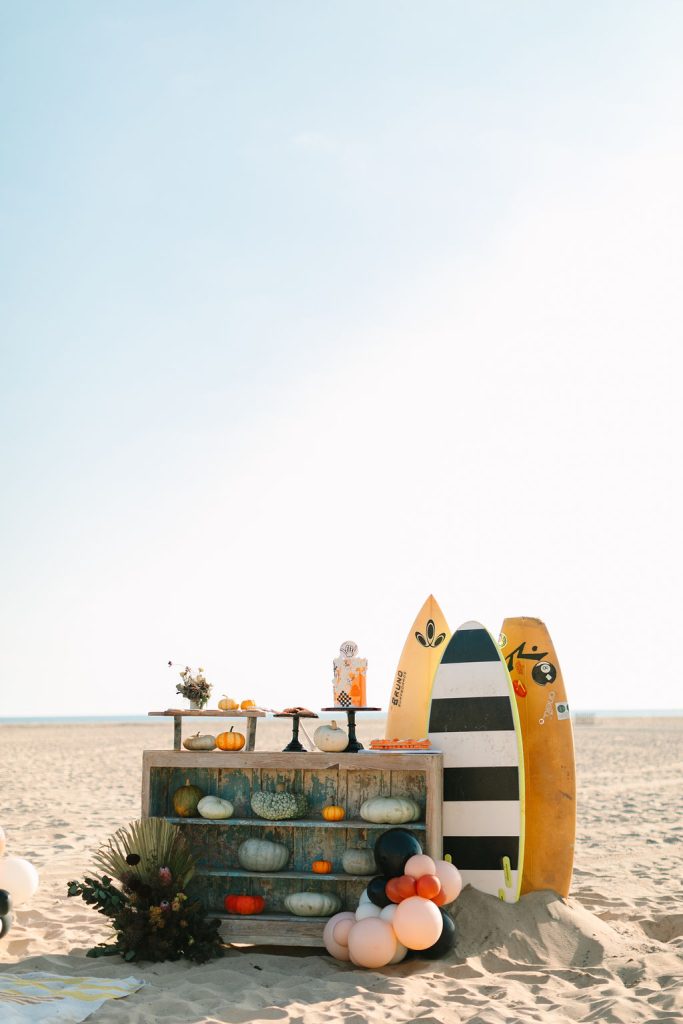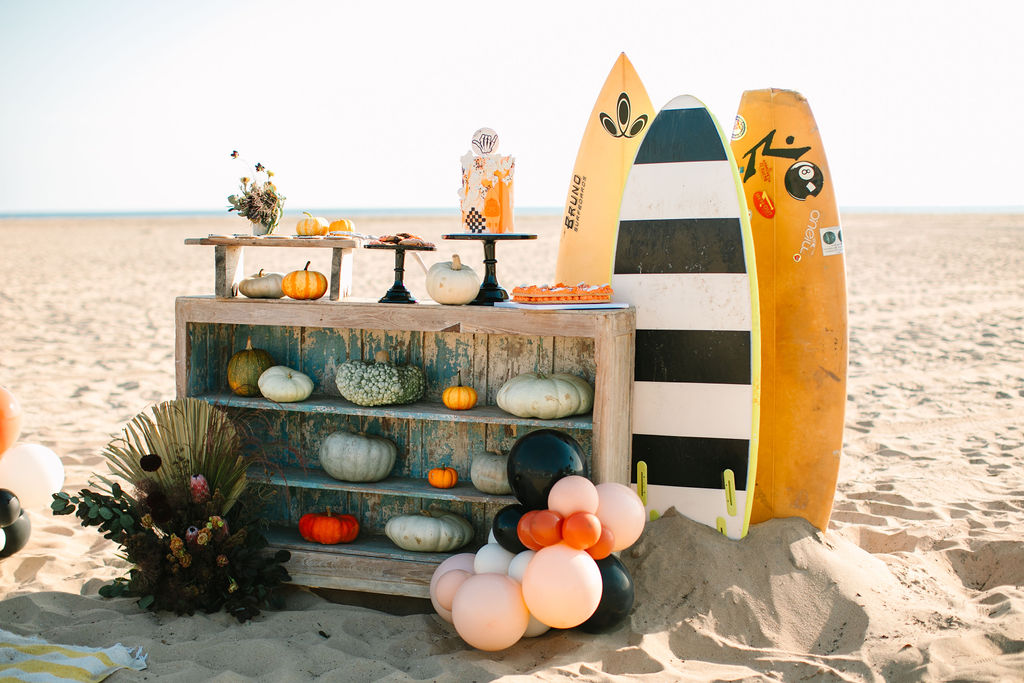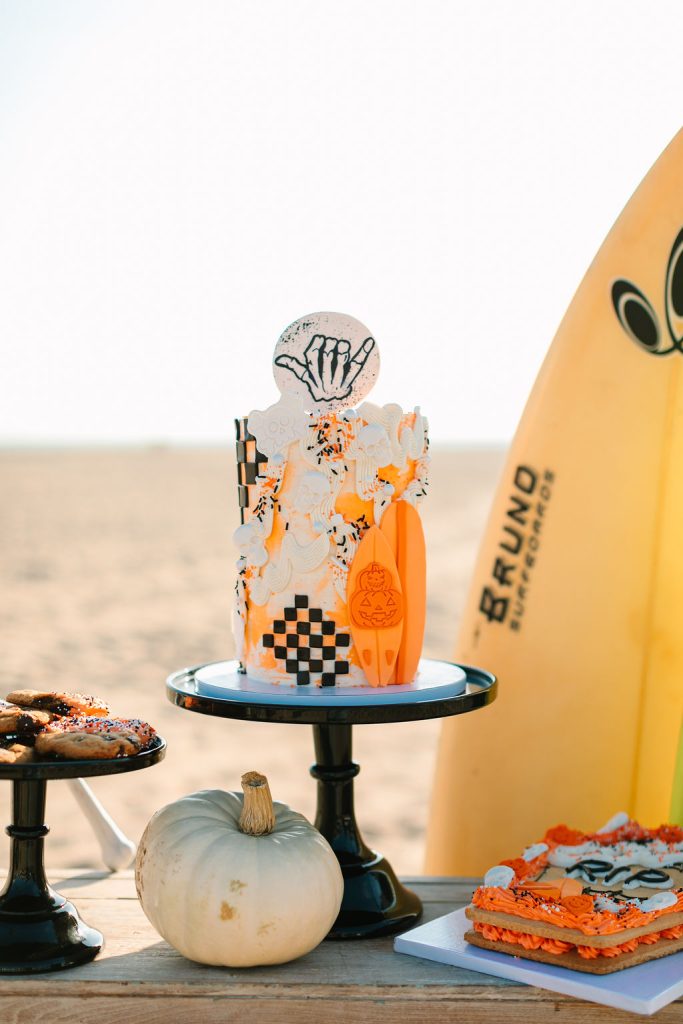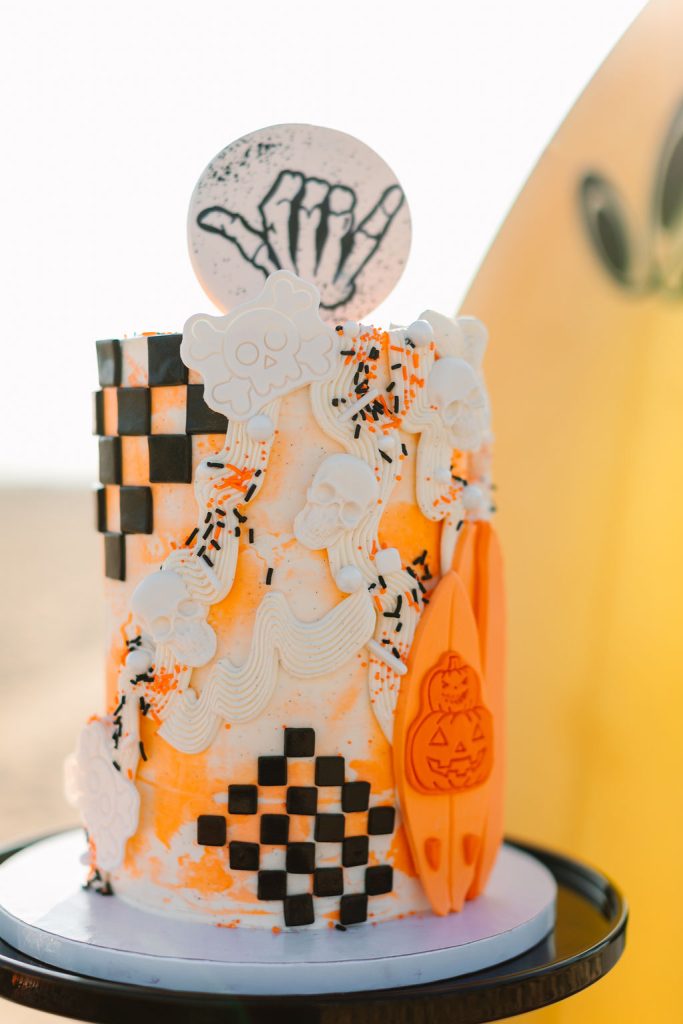 Stop trying to steal our cookies Jerry!!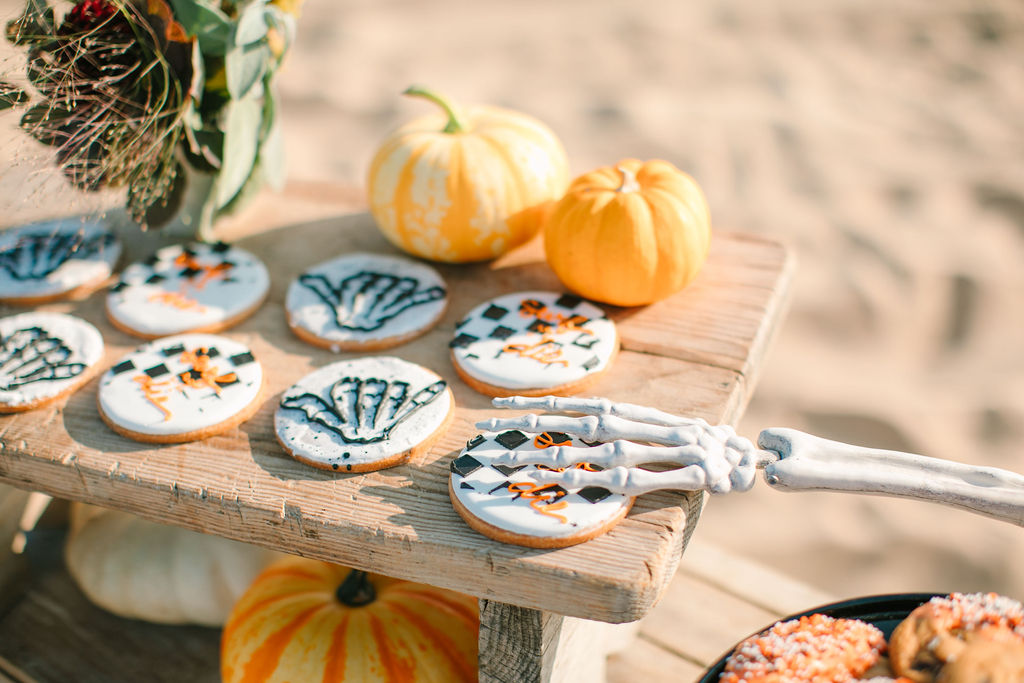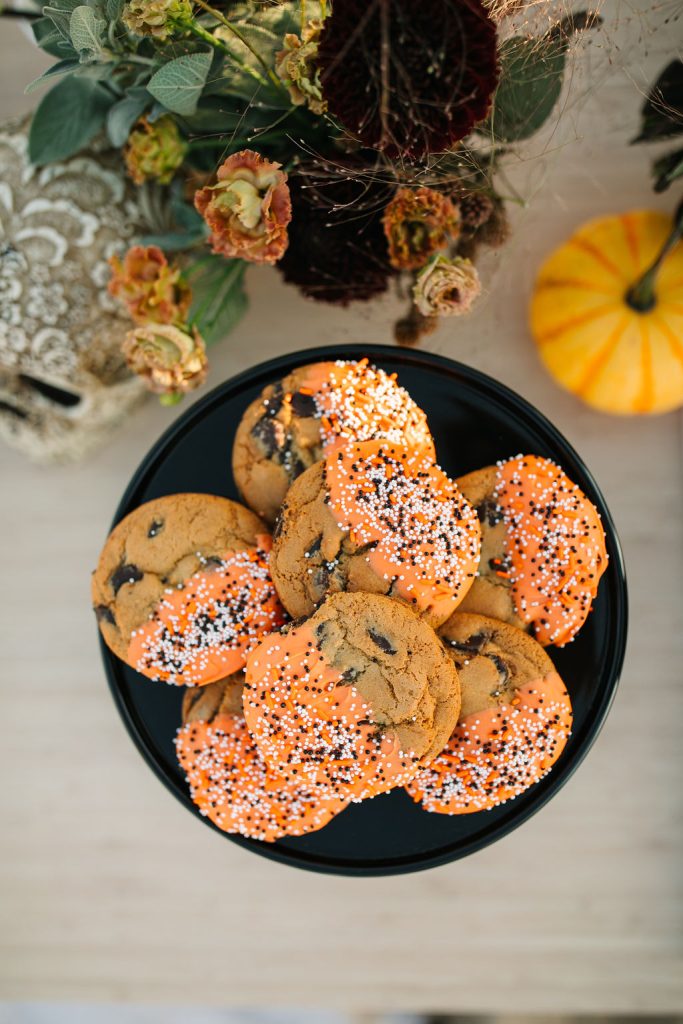 Gimme all the pumpkins this time of year!!!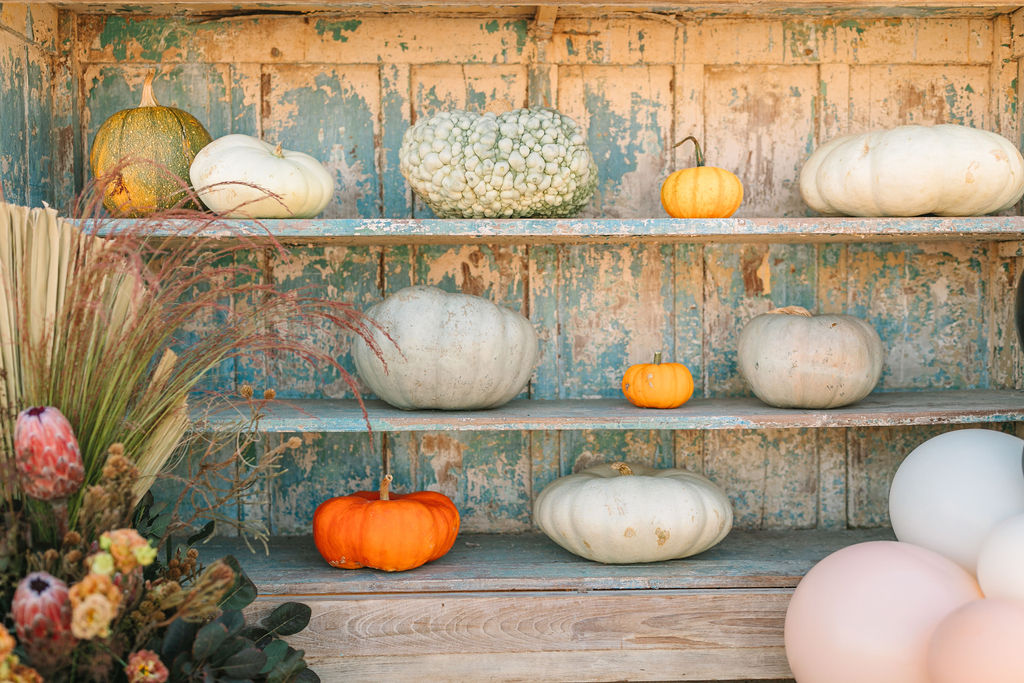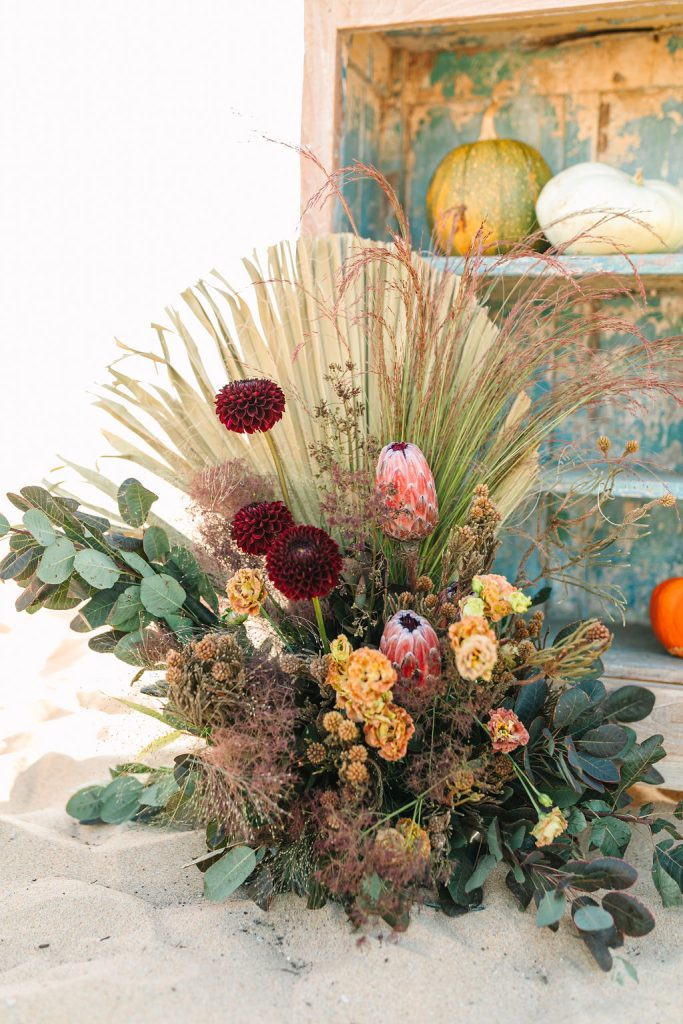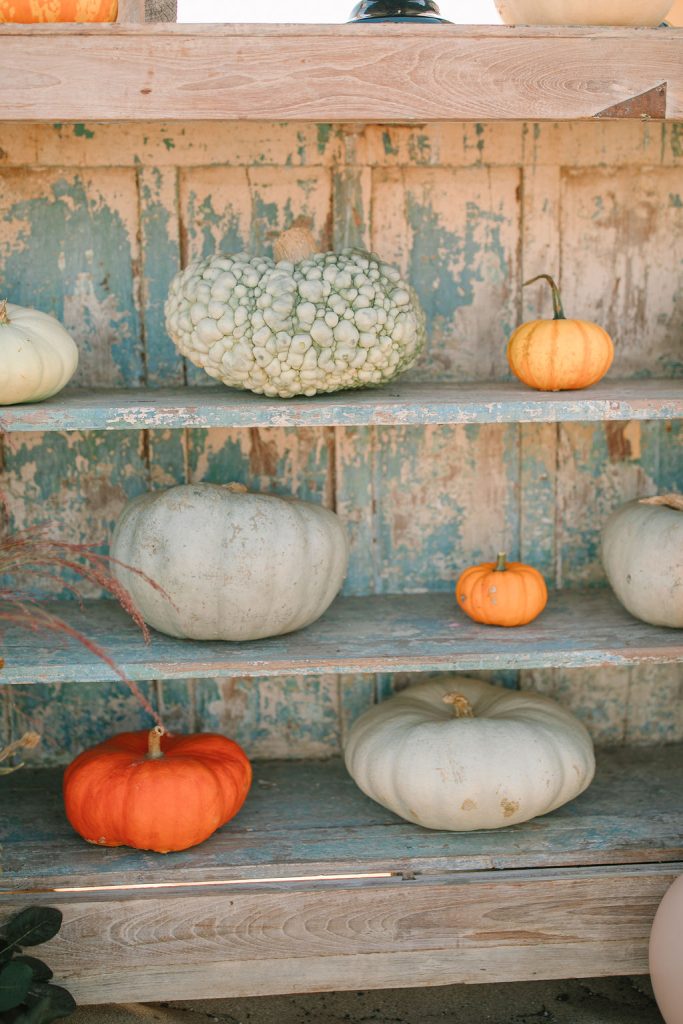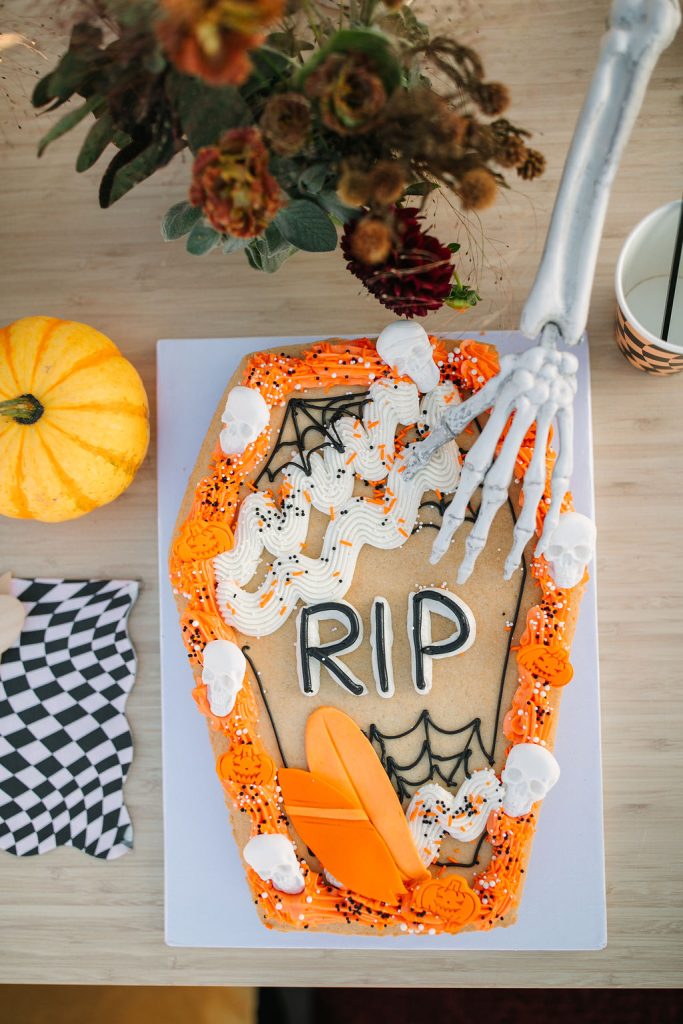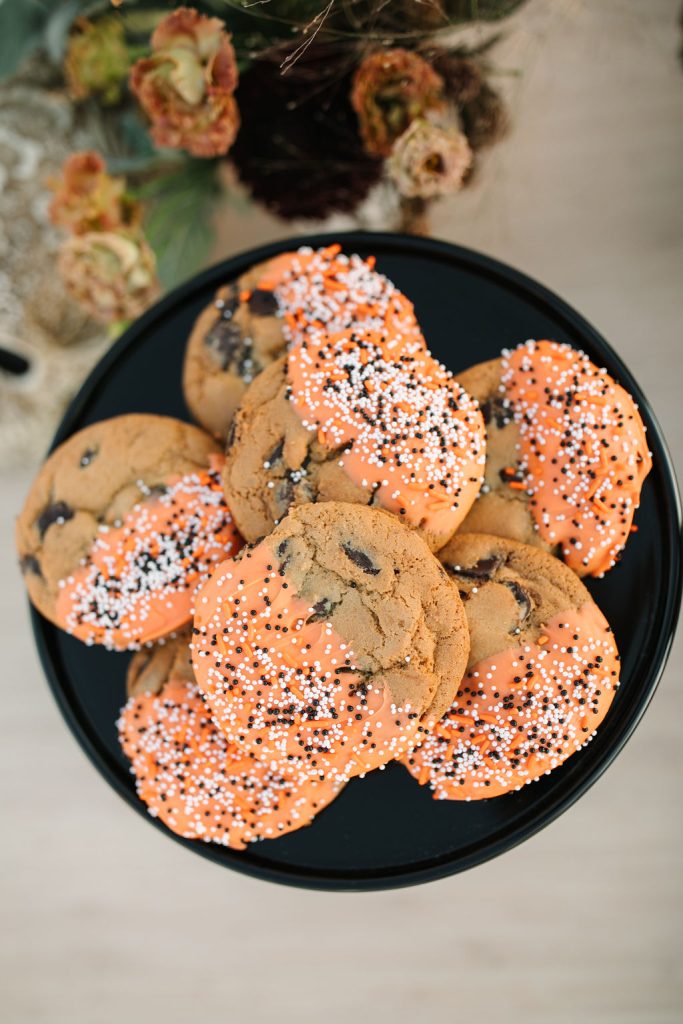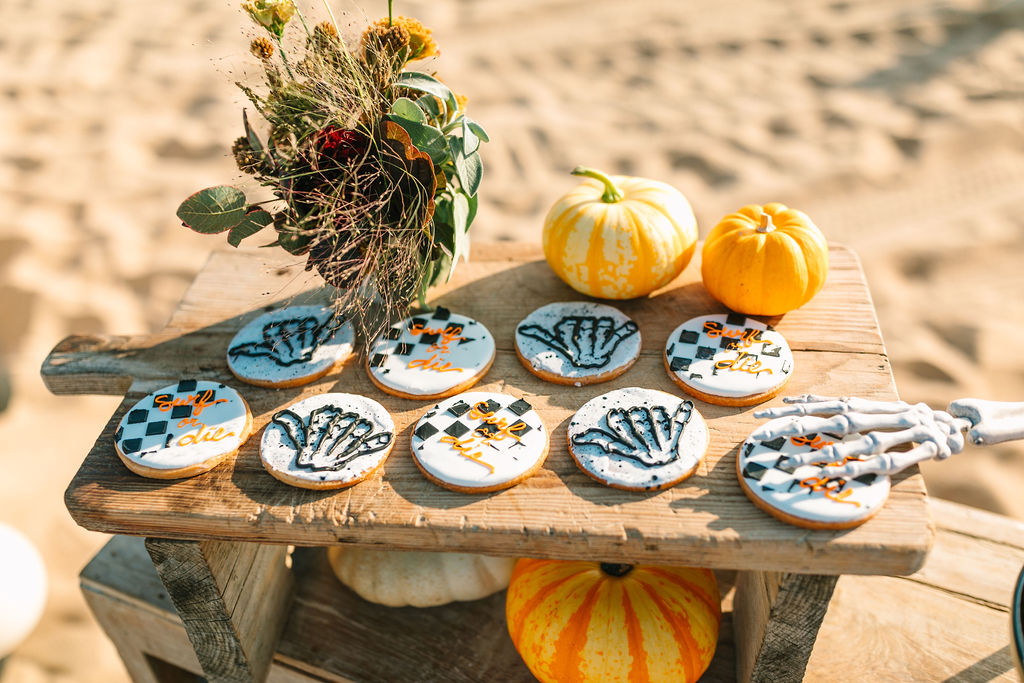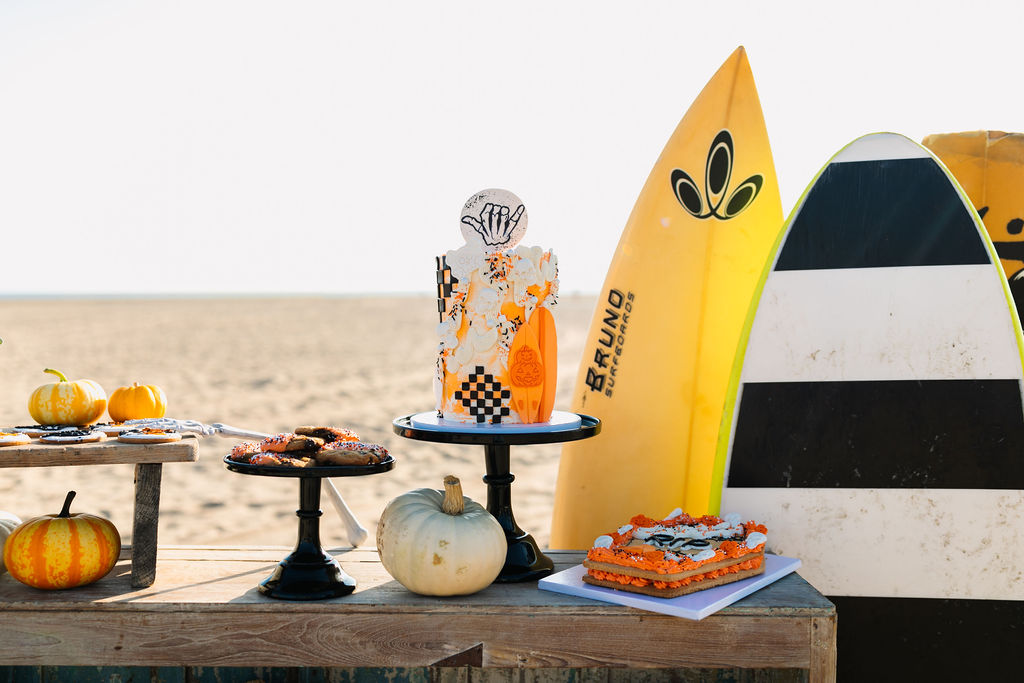 Now for those cute little groms I was talking about!!! My guy Cruz brought his besties along for some fun! Carter, Otis & Ryley! These four are dressing up as the Ninja Turtles for Halloween and I'm just in love with that idea! For this shoot they wore my forever favorite Seaesta Surf board shorts. The only board shorts I have my boys wear, they are the BEST!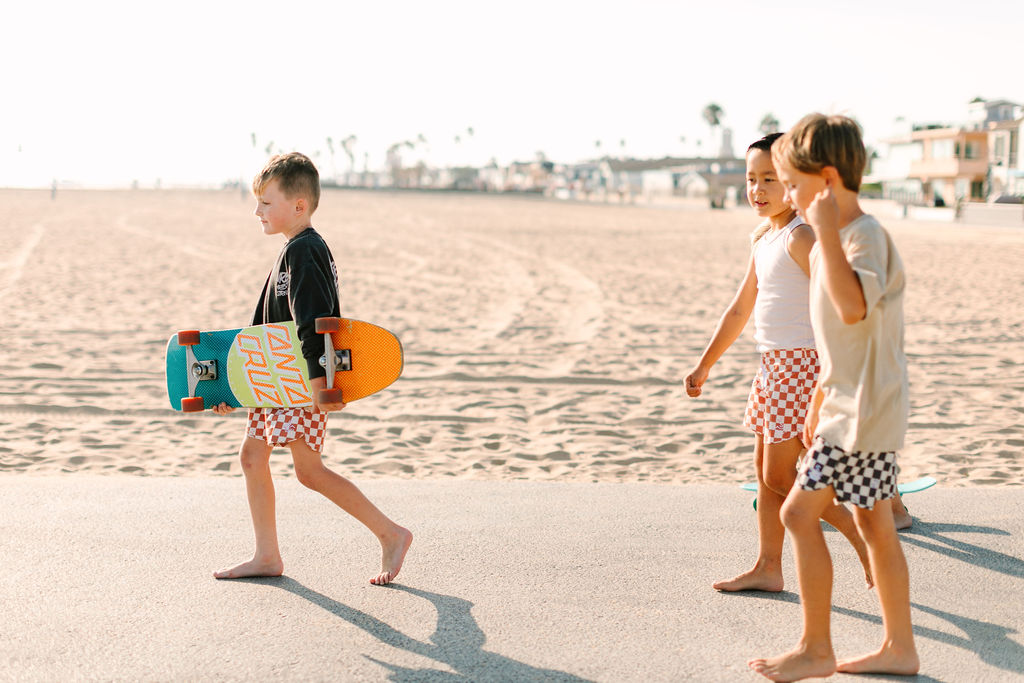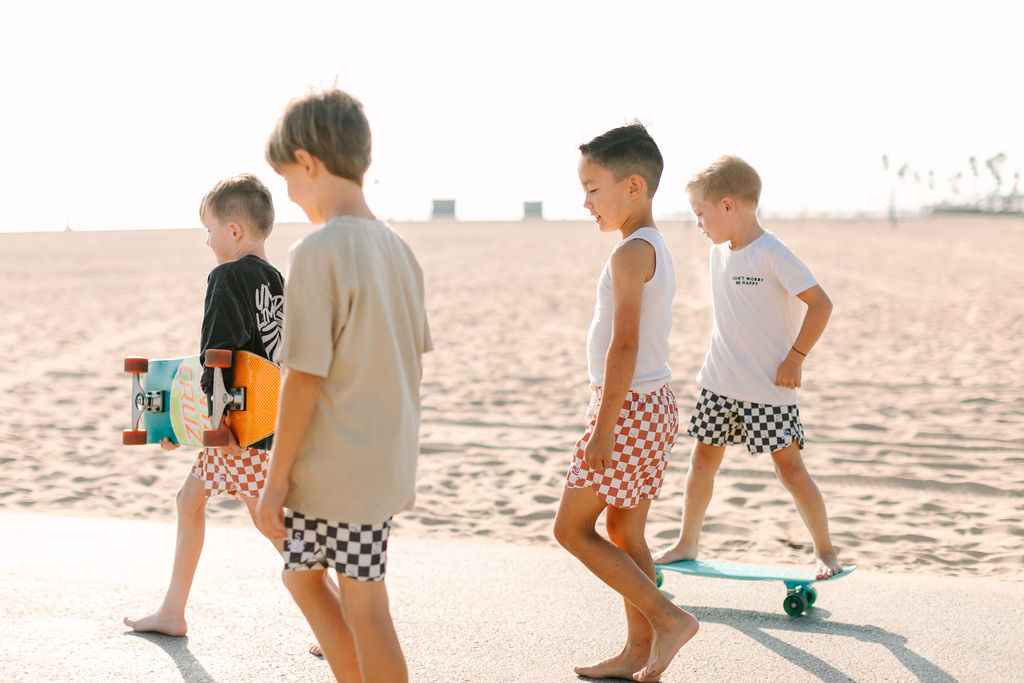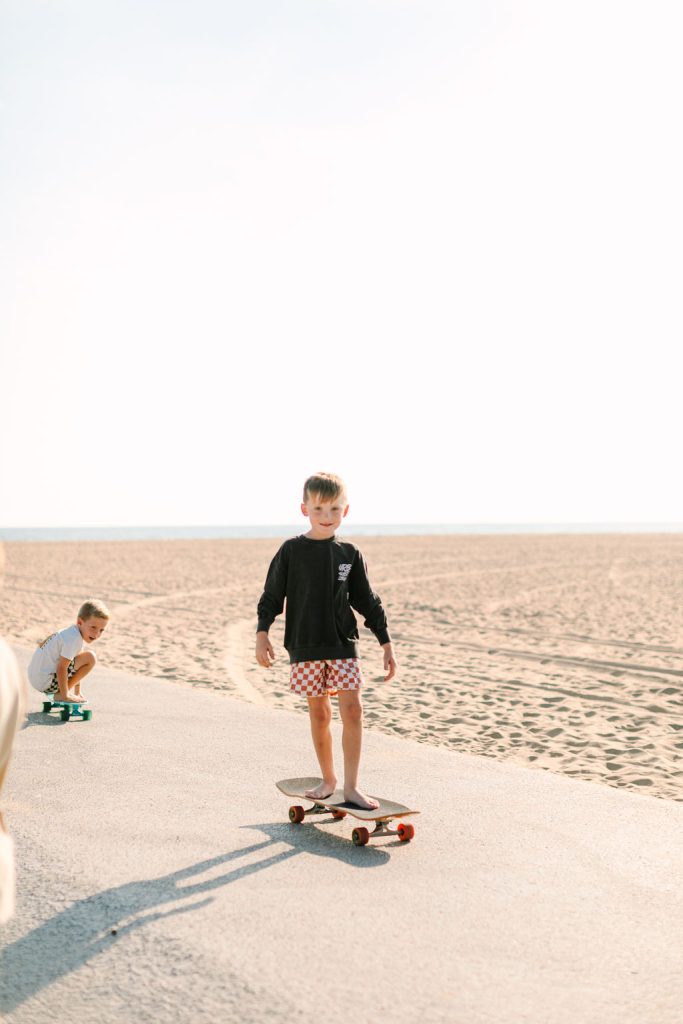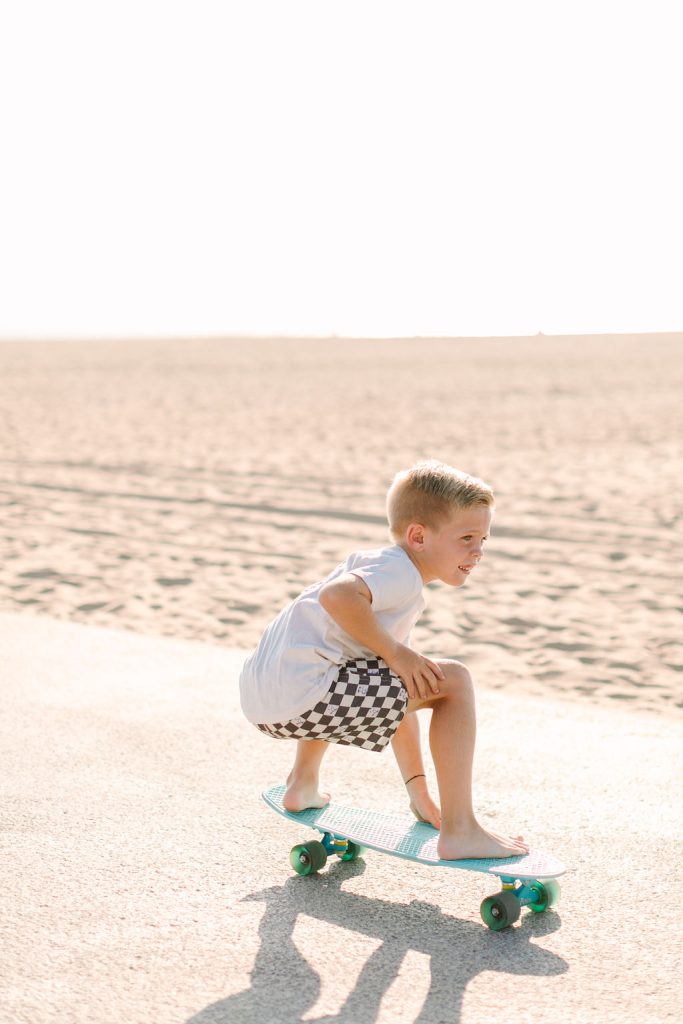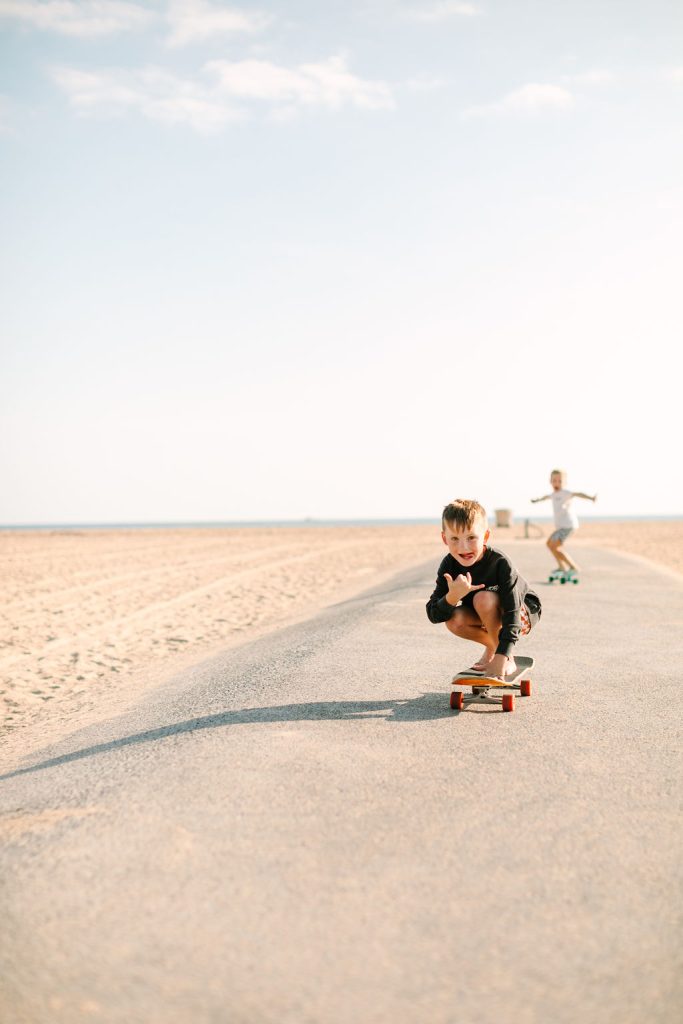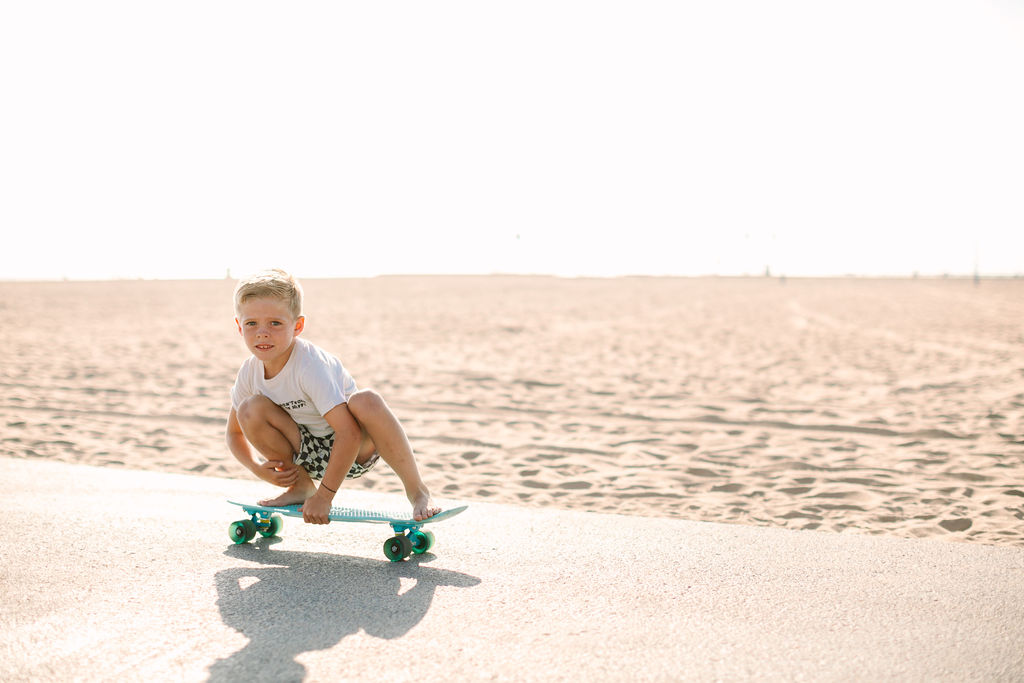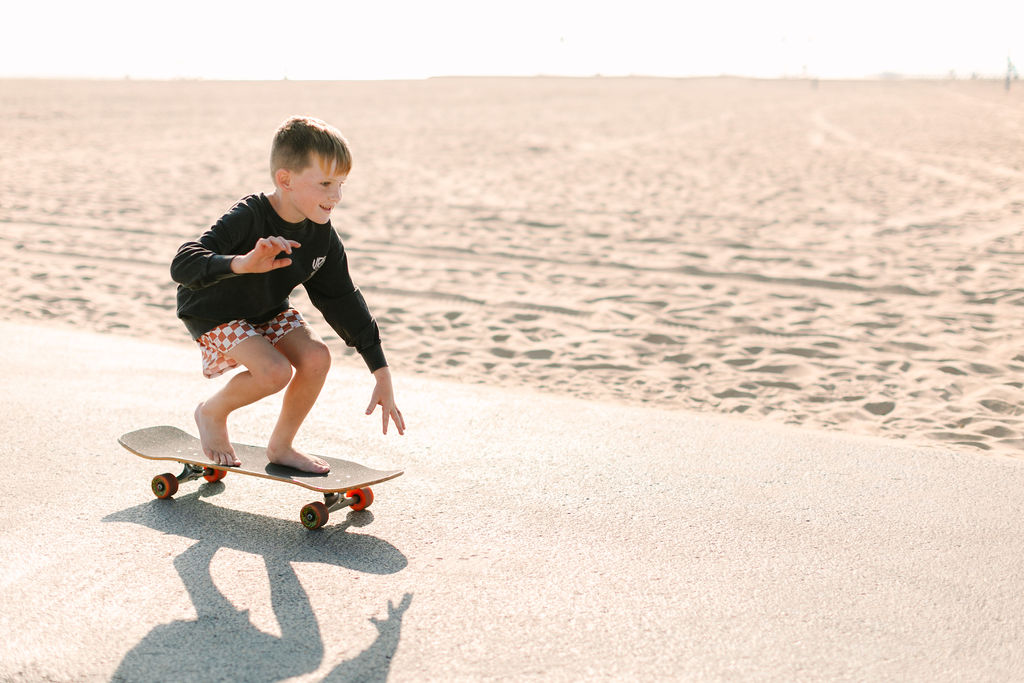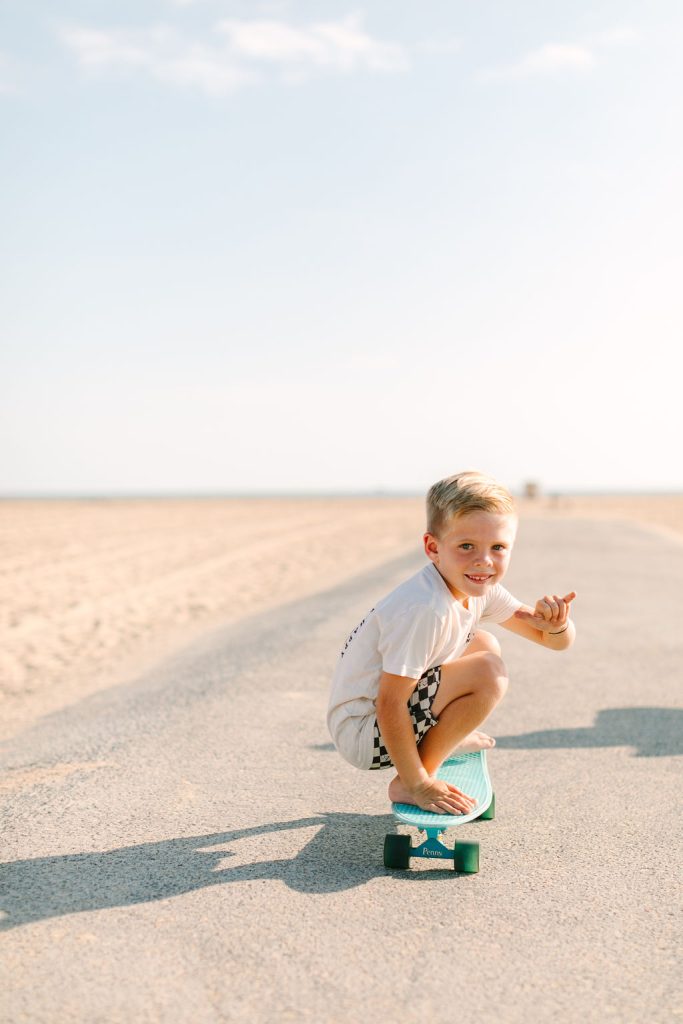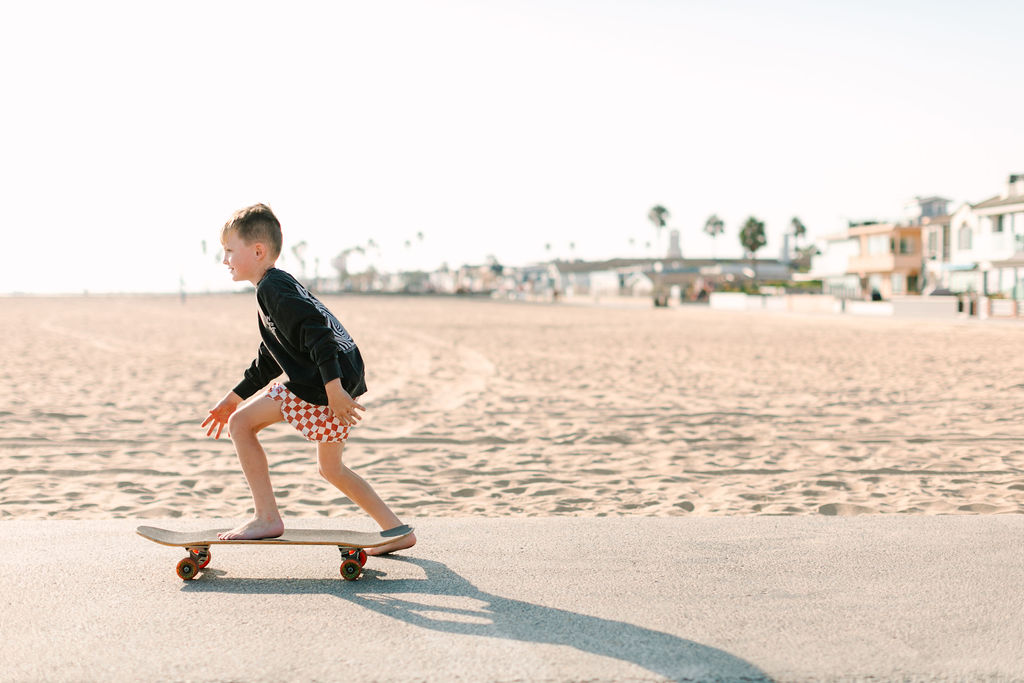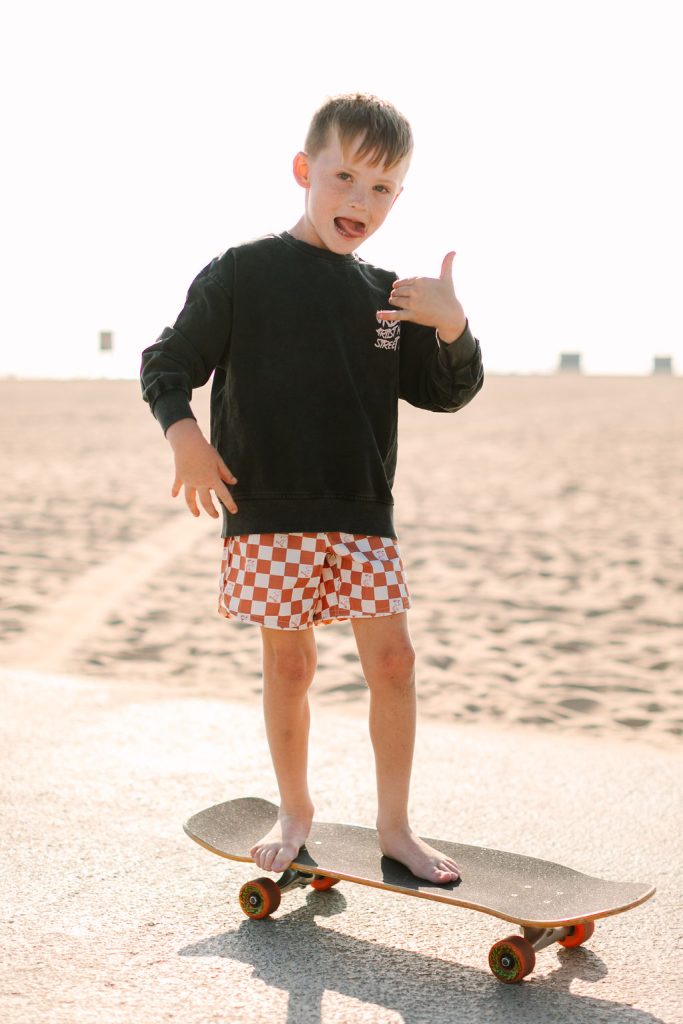 I mean…. Can I be them when I grow up?!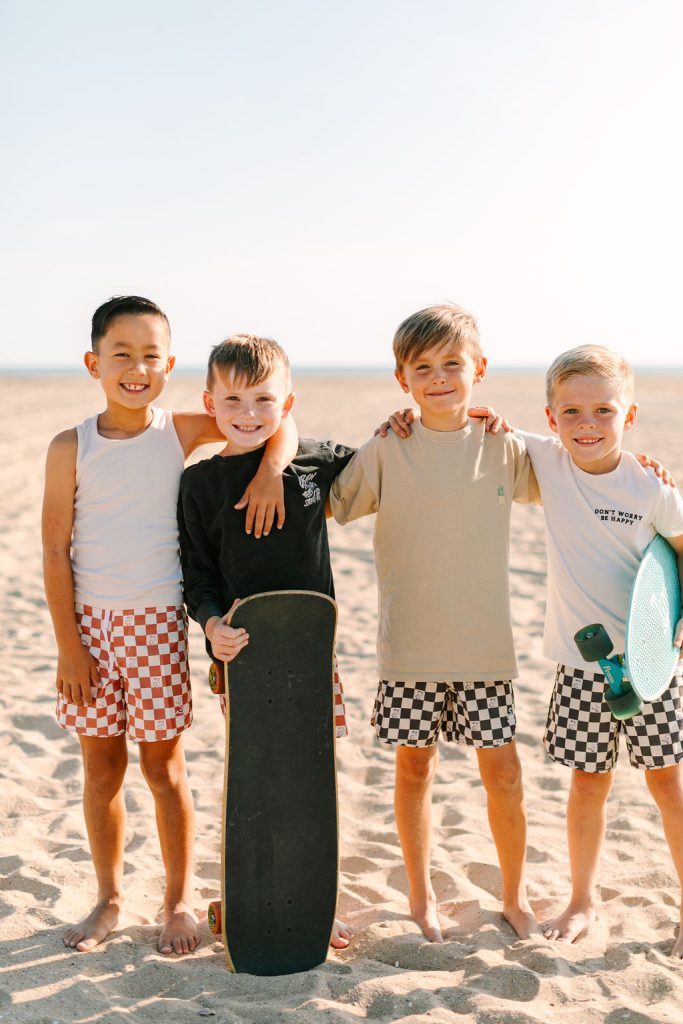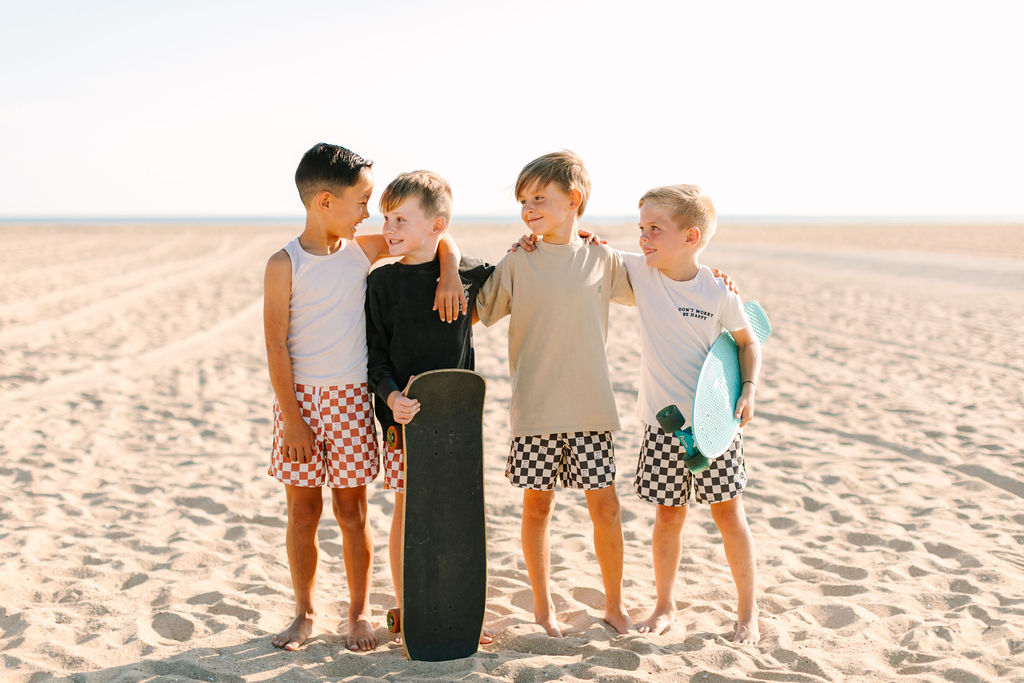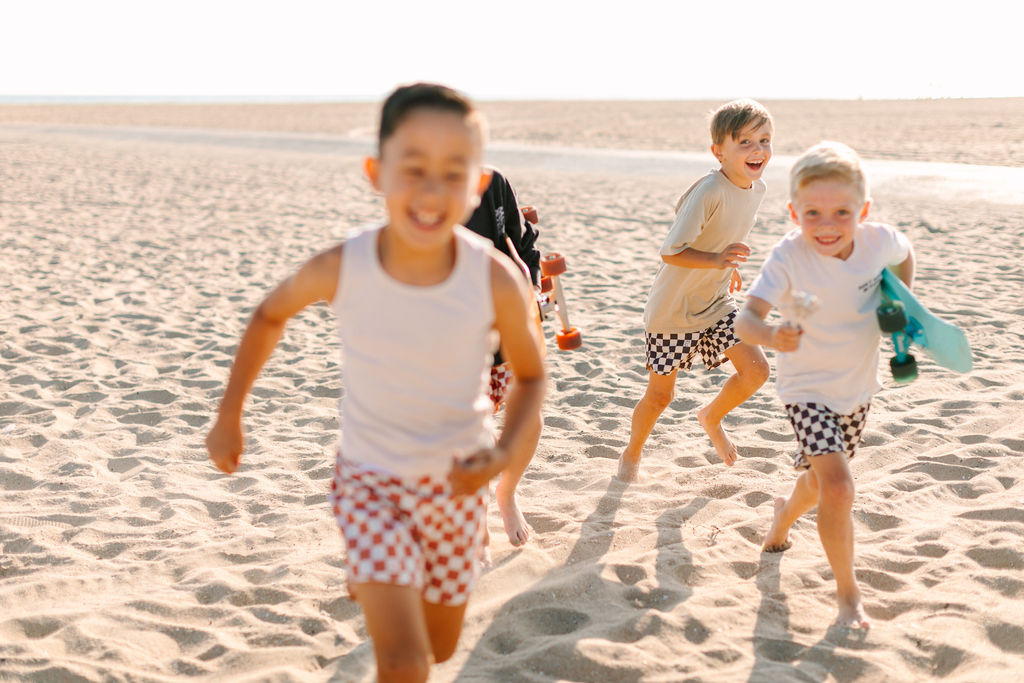 Back to the party for these dudes!!!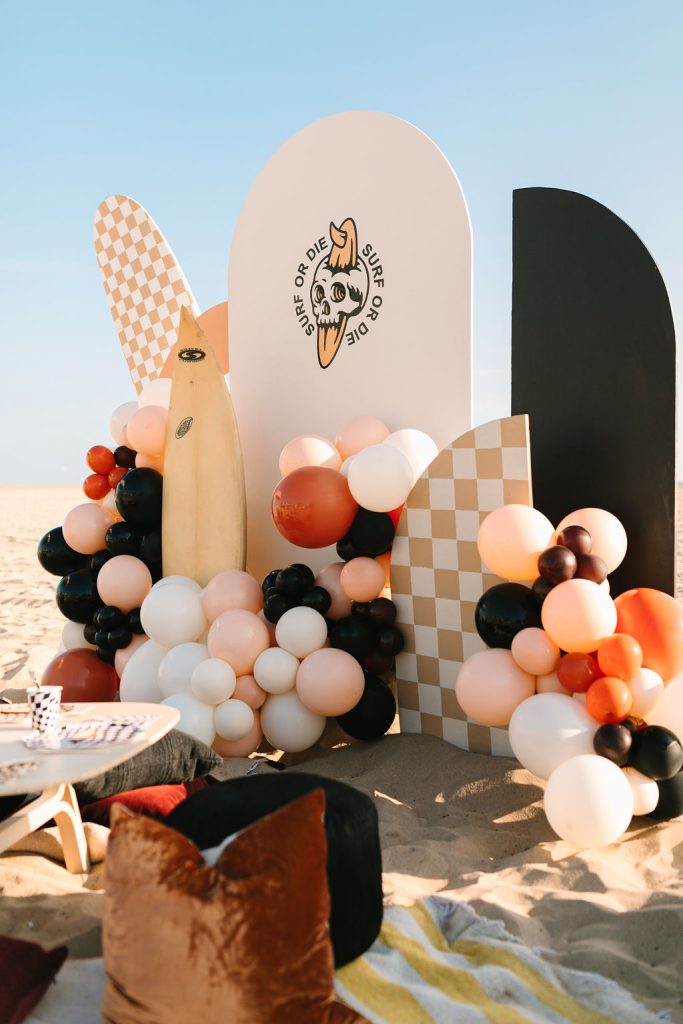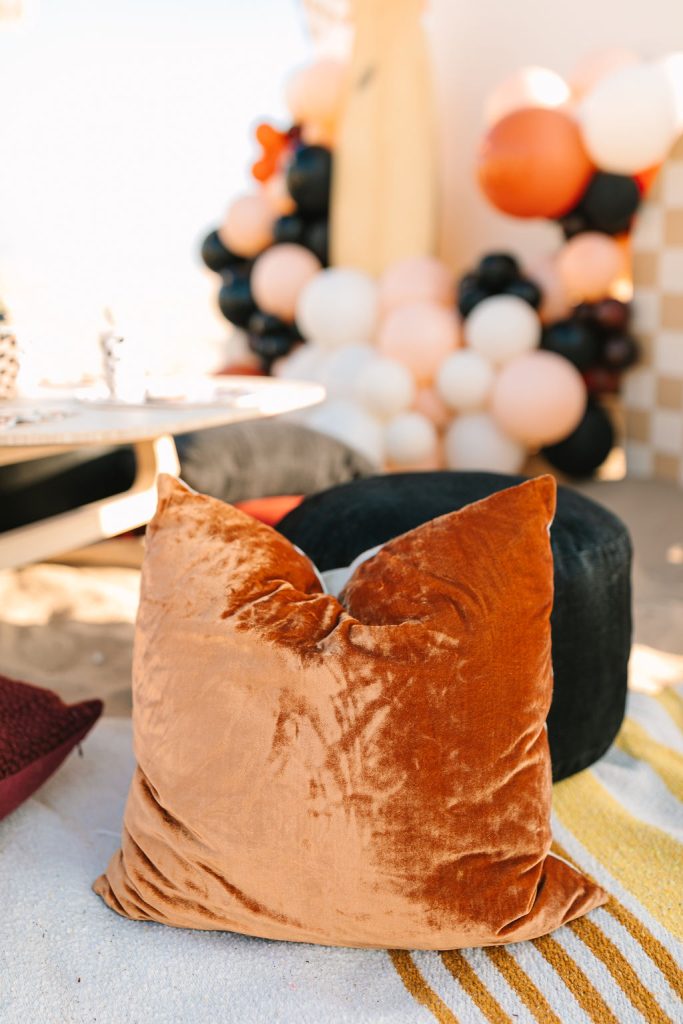 Cuties!!!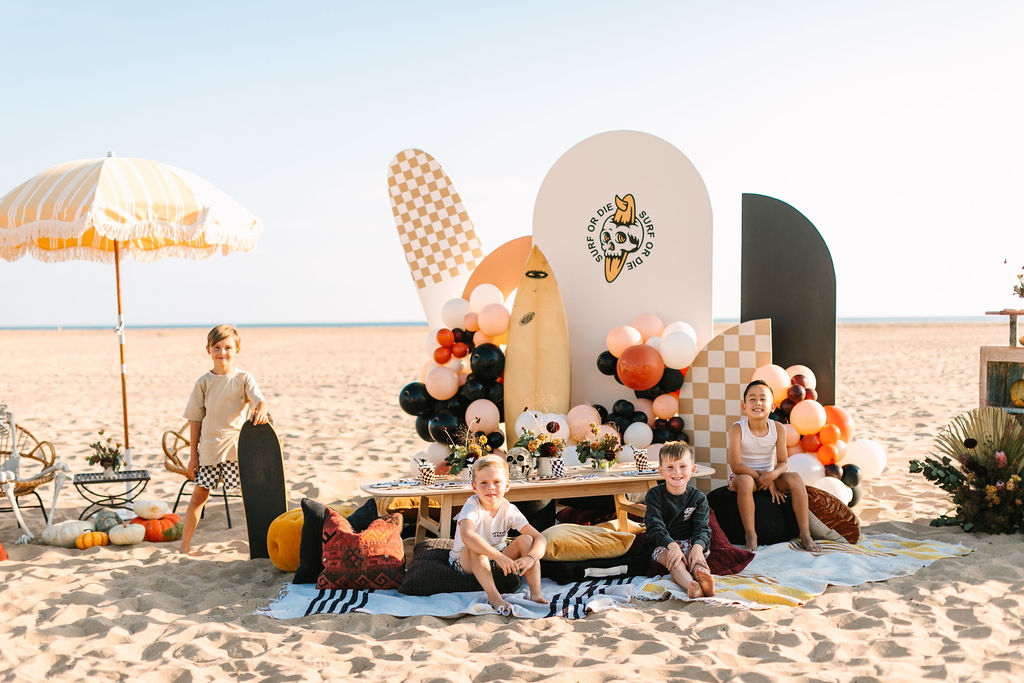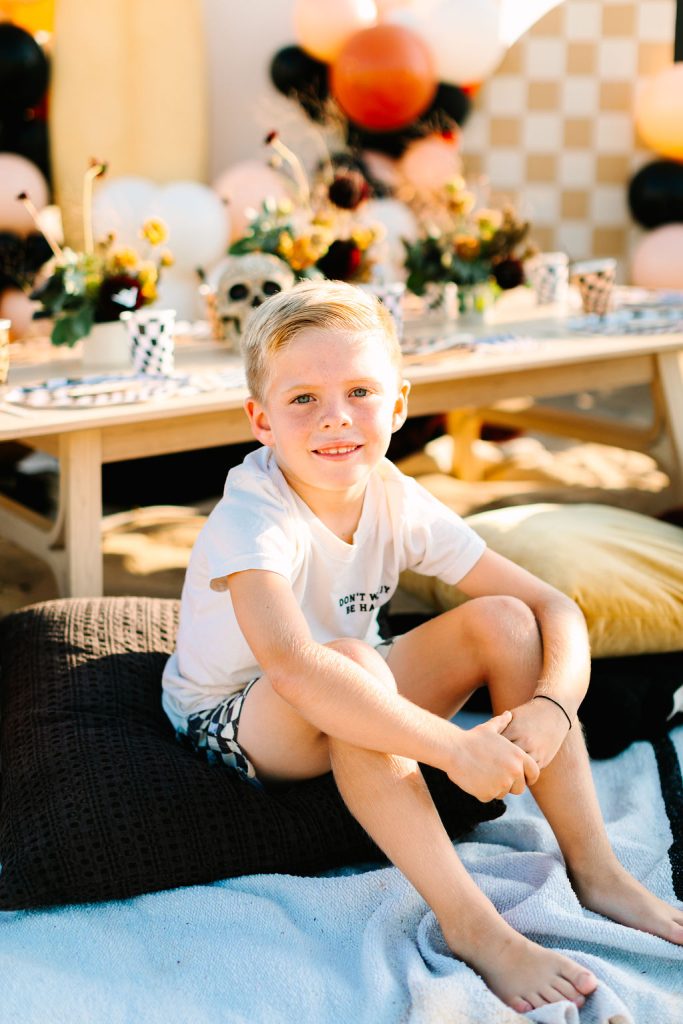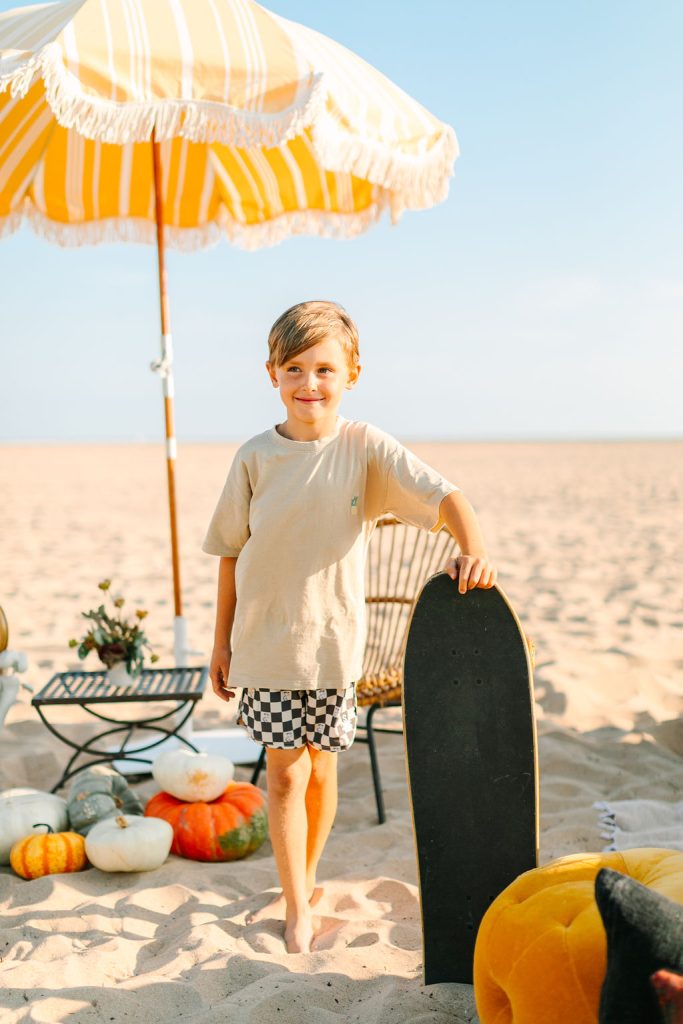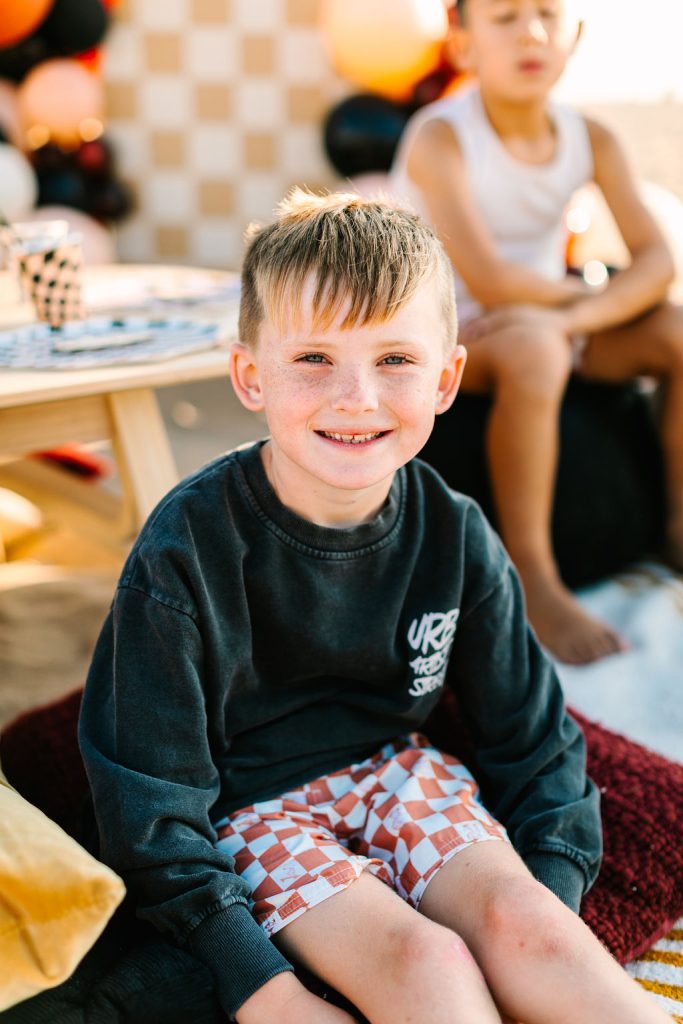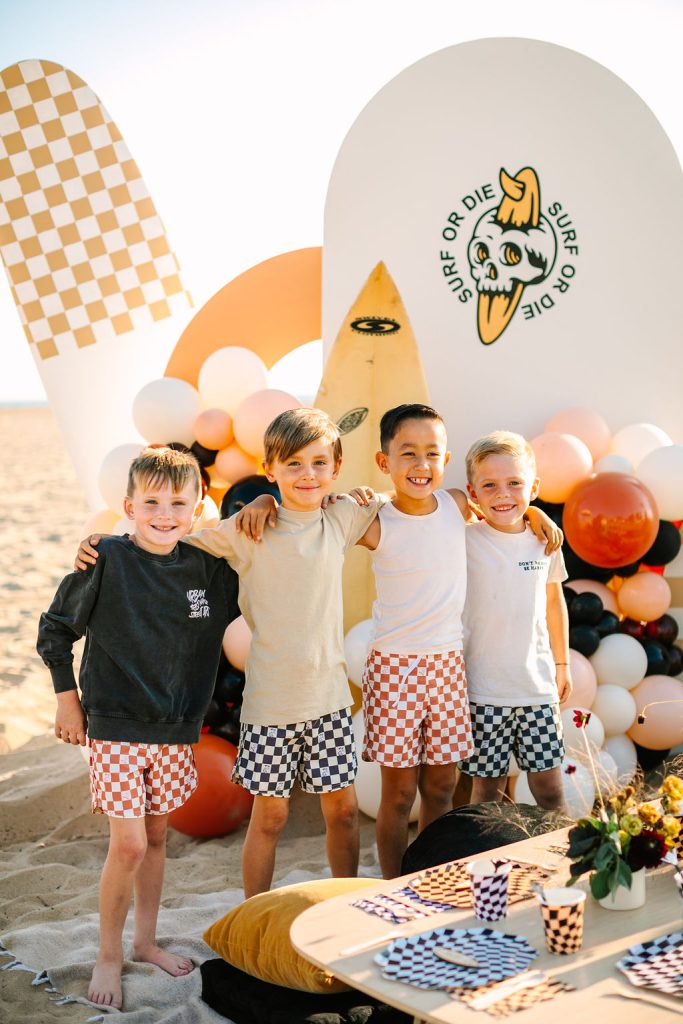 They have zero fun together!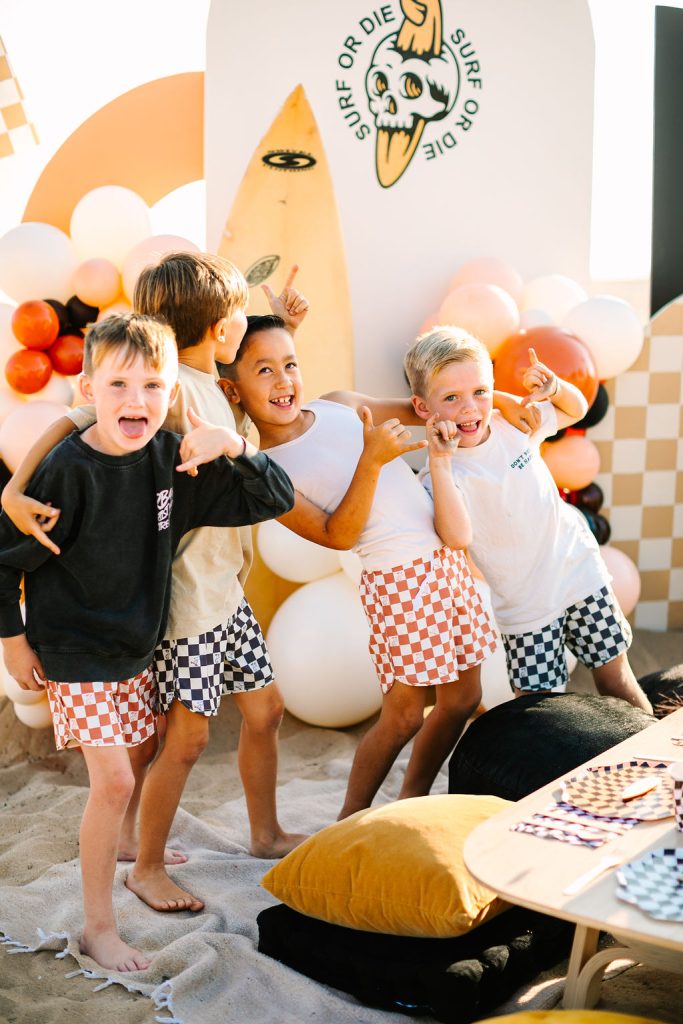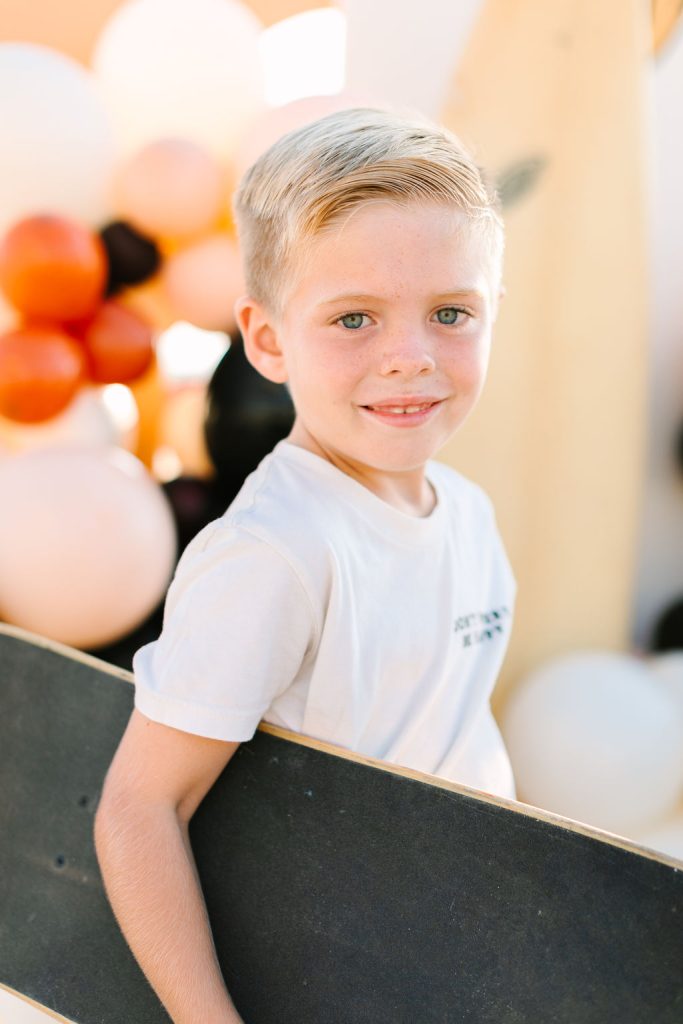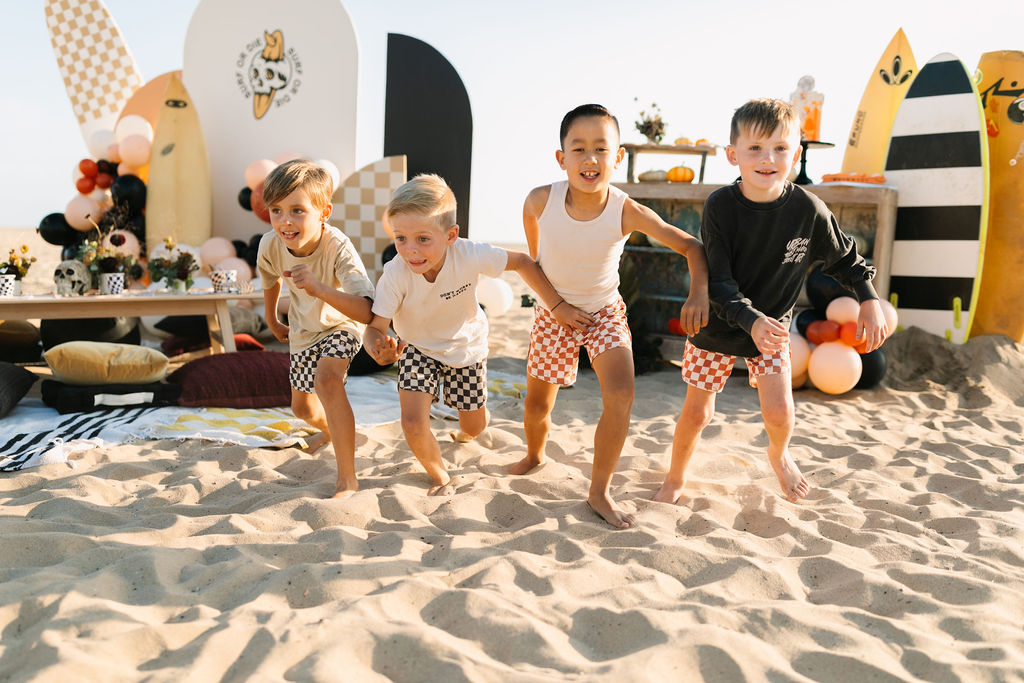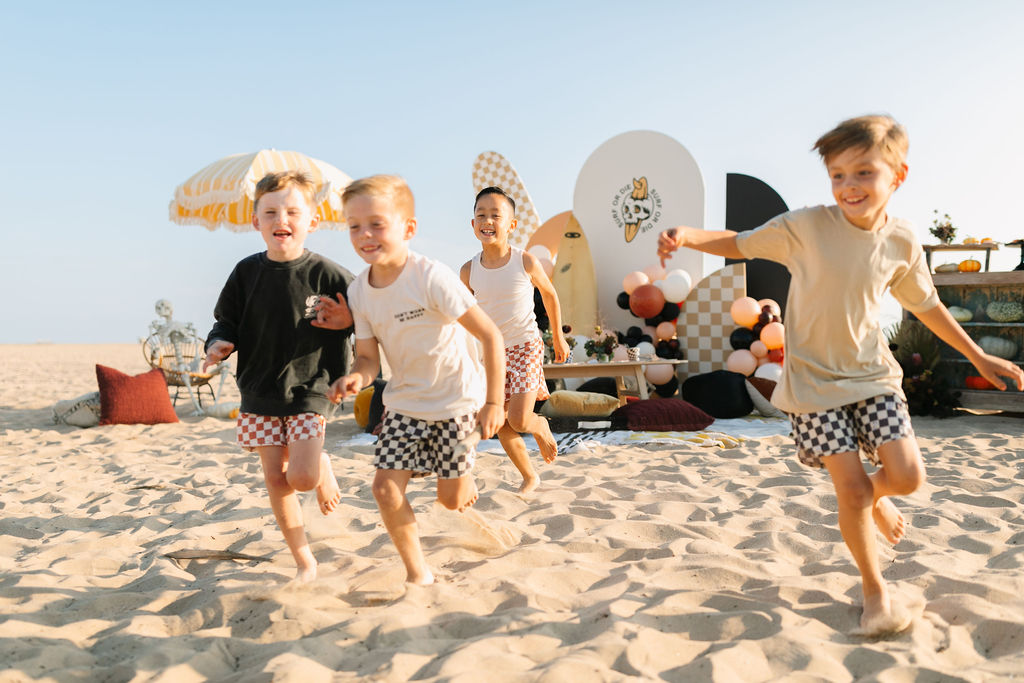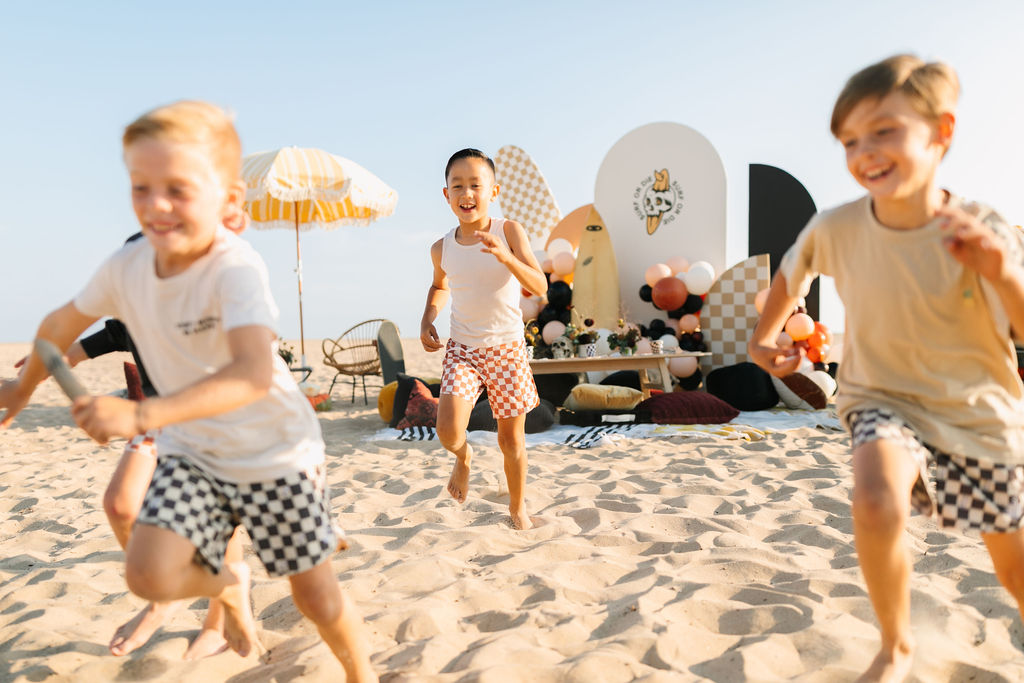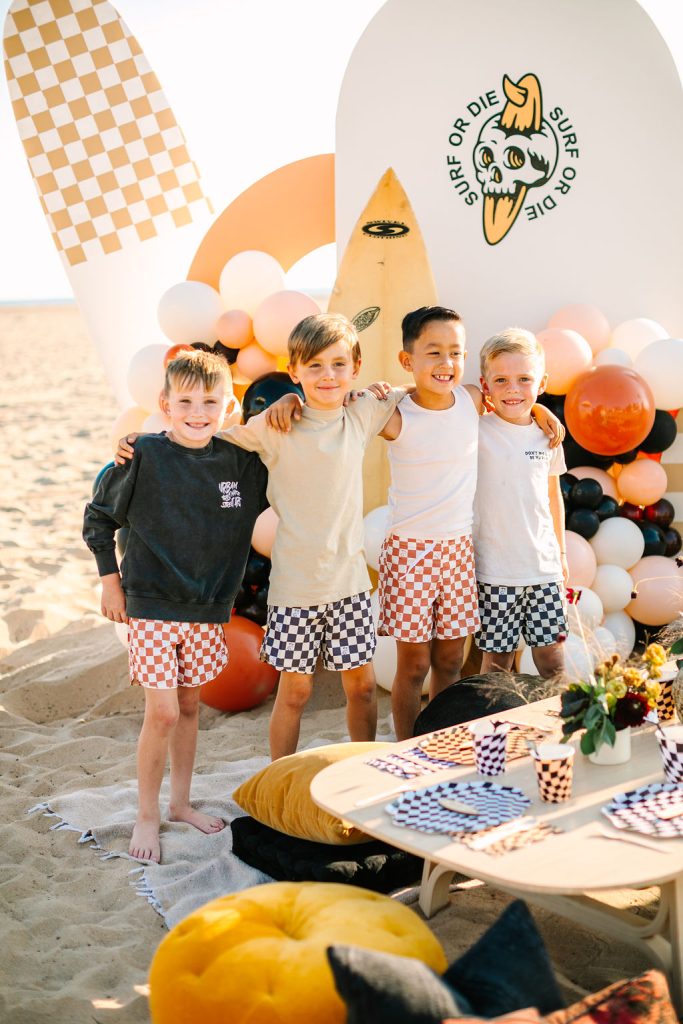 Of course they wanted the desserts, who can blame them?!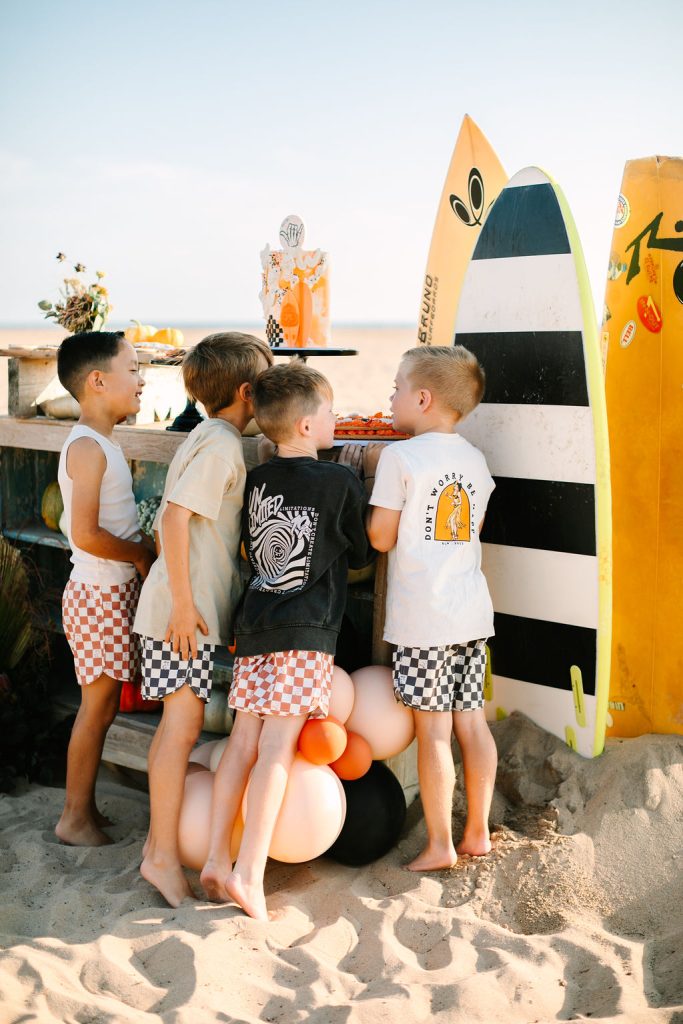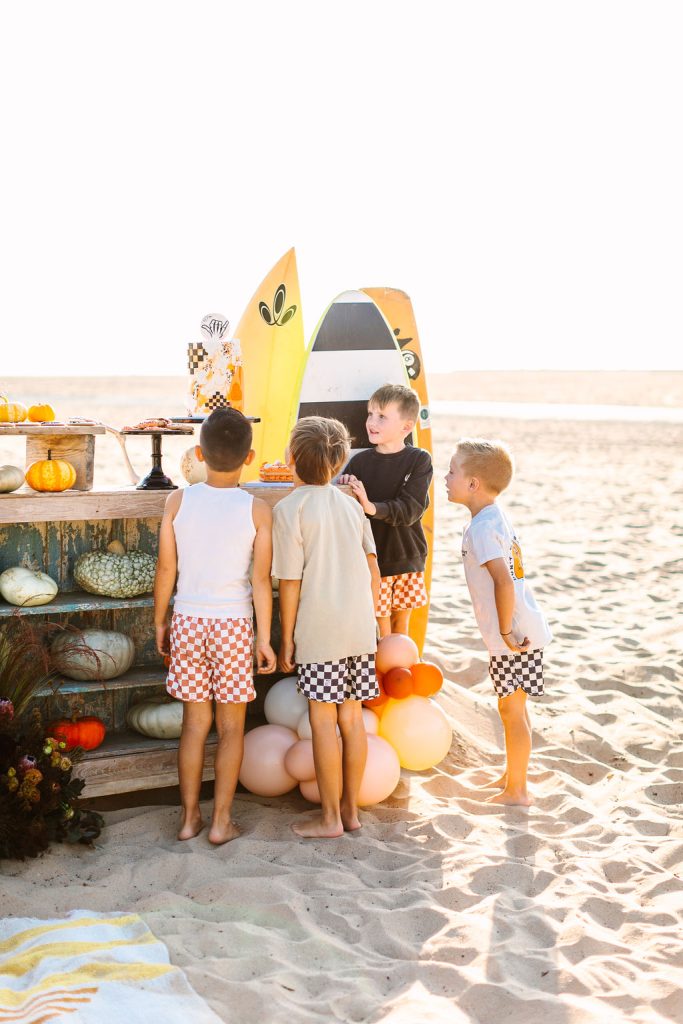 Time for a little snack with Jerry!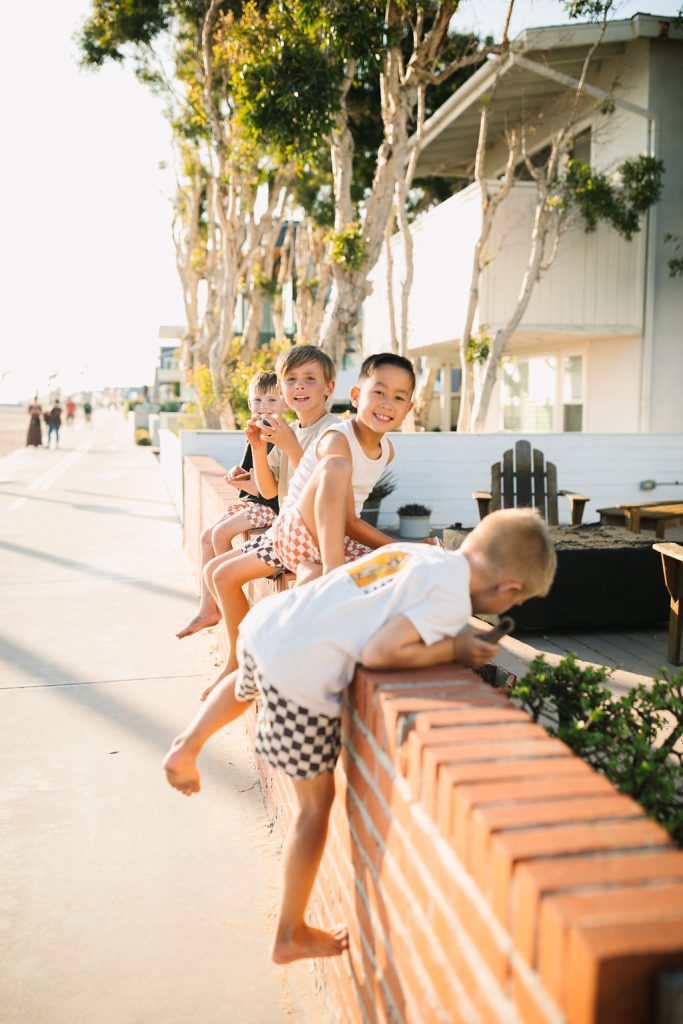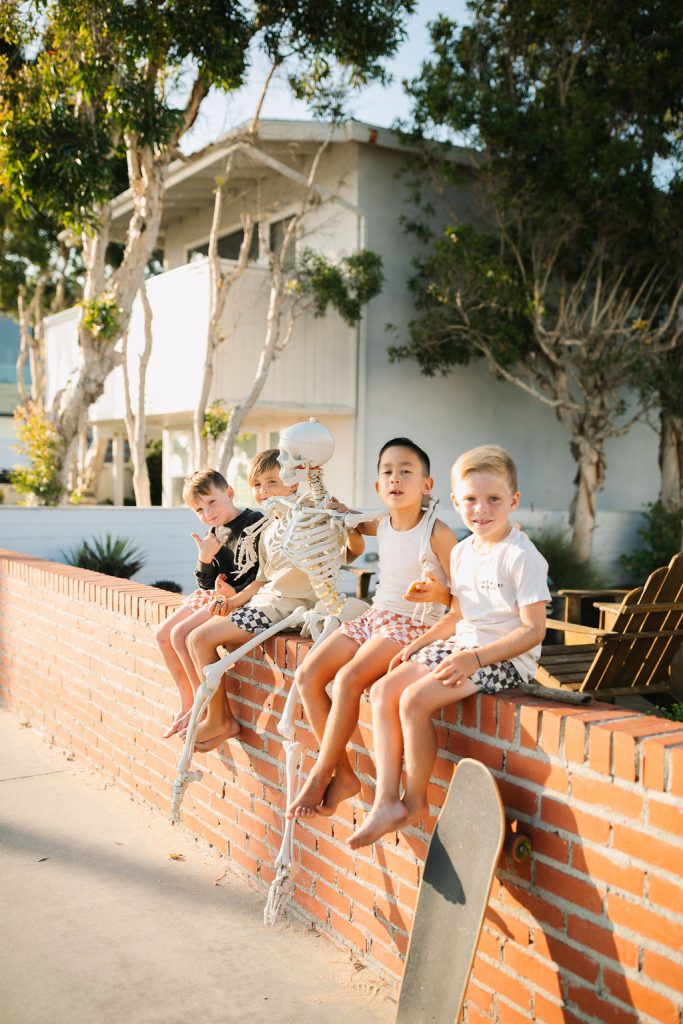 YUM!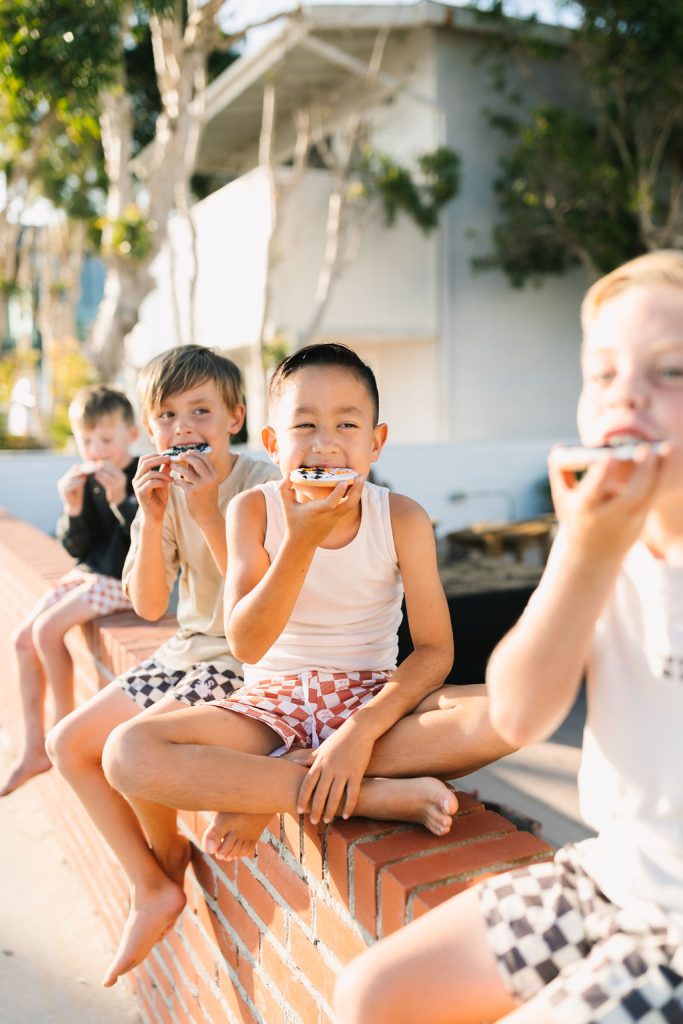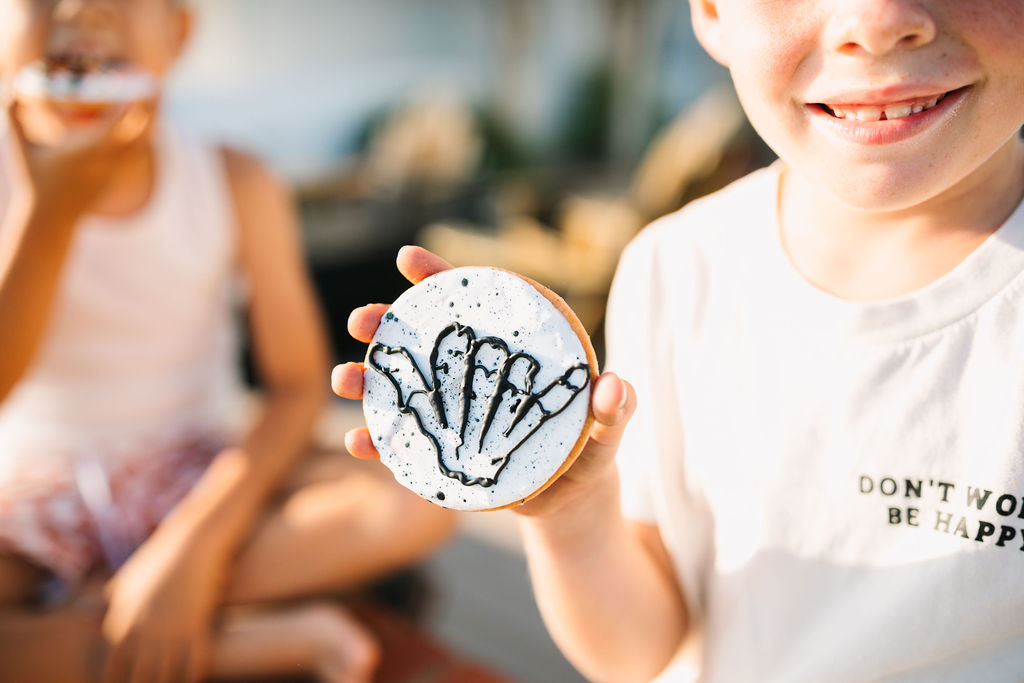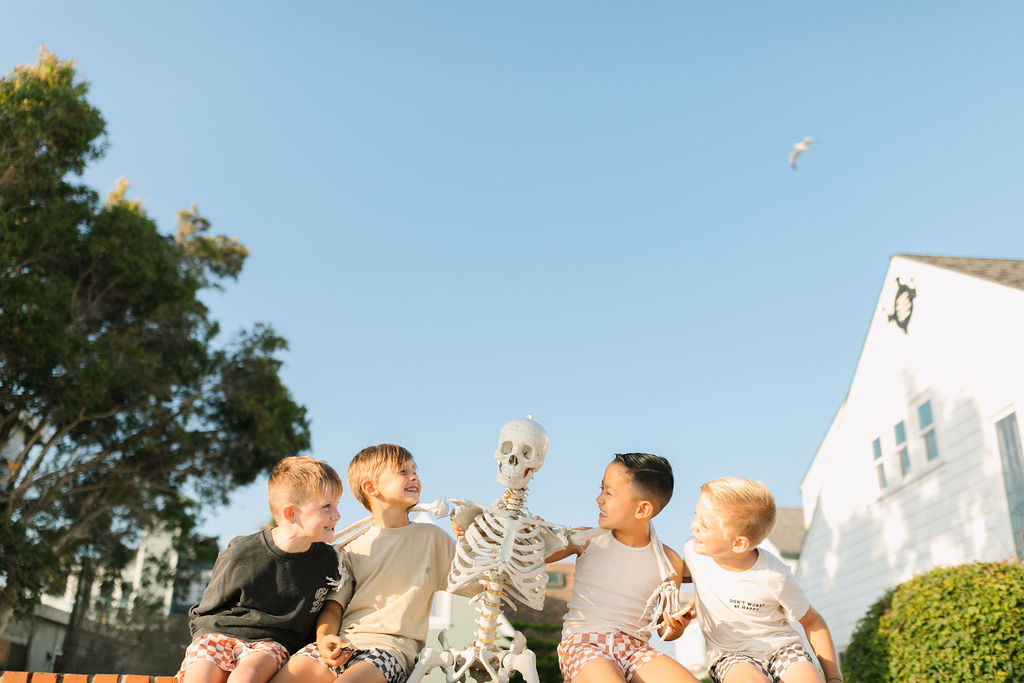 And that's a wrap on one fun day!!!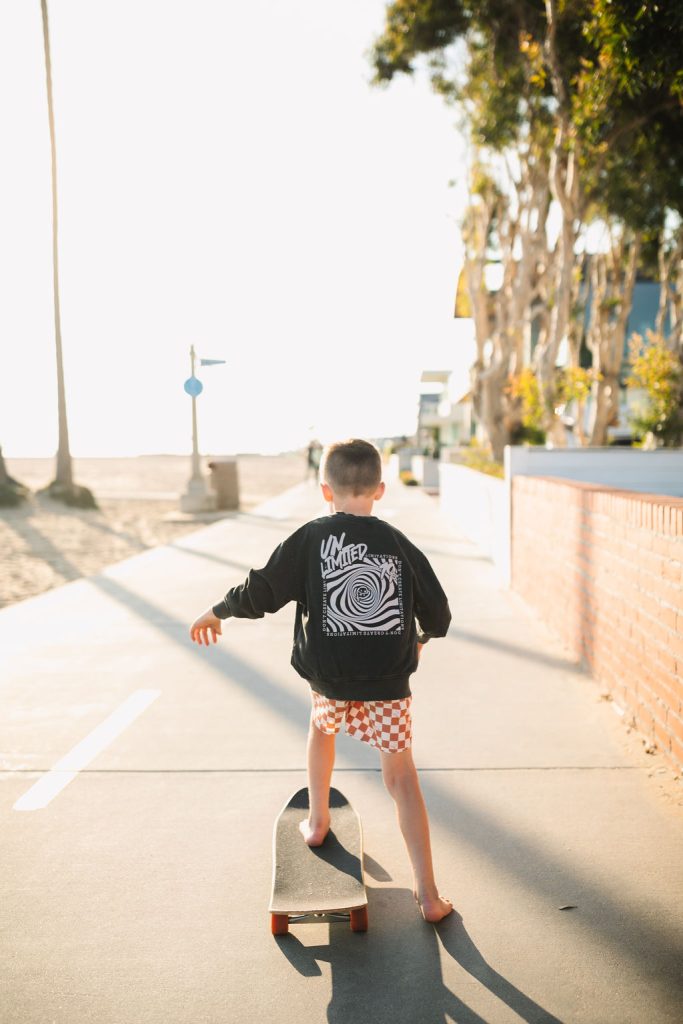 Shop this rad party below!!

xx
Jacquelyn