More Halloween fun for you!!! This time with a vintage twist! I was so inspired by Meri Meri's adorable vintage Halloween collection that I decided it had to be a photo shoot! We ventured outside to a local park for this one and added in some amazing elements from a few friends to create this magic. With amazing details, the sweetest little models, and lots of cuteness this one is definitely a new favorite! We are also featured on 100LayerCake today for this cutie, so head on over to see it there as well! All of the beautiful photos are from my friend Jessica Lynn Photo who also shares my love for all things Halloween! Let's get to it!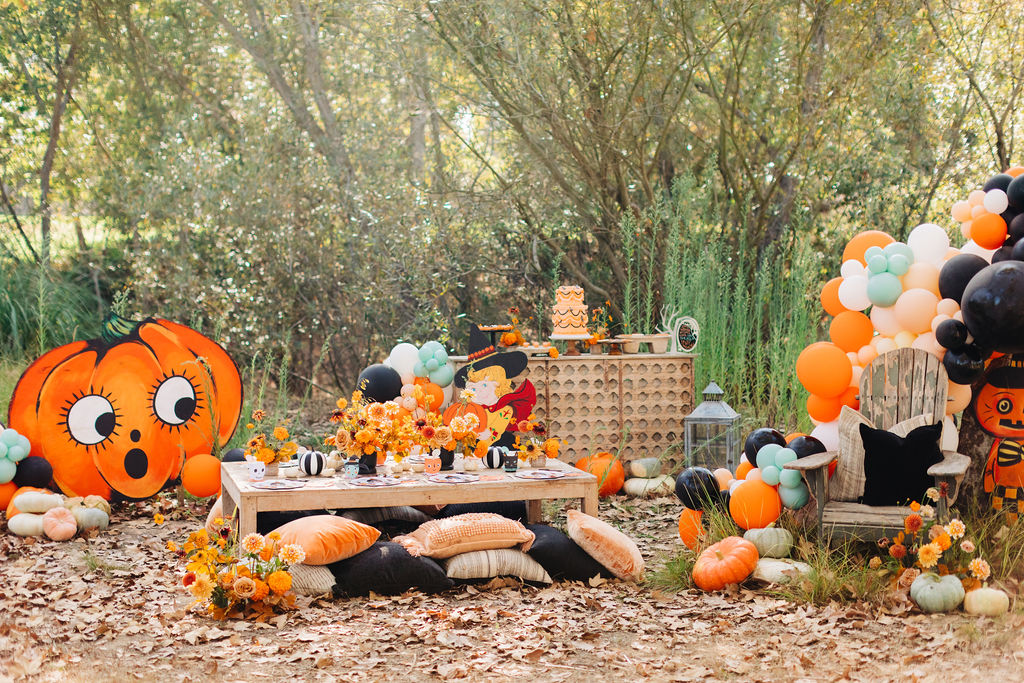 First things first, the most adorable invitation suite from Pirouette Paper! She went all out on this one because she was just as inspired as I was! I always love all of her amazing details, her brilliant mind never ceases to amaze me!!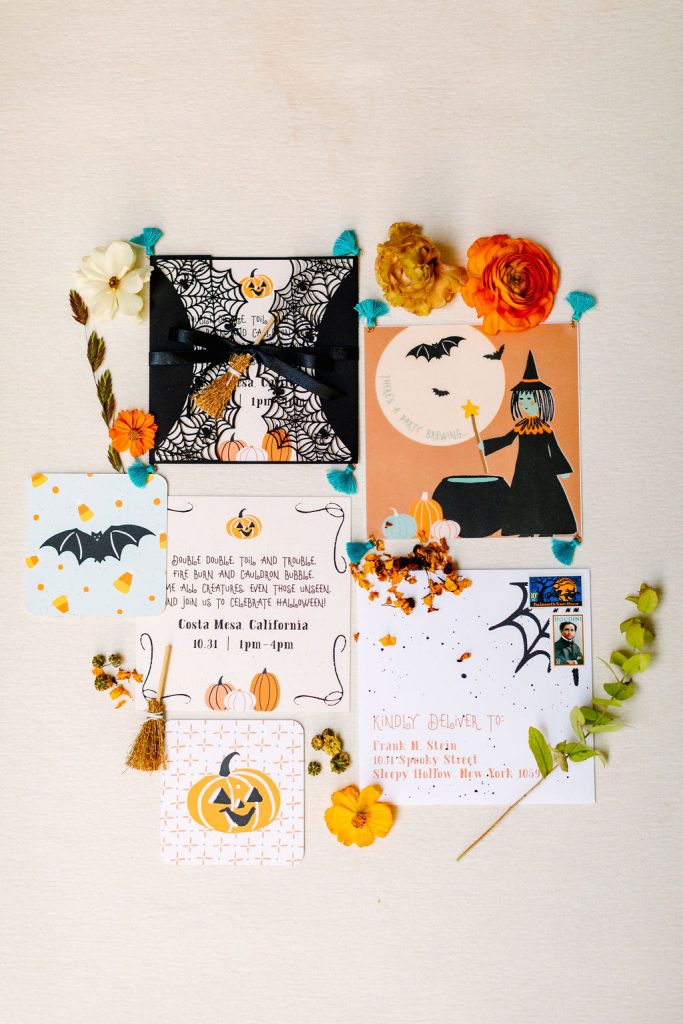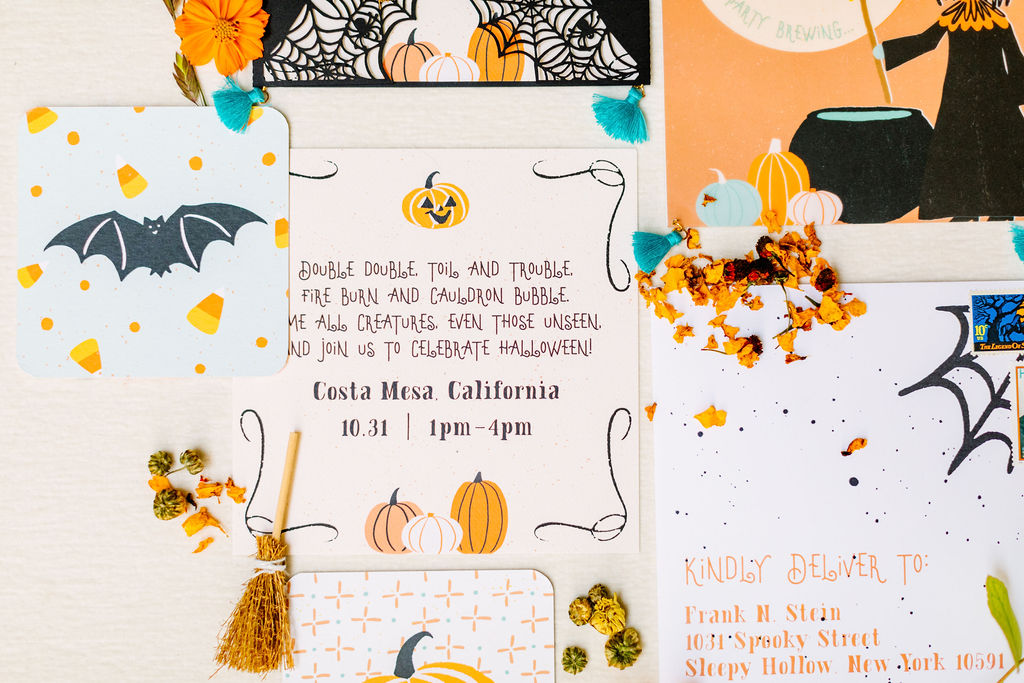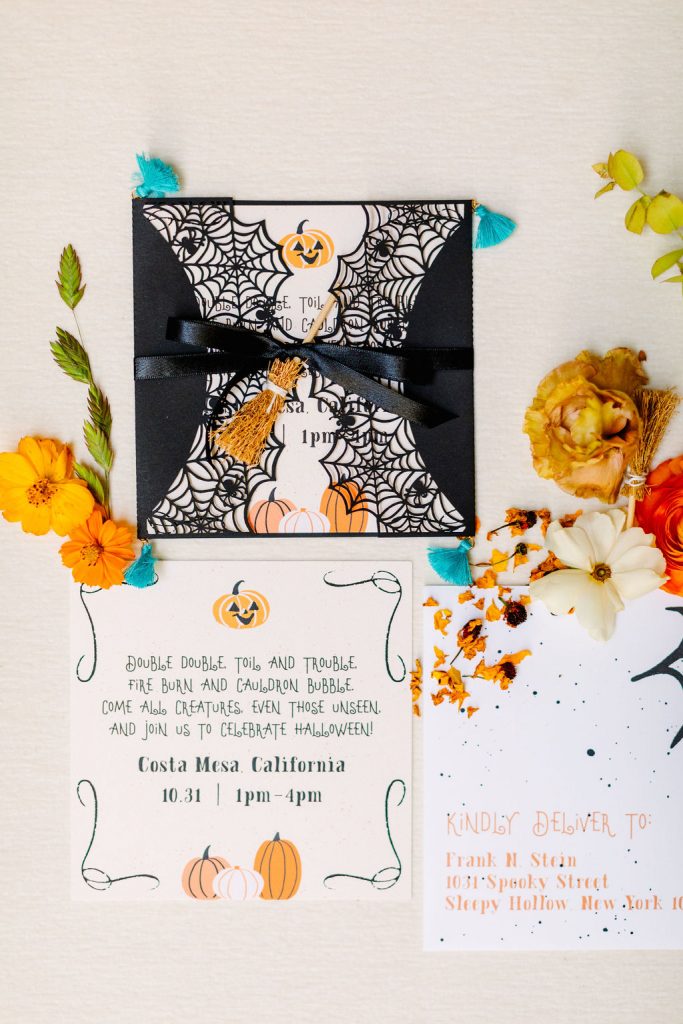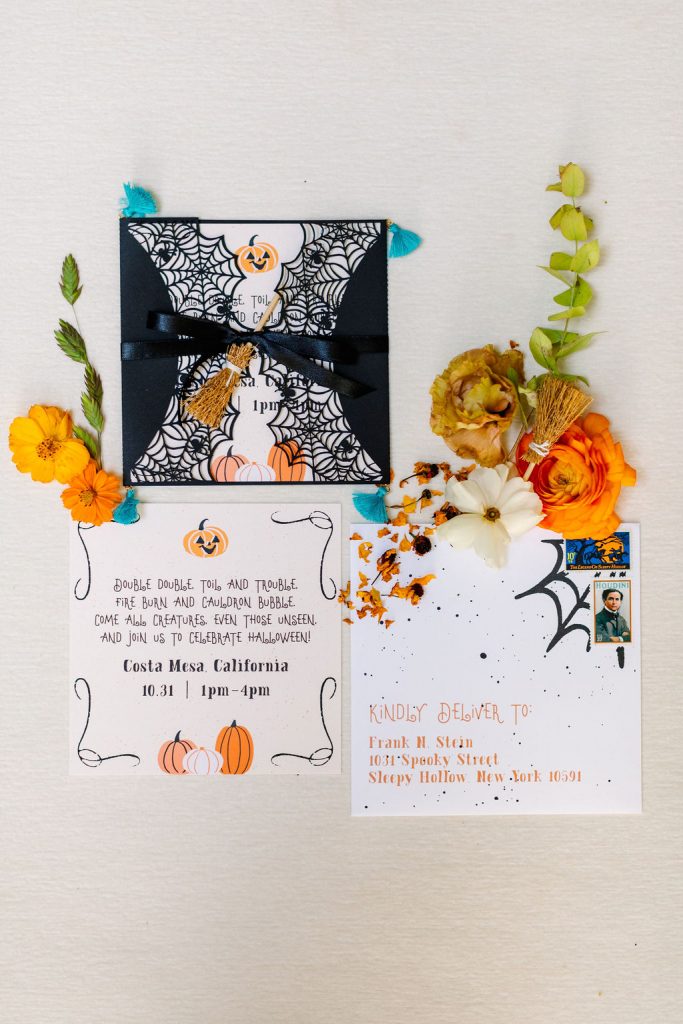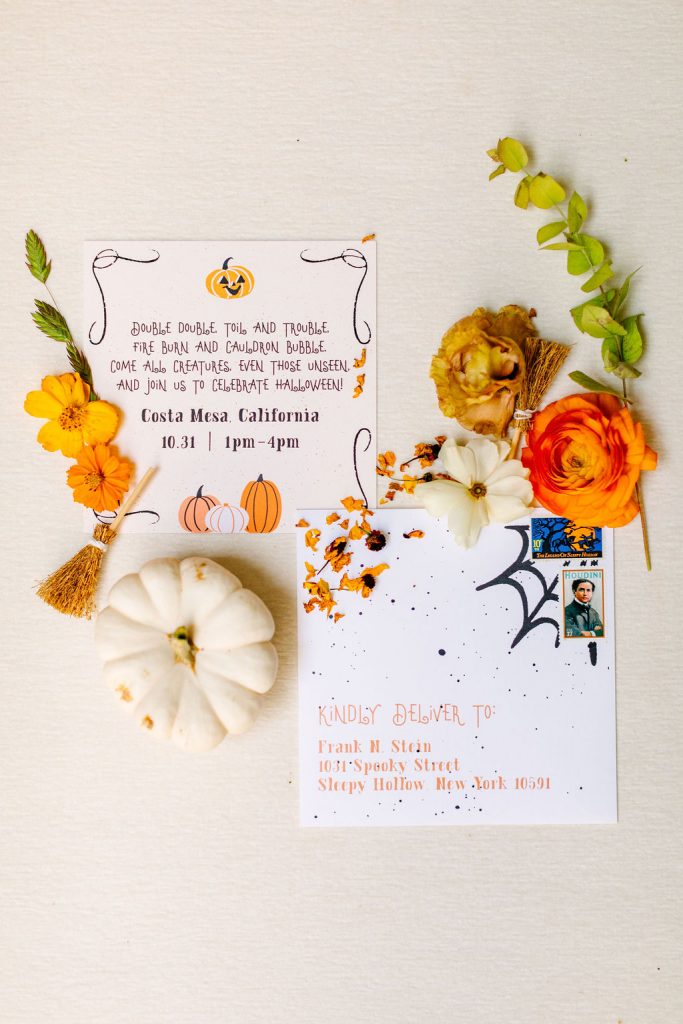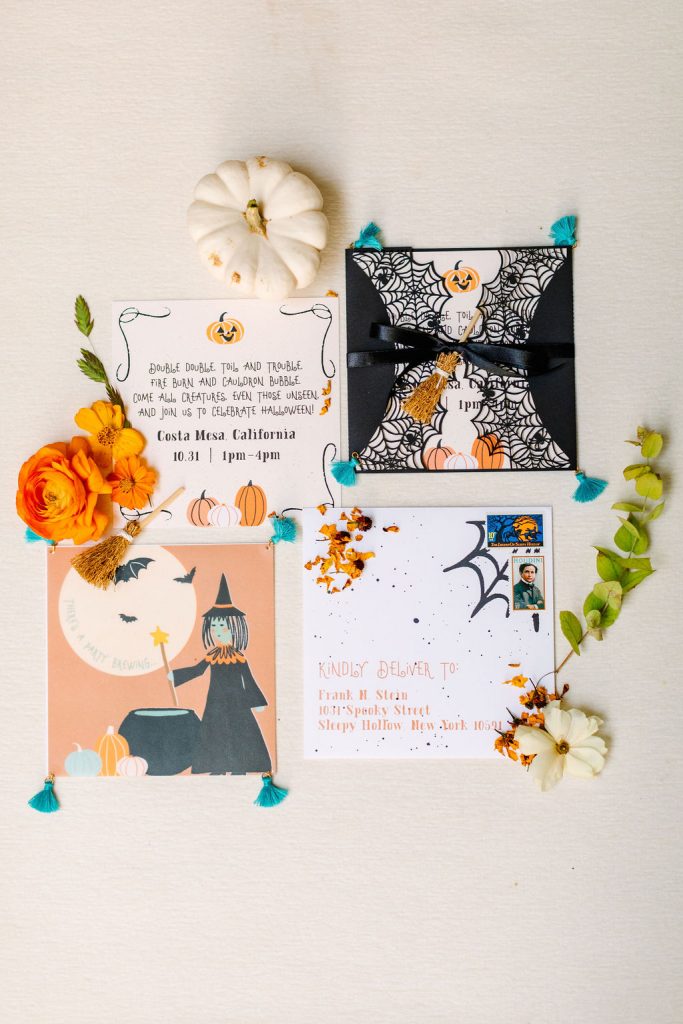 My first idea for this photo shoot was having the talented Katie at Camp Lila involved! As you know, we use her all the time for arts & crafts at our parties. She has these amazing vintage decorations she hand painted and used at my son's former pre school! I asked her if I could borrow her pumpkin and she had even more cute pieces that we used. It made for such a fun backdrop and I love their vintage vibe.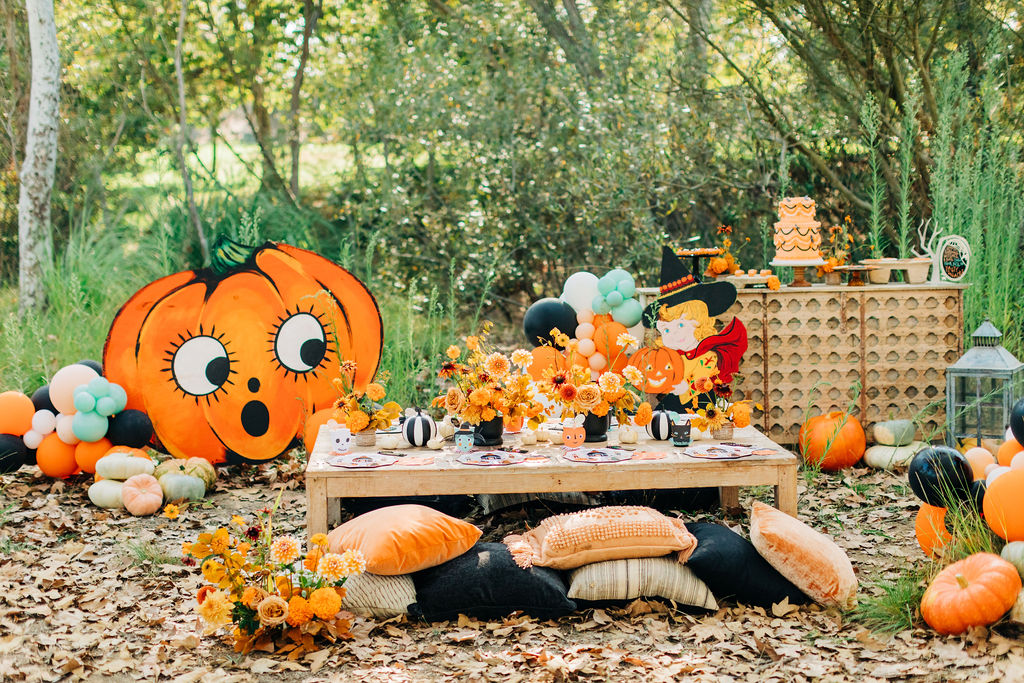 There's all that adorable Meri Meri tabletop that inspired it all! All of those amazing vintage touches and details on the plates make me giddy! The variety of fun cups and napkins are also so great. Pirouette Paper teamed up with Creative Amme to add in the place cards and stir sticks. They flowed perfectly with our table setting and basically I'm obsessed!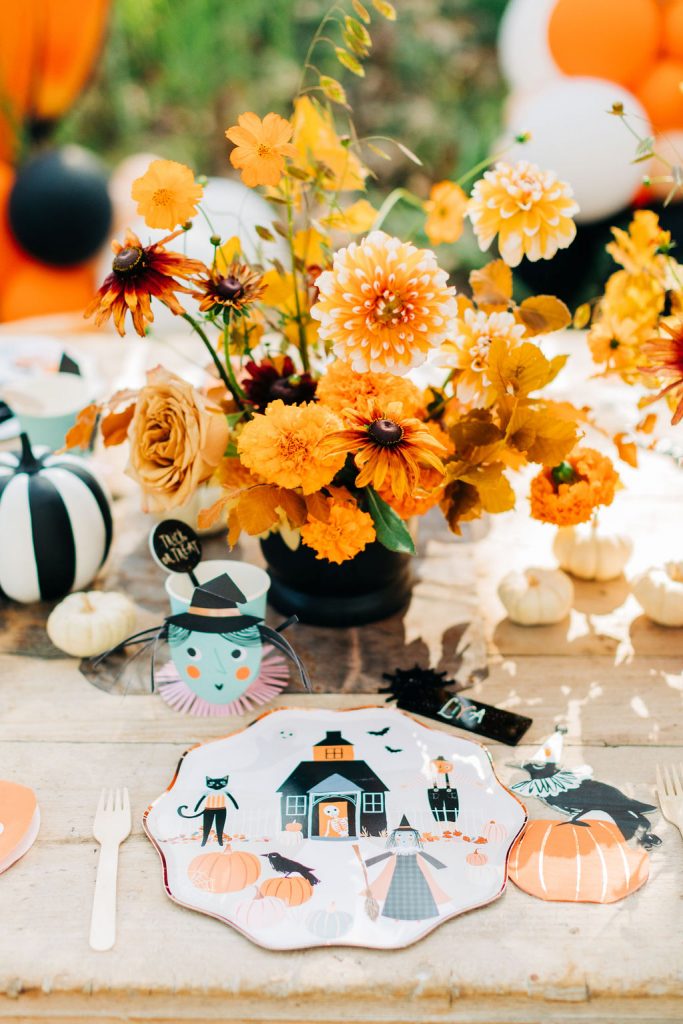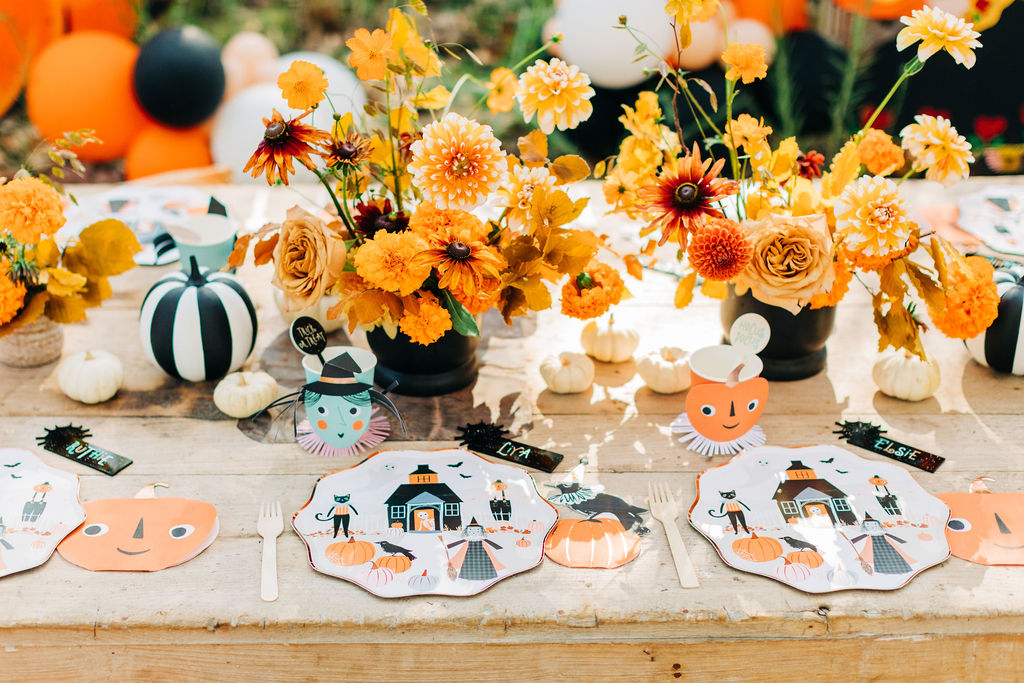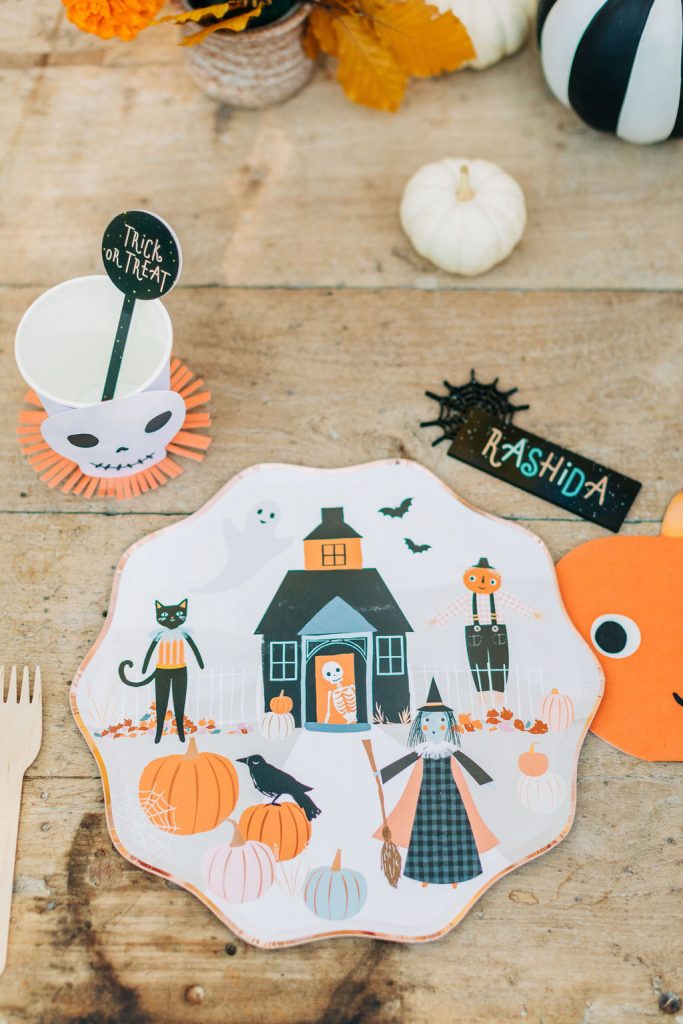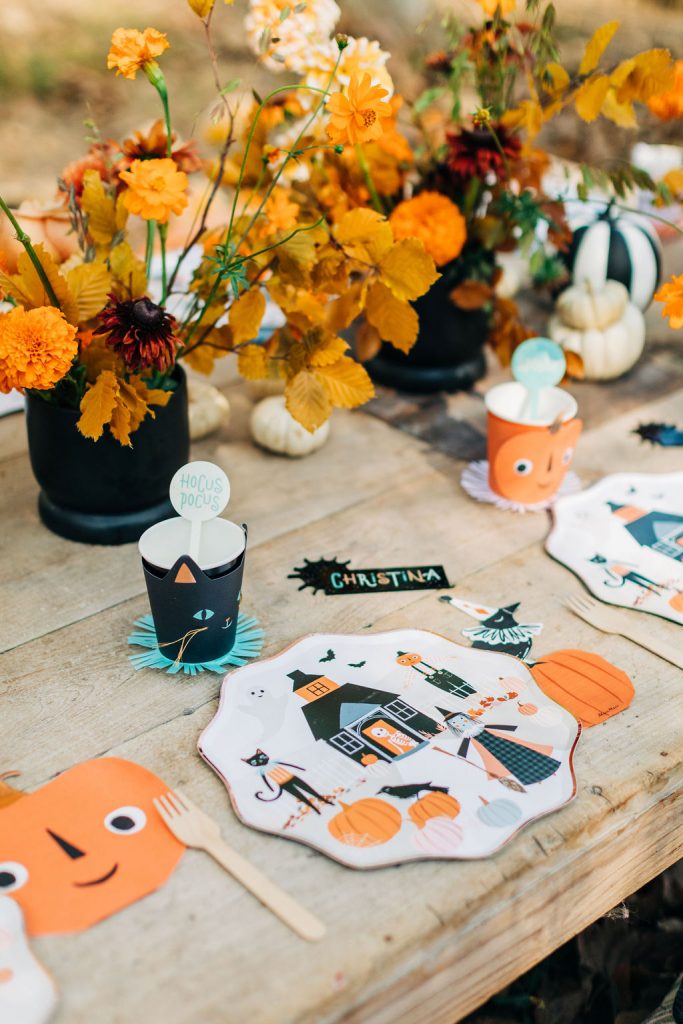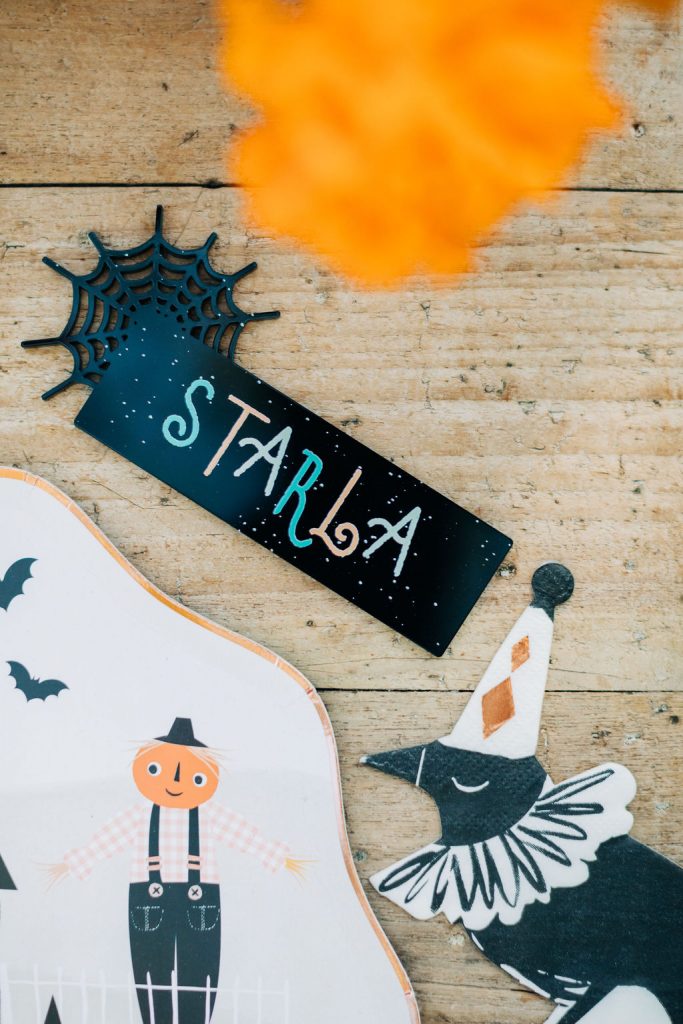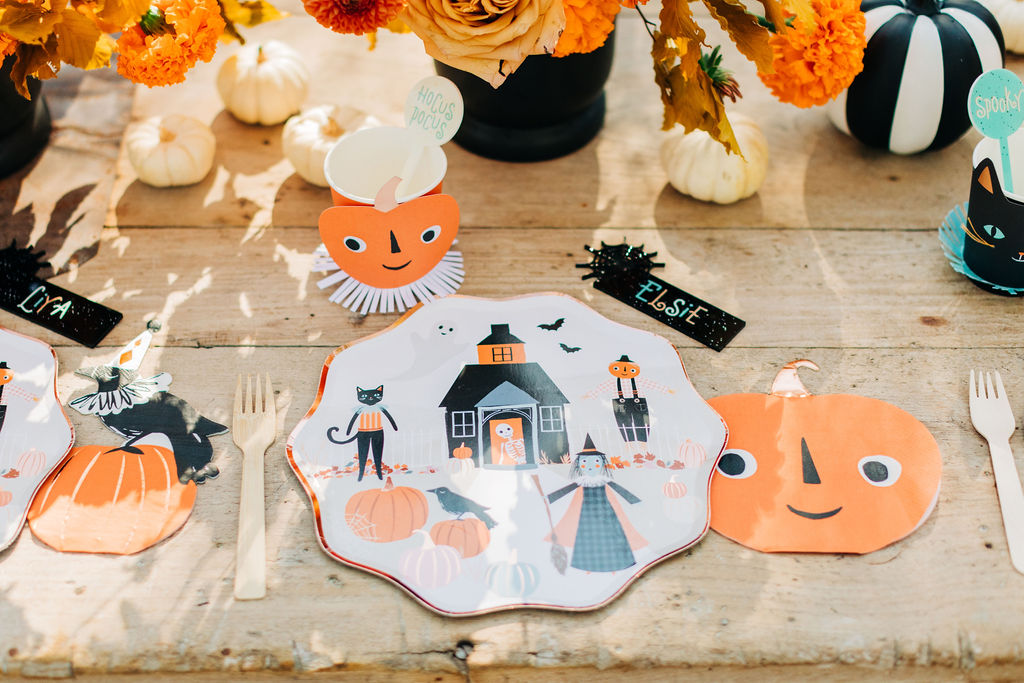 Of course my friend Tanya at Earth & Grace had the most stunning Fall blooms for this one! With all those yummy warm tones of orange, yellow, and burgundy plus some pretty fall foliage, they complimented our table perfectly.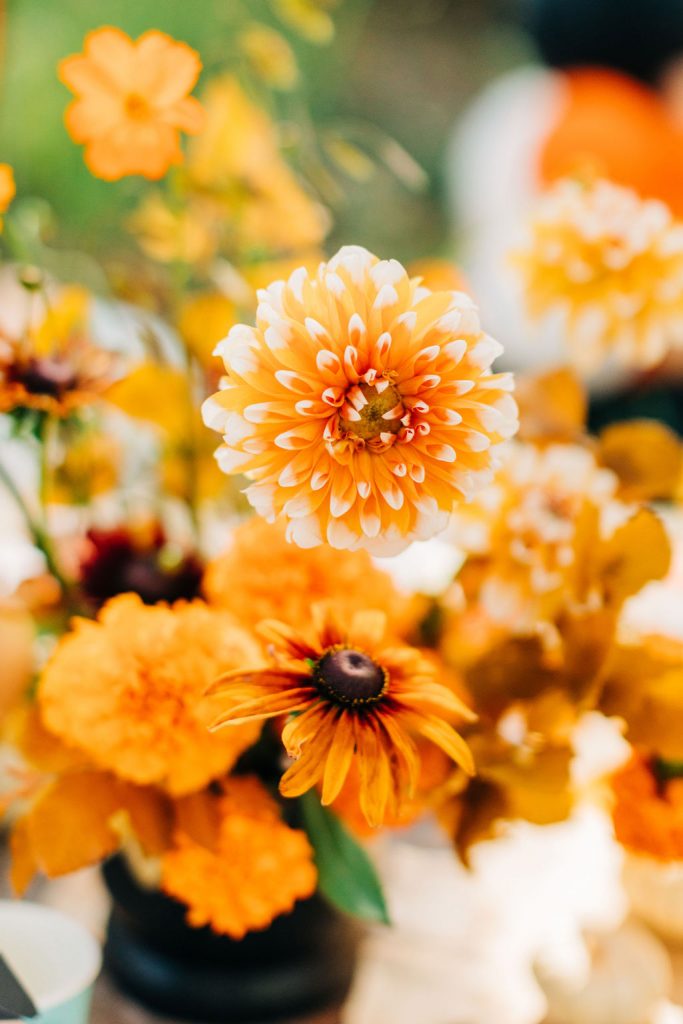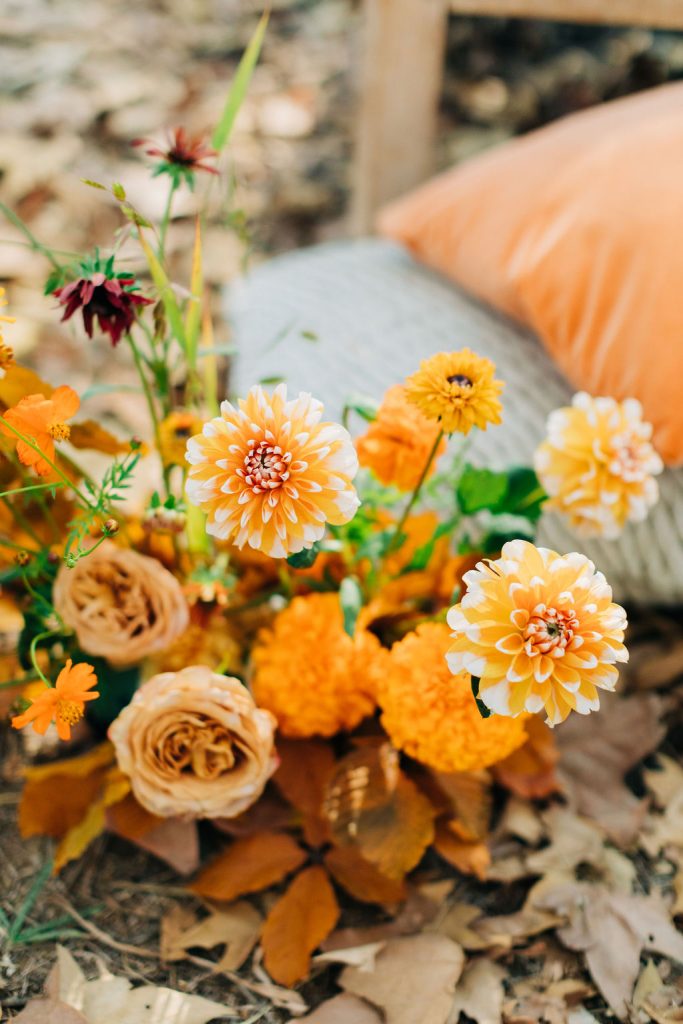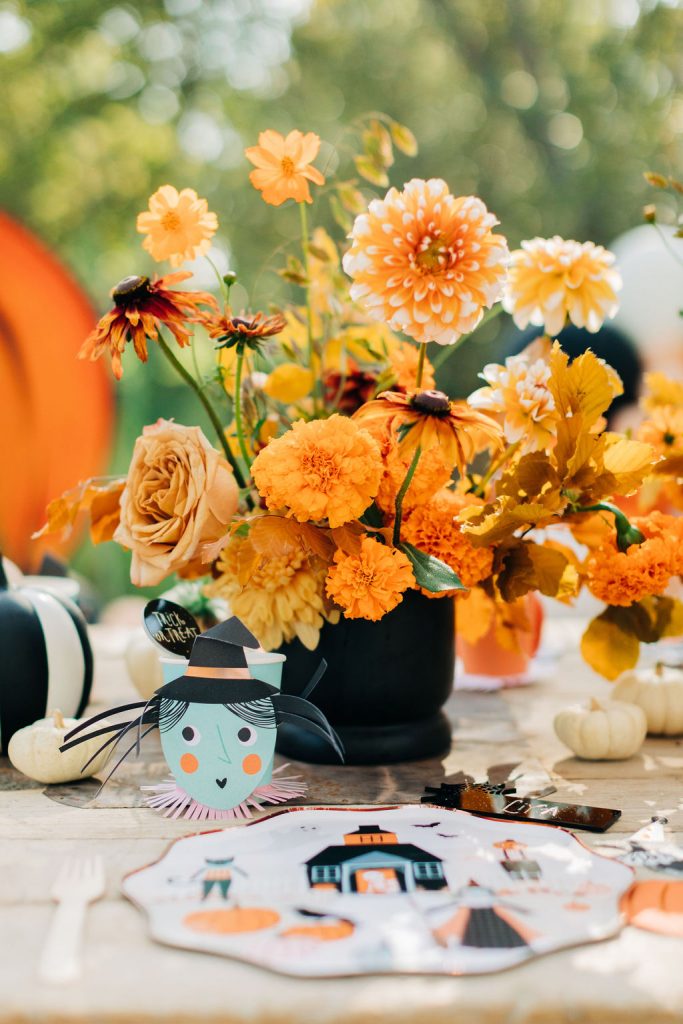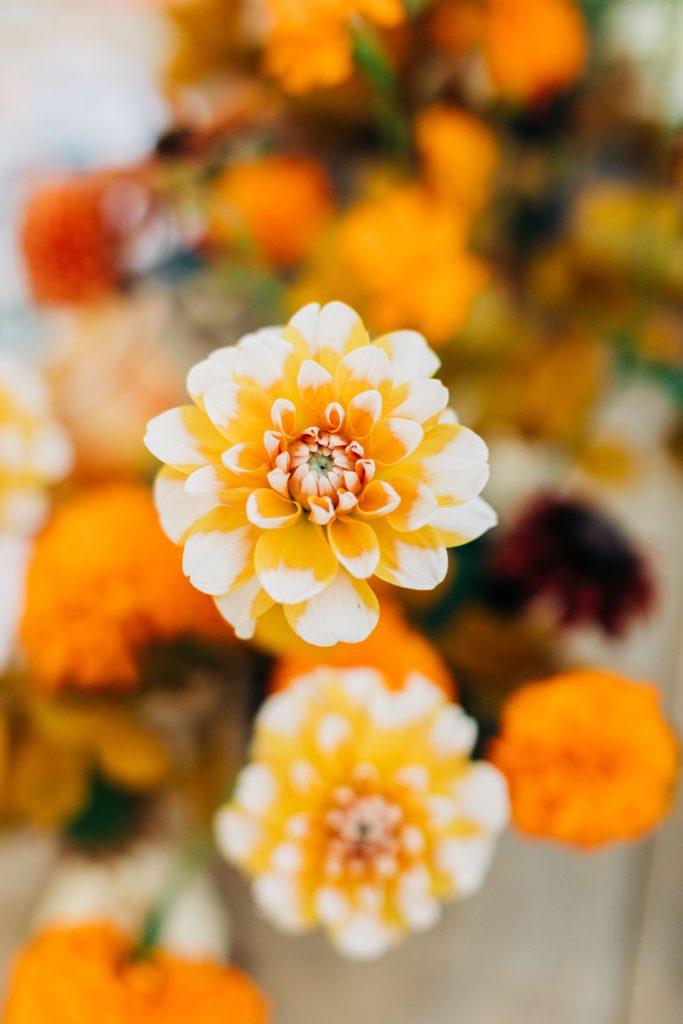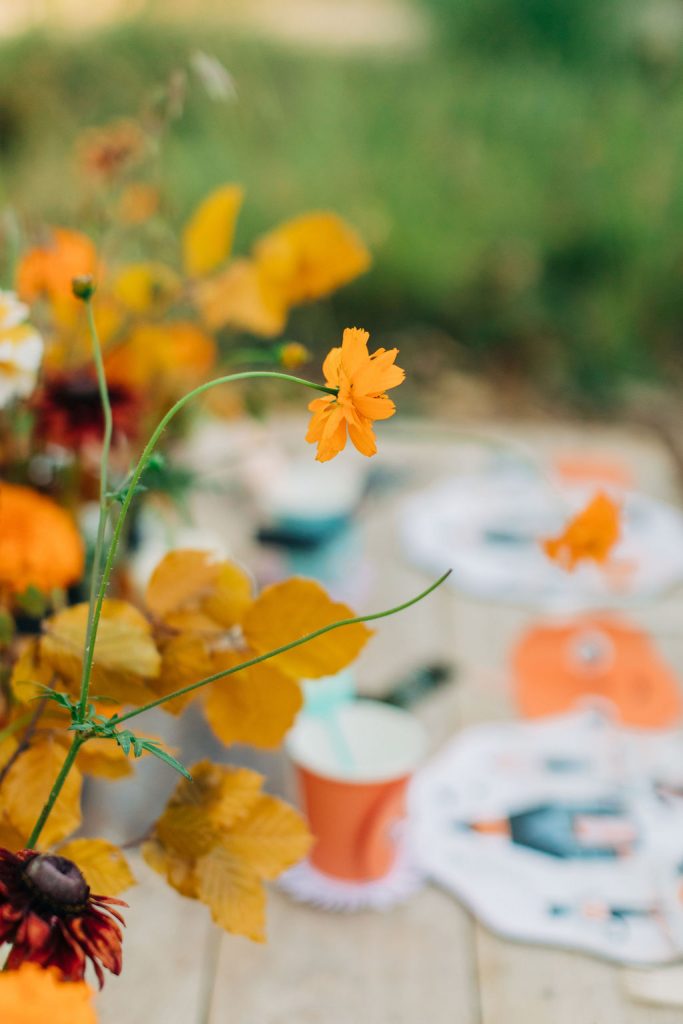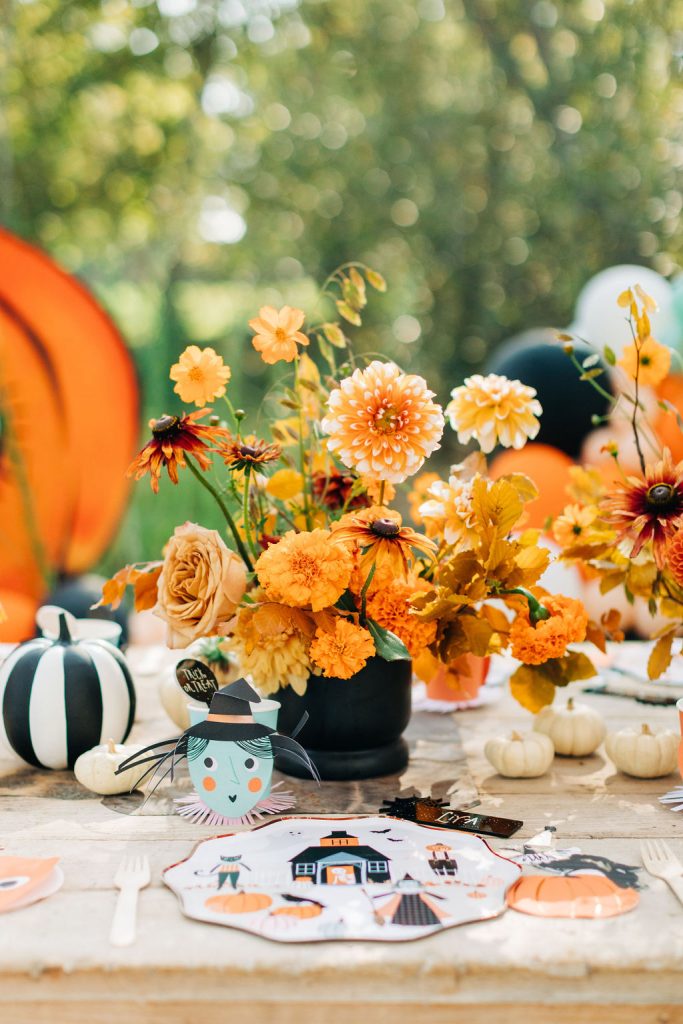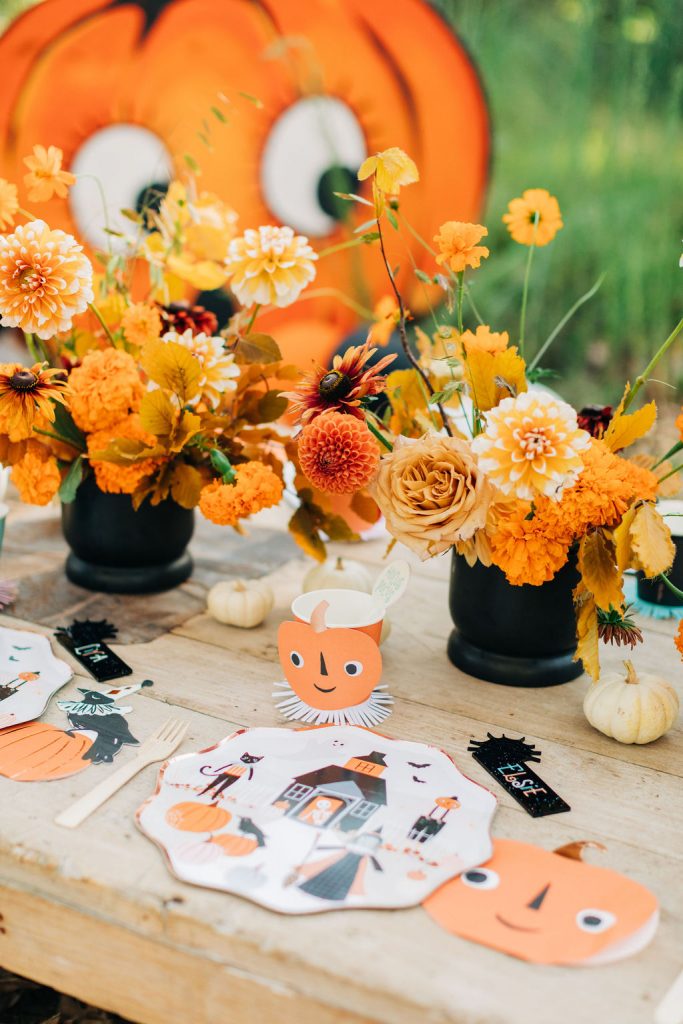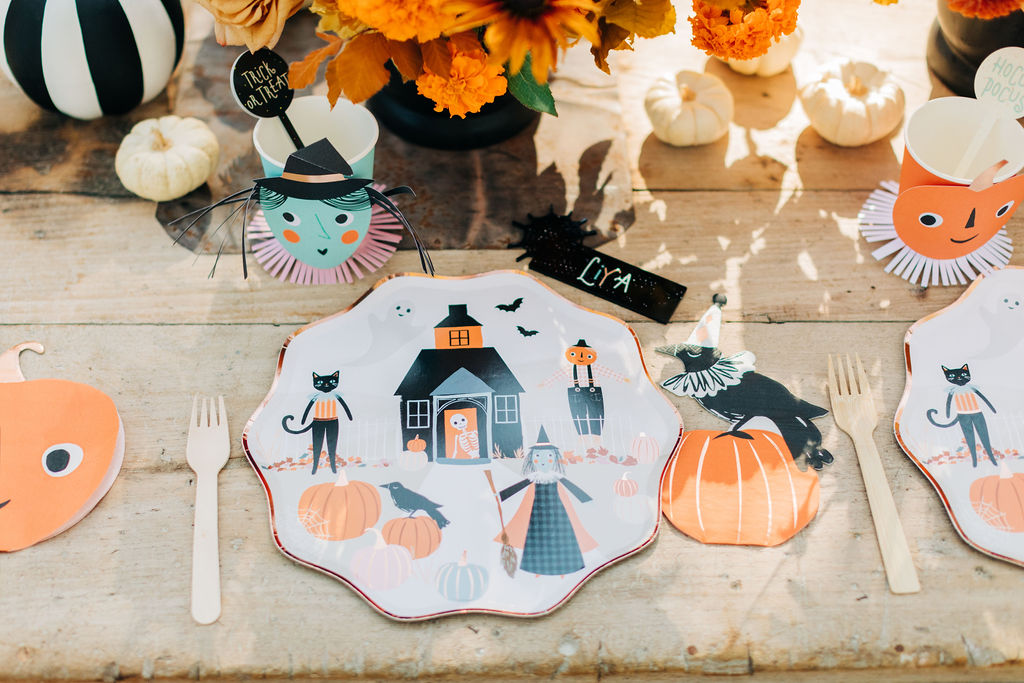 I can't get enough of this table!!!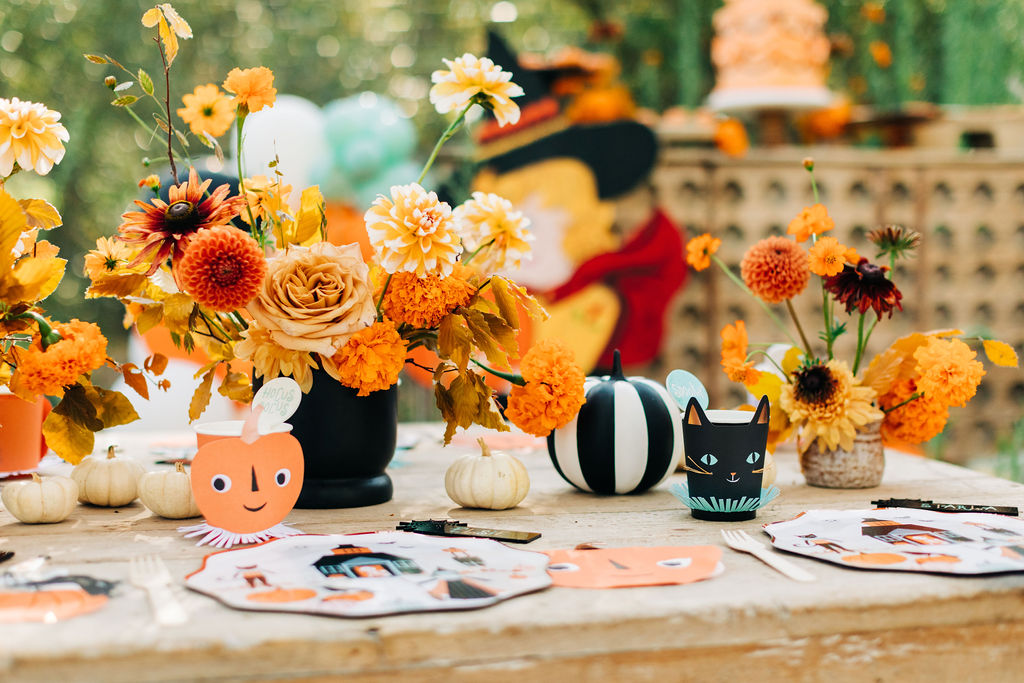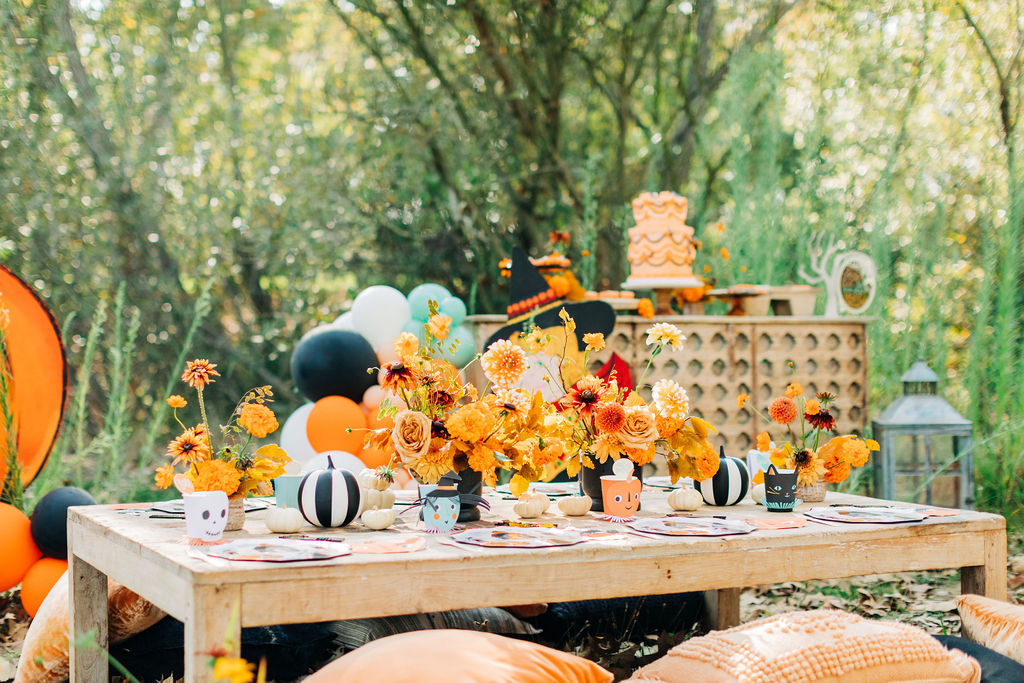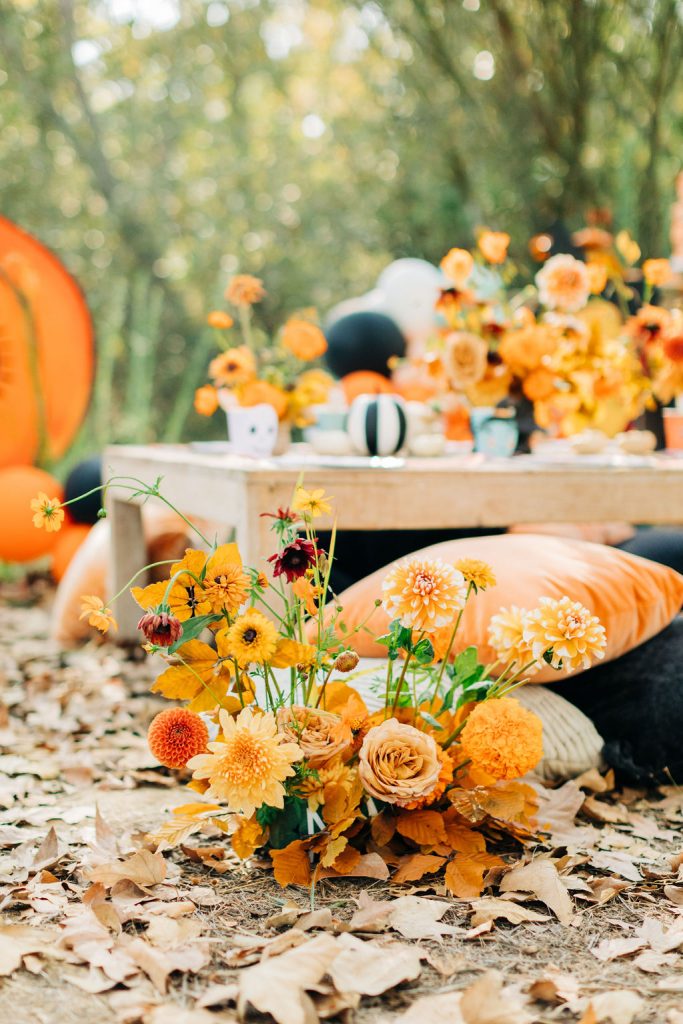 My favorite rental gal Marnie from Sweet Salvage Rentals brought in all those pretty pieces you see! Obviously her vintage collection was the best choice for this one. I always love a low table with pillow seating for kids, it's nice and cozy! And I'm totally loving her new bar piece you see in the background – more on that guy later!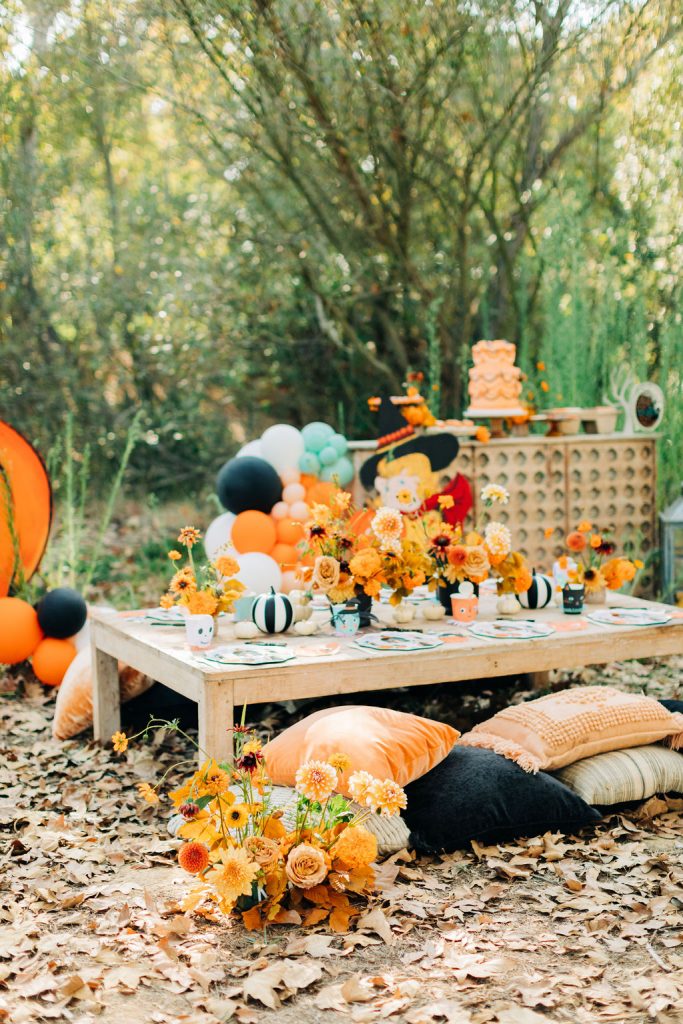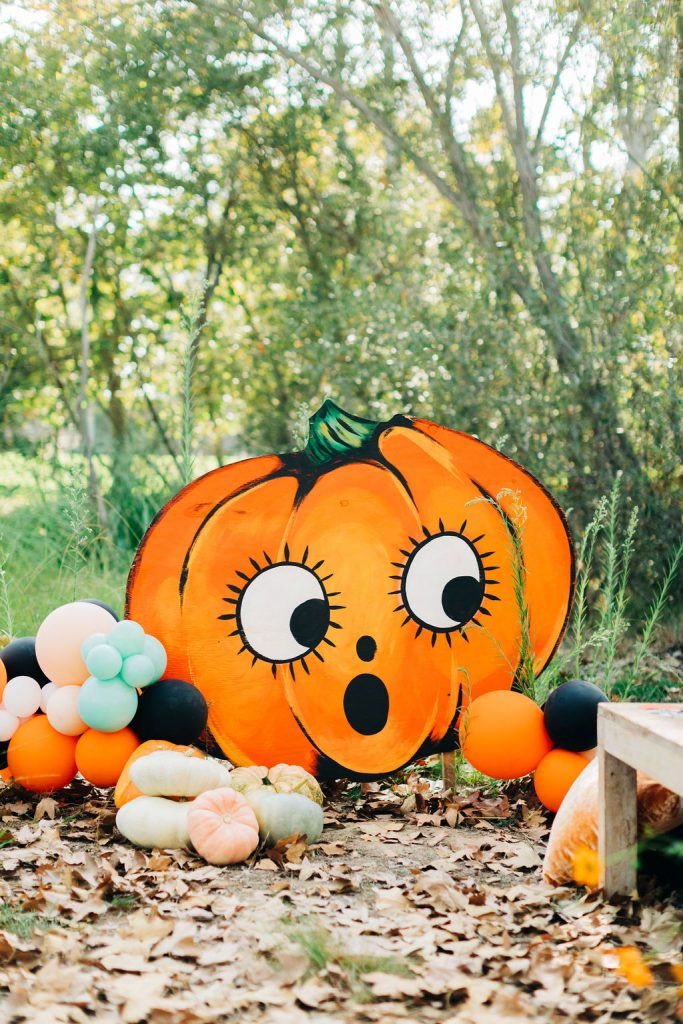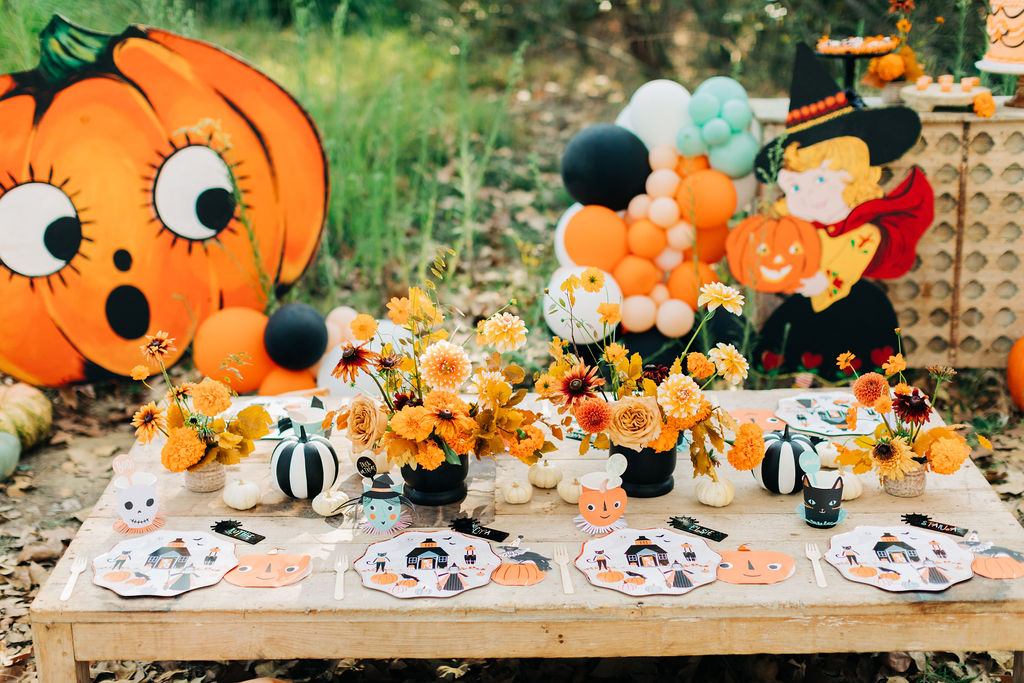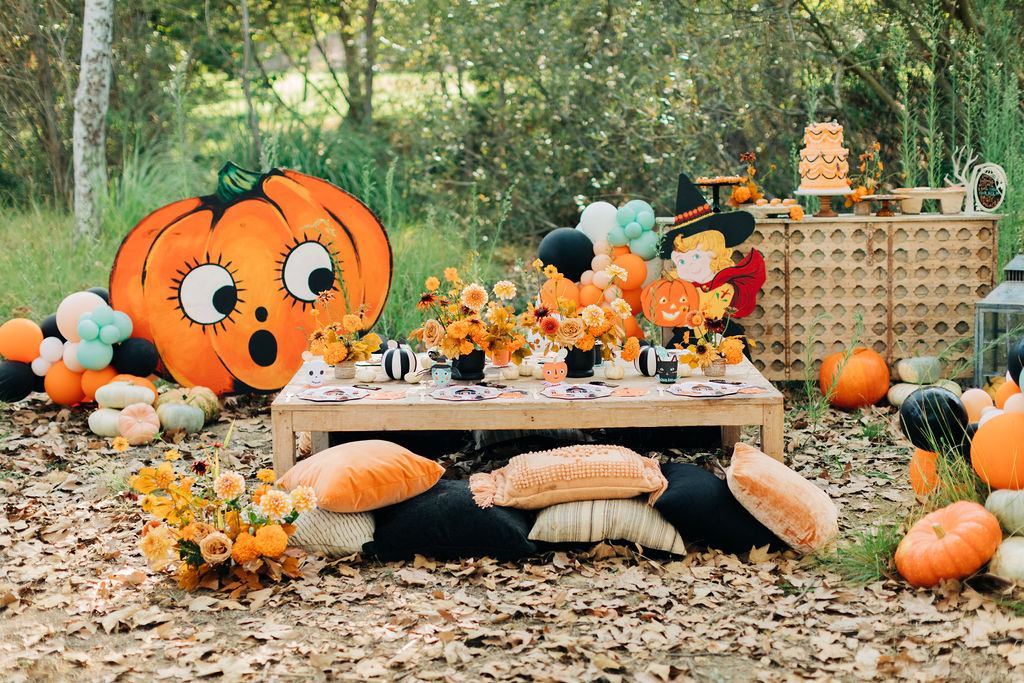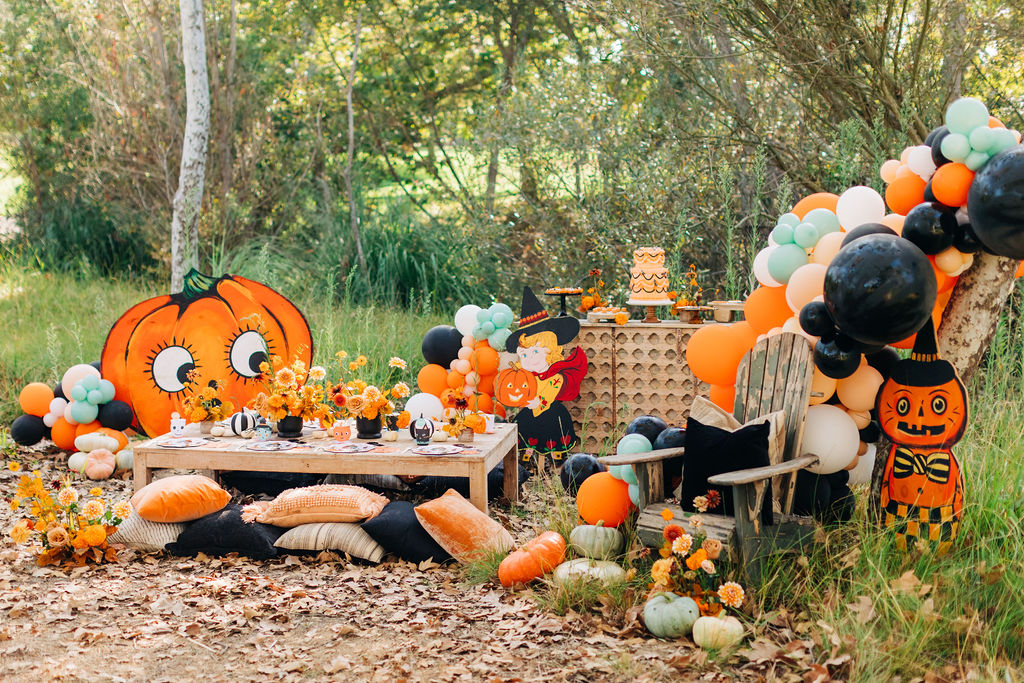 The perfect little sitting spot with Sweet Salvage Rentals Adirondack chair, Camp Lila's cute pumpkin guy, and lots of pretty balloons from The Pop Shop!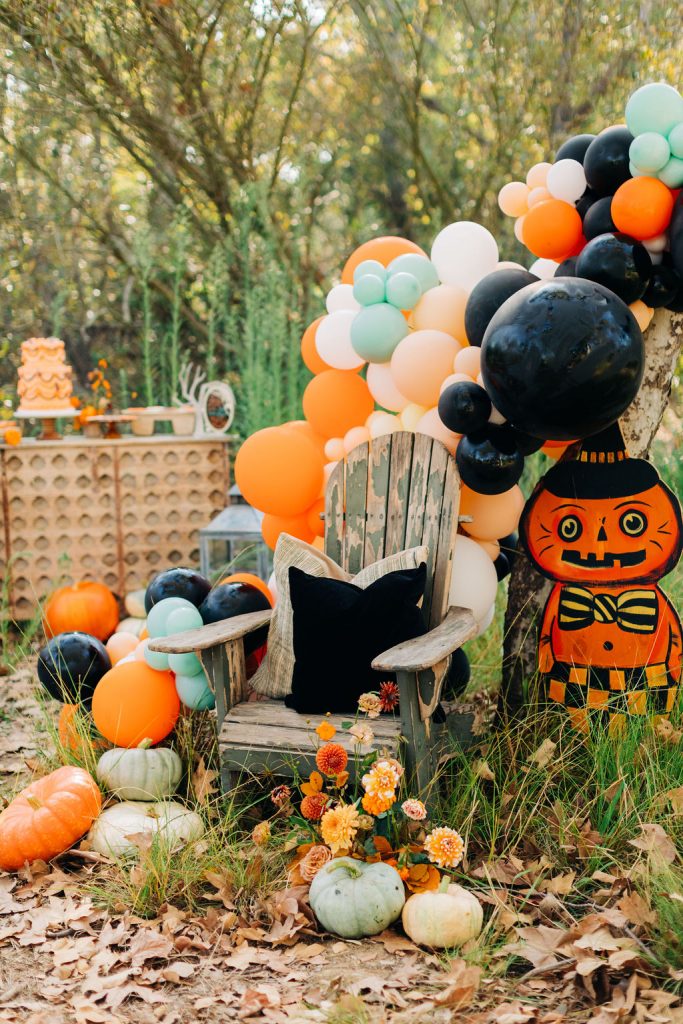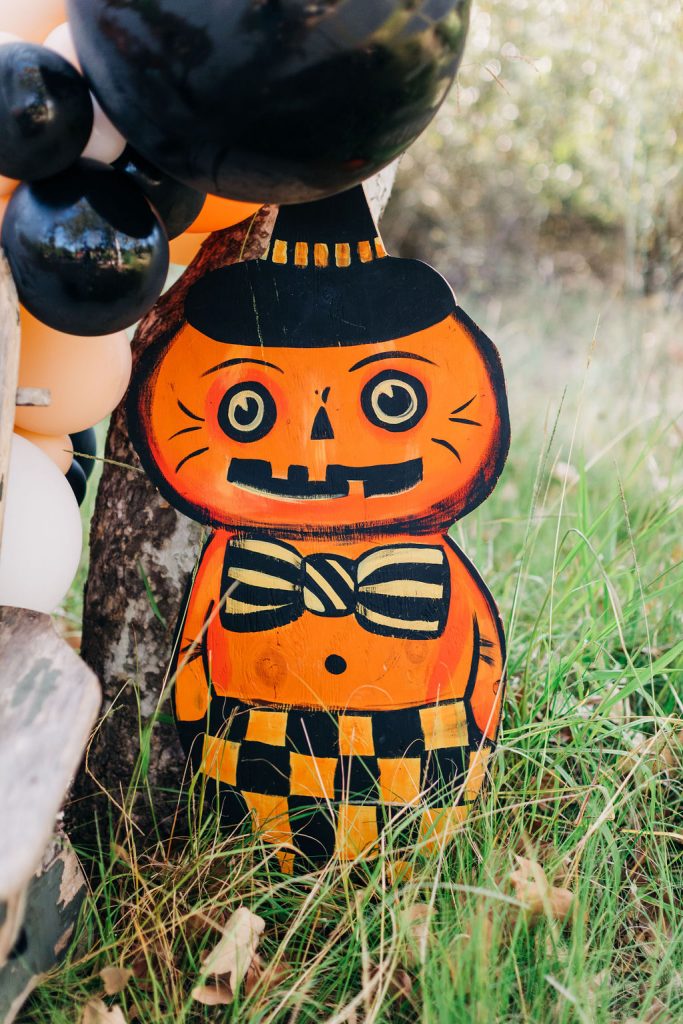 Onto dessert! Sheila Mae made the most gorgeous – and biggest – cake ever! All of those vintage draping touches were so unique and fun! Plus lots of other cute treats like cookies, donuts, and macarons! Plus, that amazing signage piece that Pirouette Paper dreamed up and designed laser cut by Creative Amme is basically a work of art!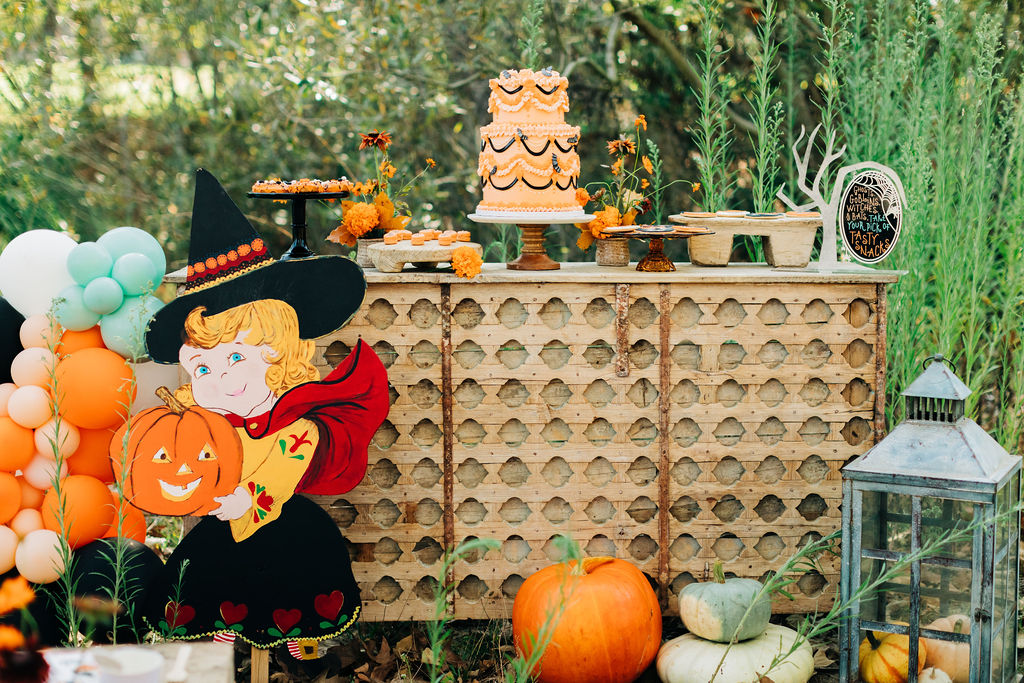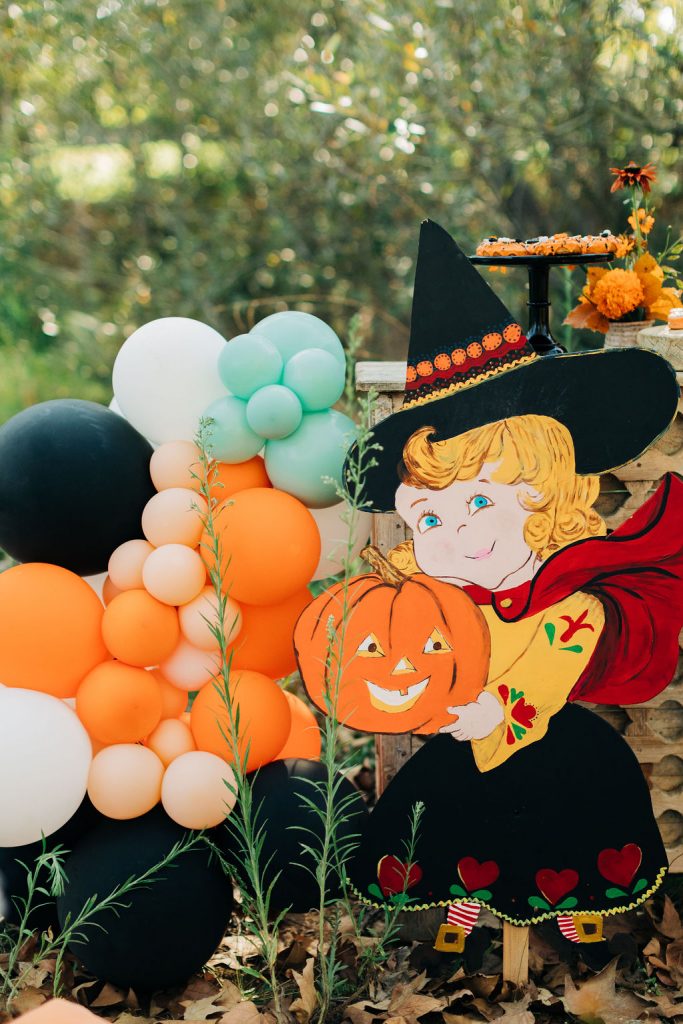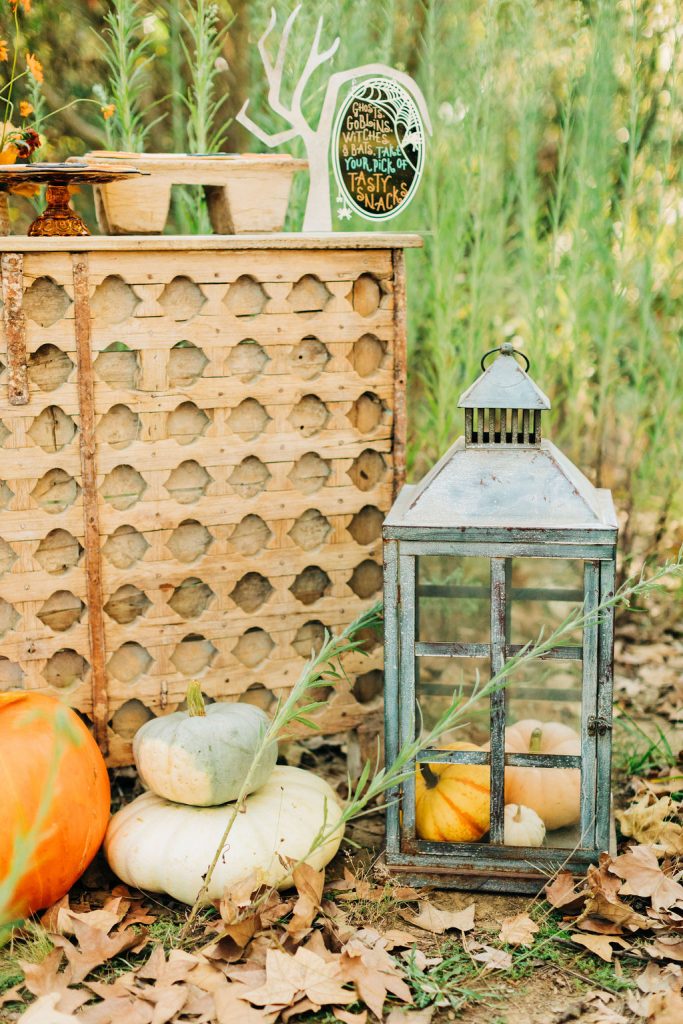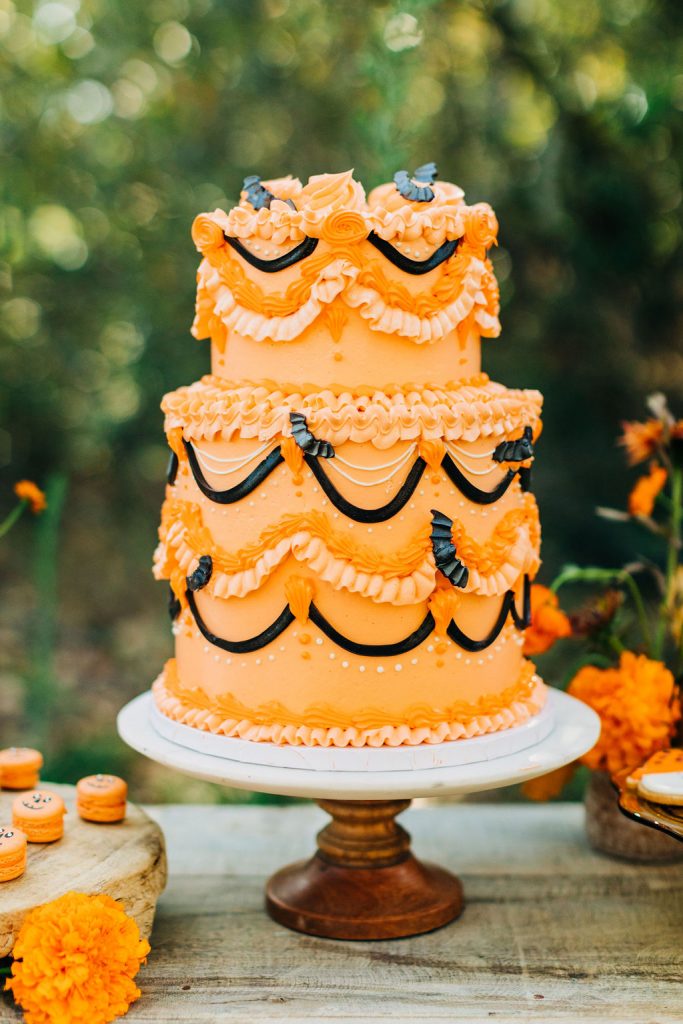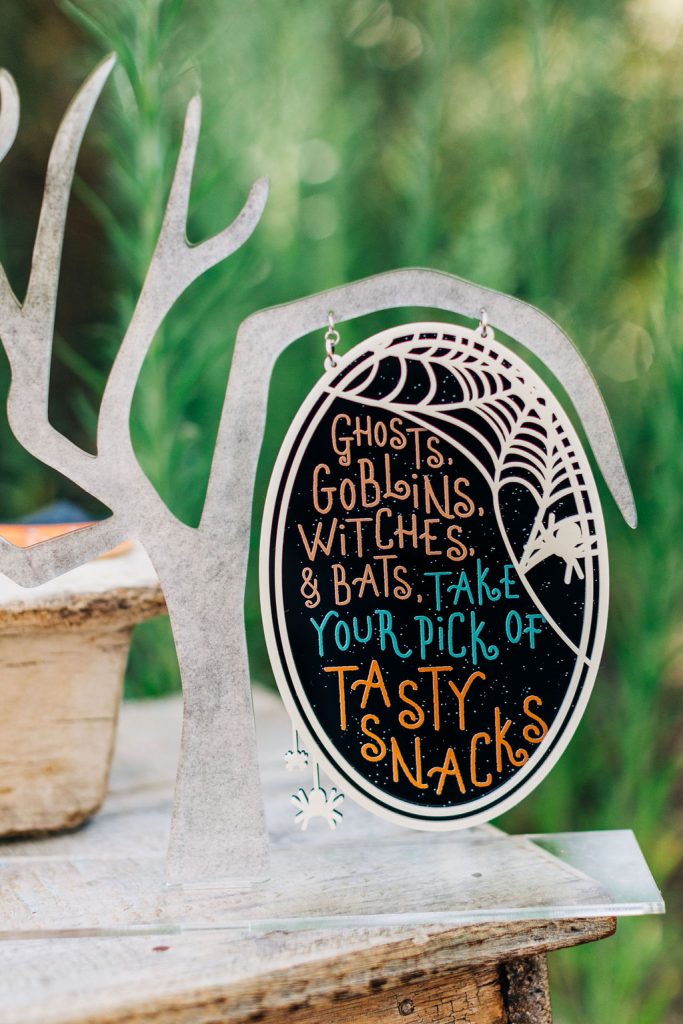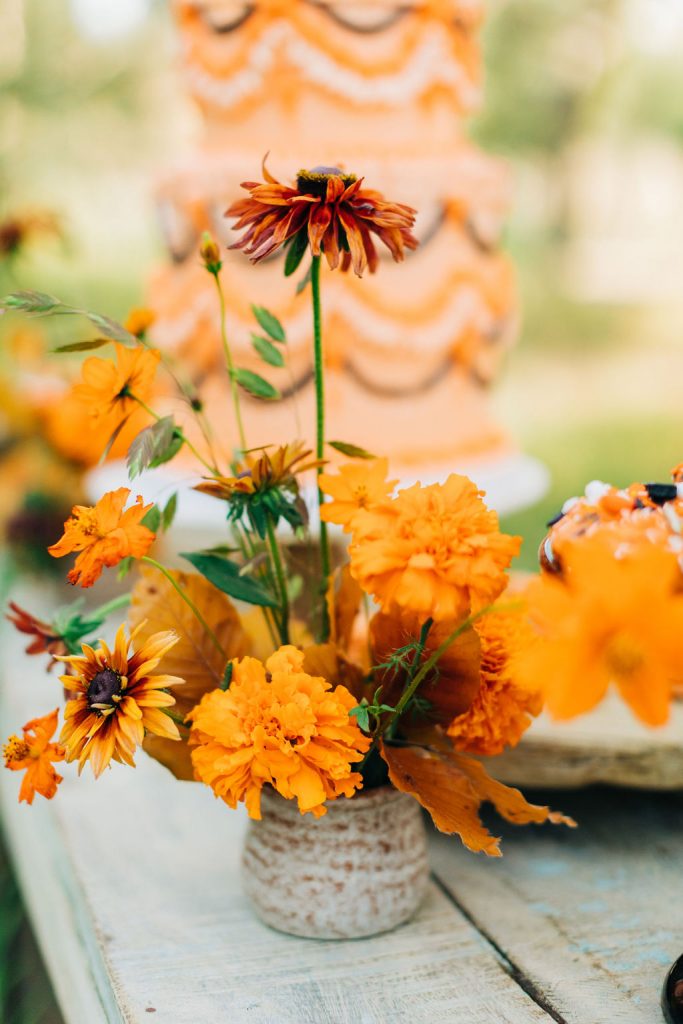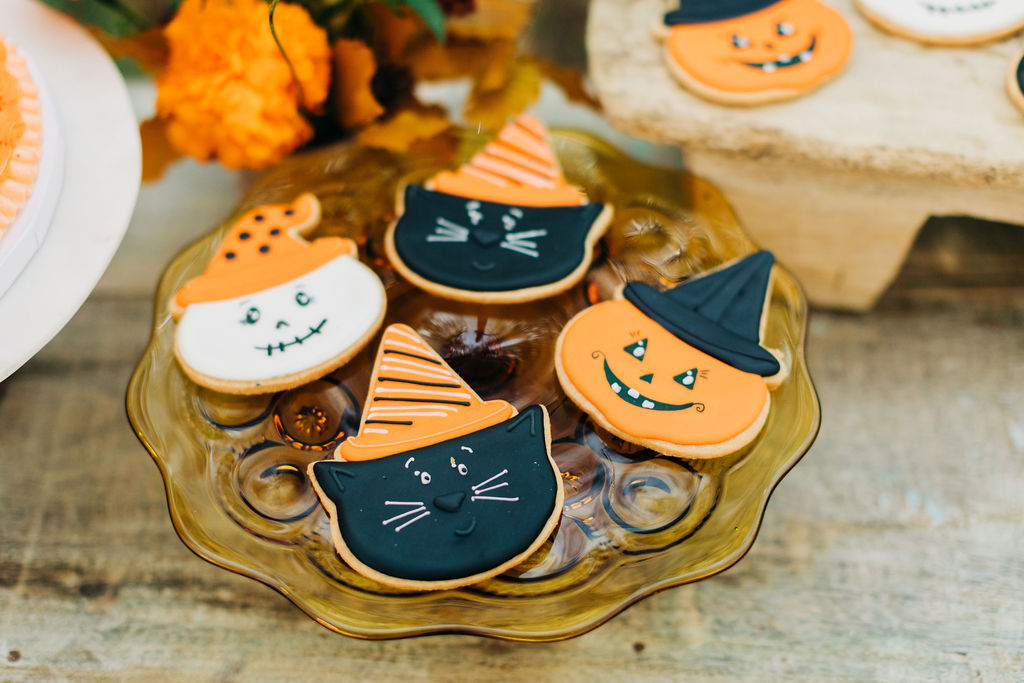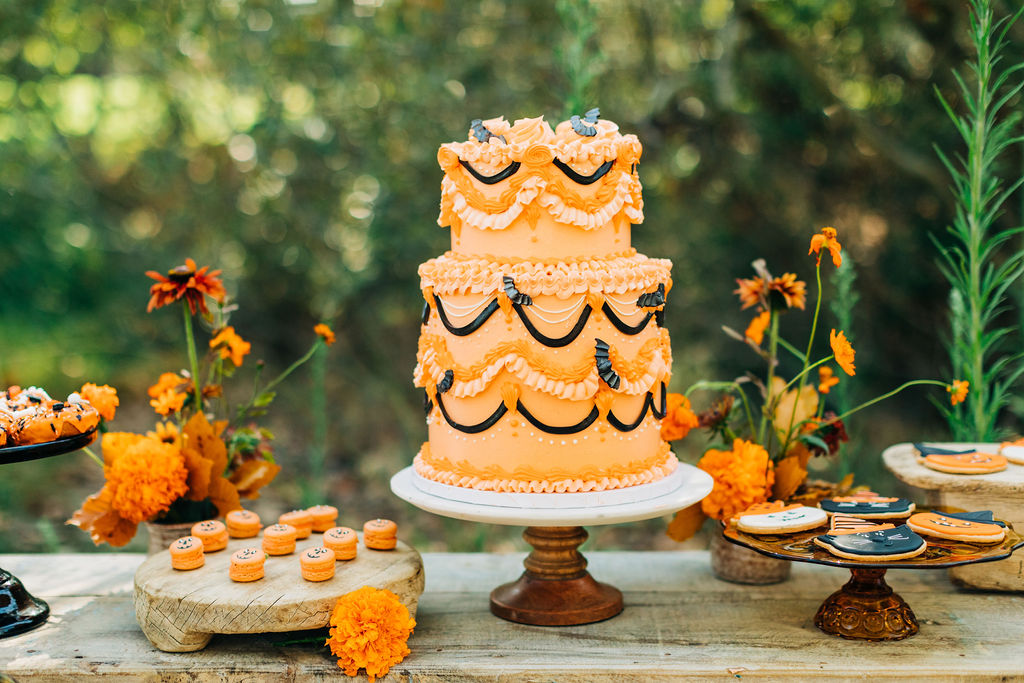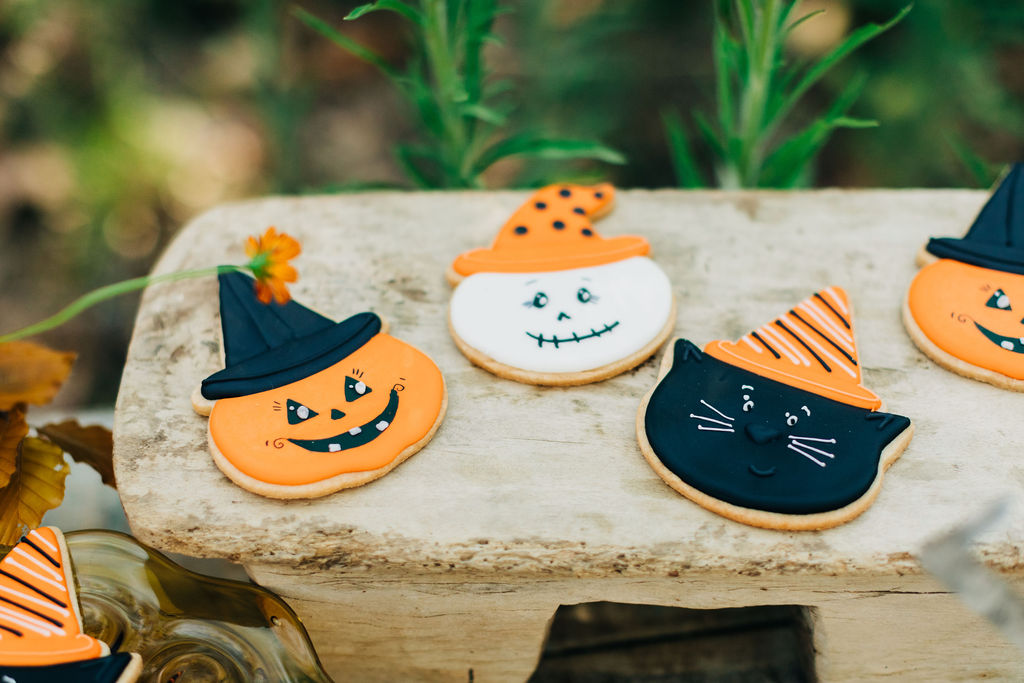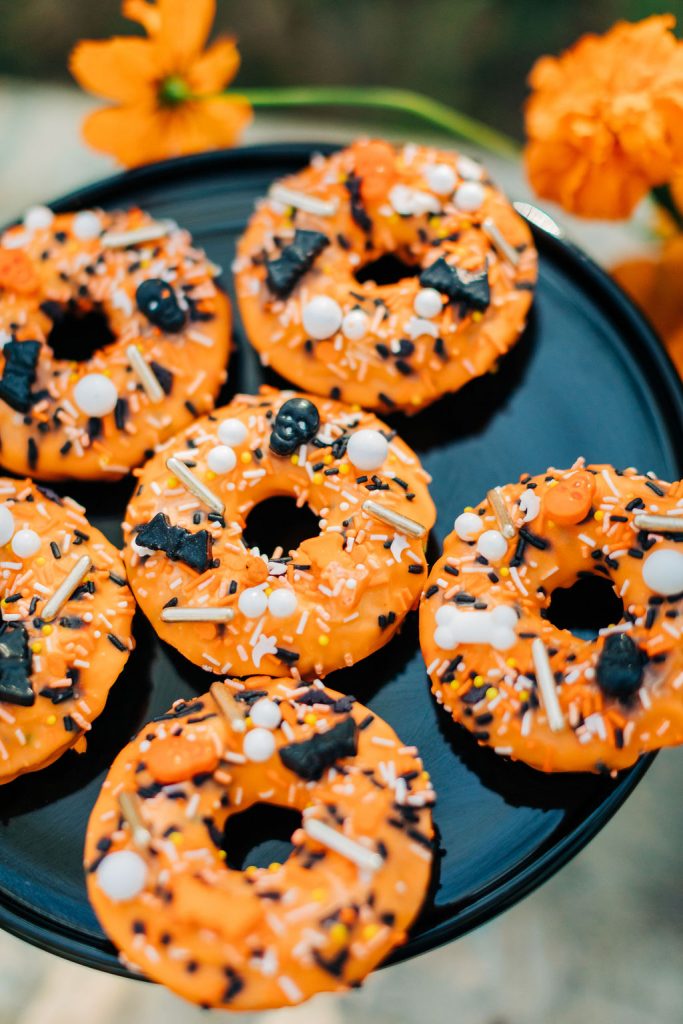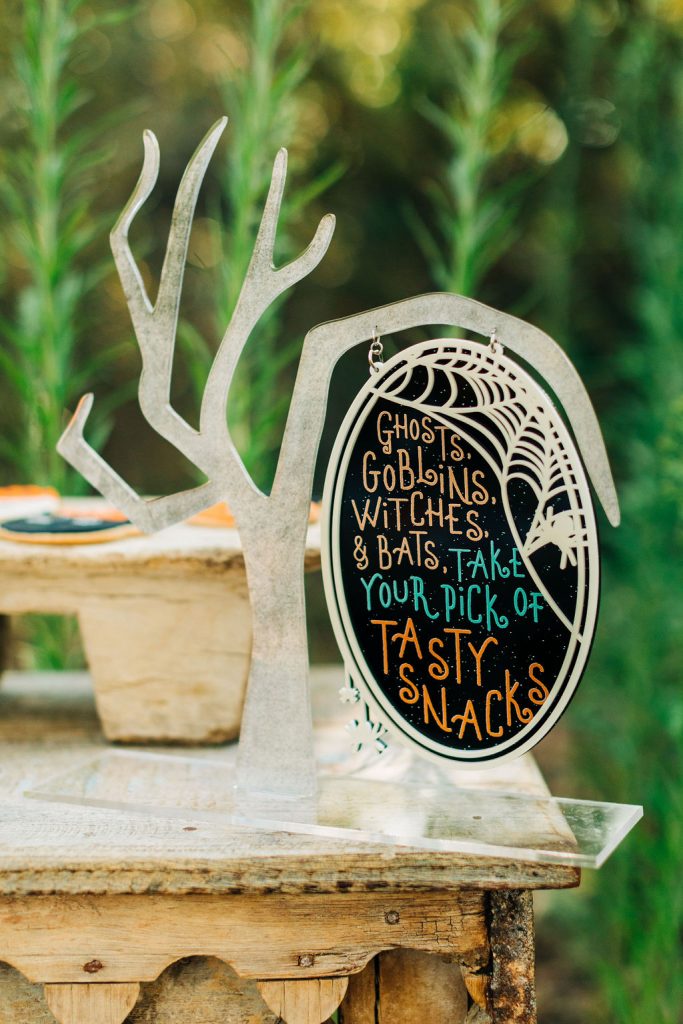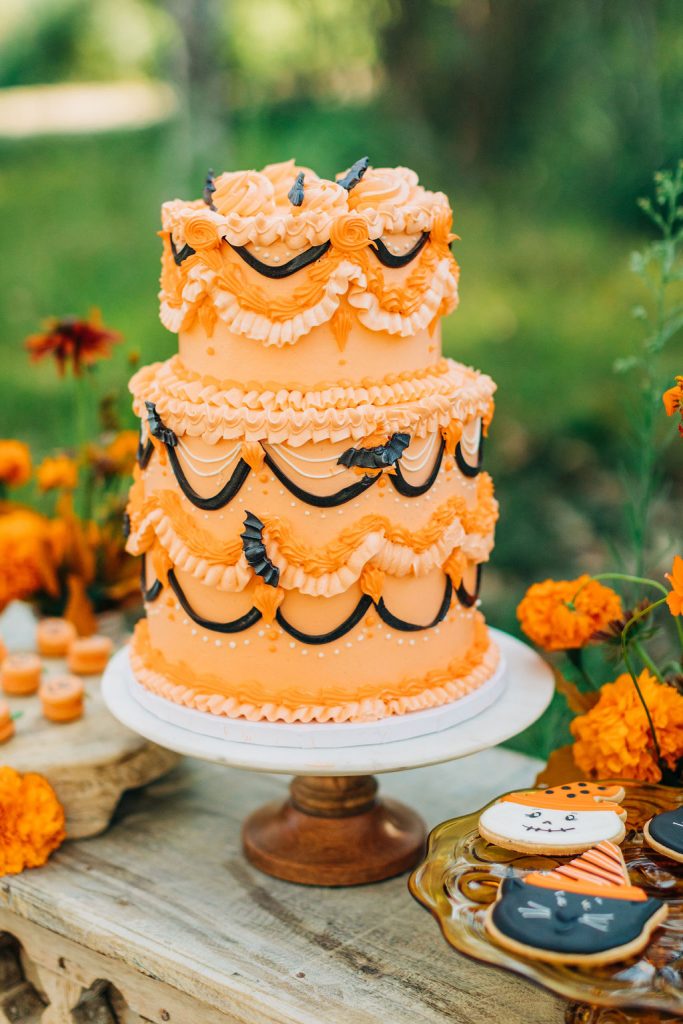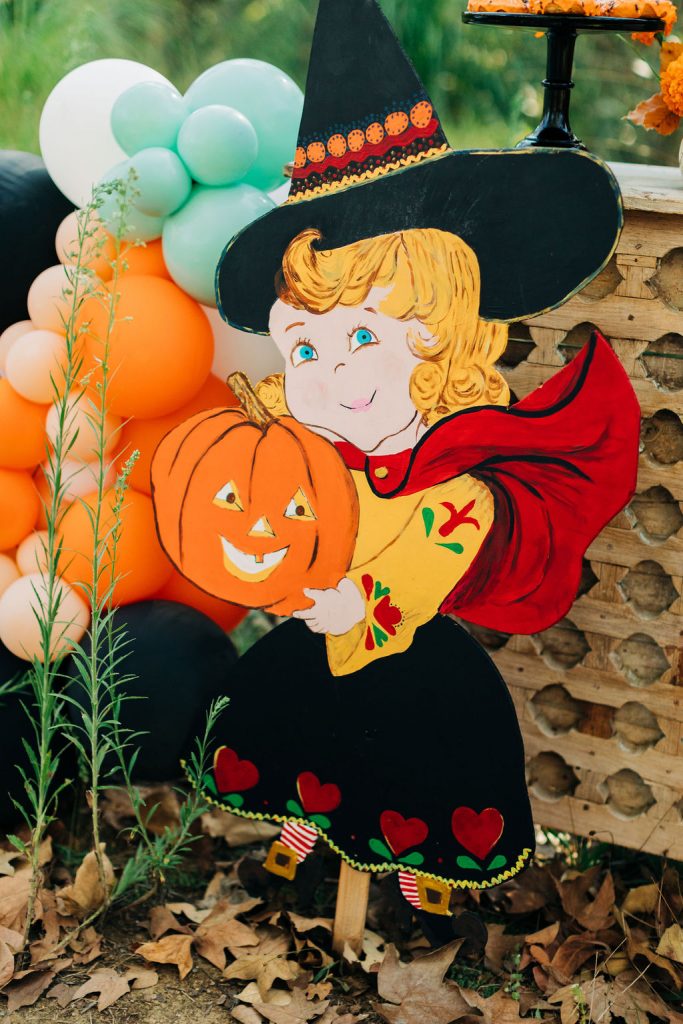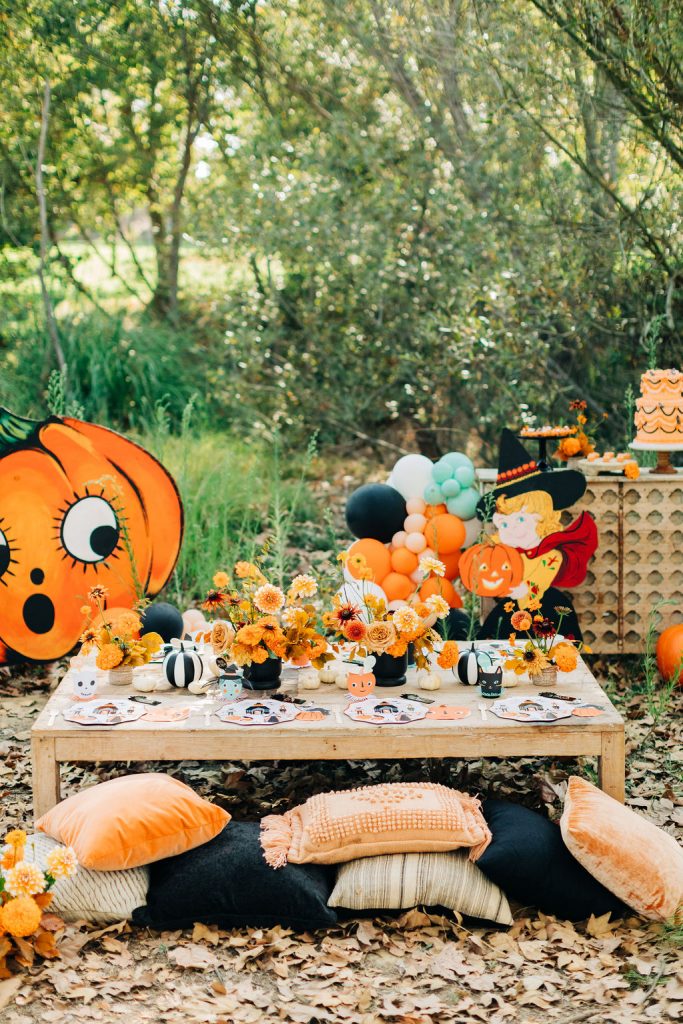 Now, it's time for the sweetest & happiest little ghoul gang!!! Love each of these little ladies and they were all absolutely precious at this shoot! The Daydream Republic gathered and styled these little babes and the outcome couldn't be cuter…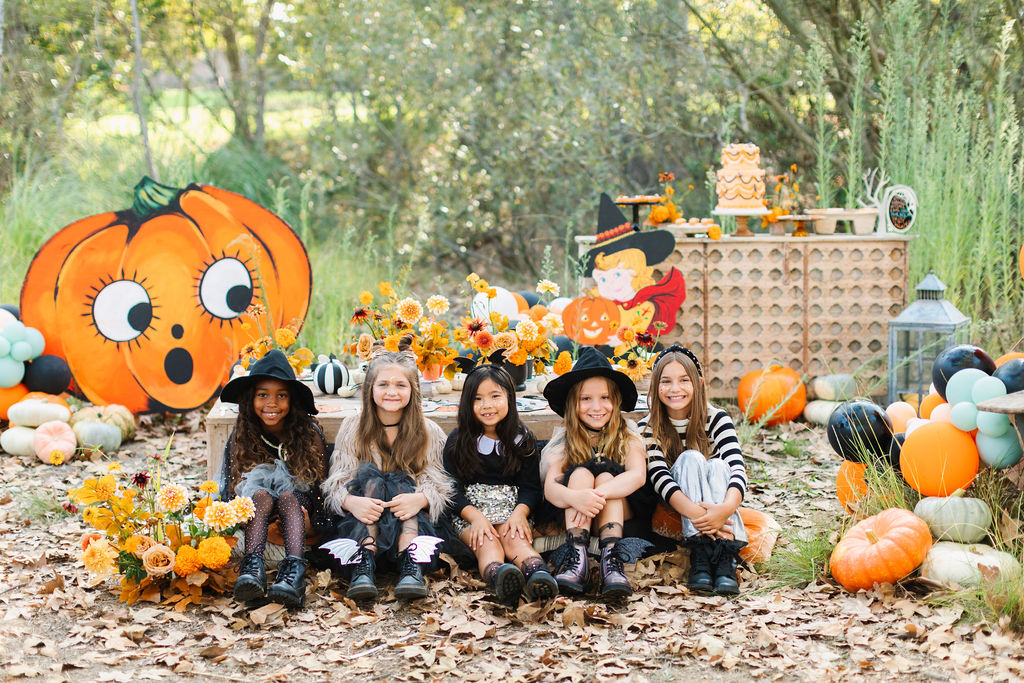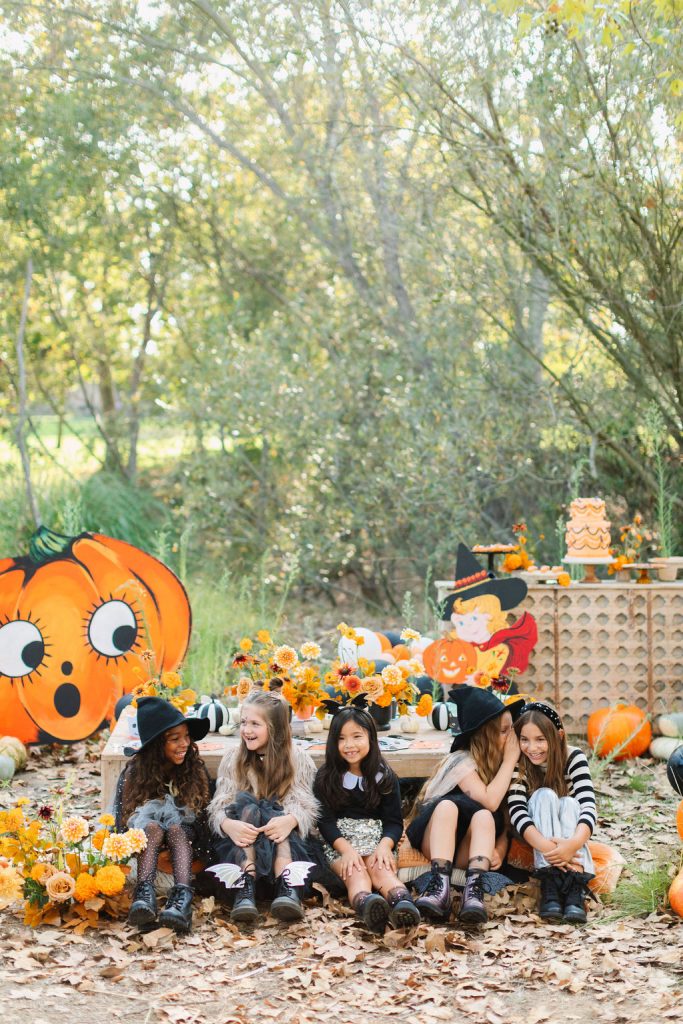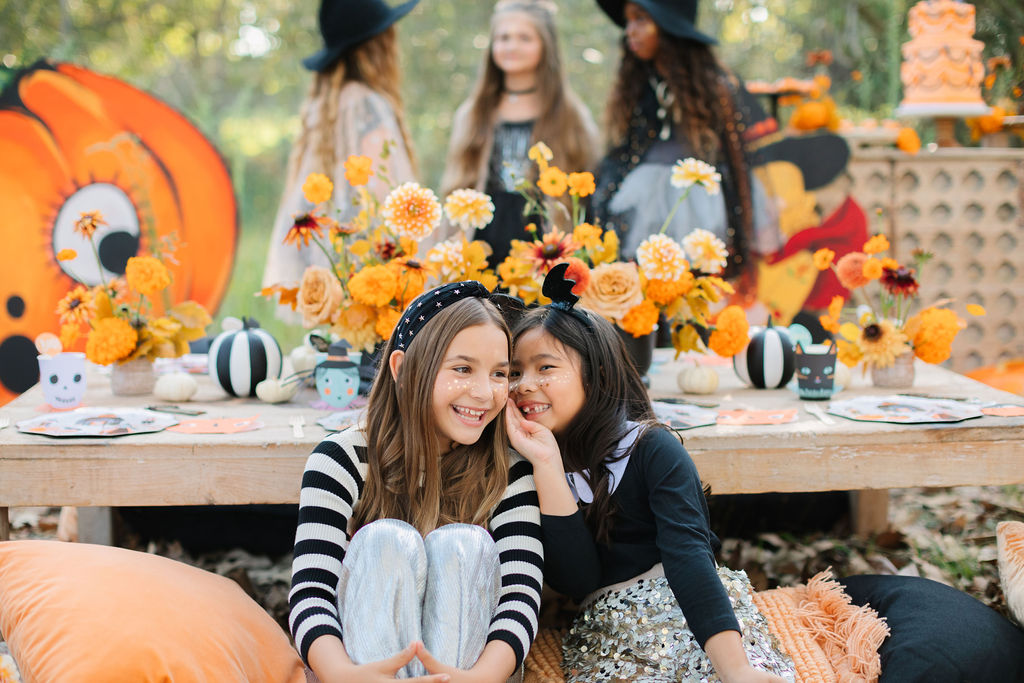 The Daydream Republic has SO many cute Halloween accessories, you better head to her site to scoop them all up quick!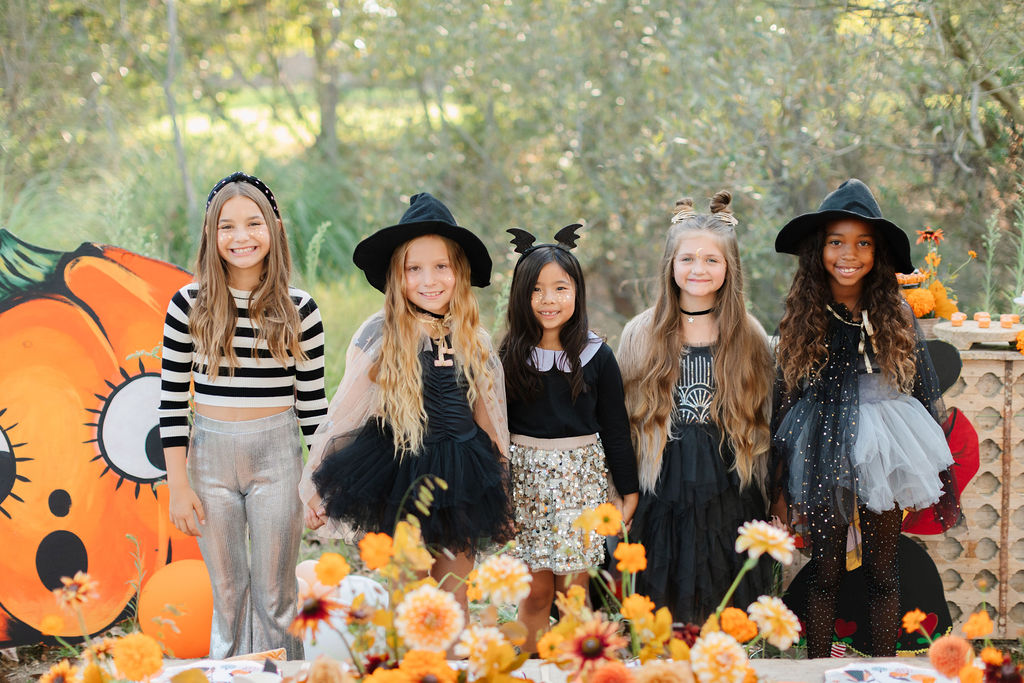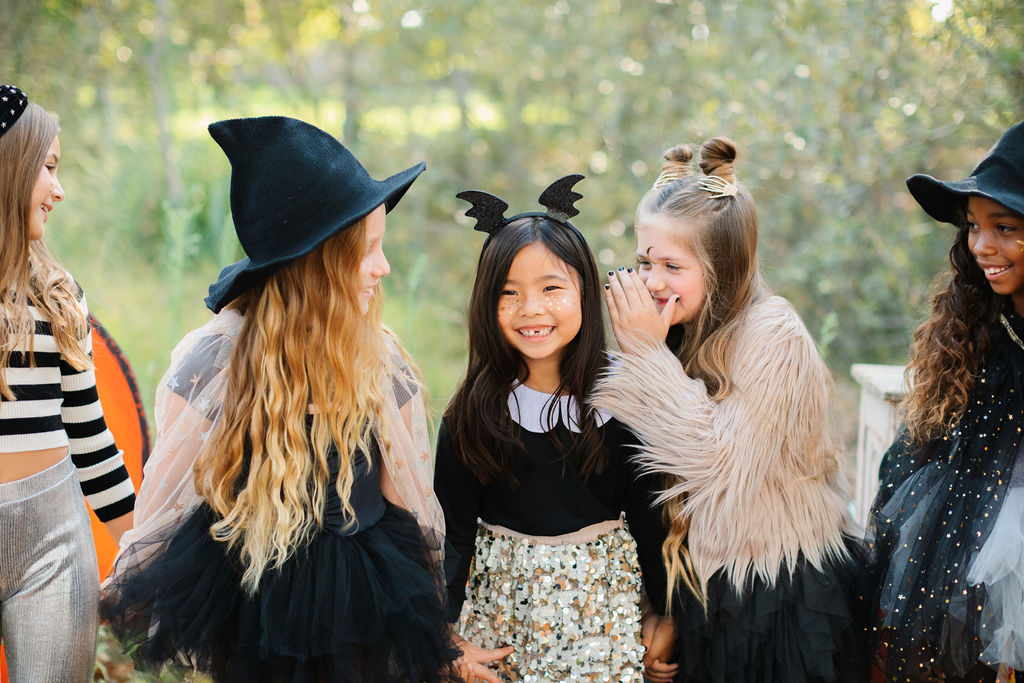 Let's take a look at these gorgeous little babes!!!
Piper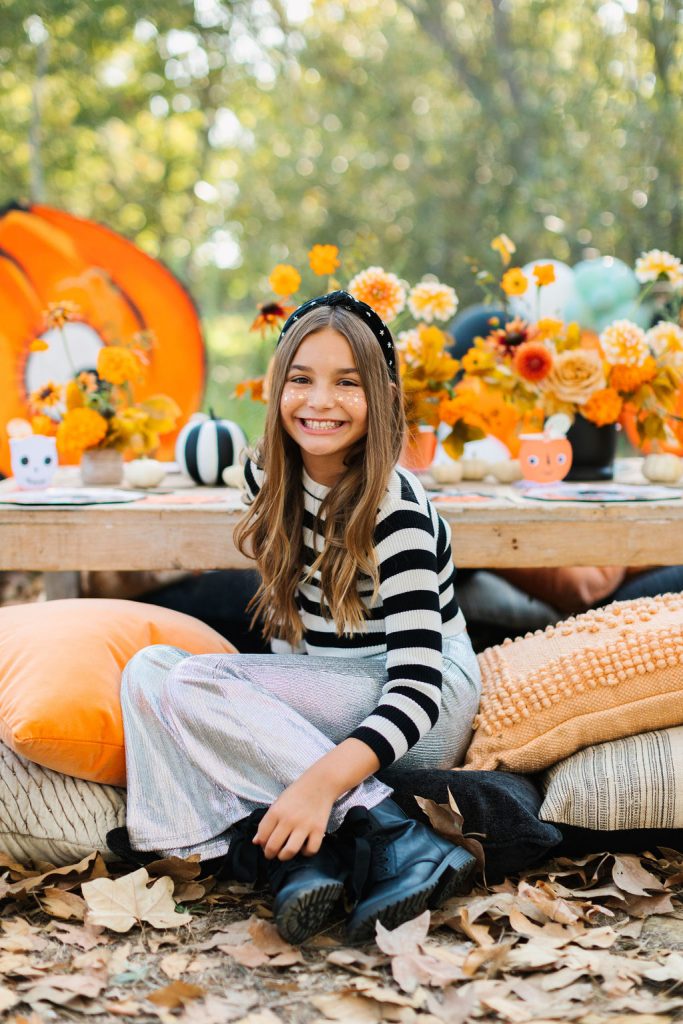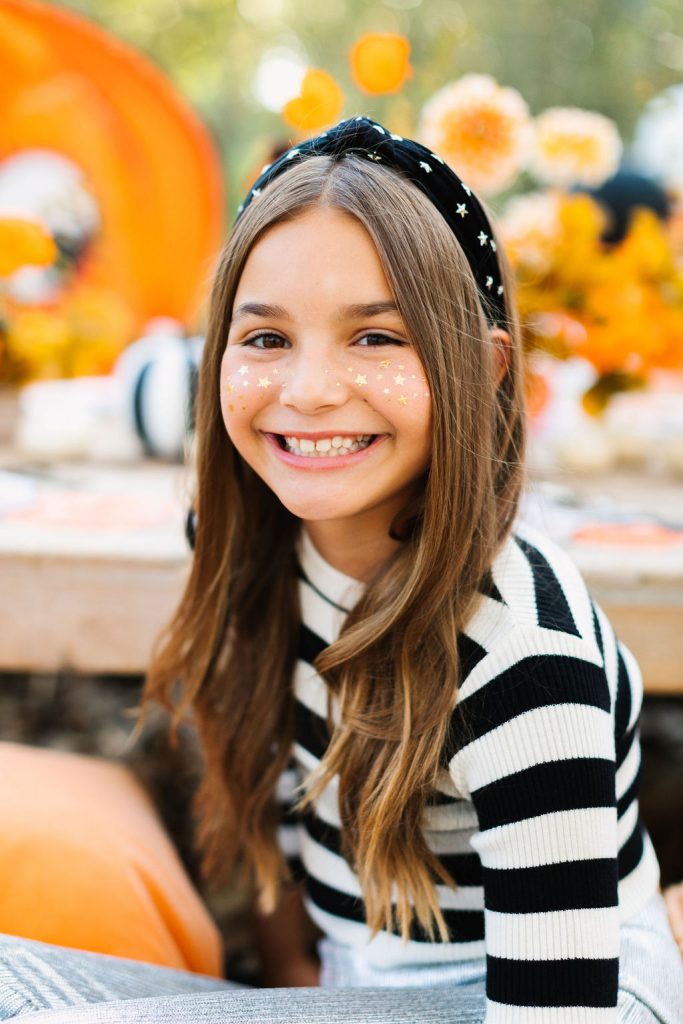 Harlow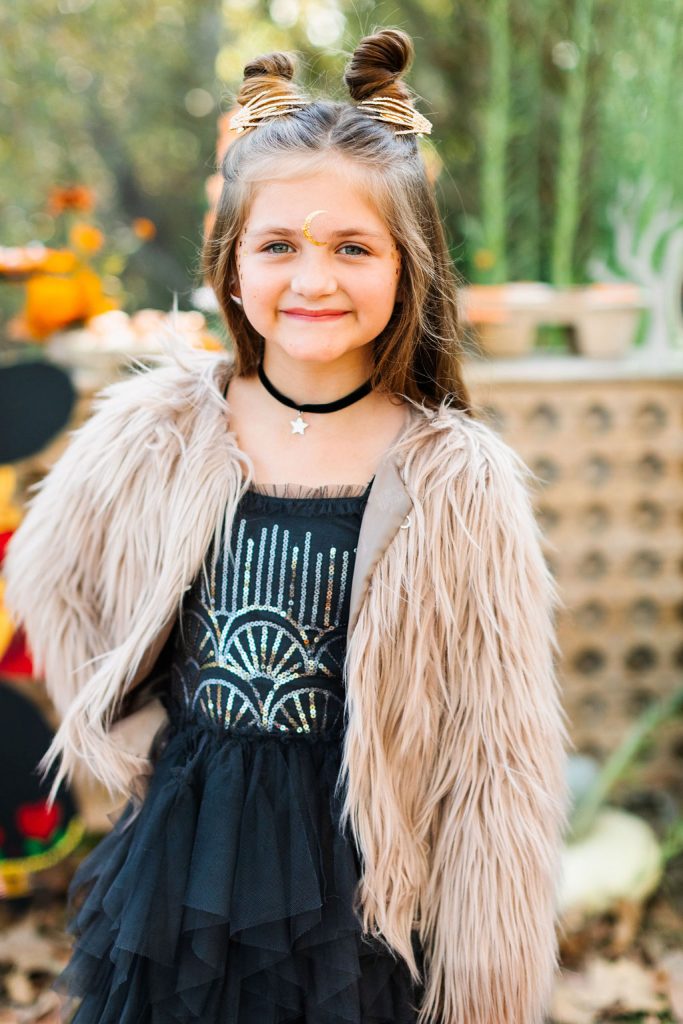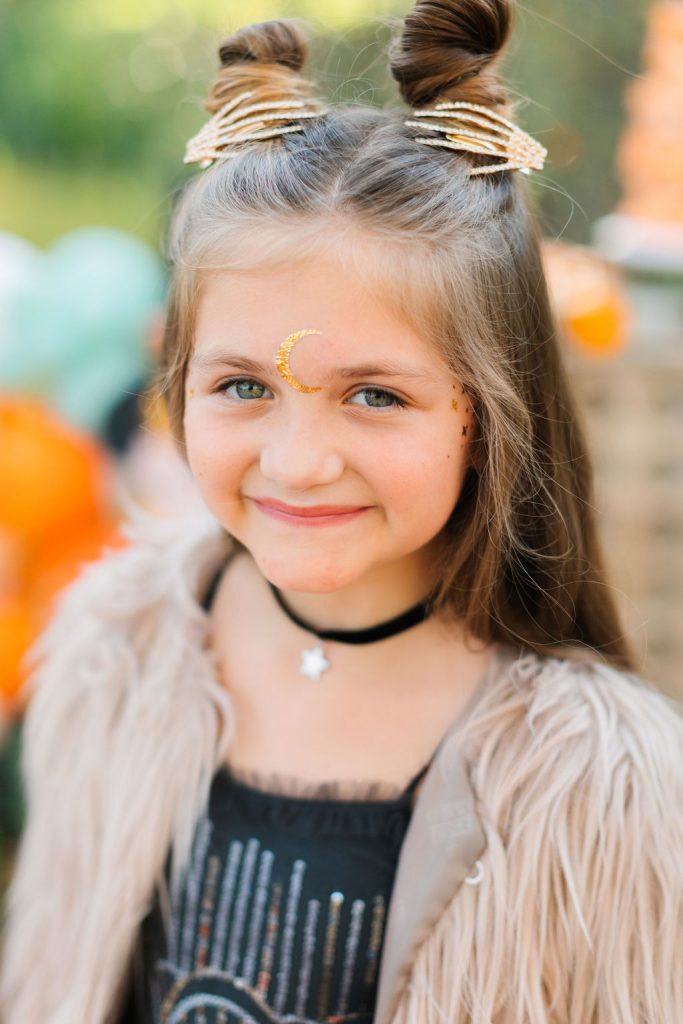 Kennedy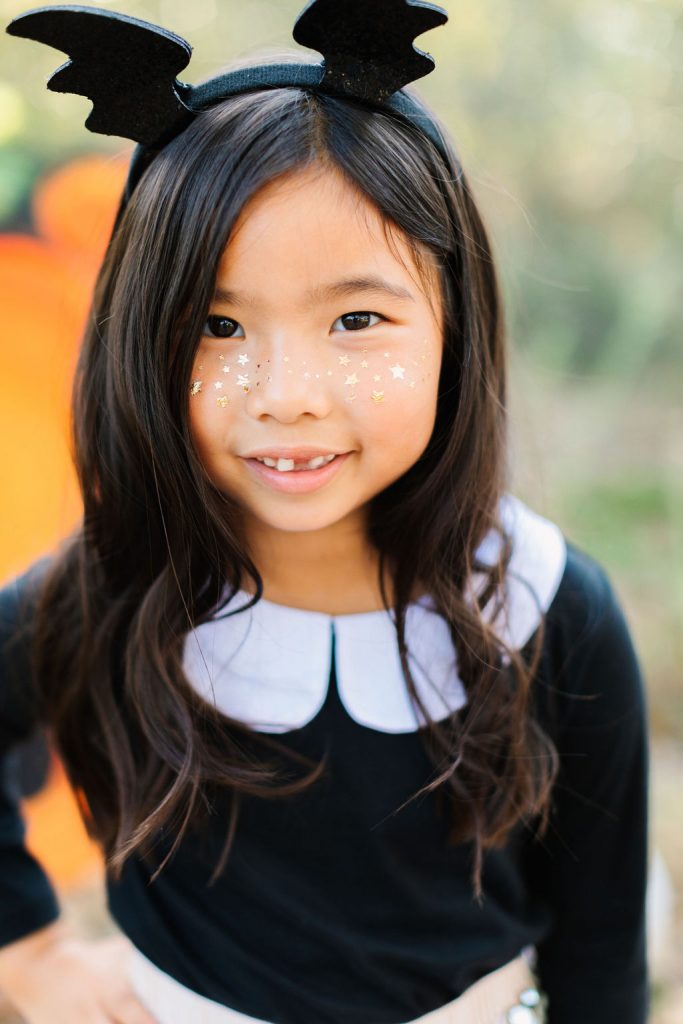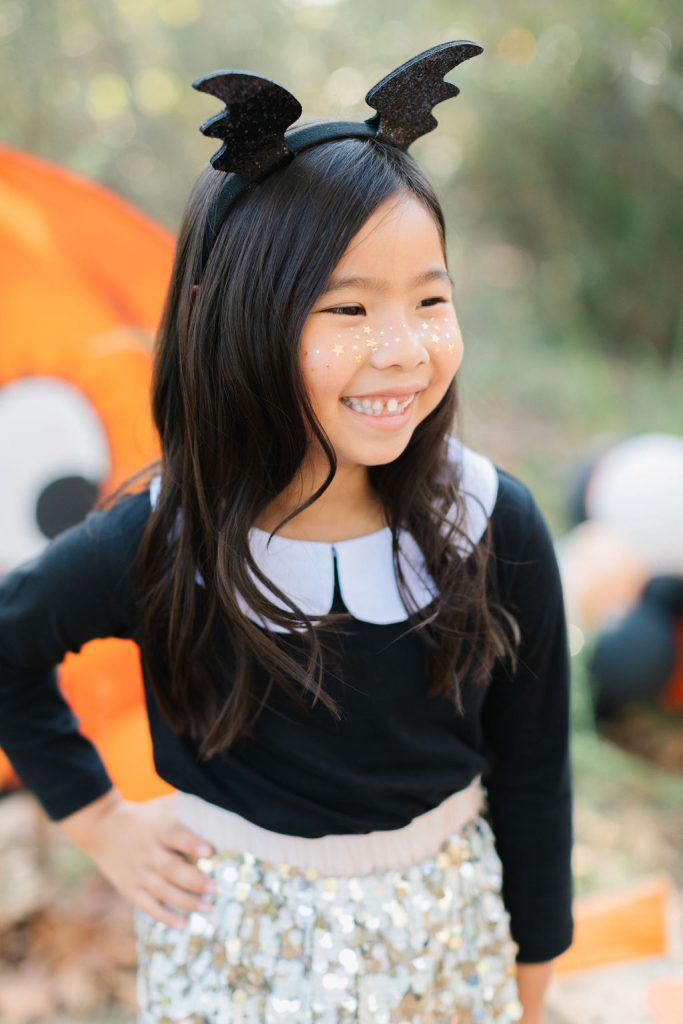 Mila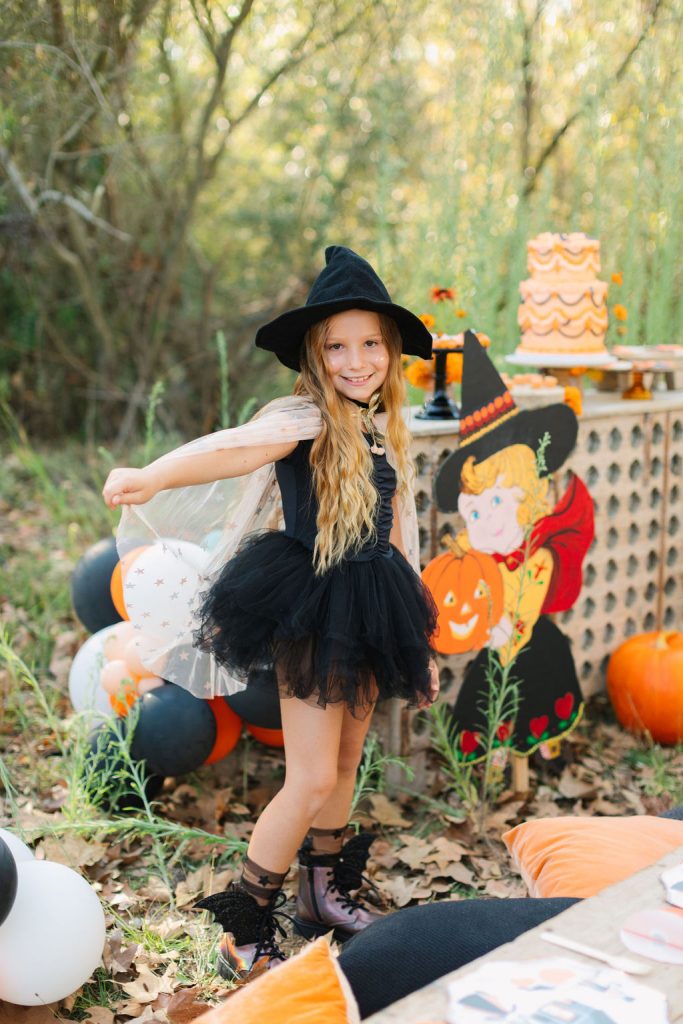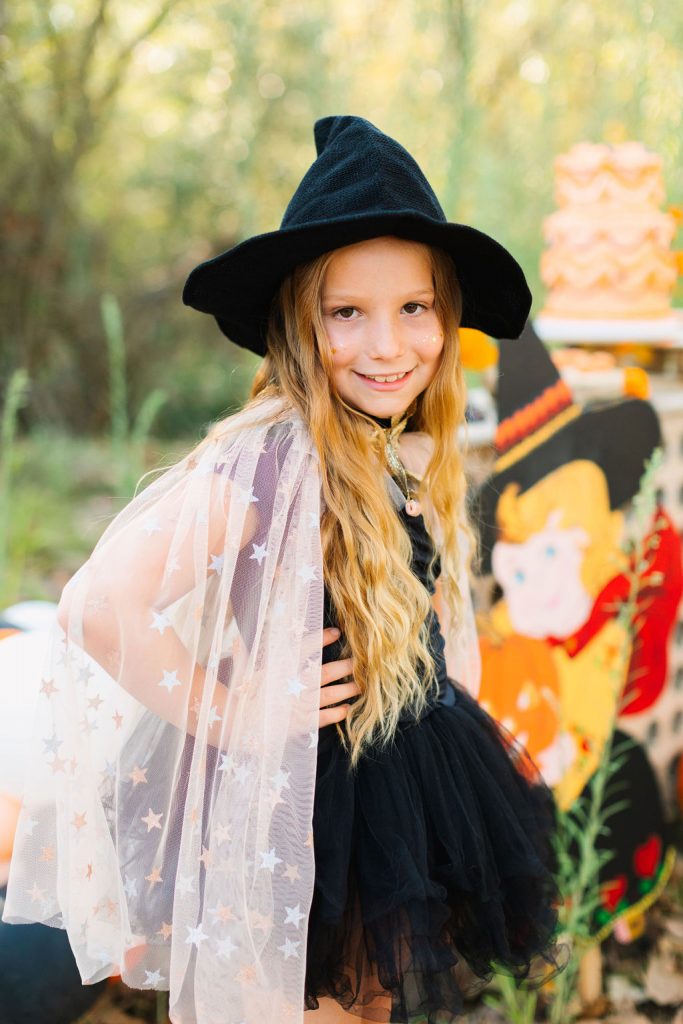 Thalia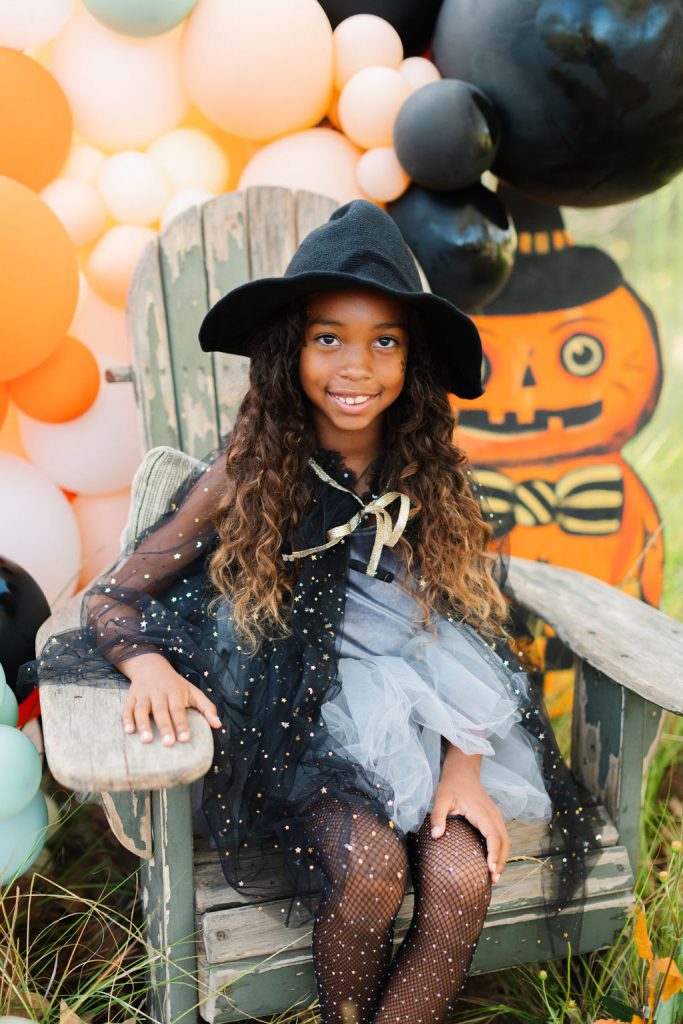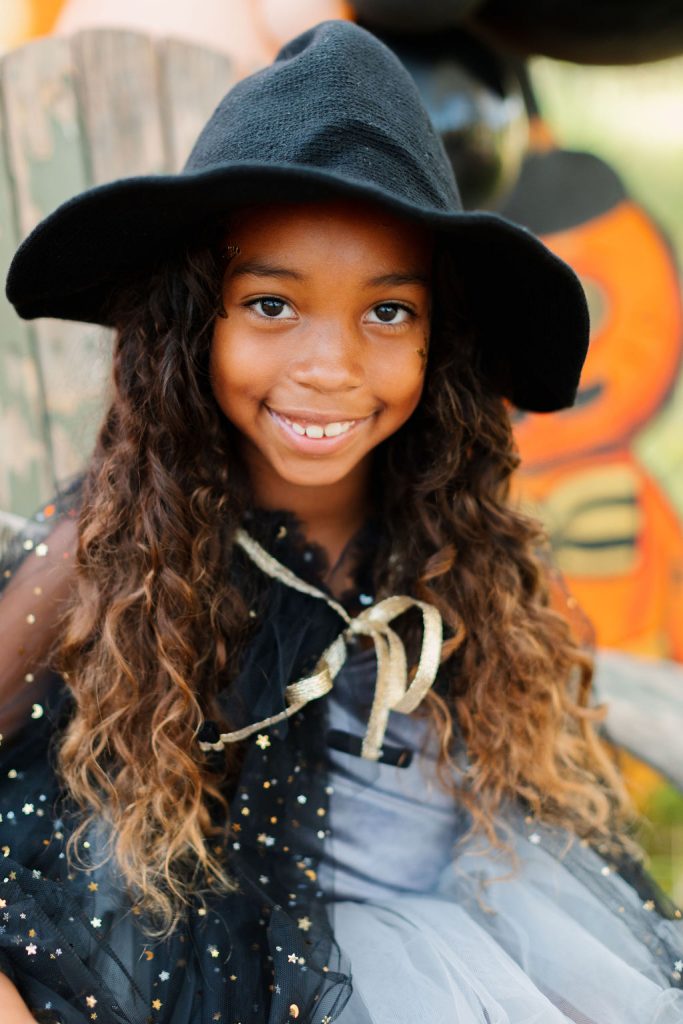 Obsessed with these shots and can't help but sing the "Come little children I'll take thee away" song from Hocus Pocus when I see it!! So perfect!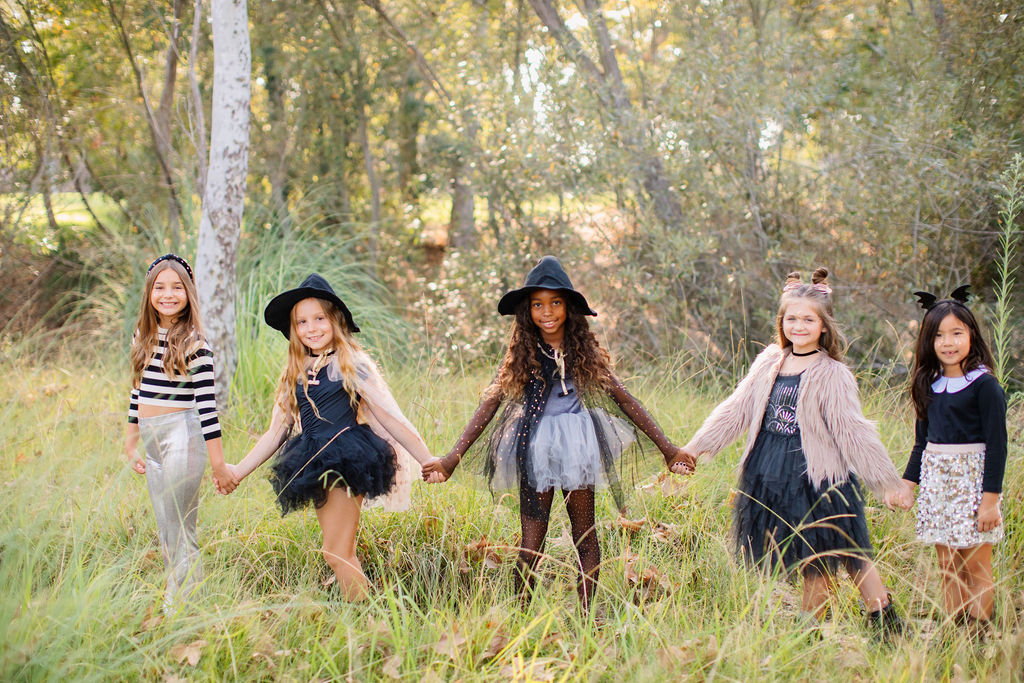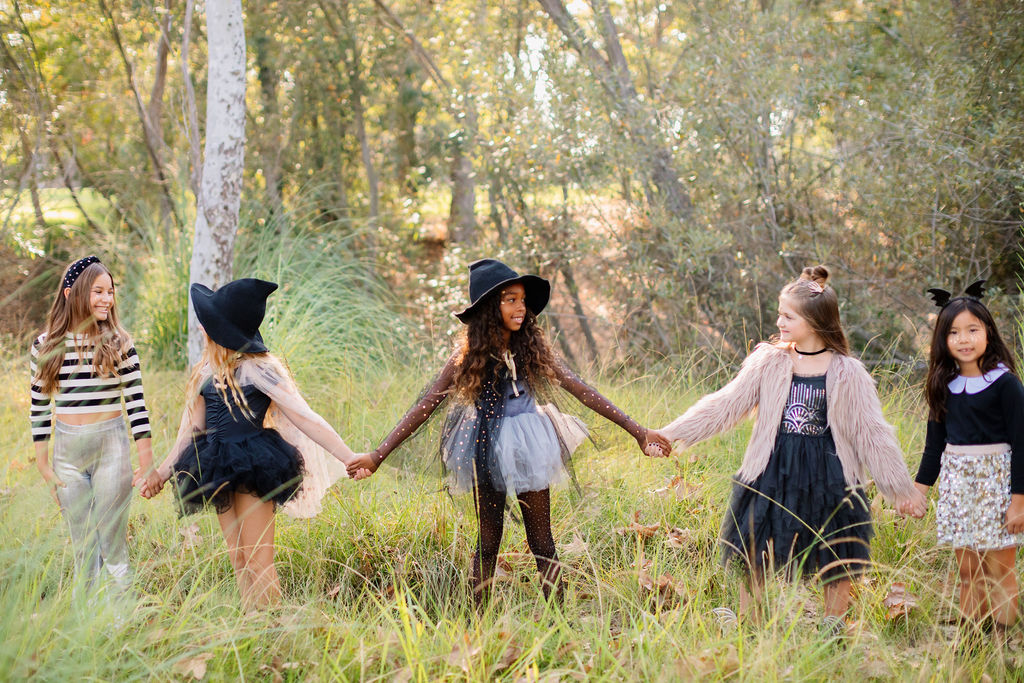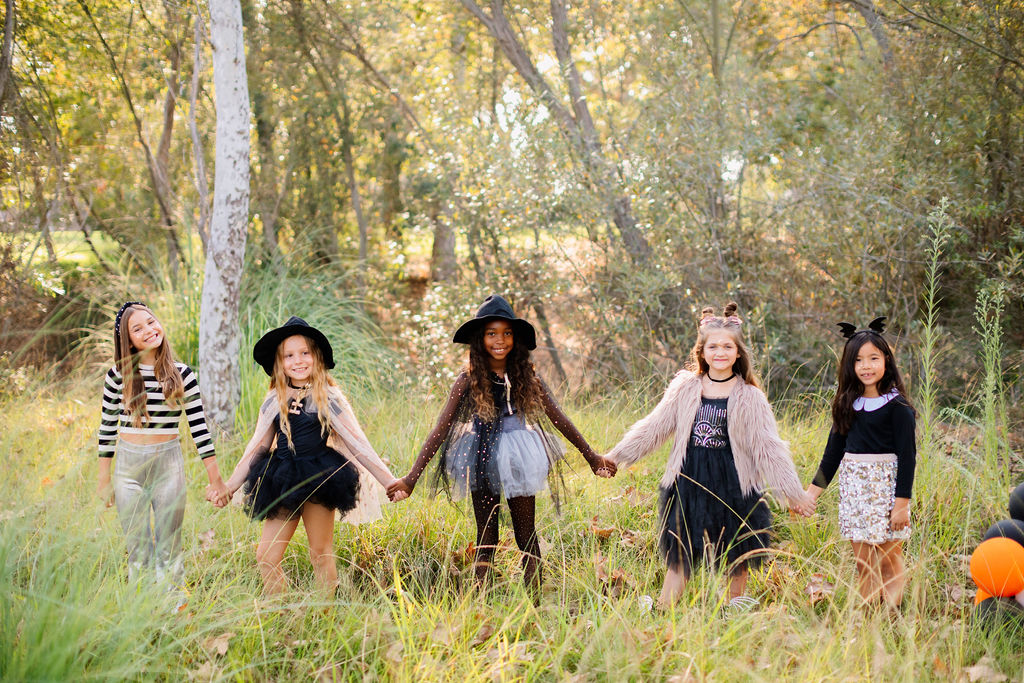 I also just adore seeing these girls become friends during these shoots! It's the sweetest…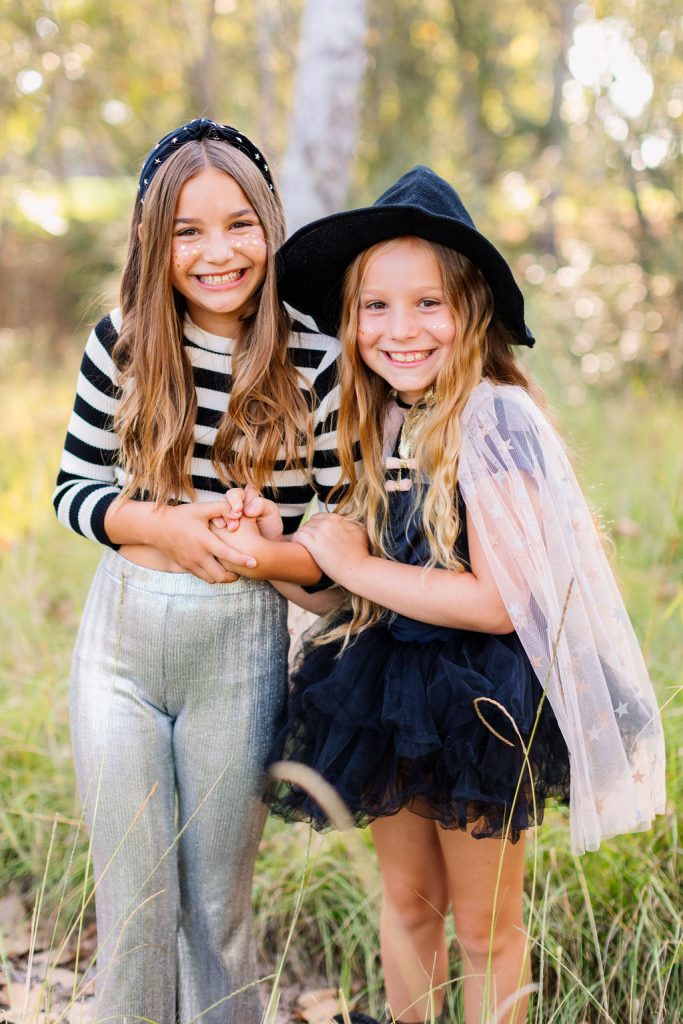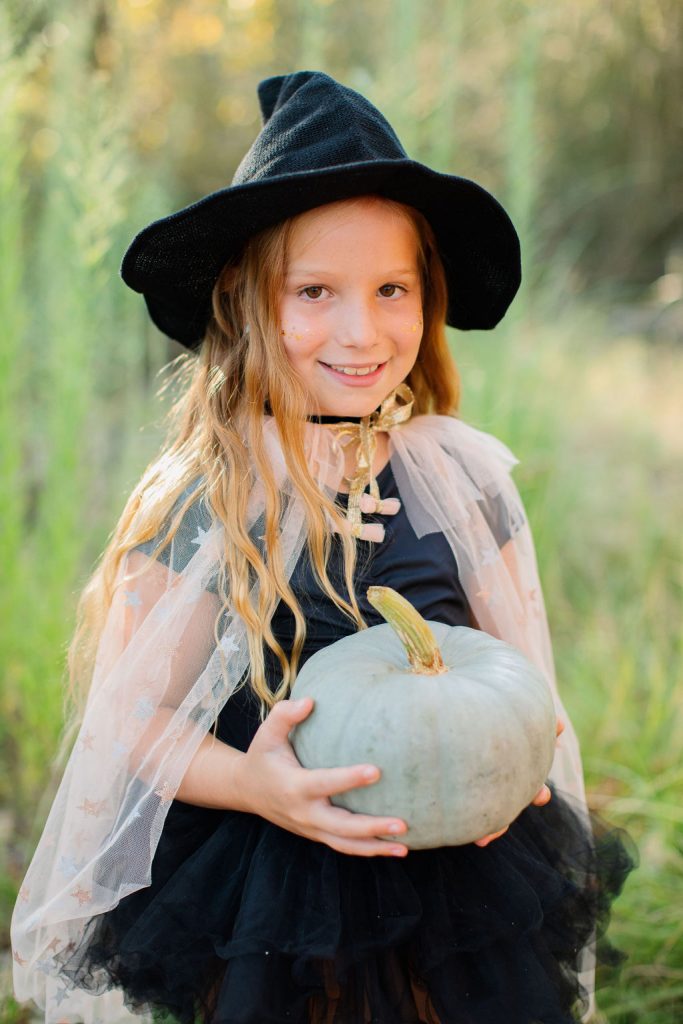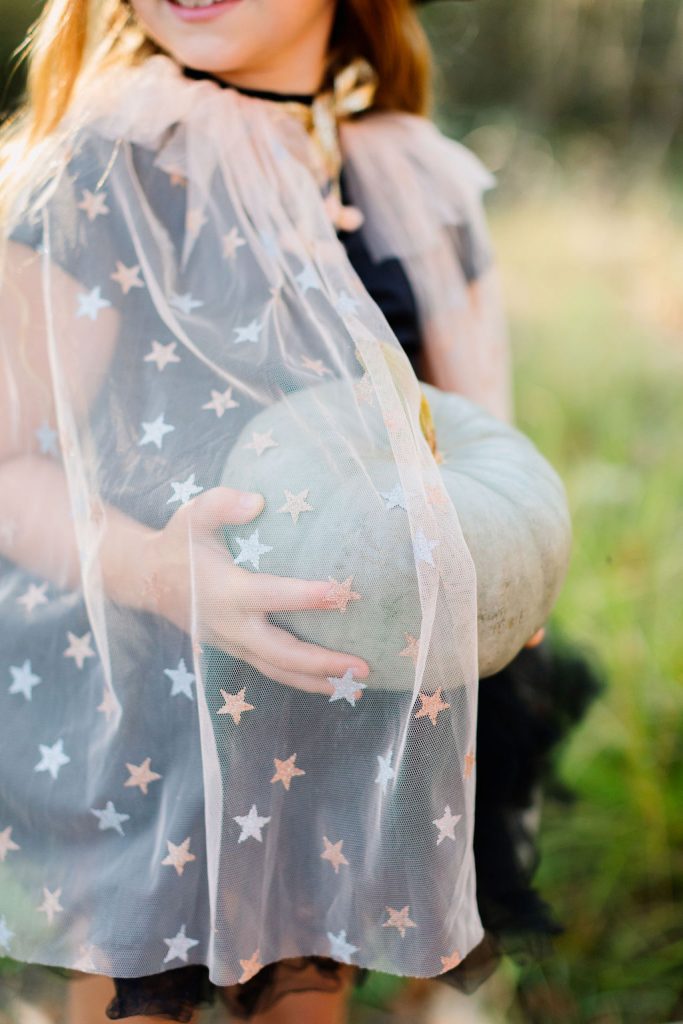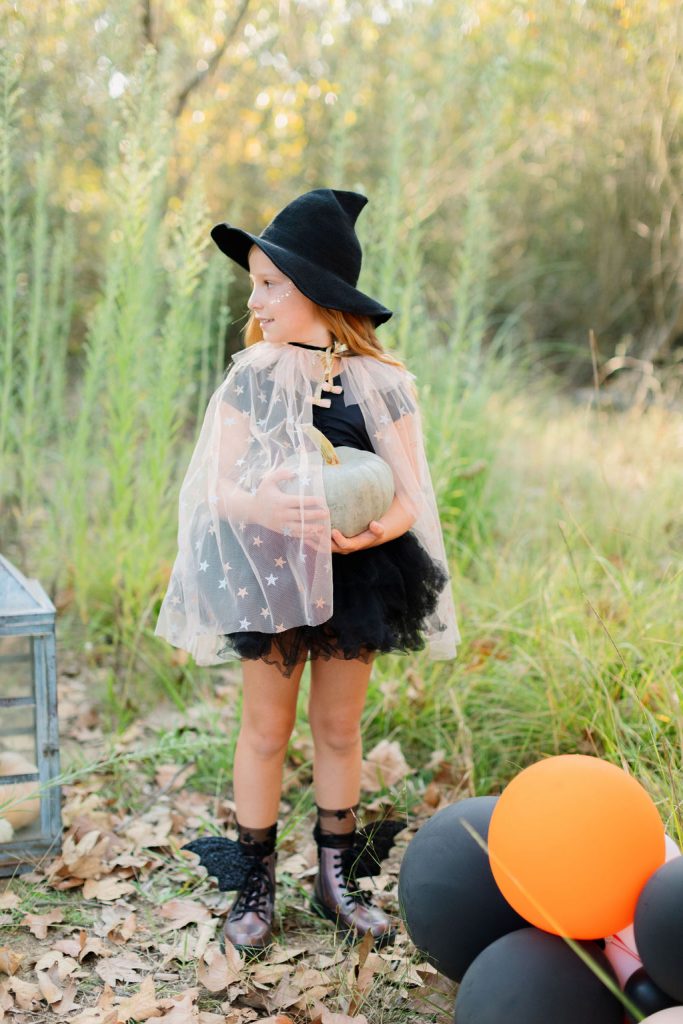 These girls were pretty enamored with the delicious and beautiful treats by Sheila Mae as well!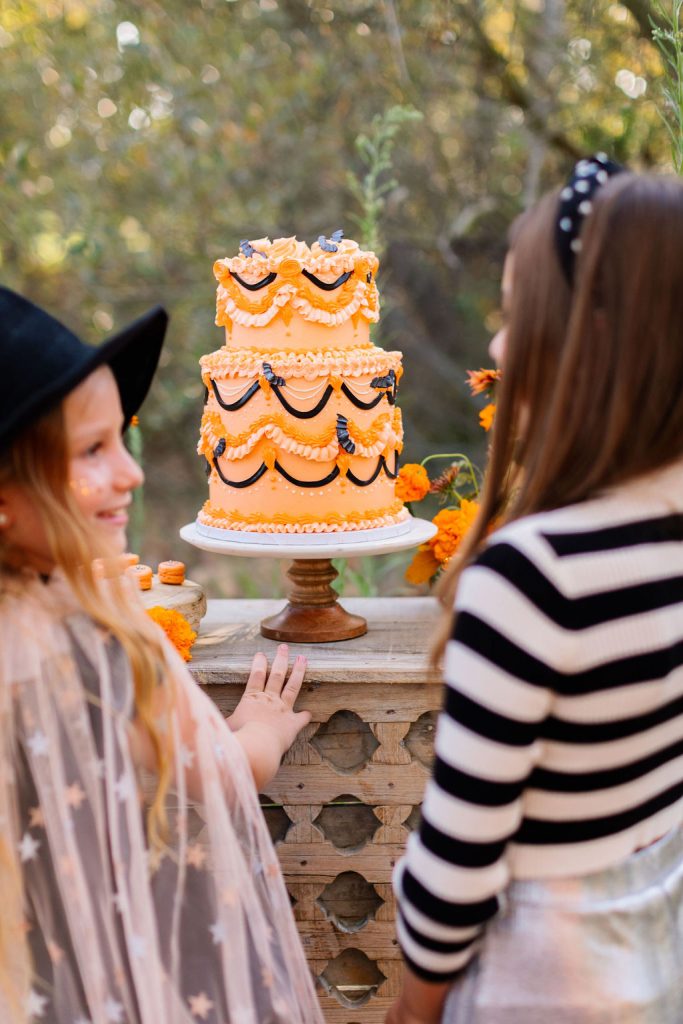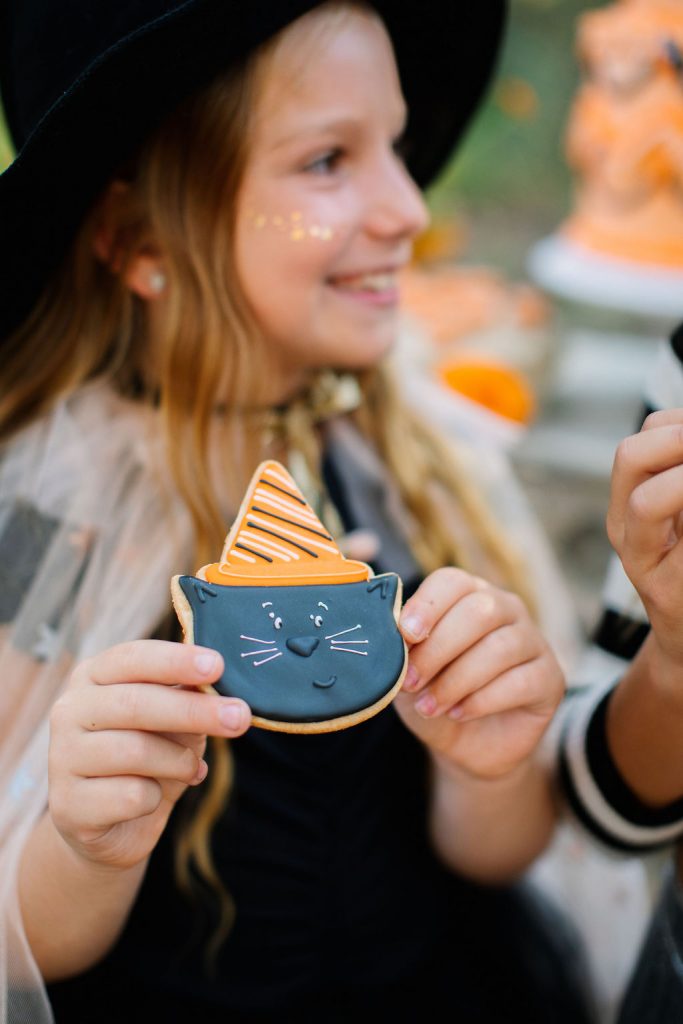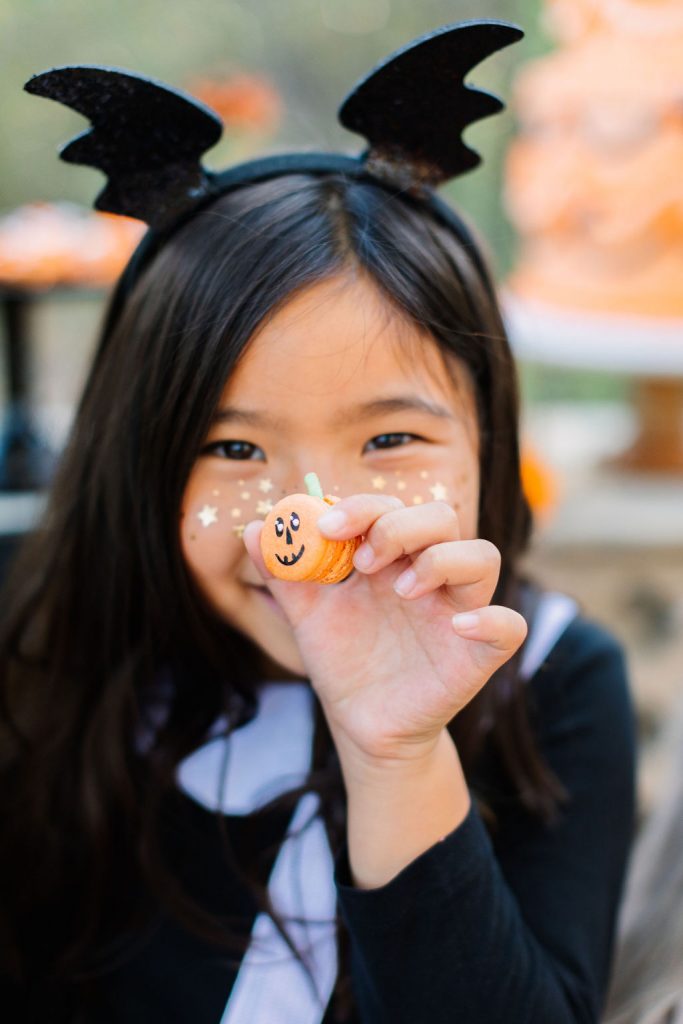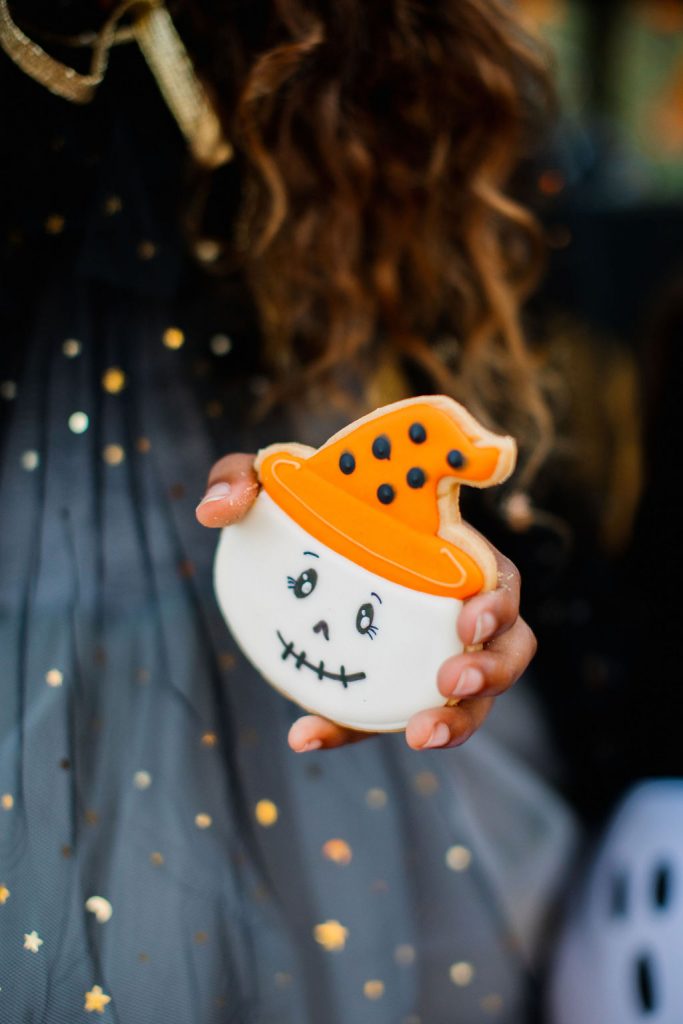 And then we had fun with an orange smoke bomb!!! It just made my heart happy to have this be part of the shoot and it looked SO cool!!!! Even this little pumpkin was impressed, haha!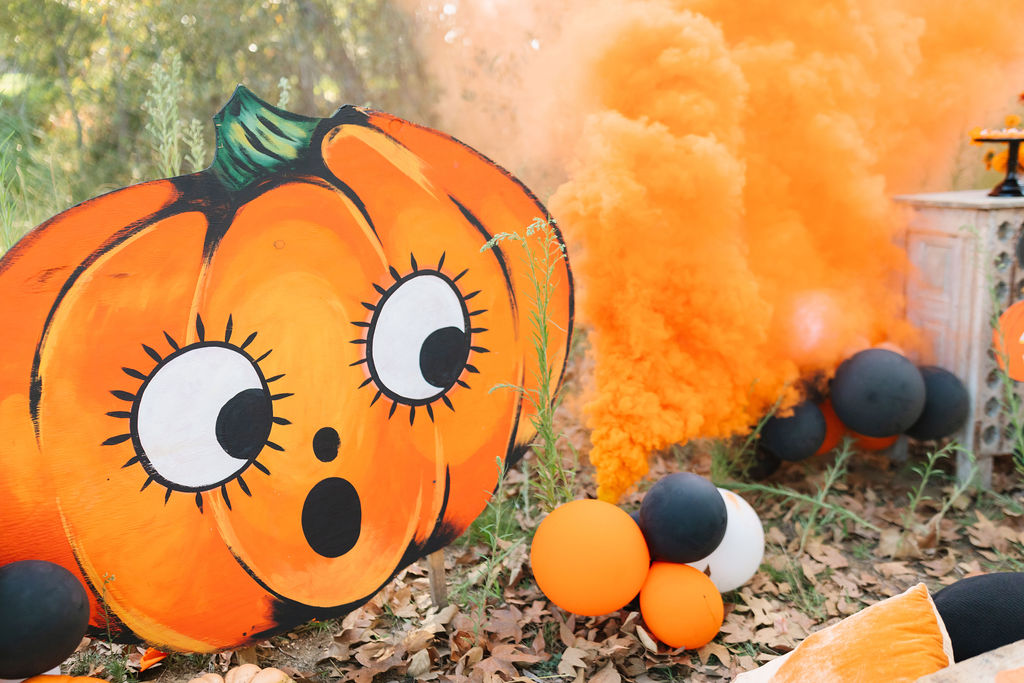 So magical!!!!!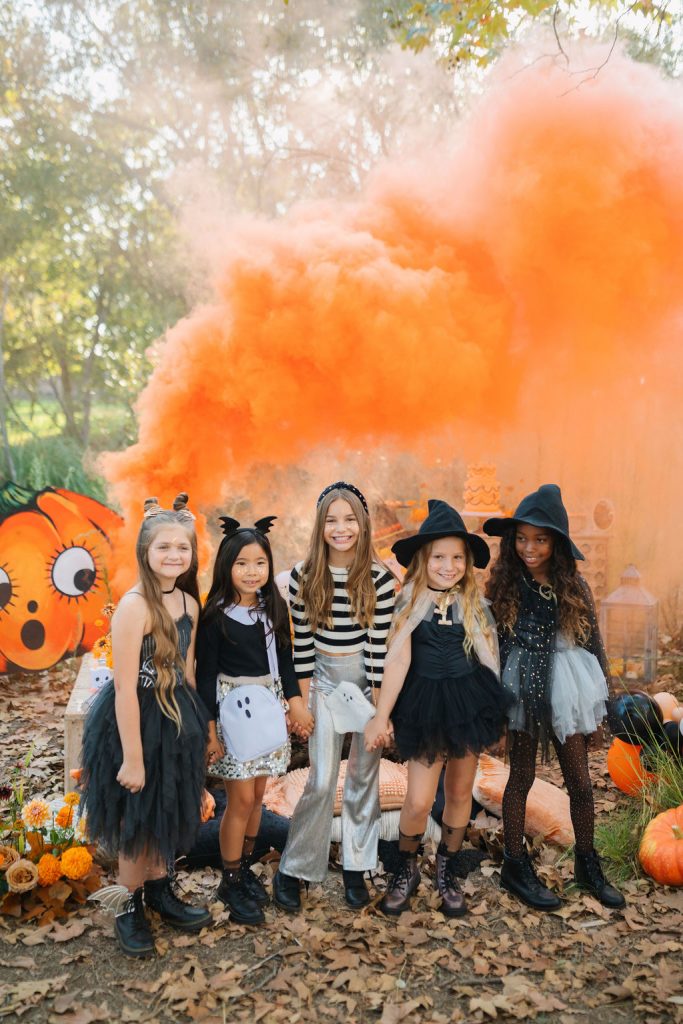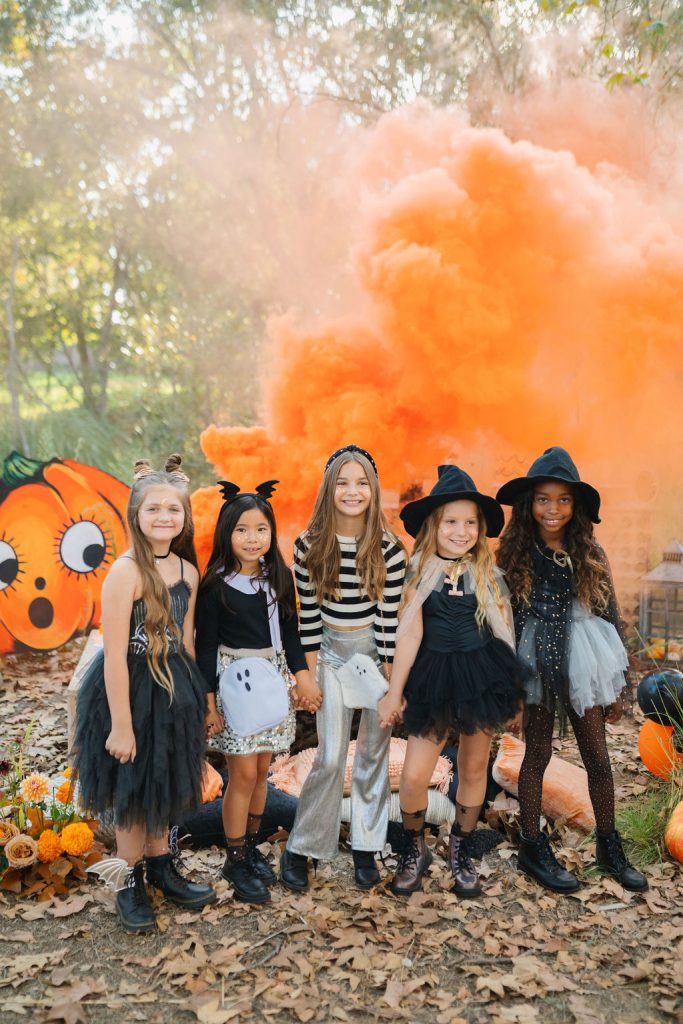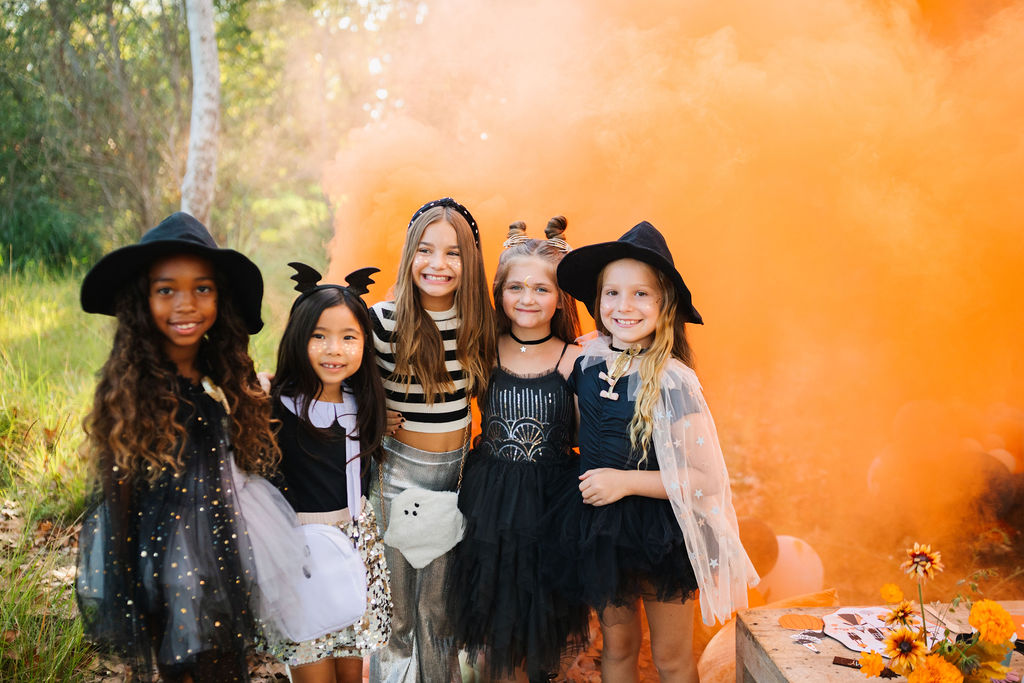 And there you have it! One of my favorite Halloween shoots ever!!!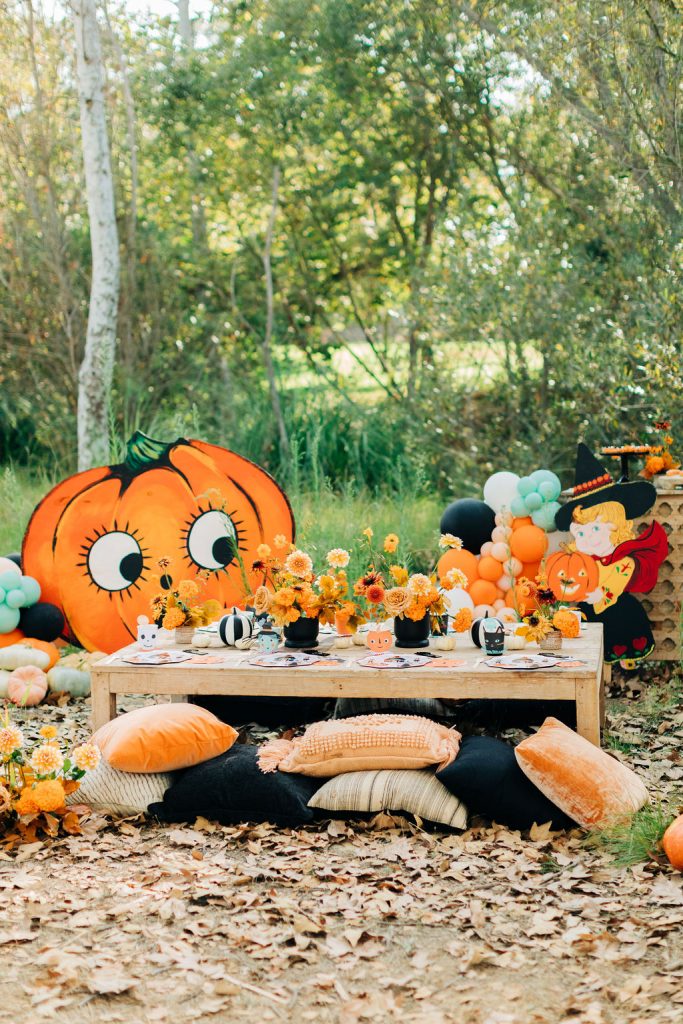 Don't worry, we have more up our sleeves…
xx
Jacquelyn