We're so thrilled to share this gorgeous 1st birthday party we were so lucky to be a part of!!  When Sara Brenner, the owner of Lulu & Georgia, asked us to help style and design her daughter Vivian's birthday party we were over the moon excited!  We are huge fans of Lulu & Georgia and all of their gorgeous inventory, so needless to say, this was a match made in heaven!  Sara had a few brilliant ideas for what theme she wanted to do and we ended up with this beautiful Italian "Viva la Vivi" theme and we are so happy with how it turned out!  It's also featured today on My Domaine and Style Me Pretty Living… Scroll down for all of the photos by Ala Cortez and our Q&A with My Domaine!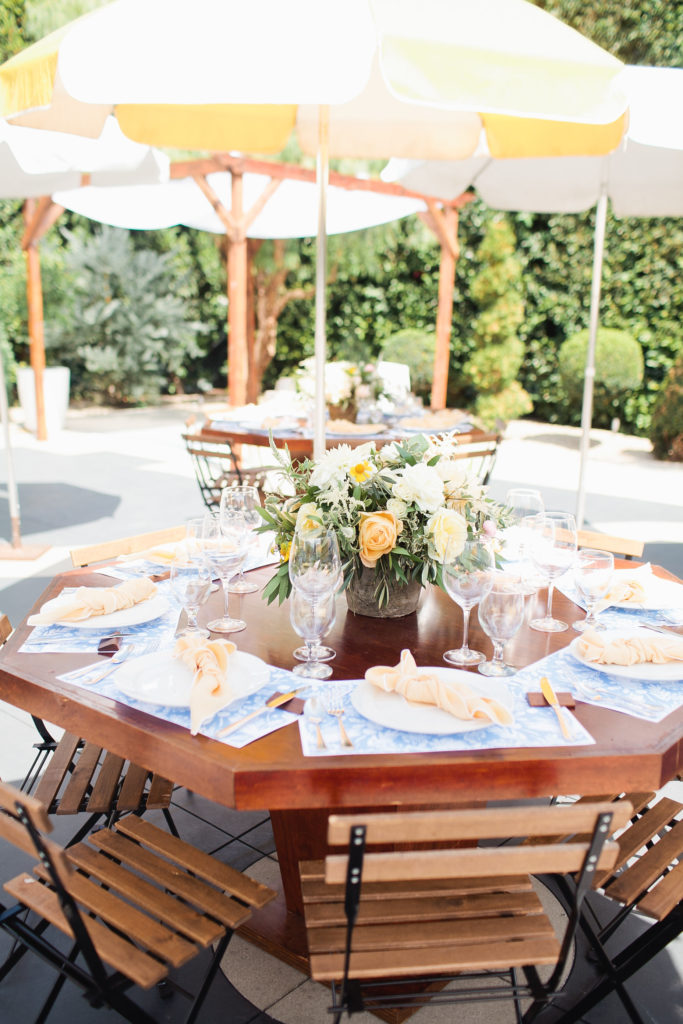 How would you describe the theme of the event?  Which colors/patterns did you choose to convey the theme?
Sara had a gorgeous vision for her Vivian Mae's 1st birthday party of the Italian countryside/riviera that we absolutely loved and just went with!  The colors we used were pretty hues of blue, white and yellow from images of the ocean and beach with the amazing yellow and white umbrellas strewn along the sand.  We used greenery that reminded us of walking through a Tuscan villa with some blush blooms, just to add that girly touch for a lovely lady's first birthday!  We really loved that it wasn't your typical 1st birthday party, much more chic!  What tied it all together was the prettiest blue and white floral print that we used throughout the party on the invite and with pretty placemats at each guest's place setting.