Let's be honest, 2020 did NOT go as planned! What the flock?! This year was a flocking mess… Yes, there were definitely some silver linings but most of the year had me saying What. The. FLOCK?! But in a less PG way.
If you haven't realized, I love a good theme. And if you are like me and Cody Rigsby was a highlight of your 2020, you know I'm gonna keep it fun and flirty in his honor! When I thought of a What the Flock shoot I couldn't help but think this was the perfect year to do it. So I took a funny saying and made it really pretty with a few of my friends. I'm so excited to share it with you all today! What the FLOCK!!
Photos by the talented Jessica Pirro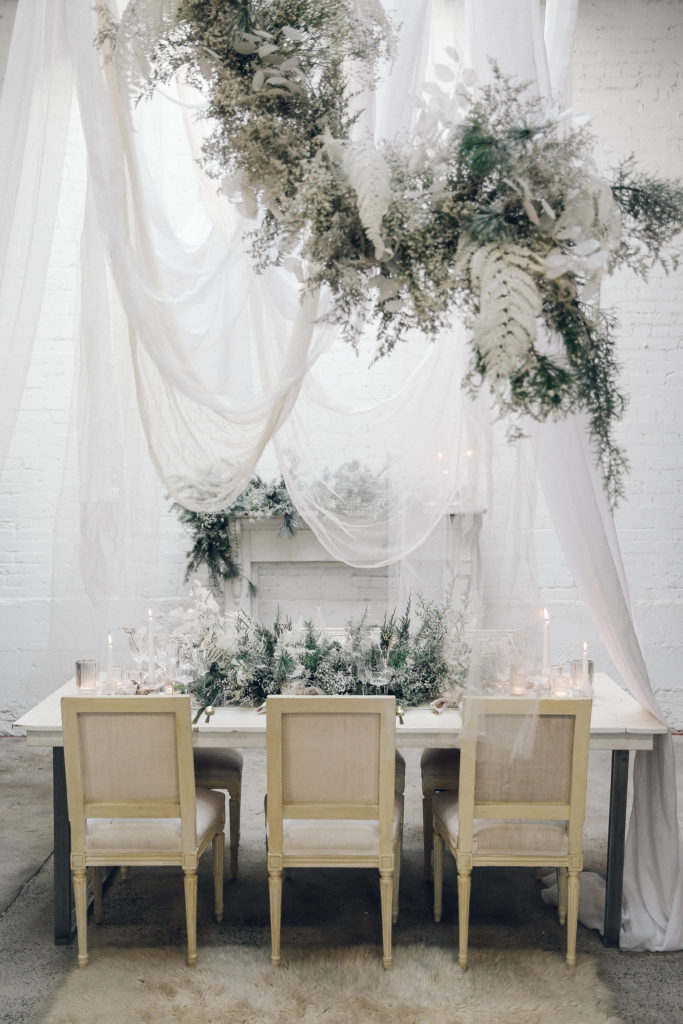 Let's start with the prettiest flat lay!! Lately, I've been giving the photographers the liberty of styling our flat lays, and I gotta say, they are way better than me!
For example, Jessica styled this one to perfection!! It's not too hard with the team of Creative Amme and Pirouette Paper, who always go above and beyond with the prettiest details. Doesn't it all look so beautiful on a Chasing Stone mat with some flocked pieces and fake snow, the perfect winter WTF moment!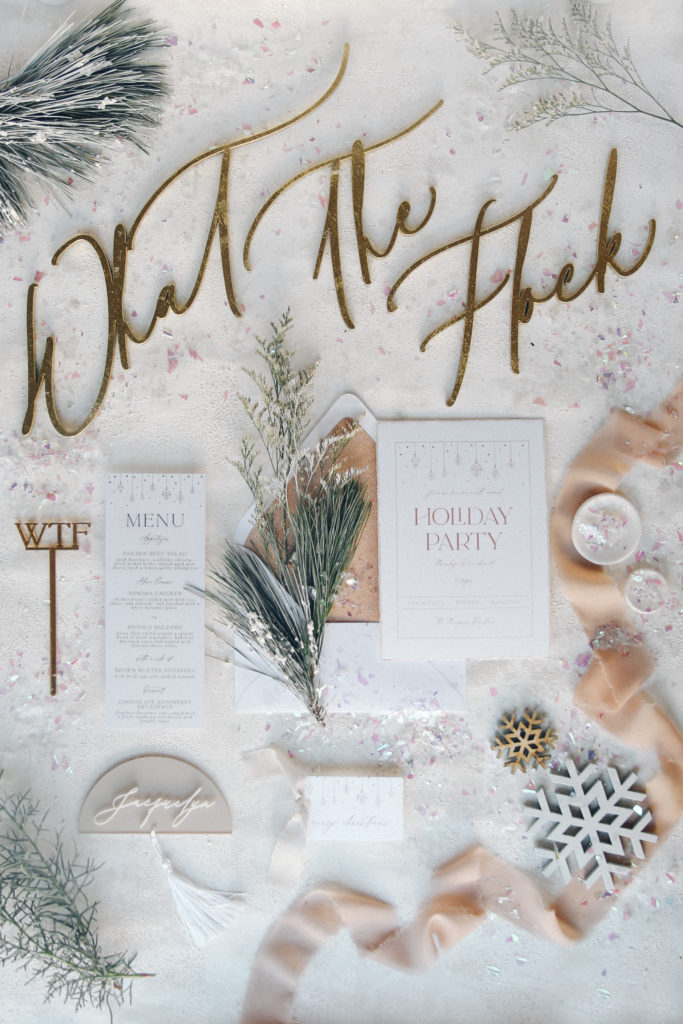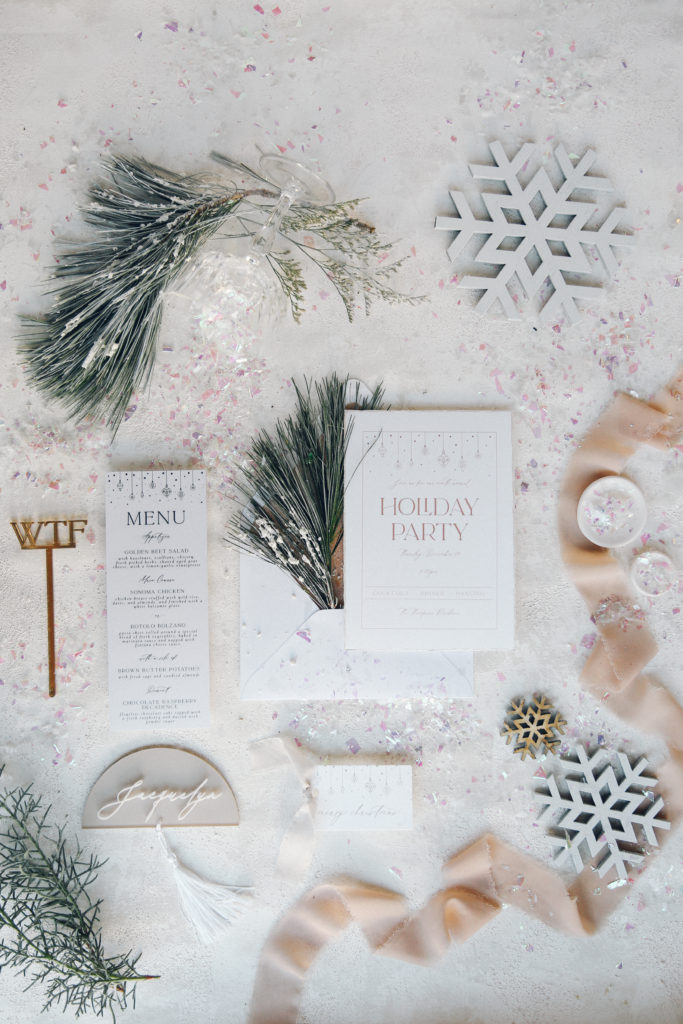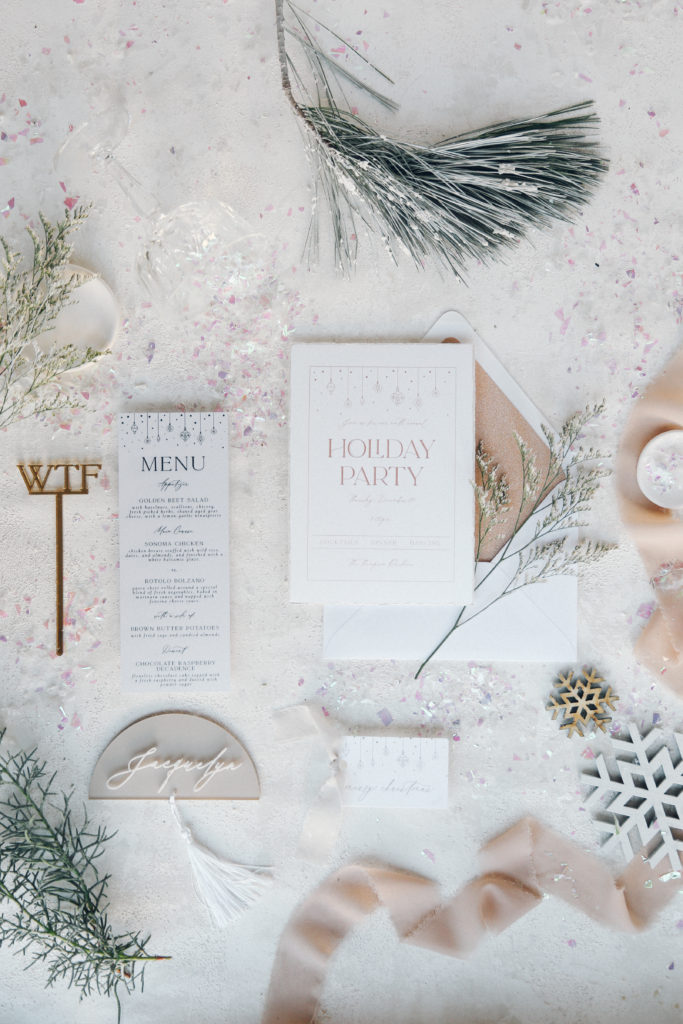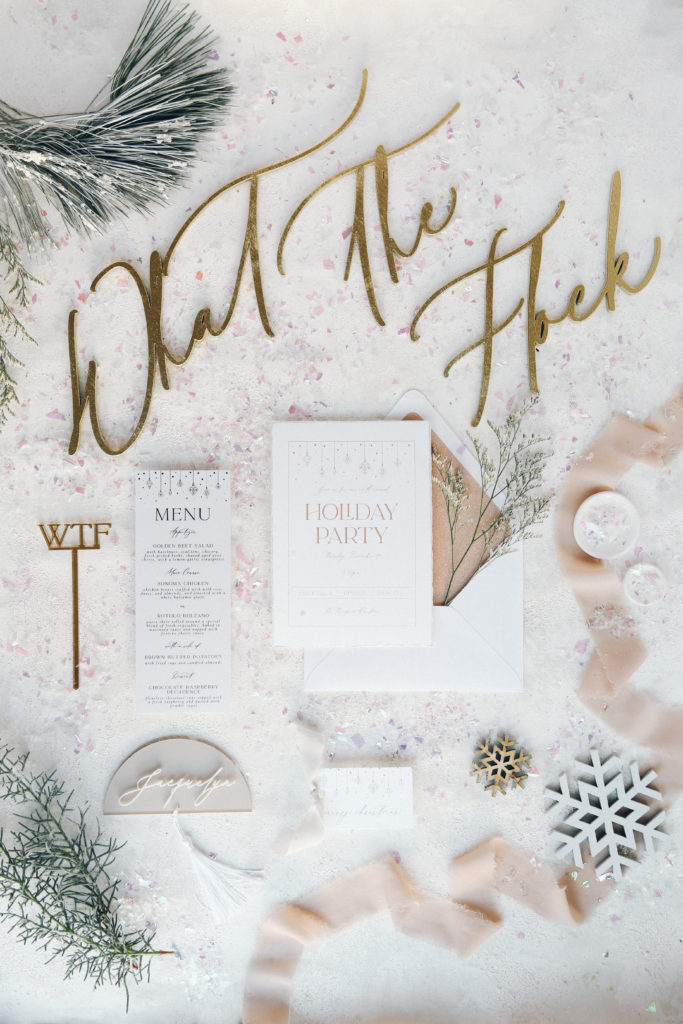 Moving on to our stunning table! Third & Park brought all the pretty flocked goodies with this beautiful garland. Alex also brought all the pretty tabletop! Did you know she has rentals for events as well? She has a gorgeous china, flatware, and glassware set. The pretty napkins are from Hostess Haven.
We got to play with our favorite Sweet Salvage Rentals on this one. Walking into her amazing warehouse and handpicking what we want to use for each event or photoshoot is such a gift! Her collection is vast and gorgeous!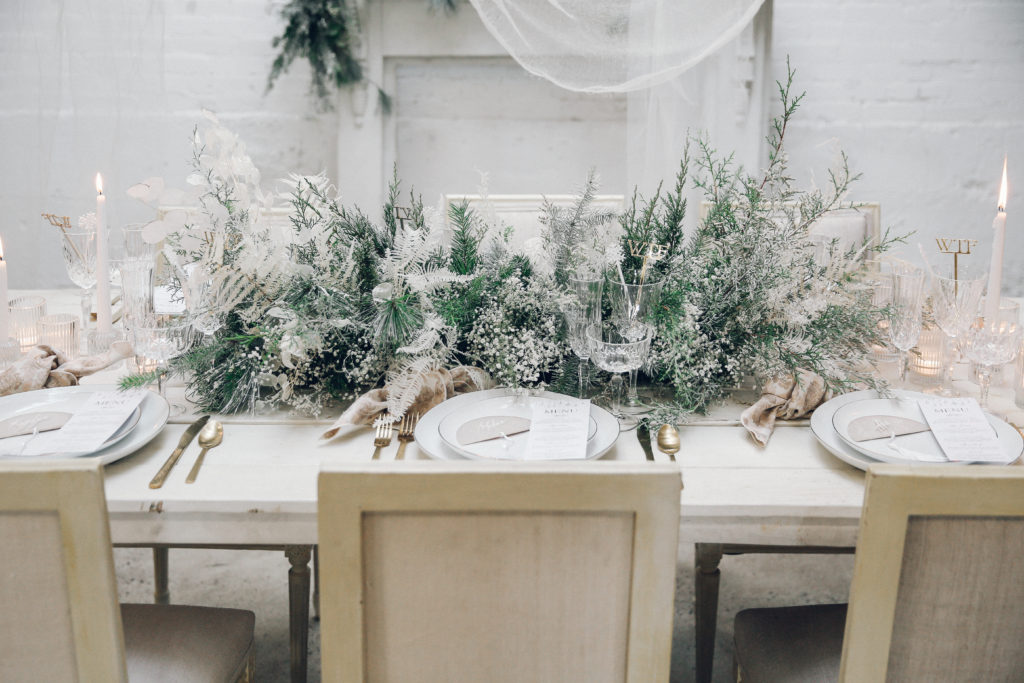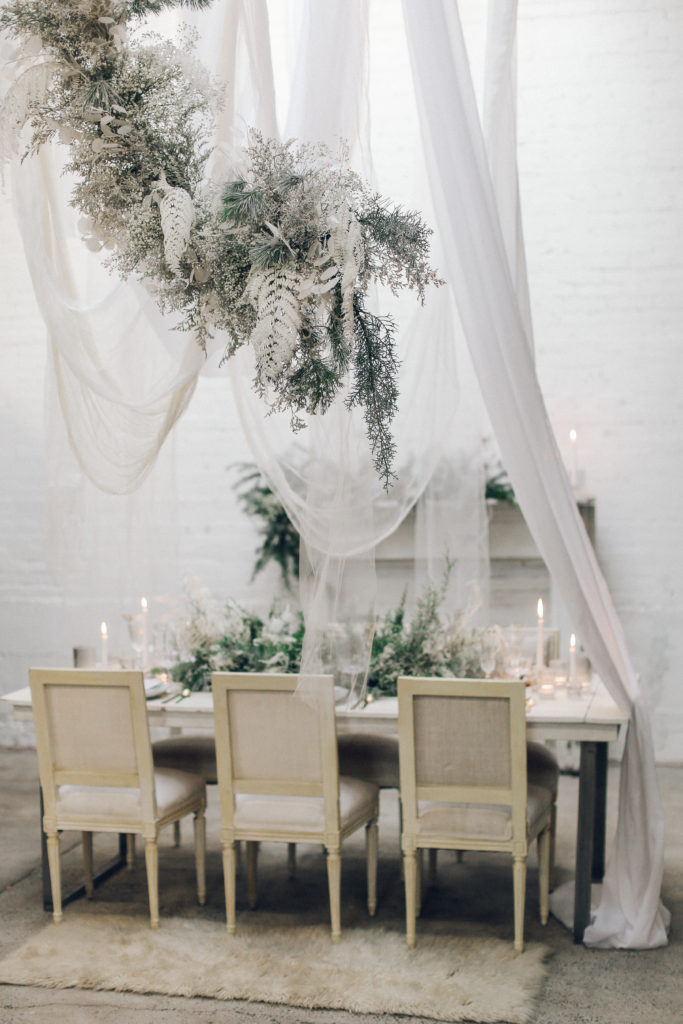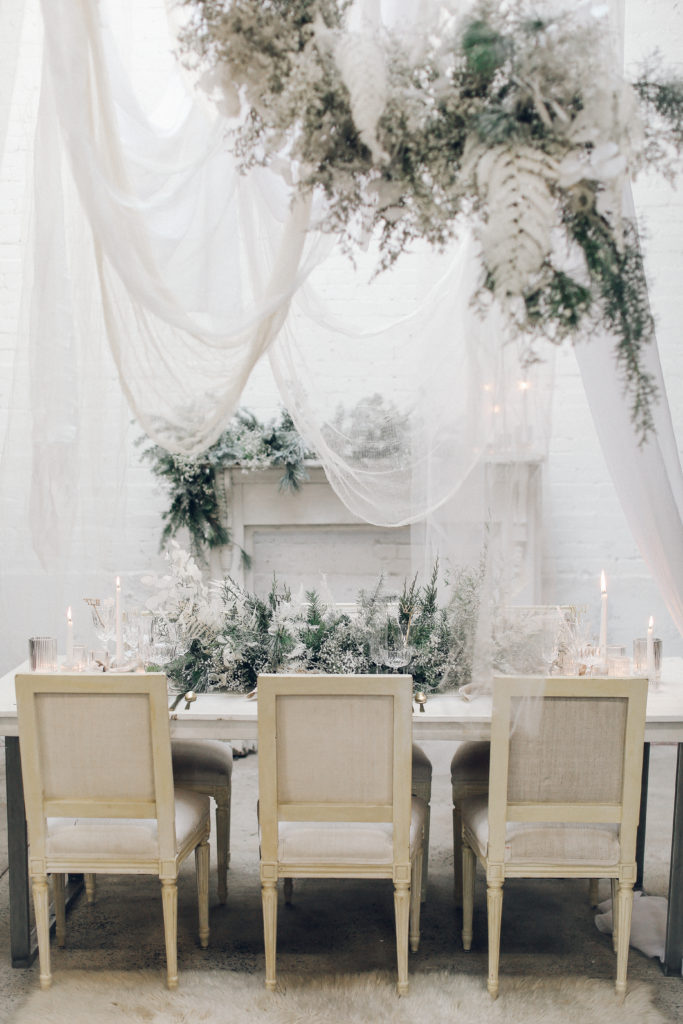 My favorite part of this shoot was the insane installation Third & Park created overhead. All the pretty draping and this crazy beautiful flocked piece were so stunning in person and even better in photos!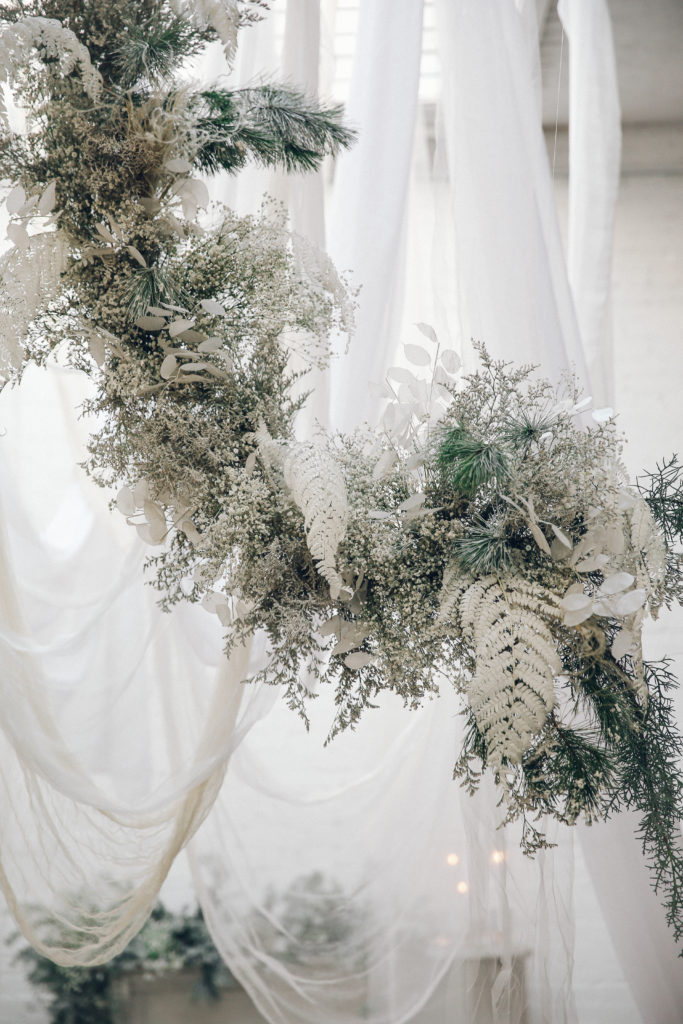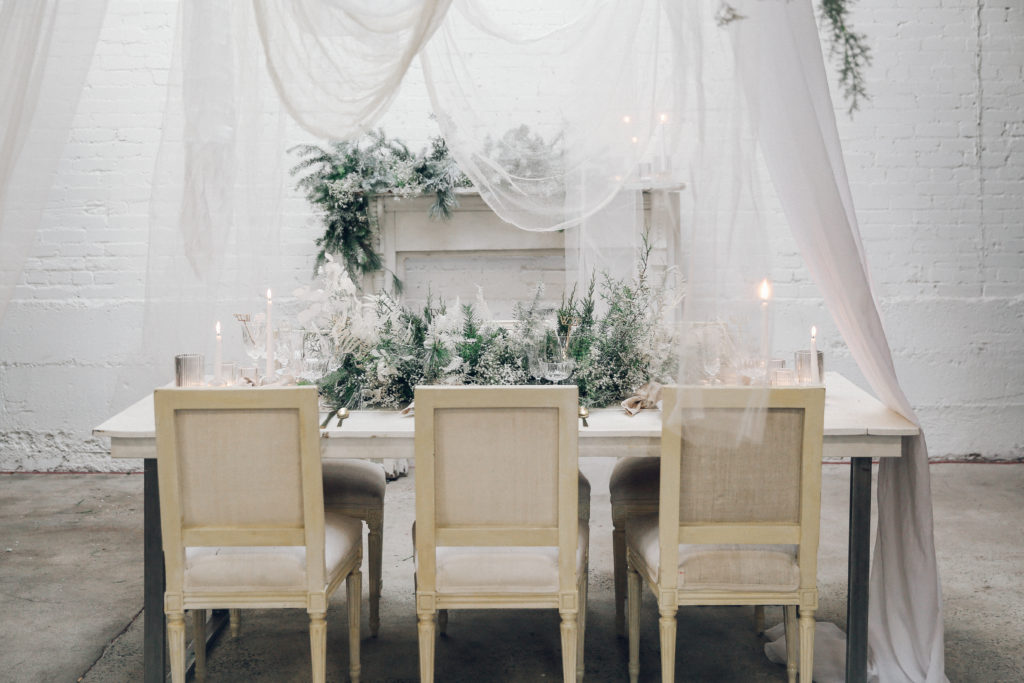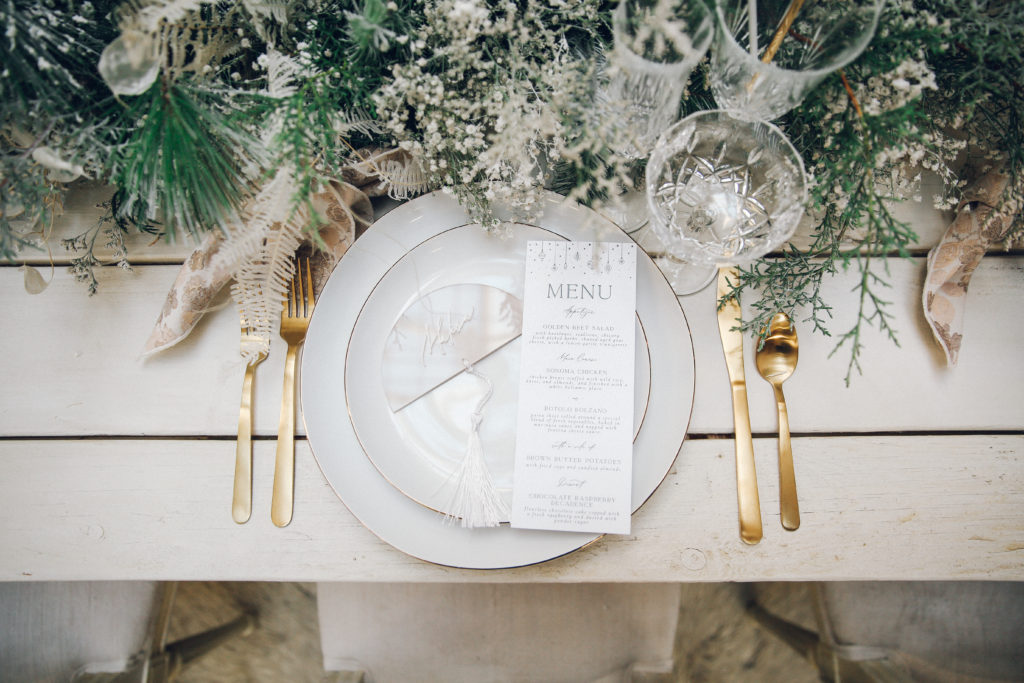 As I was saying about the details… Isn't this place setting brilliant?! I love the lovely little place cards Creative Amme made with the cute tassel. Also, the menus and stir sticks are so elegant but also get our WTF point across, haha!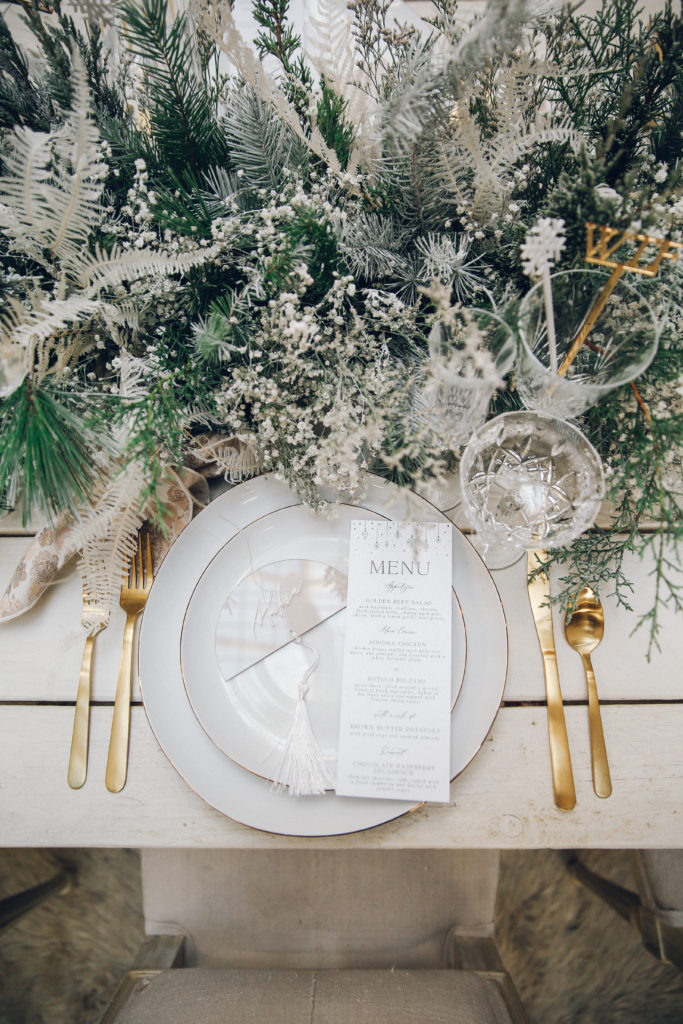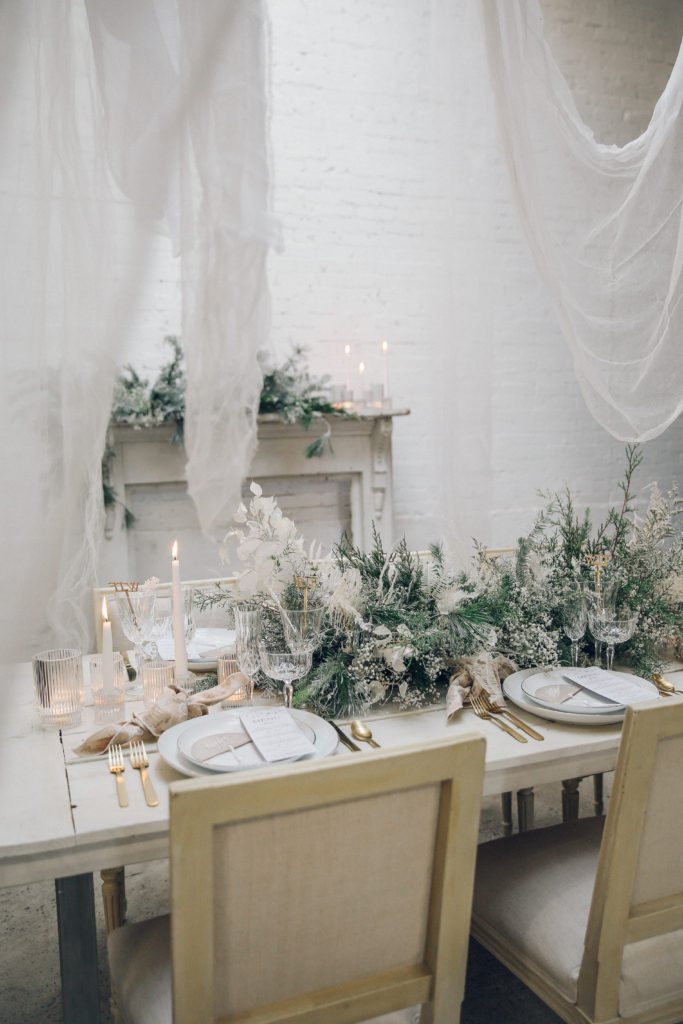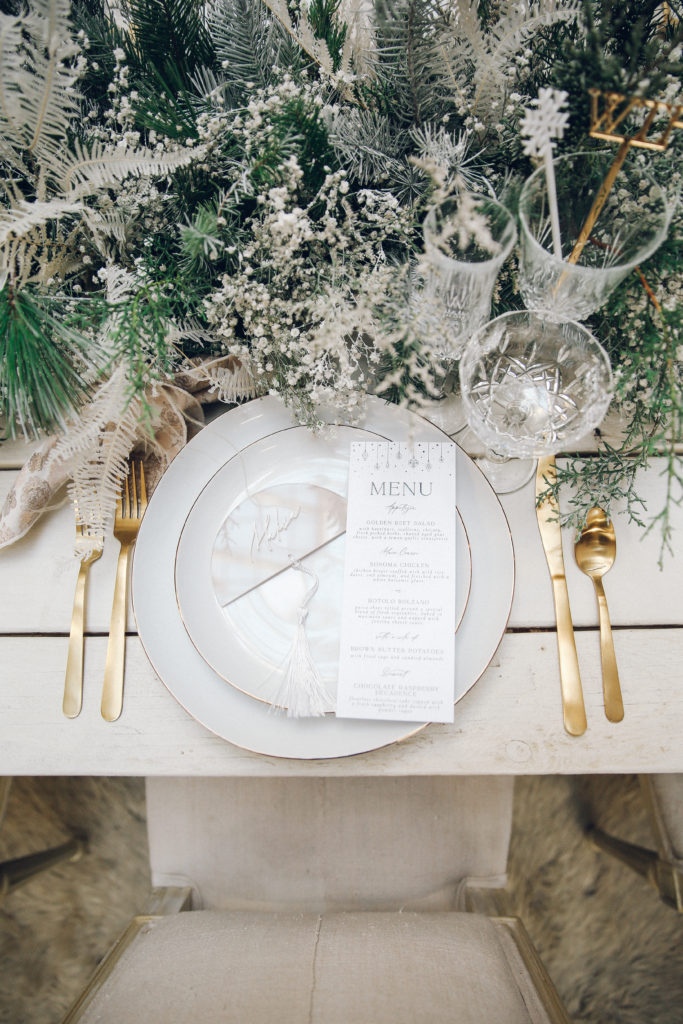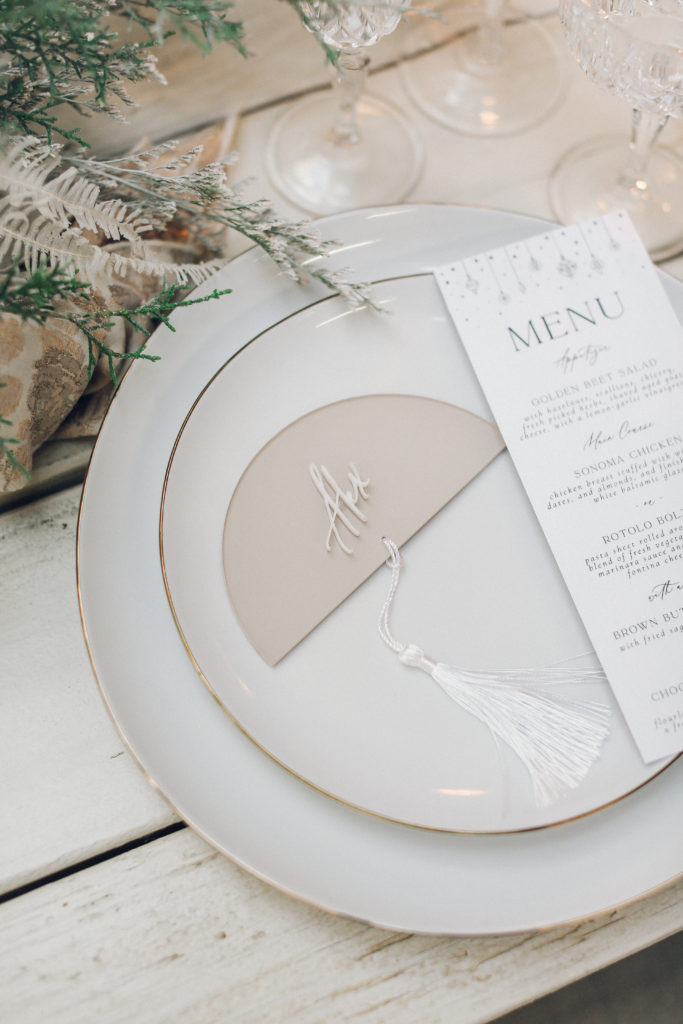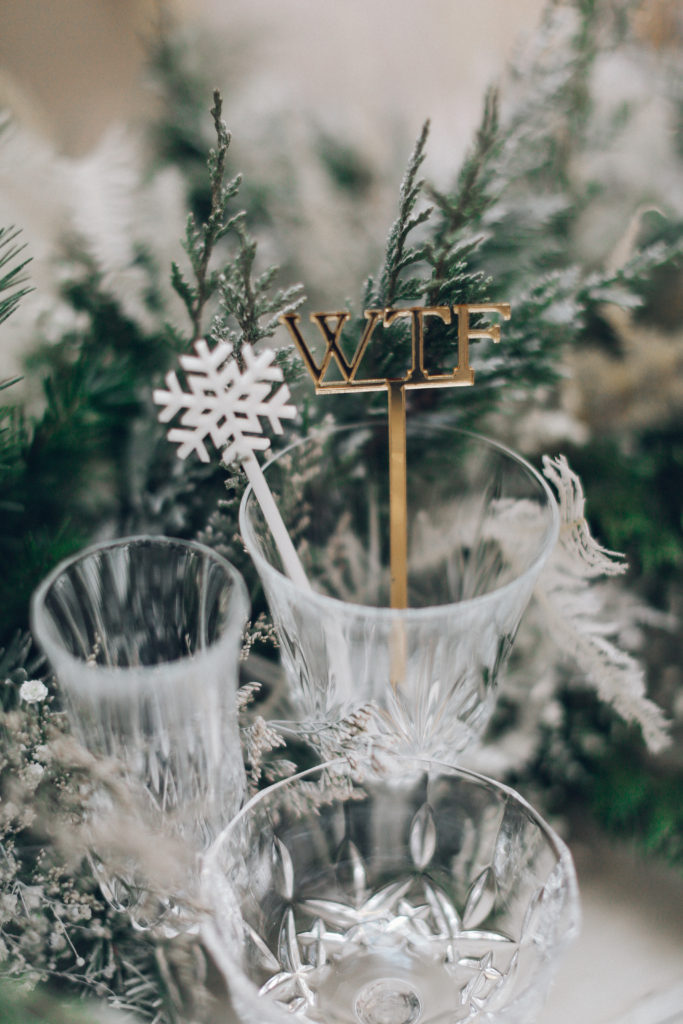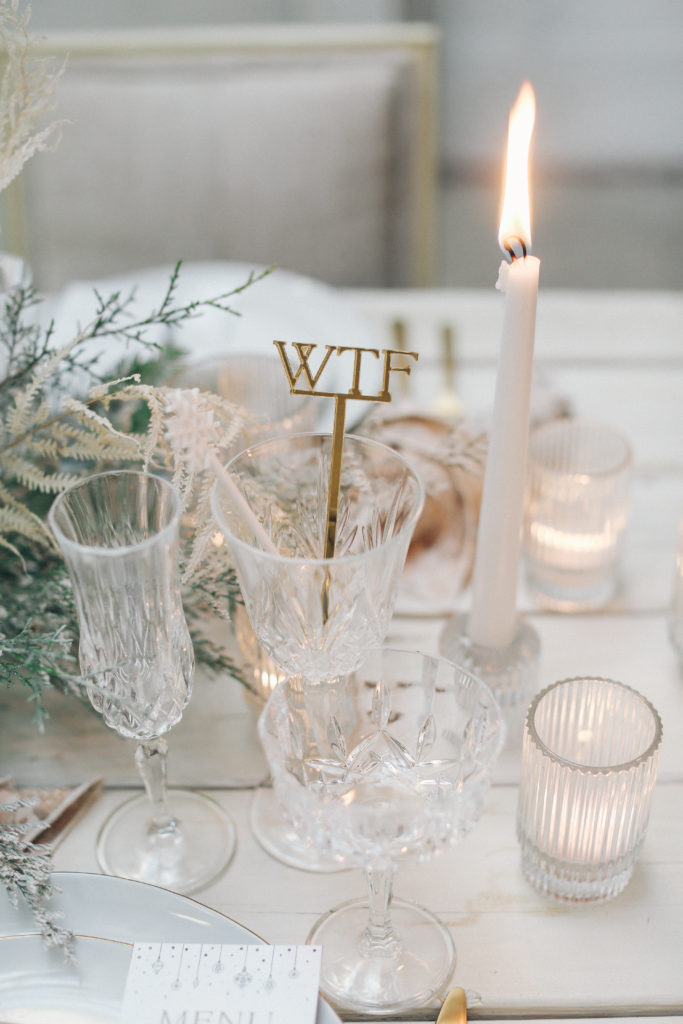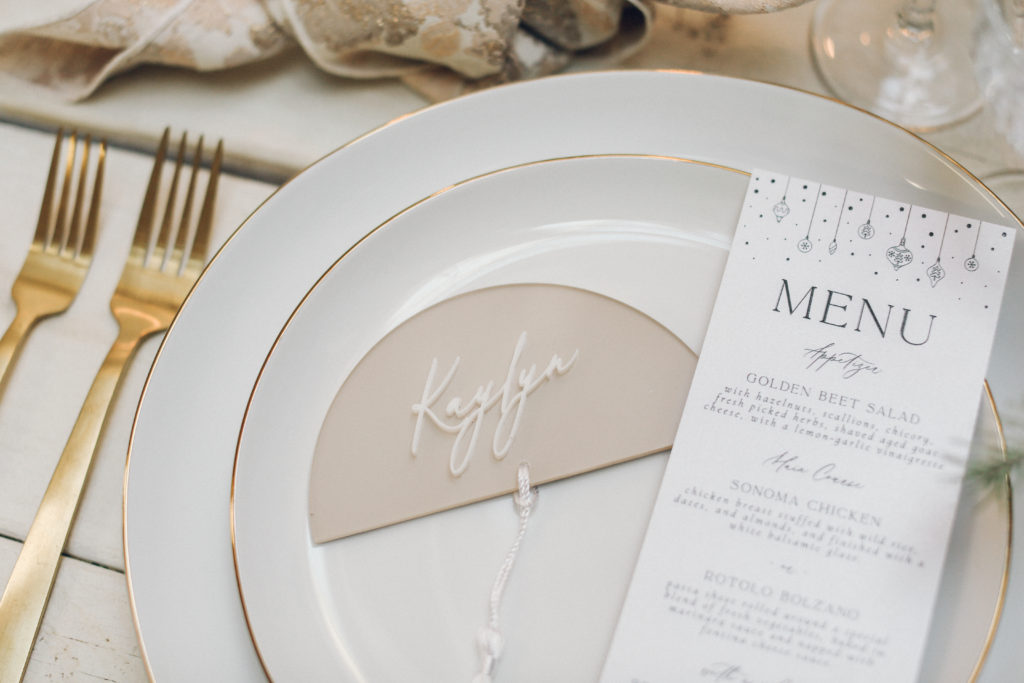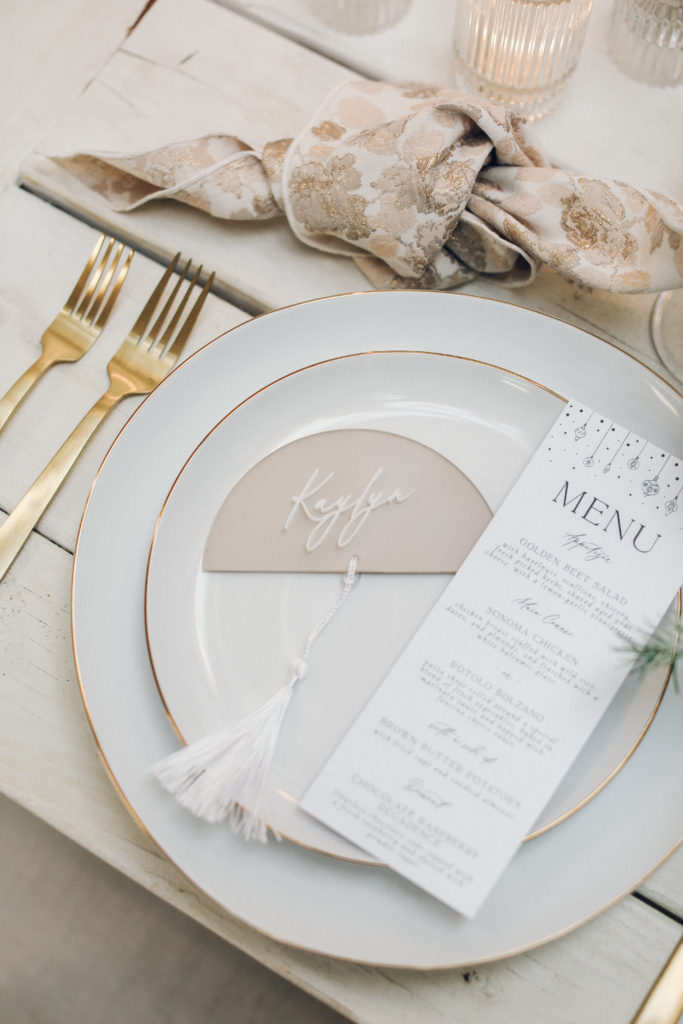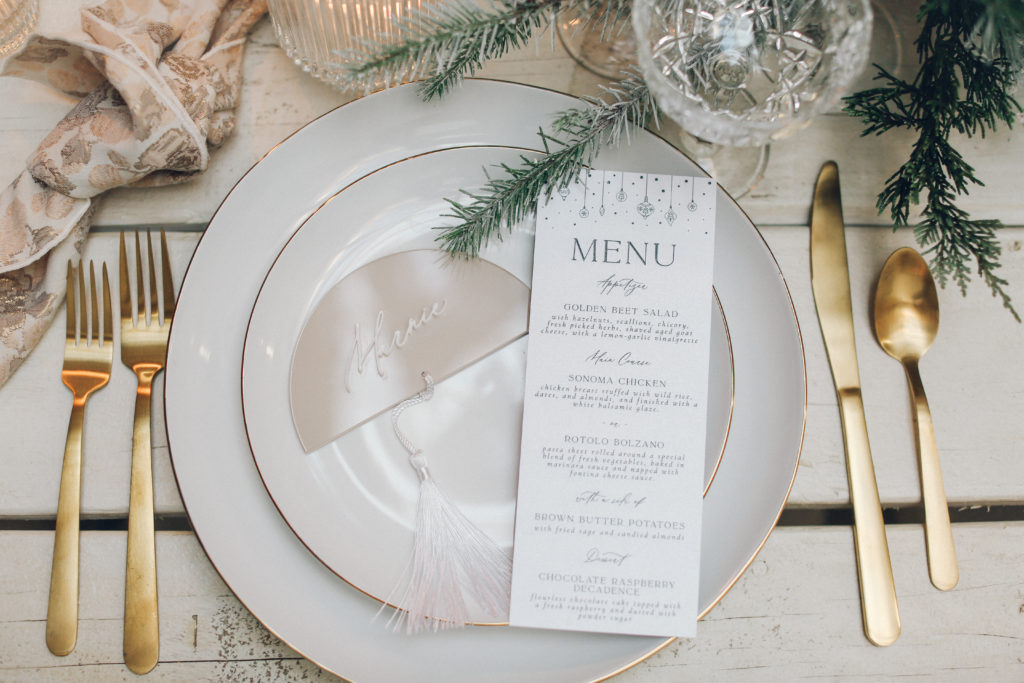 All together I'd say this is one damn perfect holiday table and a great way to stick it to 2020! Haha!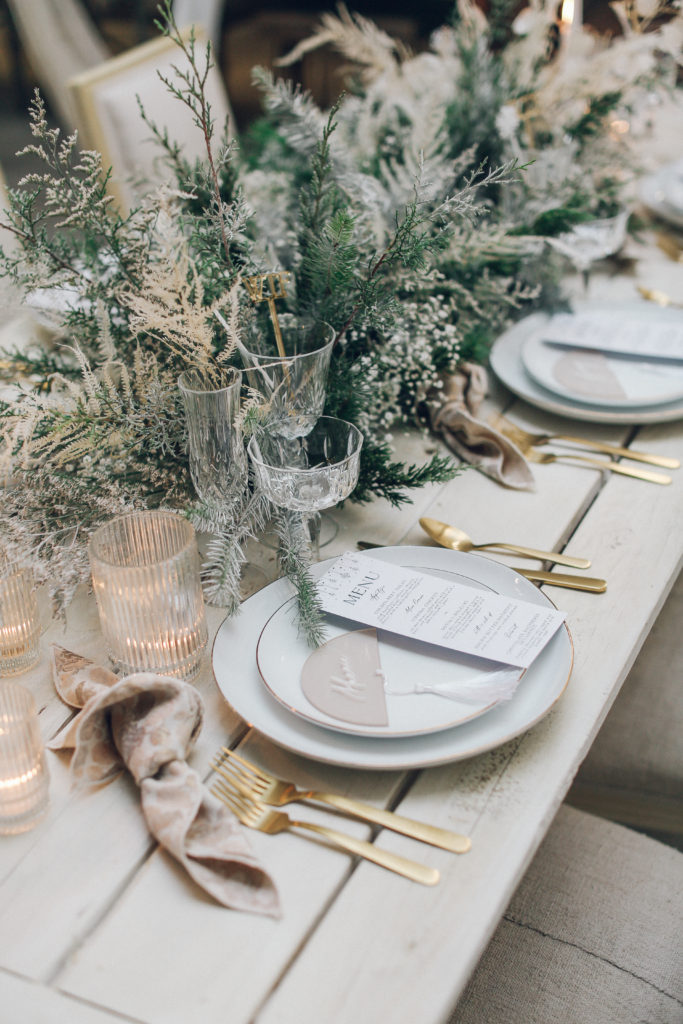 The overhead shots are always some of my favorites…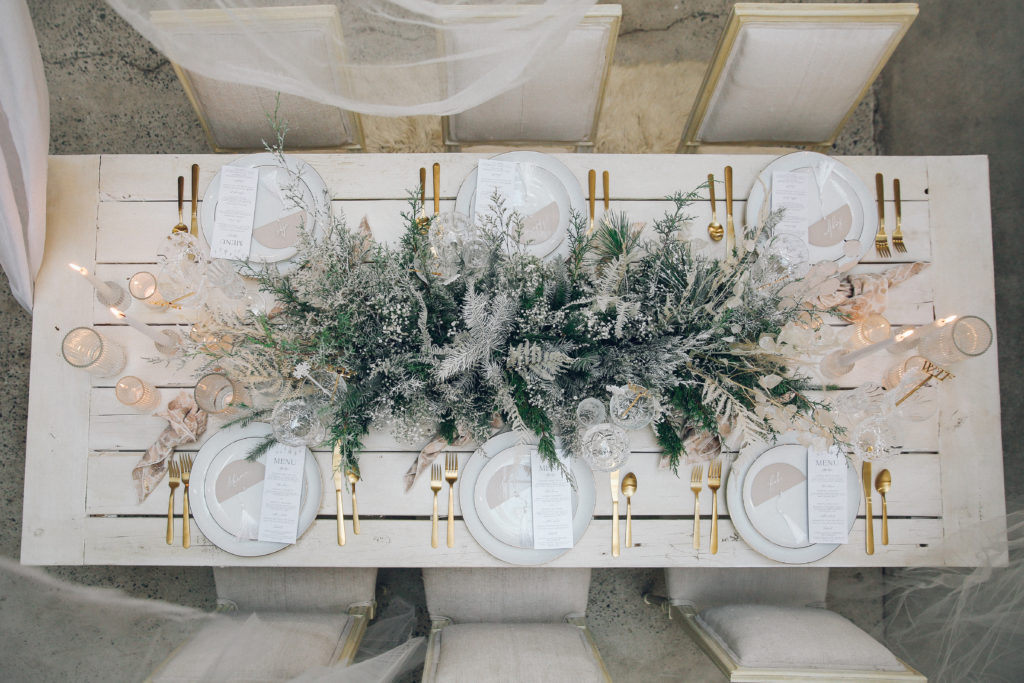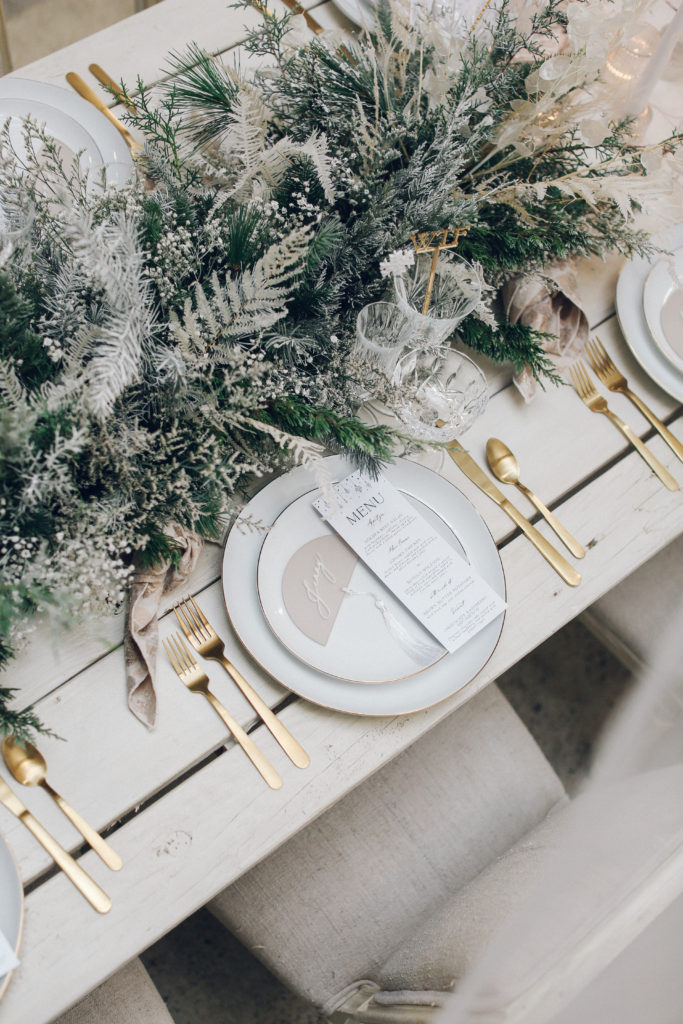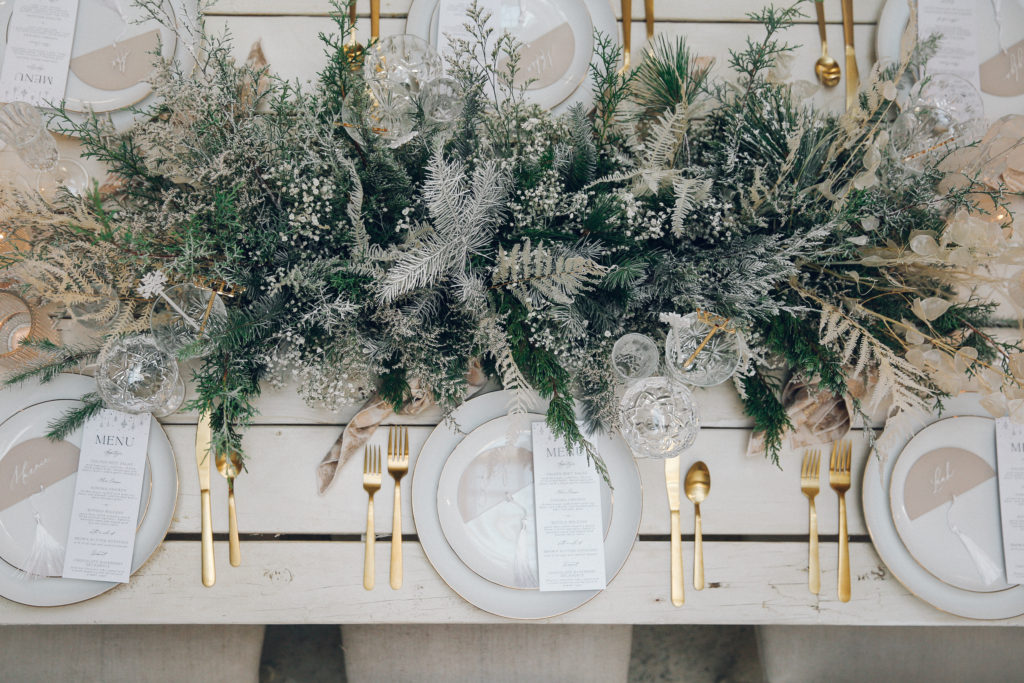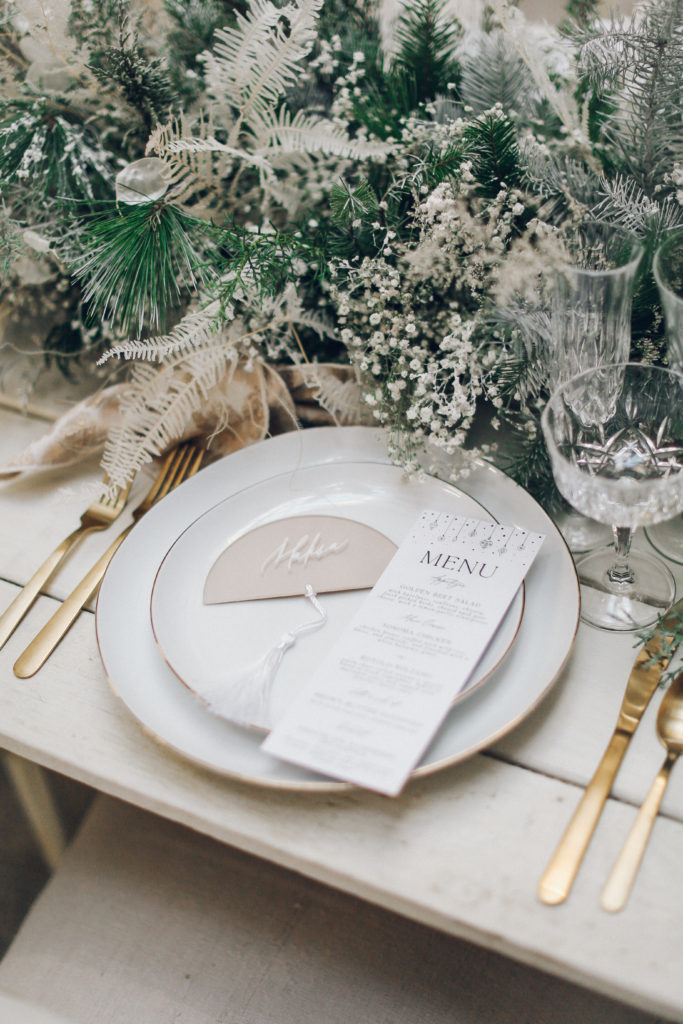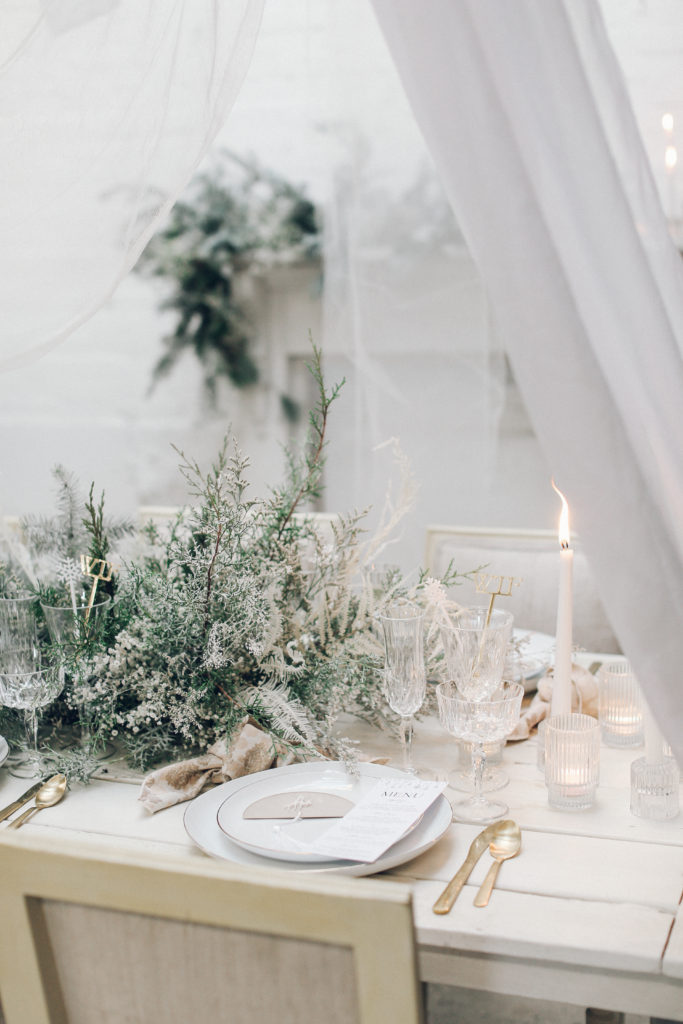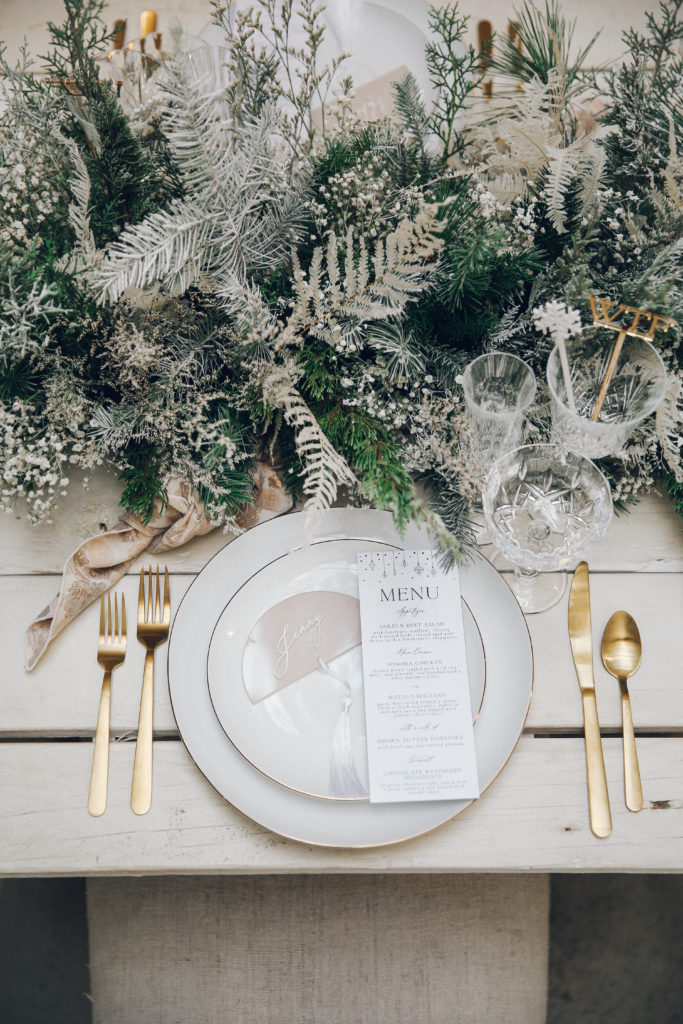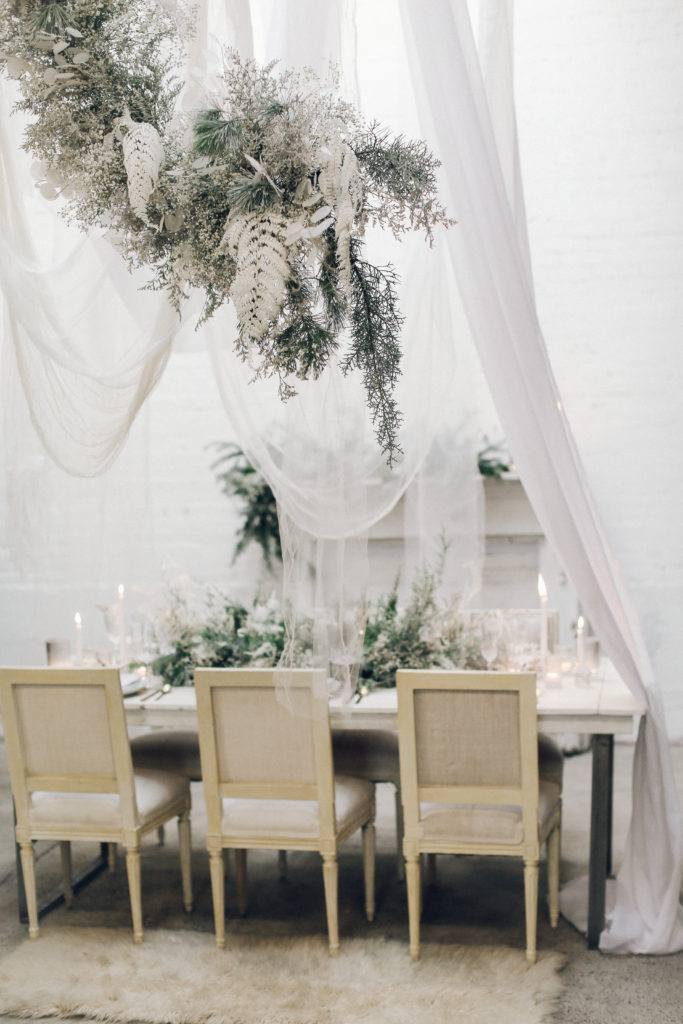 Moving on to our bar!! Flock Yeah! I'm ready for a drink!!! We kept it lit, as in candles and our drinks!! Still keeping it classy though with our beautiful installation by Third & Park and all the fun rentals from Sweet Salvage. And you know we invited Bottles & Blooms to create all the holiday cheer, in the form of cocktails!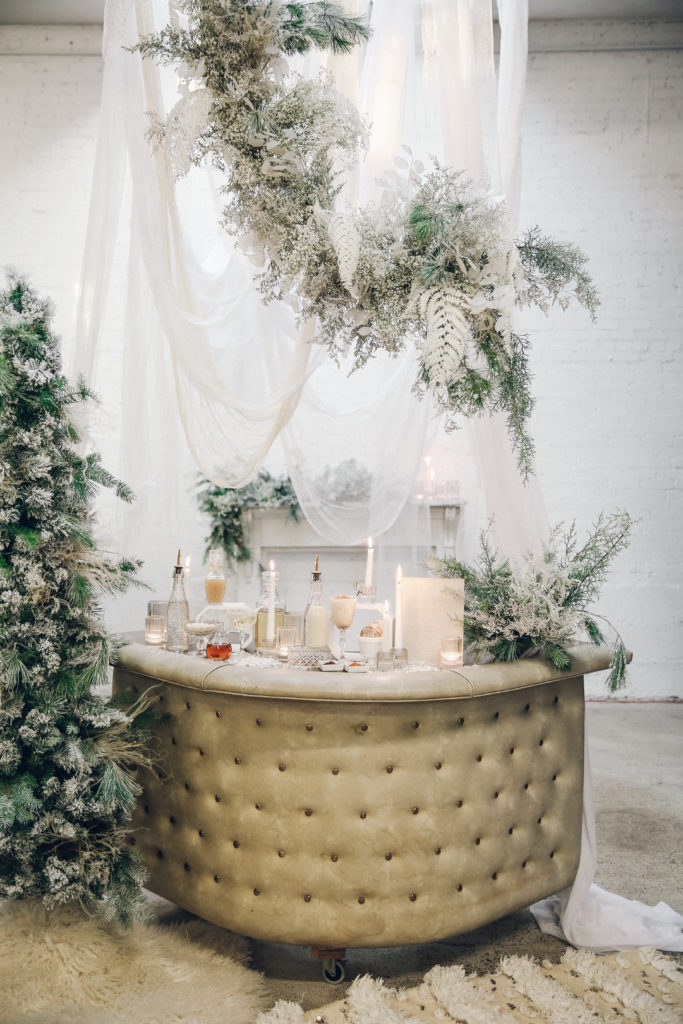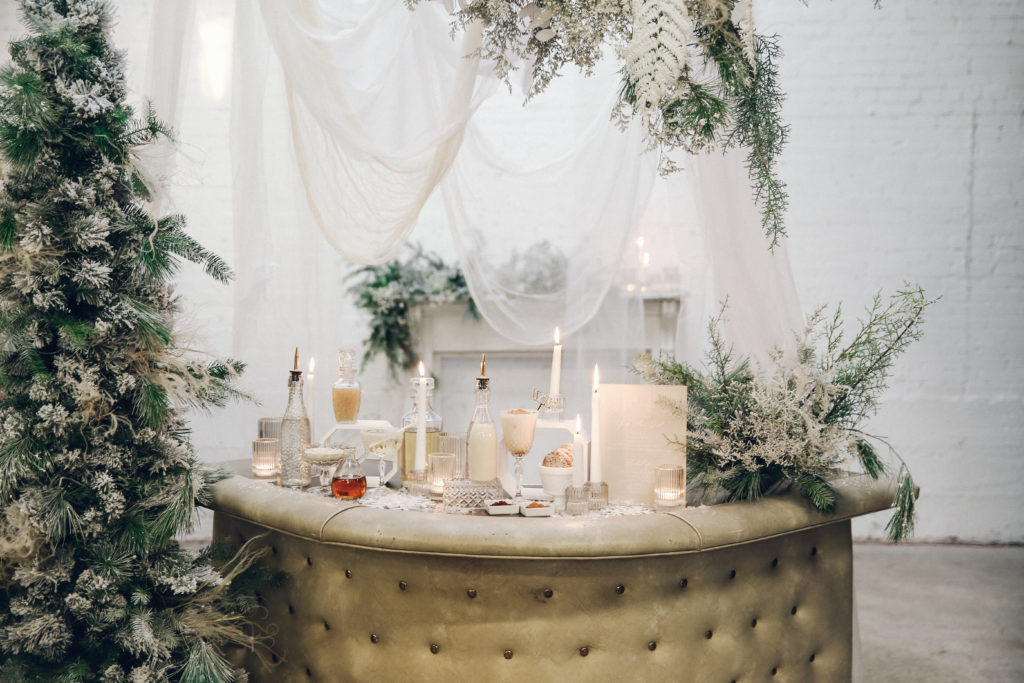 As usual Bottles & Blooms styled the bar up right! And Creative Amme added the prettiest bar sign to top it off.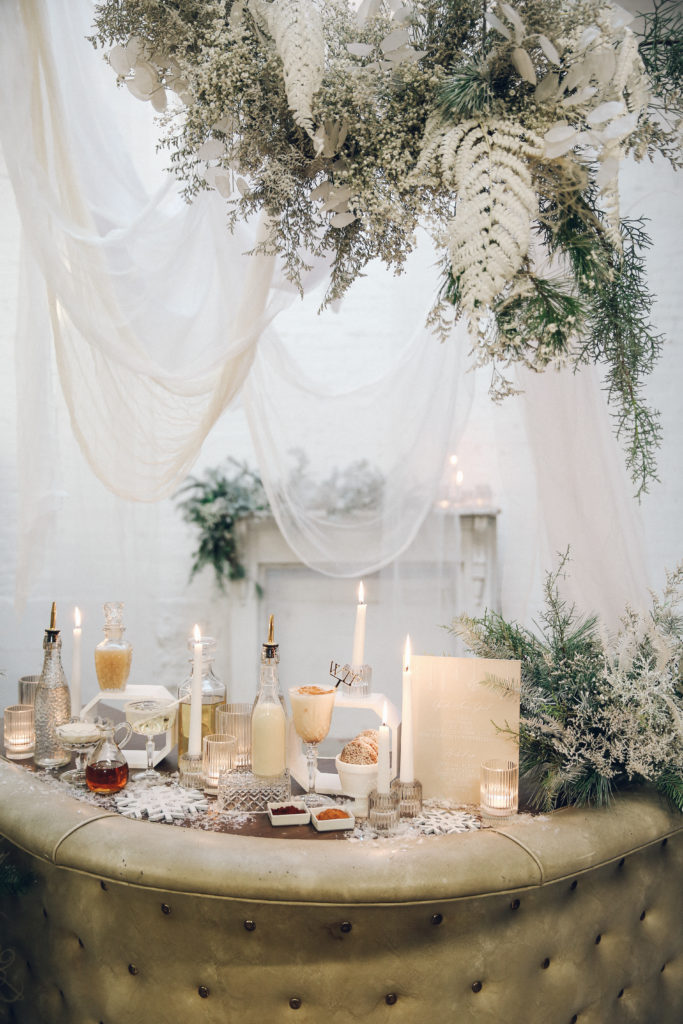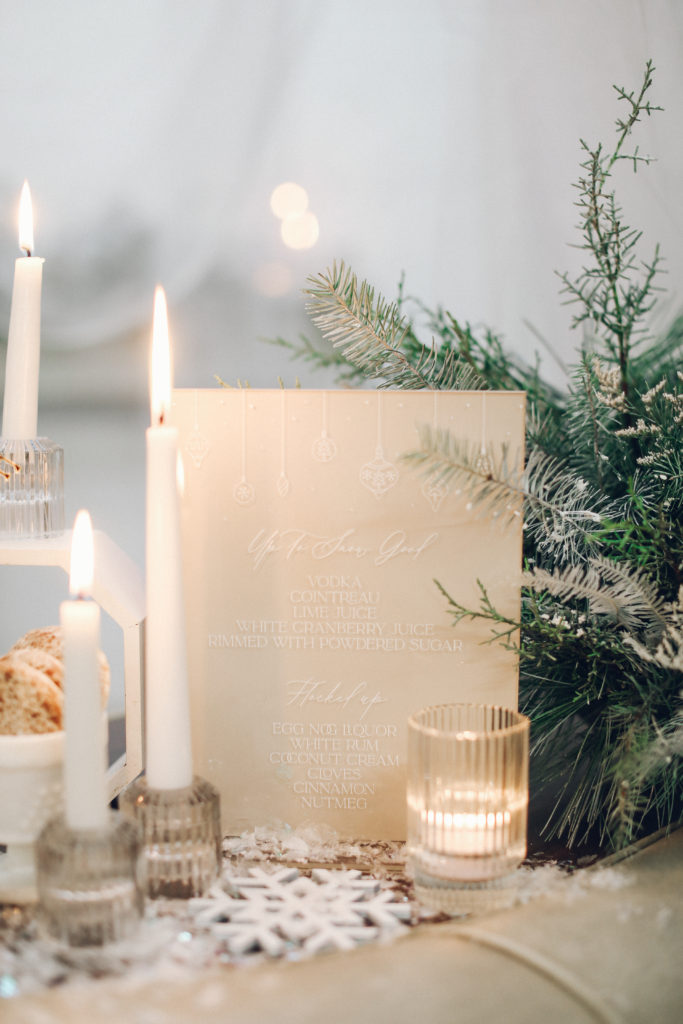 Let's start sharing those recipes from Bottles & Blooms, which they are always so kind to do. Starting with cocktail number one…
Flocked up
In a shaker with ice add:
3oz Egg nog liquor
1.5oz White Rum
.5oz Coconut cream
Pinch of ground Cloves
Pinch of ground Cinnamon
Pinch of ground Nutmeg
Shake until contents are combined
Pour contents into glass
Garnish with a sprinkle of cinnamon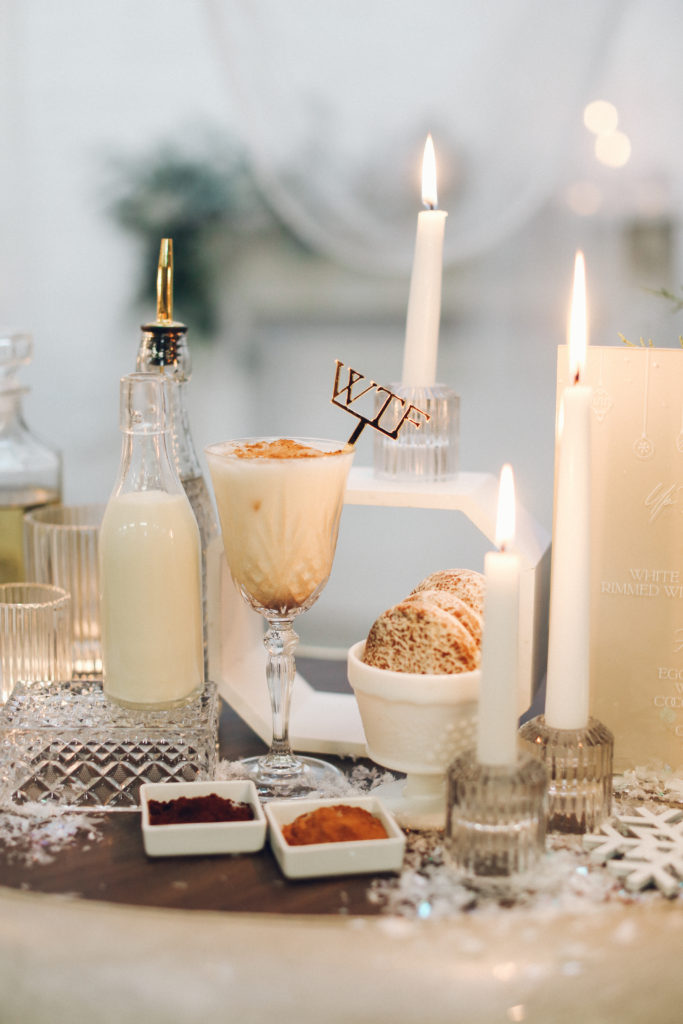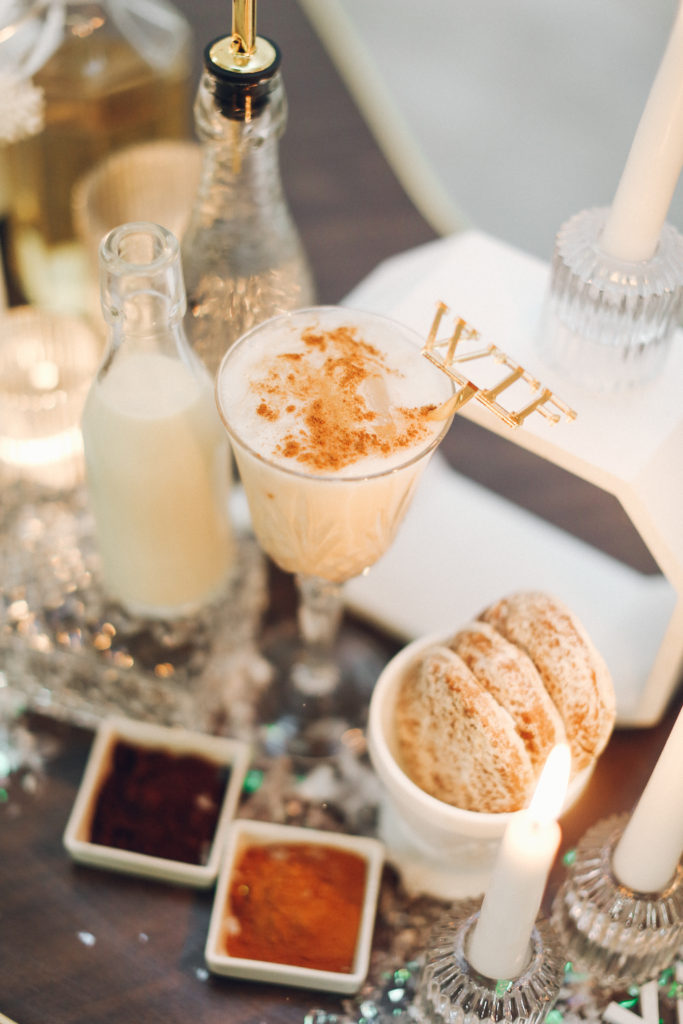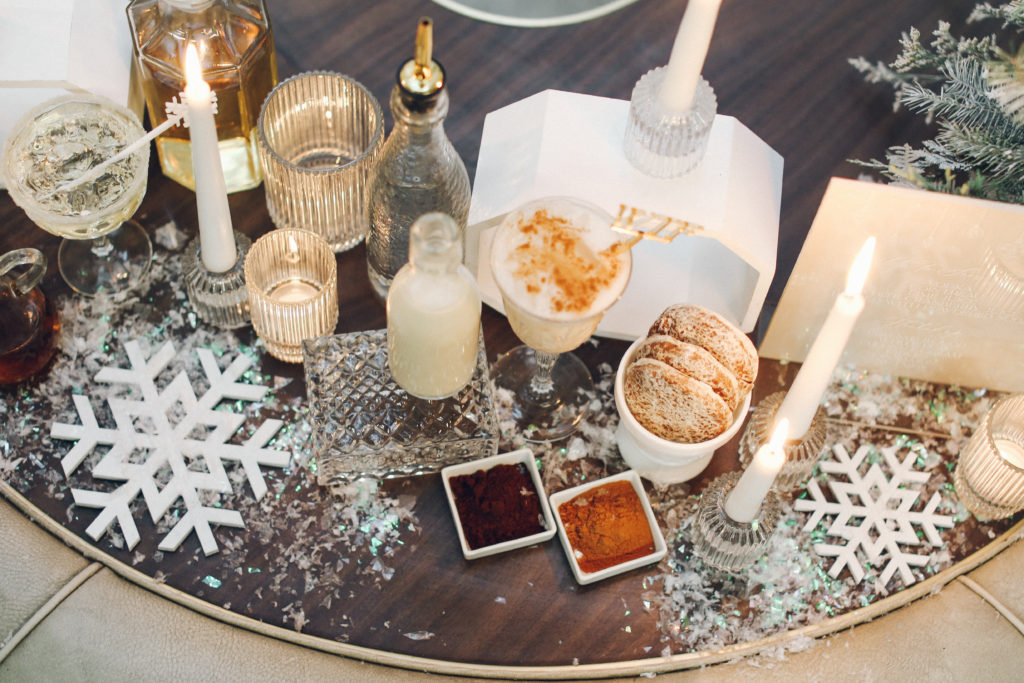 Cocktail number two!
Up to Snow Good
In a cane sugar rimmed coupe with ice, add:
1.5oz Vodka
.5oz Cointreau
.5oz Lime juice
2oz White cranberry juice
To rim your glass, pour the cane sugar onto a small plate.
Lightly rim your coupe using your lime juice.
Turn your coupe upside down and gently tilt the edges of the glass into the sugar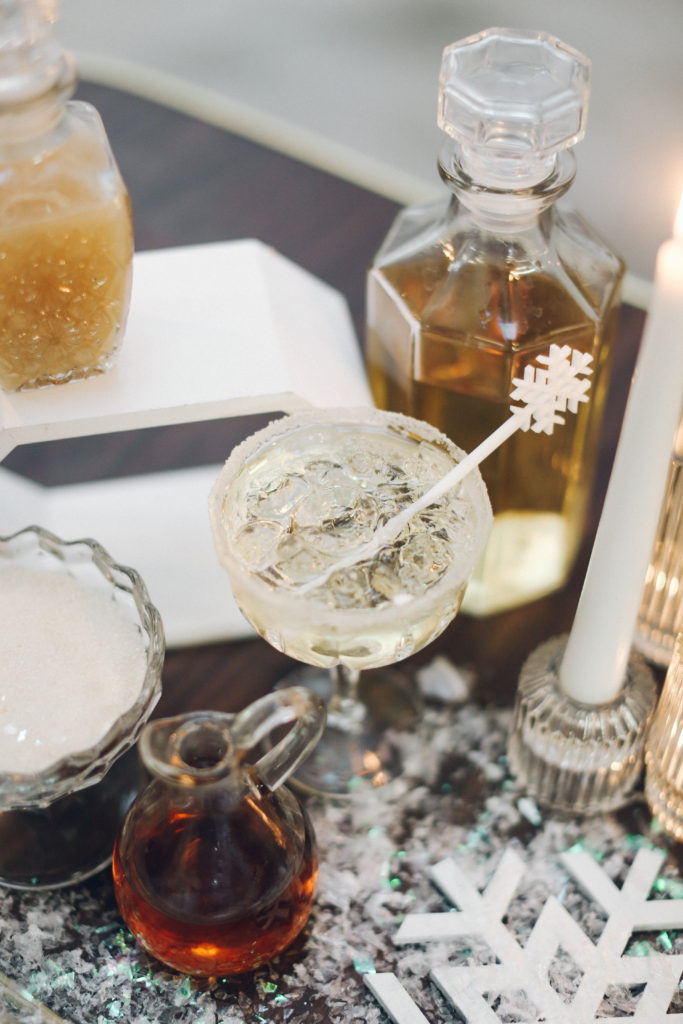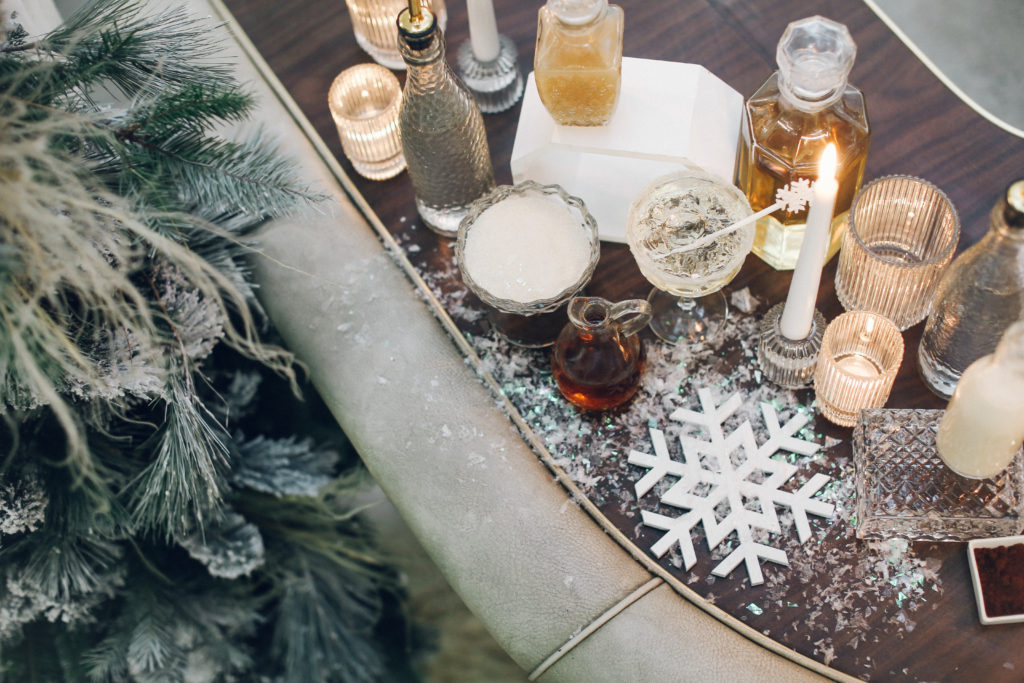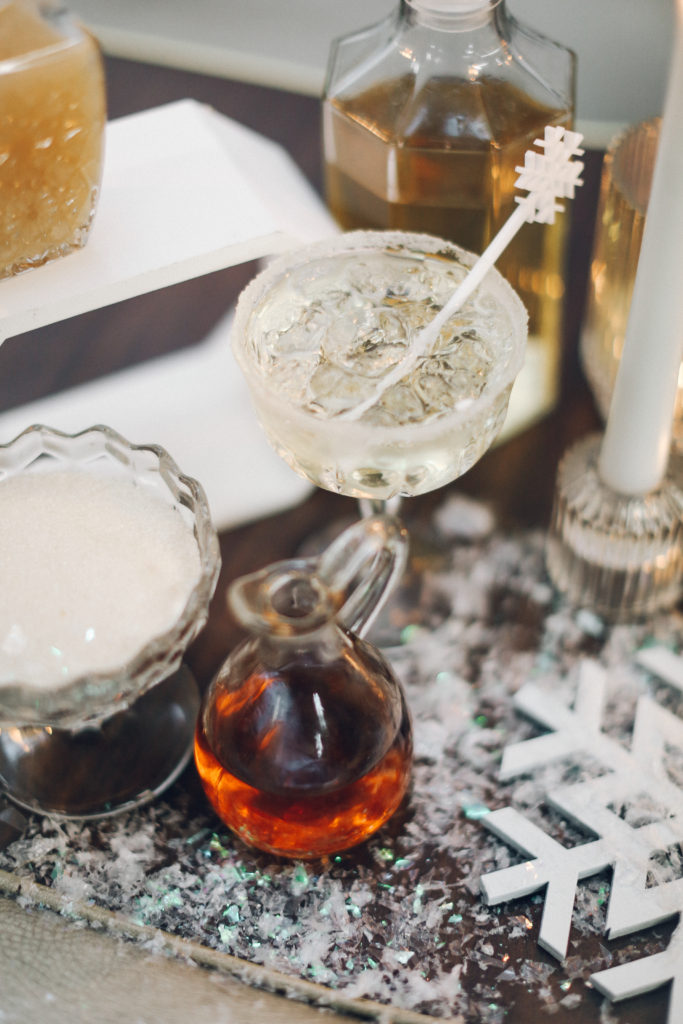 That is how you do it my friends! This flocking year, we all deserve a few of these!!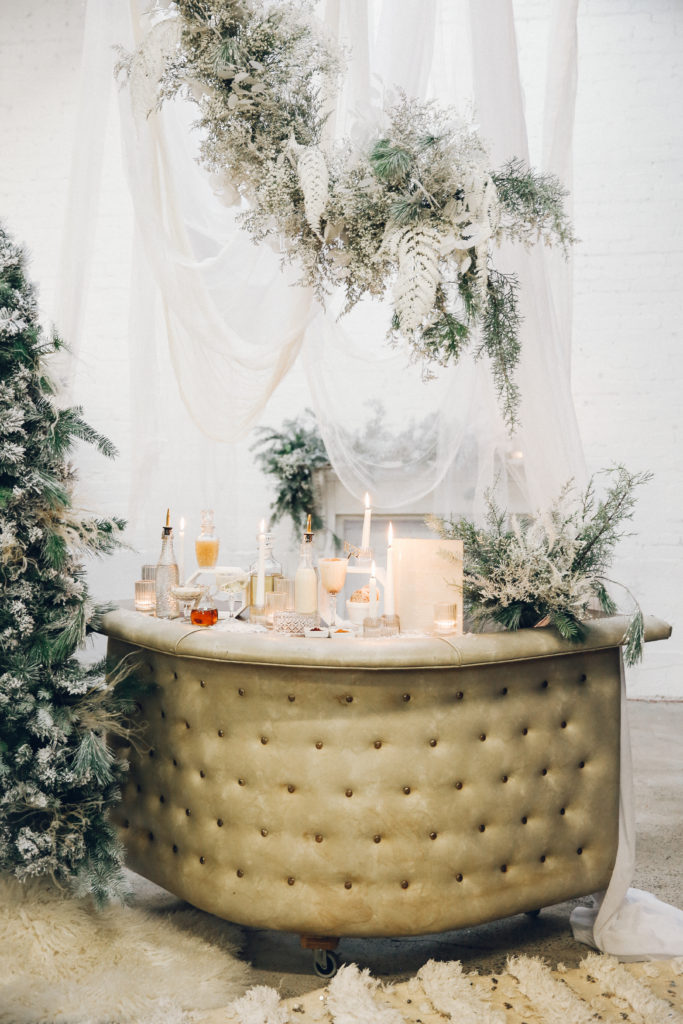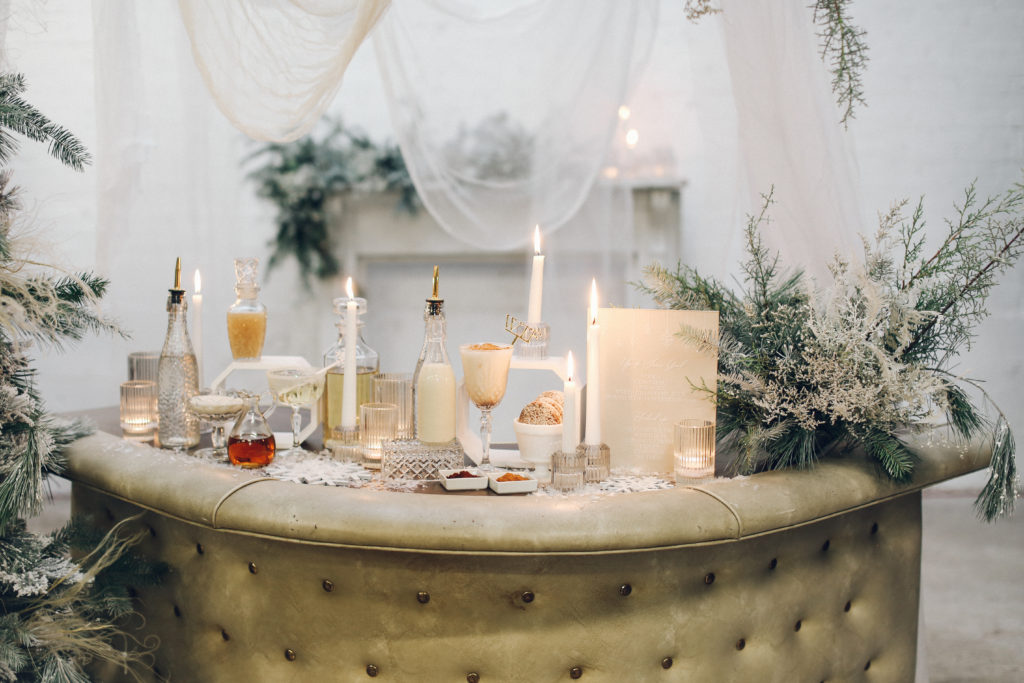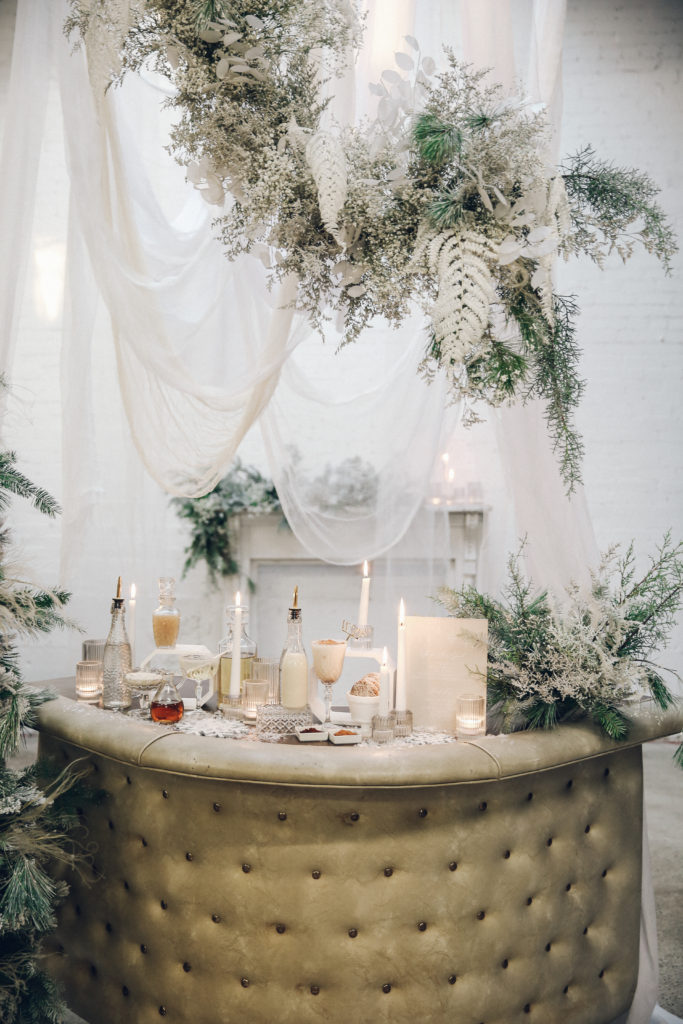 Last but not least, the lounge, where we can all enjoy those delicious cocktails! Pretty cocktails deserve a pretty spot to sip them! You better flocking believe it!
I've raved about Sweet Salvage Rentals already, but I have to do it again!! Her lounges are some of my favorite and she really knows how to do winter white best!! This set is the perfect combination of modern and elegance.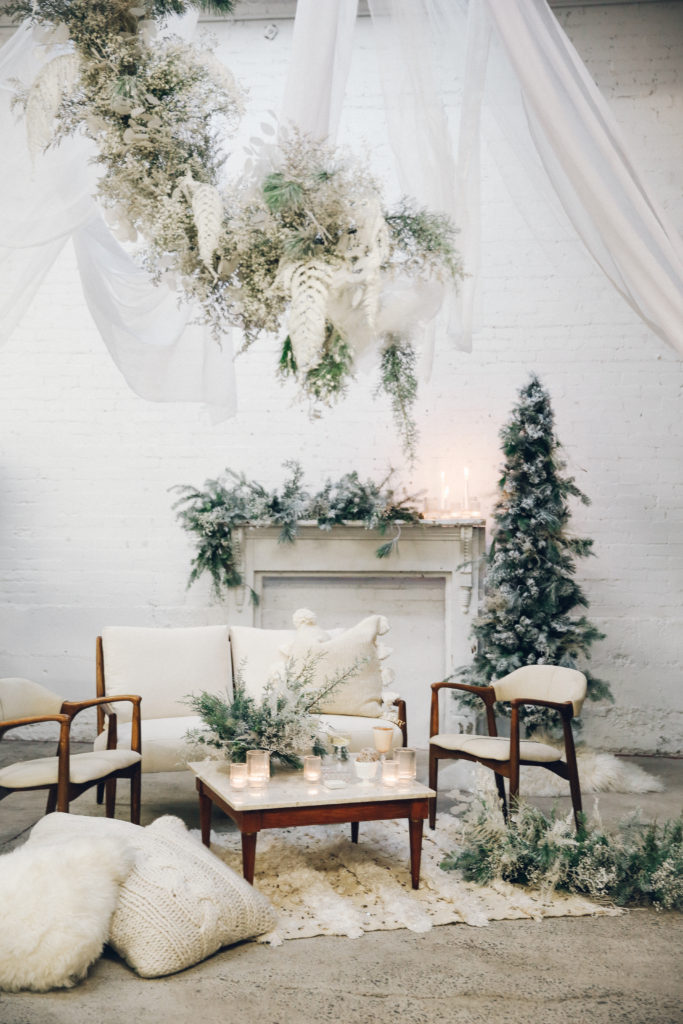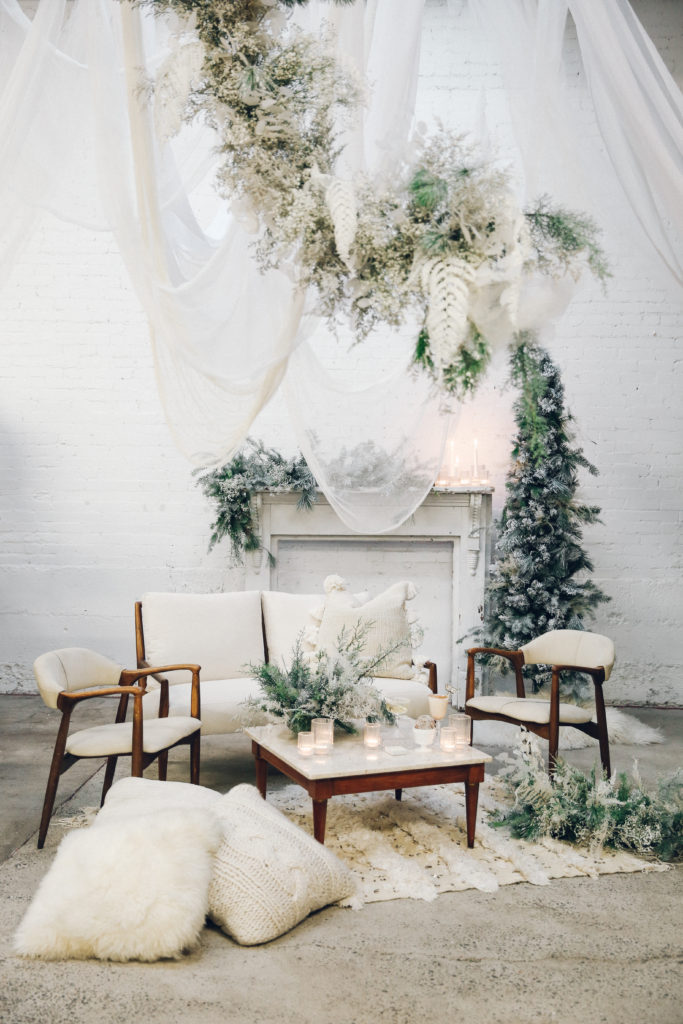 I'm loving the mixture of textures… Cable knit sweater, marble tabletop, moroccan blanket rug, just name what pretty texture and it's here! And how can we not mention our pretty tree! A linear tree is always a good idea…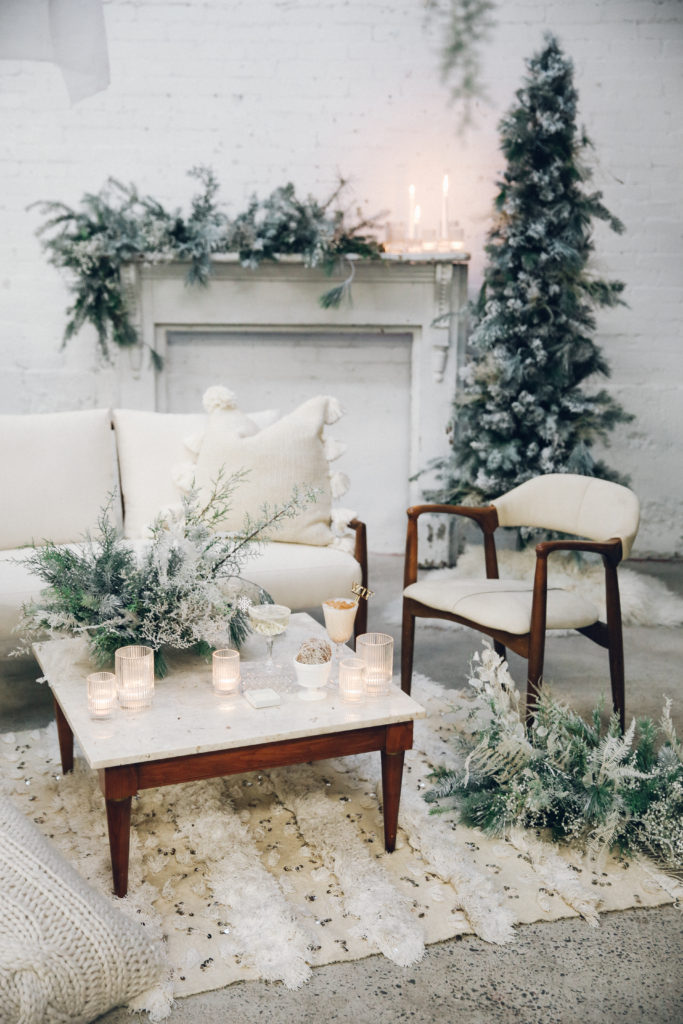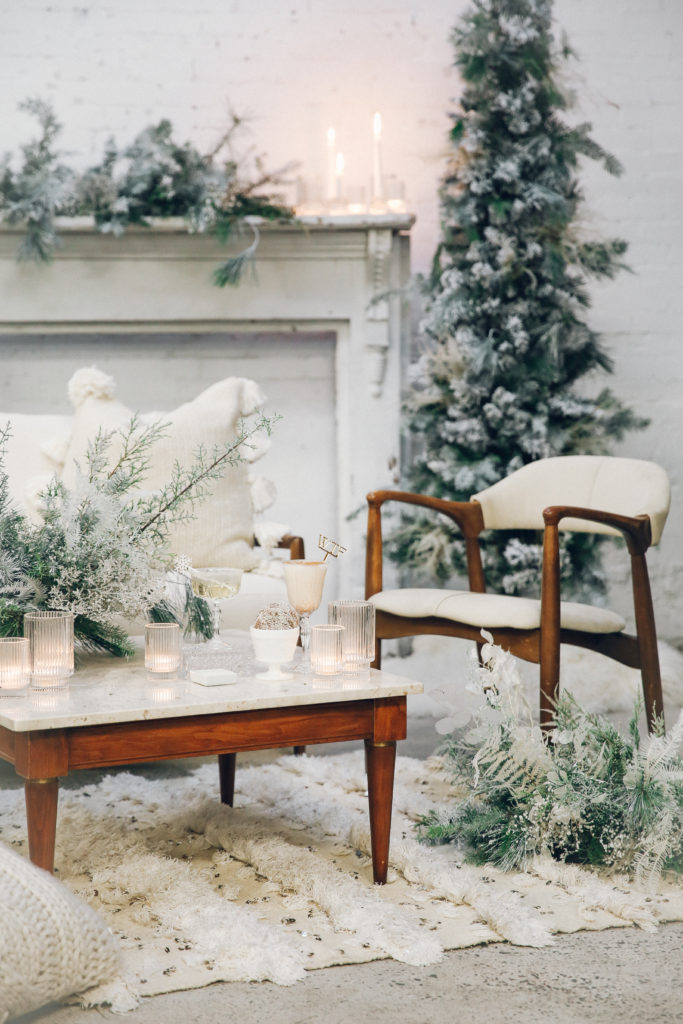 Cheers to finishing off this tumultuous year in style and the holiday season!!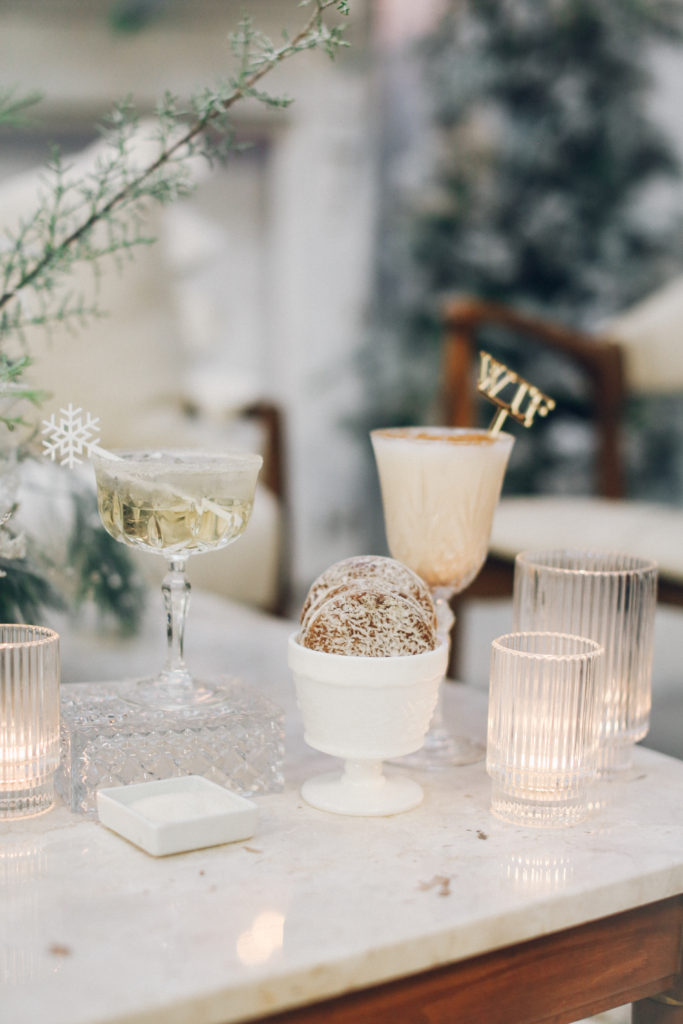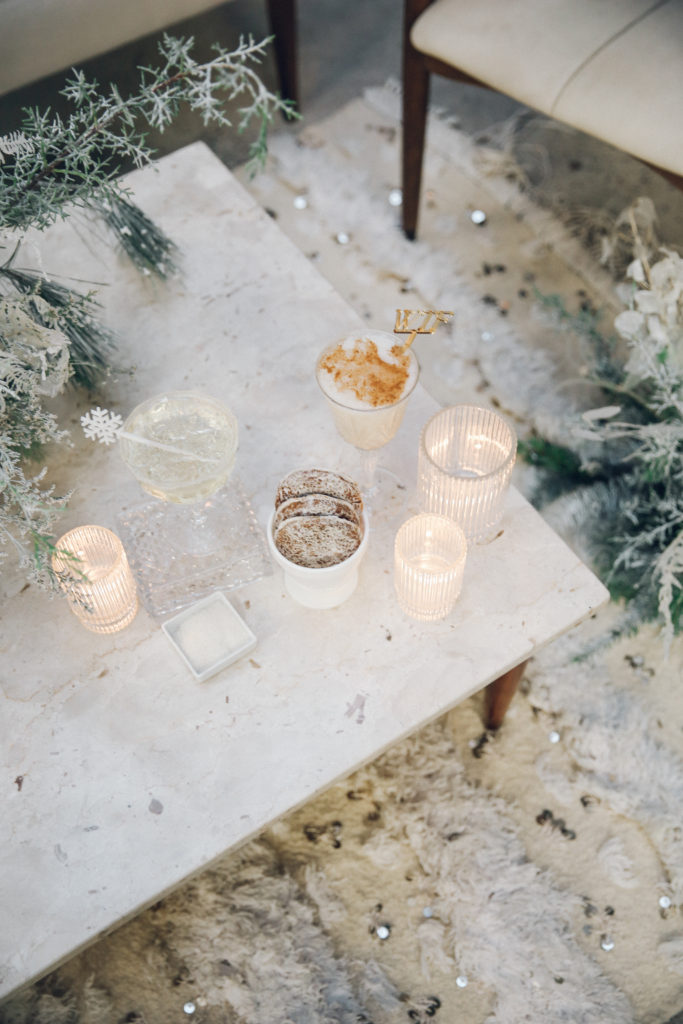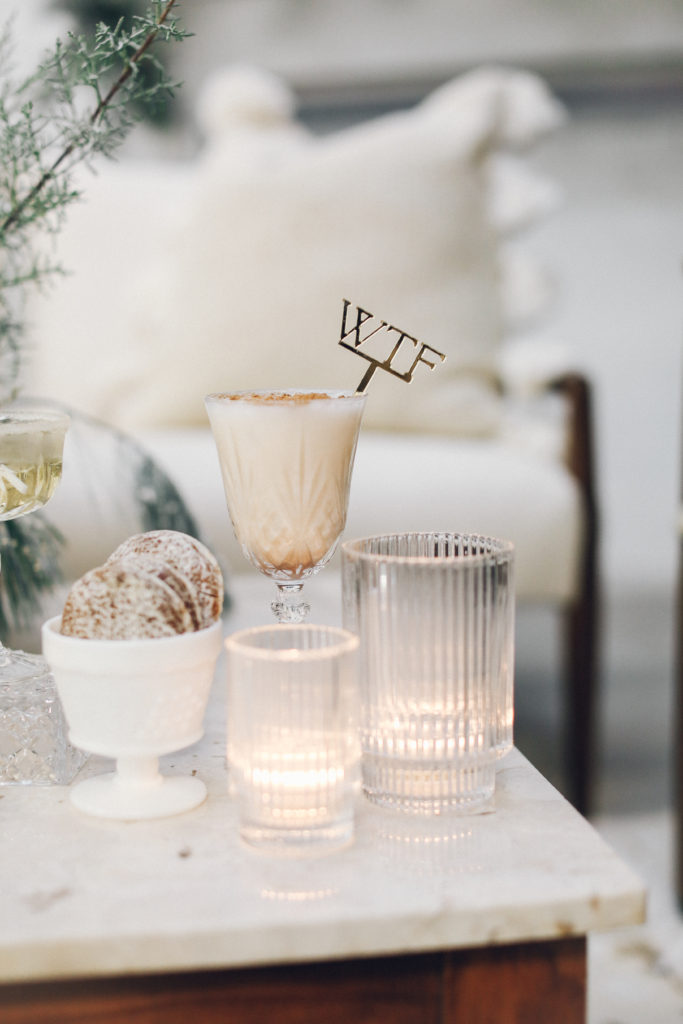 This mantle situation is gorgeous! We brought in lots of candlelight, thanks to Third & Park. Having candles lit always sets the mood and brings a little romance into the room.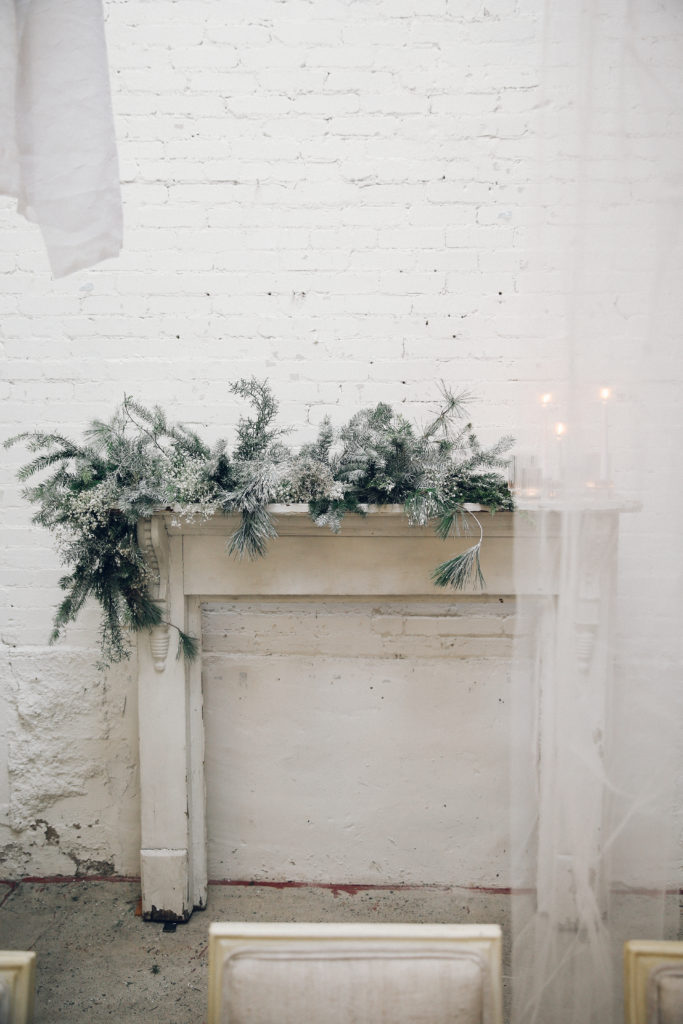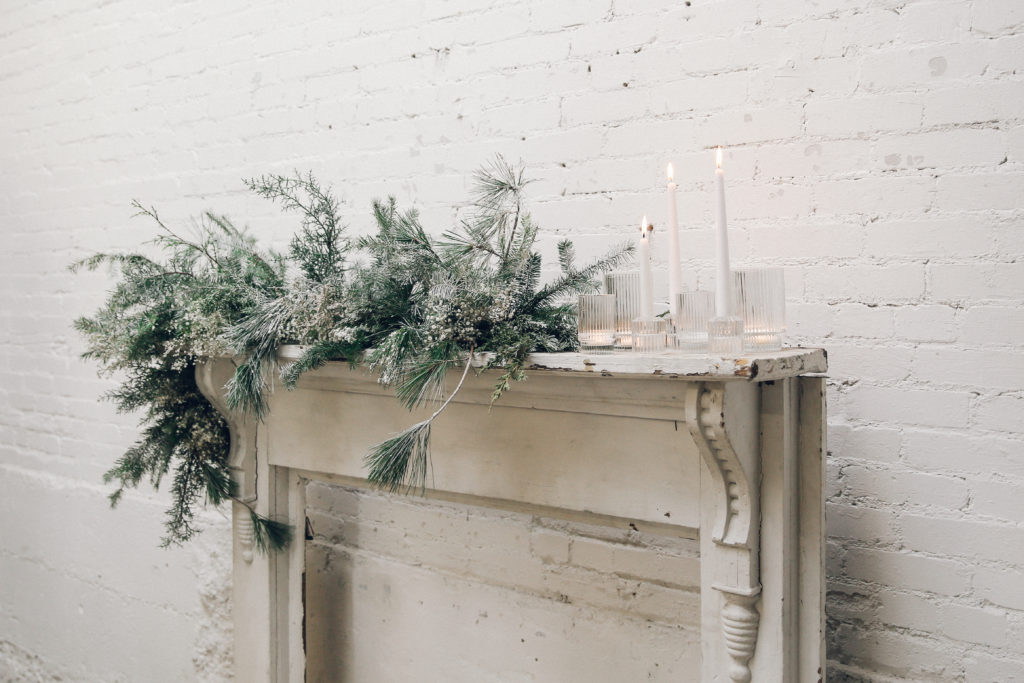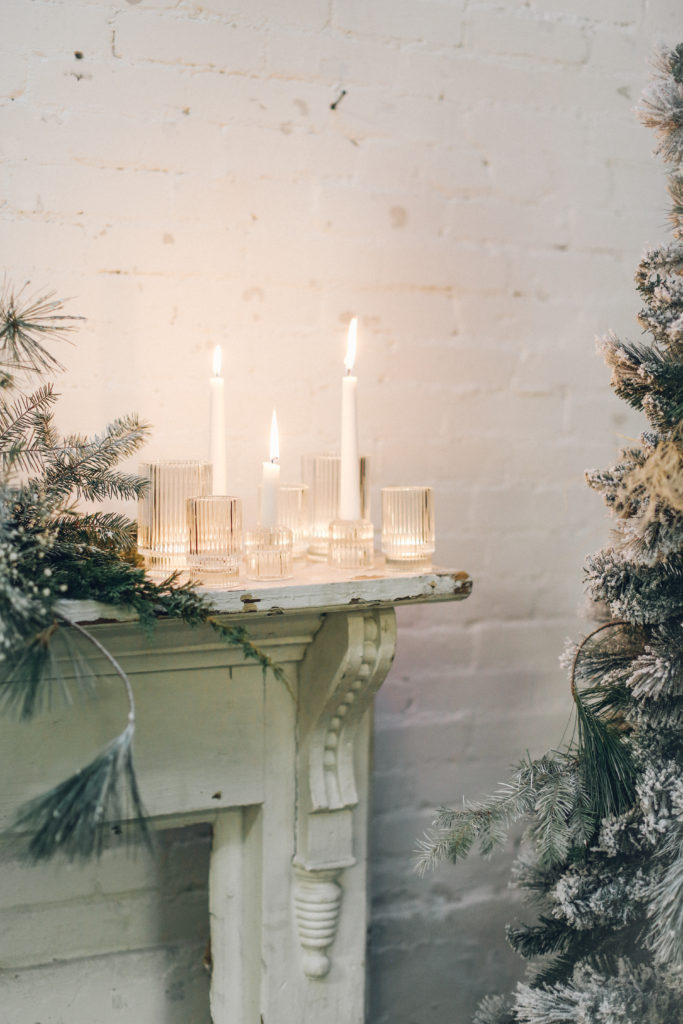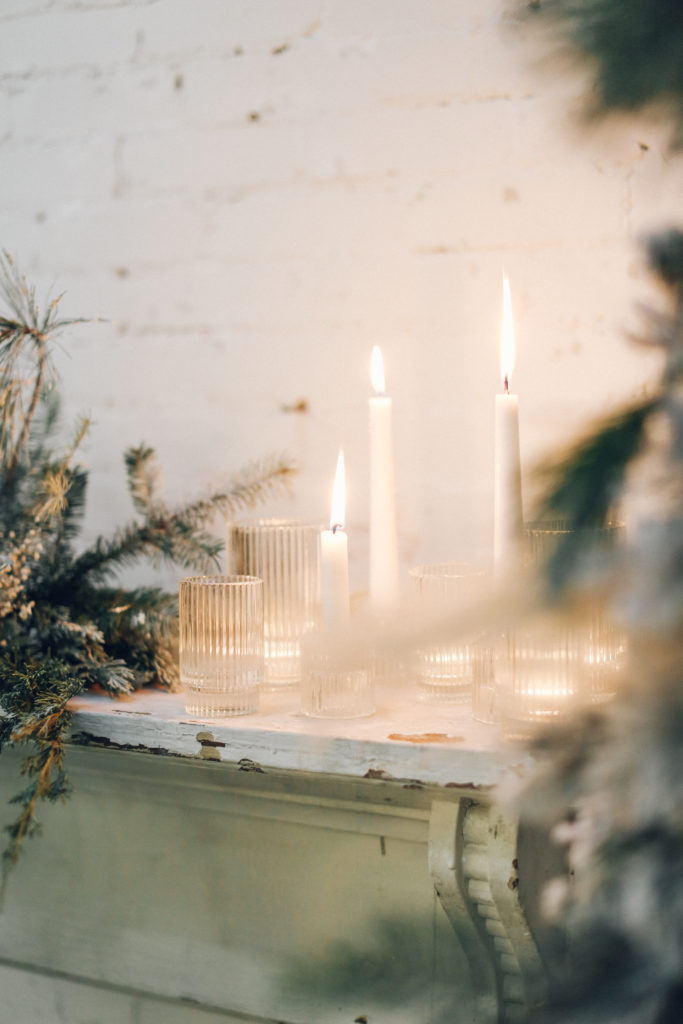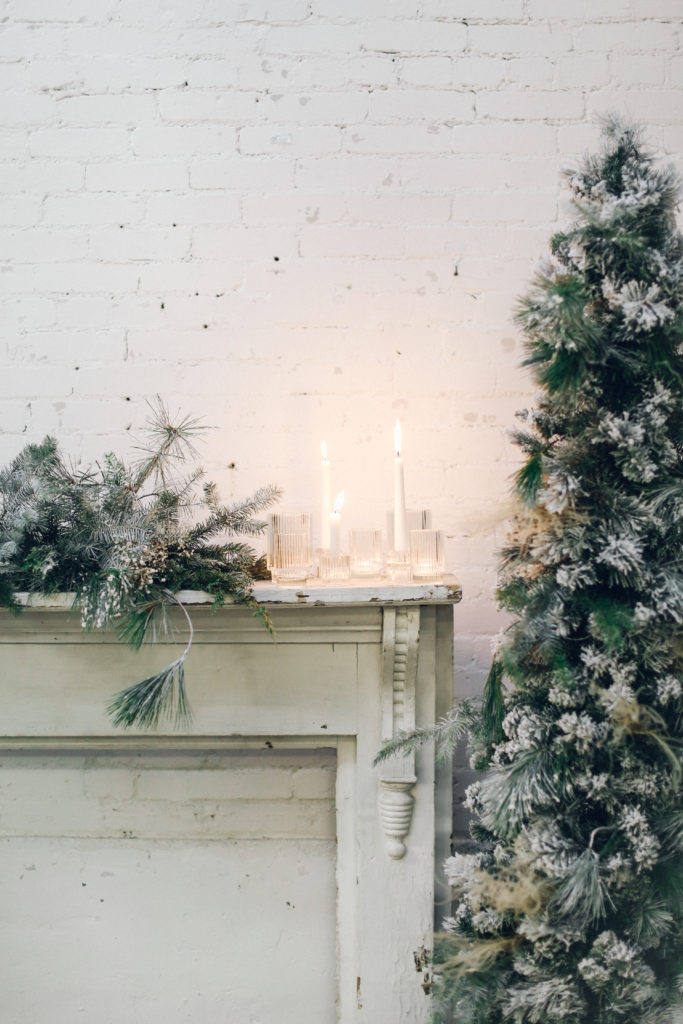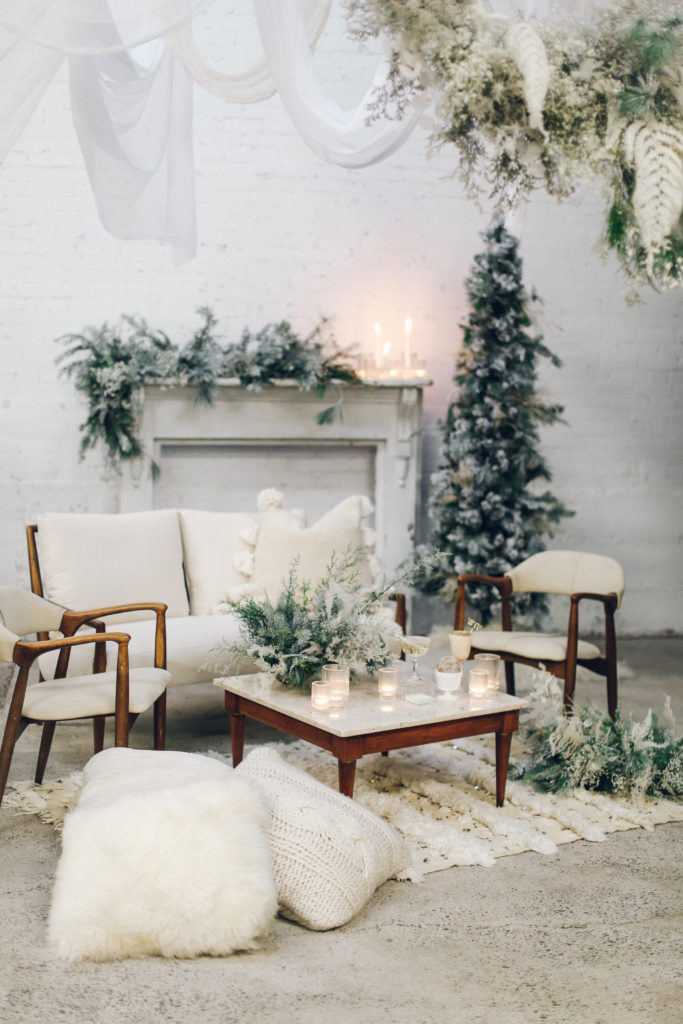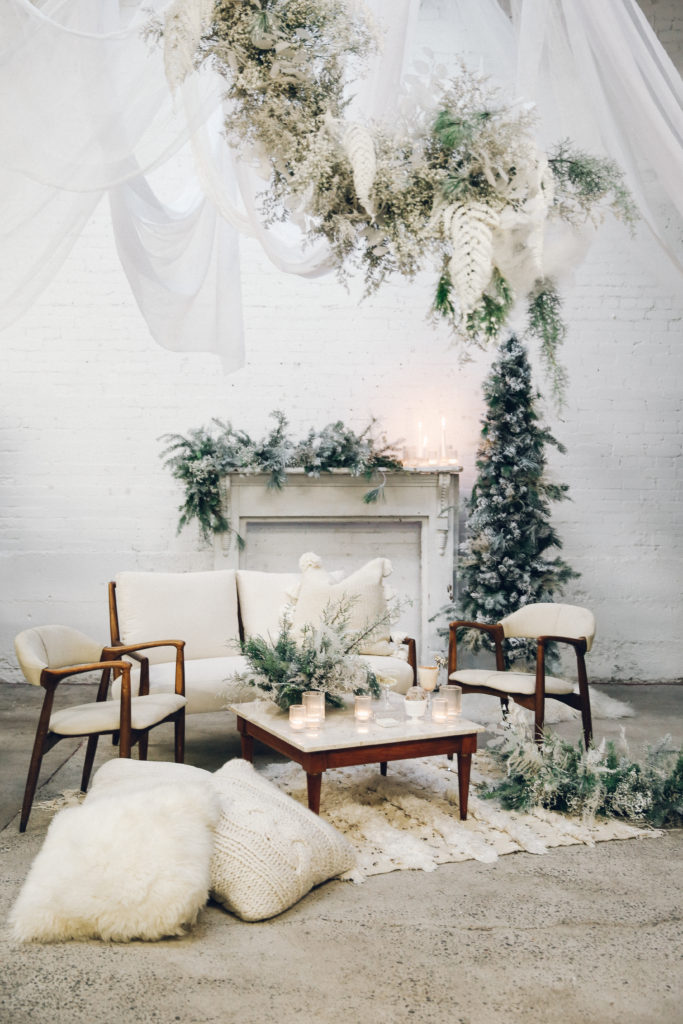 What did you think of what the flock? I am flocking in love!! Merry Christmas everyone!! New Year's fun will be coming at you soon!!
xx
Jacquelyn