We were so thrilled when Kimberly of Eat Sleep Wear reached out to us to style her bridal shower, we have been fans of her blog and followed her on social media for some time now.  It was a pleasure to meet and get to know her and help in such a small way during such an important time in her life.  Kimberly is getting married in Hawaii at the end of May and had seen our Aloha bridal shower we styled last year and thought we would make the perfect fit!
This time we wanted a bit more edginess and sophistication to the shoot, think a darker tropical feel with more blacks and whites mixed in.  It was a bit of a challenge to take a concept we had already done and do it with a different twist but we are so thrilled with how it turned out!
The shower was held at the amazing Palihouse in West Hollywood on their rooftop, such a rad location!  It has the cutest bar with an amazing view of LA, you honestly just feel glamorous being there!
All Photos by Felicia Lasala
This shower is also featured on 100LayerCake & Eat Sleep Wear today!!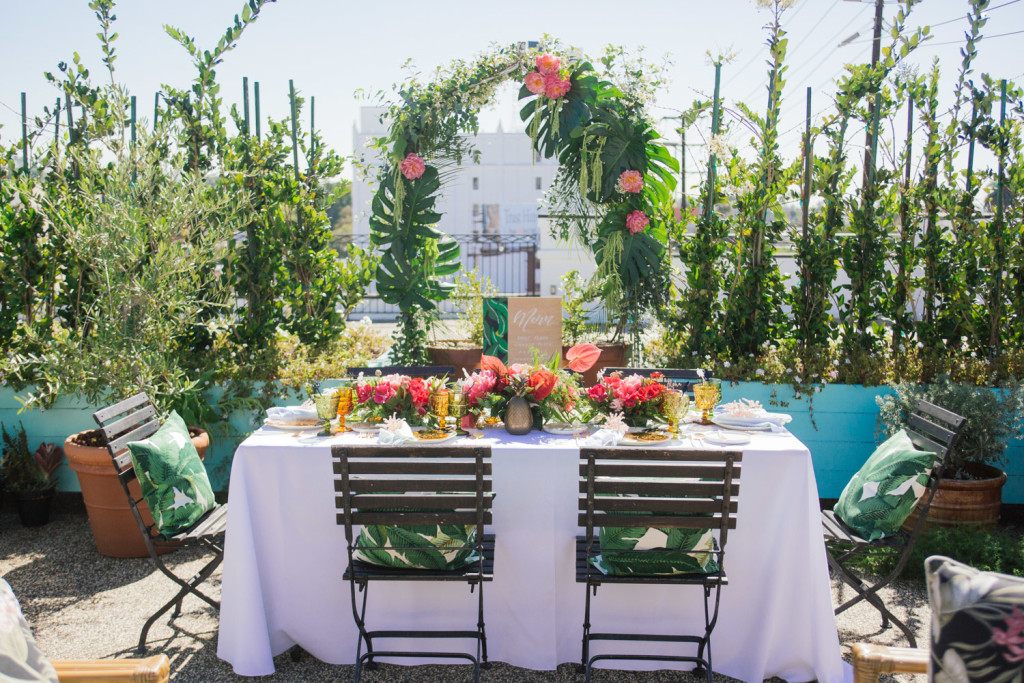 The coolest invite for the coolest shower by Nic Roc Designs, who also did lots of other amazing work for this shindig that we'll share in a bit!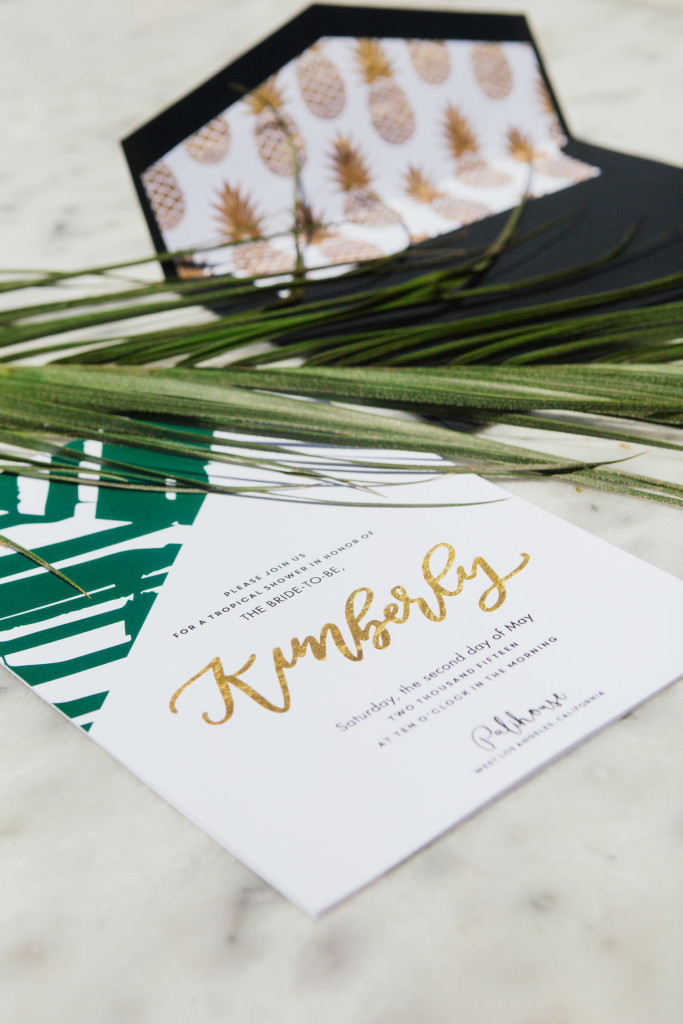 Our pal Taryn of Twinkle & Toast always amazes us with her incredible work, and this was no exception!  We loved these hand painted signs so much, they are seriously so gorgeous!  They added the perfect touch to the day!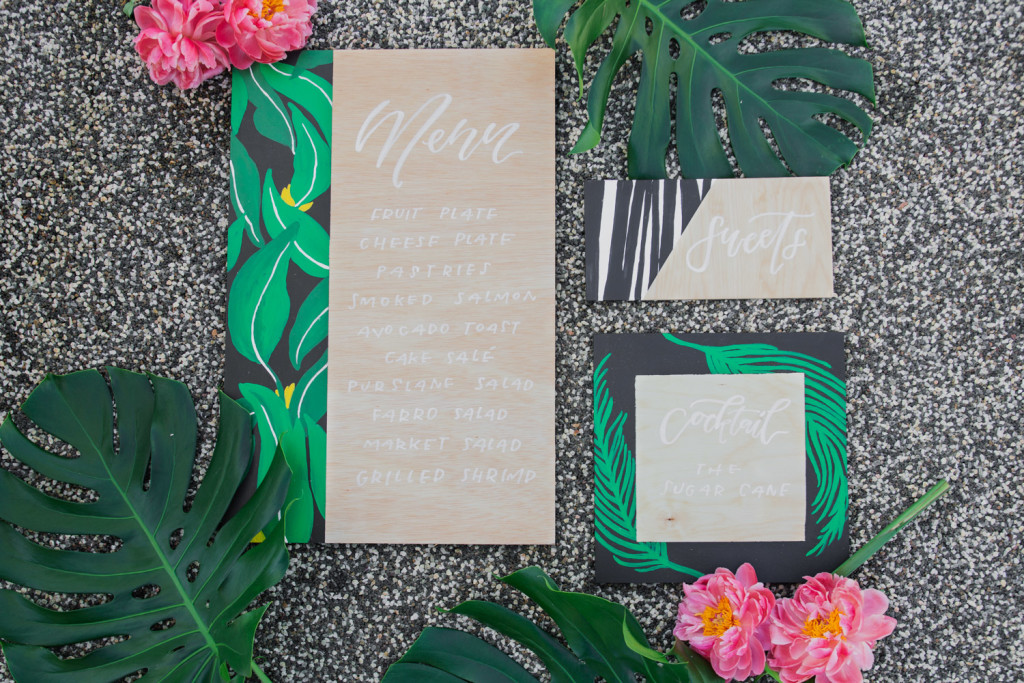 We loved mixing colors with the glassware on this one, these pink coupes from Borrowed Blu were perfect for our signature cocktail – The Sugar Cane!  We placed them on gorgeous vintage brass trays…
On to the table…
Holy Moly, we are in LOVE with this table!
Nic Roc Designs created these pretty acrylics using Taryn's pretty calligraphy!  Each guest had a gold acrylic pineapple at their place setting that said "You Had Me At Aloha", our theme for the brunch along with their names cut out in black acrylic.  She also added the most adorable mix of cocktail stirrers that she is actually selling in her shop – The Roc Shop – they make the best detail and are so fun for any party!!
And don't forget the gorgeous glassware, flatware and vintage plates from Borrowed Blu, it all mixed so well to create the perfect tablescape, we were obsessed.
The gorgeous blooms were by our girls at Bloom Babes… These ladies are the SWEETEST and honestly, well their name really suits them because they are seriously gorgeous!  And boy do they have some flower skills…  The Palihouse is already gorgeous but they made it even lovelier.  The arch was already in place but we added greenery and floral to go along with our theme which really added a huge statement.  Lots of pink peonies the size of your face were used and we were obsessed with them…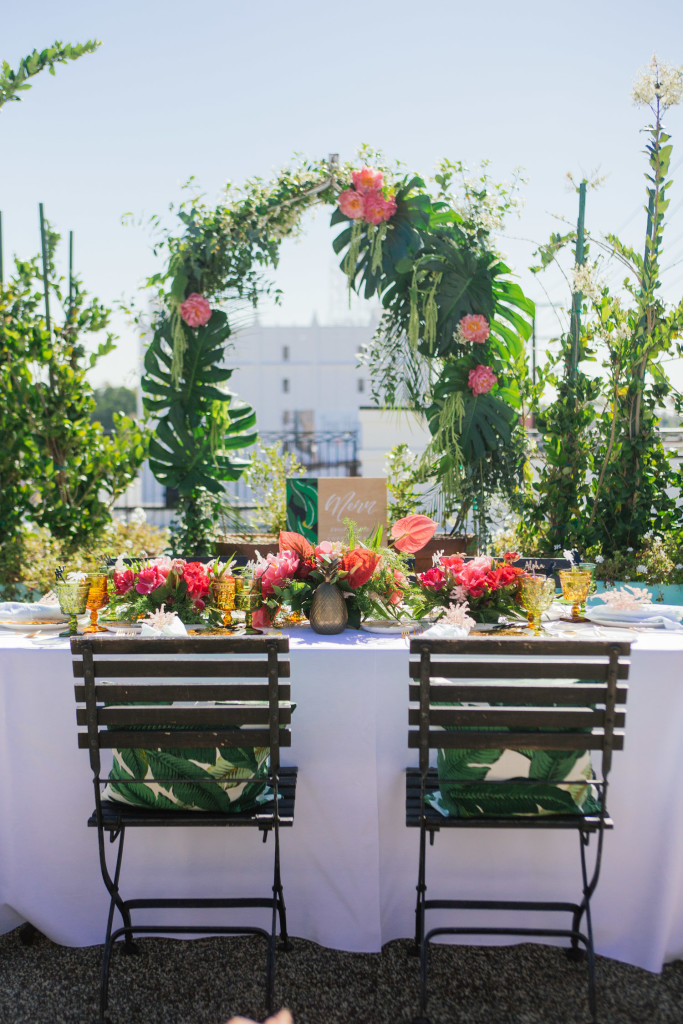 How cute is that brass pineapple from Borrowed Blu and how adorable are those palm pillows from Whitlock & Co!?!?
Bloom Babes also made pretty floral crowns for each guest and a special one for Kimberly, the bride to be!
It was so great to see Kimberly having so much fun with her friends and family!  The girls were all wearing the cutest dresses from Parker, who knew that their Summer '15 collection would match perfectly with our theme!?  So good!!!
And how cute is Kimberly's little nephew who made an appearance!?  Dressed in theme of course!!! Can't be outdone by his fashionable auntie!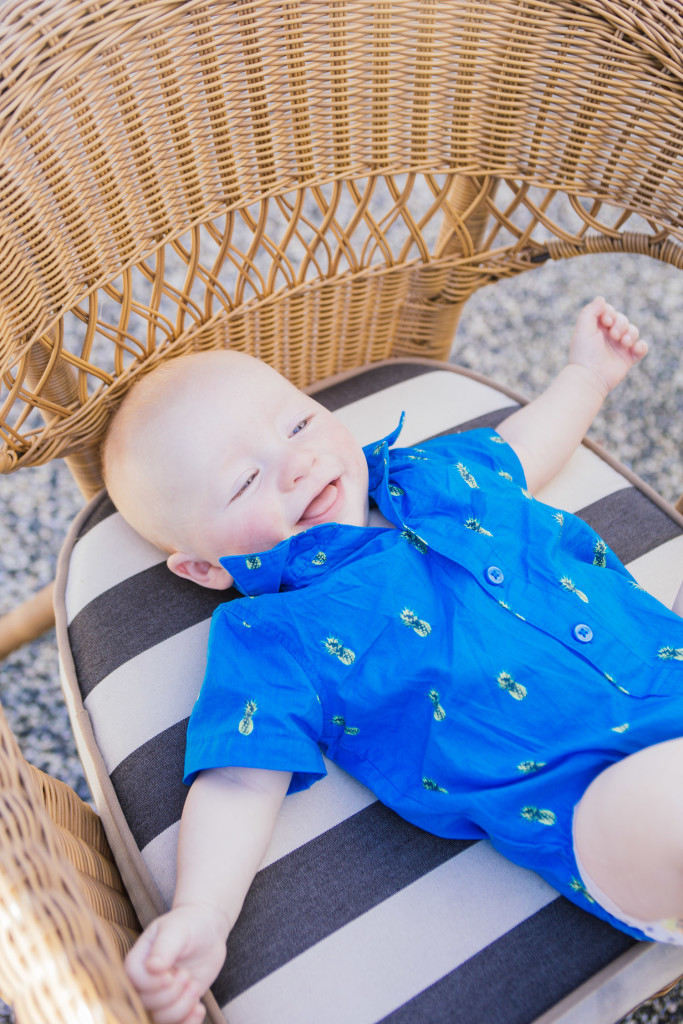 Ok… you may have seen all of this insane-to-good-to-be-true dessert goodness on our Instagram, and if you haven't you're in for a treat (literally and figuratively)!
You guys, these desserts from Sweet & Saucy Shop… They somewhat leave me speechless because they are so good!!!  Custom hand painted macarons for each guest… Hand painted sugar cookies…. Aloha cupcakes… The list goes on….  Just take a look!  We were so blown away by their creativity and artistry, they are AMAZING!
Now to top it off each lucky lady in attendance got the sweetest gifts from Kimberly!  Two gold layering necklaces – one reading Aloha by For Paul Handcrafted & a pineapple by Wanderlust & Co – along with Kim's favorite candy from Sockerbit… Lucky ladies indeed!
Miss Kimberly looking oh so lovely wearing the necklaces….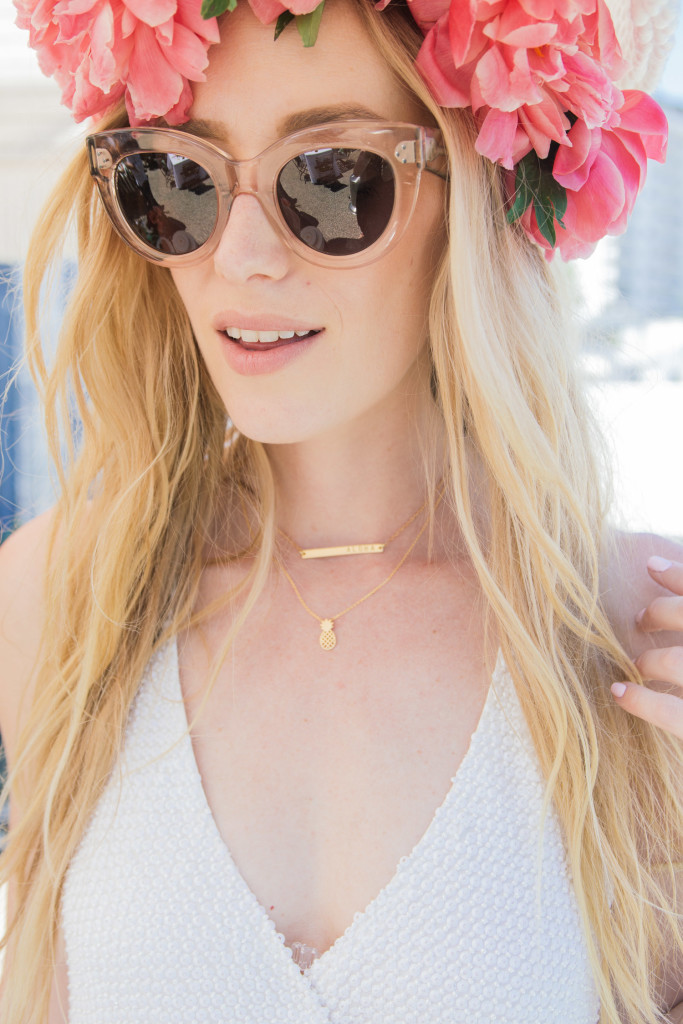 Now we all know no bridal shower is complete with out a visit from the groom!  Blake was such a good fiancee to come and check up on Kimberly to make sure her day was perfect :)
These two are seriously cute together, we wish them a lifetime of happiness!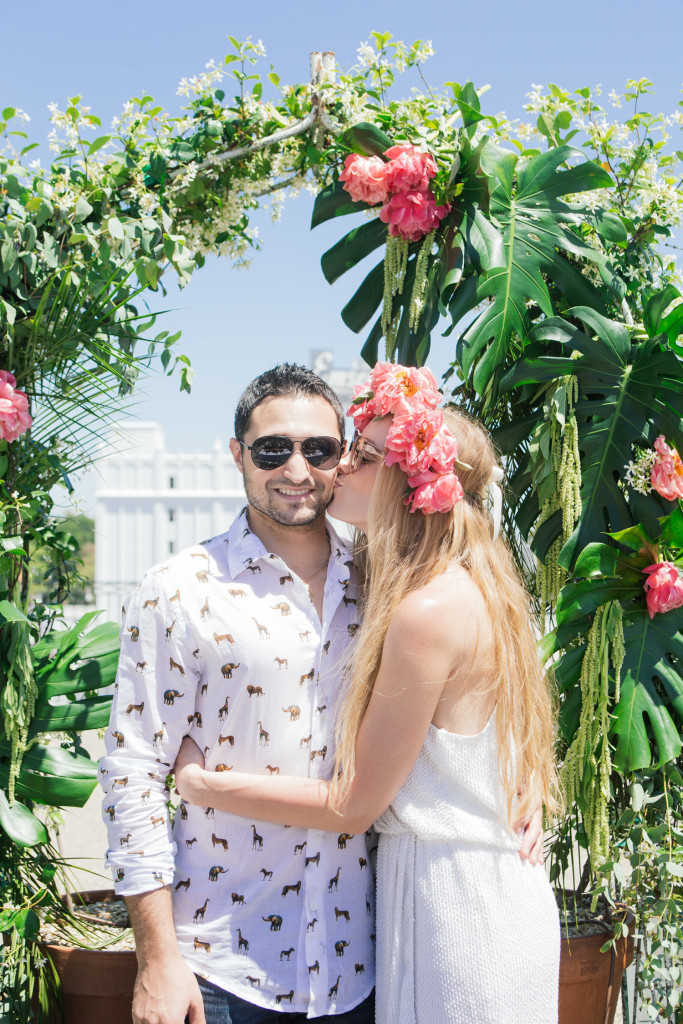 Cheers to these two and to you!  Enjoy your weekend lovelies!!!  Aloha!!