What a fun Halloween season it's been! We have had so much fun sharing all the Halloween goodness this past month and I think we may have saved the best for last! Our dear friend and constant collaborator Corrie Lynn Photo's daughter Monroe turned 1 and she enlisted our help to throw her a haunting Halloween front yard party. We went for a pastel version for Monroe's Monster Mash and it turned out so dang cute!! Plus, you know it's good when the birthday girl gets to wear a birthday cake costume, come on!!!
Photos by one talented mama, Corrie Lynn Photo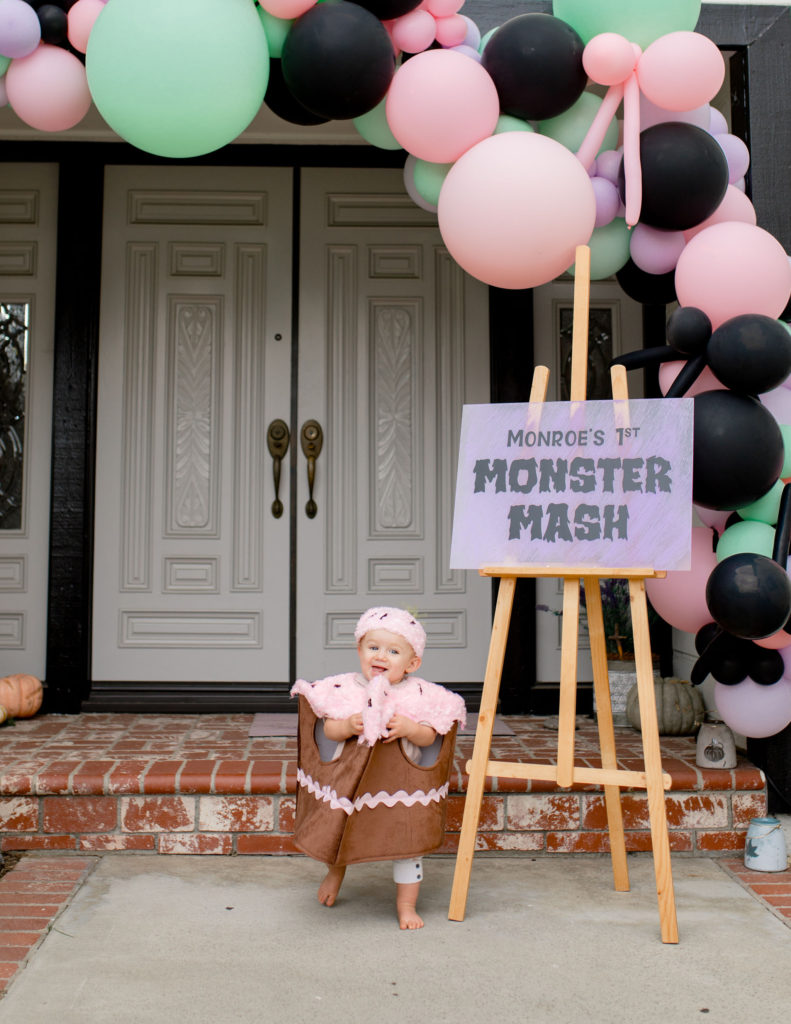 We kept this party all in the front yard but still had the entryway be a focal point. Lots of pretty balloons by The Pop Shop, along with the cutest welcome sign by Poppy Jack Shop greeted guests upon arrival. How perfect is that spooky font Poppy Jack Shop used and how cute are those balloon spiders by The Pop Shop?! I am obsessed!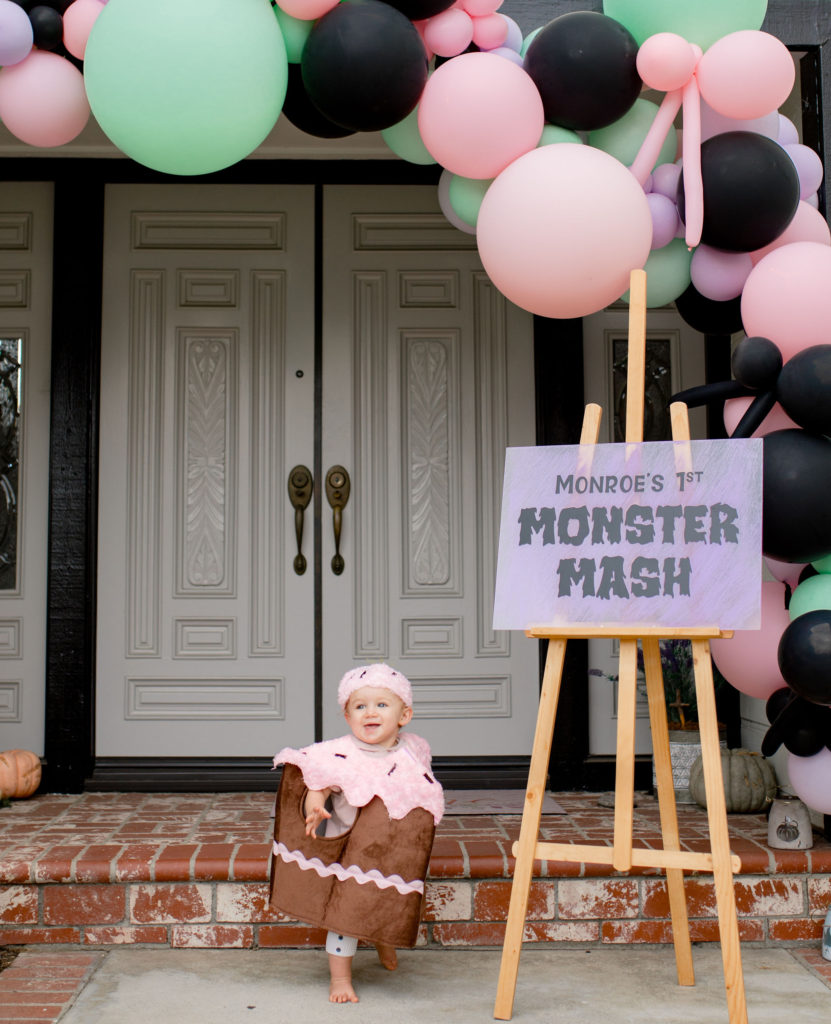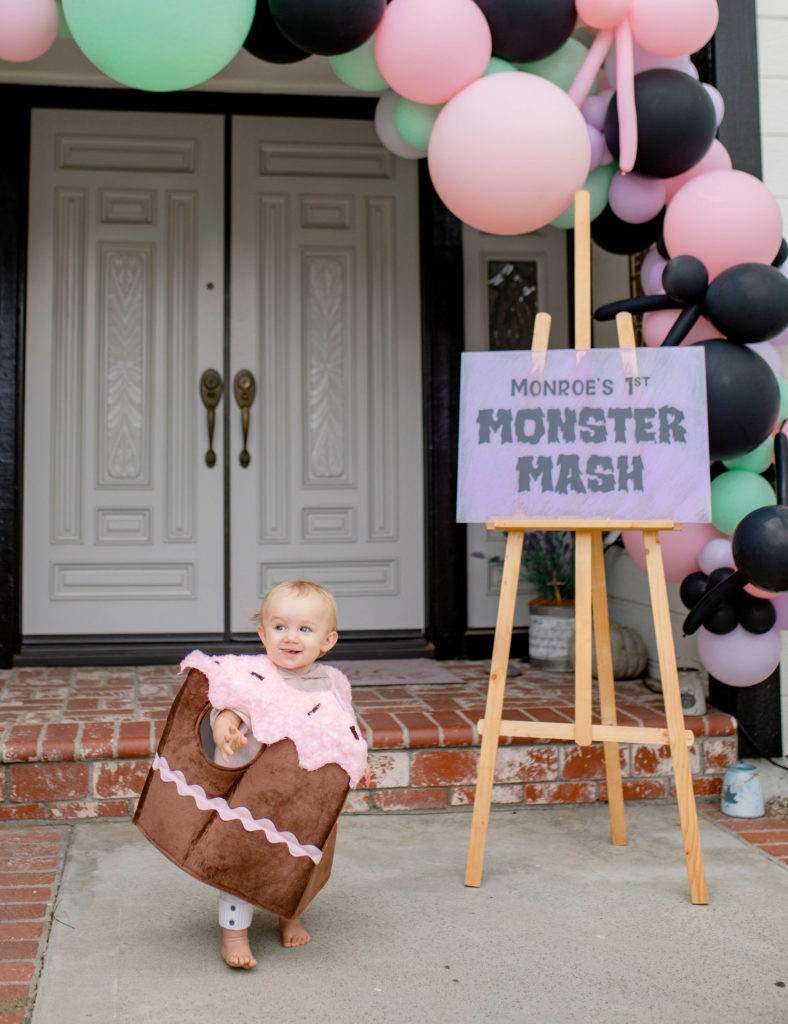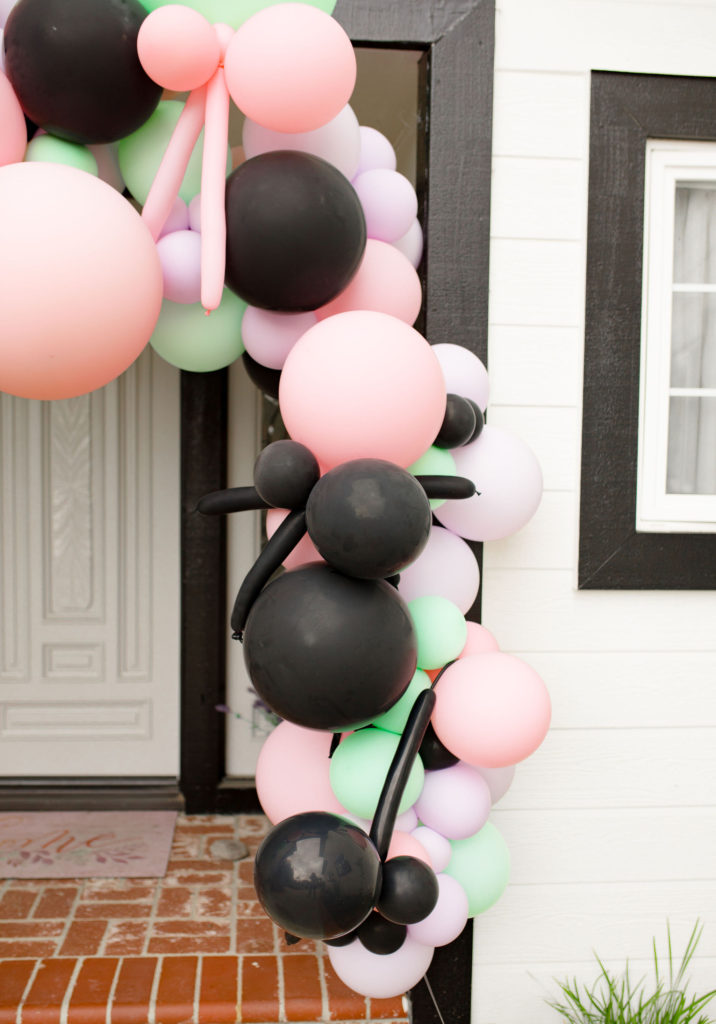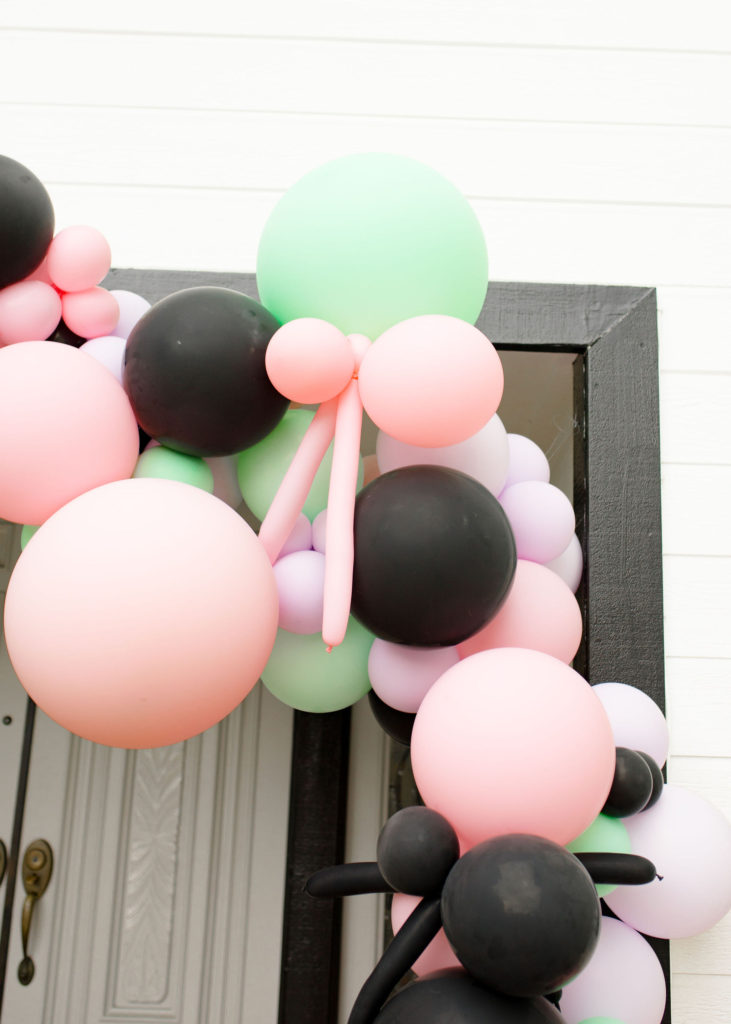 Lucky for us Corrie's parent's front yard, where the party was thrown, is quite large. So we had lots of space to work with when deciding on placement. This pretty tree in their yard was screaming to be a focal point so we put the kid's table under it. A pretty low table with all the pretty colored pillows from Sweet Salvage Rentals hit the spot along with gorgeous florals by Wild Darling Floral. And you know we had lots more balloons by The Pop Shop, we don't mess around!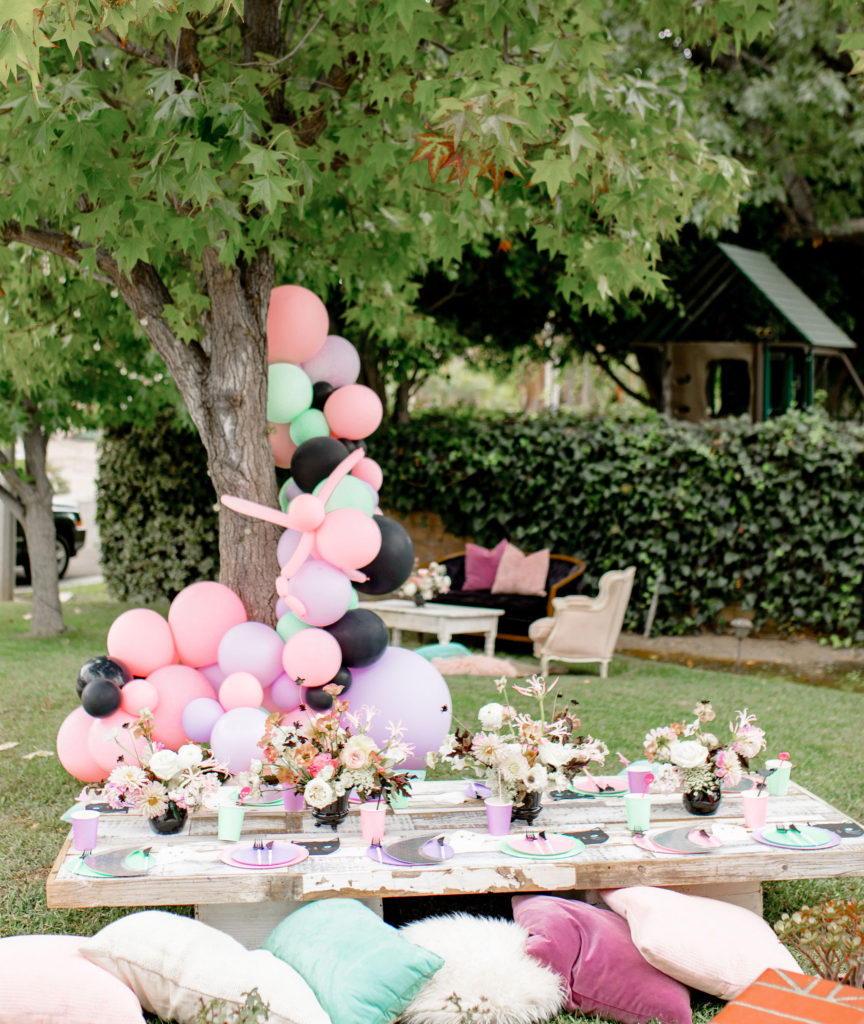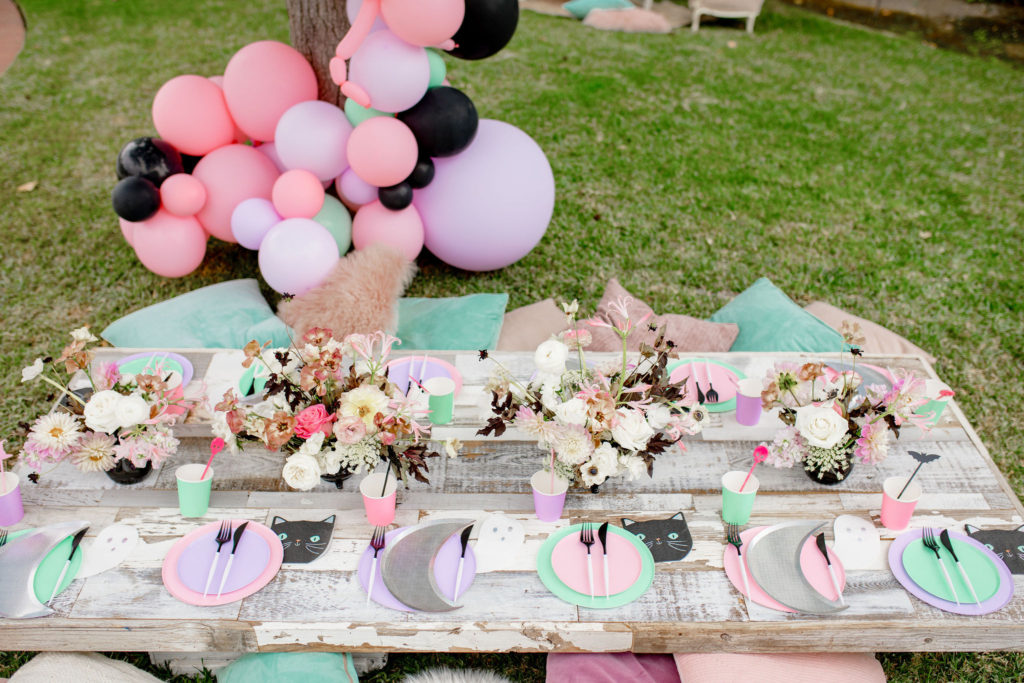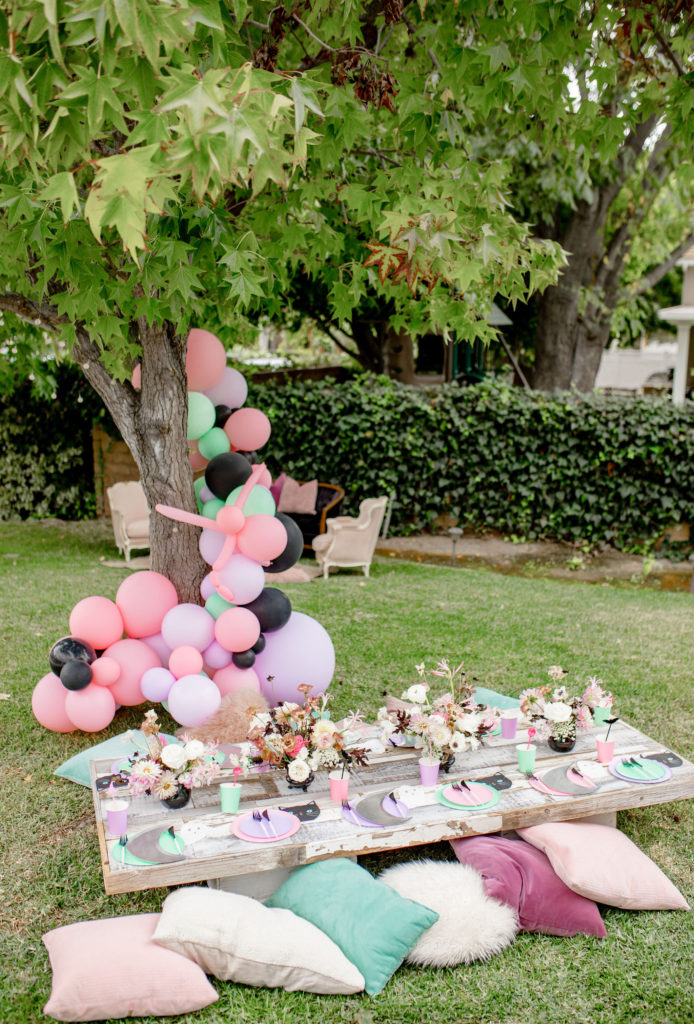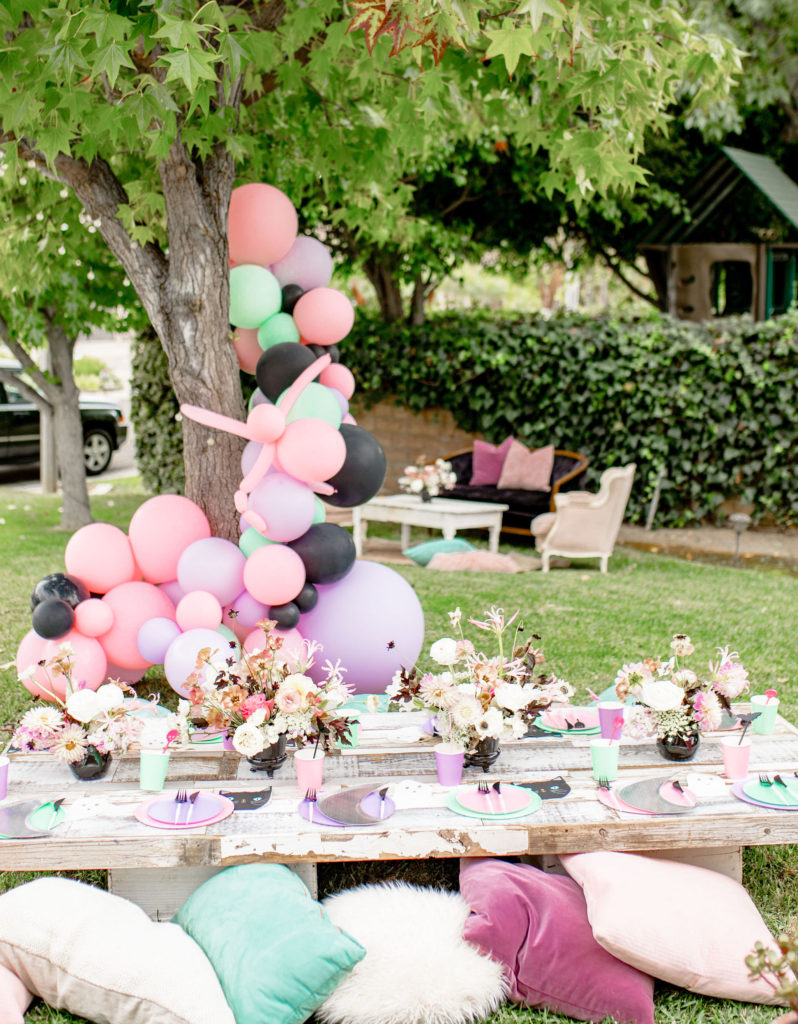 I found all the cute tabletop from Oh Happy Day Party Shop and Bonjour Fete. I love layering so I started with our color scheme in Oh Happy Day's classic plates and paired them with some fun Meri Meri themed plates and napkins purchased from Bonjour Fete. I, of course, used my favorite Sophistiplate flatware and with details like Poppy Jack Shop's cocktail stirrers and Wild Darling's Florals it came out to sweet Halloween perfection!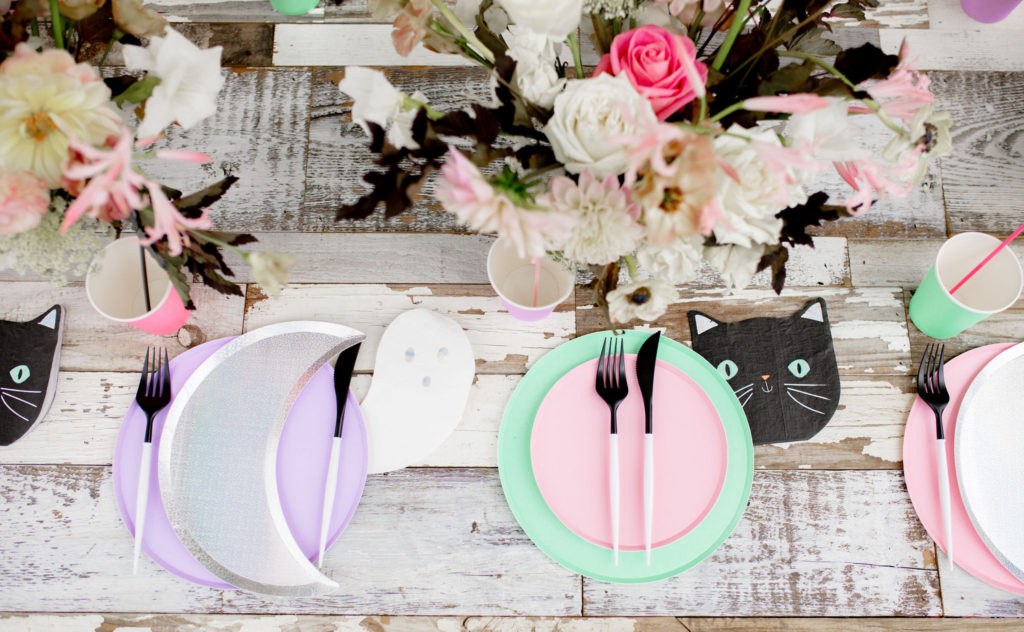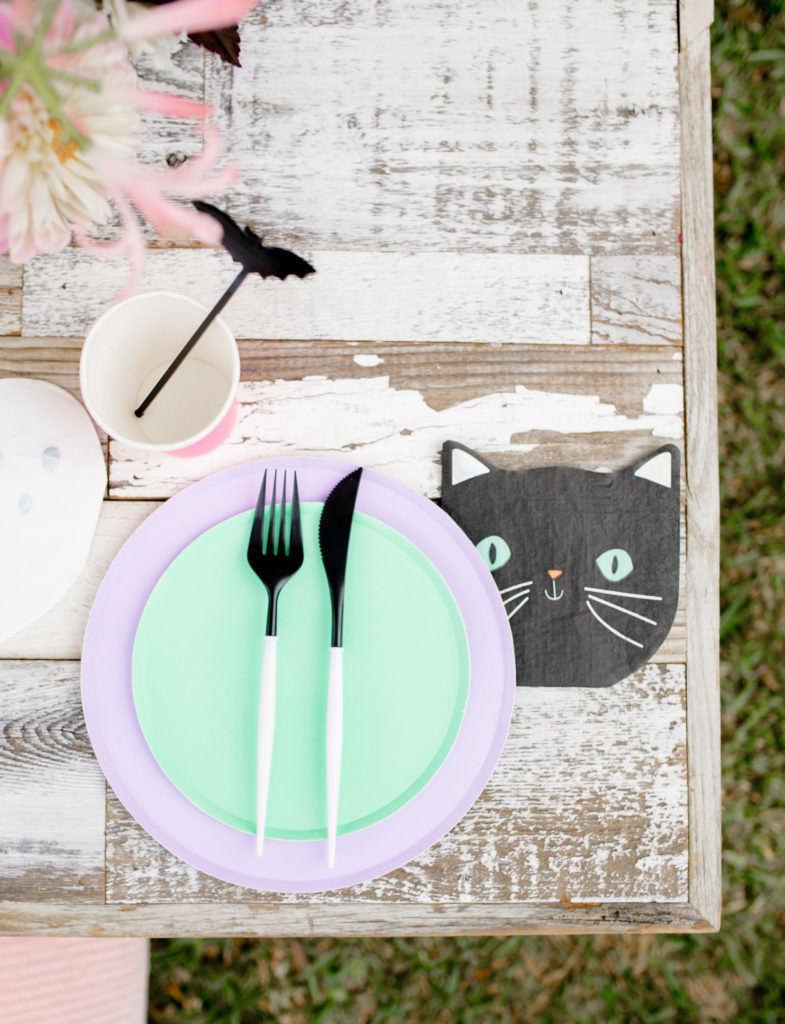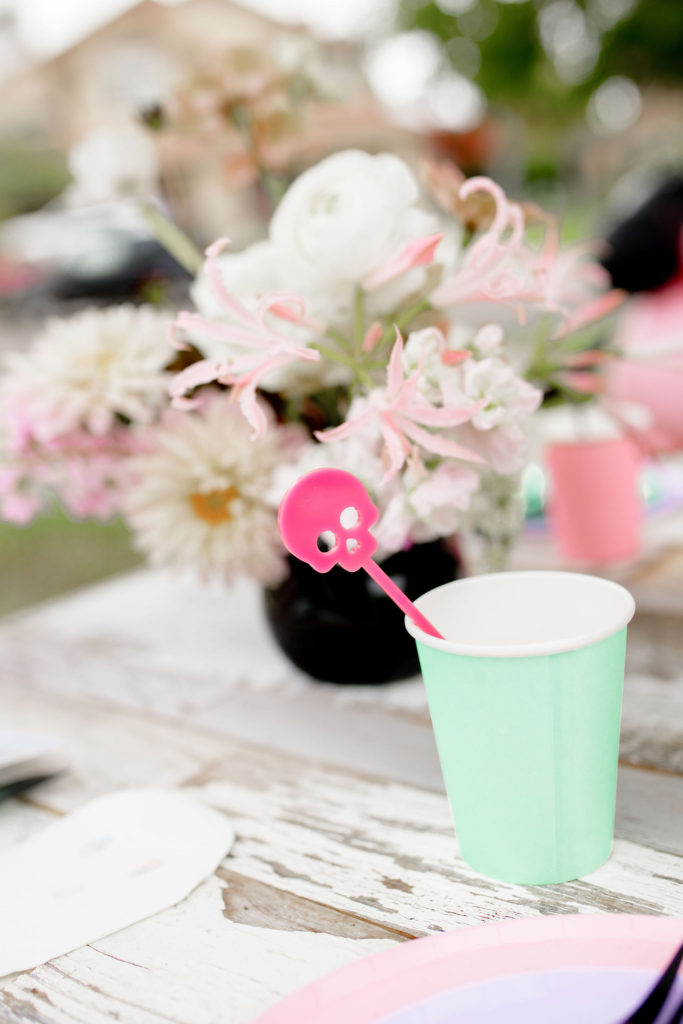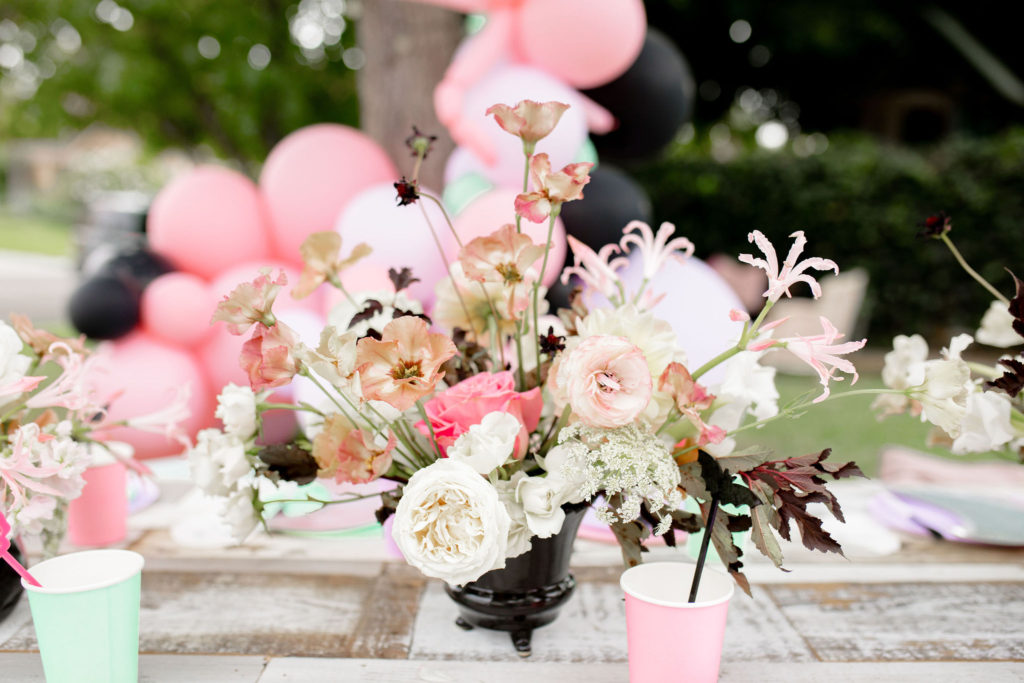 I'm just in love with this set up!!! Such a fun and girly take on Halloween!!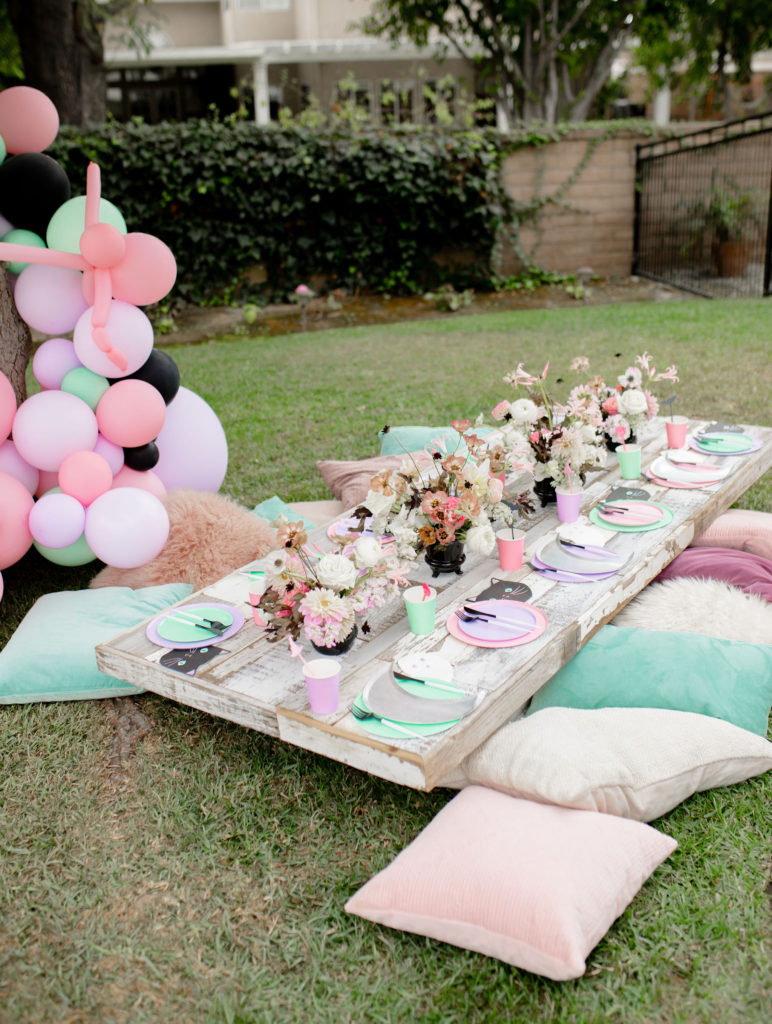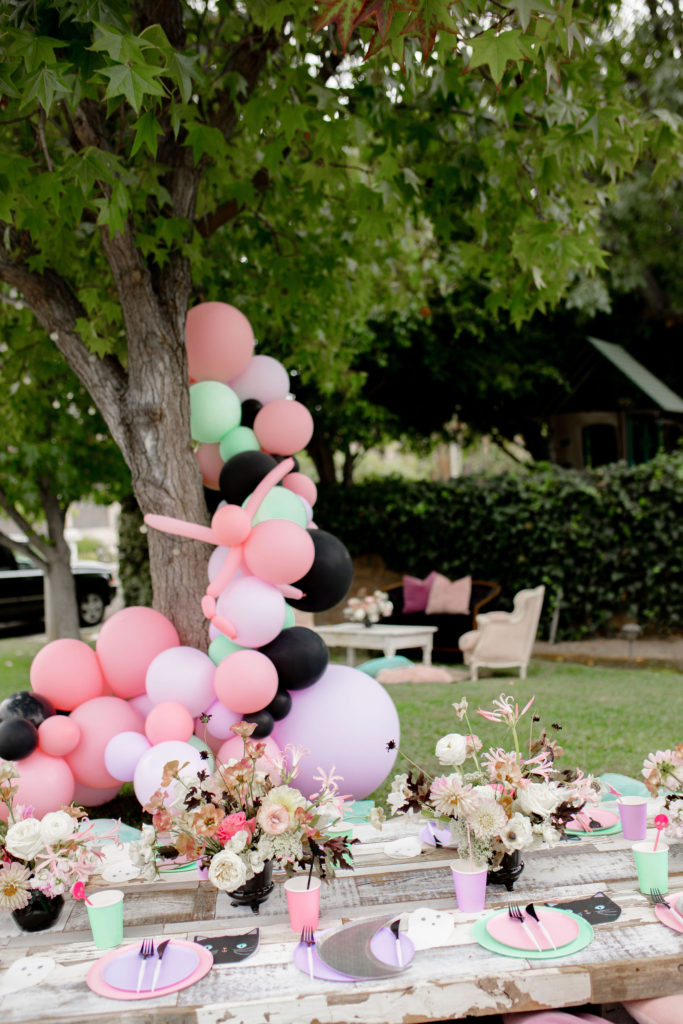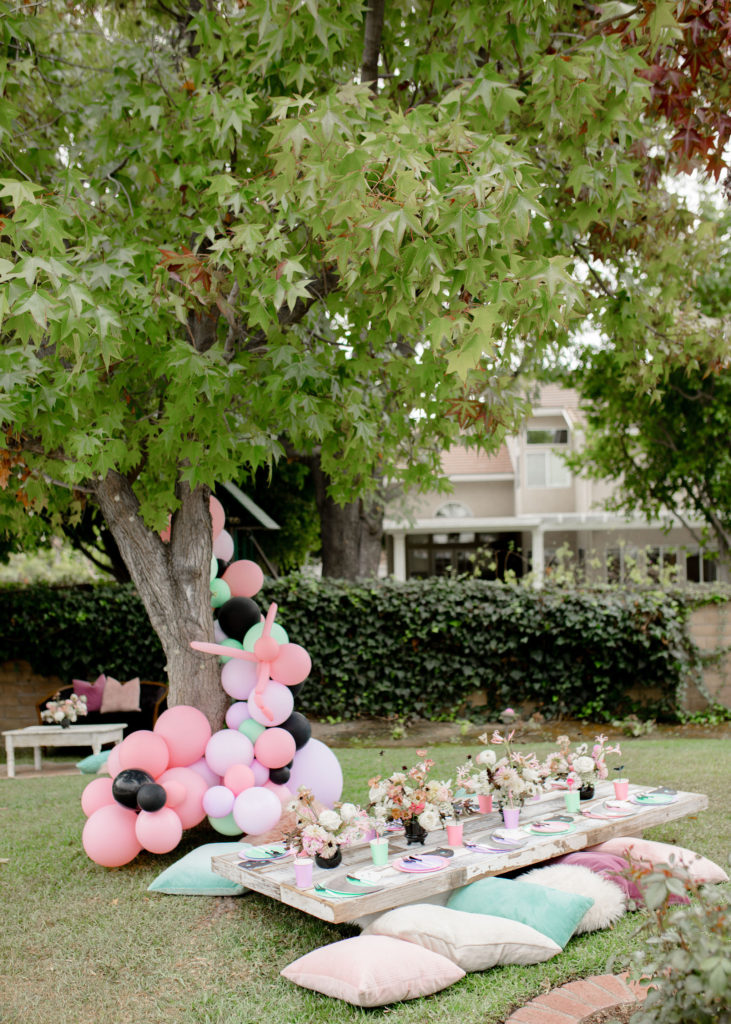 Near the kid's table, we had high tops for adults to use. It's one of our go-to additions to any kid's party. Parents are constantly on the go watching their littles so they don't necessarily need a table, but a spot to put their drink or eat a quick bite. We spooked these bad boys from Sweet Salvage Rentals up with some black and white paper, very reminiscent of Beetlejuice!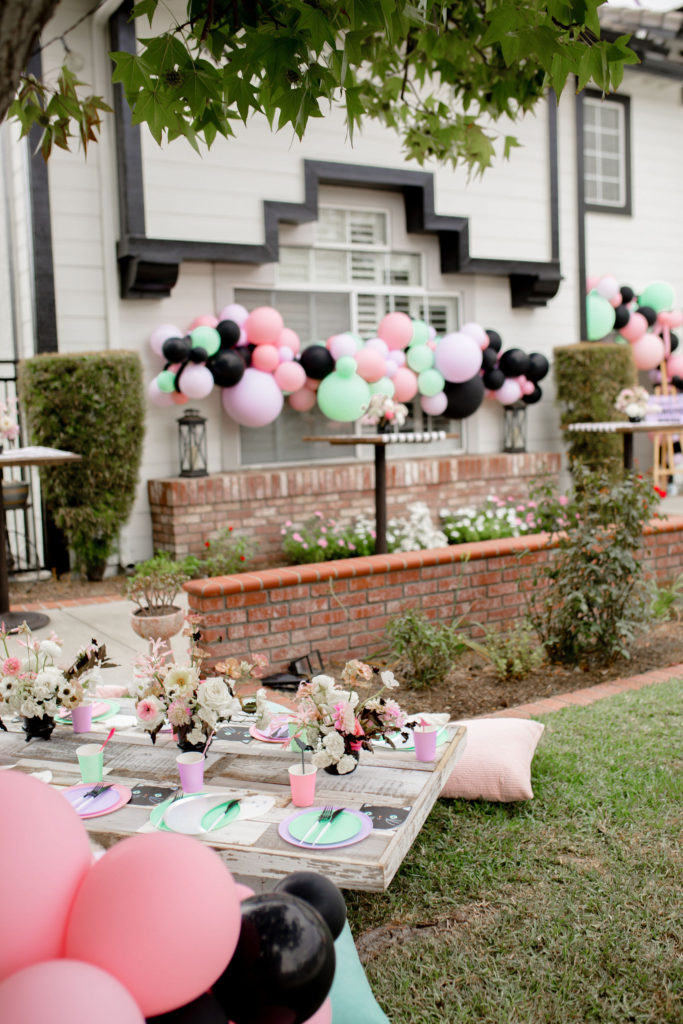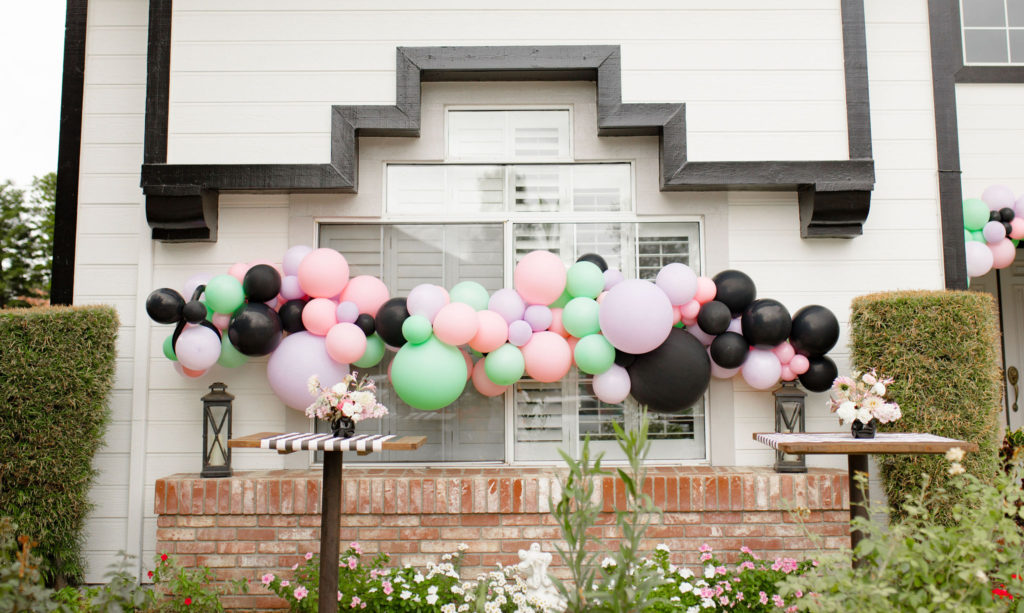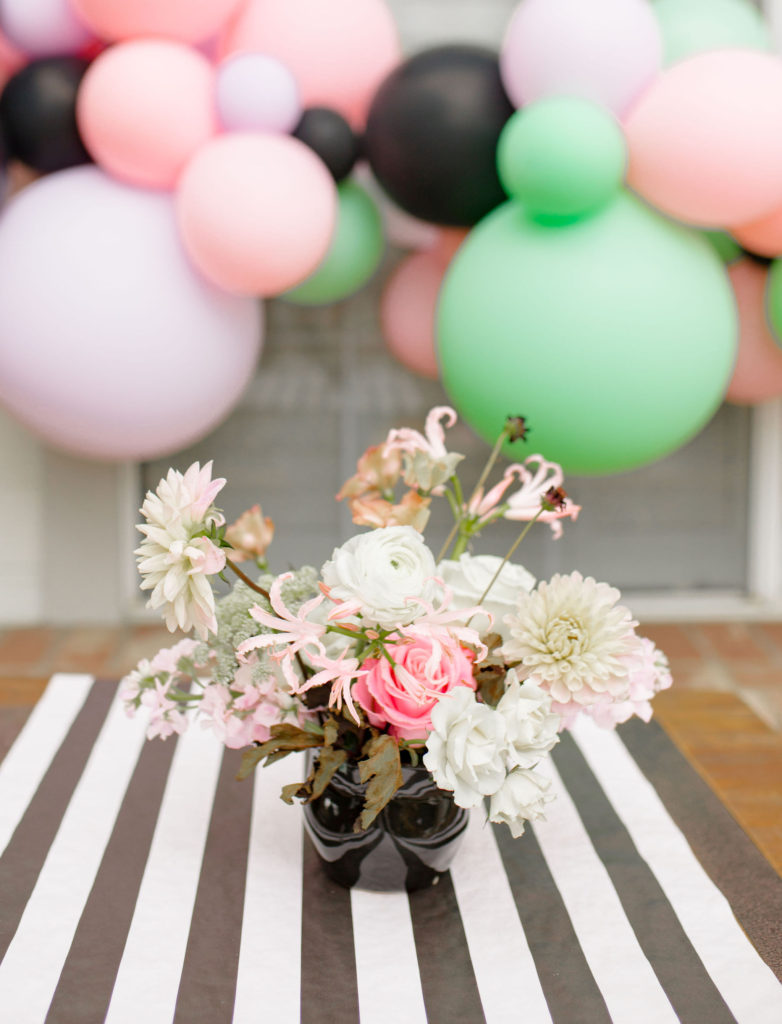 One more, because major heart eyes!!!!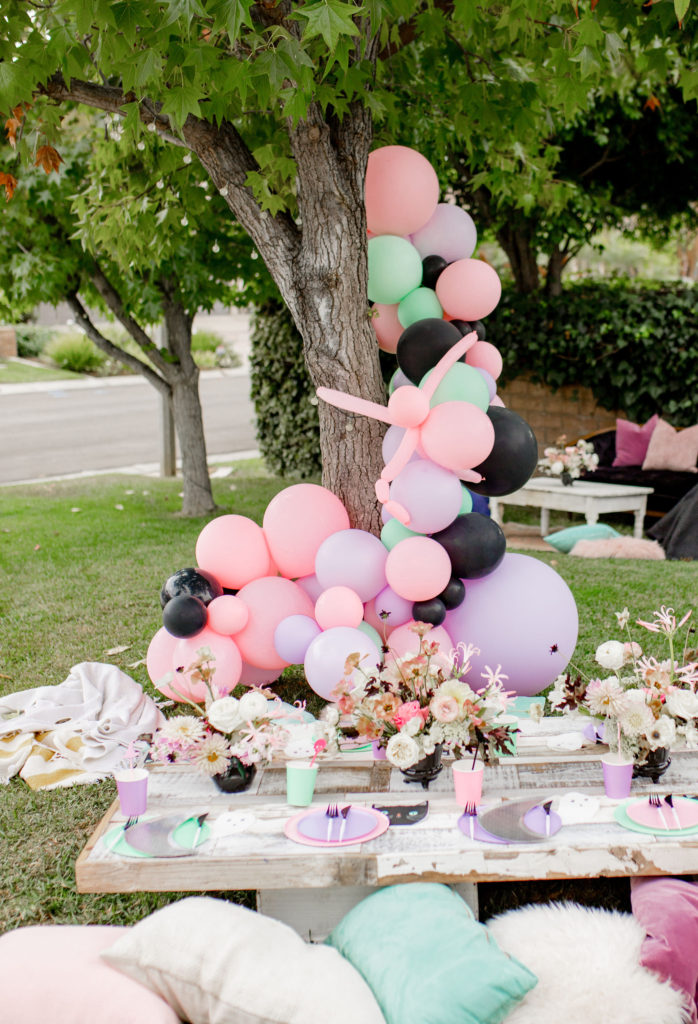 Besides high tops we also love a little lounge area for parents to relax. And even little ones can chill on the rug and pillows or work on their walking along the coffee table! Another perfect spot to hang during a party that you need to be on your toes…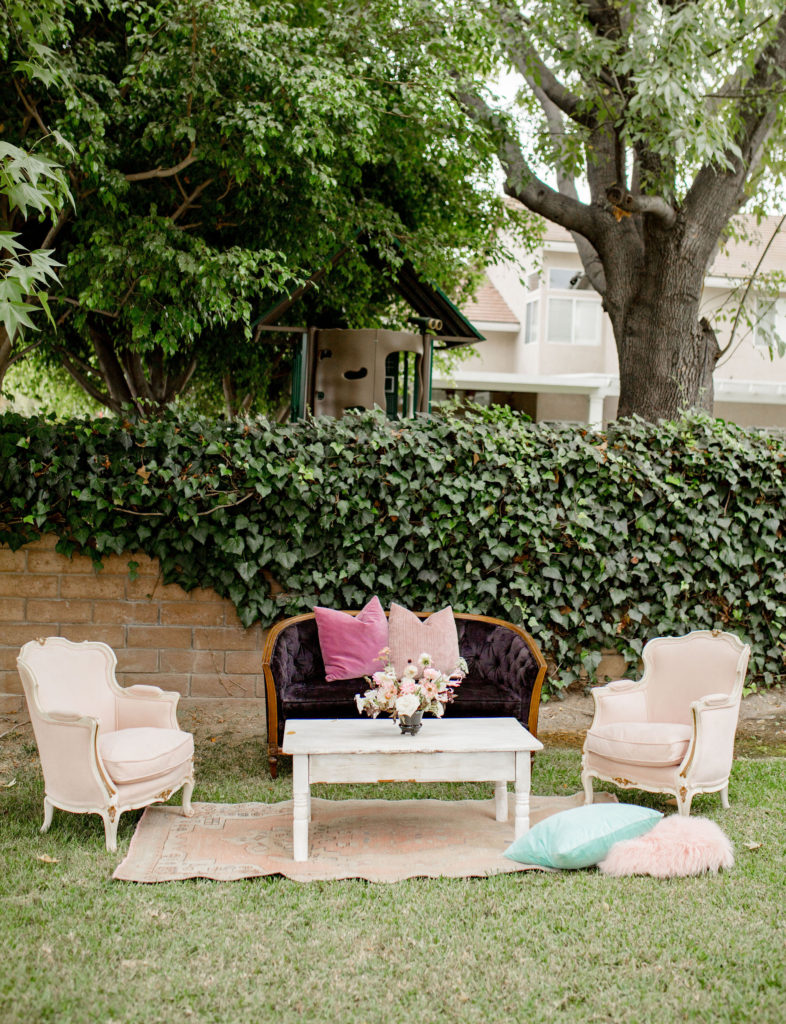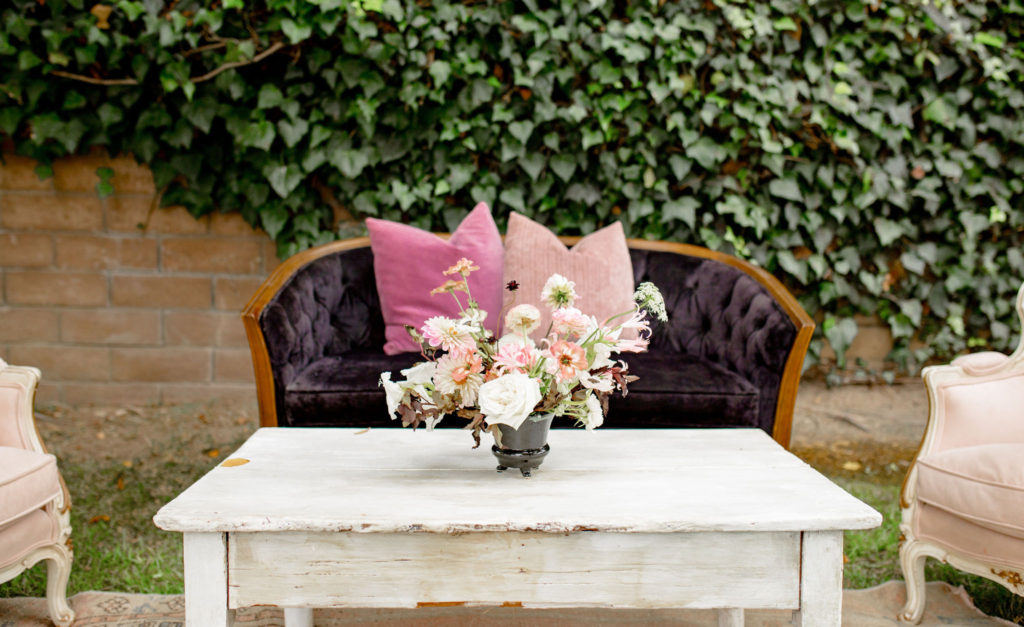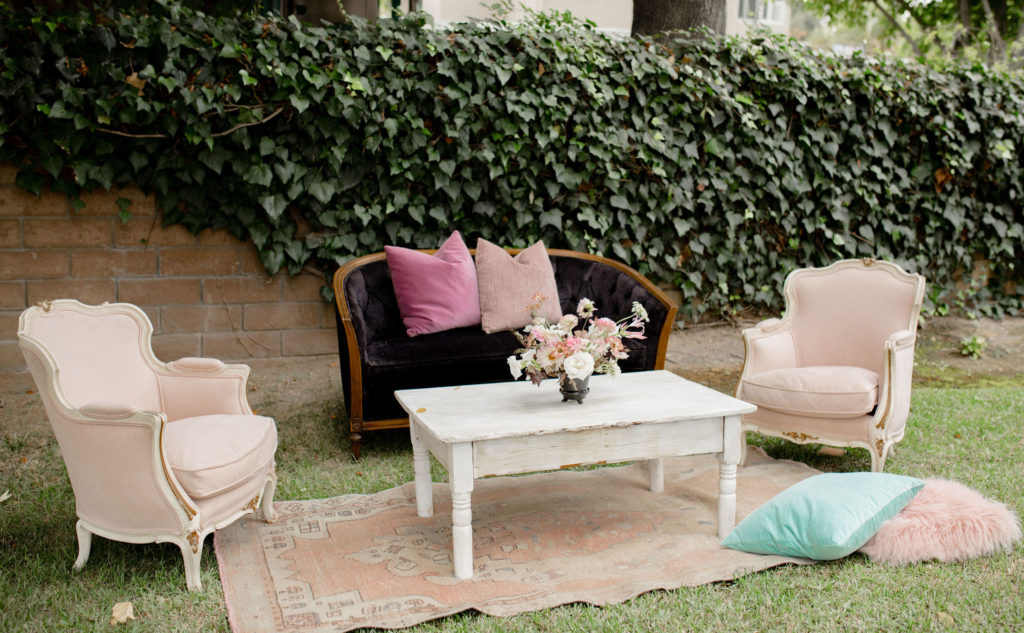 For a fun craft, Corrie got mini pumpkins from Trader Joes for the kids to paint. Such a cute craft for tiny ones and a great decor piece to have until Halloween. I love displaying my kid's artwork during holidays, I mean, it's why we all became parents, right?! The cutest signage from Poppy Jack Shop completed it, and do you notice the nod to the grave shape?? Spooky!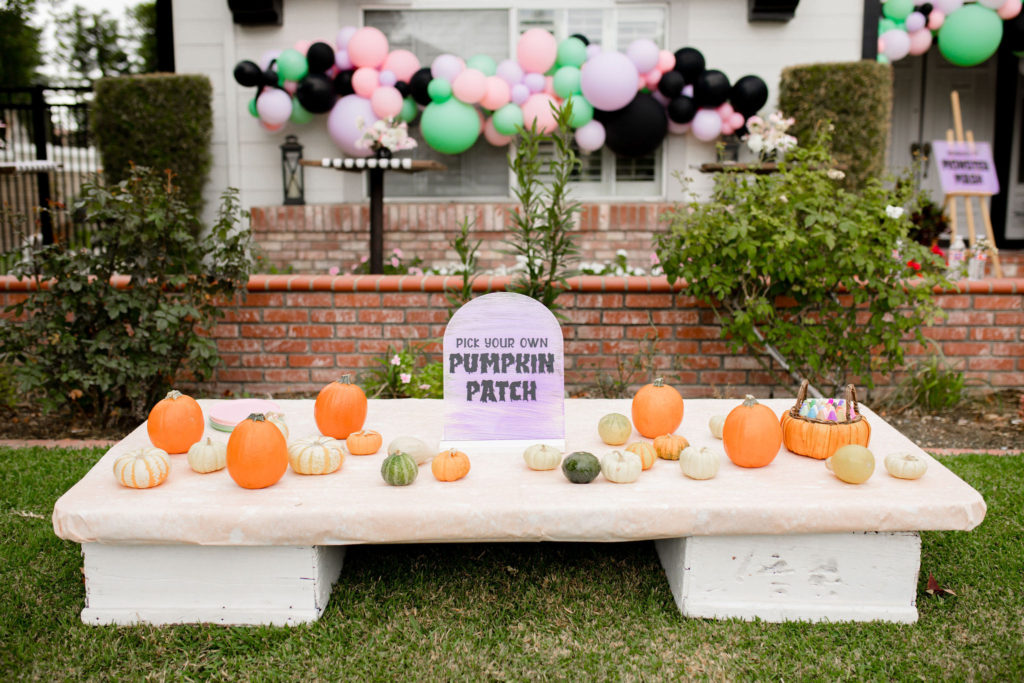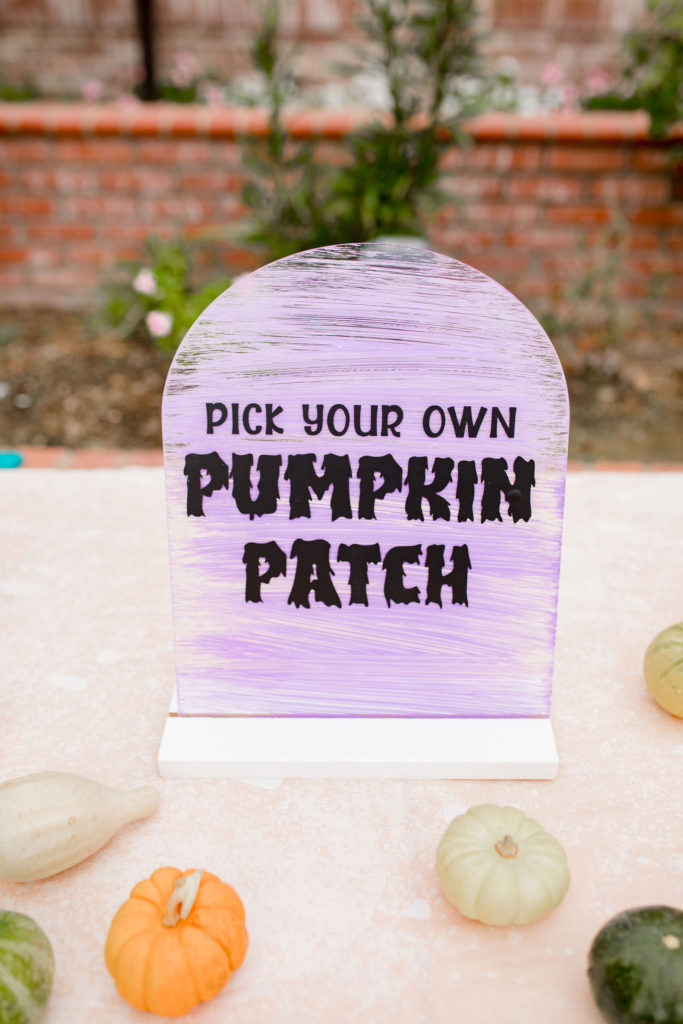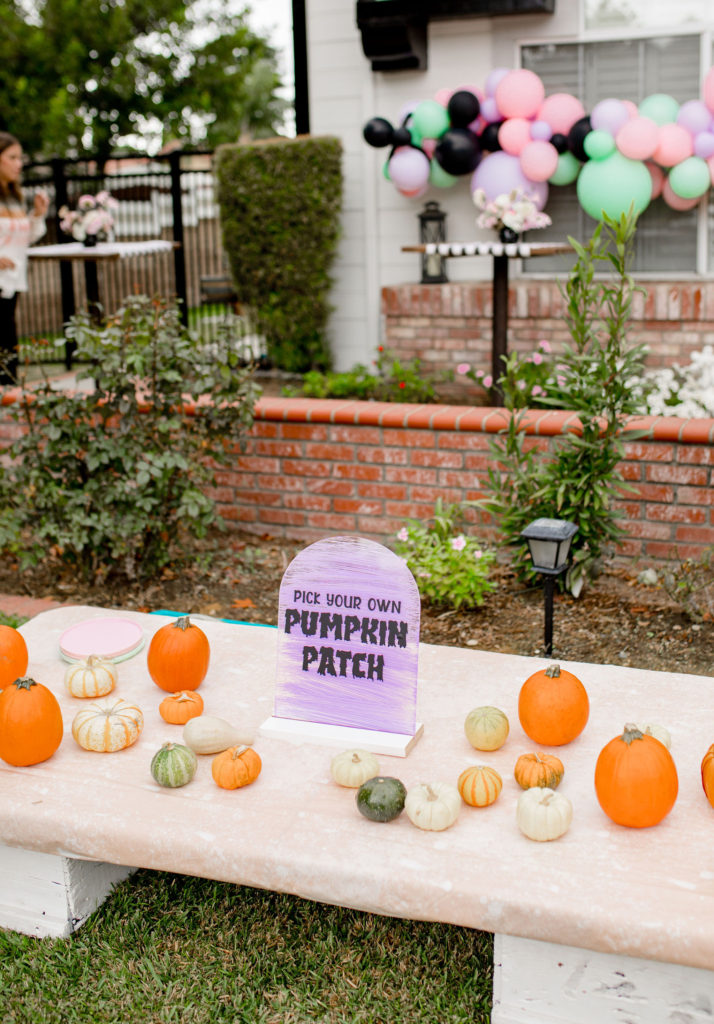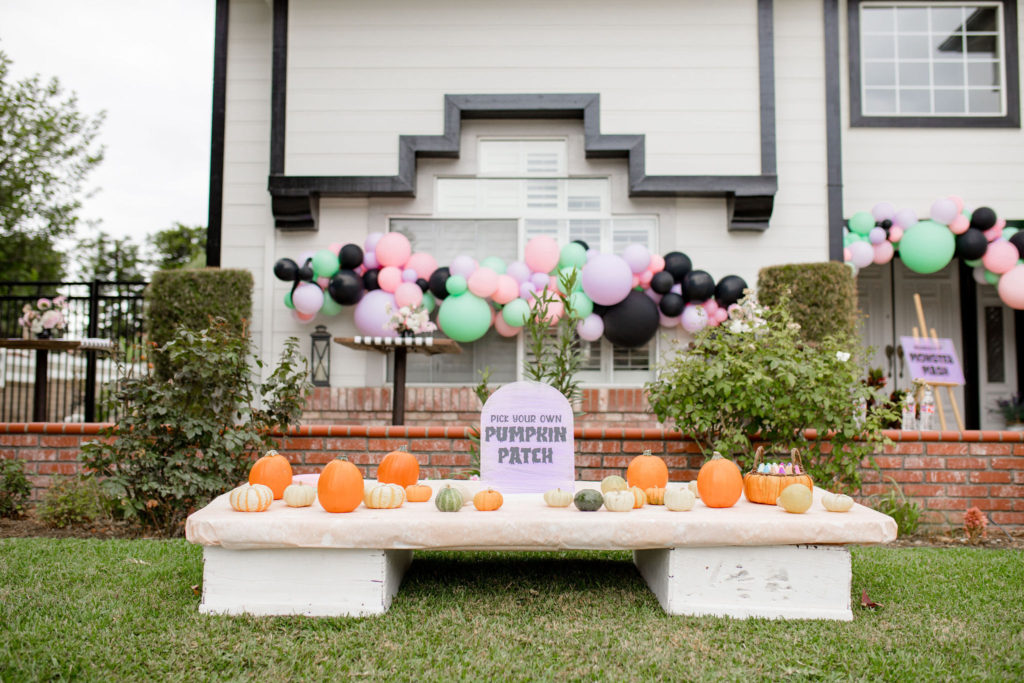 A beverage station is a must – but at a kid's party alcohol is too, haha! Pick your poison parents, we know you're just here for the boo-ze!!! I loved this mint green table from Sweet Salvage Rentals that went along with our theme. Plus, those gem-shaped glasses are so fun!!!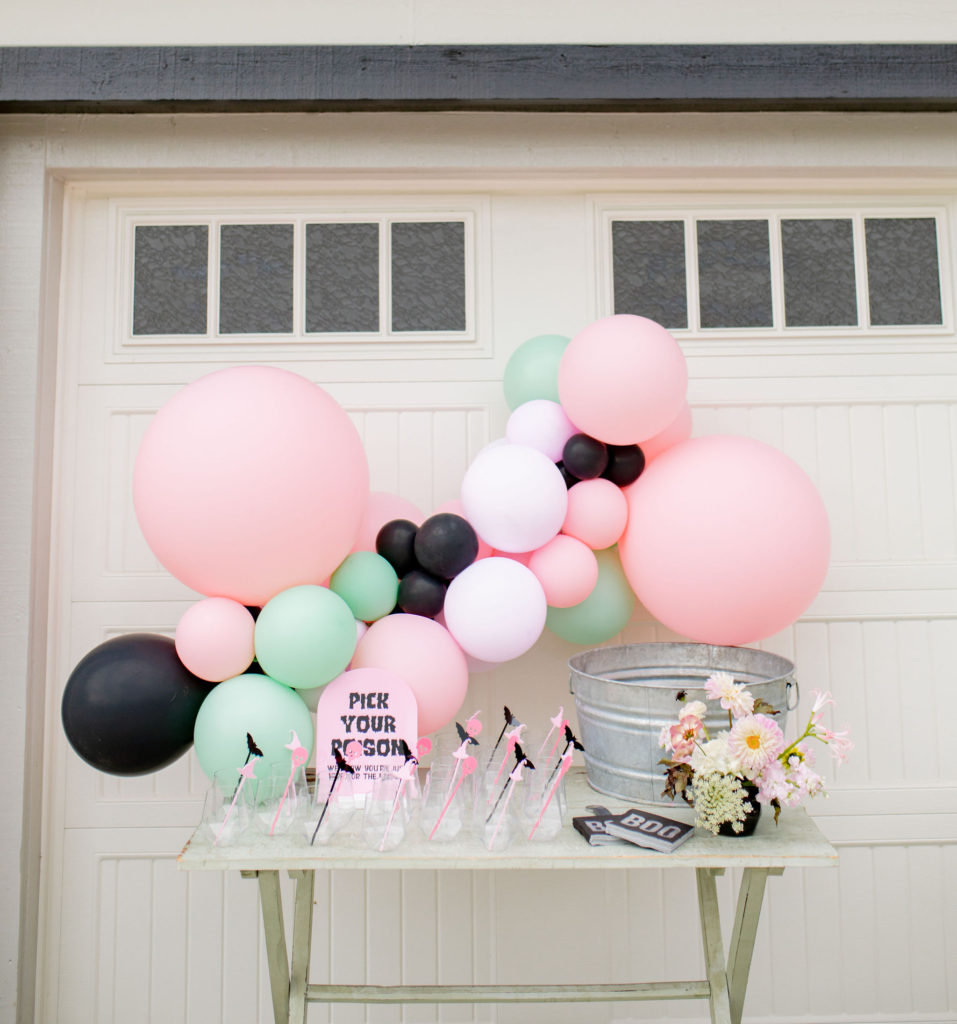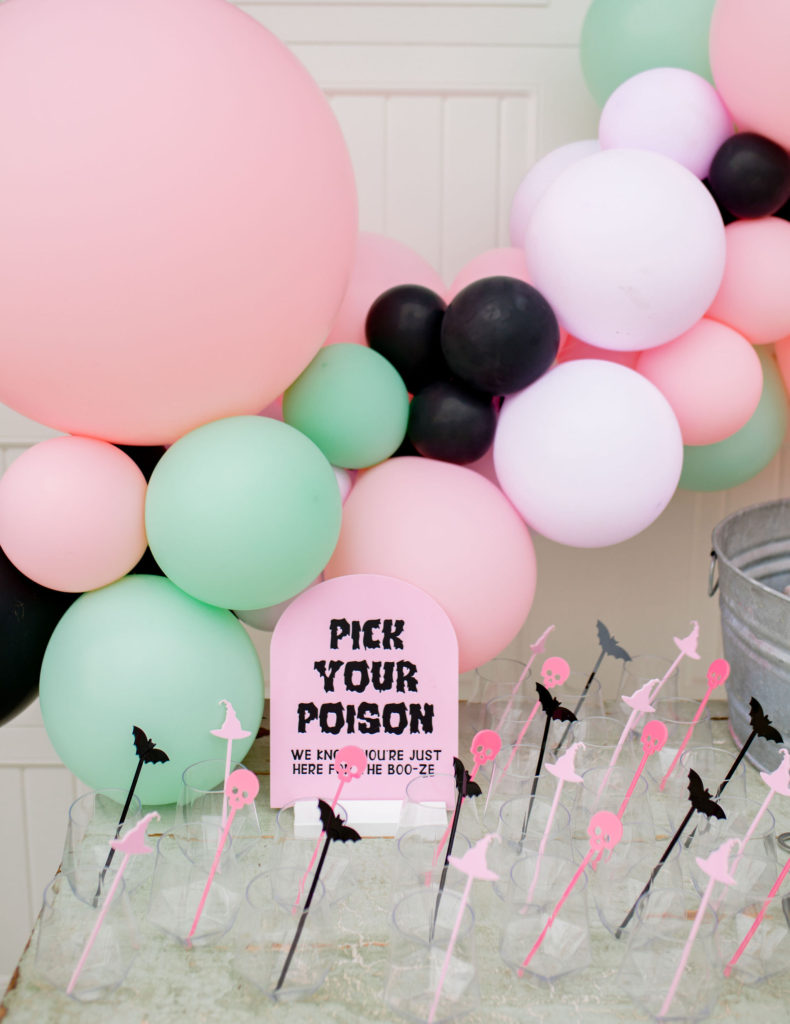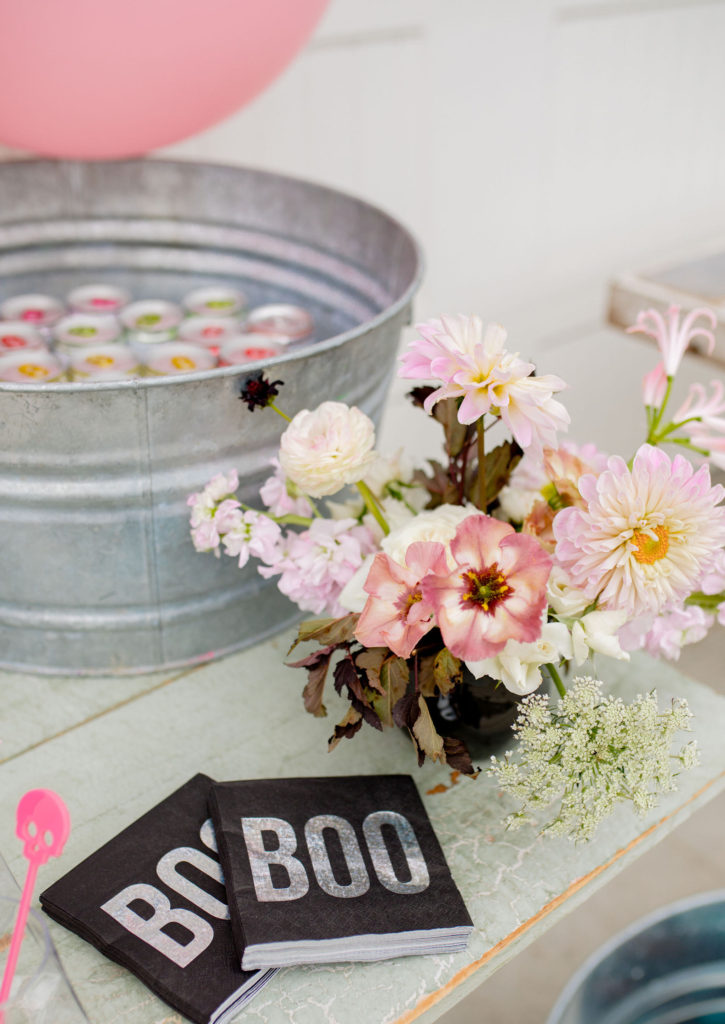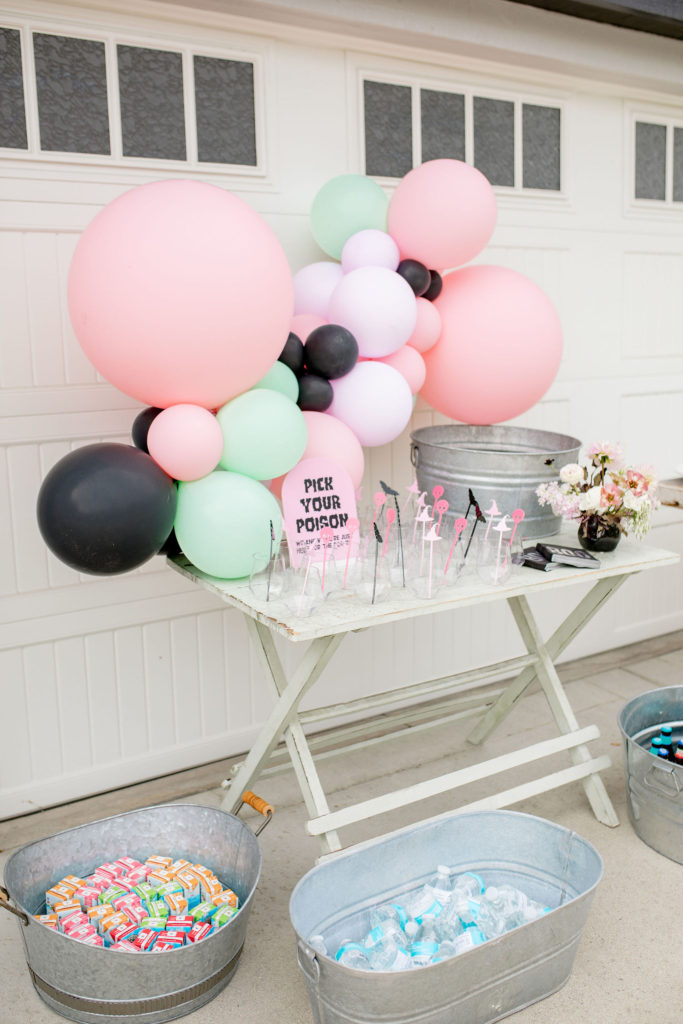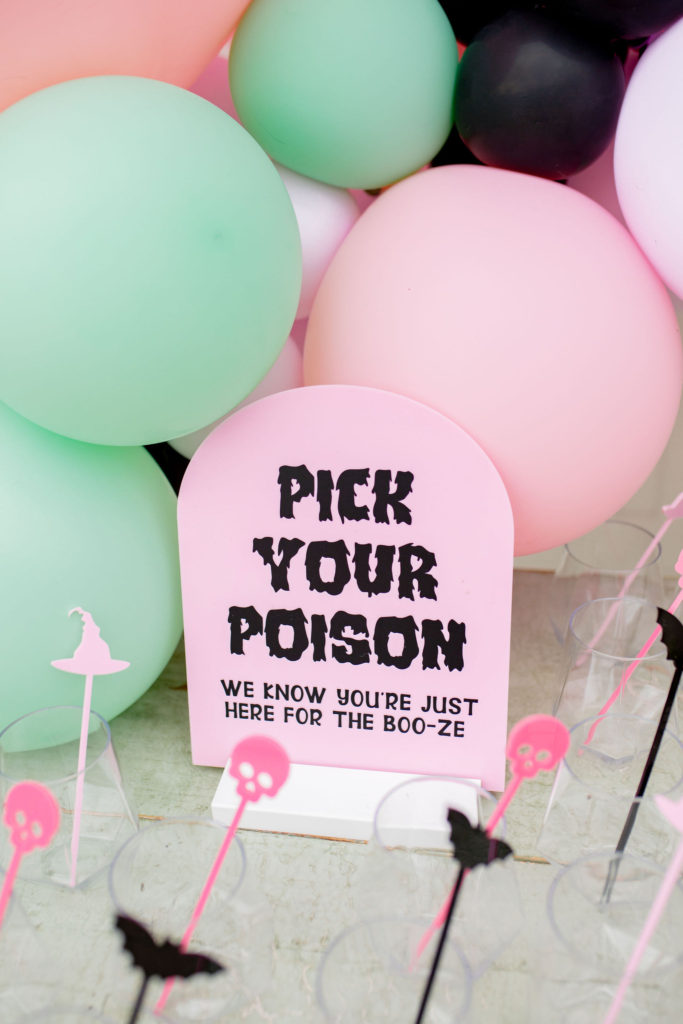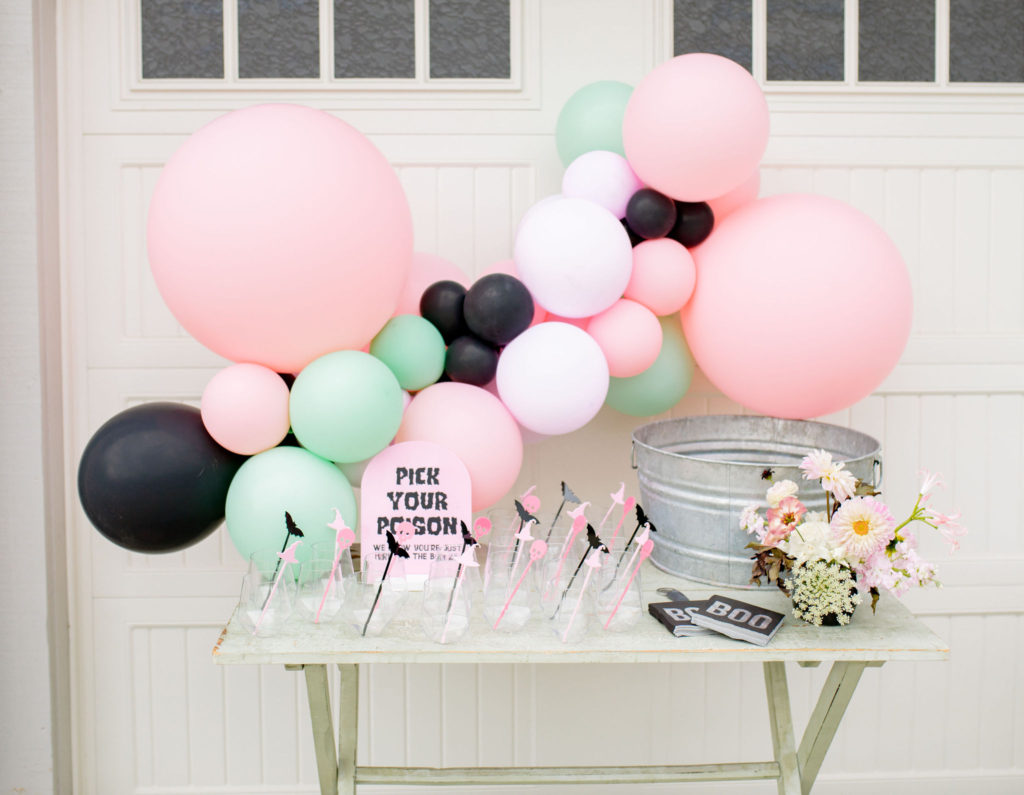 And, everyone's favorite part of the party… DESSERTS!!! Especially from Sugar Crush Sweets who makes the cutest ones!! She really blew us away this time with her talent, wait till you see all the details!! But as always, a dessert table is not complete without pretty The Pop Shop balloons behind it along with cute signage from Poppy Jack Shop and pretty florals by Wild Darling Floral.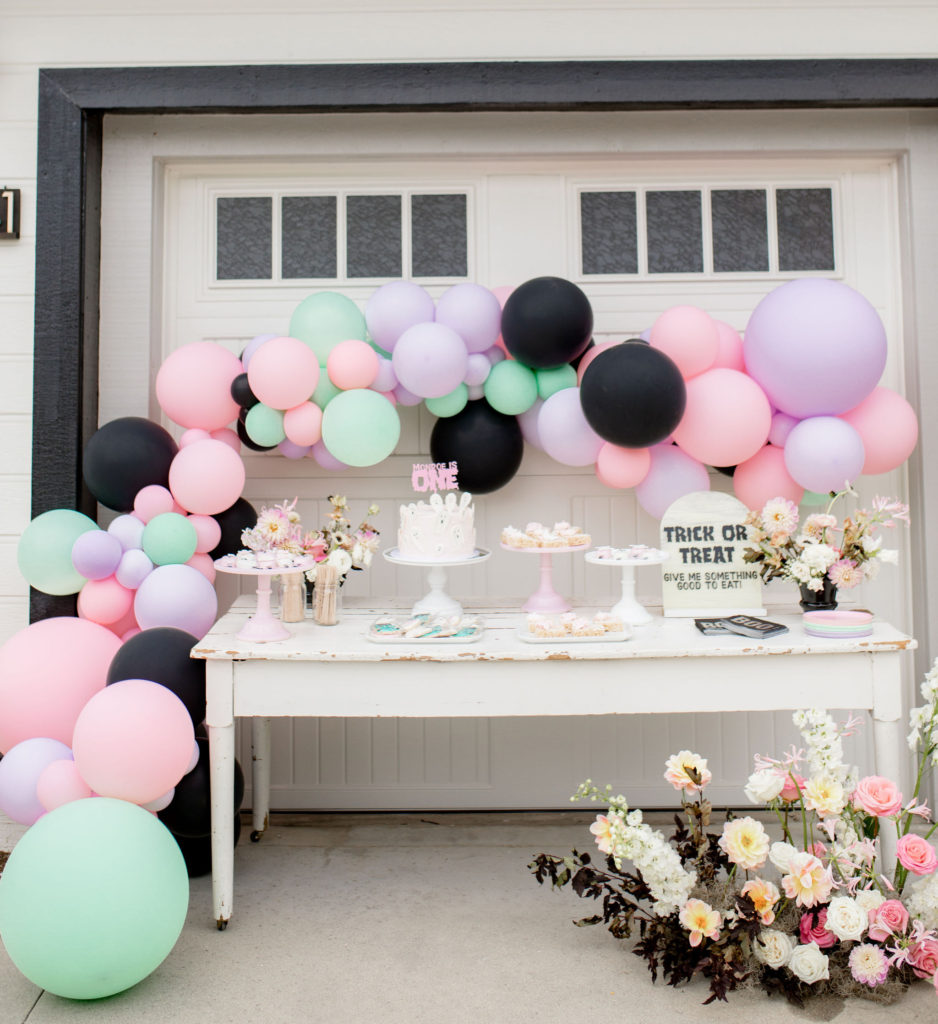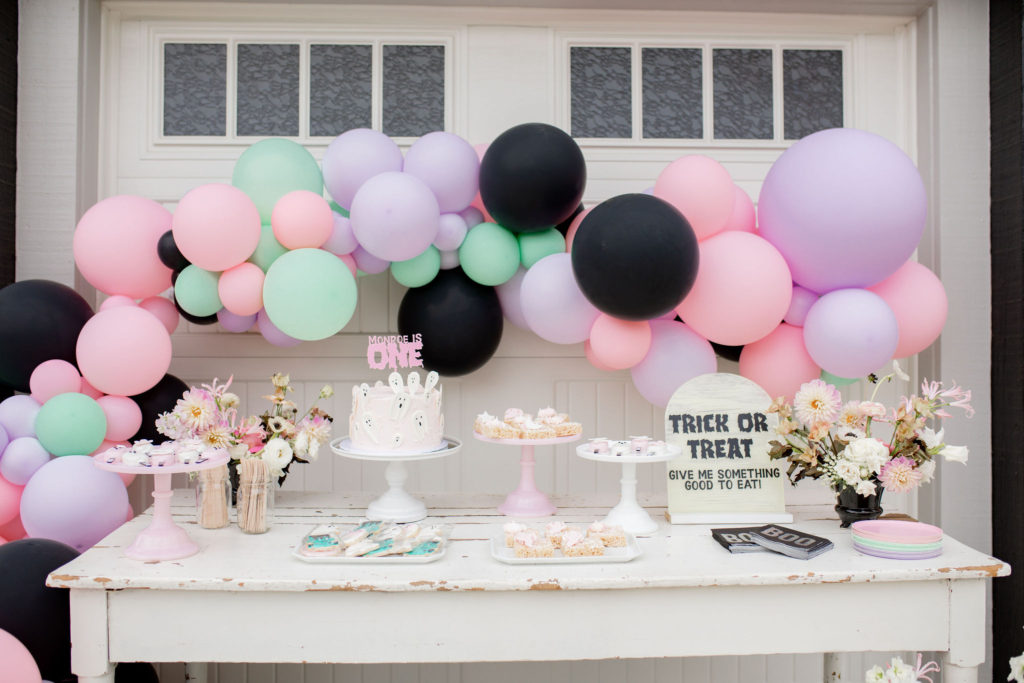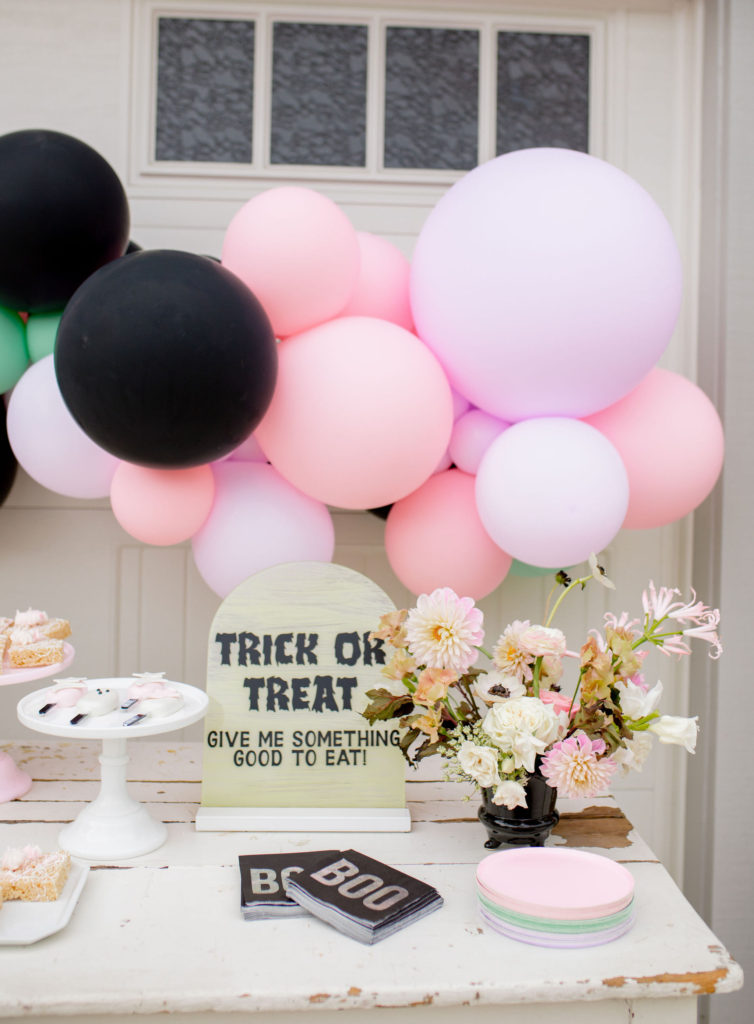 I adore these sweet little cake pops!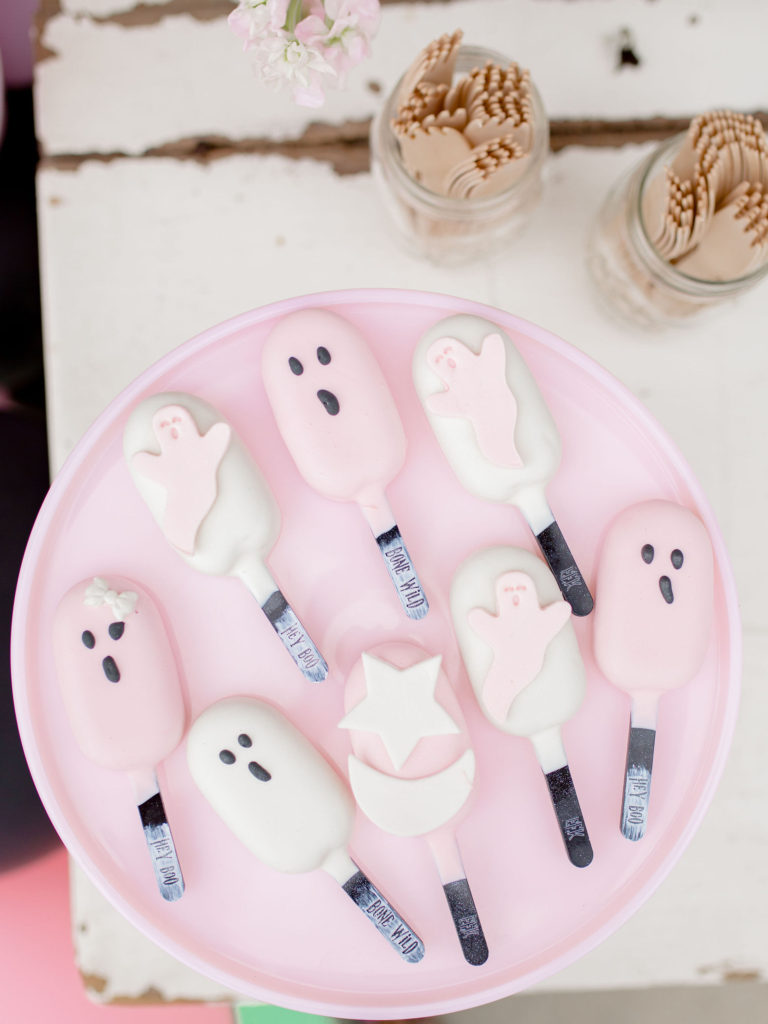 And how cute are these cookies for guests to take who are just doing a drive up?!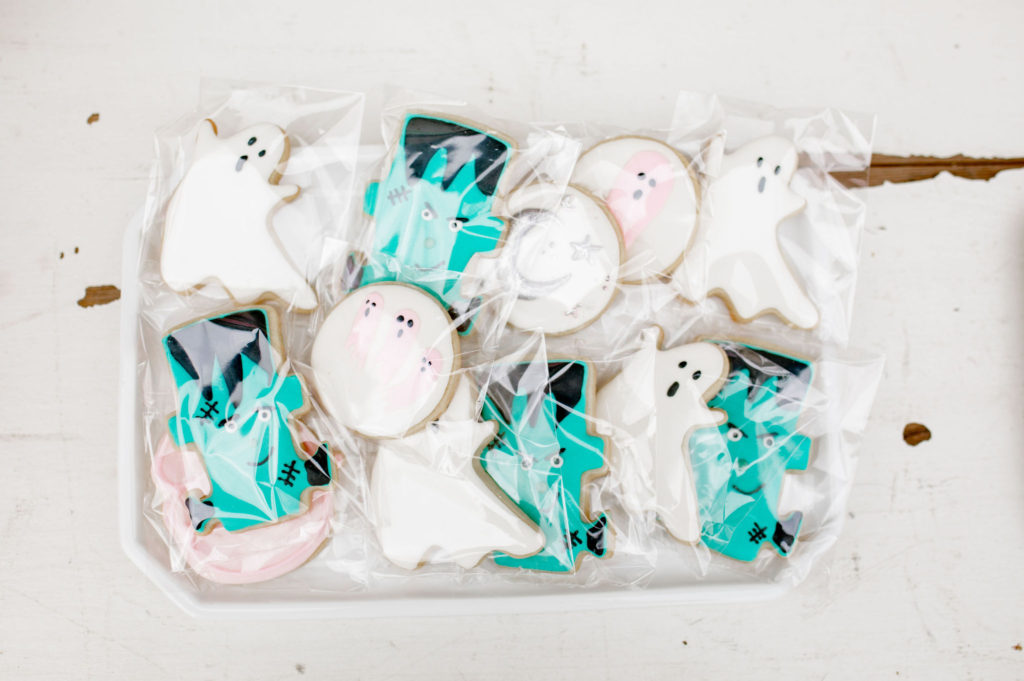 The prettiest rice crispies treats I have ever seen!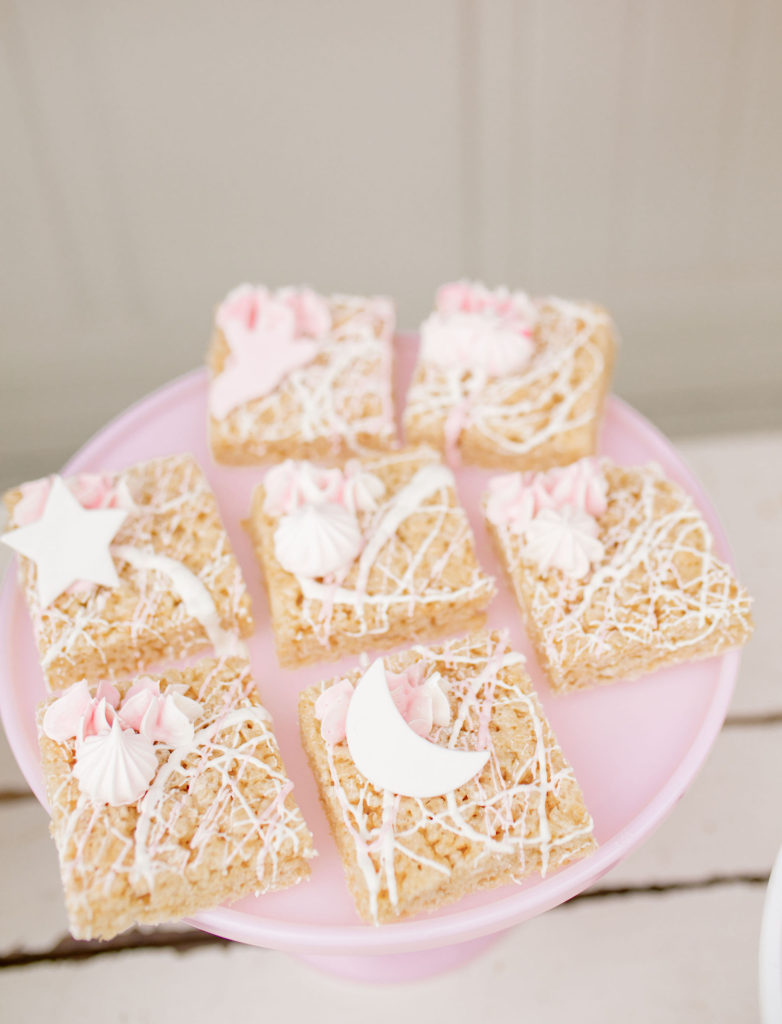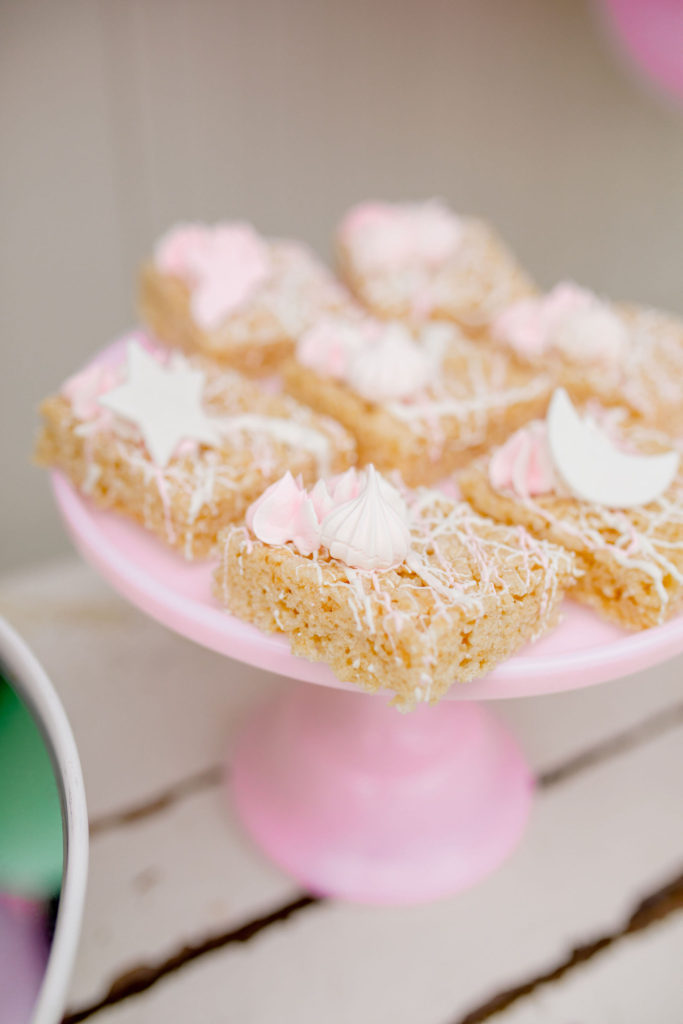 And of course the prettiest Halloween cake I've ever laid eyes on!!! Can you even?!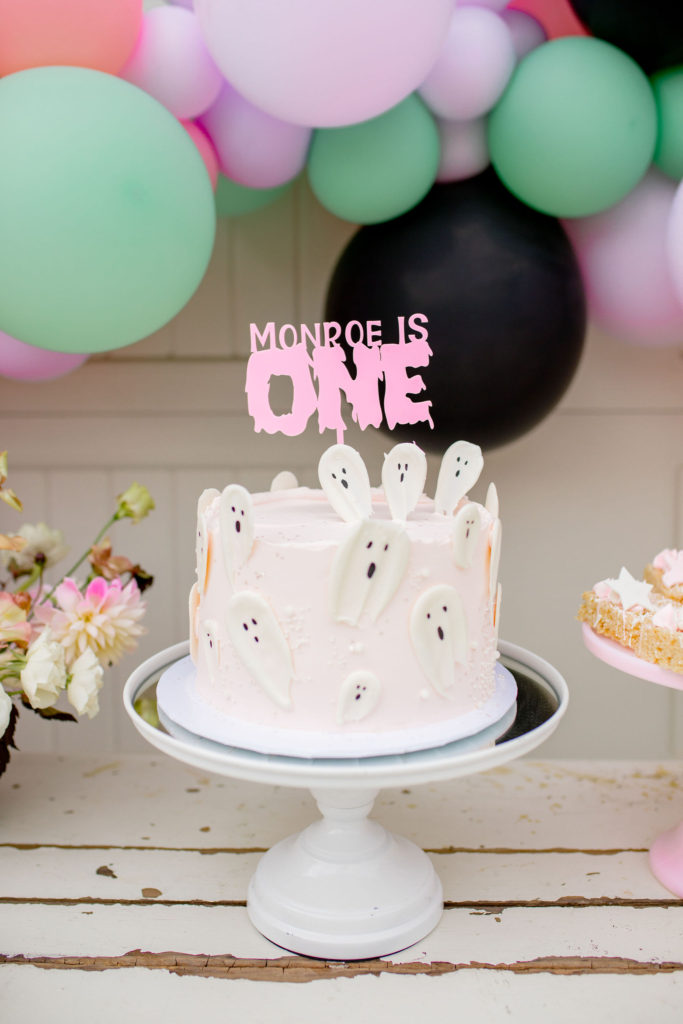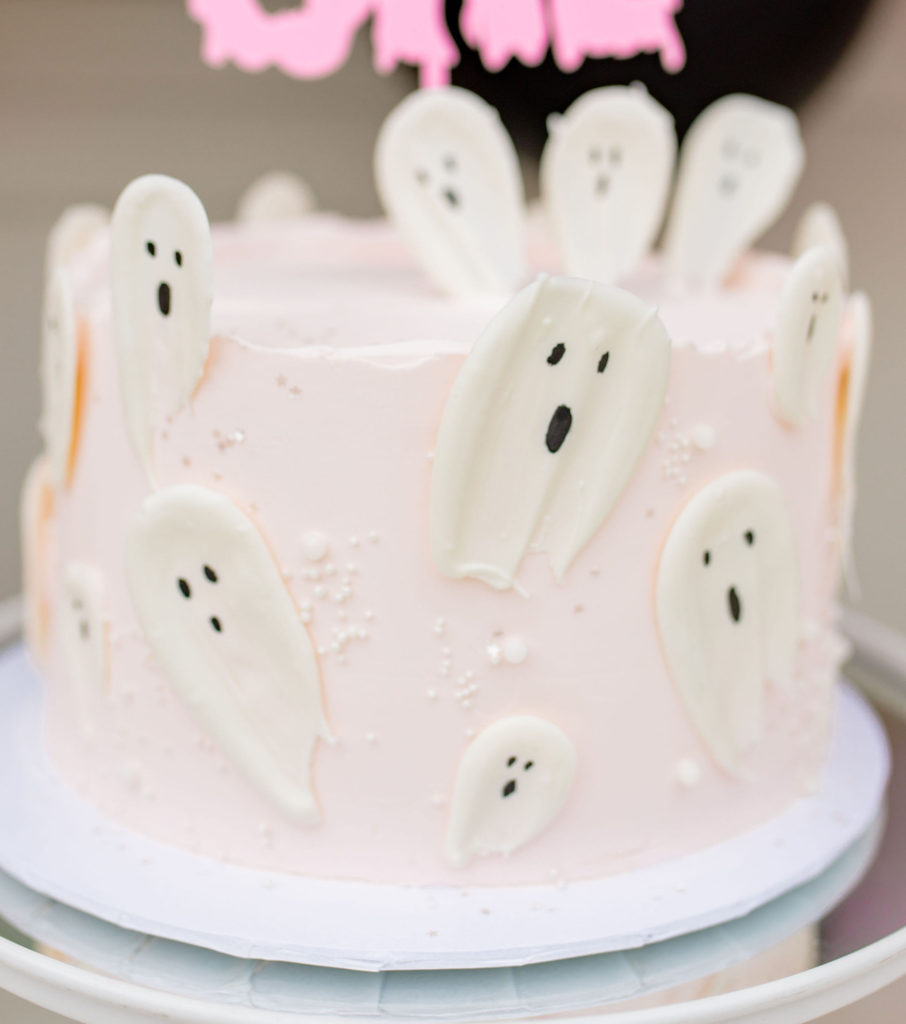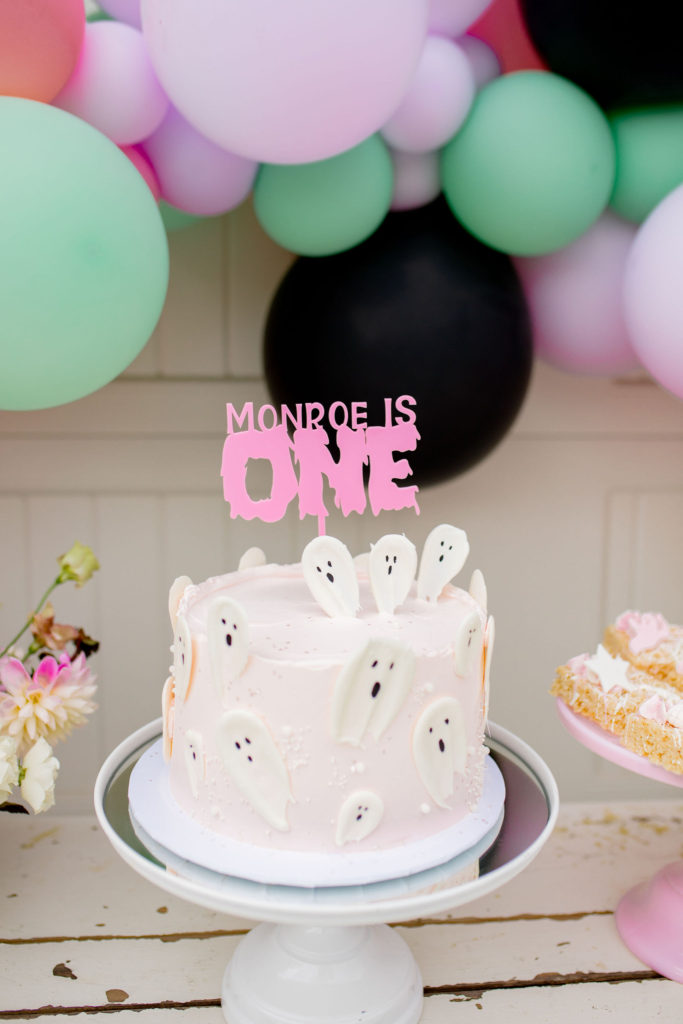 The birthday girl approves!!! She is willing to share the cake spotlight, ha!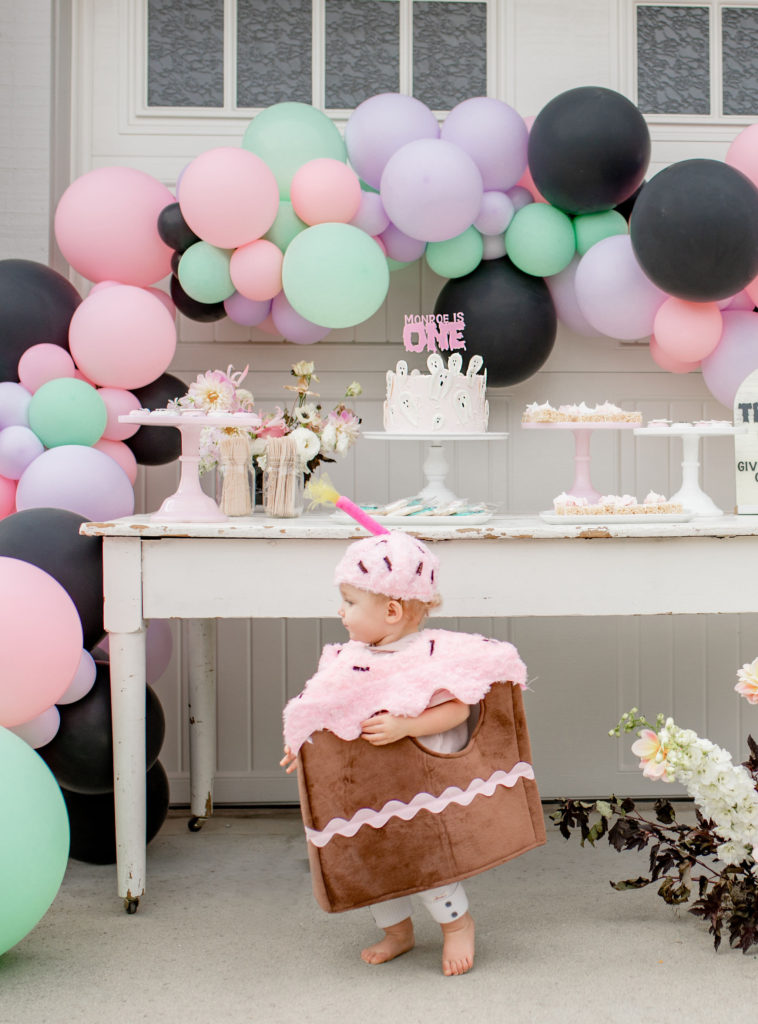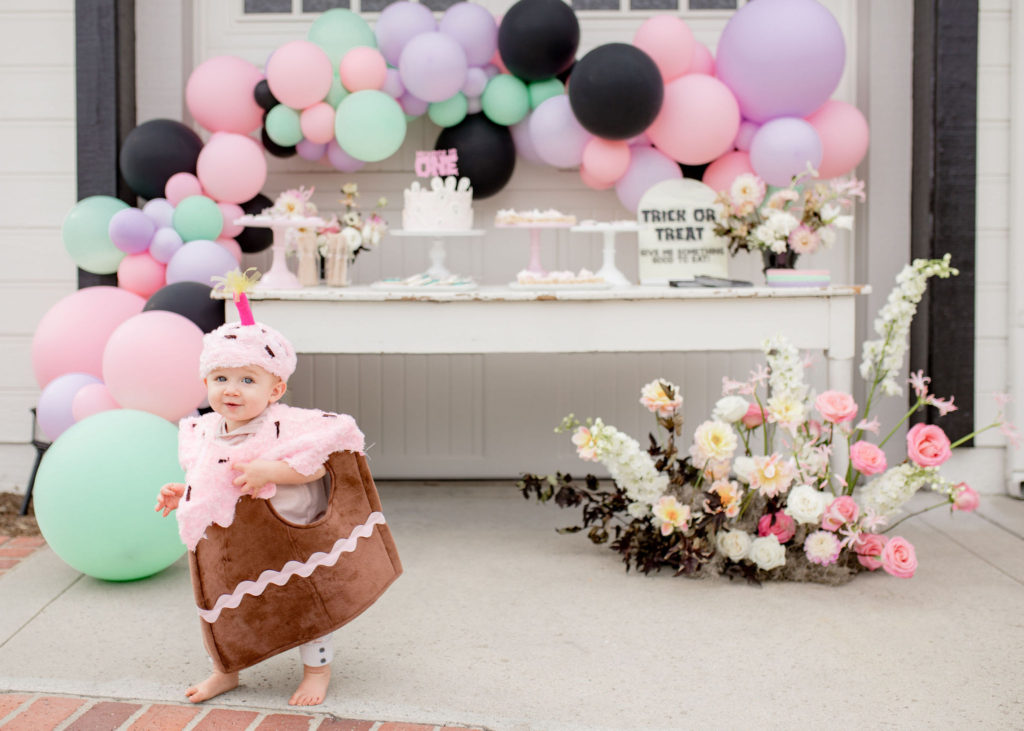 This front yard party was one for the books my friends!!!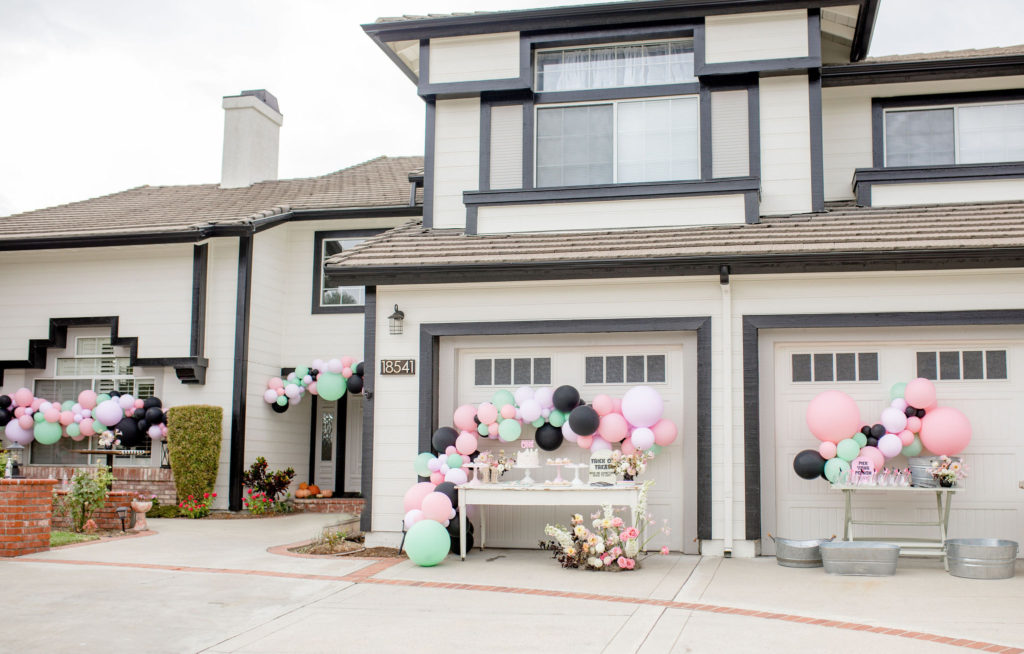 Happy Halloween to all of you!!! Be safe and have fun!!!
xx
Jacquelyn