Throwing a Bridal Shower is always fun, especially one at the beach! I teamed up with Sabrina at Golden Arrow Events to throw a bridal shower full of pretty details, yummy food & desserts, the ultimate gift bag, and a rad backdrop. The theme was – Here Comes the Sun and I can't think of a more picturesque spot as our setting in beautiful Newport Beach!
There are so many amazing details for this one, we left no stone unturned! I am hoping we will give you all the inspiration you'll need to throw a bridal shower for your beach-loving bestie. Stay tuned for the best giveaway tomorrow and check us out today featured on Green Wedding Shoes!
Photos by the talented Jessica Lynn Photo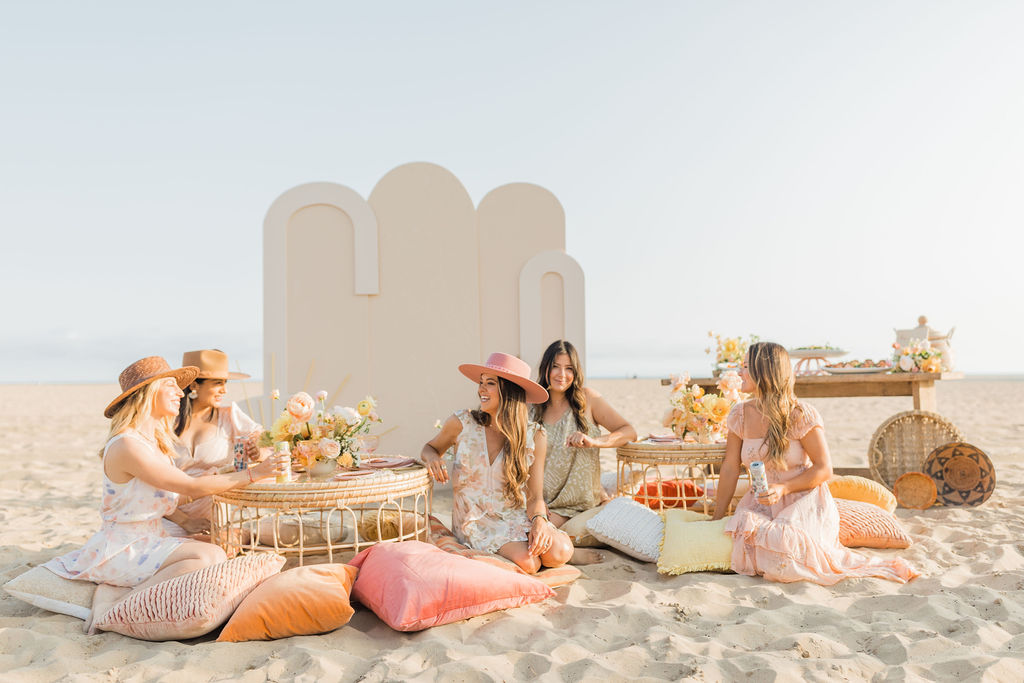 You'll see all the pretty as you scroll, but as far as details, Poppy Jack Shop went above and beyond. From the adorable invite to the sun-shaped place cards and pun-filled signage, everything was perfect! Look how pretty it is all styled here on Chasing Stone's mat. It's always fun to add the little things, as you know, they make the party!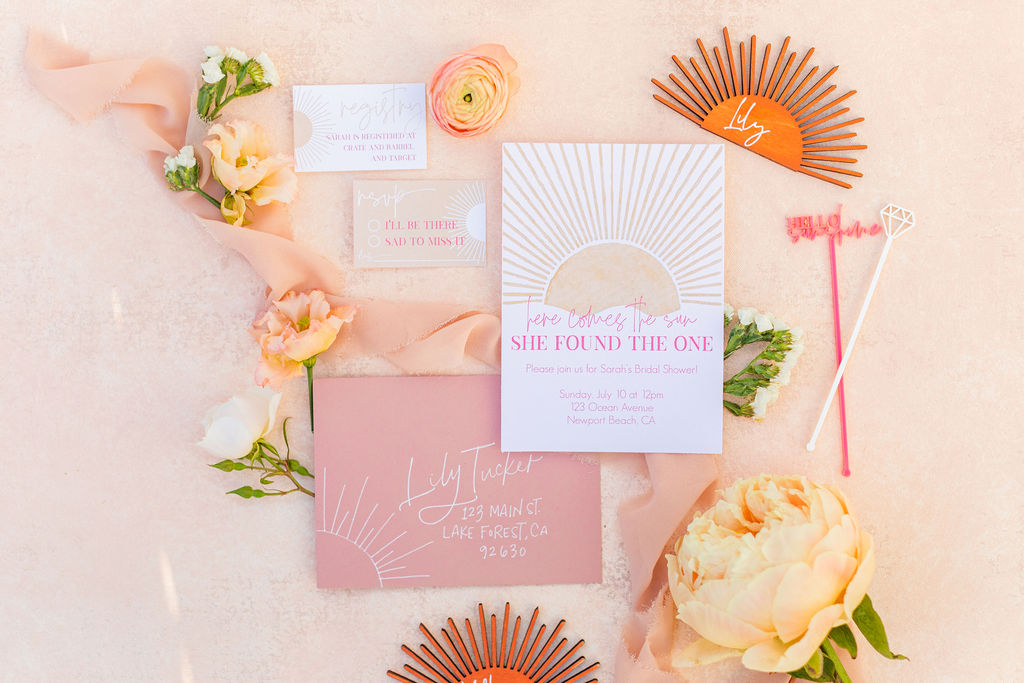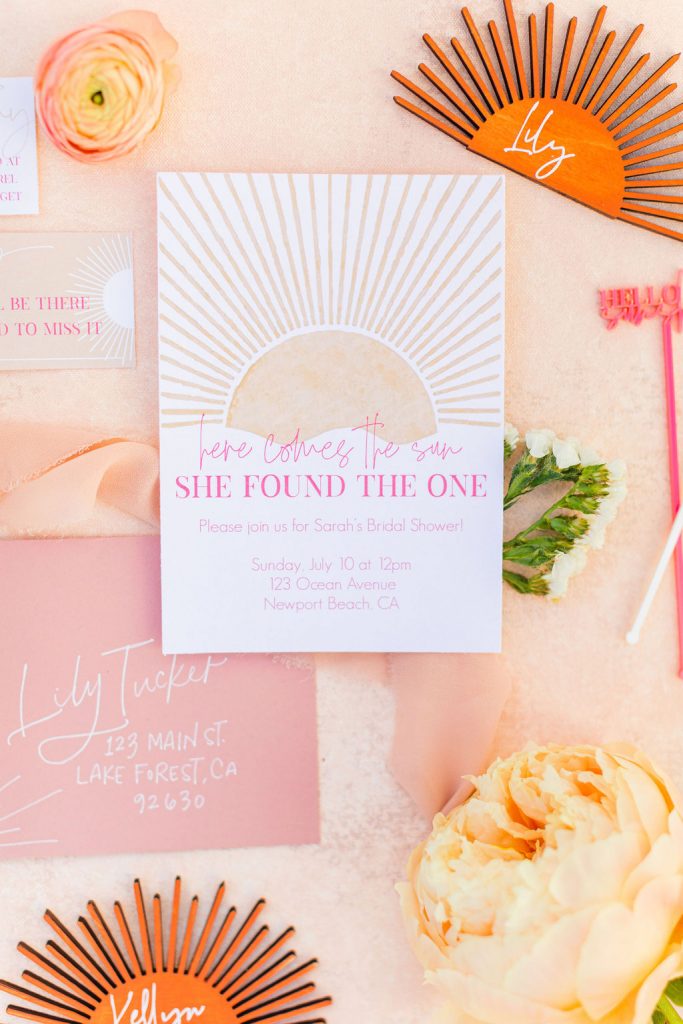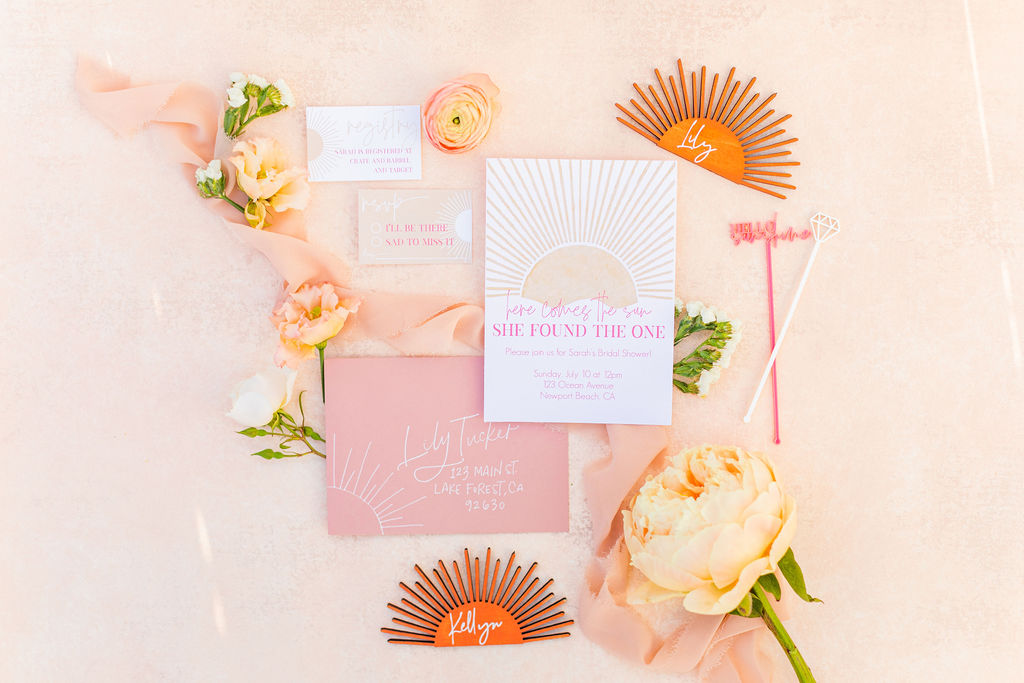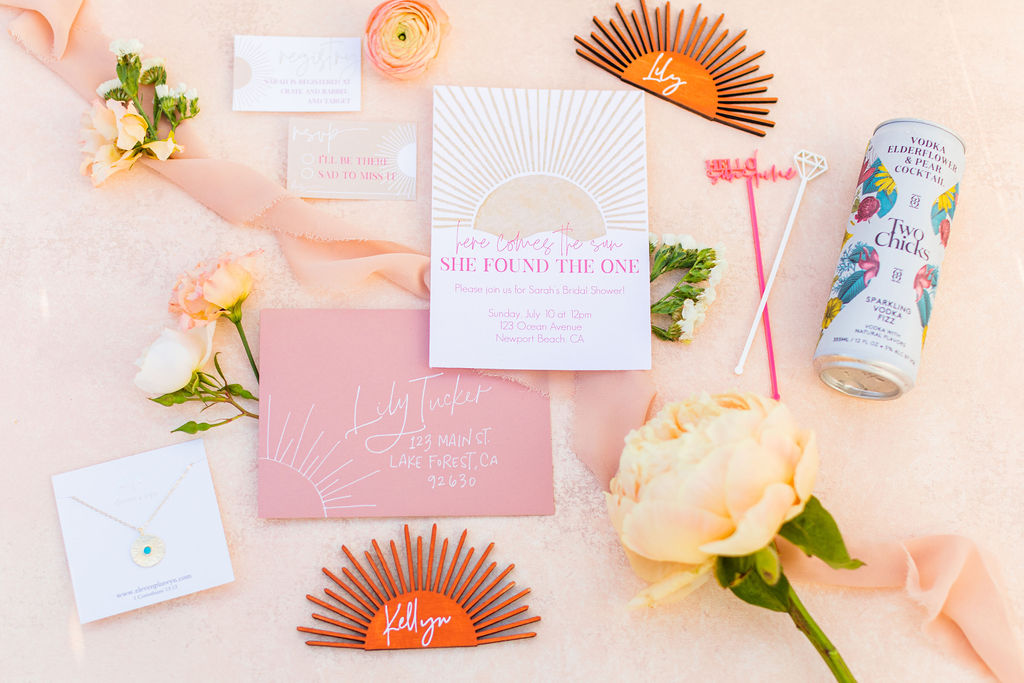 We went on the sand and created an intimate yet gorgeous setup with low seating from Sweet Salvage Rentals in front of the coolest backdrop from West and Rose. I loved using all of the rattan pieces Sweet Salvage has, from the tables to the lounge. The tables were set with pretty pink and gold plates, glassware, and flatware from Signature Party Rentals.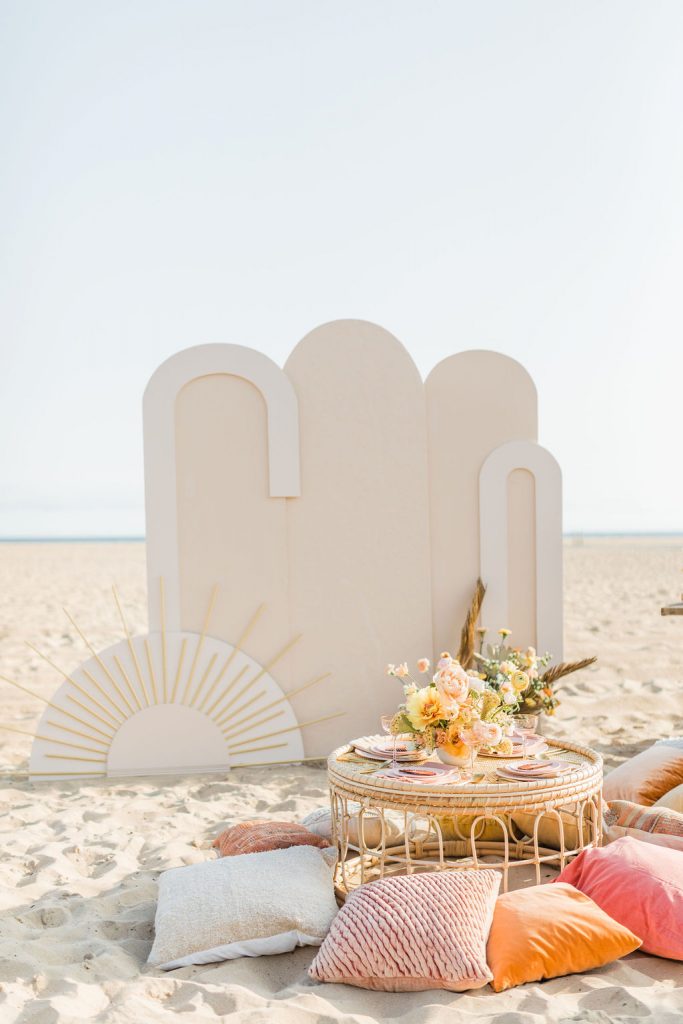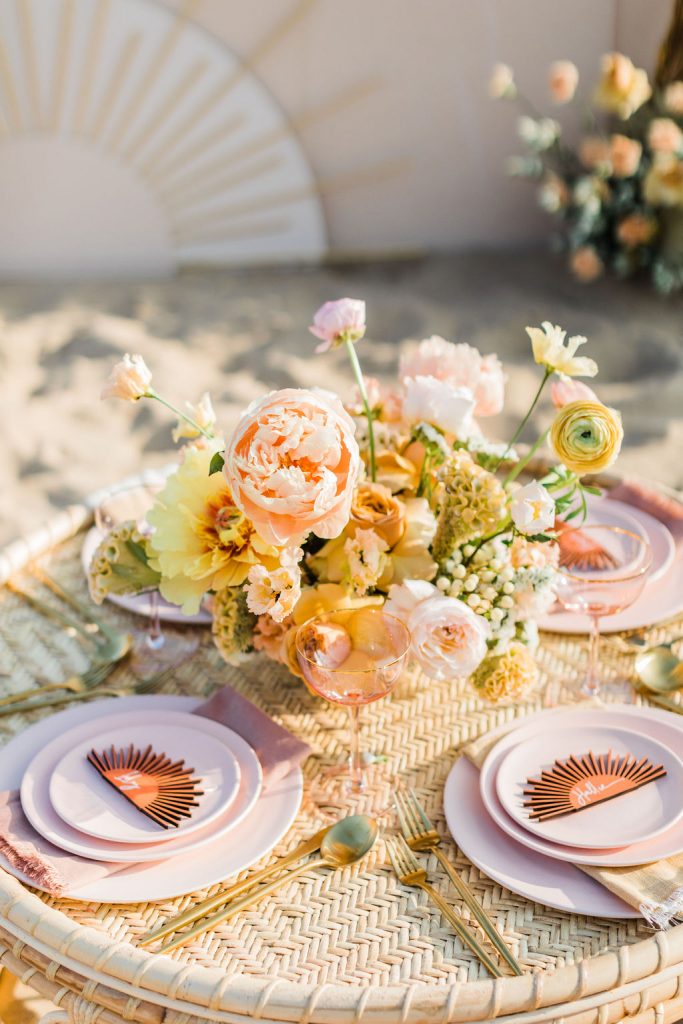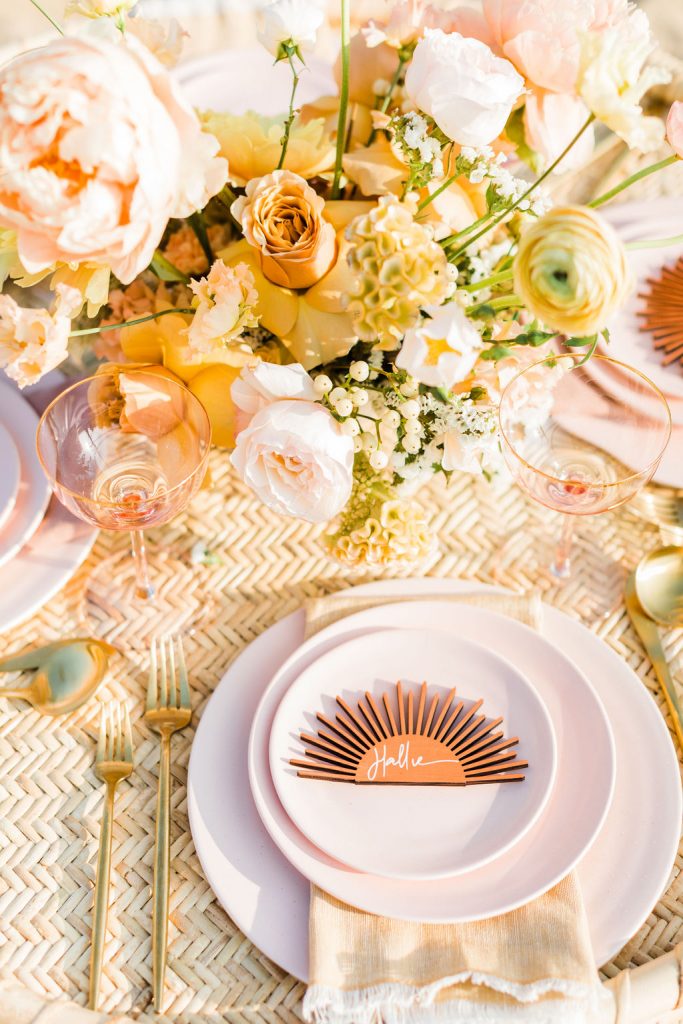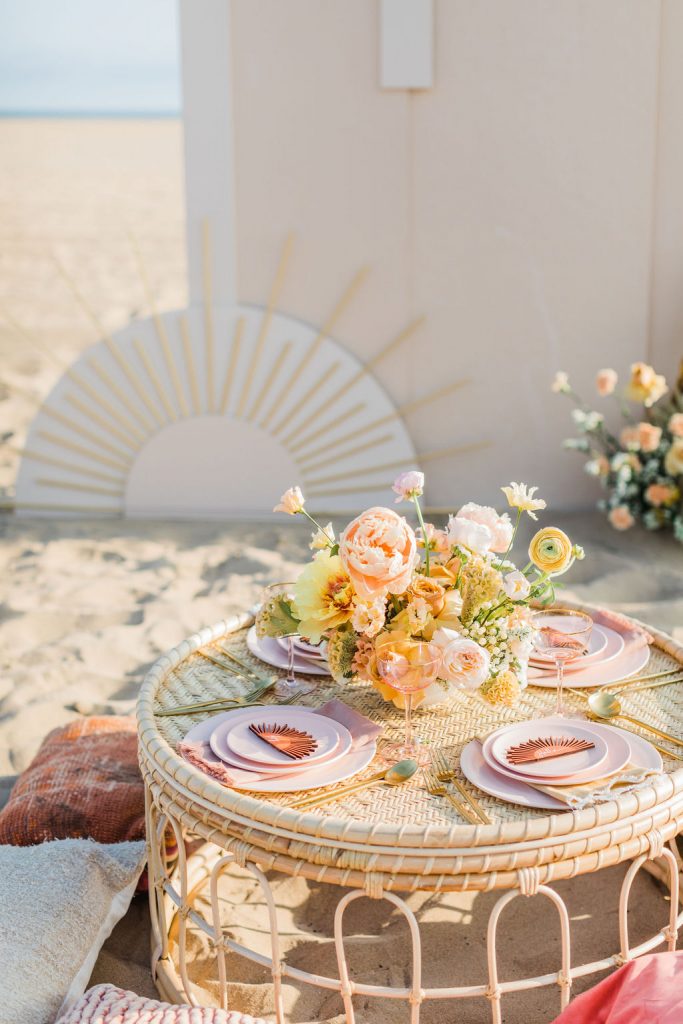 Not Just in Novels created our floral arrangements and we can't get enough of them!! From the colors to their ethereal and whimsical feel, she just nailed our vision perfectly. And how adorable are Poppy Jack Shop's place cards on the plates? Probably my favorite detail!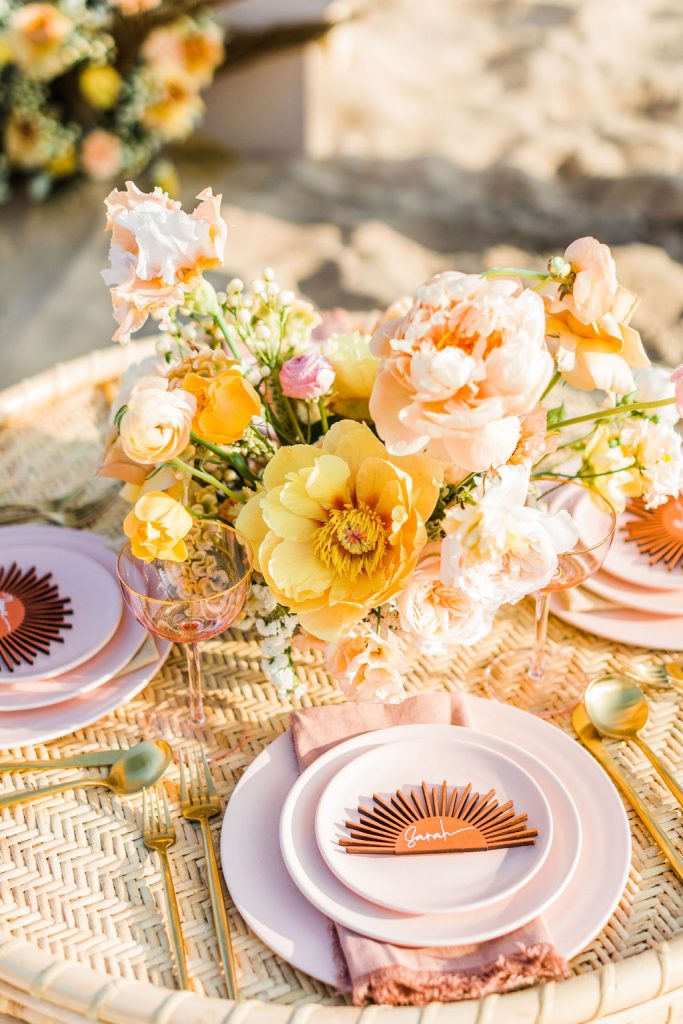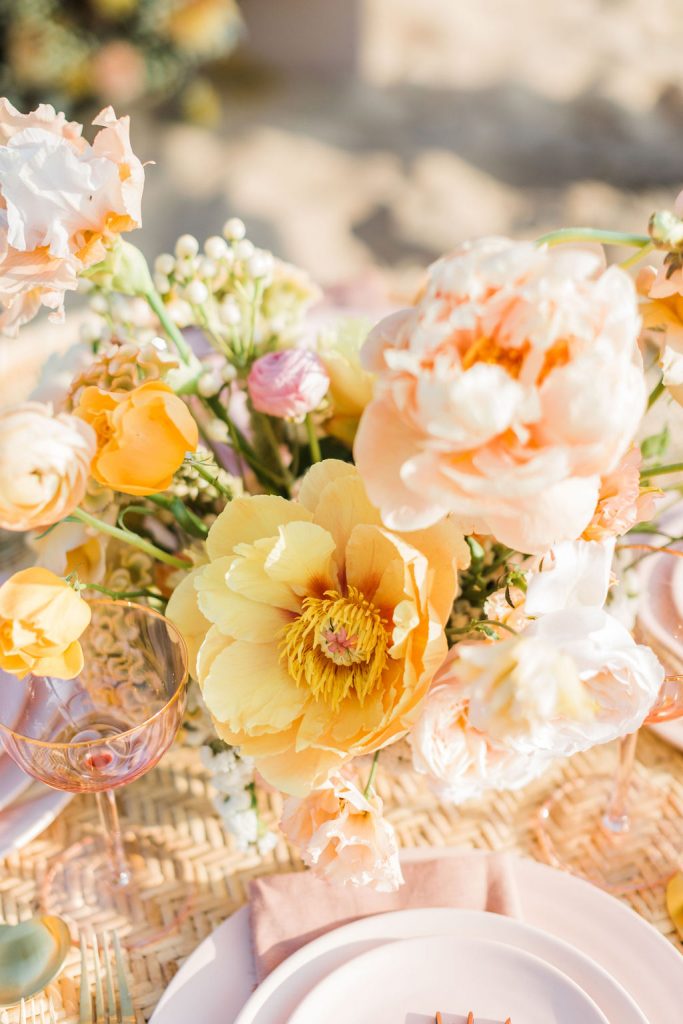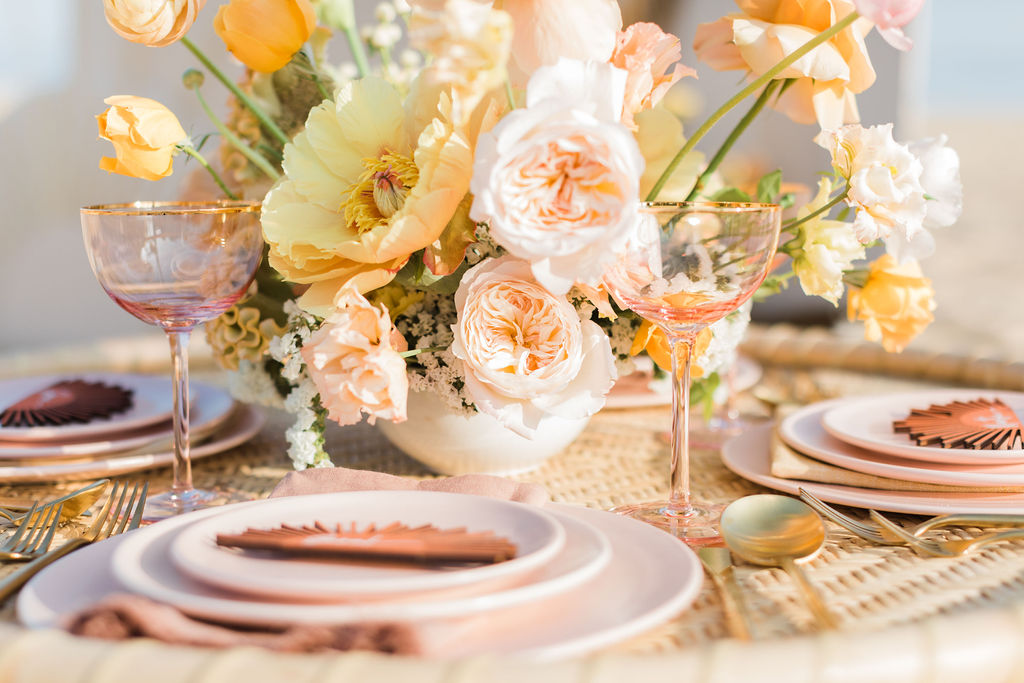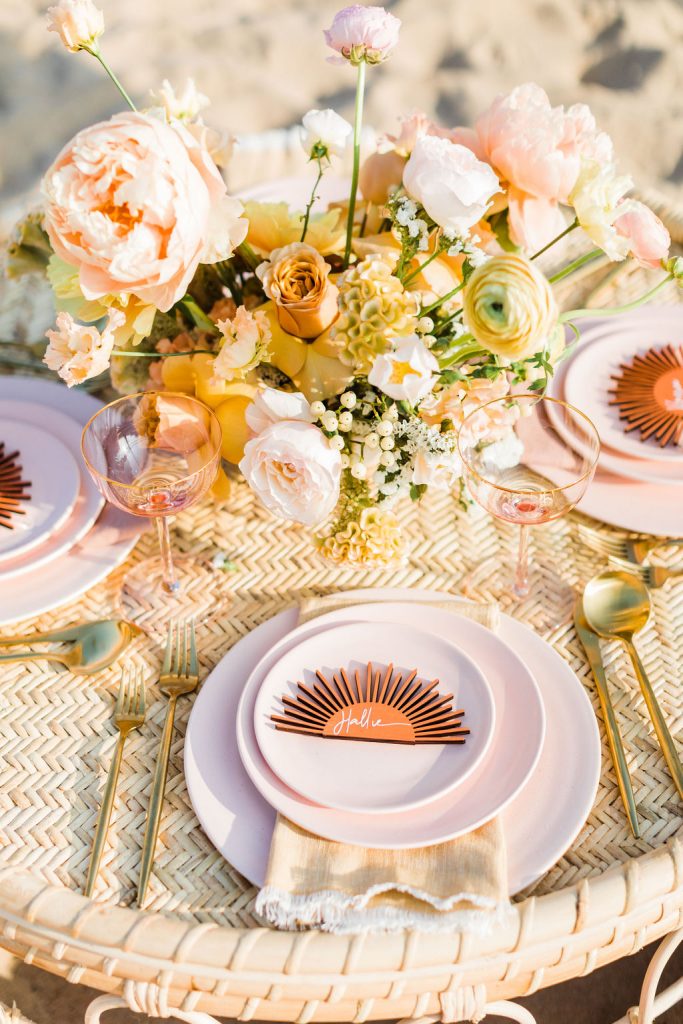 I love low seating at the beach! It keeps it casual but you get to add that fun pop of color with the textiles and pillows!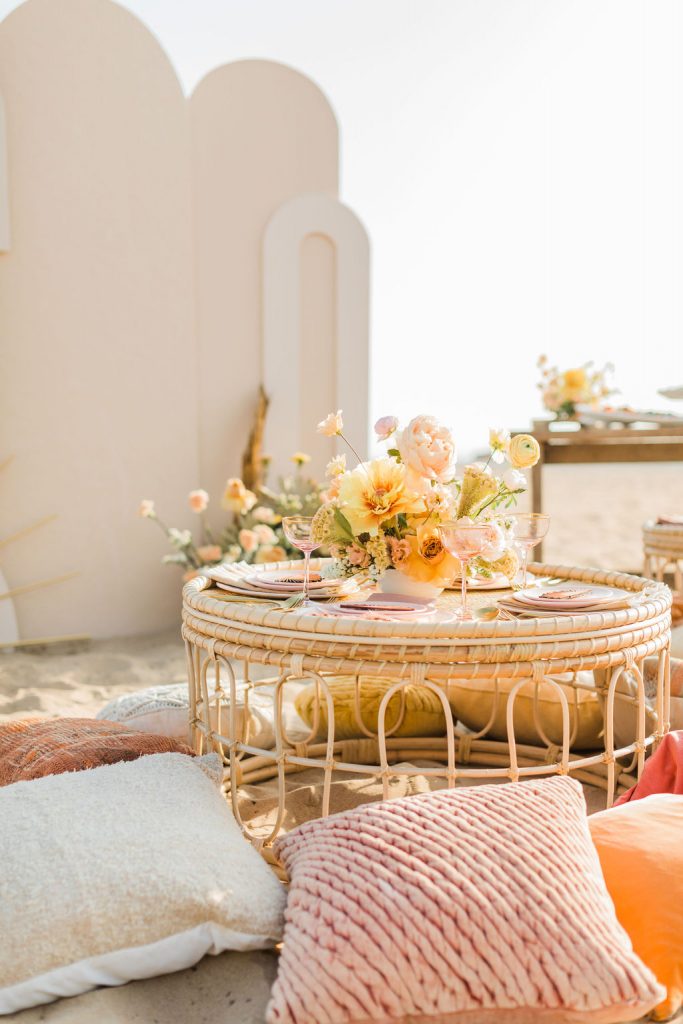 Did you notice the adorable blow-up cooler we have?! Minni Dip has the best blow-up pools so why wouldn't they have a blow-up bar?! We filled it with ice and our favorite Two Chicks Cocktails and well, the rest is history – adorable and delicious cocktail history!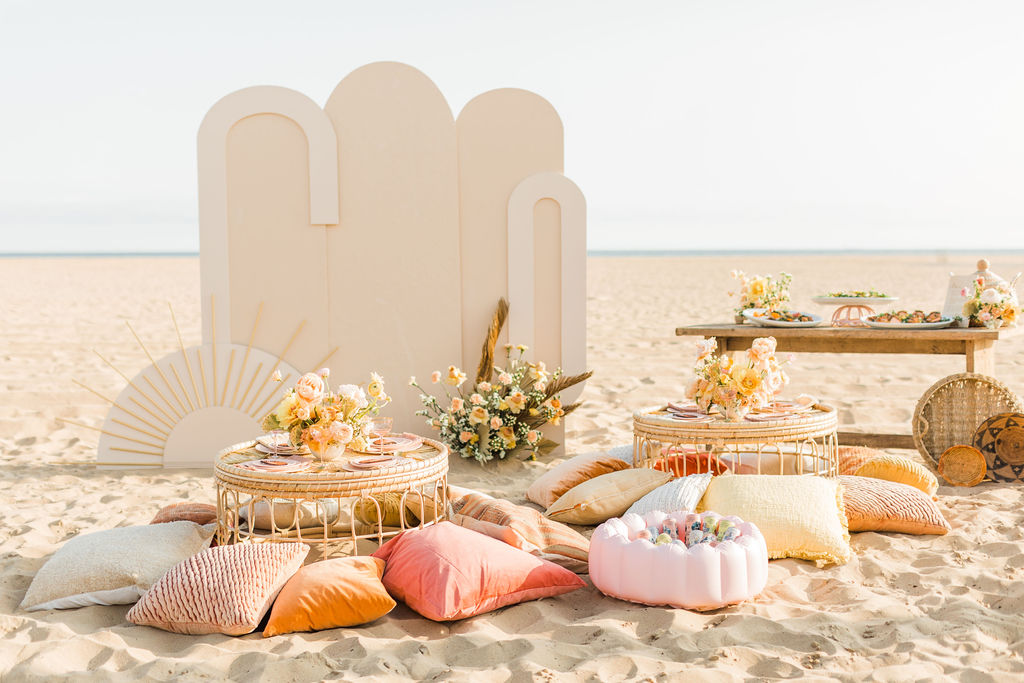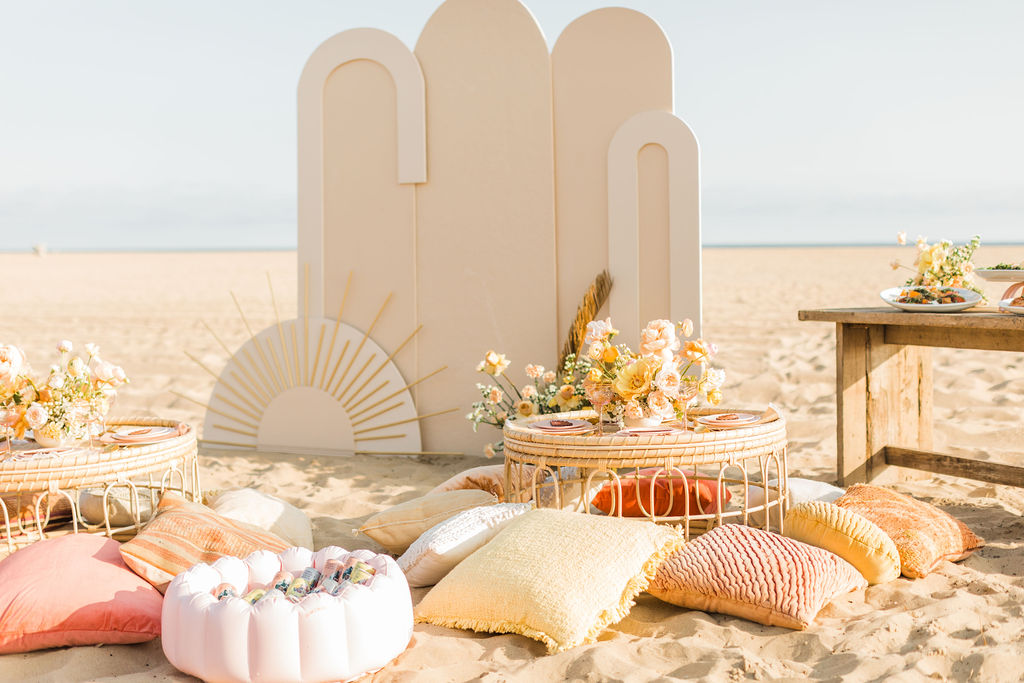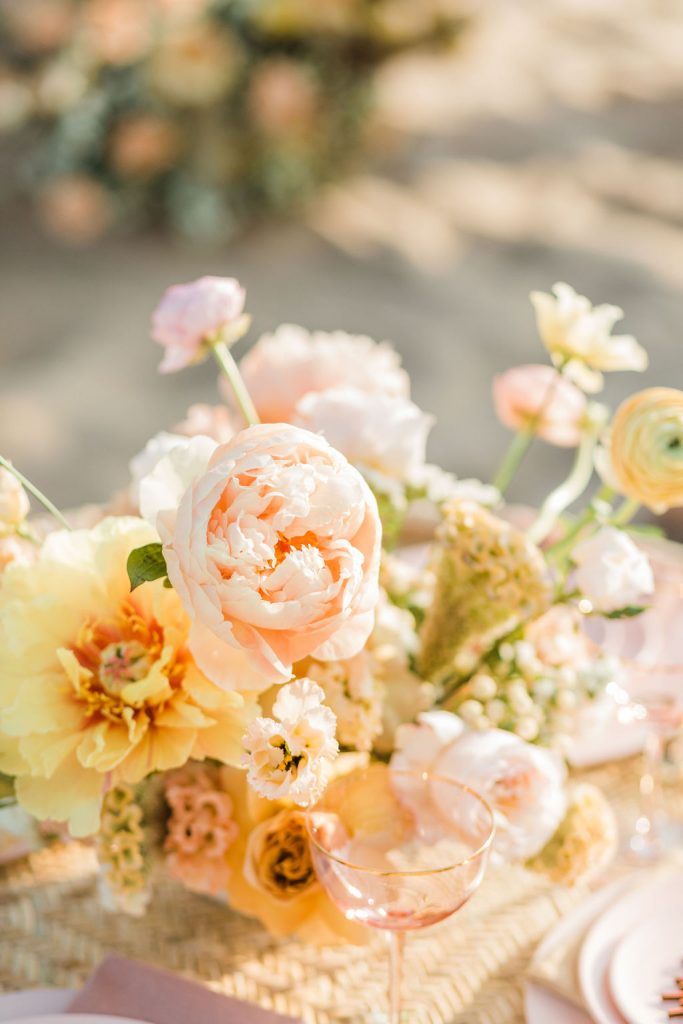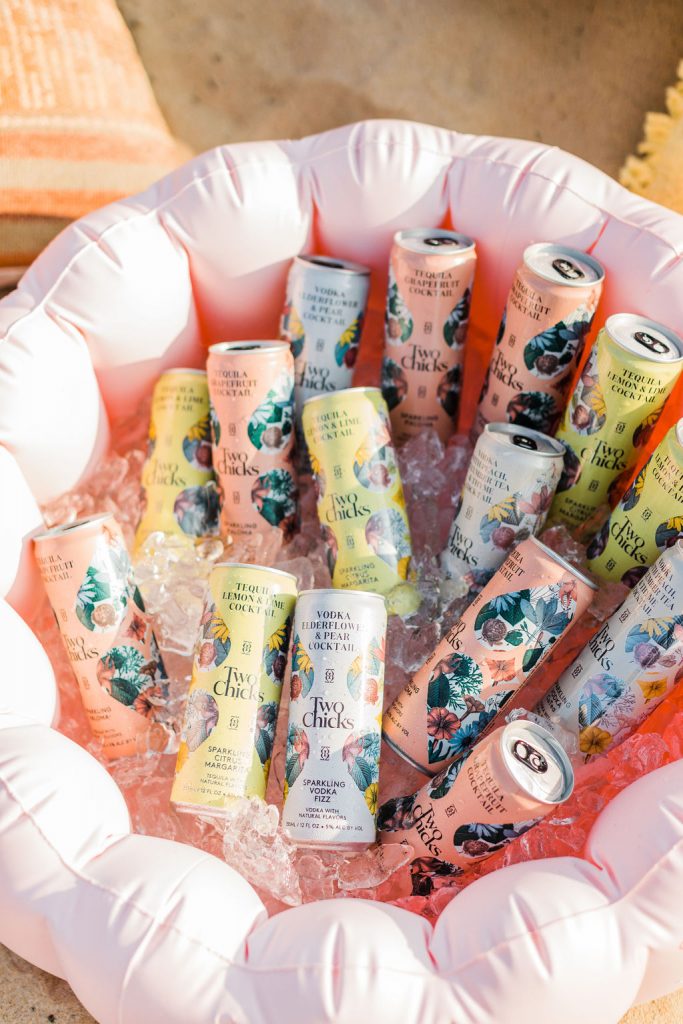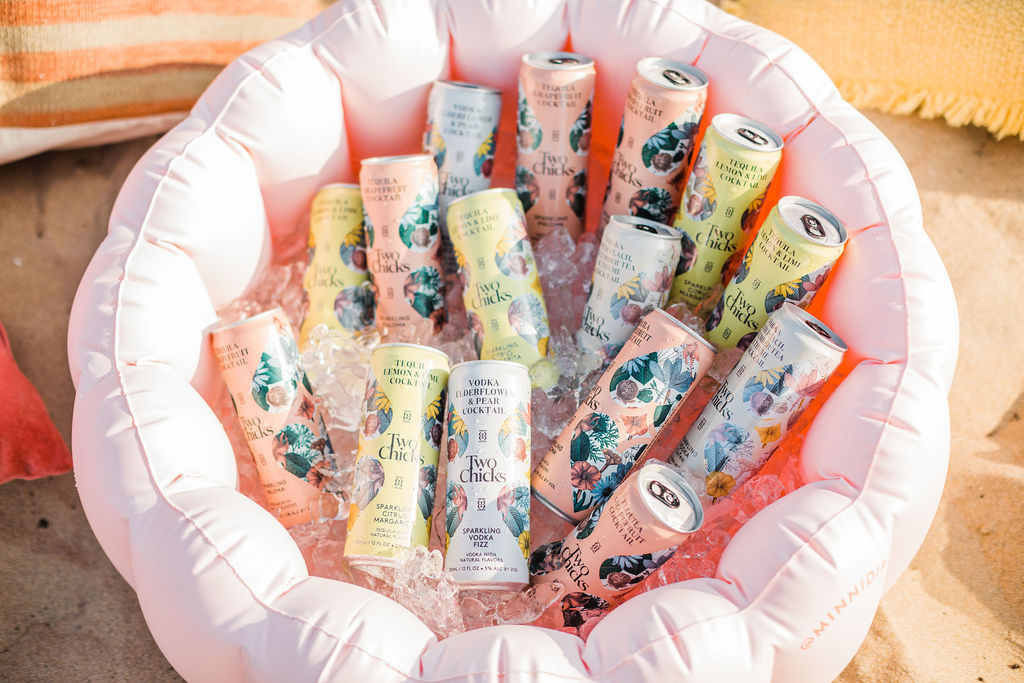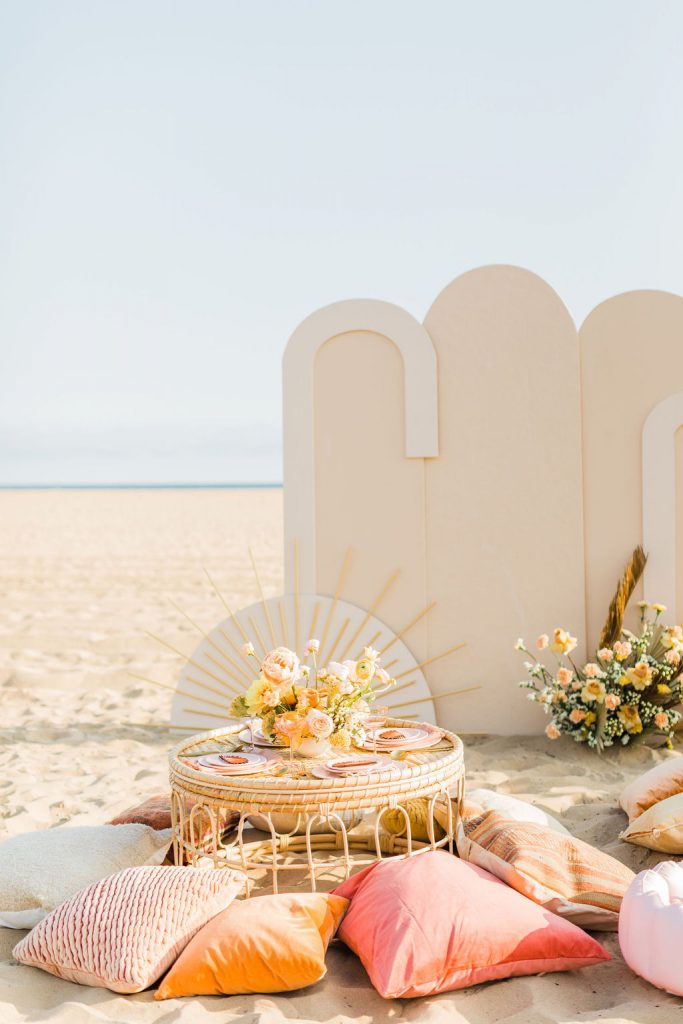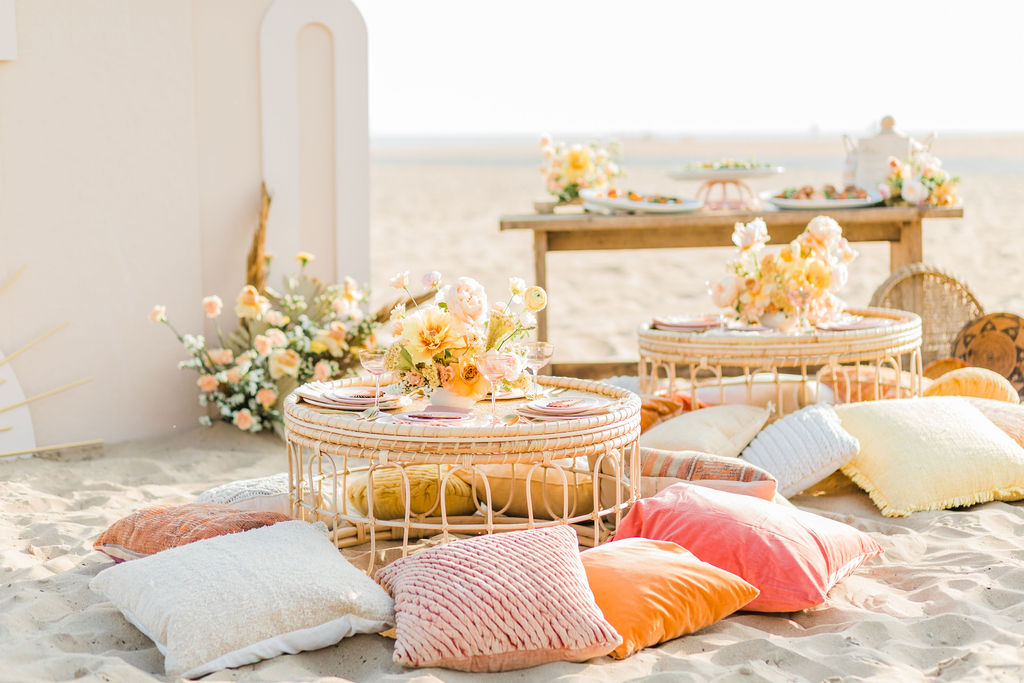 Such a gorgeous setup, right?! That backdrop by West and Rose just makes it!!! Now, let's add some beautiful ladies to the mix!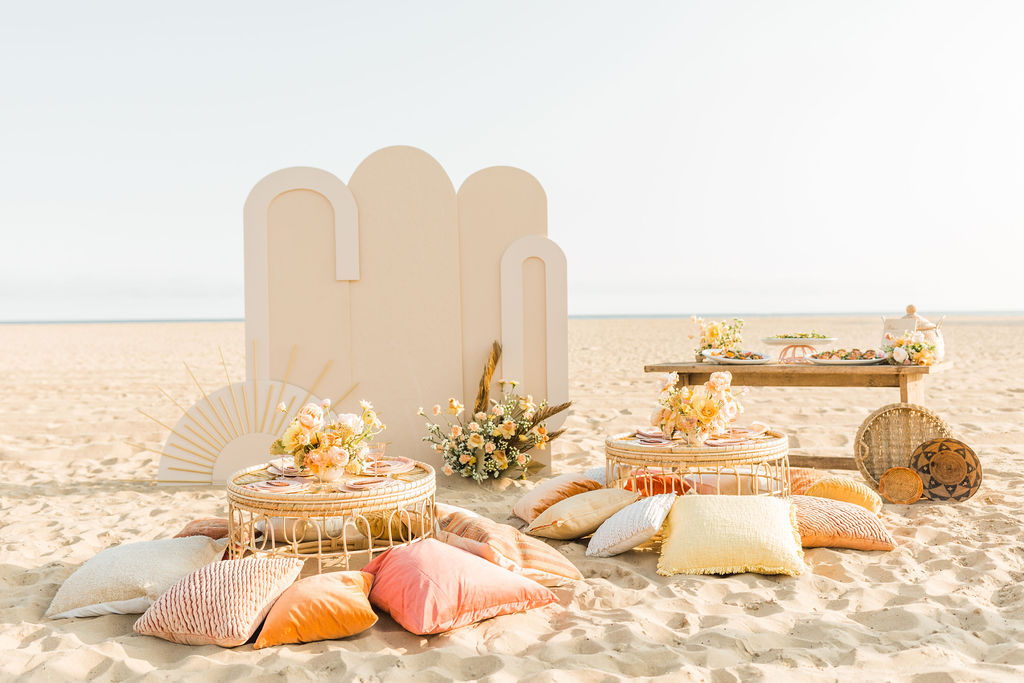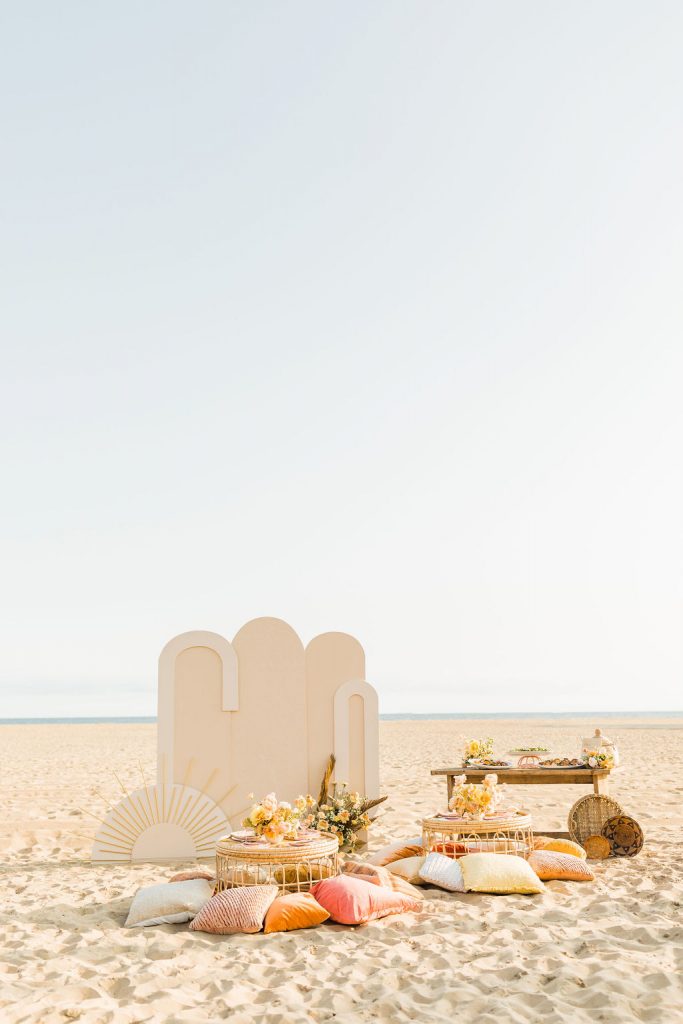 These ladies were ready for some fun!!! They are all wearing the prettiest dresses from Saltwater Luxe, don't they look amazing?! I'm loving our bride to be's pink hat! Such a fun accessory! They had a ball and loved our pretty setup, but they may have loved the cocktails more!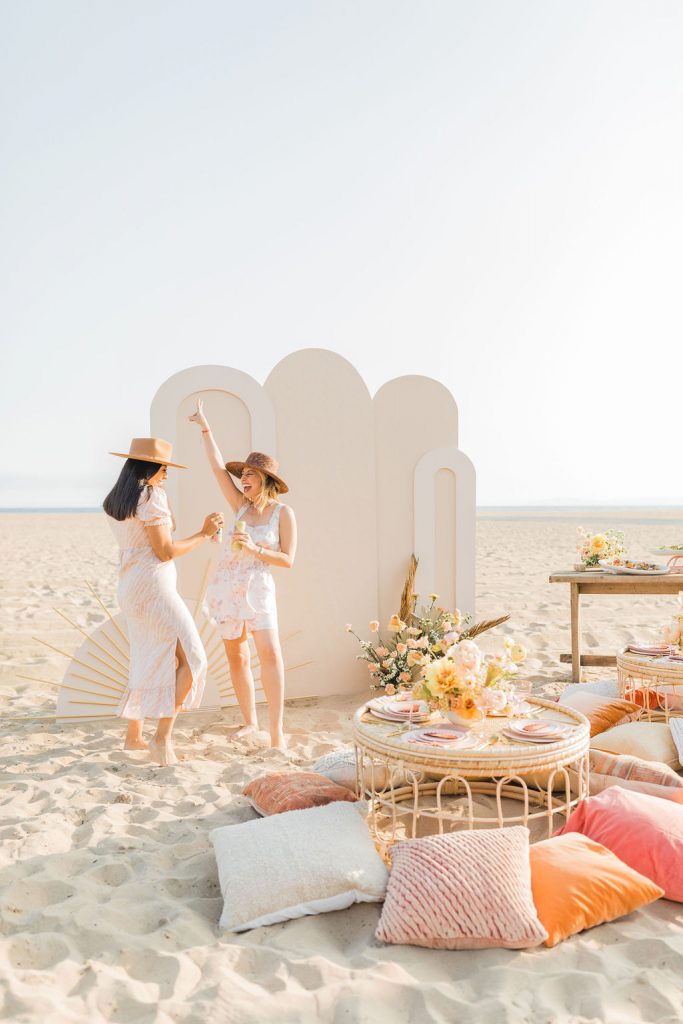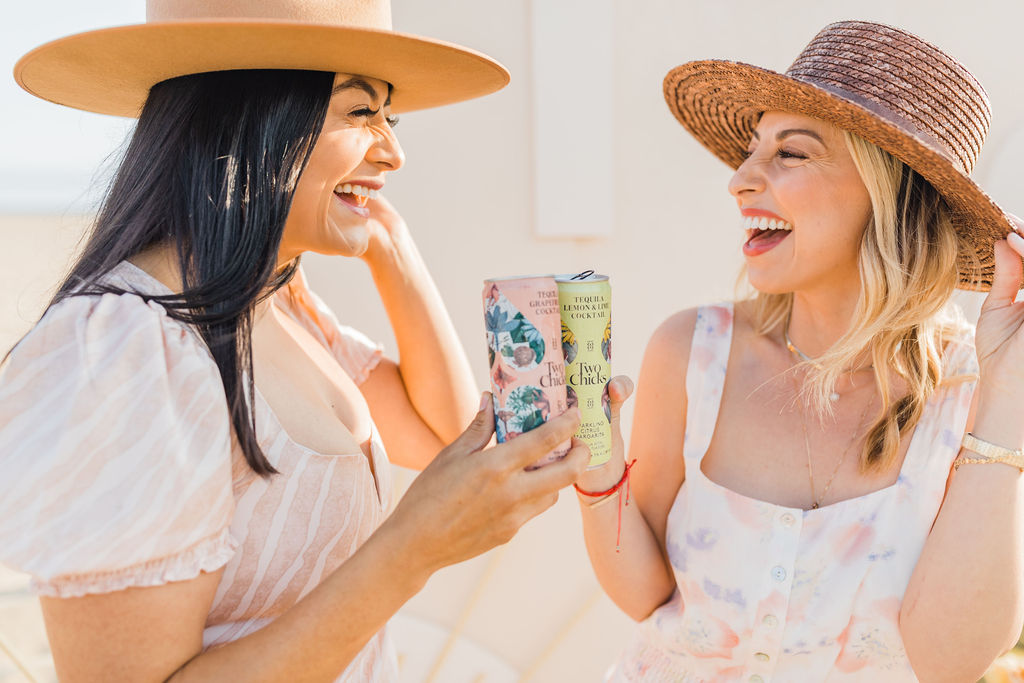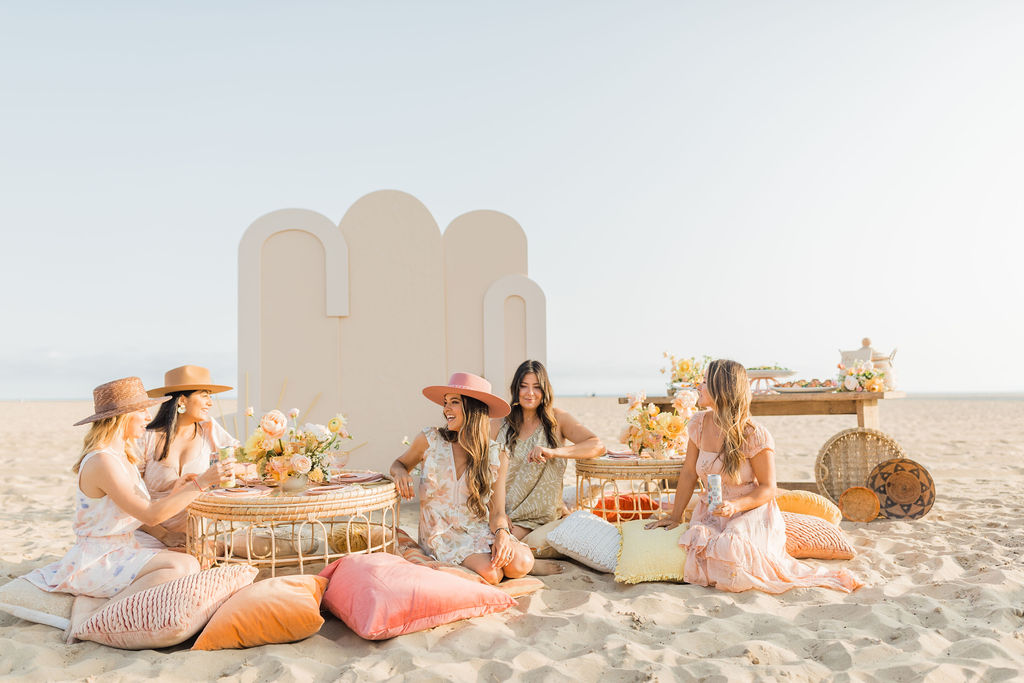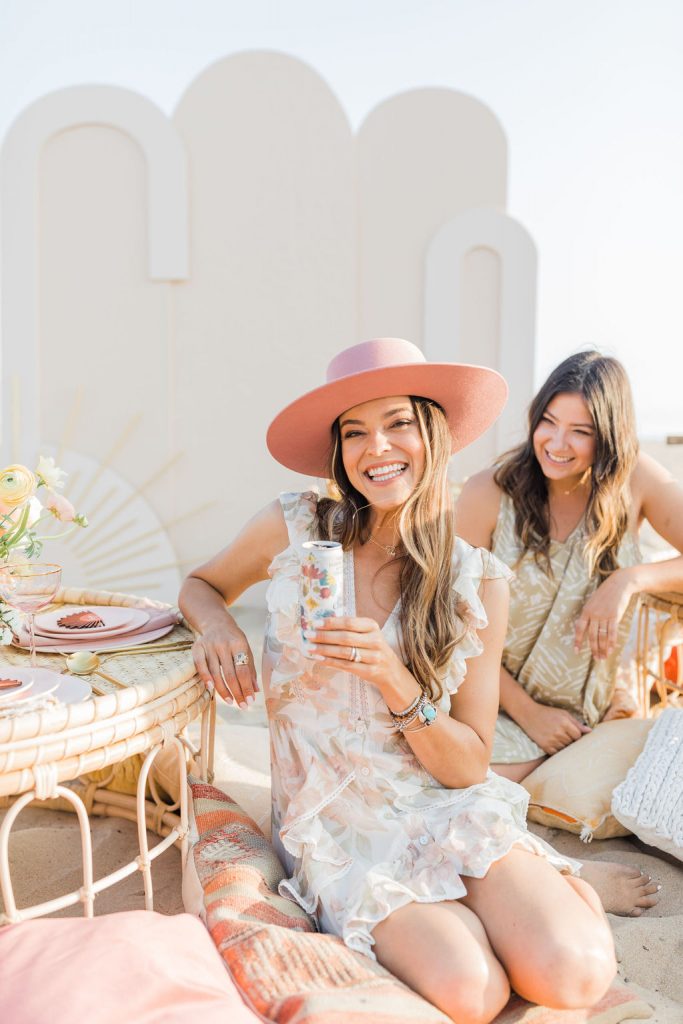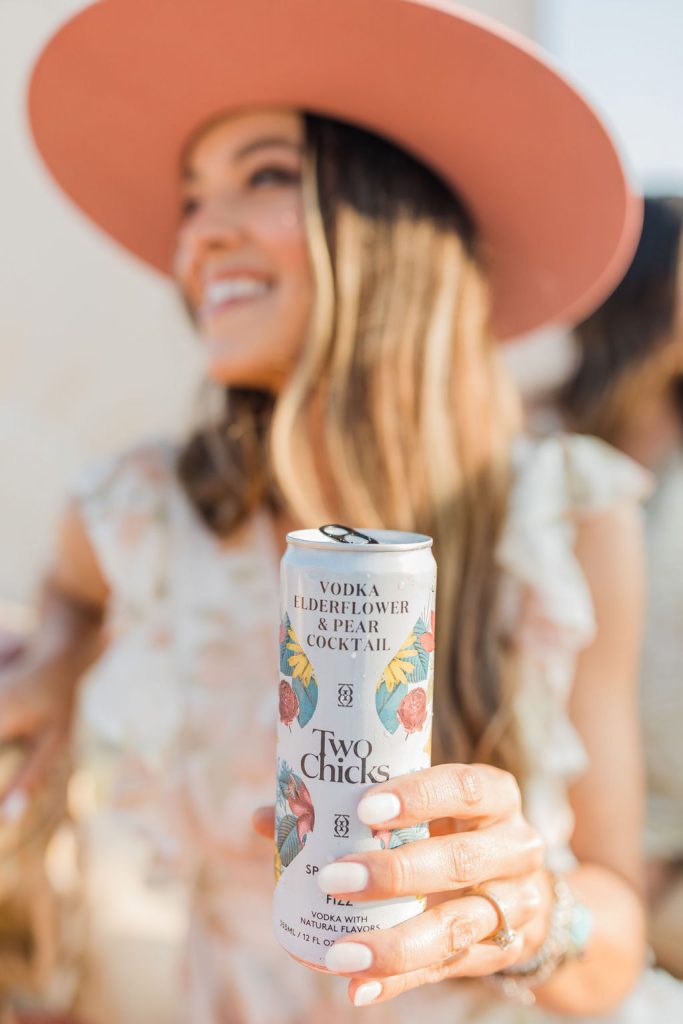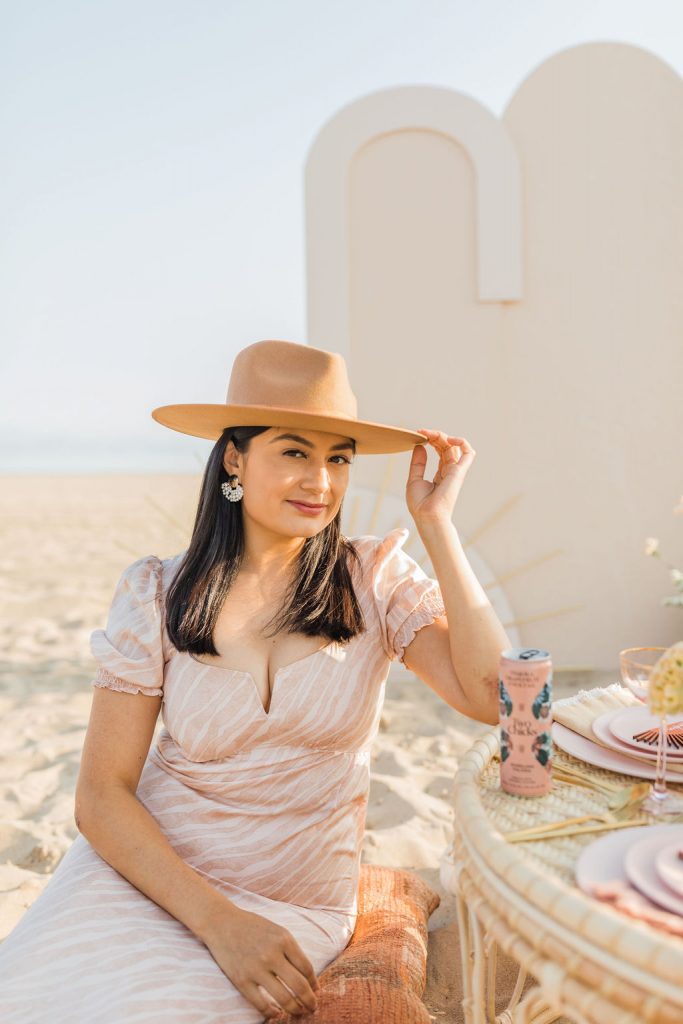 Next up… The food!!! Our friends at Colette's Catering had a beautiful and delicious spread, as per usual! It was all set buffet style for the guests to enjoy as they pleased! Keeping up with the casualness of the beach but also keeping it classy!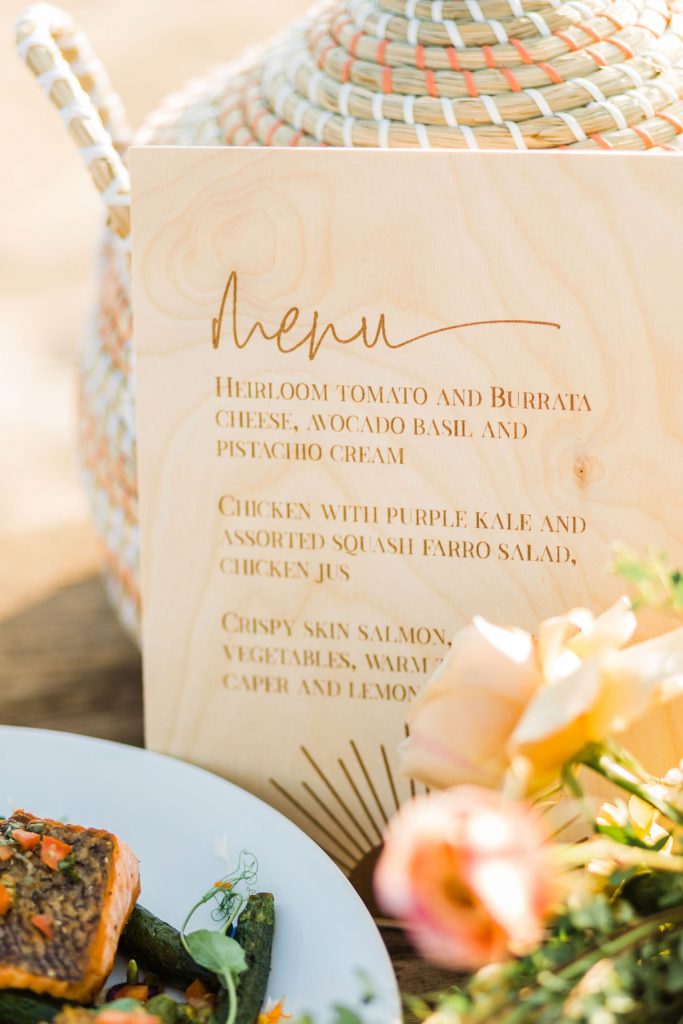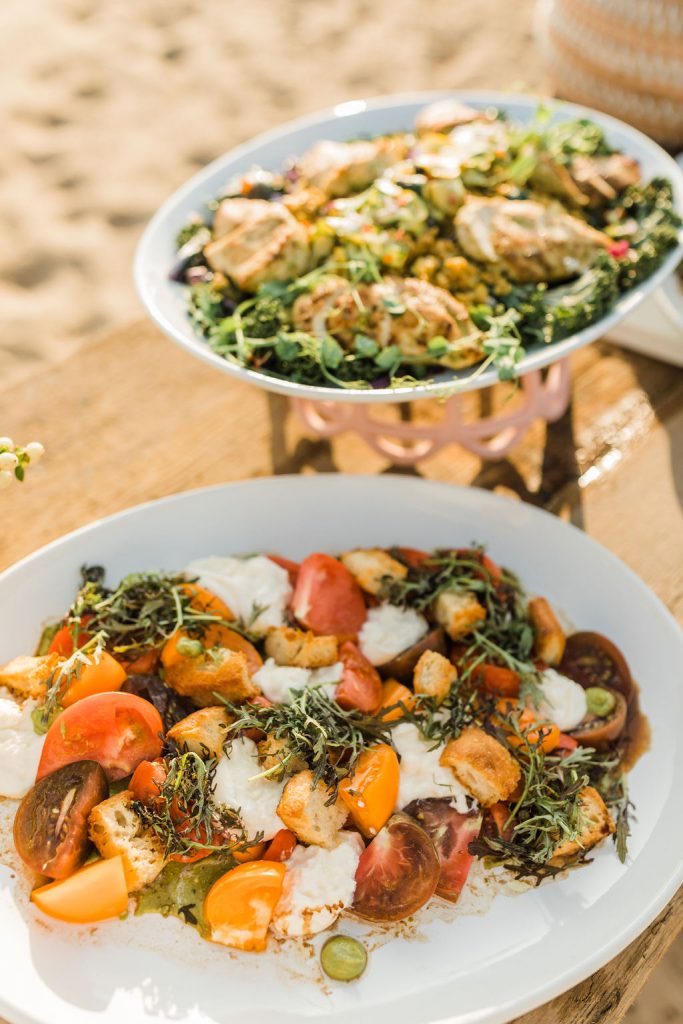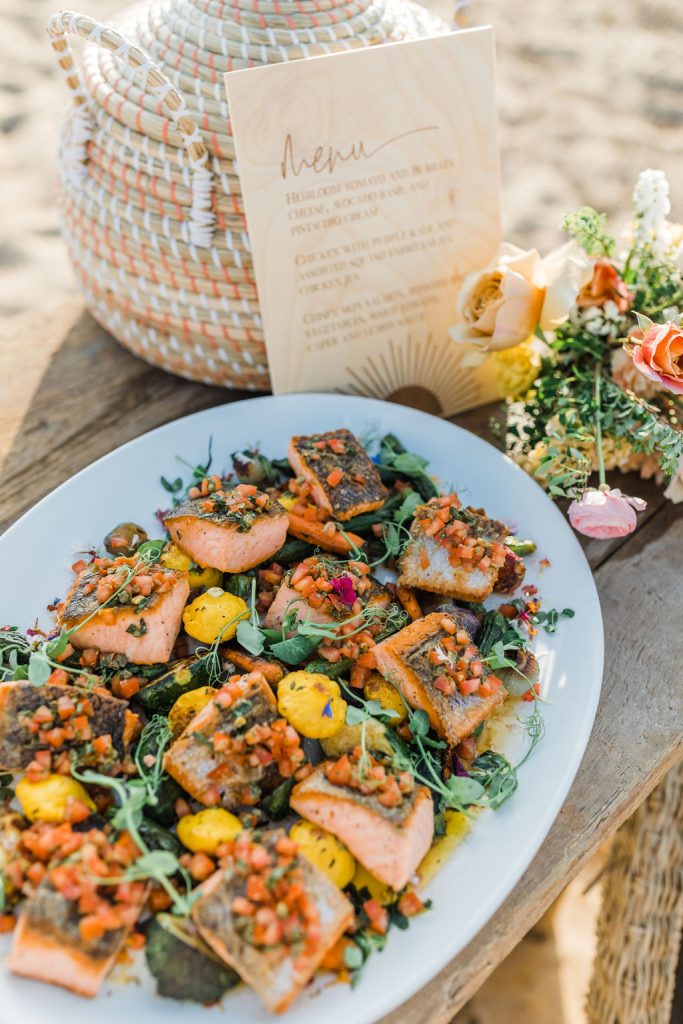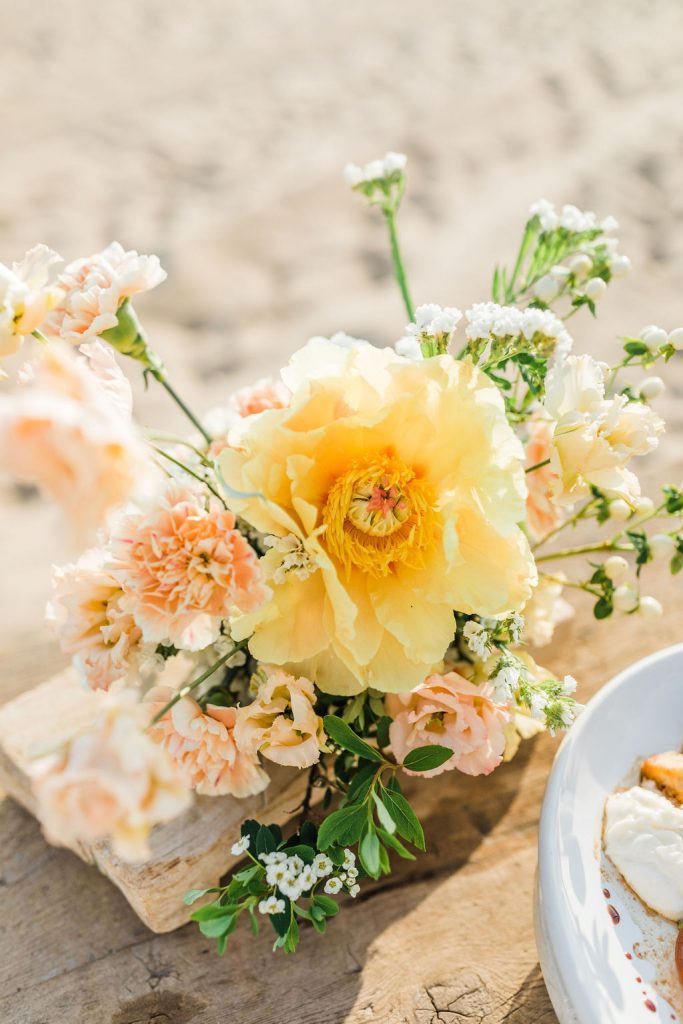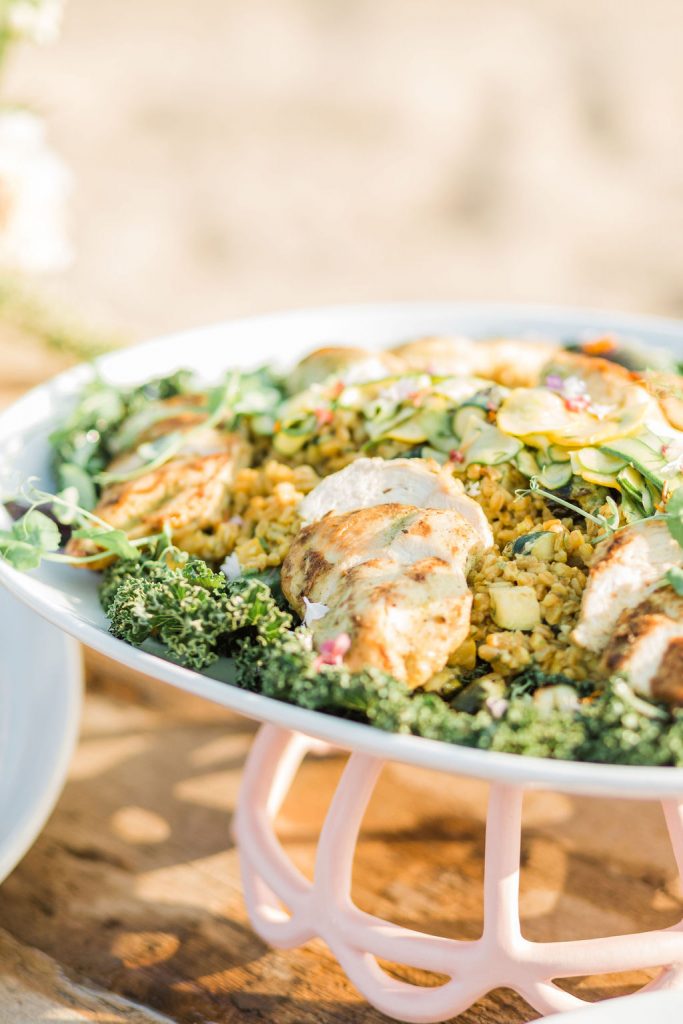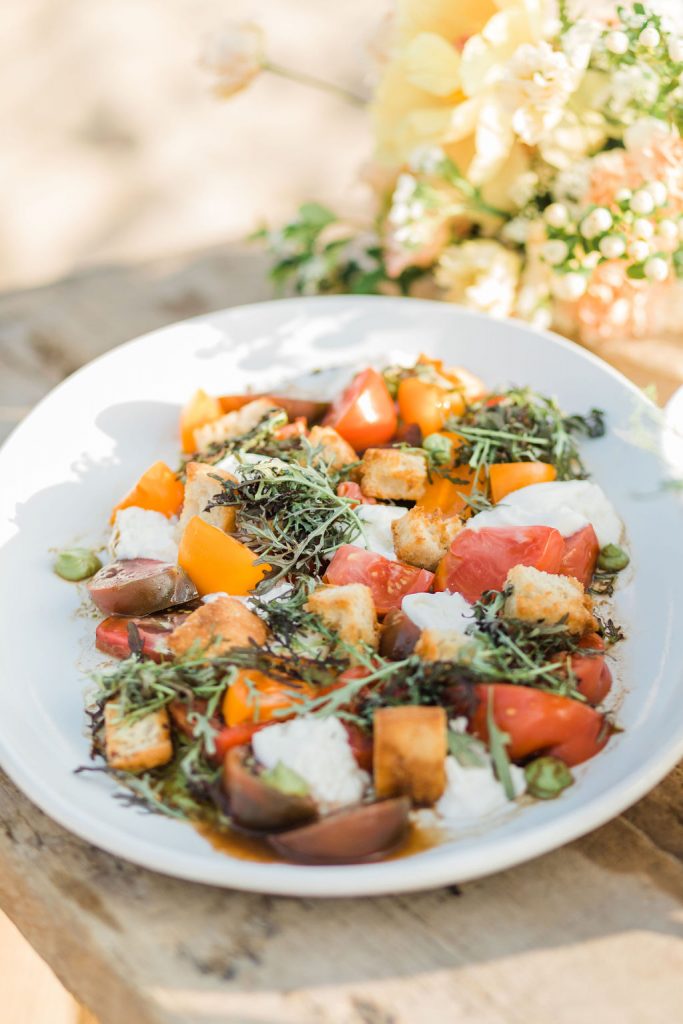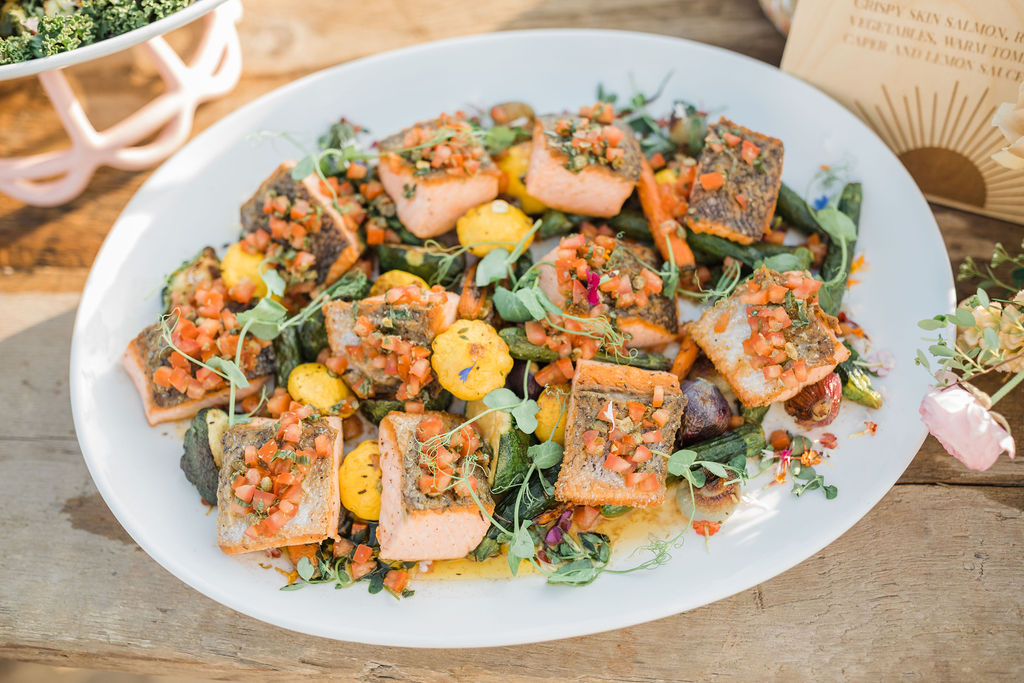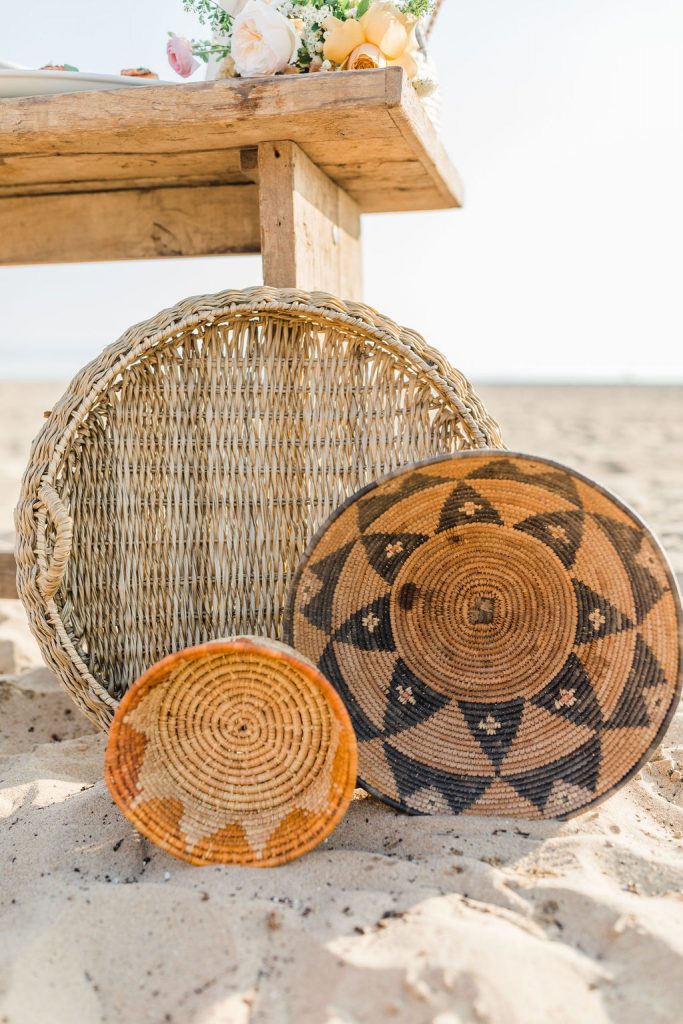 It looked so good, they couldn't wait to dig in!!!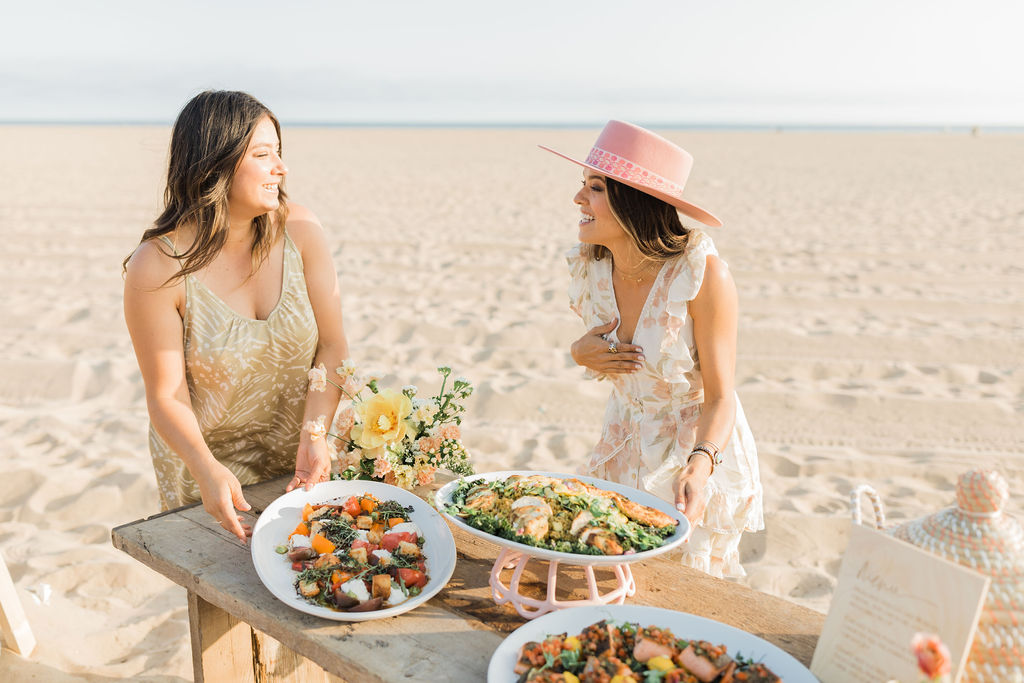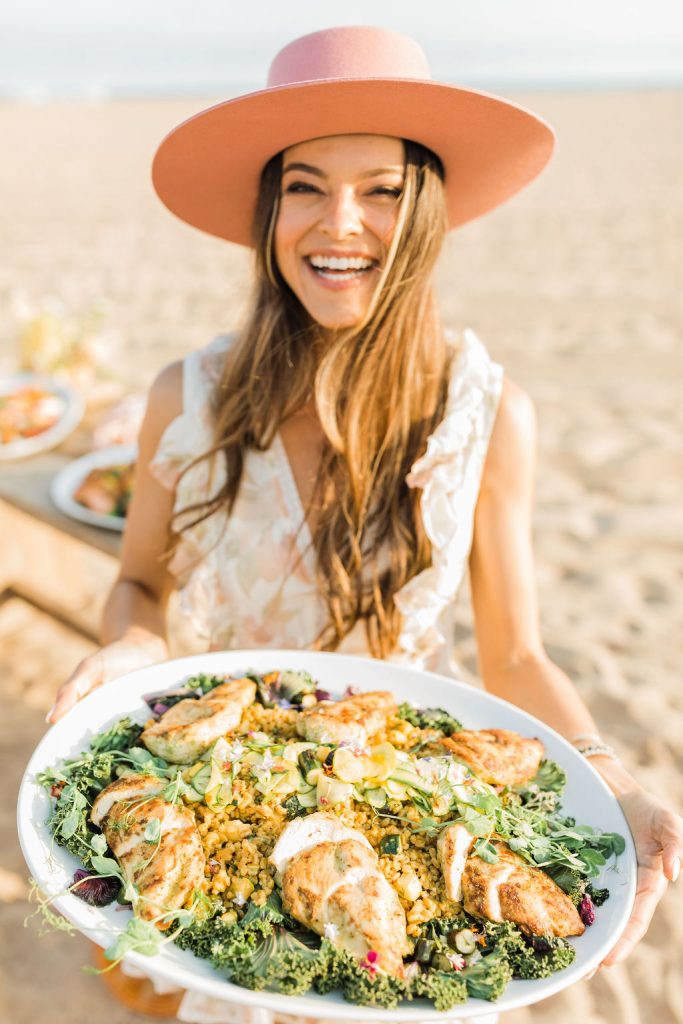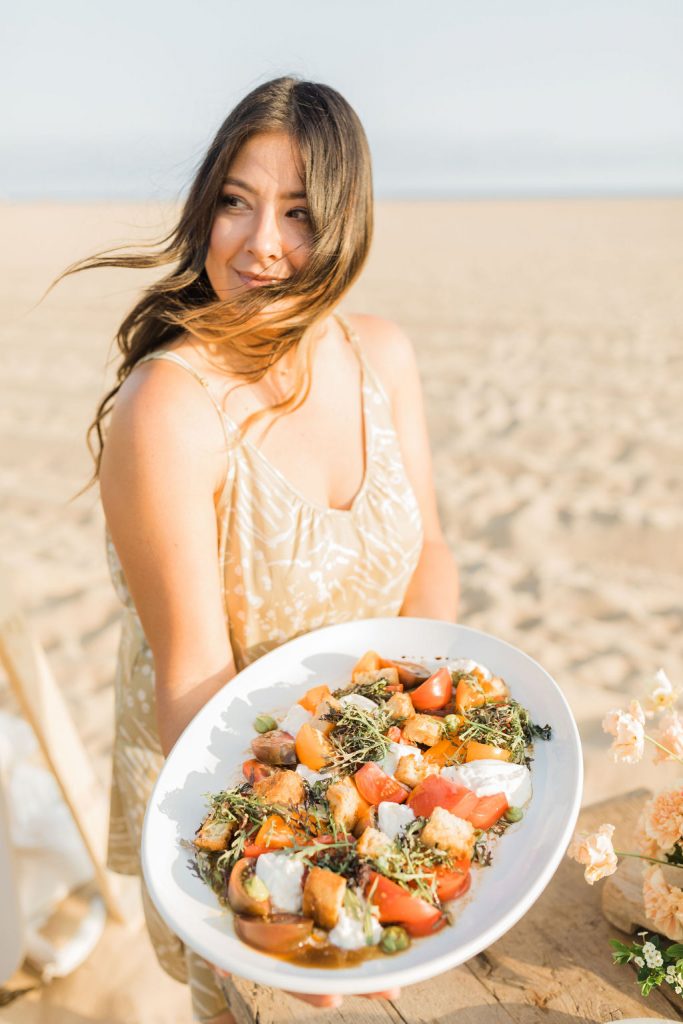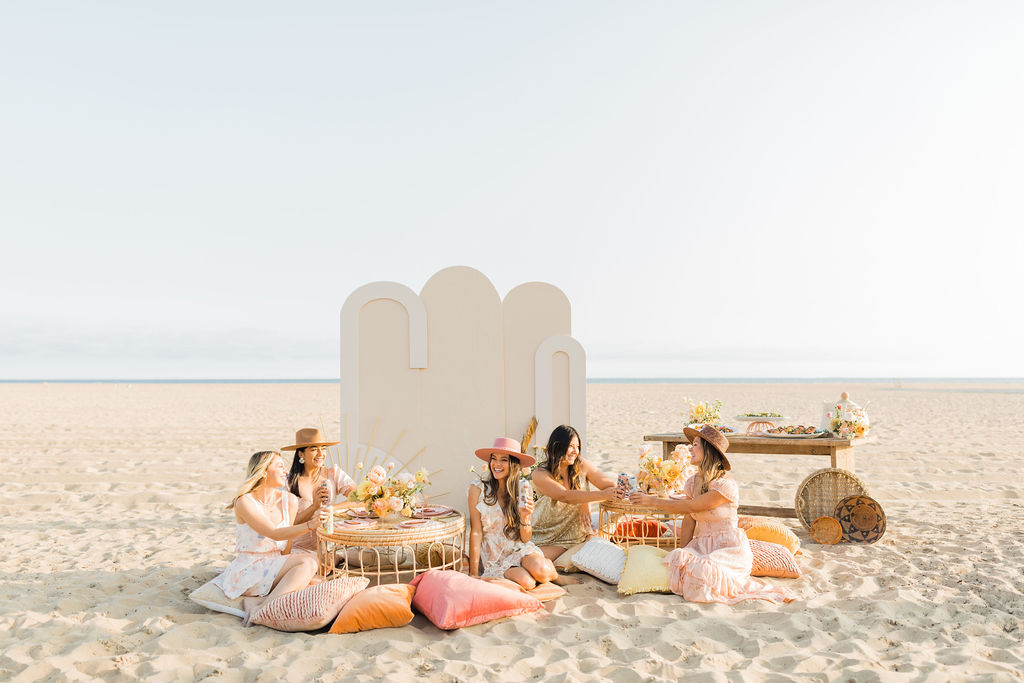 Look at these babes!!!!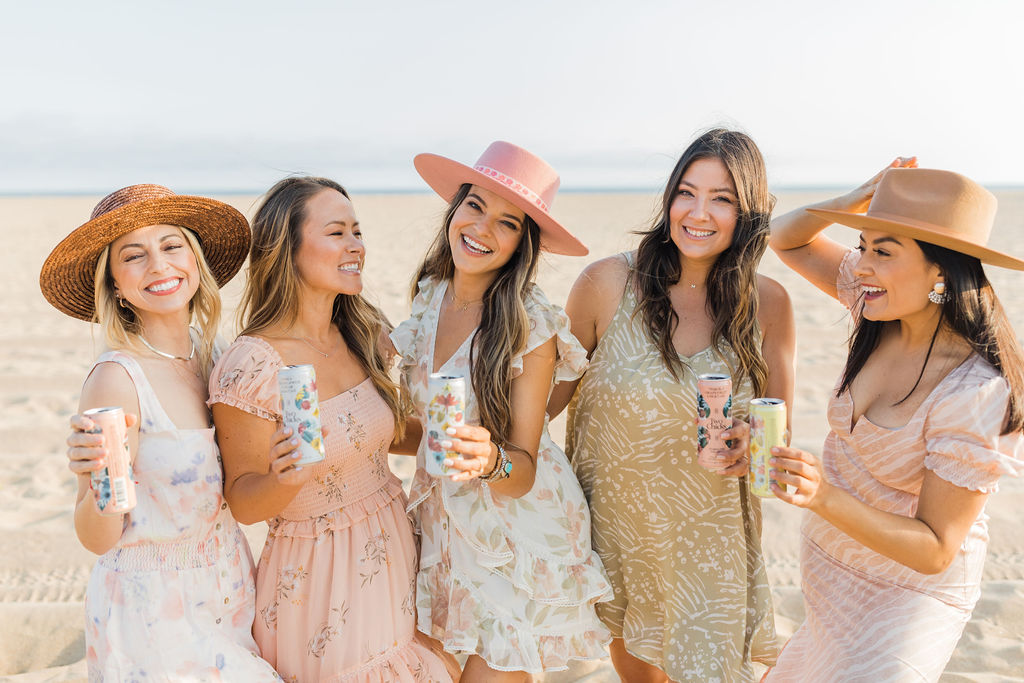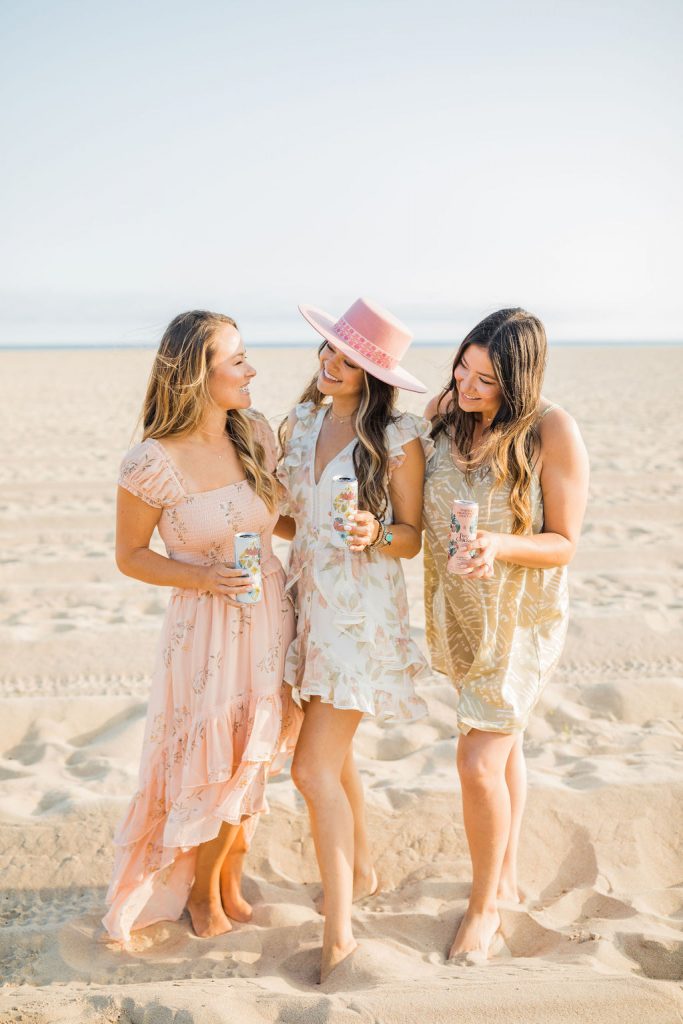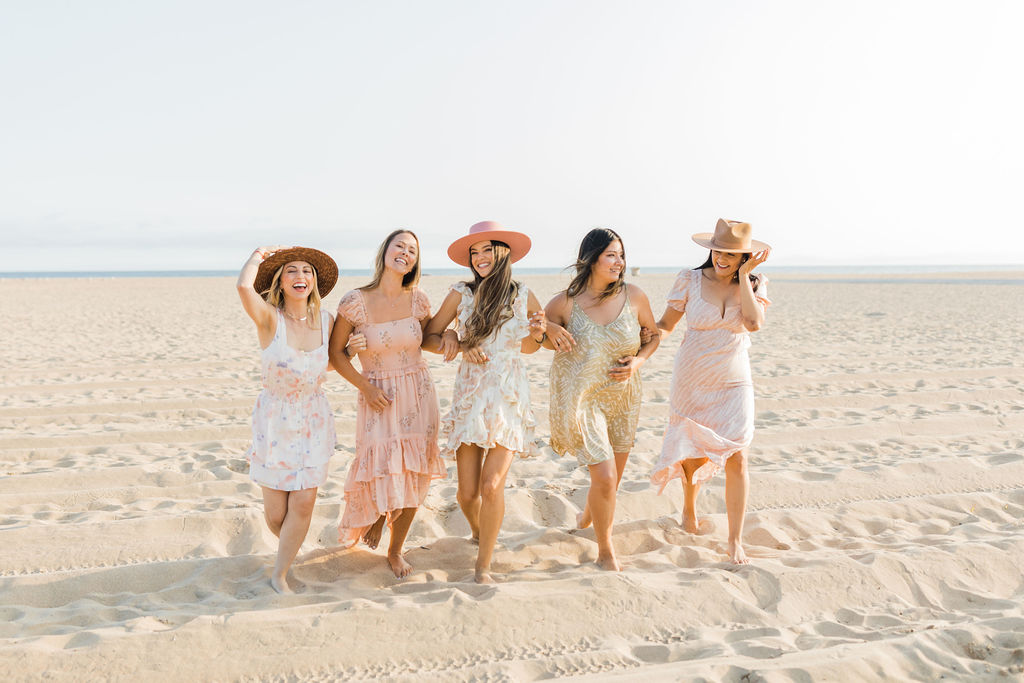 These two were the cutest sisters!!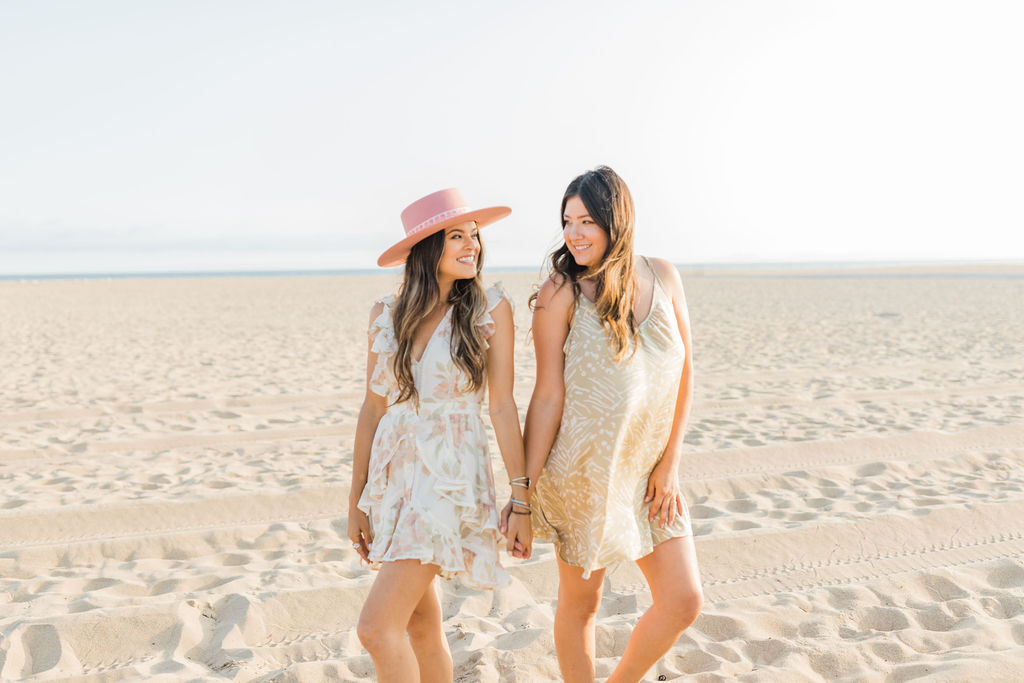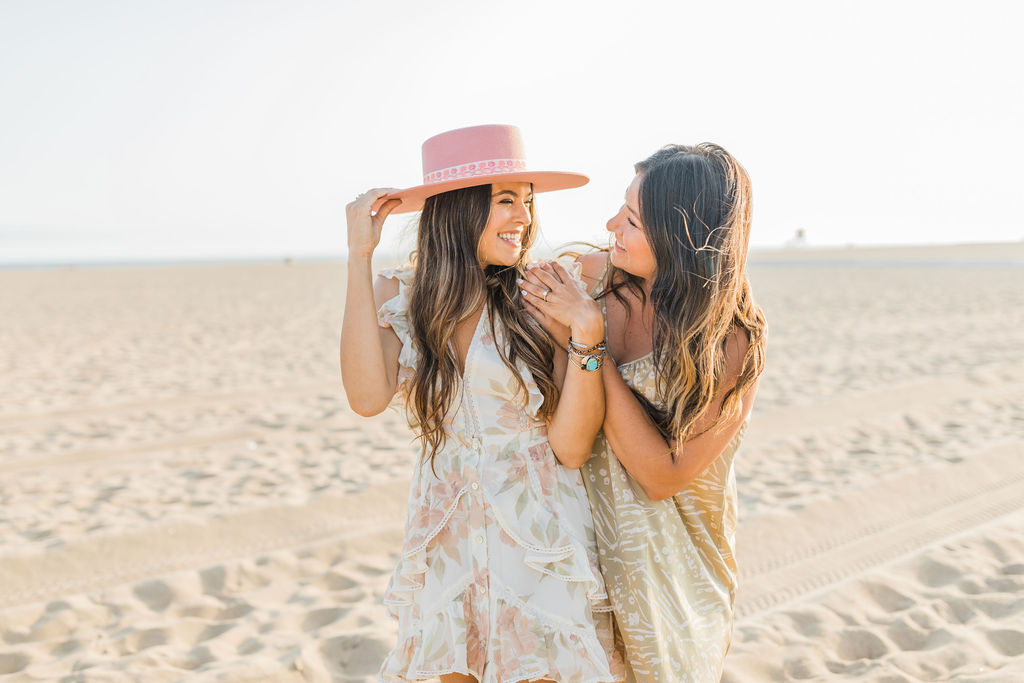 Each of these beauties looked so incredible in their Saltwater Luxe! From the bride-to-be and each of her bridesmaids. I was obsessed with it all! Of course, Jessica Lynn Photo captured them all so well! She makes magic with that camera!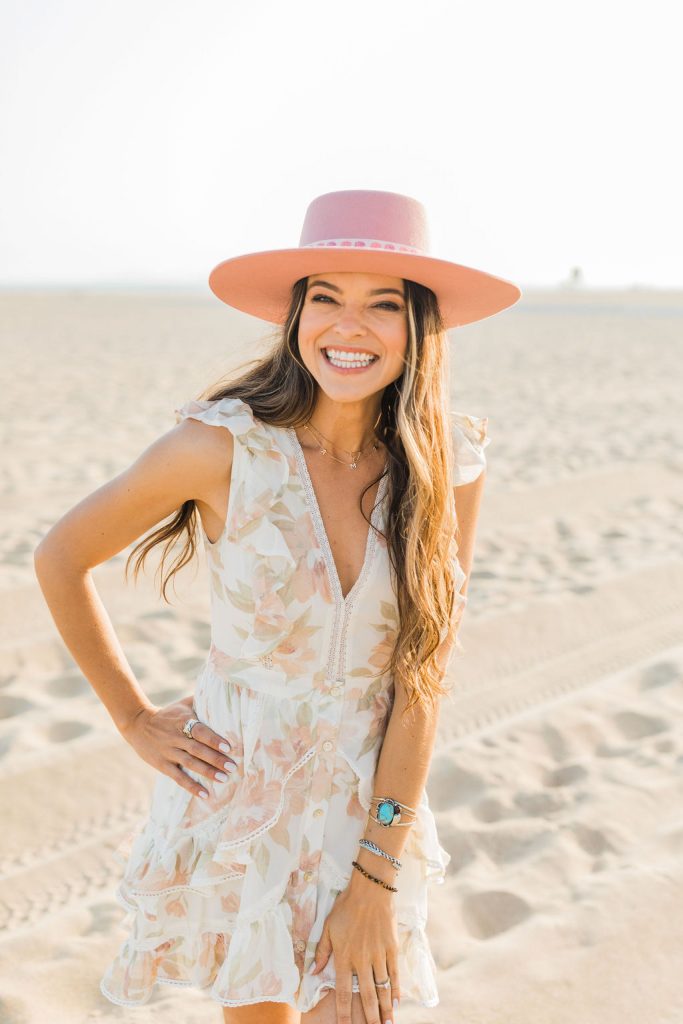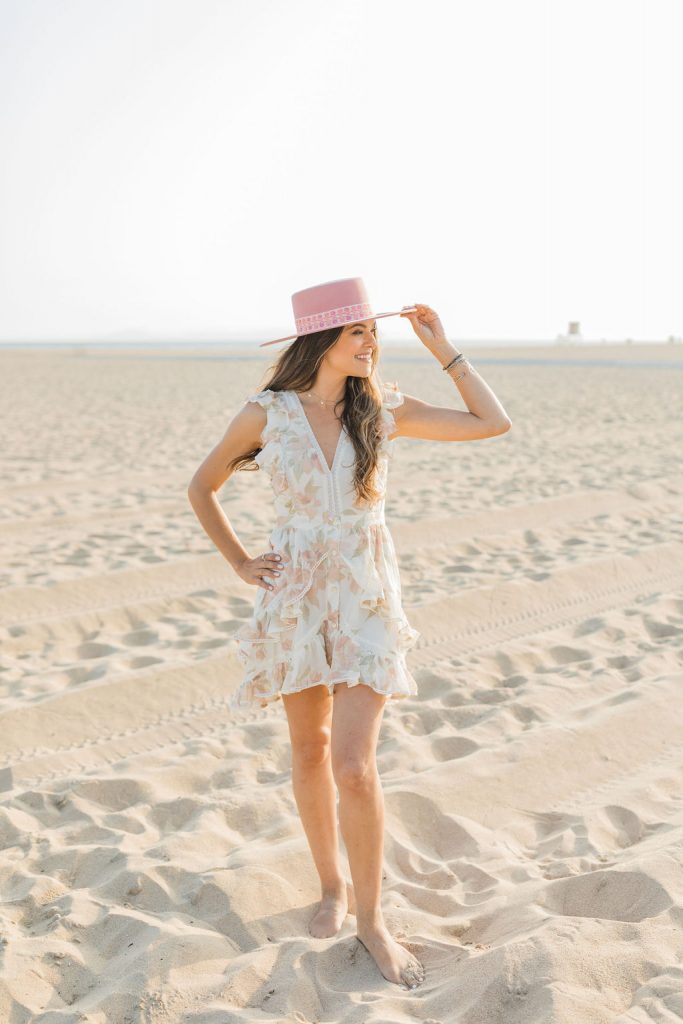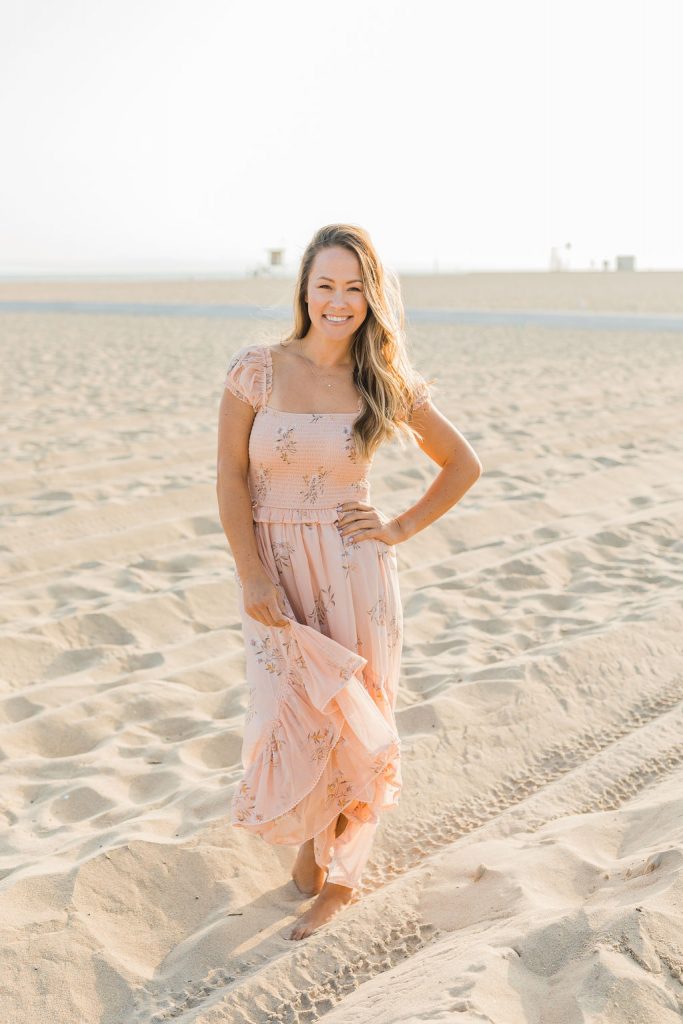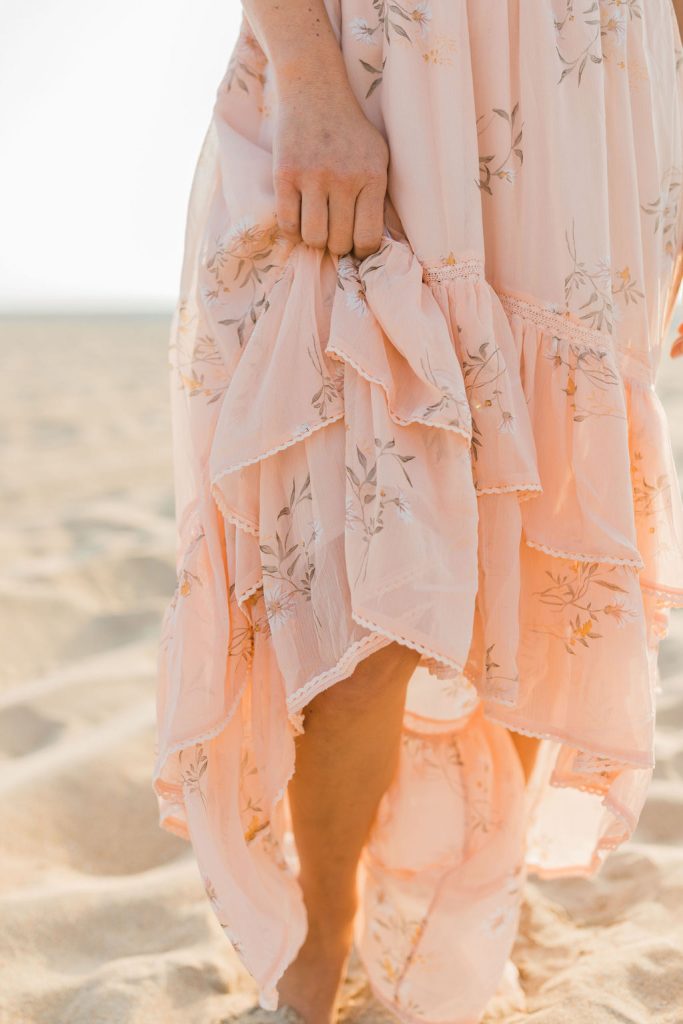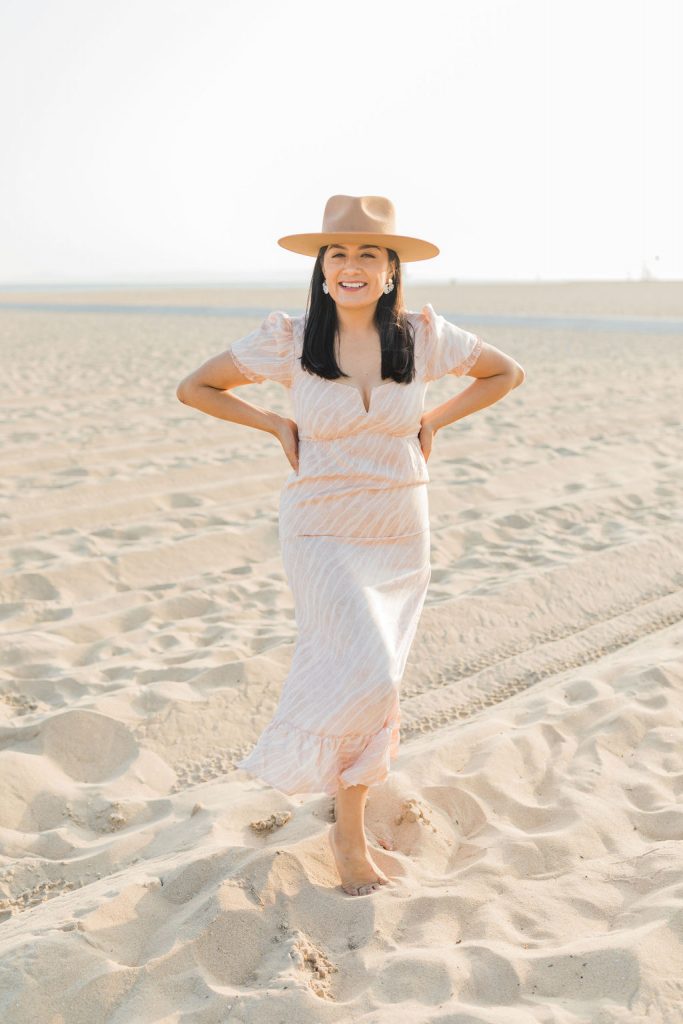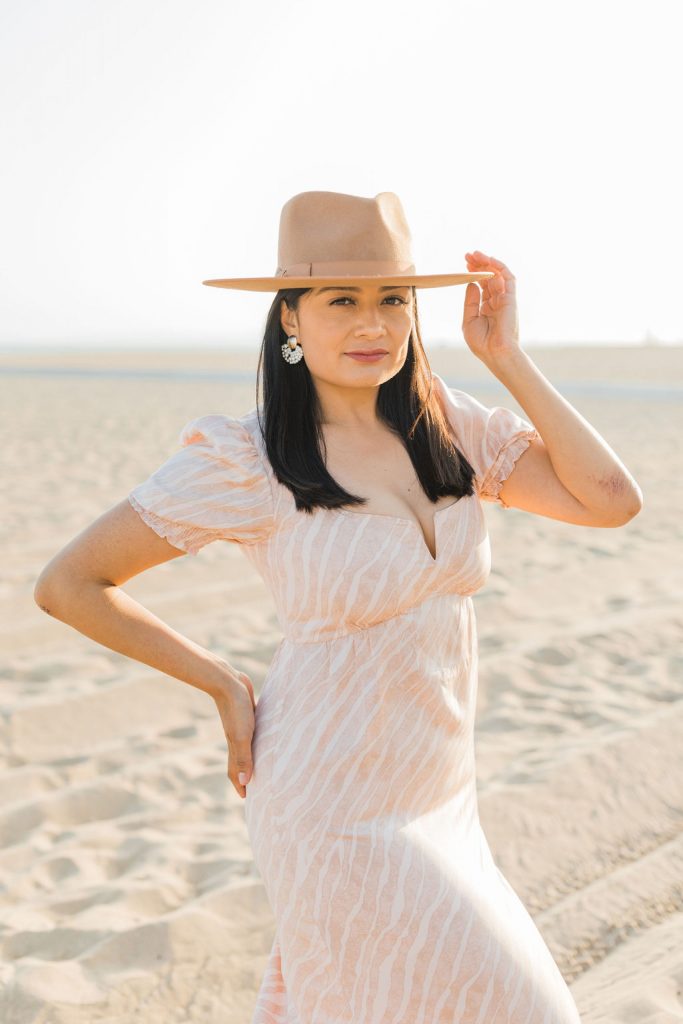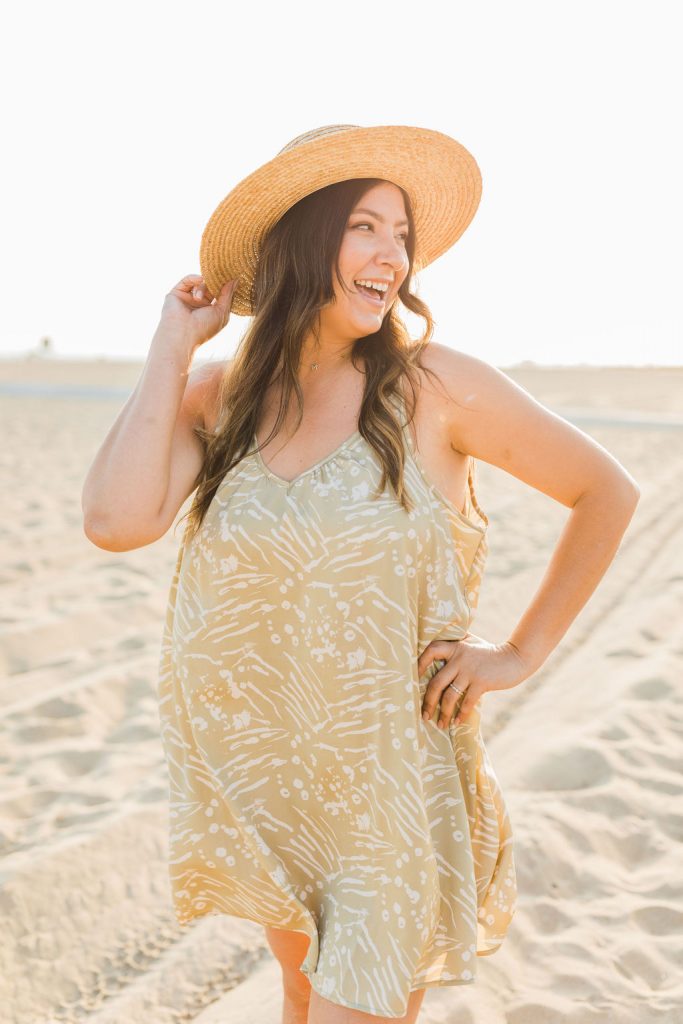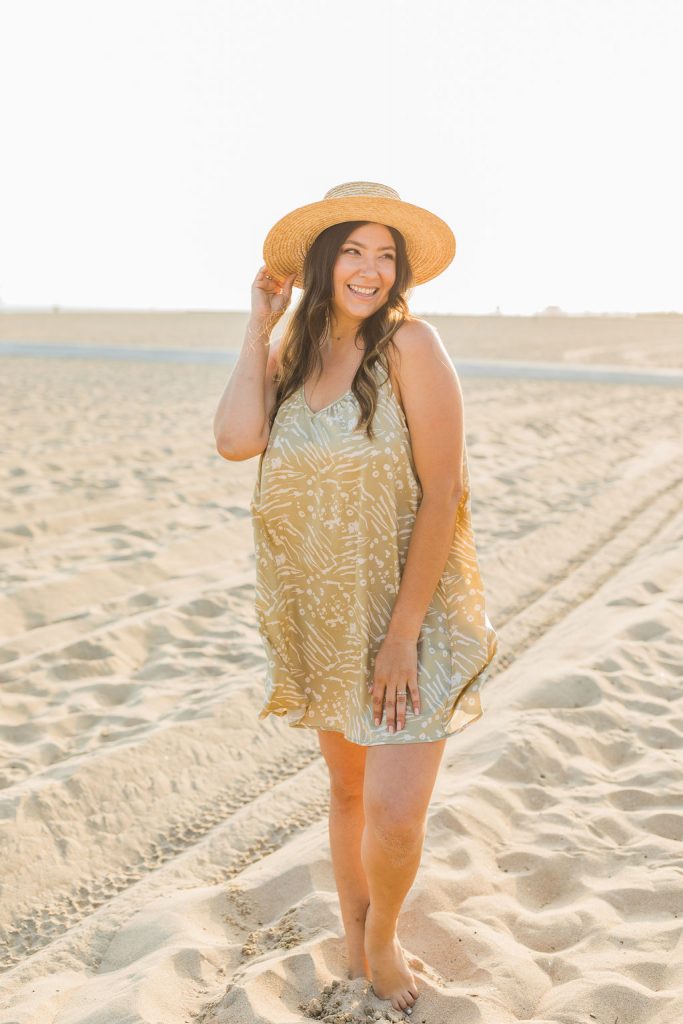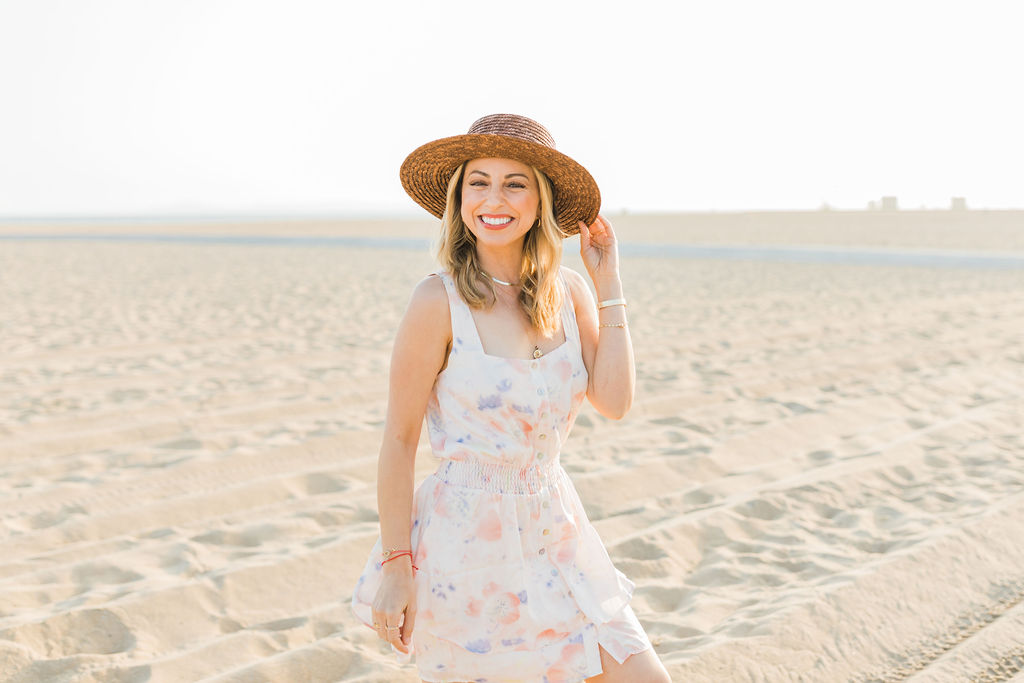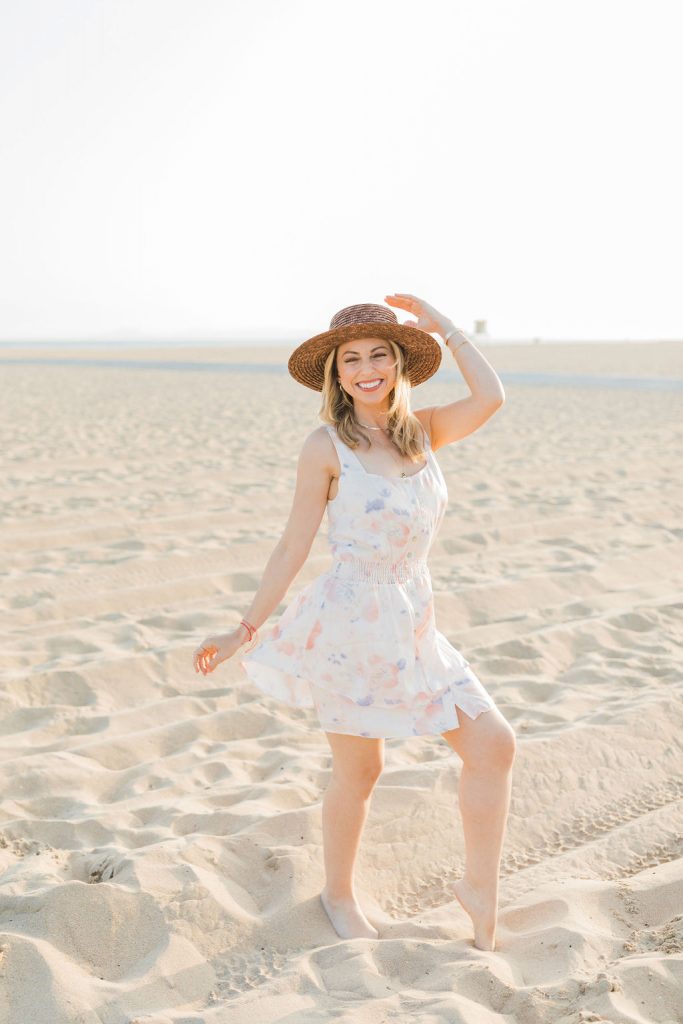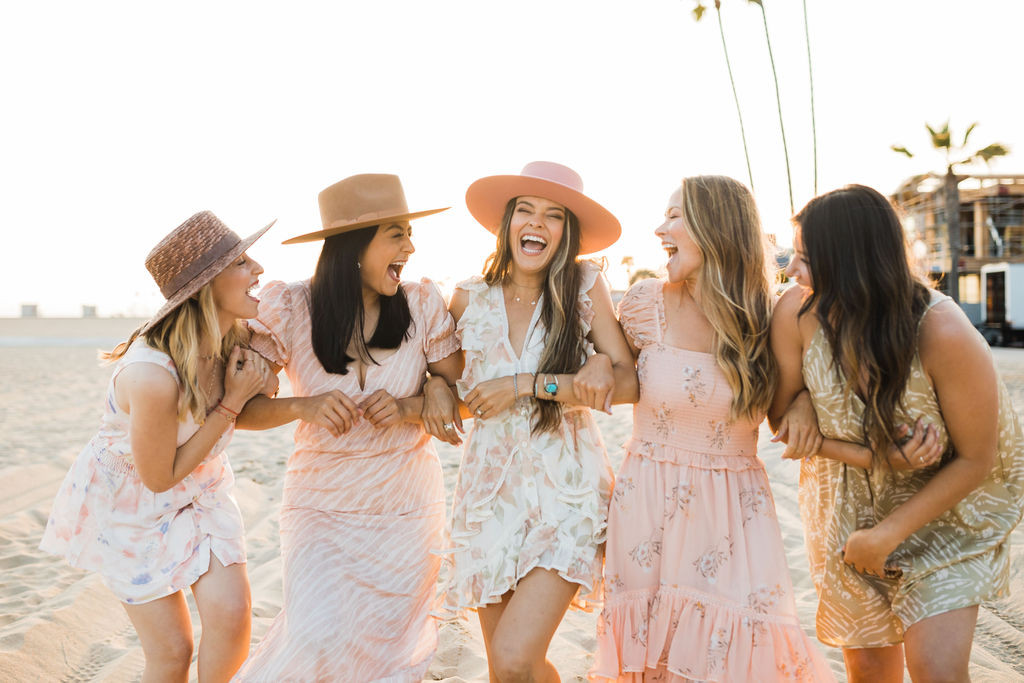 Onto dessert and more!!!! We had to have the prettiest desserts from Sugar Crush Sweets! They were all set up on Sweet Salvage Rentals' rattan shelf with Not Just in Novels gorgeous blooms. One of my favorite additions to this shower was the boozy snow cones! Twisted for Sugar brought their adorable cart and we added some Two Chicks Cocktails to the mix, they were so yummy!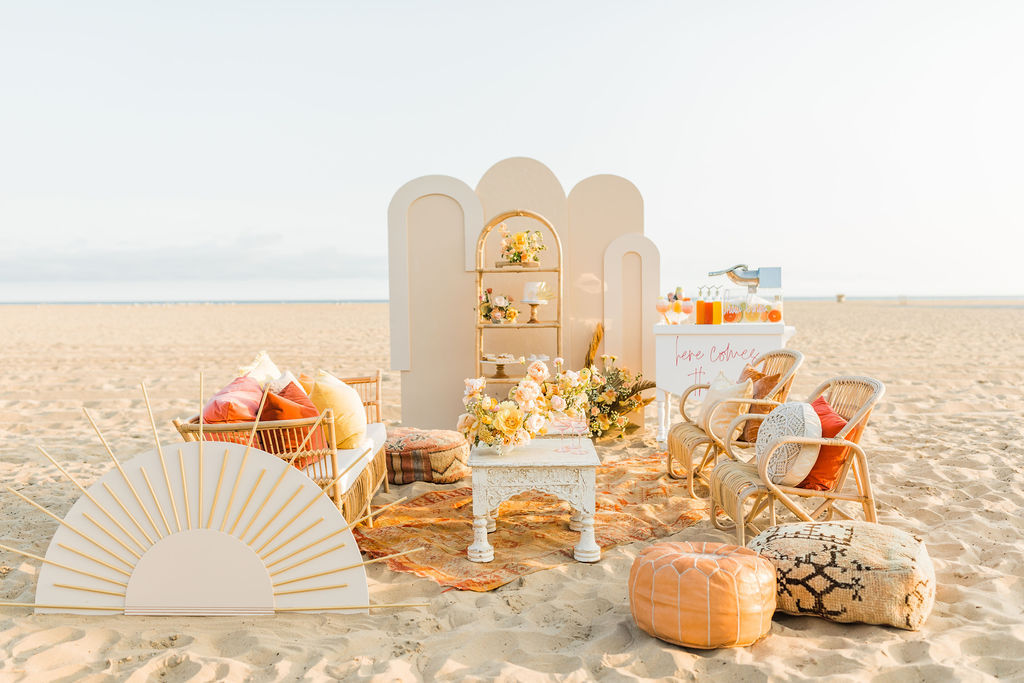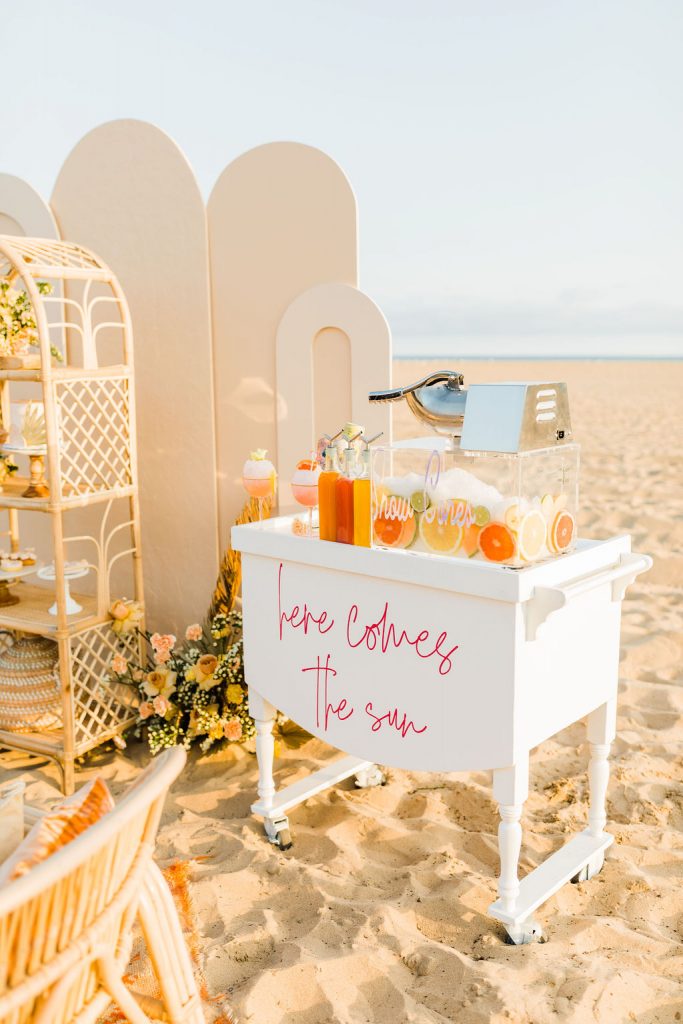 How yummy do those look?!! I want one right now!!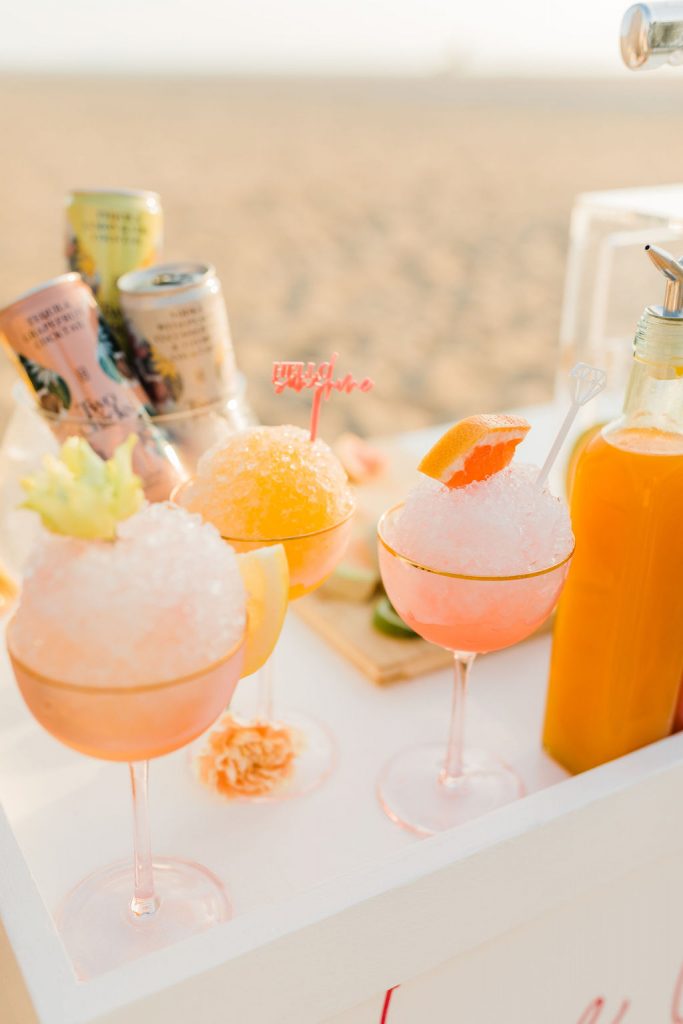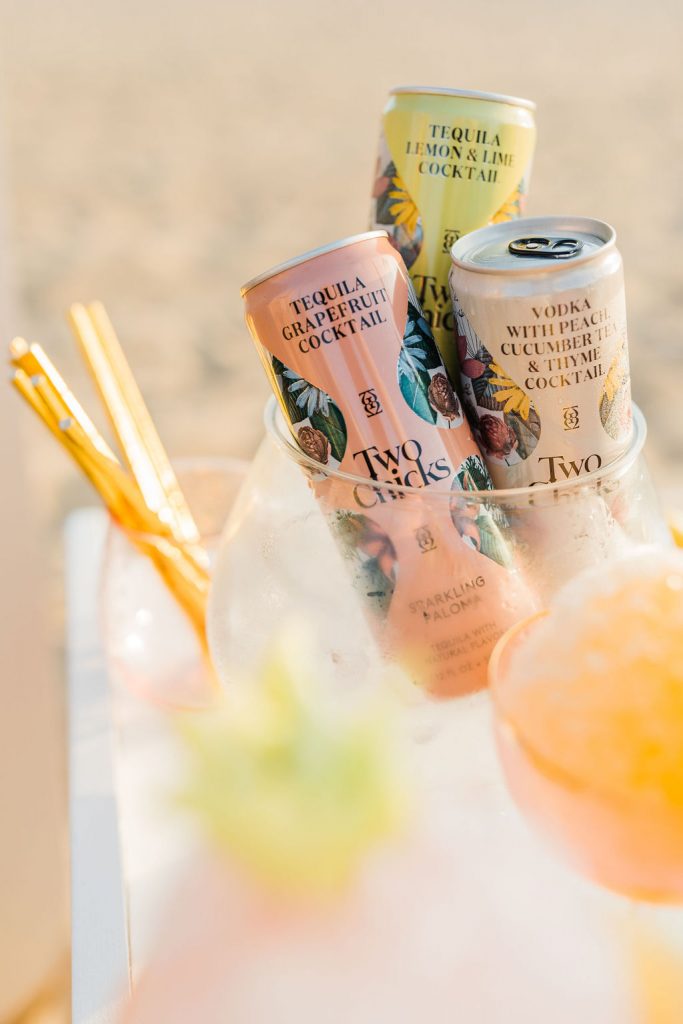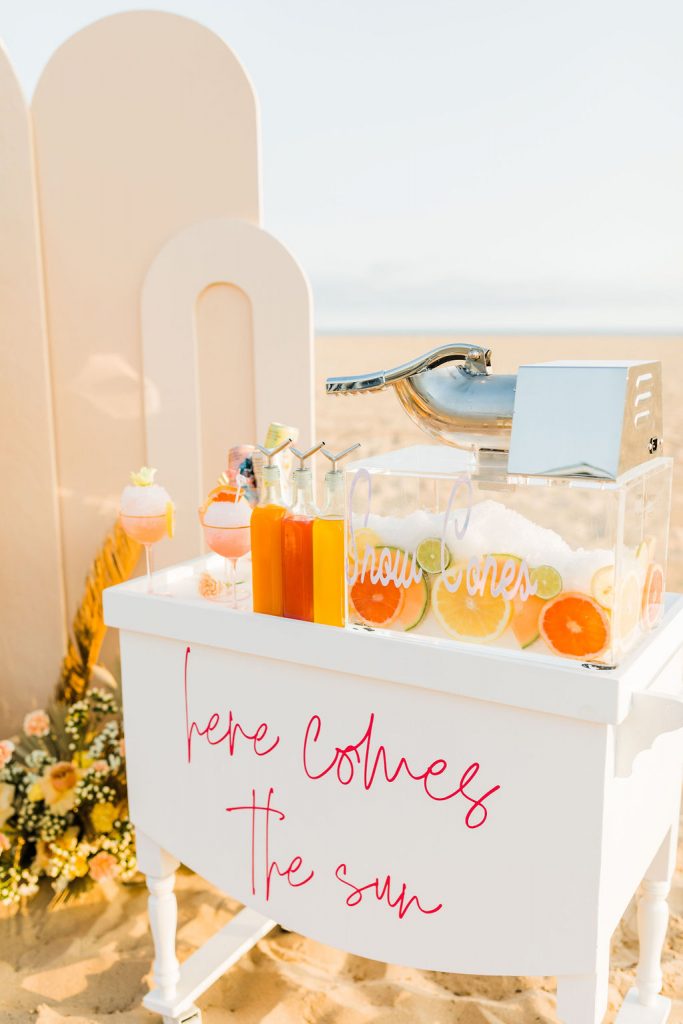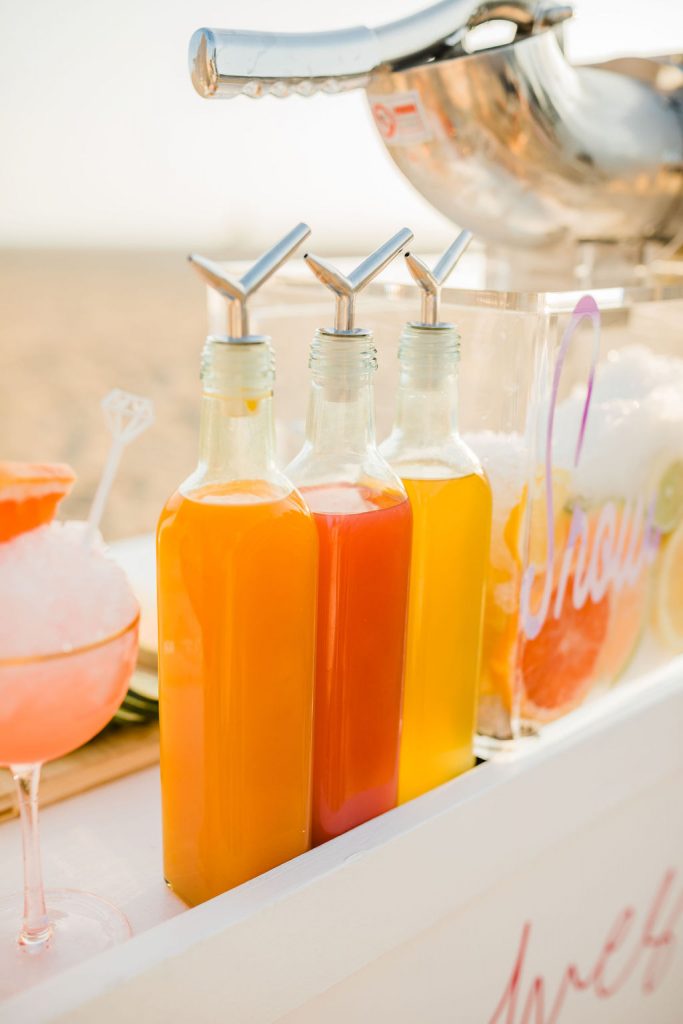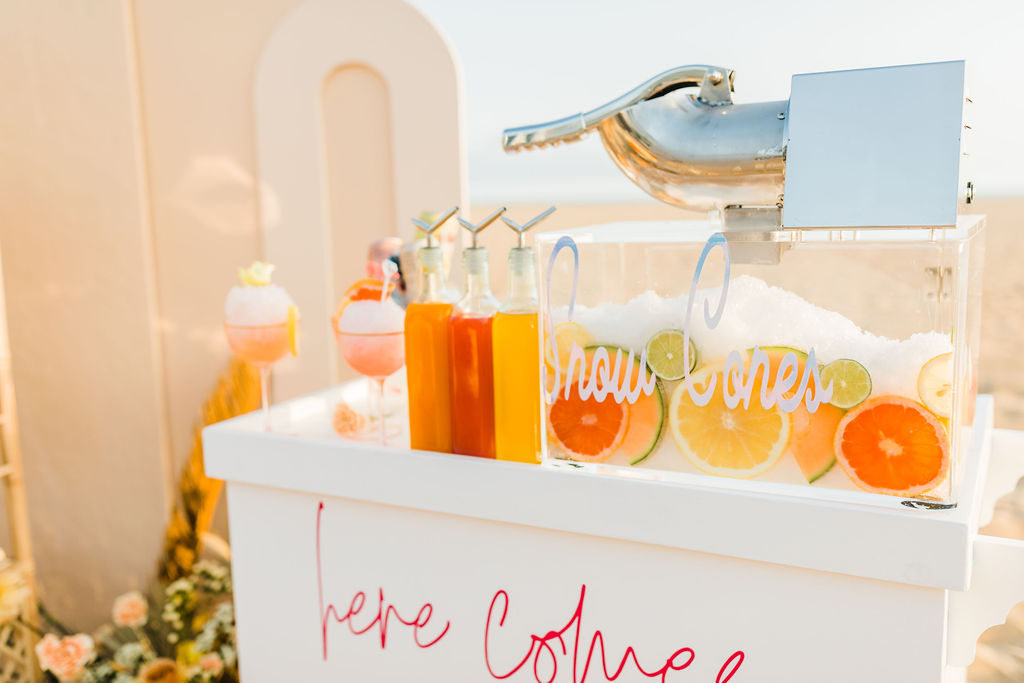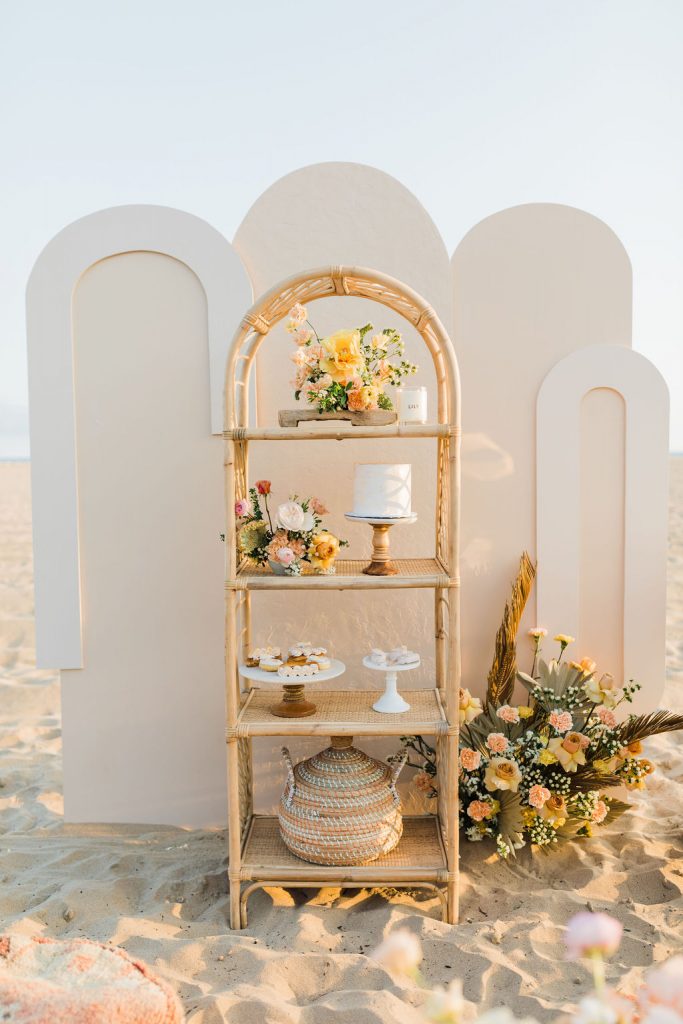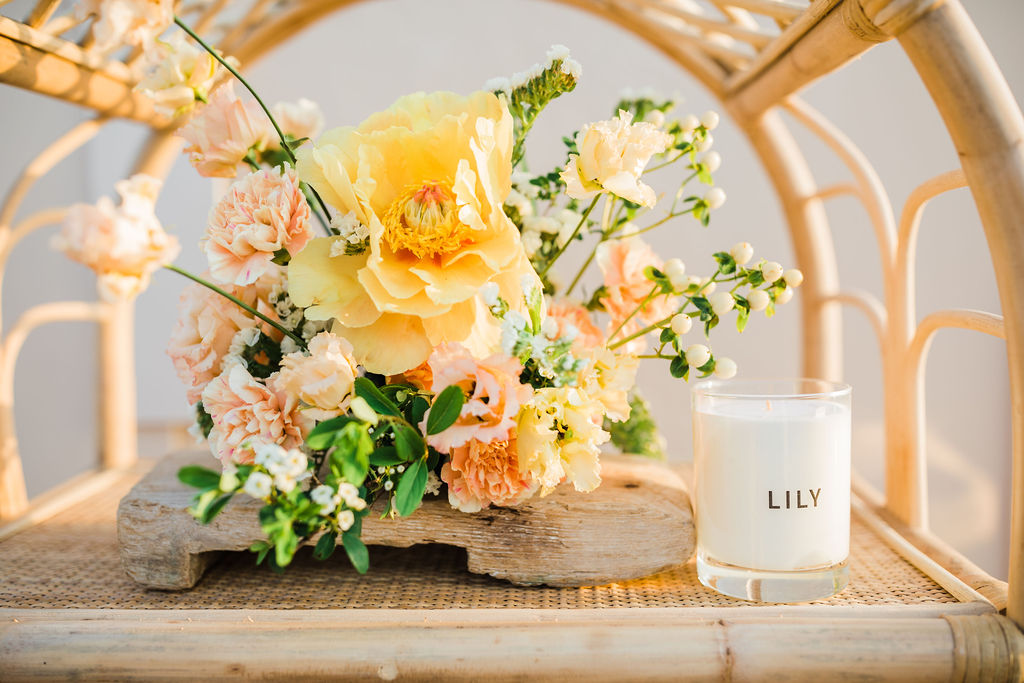 Loving this simple yet stunning cake!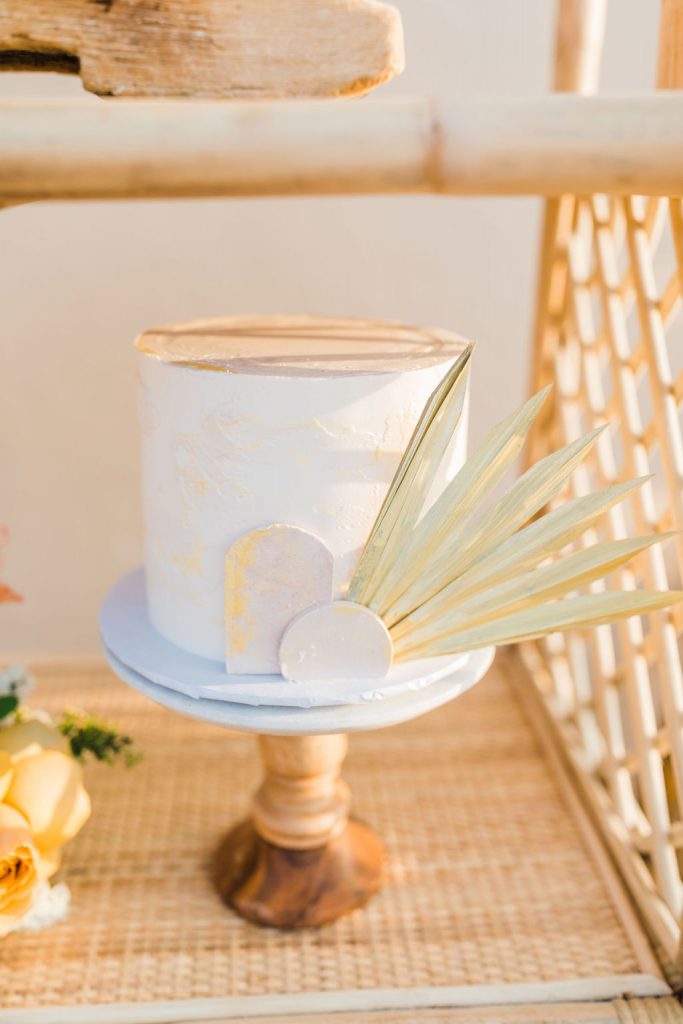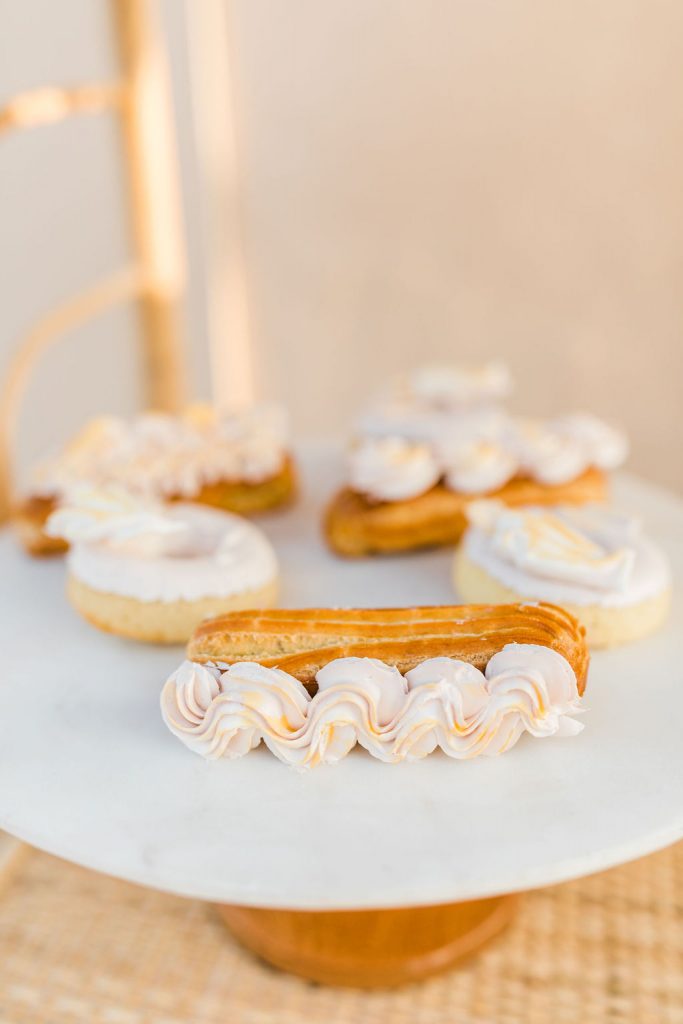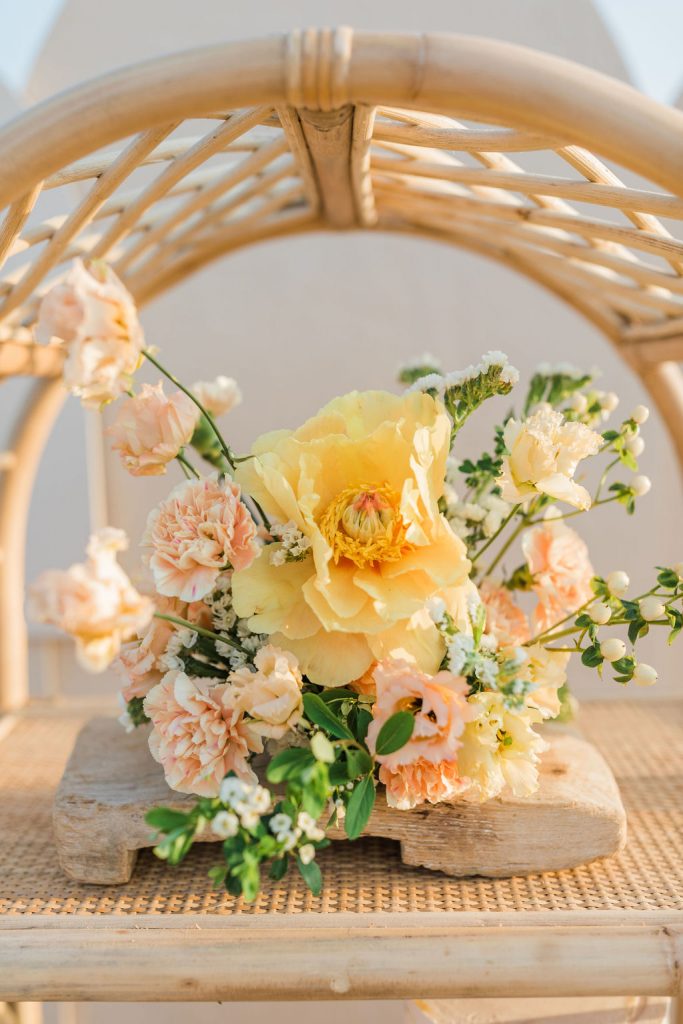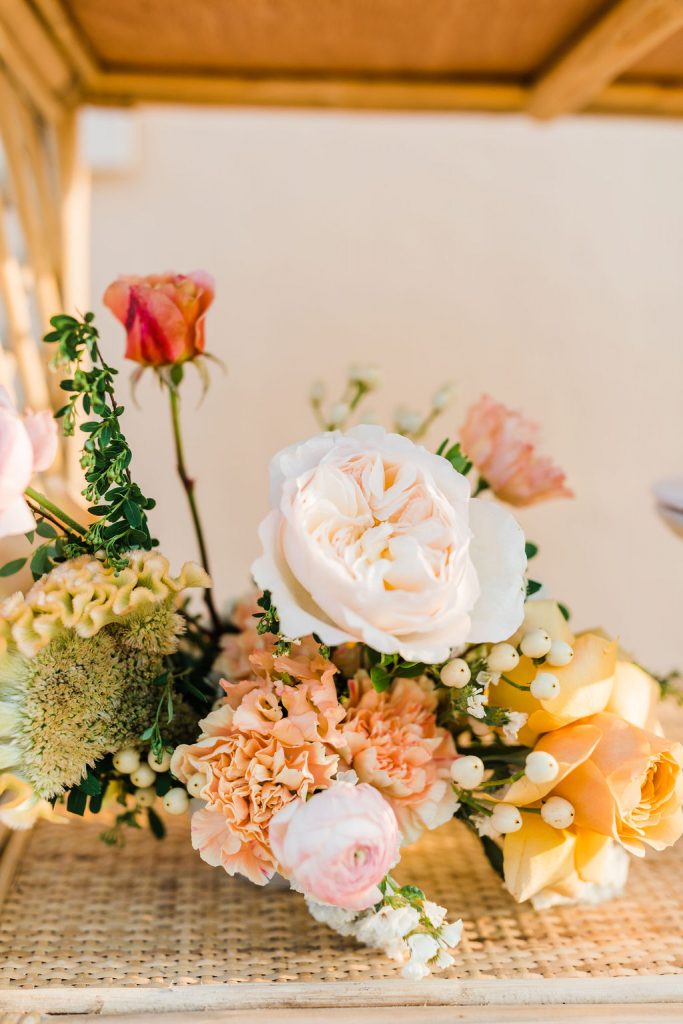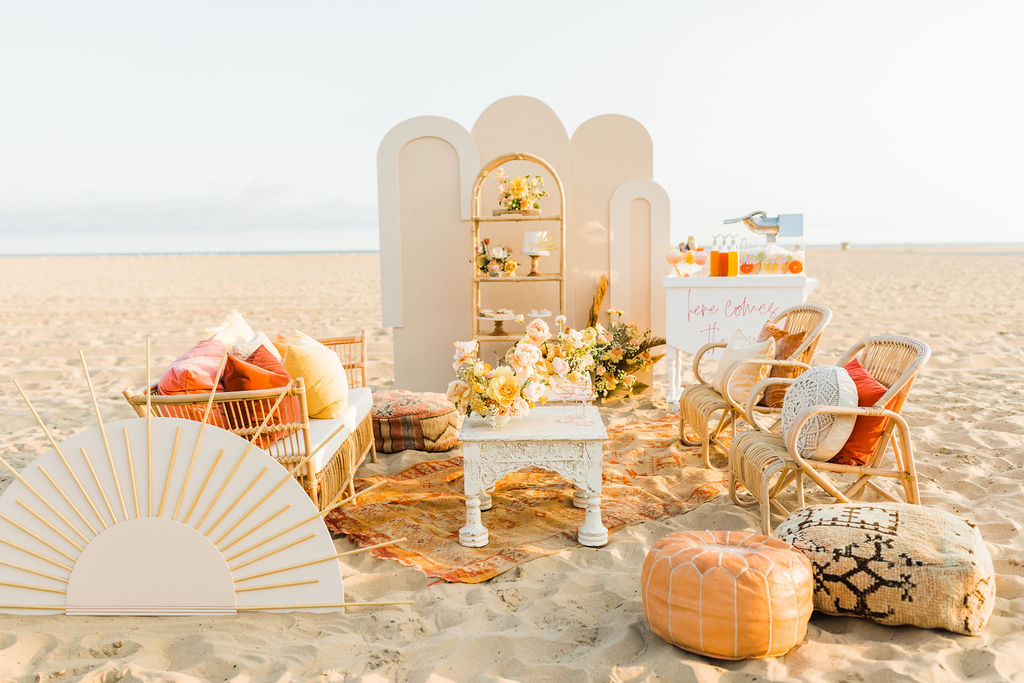 Now this is a bridal shower I can definitely cheers to!!!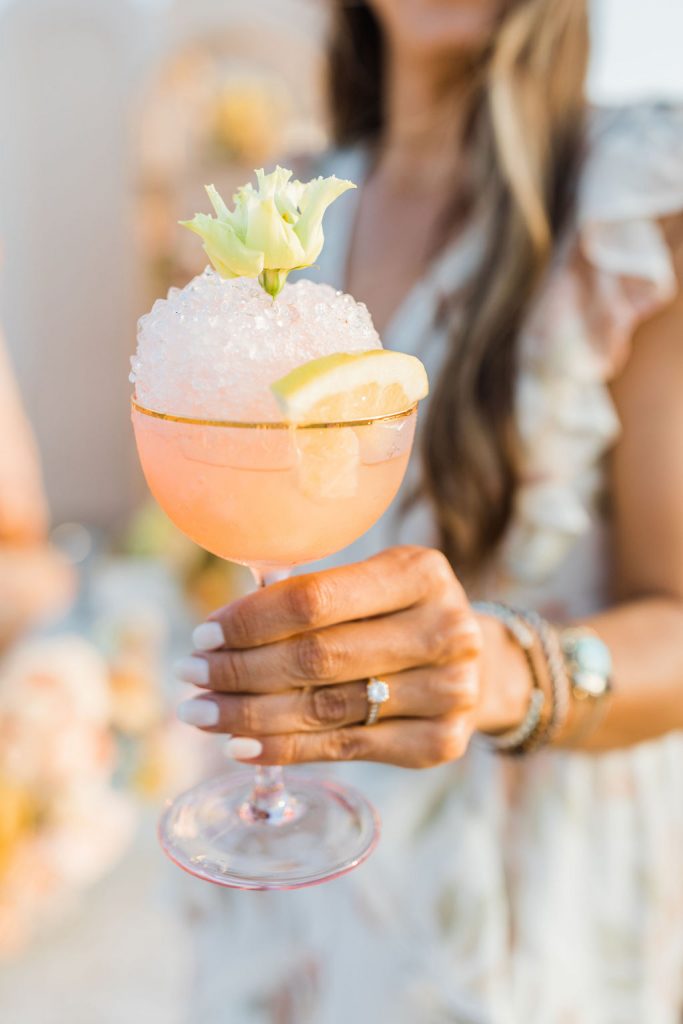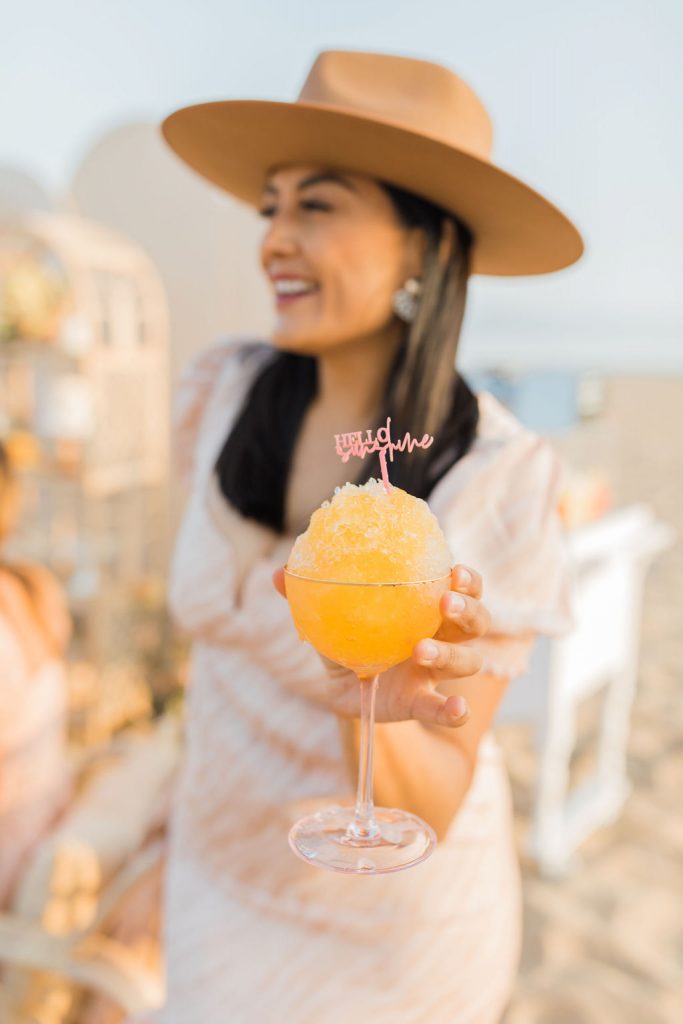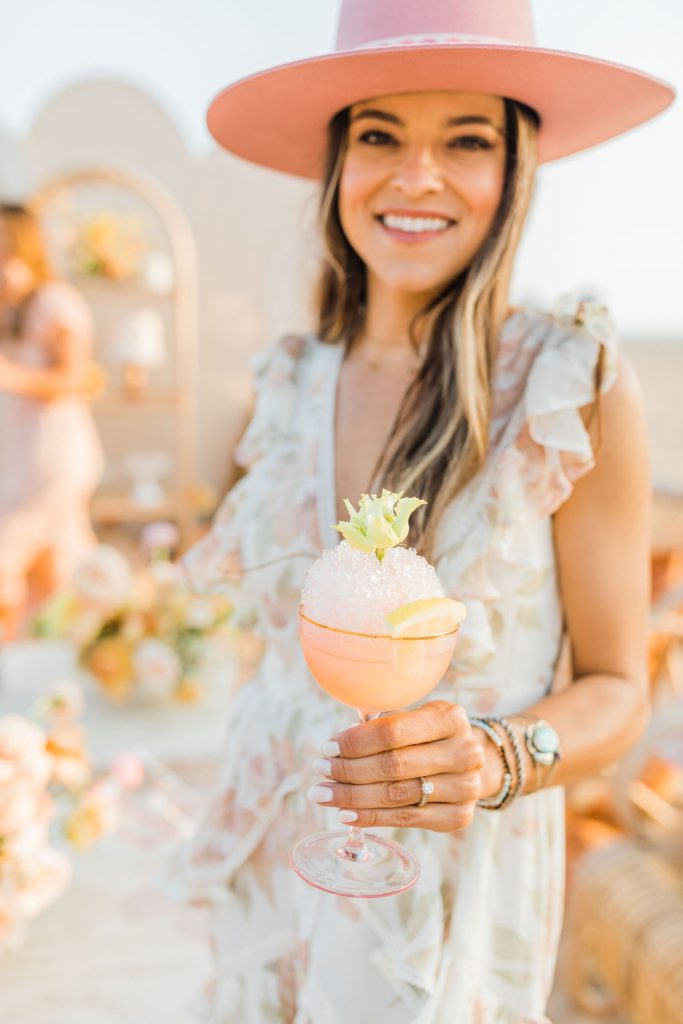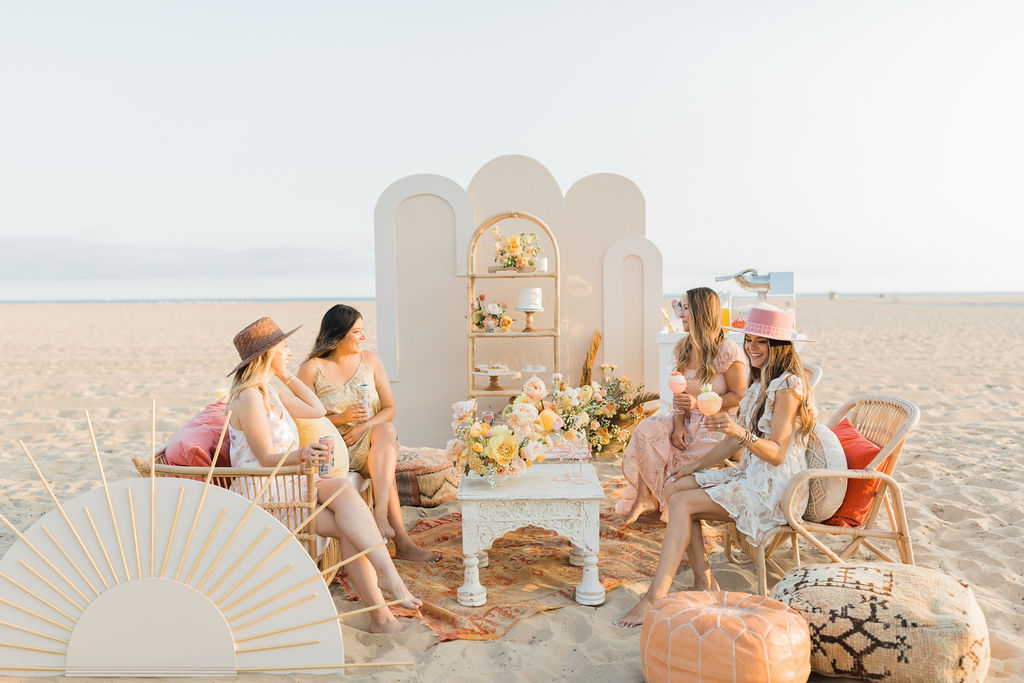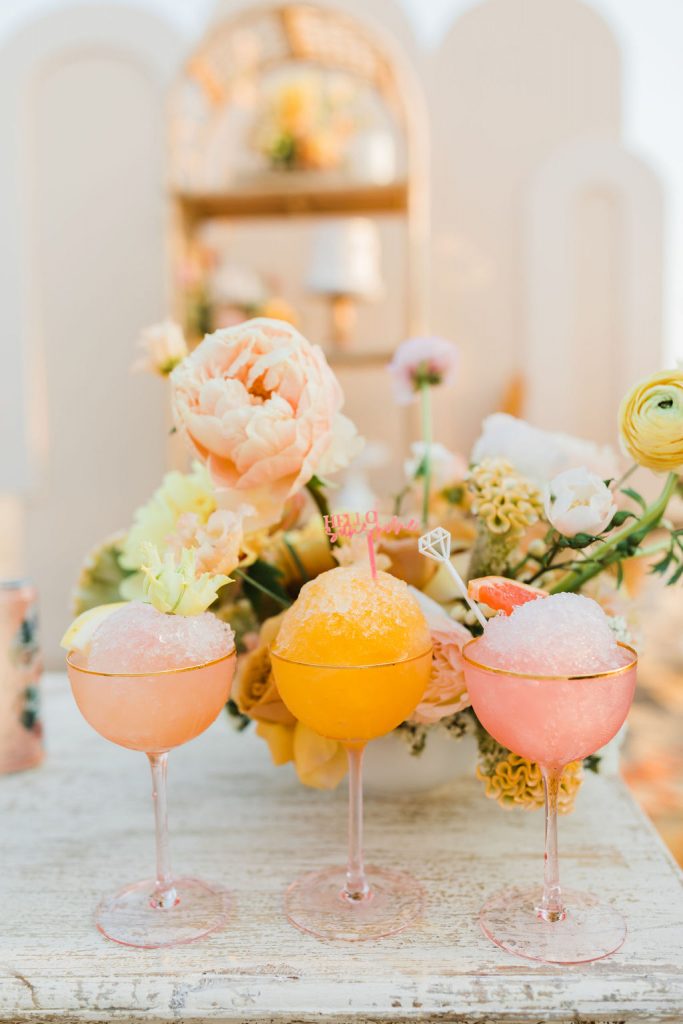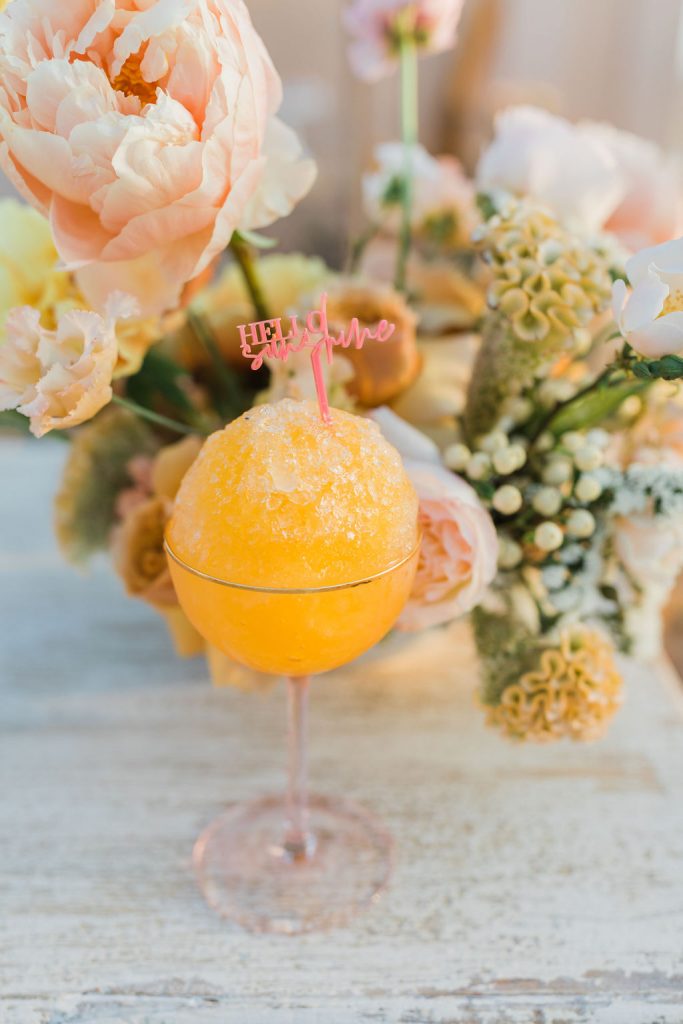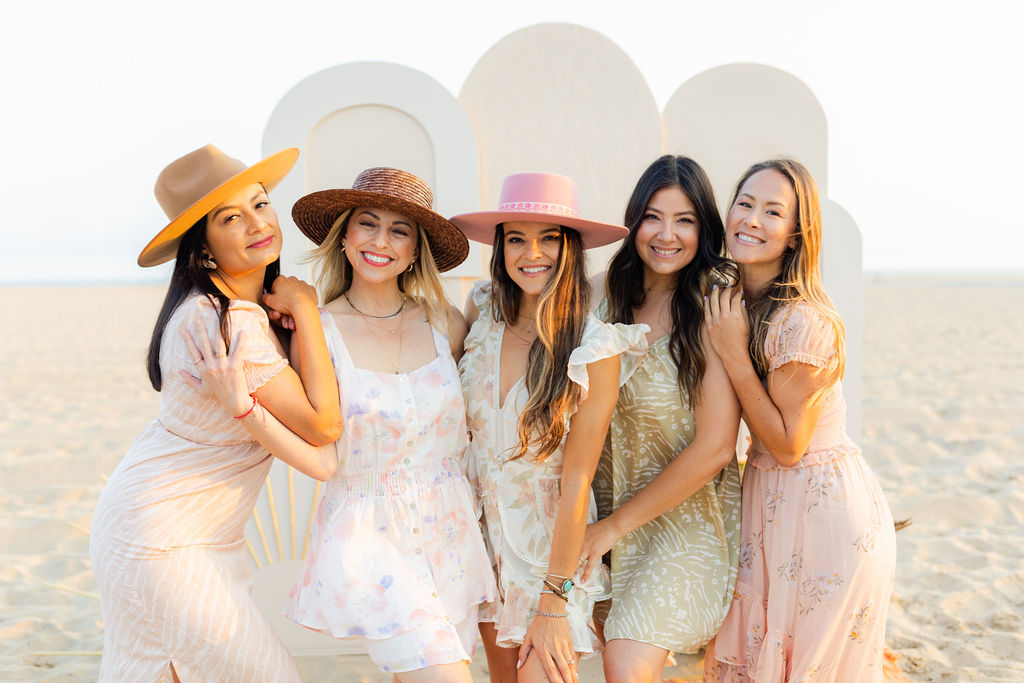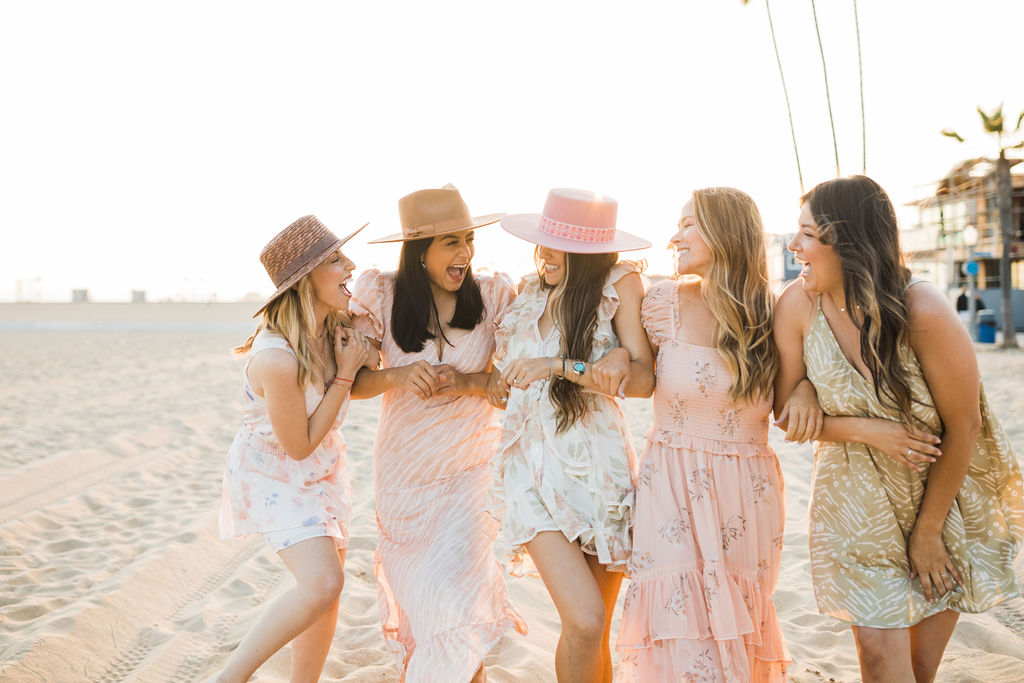 Stay tuned for an INSANE giveaway happening tomorrow on our Instagram!!!
xx
Jacquelyn