---
Decorating for the holidays doesn't have to be a month filled extravaganza. I use to decorate every nook and cranny in my old house. Now, being in my new home, I wanted to change up my holiday vibe to create a more minimalist style. And the mantel is where I started. You can create a simple modern holiday mantel in three easy steps, and all budget friendly. And that is nice to do since you are spending all that dough on gifts for the holiday.
Photos by Erin Milnik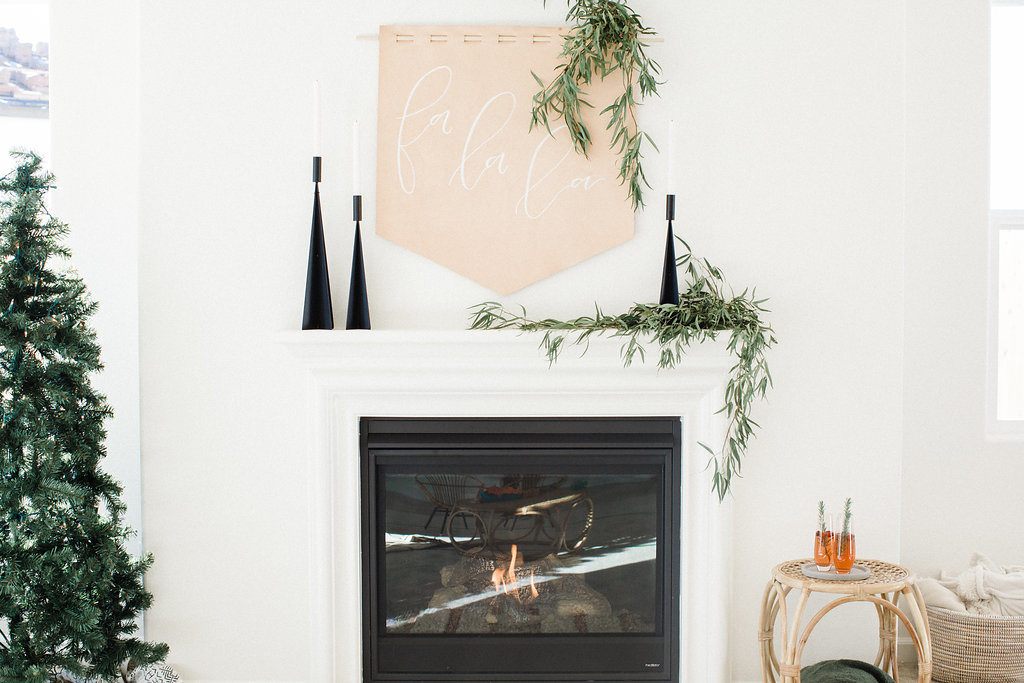 S I G N A G E
FA LA LA! Signage is the way to go to create an impact on any holiday decor action. It is simple but makes a statement right away. Leanna from David and Leanna created this tan leather banner for me. And, anyone can create this banner! I bought the leather here. I love this Etsy shop; it has every color leather that you would fancy. The Leather Guy is my source for all my leather projects that you have seen here on the blog. Now the secret is out!
STEP TWO:
G R E E N E R Y
Everyone loves greenery on a mantel. Greenery just pulls everything together to create anything beautiful, especially your holiday mantel. Now, you can quickly go with the premade garland that you get at any Christmas tree lot or your local hardware store. But this year, I wanted to create something more organic looking, and only on one side. I drove around my neighborhood and found this greenery. I cut a bunch of limbs off the tree without anyone seeing me. Ha!
I learned a trick by watching all the florists we have worked with through the years… sticky dots! The sticky dots allow you to place the leaves where you want and how you want. And, they also provide "glue" for you to create a cascading look with the branches. Plus, they are clear so no one will be able to see them like you would if you used string or even zip ties to create a "garland" look with your branches. Another designer secret for you.
See how greenery just adds life to the mantel! I will keep this up even after the holidays are over.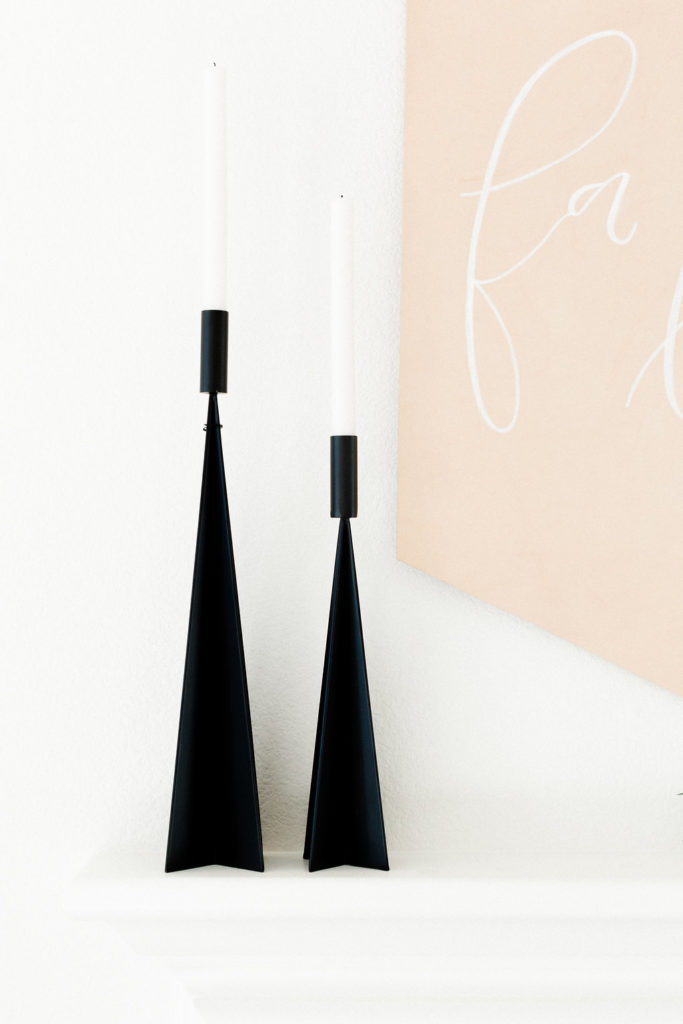 STEP 3:
A C C E N T S
Lastly, add some simple modern accents to your mantel. I found these black stylish candle holders at Target. I like doing things in "3's" or in odd numbers. And, the black adds that pop of color. Along with the candle holders, I added a rattan side table and a holiday area rug in front of the fireplace. The rug adds a little boho touch that we Beijos ladies love so much. All these accents can be used through the year, and not thrown back into your holiday storage box. I think that is the key to decorating for the holidays. Use items that you can use all the time, and not just for December.
SHOP MY FAVORITES FOR CREATING A MODERN HOLIDAY MANTEL

3 easy steps to create a modern holiday mantel! Now get out there and create your own.
xx
Abby
SaveSave
SaveSaveSaveSave
SaveSave
SaveSaveSaveSave