Here at Beijos we love learning and celebrating different cultures. None of us are Jewish but we definitely wanted to find a way to have some Hanukkah inspiration for our readers! Our friends at Pottery Barn Kids asked us to design and plan a fun kid's Hanukkah celebration and I jumped at the chance! The more we celebrate and learn about others the better our world will be, right?! Plus, there's so much magic in each culture's traditions! I invited a few of my favorite Jewish kiddos over to take part in the fun! It's all captured perfectly by Alison Bernier and I'm so excited to share it with you all today!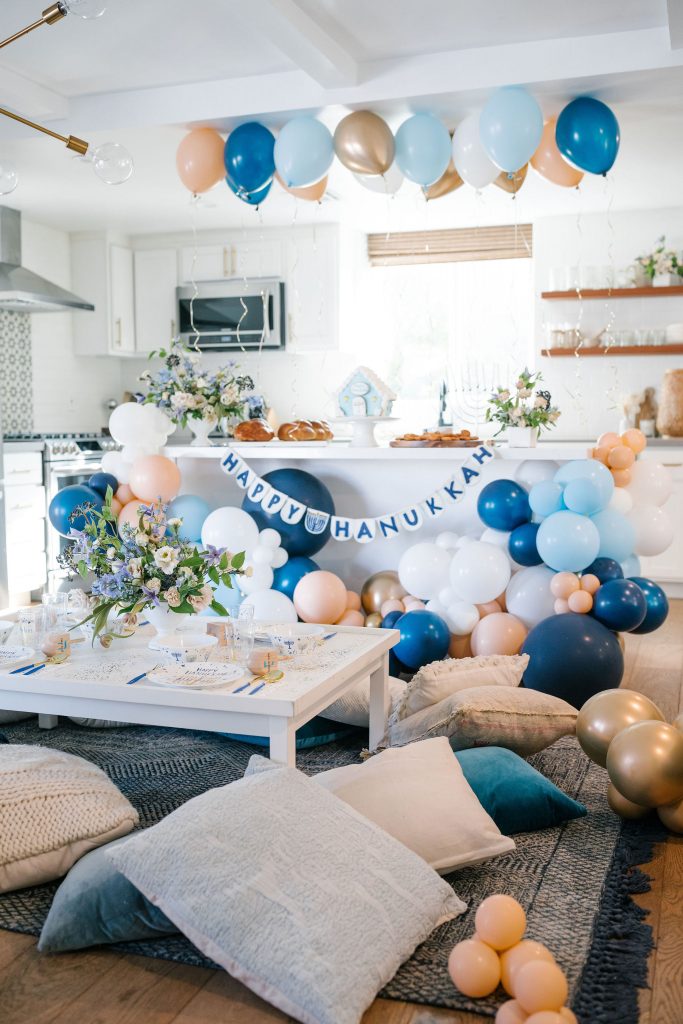 Of course, Pottery Barn Kids has the most adorable tabletop items for Hanukkah! This set is perfect to have at the table for the littles. There is a plate, bowl, and cup included! I just added this amazing blue and gold flatware from Sophistiplate and white and gold napkins from Meri Meri. After that just add gorgeous florals, these are by Earth & Grace and sprinkle some confetti, and voila your kid's table is ready!!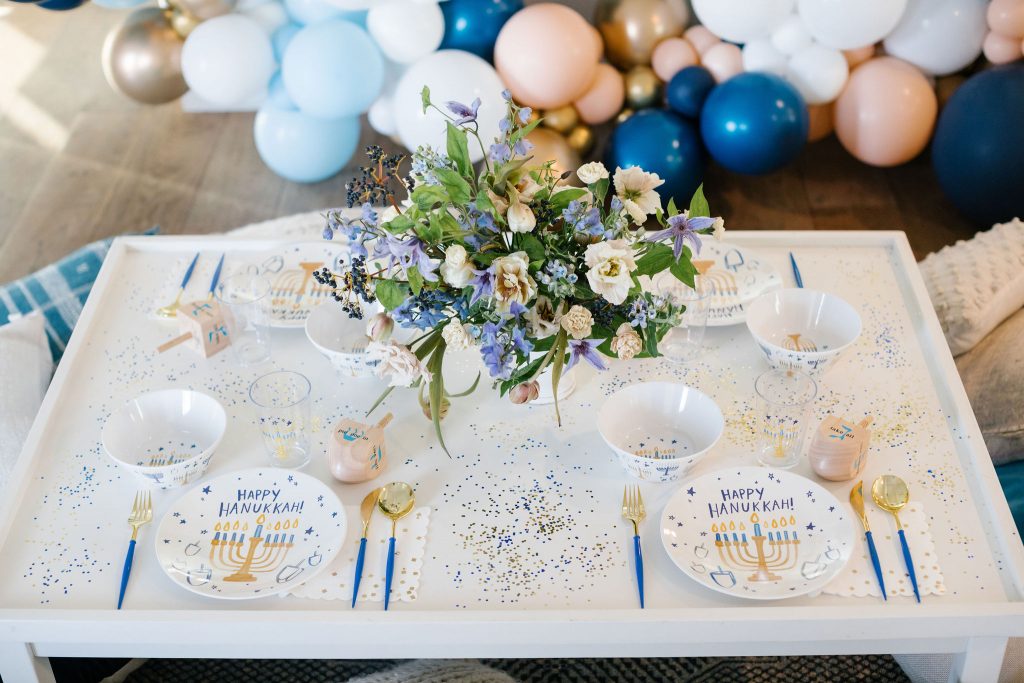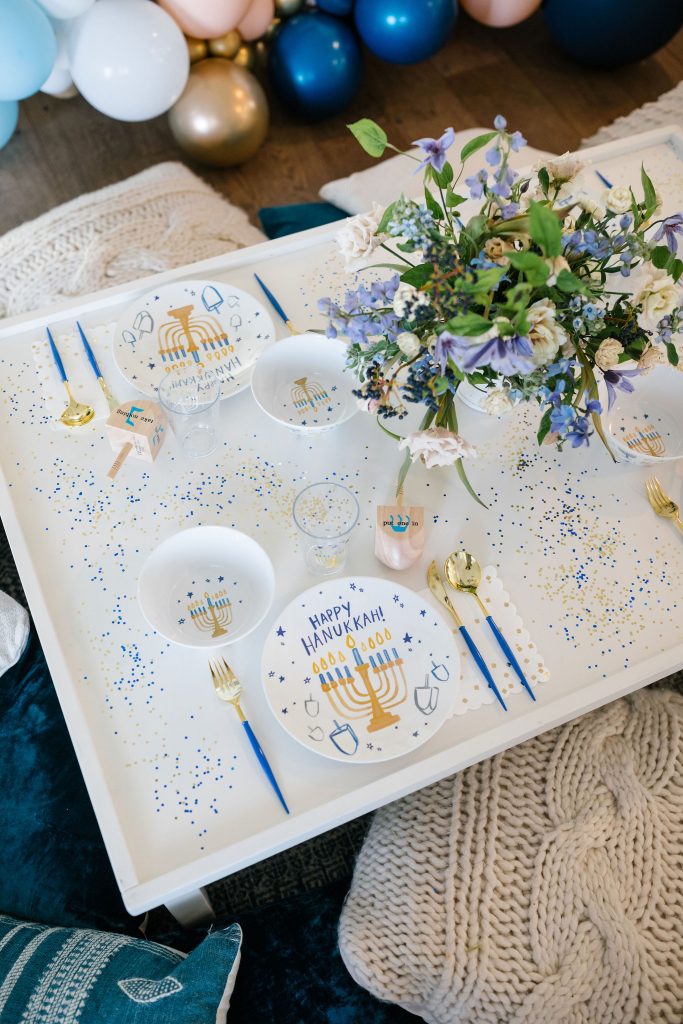 PBK even has little dreidels for kids with the rules on them! Makes it easy peasy to remember how to play and easy to understand for me, haha! I added those at each place setting as a cute detail but they also make a great favor for guests to take home!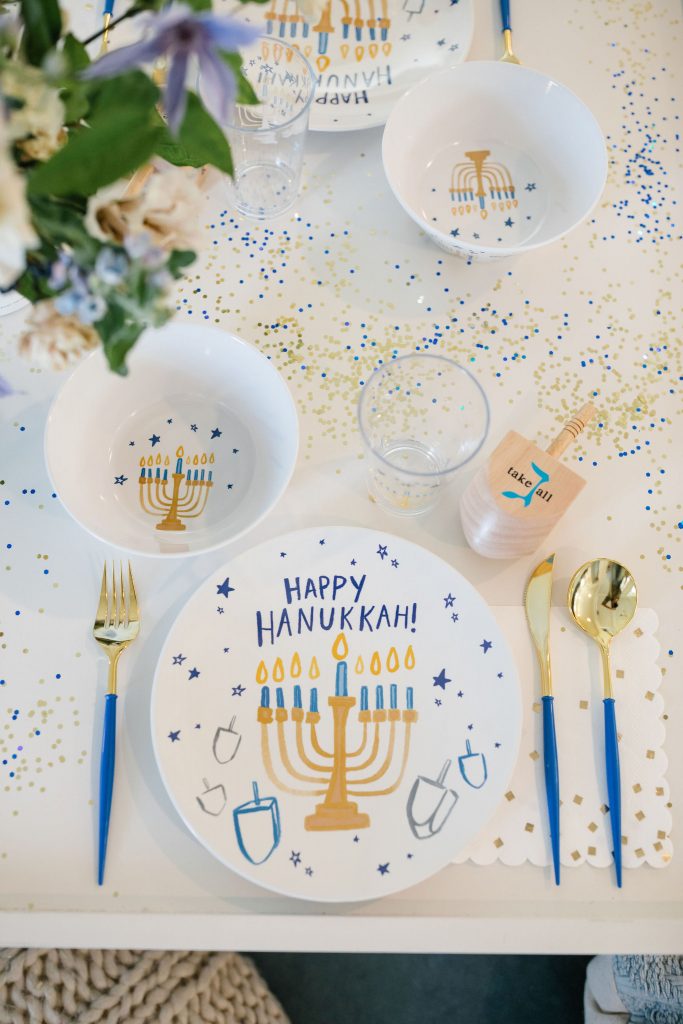 For this set up I decided to keep it cozy and casual with a low table and lots of comfy pillows and an amazing rug. All of these great pieces are from my friend Marnie at Sweet Salvage Rentals, but I'm sure you could find most of these at home too!
I used the Pottery Barn Kids Carolina table with the low legs. This is one of the best purchases I have ever made! The table can be low like this or high with chairs. It's perfect for kiddos as they grow.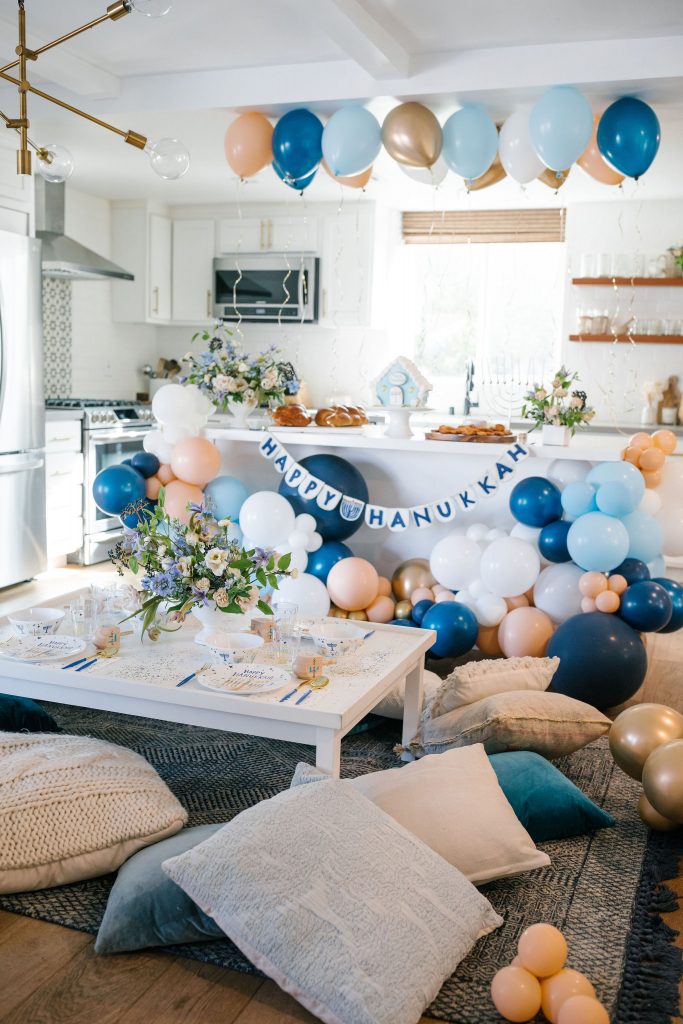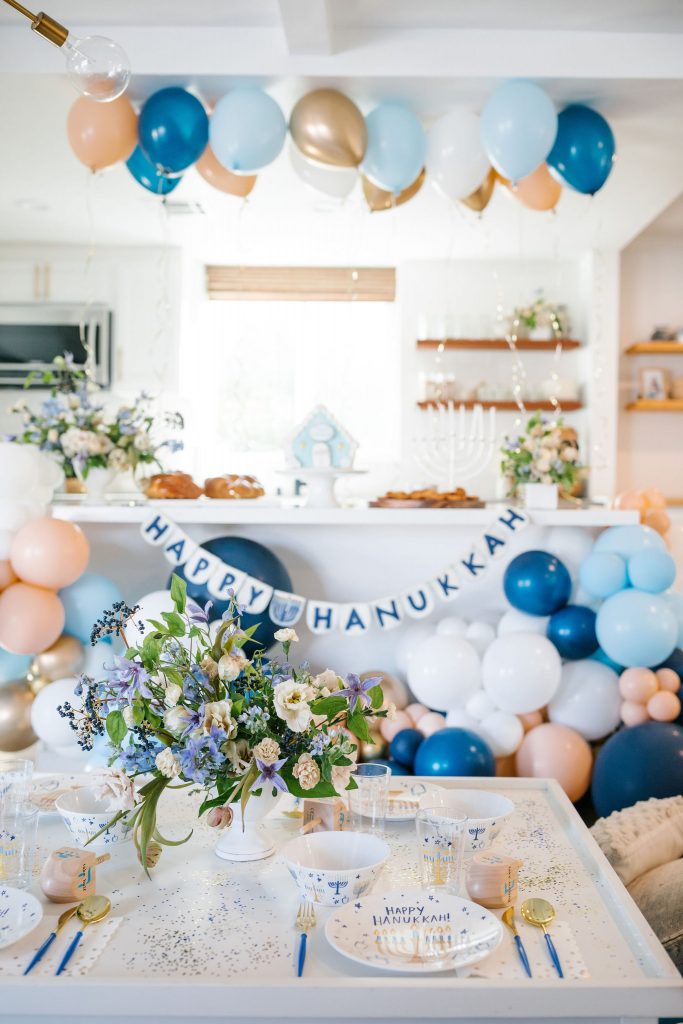 As with any occasion I thought balloons were a must!! Ellen of The Pop Shop came over and decker out my kitchen area with the prettiest Hanukkah color scheme I ever did see. I love the addition of blush and the different shades of blue. We added Pottery Barn Kid's adorable Hanukkah banner to make it even more festive!
Speaking of festive, did you notice the gorgeous floral arrangements by Earth & Grace? Flowers always add so much to a space for an event and this was no exception. Just like the balloons I loved the colors she used, mixing blues and tans with greenery was just brilliant!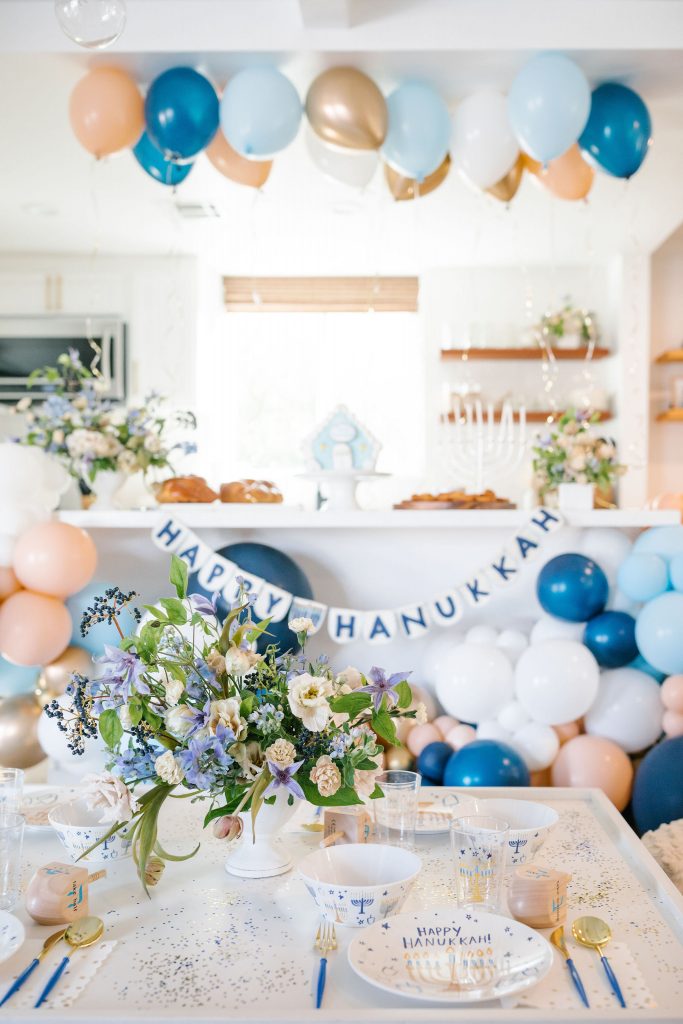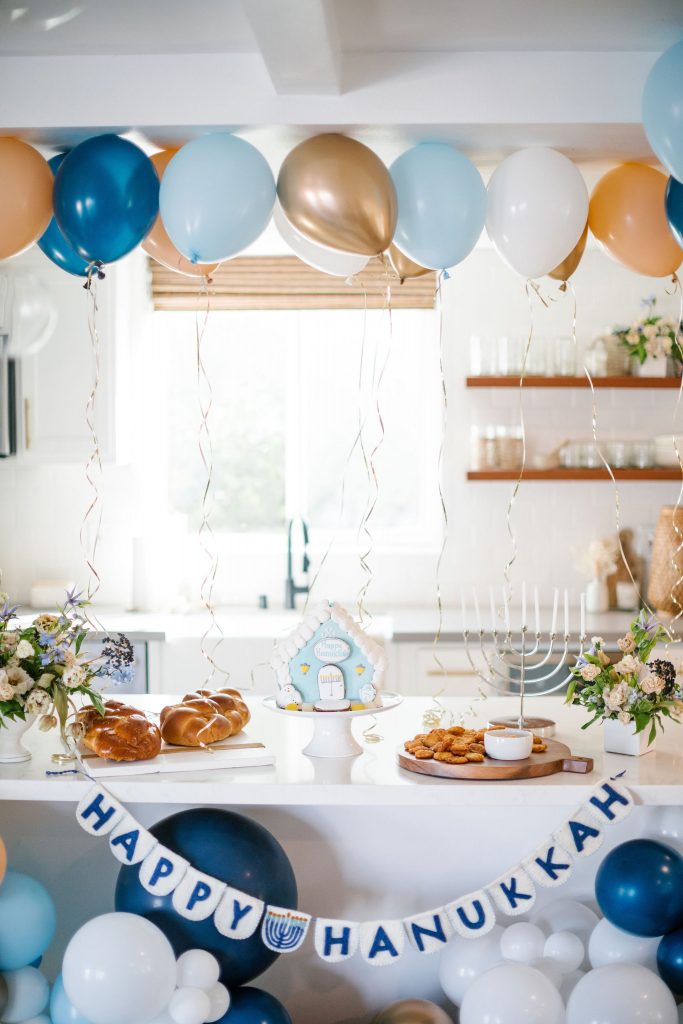 Here are a couple more great shots of our table that Alison took I have to share! I'm just loving the way this one came together…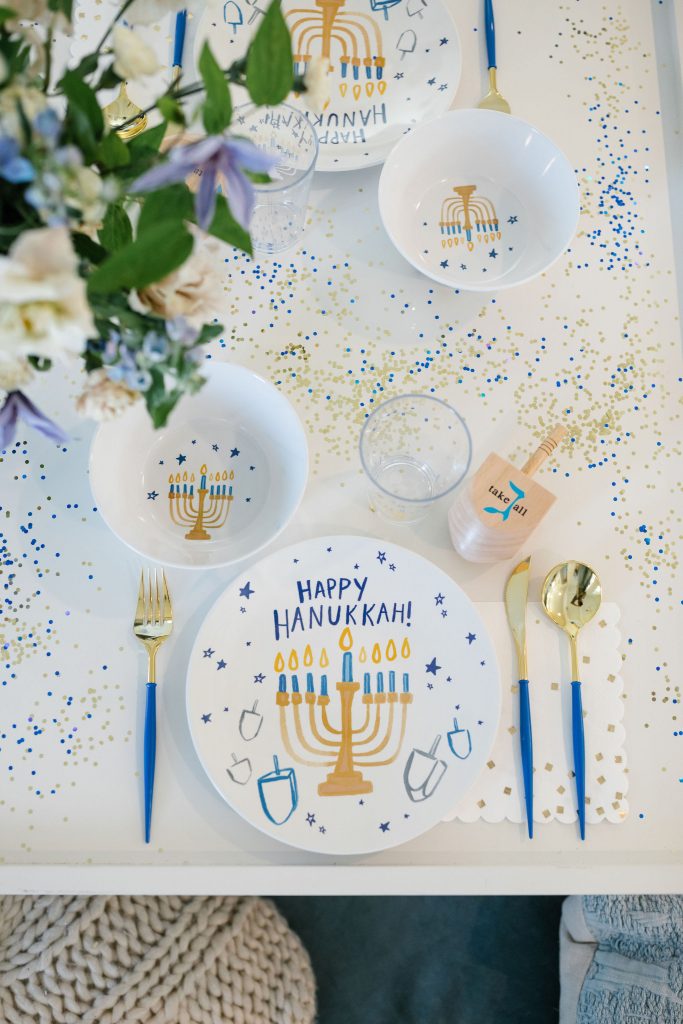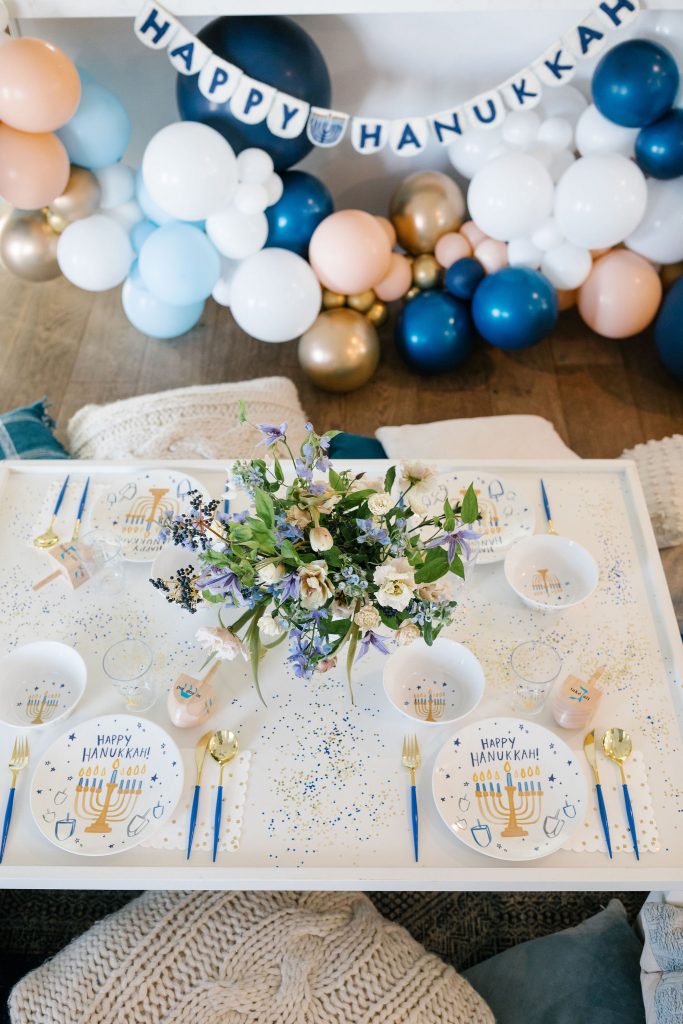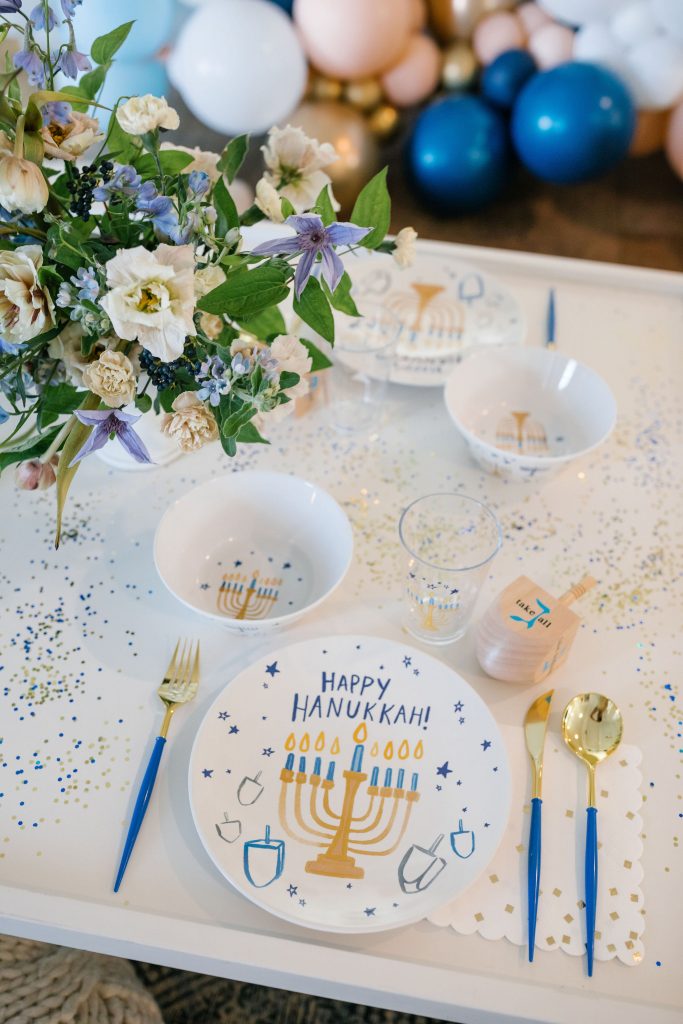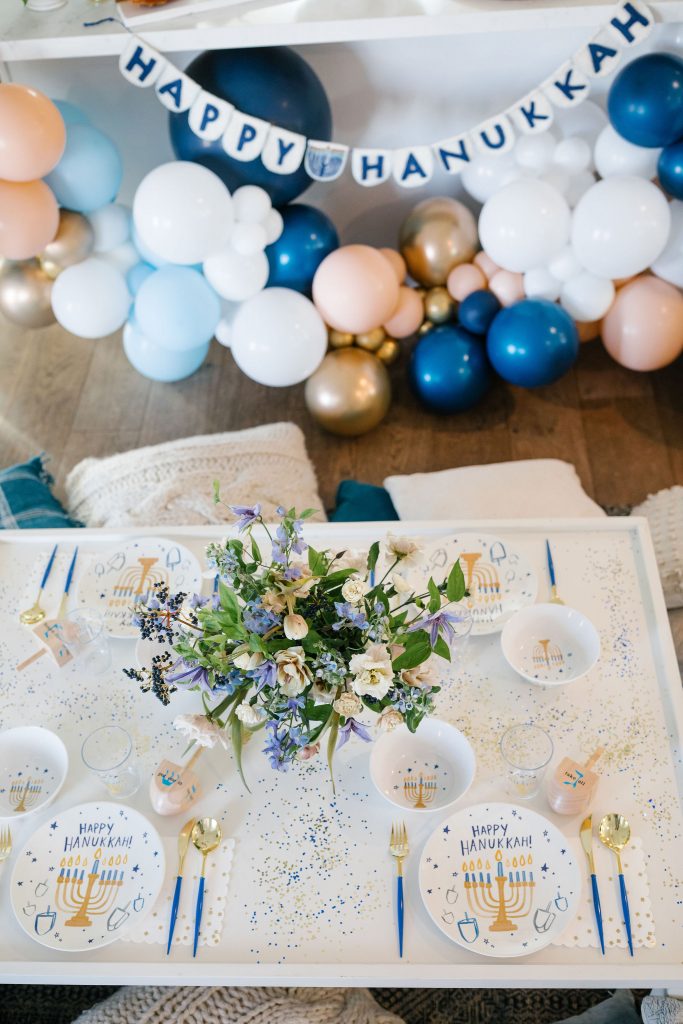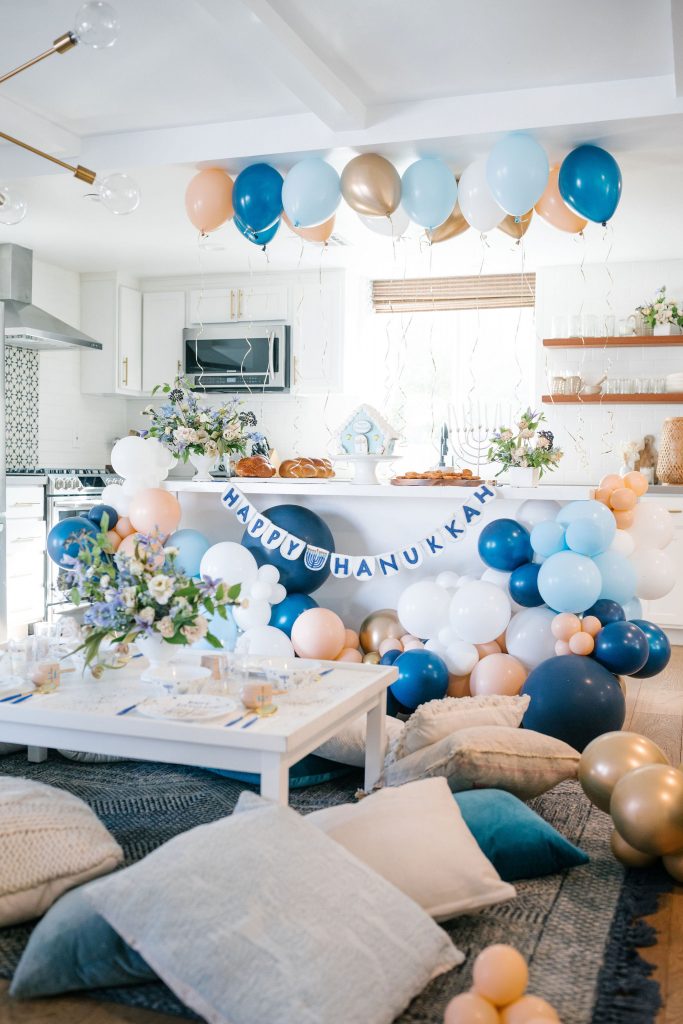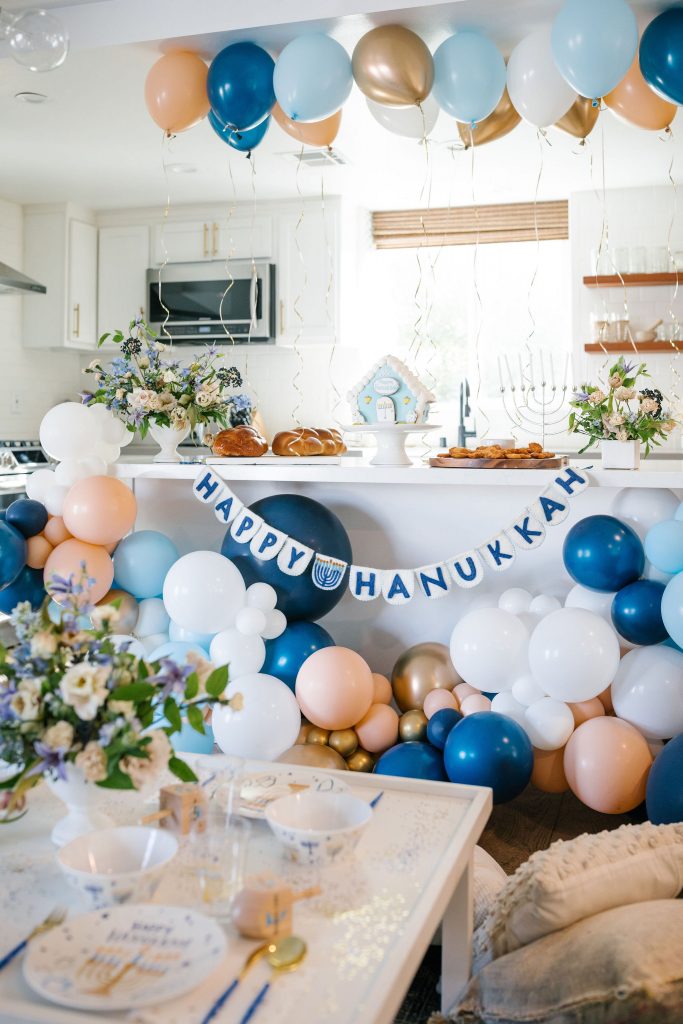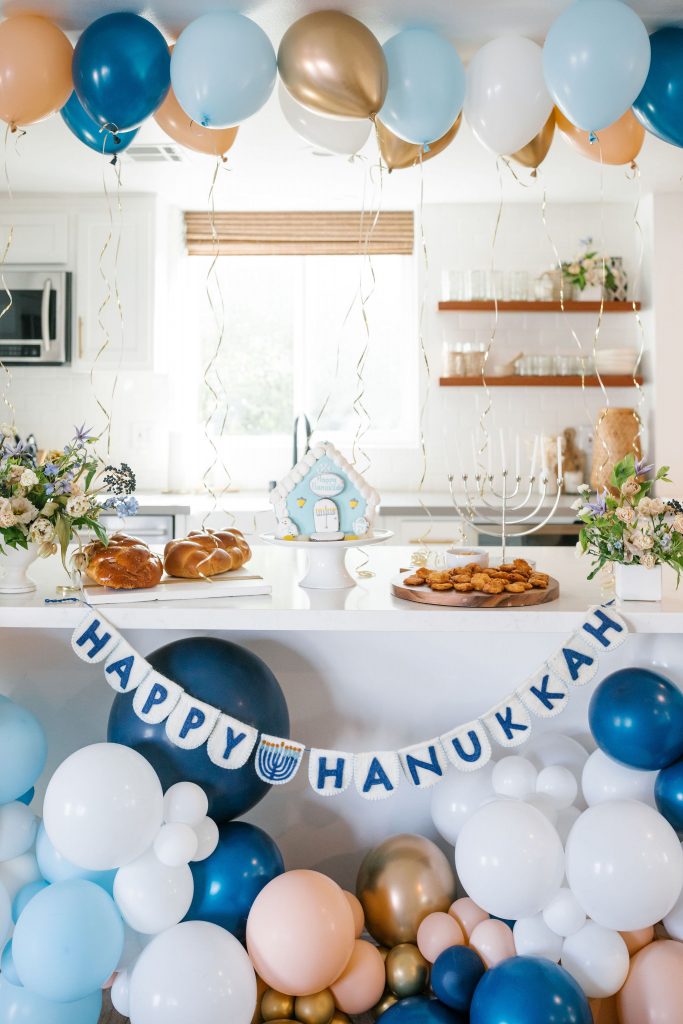 An essential at Hanukkah is a menorah, isn't this one beautiful from Pottery Barn?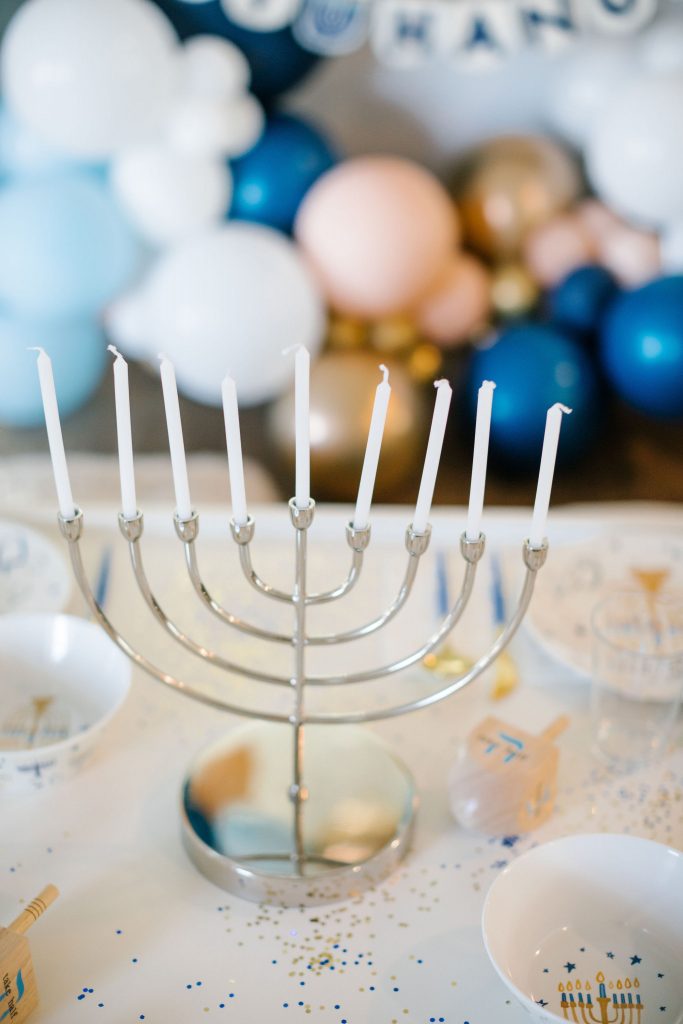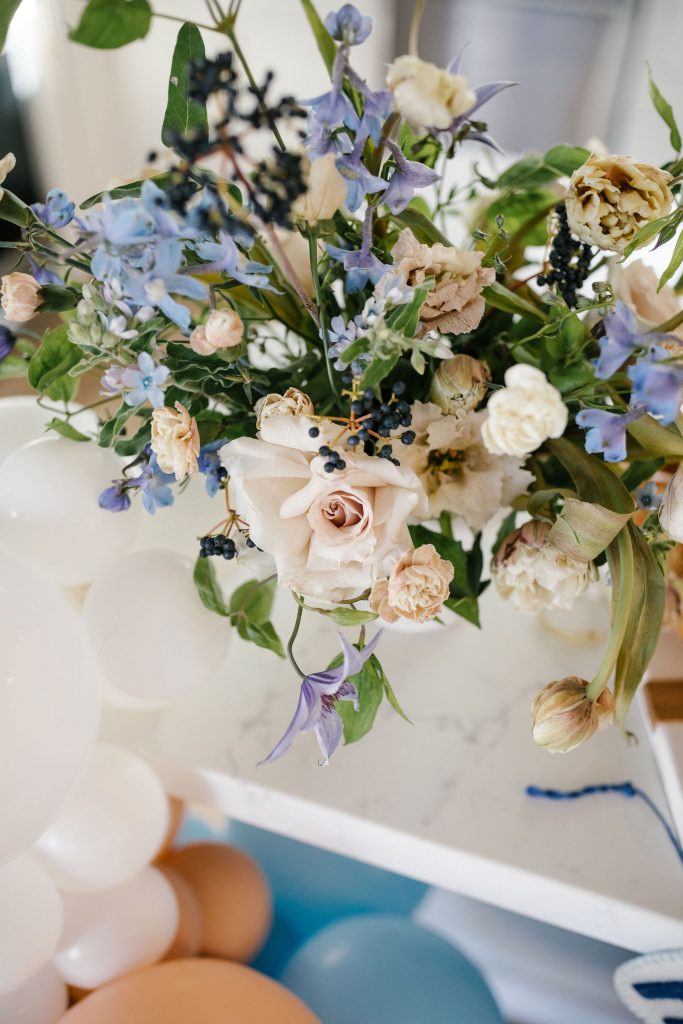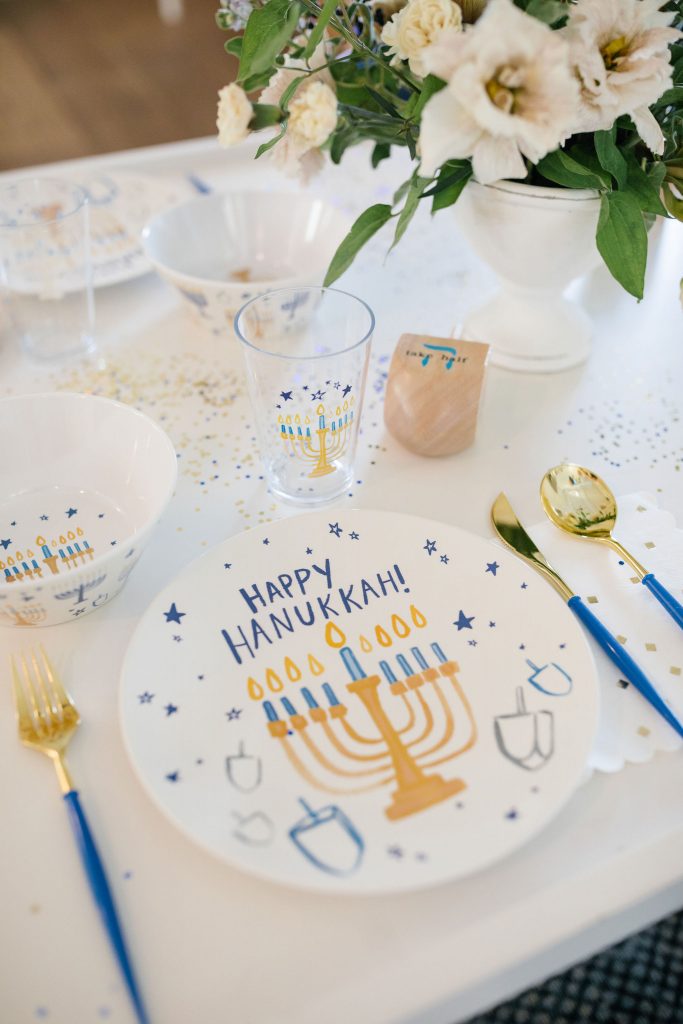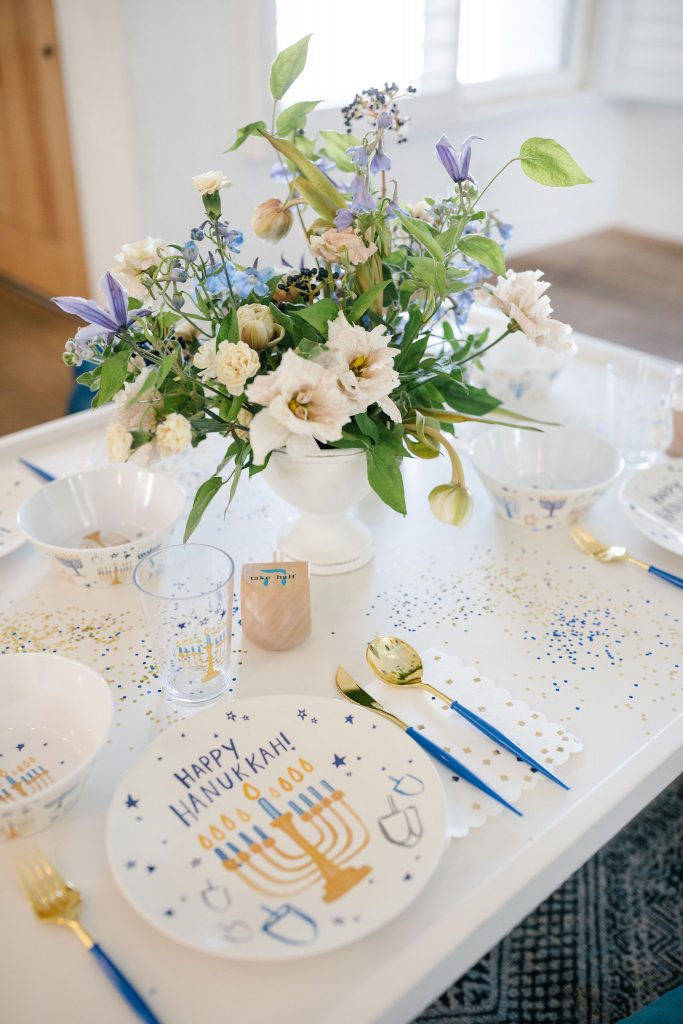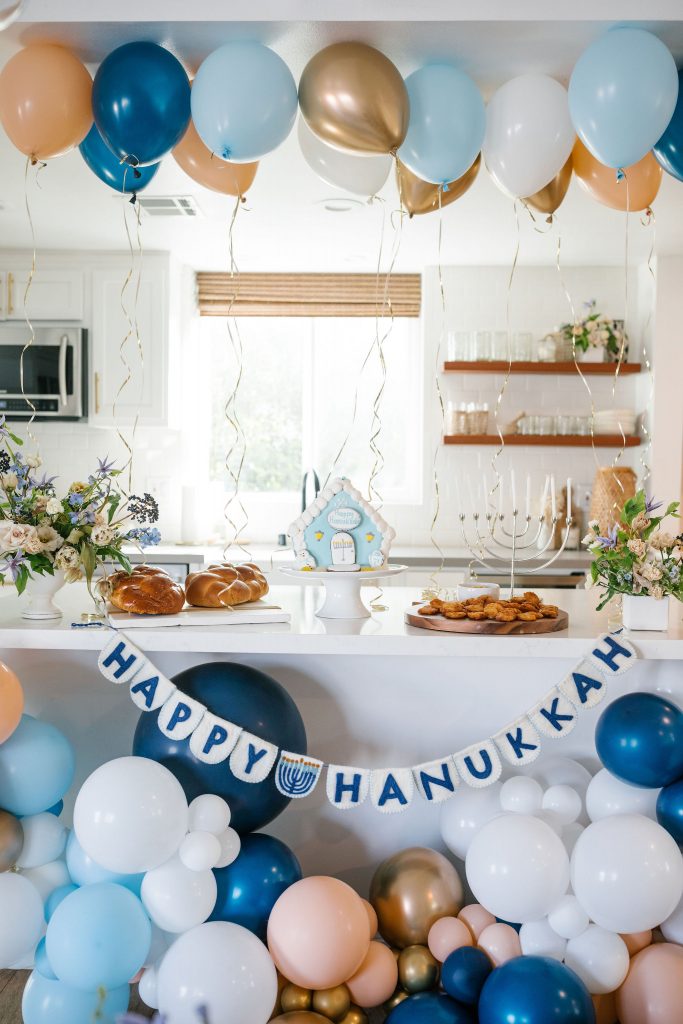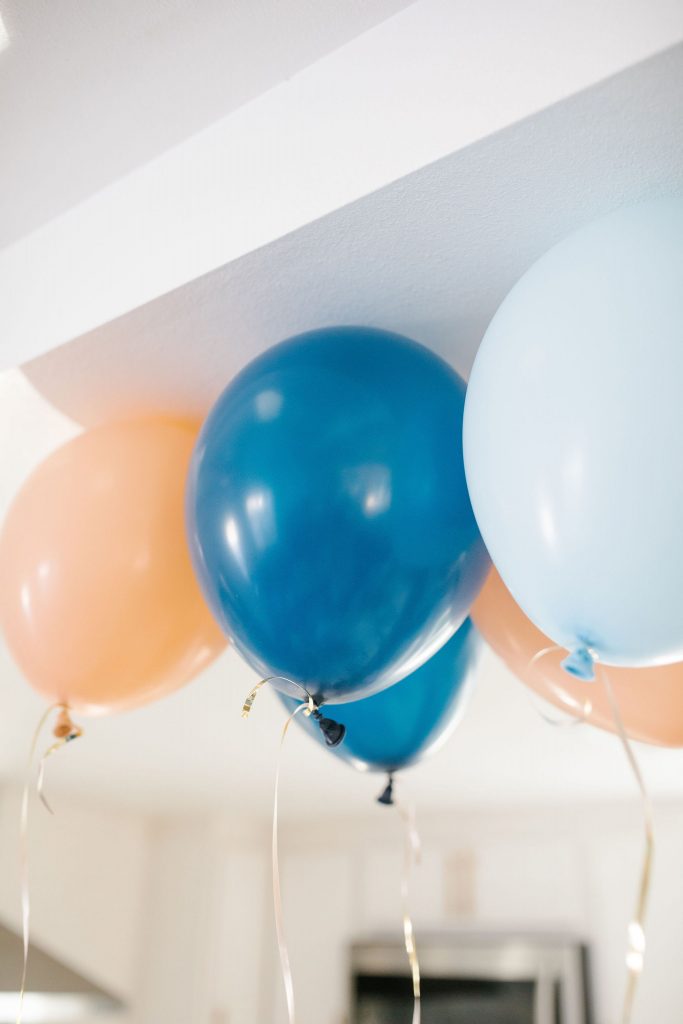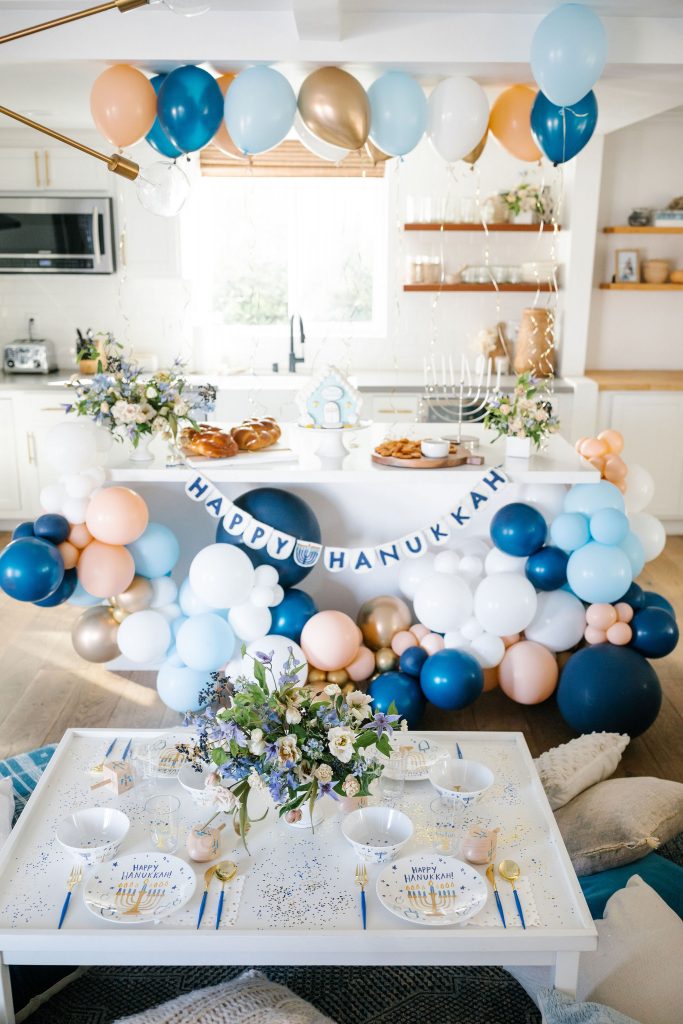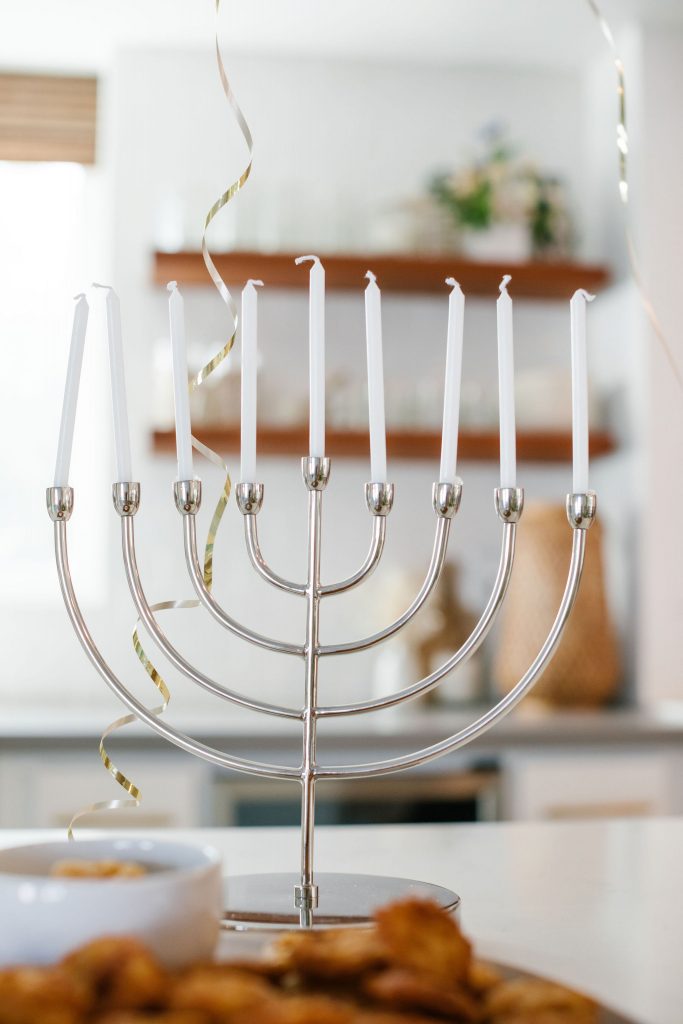 I also got these amazing treats from Williams and Sonoma!! Yes, this Hanukkah gingerbread house came premade and so so sooooo adorable!! It's definitely a must have for the kiddos! They also have these cookies which can be personalized, how cute is that?! Next, we had to add challah bread (which is so delicious) and mini latkes for treats as well! It was a mini Jewish feast and it was all so easy delivered straight to my door!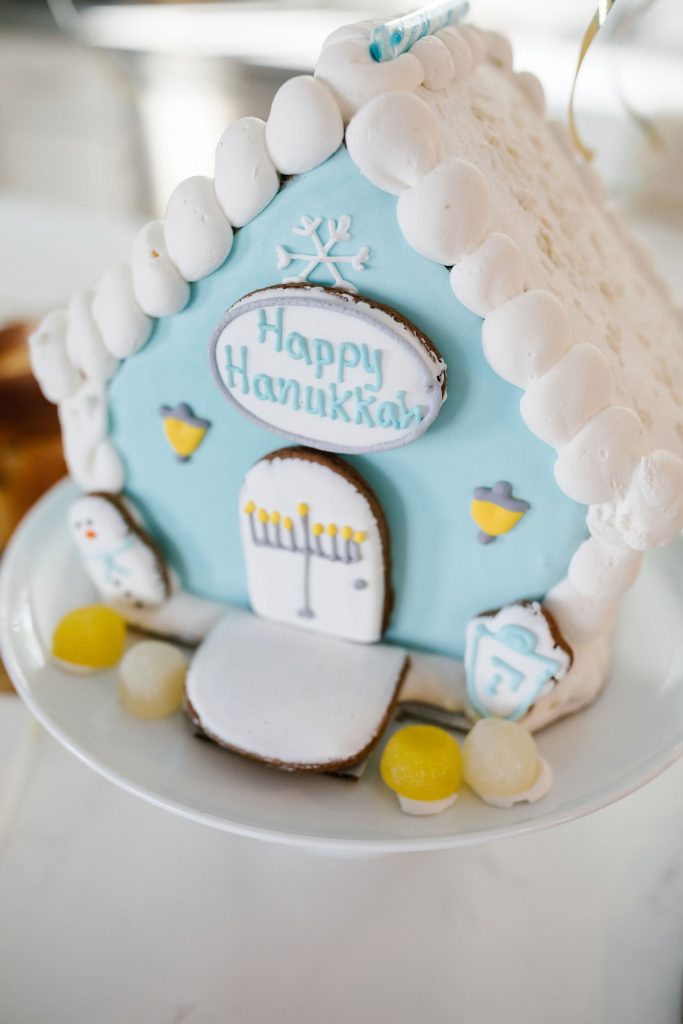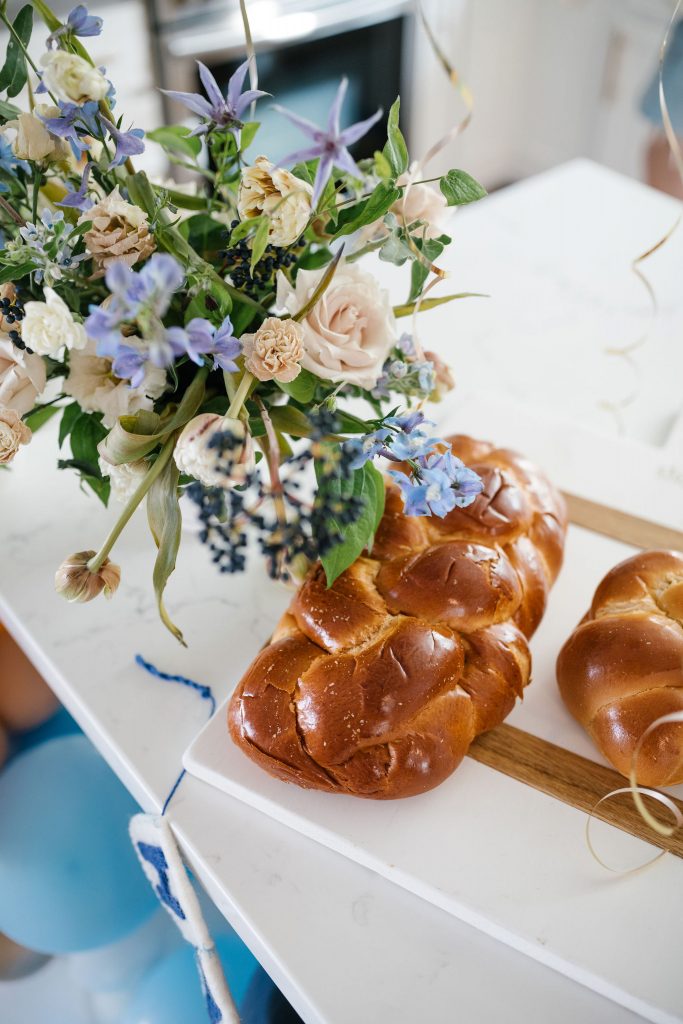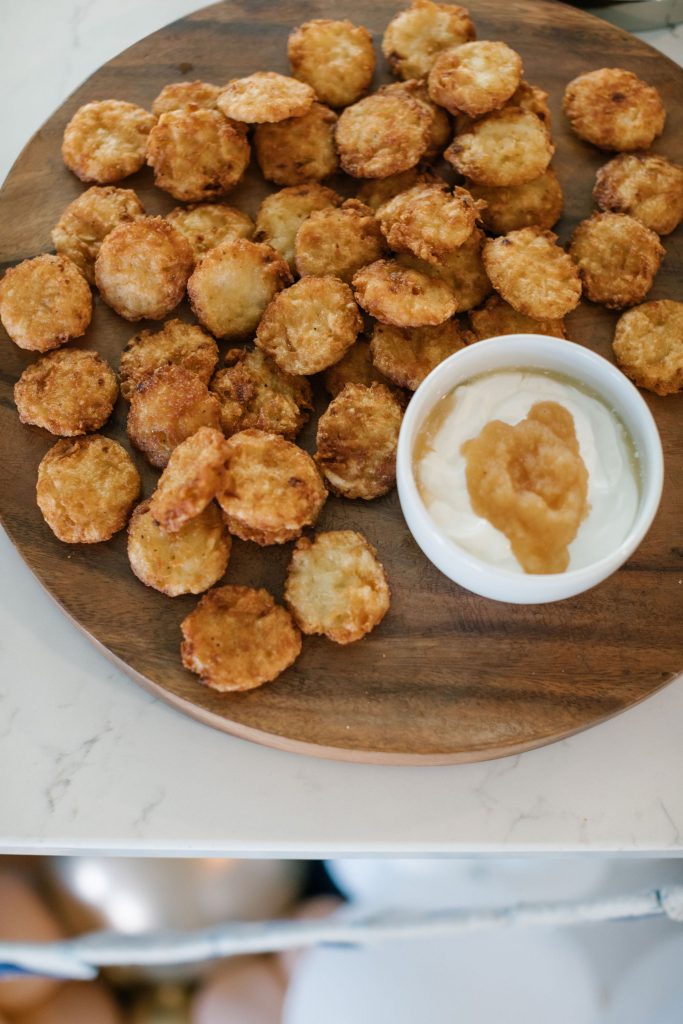 Time to add in the cute little ones and it doesn't get much cuter than this!!! Baby Jake is ready for his first Hanukkah and he's pretty smiley about it! We have him set with his very first dreidel from Pottery Barn Kids that is monogrammed just for him! And doesn't he look adorable in his PBK Hanukkah onesie?! I'm obsessed with this little guy!!!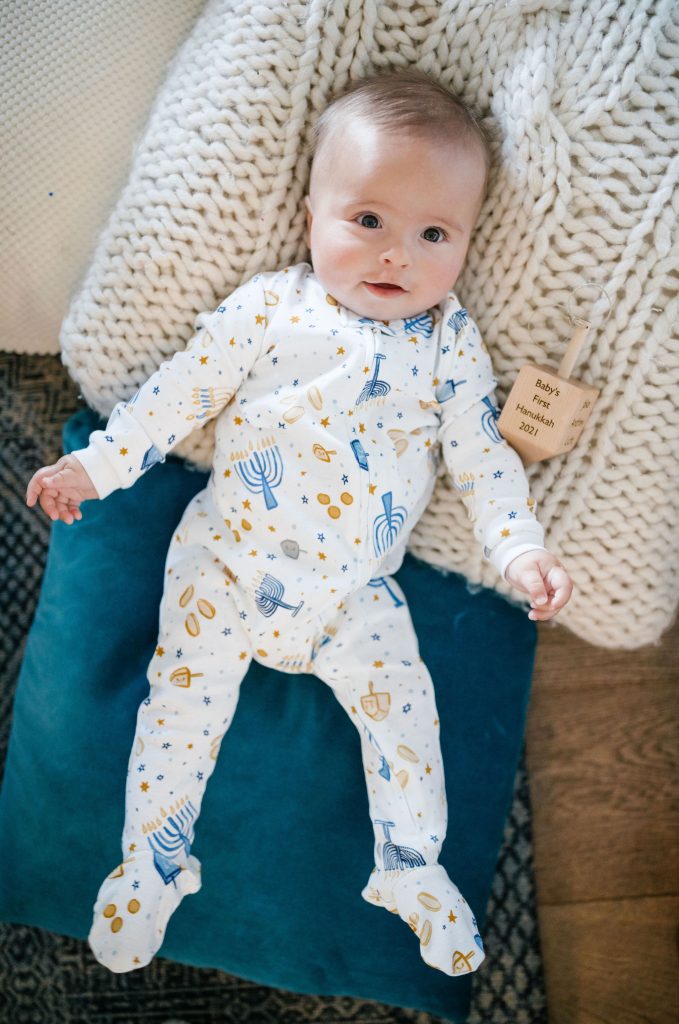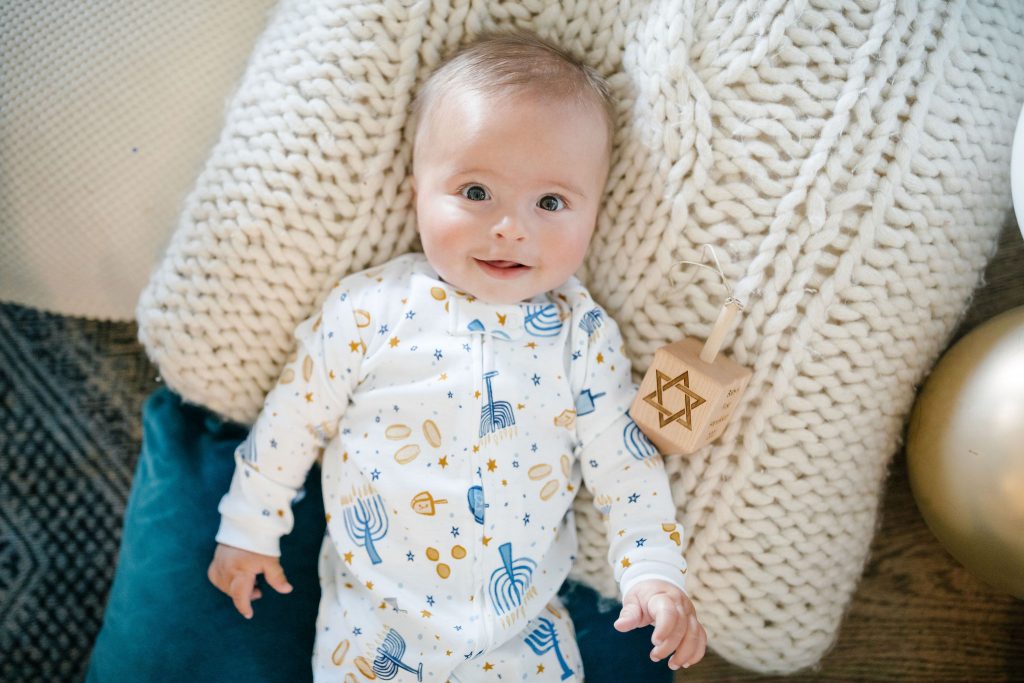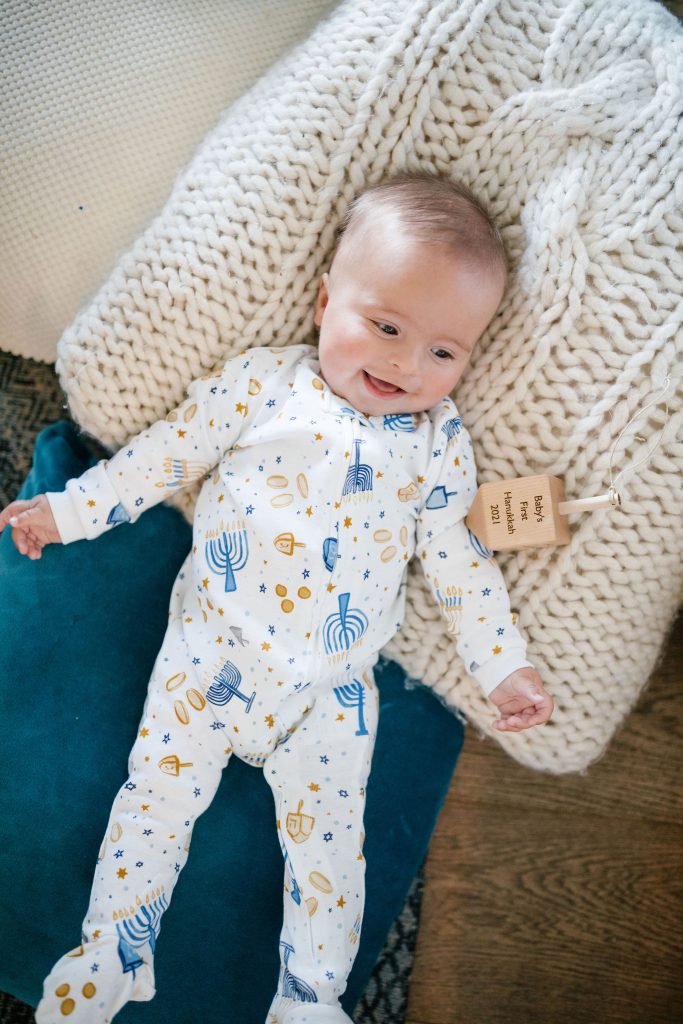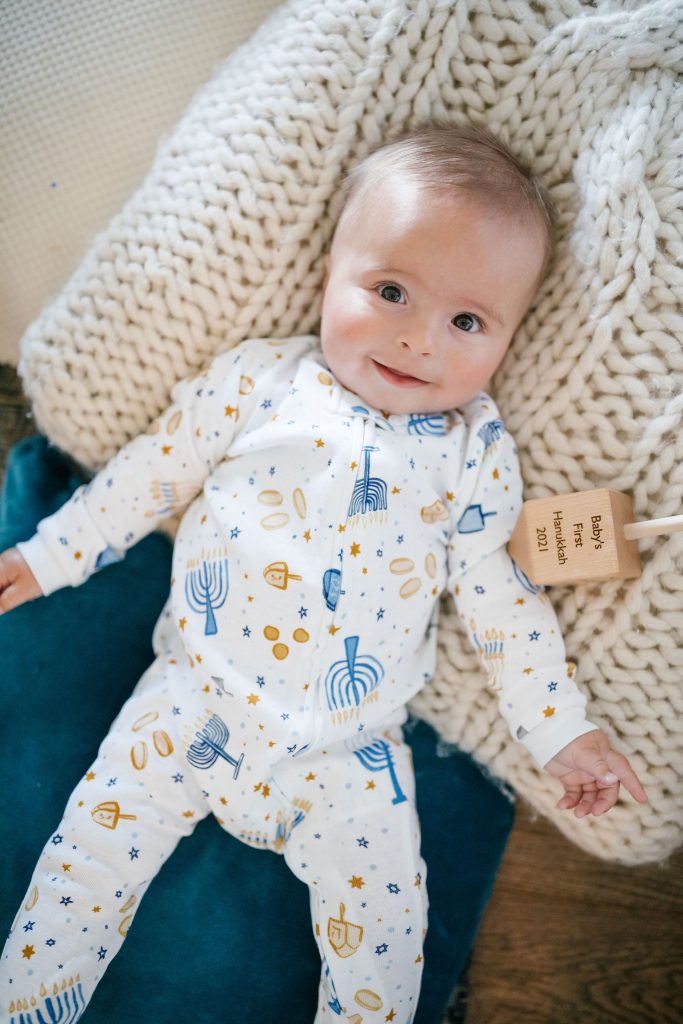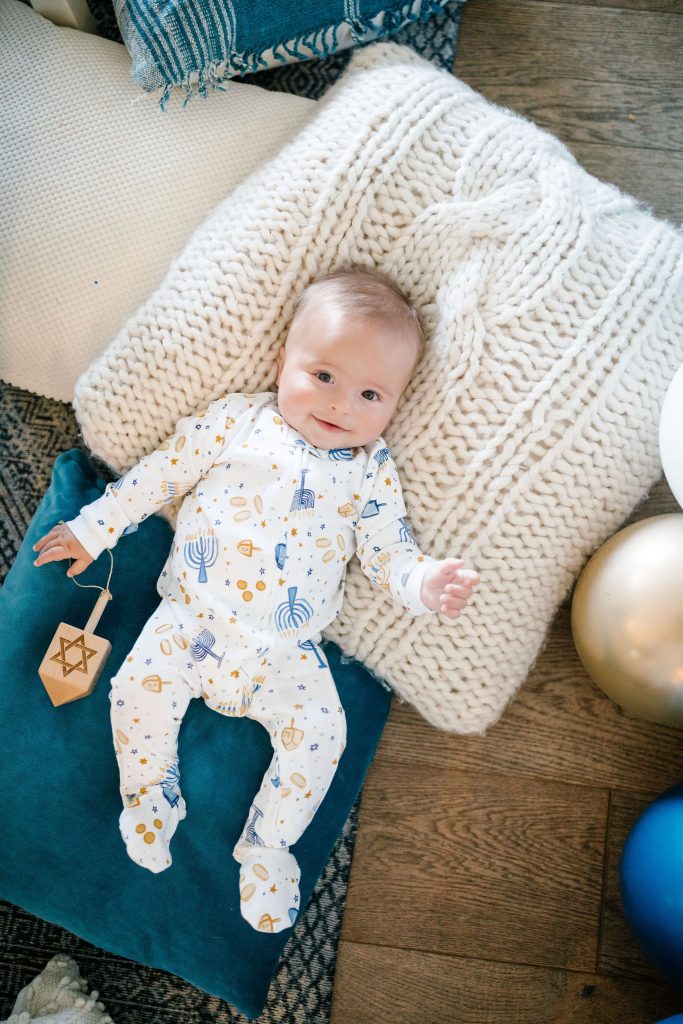 Big sister Jordan and big brother James are getting in on the fun too!!! How cute are these siblings?! Don't worry, there are Hanukkah pajamas for the big kids too!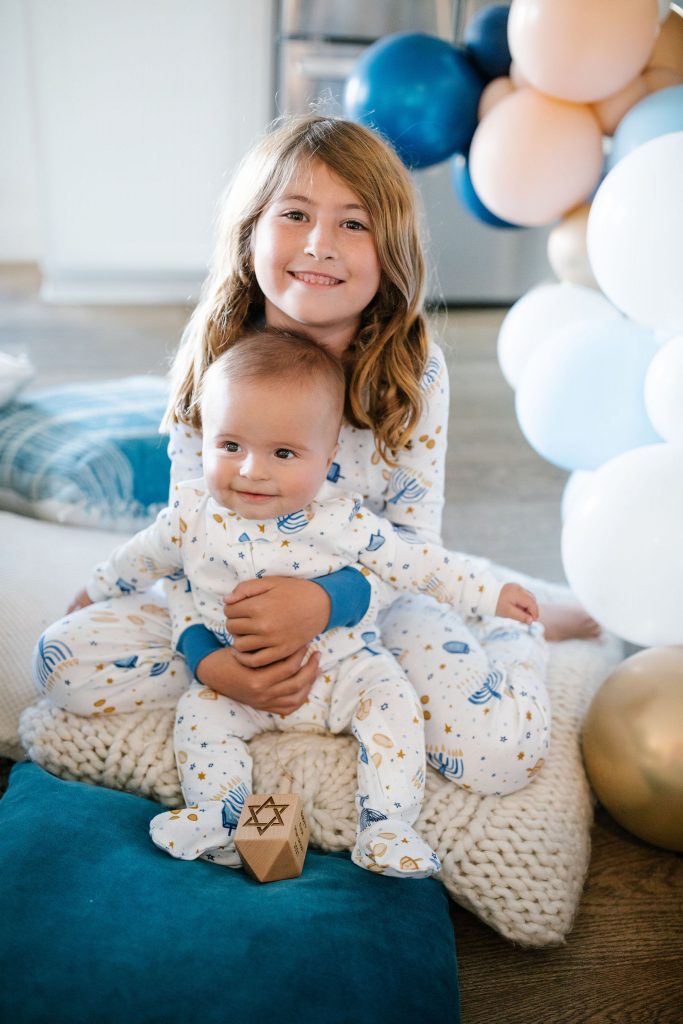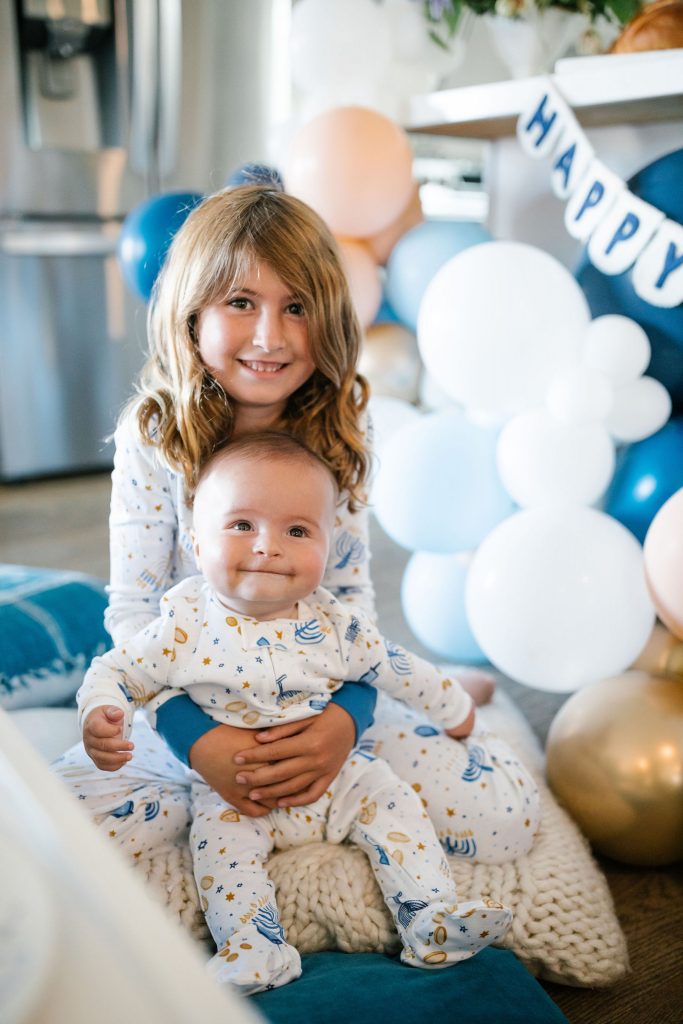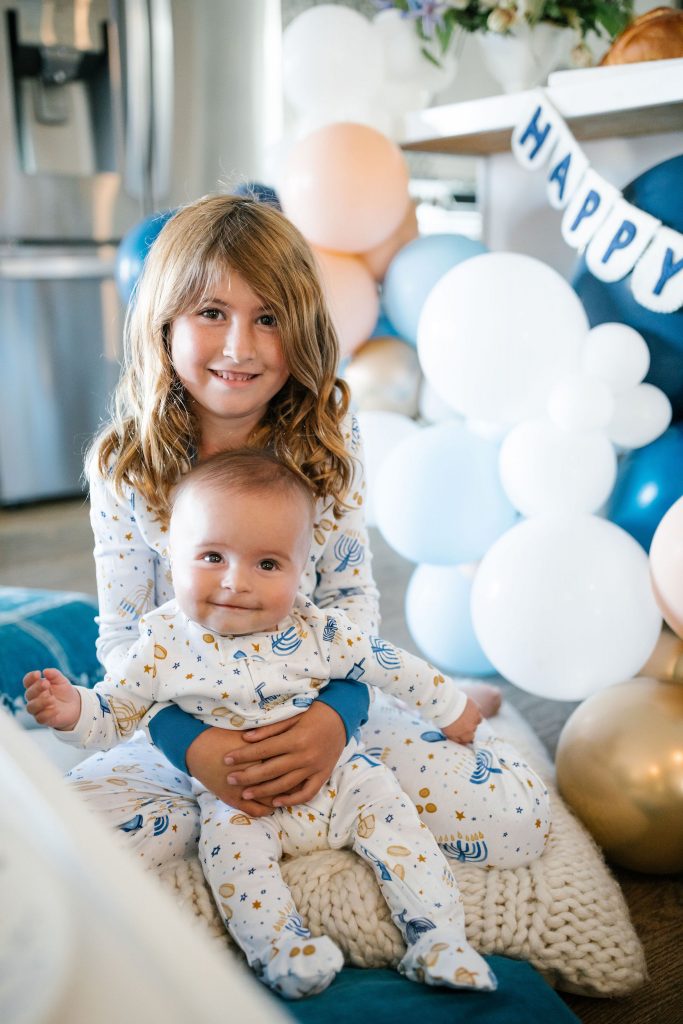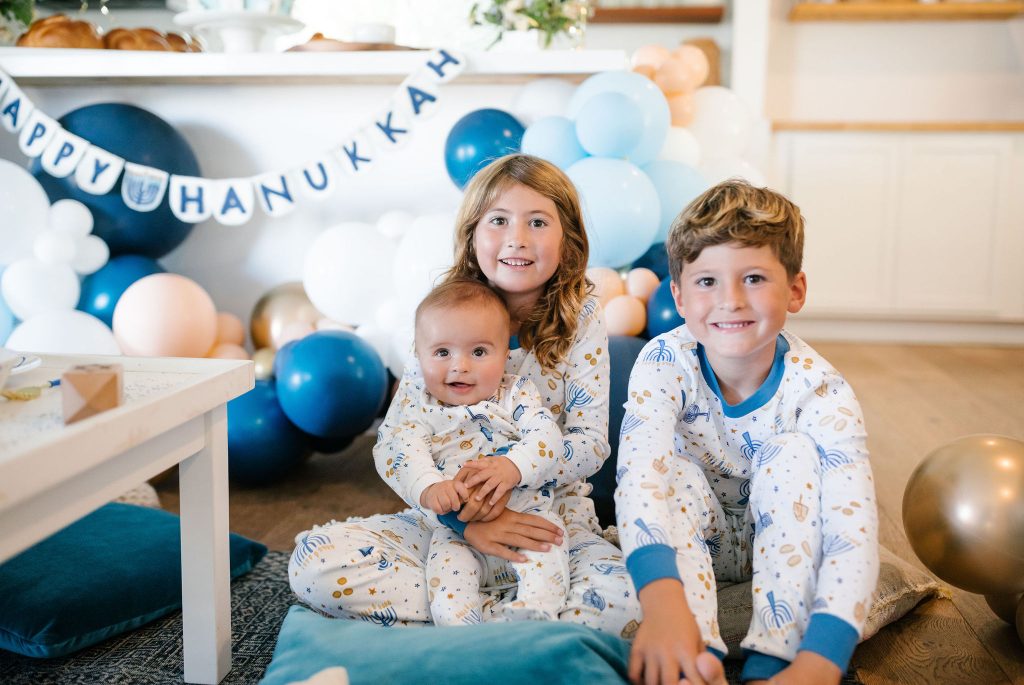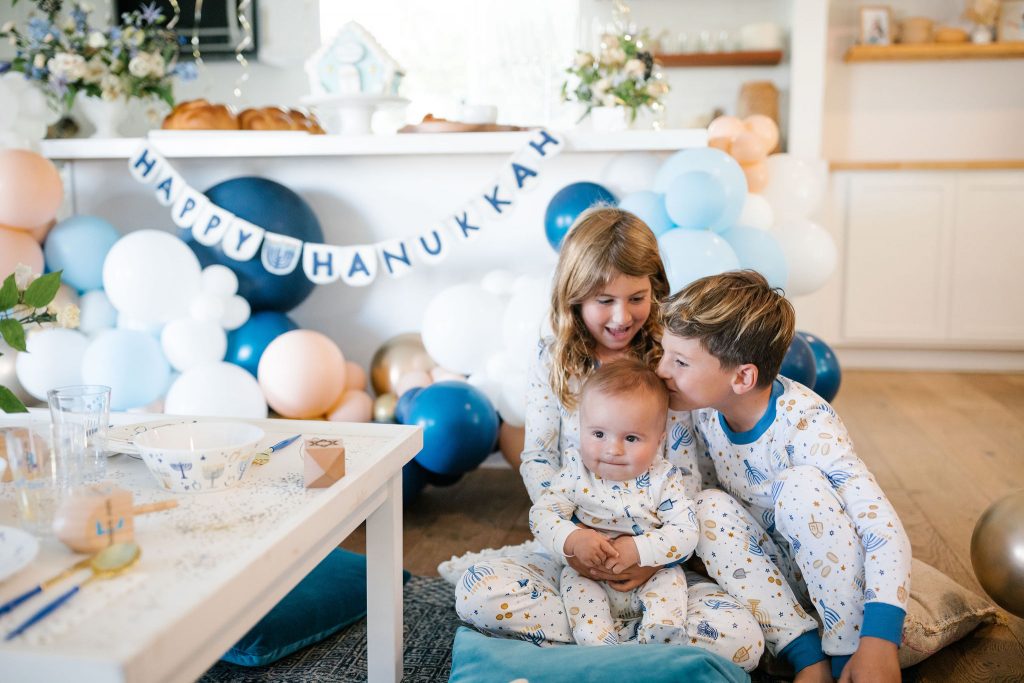 We added in our buddy Sadie who looks like she could be a cousin! All of the kids are so sweet in their PBK jammies! You know I'm a sucker for matching pajamas… always!!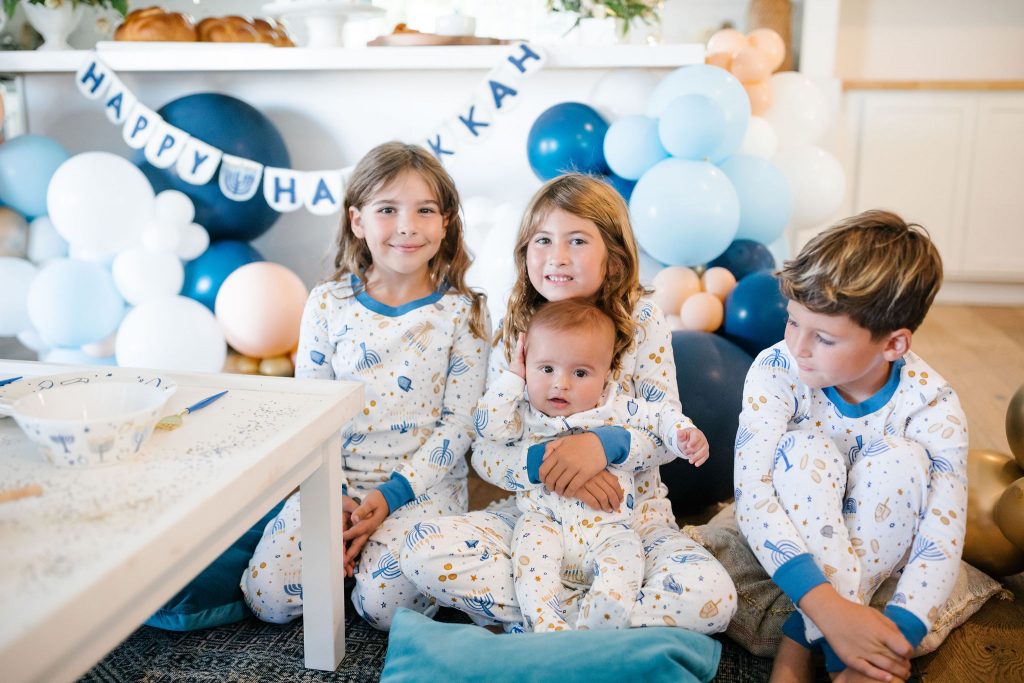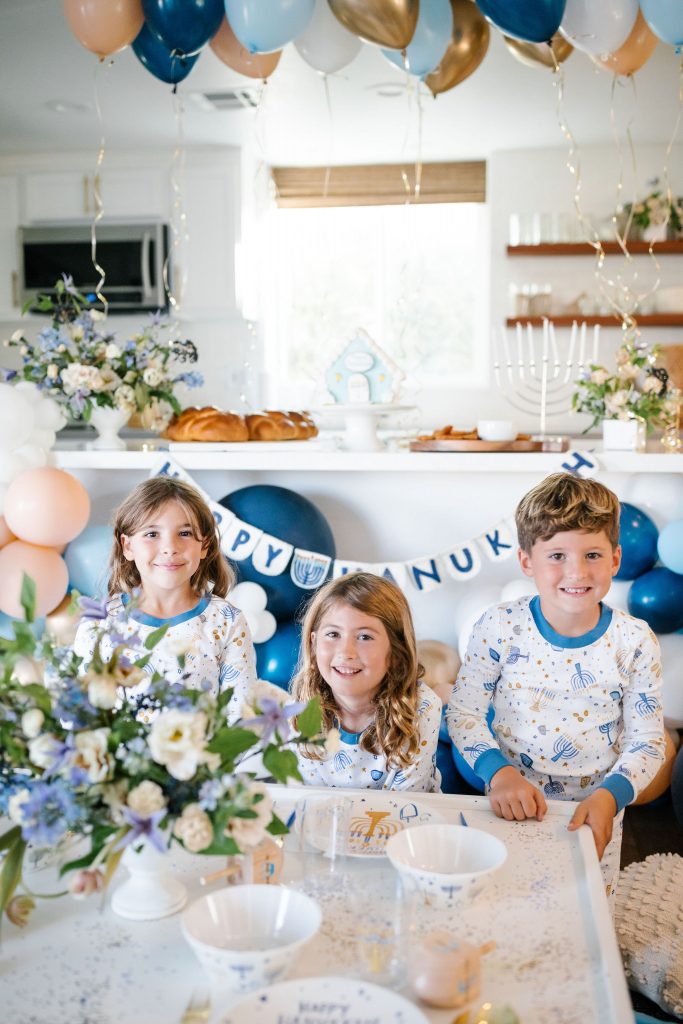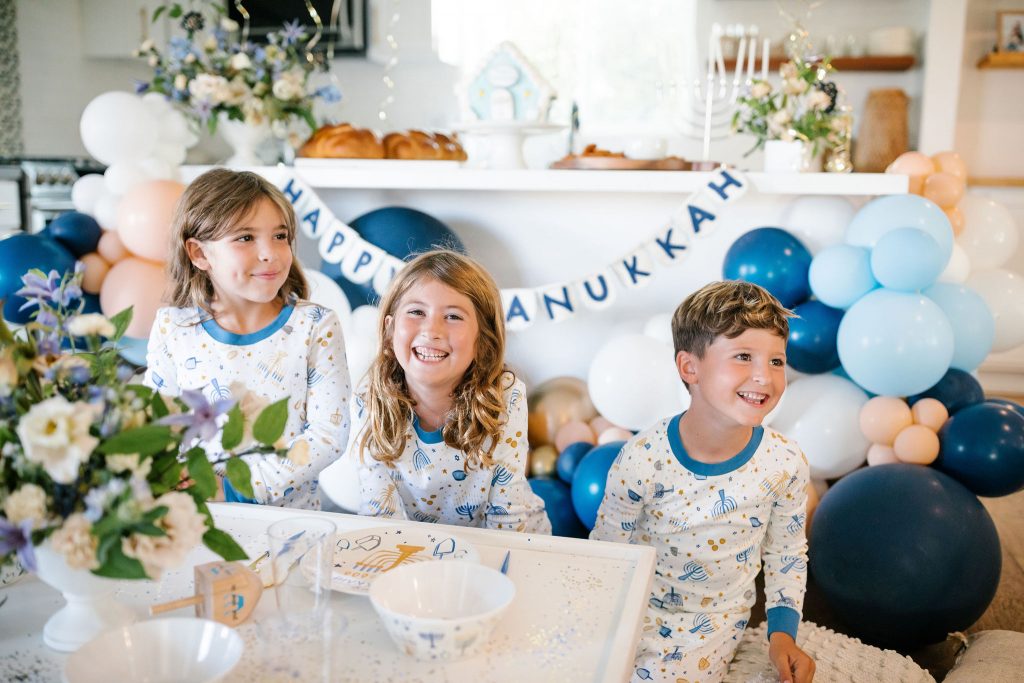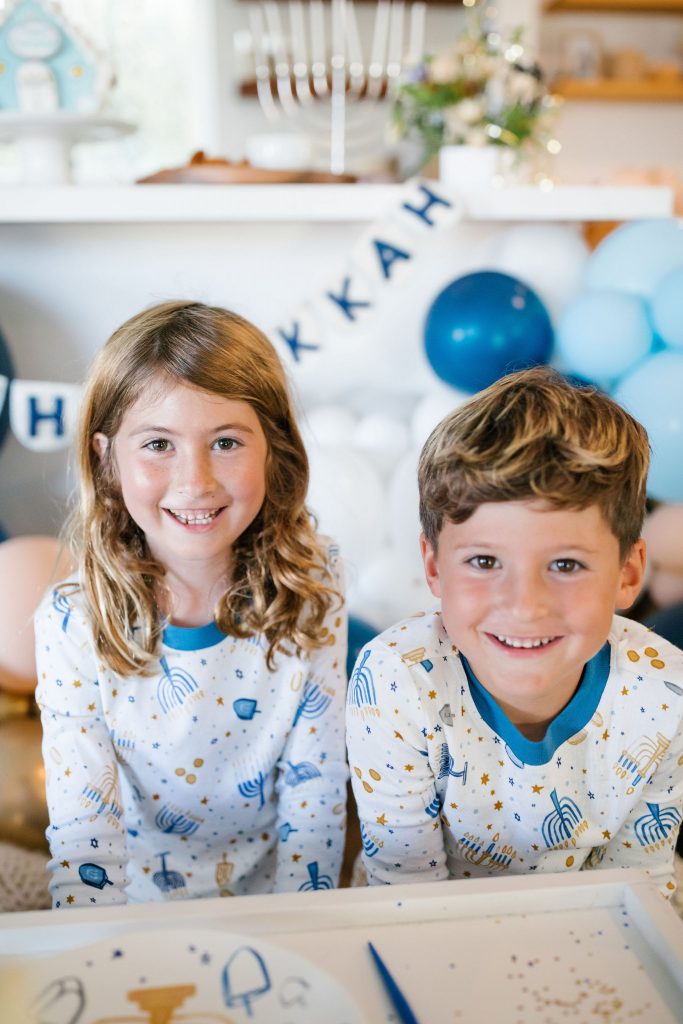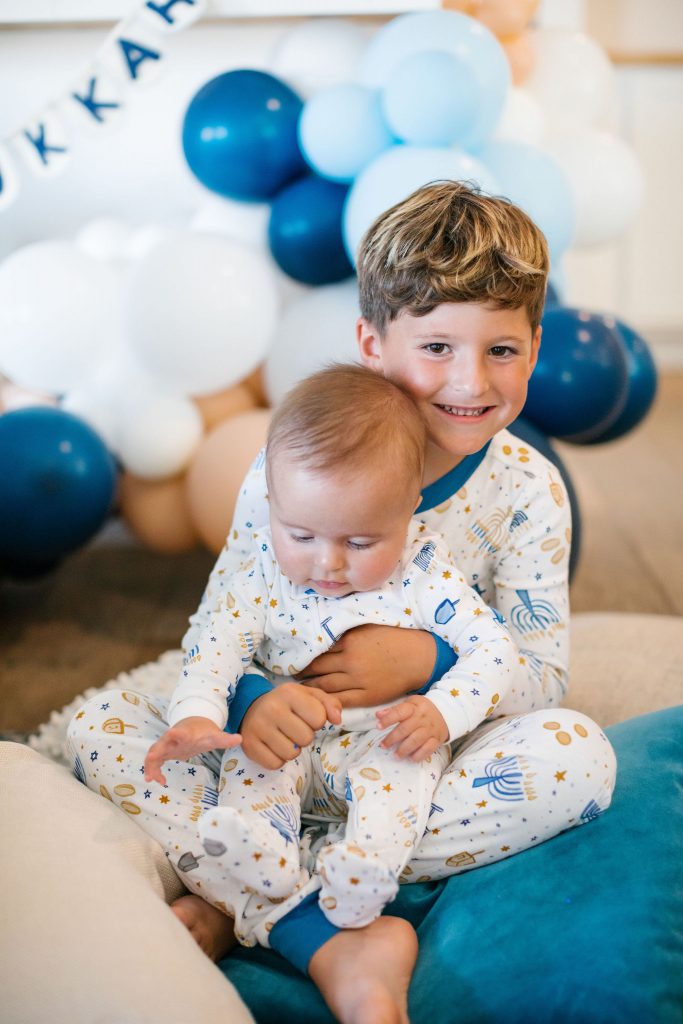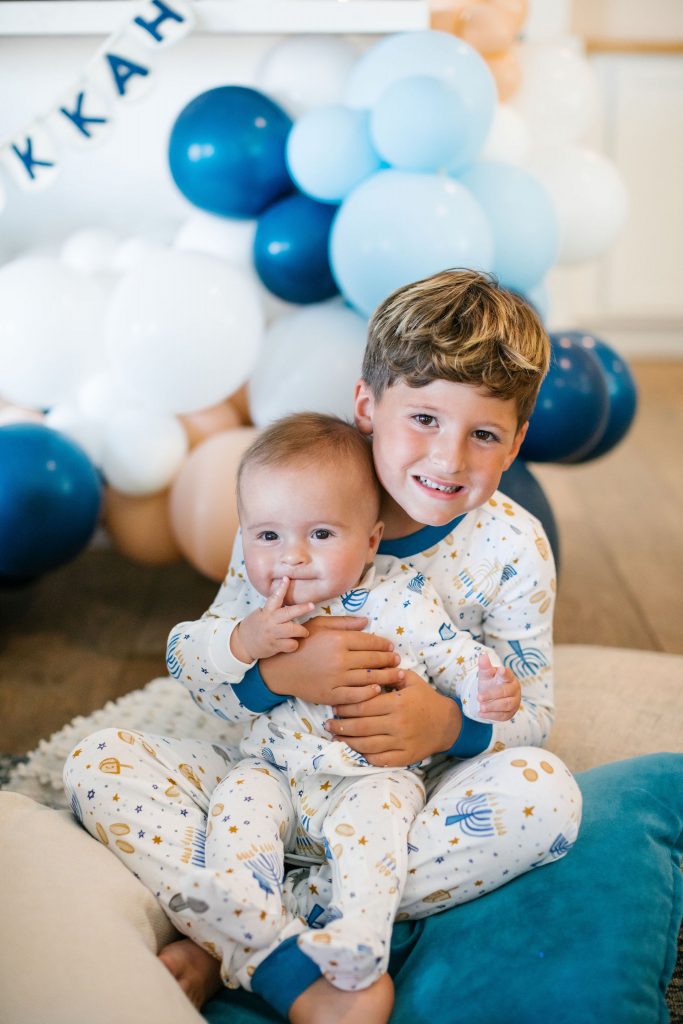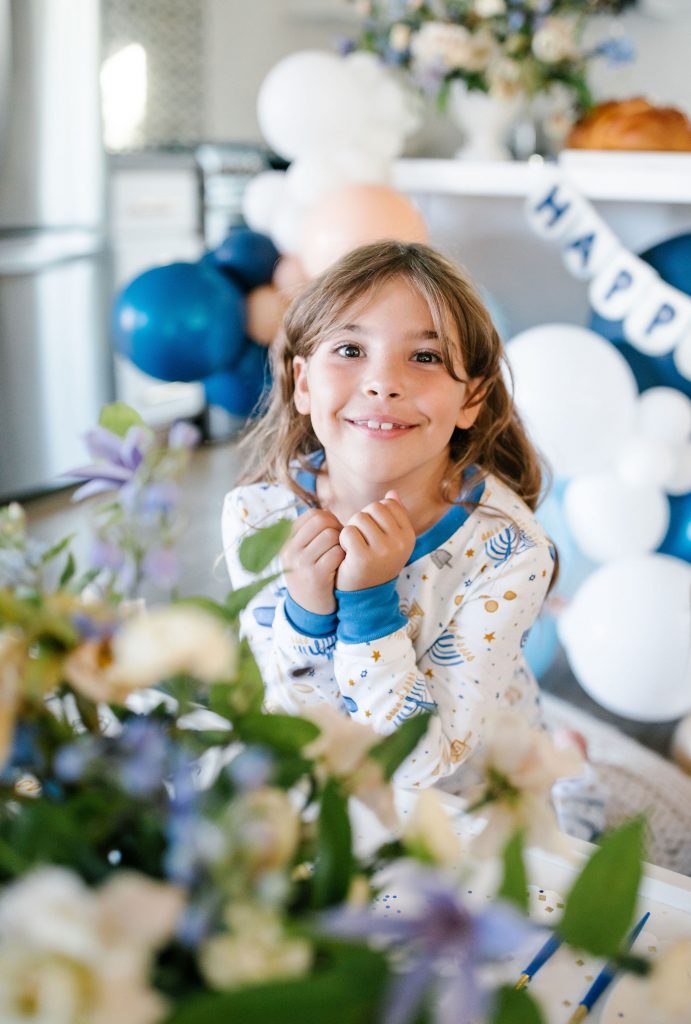 I think they're just a little excited for Hanukkah!!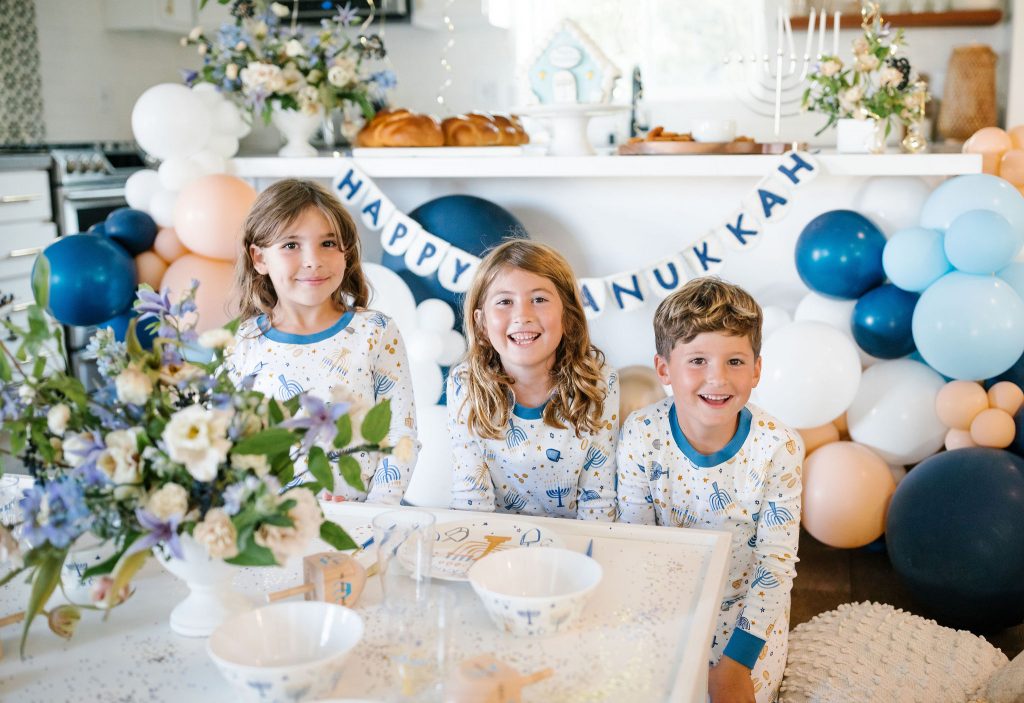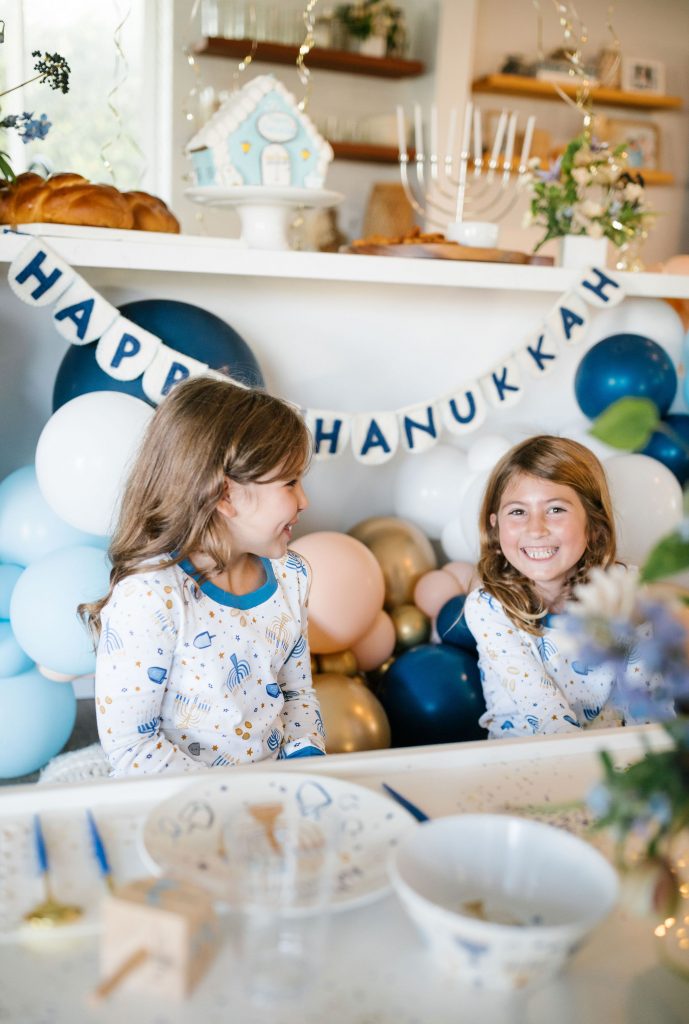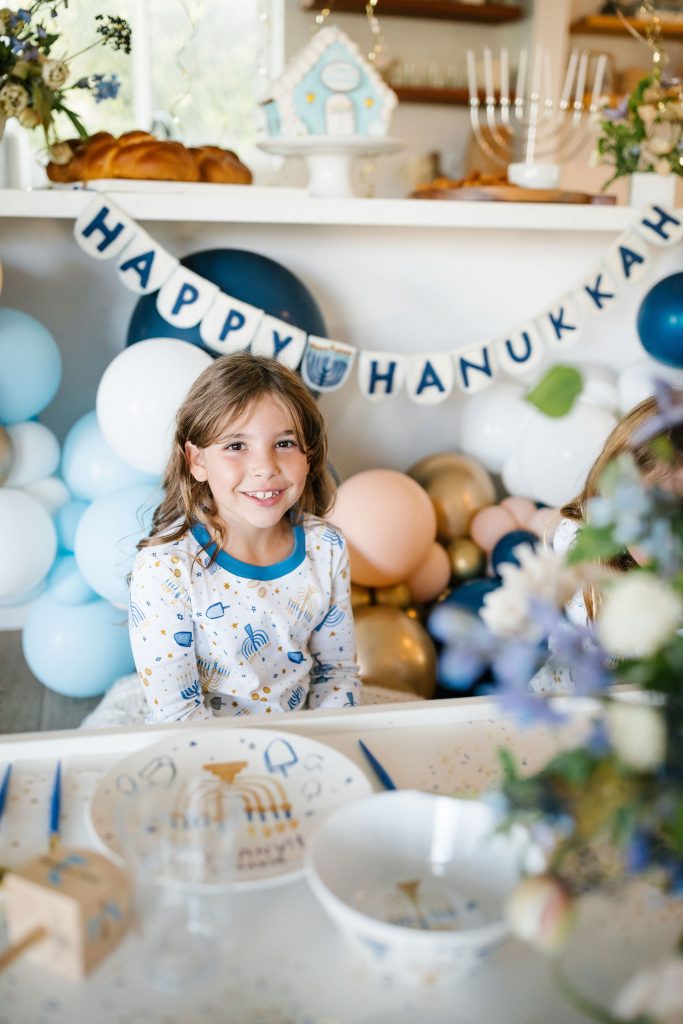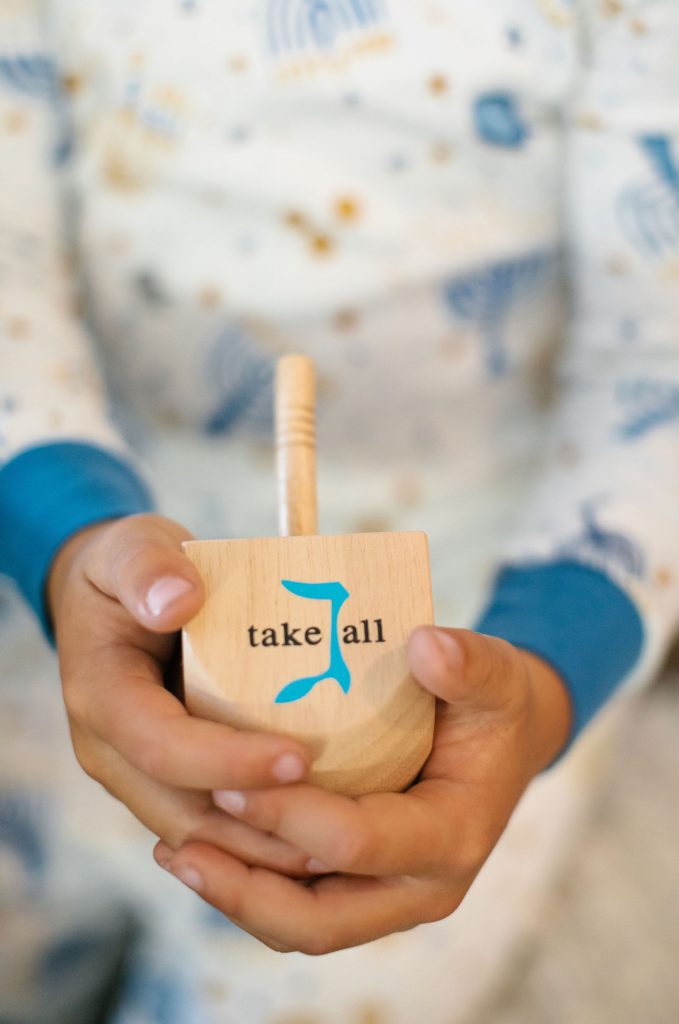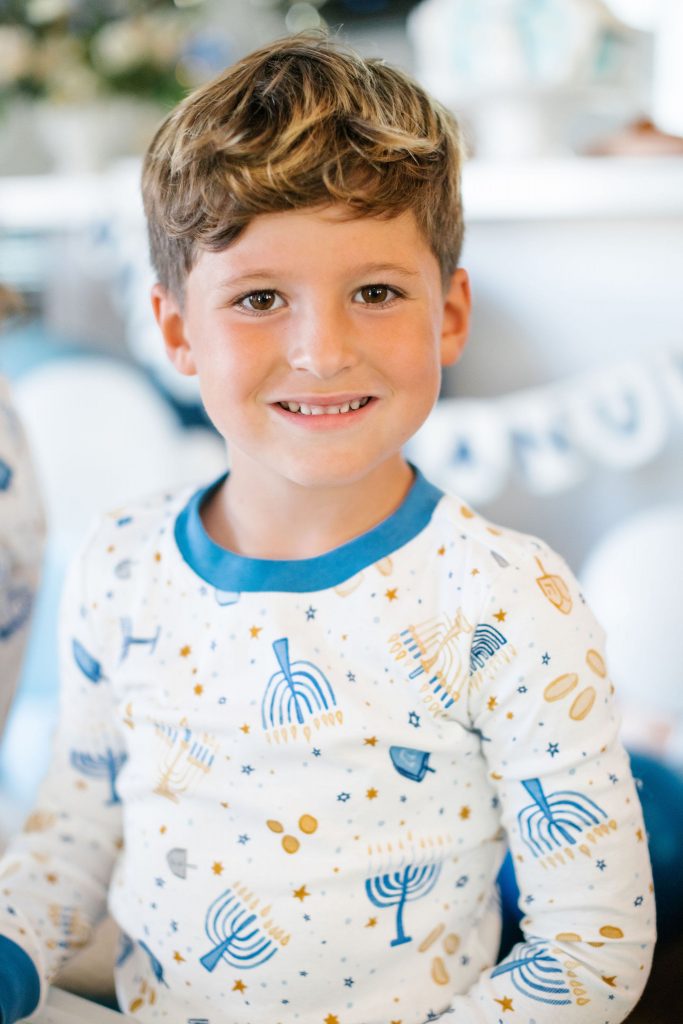 And they loved playing with their new dreidels!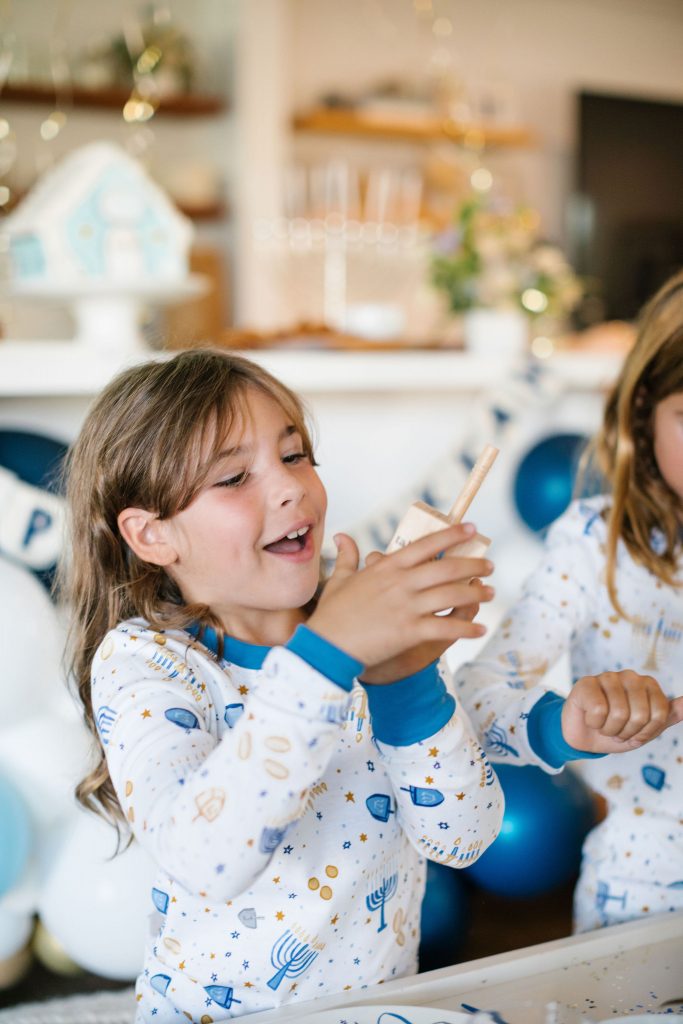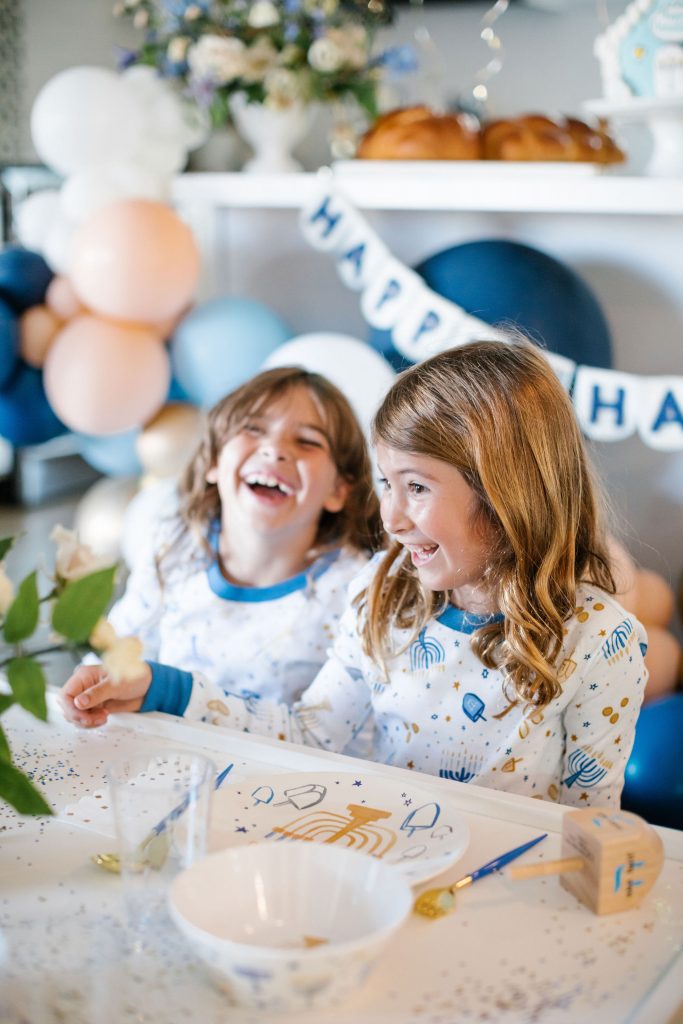 We also added in this other Hanukkah sign from Pottery Barn Kids! This one is fun because it is a countdown calendar. The candles come off so kiddos can light the menorah on their own! Isn't that the cutest?!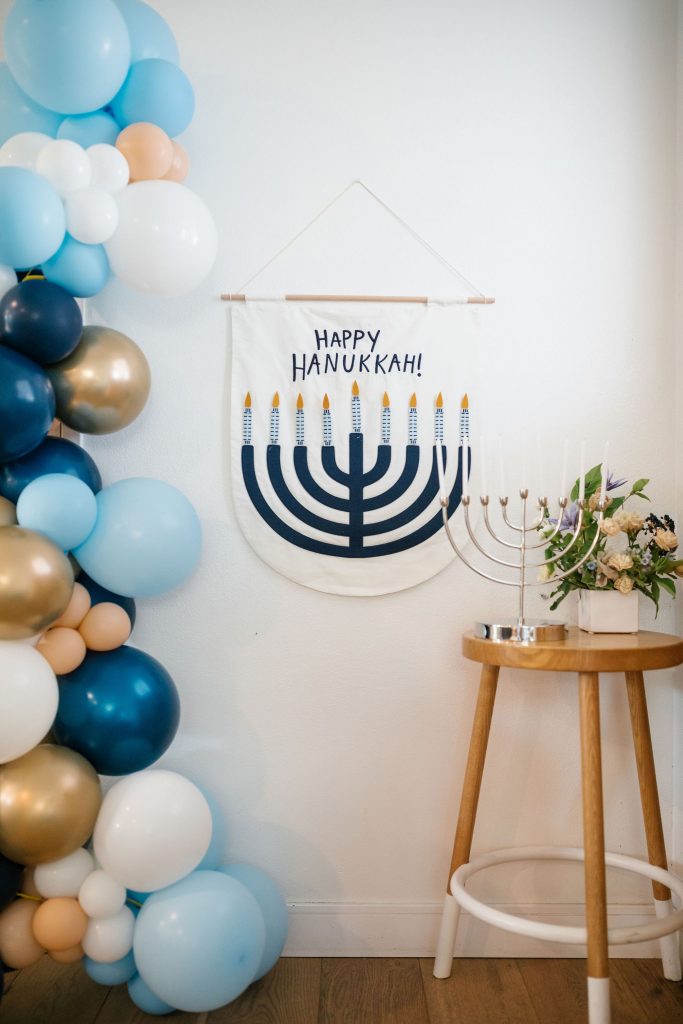 Sadie is so adorable! She was in my son Court's class last year and during Hanukkah she would share about her culture with the class. I thought it was so cute snd admired her for doing it. She was so proud and excited and got her fellow classmates excited as well, including Court! She was the first person I thought to have in this shoot, doesn't hurt that she's a cutie too!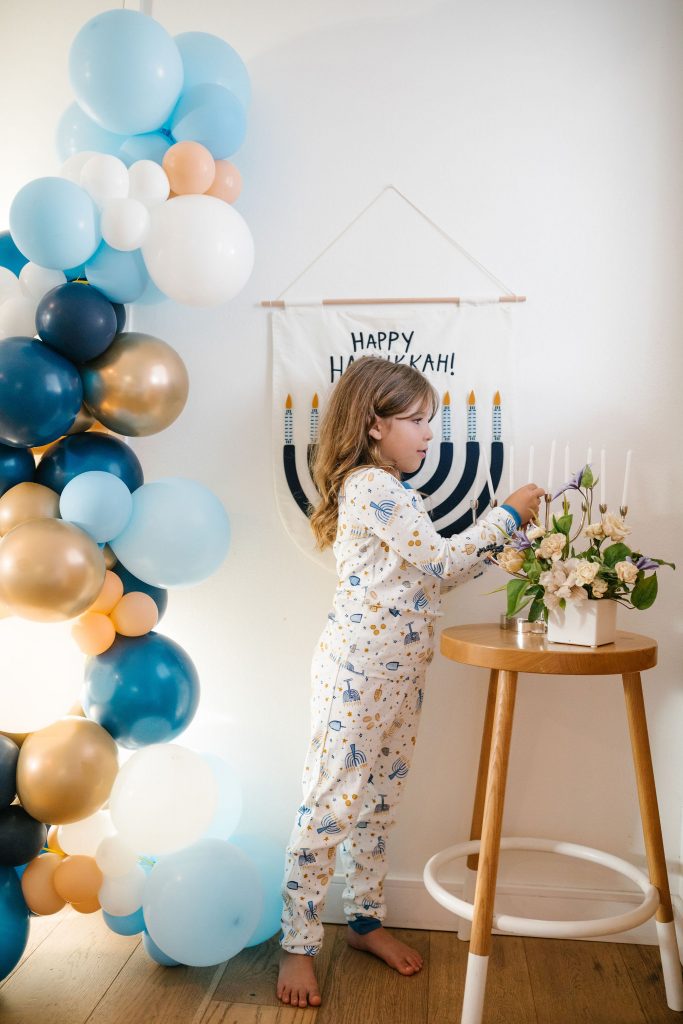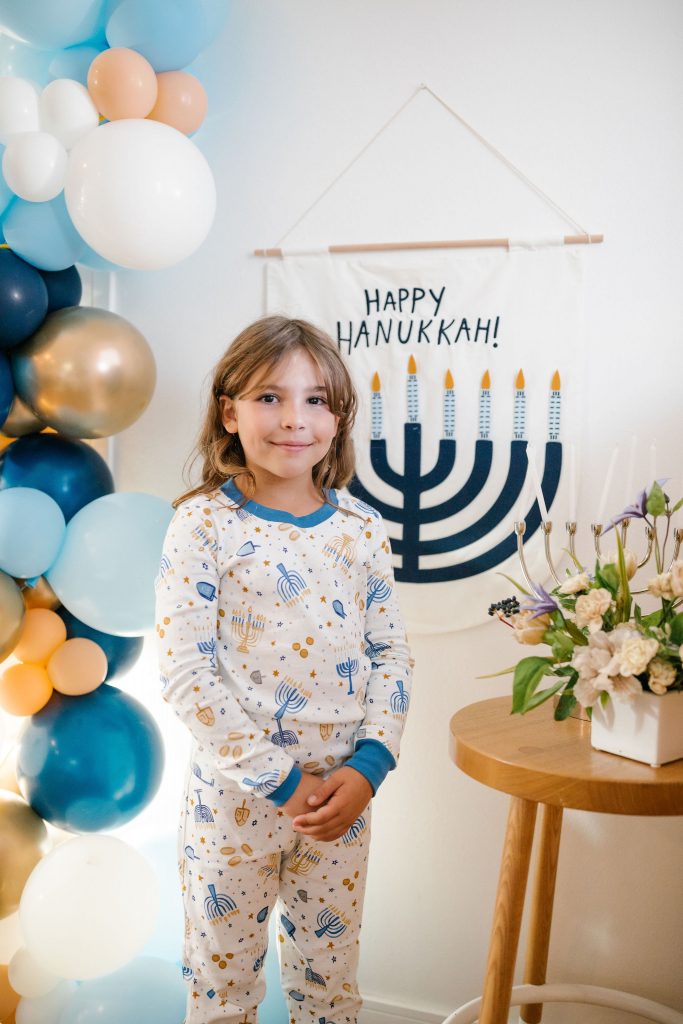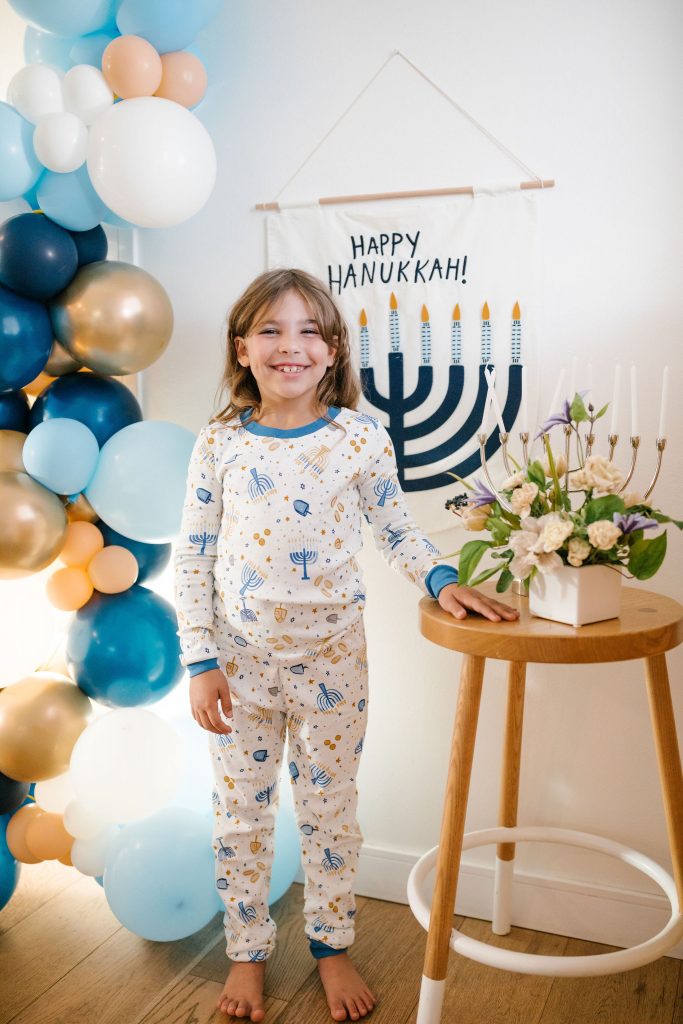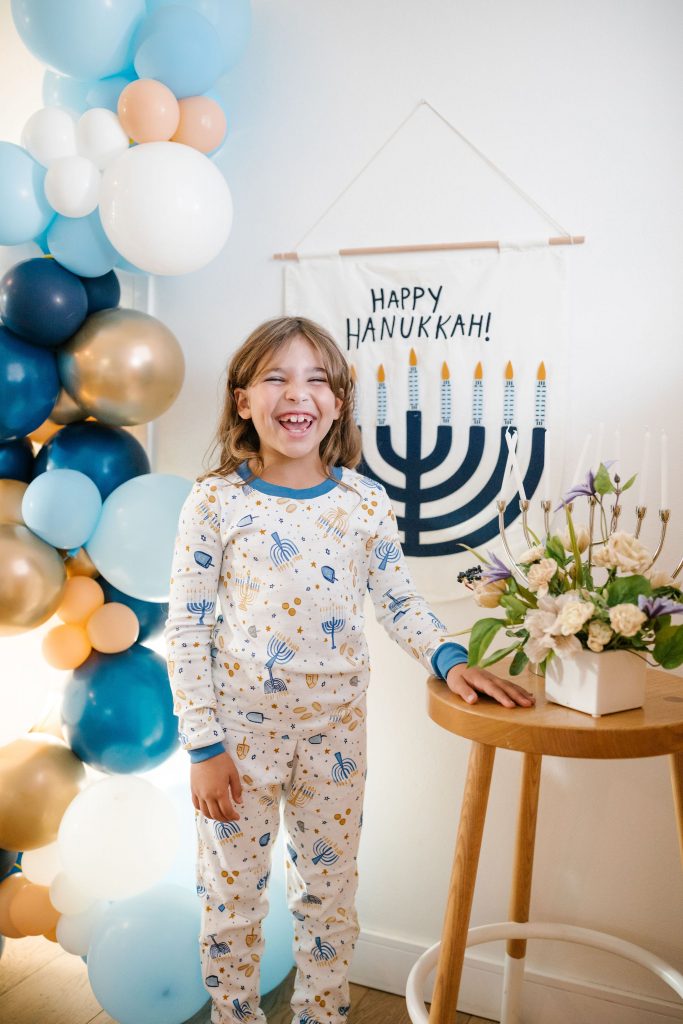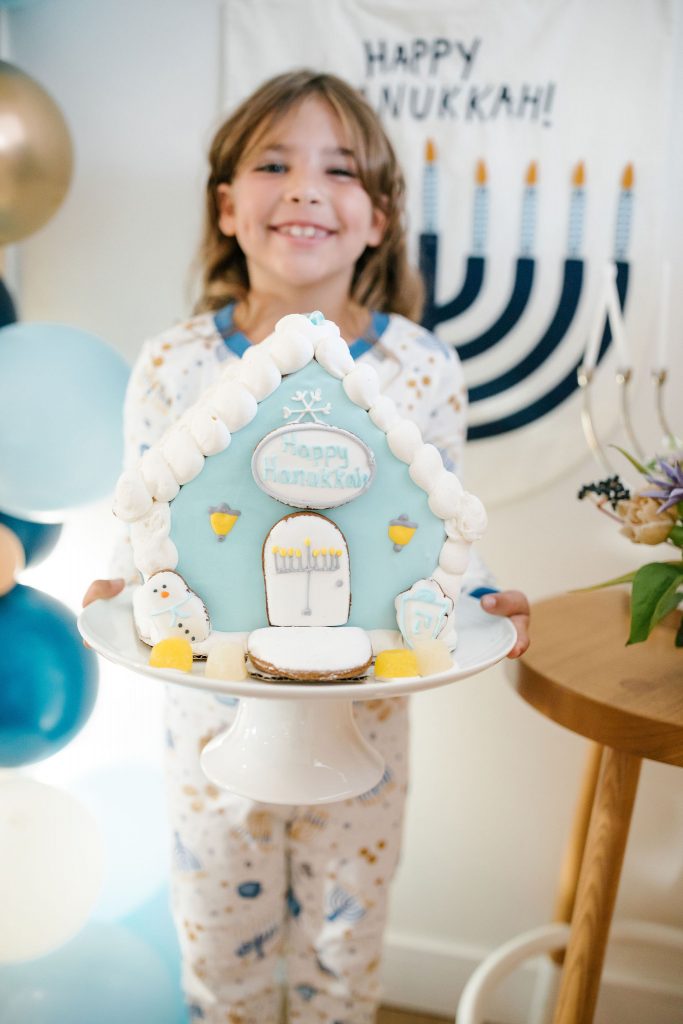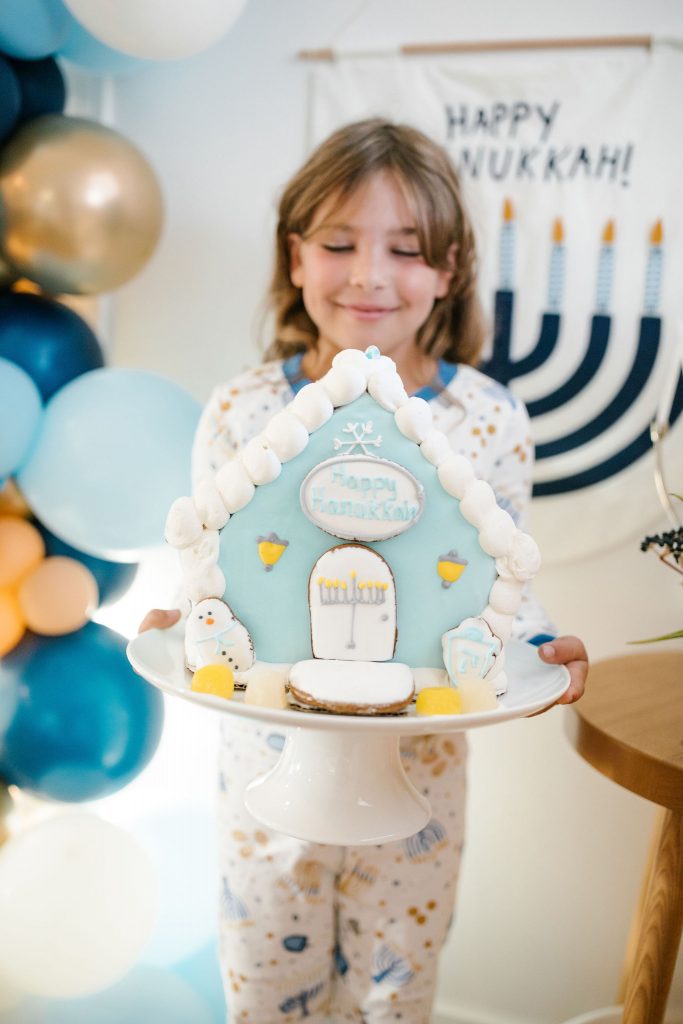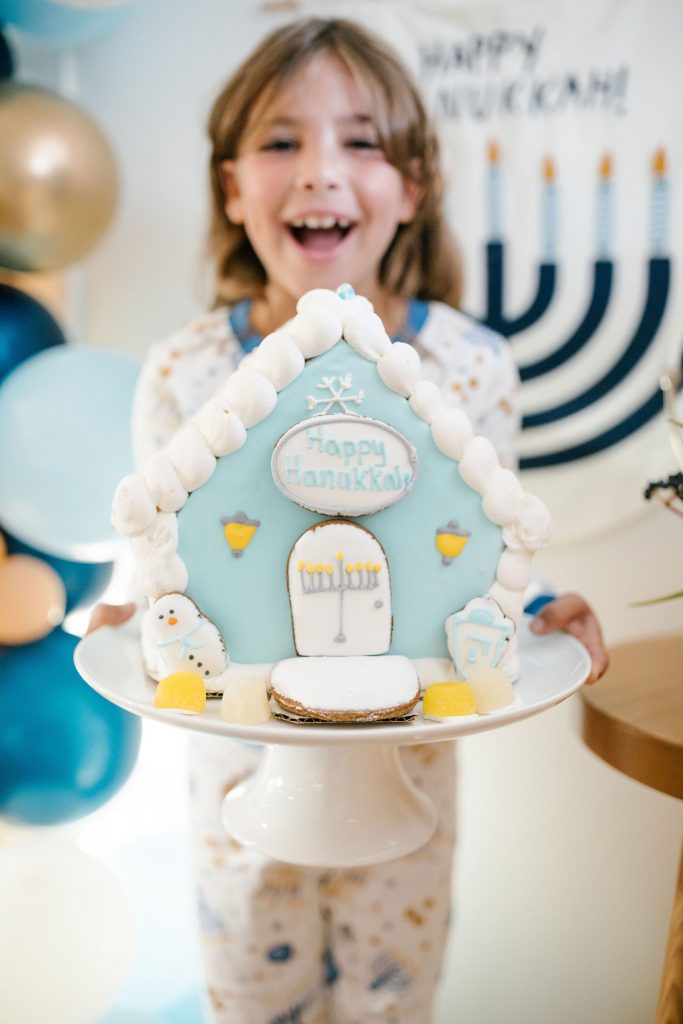 And that's a wrap! I loved celebrating and learning about Hanukkah with Pottery Barn Kids and my little friends this year! Everything is linked below to shop, and run don't walk because Hanukkah will be here before you know it!!!

xx
Jacquelyn