---
We love any holiday where we can put together a pretty looking table for the occasion. But the most favorite one of all is definitely Valentines Day. Although we do love the chocolate, the flowers (we love those everyday), the mushy cards, it really is all about the kids for us on this one. So when it came time to put together a little party and table, we teamed up with Pottery Barn Kids to create the perfect day for our little ones.
Photos by Yasmin Sarai
You can also see this dreamy table on Pottery Barn Kids Blog and 100 Layer Cake-let today!
A dreamy table all starts with the decor and flowers. Pottery Barn Kids Valentine's Day collection this year is just the cutest, anyone will fall in love with these items. Be sure to get some before they are all gone.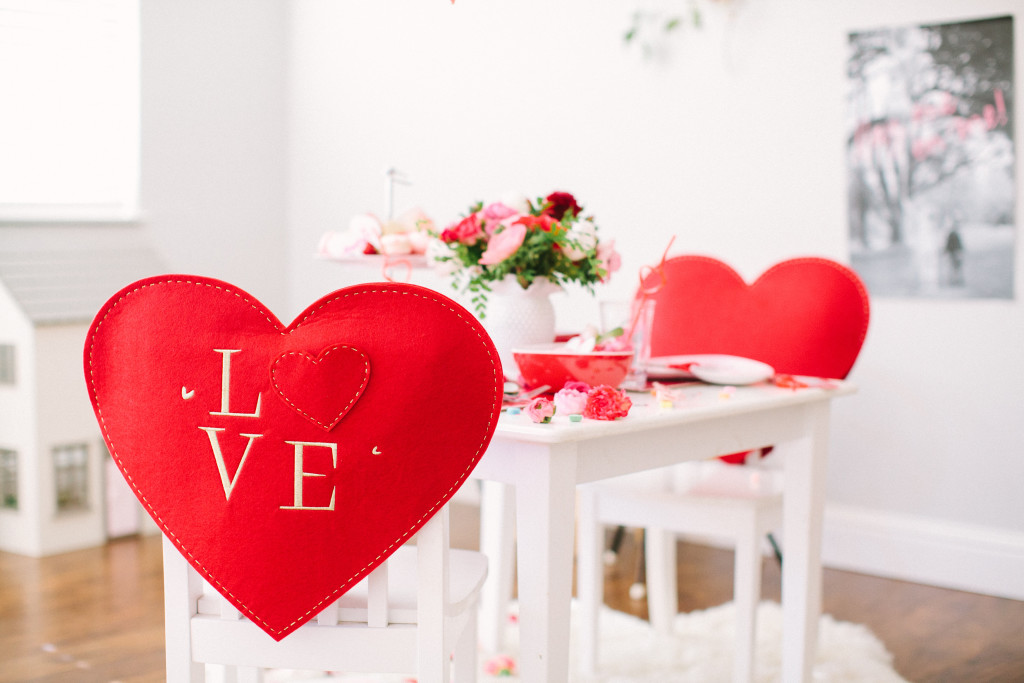 When you were little don't you remember making paper heart mail boxes to go over your chair or on top of your desk? I loved doing that when I was little. When I saw these heart chair covers, I knew this was a must for a valentines day party. These Love Notes Chairbacker is also so cute! I love how the red flag comes up, you got mail!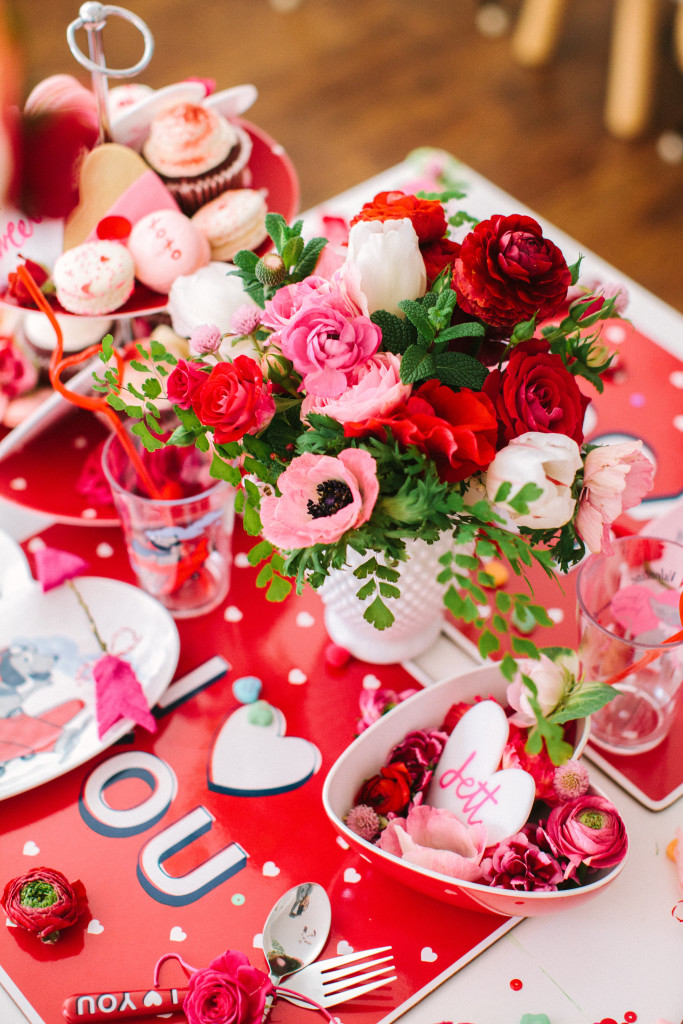 This pretty table was set with all the Pottery Barn Kids Valentine's Day  I love you bowls, flatware, and placemats alongside the airplane and kitty plates and cups. On the side of the plates were the cute valentines card set which include red heart shaped straws. Any little kiddie will love drinking out of those.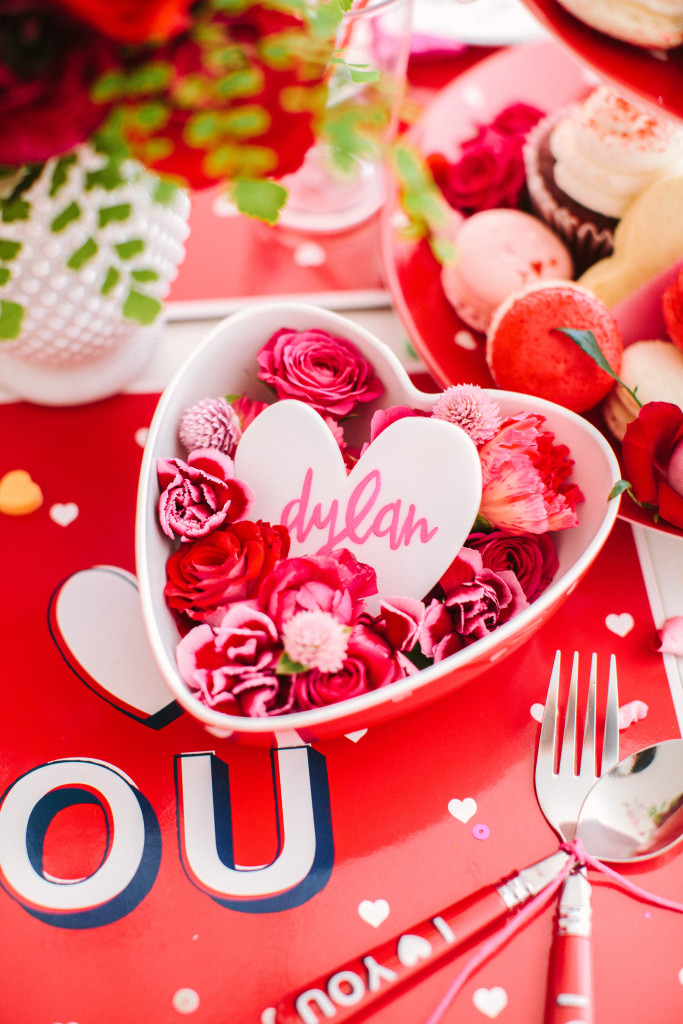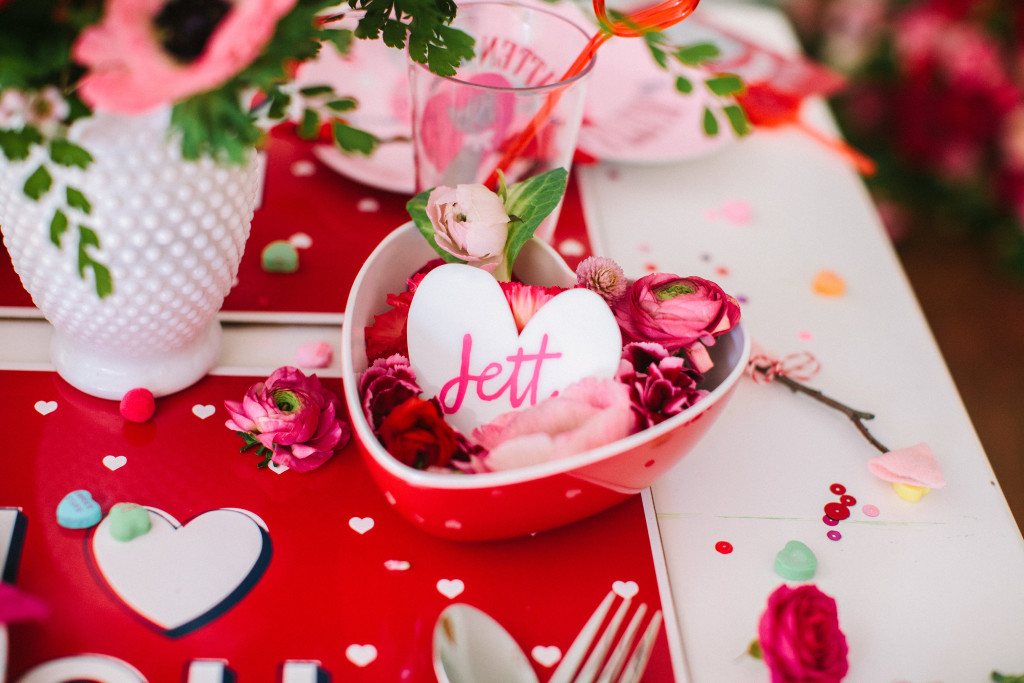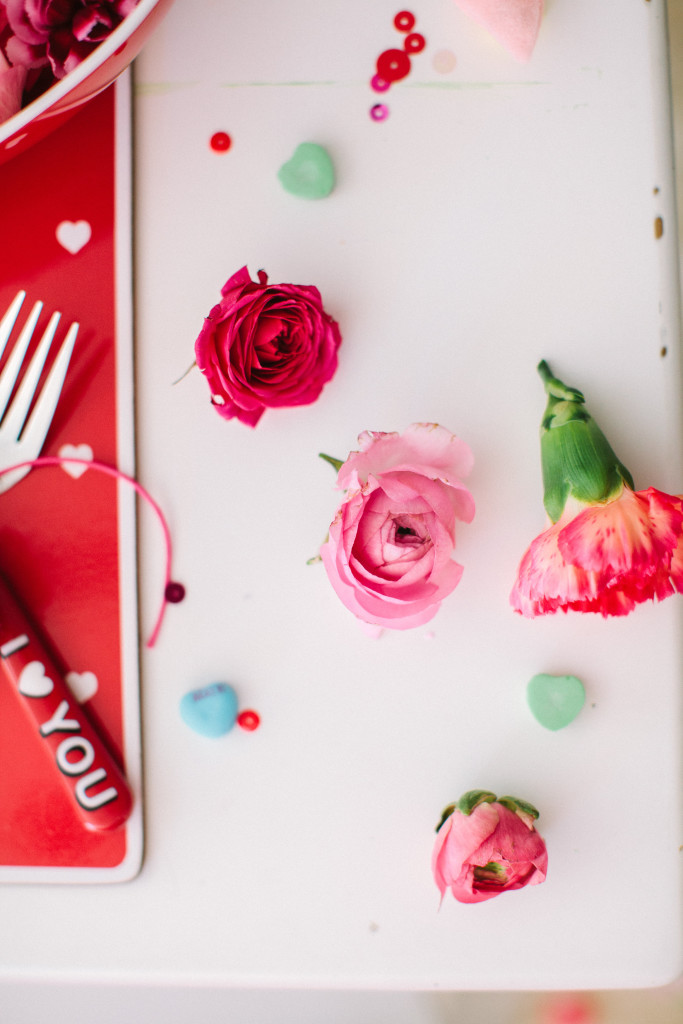 We used the I love you bowl to use as a holder for the littles name cards. Christine Cater filled the bowls with loose flowers and we placed the acrylic heart name card on top. So cute right? We love this idea for any holiday or occasion, the added detail of flowers just makes it. Don't you think?
The acrylic hearts were done by Meghann Miniello, along with the invite and game we will show you in a bit!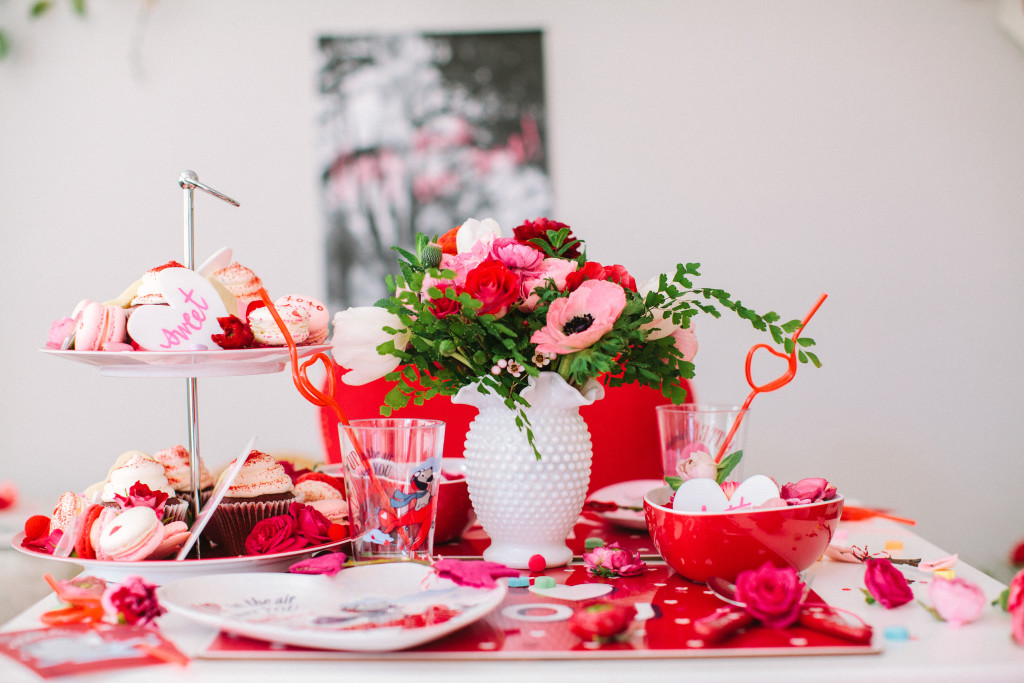 Now no table can set without flowers and dessert right!?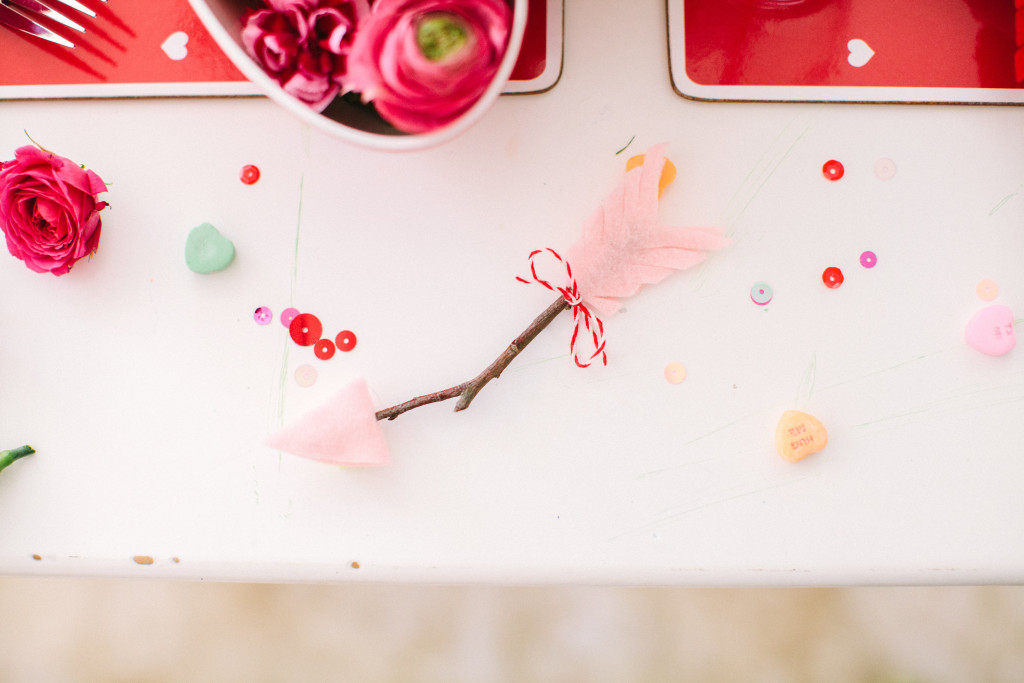 Christine Cater did this amazing arrangement that we are obsessed with. I love the added mint in there, I could smell this beauty all day.
On the side was the Valentines Day two tiered centerpiece that was filled with an assortment of yummy cupcakes, macaroons, heart shaped dipped cookies from our favorite dessert place, The Sugar Studio. In the mix was small acrylic conversation hearts and loose flowers. The Sugar Studio nailed the perfect Valentines Day mix of macaroons. I love the ones with the "xoxo" on them. So cute!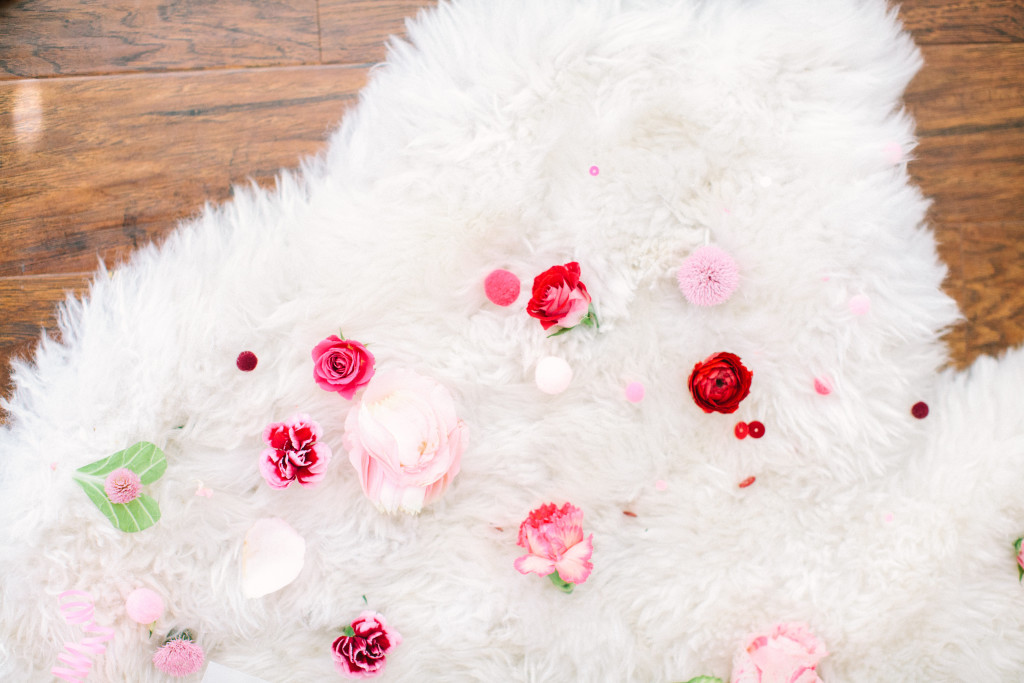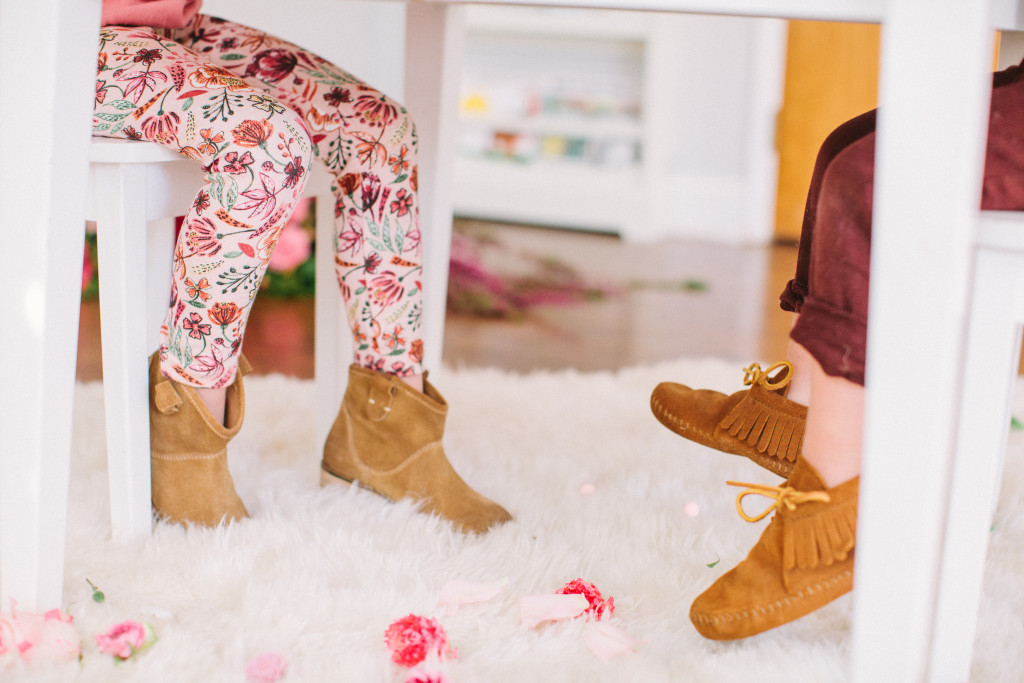 loose flowers on the ground is my ultimate favorite party detail!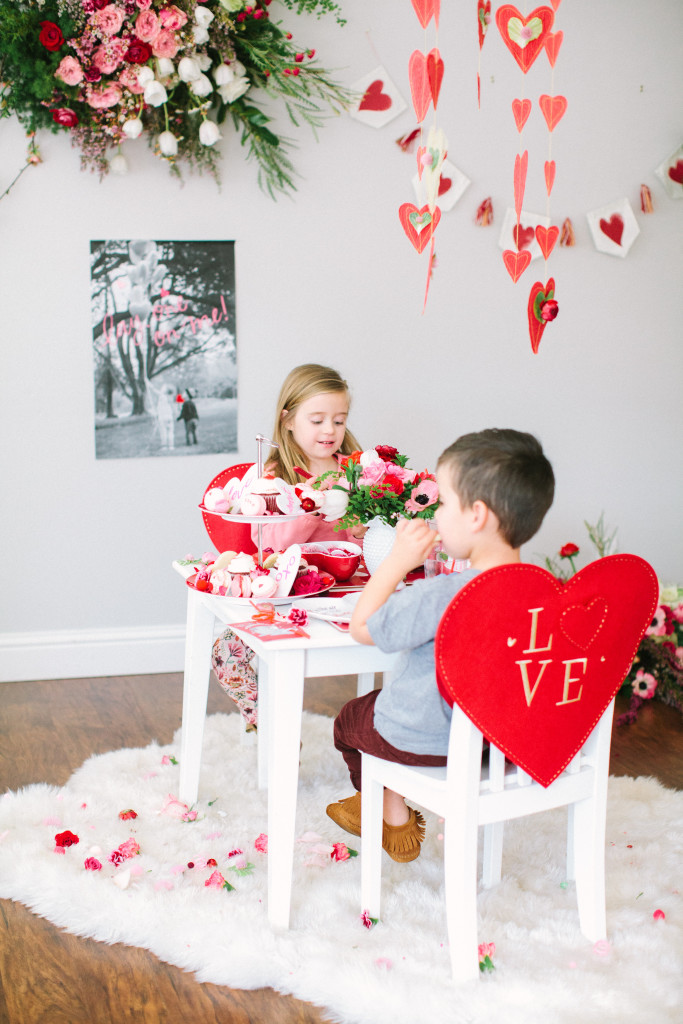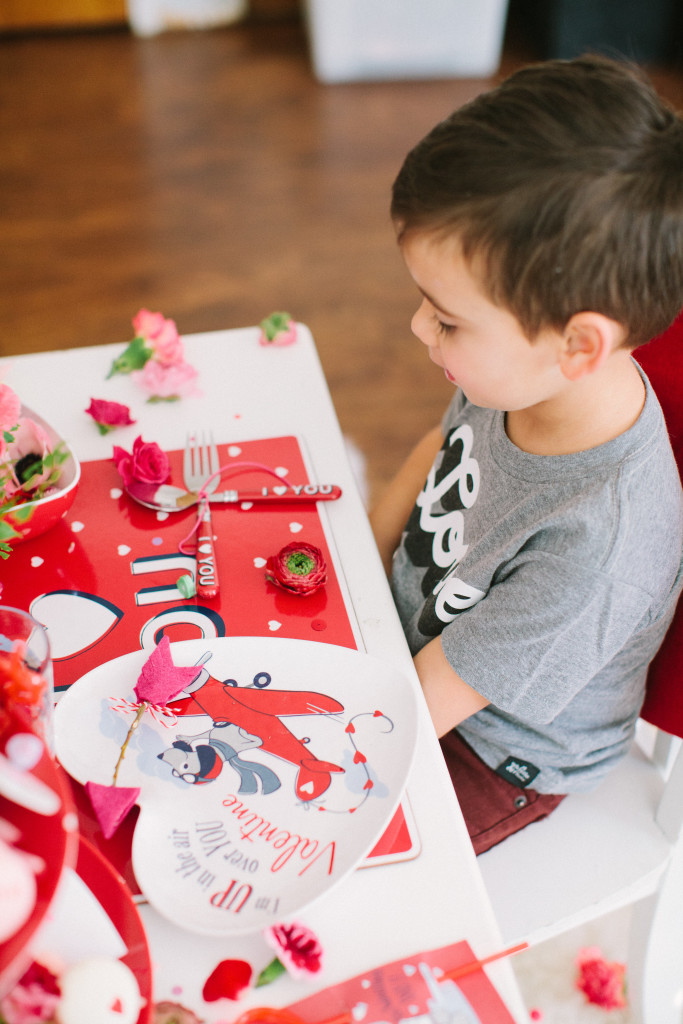 This table was a setting for a love date with my littles, Jett and Dylan. I love getting them together to spend a little time with each other for the holidays. Another fun tradition that I like to do with them each year. You might have seen our other tradition this past weekend with our little men in our lives. See  our Mama Son date here. It is so fun to start these traditions when the kids are young. Something they will love to do every year and hopefully for years to come.
Of course when you have a love date you need an invite. Meghann Miniello created this cute heart invite that goes along with the Pottery Barn Kids Valentines Day theme this year. This little date is a great idea for two little ones, or even more! Invite your little's close pals and have a little afternoon of sweets and play time. This is also a great idea if your little one's birthday falls on or near Valentine's Day.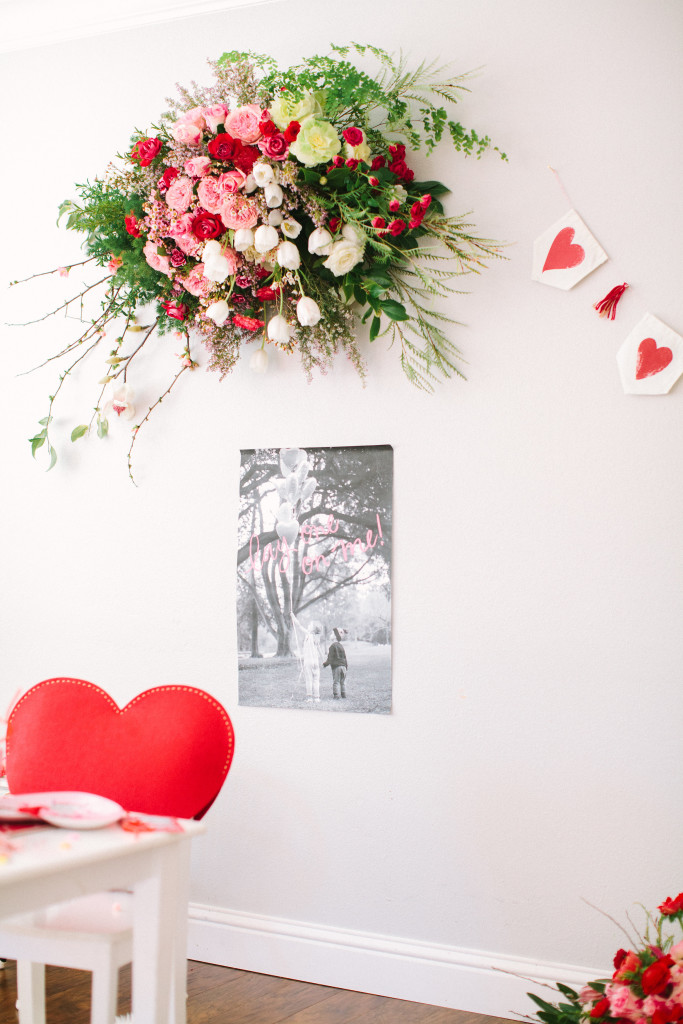 Christine created this breathtaking floral installation that set the scene for the afternoon. That lady out does herself overtime! If this could stay alive to keep up all year long.
I mean couldn't you just started at this all day. Can you spy those crazy two toned roses that look like they got splatter paint one them? So so good!
The Heart mobile above the table set the mood for the kiddies. Christine also made heart shapes out of cabbage and hearts that were placed on the heart mobile. So cute! This lady also went DIY on us, and made the adorable colored arrows that you see on the table. We will be seeing a DIY from her soon.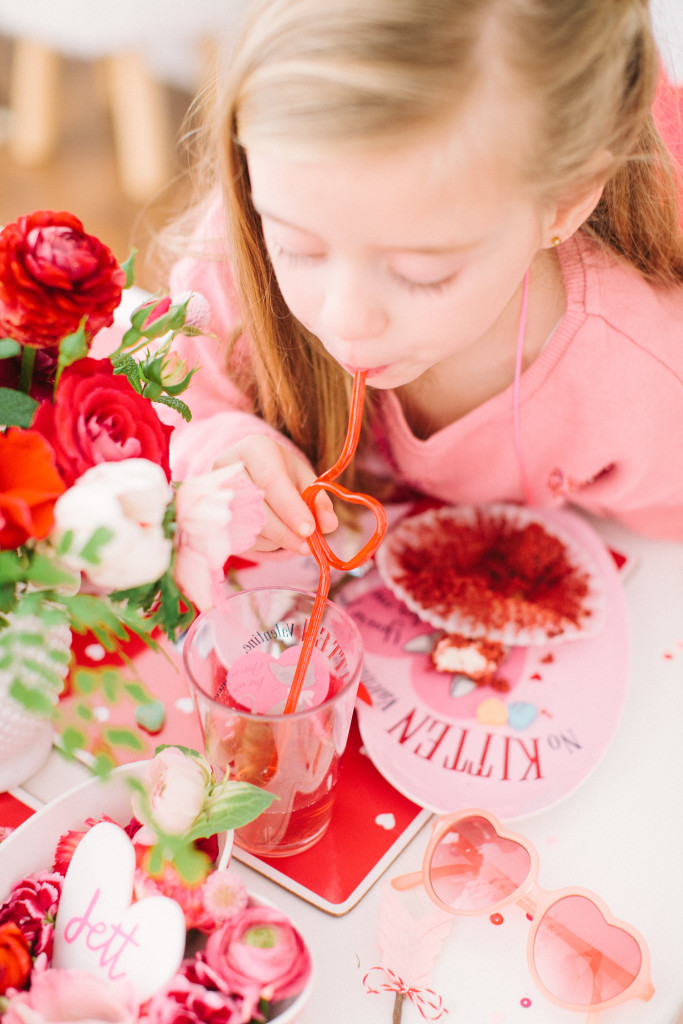 The littles started their date with a little sweet snack and sparkling juice out of the heart straws.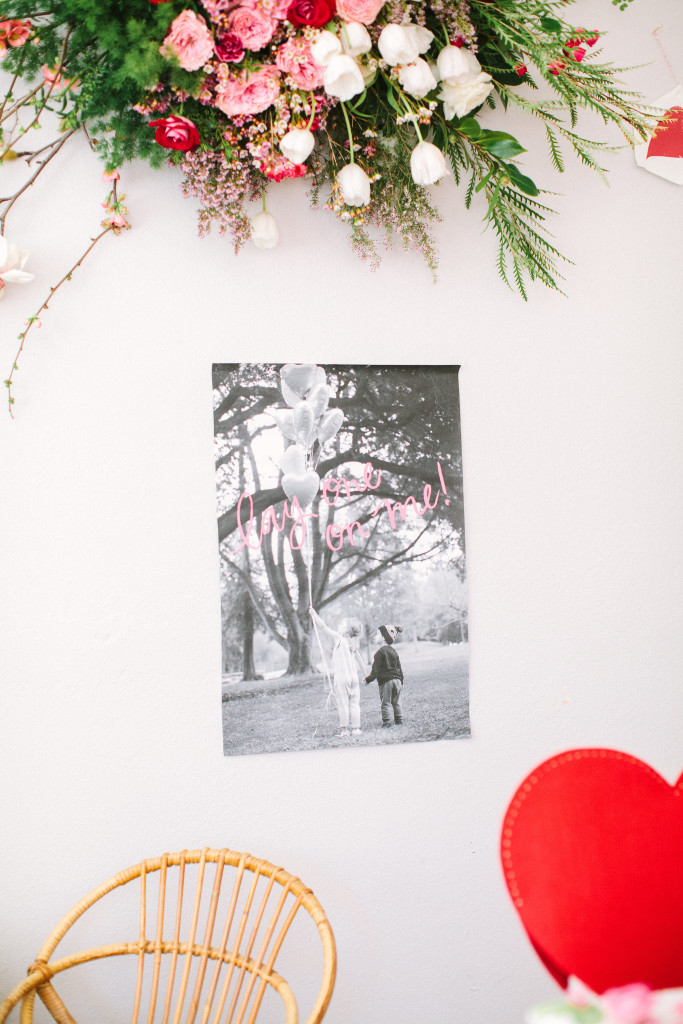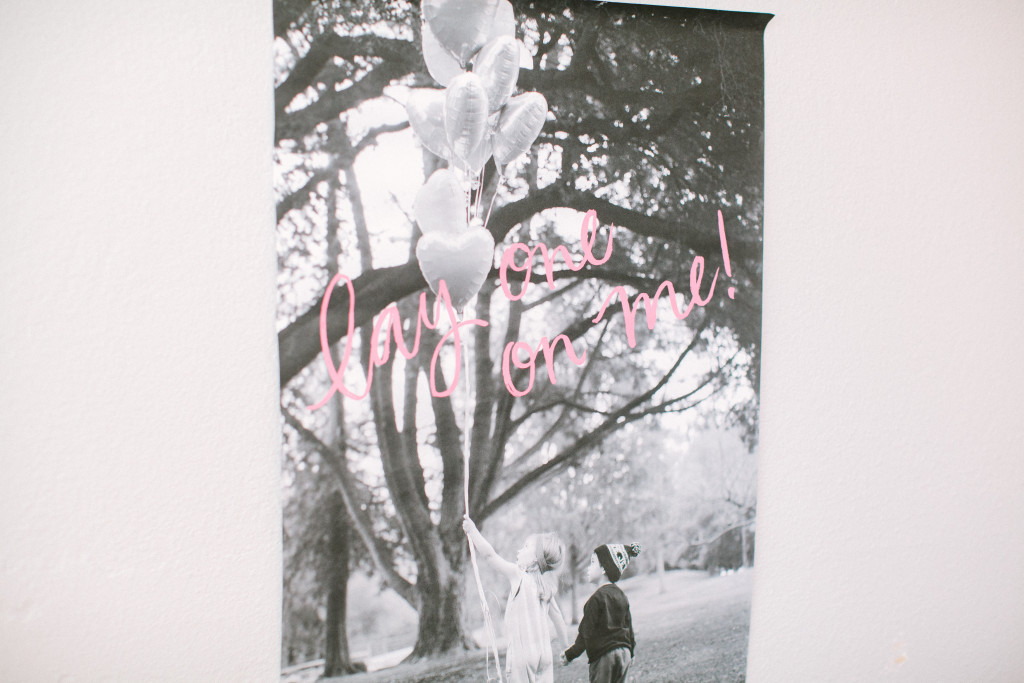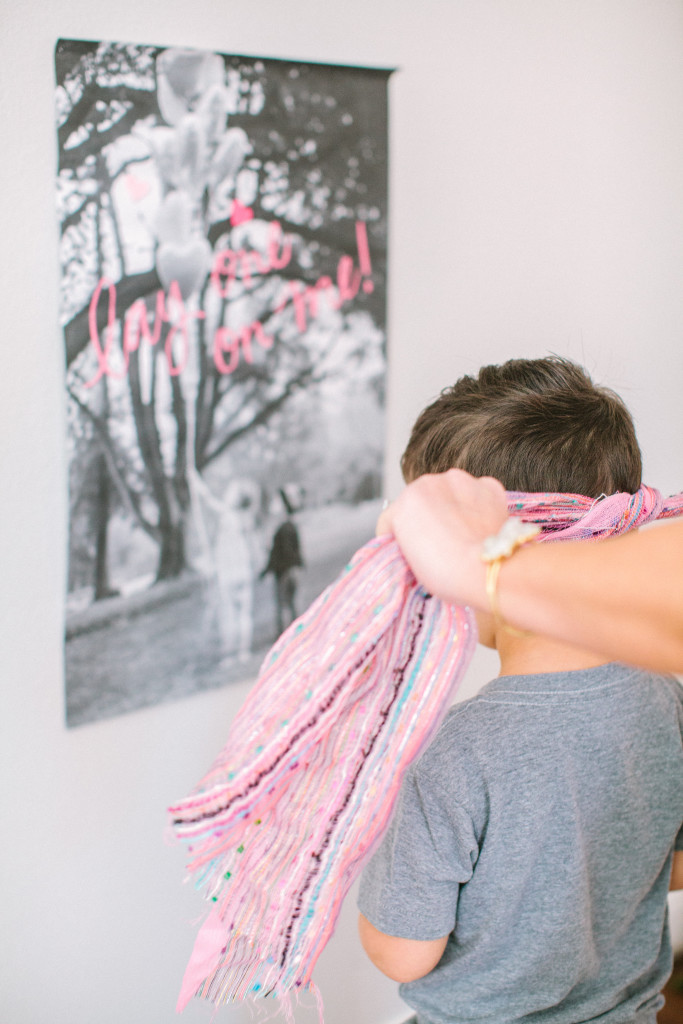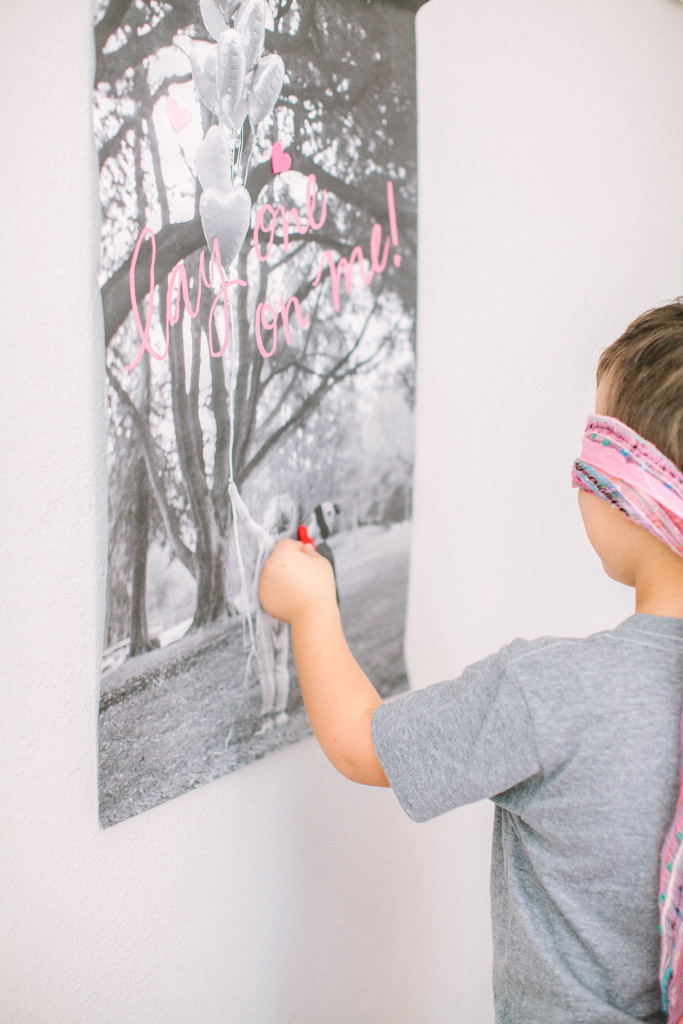 They continued their love date with playing "Lay One on Me" where they were blindfolded and tried to place a felt heart on their faces. So funny to watch! They loved playing this game! Jett was very serious about his placement of his heart.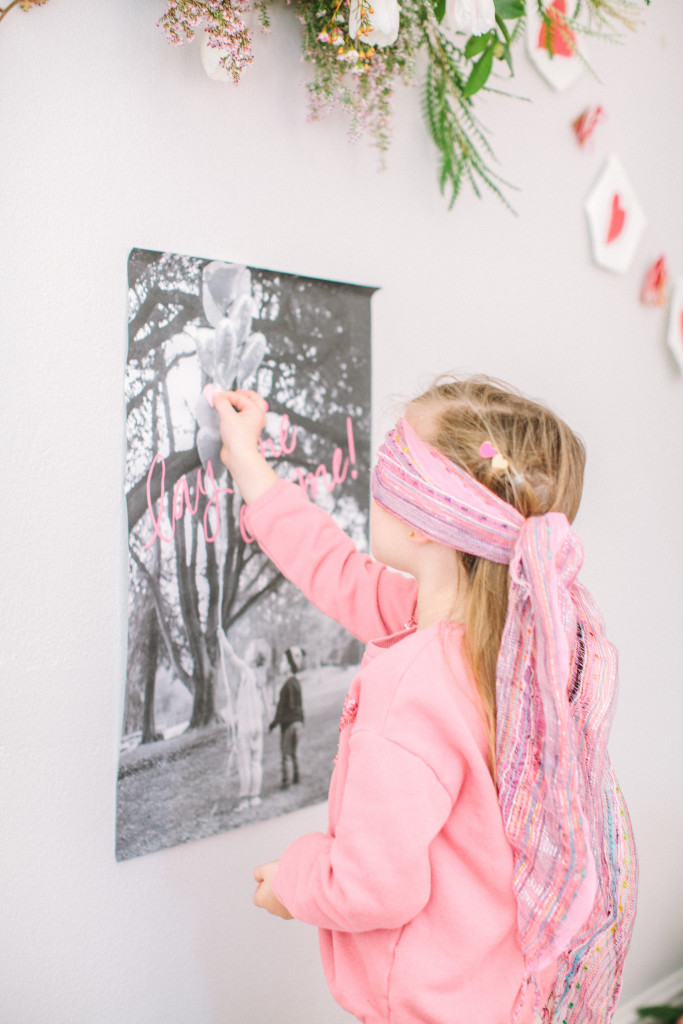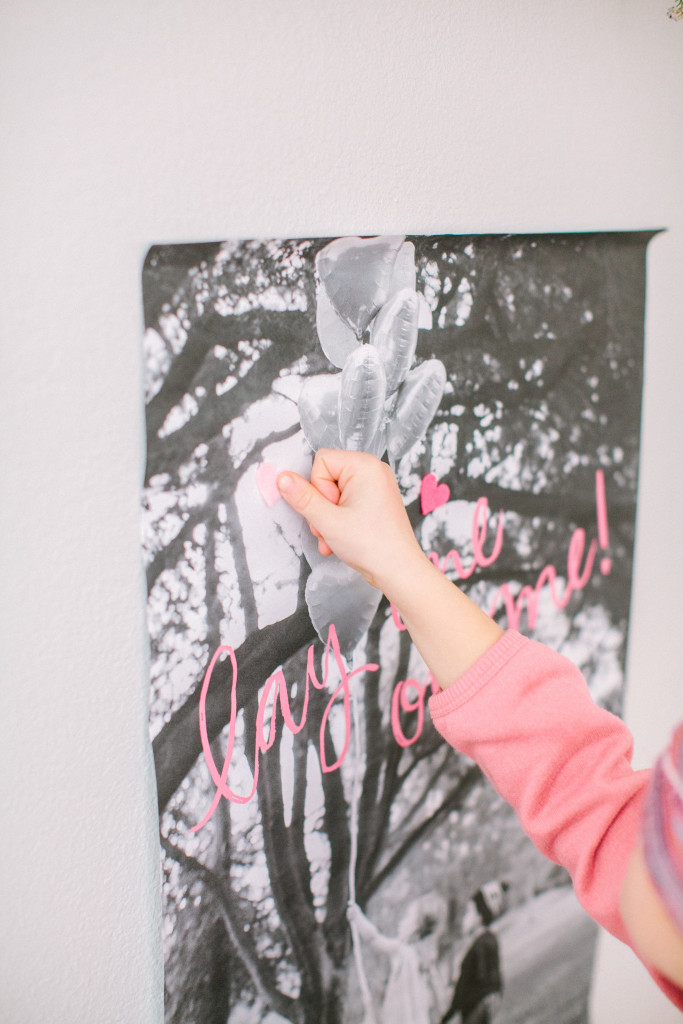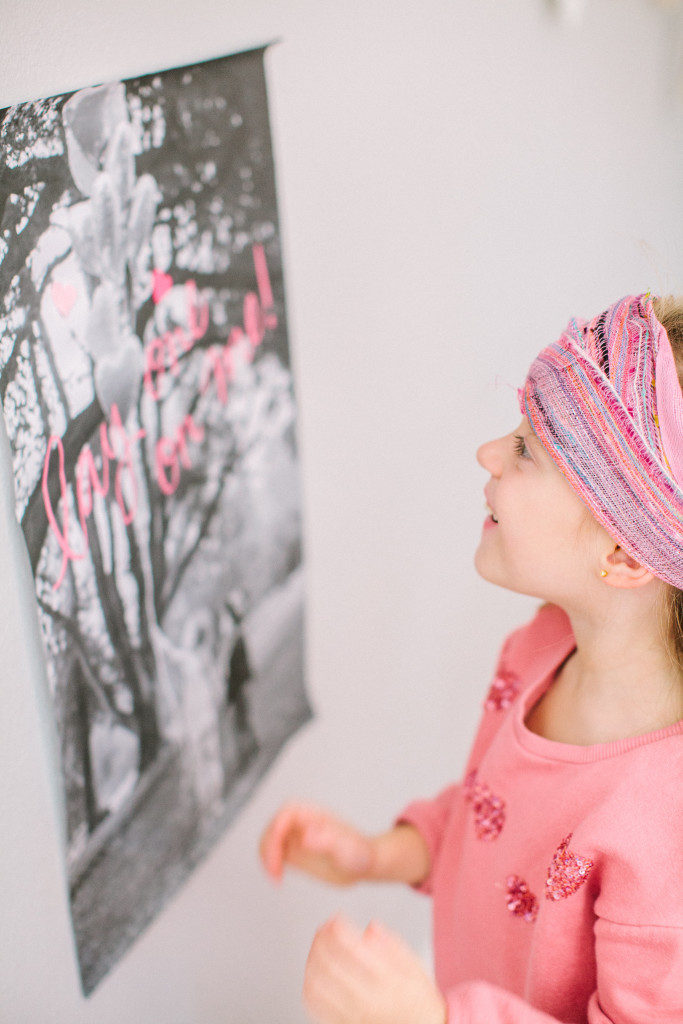 You can save the poster which Meghann Miniello made by blowing up a picture of the Dylan and Jett, and use it as Valentines Day decor in your home after their little love date is over. You can do this yourself by uploading a picture at Walgreens or any other online photo source and making it a poster size.
Ending the date, they had story time with some of their favorite Valentines Day books. We are loving the In My Heart book and Love is All Around California books. Another little tradition in our home is new books for Valentines Day. They love seeing what mommy picked out for this each year.
We hope you loved taking a peek into our family traditions, and hopefully gave you ideas to start your own!
Such a fun day for them!
xoxo
Abby