This week we are visiting one of our favorite places on earth…. DISNEYLAND!!!  You may remember our post last year where we visited with our friends Emily and Julie of Magic Kingdom Mamas, along with a few other favorite people.  It was a fun day full of all the best Disney spots and included some great advice about the park from the MKM ladies.
Leah and I both go to Disneyland A LOT.  We love having our annual passes and taking our kiddos.  Each visit is exciting and different and as our kids grow it gets better and better.  This past year Court even started riding Thunder Mountain and he's now tall enough for other big boy roller coasters which is very exciting!
A lot of people will text me about going to Disneyland for advice.  Especially my friends from out of town or up in Northen California.  One question I get a lot is "Is it worth getting the park hopper pass and going to California Adventure?"  Well, I'm here to say, yes!!  That is why this year we are dedicating our Disneyland post to California Adventure and what a day there looks like, why we love it, along with advice from the Magic Kingdom Mamas!!  Keep scrolling for more and stay tuned this week for LOTS more Disneyland inspiration and a VERY special giveaway!!!
Photos by Amber Thrane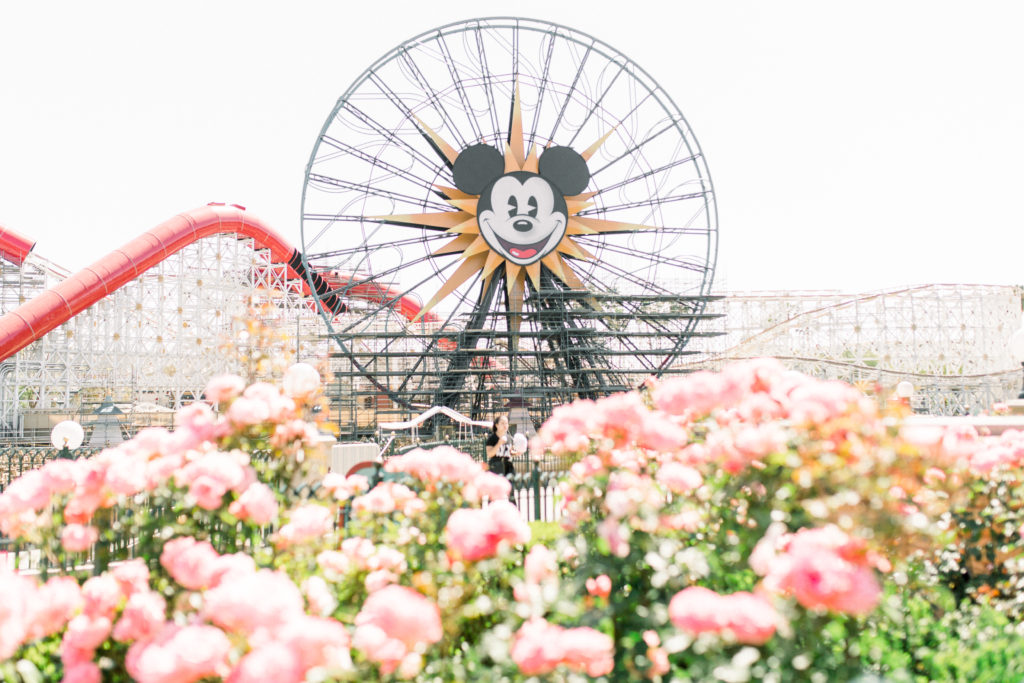 A good amount of the time I will take my boys to California Adventure instead of Disneyland.  There are many reasons why…
One, it is basically always less crowded.  Most of the time I can let the boys roam around while we walk the park which is great because they get more tired, ha!  Plus, dealing with getting them in and out of the stroller can be somewhat of a pain…
Two, they have great entertainment options!  We absolutely LOVE going to the Disney Jr. Dance Party.  It's basically like a rave for kids and the boys can't get enough.  They sing and dance to all of their favorite Disney Jr. songs, and it's the perfect break to get away from the park outside.  There is also Turtle Talk with Crush, Frozen, the Paint the Night parade and much more!  We don't do all of these every single time but have definitely enjoyed them all in the past!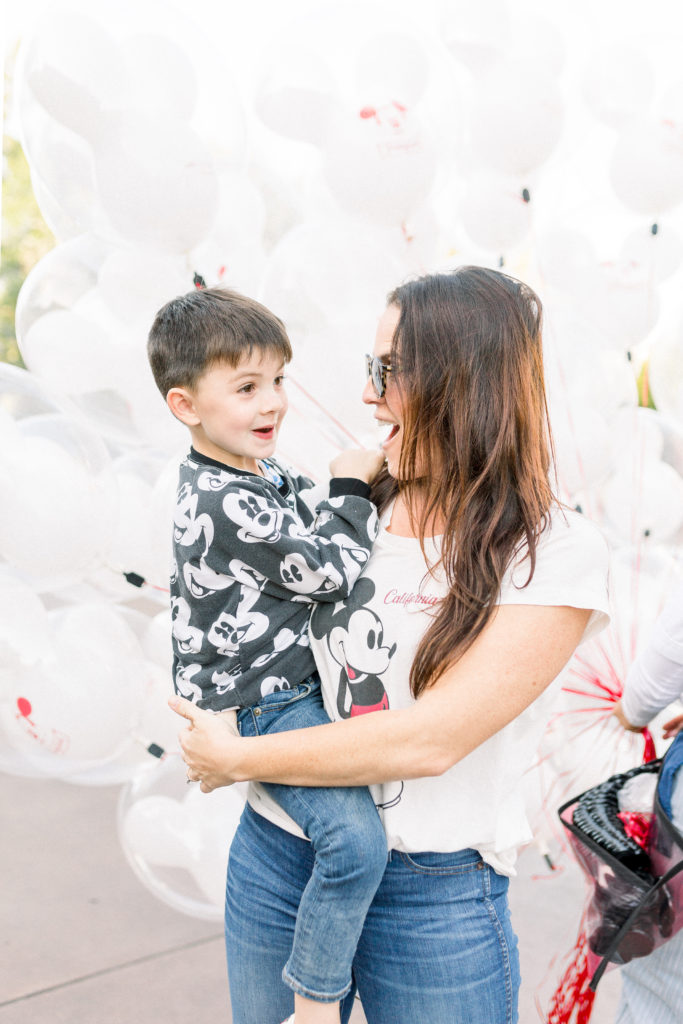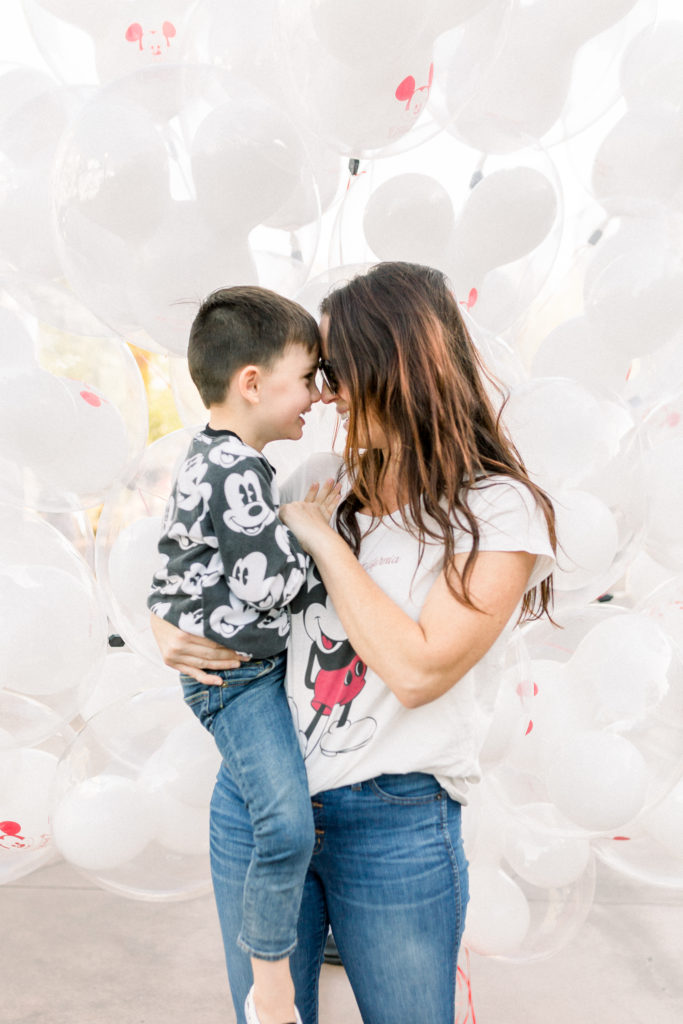 Three, as a boy mom, there are GREAT boy options.  Of course girls are into this stuff as well, but my boys in particular get super excited.  Cars Land is always a big hit for obvious reasons.  A majority of the rides are ok for Cruz to ride which is great.  They also have all the Marvel super heroes….  If you know my kids then you know that is the BIGGEST treat.  We visit Spider Man, Thor, Captain America, you name it!  These visits always make for the biggest smiles and the best photos!!
Another favorite spot is Redwood Creek Challenge Trail.  My husband and I especially like taking the boys here because it gets them out of the stroller if we are using it and running around.  They aren't just waiting in line and going on rides, it's an interactive play area that they absolutely love!!  And again, helps to get them tired, any parent's ultimate goal, right?!
Four, and there are more reasons but this will be my last for now, the food and drink options are amazing!  There are multiple great food spots that we switch off every time.  There are the spicy corn dogs at Corn Dog Castle, the chicken nuggets from Smokejumpers Grill, and all the yummy Mexican food at Carthay Circle.  And a BIG plus, they serve alcohol… Ding ding ding ding!!!!  This mama needs her beer or wine every once and a while, so amen to that!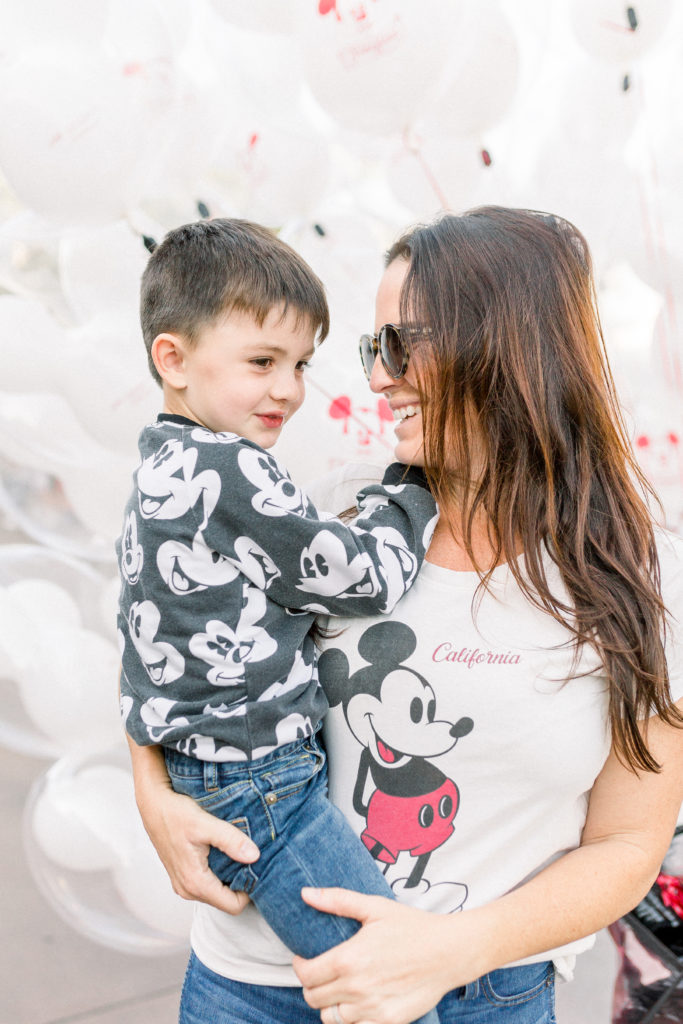 Keep reading for a Q&A with Emily & Julie from Magic Kingdom Mamas – these girls are the pros!!!  Plus, they know all of the insider tips for upcoming exciting changes at the park!
We are so excited about Pixar Fest!  Can you tell us more about what's going on at California Adventure with that this Summer?
Yes! Pixar Fest is full of so many fun and exciting offerings at both parks until September 3! At California Adventure, guests can enjoy the extremely popular Paint the Night Parade, there are Pixar character meet and greets with Woody, Buzz, Jessie, Mr. & Mrs. Incredible, Dug & Russell, and Mike & Sulley at Paradise Gardens, there is an amazing Pixar band called the "Pixarmonic Band" that plays favorite Pixar tunes throughout the day at the Paradise Garden Bandstand, guests can enjoy Pixar shorts at the Sunset Showcase Theater in Hollywood Land and a whole bunch of new Pixar-themed food offerings around the park! Also, Pixar Pier opens on June 23 at California Adventure which will bring with it so many new Pixar things like attractions, characters, places to eat, merchandise and more!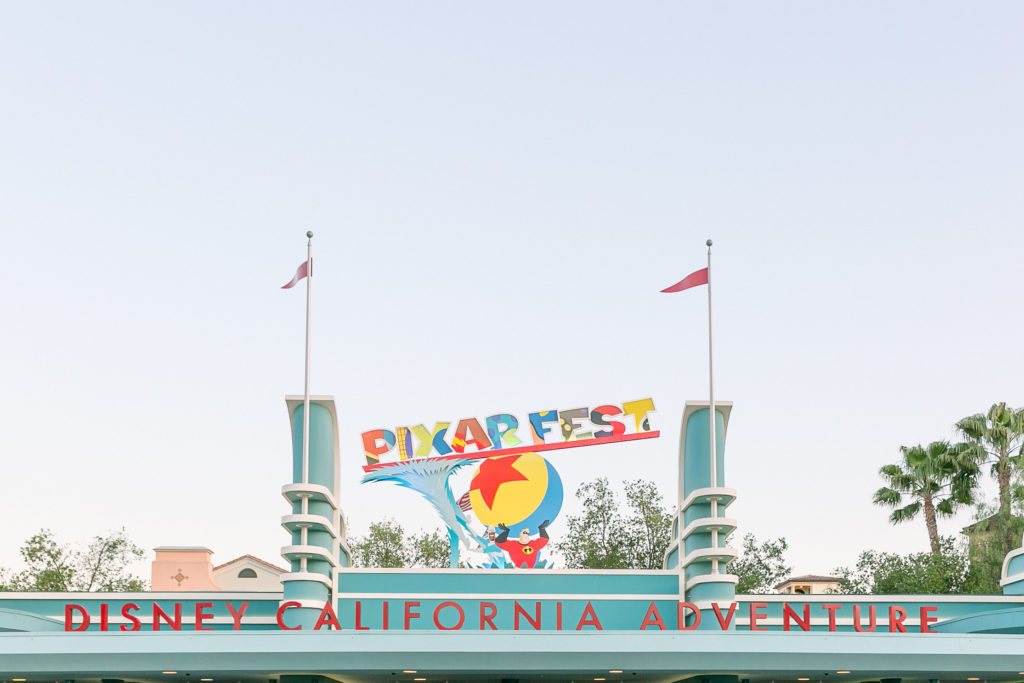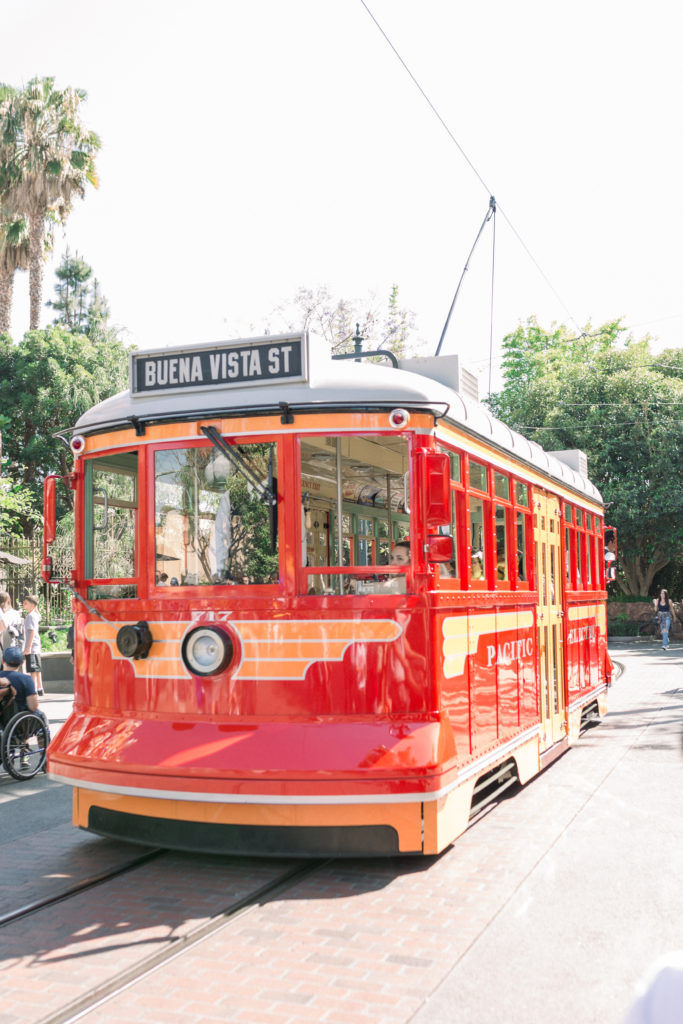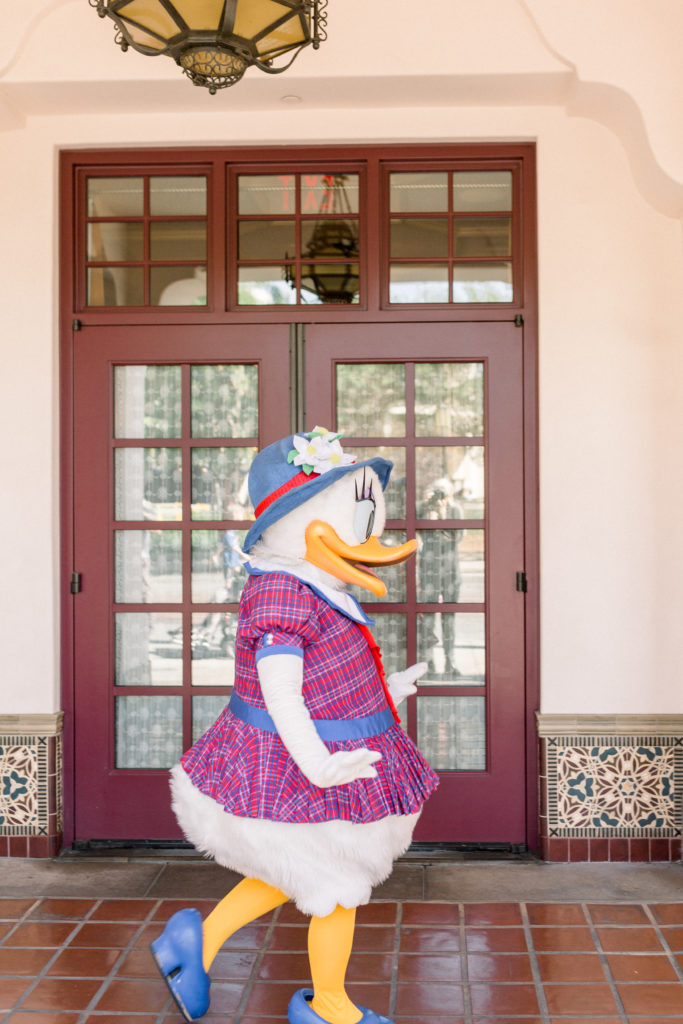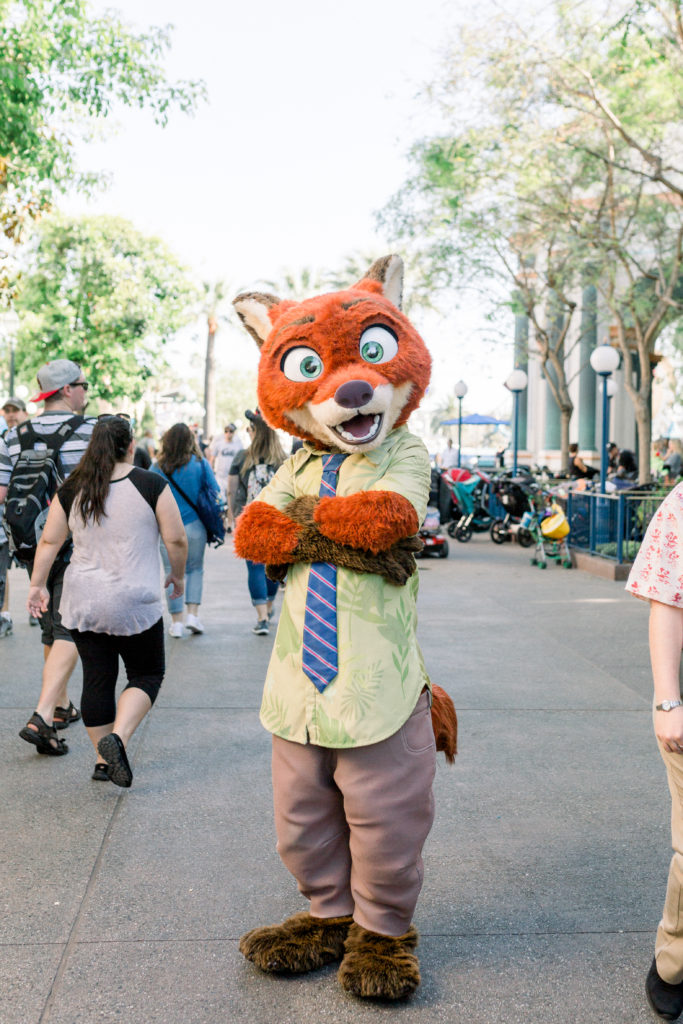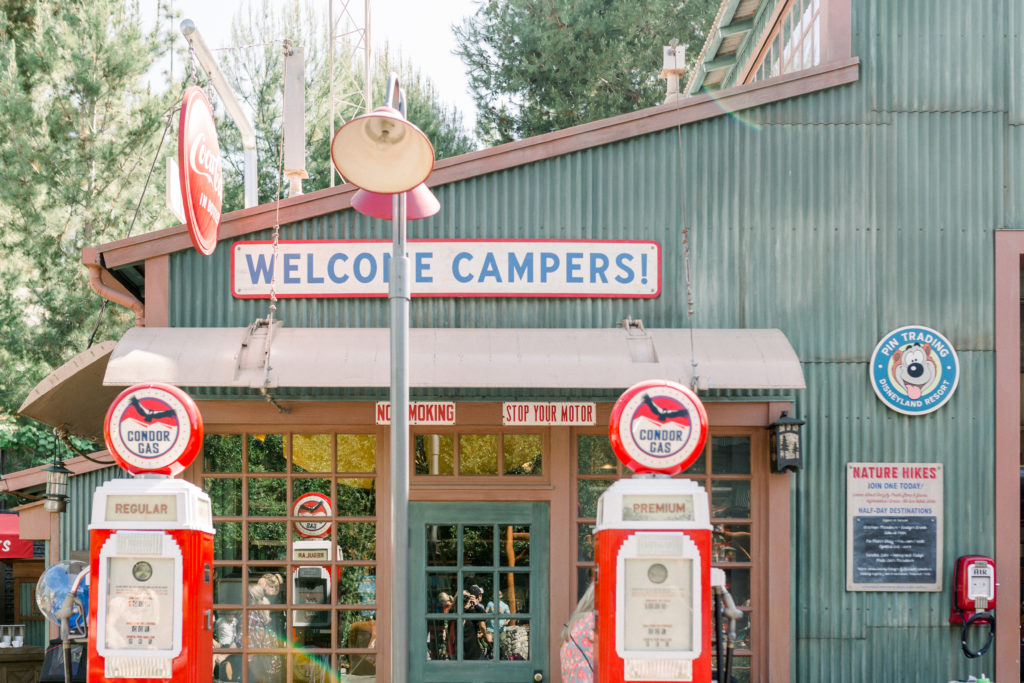 What are your top 3 favorite spots to visit at California Adventure?
Our top 3 favorite spots to visit in California Adventure are Cars Land, the Redwood Creek Challenge Trail (great place to let kids run wild!) and we loved Paradise Pier, but we're pretty positive we will love Pixar Pier just as much!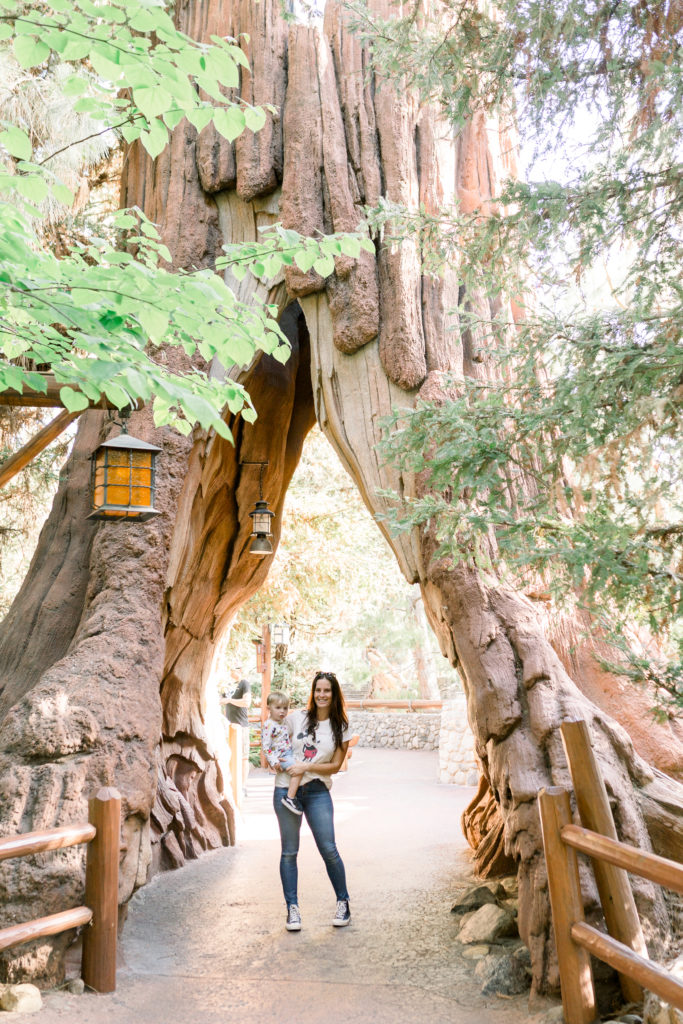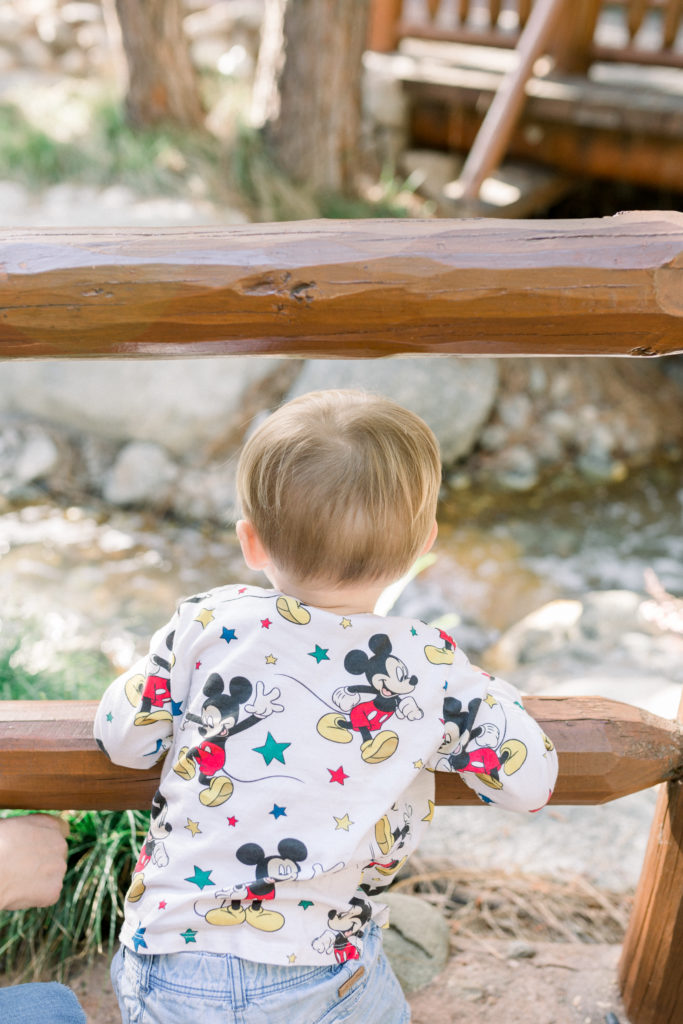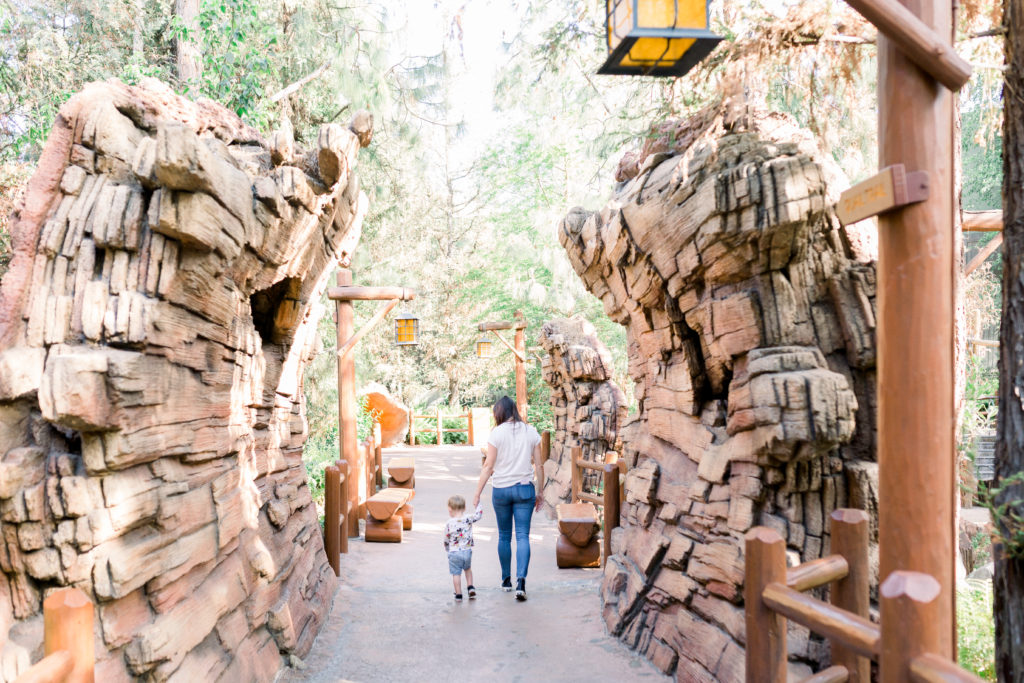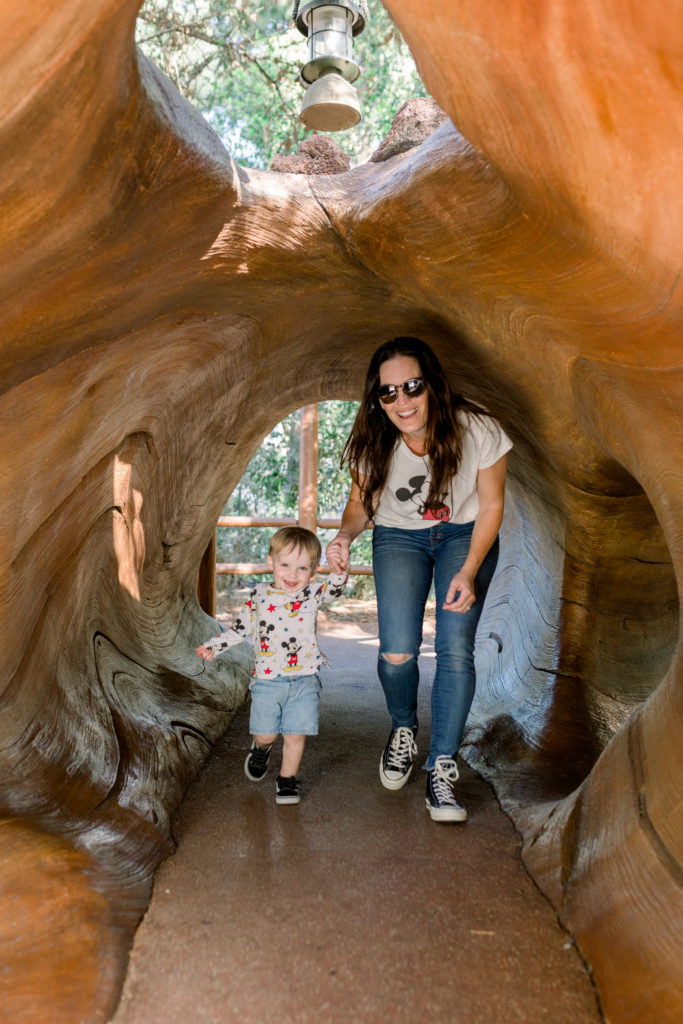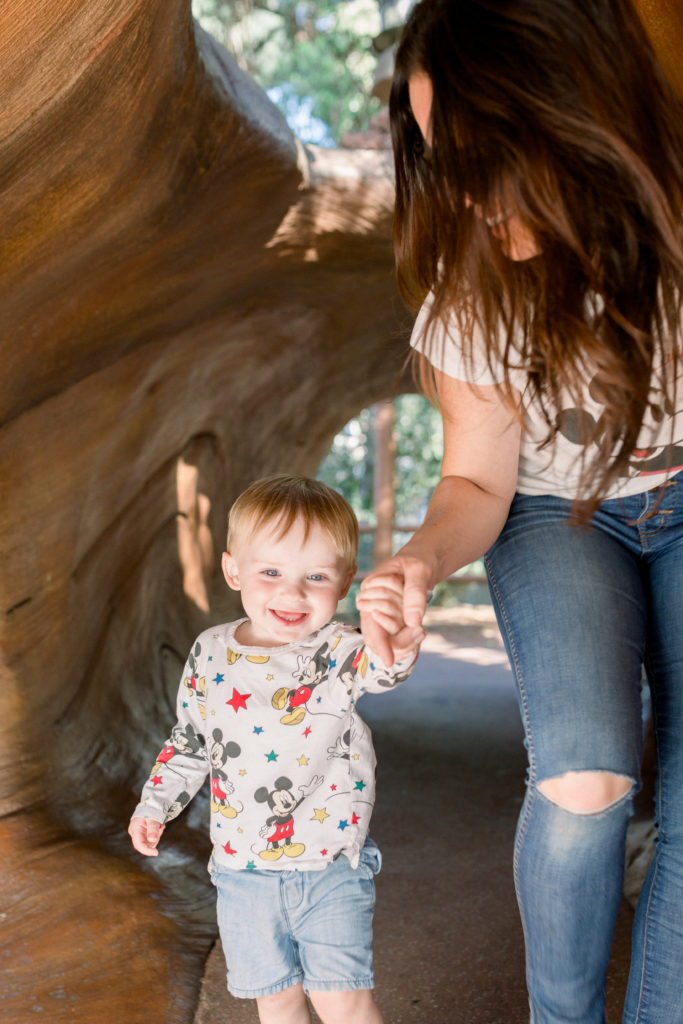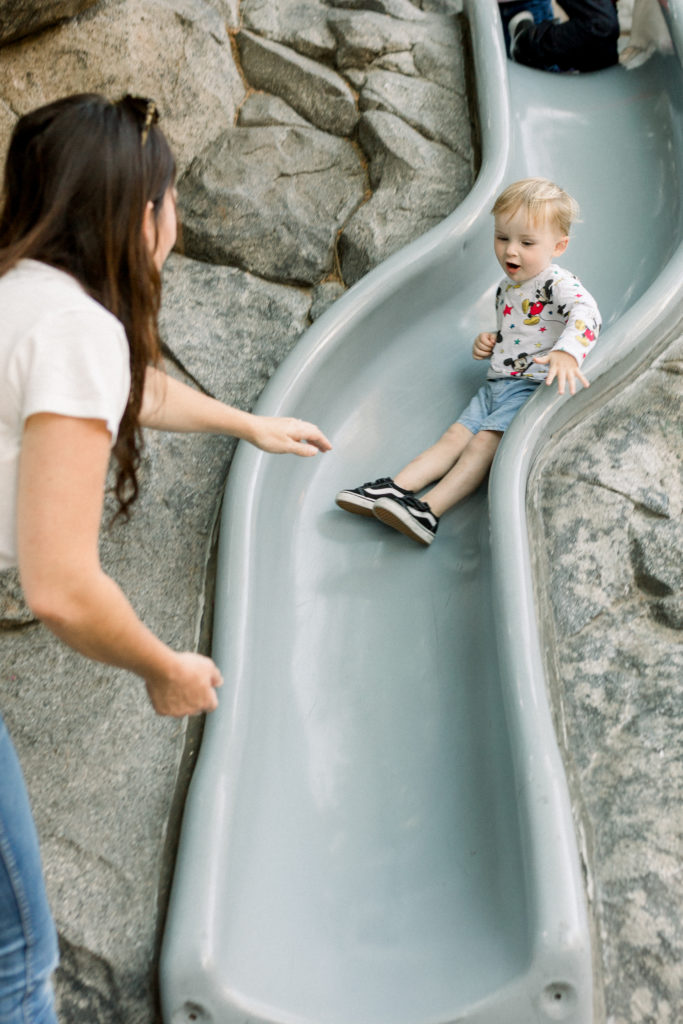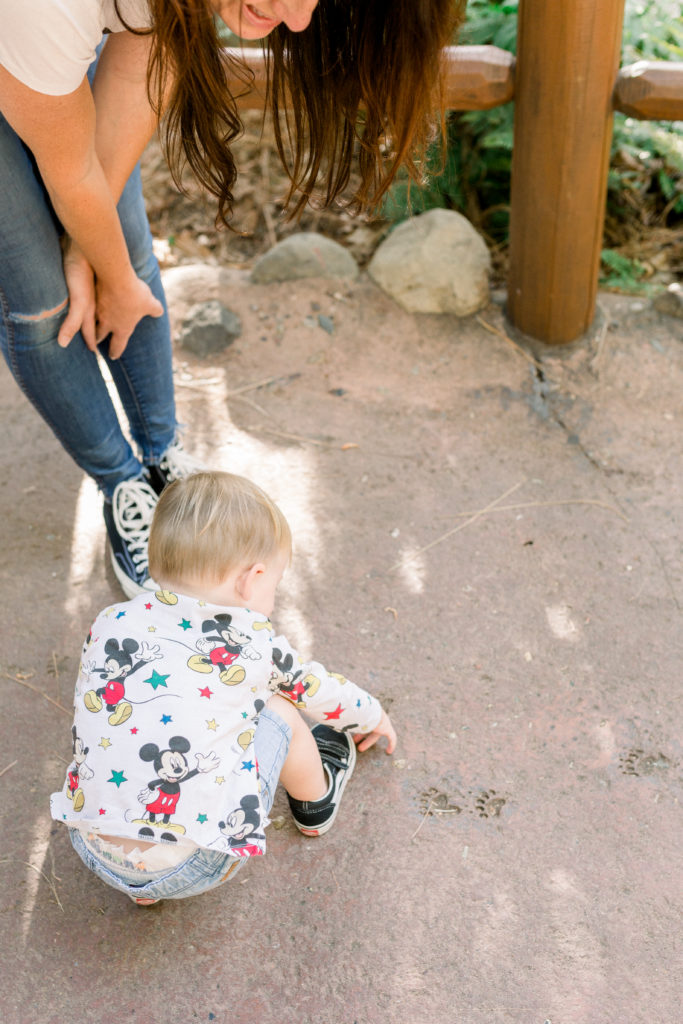 Can you tell us any sneak peeks of the fun to come with Pixar Pier?
We are SO excited for Pixar Pier! There will be four themed neighborhoods on the pier including an Incredibles themed neighborhood which is home to the Incredicoaster – a thrilling roller coaster where guests get to race alongside the Parr family on a quest to catch baby Jack-Jack! There is a Toy Story neighborhood where guests can enjoy Toy Story Midway Mania (currently open) and Jessie's Critter Carousel (to open in 2019). The third neighborhood, called "The Pixar Promenade," is a mixture of various Pixar favorites and includes the Pixar Pal-A-Round Ferris Wheel (formerly Mickey's Fun Wheel), fun Pixar-themed arcade games, and more. The final neighborhood is "Inside Out" theme where there will be a new "Inside Out" attraction that we don't know much about yet (scheduled to open at a later date)!
Each neighborhood will also have new themed food stands like "Adorable Snowman Frosted Treats" (this spot is actually already open!), "Senõr Buzz Churros," "Jack Jack's Cookie Num Nums," "Bing Bong's Sweet Stuff Confectionery," "Poultry Palace," and "Angry Dogs." So fun!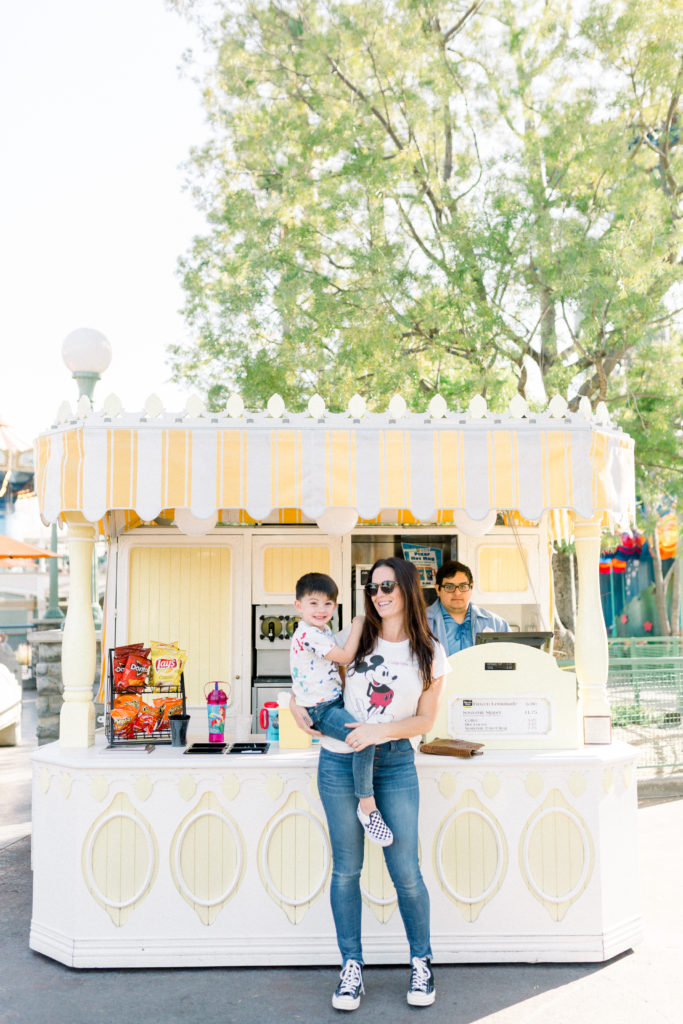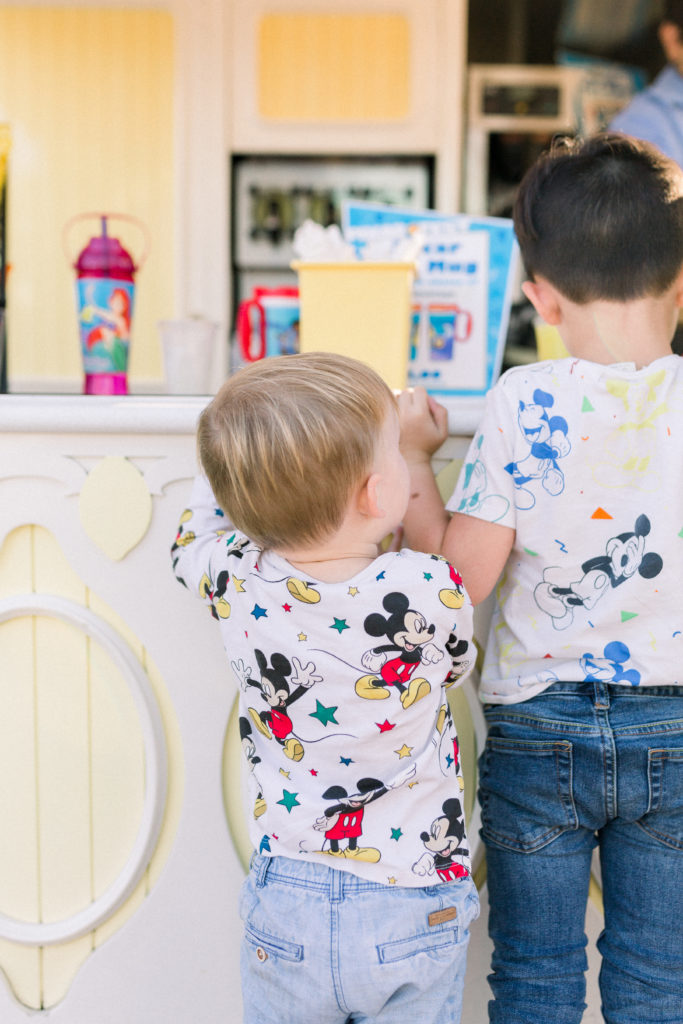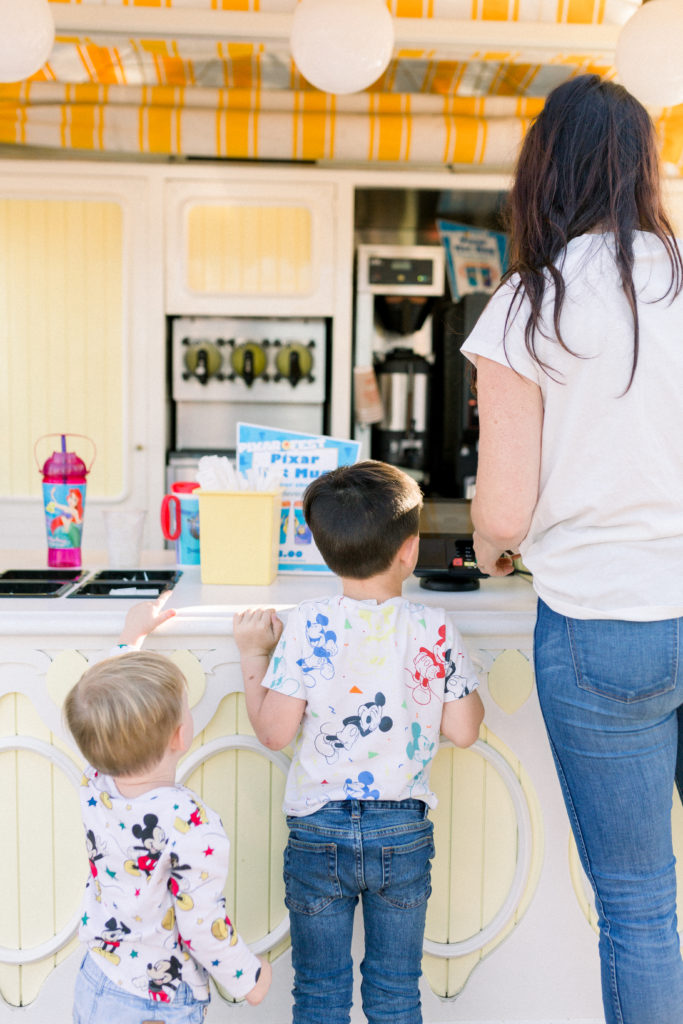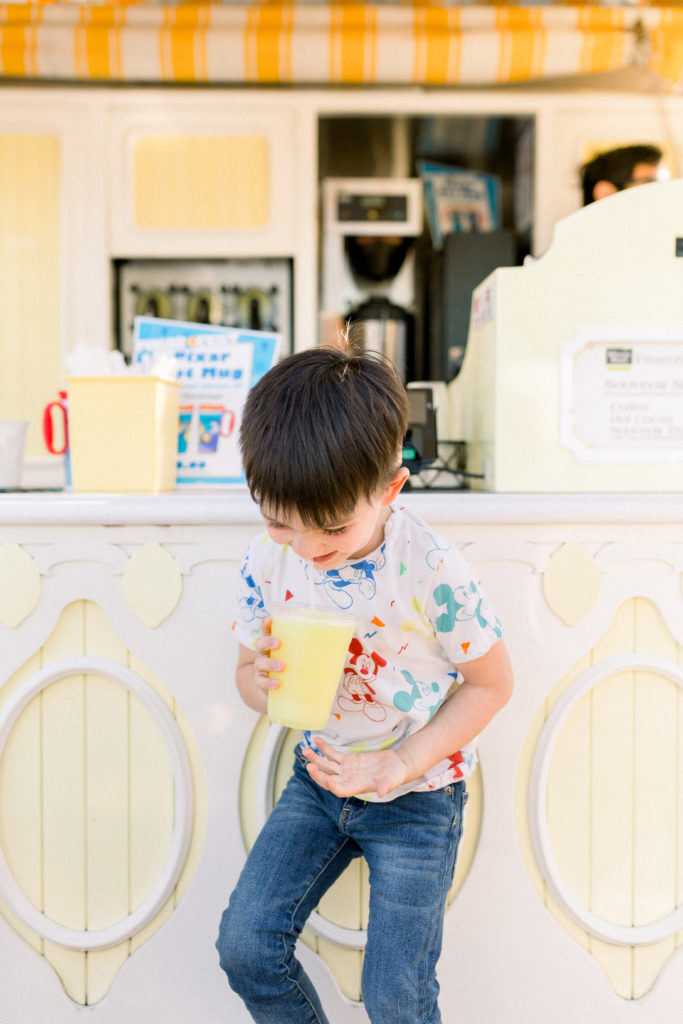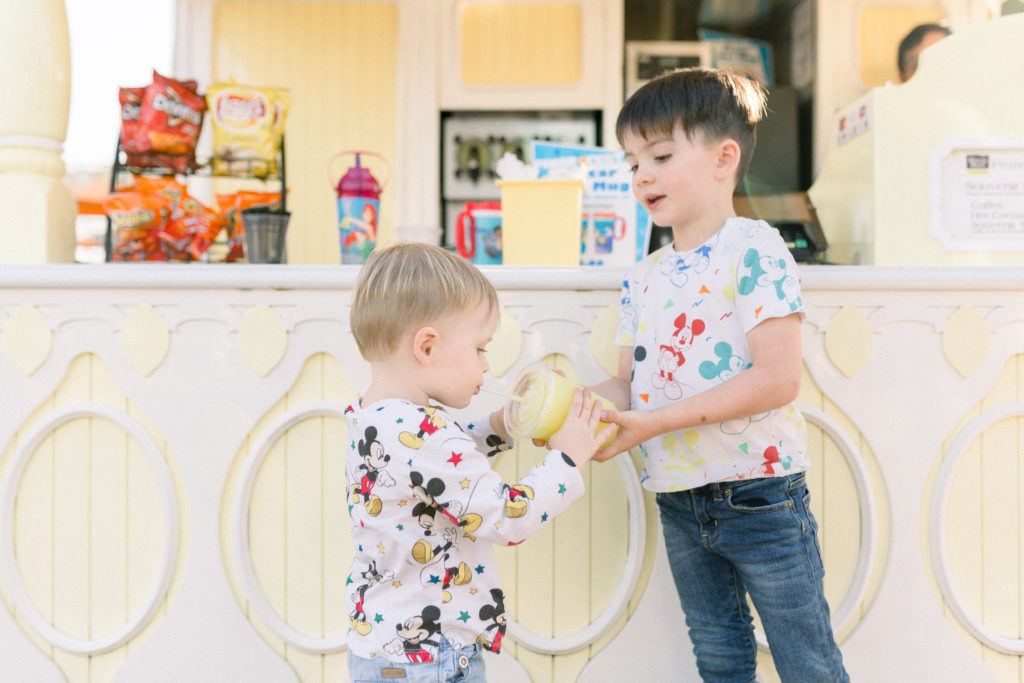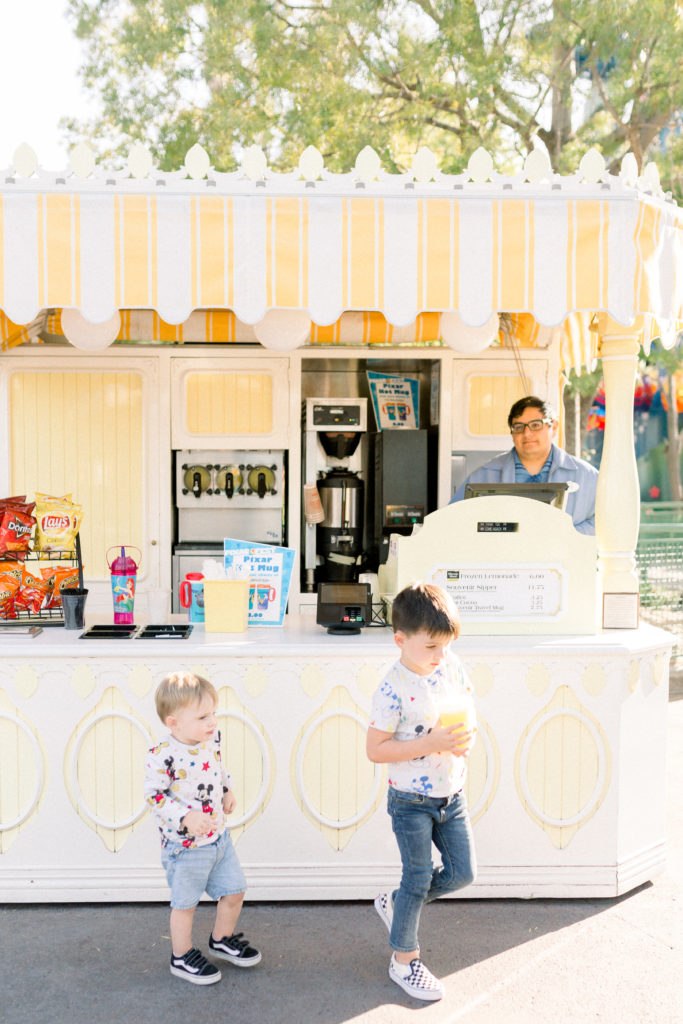 Favorite spots to eat and drink at California Adventure – with kids and without!
Our favorite spots to eat and drink in California Adventure with our kids are Flo's V8 Cafe in Cars Land, Paradise Garden Grill in the Paradise Gardens area on the far west end of the park, and Smokejumper's Grill in Grizzly Peak Airfield by Soarin' Around the World. All of these spots offer a few kiddo meal favorites and a great atmosphere!
While we also love eating at the restaurants noted above without kids (sometimes you just want chicken strips and ranch!), if it's just the two of us, or we're with our husbands, it's fun to go a little fancier ha! A few favorite spots to eat and drink without kids include Carthay Circle Restaurant and Lounge on Buena Vista Street (the lounge is great for a drink and small bites!), Wine Country Trattoria across from the Cars Land entrance for good Italian food, and Sonoma Terrace which has a great selection of wine & beer, and small bites like cheese & meat plates. The very popular Cove Bar on Paradise Pier is unfortunately closed, but there is a new restaurant called "Lamplight Lounge" taking its place and opening June 23 with Pixar Pier! We've seen the artist renderings of the restaurant and it looks incredible! The food and drinks are definitely going to be a must-try.
One last spot we love for a quick bite is Award Wieners in Hollywood Land, which offers gourmet hot dogs with all kinds of unique and delicious toppings!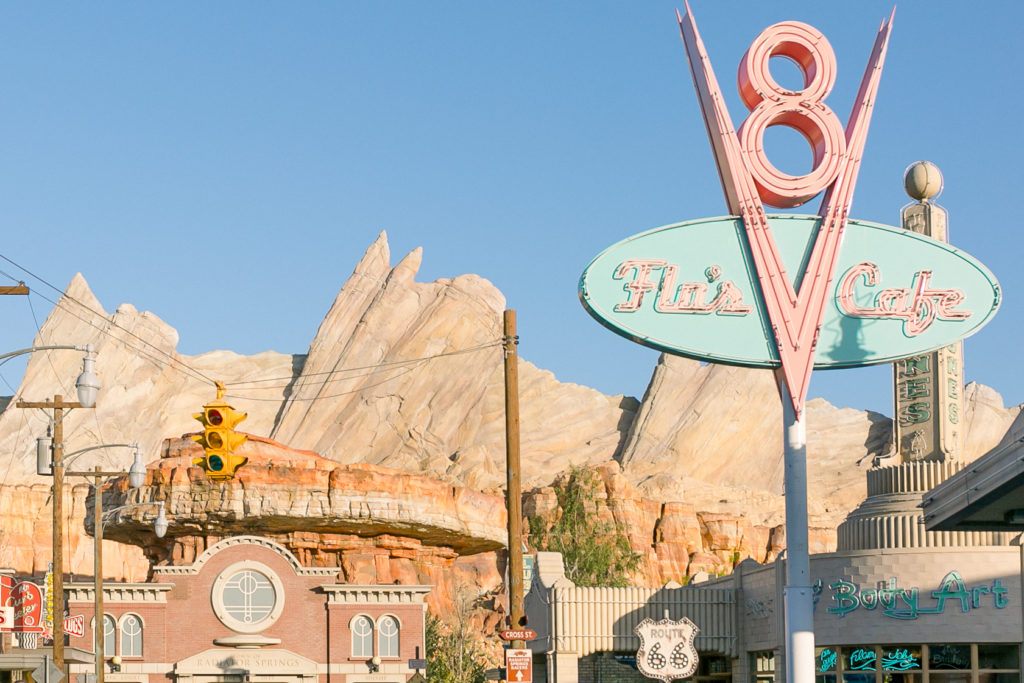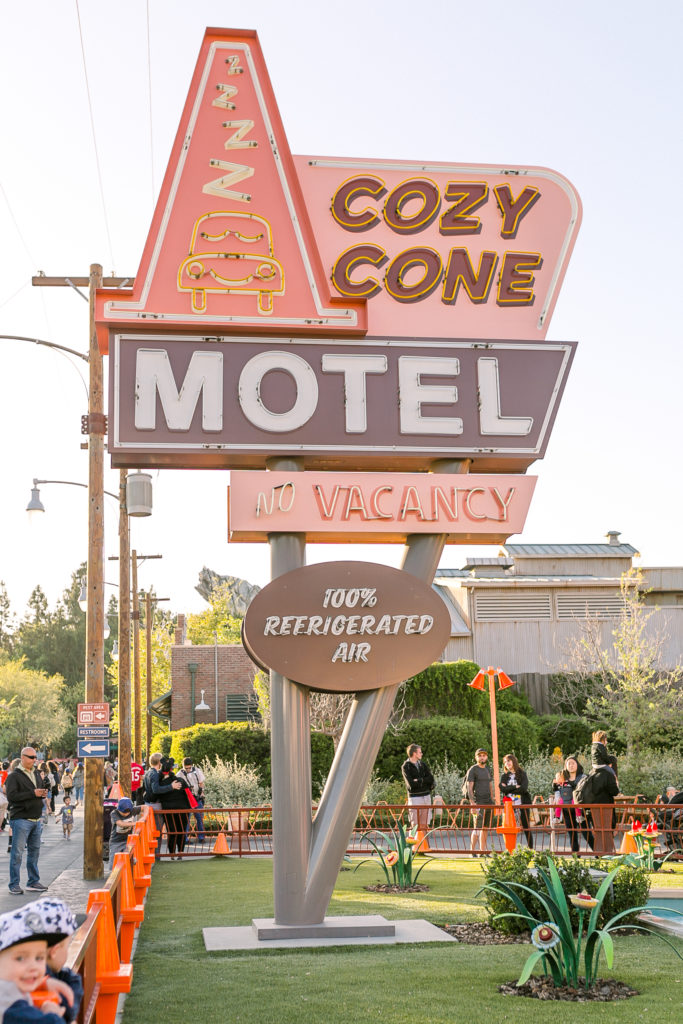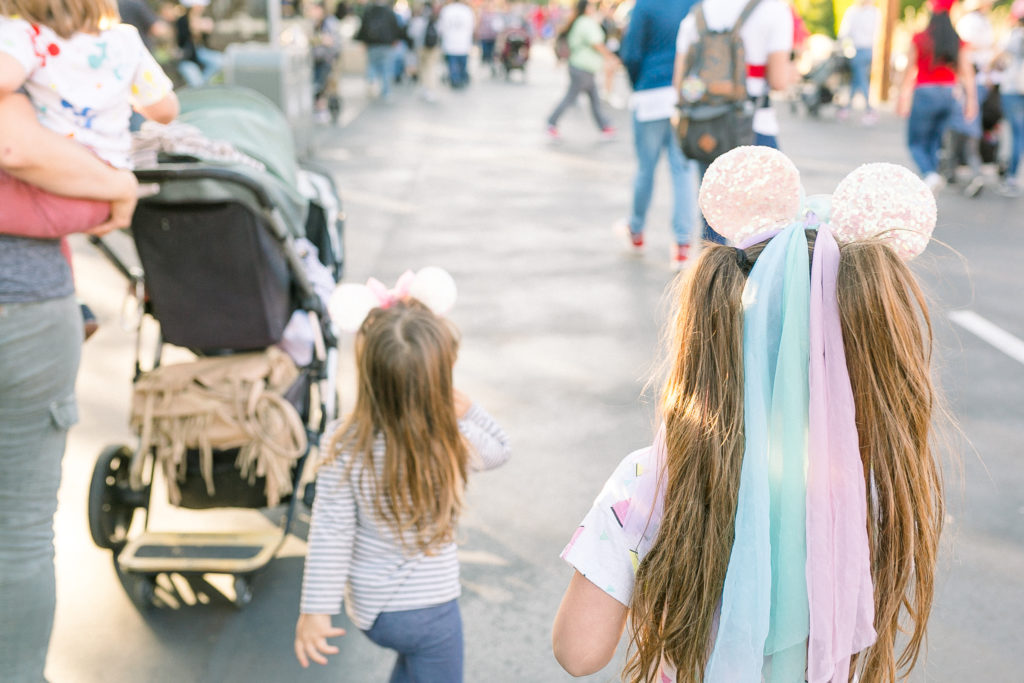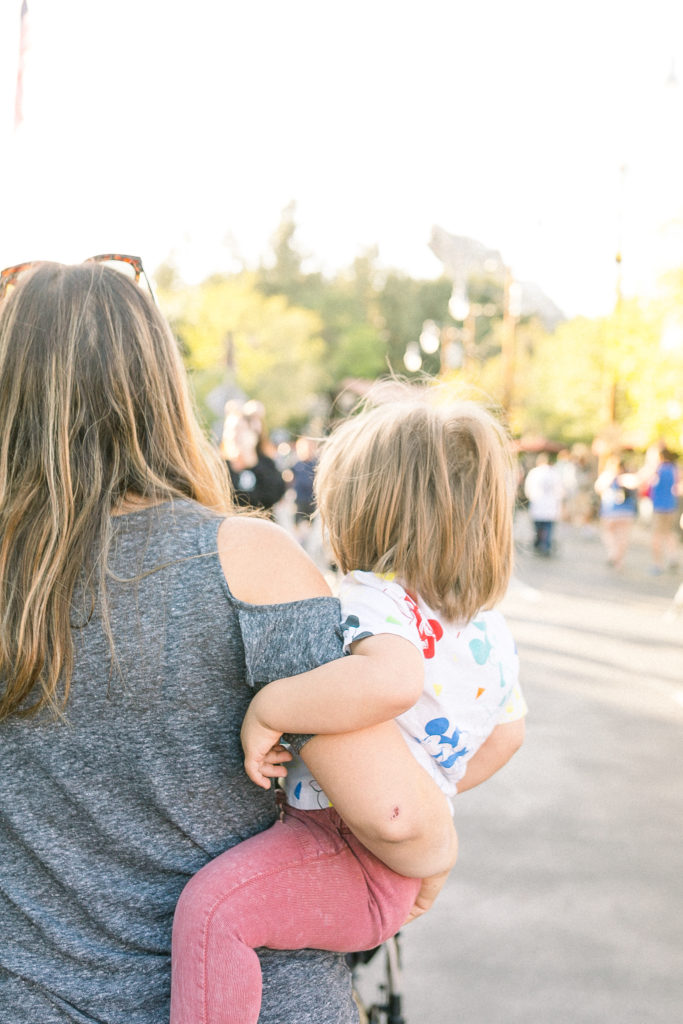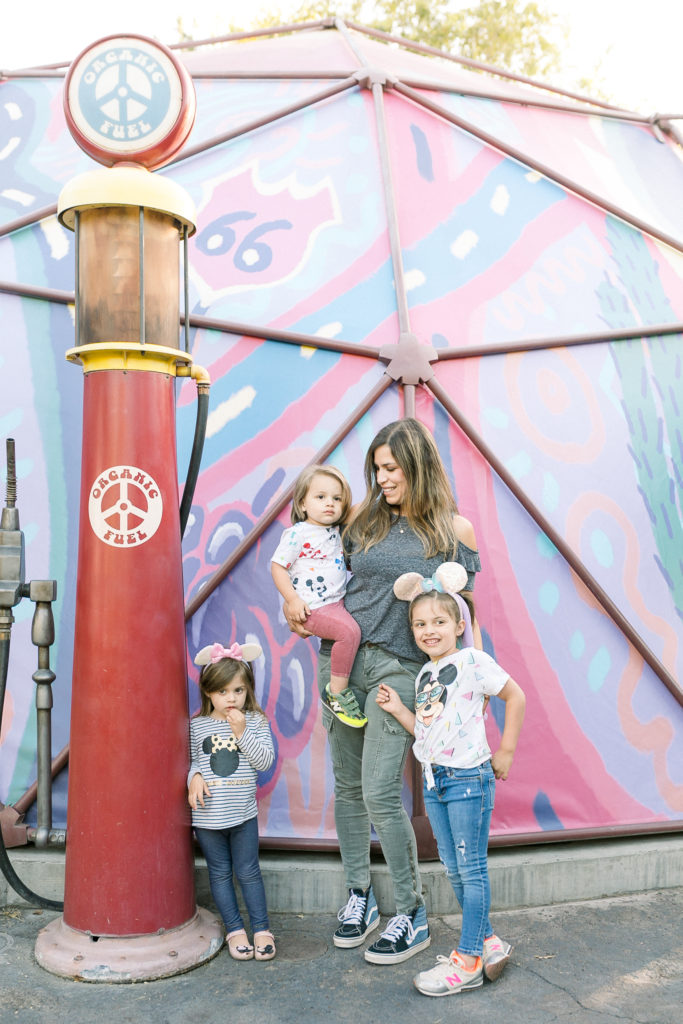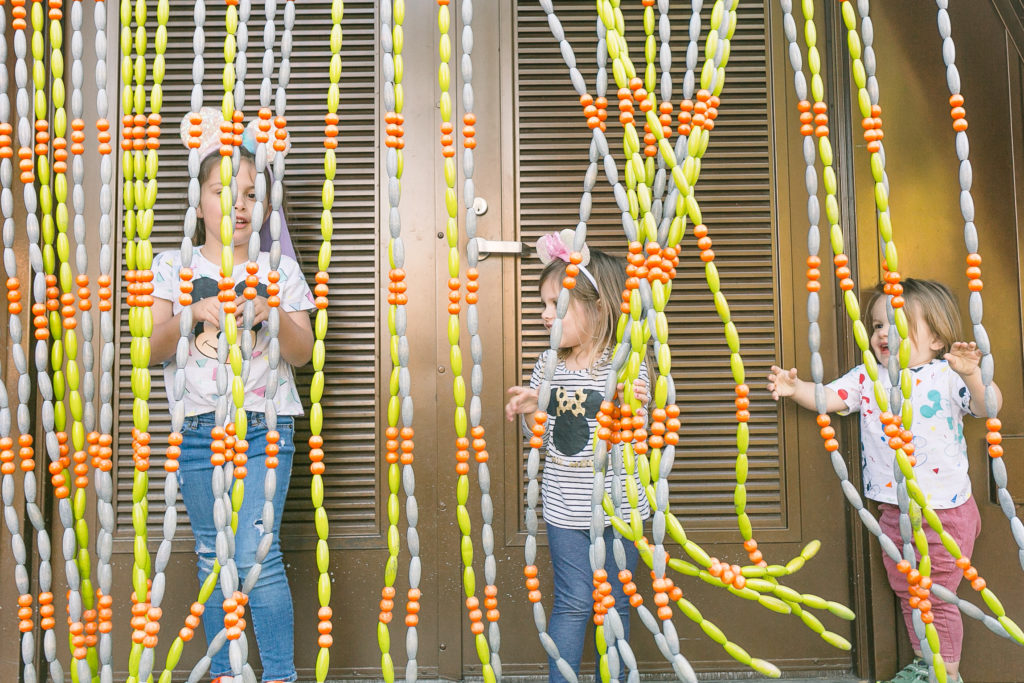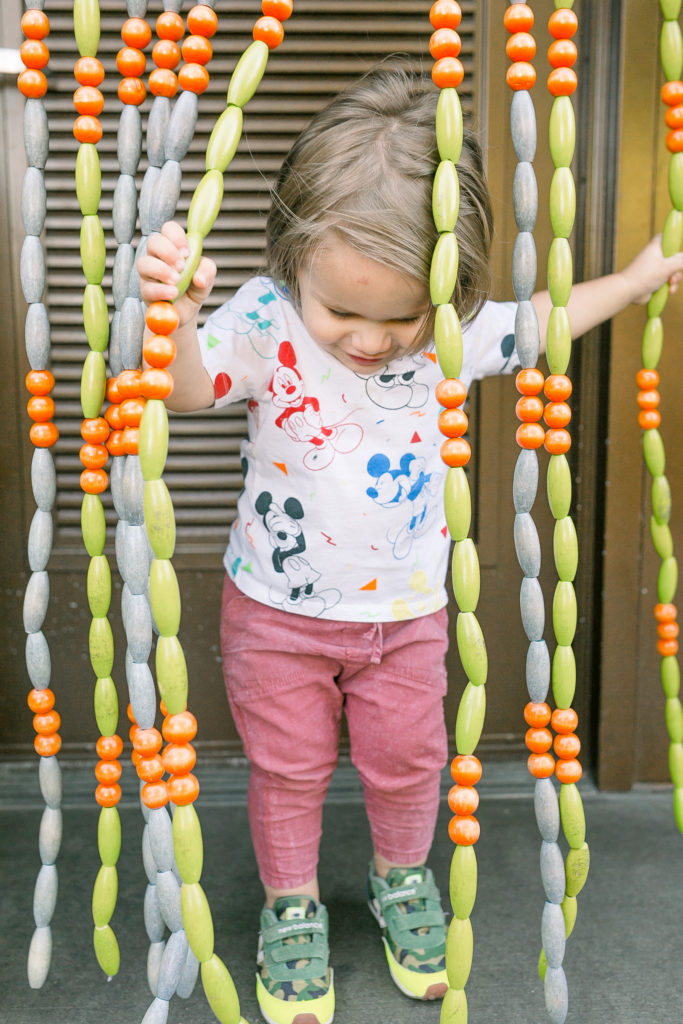 Any bits of advice or must see things at California Adventure you want our readers to know about?
Yes! We could go on and on with this question, but we'll try to narrow it down!
1. One thing we always recommend to anyone heading to either Disneyland or Disney California Adventure is to be at the main gate when the park opens (if you can!). The mornings are always slowest with short wait times and way less people. In our opinion, it's worth losing an extra hour of sleep to get there early!
2. MaxPass is the newest way to book Fast Passes for attractions using the Disneyland app! It's $10 a person to reserve Fast Passes on your phone via the Disneyland app instead of walking to each attraction to pull a paper Fast Pass – SO worth it! This is especially great to book Fast Passes for the very popular attractions like Radiator Springs Racers in Cars Land and Guardians of the Galaxy Mission: BREAKOUT!
3. In regards to Fast Passes, we suggest getting either Radiator Springs Racers, Guardians of the Galaxy, or Soarin' Around the World first (must be 40" to ride all of these) since these Fast Passes usually run out quicker than others. When the Incredicoaster opens on June 23rd, that would be another attraction to get in the morning. You can book ONE Fast Pass at a time.
4. If you're heading to California Adventure this Summer, be sure to stop by "a bug's land" before it closes forever at the end of the Summer (no official date yet). Bug's land is a great area for young kids offering 4 attractions, a splash pad and just an all around magical atmosphere! We're sad to see it go!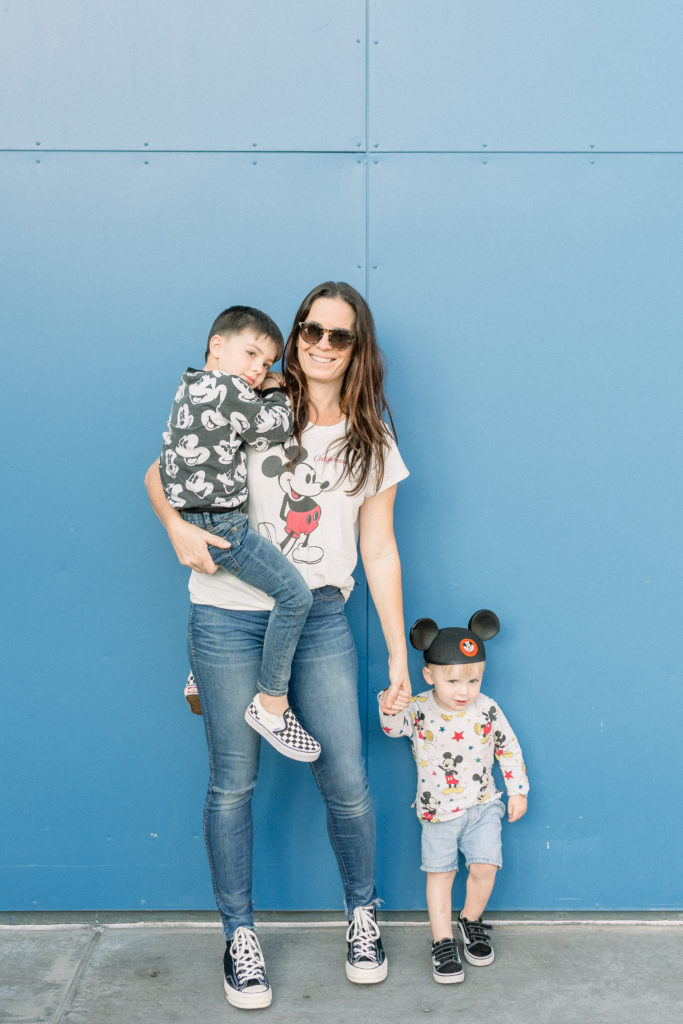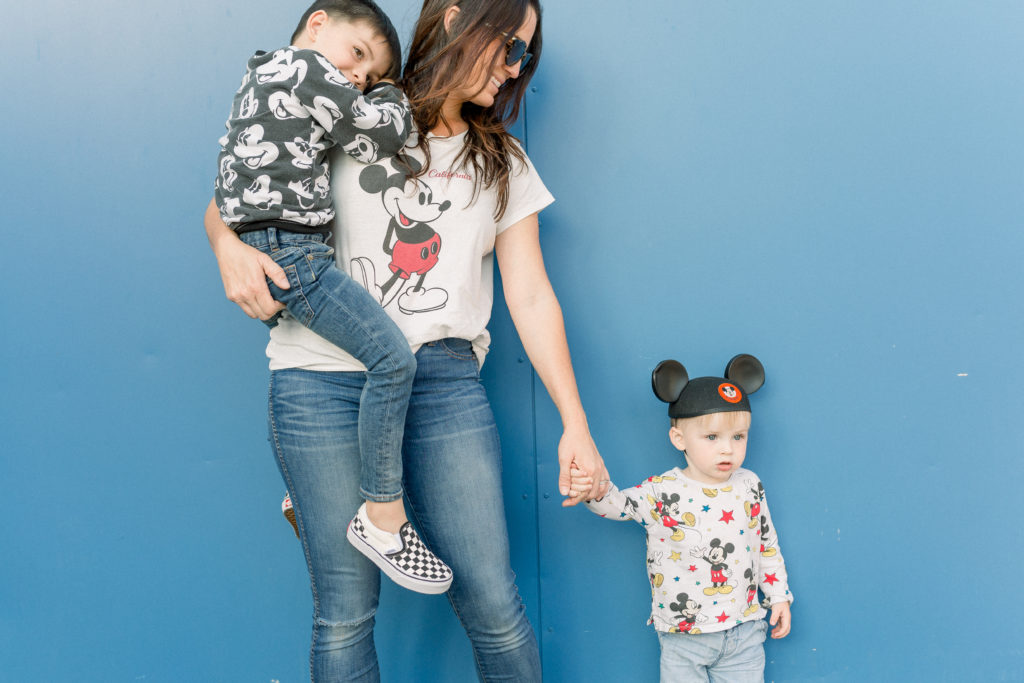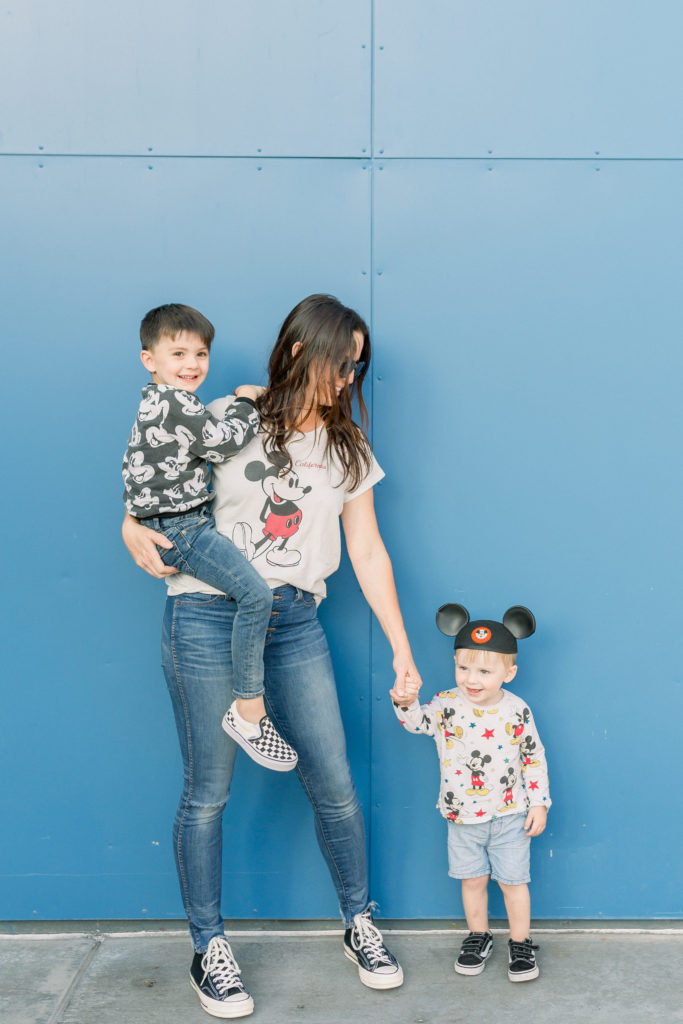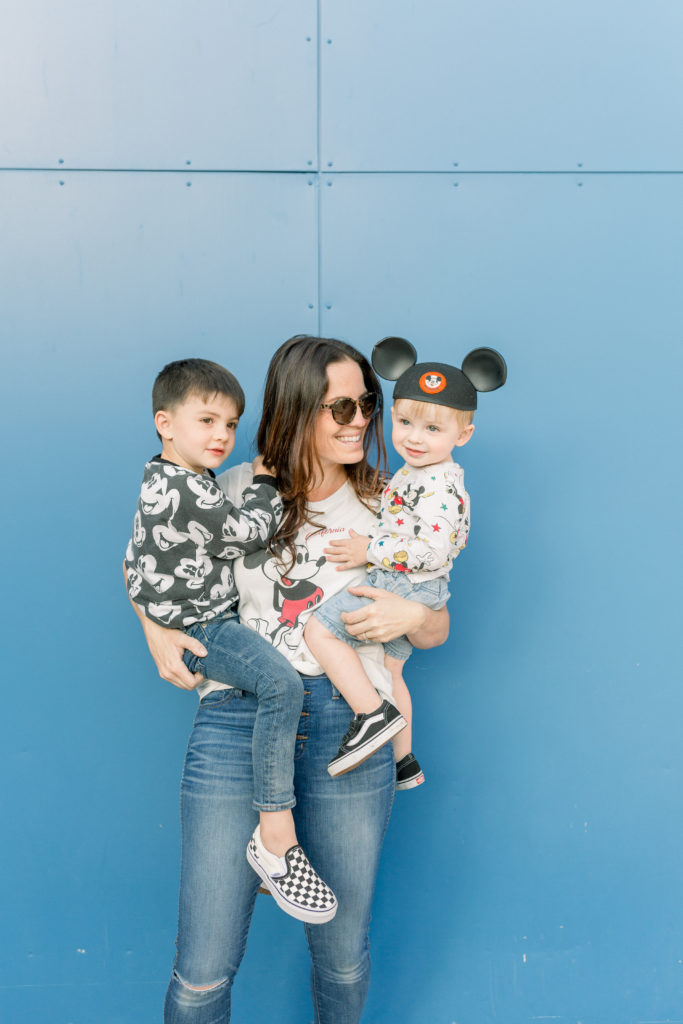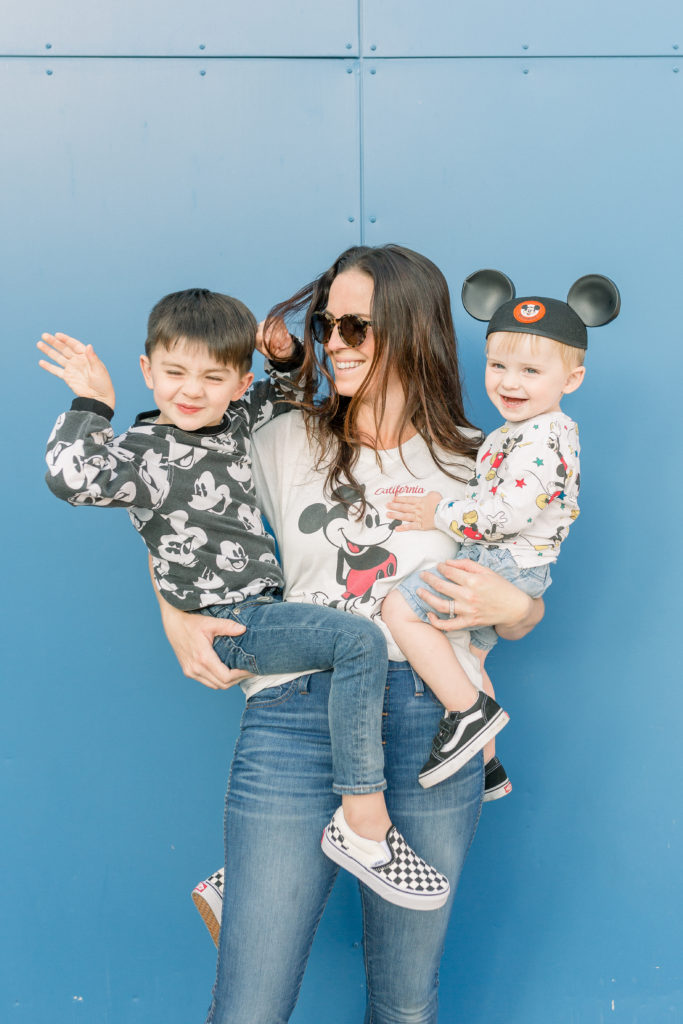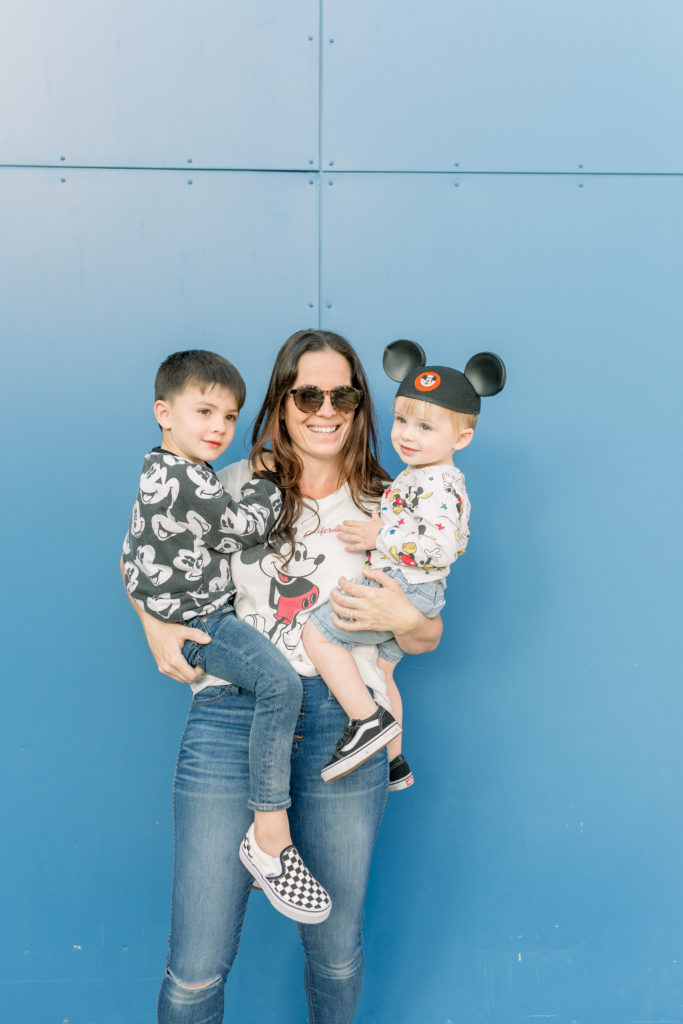 5. When planning a trip to California Adventure, we recommend choosing your top 5 can't-miss attractions, entertainment and even character meet and greets so that it doesn't feel so overwhelming trying to get everything in during your visit. Especially with kids, a day at the parks can be so unpredictable (crowds, naps, and the list goes on!), so we always try to stick to our must-do/see list then relax and let the rest of the day unfold. When days get too crowded and lines are too long, we love stopping for entertainment! A few of our favorite shows include Red Car Trolley Newsboys, Disney Junior Dance Party and Frozen Live at the Hyperion. Lastly, if you're heading to California Adventure during Pixar Fest, the Paint the Night Parade is a MUST-SEE! It's amazing!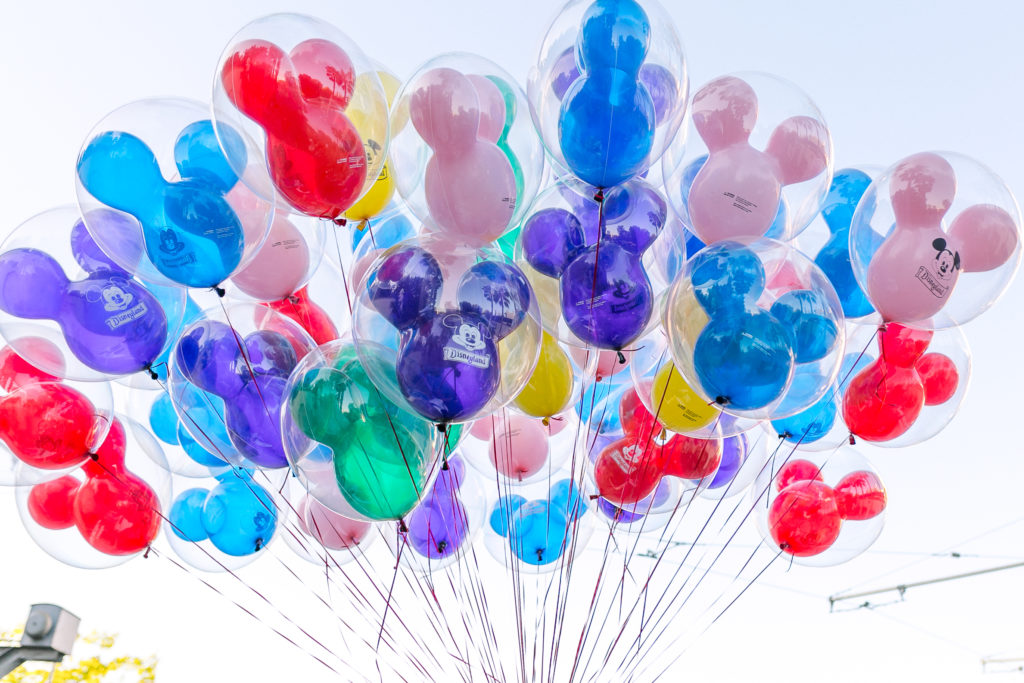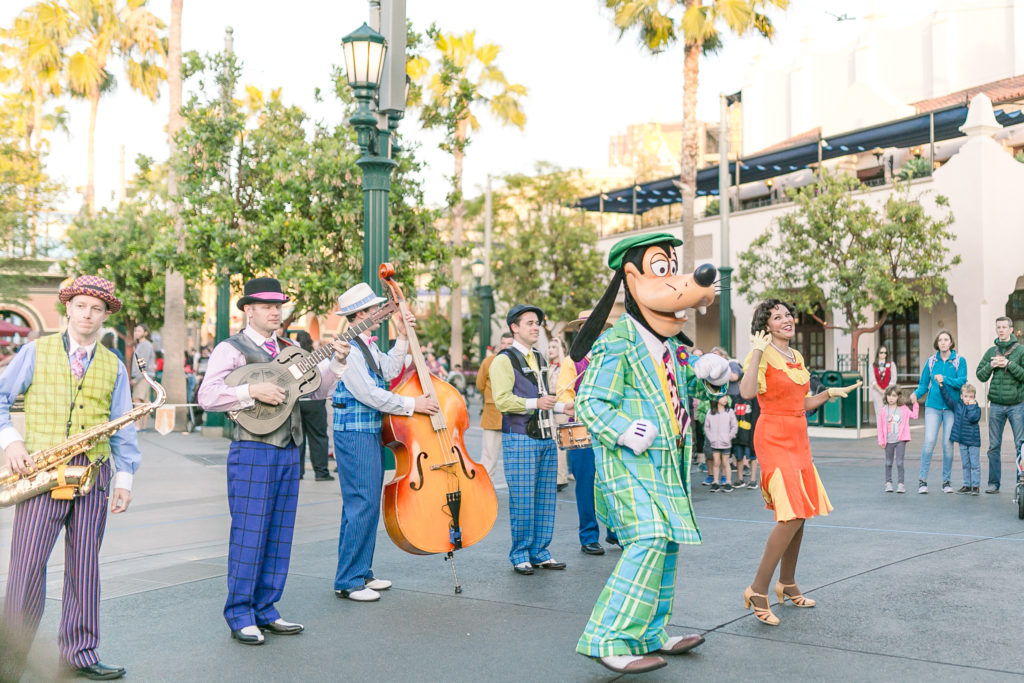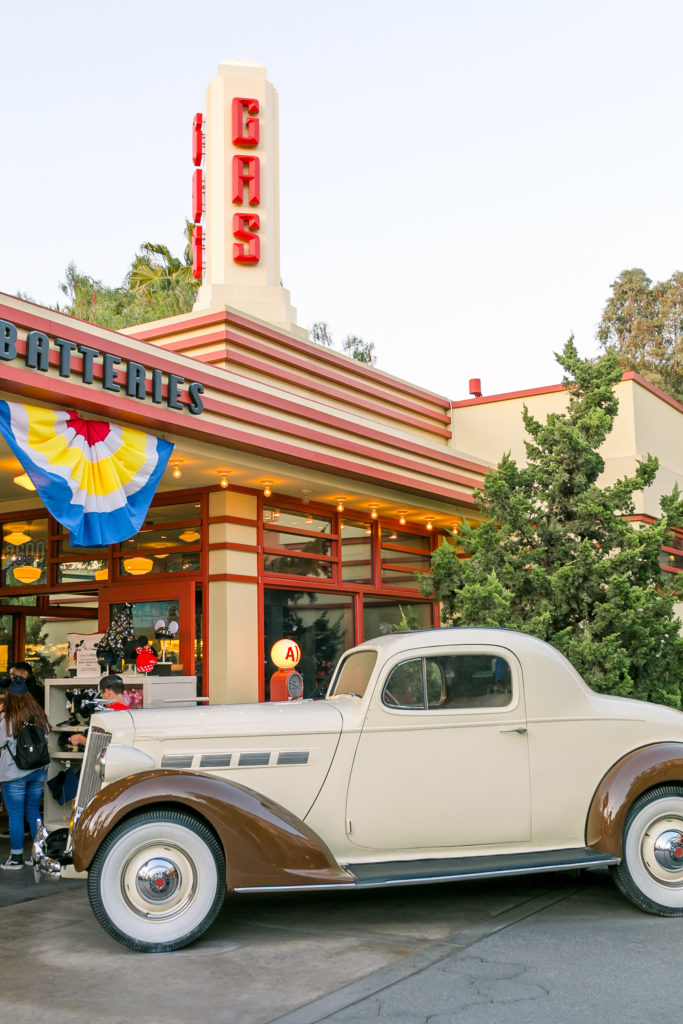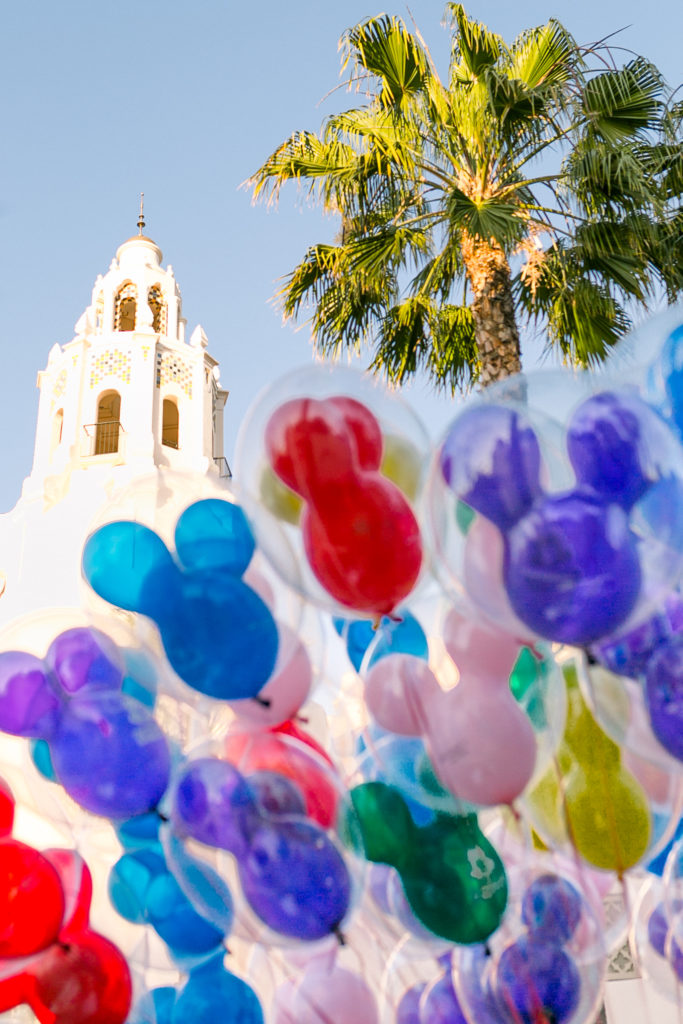 And there you have it!  All the best info for a day, or a few days, of fun at California Adventure.  And now you know why we think it's a must!!!  Please ask any questions below in the comments, we'd be happy to answer them!!
xx
Jacquelyn