Holy hotness, guys! Is everyone surviving this heat?! Talk about real hot august nights. Well, its Friday, and that could only mean one thing! Cocktail time! Ending our fruit week on a sweet note with some tropical citrus sangria! And let me tell you, make a pitcher! Cause it's delicious! I'm not a huge white wine fan, but oh man, the sweet citrus kick and tropical yumminess from the passionfruit are all my favs right now.

I planted two passionfruit vines by our outdoor patio area, and they are boosting right now! Not only do they create a beautiful vine up the house, but they are producing the sweetest passionfruit this season. If you have a passionfruit vine, then you know the excitement when you go out in the morning to see how many dropped off the vine. We have had so much that I have been able to freeze a bunch and save for the offseason.

The passionfruit is the showstopper in this sangria! Another fun fruit I incorporated was the pink lemon. We grow these in our backyard as well.

Photos by Dayna Studios
---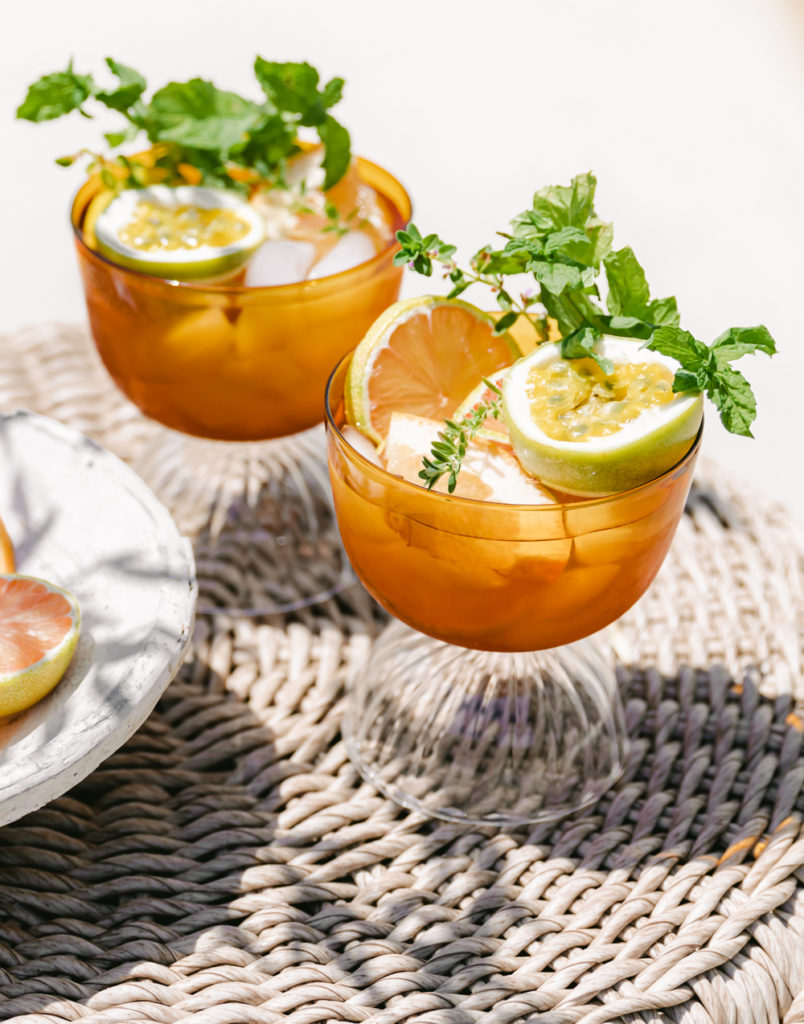 ---

WHAT IS SANGRIA?

Sangria is an alcoholic wine drink originating from Spain and traditionally made with red wine, chopped fruits and brandy or orange juice. More modern versions of the drink are made with white wine as well as sparkling water and sweeteners. Customize it with different fruits

TIPS FOR MAKING SANGRIA

Let the flavors party together overnight– The best sangria allows all the flavors to marry together. I like to do mine overnight! But if you are in a pinch, a couple of hours will do. Just try to give them some time to hang out.
Garnish away!– Garnish your sangria with the boozed soaked fruit from the pitcher. Add some fresh slices as well for garnish. Fresh herbs are always an added bonus! I like to use mint.
---

TROPICAL CITRUS WHITE SANGRIA
serves: 8 sangrias
W H A T Y A N E E D
750 ml white wine, cold
23 oz Sparkling orange lemonade, like San Pellegrino (2 cans)
4 passionfruits
1 cup of POG juice (you can use any kind of citrus juice)
1 orange, sliced
1 lemon, sliced (I used pink lemons, but of course regular is fine!)
2 limes, sliced
1/2 pineapple, peeled, cored, and cut into 1-inch squares
---

I N S T R U C T I O N S

In a pitcher, combine the white wine, sparkling orange lemonade, passion fruit puree (guts), citrus juice of choice, orange slices, lime slices, lemon slices, and pineapple. Stir well! Chill until ready to serve. I find it most flavorful when you allow to chill out overnight or at least 8 hours.
When ready to serve, bring out the chilled sangria and give it a good stir to get all the fruit from the bottom. Fill ice glasses with ice, and then pour in your sangria. Garnish with slices of orange, lime, and lemon. If you have extra passionfruit hanging out, cut in half and carefully place on top!

Cheers!
---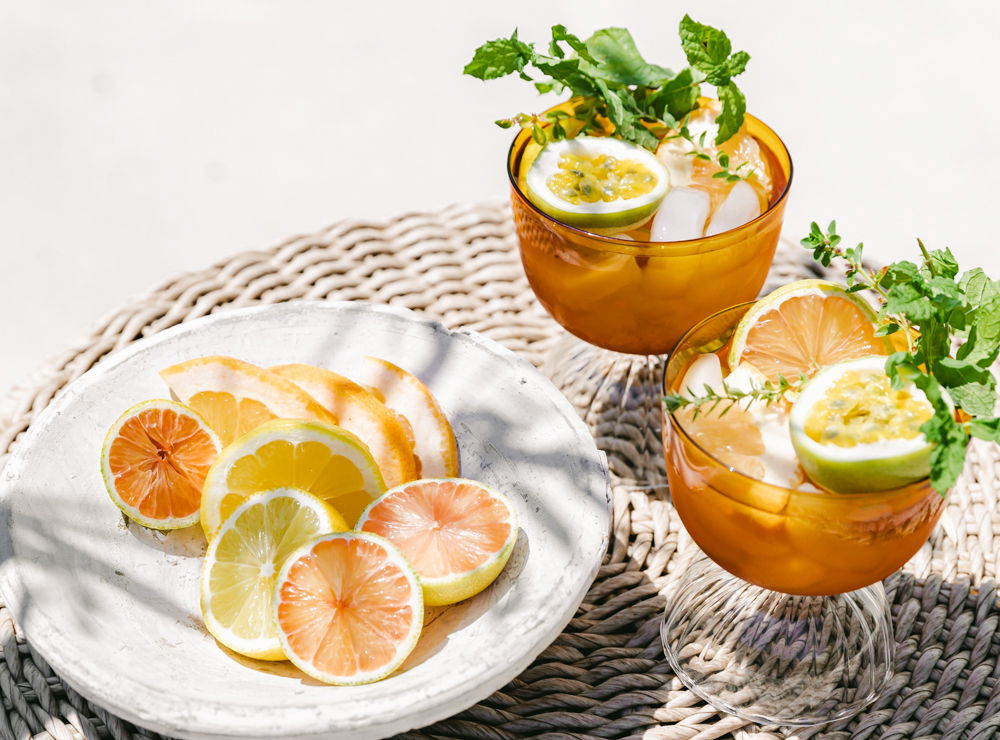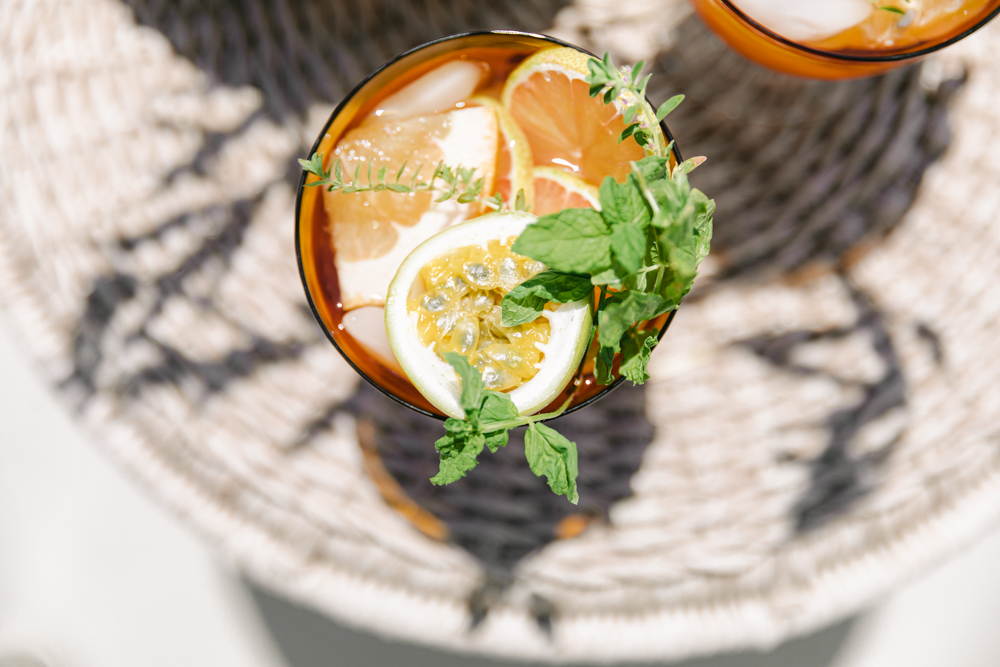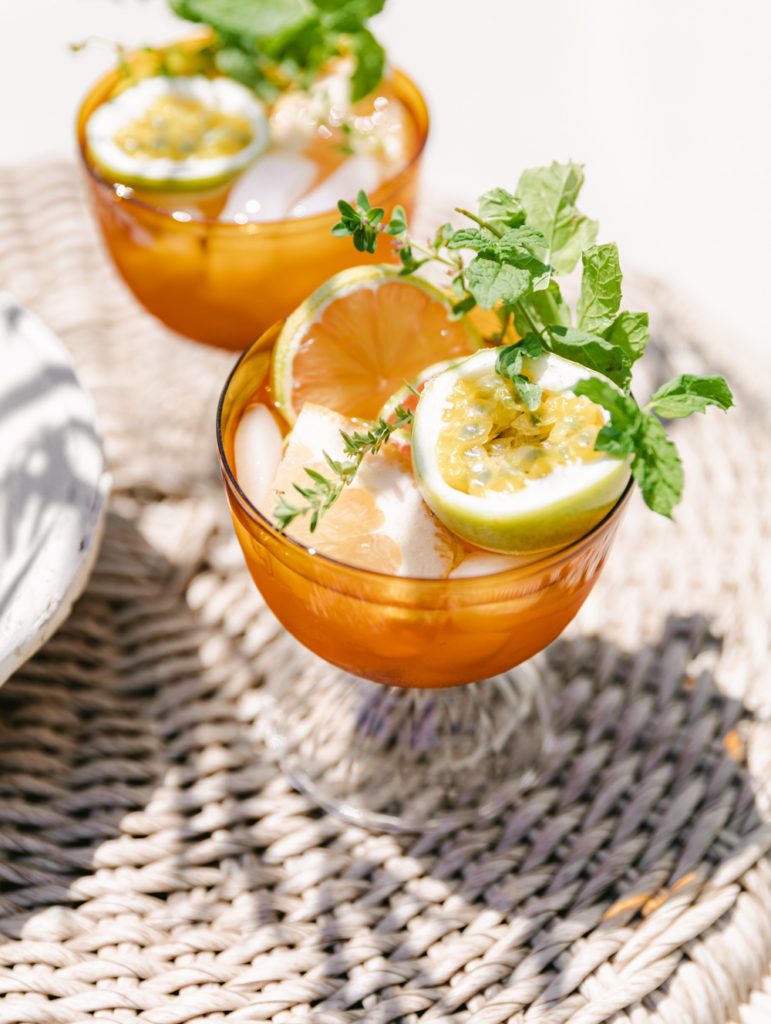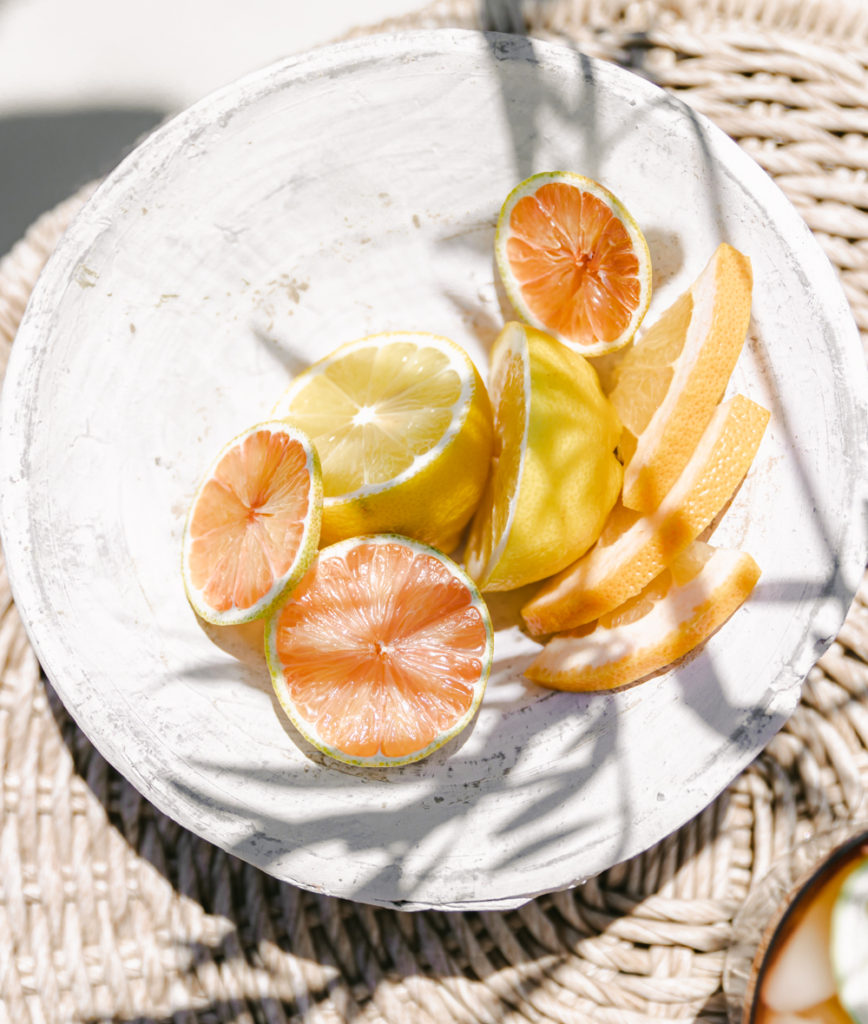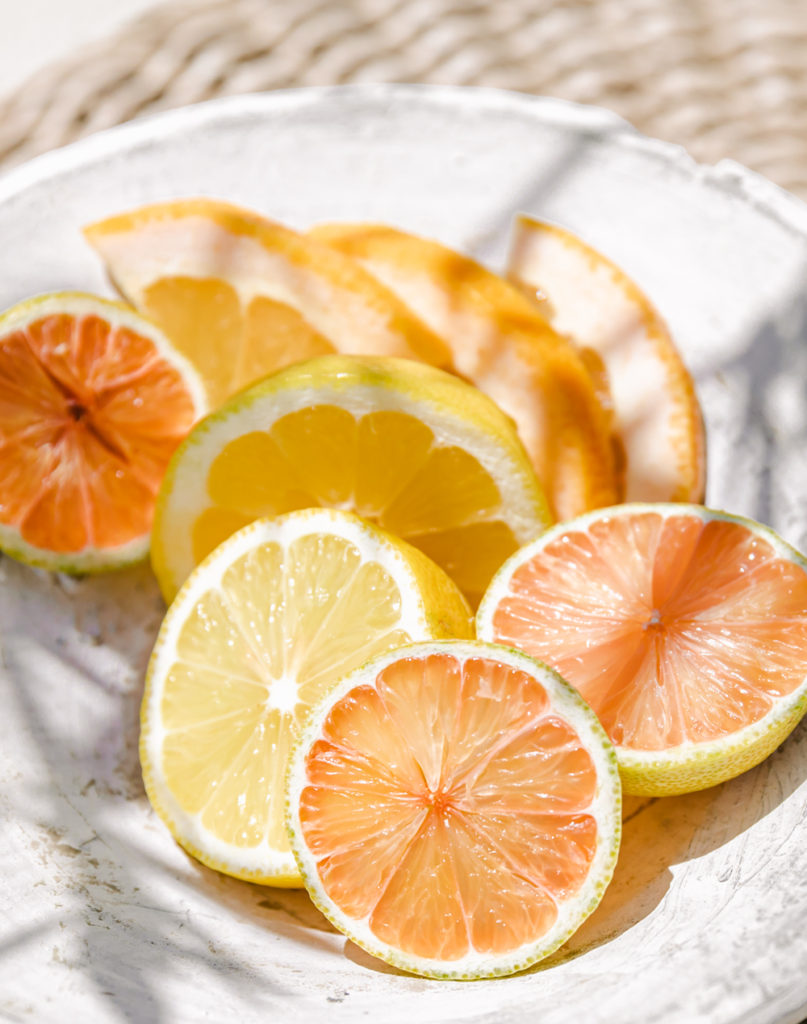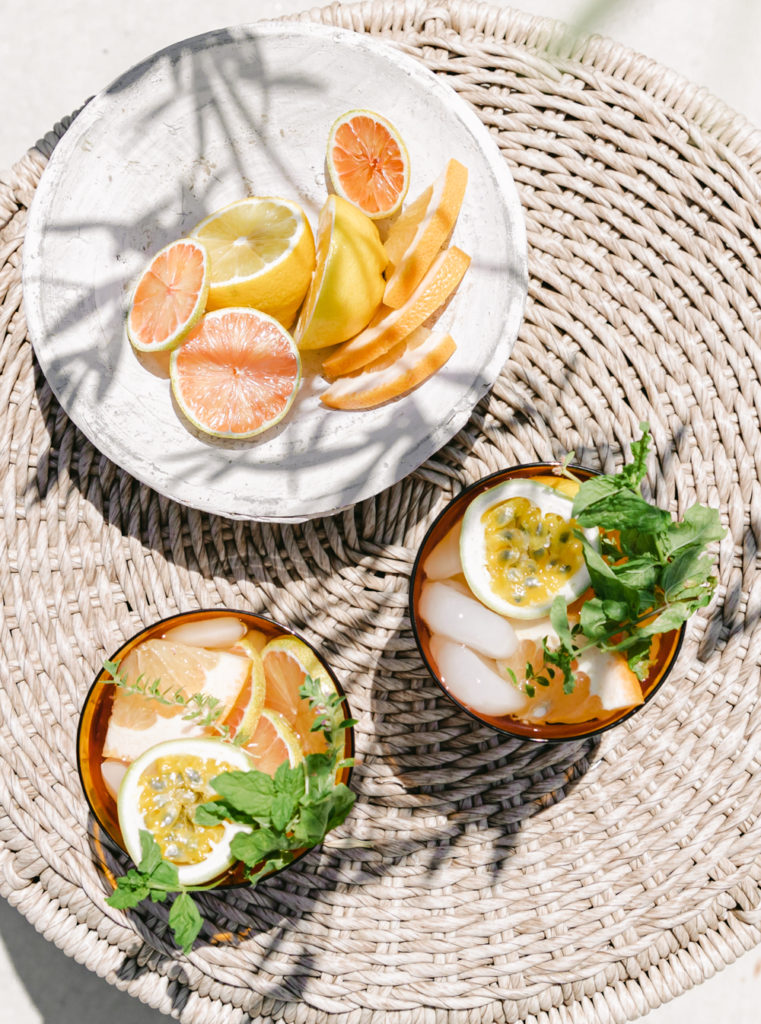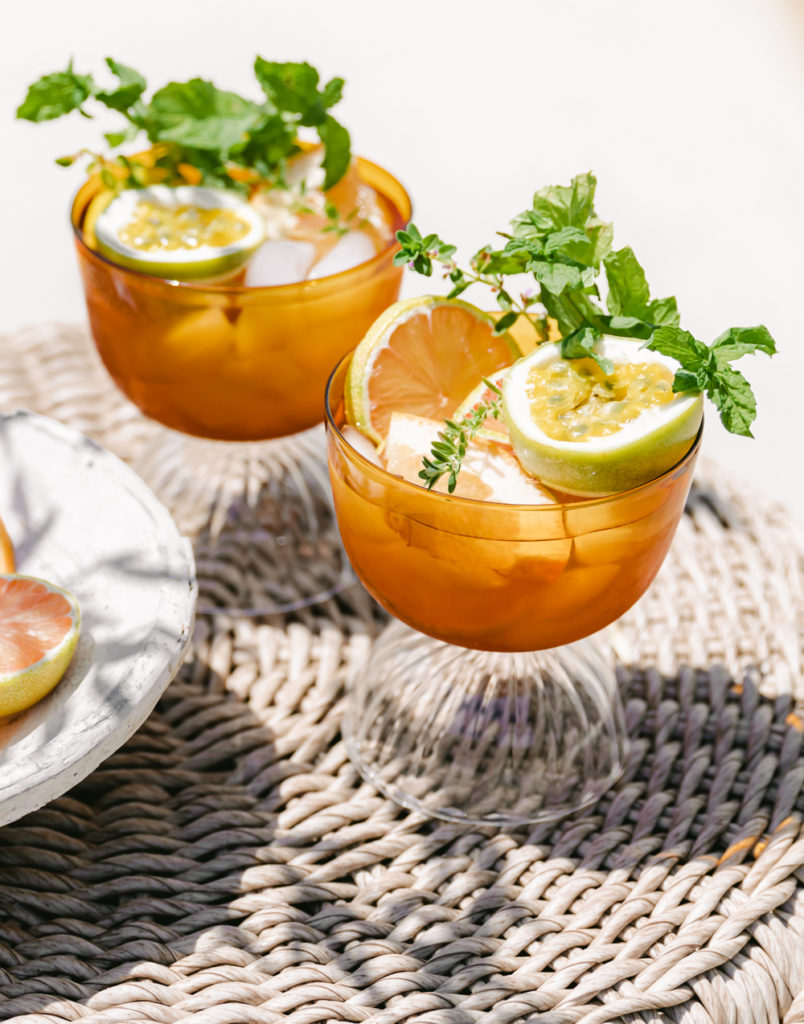 ---
B E I J O S B A R

xx
Abby