The kids have officially started distance learning from home. I do have to say this time around is much more thought out and organized. I'm only semi-pulling my hair out. But I know these kids will get the hang of it soon! Luckily, I get to re-learn 3rd and 5th grade this year! Thank goodness for google and a calculator. I wanted to jump over here quick to show you my must-haves that I got all on AMAZON for my kids. A quick one-stop-shop, and you are all set. Besides the necessary supplies that everyone needs like binders, paper, pens, pencils, and so on, I wanted to share with you some of the fun items we have here at our house.

My top 3 things that I think will help this year is the alternative seating, ear pods, and supply carts to put all your goodies in! My kids were yelling at each other from their rooms cause they couldn't hear their zoom meeting. Mission accomplished with some earbuds. They had their supplies all over the place, check that off with a stylish cart to sit next to their desk—lastly, alternative seating. The kids are going to get so wiggly just sitting at their desks from 8:30-2:30. So I invested in some wiggle seats and standing yoga balls. They will use the yoga balls when they are doing a reading or their morning meetings where they don't need to be writing anything.
Oh! One last thing that I think is a winner! Blue light glasses! I got some for each of them. My daughter is in love with the clear ones, I mean what 10-year-old girl would not think accessories are cool. My son is getting used to them. Growing evidence and research show that, at the least, overexposure to blue light due to screen media consumption can produce digital eye strain, headaches, and a lack of deep sleep in children. At the worst, exposure to blue light over time can lead to damaged retinal cells and the early onset of macular degeneration, which can lead to vision loss. In an increasingly digital age, protecting your child's vision and health is a genuine concern. So we are giving them a try! I think it's totally worth trying out!
Shop below to see my faves!

Distance Learning Supplies for Girls

My daughter is super into accessories, stickers, animals, and organizing by color. I wonder where she got that from??? So she was easy to shop for! I was pretty confident that she would love all of these items, and I nailed it! I got her a clear binder with pastel dividers that she could put stickers on. The cutest animal notebooks, she is obsessed with the bunny and llama. The bonus of everything matching is that she can pick one color for the subject, i.e., for math, she picked purple as the color. So her notebook, folder, and binder organizer are all purple.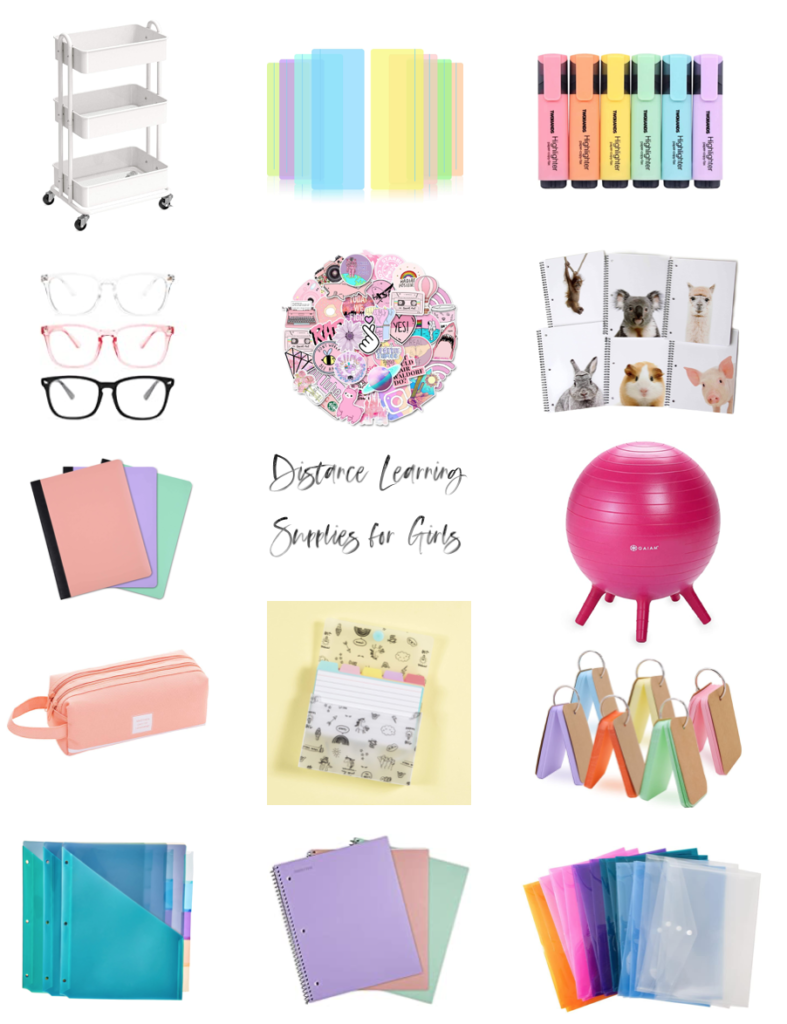 Distance Learning Supplies for Boys
My son is in the 3rd grade, and he doesn't care about what things are in as long as they are black or green. He got earbuds that had great reviews on Amazon. I was a little skeptical when he put them on that they would fall out. But he got the hang of it, and no issues at all. Pretty straight forward here. I do love his pencil case, it's super durable! No way he will destroy that one! Also, I got both kids the colored transparent reading rulers, which my kids benefit highly from. Shop the rest below!

Good luck and happy back to school!
XX
ABBY