I have been doing a lot lately with citrus, and I'm not mad at it one bit! There are so many health advantages to the good old fruit, and it's hard not to want it all the time. Citrus fruits benefit from containing several different antioxidants that may help prevent a range of health concerns, from cardiovascular disease and cancer to skin damage from sunlight. The list can go on and on. But today isn't a lesson on health benefits, it's about making this sweet baked granola bowl that showcases blood oranges and kumquats. I'm starting to have a slight obsession with these very tangy kumquats this month. You can pop them in your mouth like a grape, no peeling necessary. This baked granola is a super easy and quick meal that you can make in a matter of 10-15 minutes. This dish is excellent for breakfast any day of the week, your next brunch dish, or even a little dessert option!

Photos by Dayna Studios
---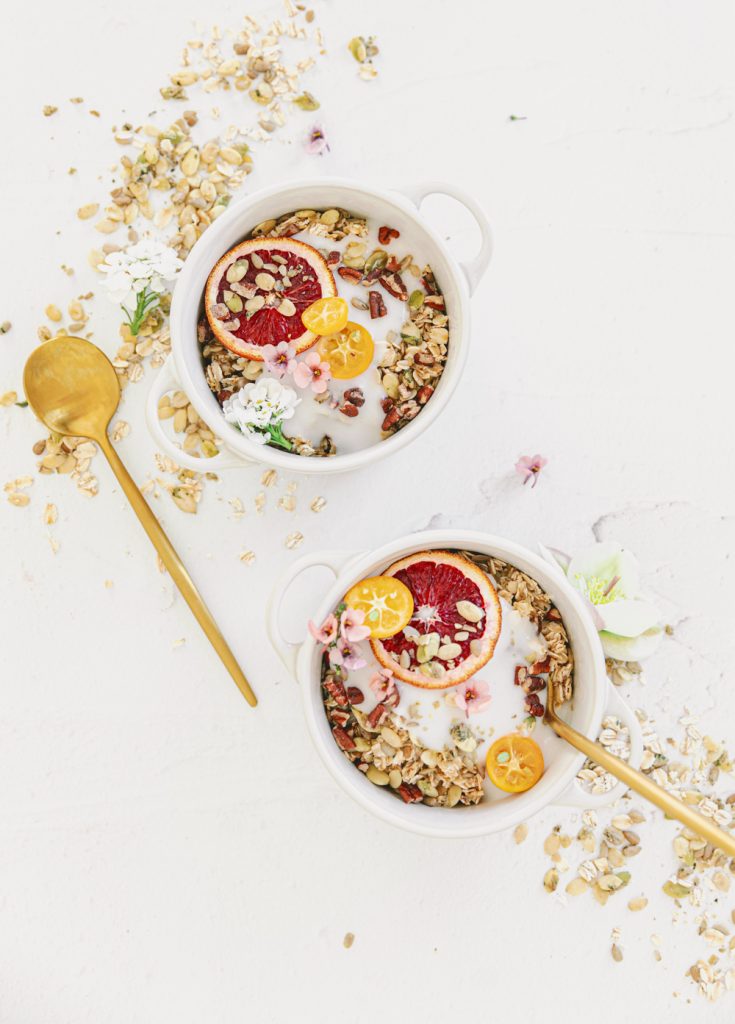 ---
A CITRUS SWEET GRANOLA BOWL
SERVES: 7 | PREP: 10 MINUTES | COOK: 30 MINUTES
W H A T Y A N E E D
DRY INGREDIENTS
2 cups rolled oats
¼ cups toasted and chopped hazelnuts
* you can use any type of nut you want
⅛ cups almonds
¼ tsp cardamom
1 tsp cinnamon
1 tsp baking powder
pinch salt
WET INGREDIENTS
1 tsp vanilla extract 
¼ cups maple syrup 
1 egg 
2 cups almond milk (unsweetened, organic)
1 tbsp date syrup 
⅕ cups apples (peeled and cored)
1 ⅕ cups cranberries (fresh or frozen)
¼ cups kumquats and fresh citrus
1 tsp coconut oil
1 tbsp almonds or a mix of any nuts you like (sliced)

YOGURT
1 cup yogurt
3 tsp maple syrup (organic)
1½ tsp vanilla paste

B U S T   O U T
7 small ramekins or mini cast iron cocottes
Mixing bowls
Spatula
---
I N S T R U C T I O N S
-STEP 1-
Preheat the oven to 180ºC / 356ºF.
Brush the mini cast iron cocottes with coconut oil. Set aside.
-STEP 2-
Slice the kumquats in quarters, take the seeds out and cut the middle white pith. Coarsely dice the slices.
Add all the dry ingredients into a mixing bowl and mix well to incorporate all the ingredients uniformly. Add the cranberries and the kumquats to dry ingredients. Set aside.
-STEP 3-
Whisk all the wet ingredients in another bowl. Grate the apple into the wet mixture. Stir to combine. Mix the wet ingredients and the dry ingredients until well combined.
-STEP 4-
Distribute the mixture evenly if using individual baking dishes (about three heaped tablespoons in each) or pour the mixture into the baking dish — level with the spatula. Sprinkle the mixed nuts on top.
-STEP 5-
Bake for 30 minutes or until it is puffed up a bit, there is no liquid in the baking dish, and the fruits have burst and are thoroughly cooked. Cool for at least 5 minutes before serving.
To make the maple vanilla yogurt, mix all the ingredients in the bowl. You can make this ahead of time. Spoon on top of the cooled granola, and garnish with more mixed nuts and citrus.
---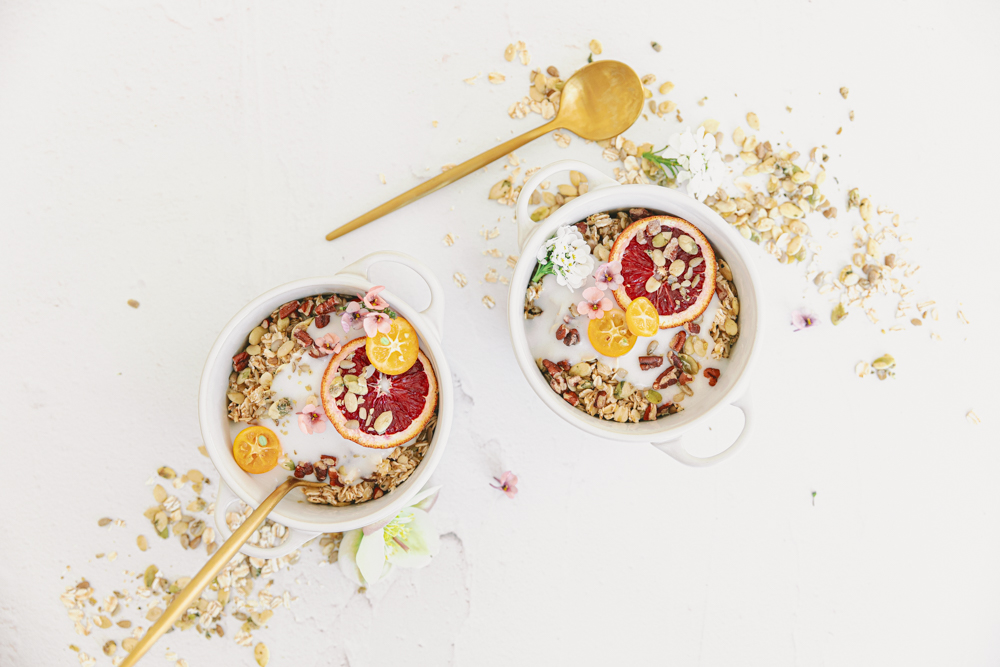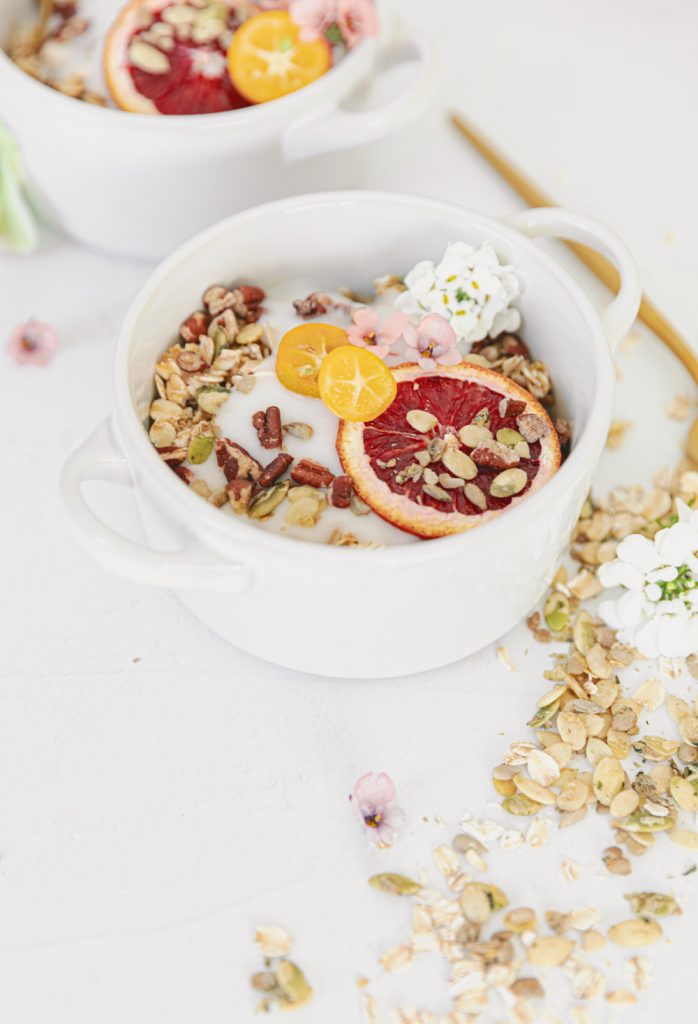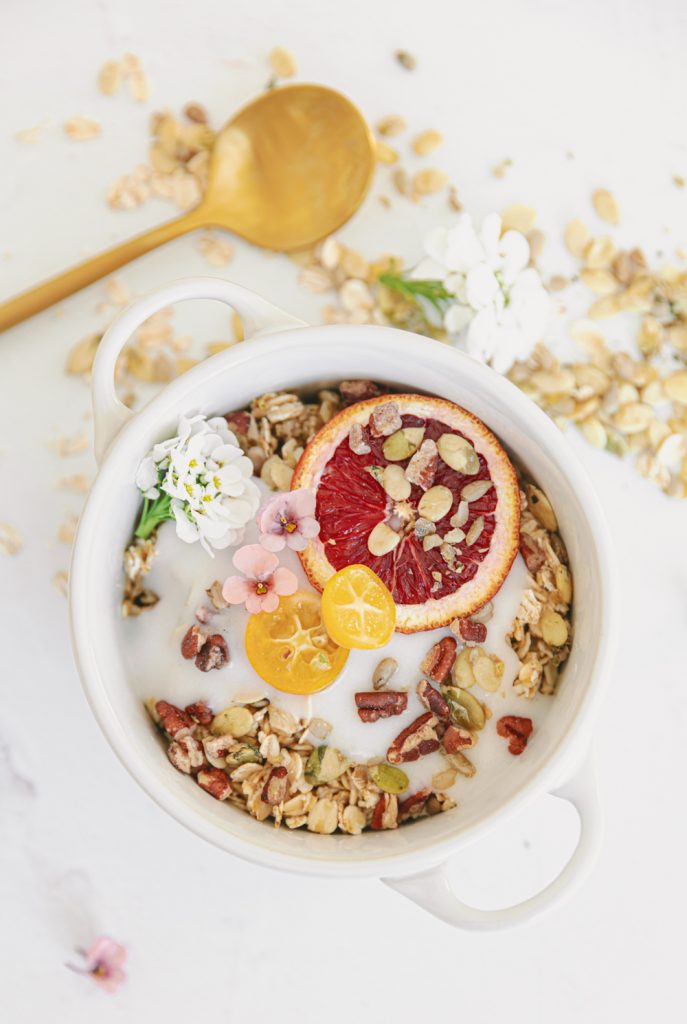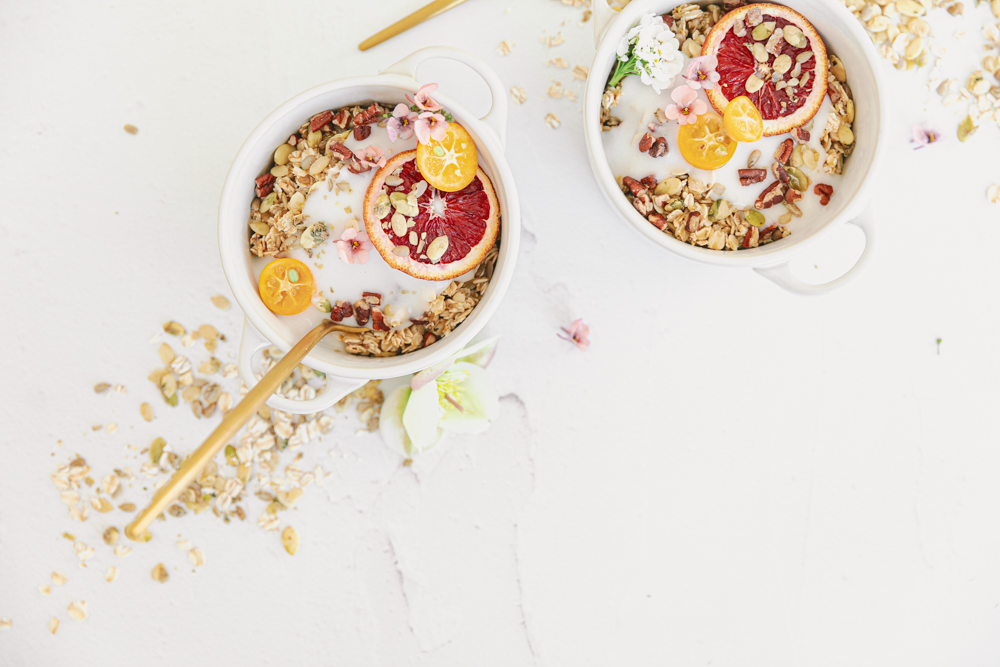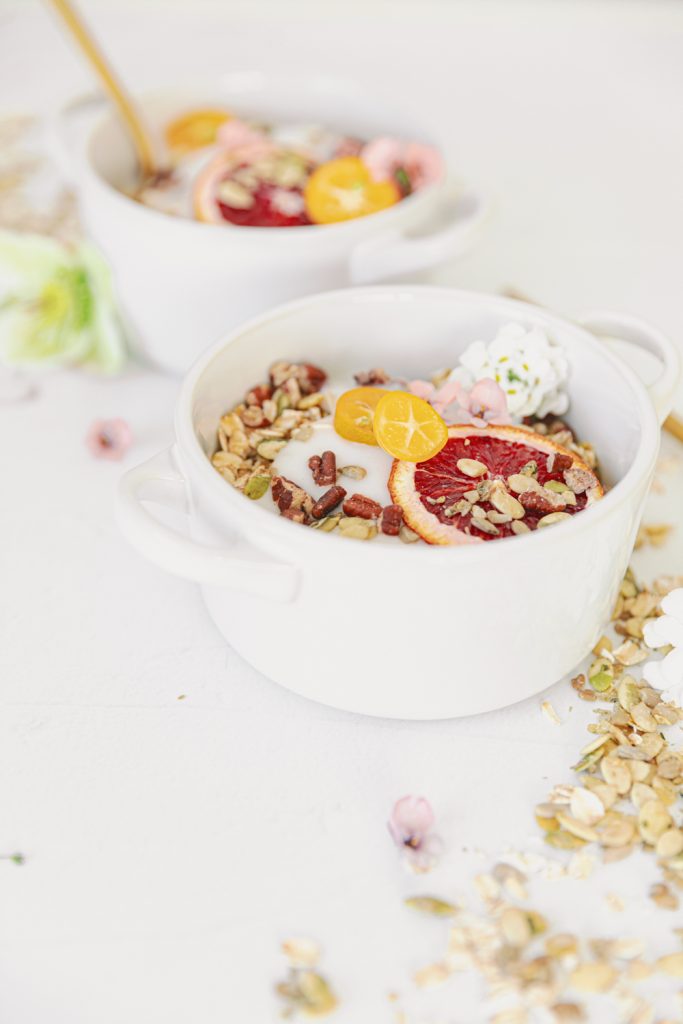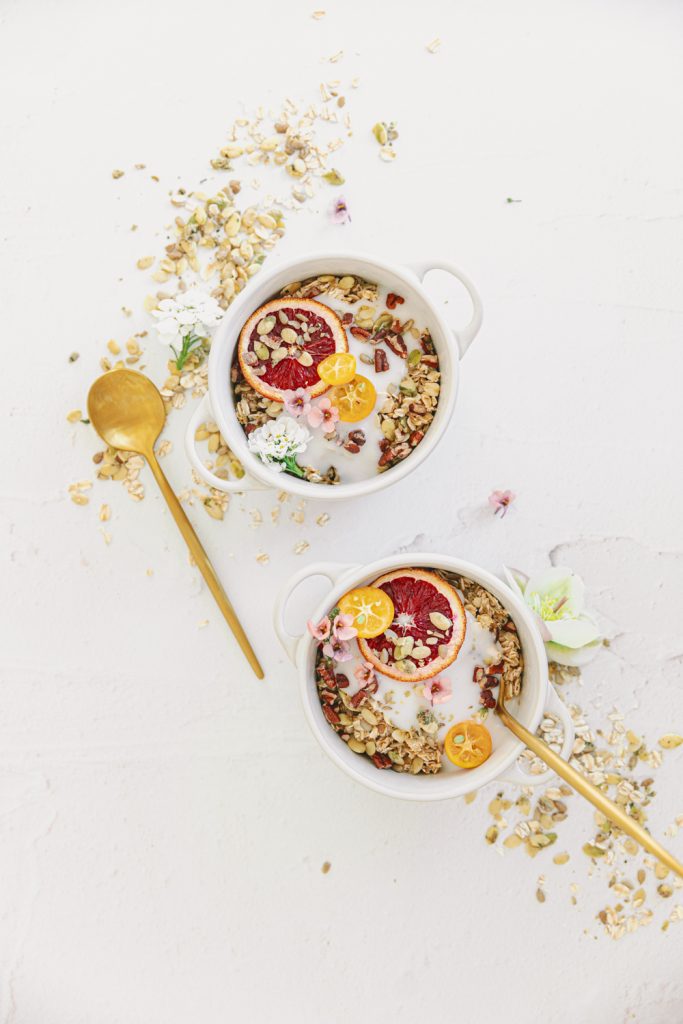 ---
B E I J O S  K I T C H E N  

xx
Abby