Nothing beats the heat than a sweet treat like snow cones, especially during summer. You will have all smiles when you are slurping up that sugary goodness. Those were always my favorite when I was little. And now, you can easily do these at home too! Which is a big bonus these days! I came across the cutest snow cone machine from Nostalgia Products. You have to check them out! They have a vintage line full of fun products that will have you going down memory lane—everything from snow cones to cotton candy machines. Fun products to enjoy all summer long! 
You can even make the syrup yourself! I'm a huge POG lover, so I created three syrups that will have me daydreaming of being on vacay! See the recipes below! Serve them up in fun coconut bowls to get the tropical feel! 
Photos by Dayna Studios
---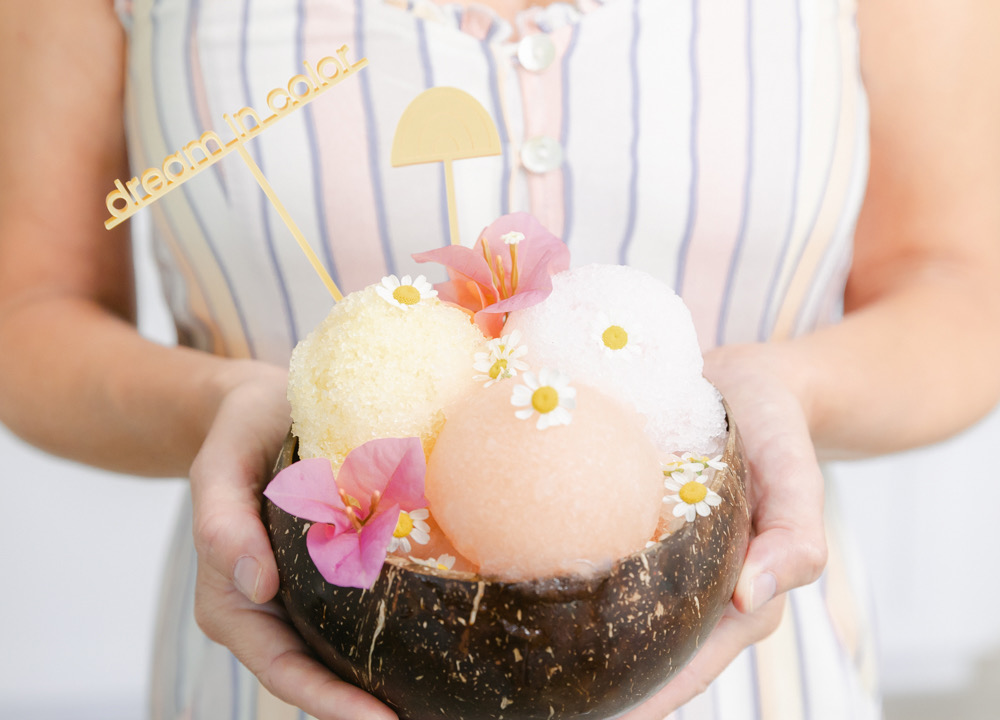 P.O.G Snow Cone Bowls
SERVES: 30 (10 of each flavor) | PREP: 10 MINUTES | COOK: 50 MINUTES
W H A T   Y A   N E E D!
Ice
Guava Juice (750 ml)
Passion Fruit Juice (750 ml)
Orange Juice (750 ml)
2/3 Cup sugar

B U S T   O U T:
Snow Cone Machine
Saucepans
Coconut Bowls
Round Ice Mold
---
I N S T R U C T I O N S

Ok guys, super simple here! Making it in a big batch like this will either feed your entire block of kids or keep in the fridge for future snow cone days. Feel free to pick out any juice you want too!
Pour each of the fruit juices into separate saucepans. If you don't have more then one pot, you can do it one flavor at a time. Add 1/4 cup of sugar to each.
Stir and bring to the boil, then simmer on medium heat until reduced by two-thirds. It will take anywhere from 3-50 minutes. Just a little patience and some babysitting to make sure it doesn't burn.
Once you have your syrup nice and thick, take off the heat and allow to cool.
Using your snow cone machine, spoon the shaved ice into cones, bowls or cups and pour 1-2 tbsp of the syrup. A little trick I used was pouring the shaved ice into a round ice mold. This creates a perfect circle. Serve immediately. And of course, add a fun floral touch with some chamomille flowers.
Since it is rainbow week here on the blog, I added some fun rainbow cocktail stirrs too!
---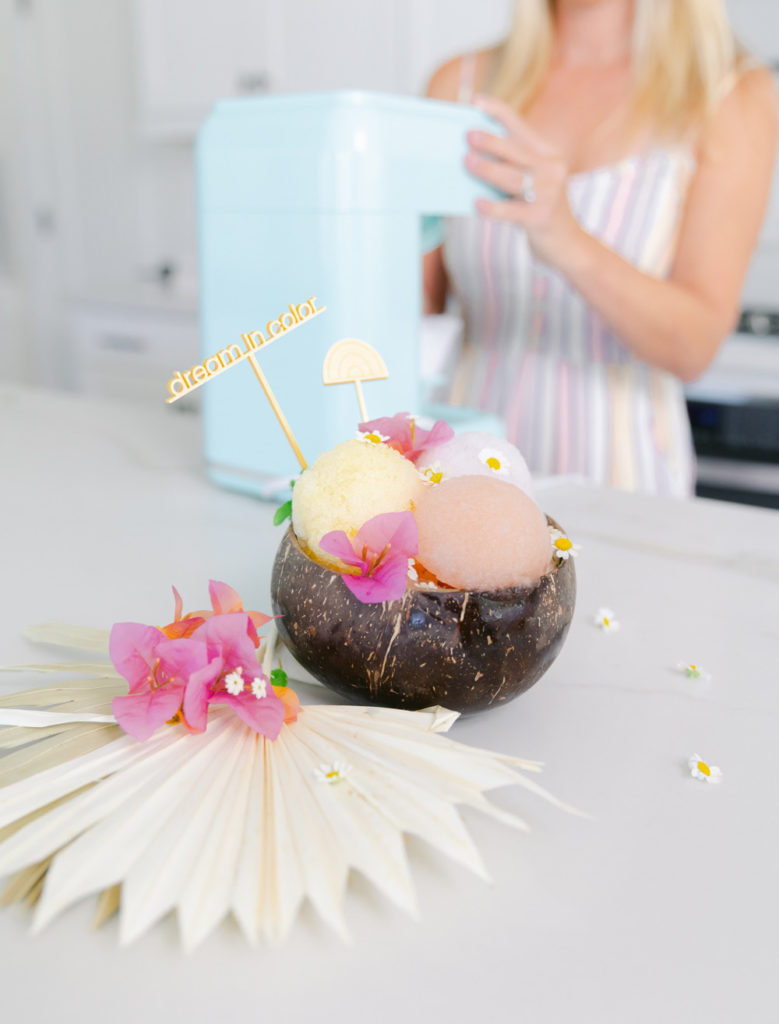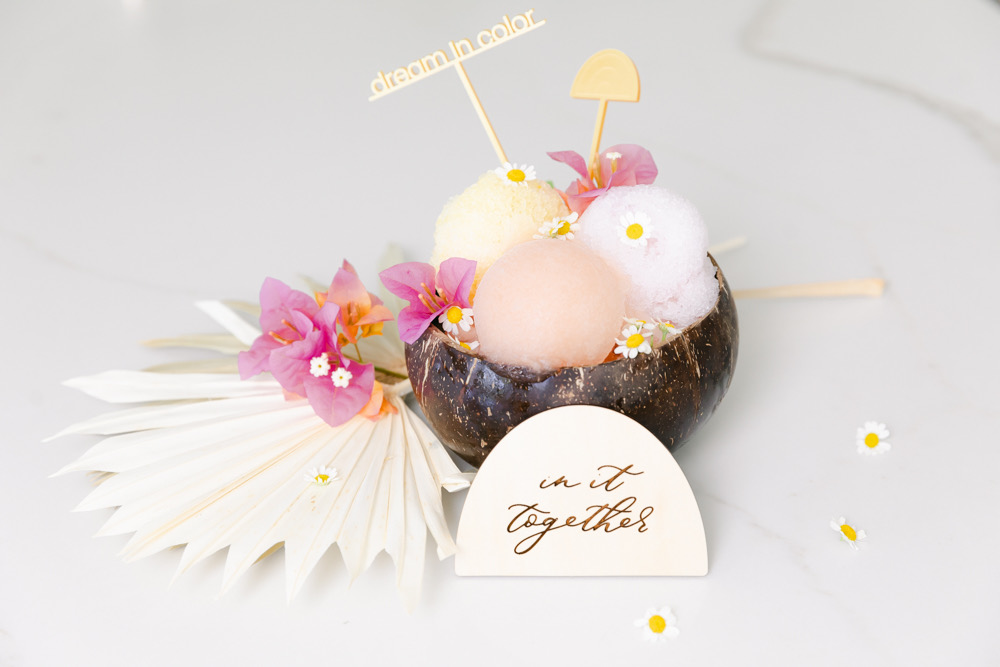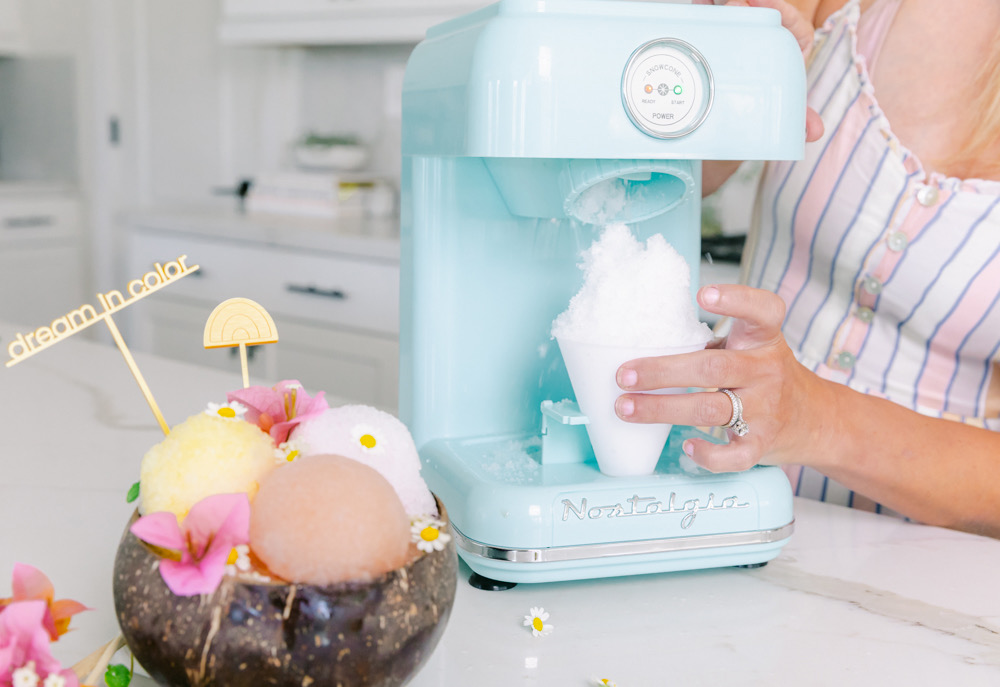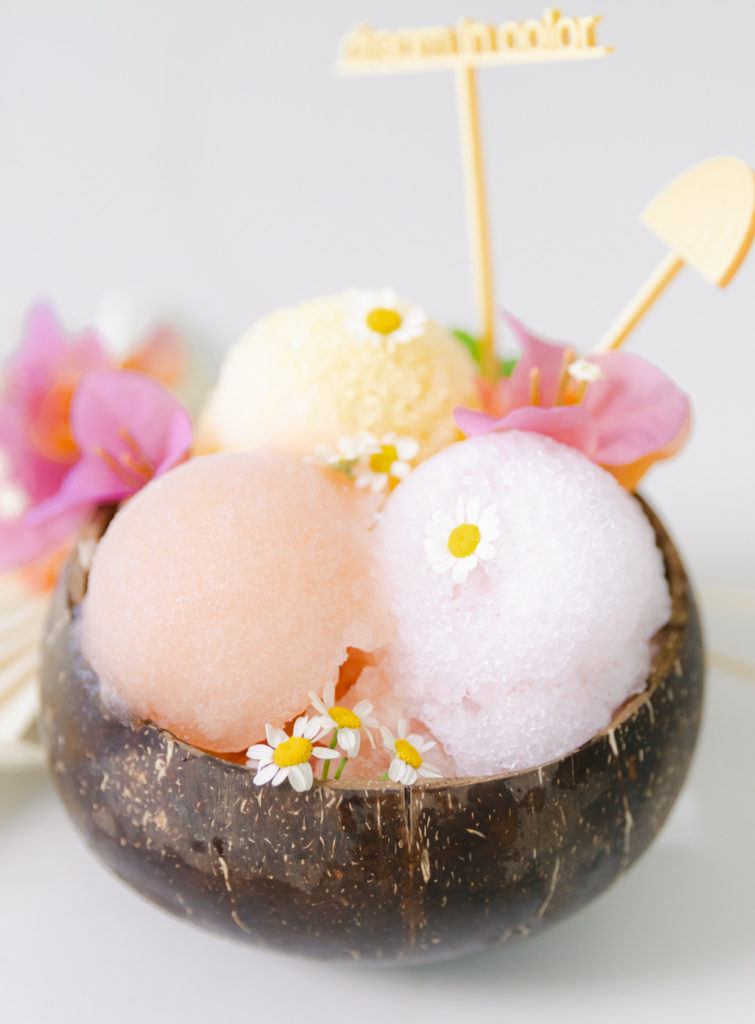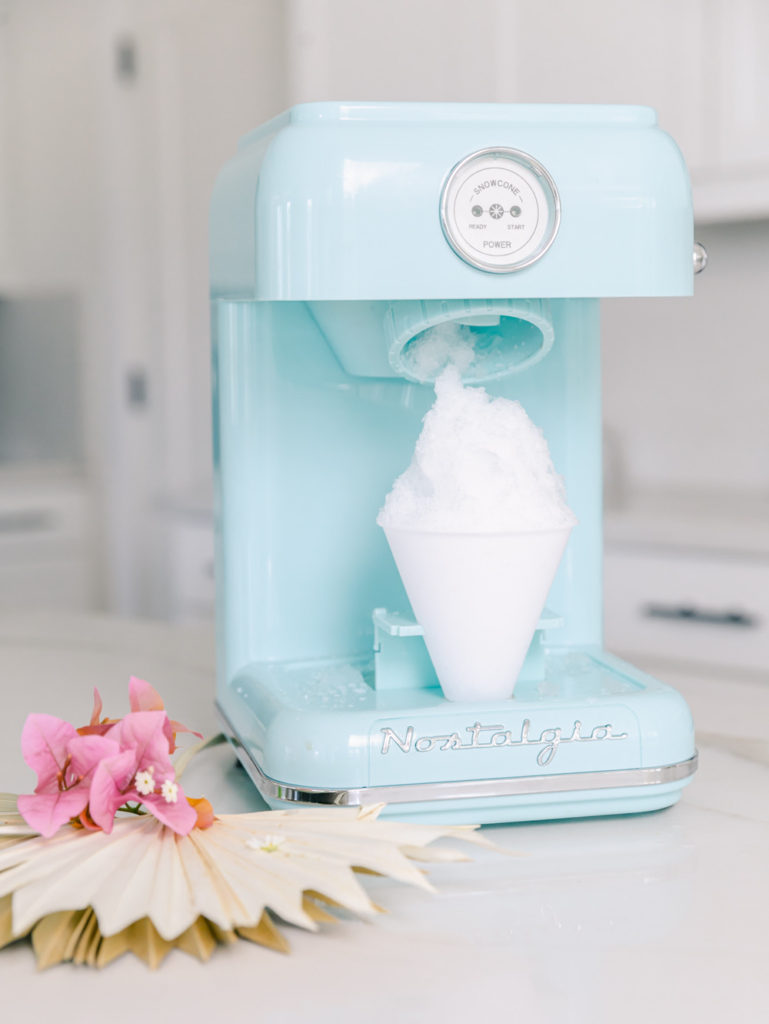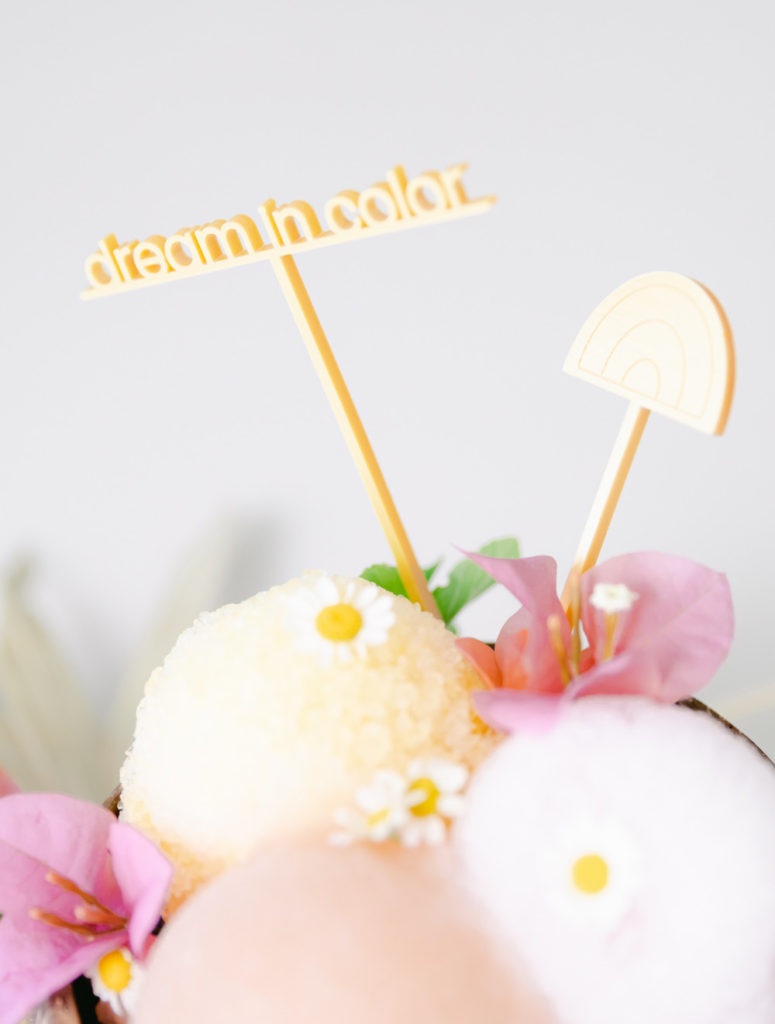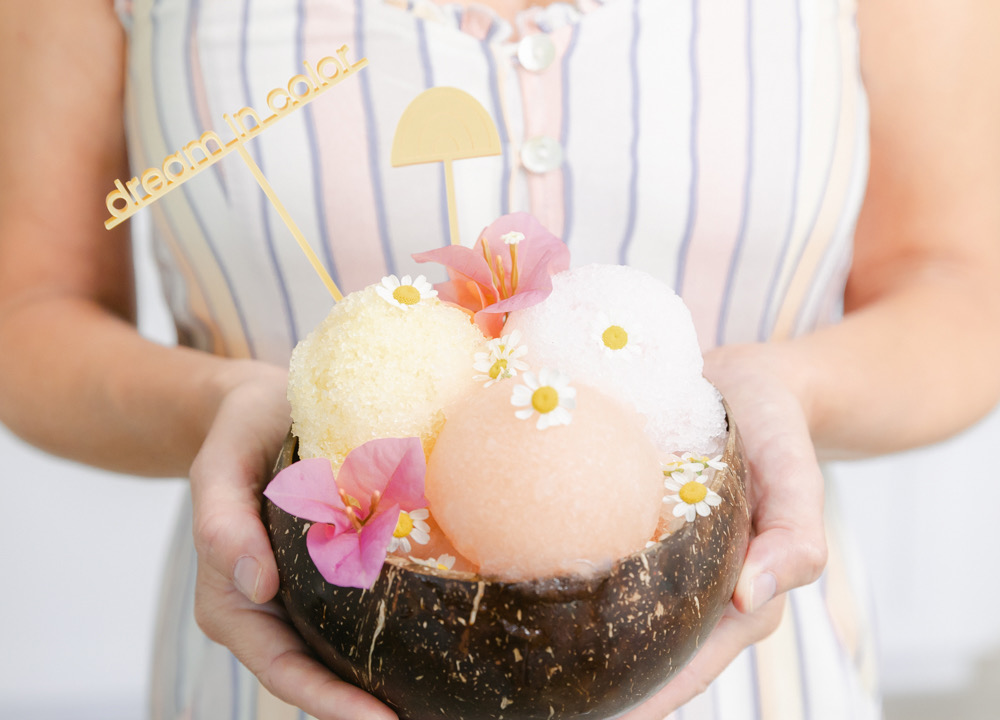 ---
B E I J O S K I T C H E N

xx
Abby