Happy Monday! Can you believe the year is nearly half way over?! I for one am not too sad about that – this has been A YEAR, am I right?! I'm ready to make the rest of the year much better, I hope that's the way it goes… We had the posts this week set to go a month or so ago, but the timing just didn't feel right, so we are sharing them now! The theme this week is rainbows… Rainbows are usually a bright happy place after a storm – which is sort of fitting with the past 4 or 5 months, right?
When I did this shoot I had the concept that we are all stronger together and there are better days ahead. After things we've battled this year – a pandemic, police brutality, racism, etc. it's time to come together, work on ourselves and come out on the other side stronger. I'd say it's definitely time for some rainbows people! So, without further ado, let's check out this prettiness!!!
Photos by Corrie Lynn Photo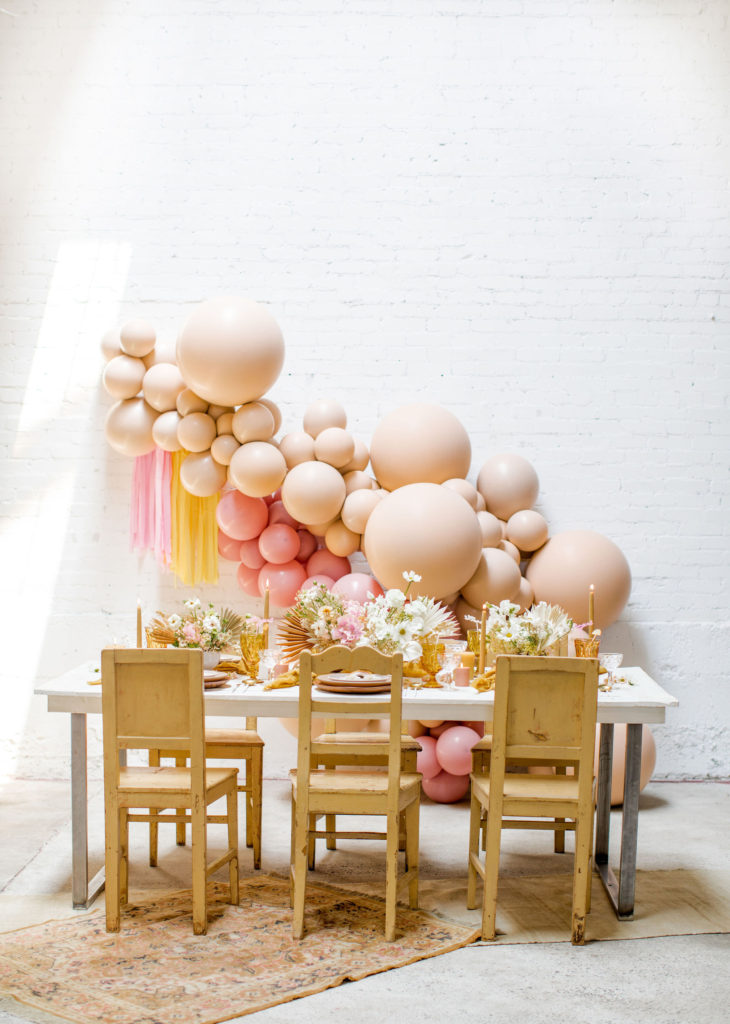 There are so many amazing details on this one – including this invite. I love how we used muted tones for this rainbow soiree. It's an adult rainbow party that I'd definitely want to be at! Our friend Leanna of David and Leanna created the invite and all of the details like the place cards and stir sticks. And those adorable little macrame rainbows? They were handmade by Nicole of The Neutral Knot. One of our talented friends and former brides! More on those at the table…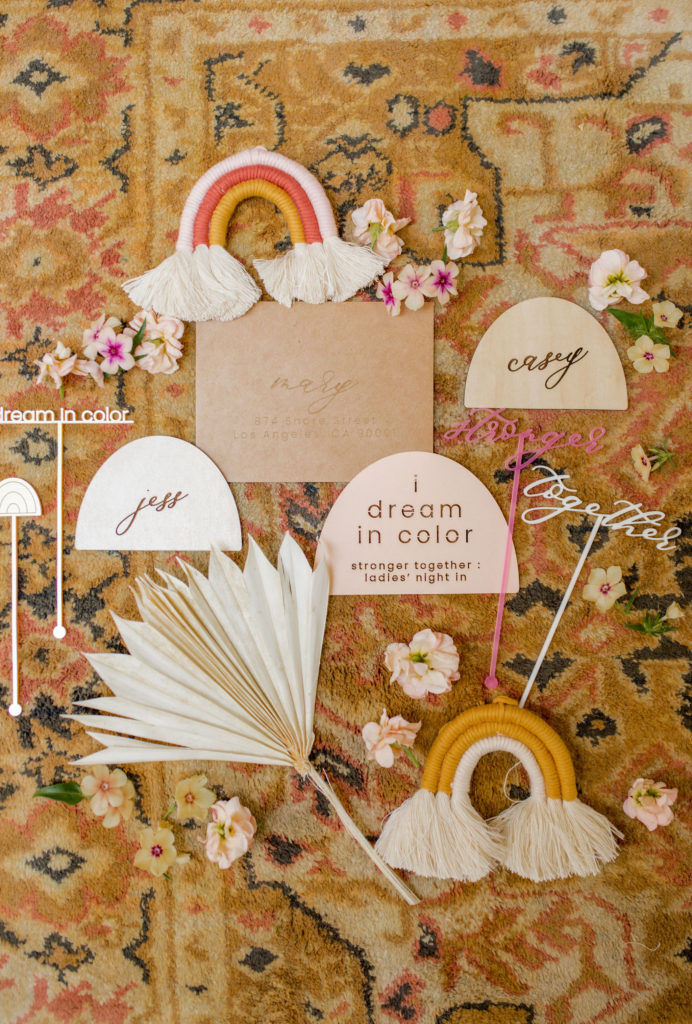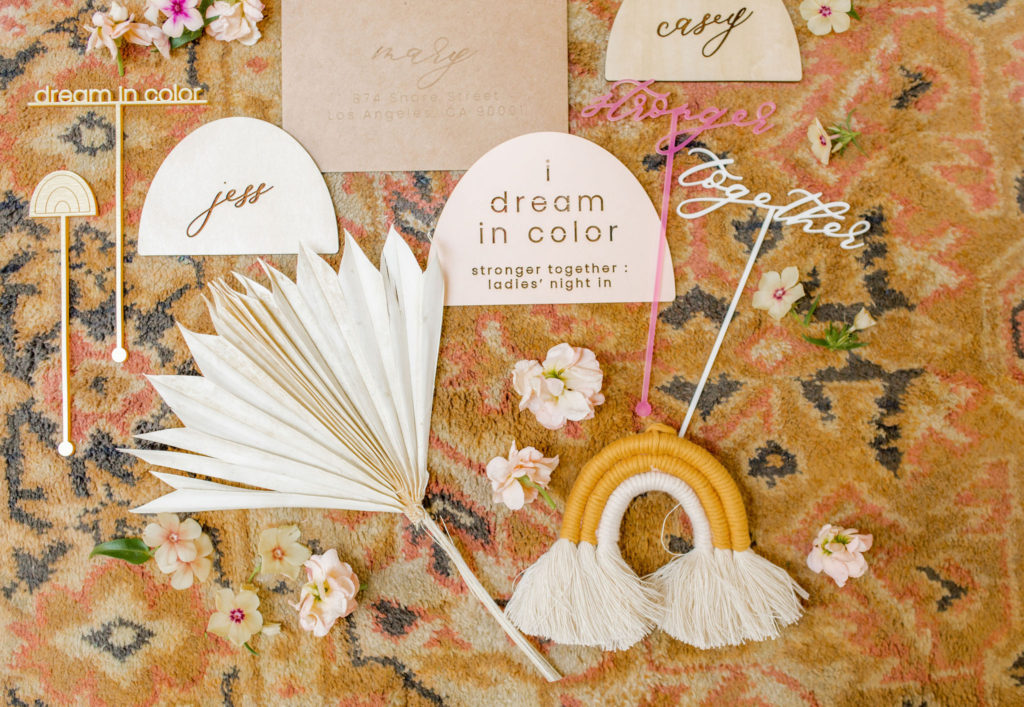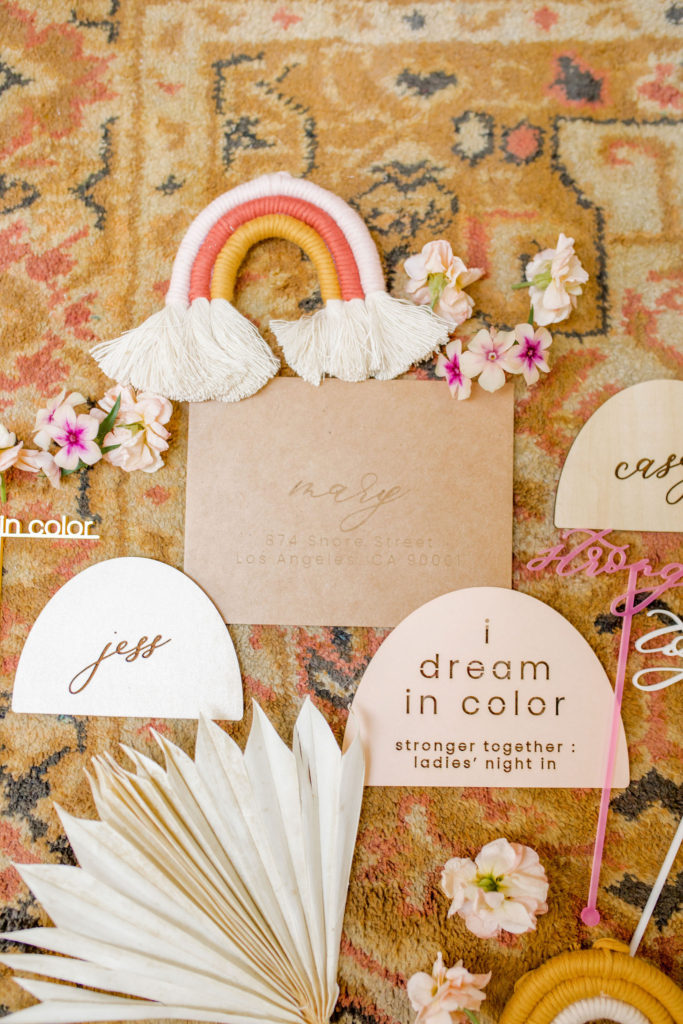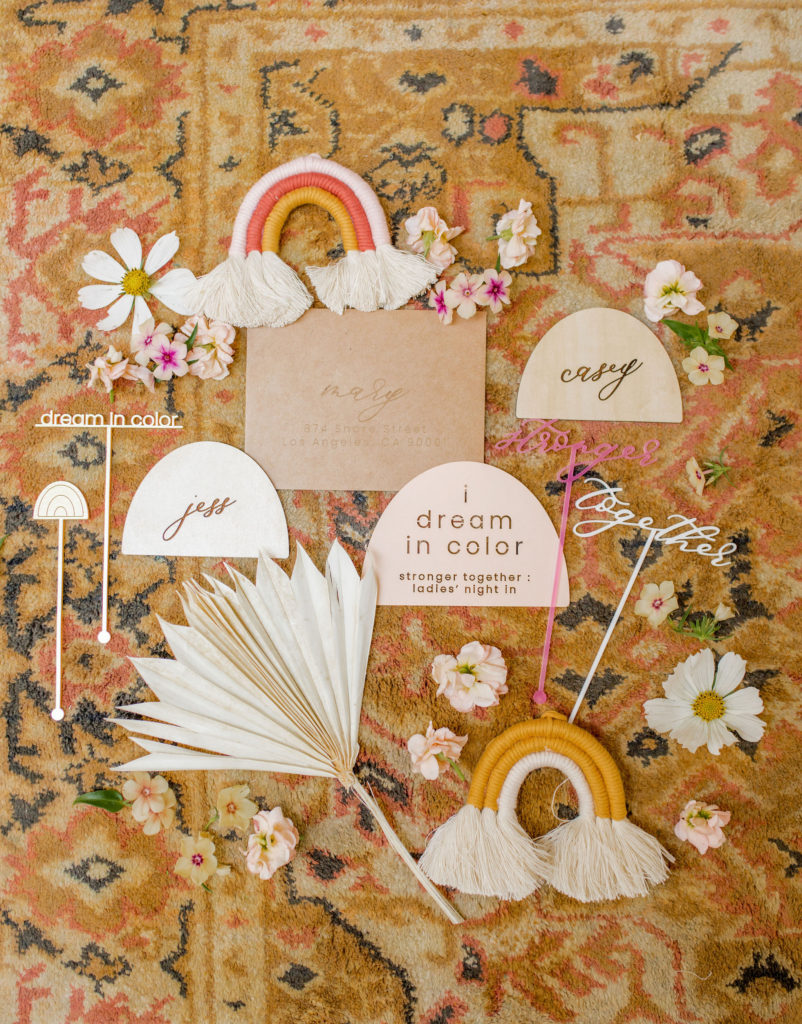 On to the table!!! Ugh, you guys… This is probably one of my favorite tables ever. I know I probably say that a lot but geez, it was just so good!!! Even better in person!!! Anyways, can we just do a slow clap for these flowers?! The colors, the ethereal vibe – gah!!!! I love them!! Third & Park knocked it out of the park right here!!!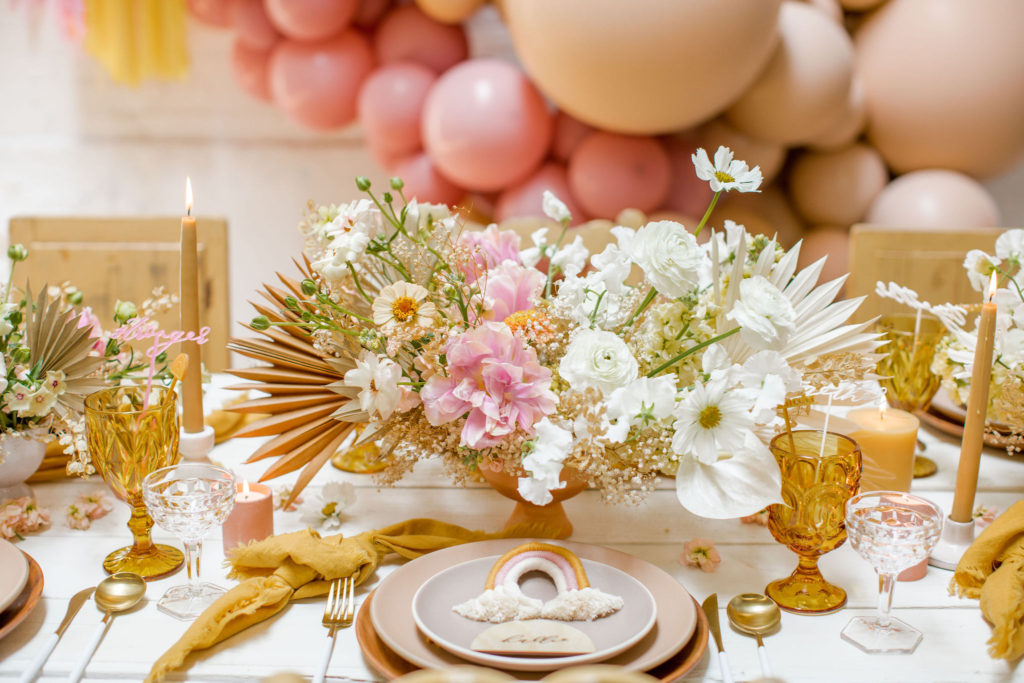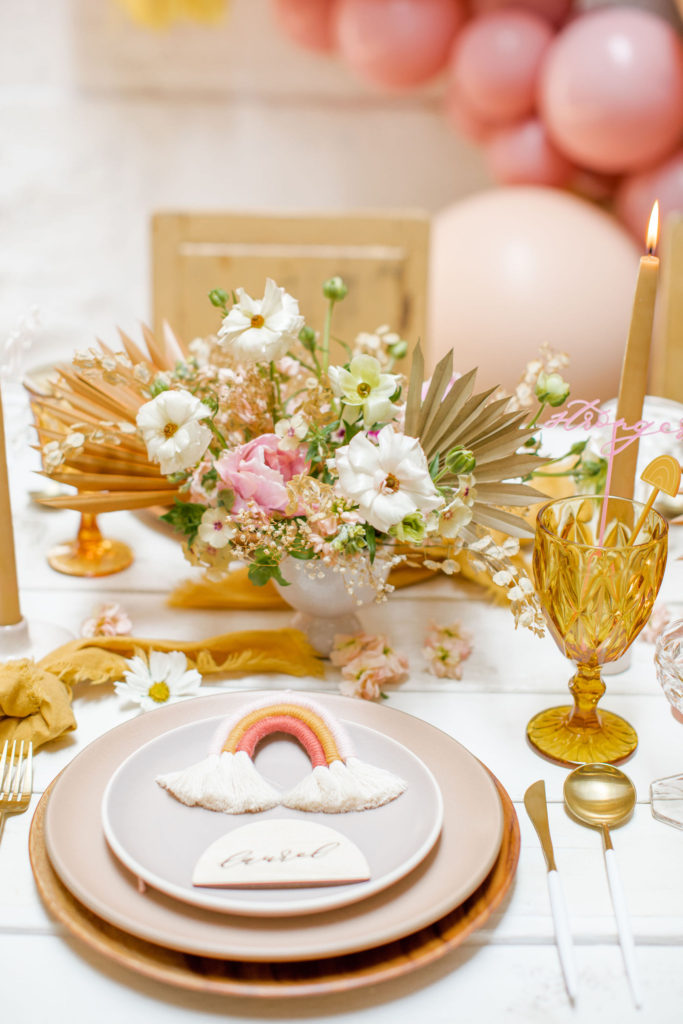 Each place setting had a cute little macrame rainbow by The Neutral Knot and a little rainbow shaped name by David and Leanna – so cute, right?! The table was set with Cherished Rentals gorgeous tabletop items, Third & Park's napkins and candles and my own flatware!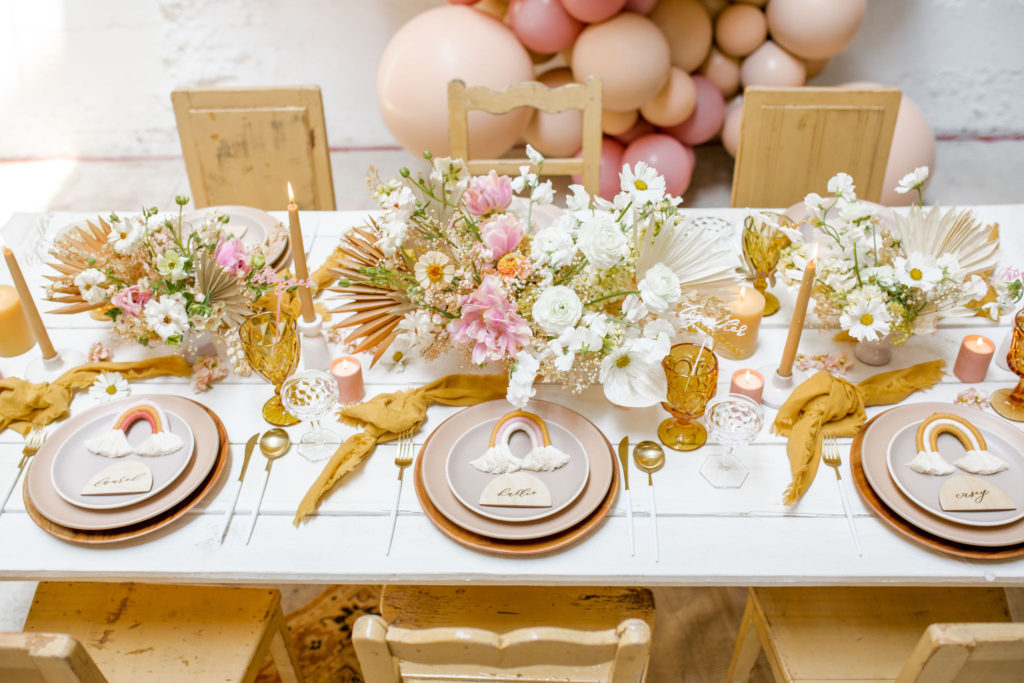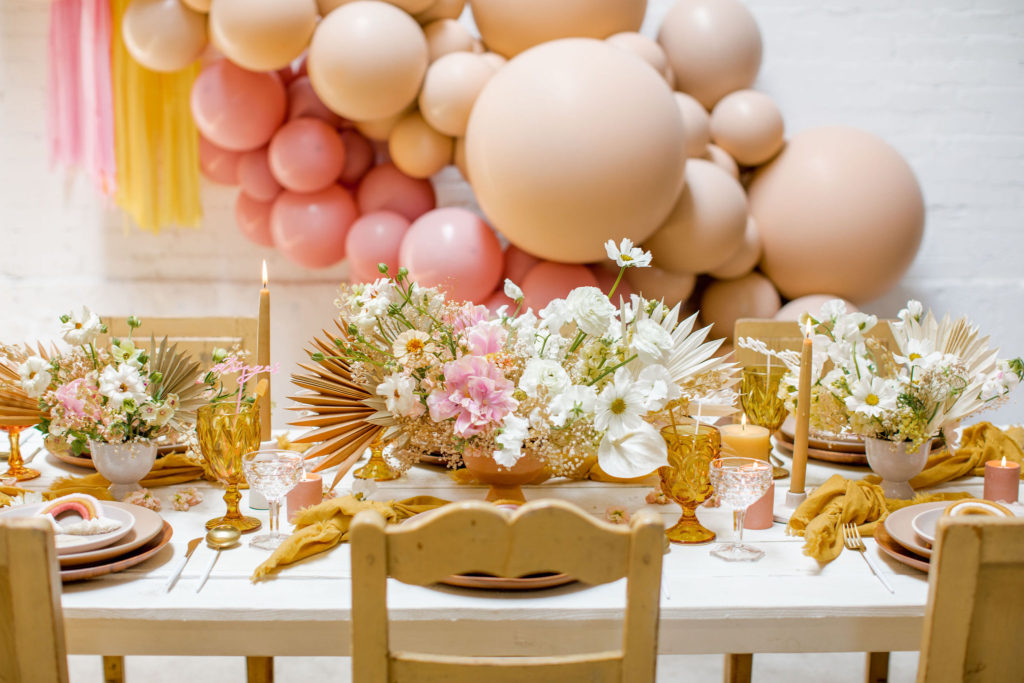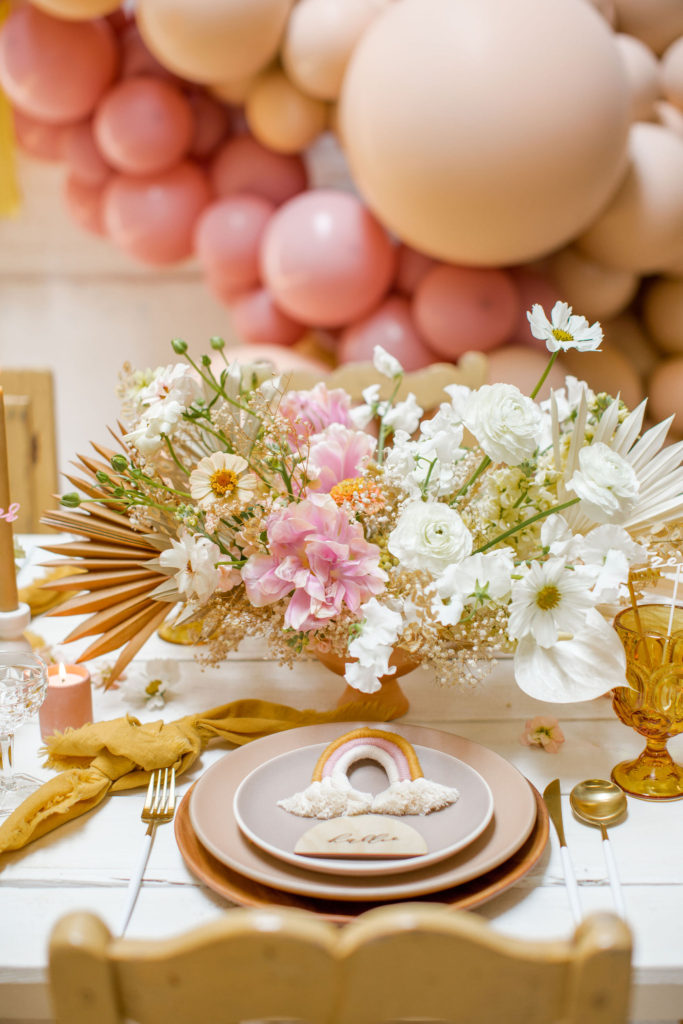 The balloons are of course by my girl Ellen, owner of The Pop Shop! Her and I love to do neutral toned balloons – but adding in that extra fringe just made it!
Also of course – the amazing tables and chairs are from Sweet Salvage Rentals. Aren't the mustard chairs perfect with this tablescape?! Her inventory is endless!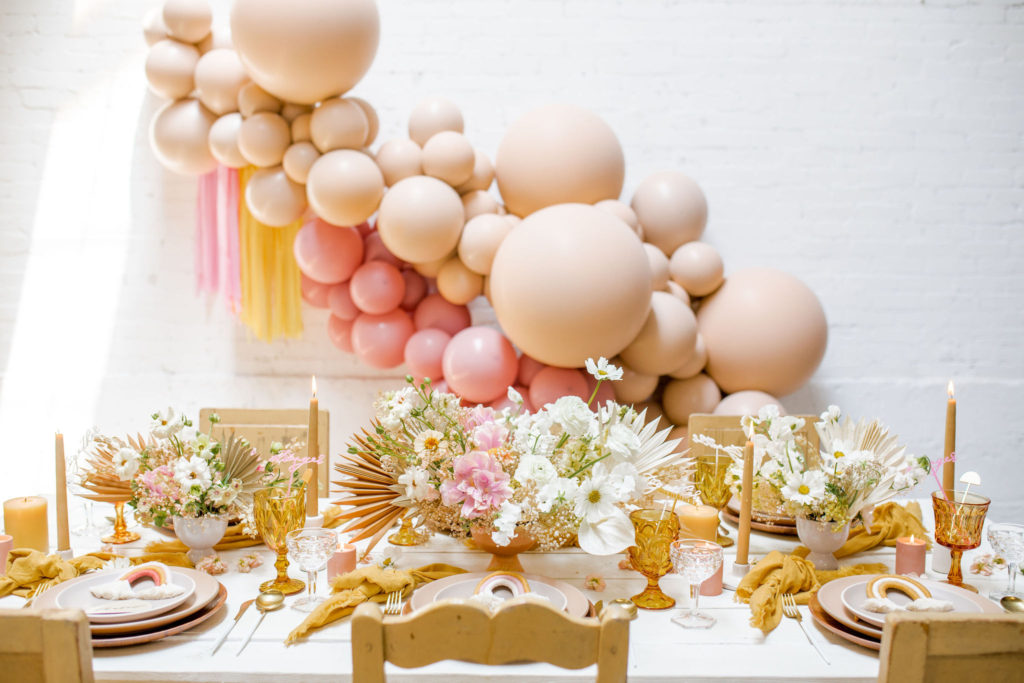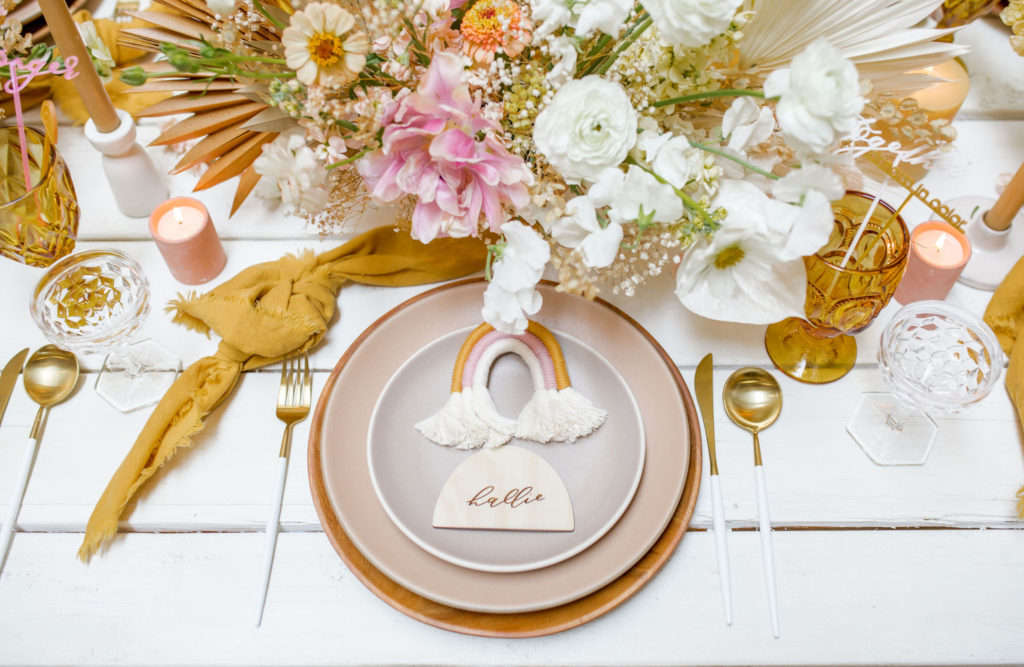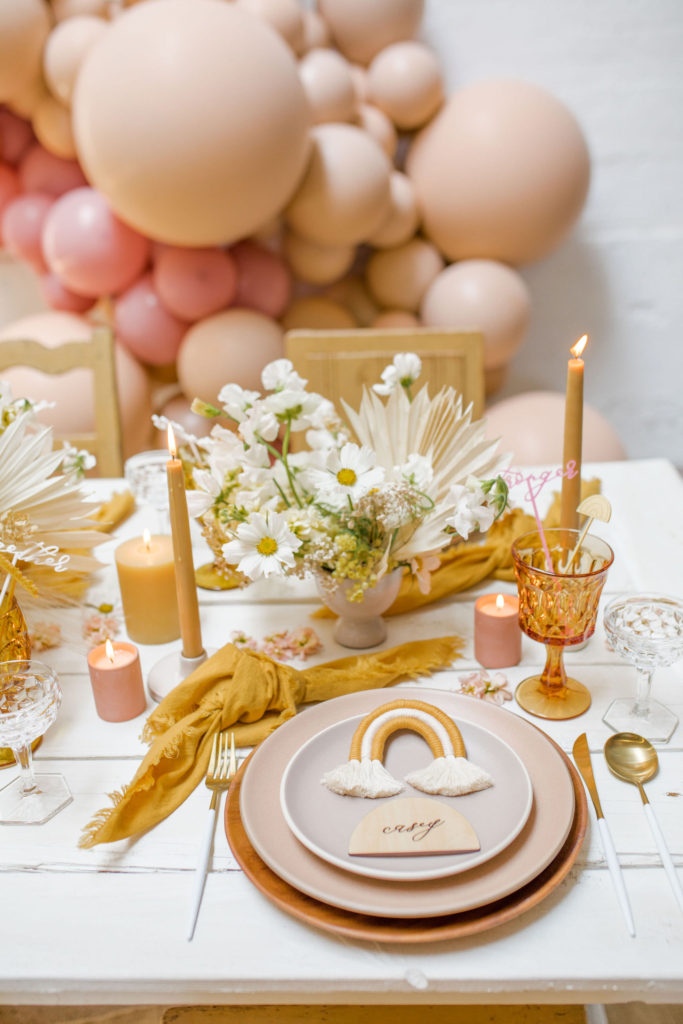 This may just be my favorite shot of the day! I love this!! The flowers, the place setting, it all came together so well! Plus, I'm a sucker for yellow!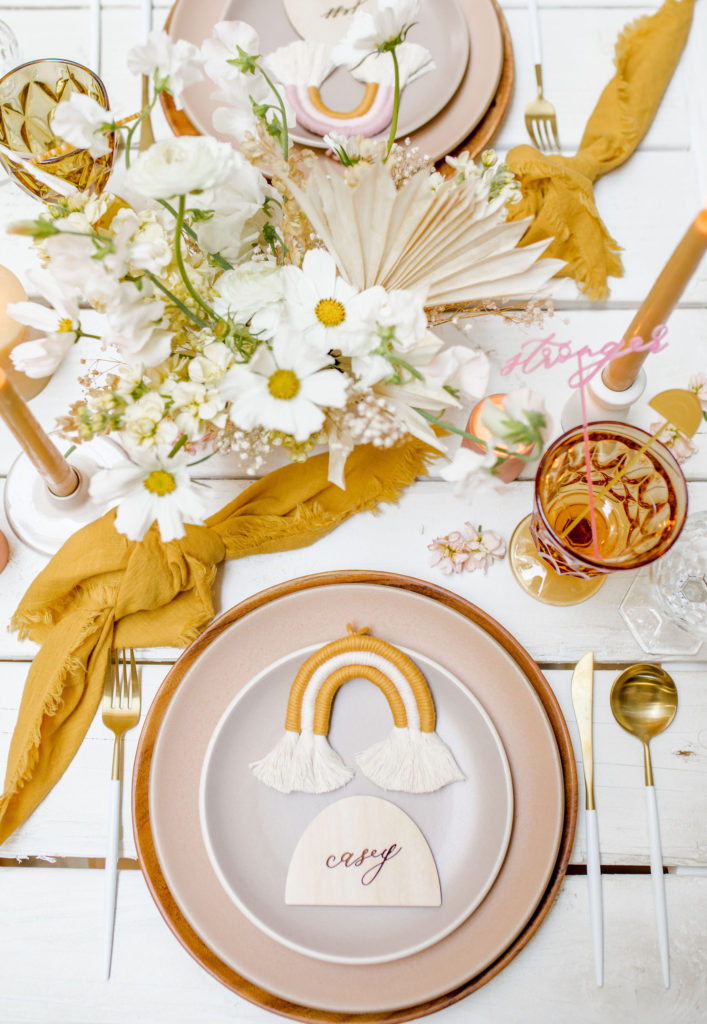 And all of those details just makes it – the stronger and rainbow stir sticks – I'm obsessed!!! And of course the macrame rainbows are the cutest!!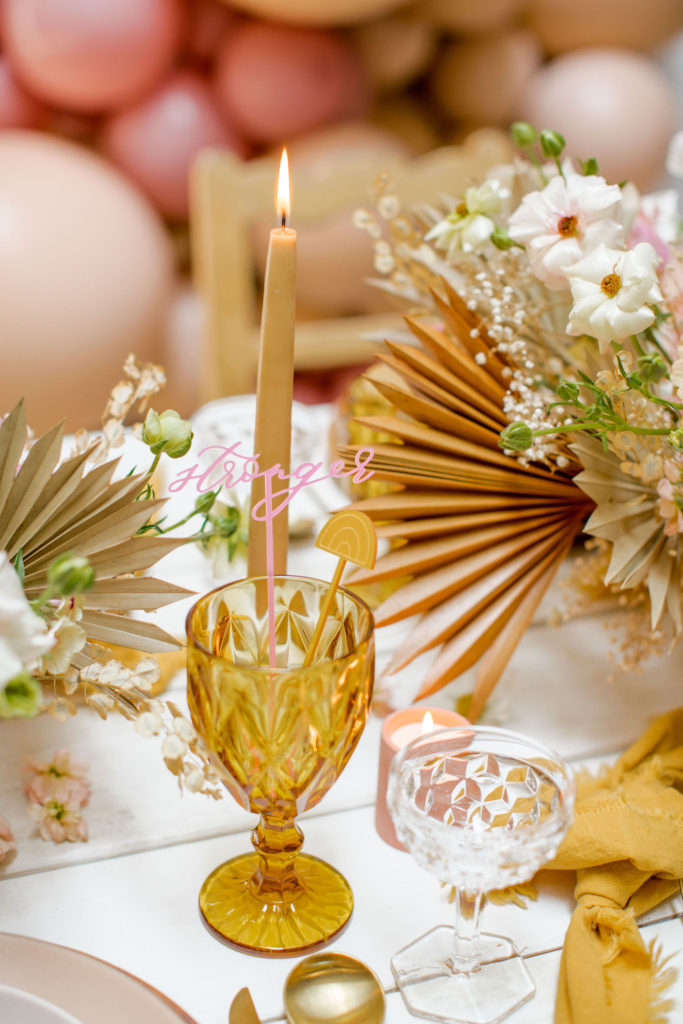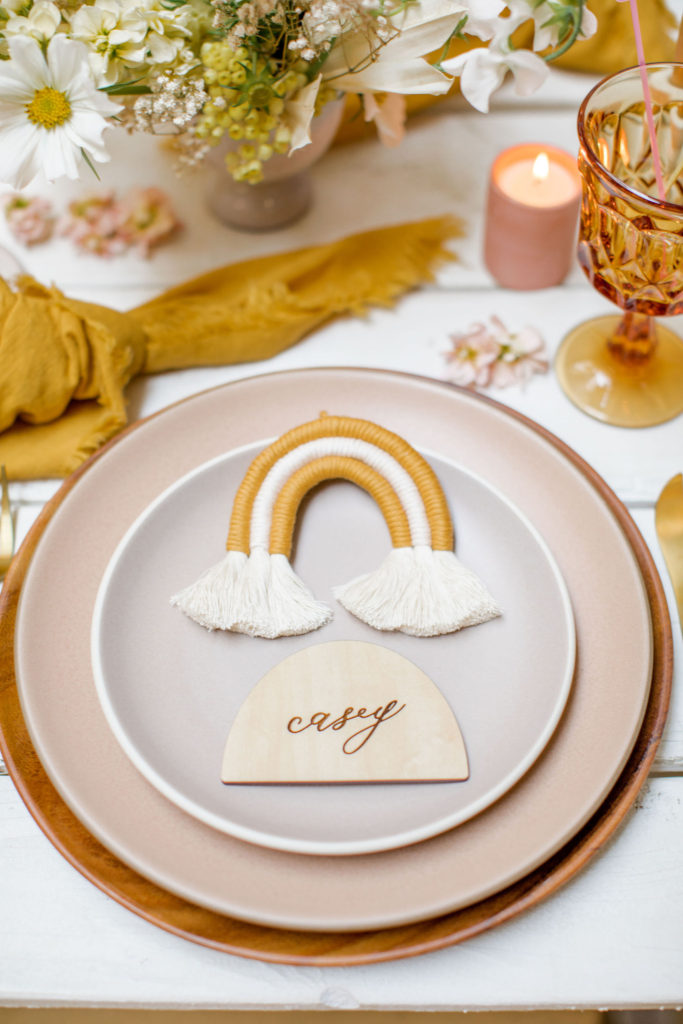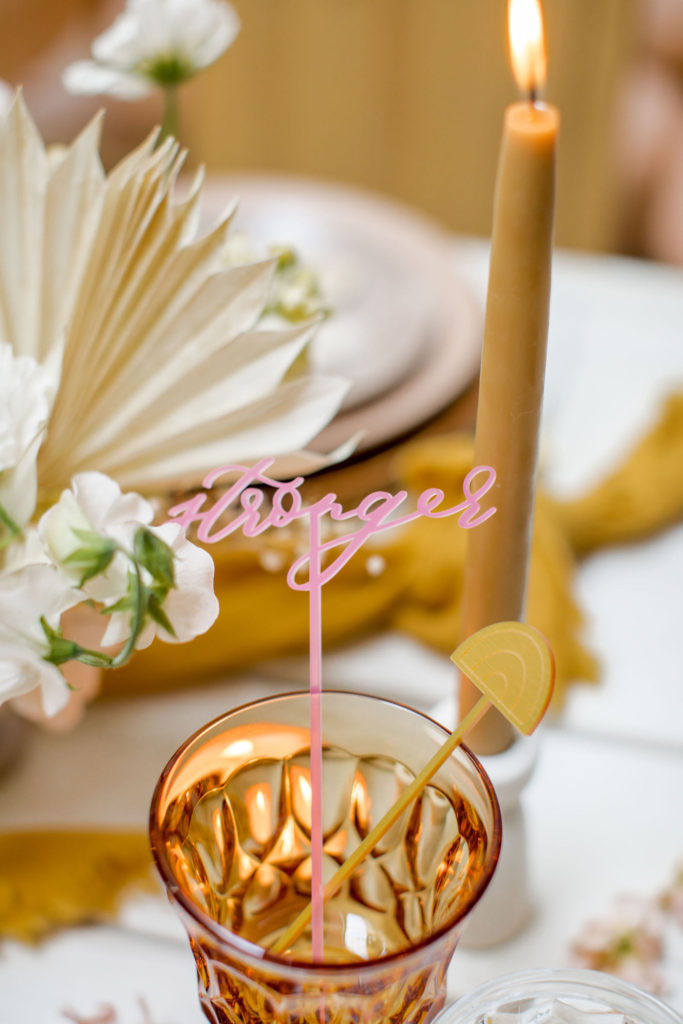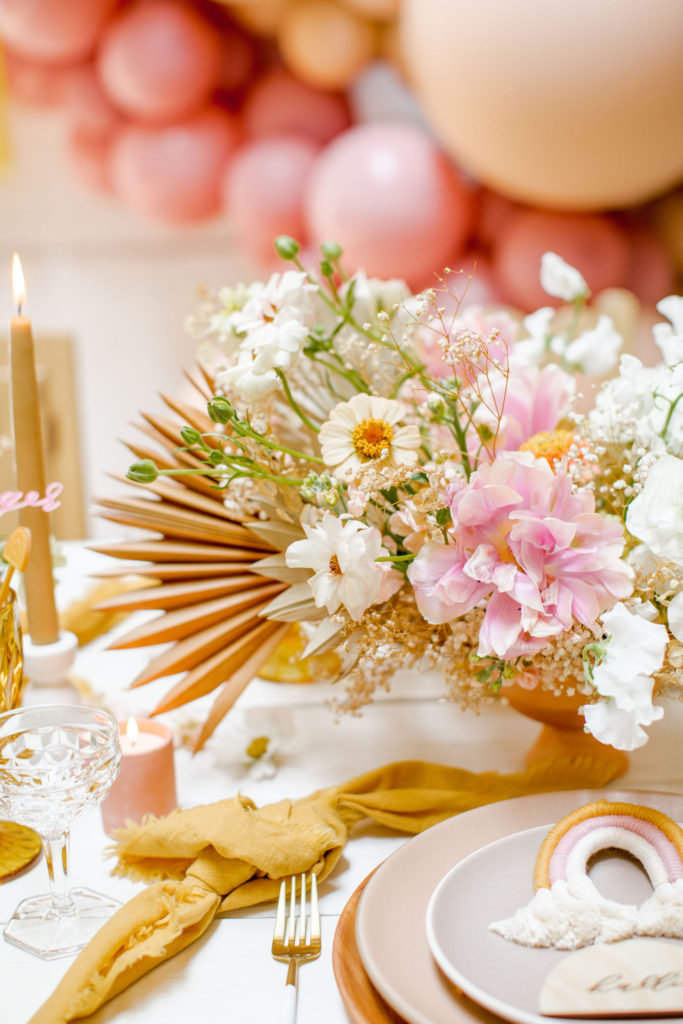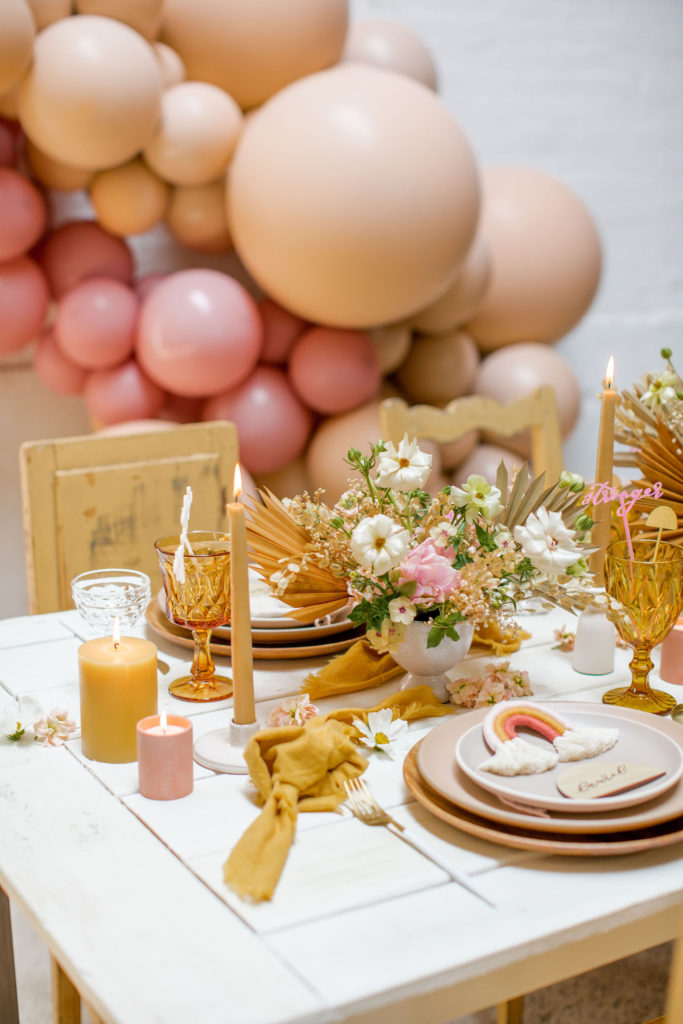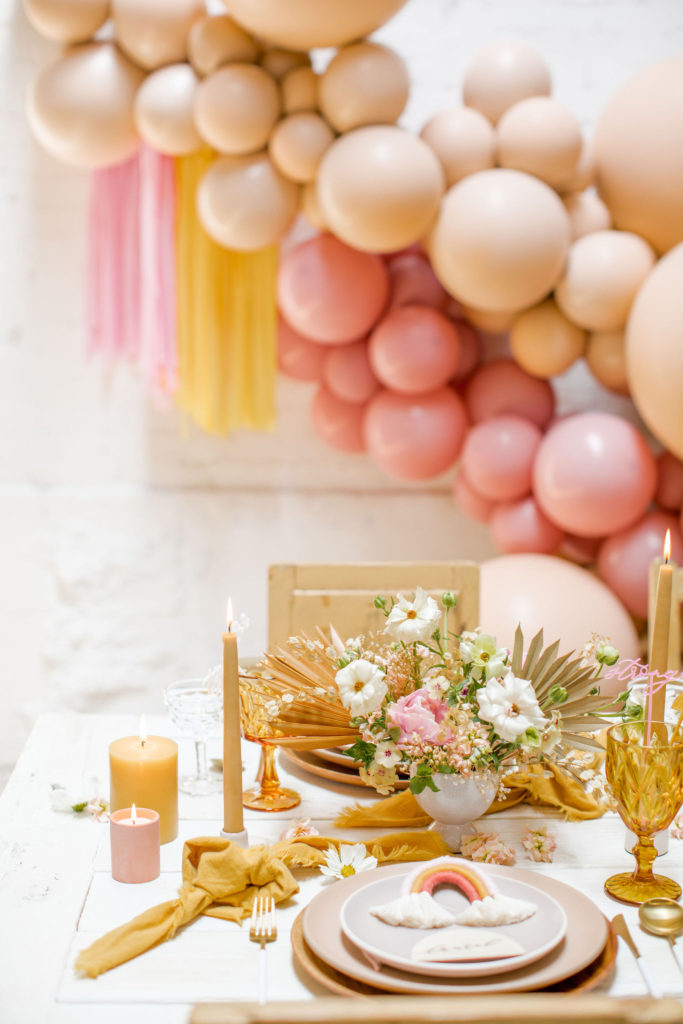 Such a beauty this one…. Oh, but there's more to come!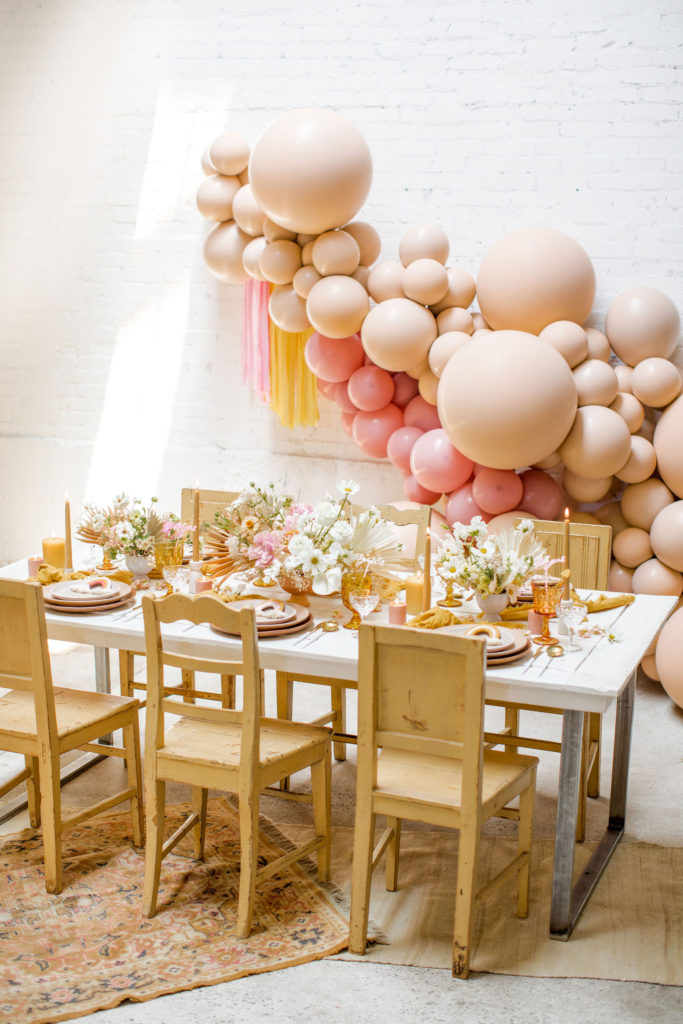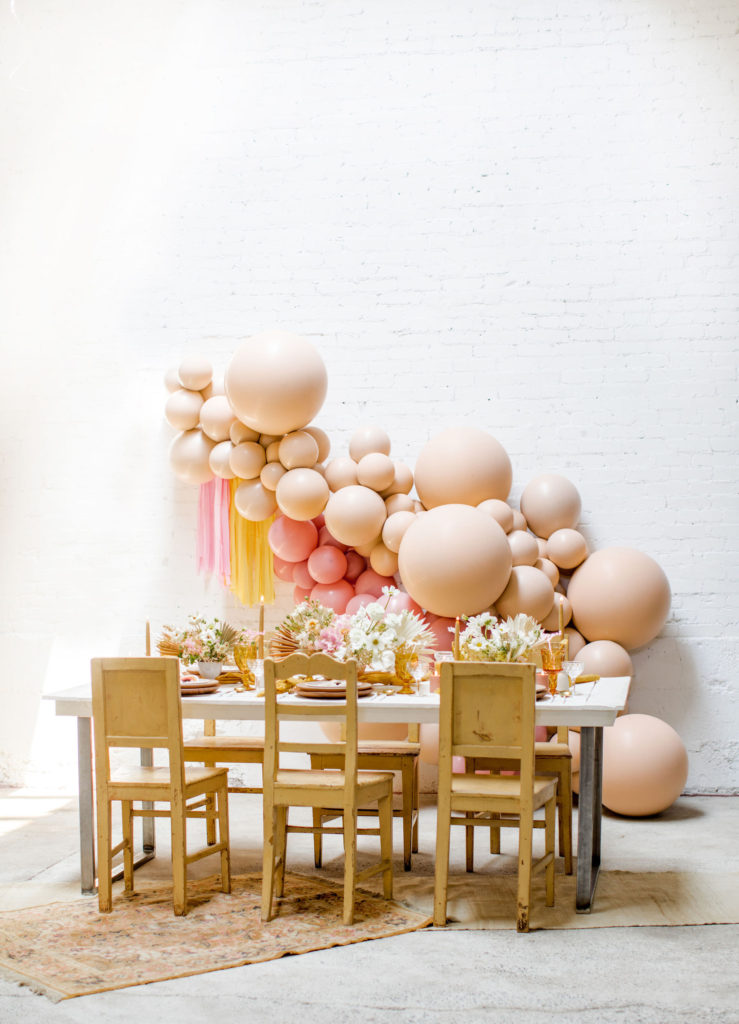 If you're gonna throw a party – there better be a bar and it better be stocked with One Hope Wine!!! This cute bar from Sweet Salvage Rentals was the perfect addition to our party! And who doesn't like to sip on rosé and champs?!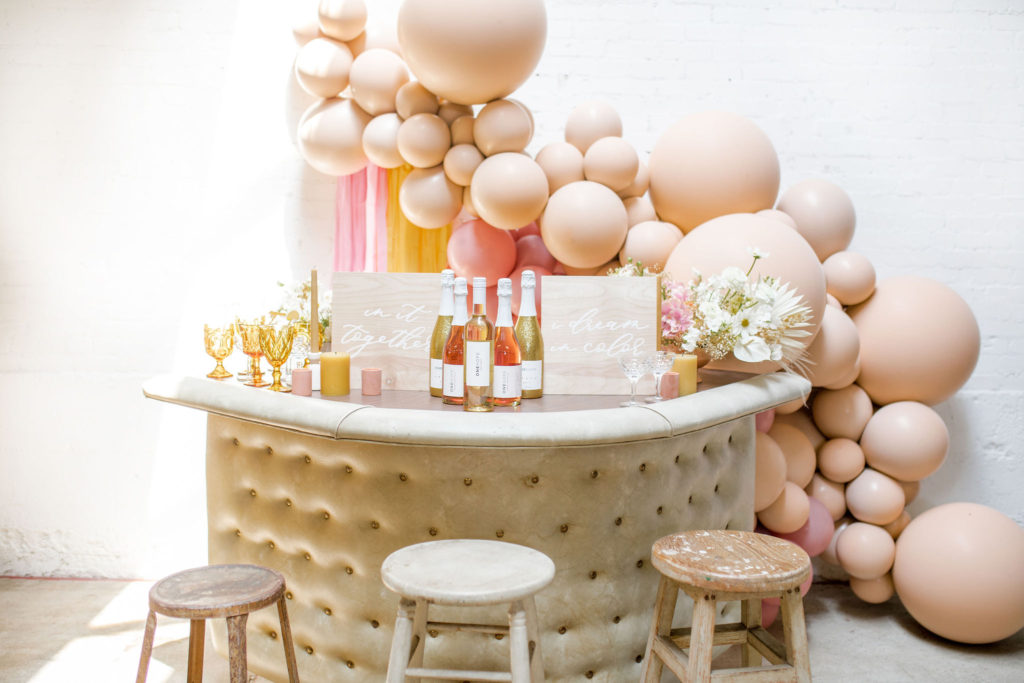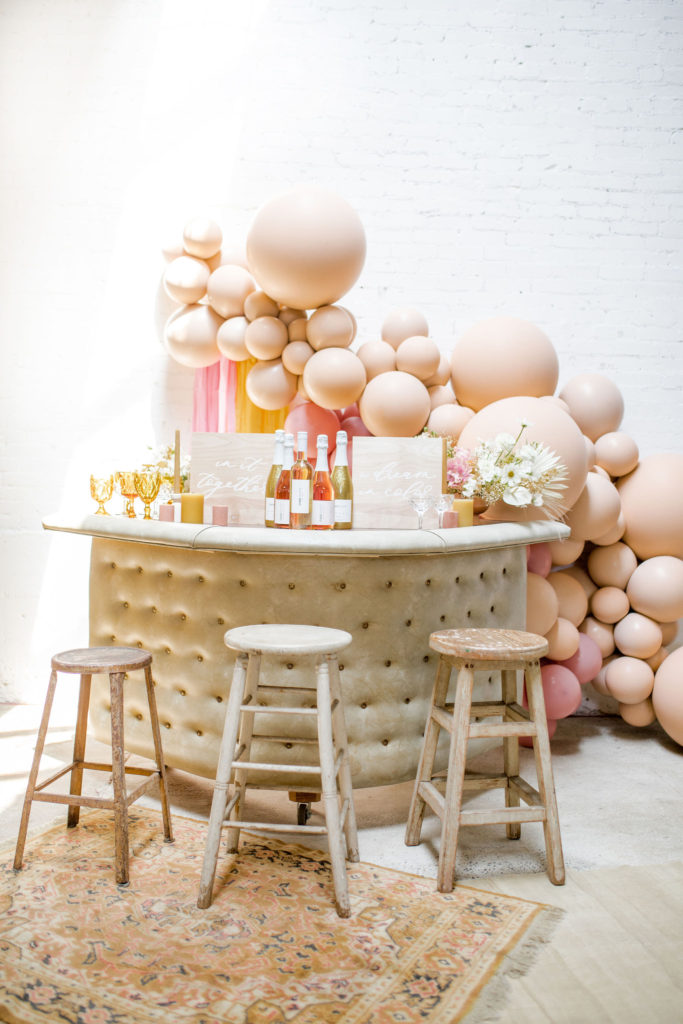 Kinda crazy how well our One Hope wine colors matches our theme! Hahah!! We decked out the bar with our details and cute signage by David and Leanna…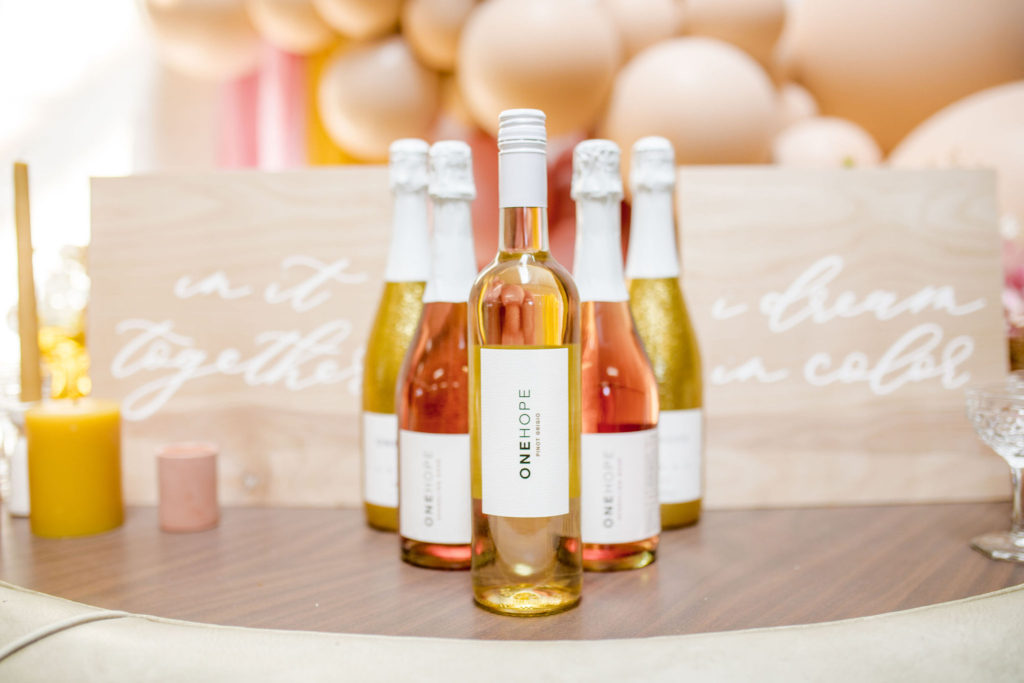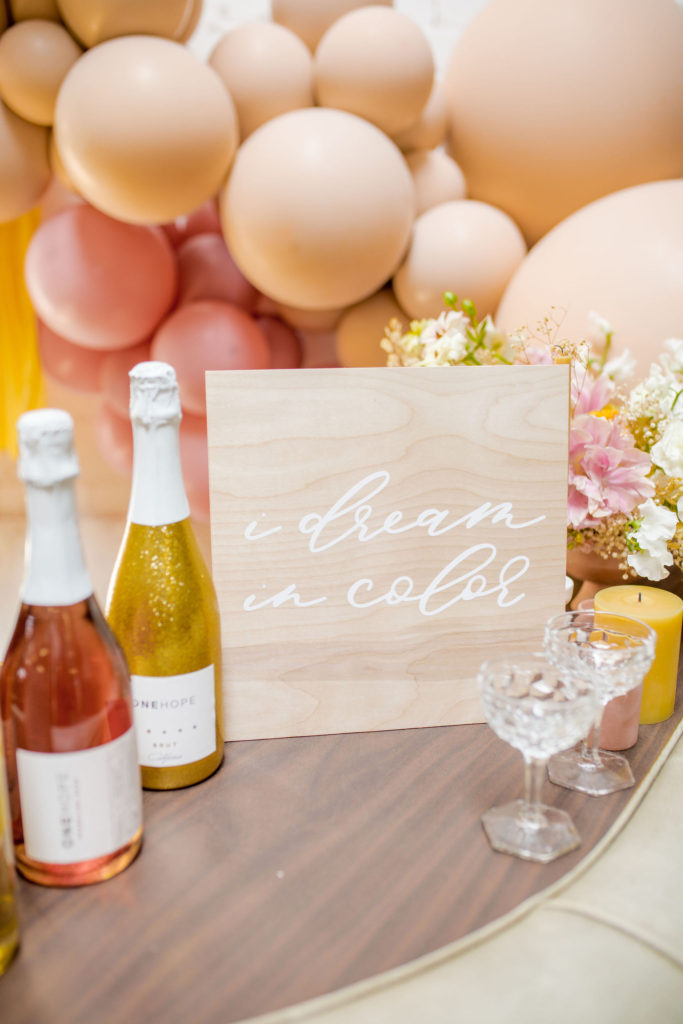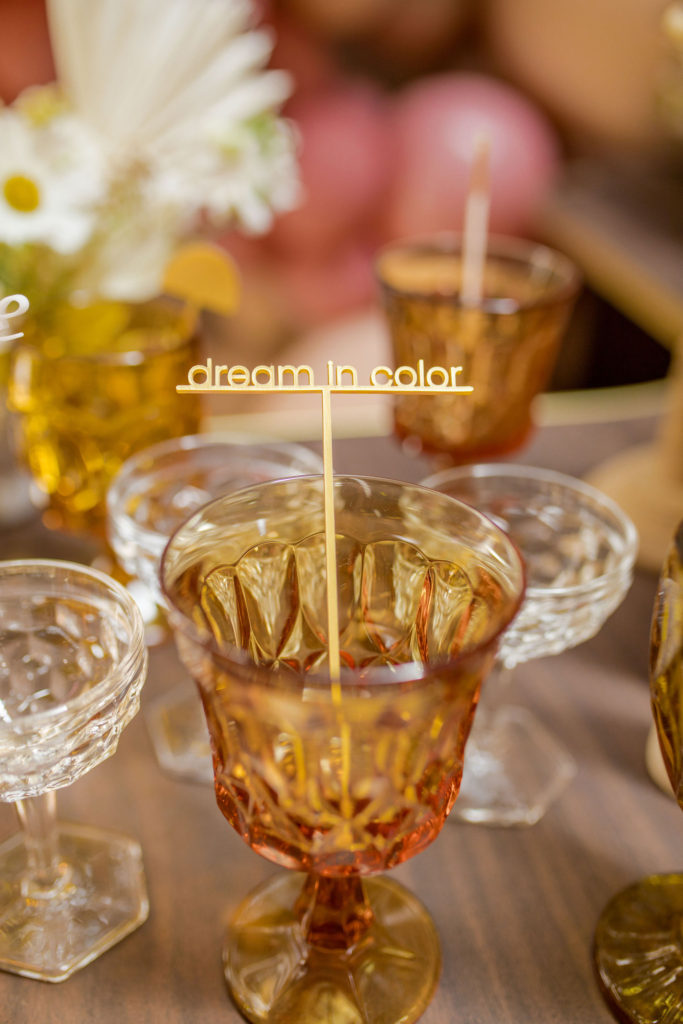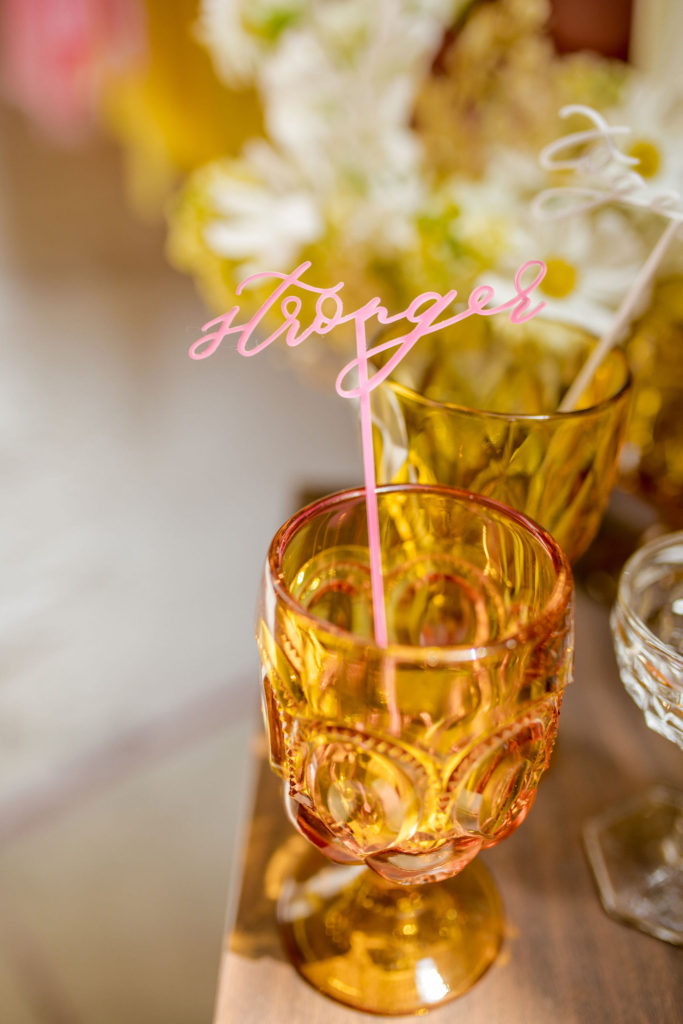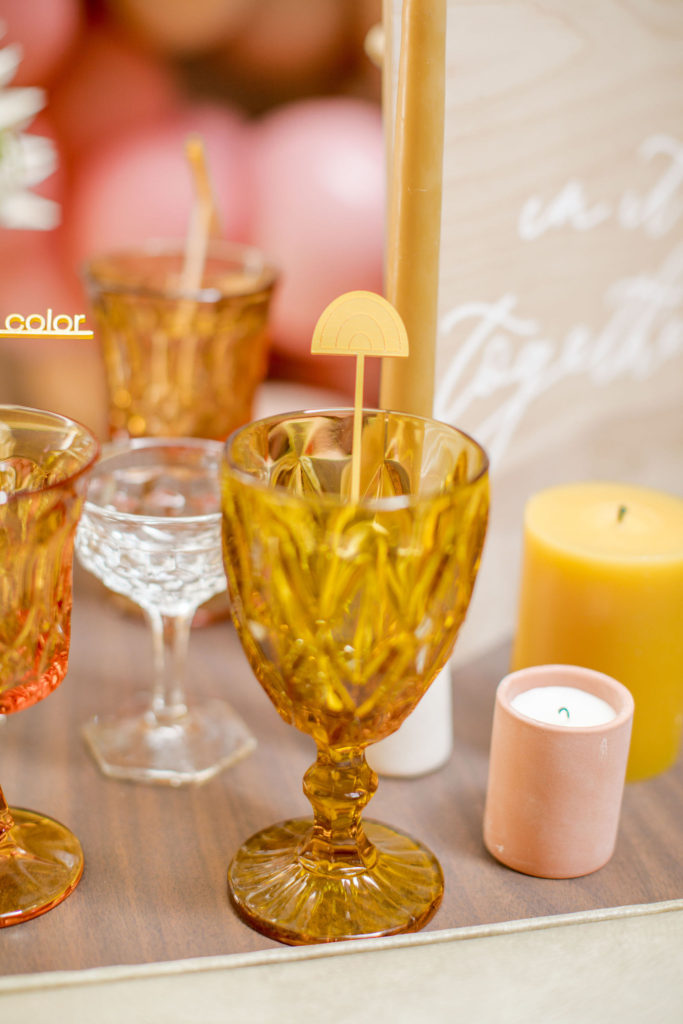 This bar situation is freaking perfect!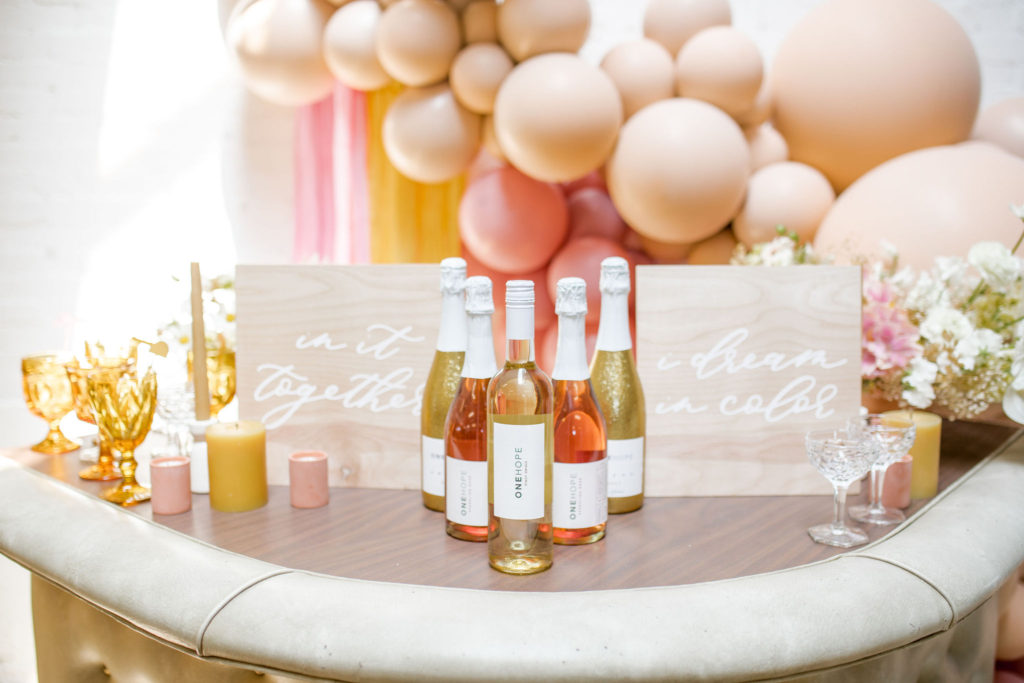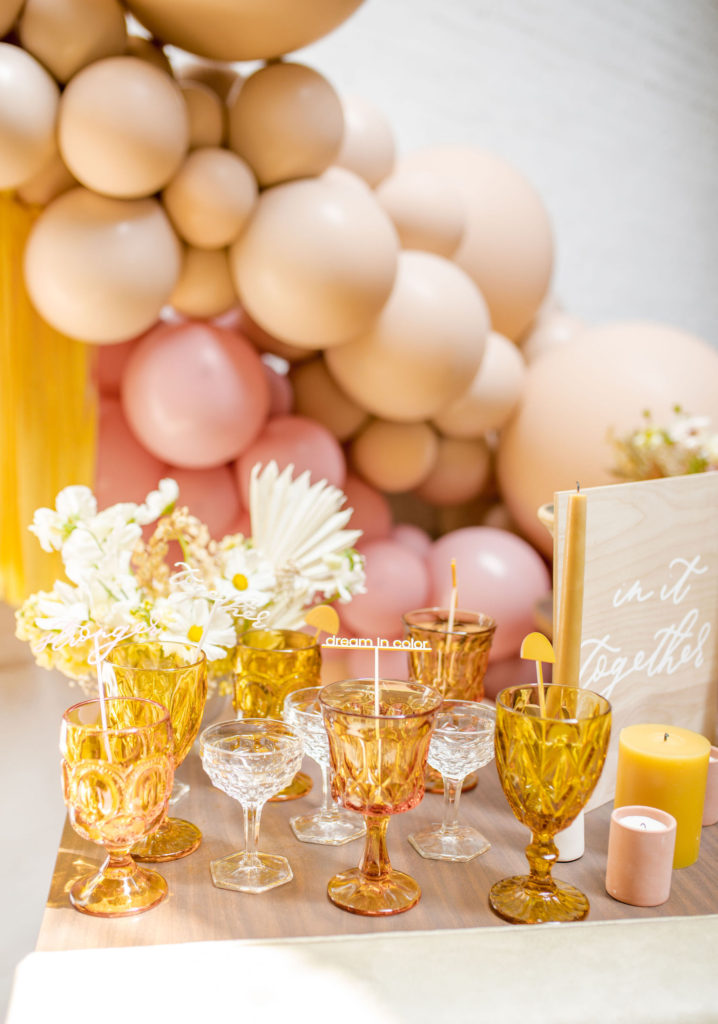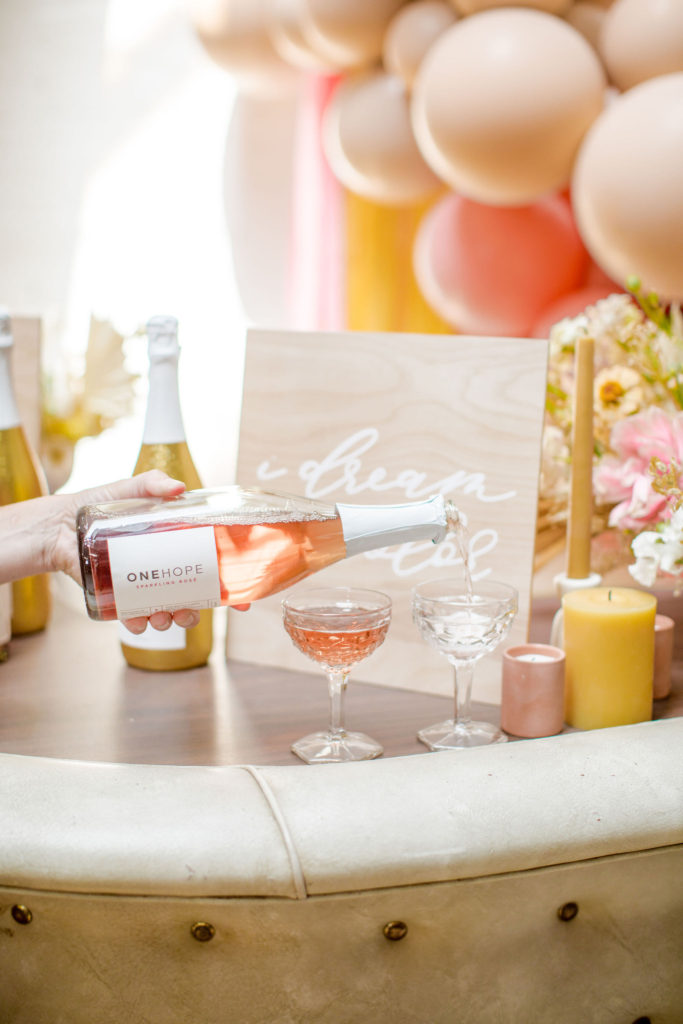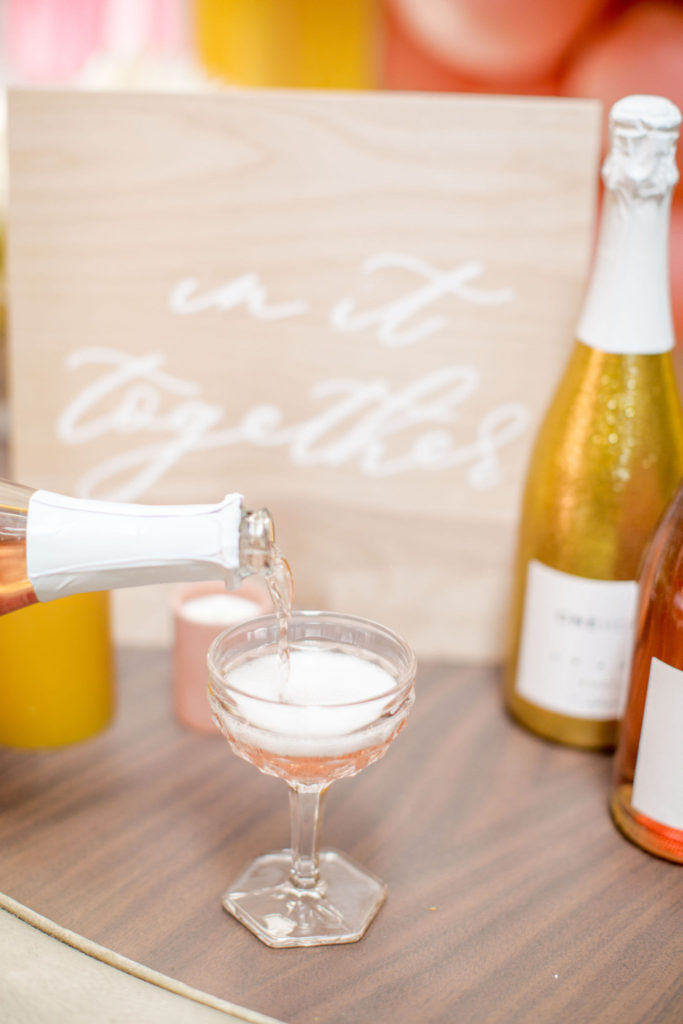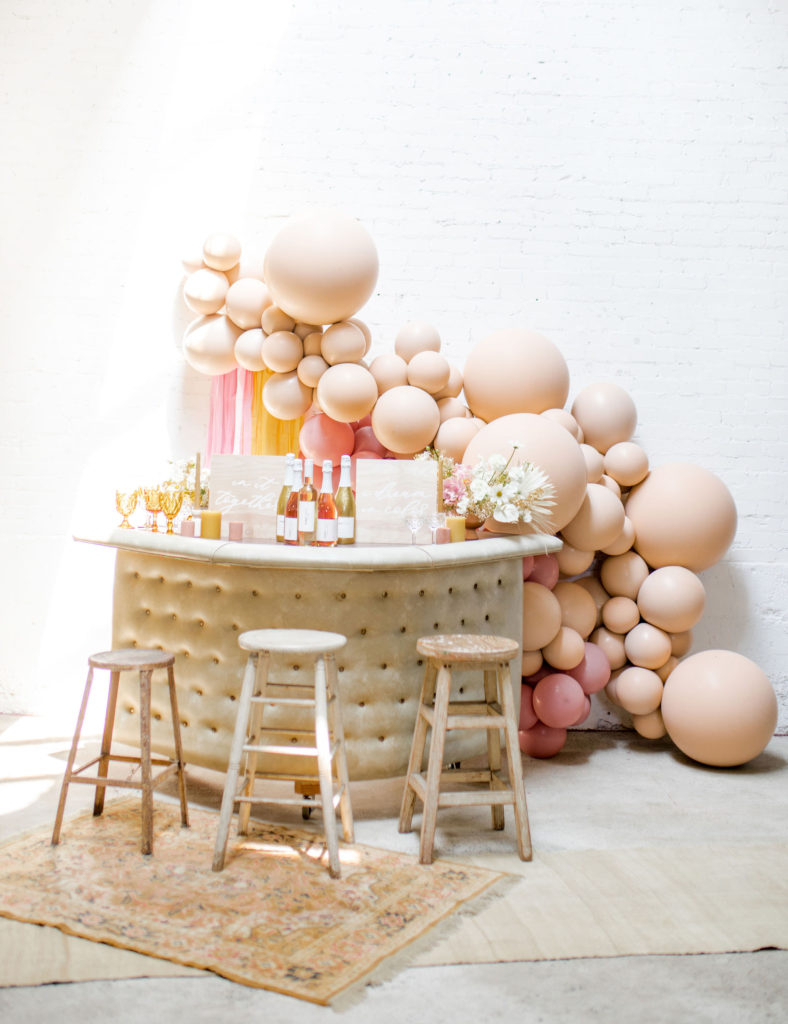 Onto the lounge… Which is always a happening spot at any party! A place to chill and socialize with the best of them. And enjoy a few drinks while you're at it! I know I've already raved about Sweet Salvage Rentals amazing collection, but as you can see it just gets better…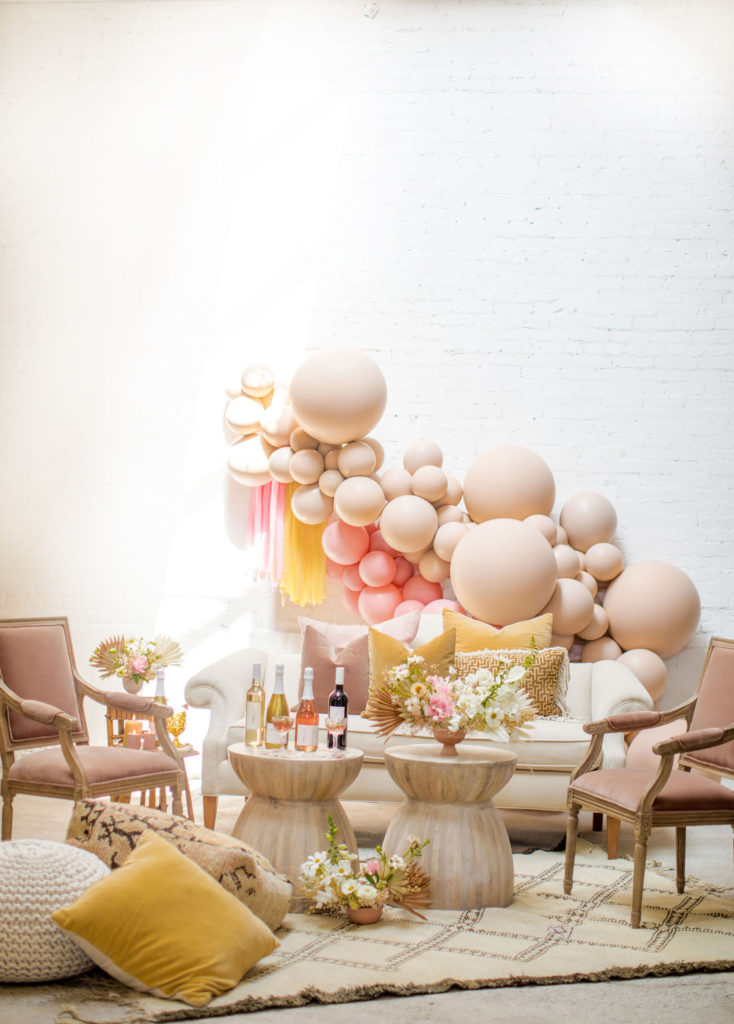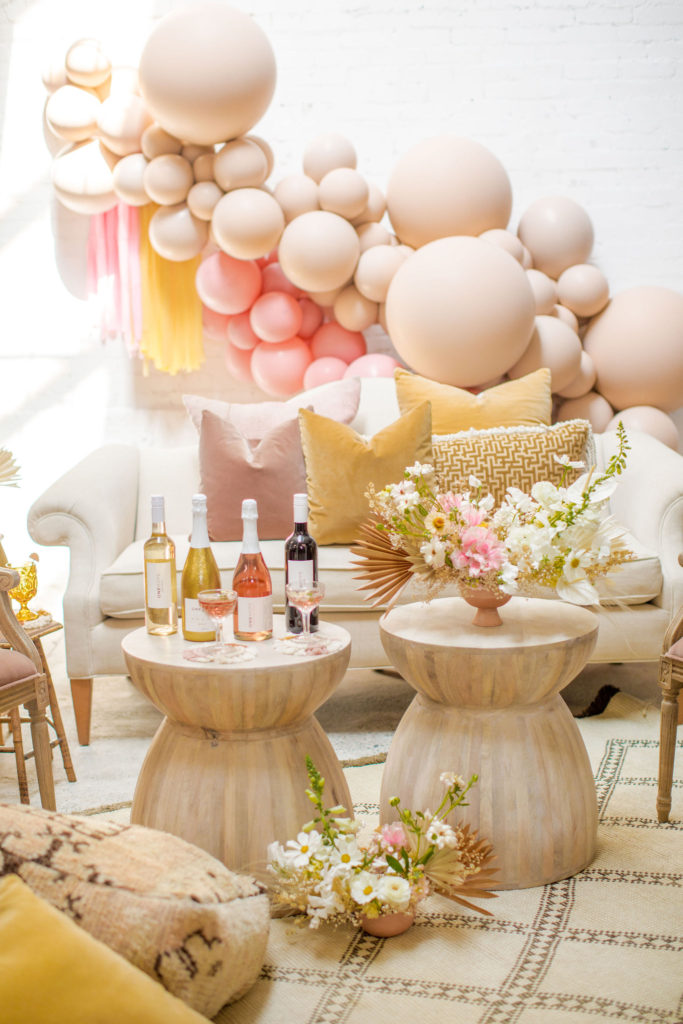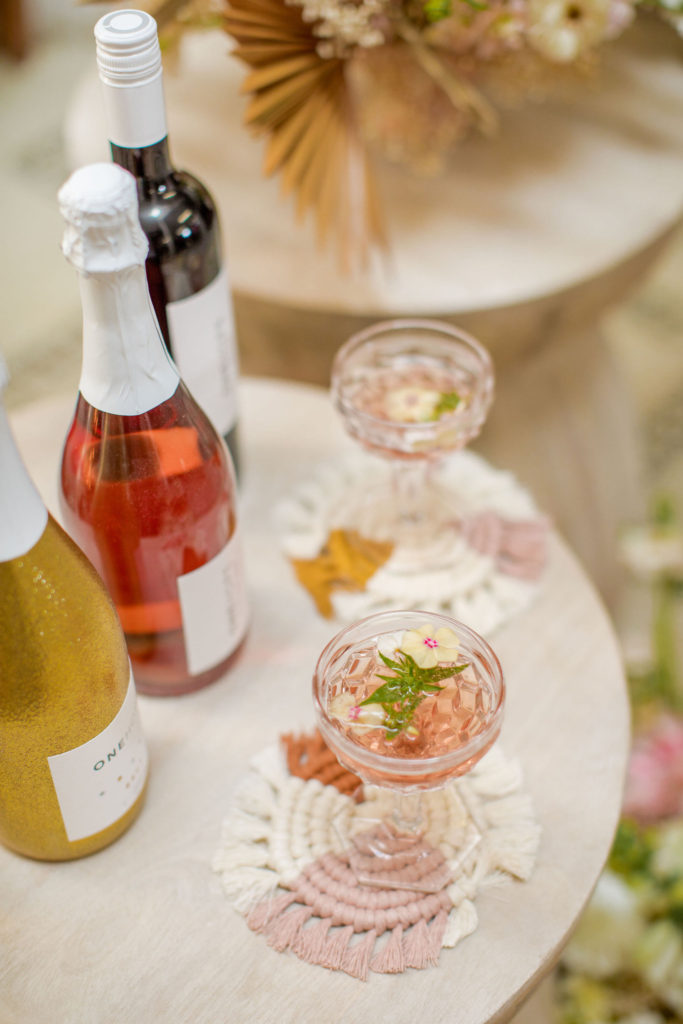 And one more moment for those insane balloons – The Pop Shop does it again!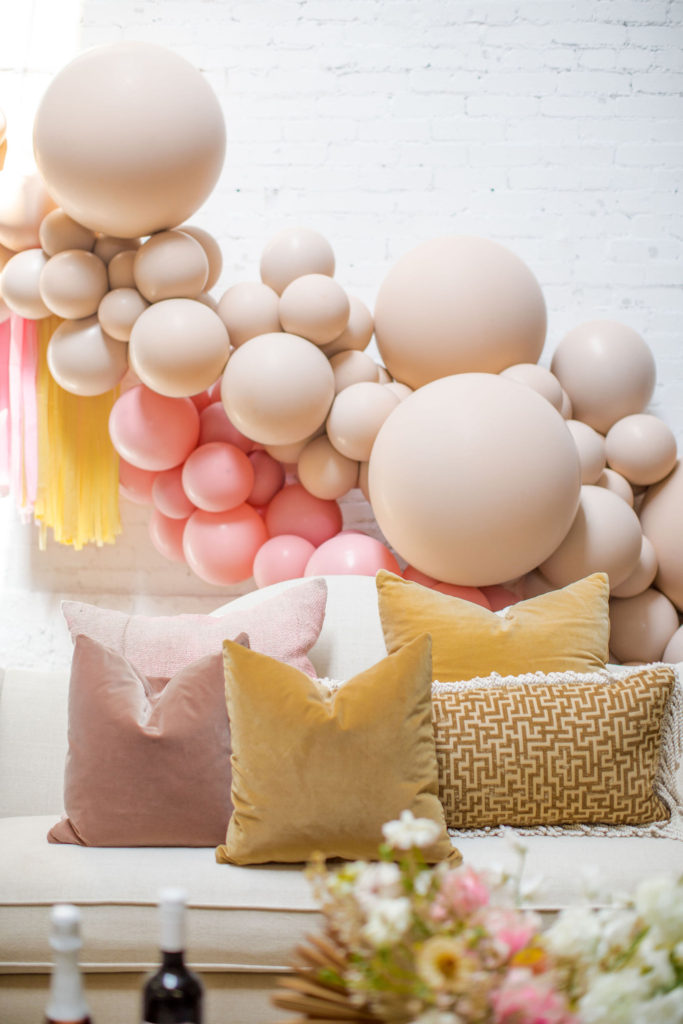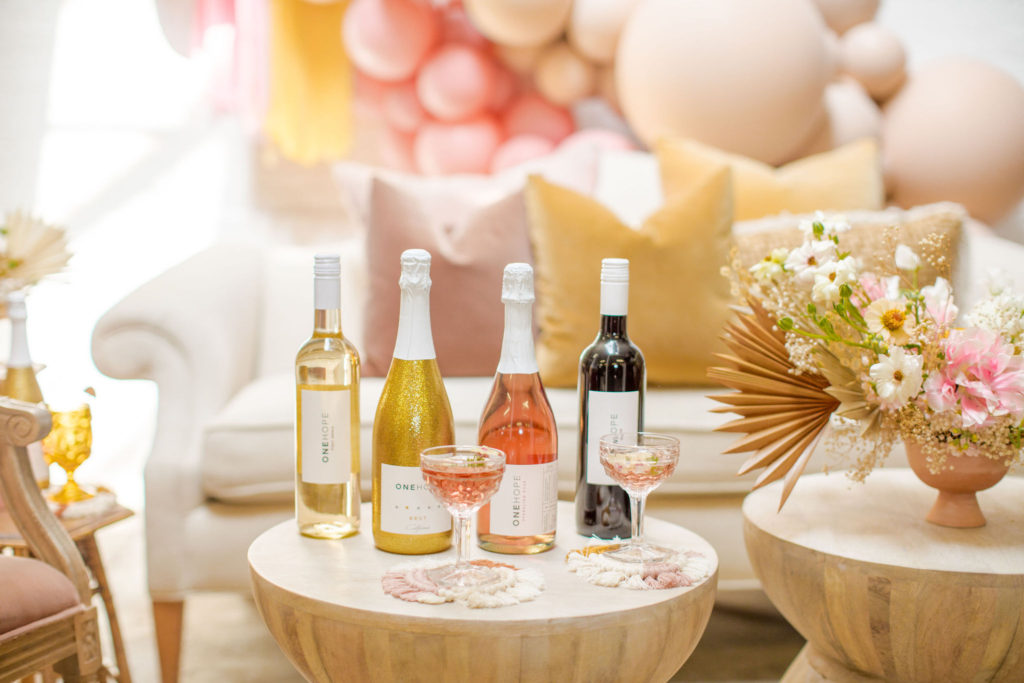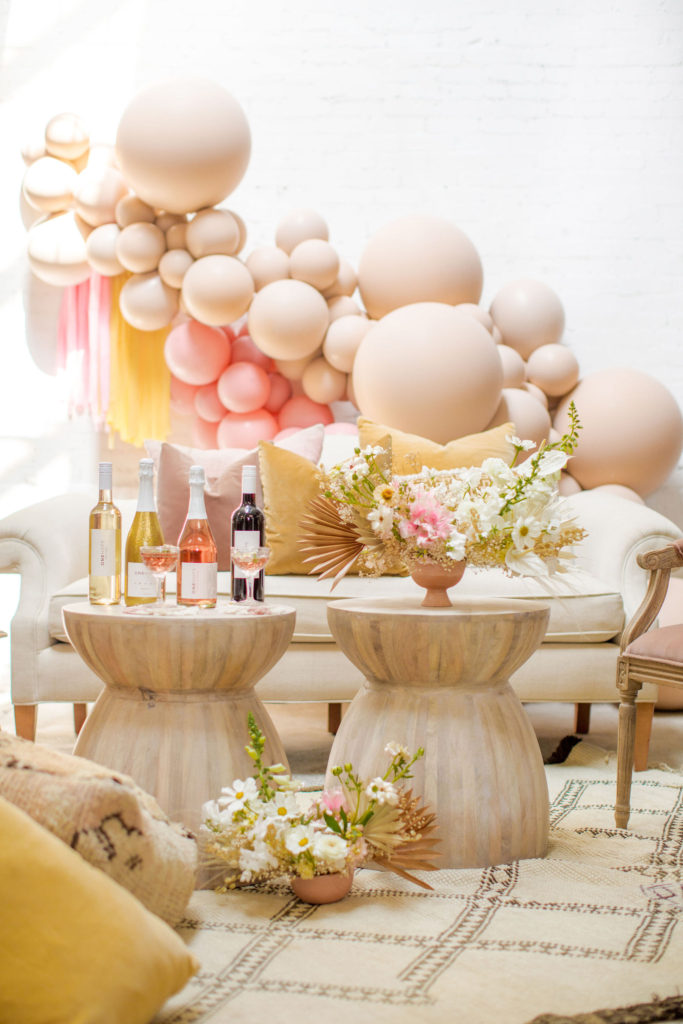 And just a little extra dash of pretty to finish it off!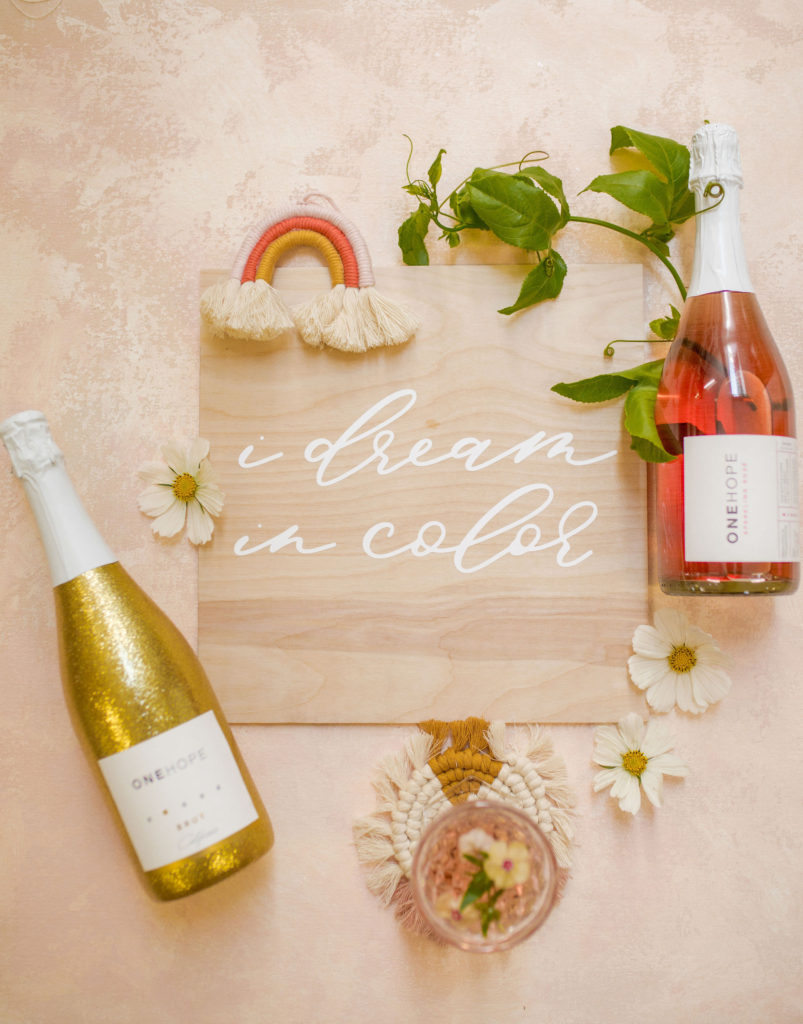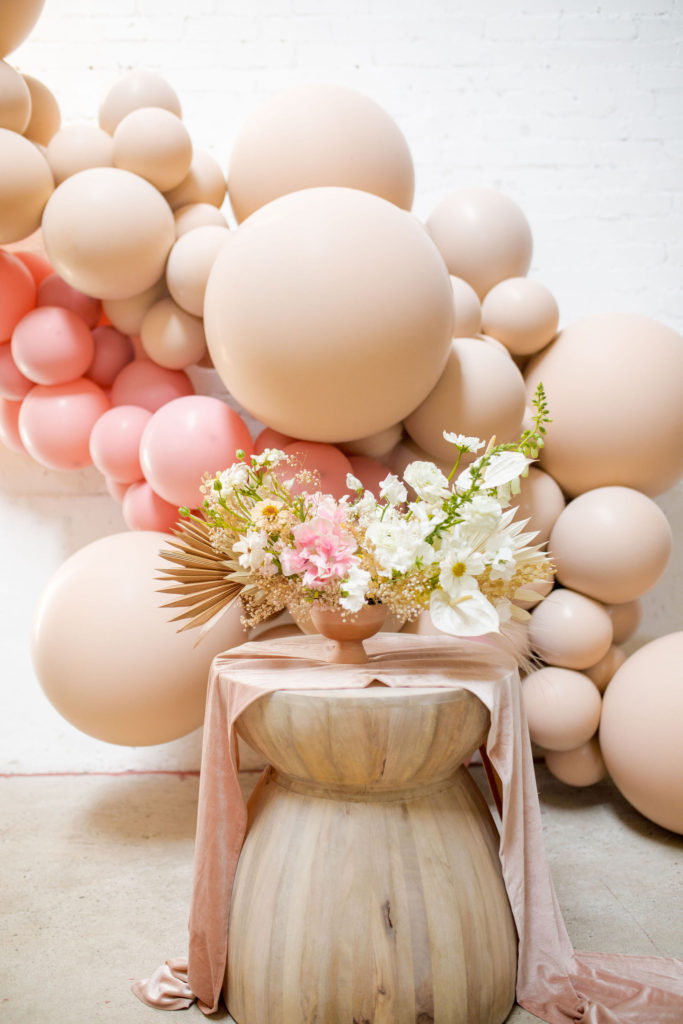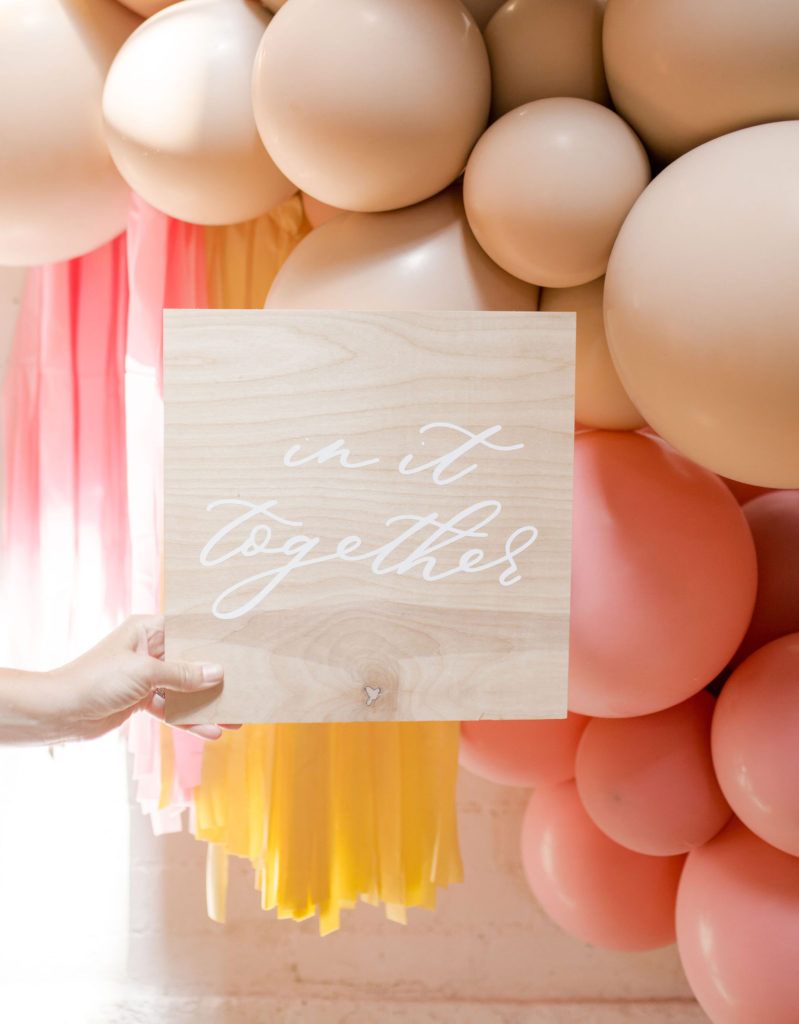 Hope this inspired you! Remember, we are stronger together!!
xx
Jacquelyn