Who says a Friendsgiving celebration has to be a dinner?! We went for a fun brunch this year because brunch is always a good idea!! Some of the essentials are a mimosa bar, a pretty and tasty food spread, a gorgeous tablescape, and of course – friends!! Think about it, mimosas and delicious foods?! Save the turkey for Thanksgiving and go with some chicken and waffles!! Keep scrolling to see all the pretty hosted by our dear friend Marnie, owner of Sweet Salvage Rentals, who has the prettiest home!!
Photos by Julia Lukash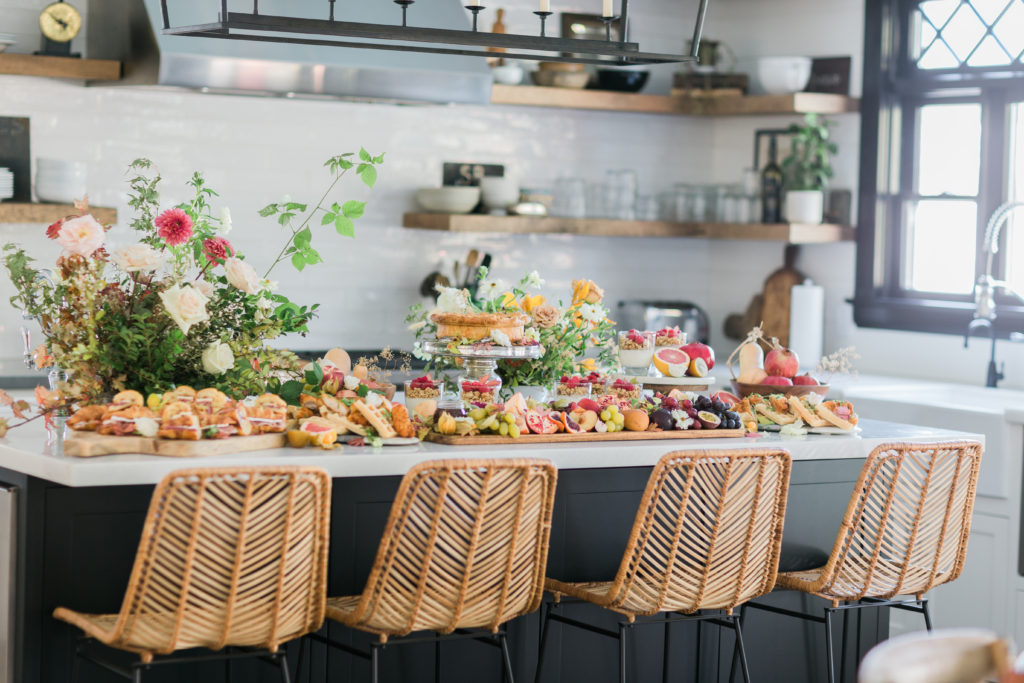 As I always say, every good party starts with an invite! Our friend Courtney from Poppy Jack Shop in collaboration with The Neutral Knot is responsible for this one! We haven't worked with Courtney in a while as this was her first project back with us since having baby Harper back in July. So happy she's back in action and more on that cutie baby Harper later…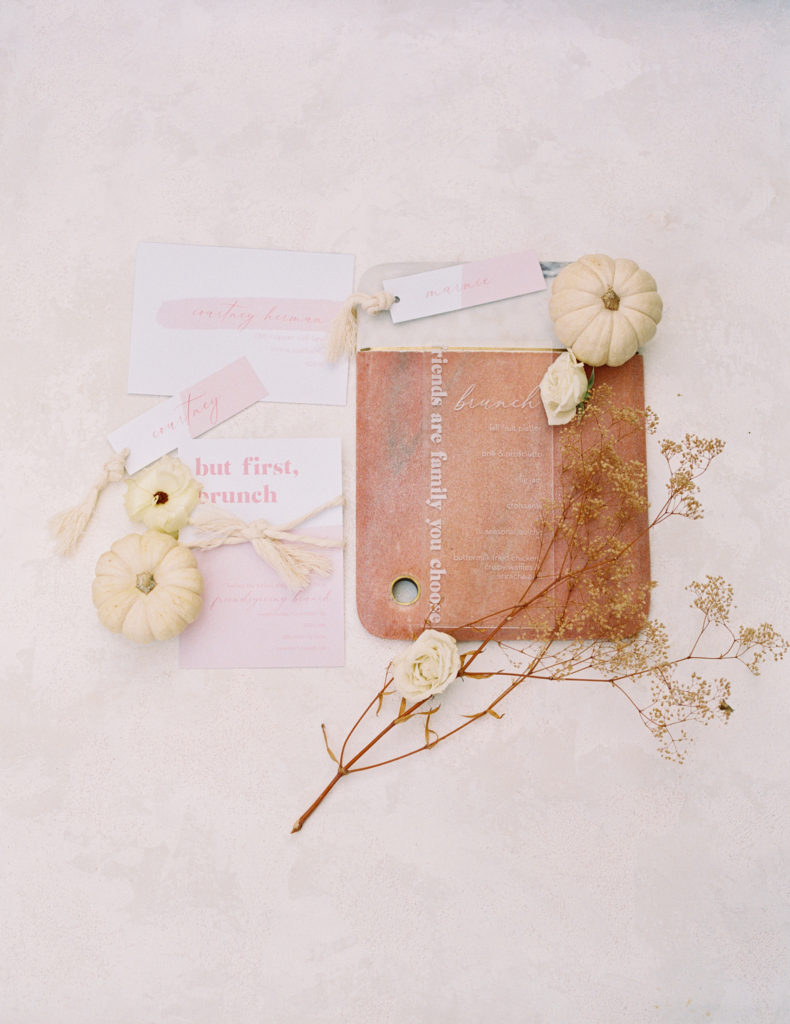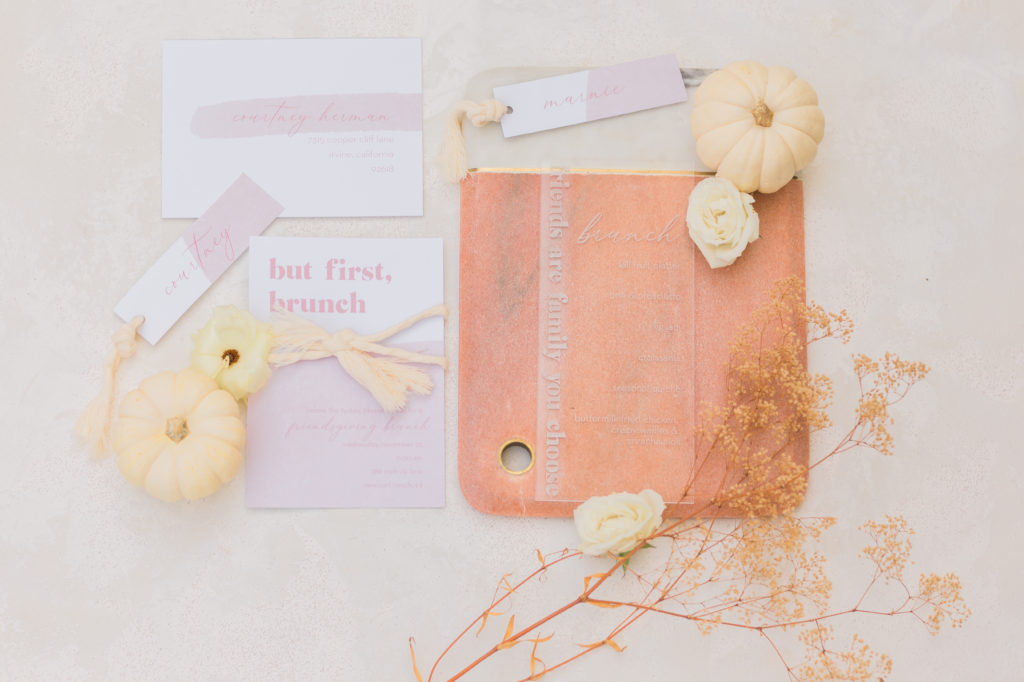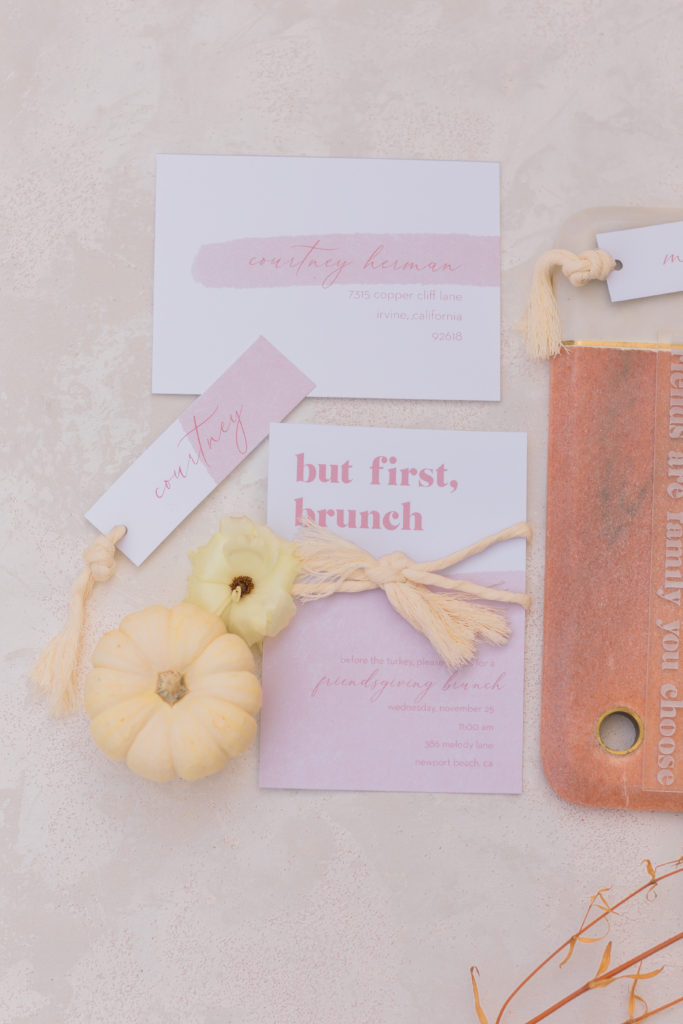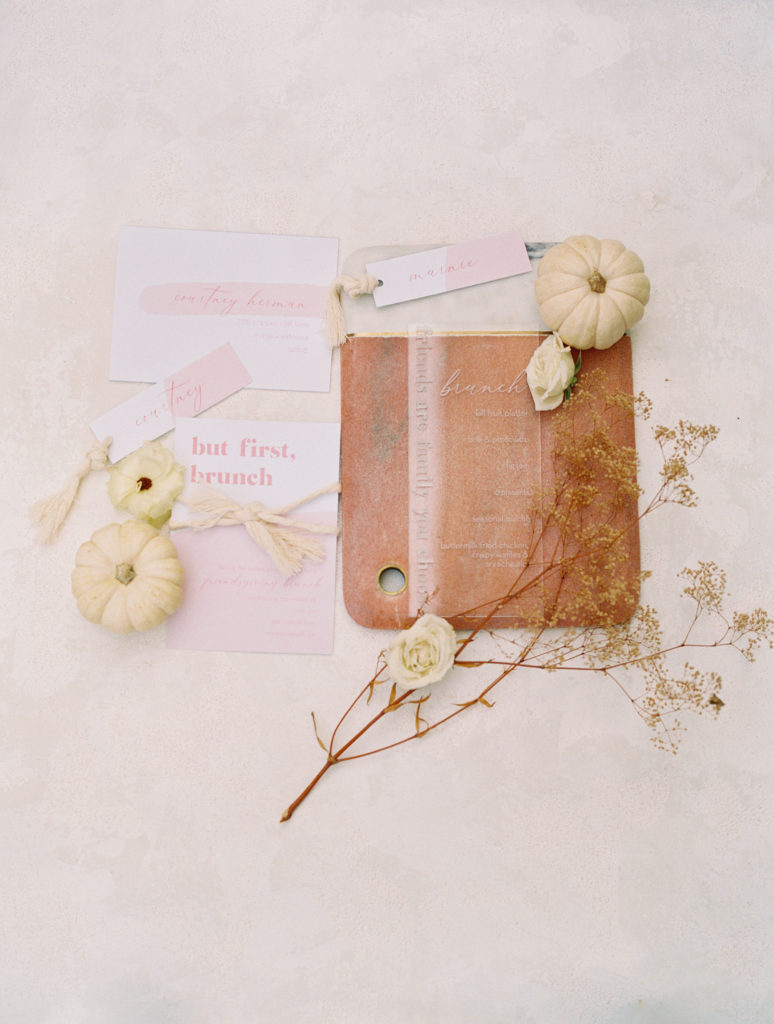 The table was set outside because when you live in Southern California you can do that! Especially when you have a pretty spot like this. I used The Little Market's beautiful tabletop items to set the table and it was adorned with pretty Fall flowers by Third & Park.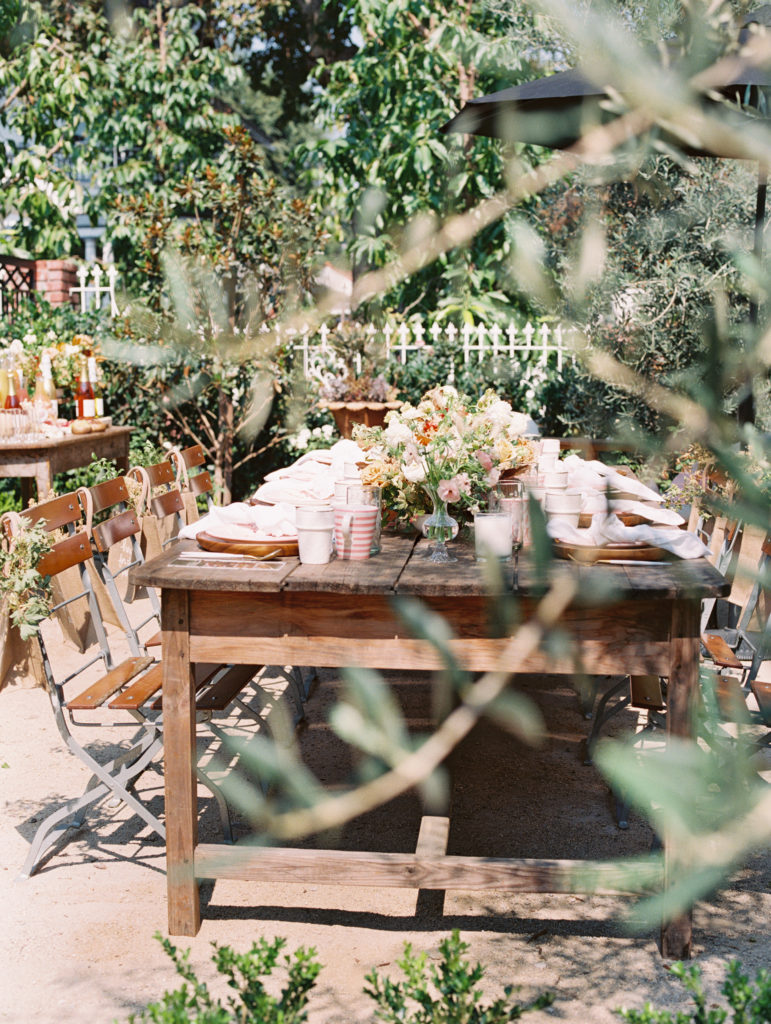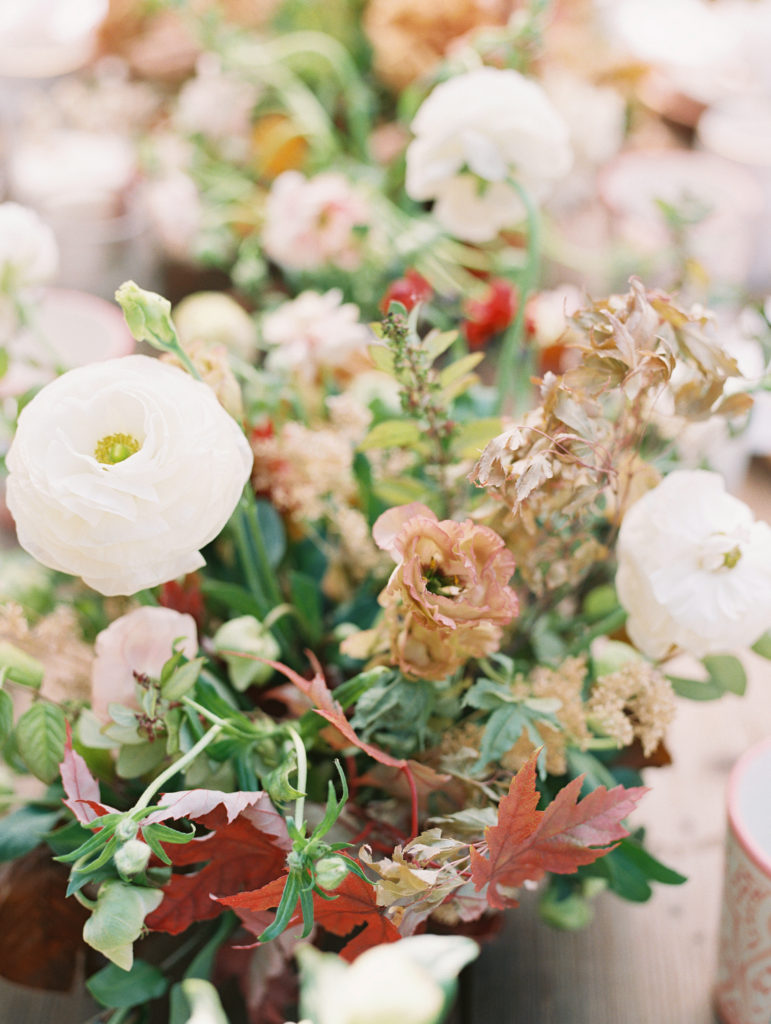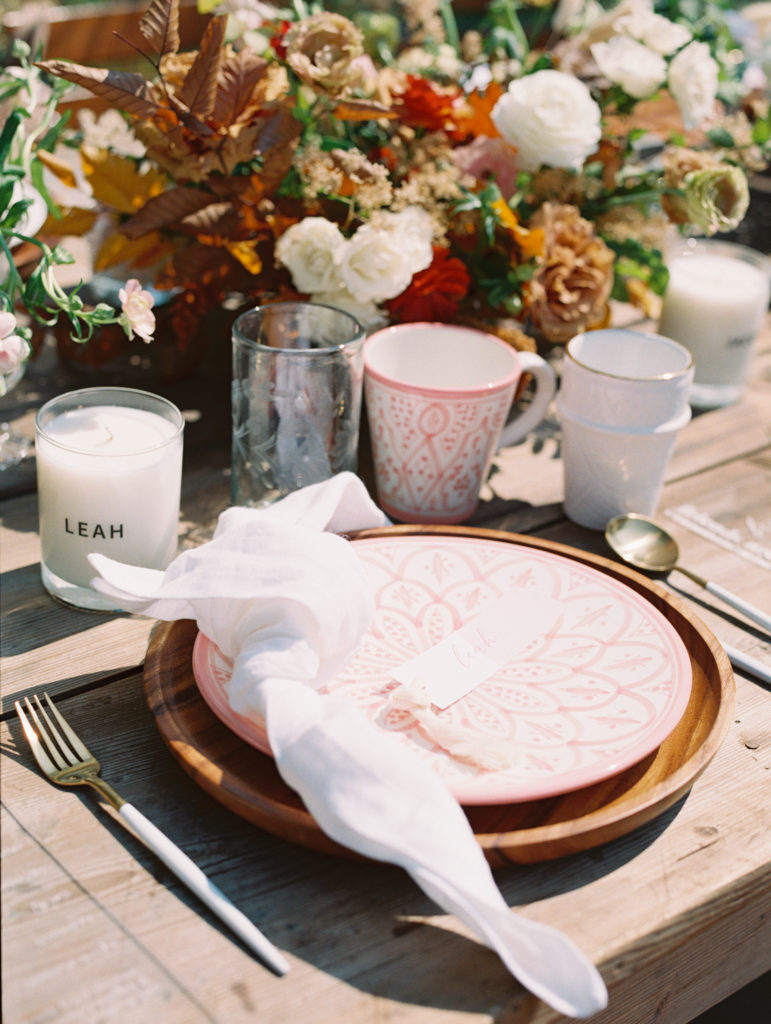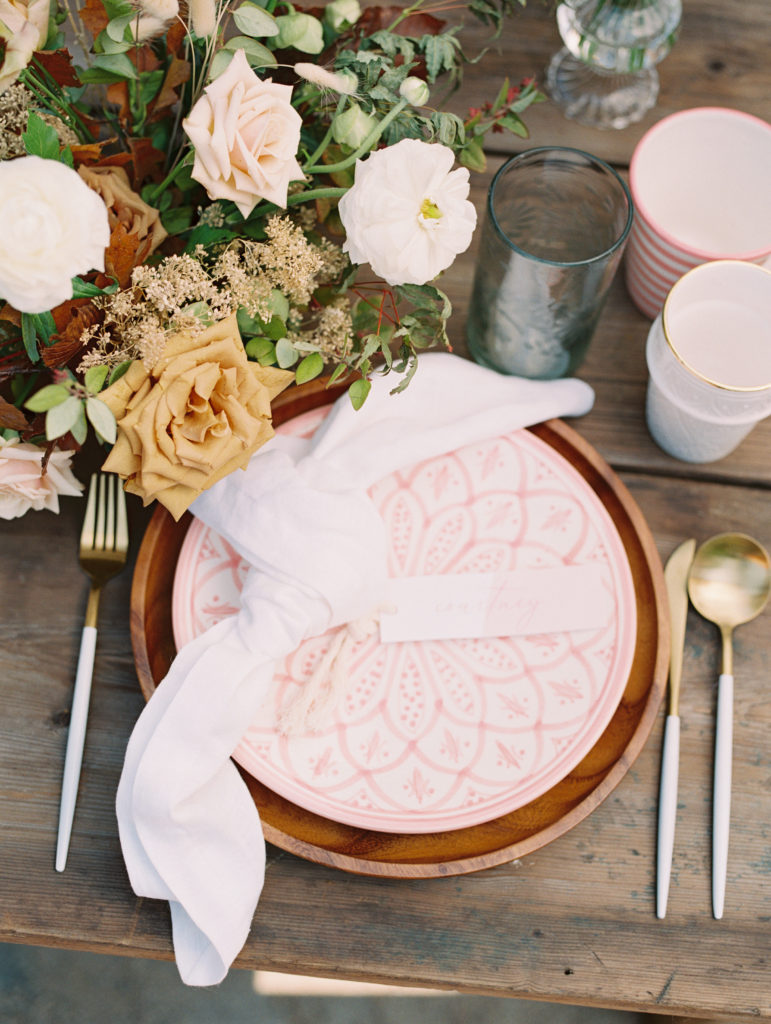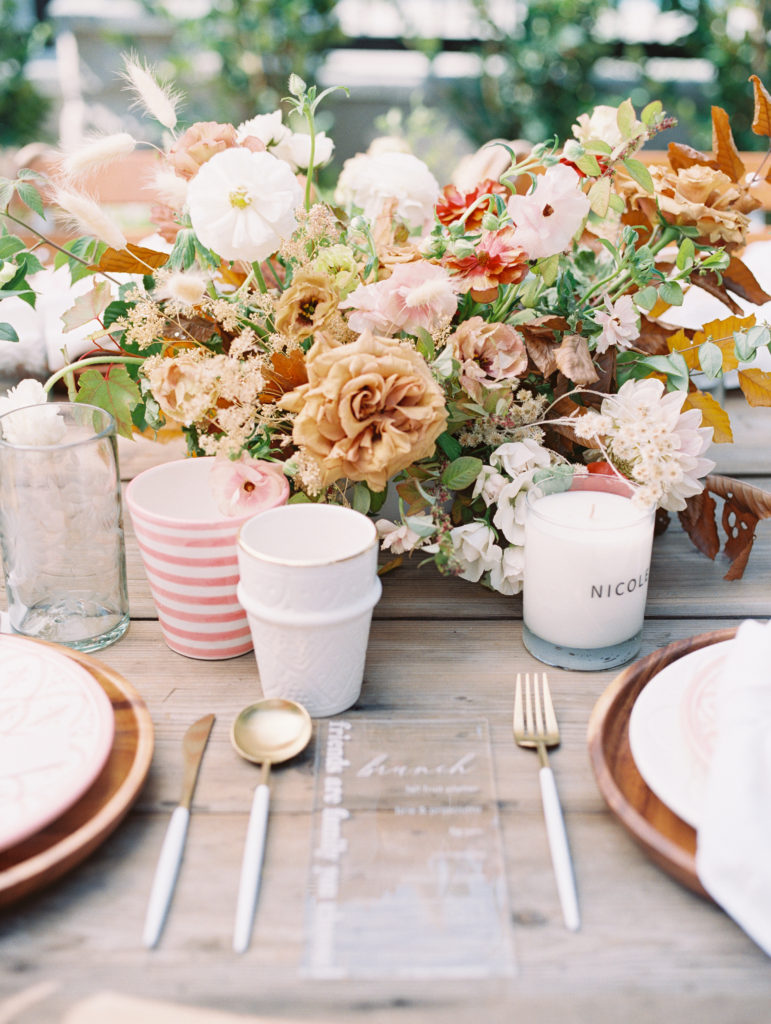 Such a pretty spot for a girl's brunch, don't you think?! The beautiful table and chairs are from Sweet Salvage Rentals, which Marnie happens to own.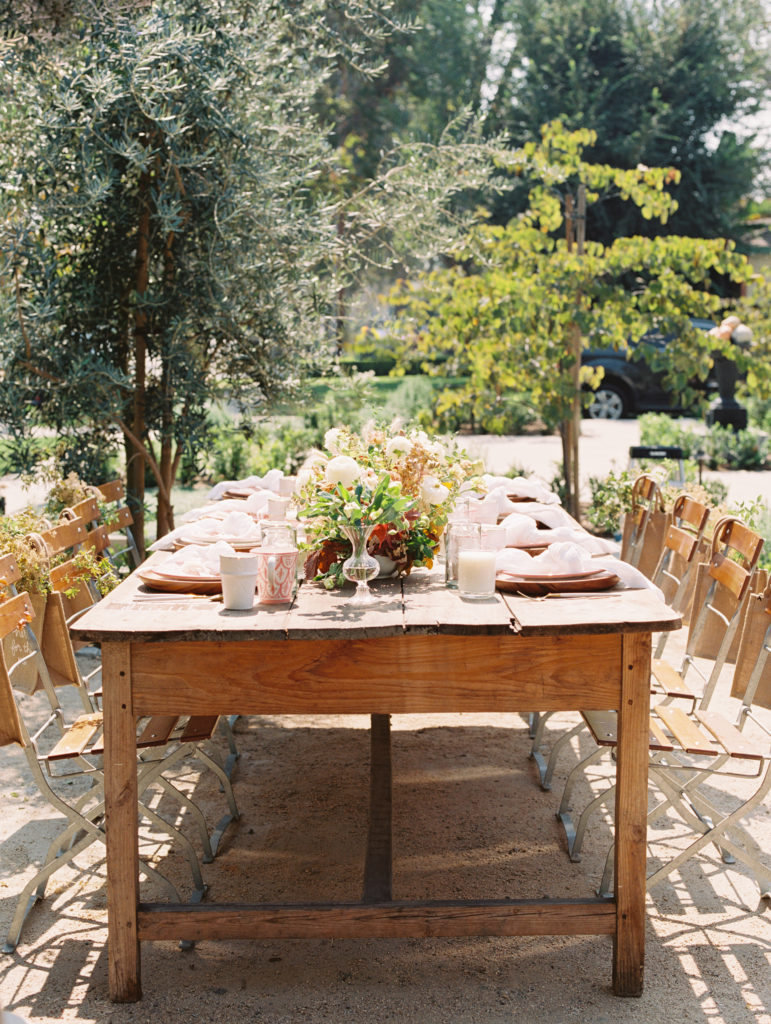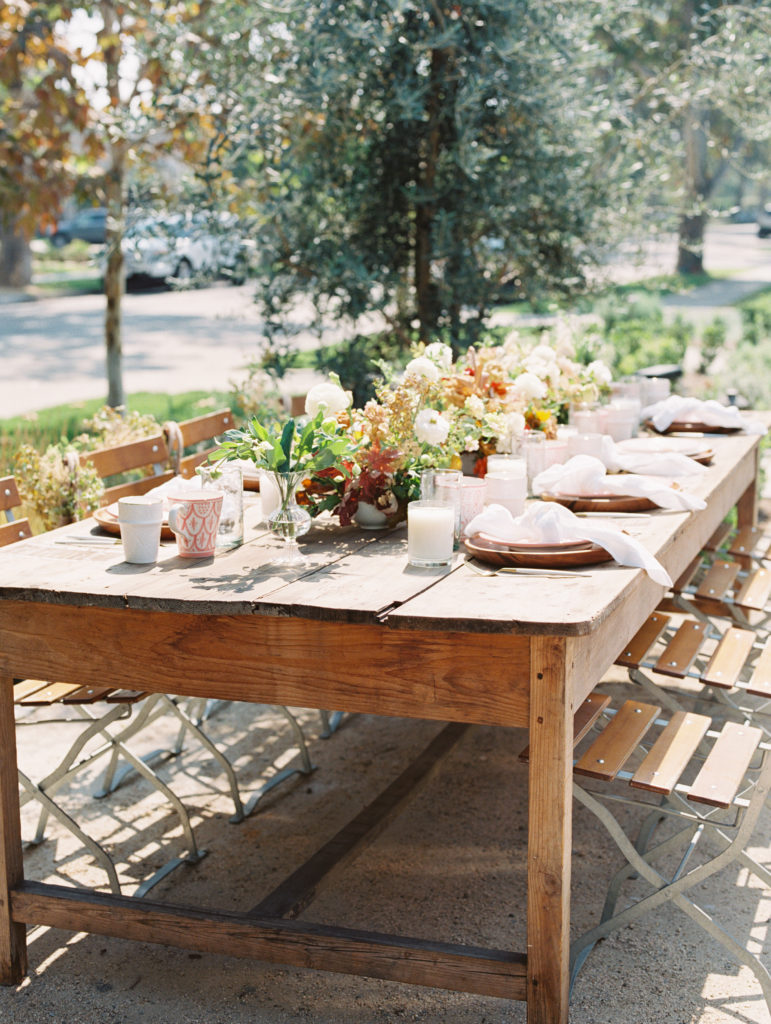 We had to add our favorite balloons from The Pop Shop of course! All of us gals contributed to this pretty party and enjoyed each other's company as well!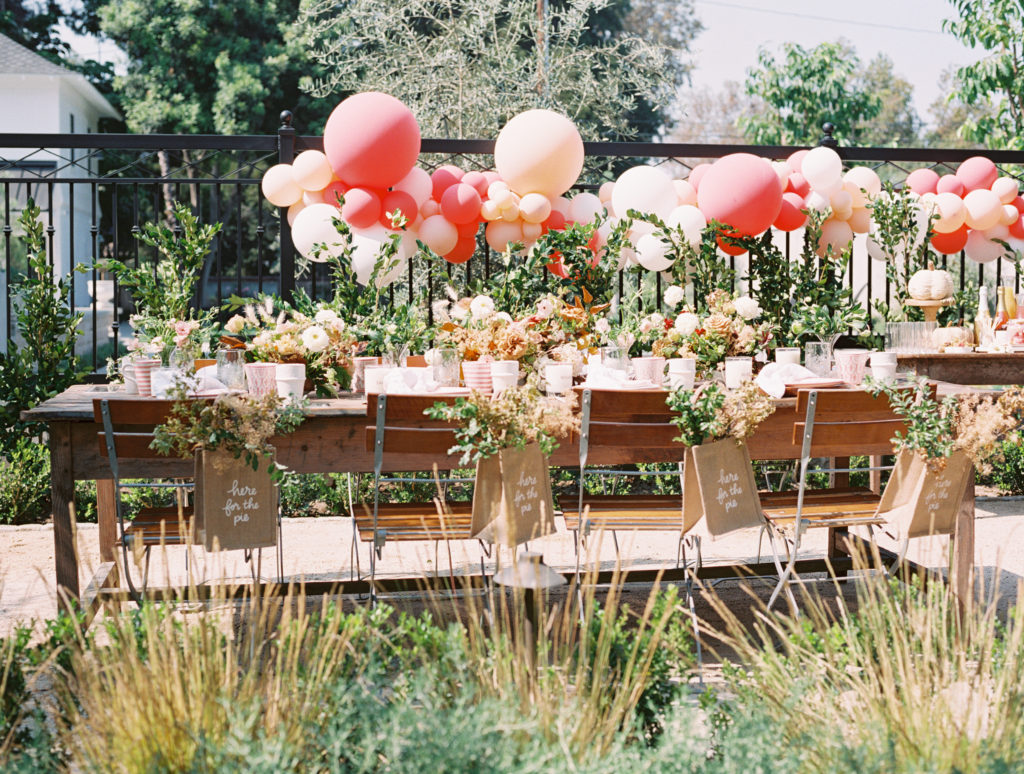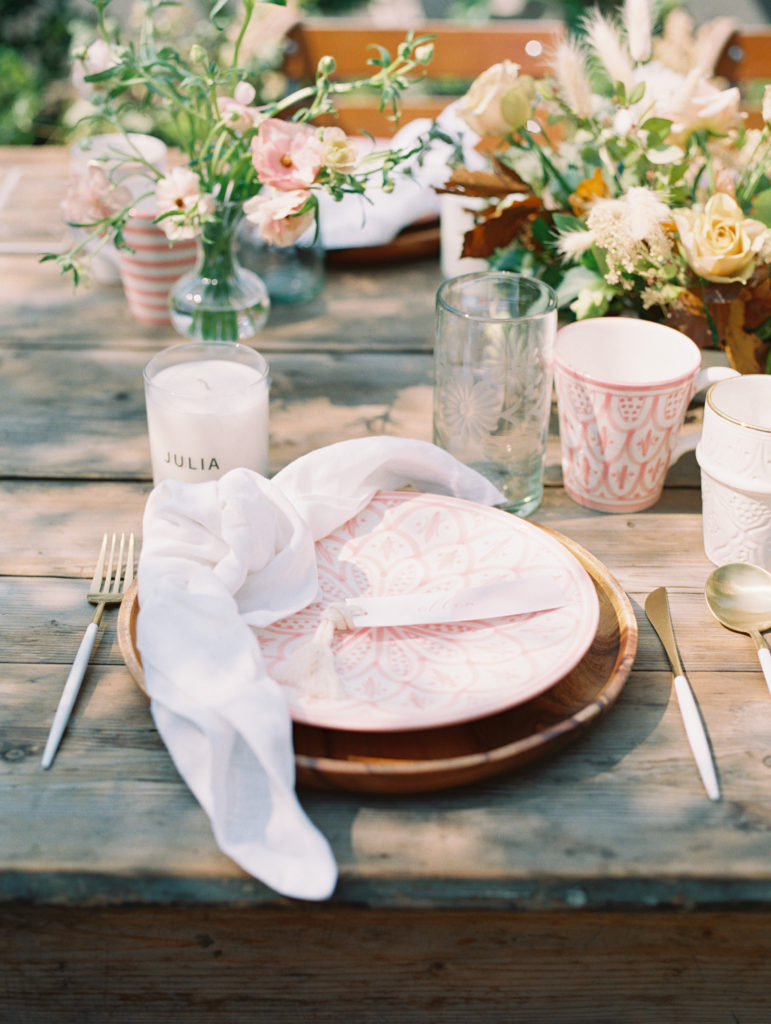 Each place setting had a few goodies for the guests from The Little Market, like these personalized candles in Fall fragrances like Pumpkin Pie and Fig.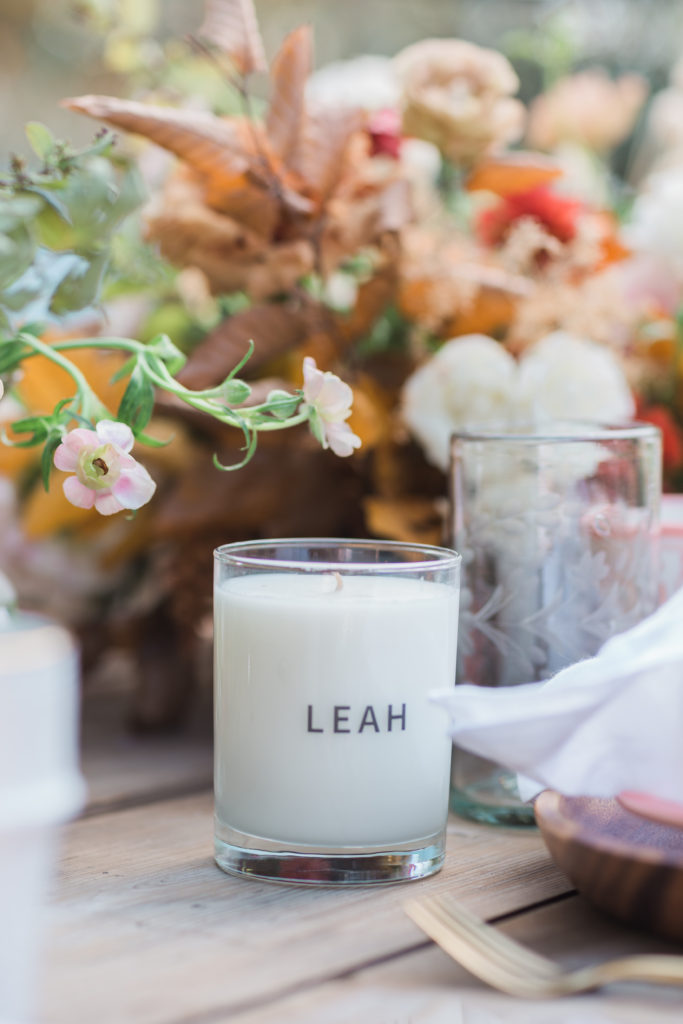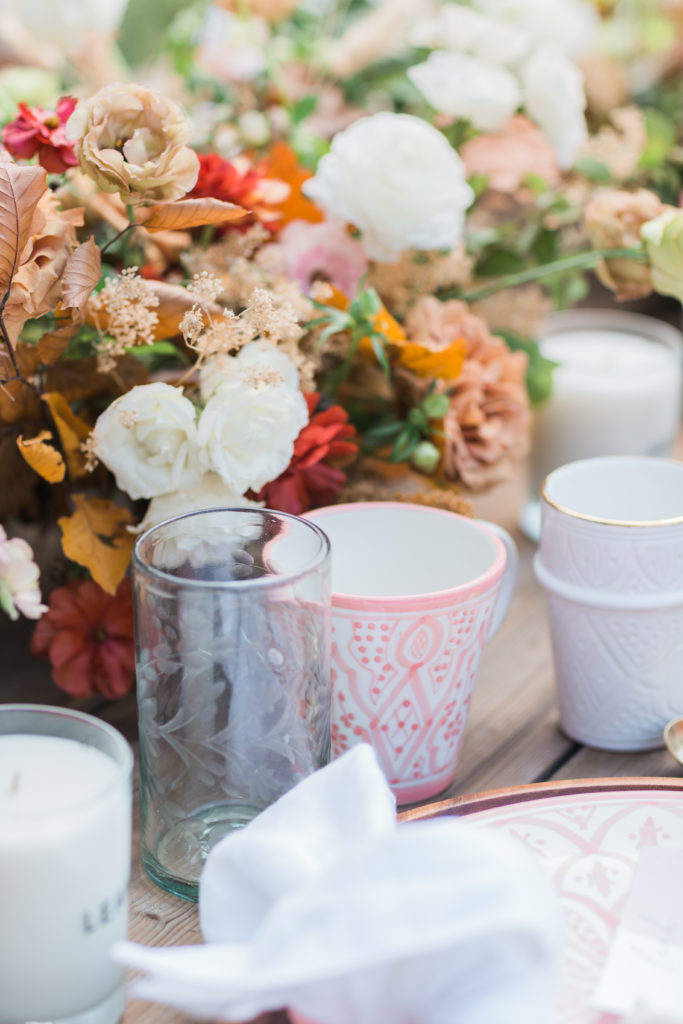 How cute are these place cards by Poppy Jack Shop and The Neutral Knot, I love that pretty paper and macrame combo!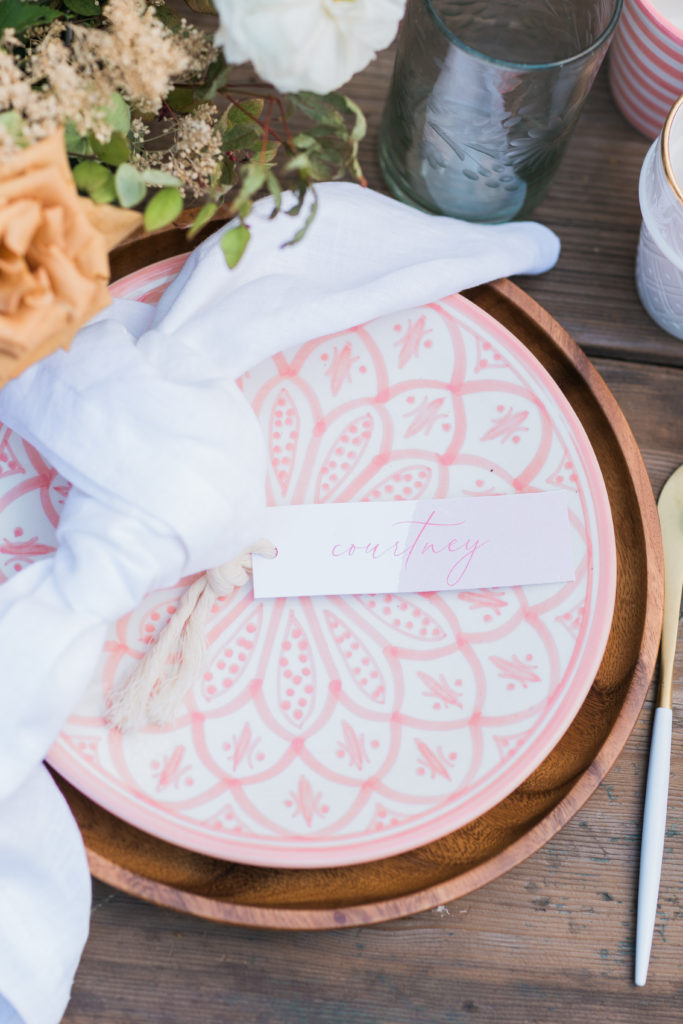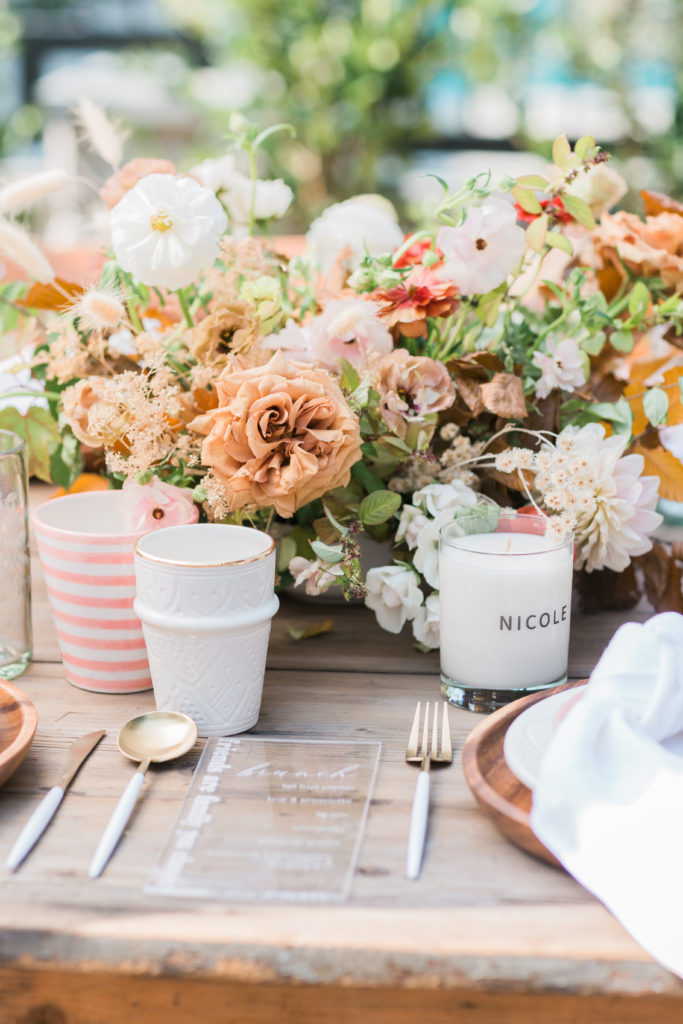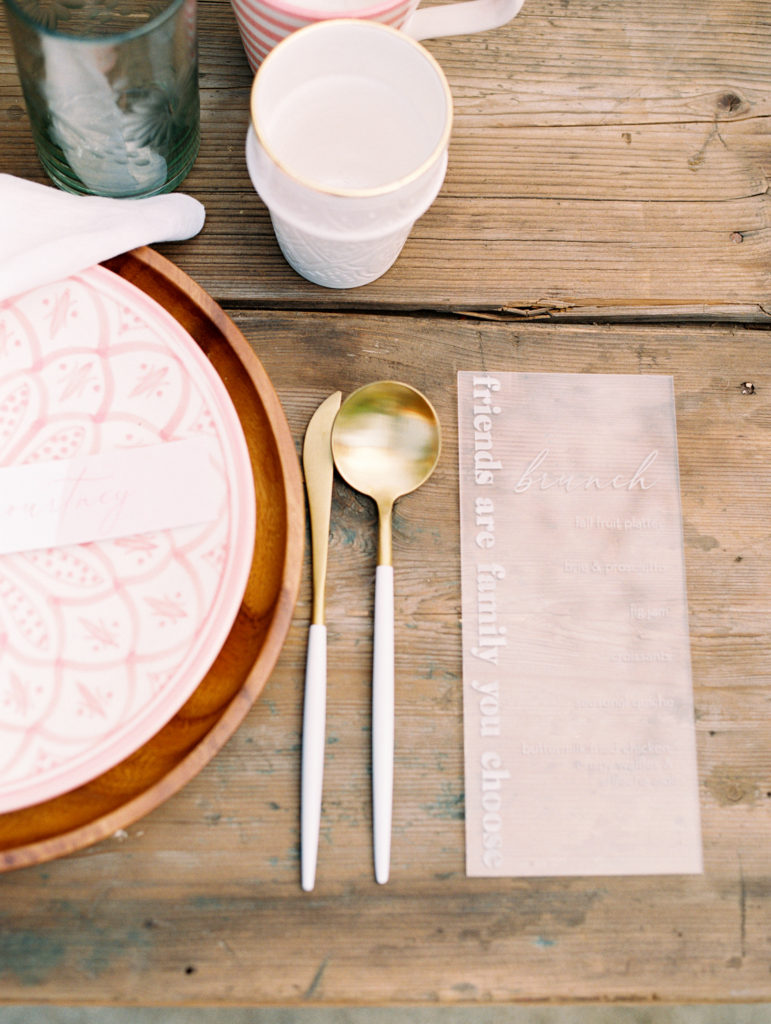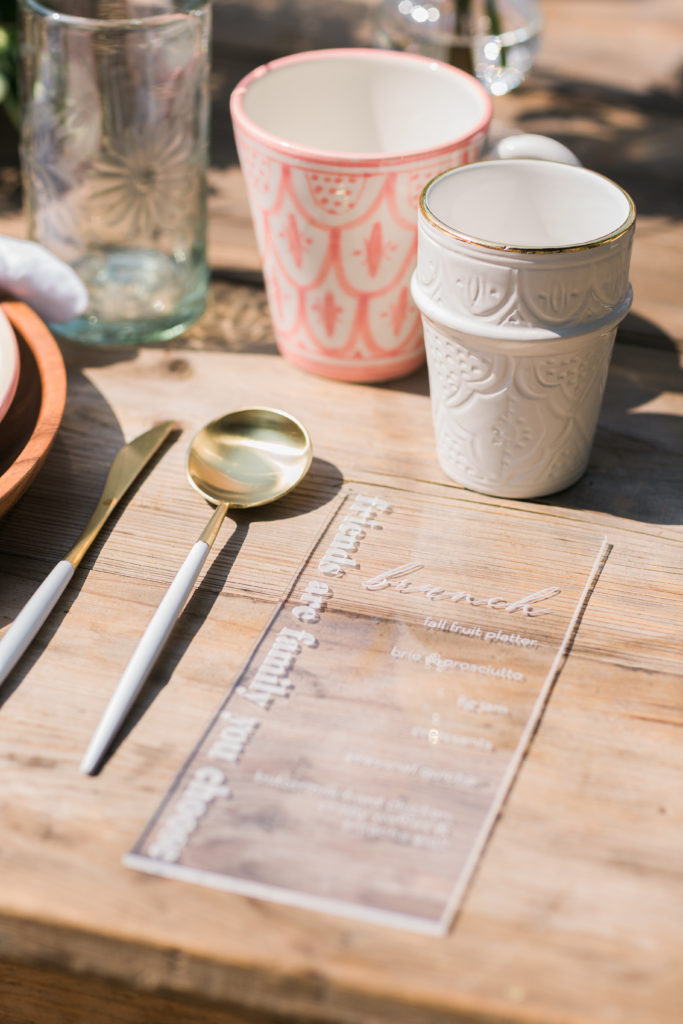 Another little gift were these adorable bags from The Little Market! So fun, right?! The perfect Thanksgiving saying and a bag full of Fall foliage to take home and make an arrangement!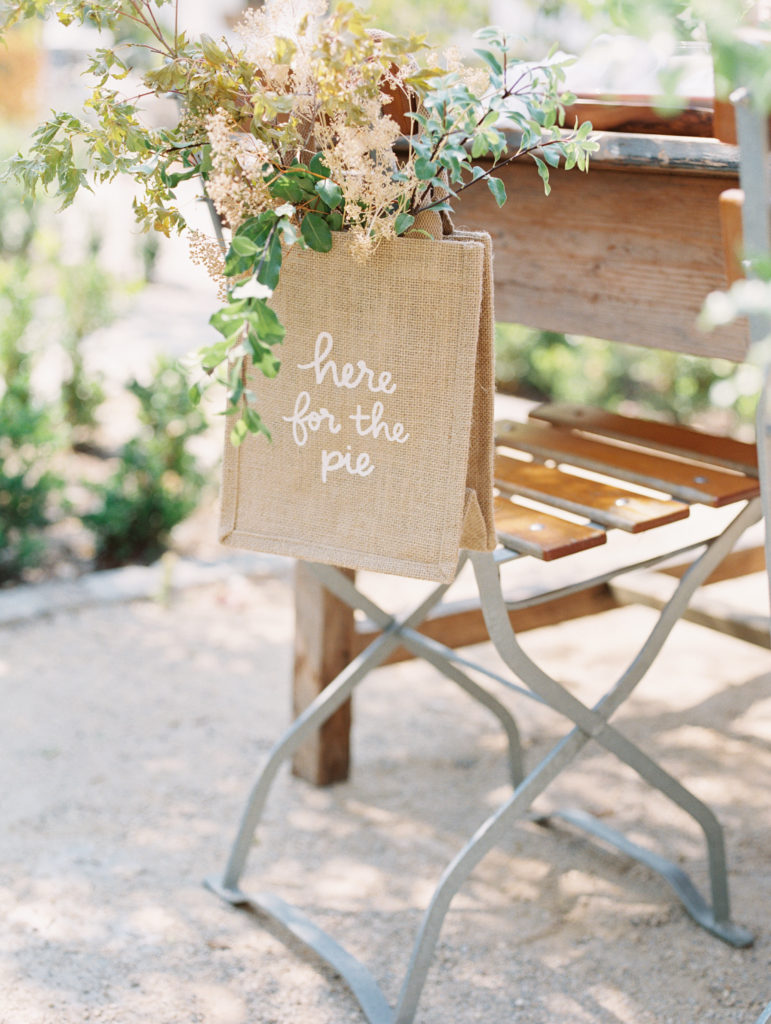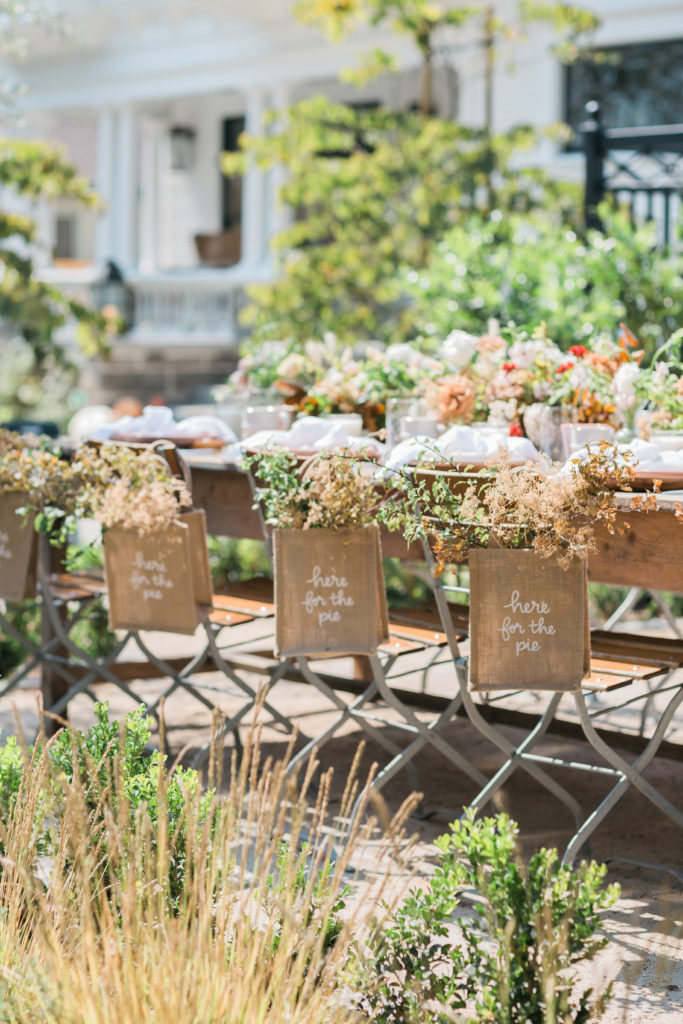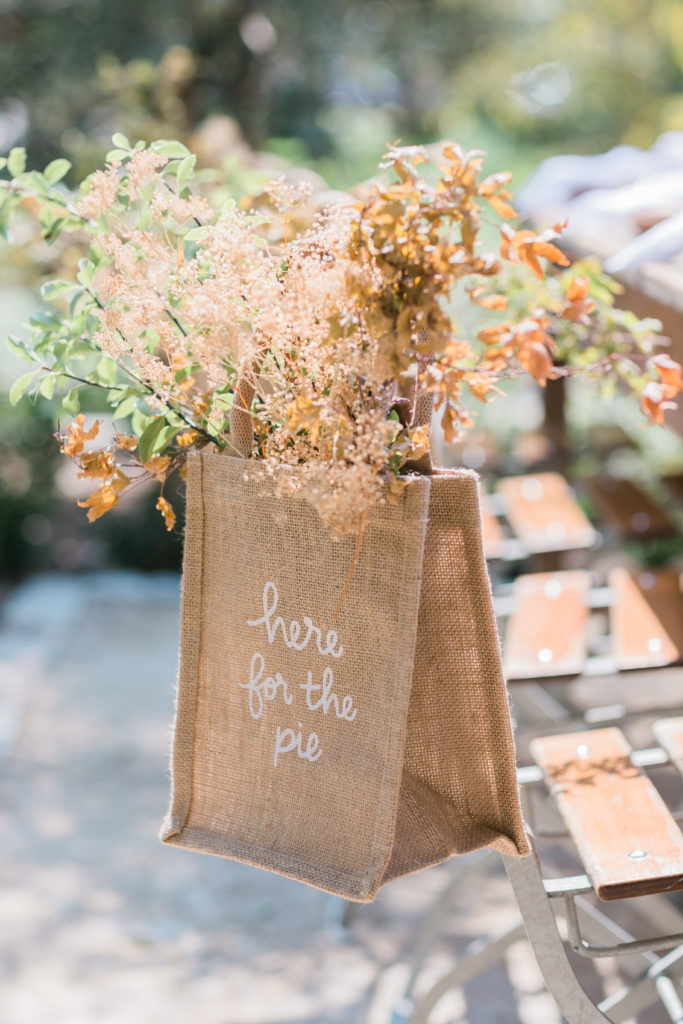 A brunch without mimosas is just a sad breakfast, am I right?! Lucky for us One Hope and Colette's Catering took great care of all of everything! Don't the juices add such a fun pop of color? A favorite for all of us was guava!! Nothing better than a brunch with mimosas and your girlfriends…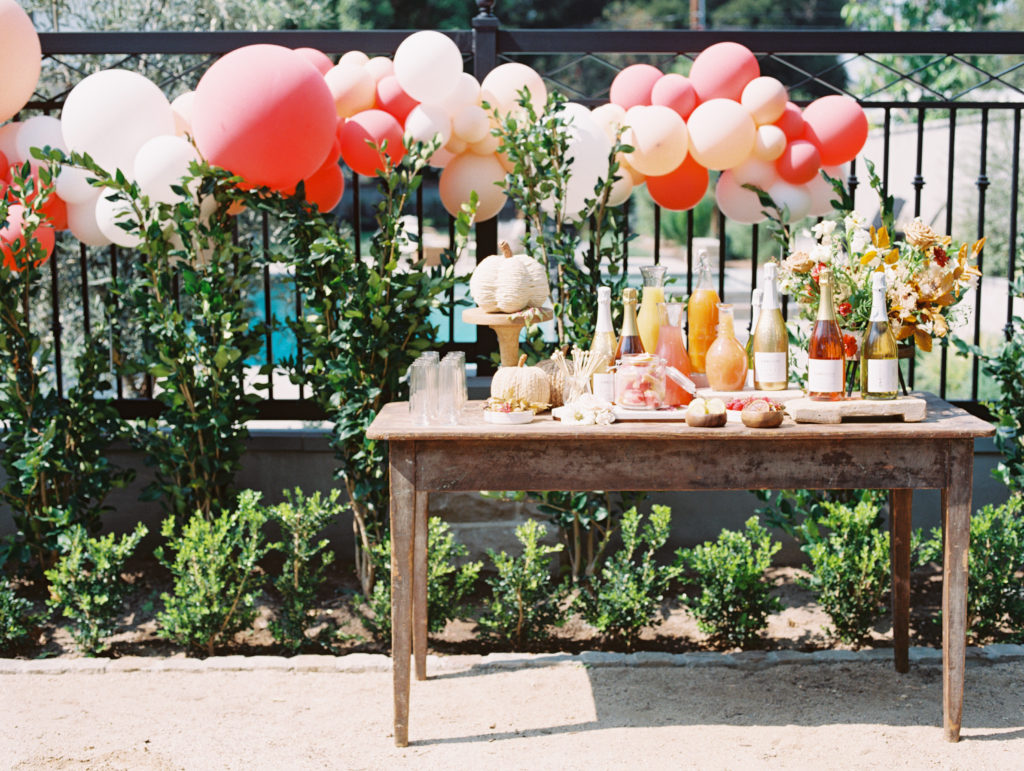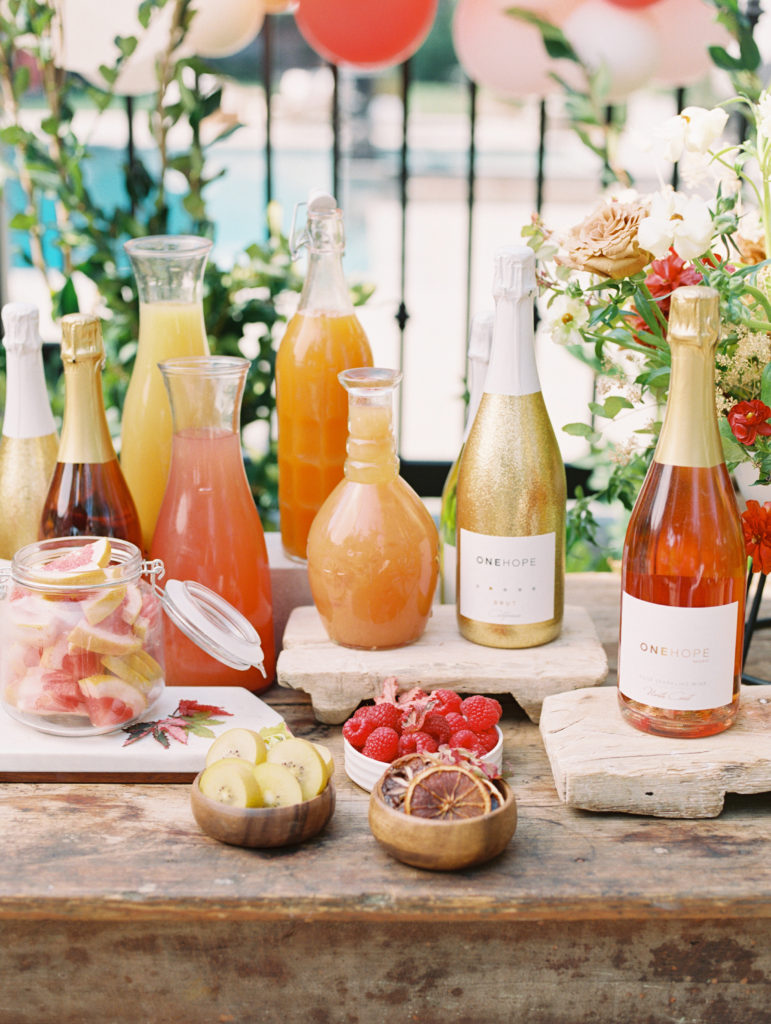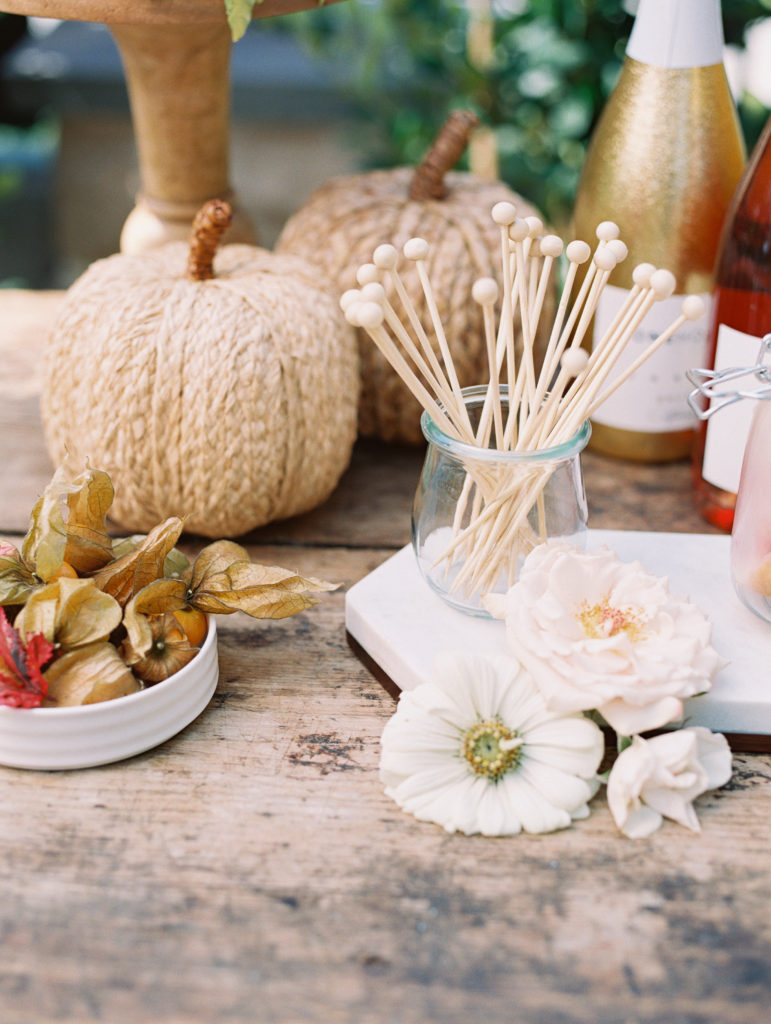 Fresh fruit and pretty flowers are always a must!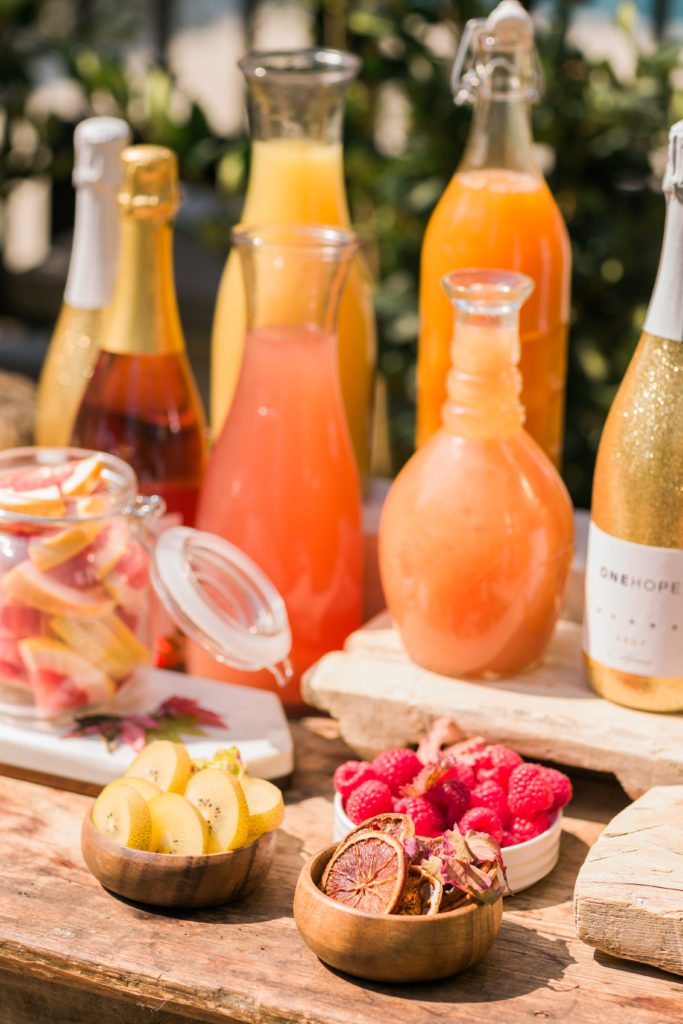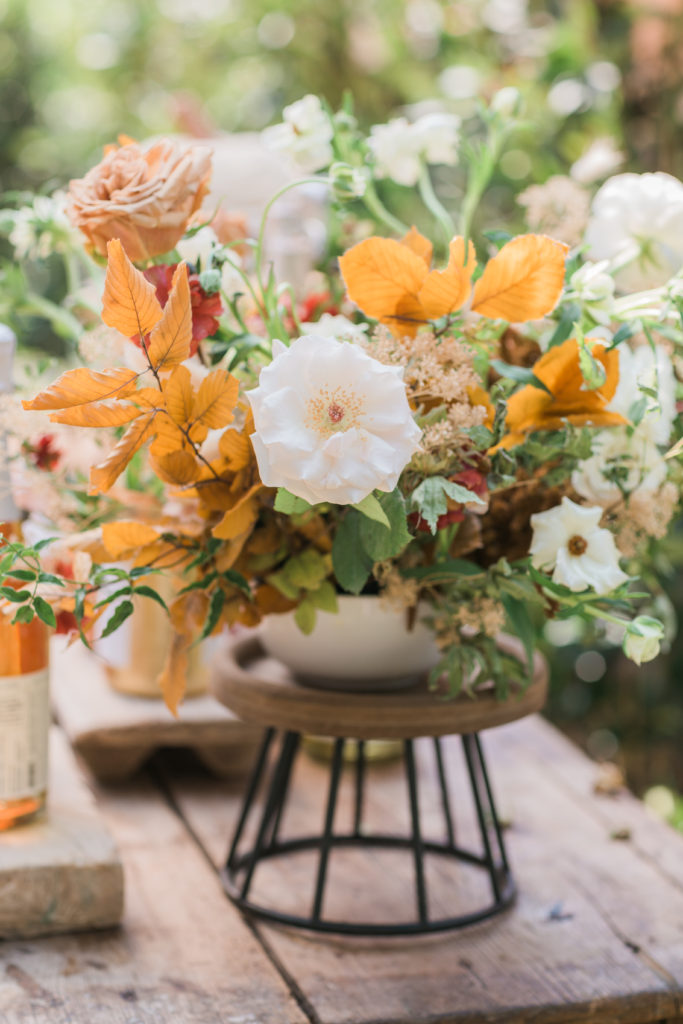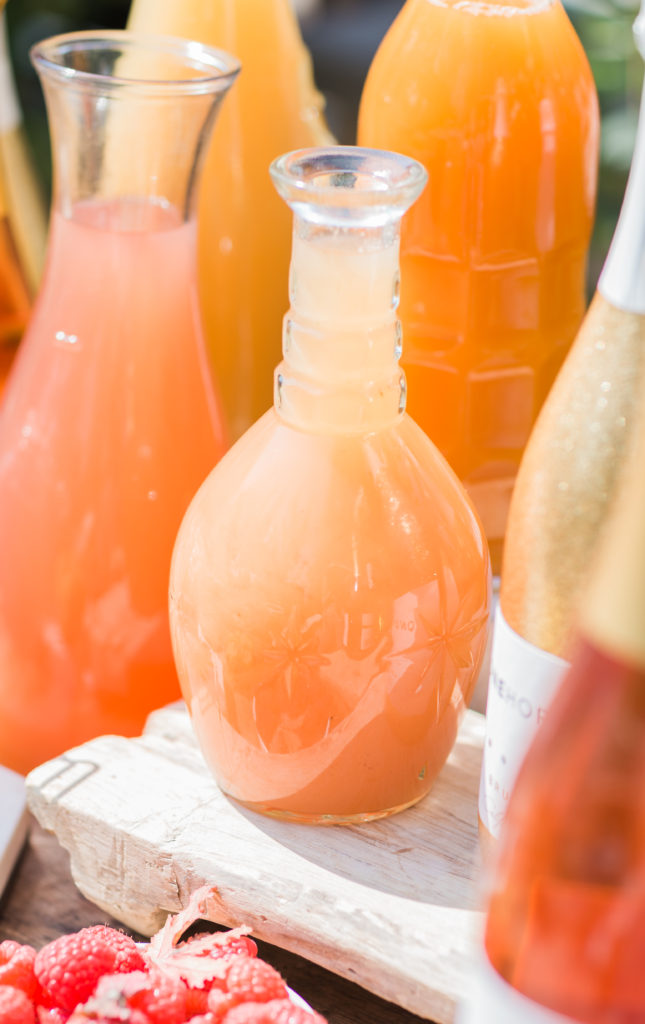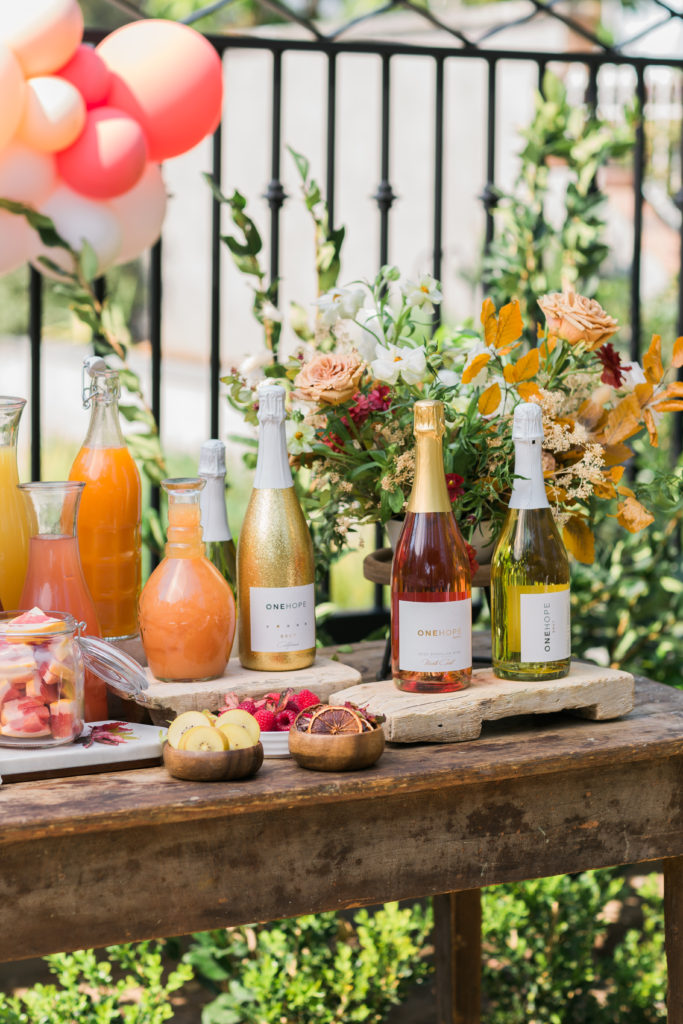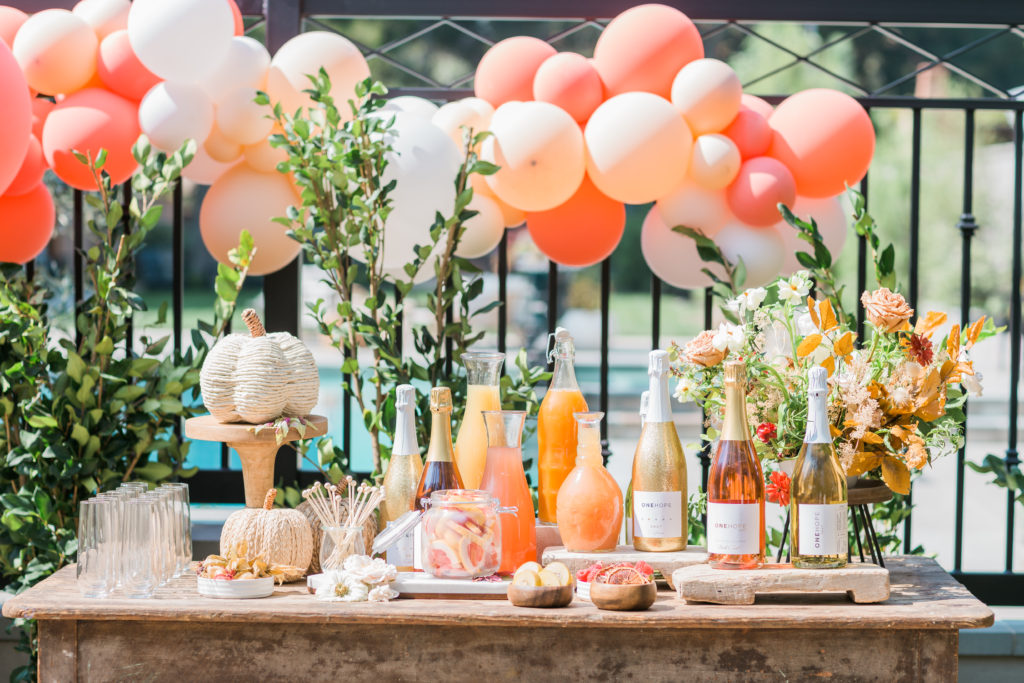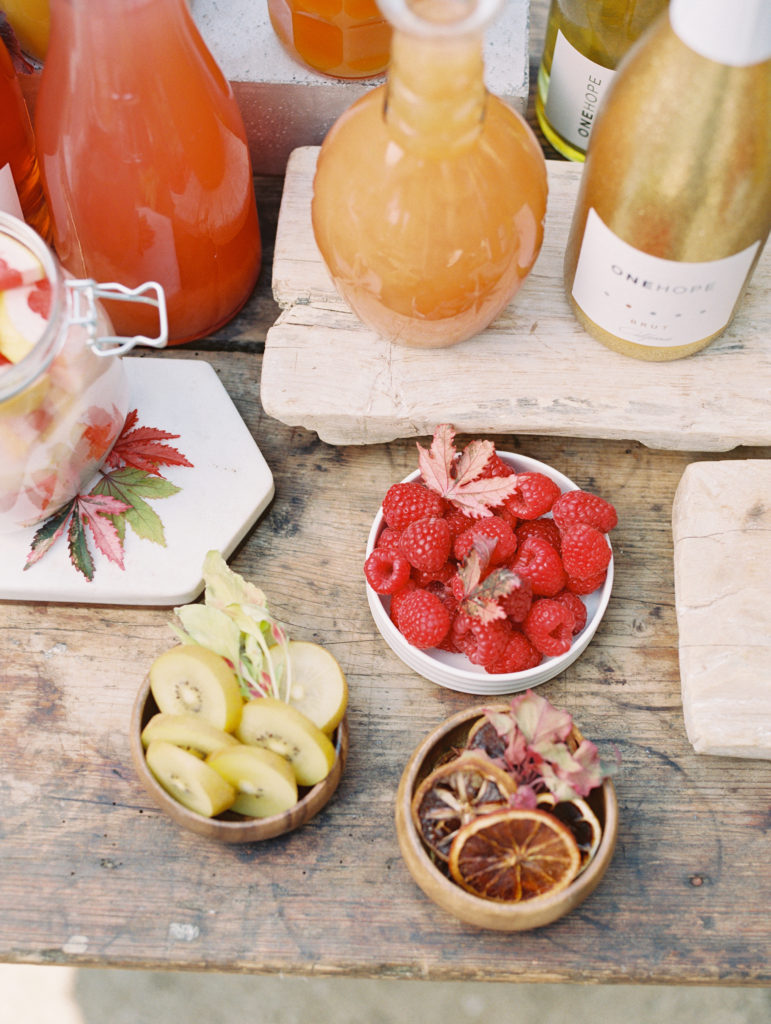 The food was displayed in Marnie's gorgeous kitchen – don't worry guys, home tour coming soon!! But wow, that spread!!! Literally my tummy is growling writing this and looking at all the pretty images! Colette's Catering did not disappoint, as a matter of fact, I think their brunch spreads are usually my favorites!! Wait till you see what's on the menu…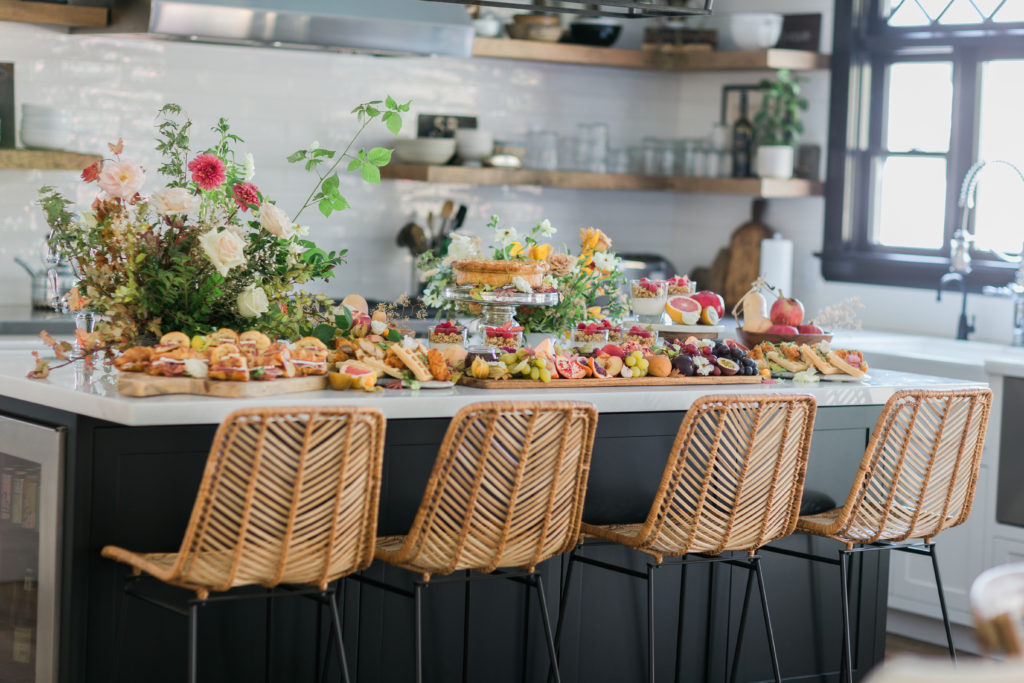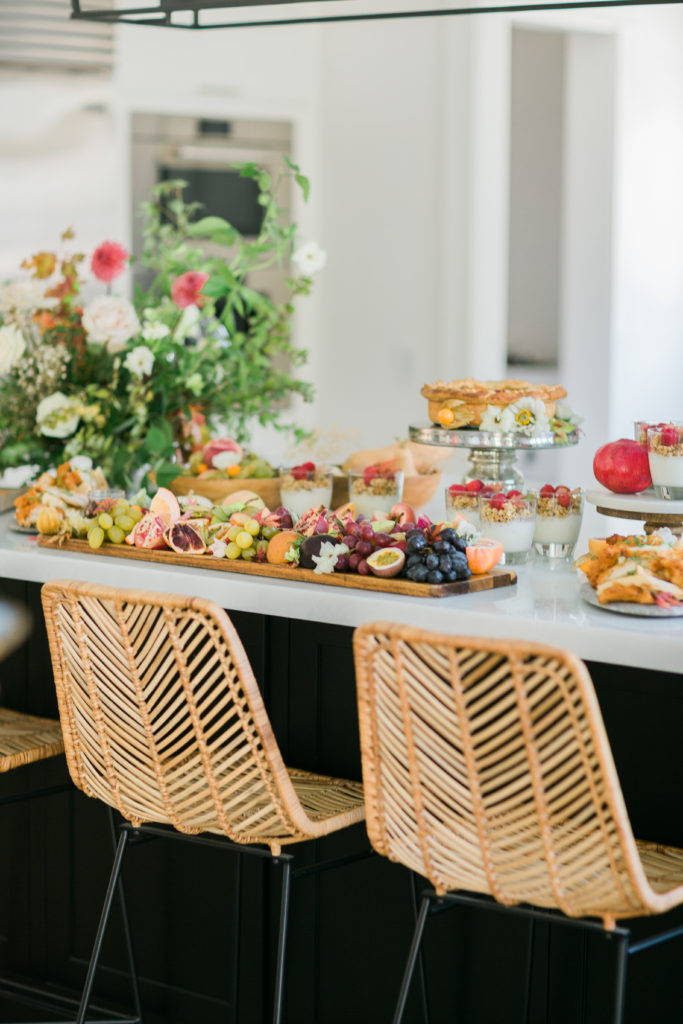 A beautiful cheese and fruit board held by our own beautiful Leah!! I love all the colors and having something fresh and yummy to munch on…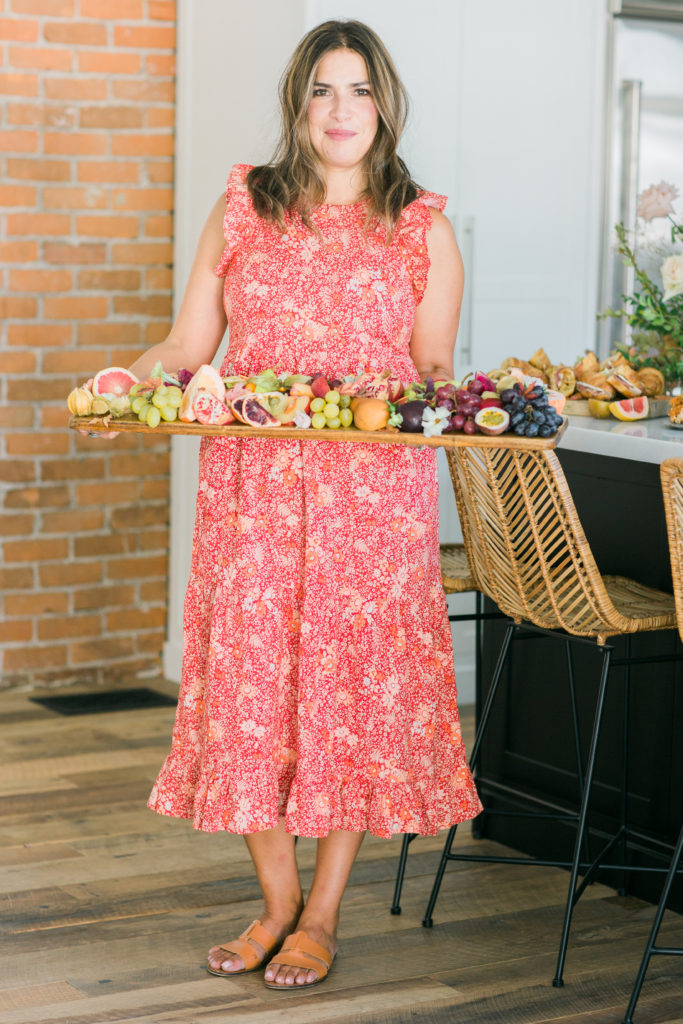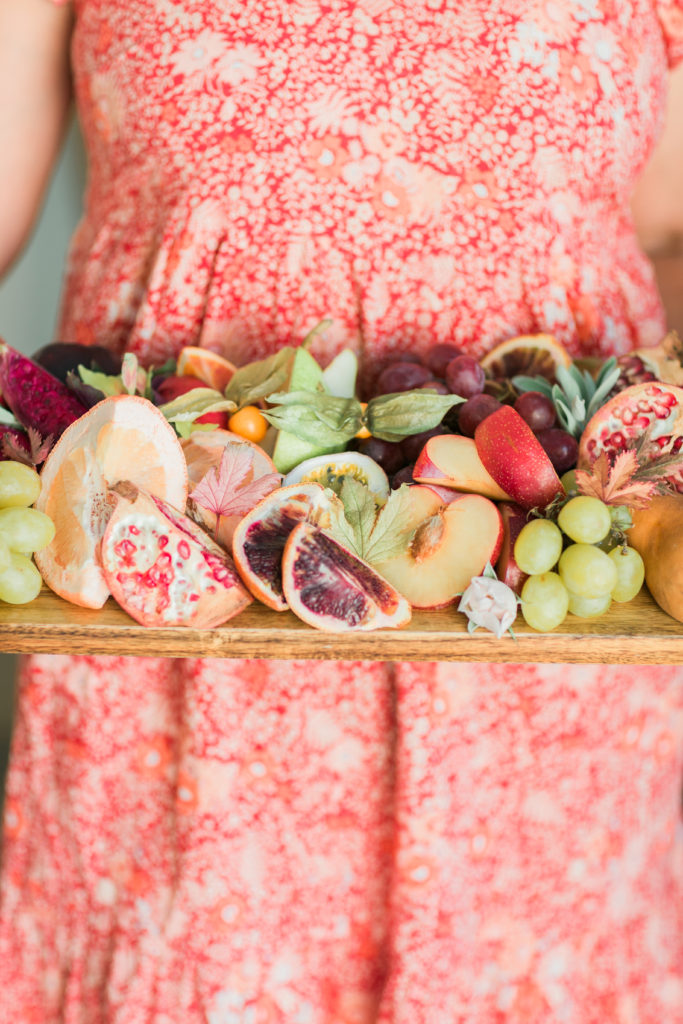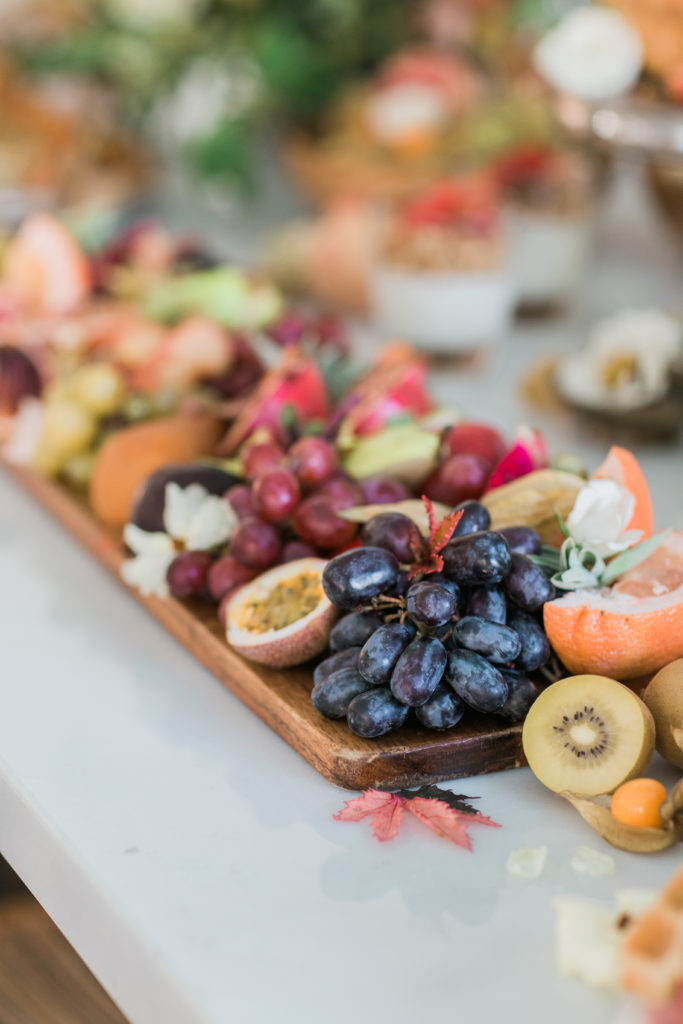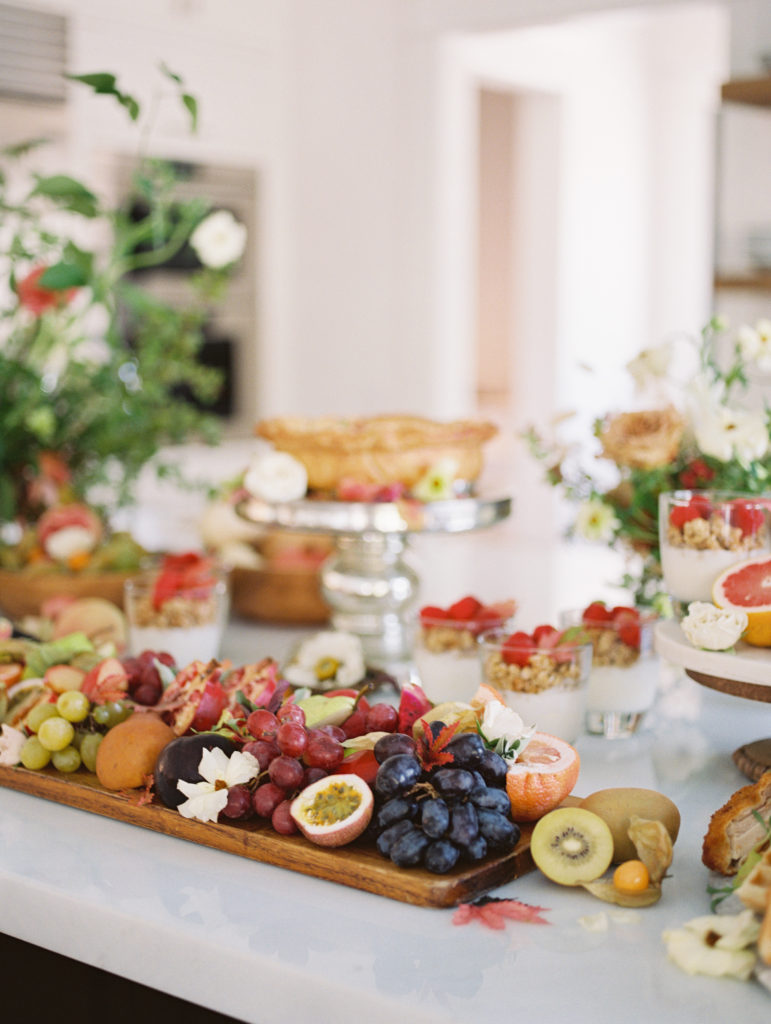 We added more Fall fruits and florals as decor as well in The Little Market's pretty bowls. I love using natural elements as decor!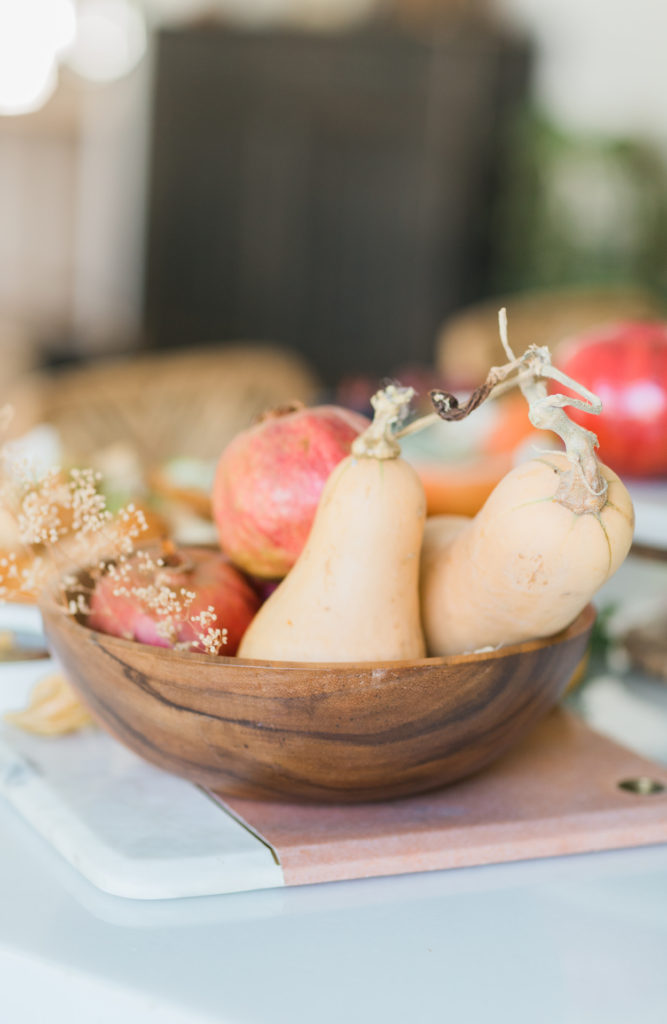 The yogurt parfaits Colette's does are so delicious!! Such a delicious and fresh way to start off a brunch…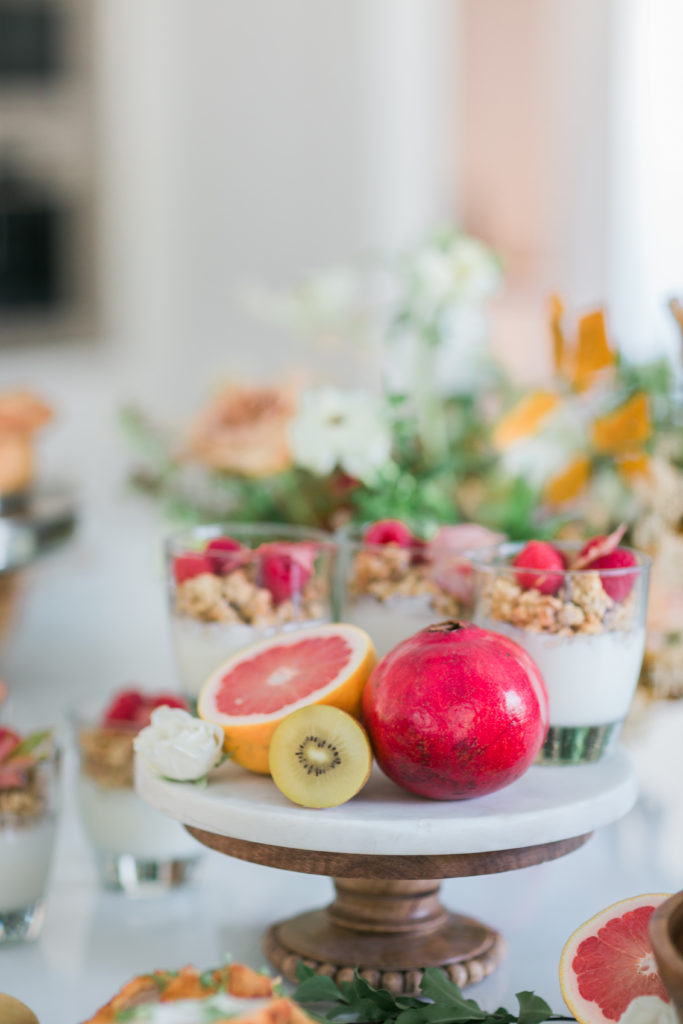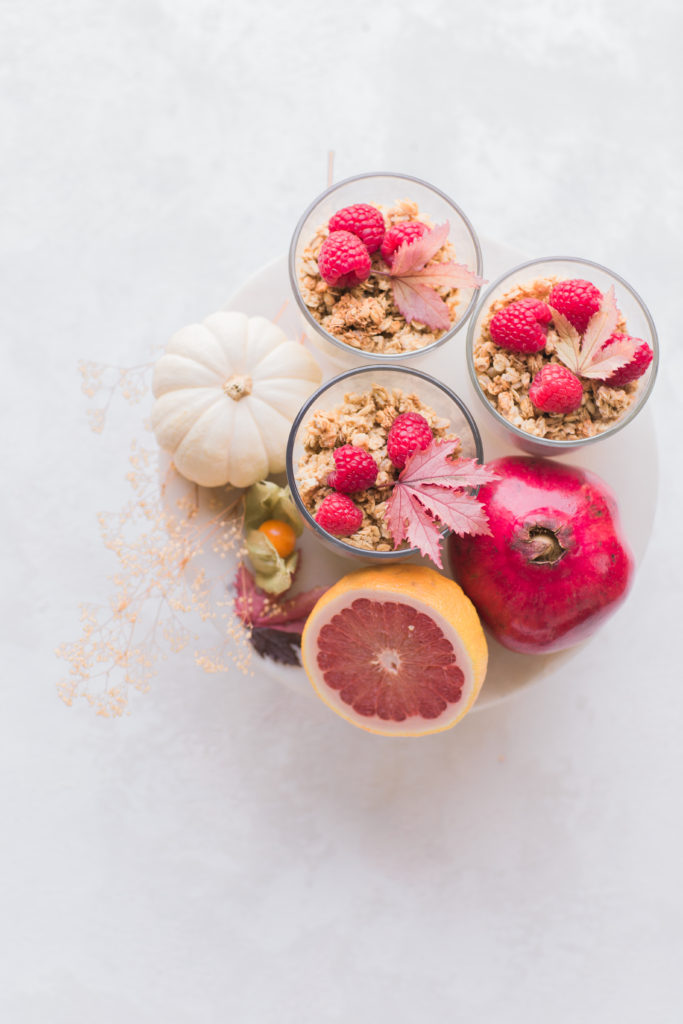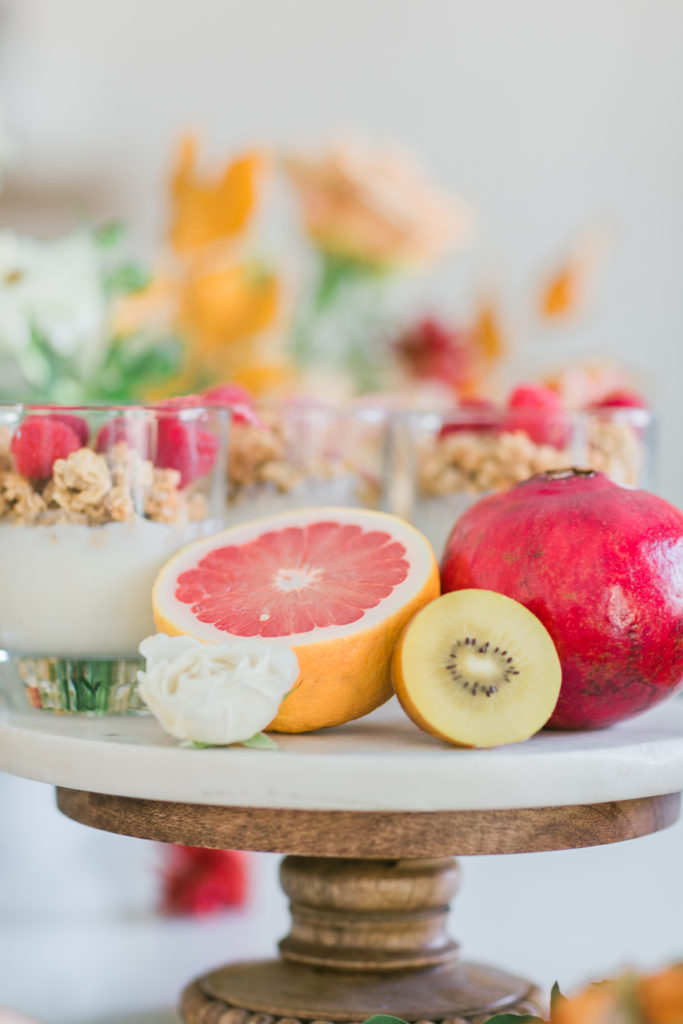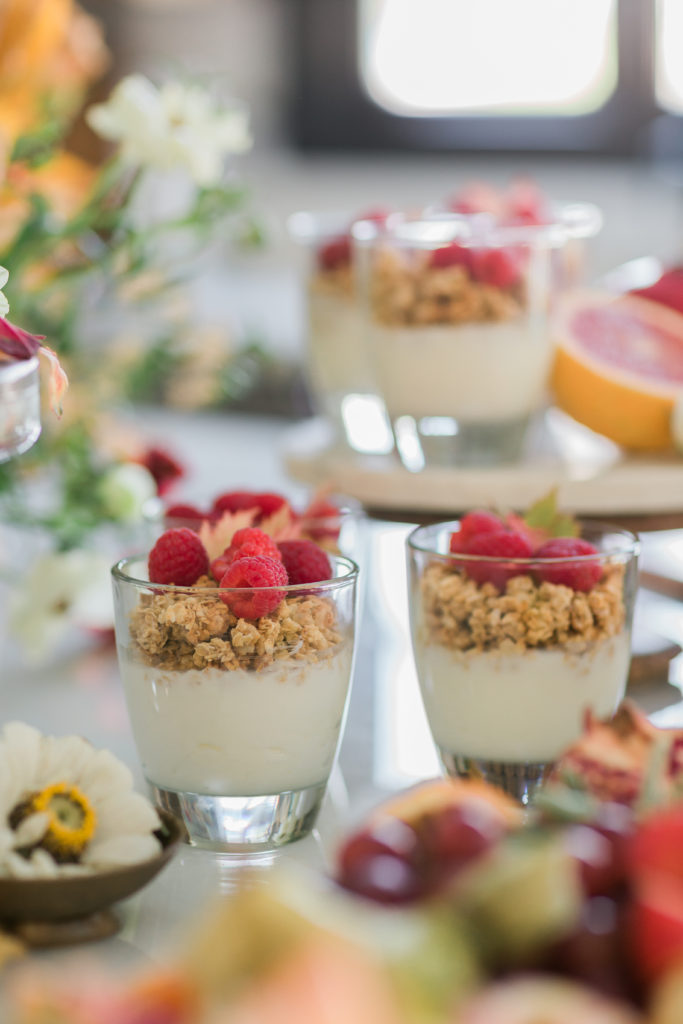 Chicken and waffles is always encouraged in my book! This was SO good!!! Haha, start off healthy then get down and dirty!!! Colette's Catering made my breakfast dreams come true!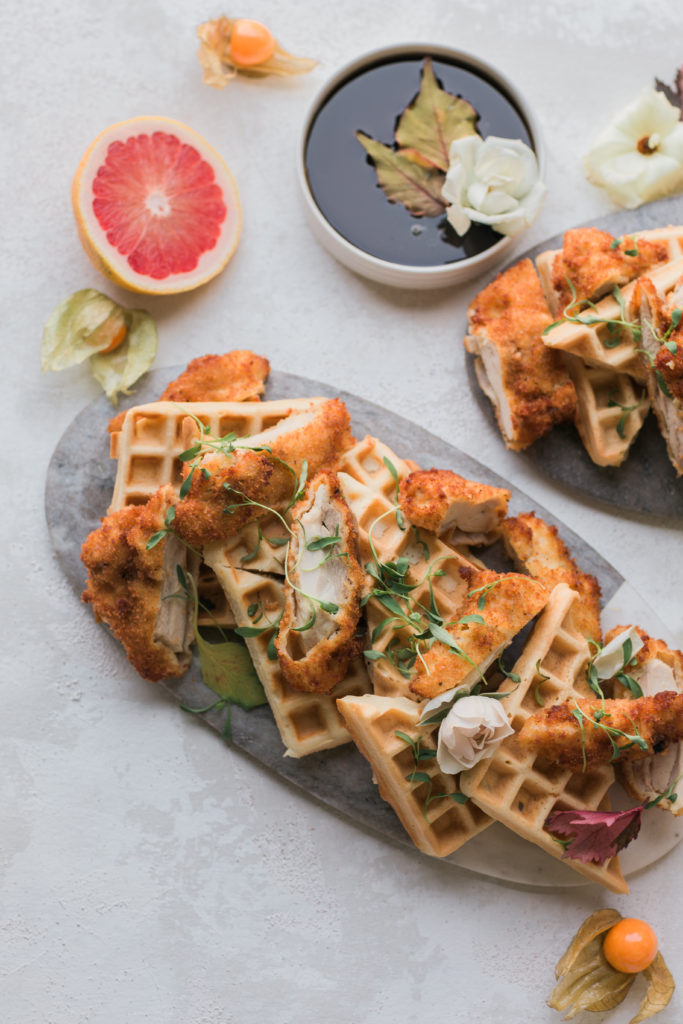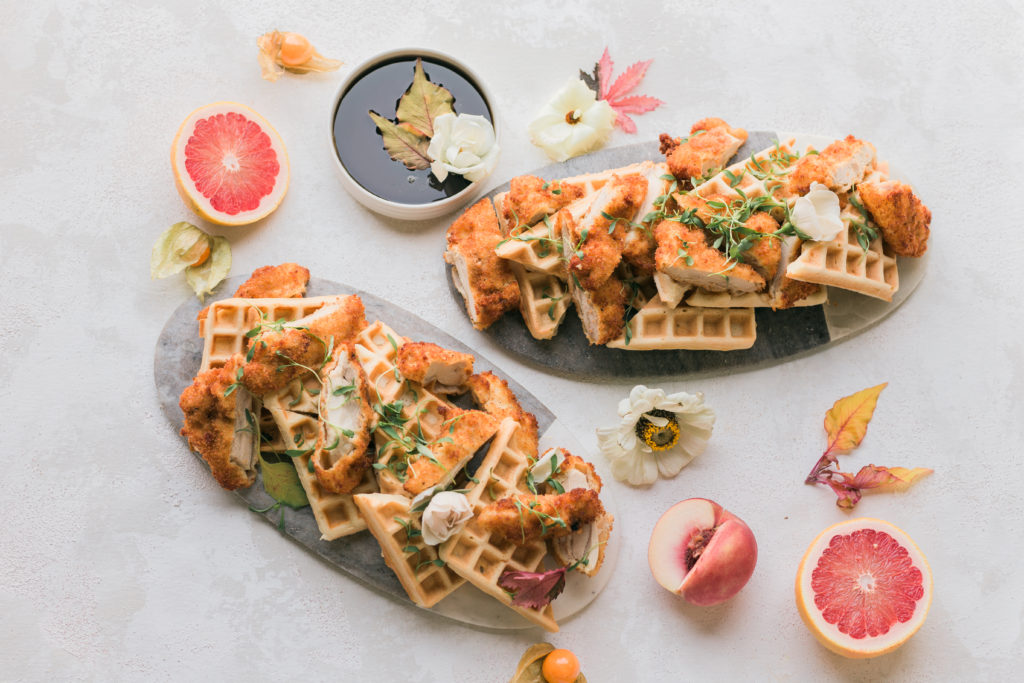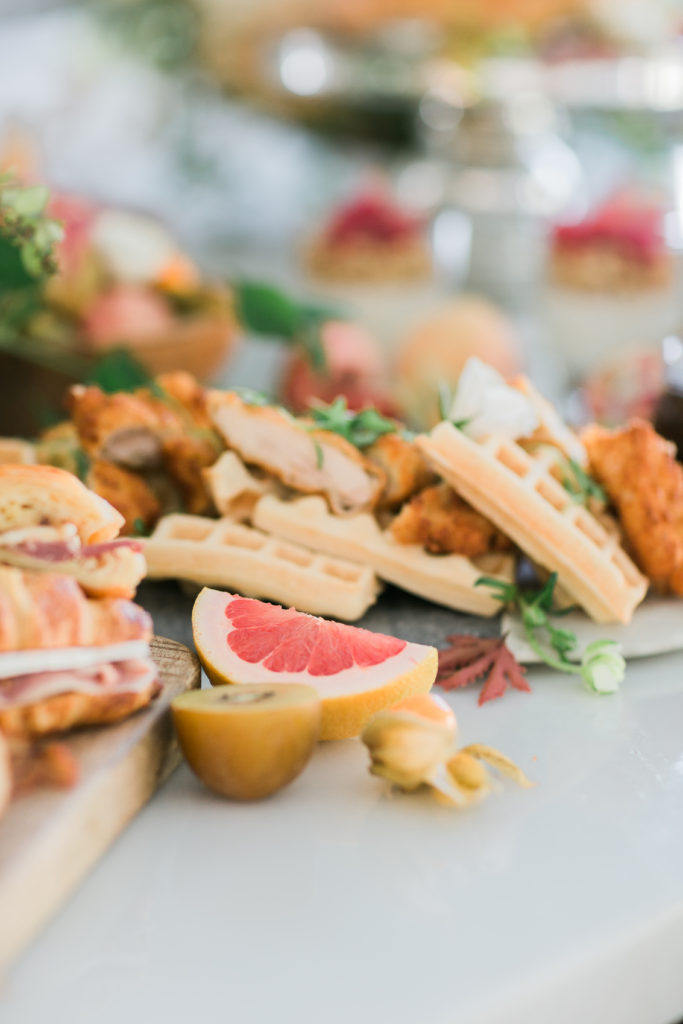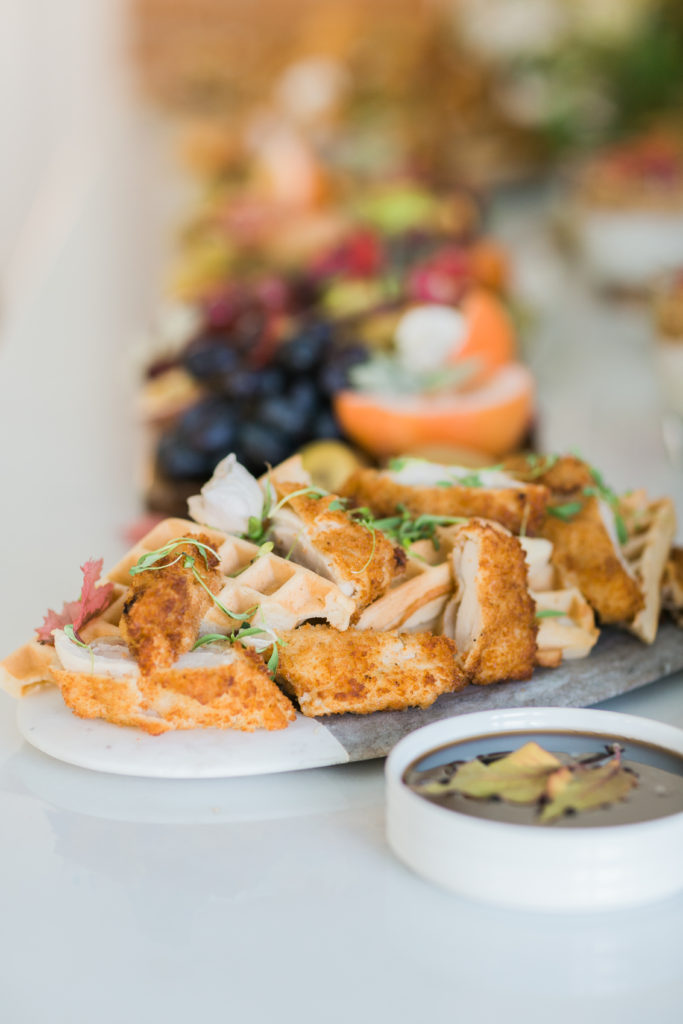 They also had a beautiful quiche that was oh so yummy! Don't you just love brunch foods?!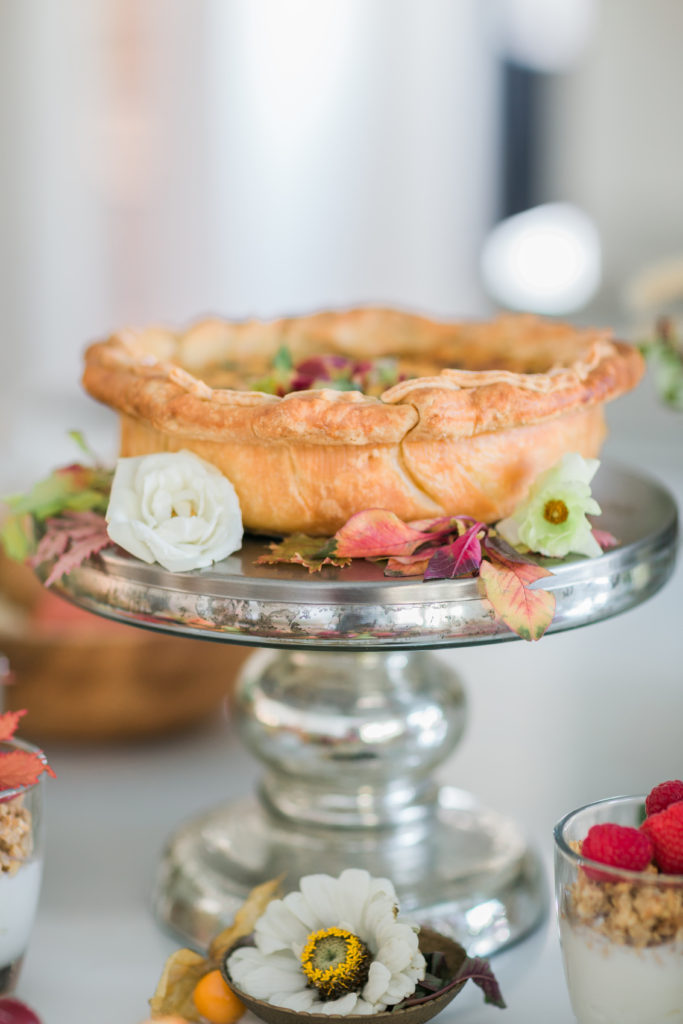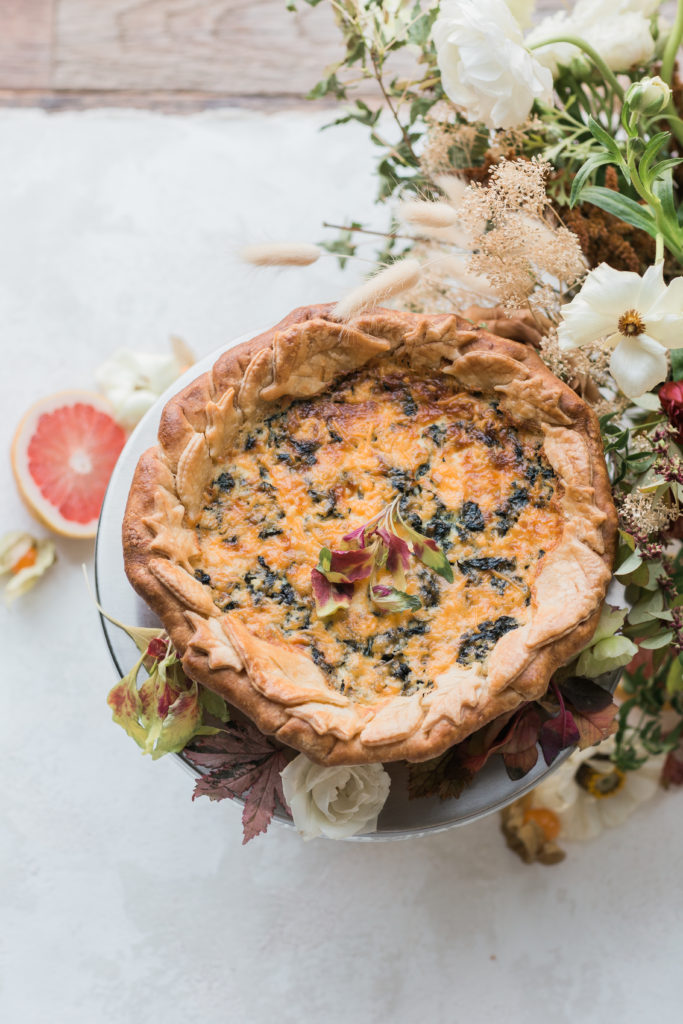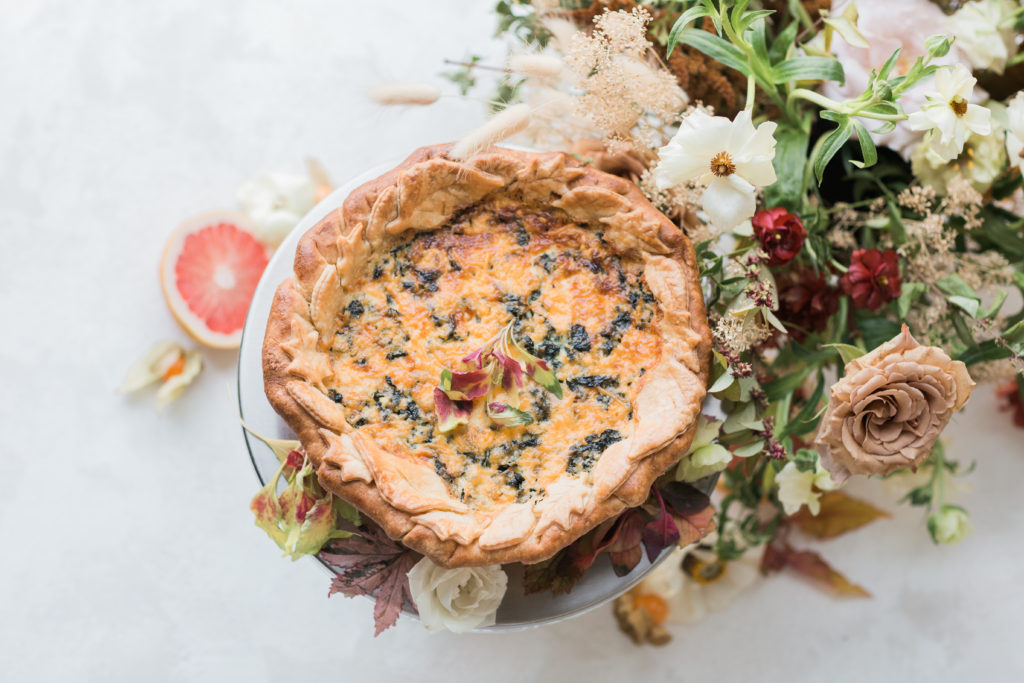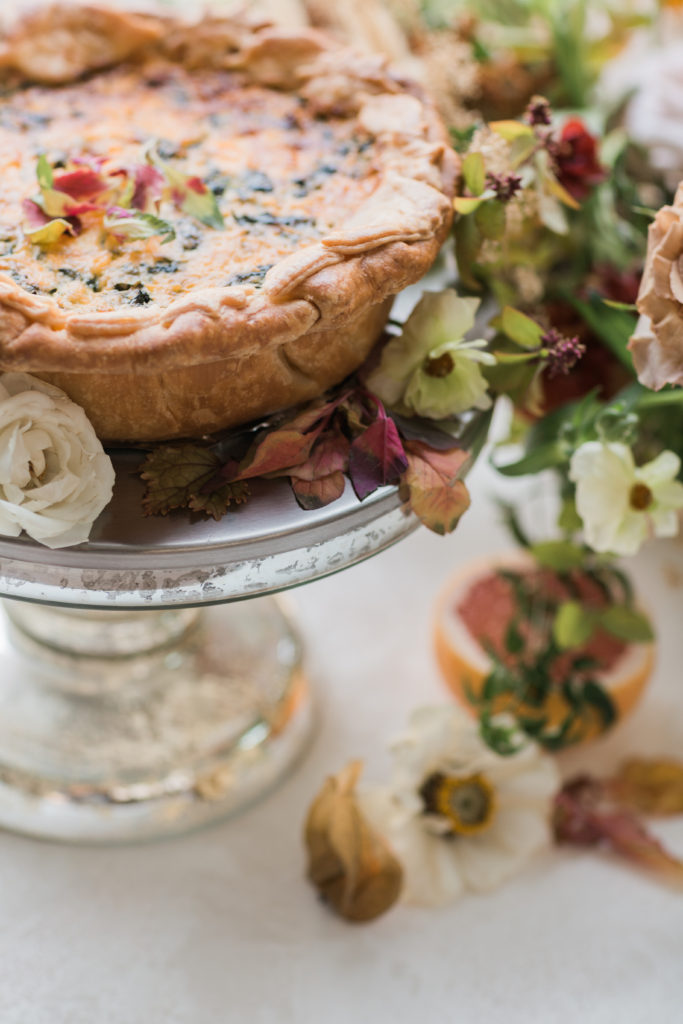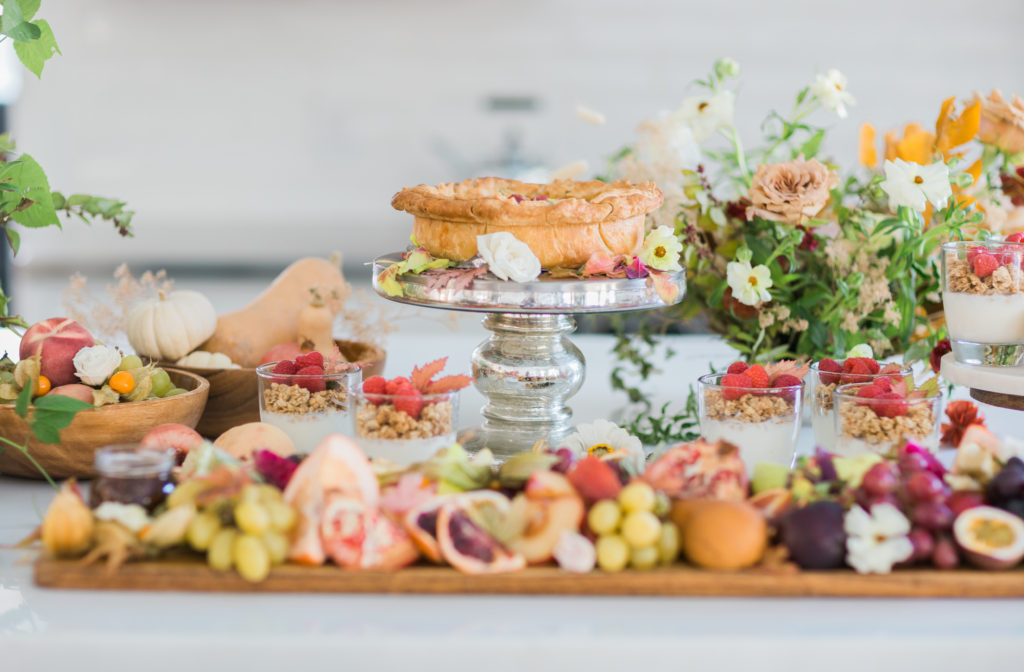 Last but not least were these delicious brie, prosciutto, and fig jam croissants! All of the best flavors rolled into one?! Yes please!!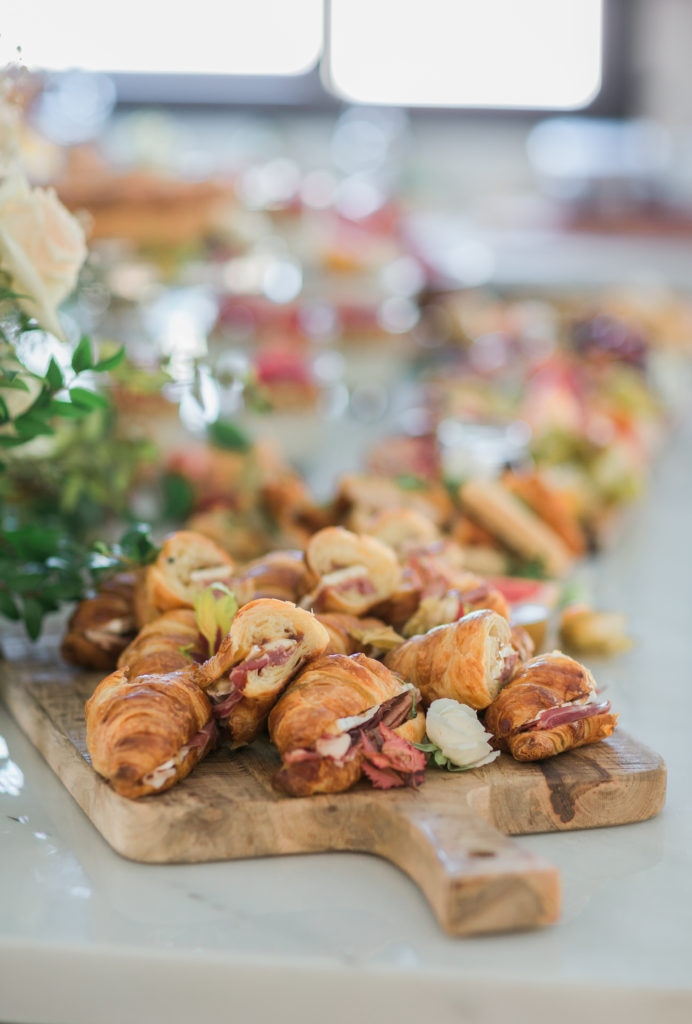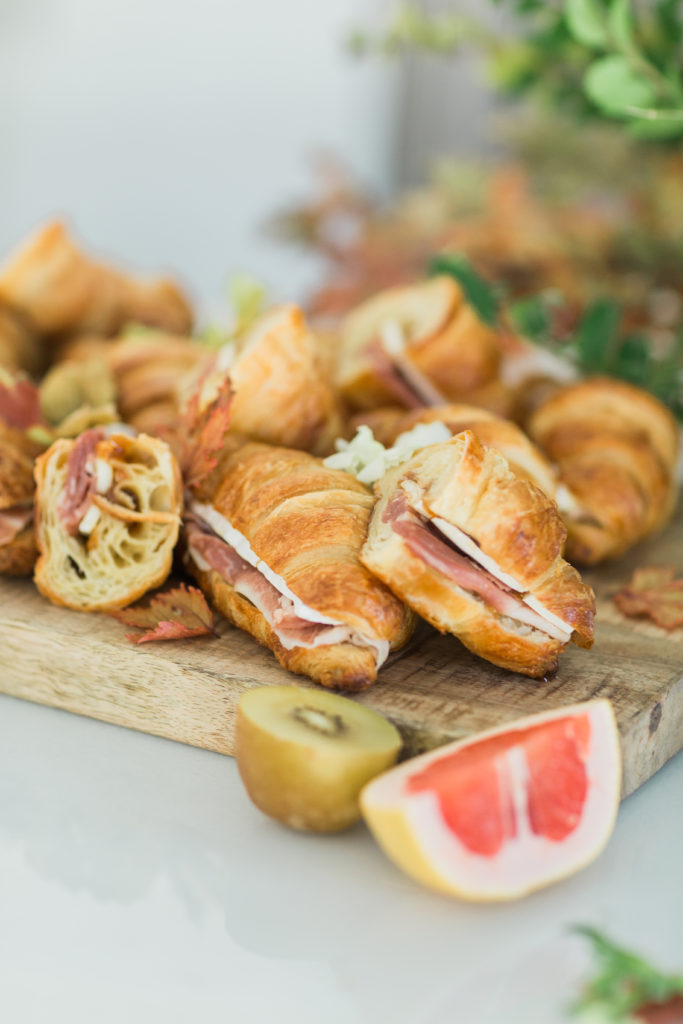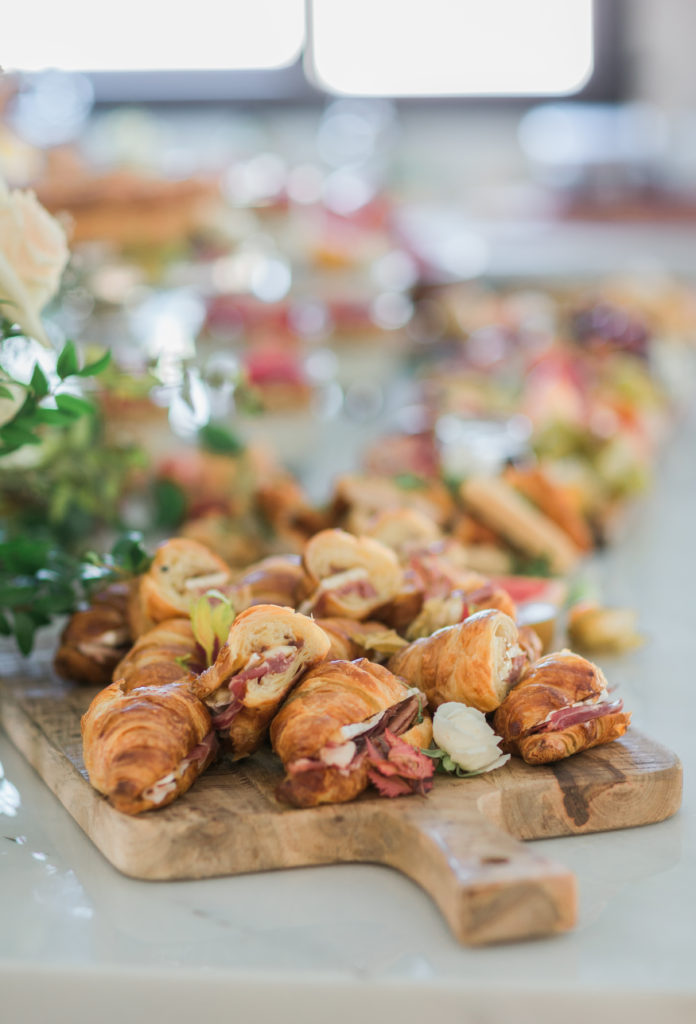 Time to pop the bubbly and pour some drinks!!! One Hope always has the prettiest bottles, you know we are big fans!!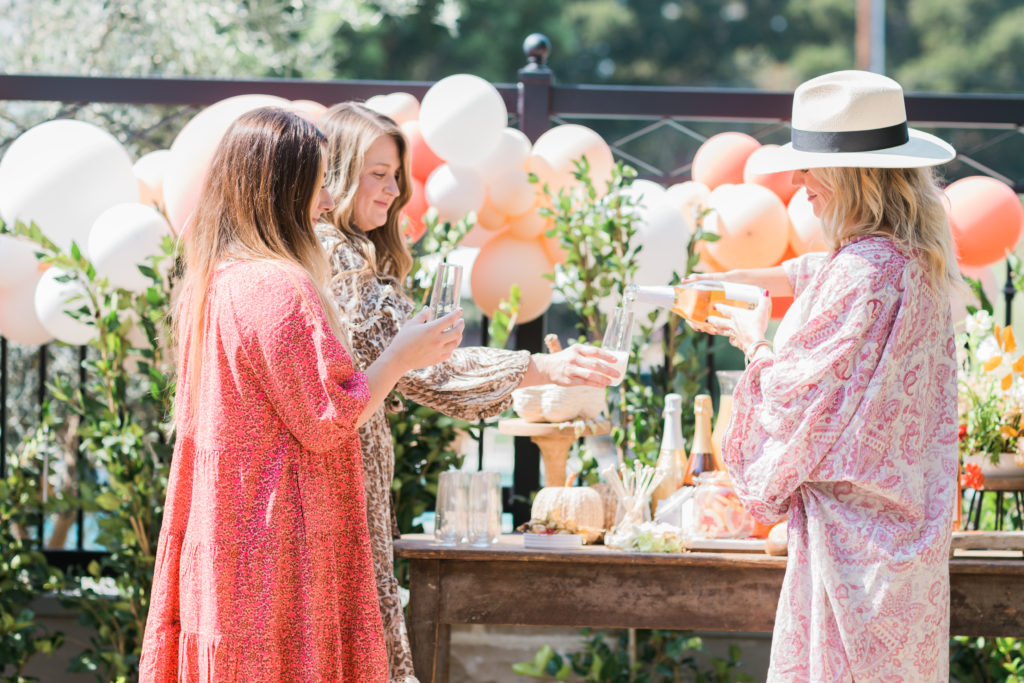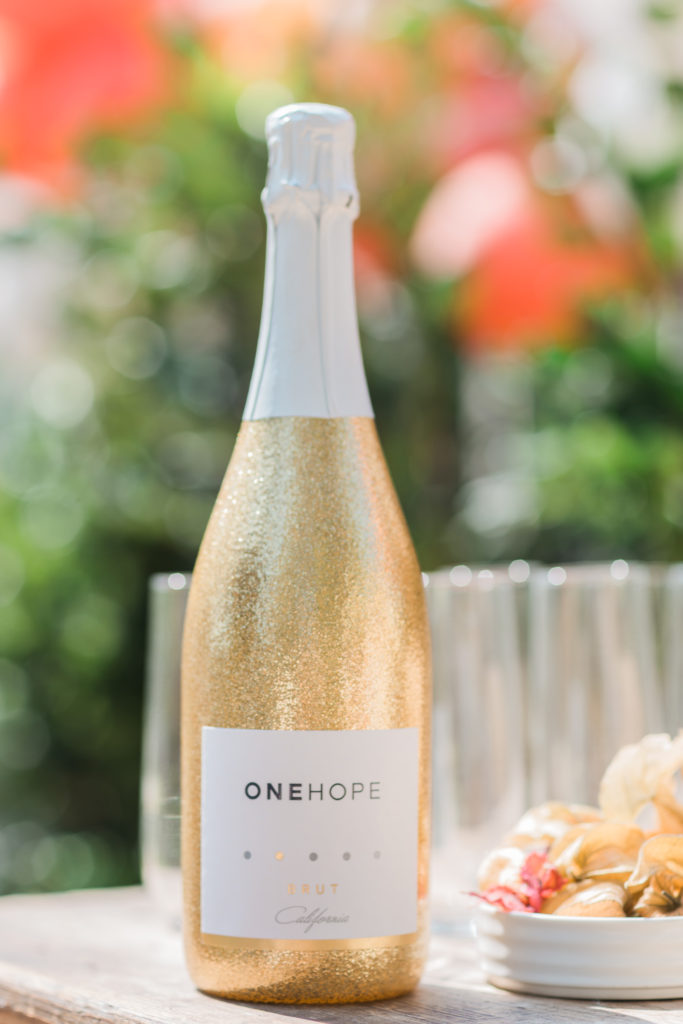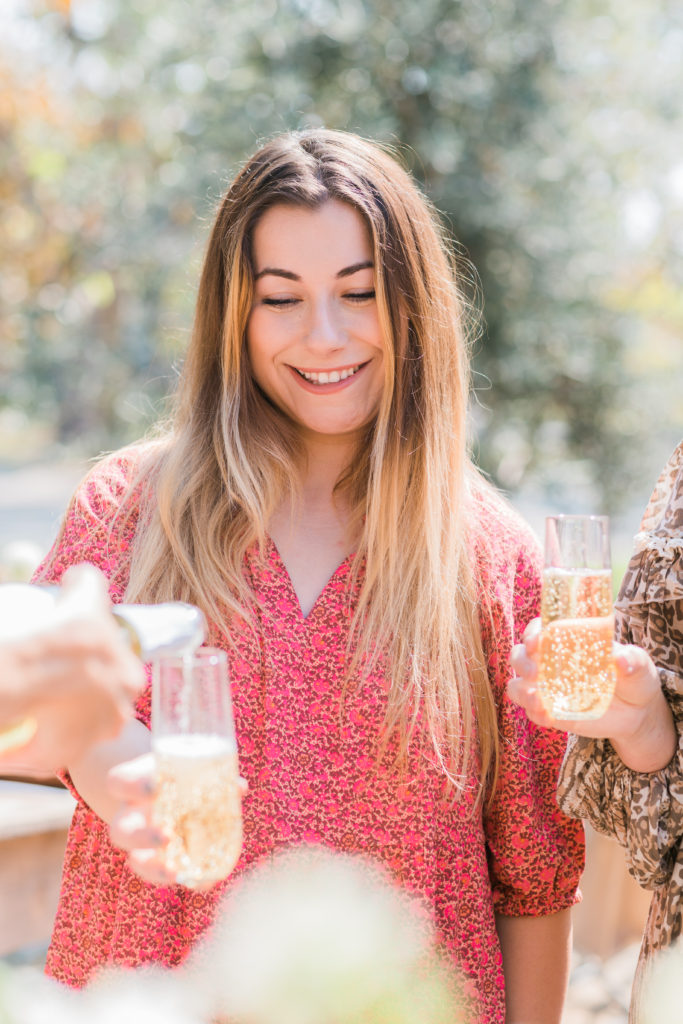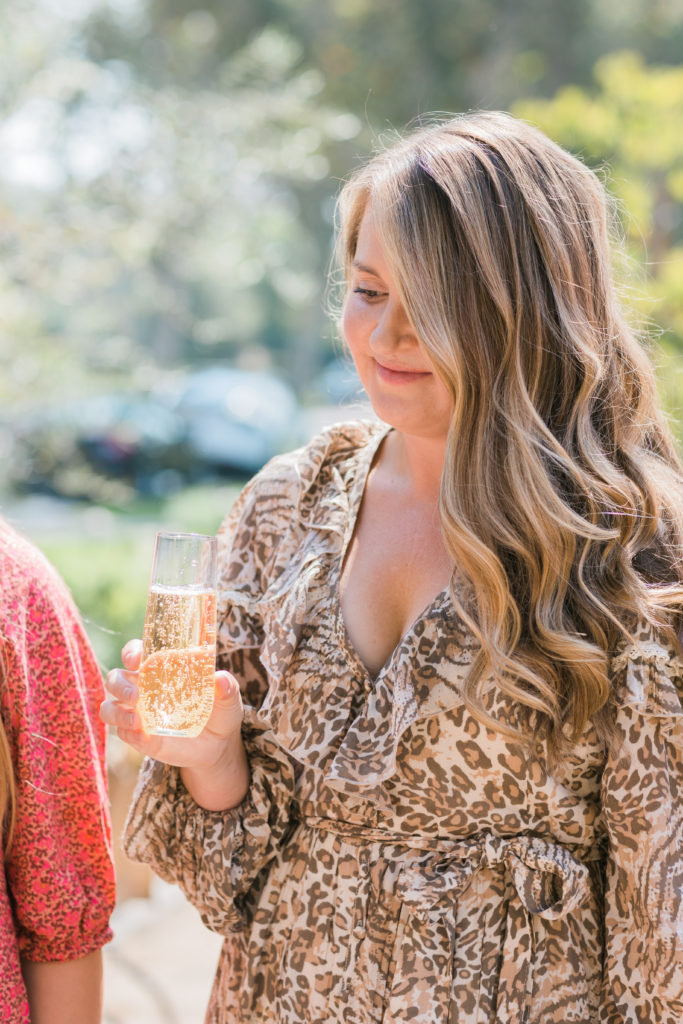 Love these ladies!!!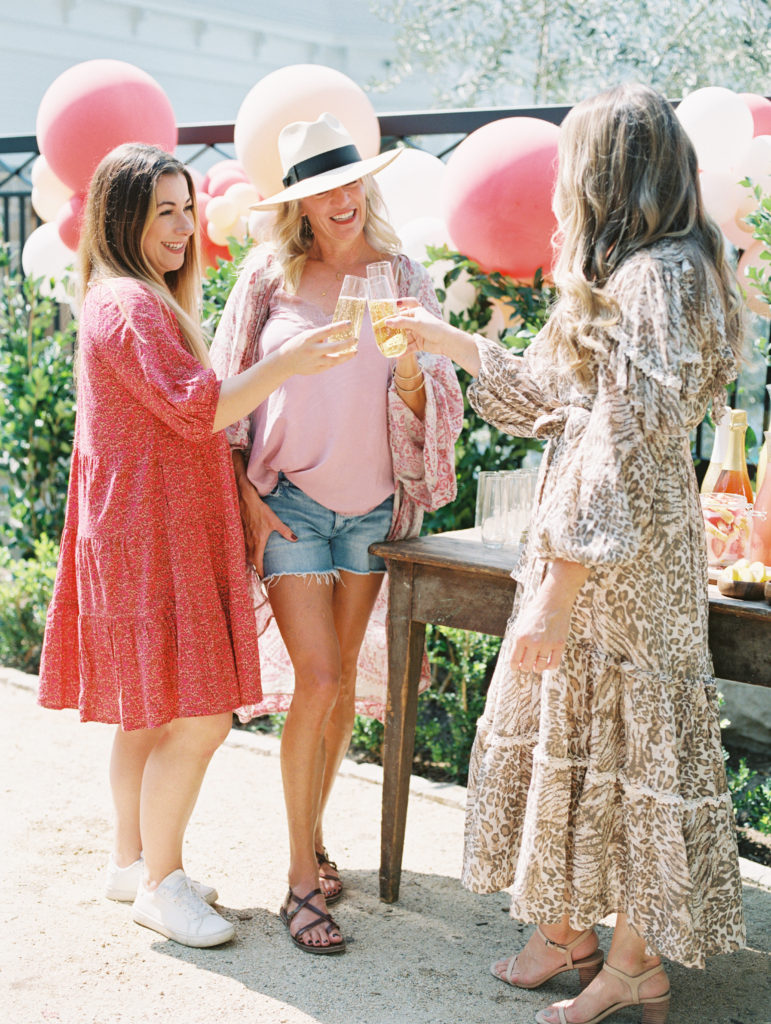 How sweet is baby Harper?! I told you I'd show her off!!! So happy for Courtney from Poppy Jack Shop and her sweet little bundle!!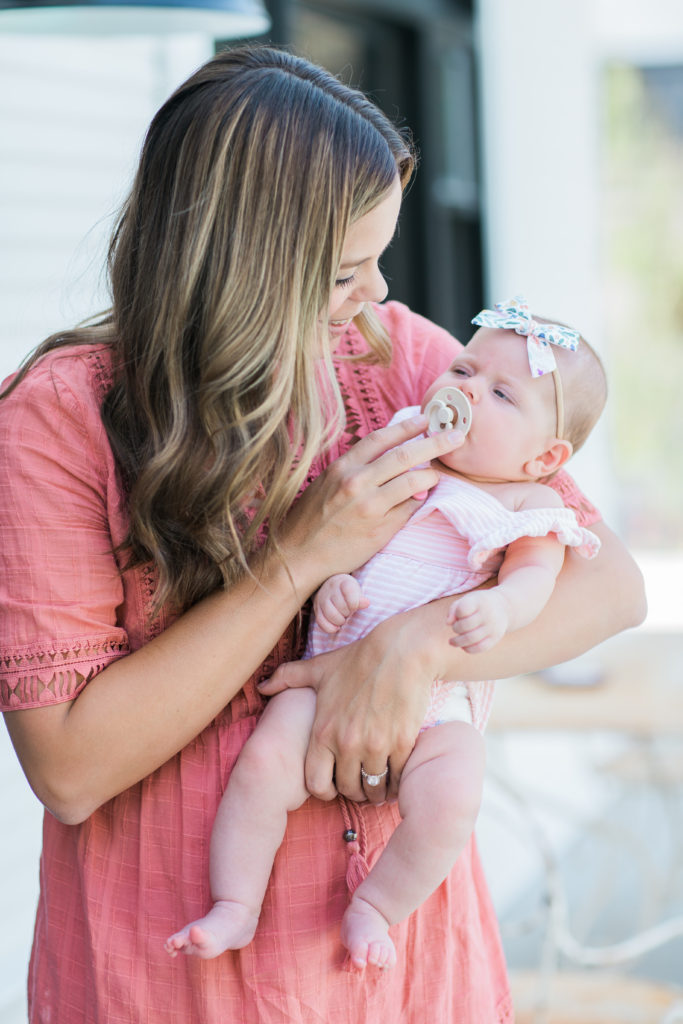 And now we are ready to eat!! Sarah from Colette's Catering did the honors cutting the quiche!!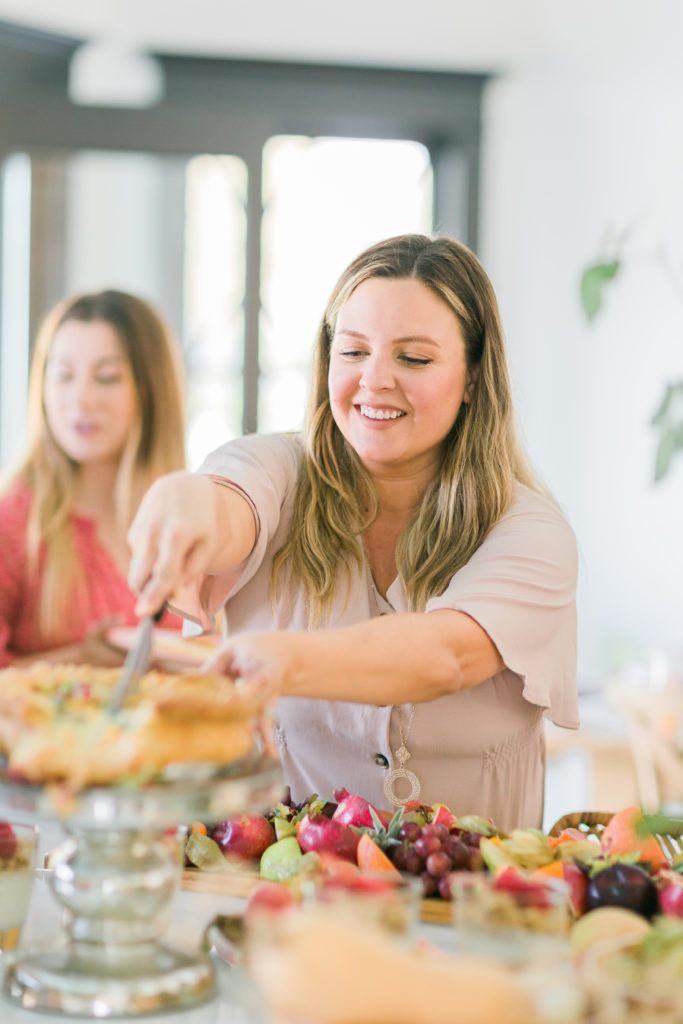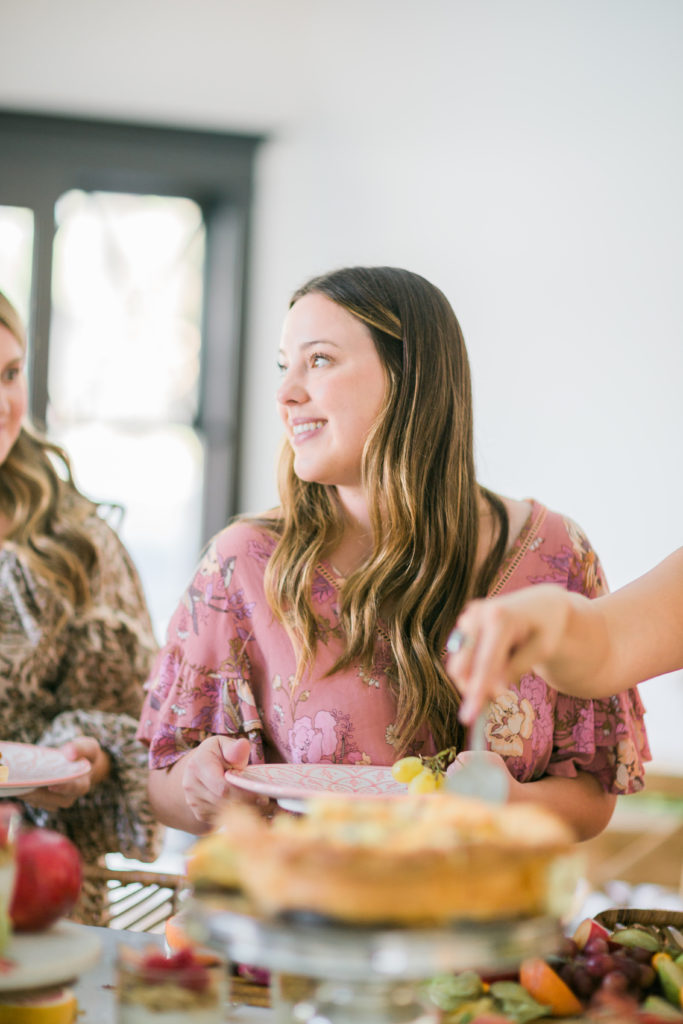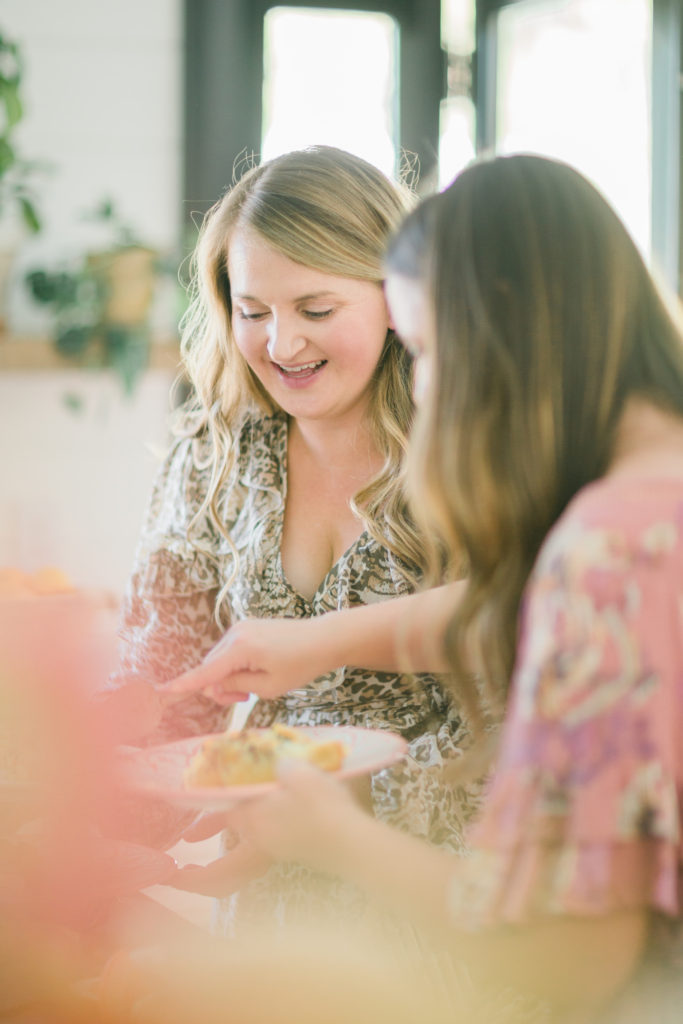 Now that's a yummy plate!!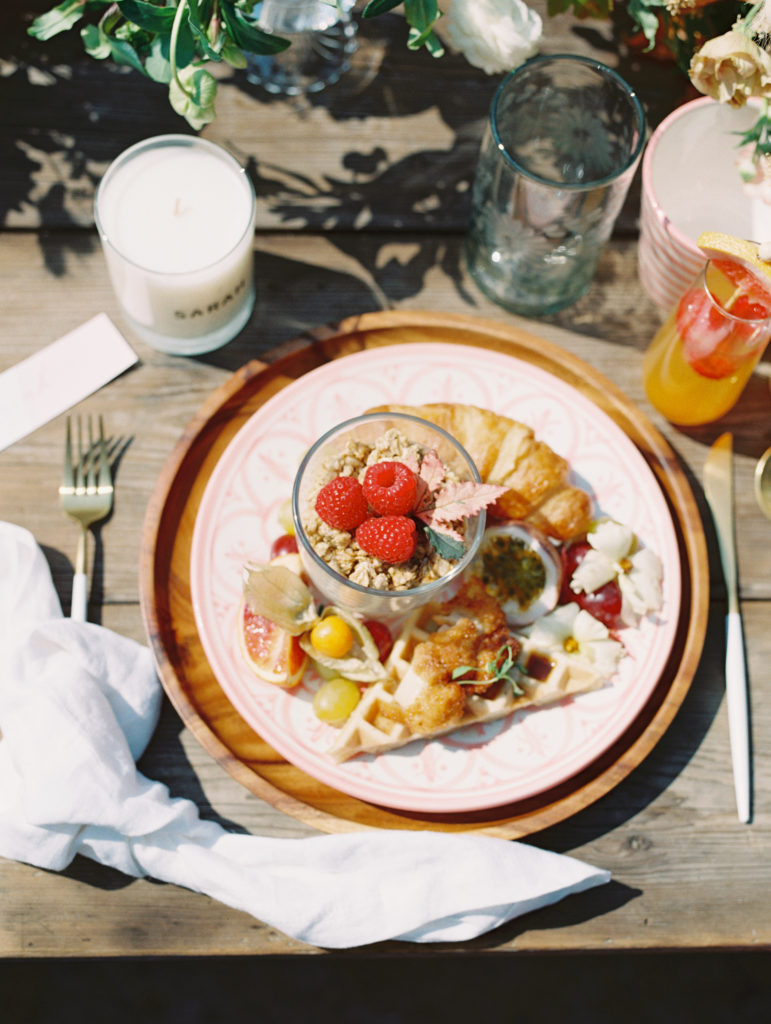 Cheers!!! I'm so thankful for all my beautiful vendor friends!!! Love them all so much!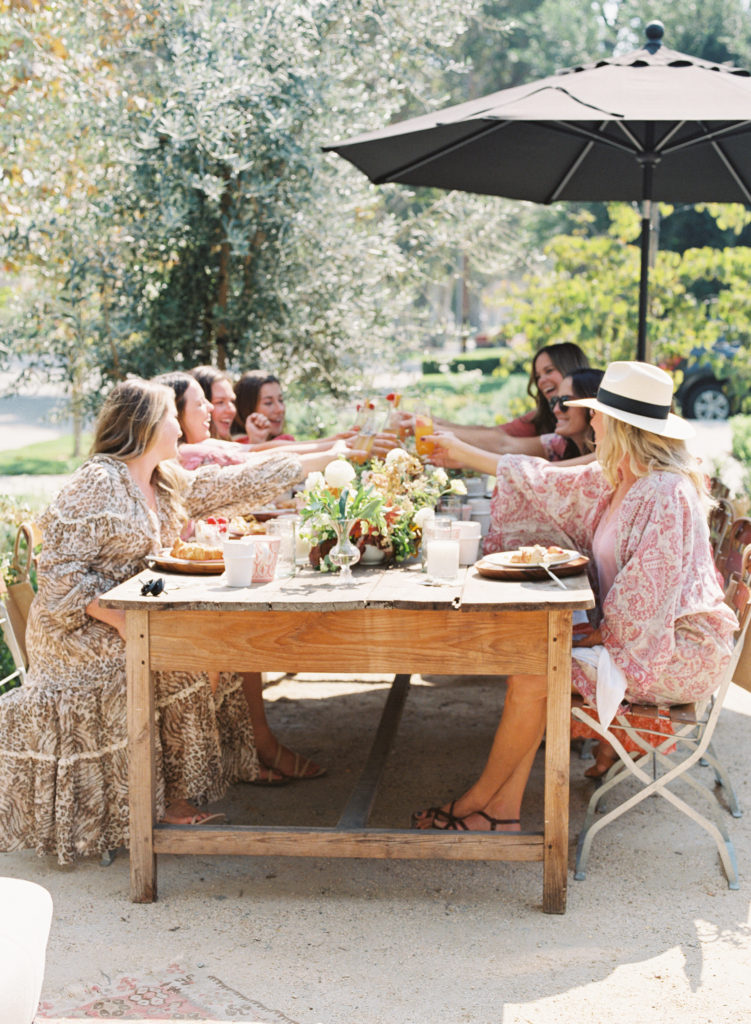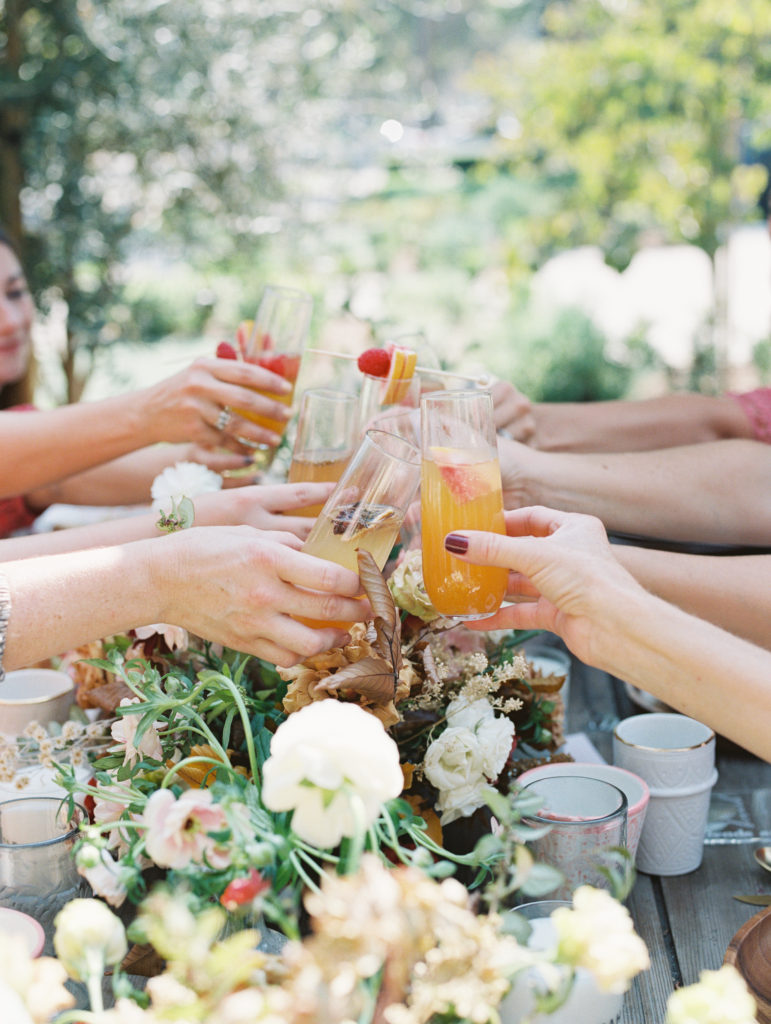 Another gift idea for you!!! This bag from The Little Market is such a great idea for a hostess gift, or to pass out to friends for the holidays! Cheers to that!!!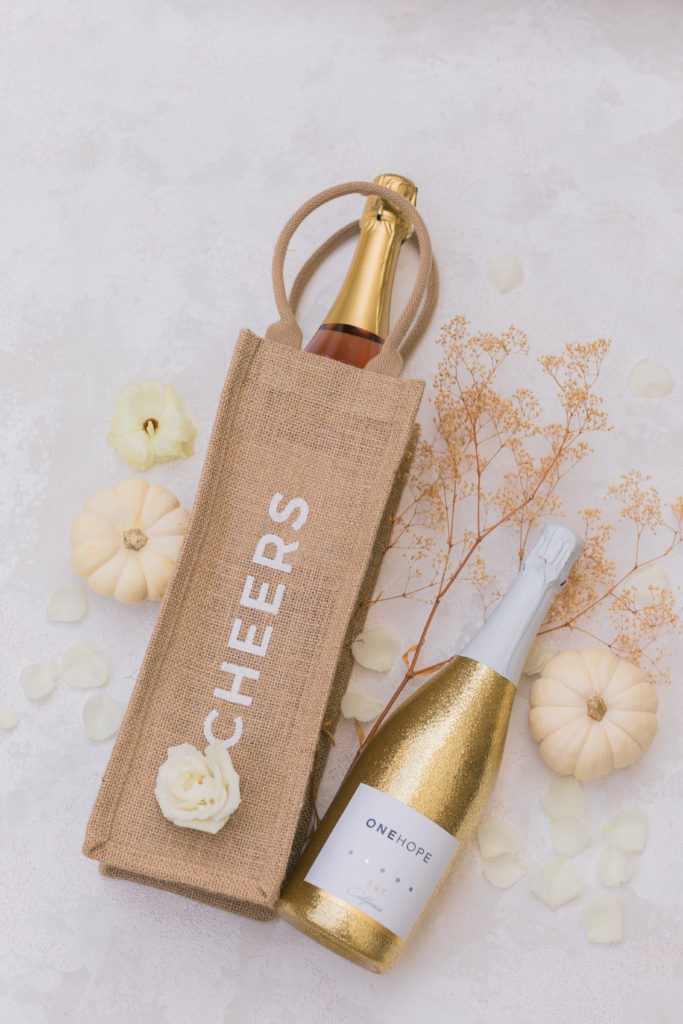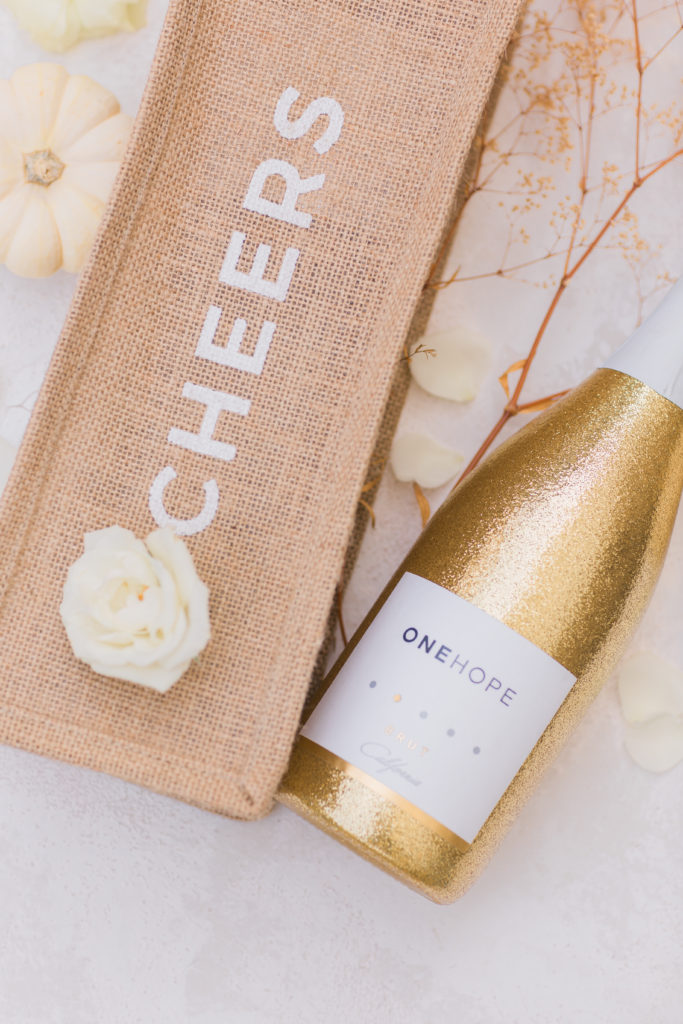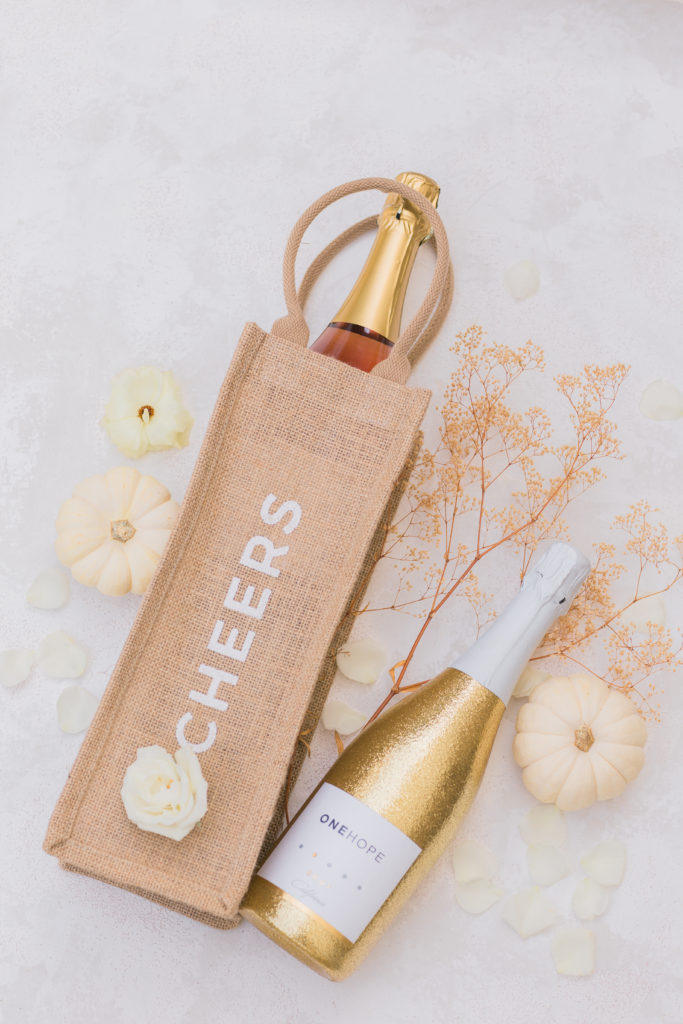 And don't forget about this cutie!!!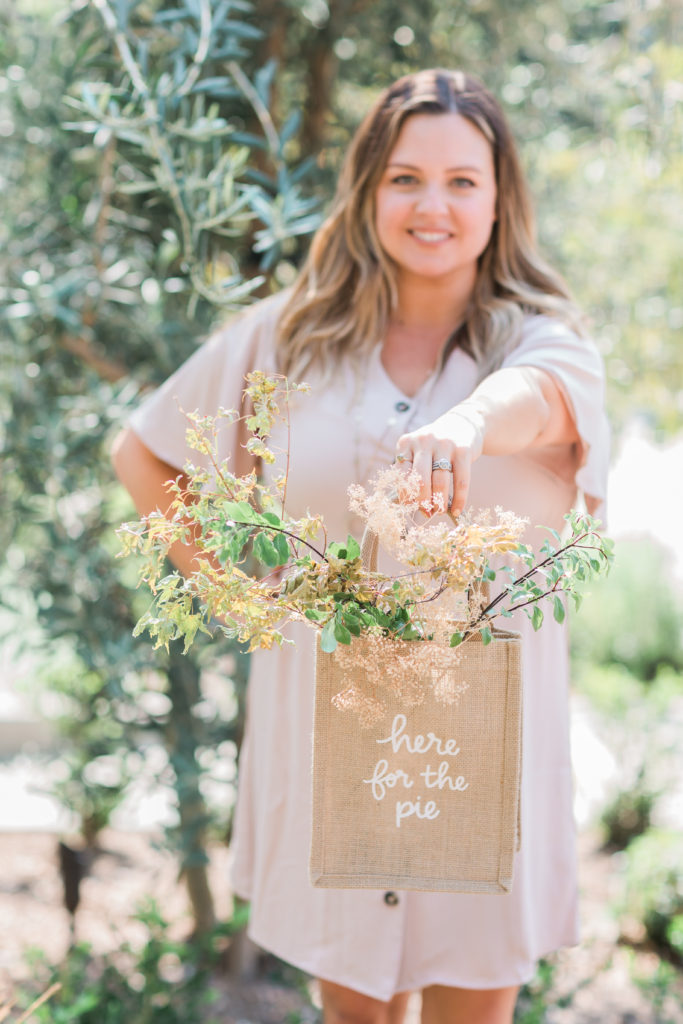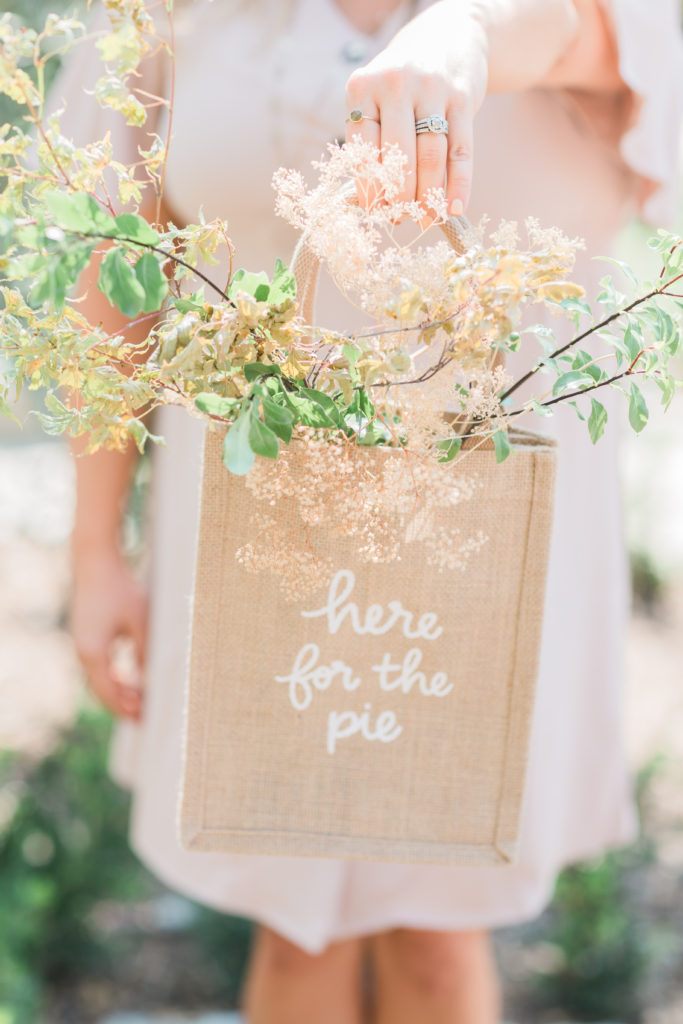 Nothing like celebrating with friends, especially after a year like we've had! Close friends have saved me this year, and I'm so grateful for them!!
xx
Jacquelyn