---
This week was back to school for my two little ones. I have a 1st grader and third grader; I don't know how they got so big so fast. Now that they are in school, it's all about routine, routine, routine! Our week gets pretty busy over here with work, school, homework, and sports. In between all that, we want them to have a sense of responsibility. Let's be honest, doing chores isn't fun for anyone. Getting them to do tasks, is a chore in itself sometimes. But I can try and make it enjoyable for them, or at least try too!
When I started to think of how I wanted to do this chore chart, my designer mind always went straight to the look vs. functionality. I searched Etsy for some fun art prints to use as a background. I then found a fun idea off Pinterest about framed chore charts and using tic tac toe as a way to encourage kids to complete their chores. I put my stamp on it, and we have one cute chore chart that also is an art piece in the kid's room. Look and functionality for the win!
What kid doesn't love a good game of tic tac toe?!?
---
Doing this DIY is pretty simple! I did get some help from the ever so talented, Lindsay from Bare Ink Co. And I recently found this artist off Etsy who does Morrocan rug art prints, and I can't get enough of her prints. I have two big ones in the kid's playroom as well. Check out her stuff here. Lindsay used them as the background, and I think they are the cutest things ever! I used Frame and Matted for my frames. They are the best online shop. You can customize any size frame you want, and they come in various materials and colors. They use plexi instead of glass, and that is a big plus in my house!
S U P P L I E S
Frame
Art Print (use any kind you like)
Photoshop and/or Printer
Dry Erase Markers
T H I S   I S   H O W   Y O U   D O   I T…
If you are going to use photoshop, then create squares with desired chores and add them as a layer on top of your art print. Creative Market has a great selection of fonts that you can buy for a reasonable cost and keep forever! This is my go-to online website for my DIY's. Making your own wedding paper goods? Check out, Creative Market!  I printed my poster out at my local FedEx Office. Place your poster in the frame just as you would with any other art piece. Voila! If you are using a printer, just print out your squares and adhere to your background.
Use a dry erase marker, and have your little one complete a chore and "x" that baby off! A fun game that will definitely keep the fun chore hype up, and hopefully will give us mamas a couple of minutes of relaxation.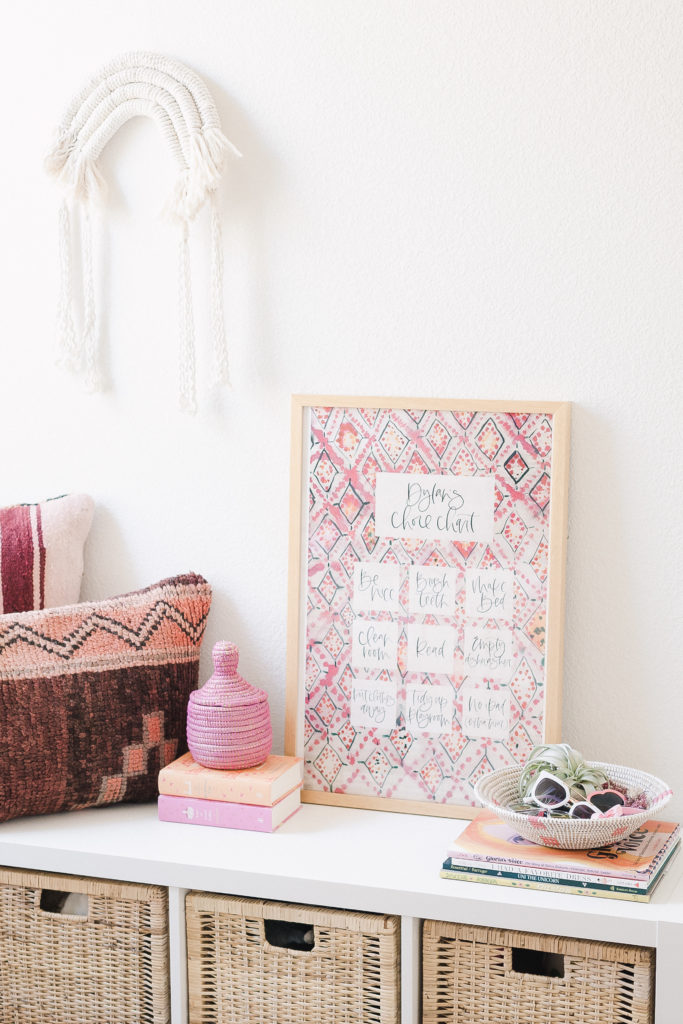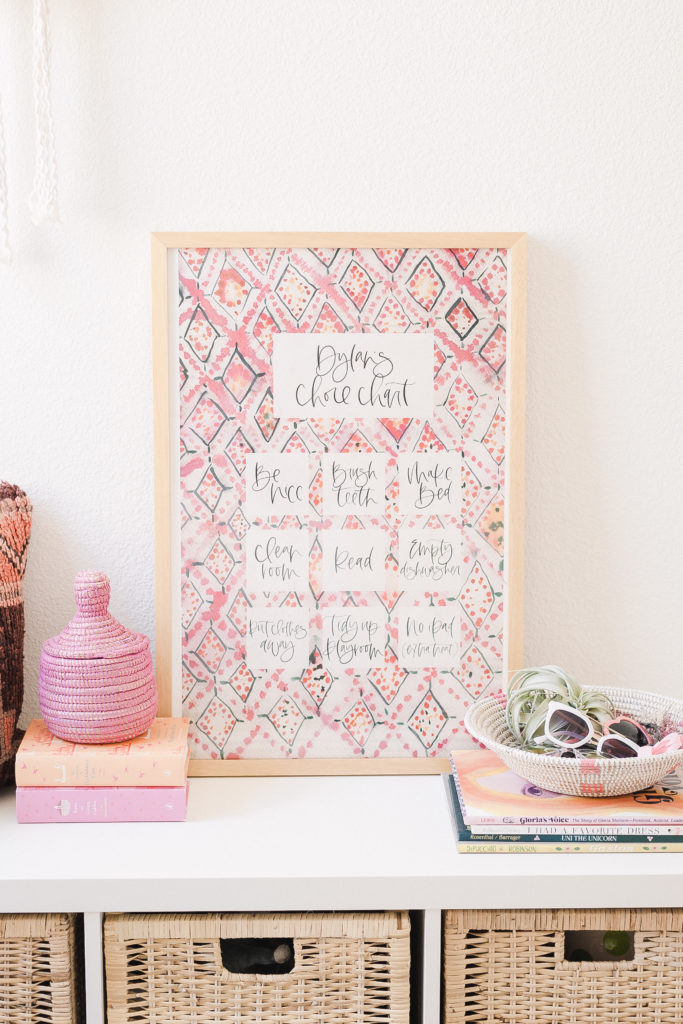 For the boys…
For Jett's chores, I try to have him do routines that will create a gentleman out of him starting in his early years. He already does a great job of opening up doors for anyone, and always says "please" and "thank you."
xx
Abby