---
I'm holding onto every last bit of summer! Becuase you know as soon as September hits, the madness of the holidays will be among us. I wouldn't be surprised if I see Christmas decor up at the stores soon. Are you looking for a quick appetizer that is not only super yummy but also the cutest little thing? Of course, you are! I like to change up traditional dishes and put a little twist on them. A little fact about me, I'm not a fan of plain tomatoes. They have to be mixed in something or roasted for me to give them a chance. So when it comes to a Caprese salad, this is where I like to change it up. Toss out those tomatoes and bring in the cantaloupe!
Fresh summer cantaloupe paired with salty prosciutto and creamy burrata, and you have a little dish of heaven. Serve this summer dish with a light, crisp cold rosé like our favorite from One Hope Wine, and you are soaking in all the summer vibes, even through fall. Don't go summer!
---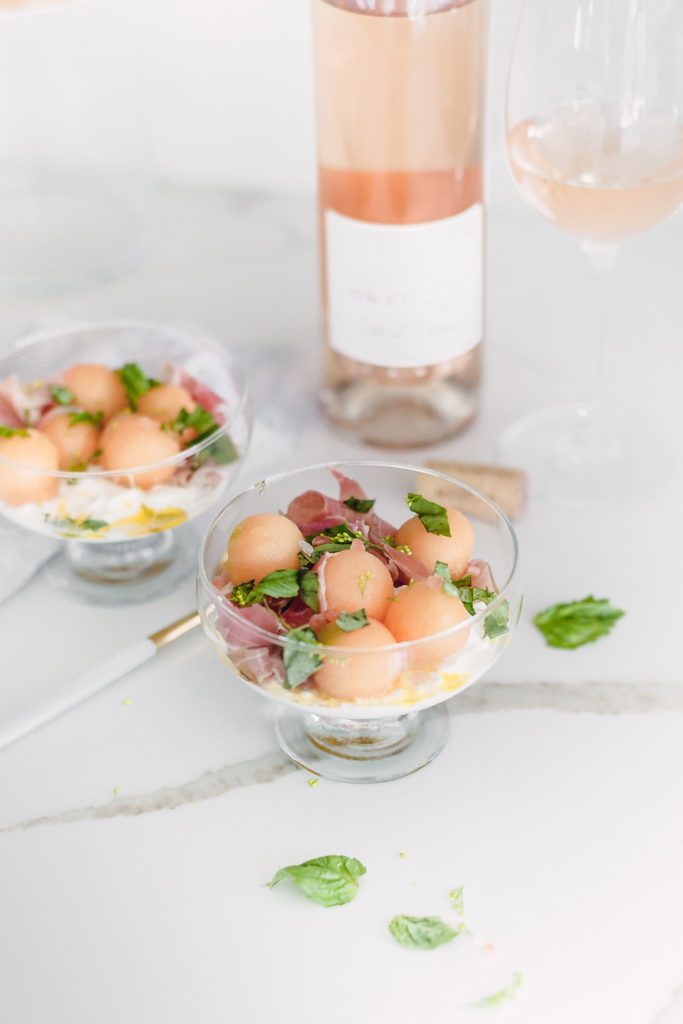 I N G R E D I E N T S
cantaloupe
burrata
prosciutto
olive oil
basil
salt
honey
P L U S   Y O U   W I L L   N E E D…
melon baller scooper
D I R E C T I O N S
Take your melon baller scooper and shout that ten times fast! Ha! But take your scopper and begin to make melon balls out of your cantaloupe. Set aside. Put burrata on the bottom on your bowl, put as little or as much as you would like. I like A LOT! Drip some olive oil on top of your burrata followed by a small sprinkle of salt. Then place your melon balls on top and layer prosciutto on top as well. Take your basil and hand tear it, and then p on top of the melon. Sprinkle another small amount of salt, and lastly a little drizzle of honey. Serve immediately.