You can find inspiration anywhere, right? For this pretty photo shoot my inspiration was persimmons! A fall fruit that is not only yummy but is such a beautiful vibrant color. I had the idea to incorporate a gorgeous setting and tablescape with delicious recipes all with persimmon involved. This beauty was made there after! A combination of tasty food and a pretty environment is just what we all want for the holiday season. We are also honored to be featured today on Green Wedding Shoes. Have a look at all the lovely photos from Jessica Lynn Photo below…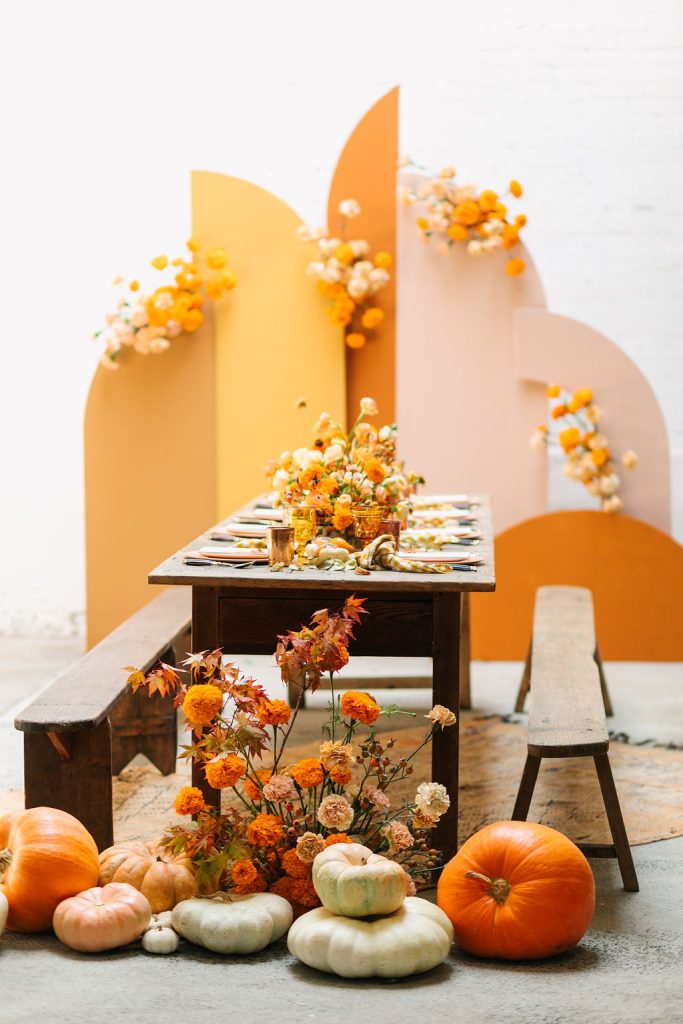 A stunning invite is the perfect way to start off this one. Pirouette Paper is responsible for this pretty! Can you even handle all of this?! Her attention to detail is impeccable and and the colors and design of every single piece is perfection. I styled it all on a velvet Chasing Stone mat, their mats are by far the best!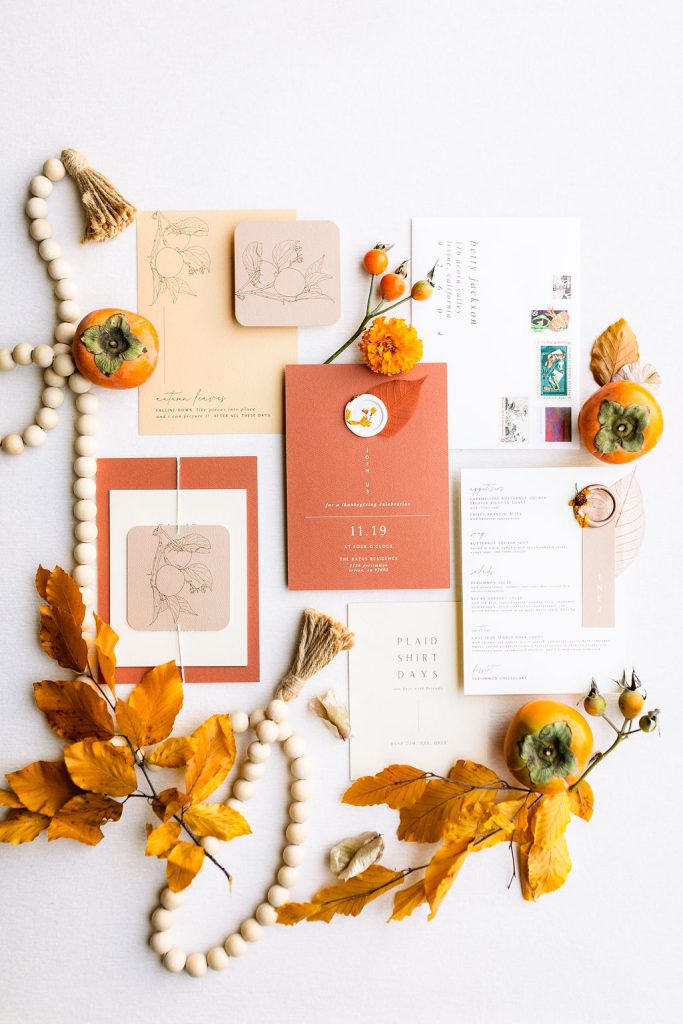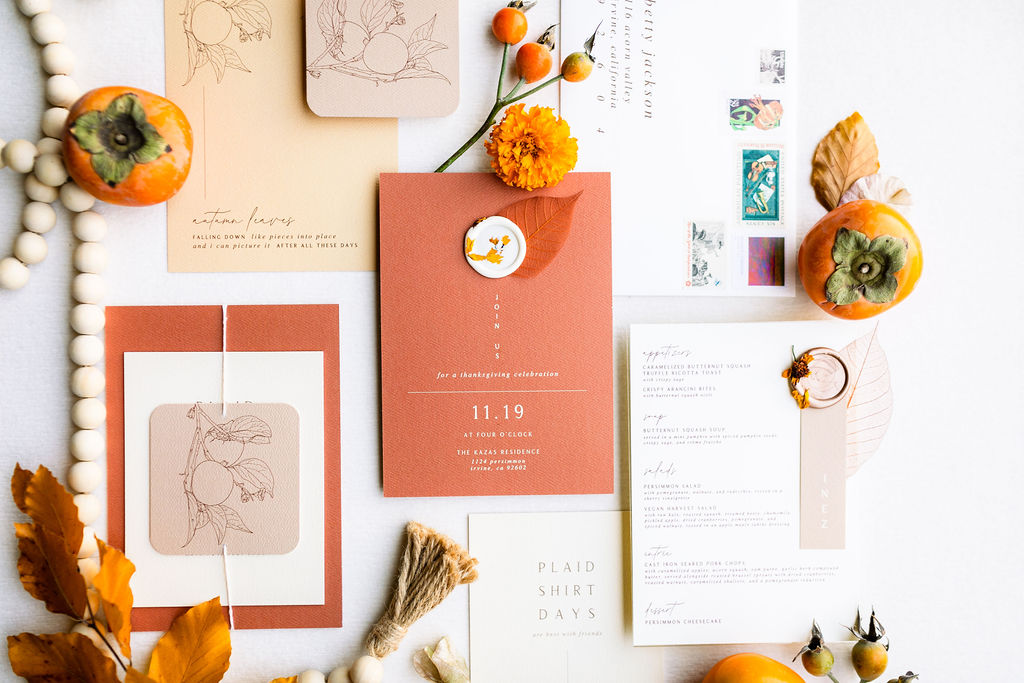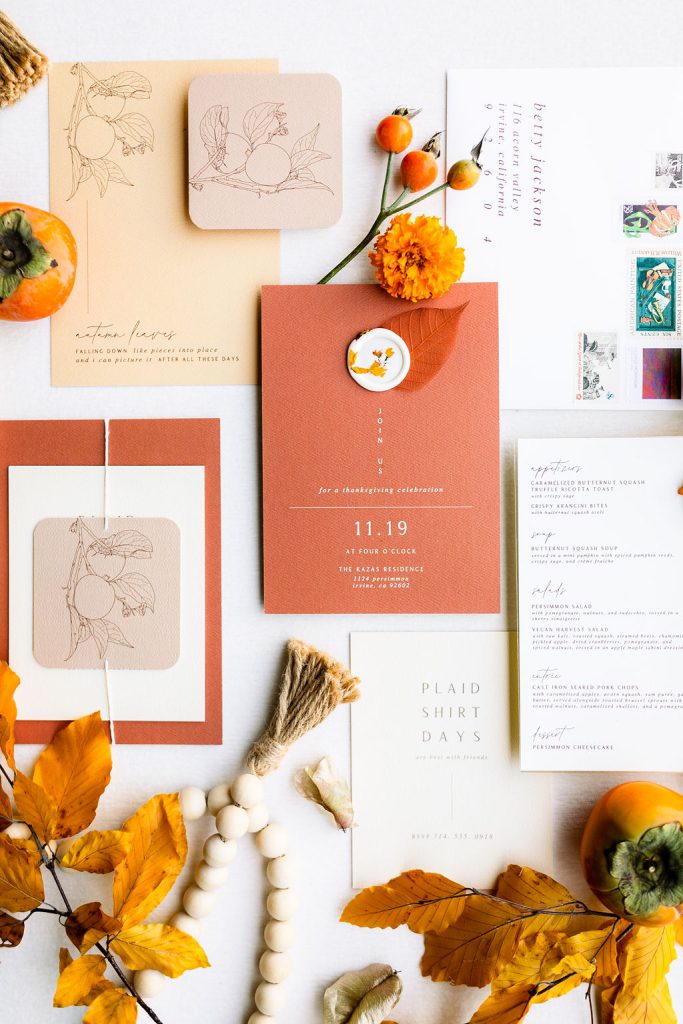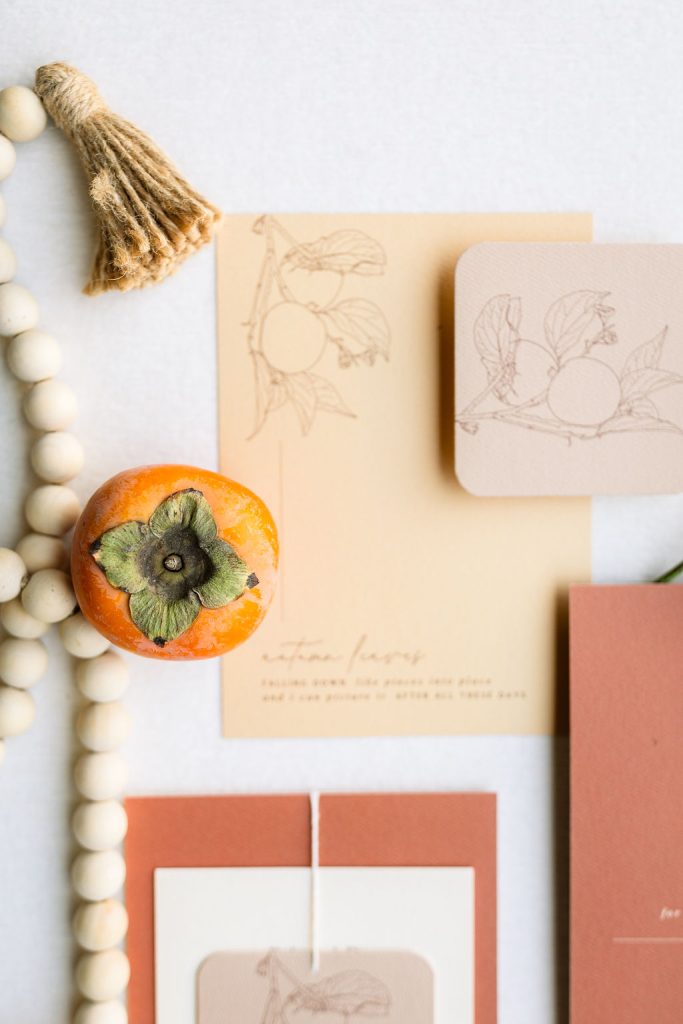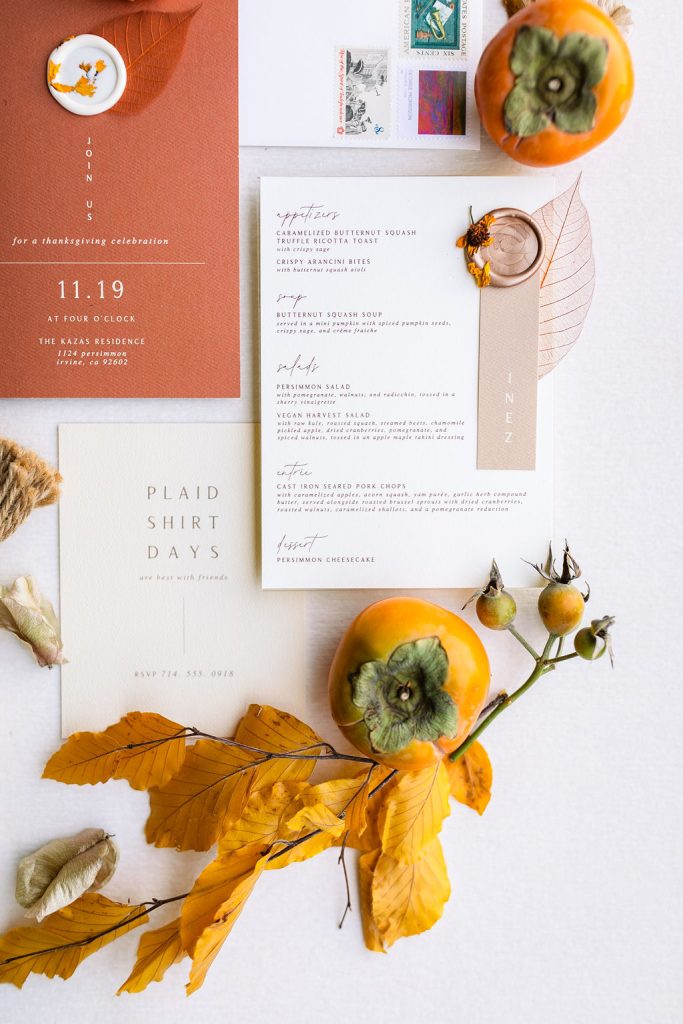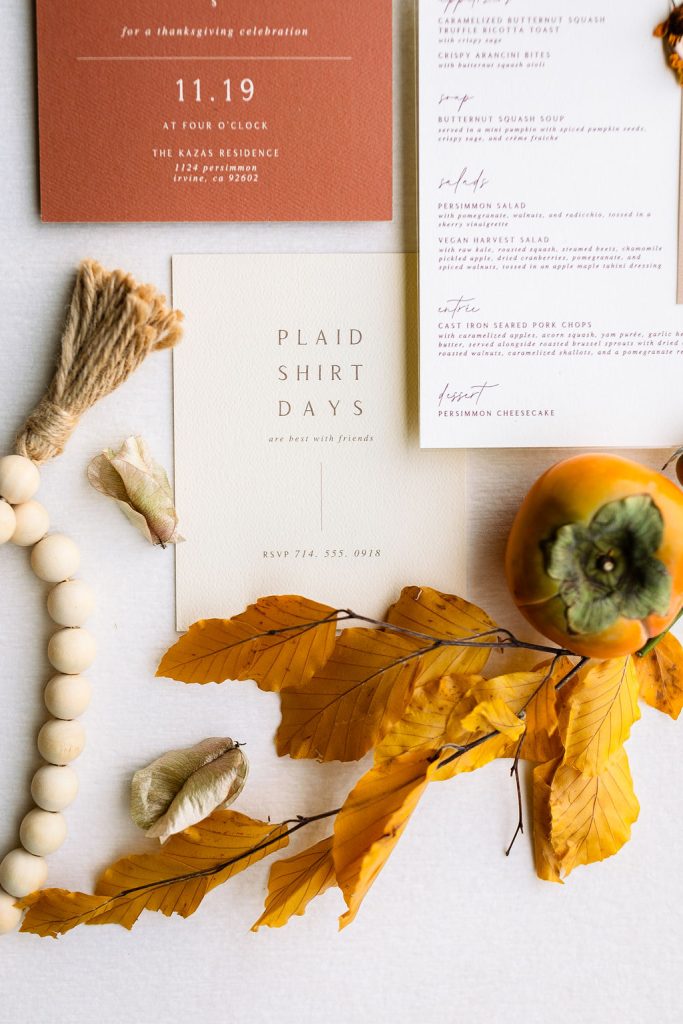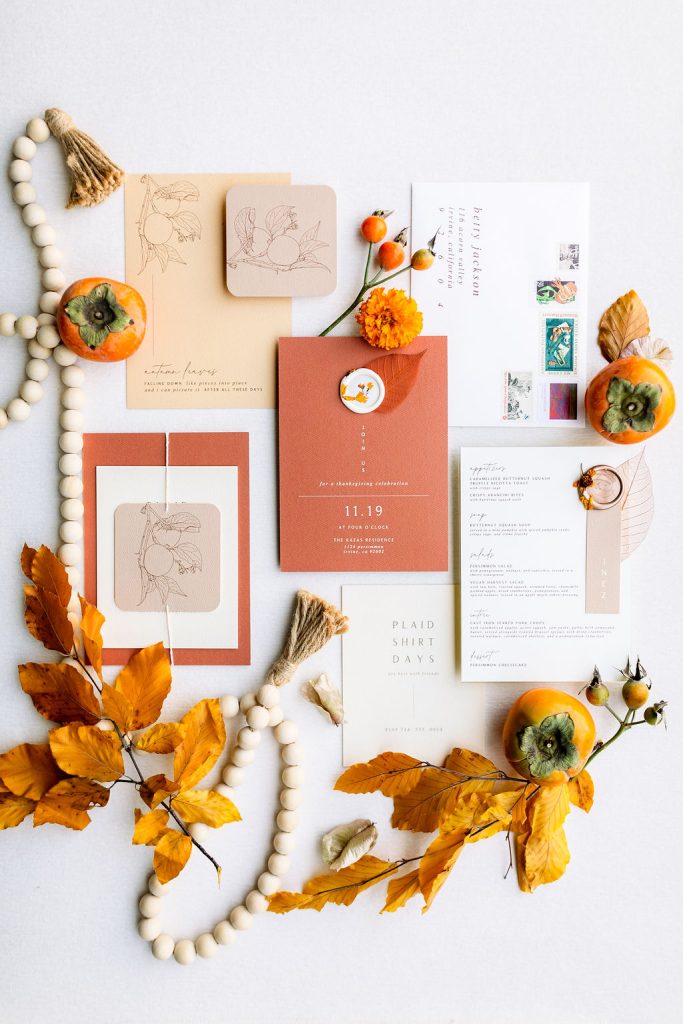 Onto more amazingness – this table! Our friend Krista at Not Just in Novels did the amazing floral arrangements that you see along the table and on the backdrop. We used marigolds which are the same color as our persimmons and she even had baby persimmons in the arrangements as well. The mix of neutrals with pops of orange is so lovely!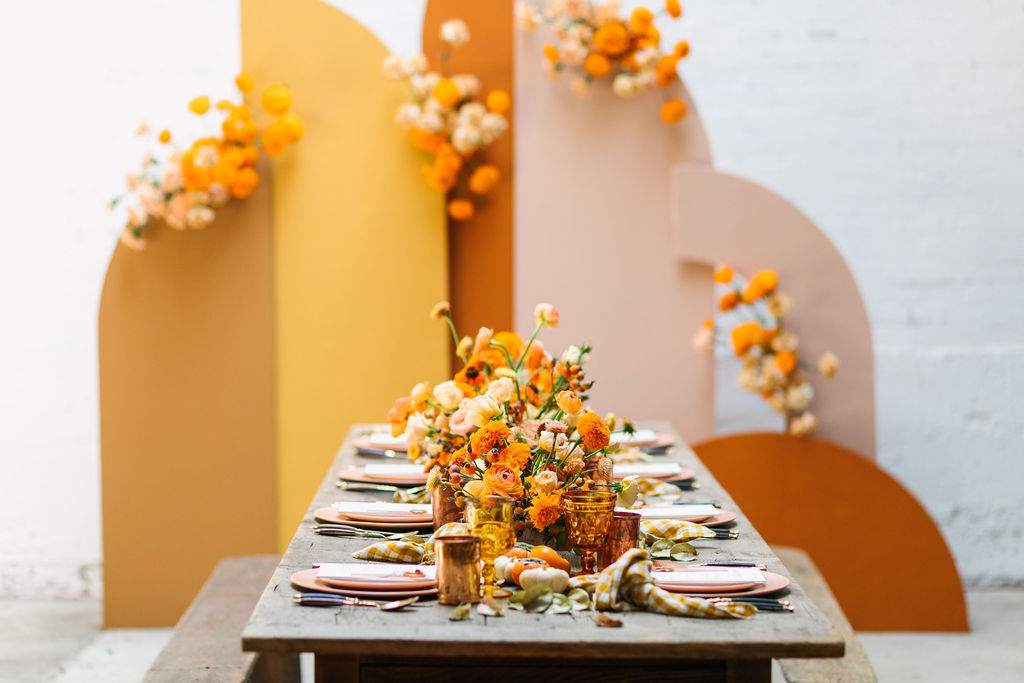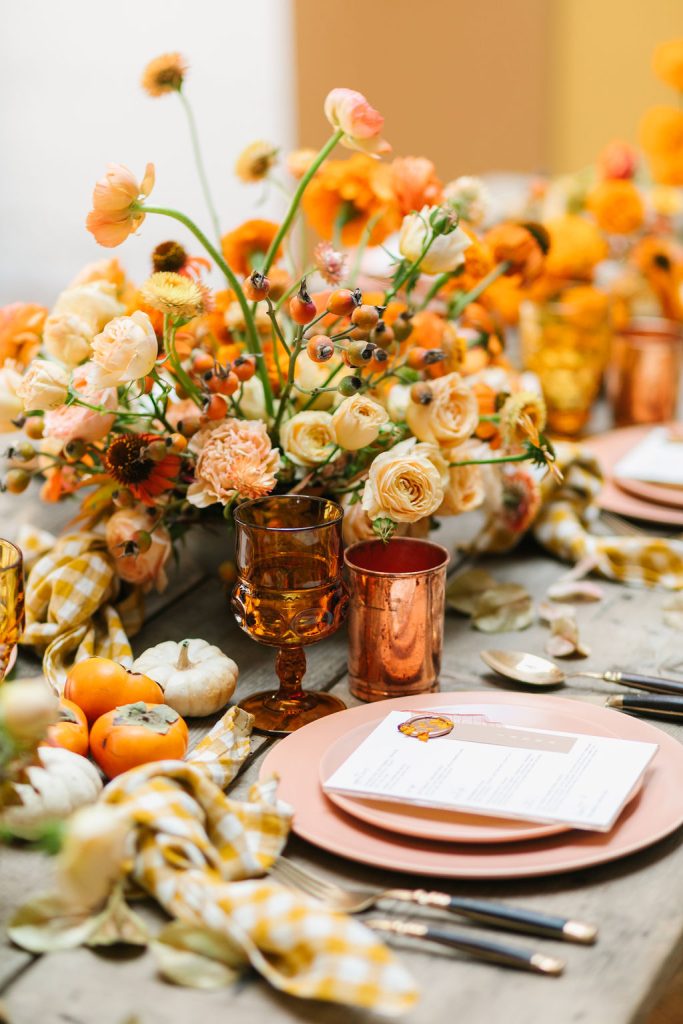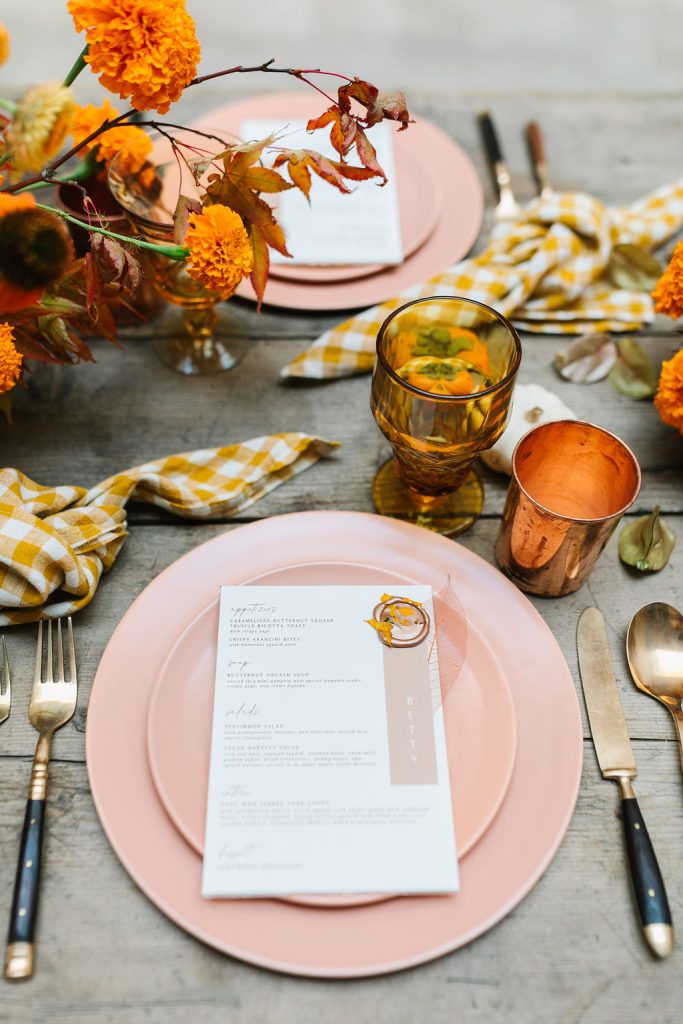 For our place settings I mixed Signature Party's plates with Hostess Haven's flatware and napkins along with a few personal items. Love this mixture of metallics, fall tones, and of course that gingham napkin. Of course the beautiful menu from Pirouette Paper completes it all! You may notice that we have persimmons, pumpkins, and florals scattered along the table as well, that's definitely the Beijos touch!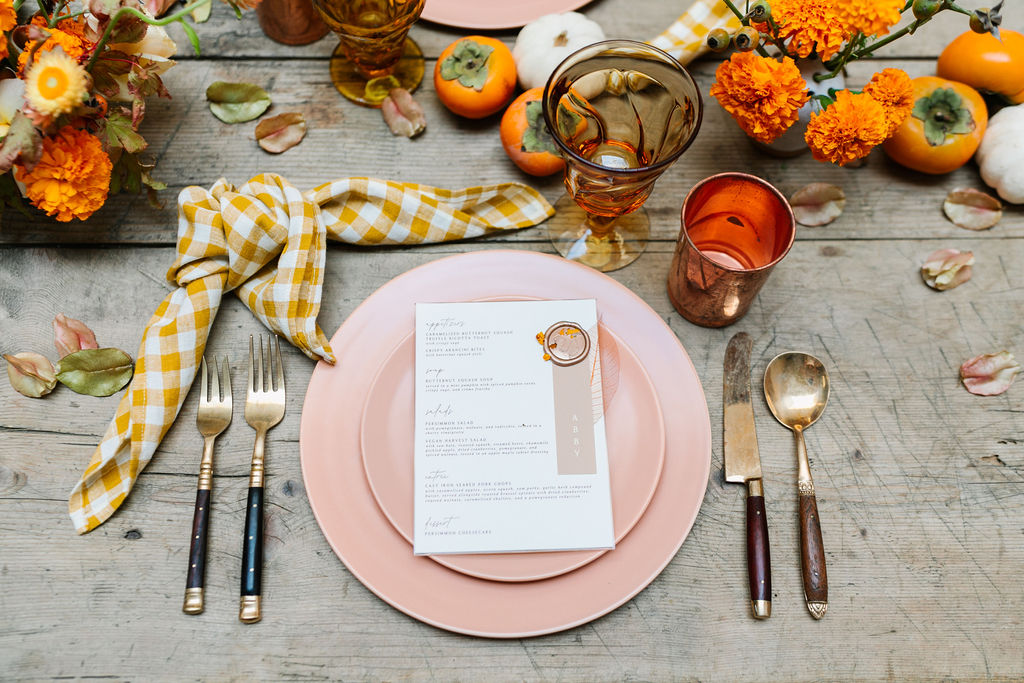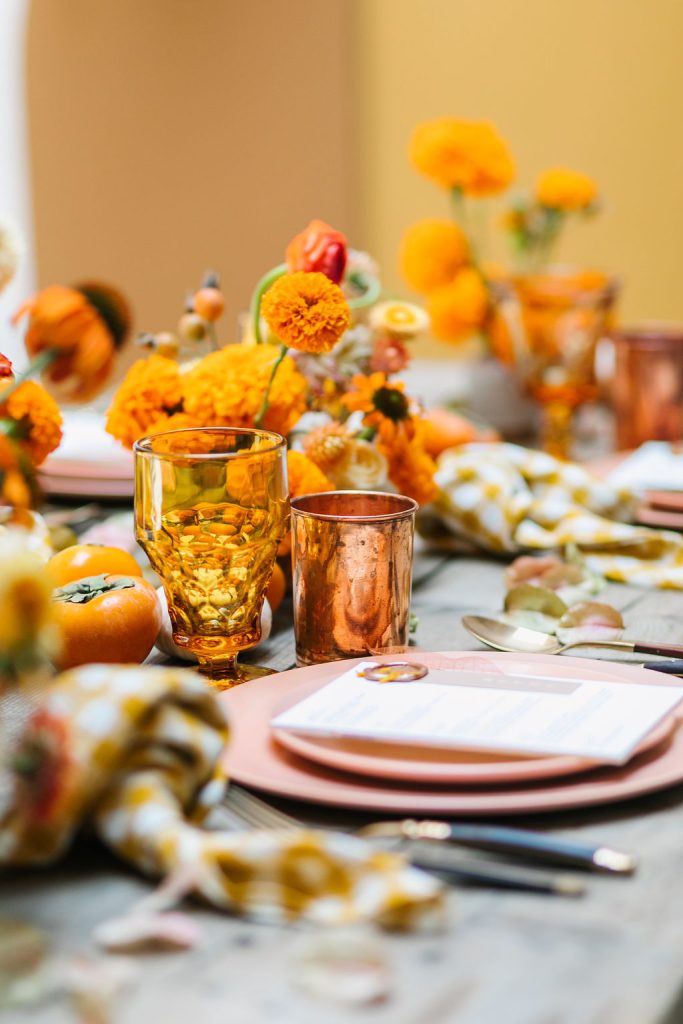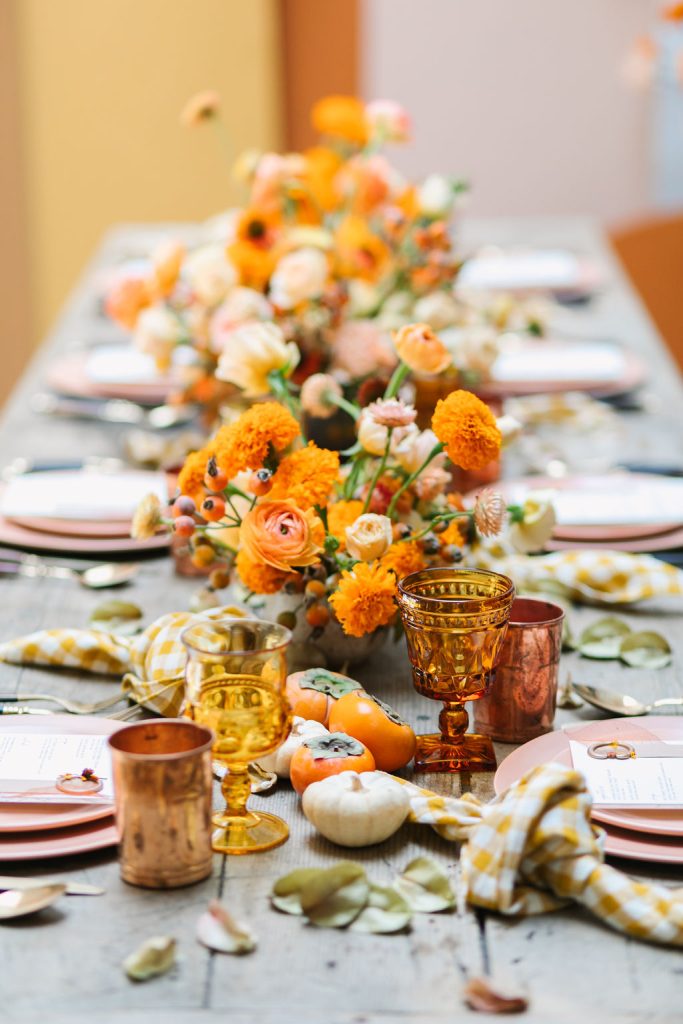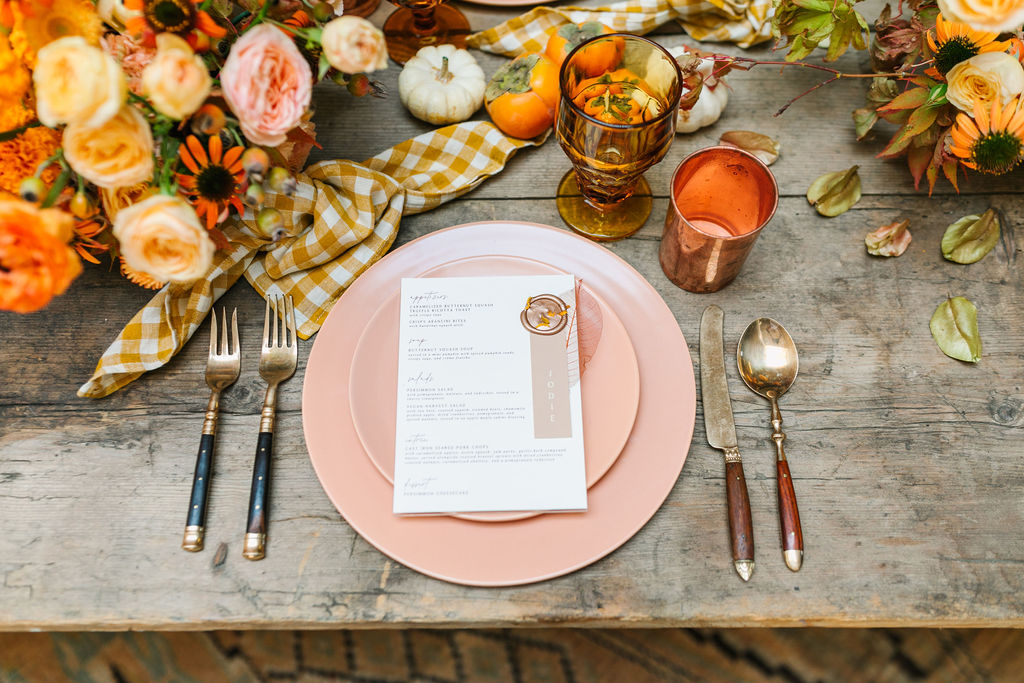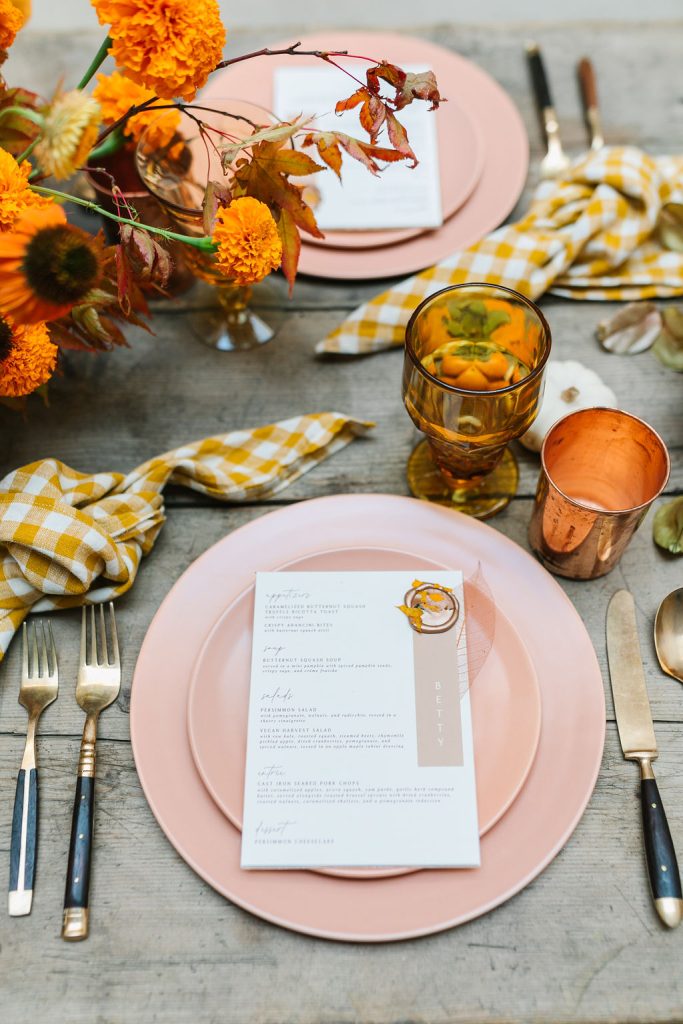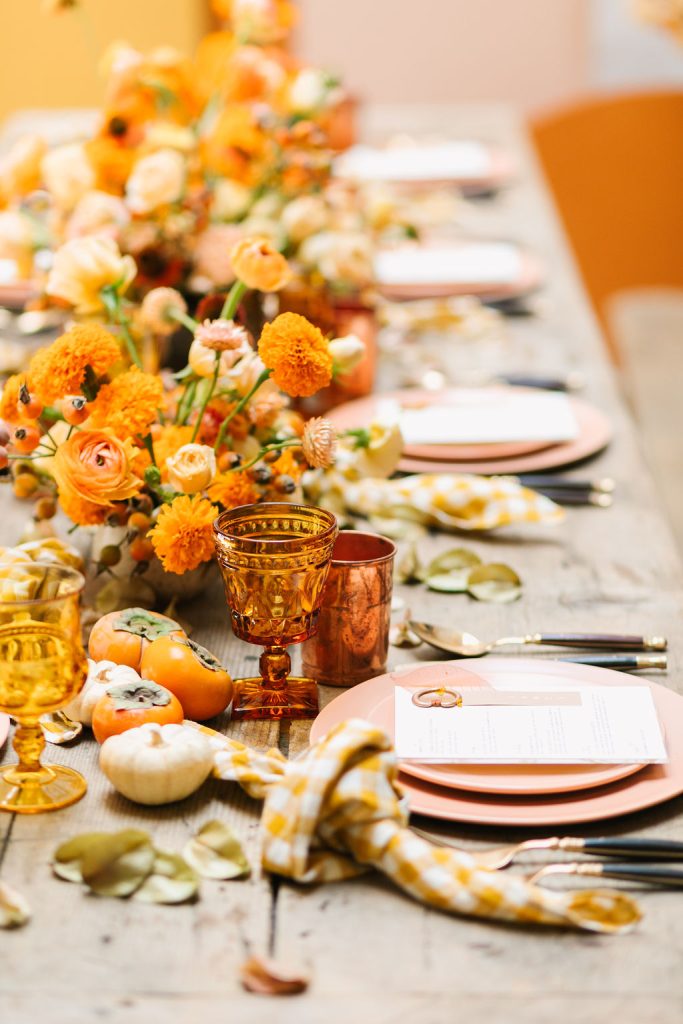 I'm loving all of the little details!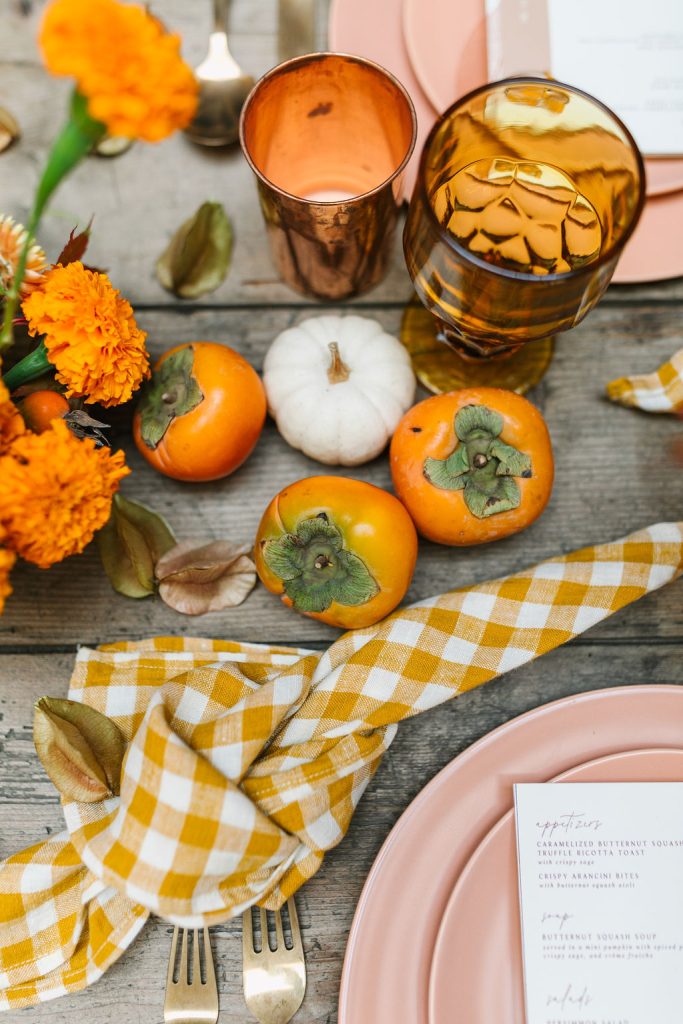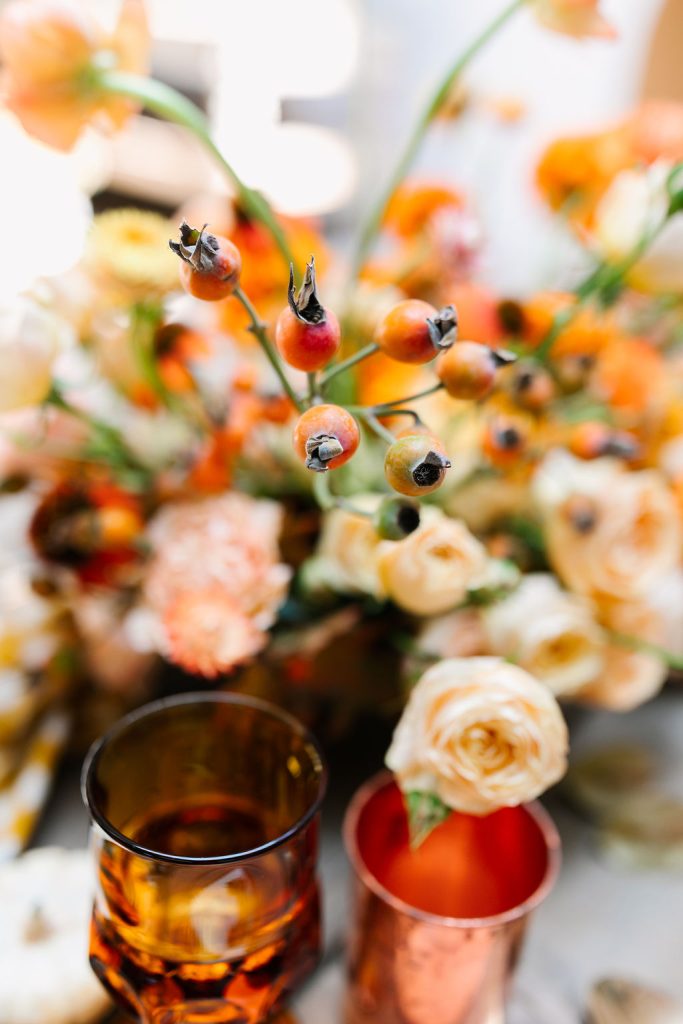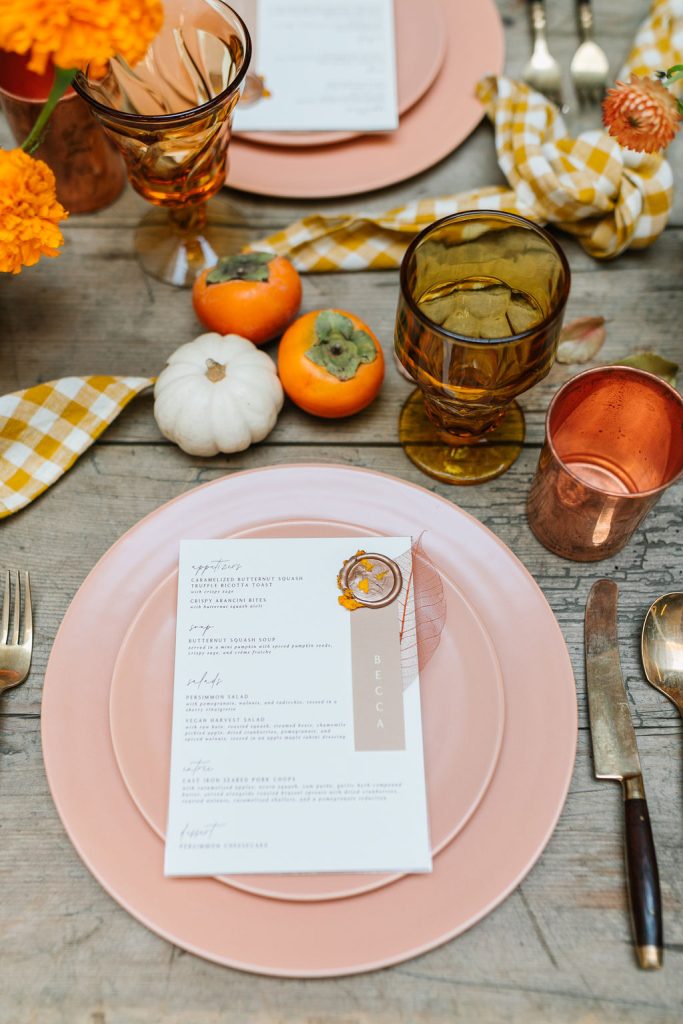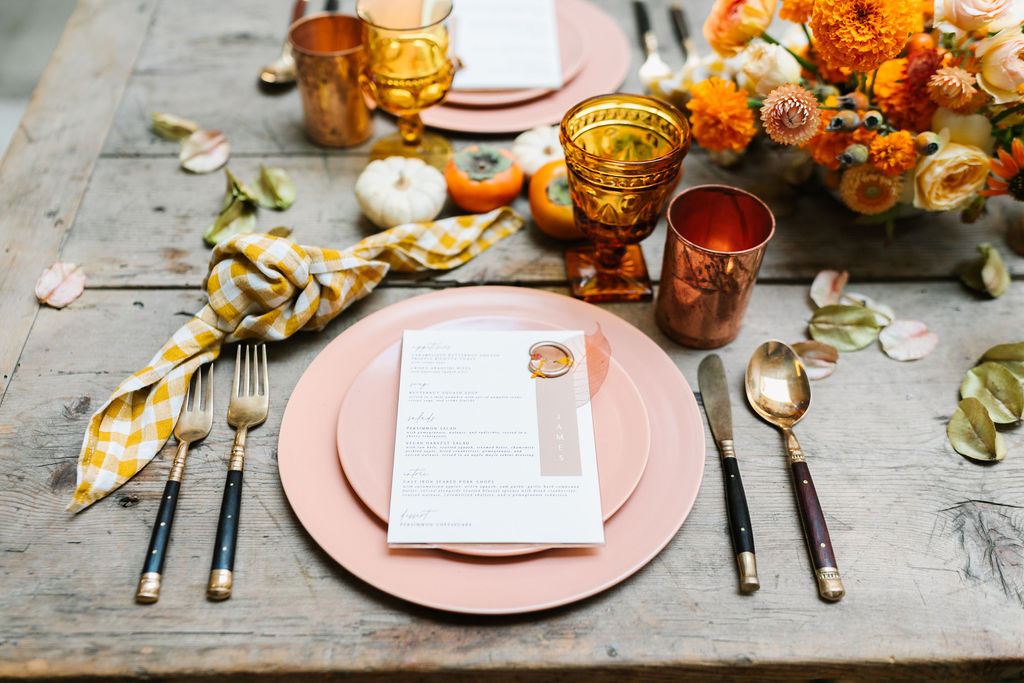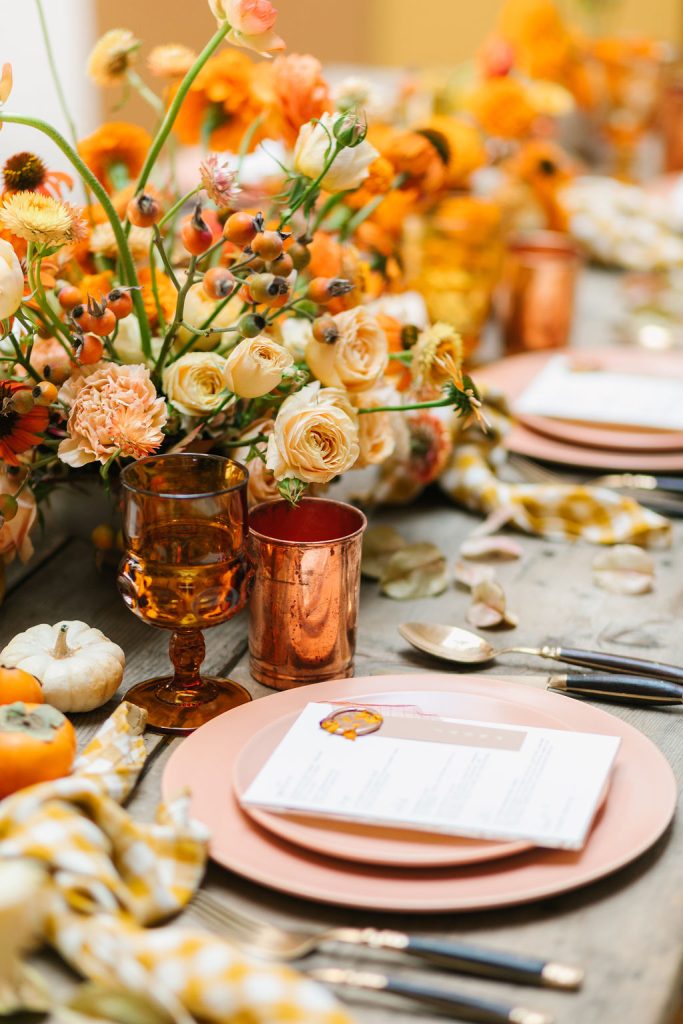 Now that's a showstopper!!!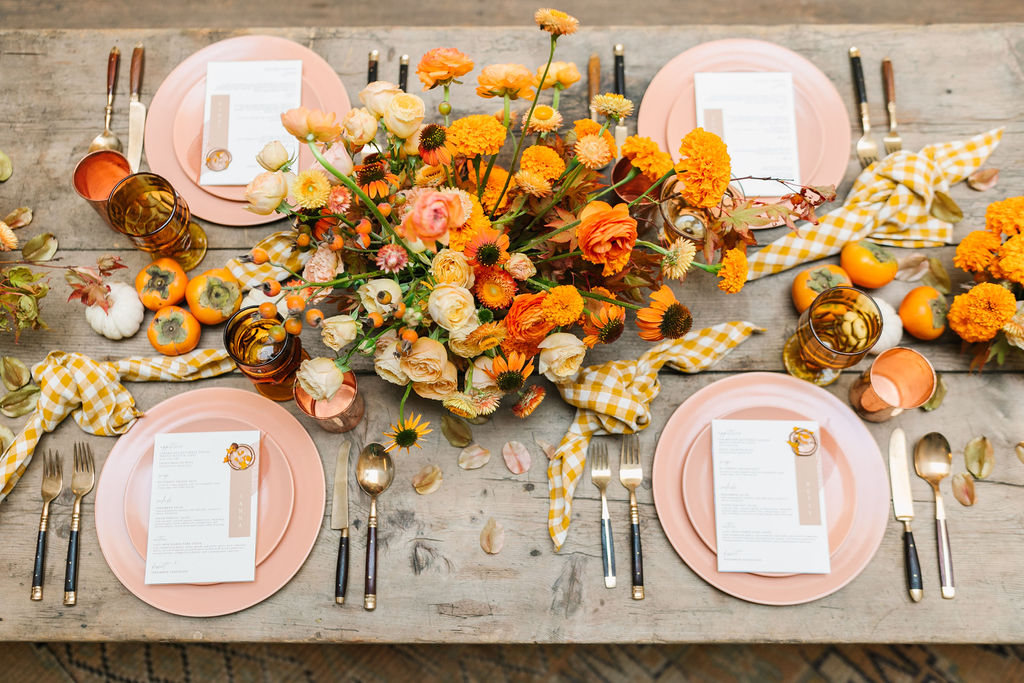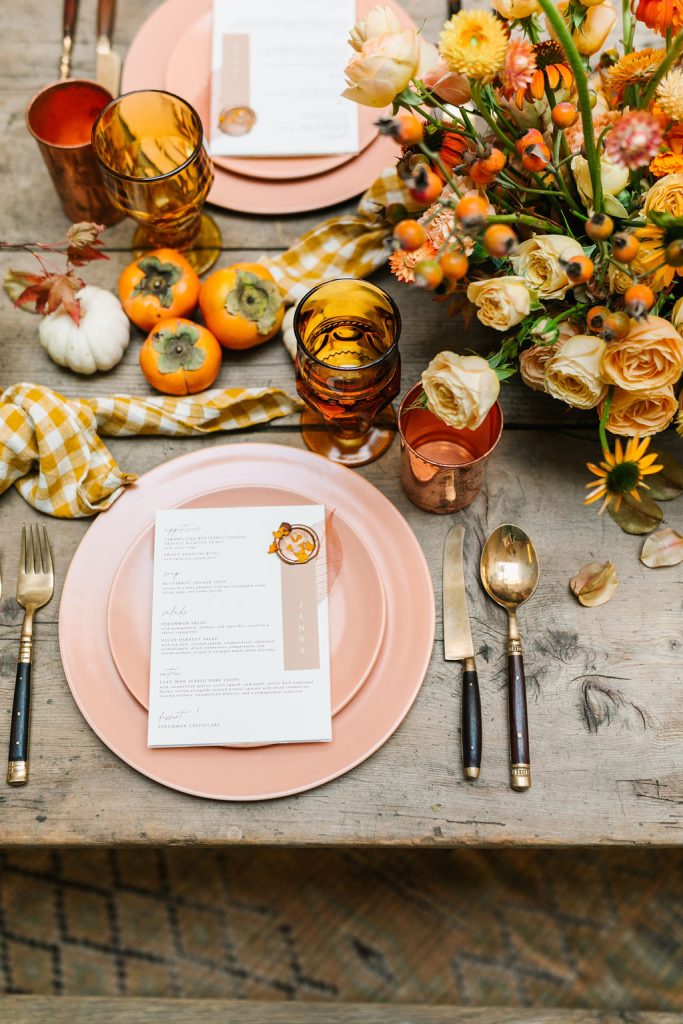 The backdrop is from our girl Ellen at The Pop Shop, isn't it so rad?! We did all of the fun Fall tones for the colors and Not Just in Novels added some magic with her flowers. So stunning, right?!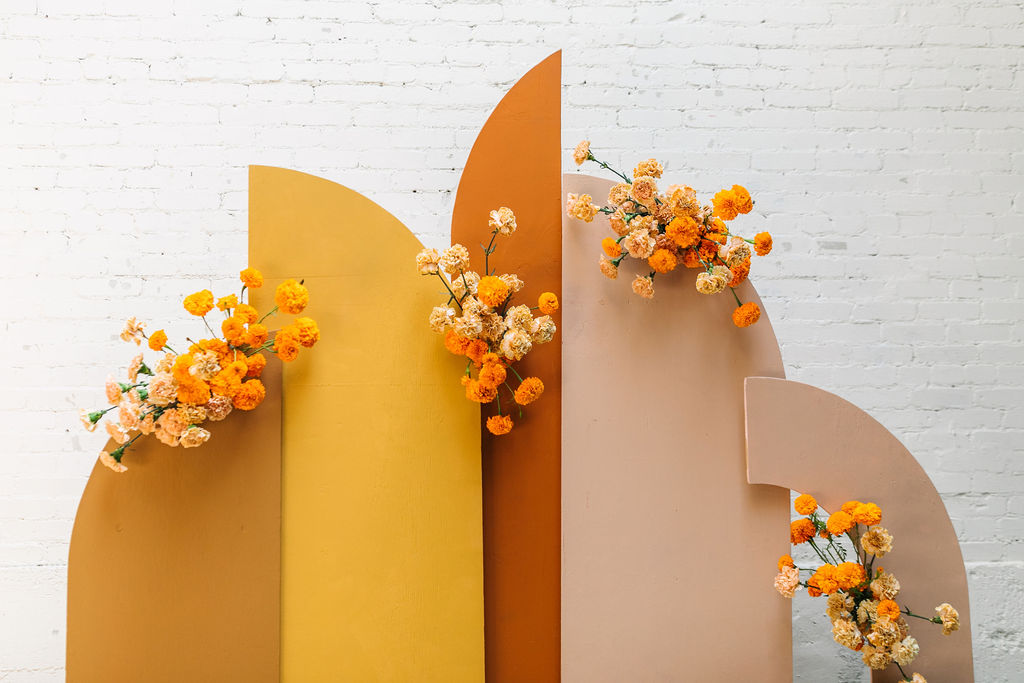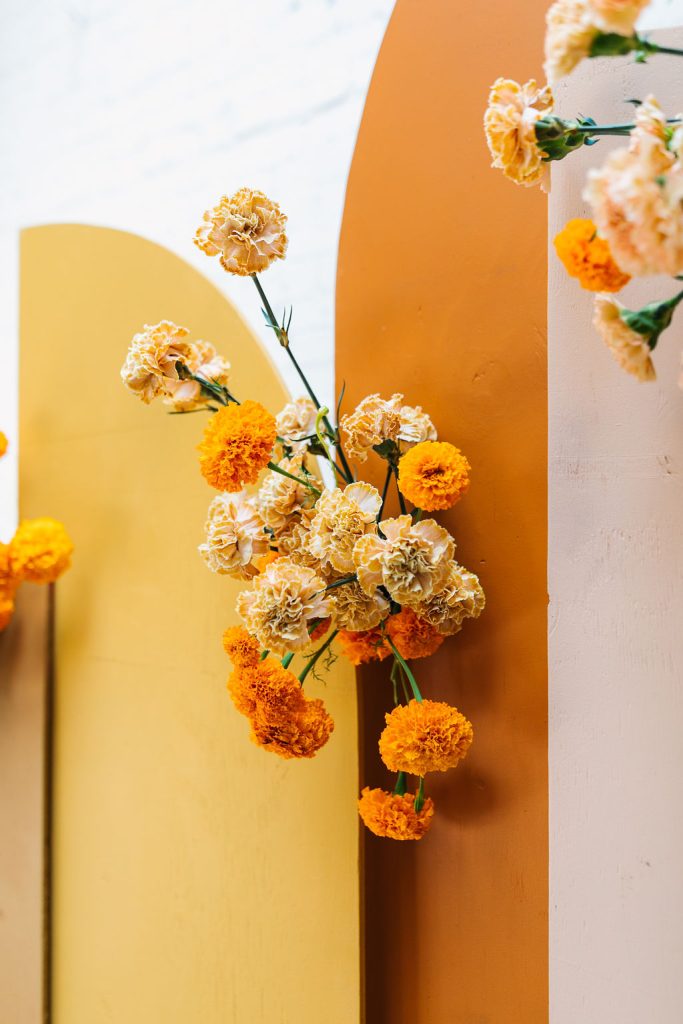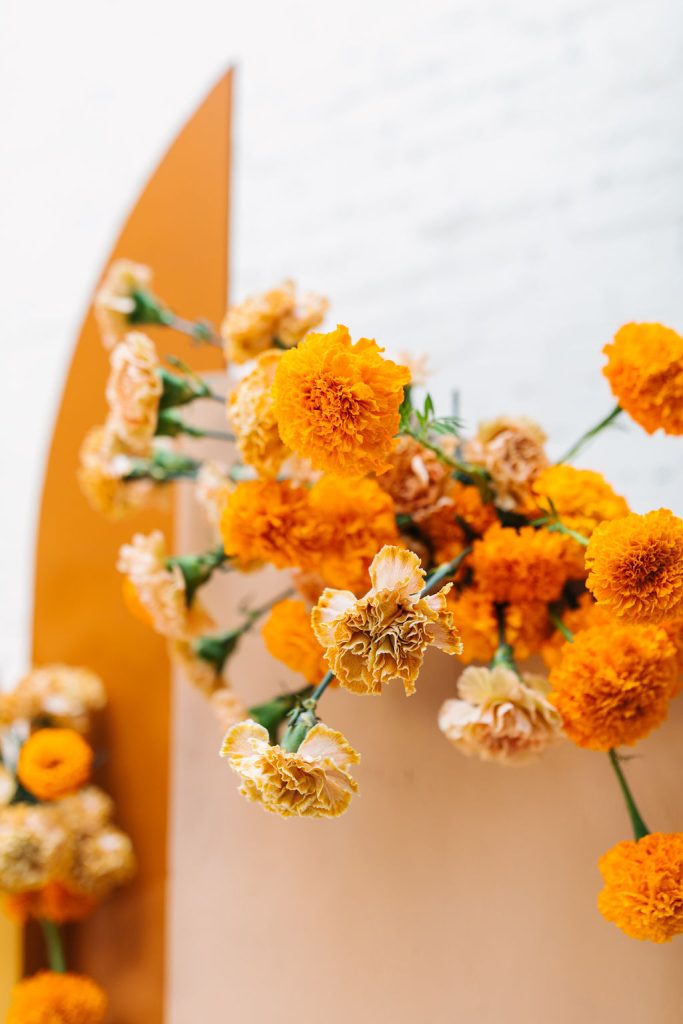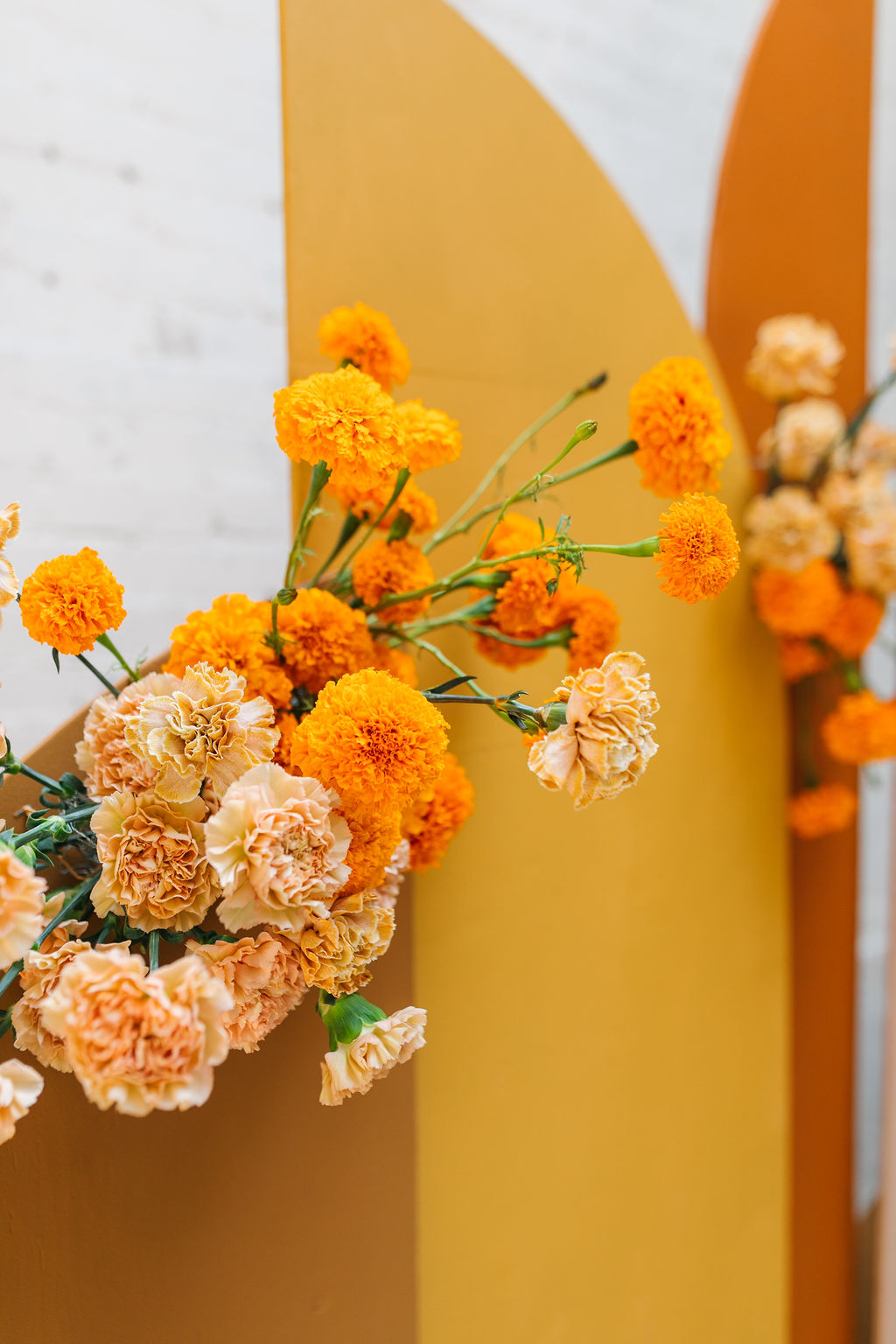 Love these florals so much!!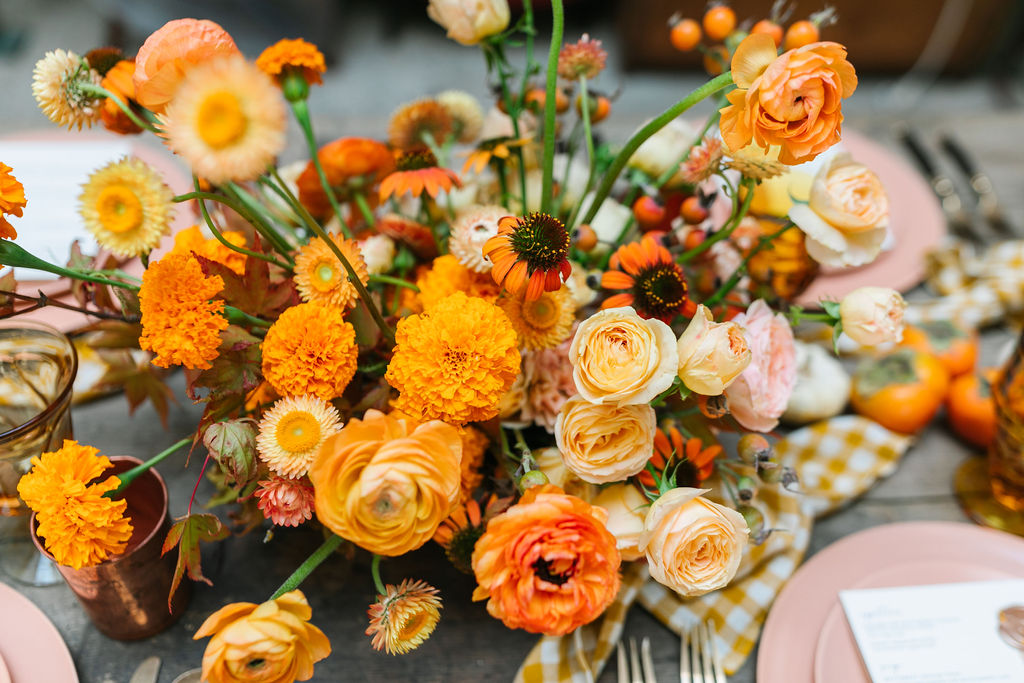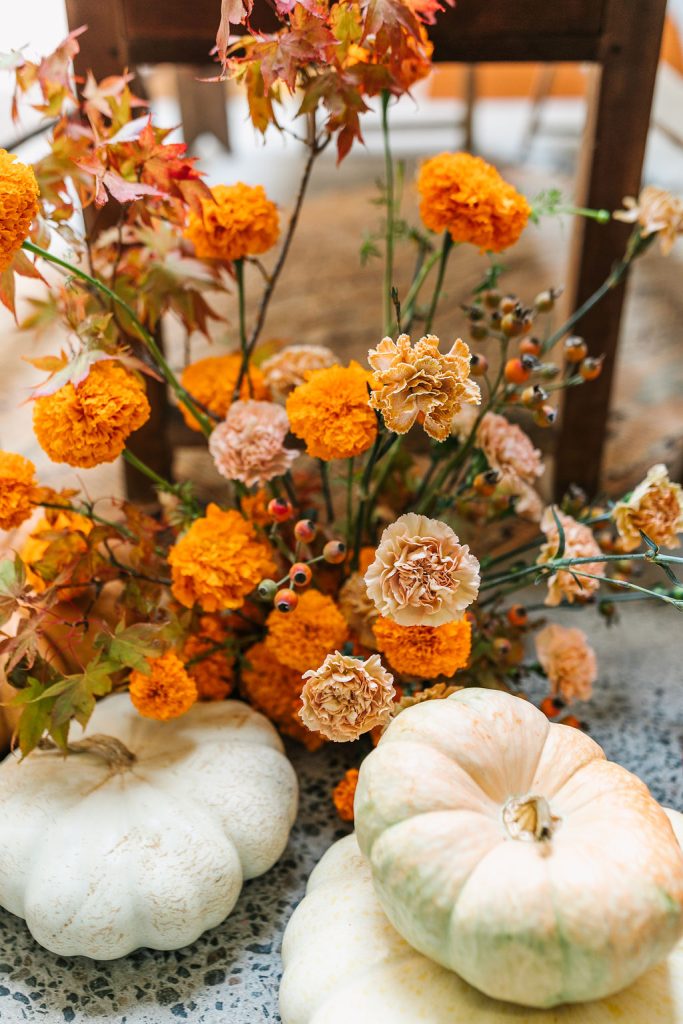 I can't go on without mentioning the amazing table and benches from Sweet Salvage Rentals. The benches are vintage church benches and the table is vintage as well. I love how her pieces have a history and such great character!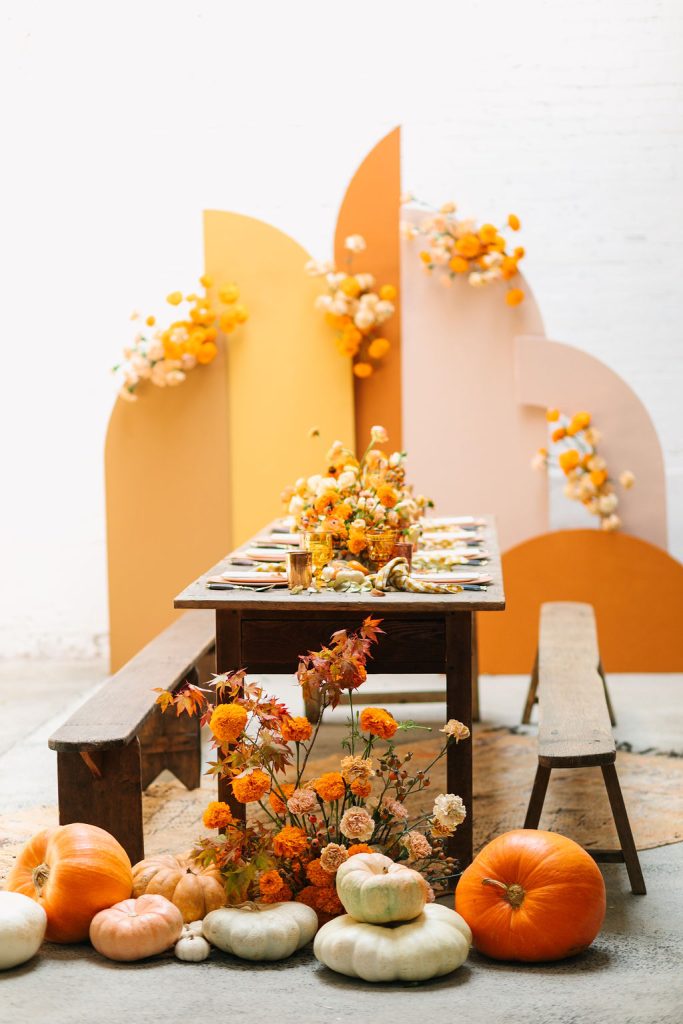 I mentioned the amazing food!!! Brandon Hall owner and chef of Thyme Well Spent Catering created the most beautiful menu for us and lucky us, he's sharing a few of the recipes! Let's start with two lovely salads – a vegan harvest salad and a persimmon salad. Scroll below to see the recipe for that yummy vegan harvest salad, it would be great for Thanksgiving!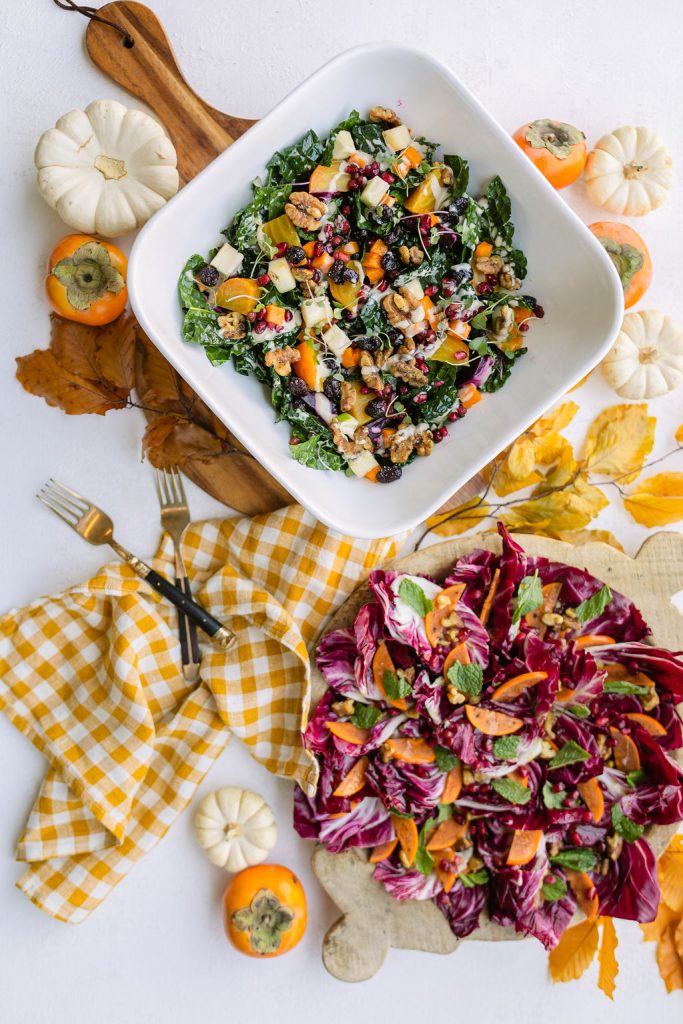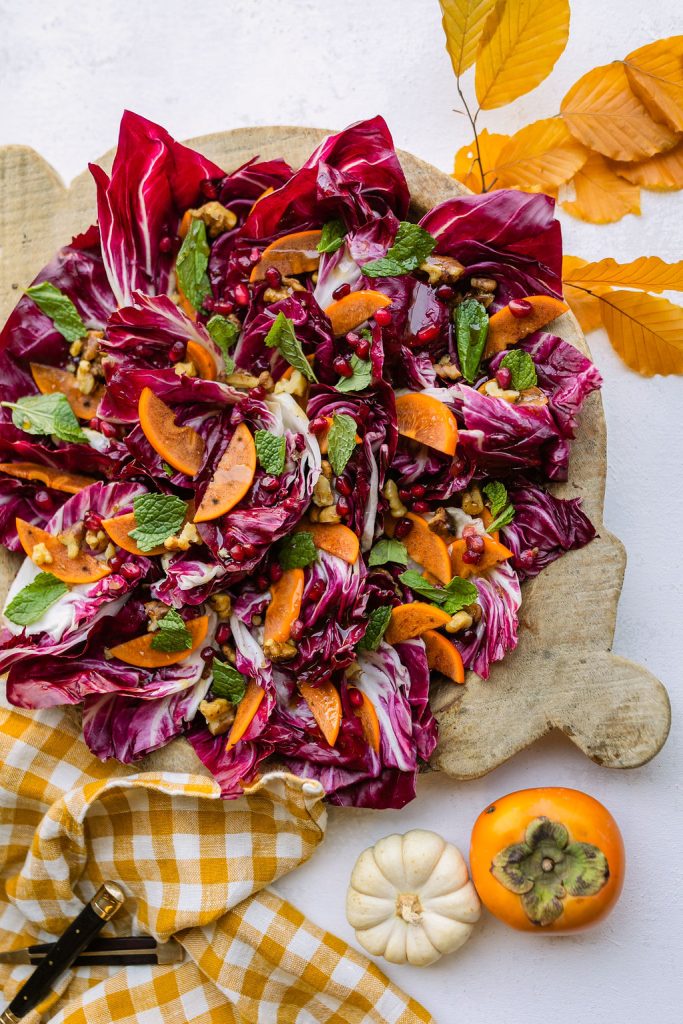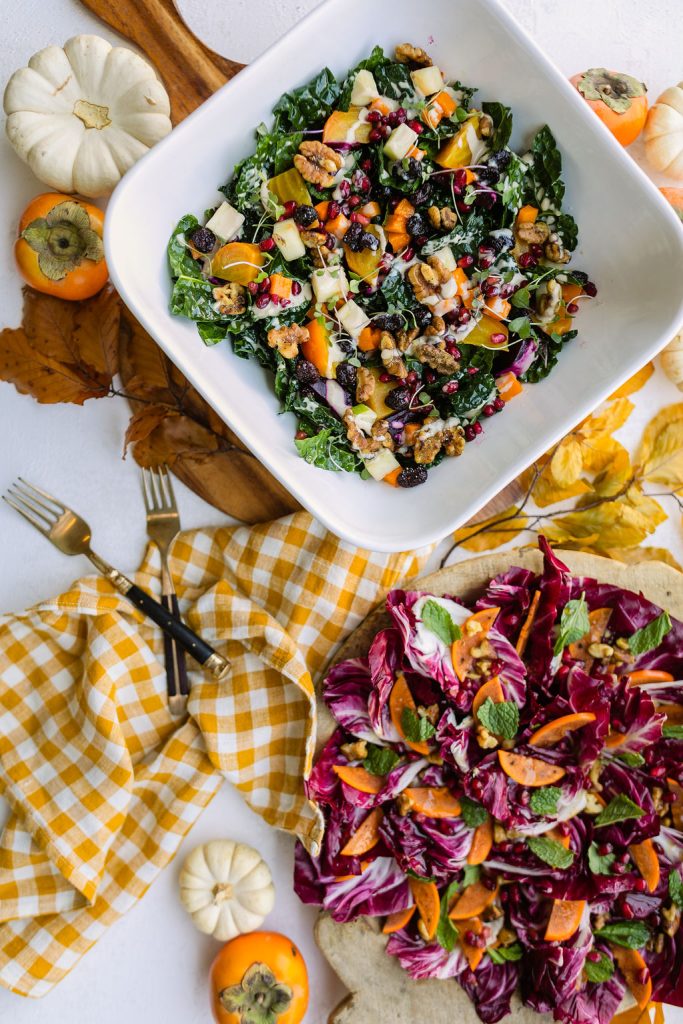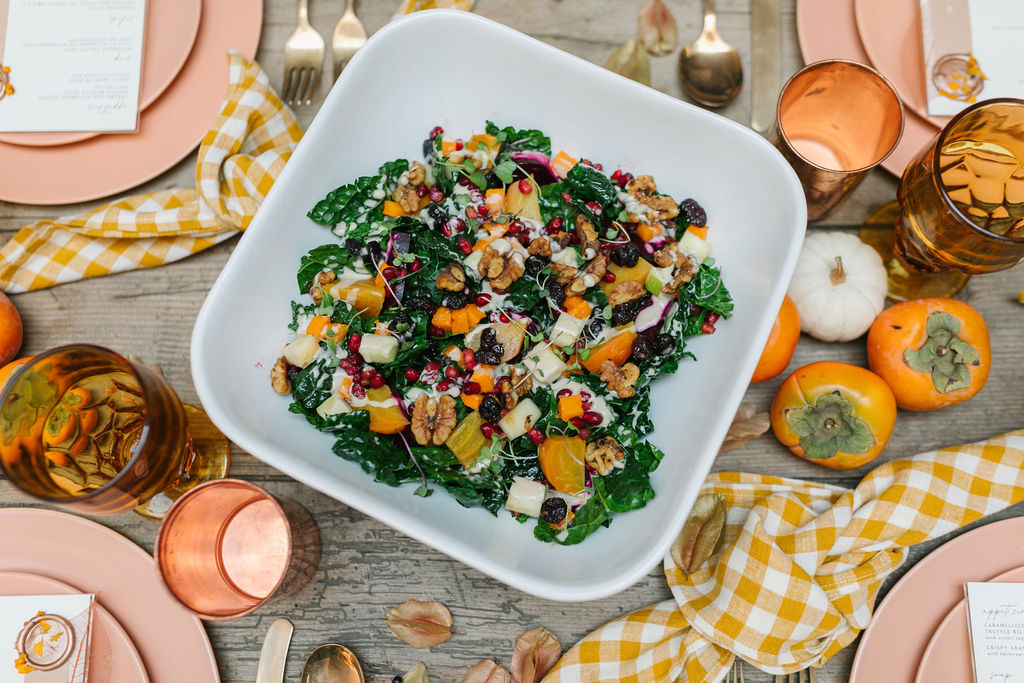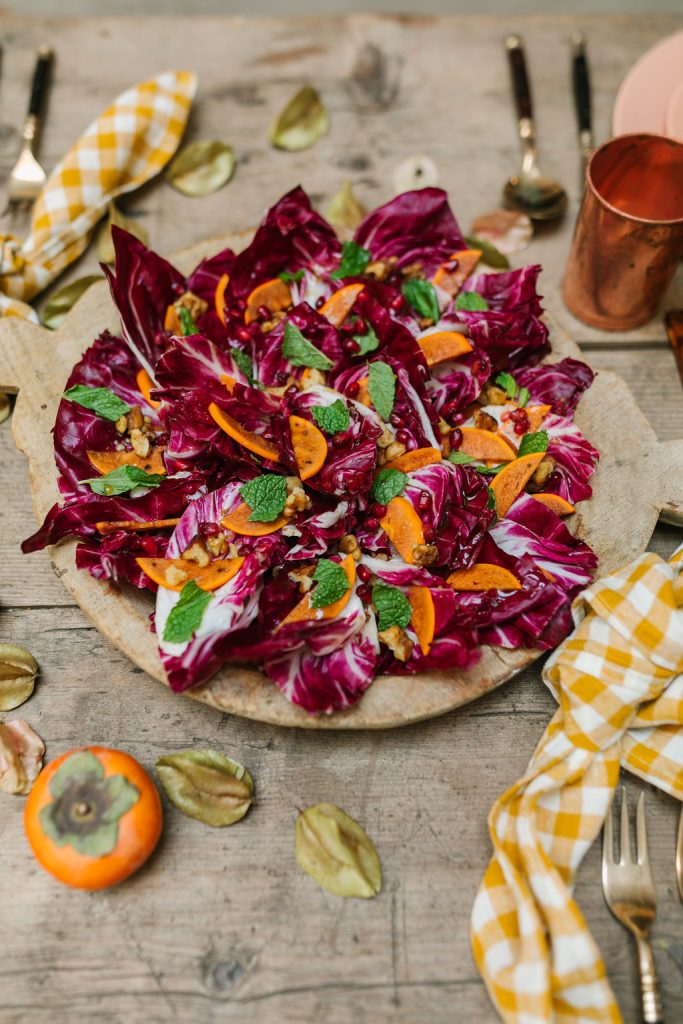 Fall Harvest Salad with Maple Tahini Dressing
Produce
1 Apple
4 Beets, small
4 cups Brussel sprouts
4 cups Butternut or acorn squash
1/2 cup Cranberries, dried
3 cloves Garlic
2 cups Kale, tightly packed
1/2 cup Pomegranate arils
Condiments
1 tbsp Lemon juice, fresh
2 tbsp Maple syrup
5 tbsp Tahini
Baking & Spices
1 pinch Salt
Oils & Vinegars
2 tbsp Apple cider vinegar
1 tsp Olive oil
Nuts & Seeds
1/2 cup Walnuts
Liquids
4 tbsp Water
Directions
Preheat the oven to 425 F and line a baking tray with parchment paper (you may need two trays).
Cut the ends off the brussels sprouts and cut each in half. If there are any large-sized ones, cut them into quarters.
There are a few ways you can roast the squash. I like to de-seed it, slice into large chunks then roast and remove the skin and dice after roasting. You can easily peel the skin off after it cools a bit. Alternatively, cut the squash in half, remove the seeds and roast face down on a pan until you can pierce with a fork. Let cool until you can handle, then remove the skin and dice. And lastly, remove the seeds, peel and dice and roast on the pan with the brussels sprouts.
For the beets, you can peel, dice and roast with the brussels sprouts and squash. Dice on the smaller side since they take a bit longer to cook then the other vegetables. Alternatively, they can be be cut into chunks and boiled or steamed stovetop until you can easily pierce with a fork. After they're tender, run under cool water and slice for the salad.
Add all the chopped veggies (if you're roasting everything) to the baking tray, add 1 tsp olive oil and a pinch of salt and pepper. Roast for 30-40 minutes until everything is tender.
Wash the kale and remove the leaves from the thick stems. Finely chop and add to a large mixing bowl.
Blend all the dressing ingredients together until smooth and creamy.
Once the vegetables are roasted, add all ingredients to the bowl with the kale. Top with the dressing and mix well. Serve immediately.
---
Onto appetizers!! These look so tasty they have me drooling as I type! They are Caramelized Butternut Squash Truffle Ricotta Toast with Crispy Sage and Crispy Arancini Bites with Butternut Squash Aioli. The best Fall flavors in bite size form and I'm here for it!! Brandon is sharing the recipe for those tasty toasts below…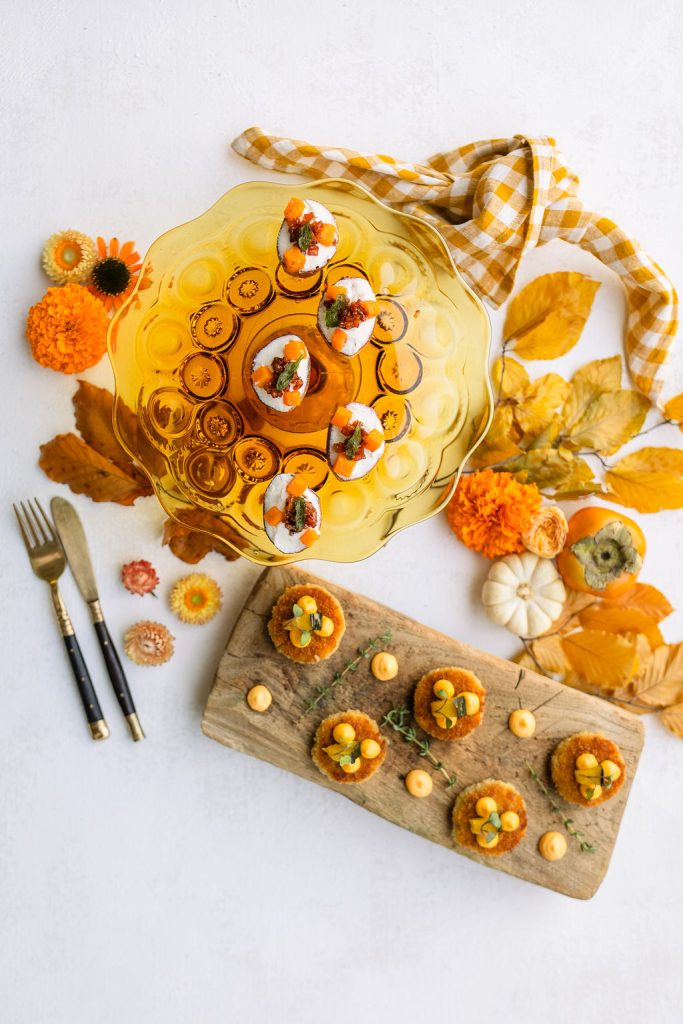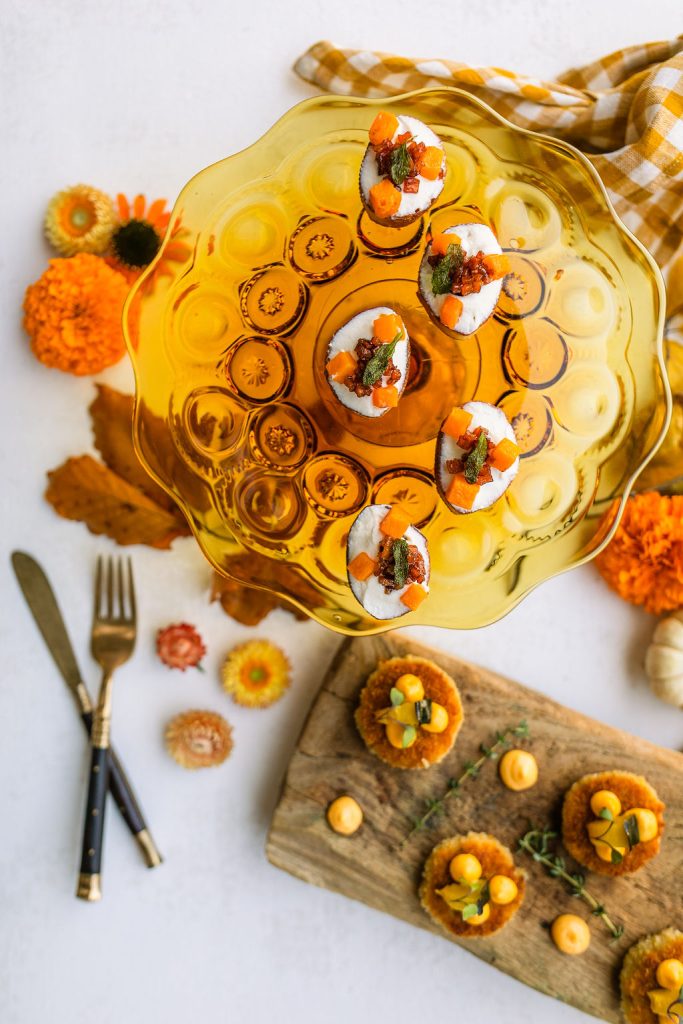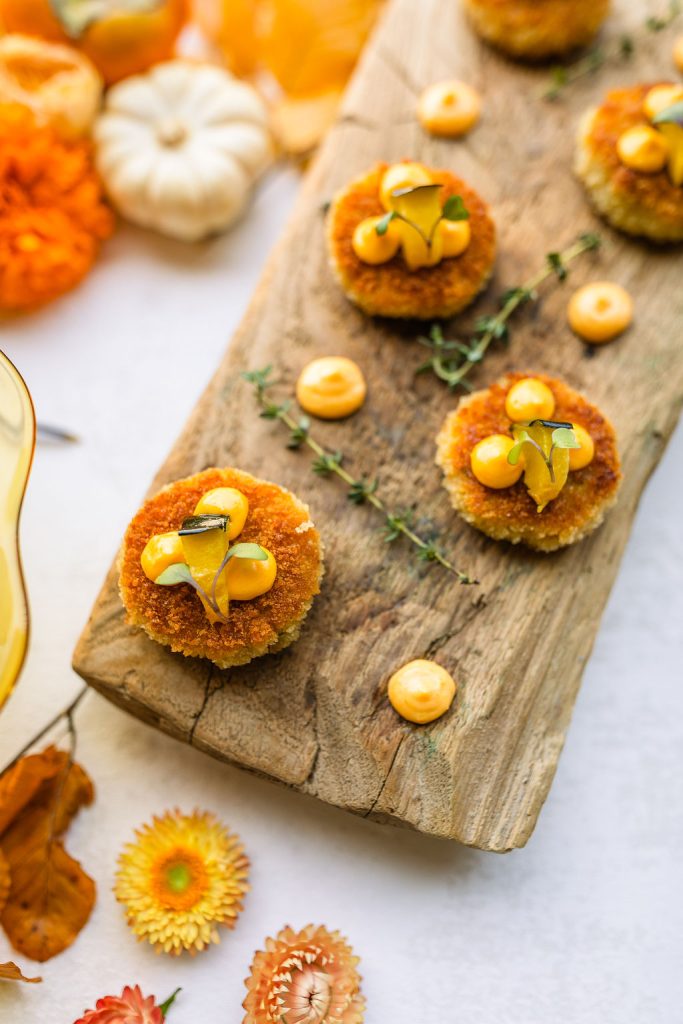 Caramelized Butternut Squash Ricotta Toast with Crispy Sage and Honey Drizzle
Ingredients
3 tbsps coconut oil
3 tbsps brown sugar
1/4 tsp cinnamon
a pinch of salt & pepper
1 lb butternut squash, cut into precise 1/2″ cubes
1 lb sourdough bread, sliced
3 – 4 tbsps extra virgin olive oil
20 oz ricotta cheese
3 – 4 tbsps honey
sage to garnish
cooking spray to grease
Directions
Preheat oven to 425F. Lightly grease a large baking dish with cooking spray.

In a small mixing bowl combine the coconut oil, brown sugar, cinnamon, and salt & pepper, whisking well until smooth. Next, place the butternut squash in another, large mixing bowl, then pour over with coconut oil mixture. Stir ingredients with a wooden spoon until are cubes are evenly coated, then transfer to the greased baking dish. Roast on oven middle rack for 30 – 40 minutes until fragrant and caramelized.

In the final 15 minutes use a pastry brush to coat the bread slices in a thin-film of olive oil, then transfer to a baking sheet. Toast on the top oven rack until lightly browned.
In a pan with oil, fry some sage until crispy and set aside
When ready, assemble the toasts with an even distribution of ricotta and caramelized butternut squash on each. Drizzle with honey, garnish with sage and pumpkin seeds. Transfer to a wood or marble platter and ready to serve!
---
If you know me than you know I love soup! This butternut squash soup served in a mini pumpkin bowl just made me swoon! Fall at it's best!!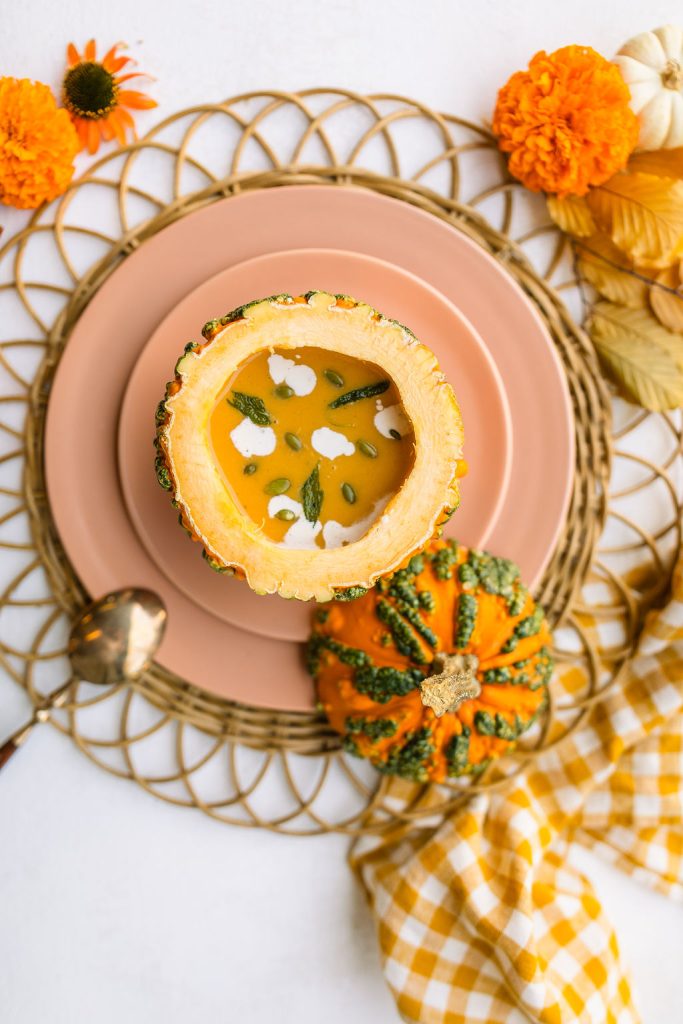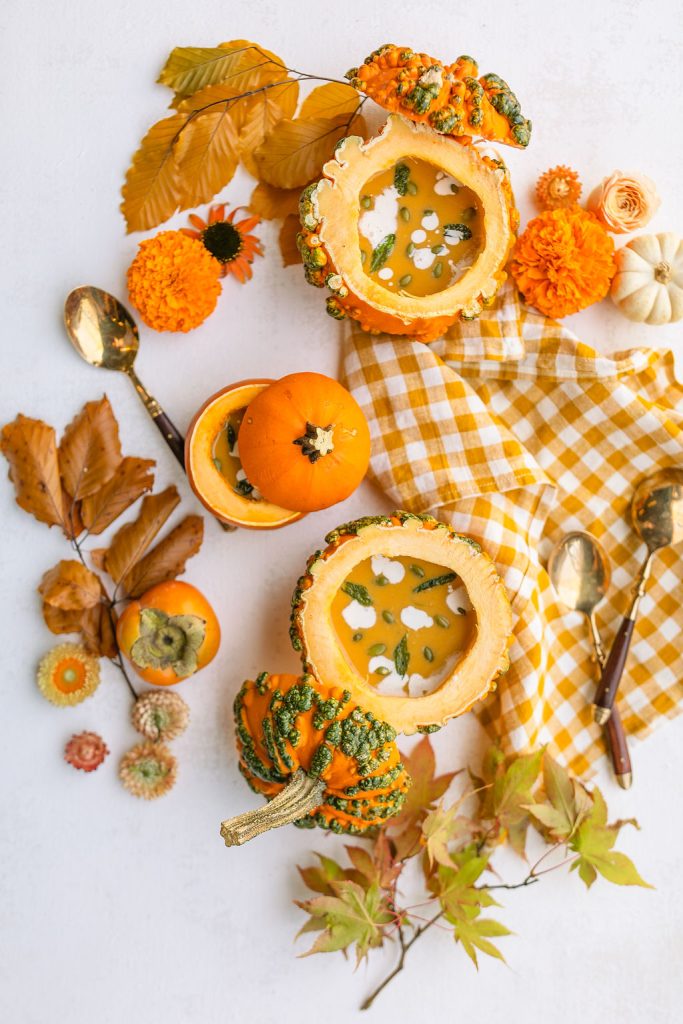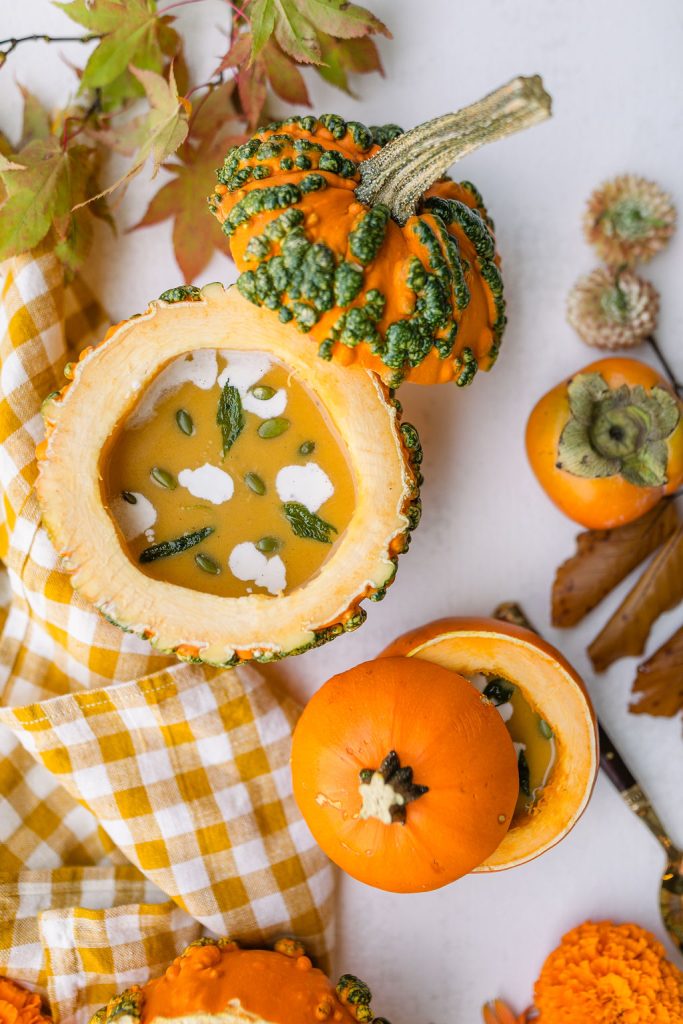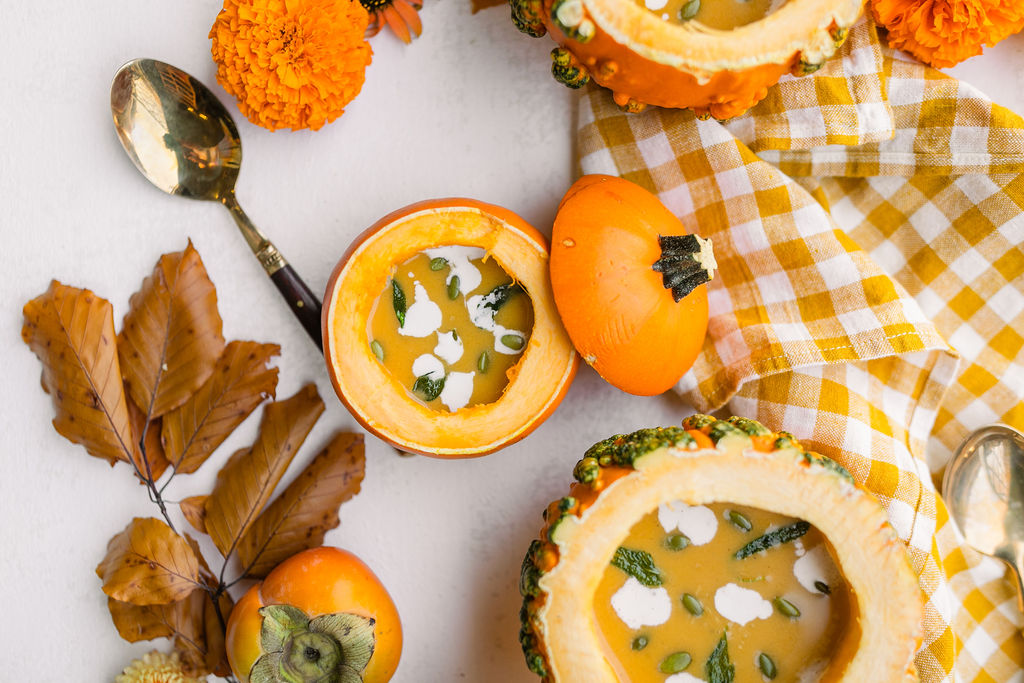 Now that's how you start a dinner!!!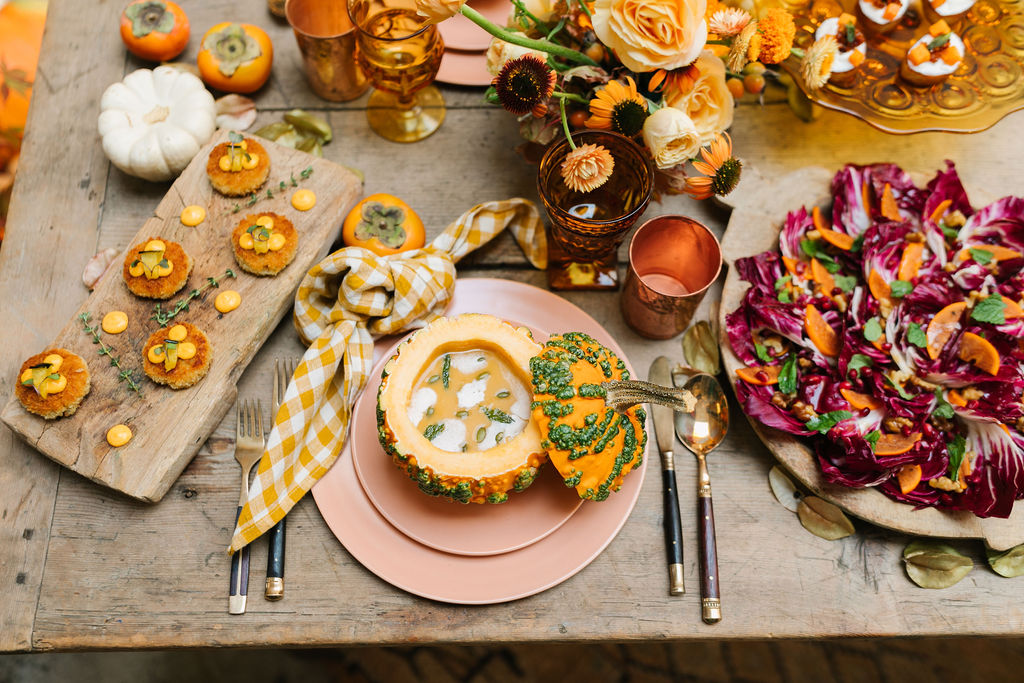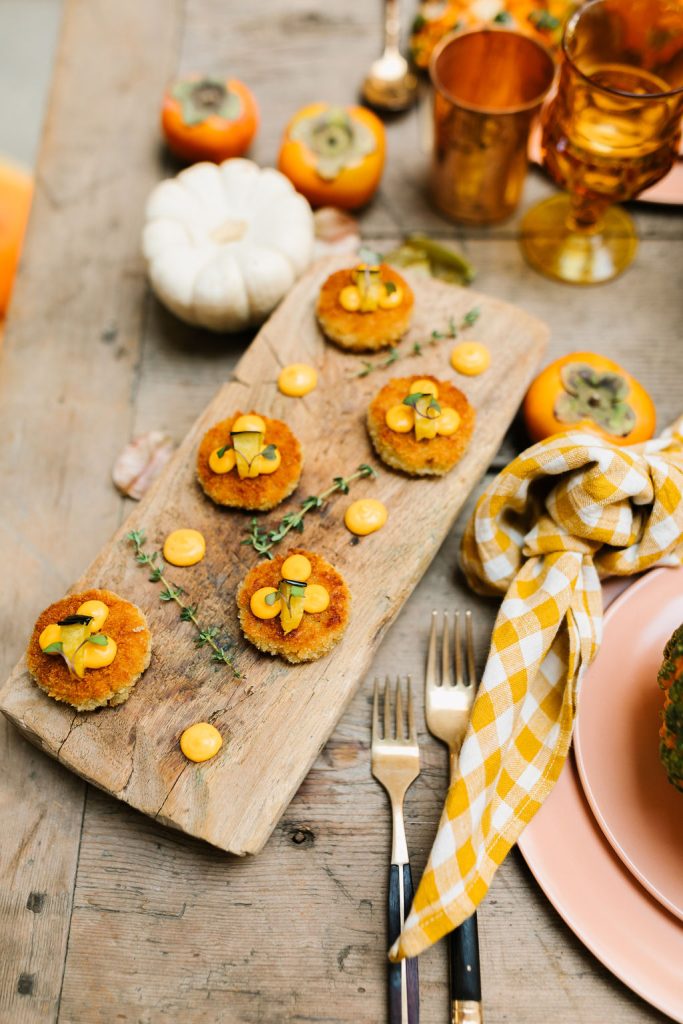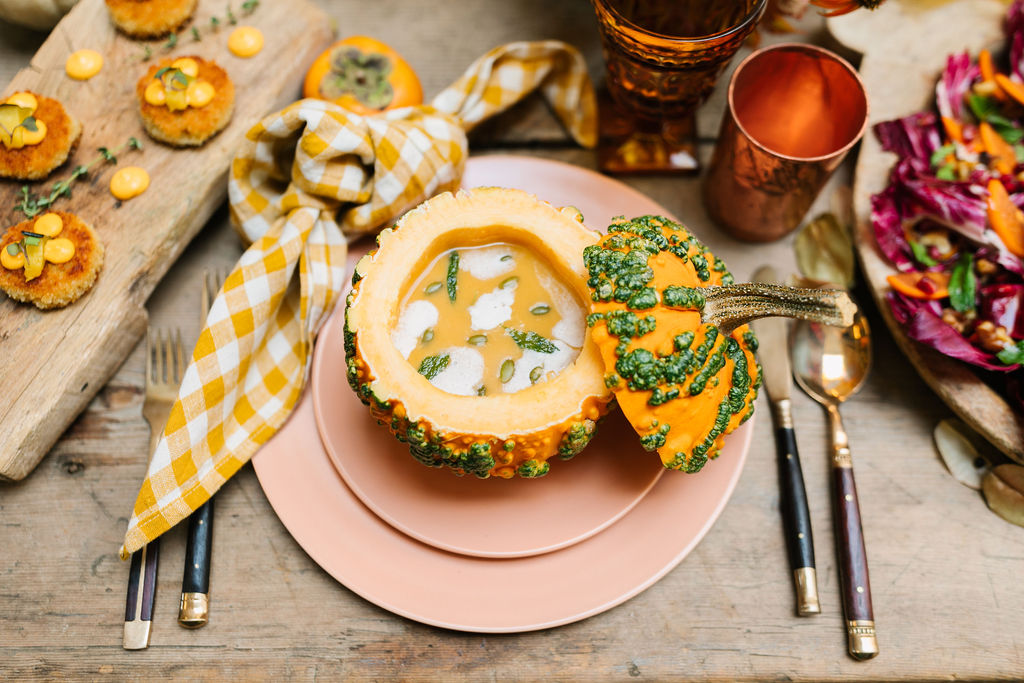 The main course was as delicious as it looked! Cast Iron Seared Pork Chops with Caramelized Apples, Acorn Squash, Yam Purée, and a Garlic Herb Compound Butter. Now that's a beautiful dish!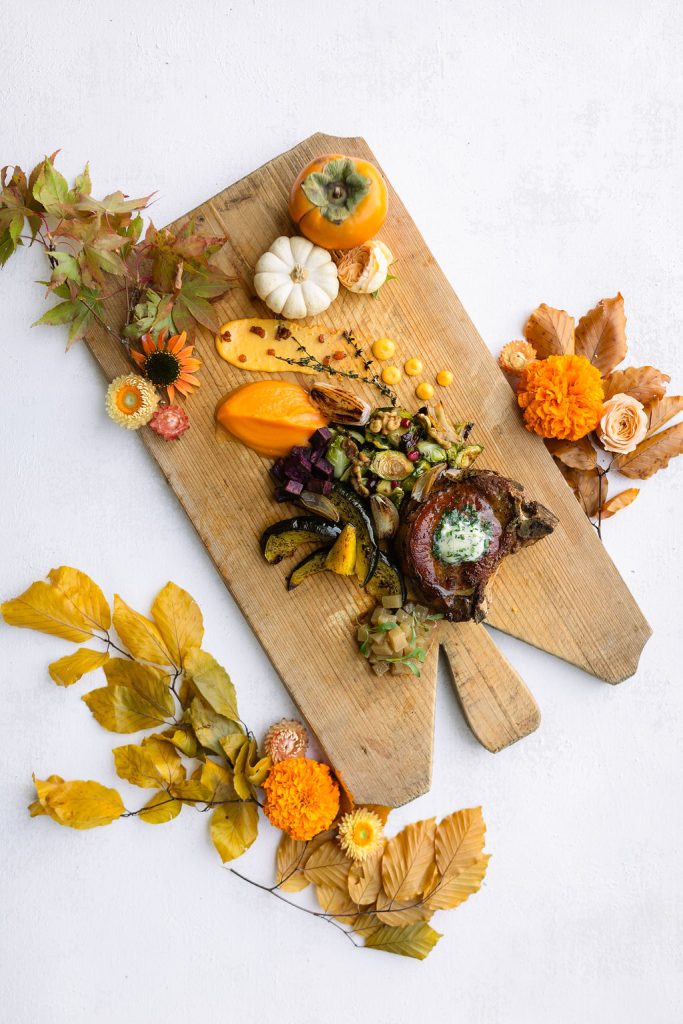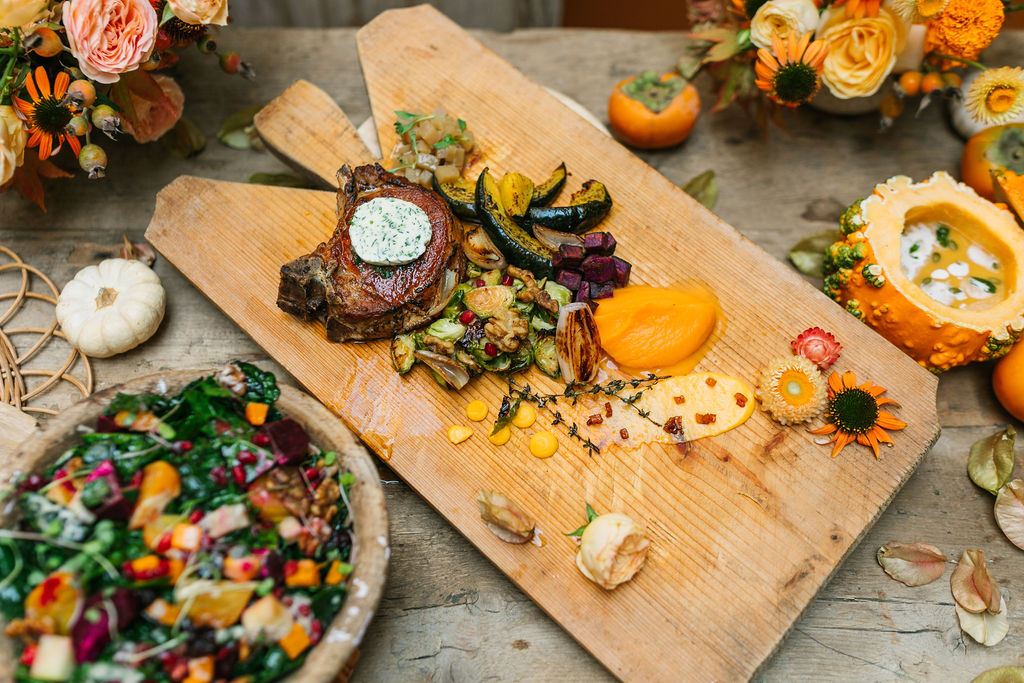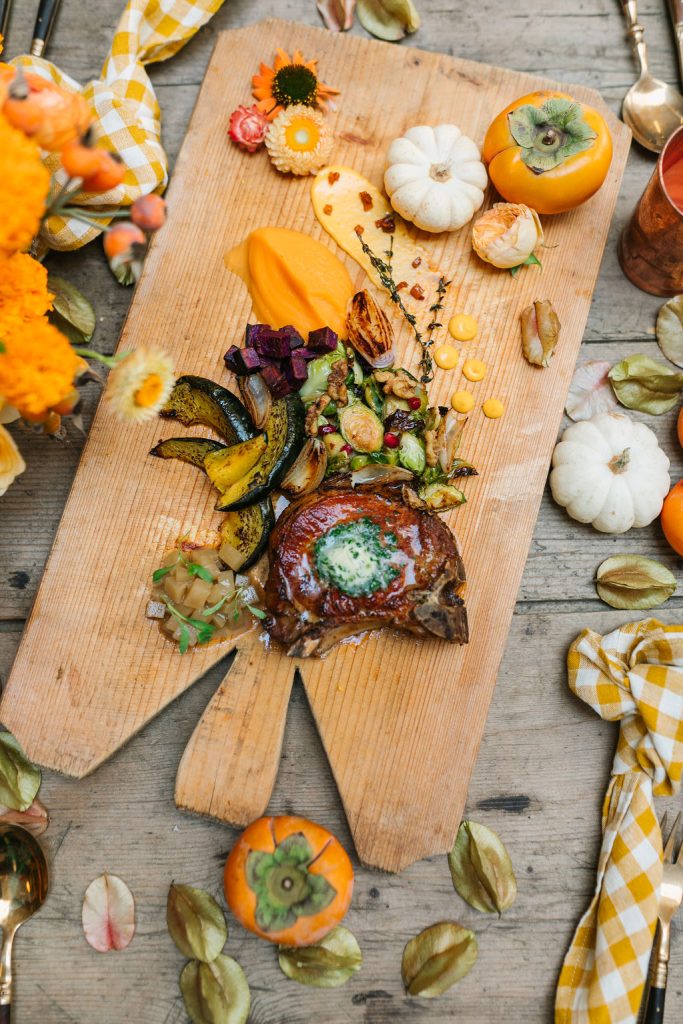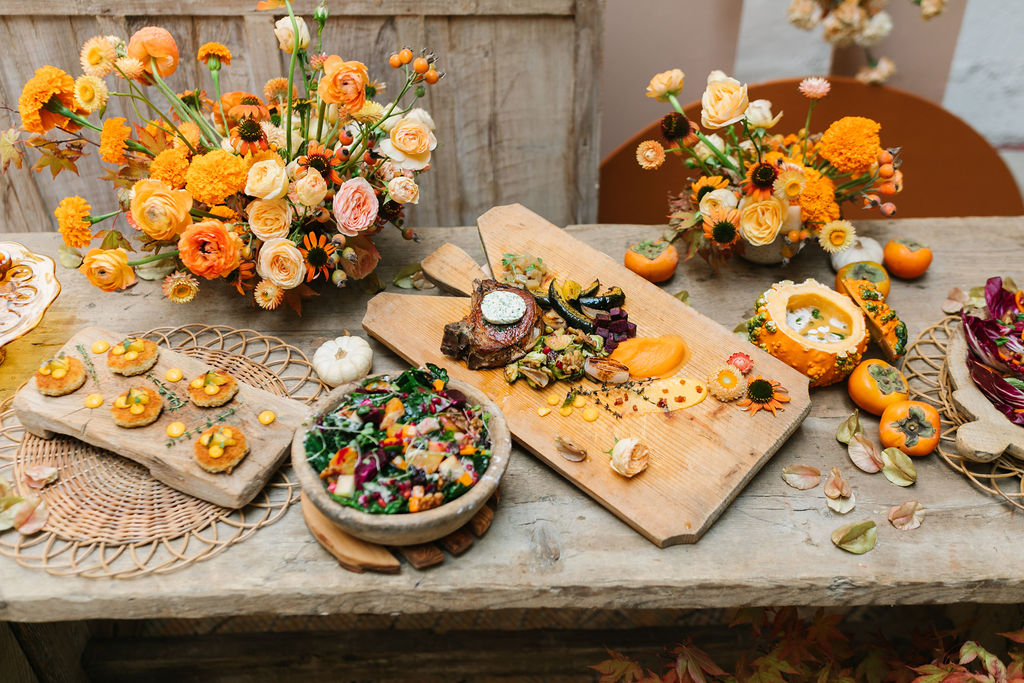 Last but not least was the prettiest cheesecake I've ever seen, with persimmons of course! Brandon is nice enough to share the recipe with us for this as well! Just scroll to get your ticket to yummy!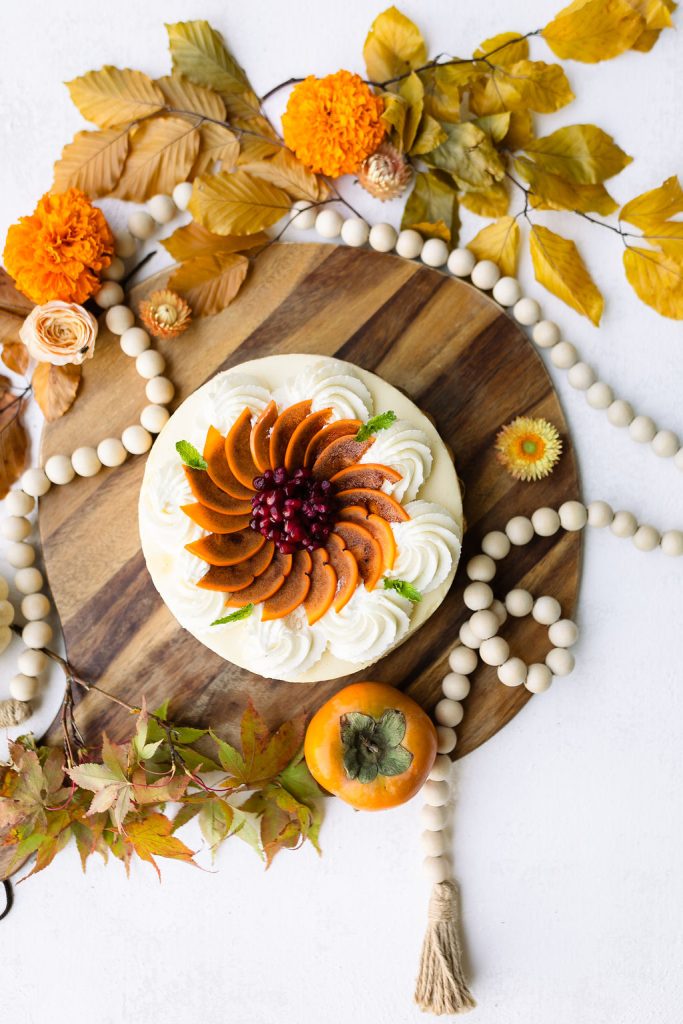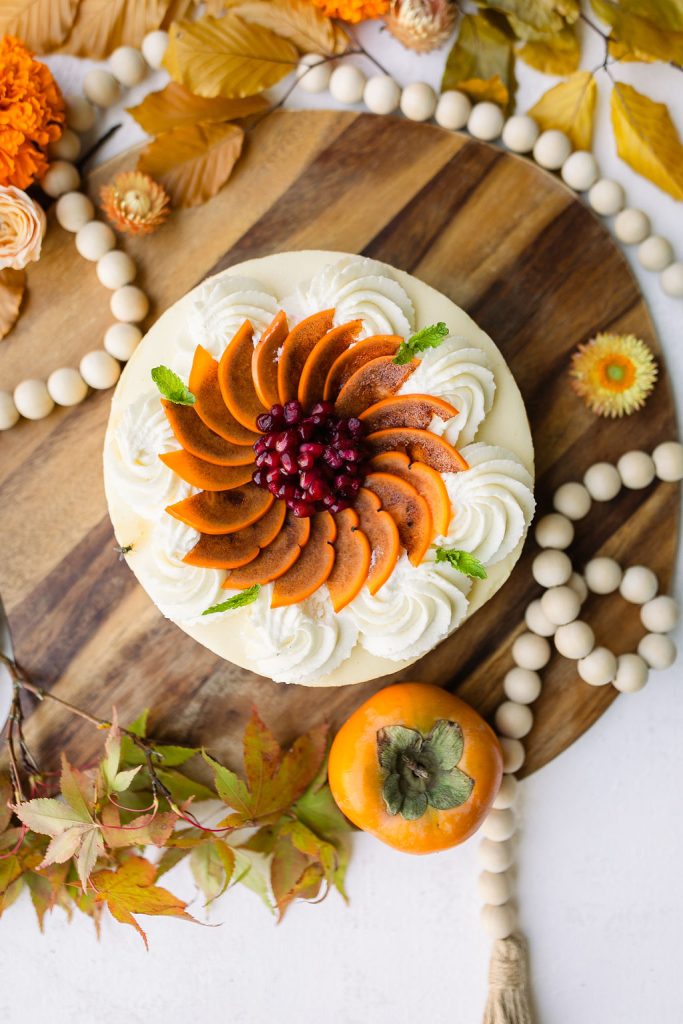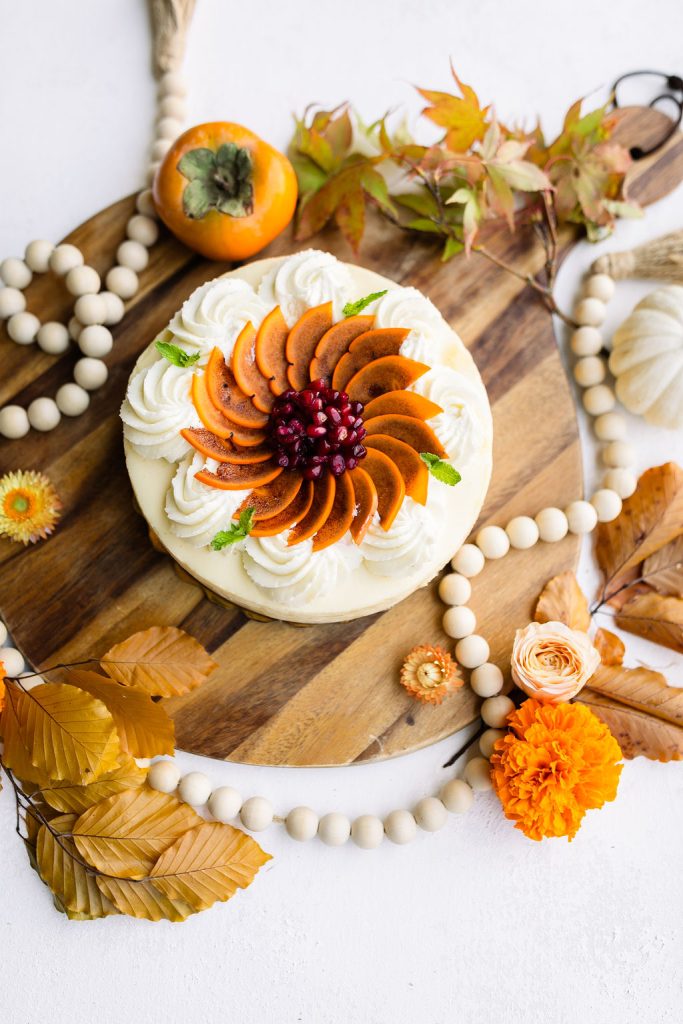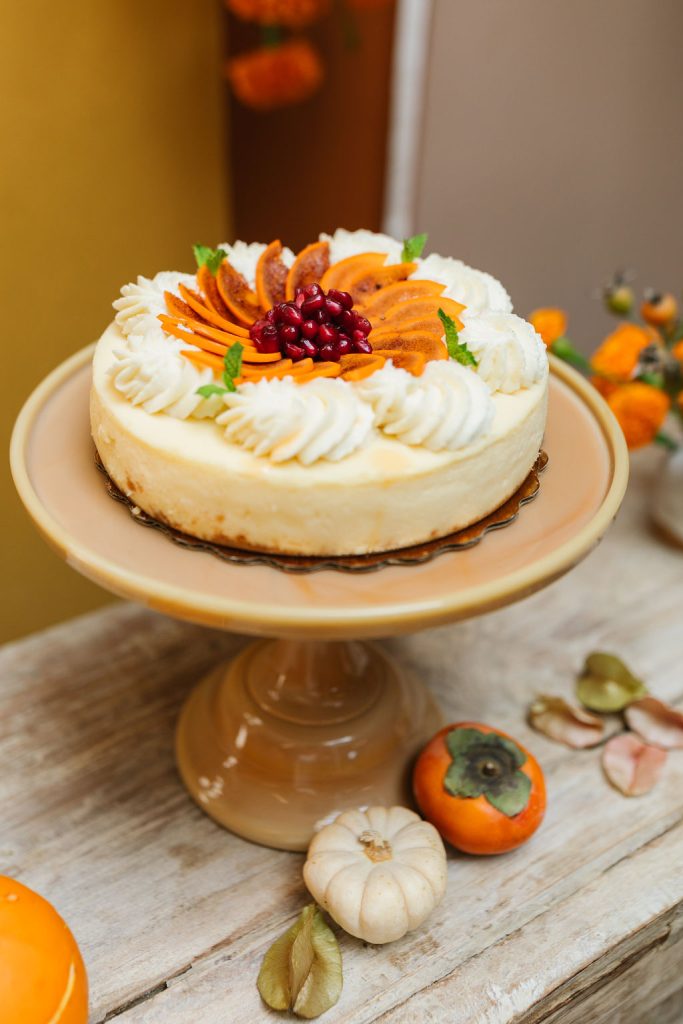 The prettiest spread!!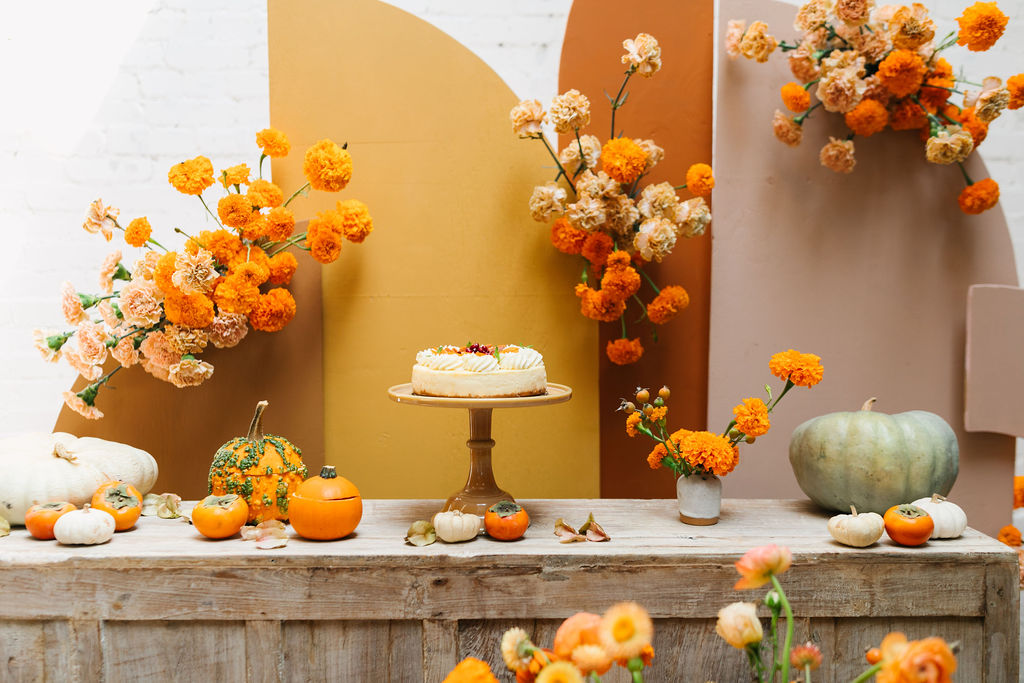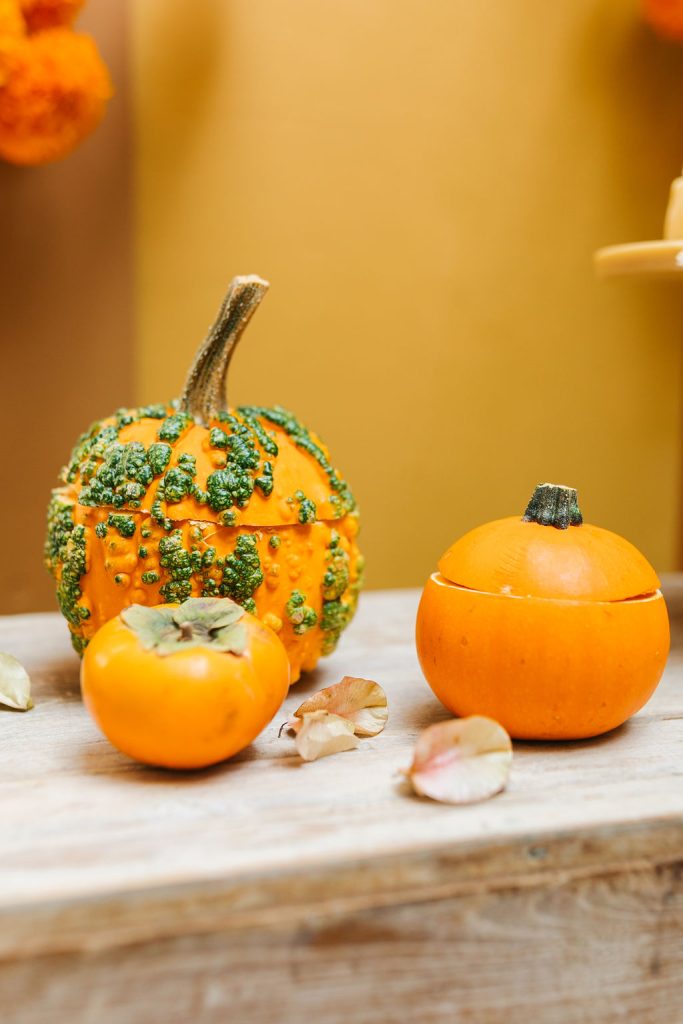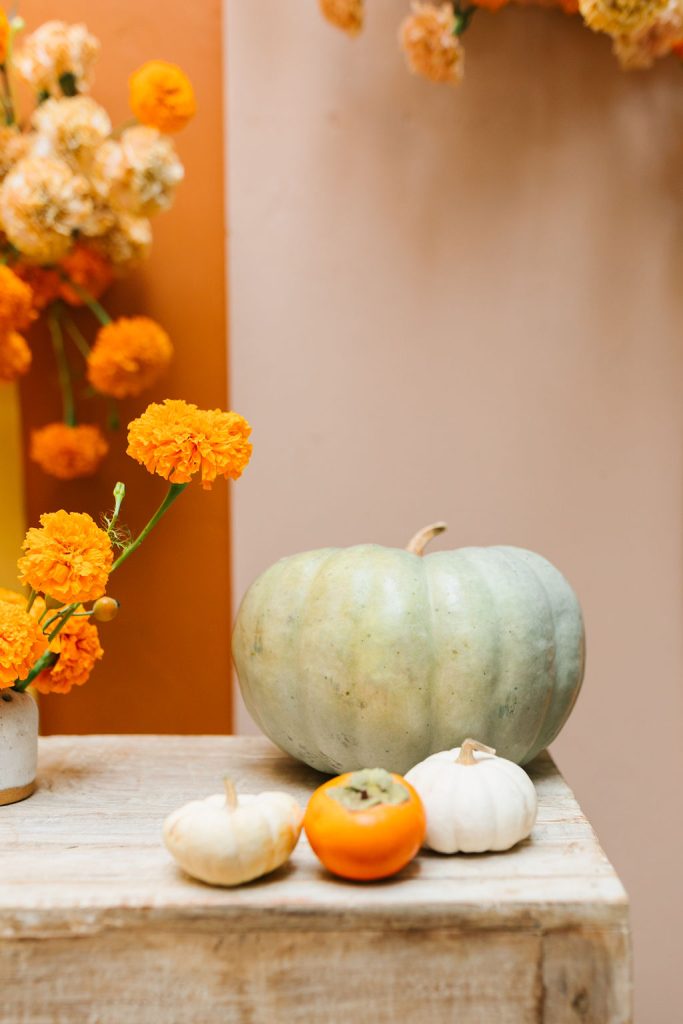 And there you have it! A Fall meal and table setting of our dreams!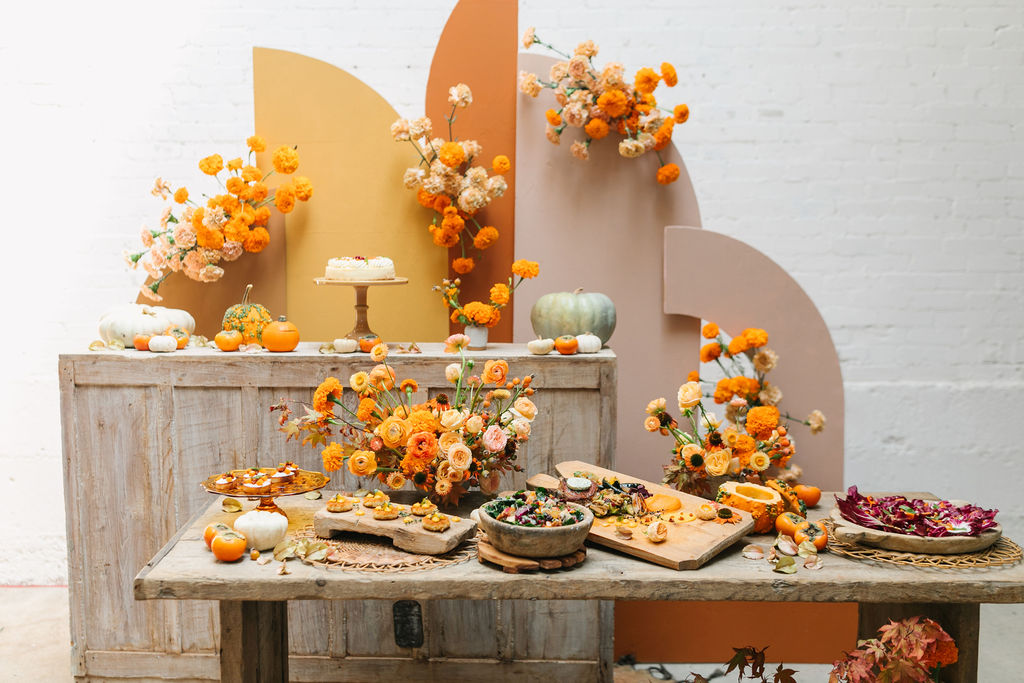 I hope you enjoyed this one as much as I did putting it together, and I hope you loved those recipes as well!
xx
Jacquelyn