Today's tablescape is making me feel like taking a trip to the Mediterranean! Sur La Table recently launched their Limone Collection and it was love at first sight for me. Growing up my family always used beautiful blue and white ceramics, coming from Portugal they are very common there. Add in the yellow from the lemon and it's basically the perfect combination!
With spring quickly approaching you got to get your outdoor entertaining game ready, and this could be the start! So get ready because today I'm sharing how to use the Limone Collection to create the perfect backyard tablescape. Keep scrolling to get all the tips and to see all the pretty from Sur La Table with the gorgeous photos by Alison Bernier.
As usual, we start every great party or event with an invite! This simple yet stunning invitation is by Proper Letter. Sometimes simplicity is best and this just nails it!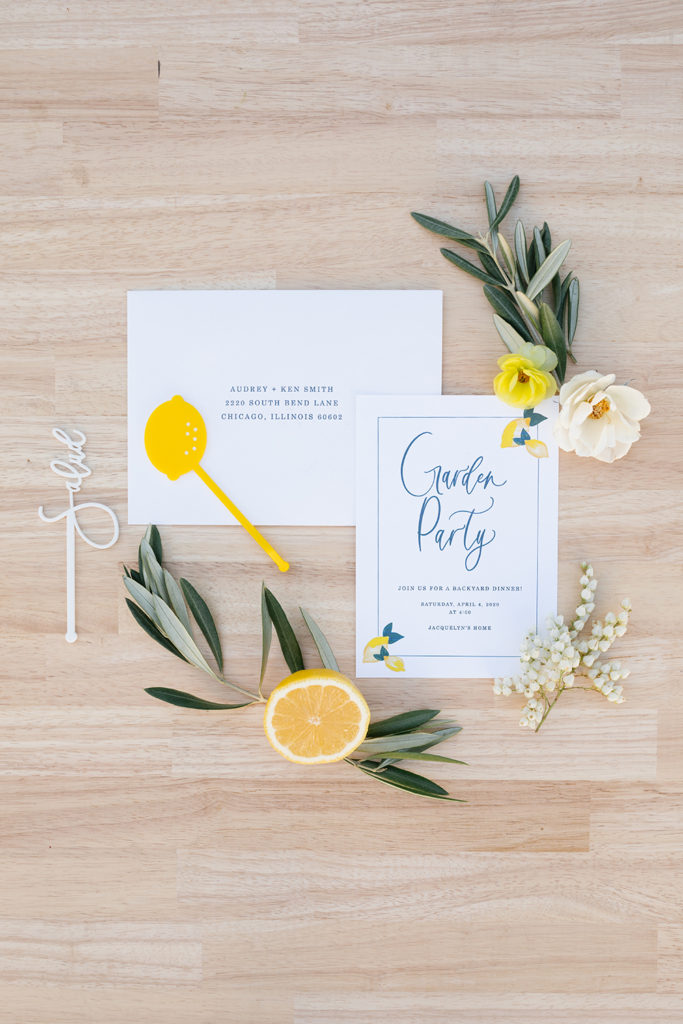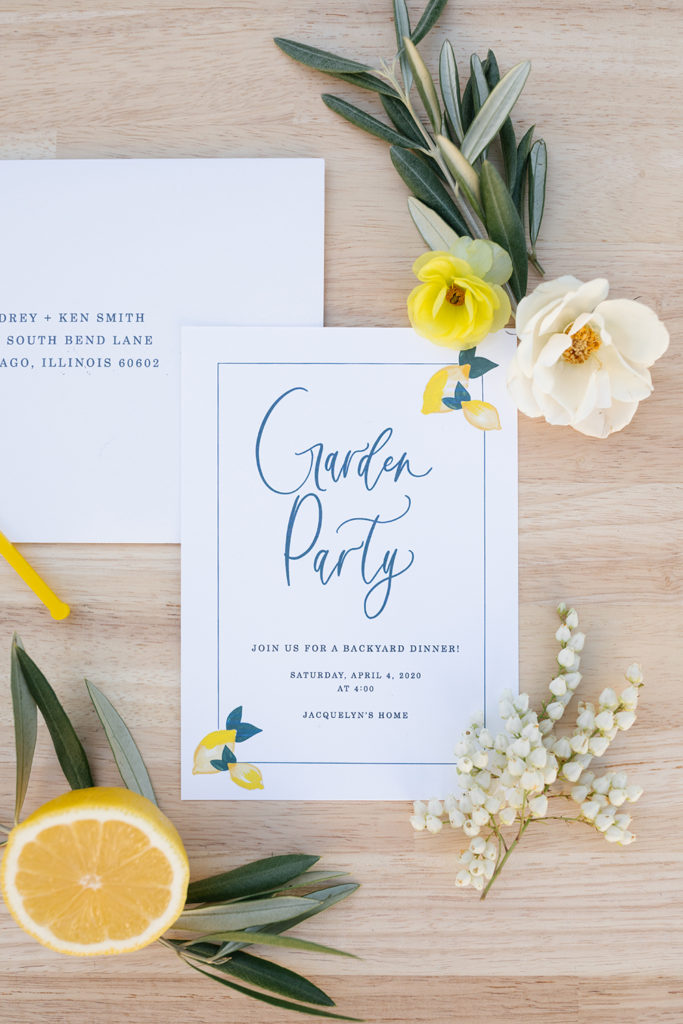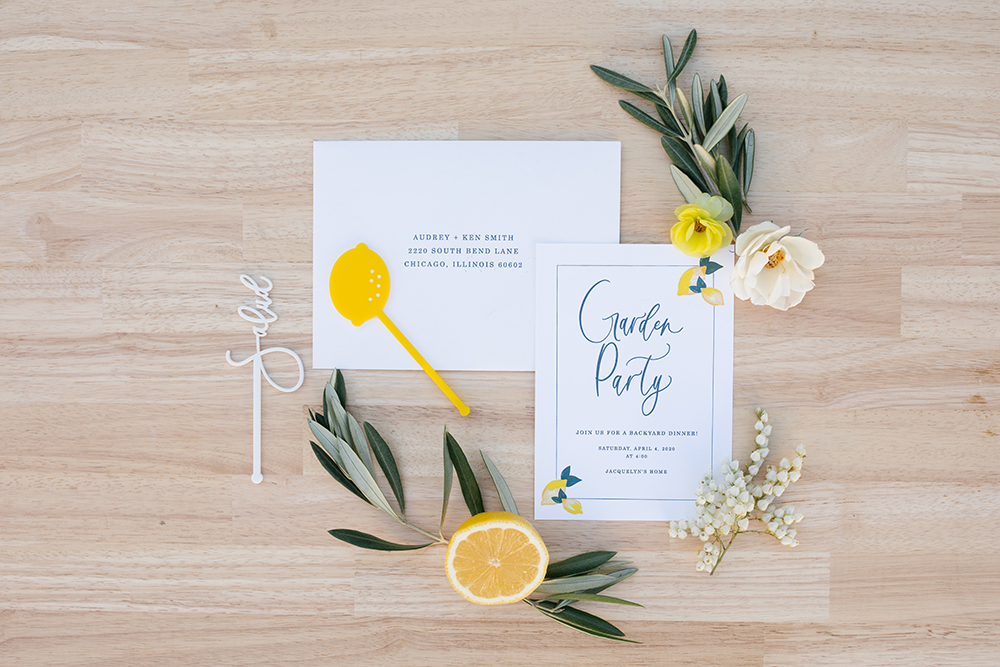 Sunset hour never looked so good! We set our table with all the pretty blues and whites with fun touches of greenery and yellow! Now, for all of our tips…
Tip One
When designing a table that has a plate and salad plate with a bold print, keep everything else pretty simple. For the rest of the decor on the table we went with flowers in whites and yellow, greenery and lemons. It goes with the plate but doesn't fight with it or over power it. That way the beautiful print stands out and is the star of the party!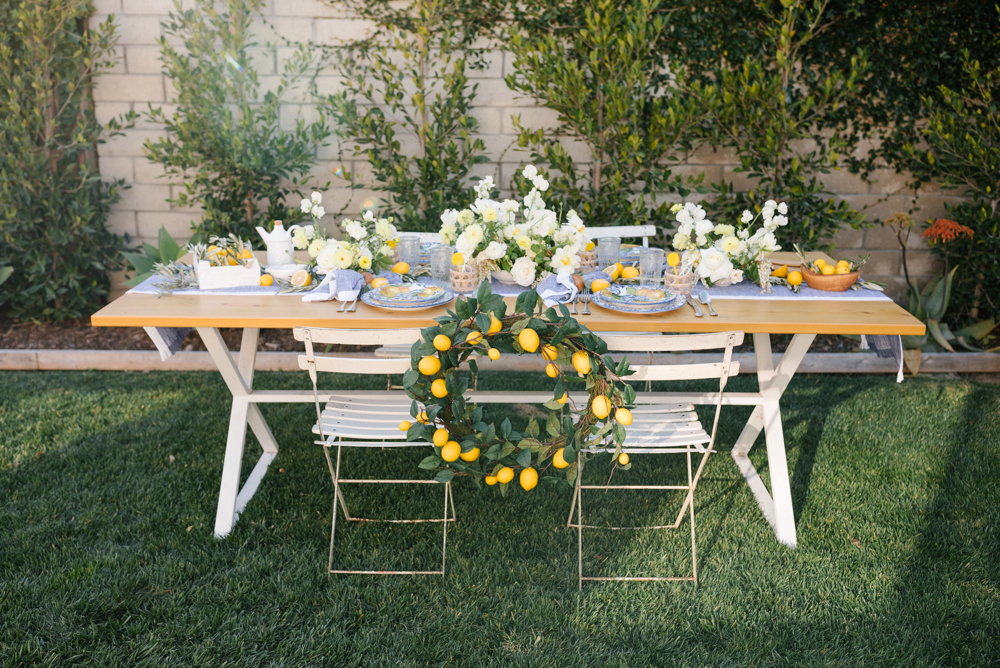 Don't you love that wreath?! It's from Sur La Table and we loved using it as a decor piece on the back of our chairs from Sweet Salvage Rentals!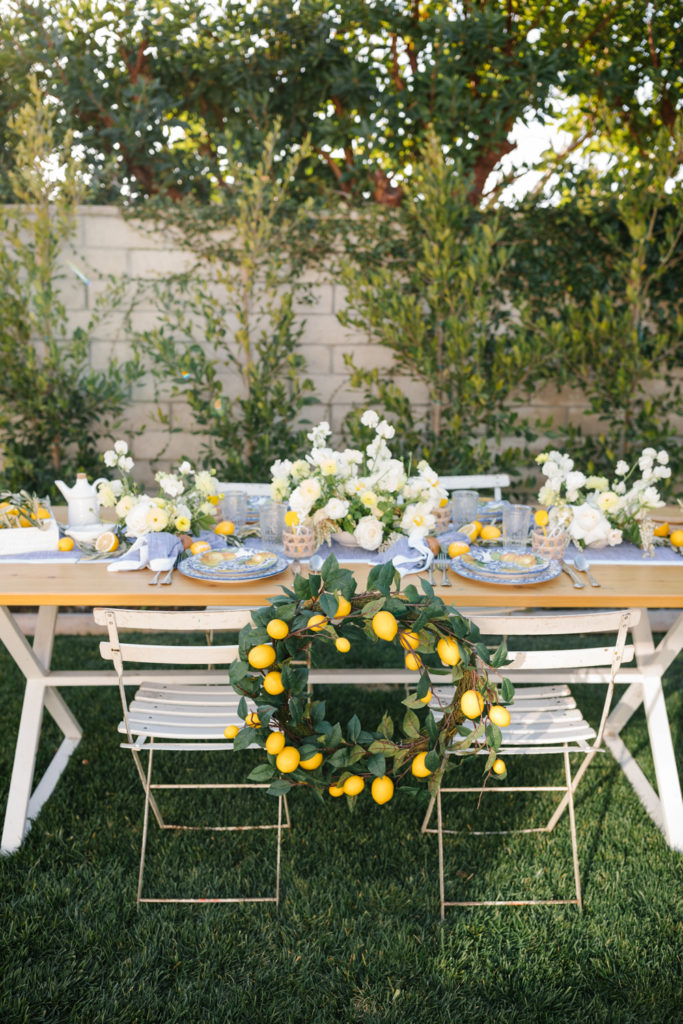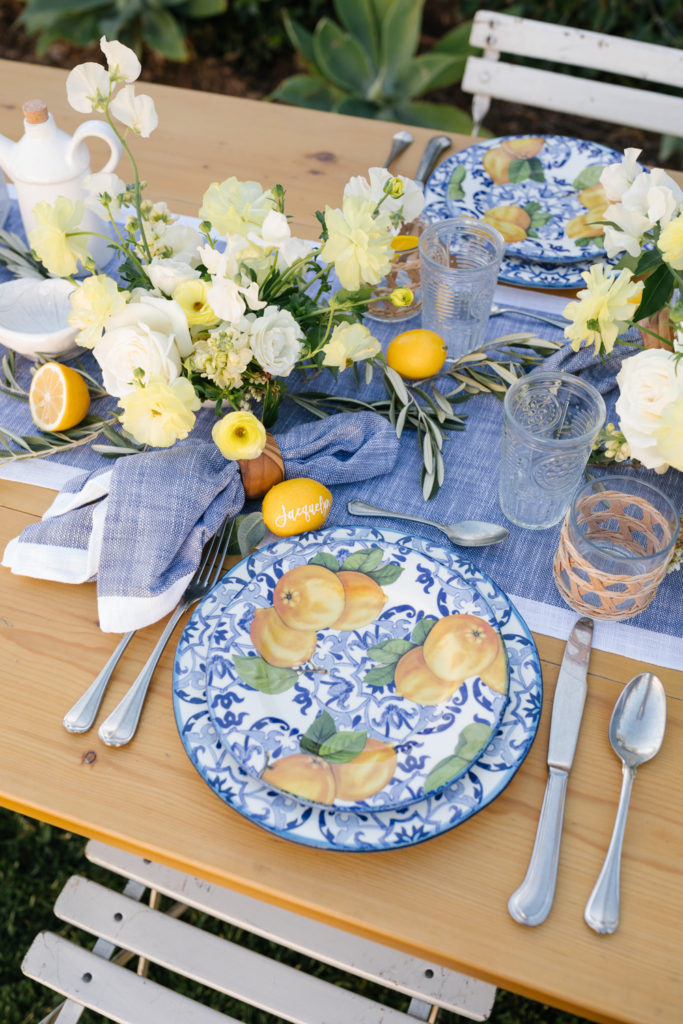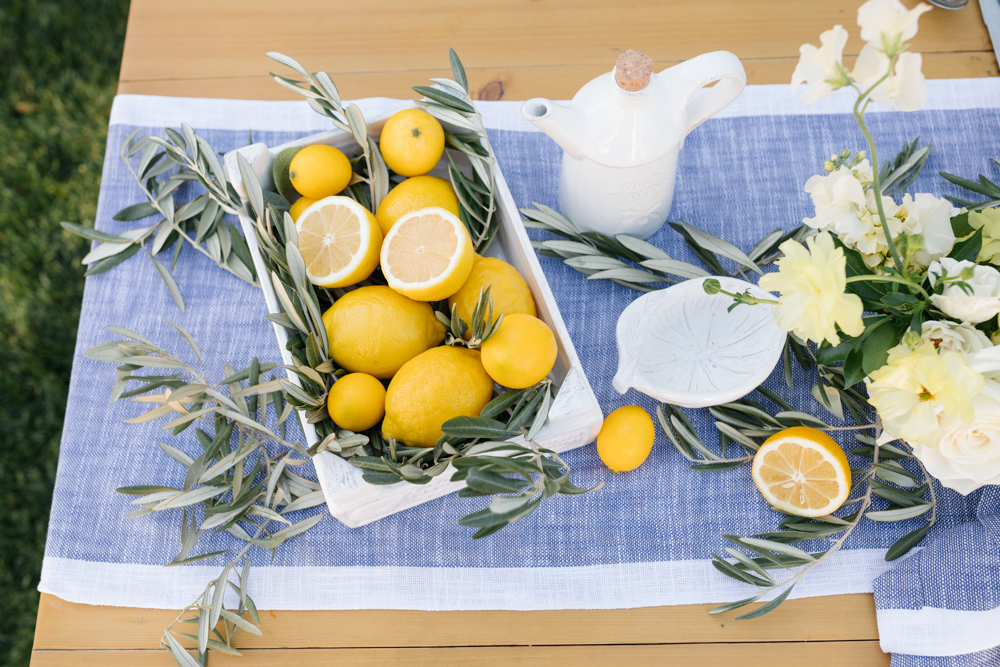 Tip Two
When purchasing items for your table mix in classic pieces to go with the printed china. I used a lot of Sur La Table's olive wood pieces to mix in with the Limone Collection and also used the Fortessa San Marco silver antiqued flatware. It's great to have a few standout pieces like the Limone, but it's nice to have other pieces you will use frequently and that can be intermixed with other prints.
I also used their beautiful Blue Chalk Table Runner and Napkins. These are items I can use for multiple occasions, and I love that! I see them at 4th of July, picnics, even into fall with Thanksgiving!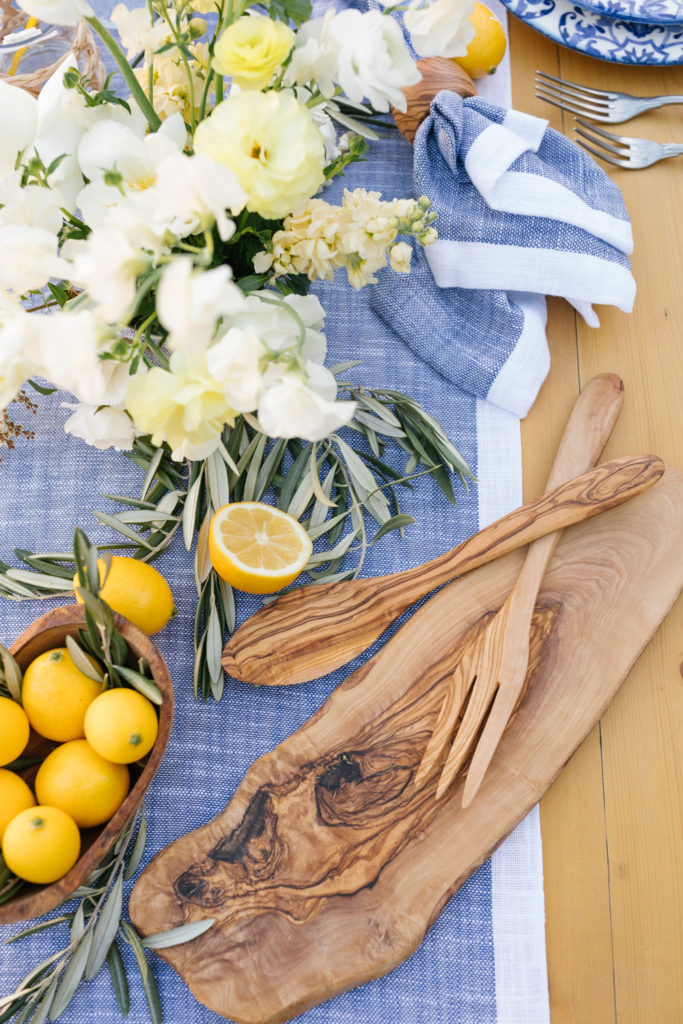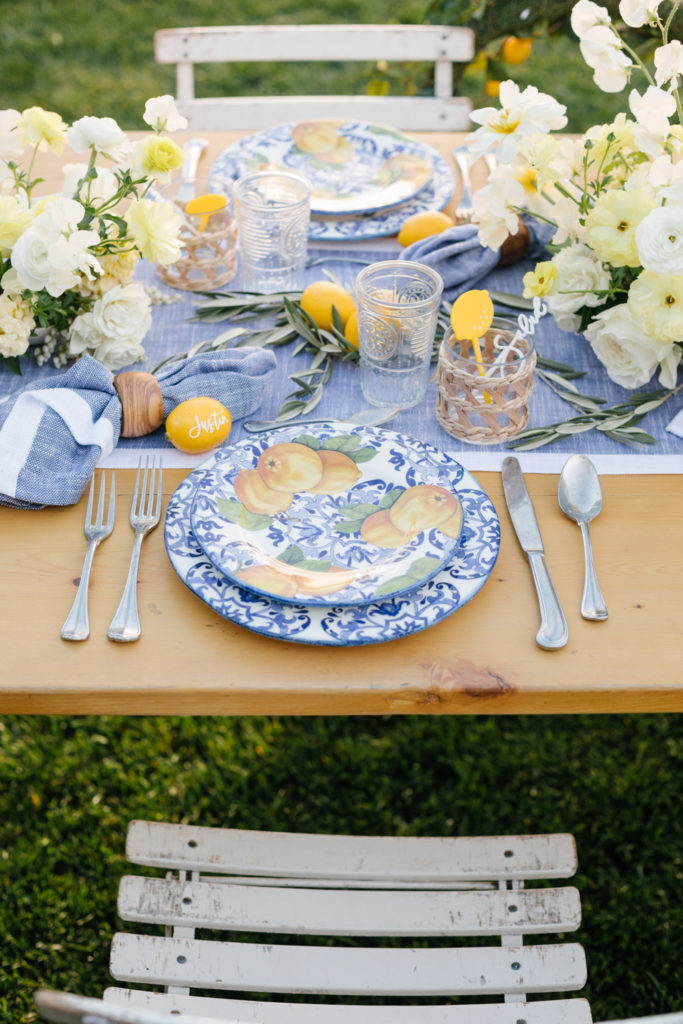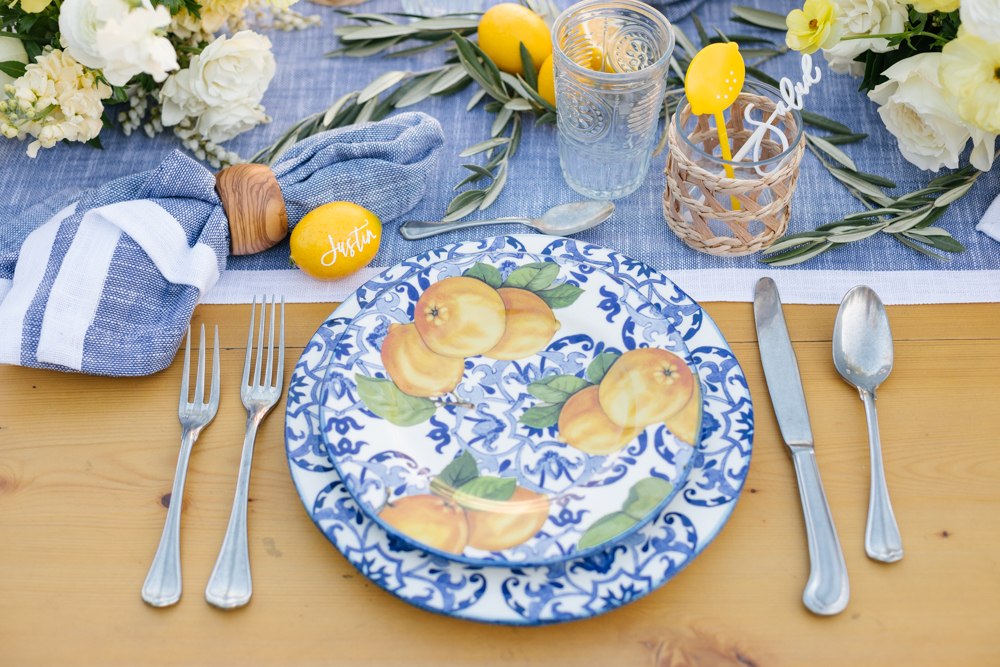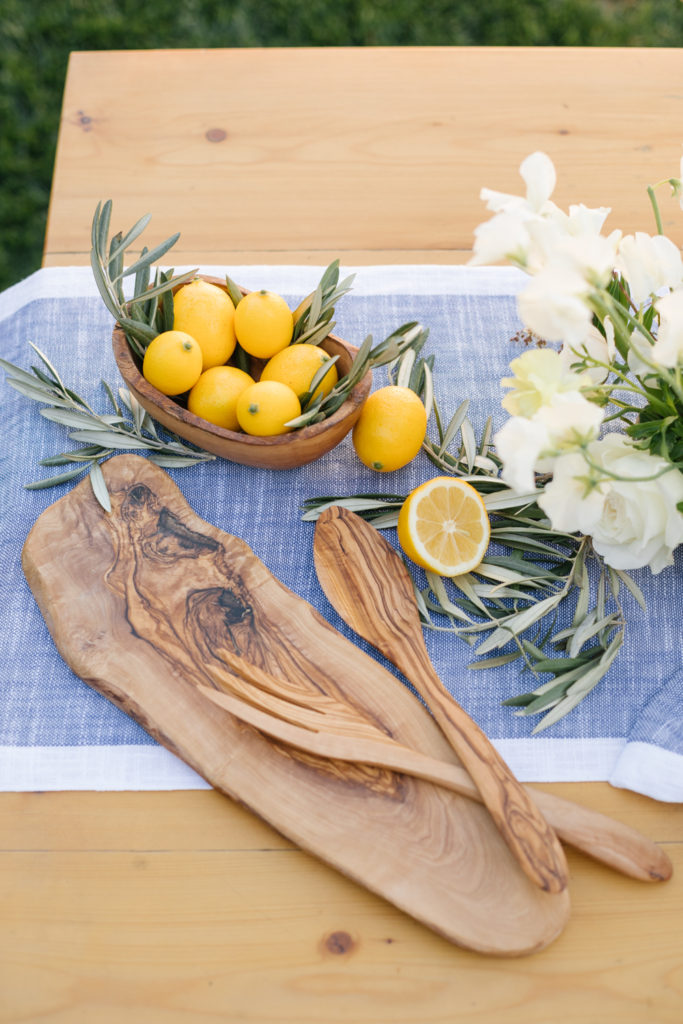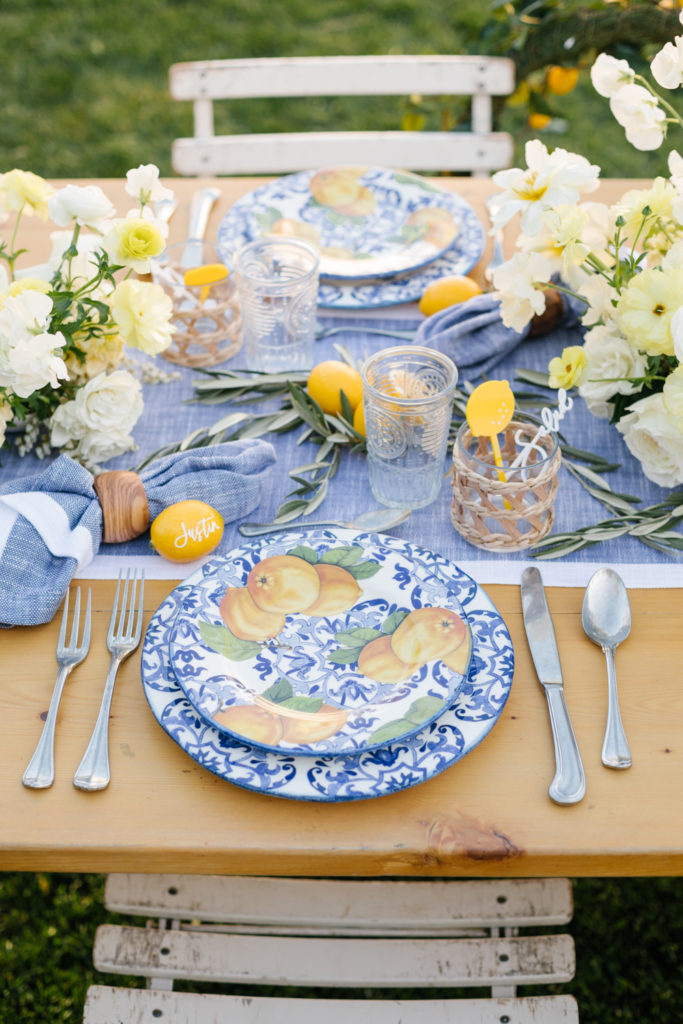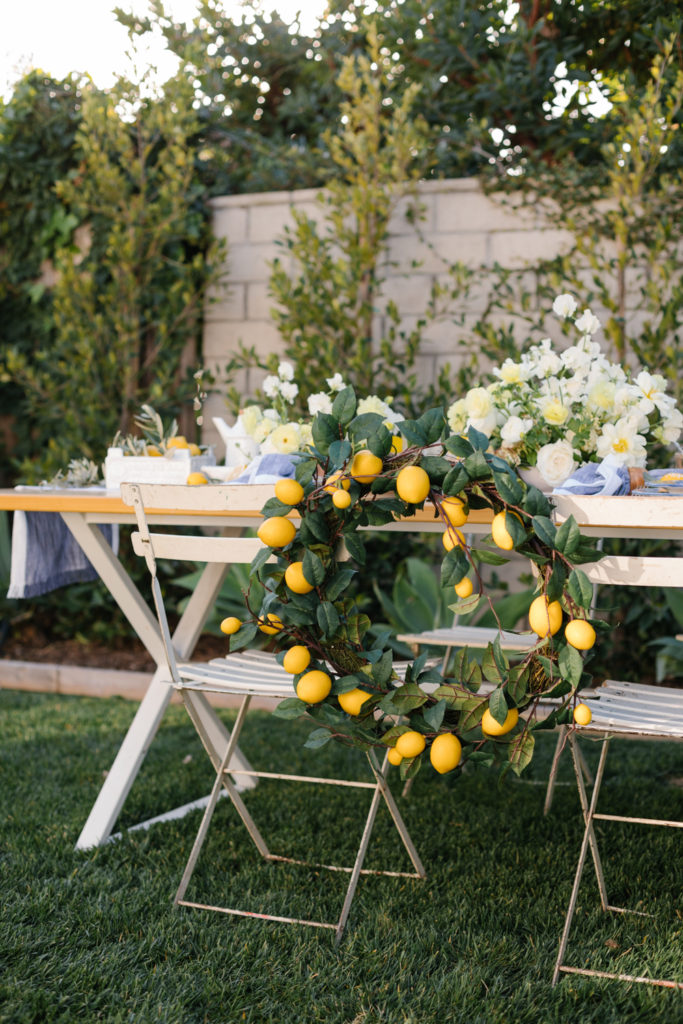 Tip Three
Details, details, details. I used Sur La Table's Decorative Lemons along our tablescape mixed with real ones and also used them as place cards! Such a fun way to wow your guests and make them feel special. Plus, with pretty handwriting by Proper Letter you can't go wrong! She also did adorable cocktail stirrers in lemons and the word Salud! The more details the better!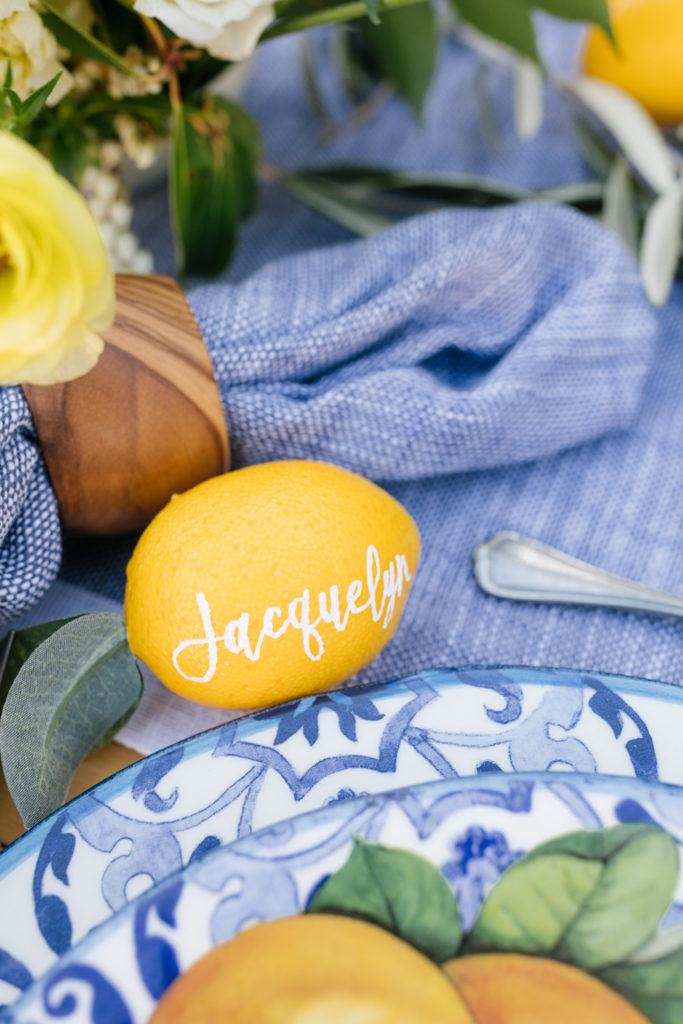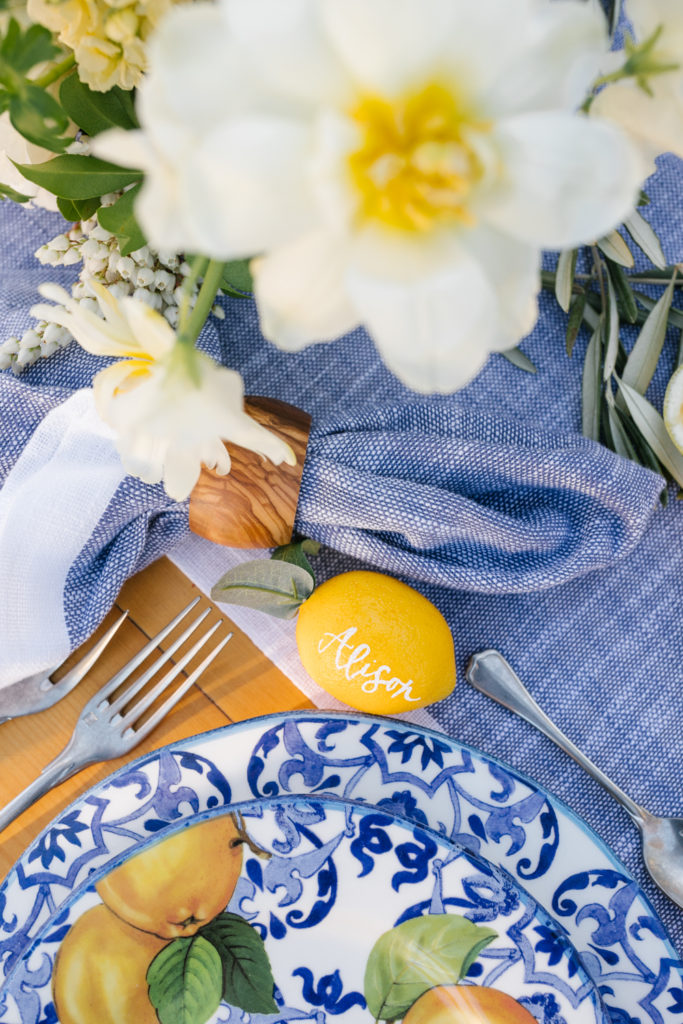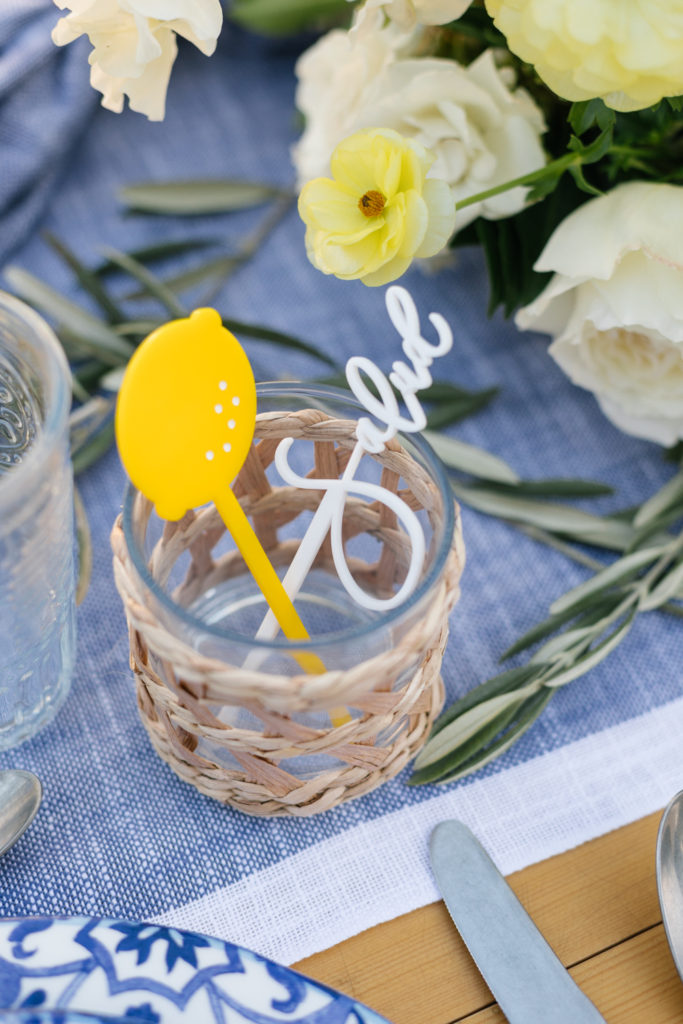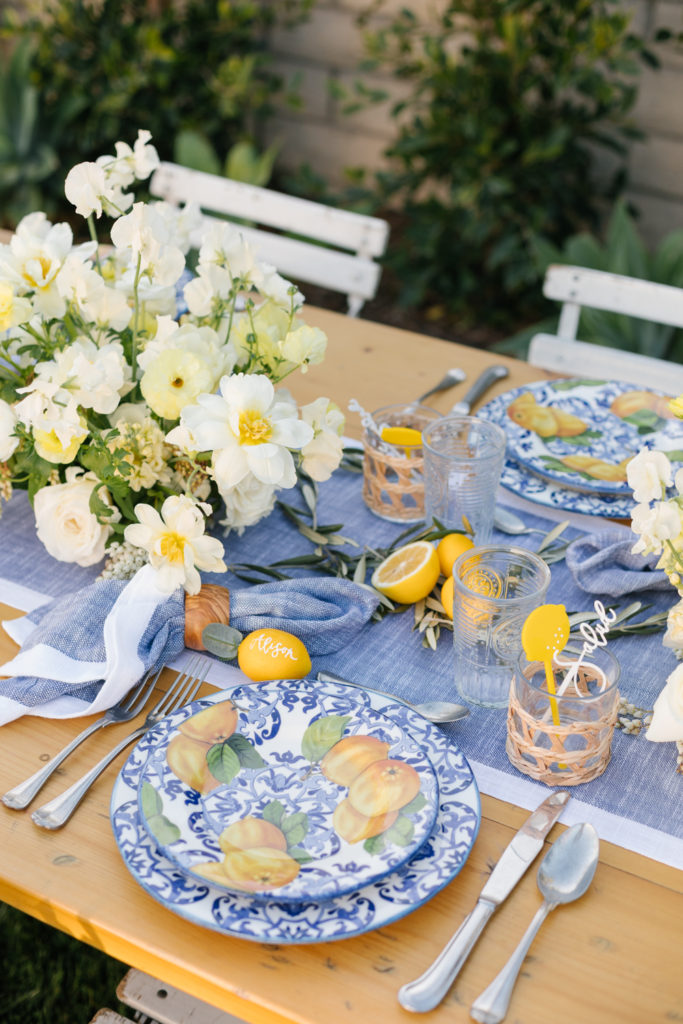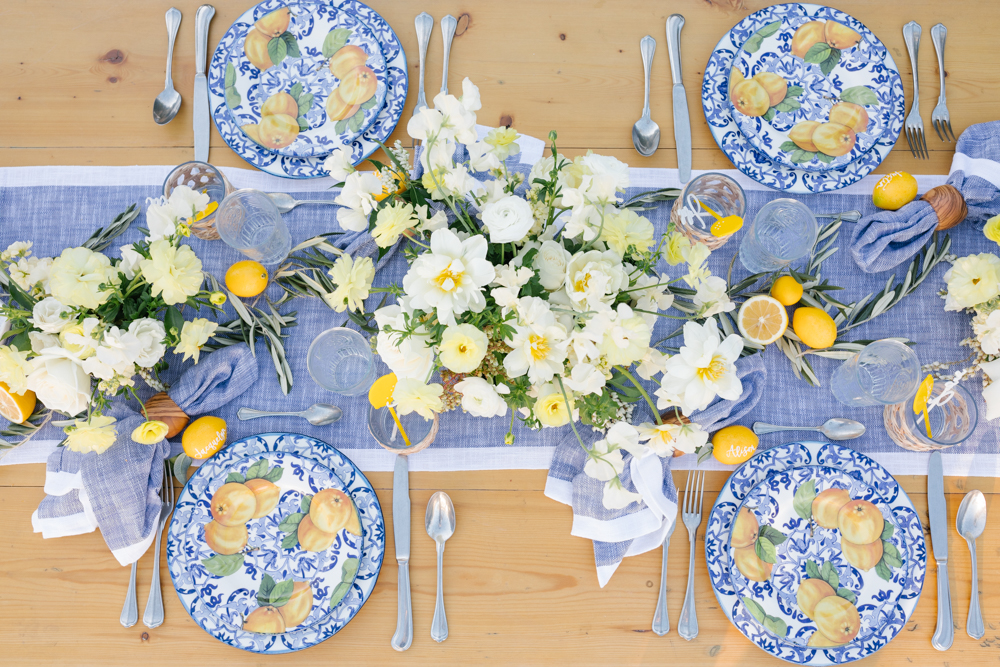 I loved using the lemons and all those pretty flowers along the table! Third & Park is responsible for the floral arrangements and she did the most incredible job!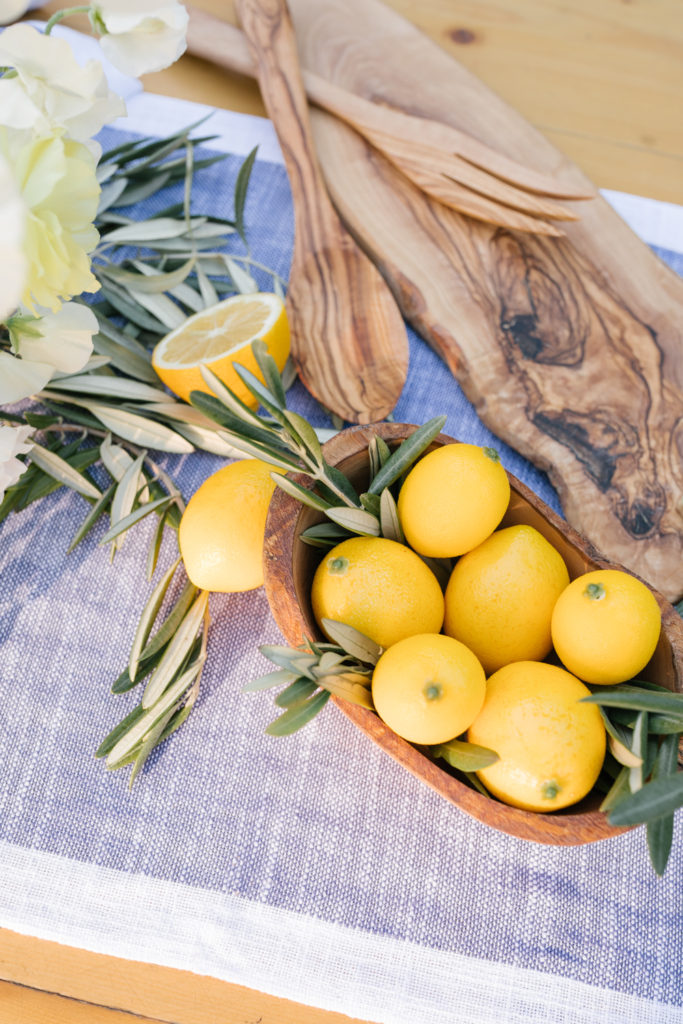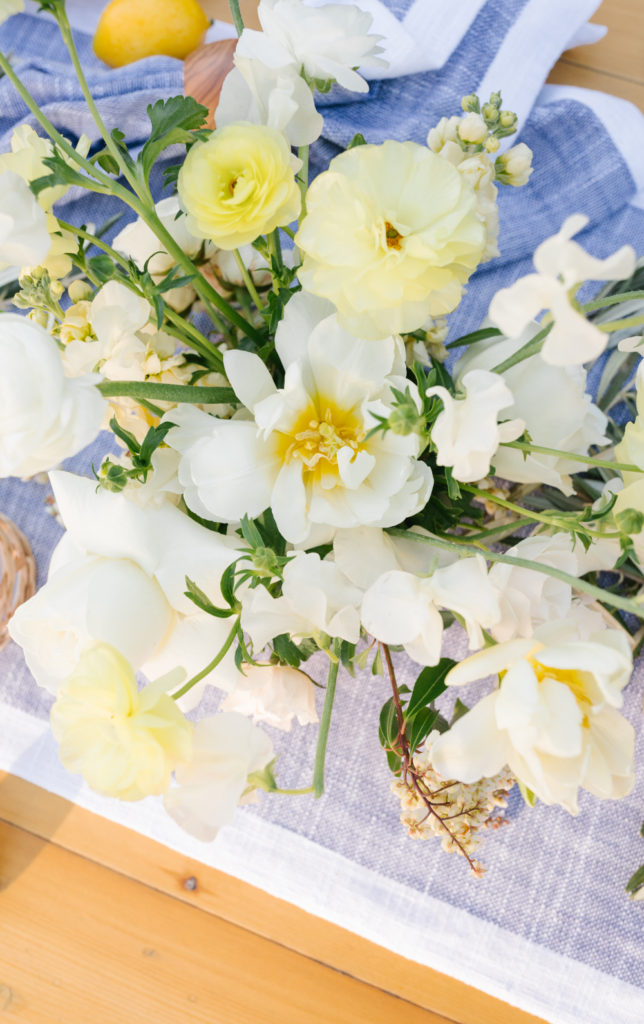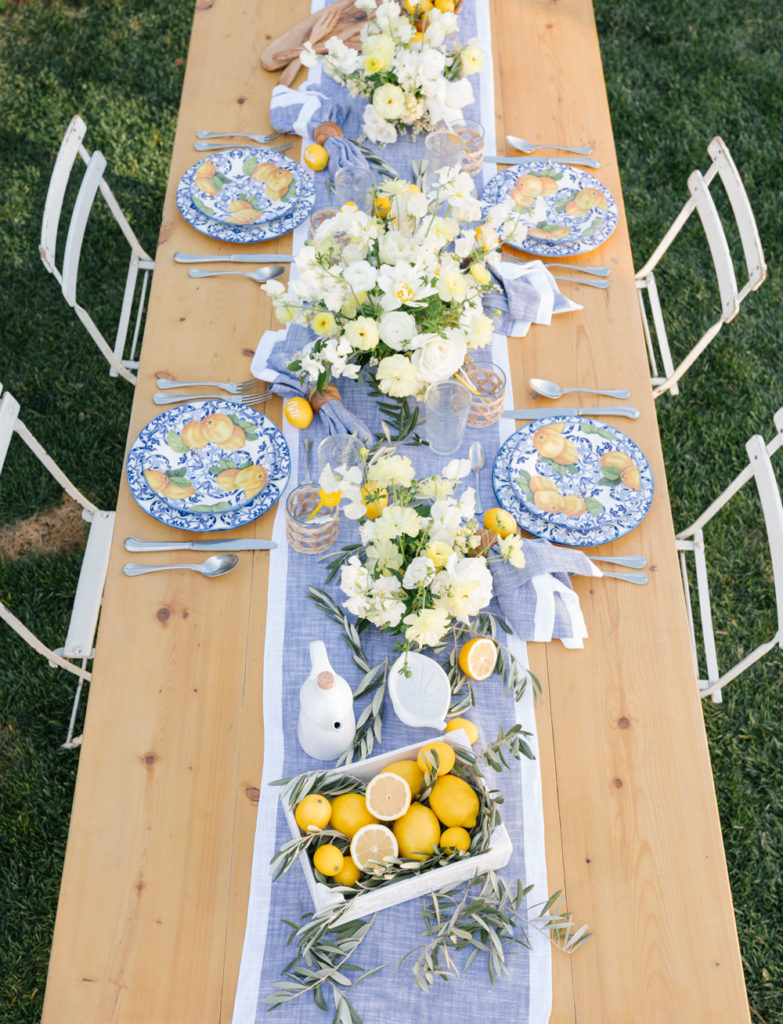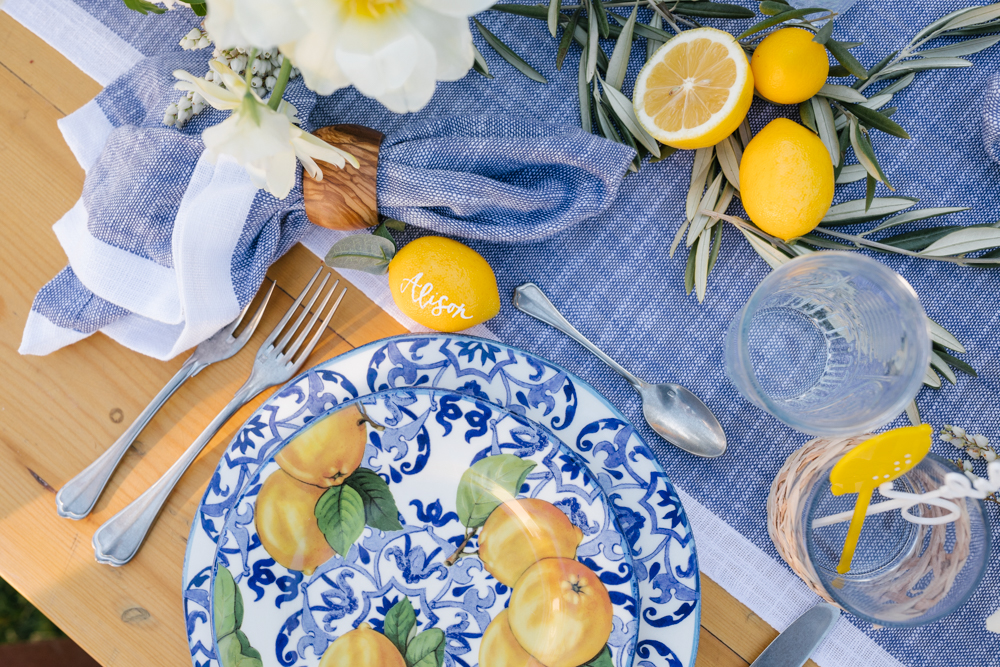 Tip Four
Keep guests refreshed and their bellies full! I always like to greet my guests with a beverage or a cocktail. Especially as the days get warmer! And can you think of a cuter way than that Wicker Wrapped Pitcher and Glassware?! For food, I love to cook but sometimes it's just easier to enlist help! I have said this before, but I'll say it again – you don't have to do it all.
Restaurants are a great option instead! You can pick up a few catering items and serve at your parties. Trust me, it really takes the stress off. One of my favorites is Green Leaf Chop Shop because everything they make is fresh and healthy but also pretty! For this backyard party I got Caesar salad, a Crostini Platter and their Baguette Box.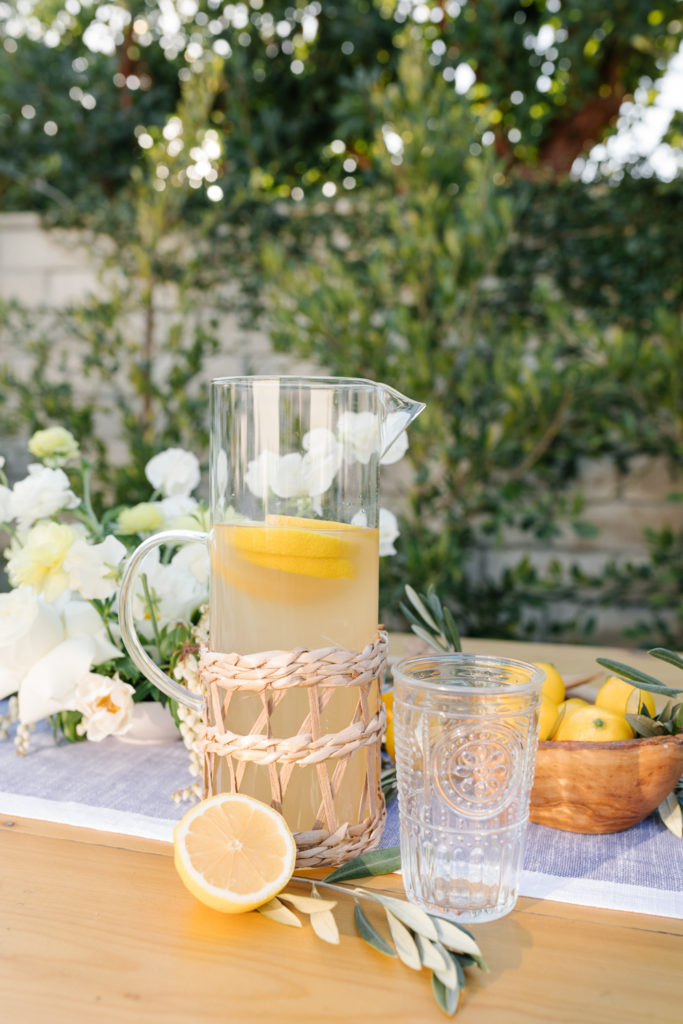 How cute is this blue and white striped duster from Saltwater Luxe? I fit right in with this pretty table and love it so much!!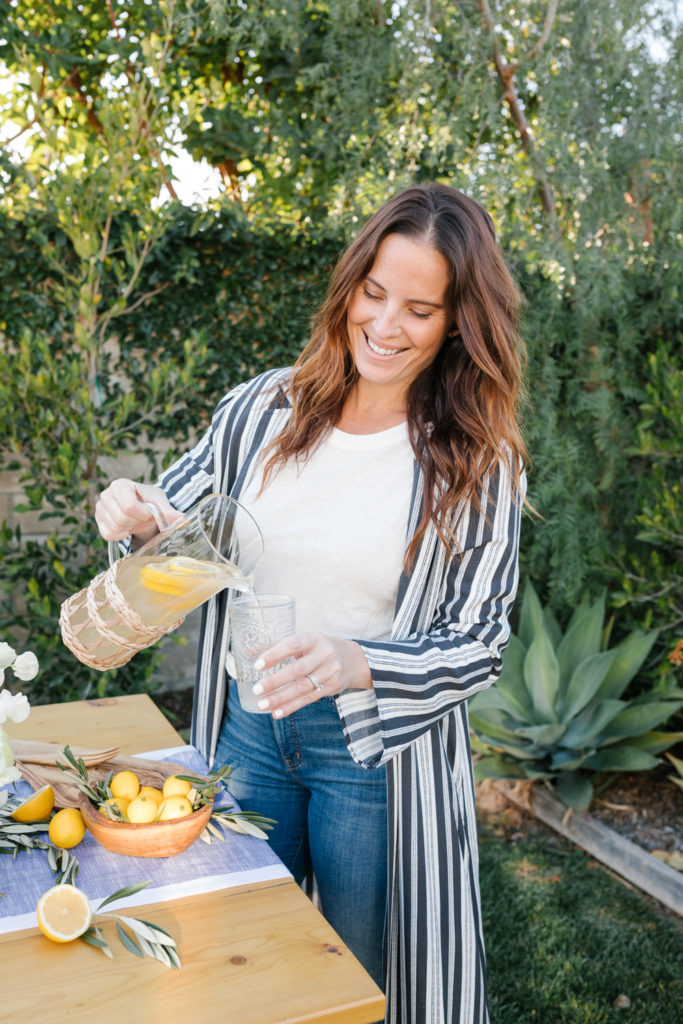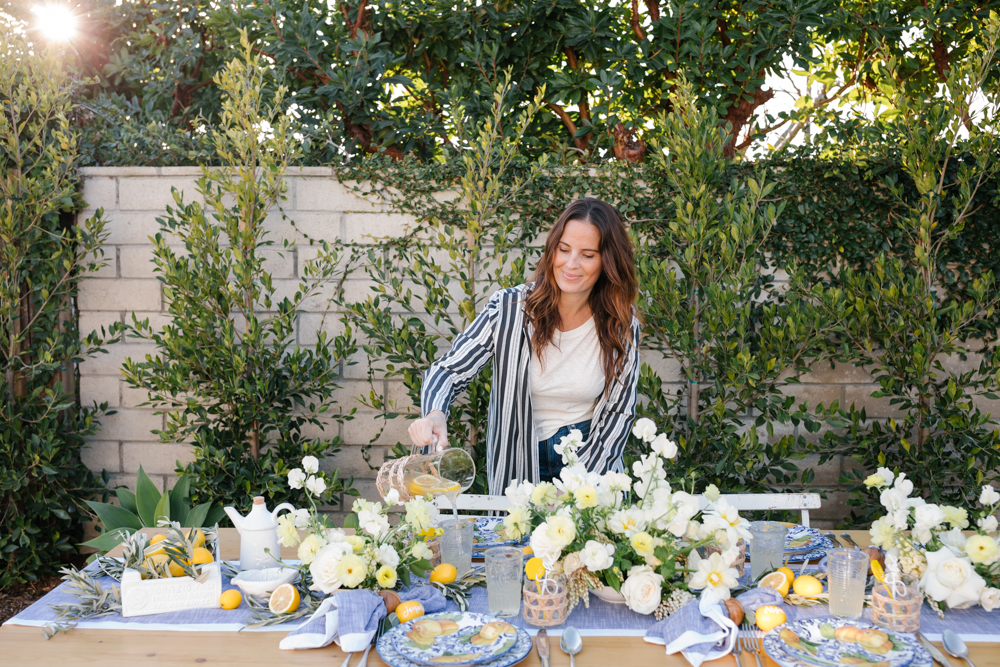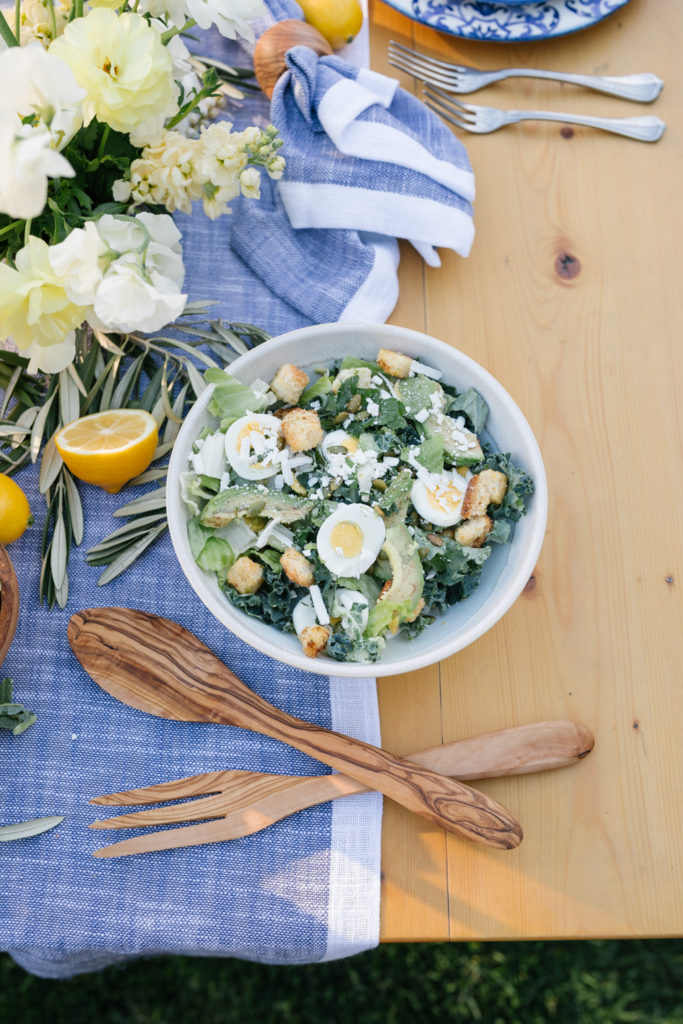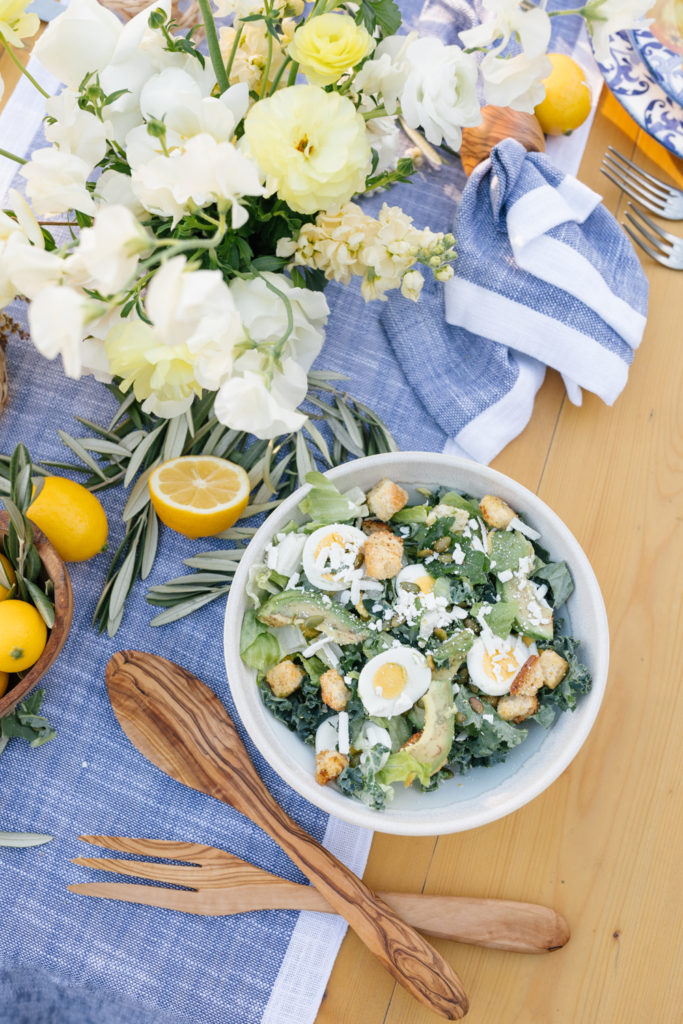 I love this little Olive Oil Bottle and Lemon Dip Bowl from Sur La Table, because who doesn't love bread and olive oil?! Yum!!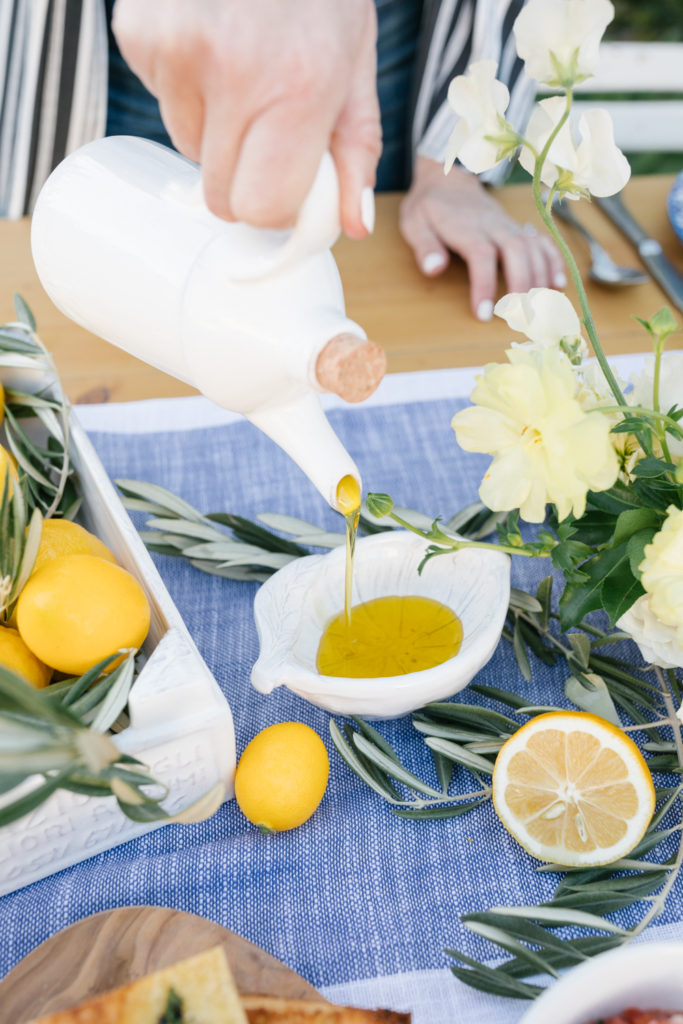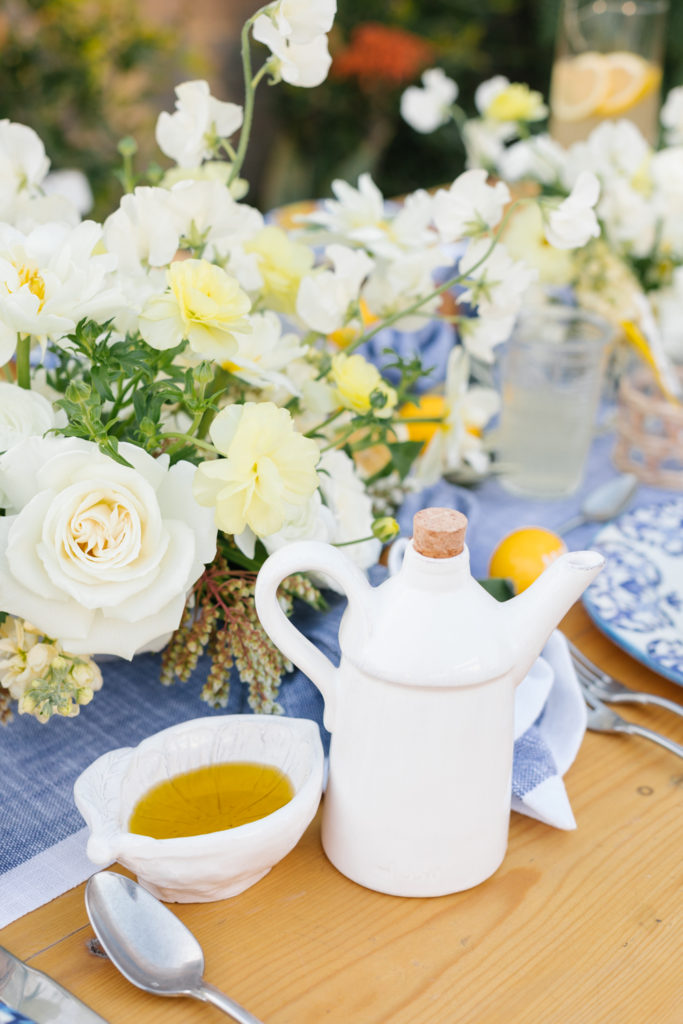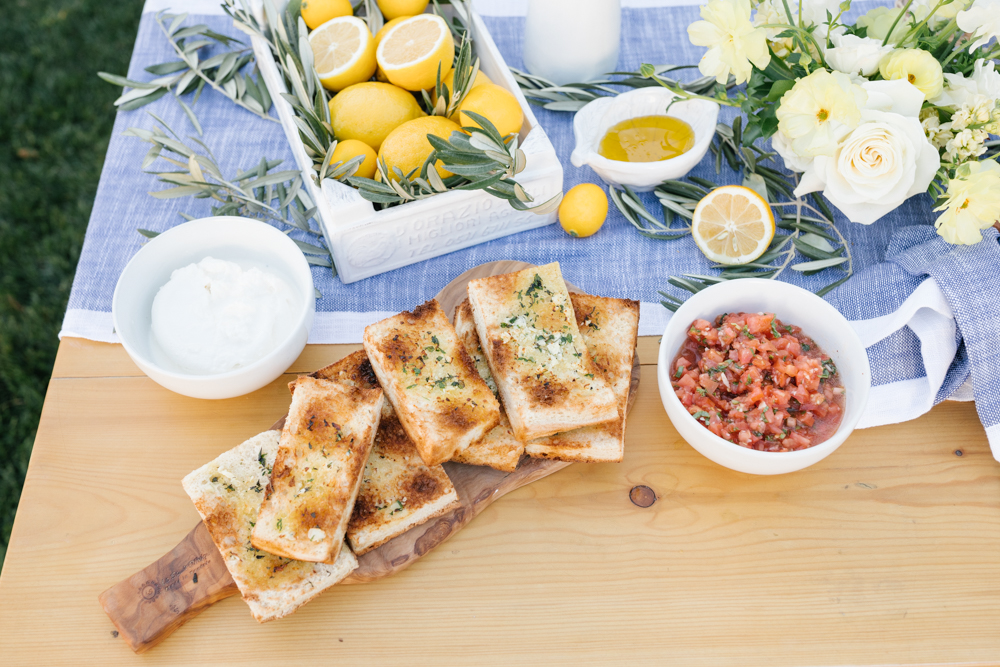 I placed all the catering items on bowls and platters that I had, its' a little extra work but worth it to make it pretty!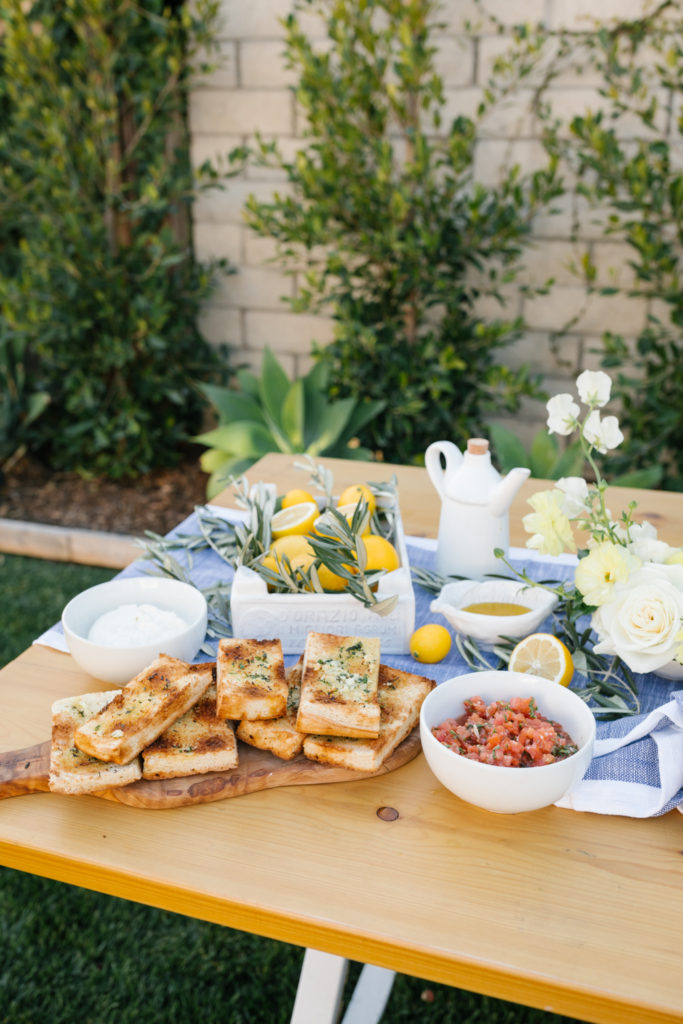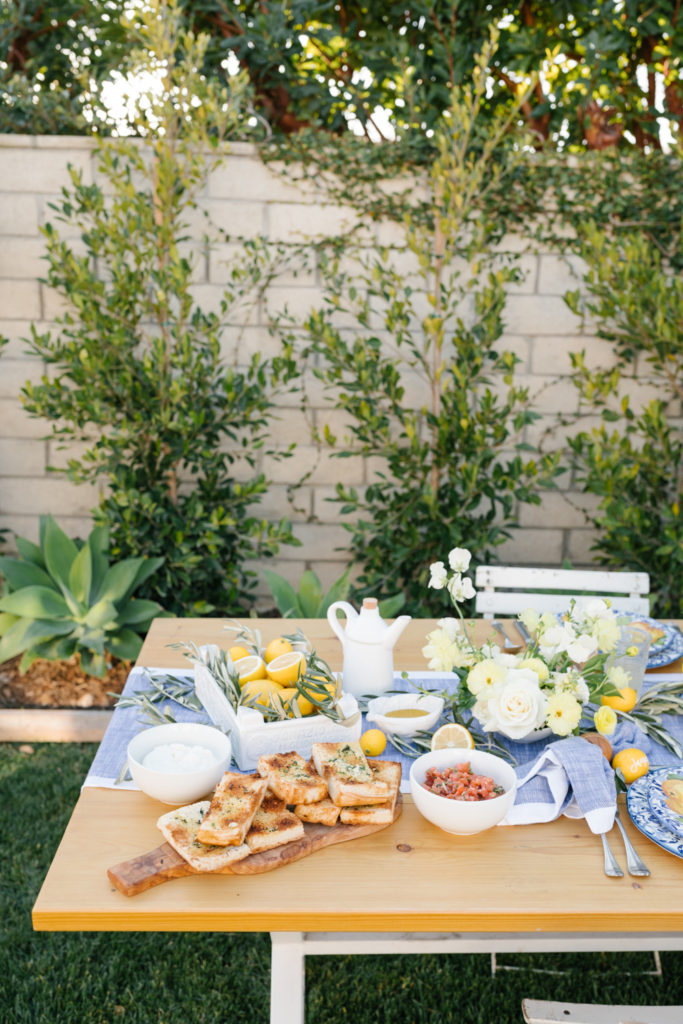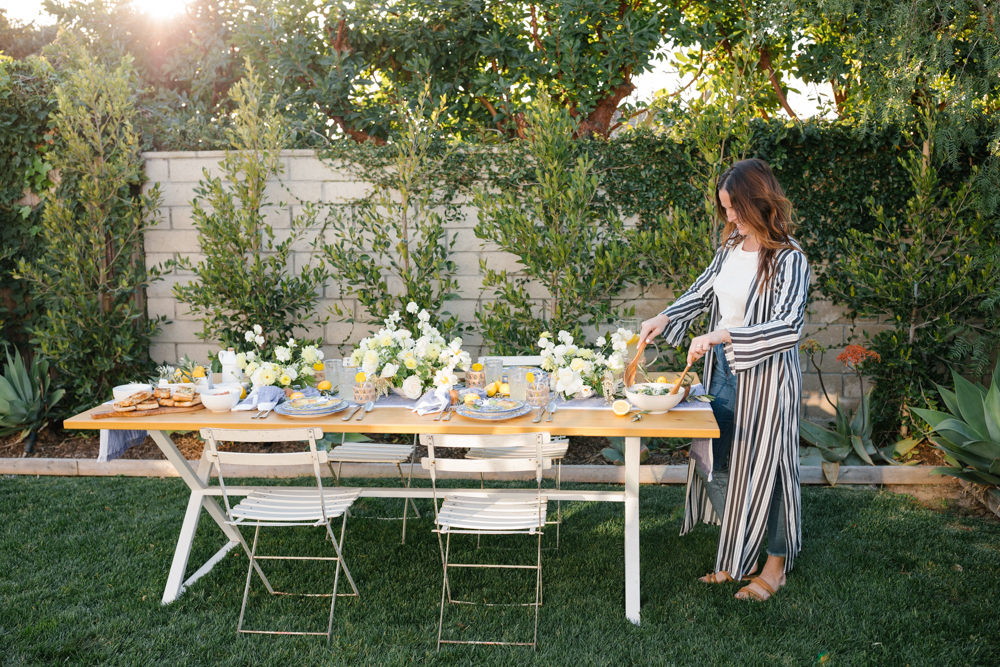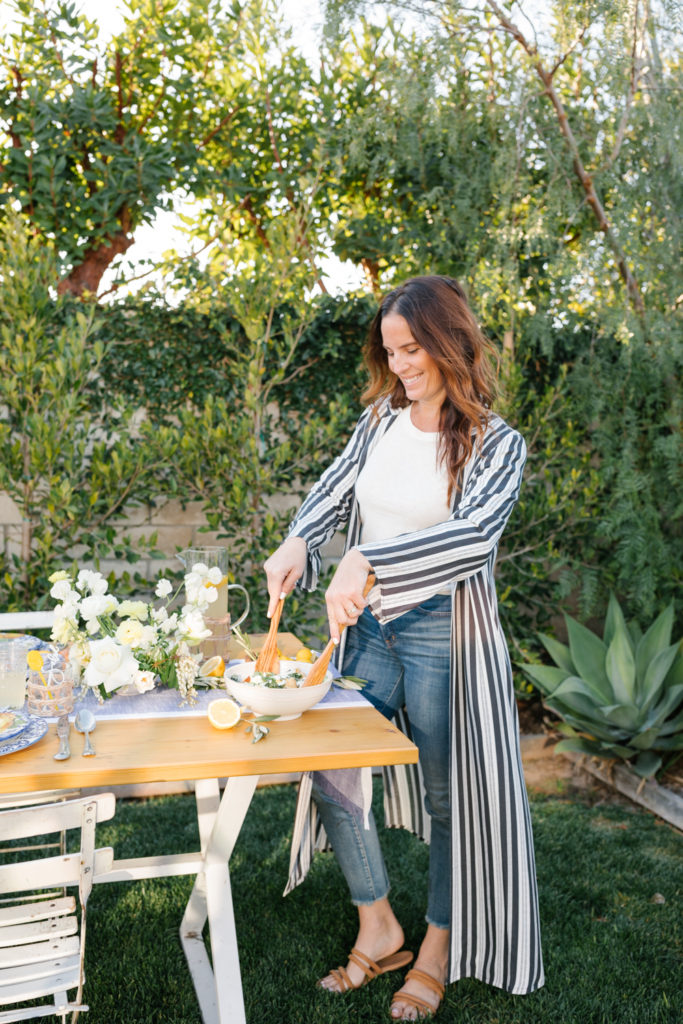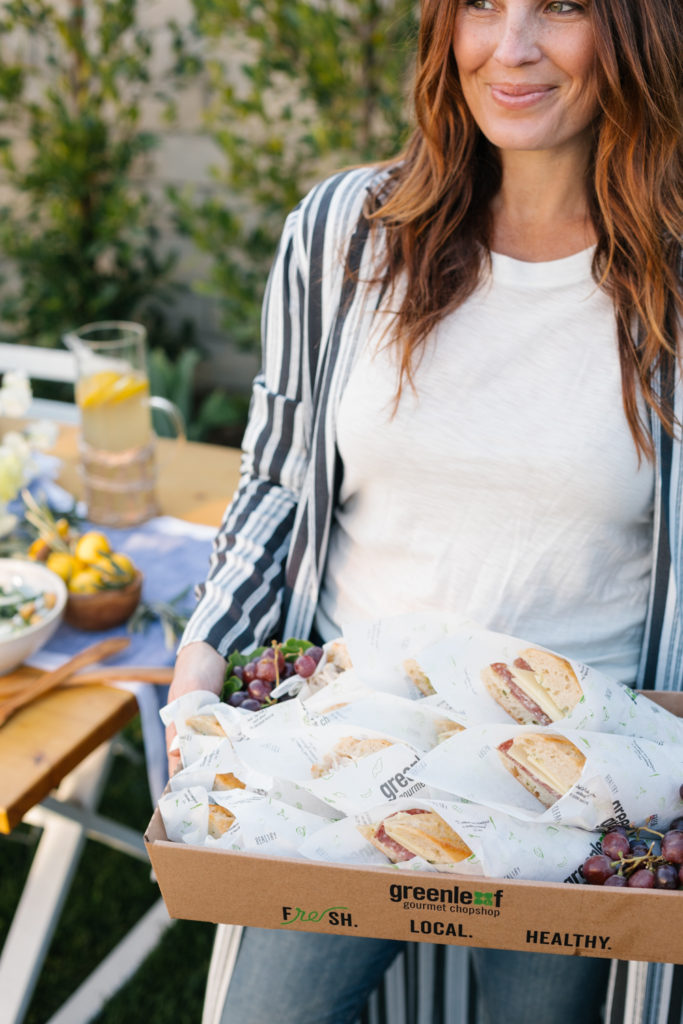 So yummy!!!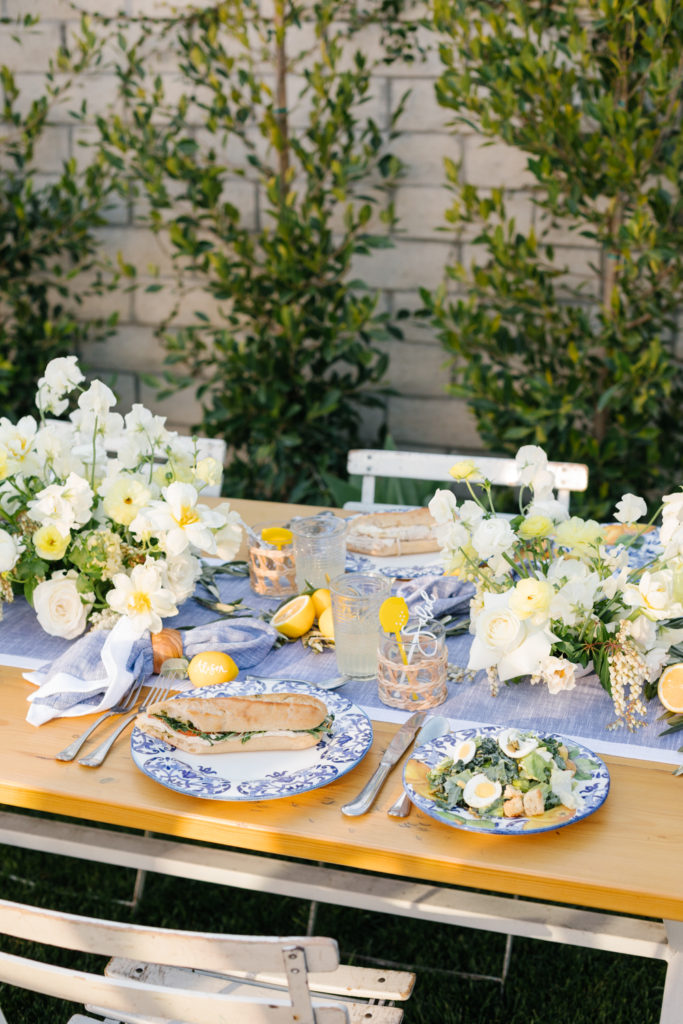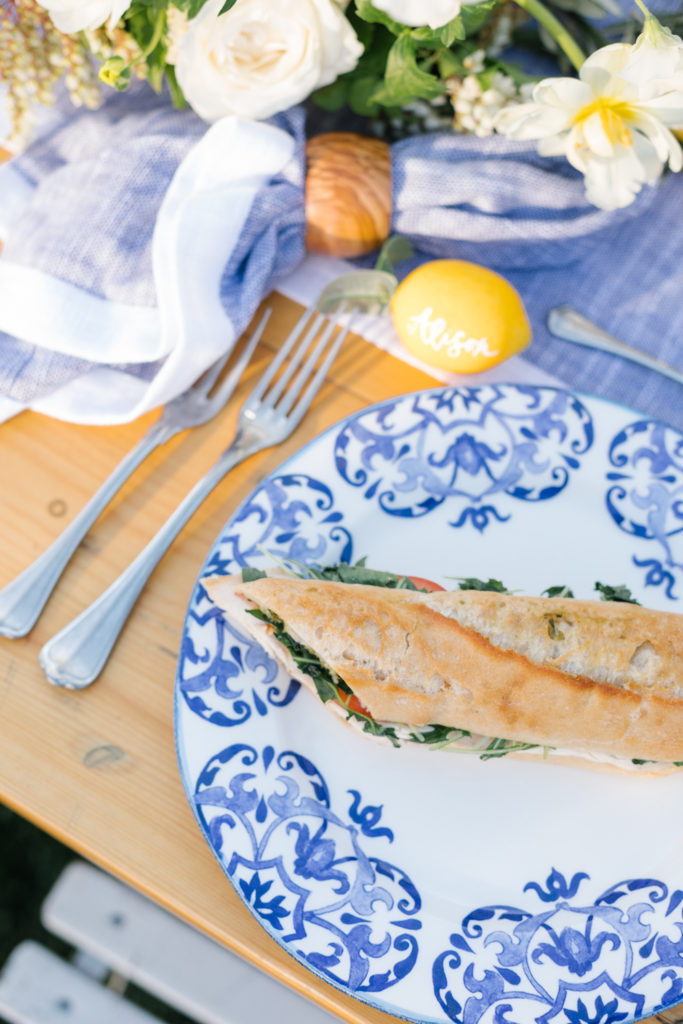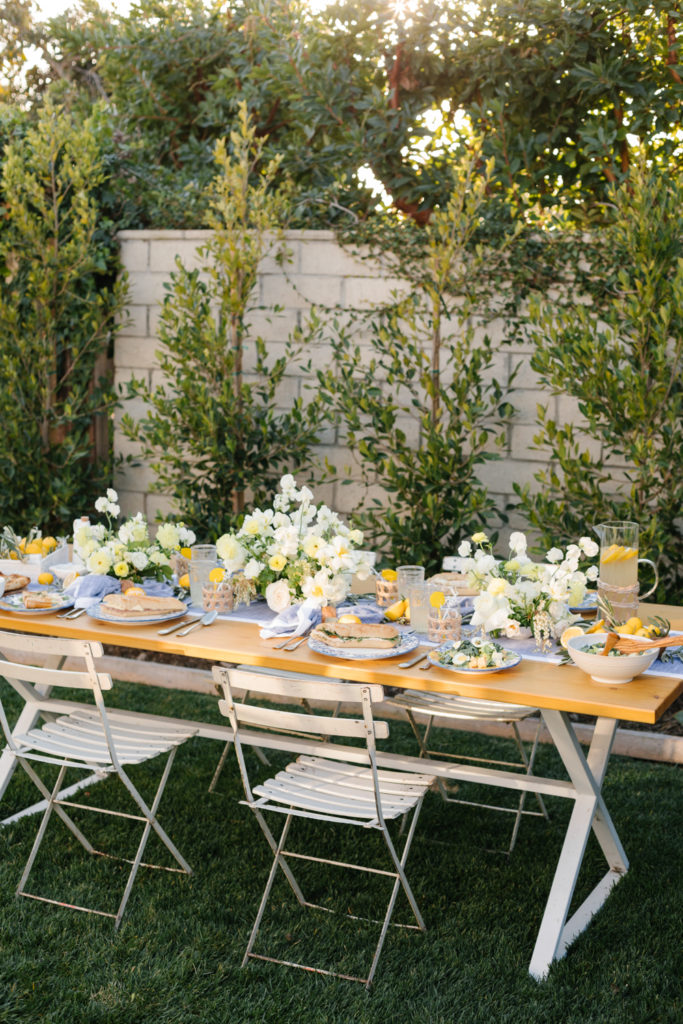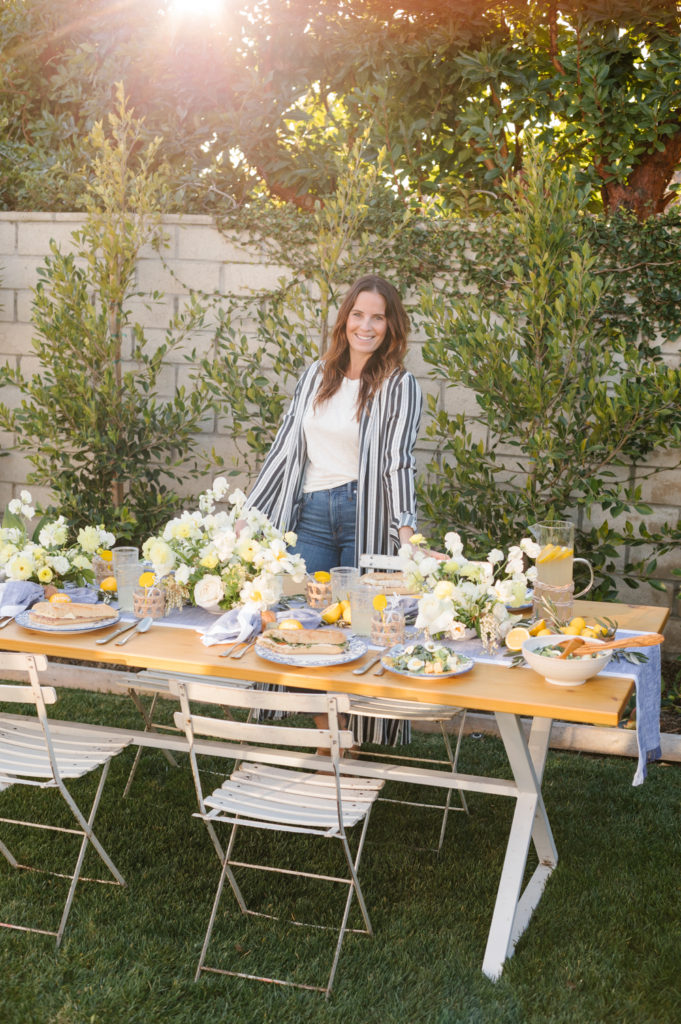 Tip Five
Last but not least – always have dessert! Let's be honest, aren't you a little bummed when you go somewhere and dessert isn't an option?! I'm not that kind of hostess guys, I'm a nice hostess!!! For this party I did a simple yet delicious vanilla cake from Sweet & Saucy Shop and added greenery and lemons – easy and pretty!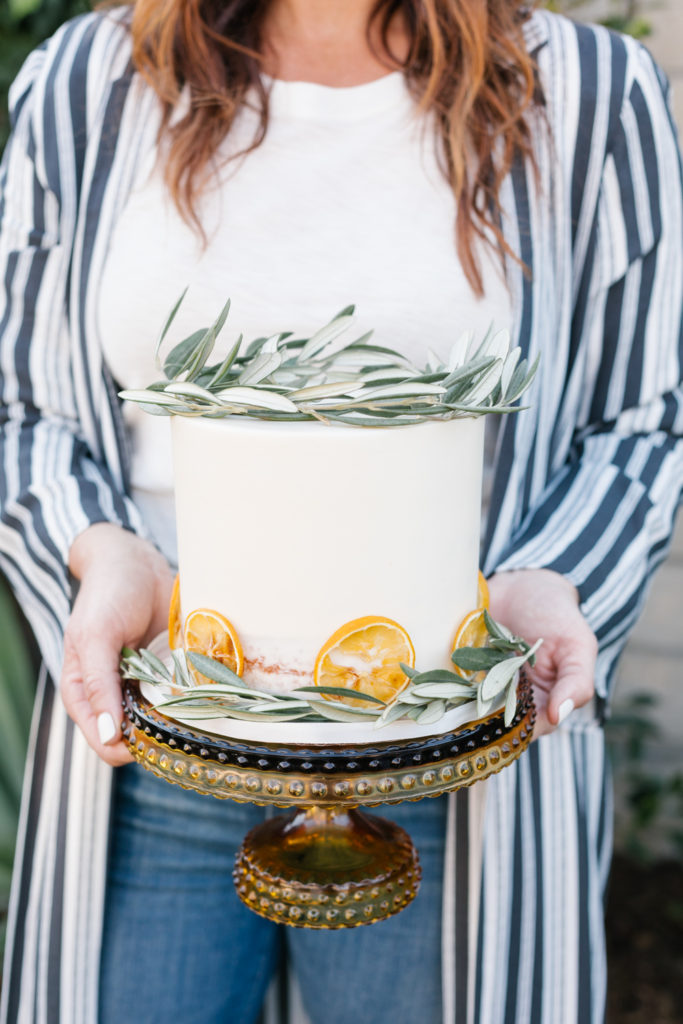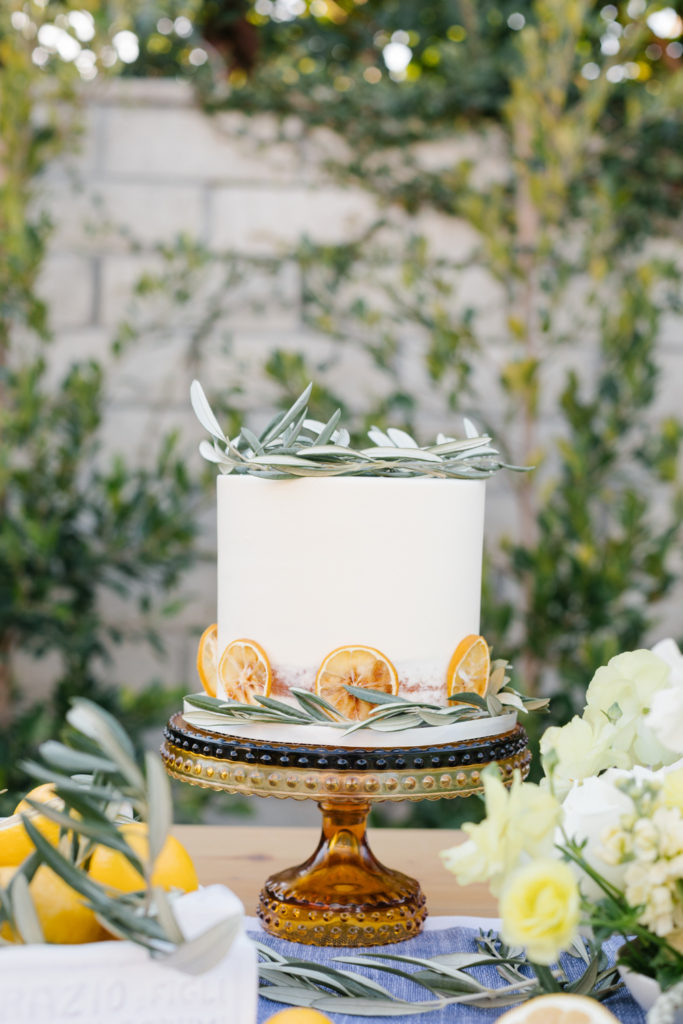 Nothing like a backyard party in the summer during sunset! I'm ready for warm weather, how about you?!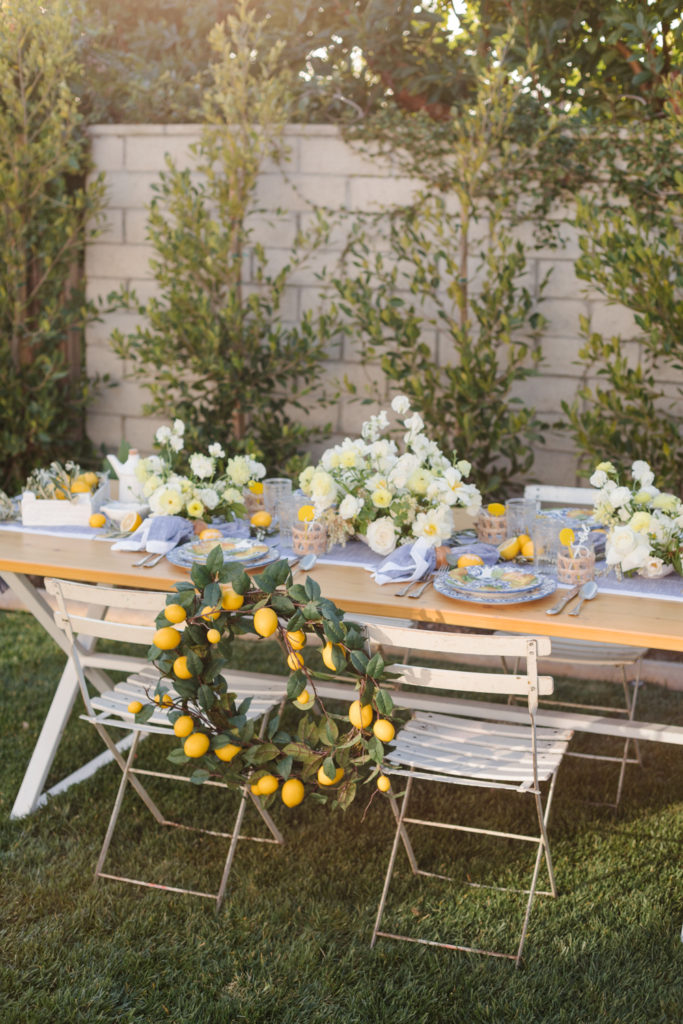 I am really loving these pieces for summer, enjoy!
xx
Jacquelyn