Pineapple is one of the O.G. fruits for summer. Alongside her partner in crime, the coconut, and a delish topping of fresh whipped cream, you will find yourself eating fork to pie here. Much like my summer tan, these cute pineapple blossoms have a golden color that screams summer. A fun way to add pretty detail to your dessert. This pie was a big hit in our house this summer, and now the kids call it by "Summer Pie"! So, let's get our summer pie on!
---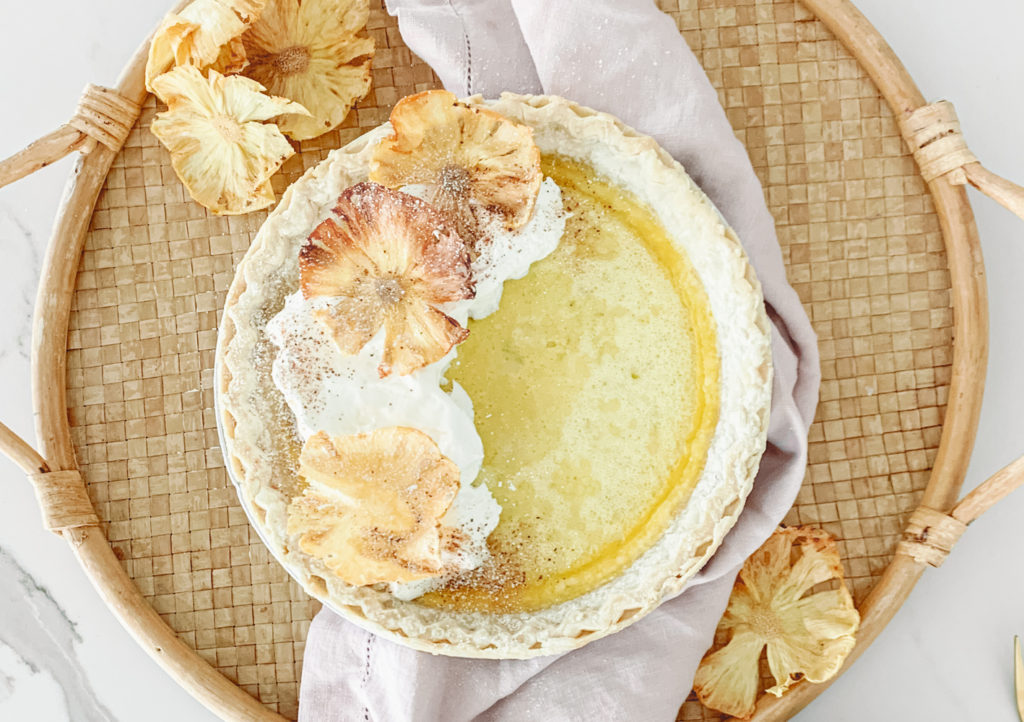 ---
TIPS ON MAKING PINEAPPLE COCONUT PIE
Use a lined baking sheet — Be sure to use a lined baking sheet when baking your pineapple blosssoms. If you don't, you can run into the chance of the pineapple blossoms sticking to the pan. No one wants that!
Be patient— If you are making pineapple blossoms for the 1st time, be patient and use your judgment on baking time. You don't' want them to burn, but you don't want them to still be moist. Once you have them in the cooling muffin tin, let them stay there for a while to really get their shape. If you find that they still are not setting, stick them in the muffin tin in the oven for a bit. But, keep an eye out!
Let it set — Let the pie cool to room temperature. Once it's cooled down, place in the fridge until completely set up. I did mine at night and got it out the next day. Take out about 30 min before garnishing and serving.
---
MARIGOLD PINEAPPLE COCONUT PIE
WITH PINEAPPLE BLOSSOMS
SERVES: 12 | PREP: 5 MINUTES | COOK: 15 MINUTES
W H A T Y A N E E D
Pineapple Filling
1 small pineapple, peeled
1 cup coconut cream
2 eggs
3 egg yolks
½ cup Golden Caster Sugar
½ cup pineapple juice
zest and juice of 1 lime
few drops yellow food colouring
Pie Topping
pineapple blossoms
whipped coconut cream (find it in the freezer section)
B U S T O U T
Muffin Tin
Baking Tray
Parchment Paper
---
I N S T R U C T I O N S
I used a store-bought pie crust, yes I went the lazy route this time. Totally ok! Prick some holes and on the bottom of the pie, and cook according to the pie's instruction on the label. It is usually 375º to 450º for 10-12 minutes.

Let's make the pineapple blossoms

Thinly slice the pineapple and set aside on a lined baking sheet. Place the pineapple slices in an oven preheated to 100°C (80°C fan-forced) for 1 hour or until dried. While still warm, press the pineapple blossoms into a muffin tin to form flower shapes. Allow cooling completely.

Let's fill her up
To make the filling, whisk the cream, eggs, sugar, pineapple juice and colouring together. Strain the mixture into a clean bowl and carefully pour the filling into the baked pie shell. Bake for 30–35 minutes or until just set. Allow cooling at room temperature before refrigerating until completely set.

Whip it up
Once your pie is completely cooled down and has set in the fridge, its time to garnish, do this right before serving. Take your whipped coconut cream, which you got out of the freezer about 20 min before, and go to town on piling the whipping on. Then create a garland like an effect with the pineapple blossoms. Last detail, sprinkle some sugar on top for that extra sweetness! Serve immediately!
---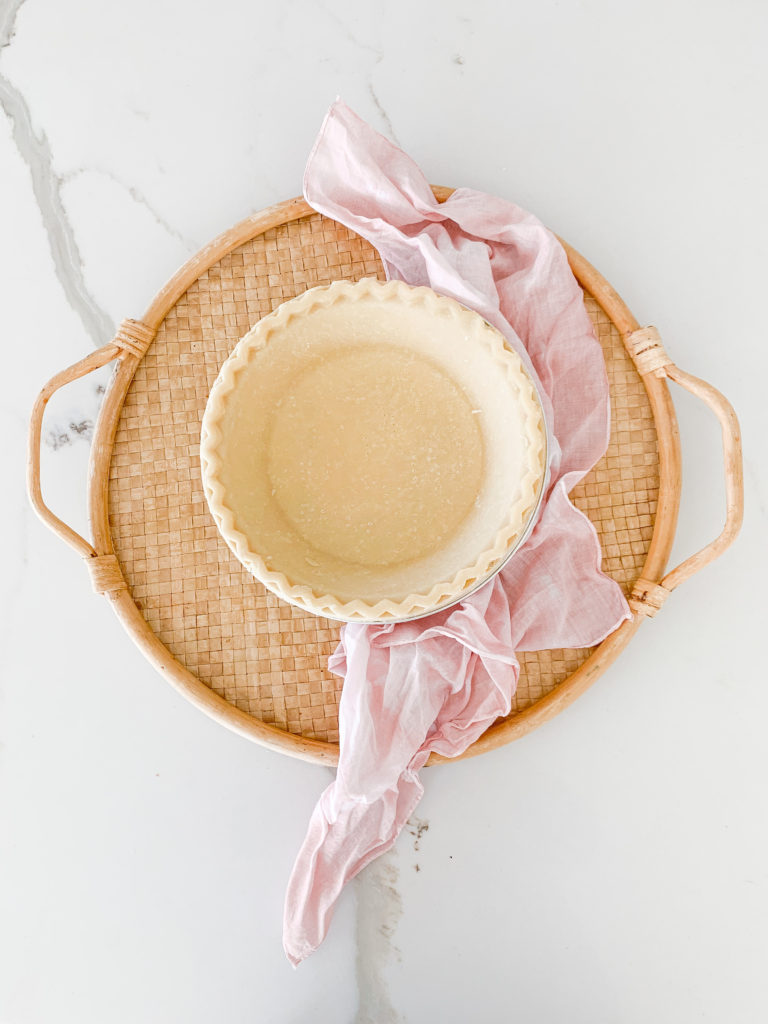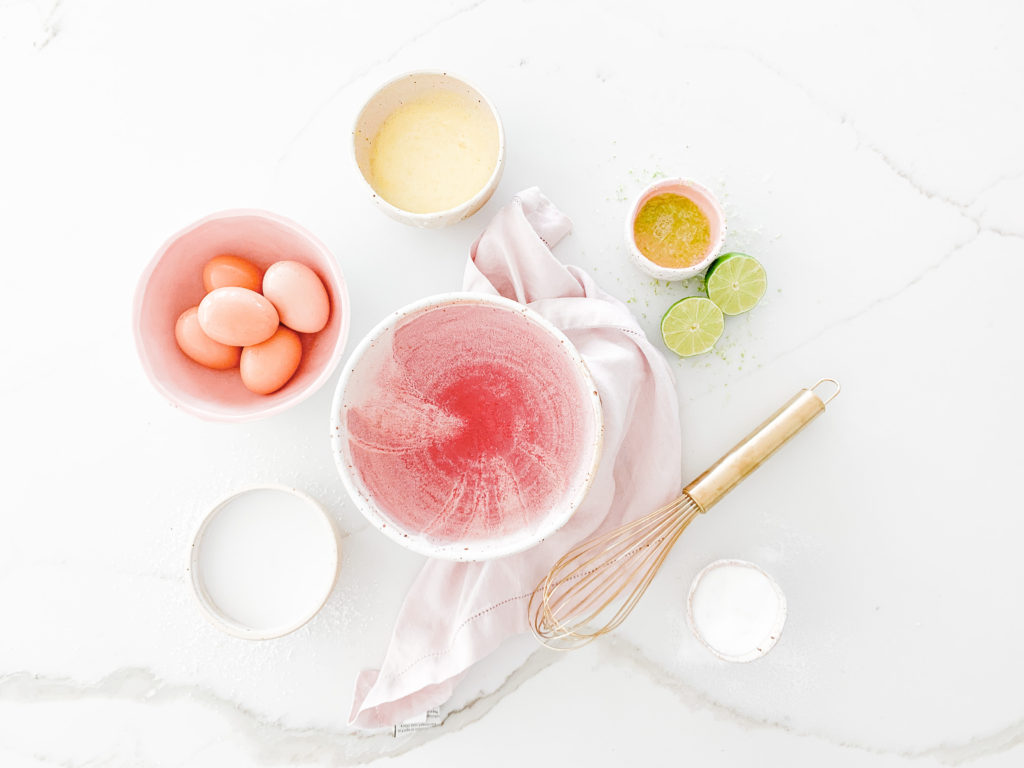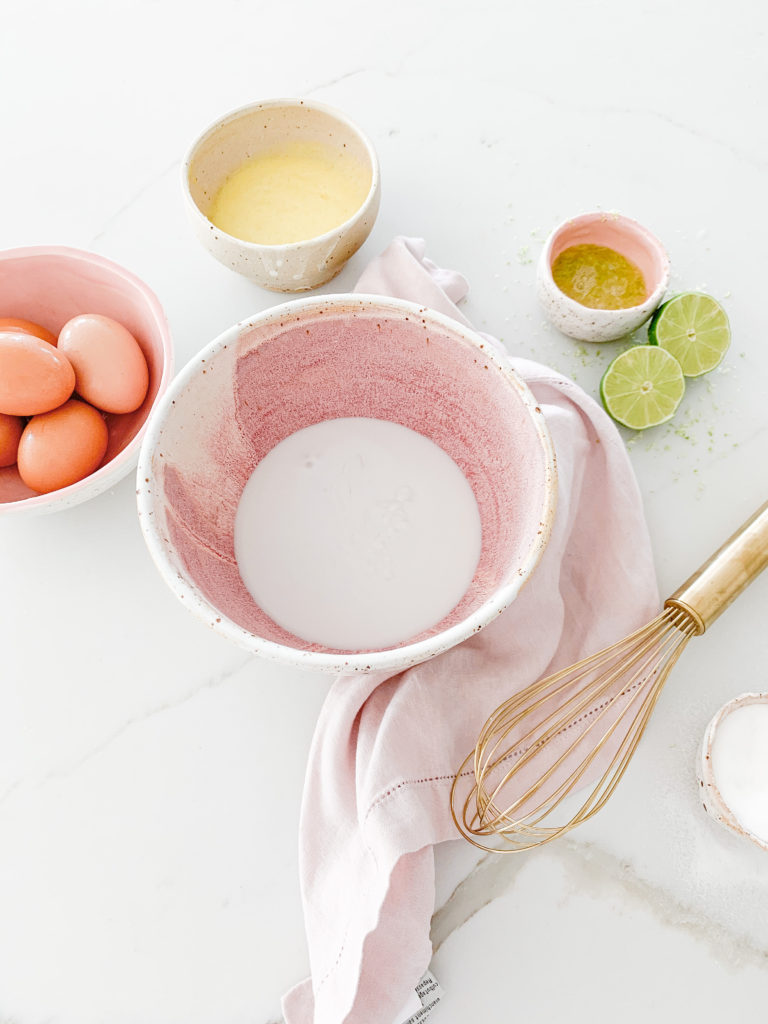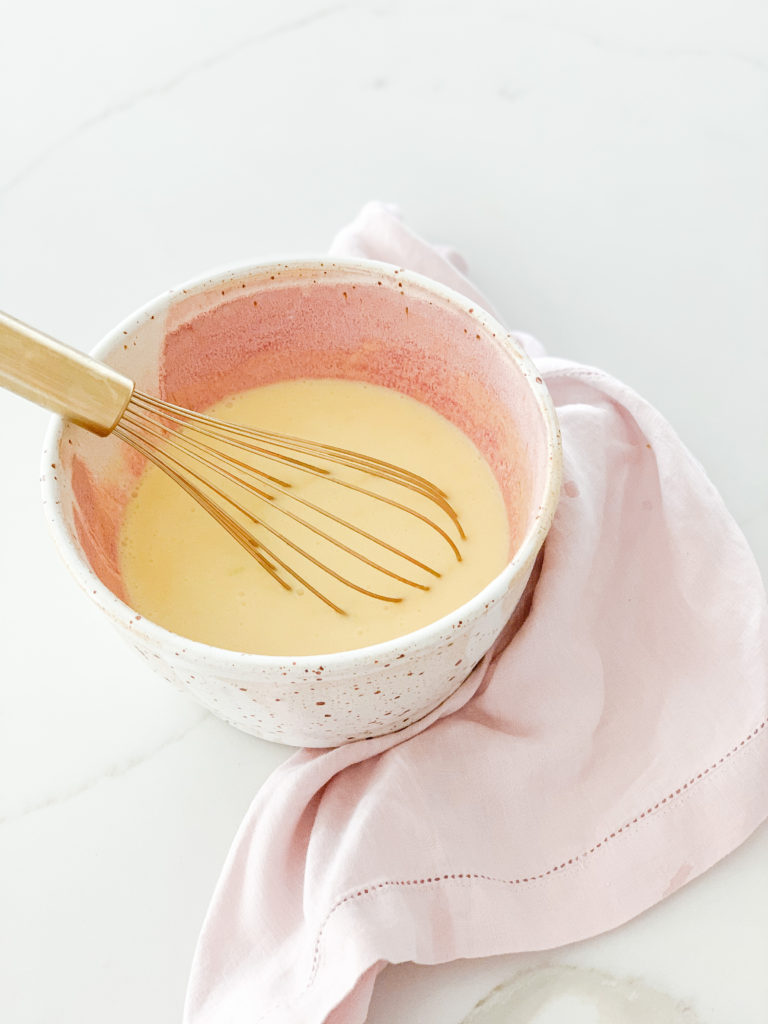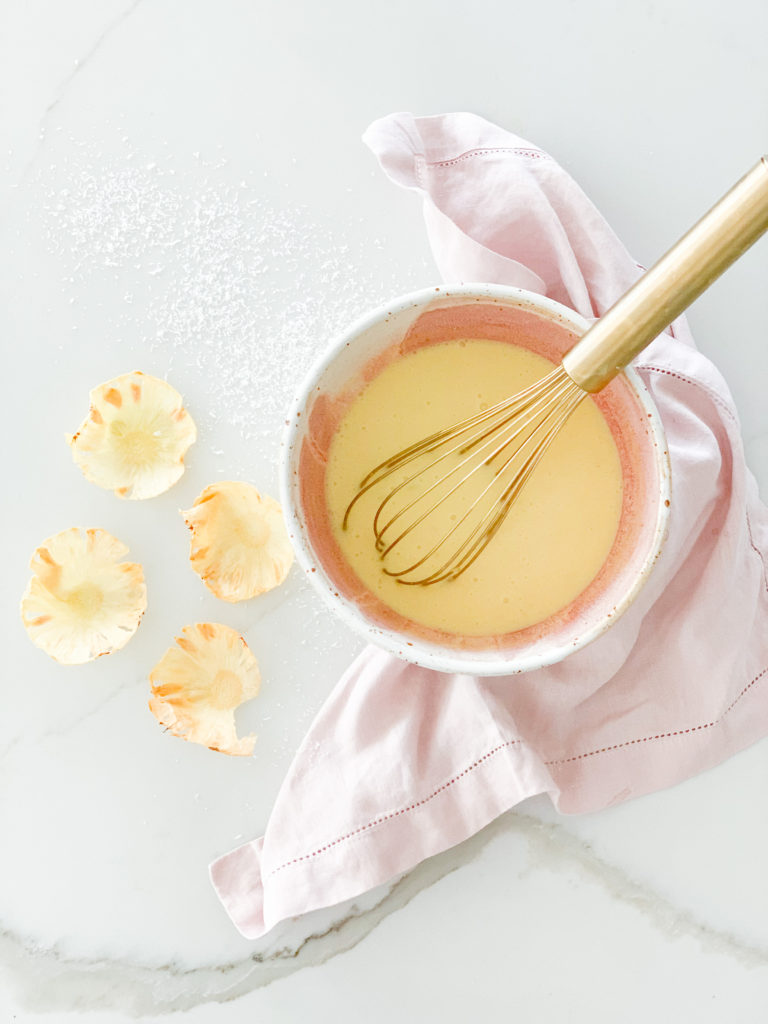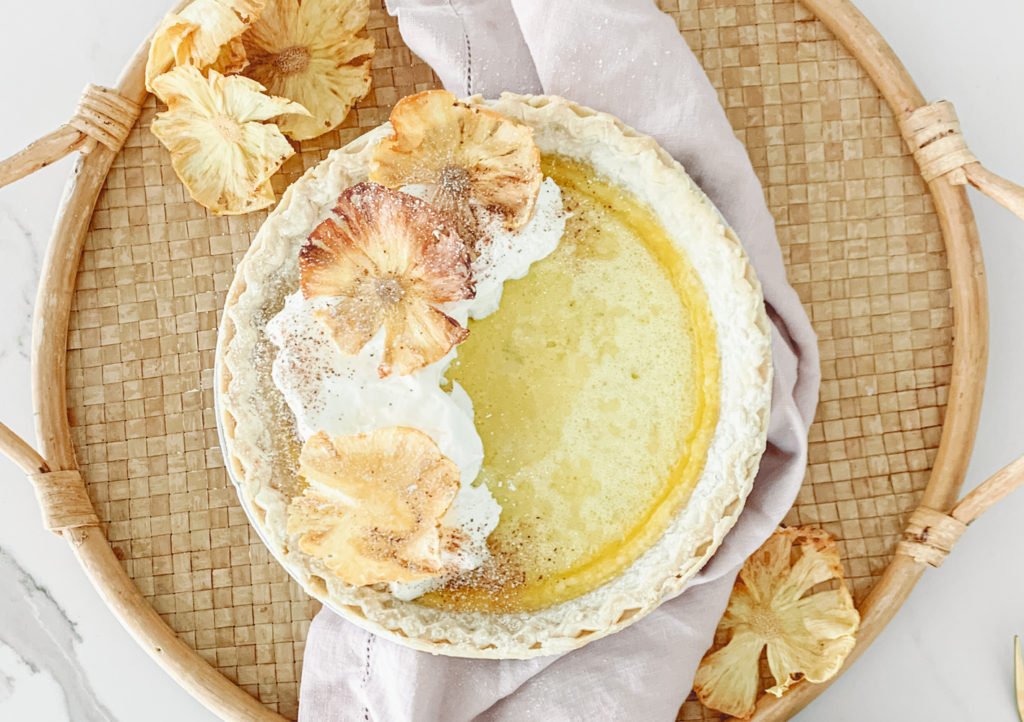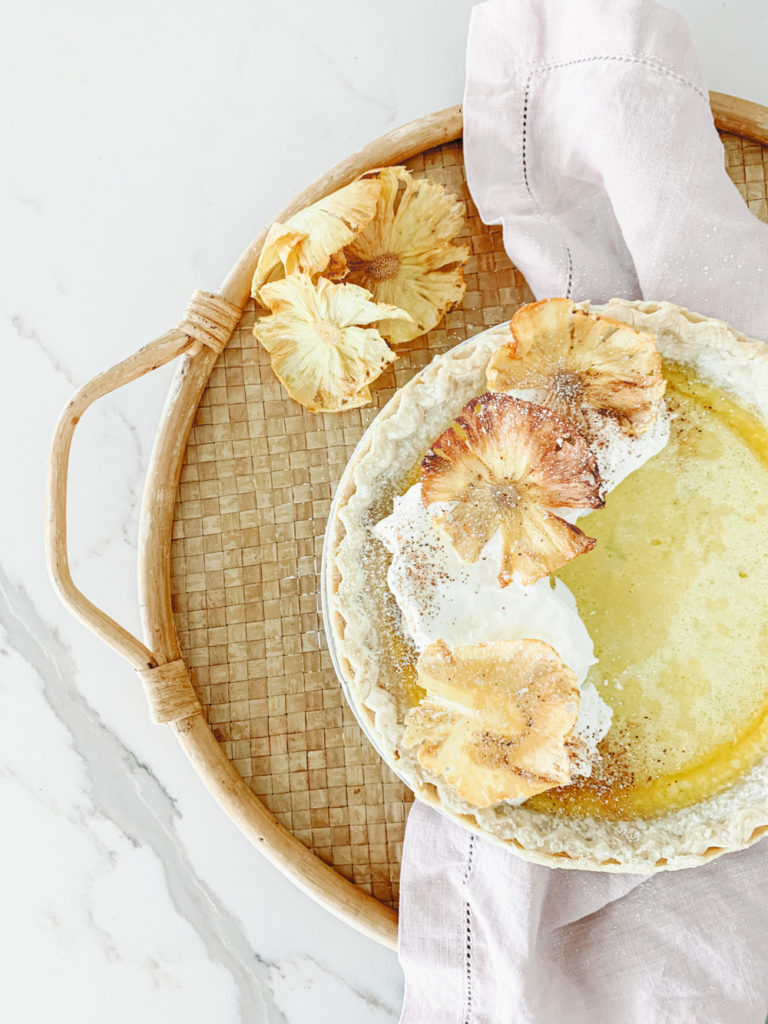 ---
B E I J O S K I T C H E N

xx
Abby