Raise your hand if you were raised on all the best 80's movies!! Well if you were, then you have definitely seen Pretty in Pink! It's only one of the best 80's movies ever!! With so many iconic actors and actresses and just moments, it deserved a shoot dedicated to it!
So get your best girls and fellas because we have the ultimate Valentine's Day party inspiration for you! And you better believe it has a lot of PINK!!!
Check us out on Green Wedding Shoes where we are featured today with all of these pretty photos by Jessica Lynn Photo.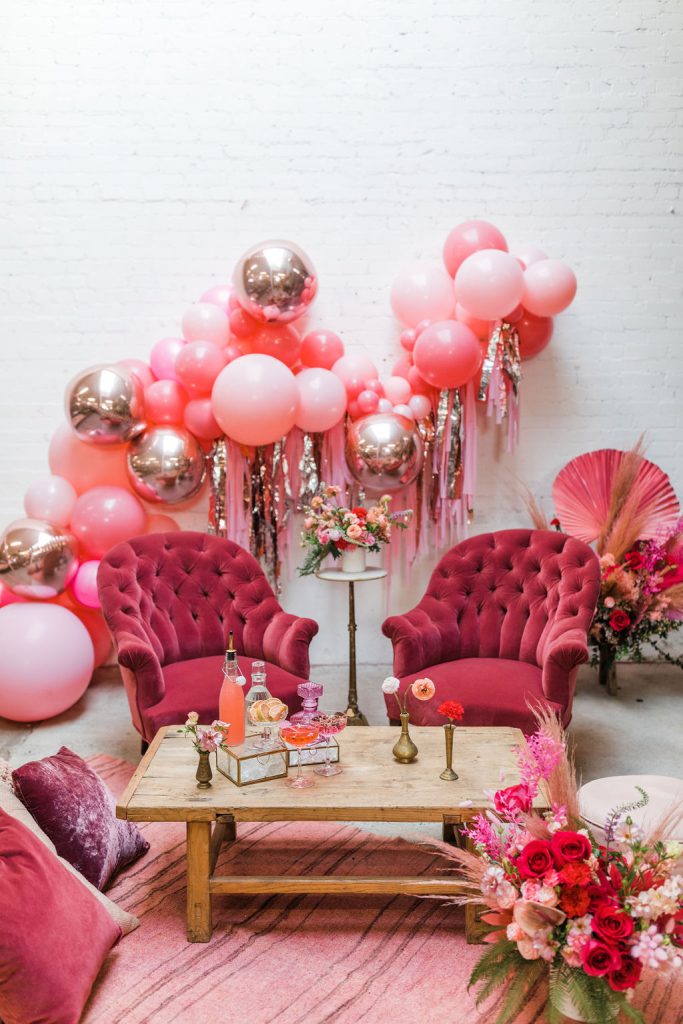 Let's start with the details… My friend Leanna of David & Leanna always delivers the best of the best! When I showed her my mood board and told her about my vision she jumped on board right away! We went a little bit modern with a touch of girly but made sure to keep all the best sayings… Love's a Bitch was a must!
I adore the way Jessica Lynn Photo styled this and the way she added the florals by Cobra Lily and ribbon by Party Crush Studio. Flat lay dreams made!!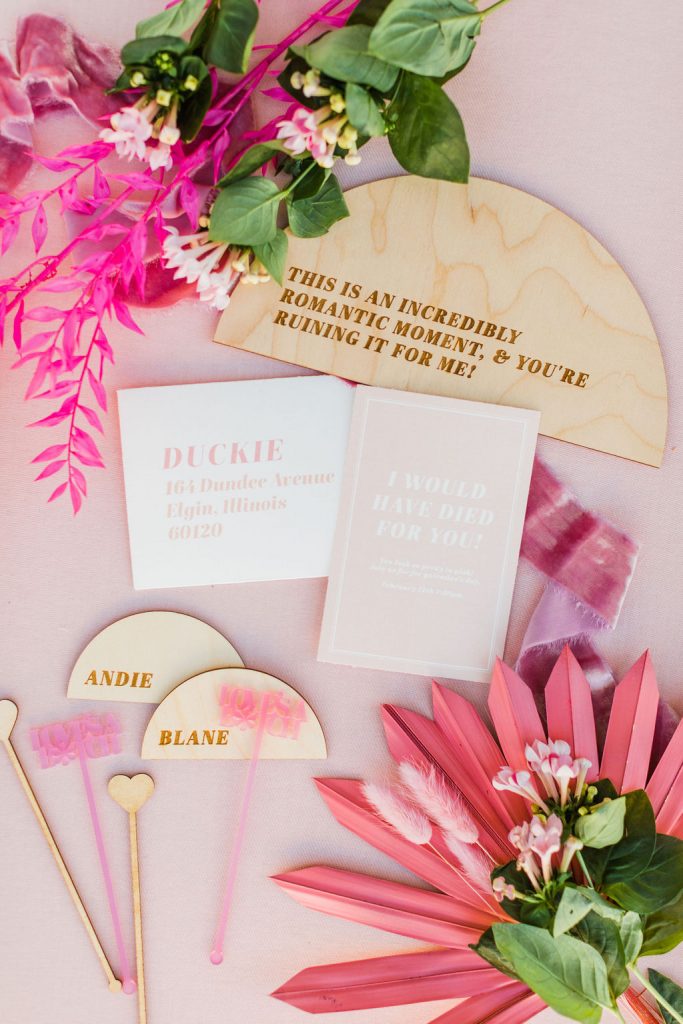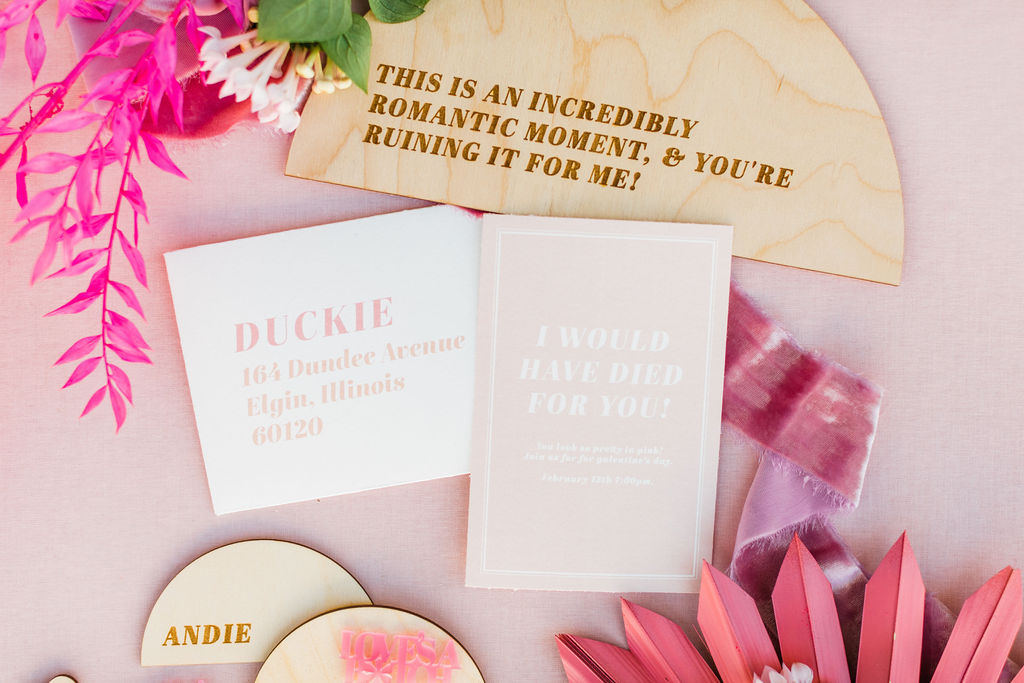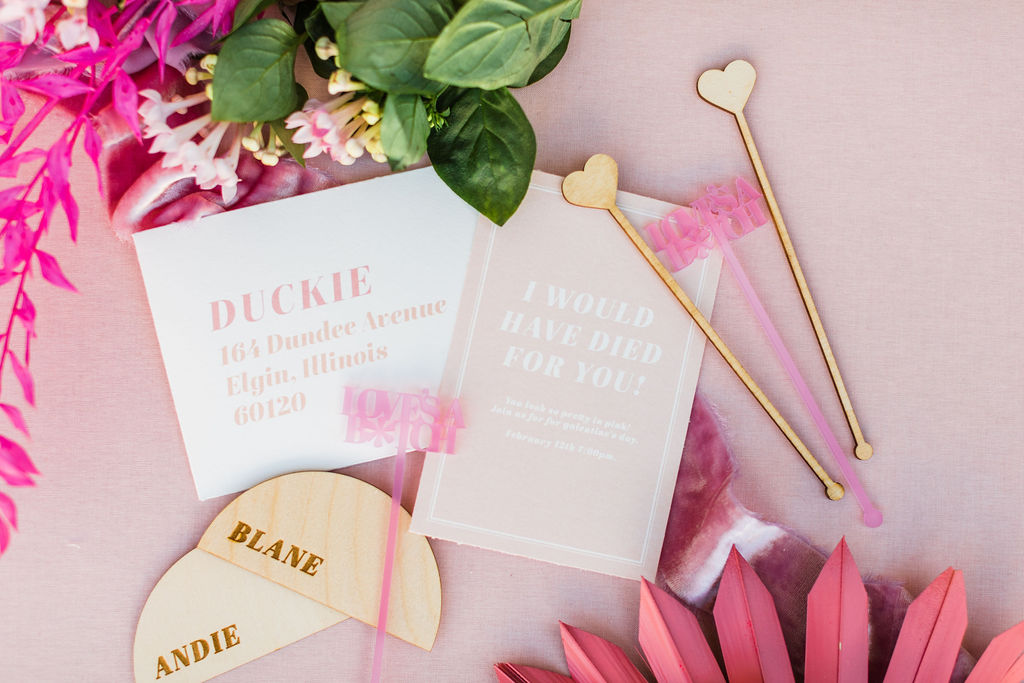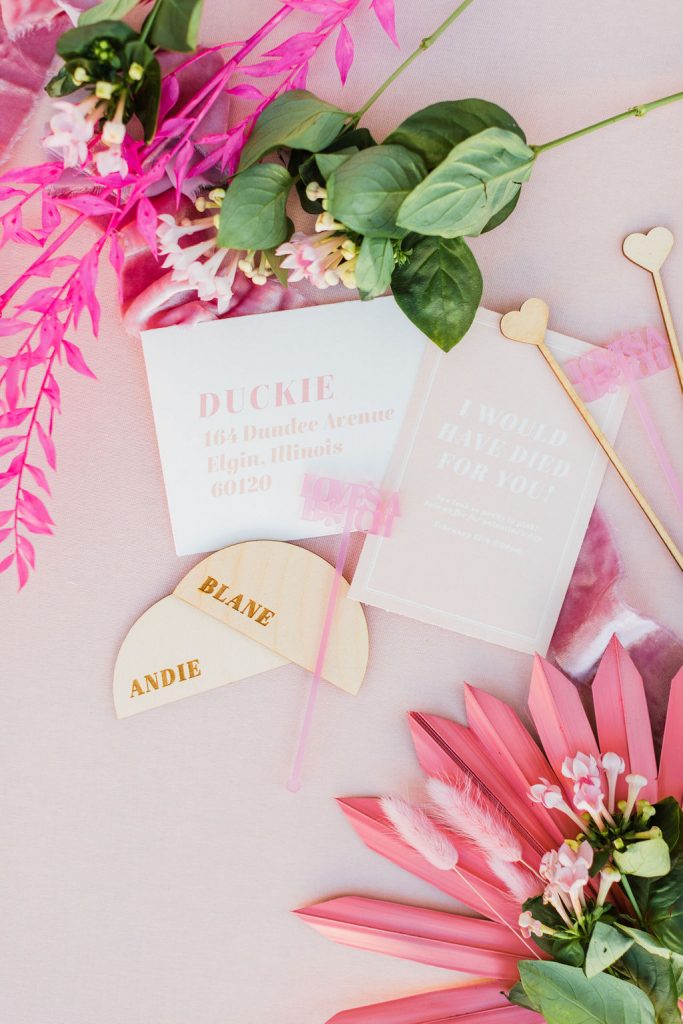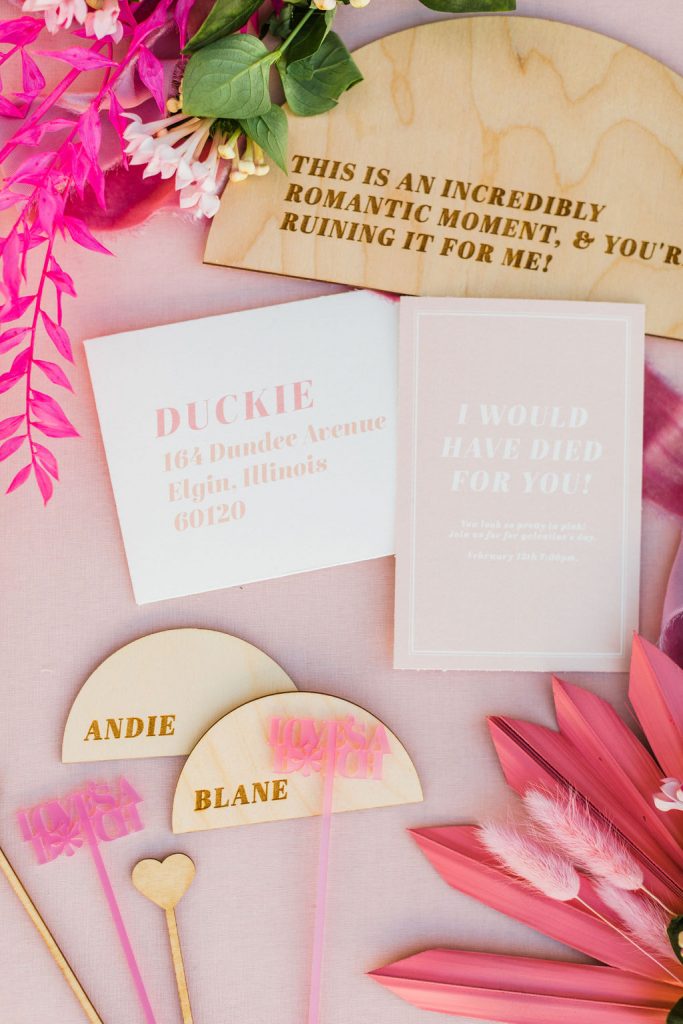 Onto our pretty little table!! Of course, that balloon backdrop deserves a big round of applause! The Pop Shop does it again with her amazing installations!! It looks perfect behind our low table set up from Sweet Salvage Rentals. Doing a low table for adults is always fun, and her pillow and textile collection is truly the best!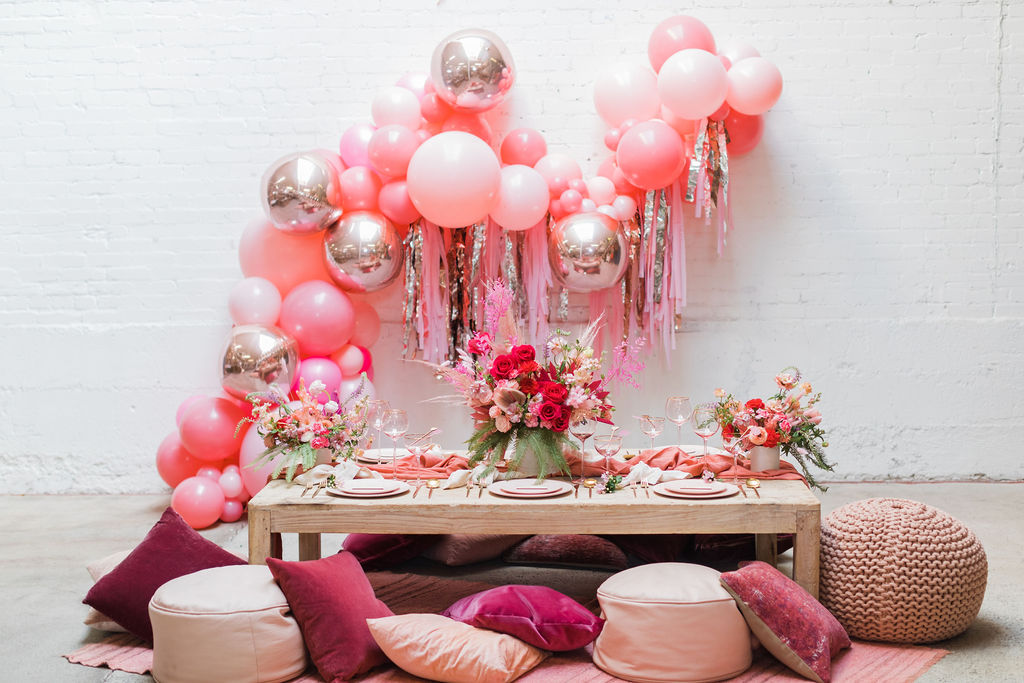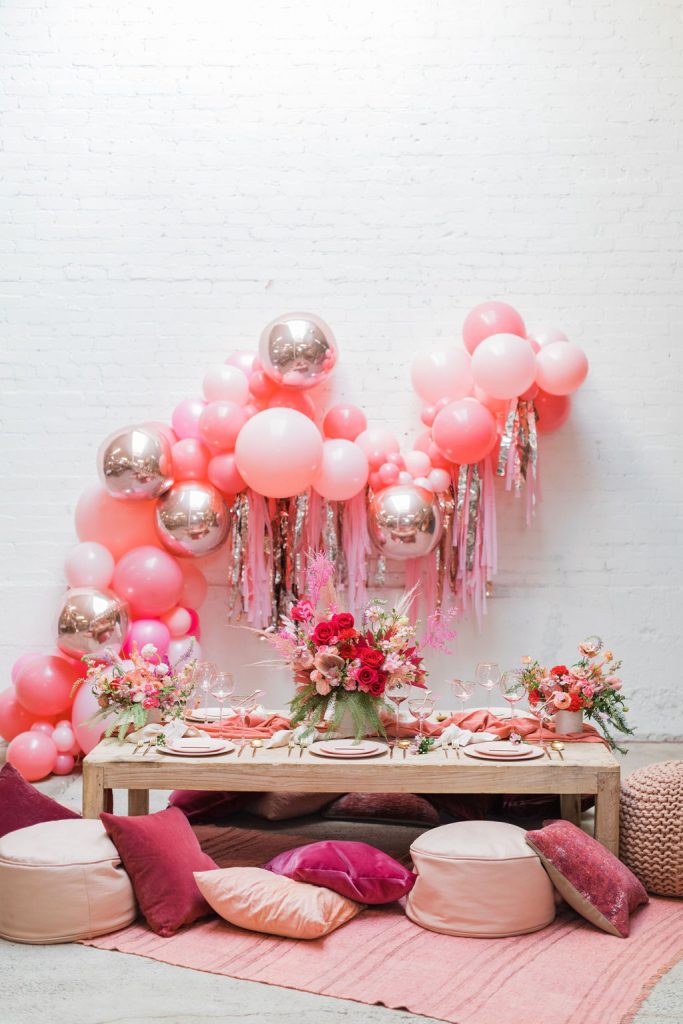 Can I gush a bit?! Well, Cobra Lily's flowers are f-ing amazing, ok? I'm obsessed with his beautiful work and he just nailed that mixture of '80s and modern that I wanted!! Seriously in love!!! What do you think?!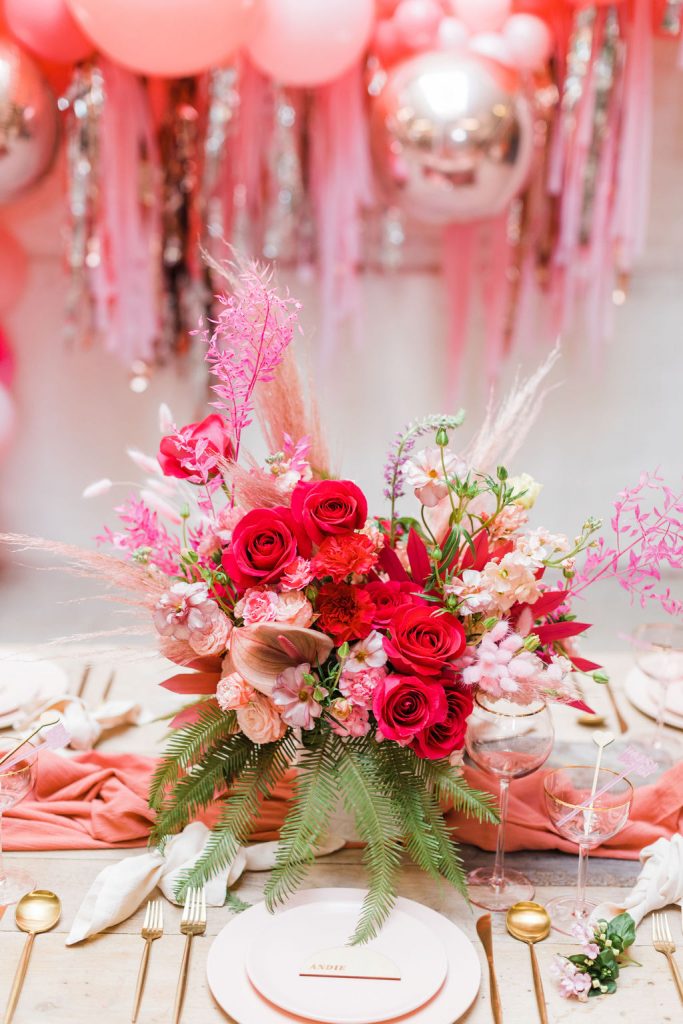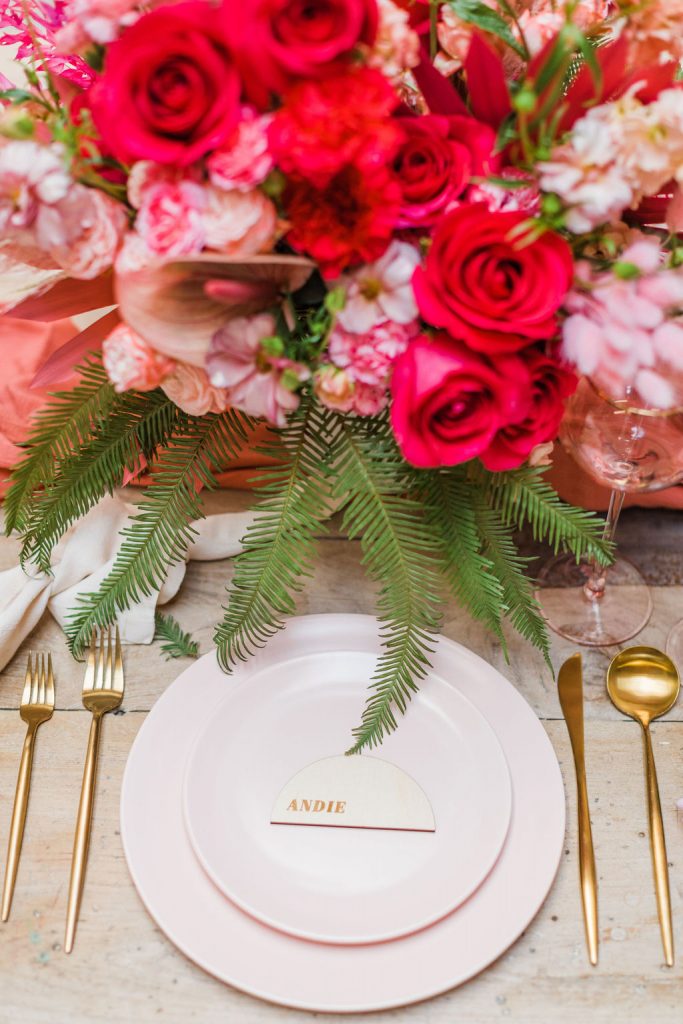 Our gorgeous tabletop was from Signature Party Rentals. The monochromatic baby pink plates, modern gold flatware, and that beautiful rose glassware were absolute perfection!! Plus, David & Leanna's modern place cards with all our favorite character's names completes it! Any Duckie fans out there?!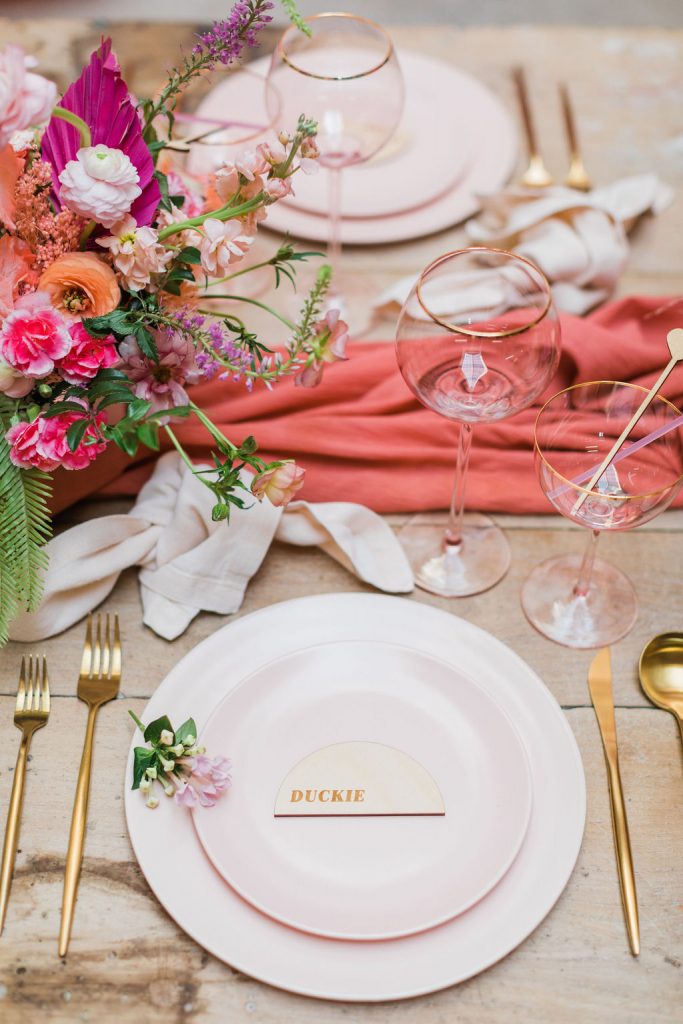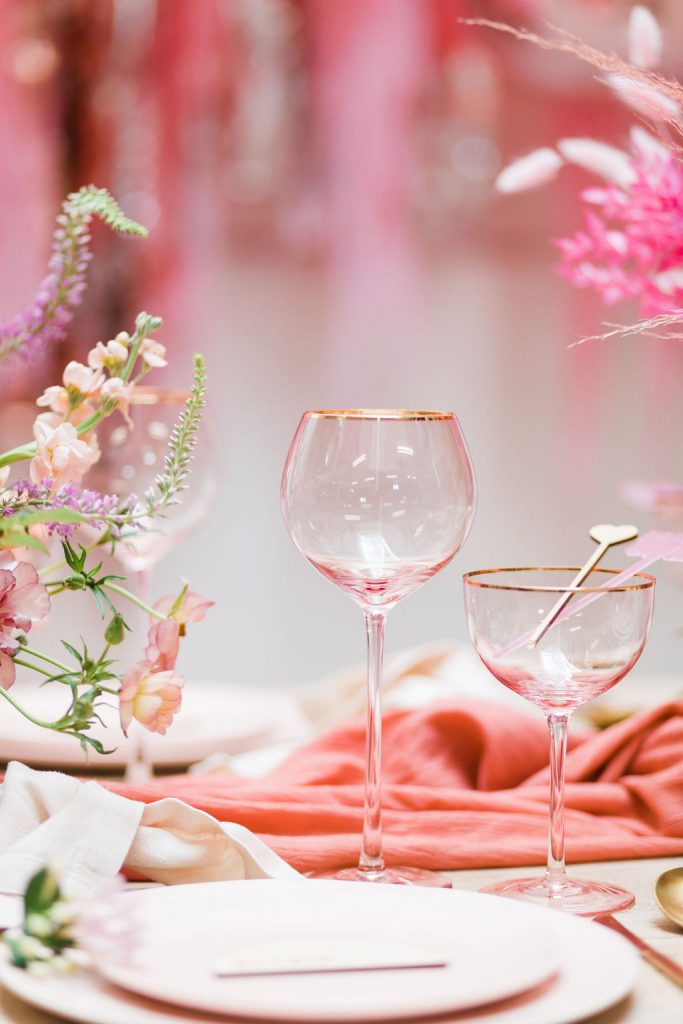 There's those amazing cocktail stirrers from David & Leanna!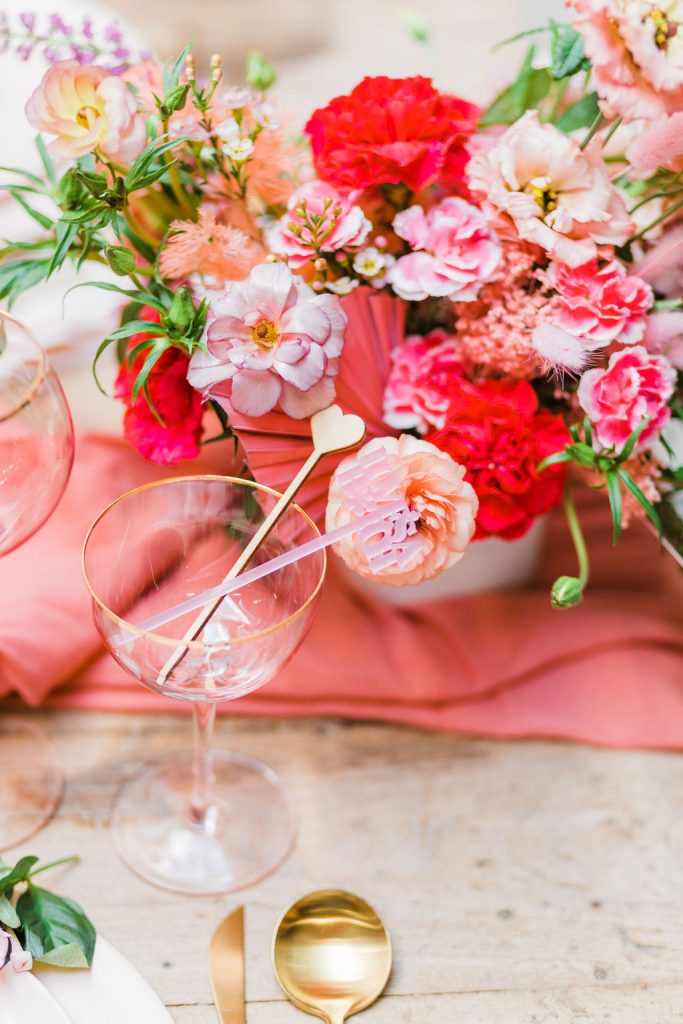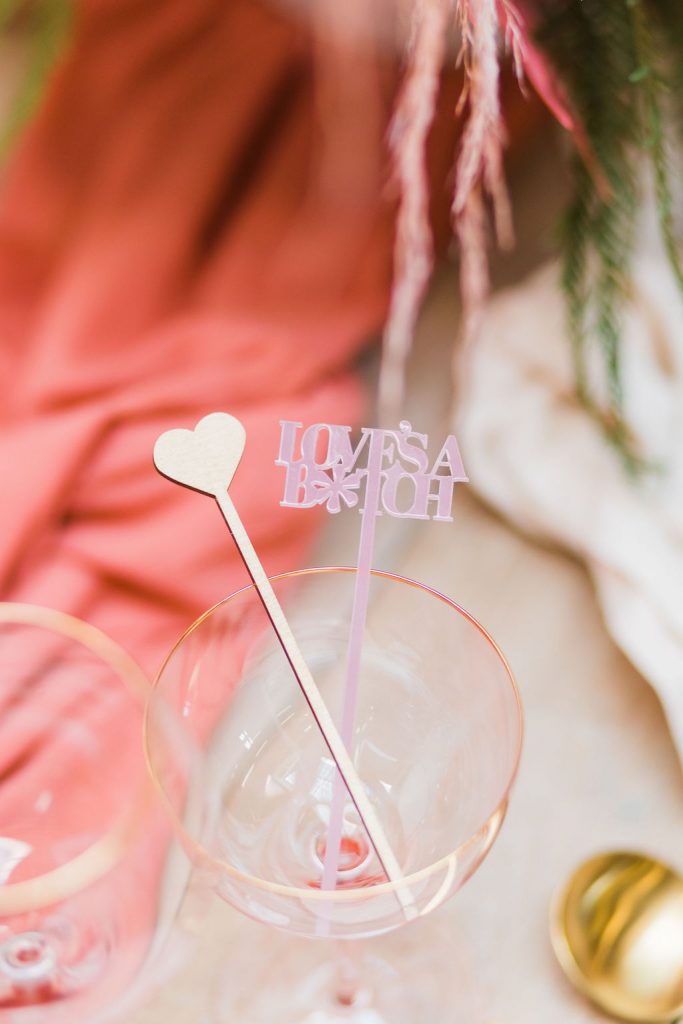 It's all just so pretty together!!! I just picture Andie's pink dress sitting smack in the middle at this table!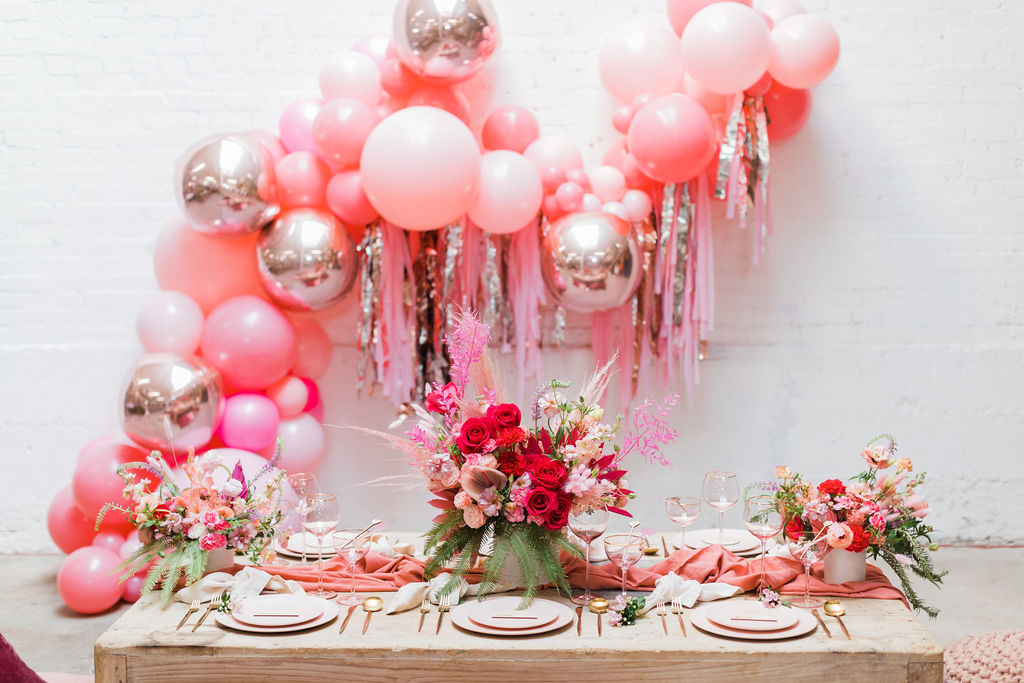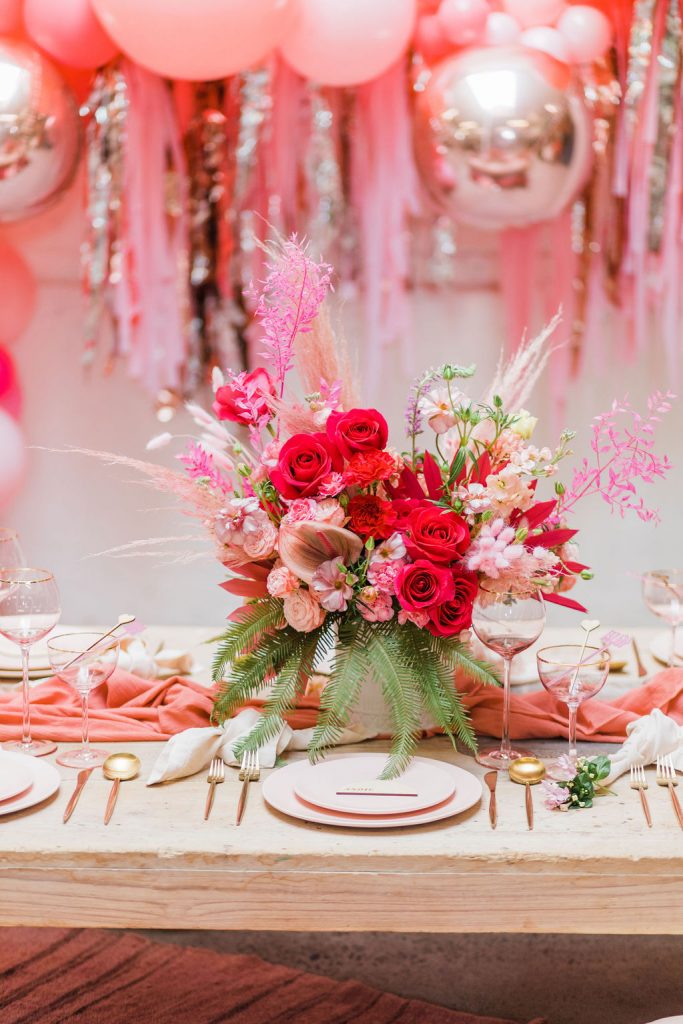 I can't forget about the pretty linens!! That gorgeous runner is from Party Crush Studio and the pale pink napkins from Hostess Haven looked so pretty on our table.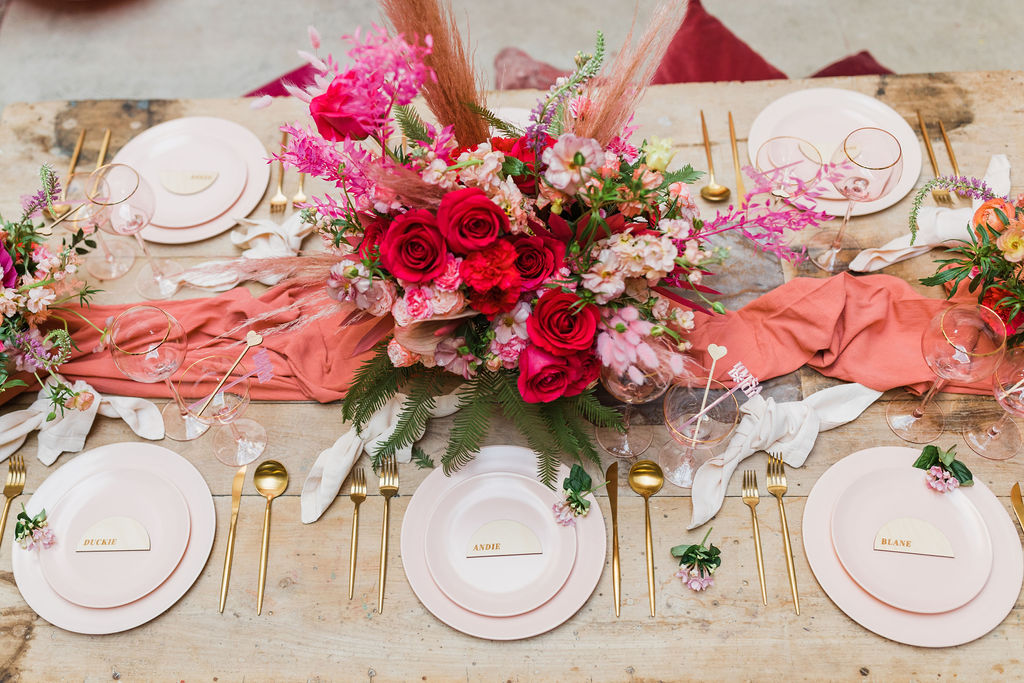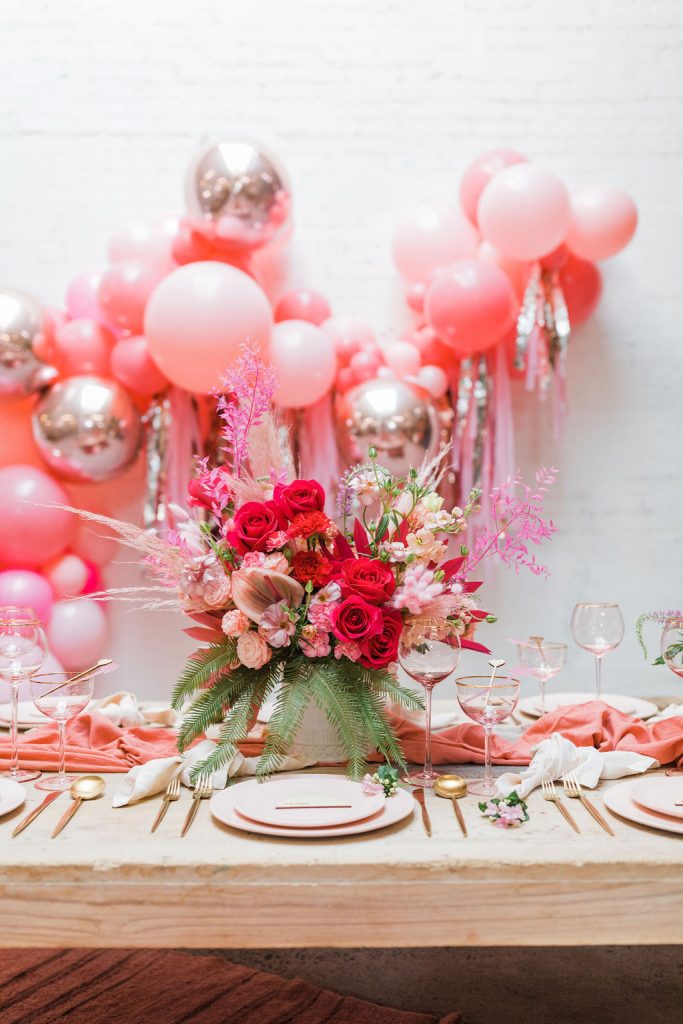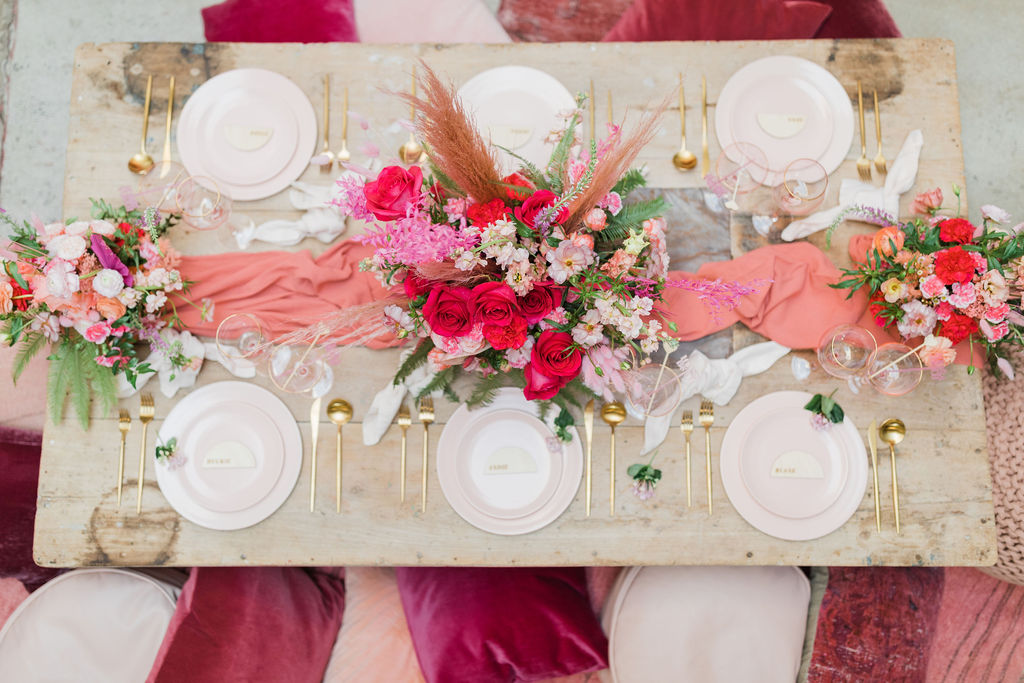 Let's just keep gushing over these Cobra Lily florals and those The Pop Shop balloons mmmmkay?!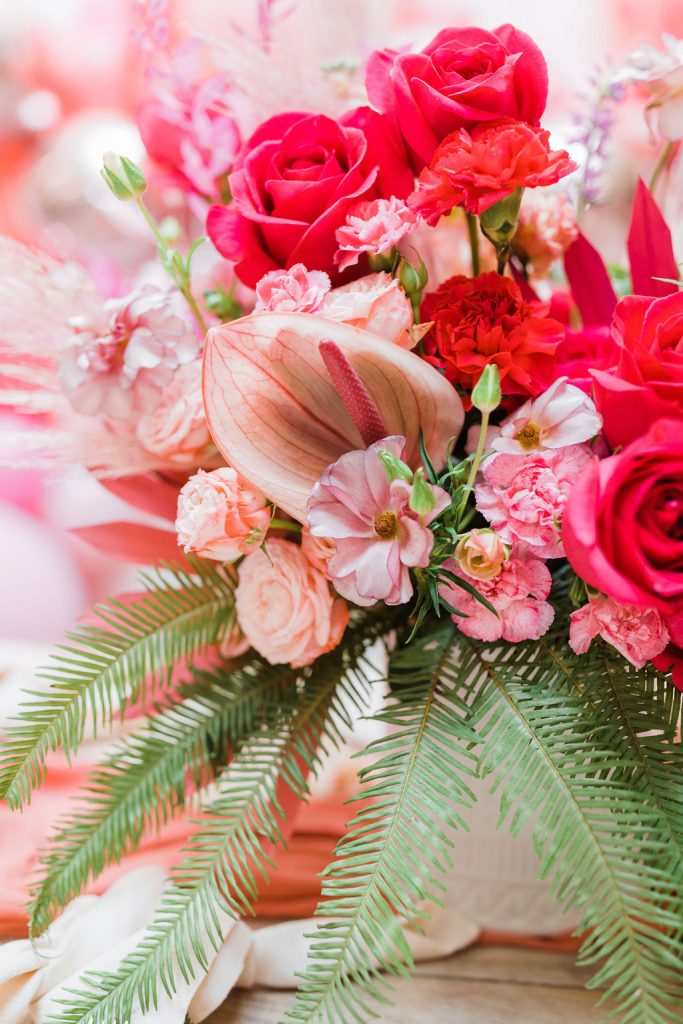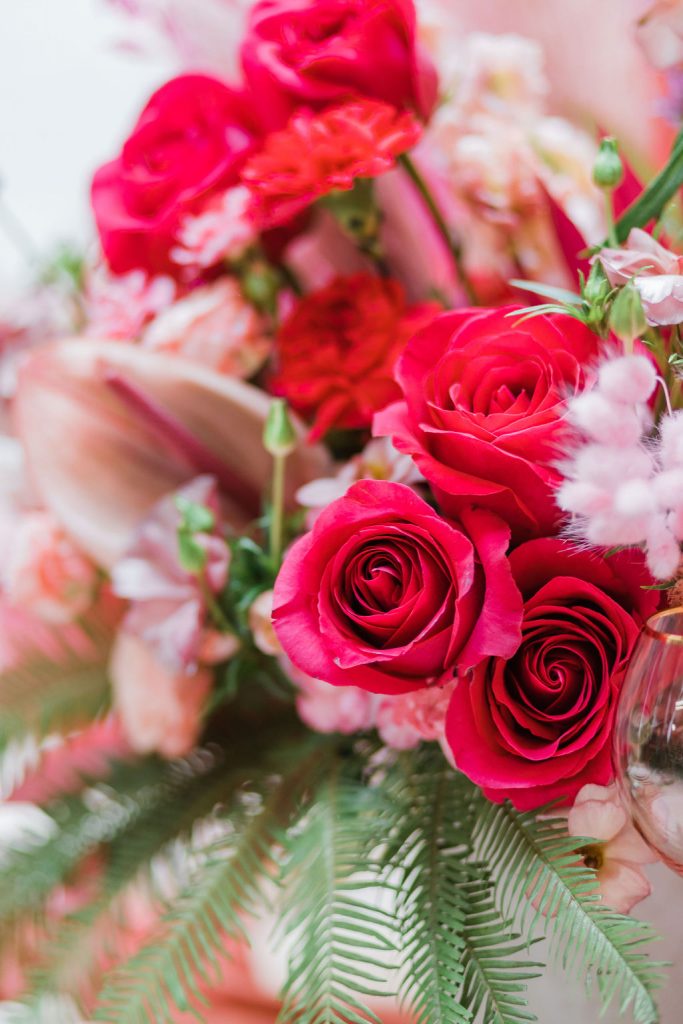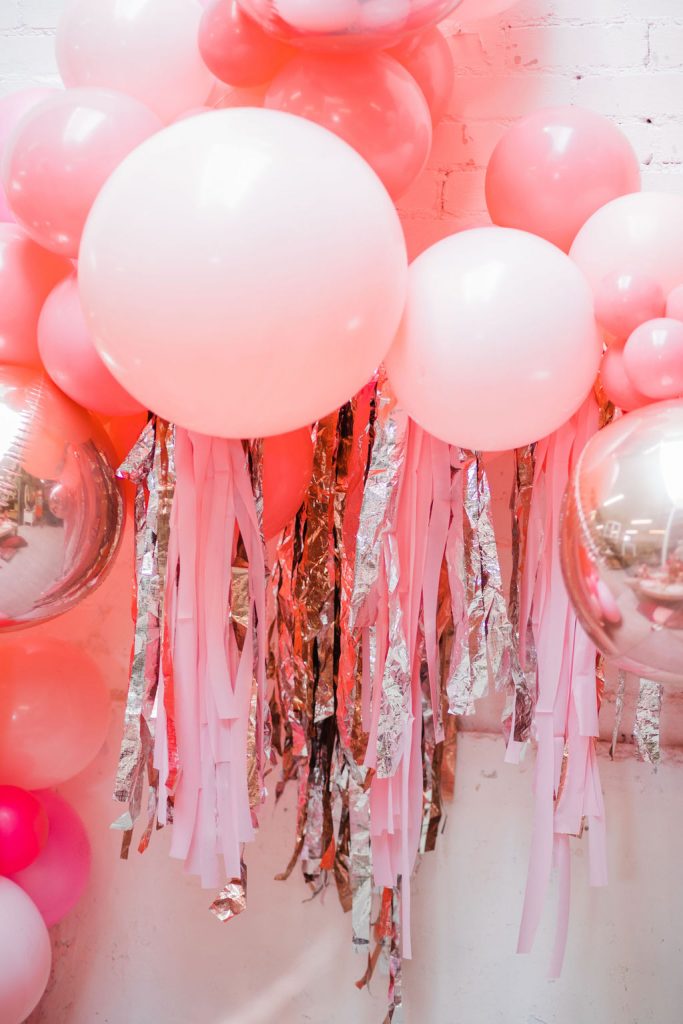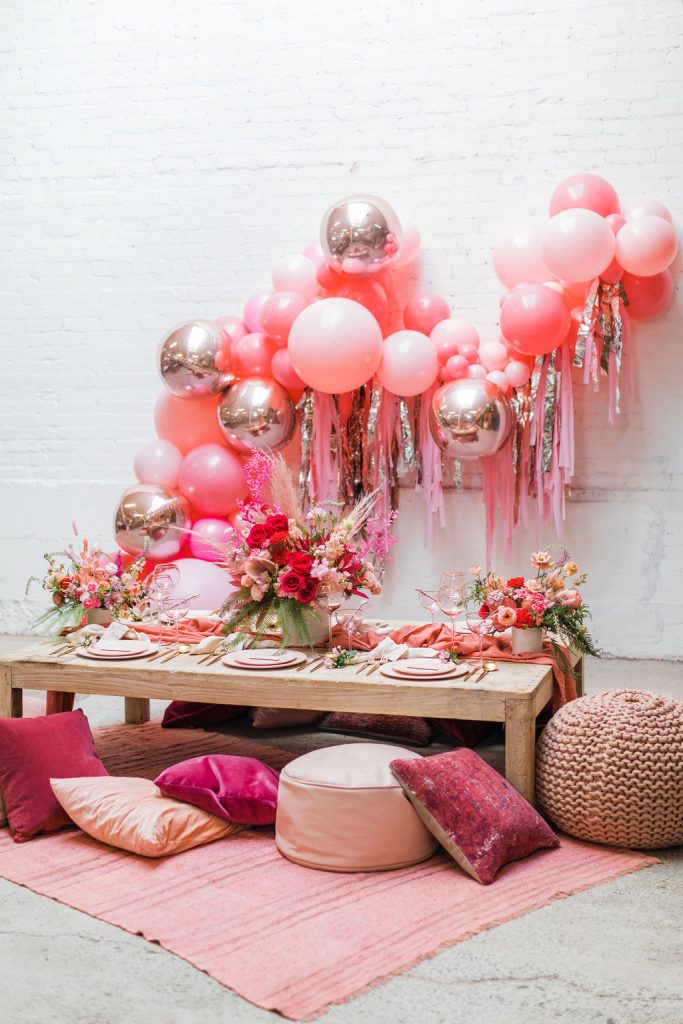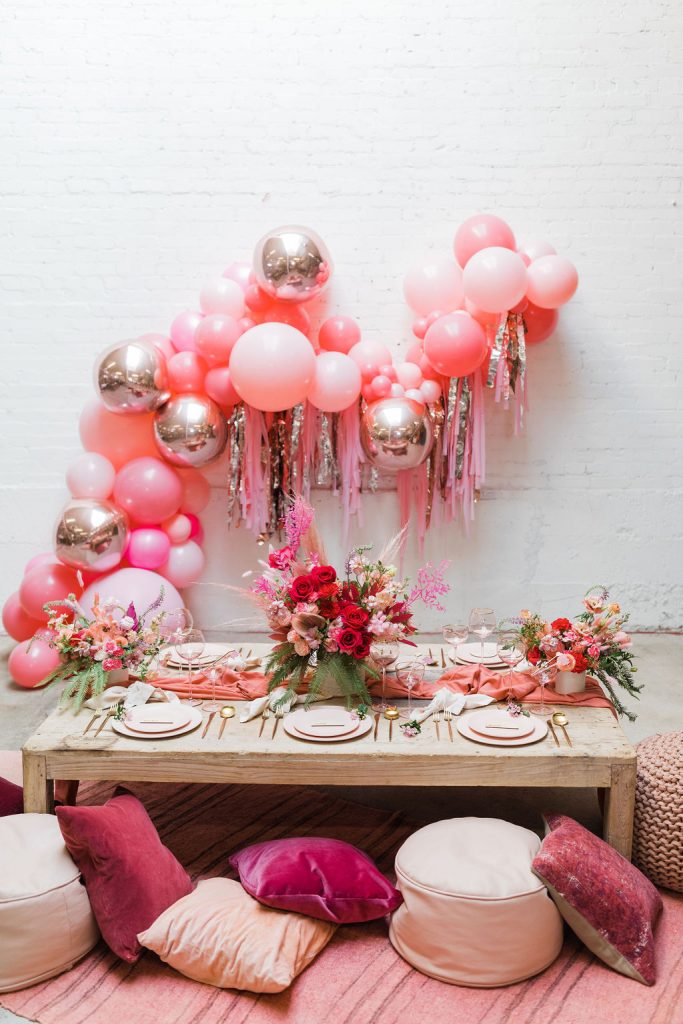 Moving on from the table to the hottest spot, the bar!! And this bar is probably my favorite part of this shoot! The floral arrangements are INSANE!! And yes, I'm absolutely still gushing over Cobra Lily! Our bar from Sweet Salvage Rentals even has a tint of pink to it, can you tell? All the pink vibes!!!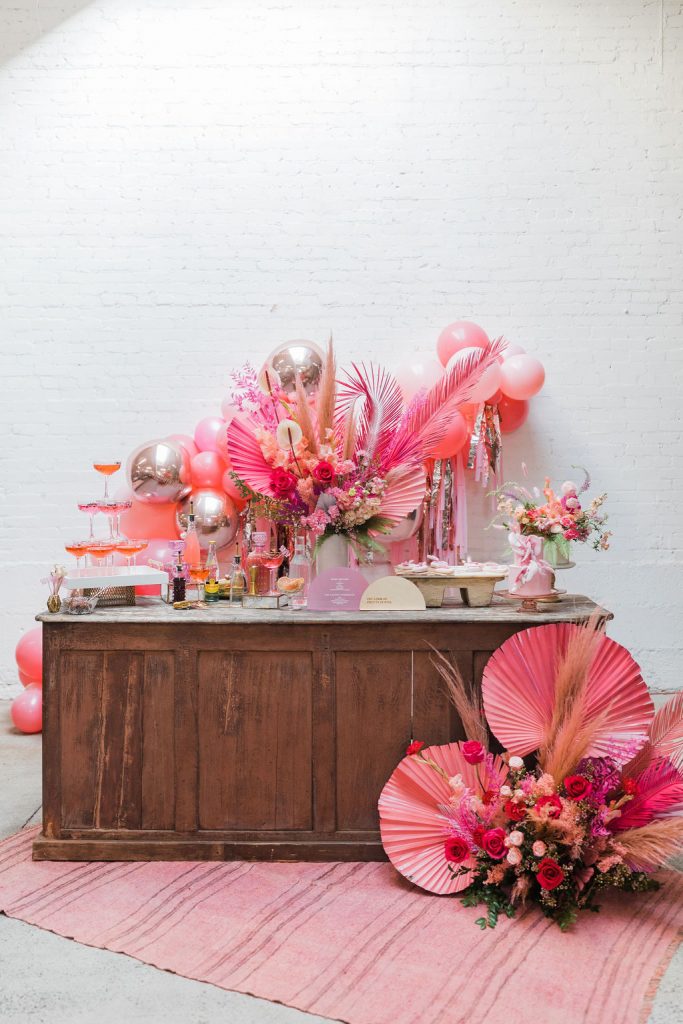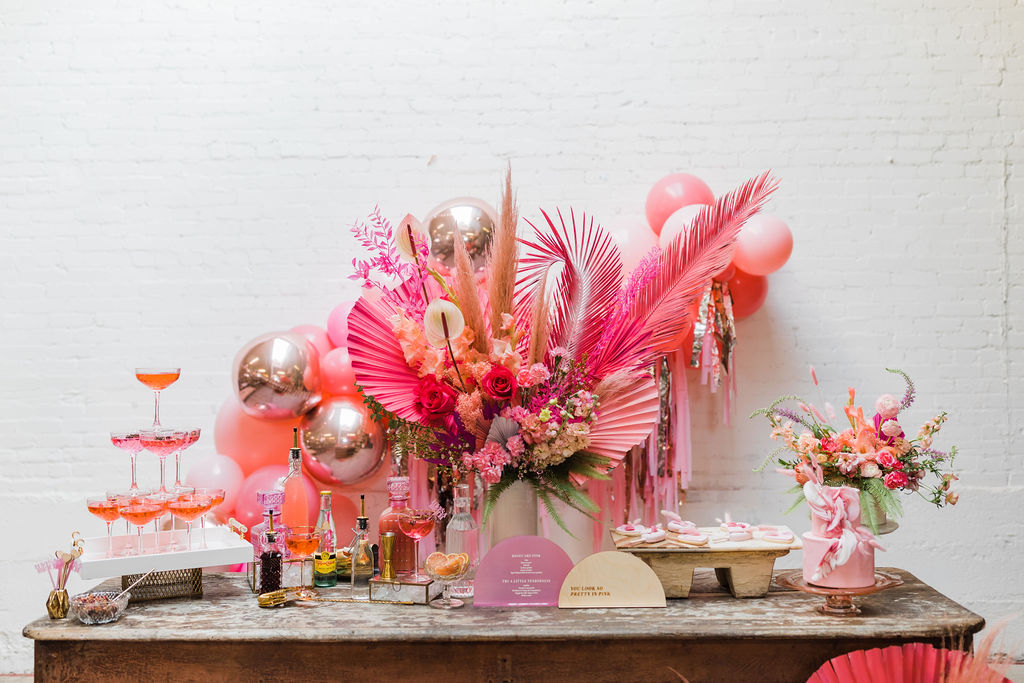 Wowzer!!! That set up is looking GOOD! I love the mixture of signage colors and the shape David and Leanna chose.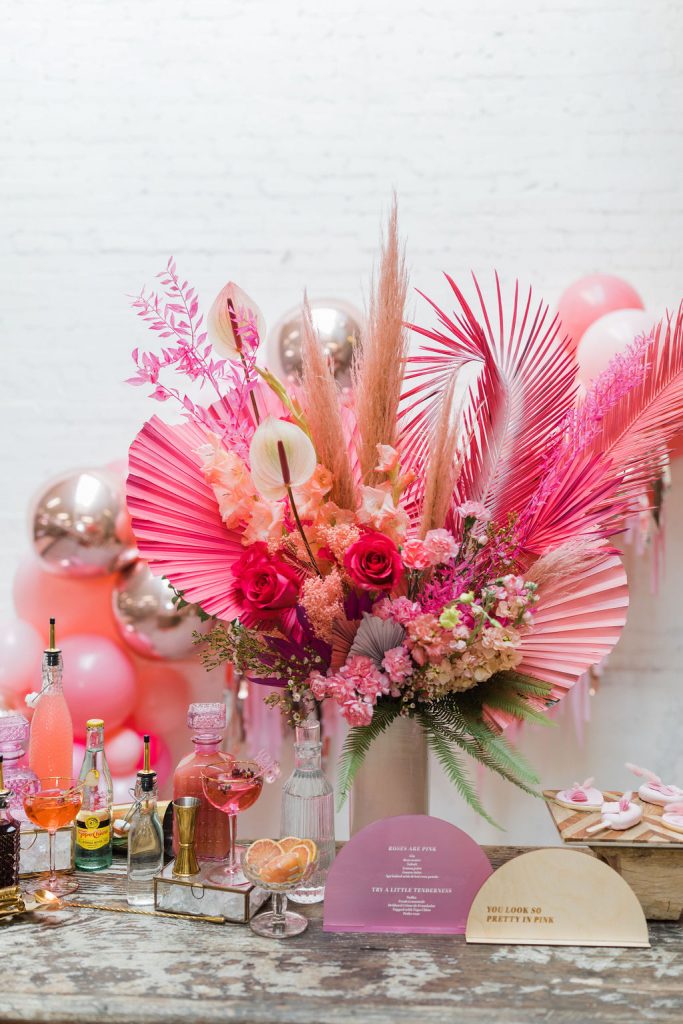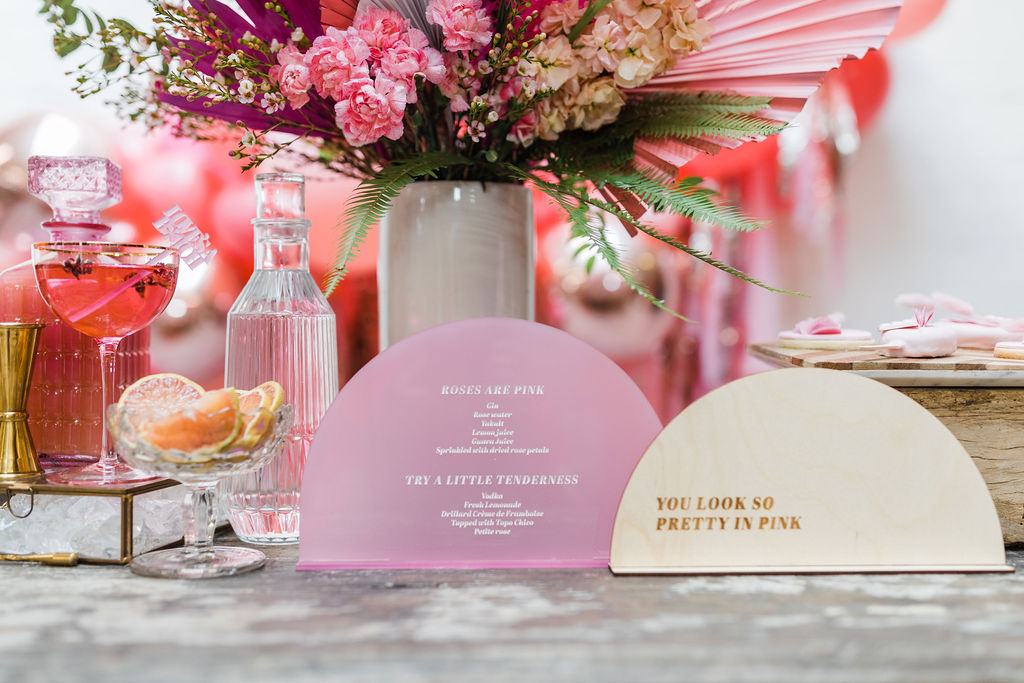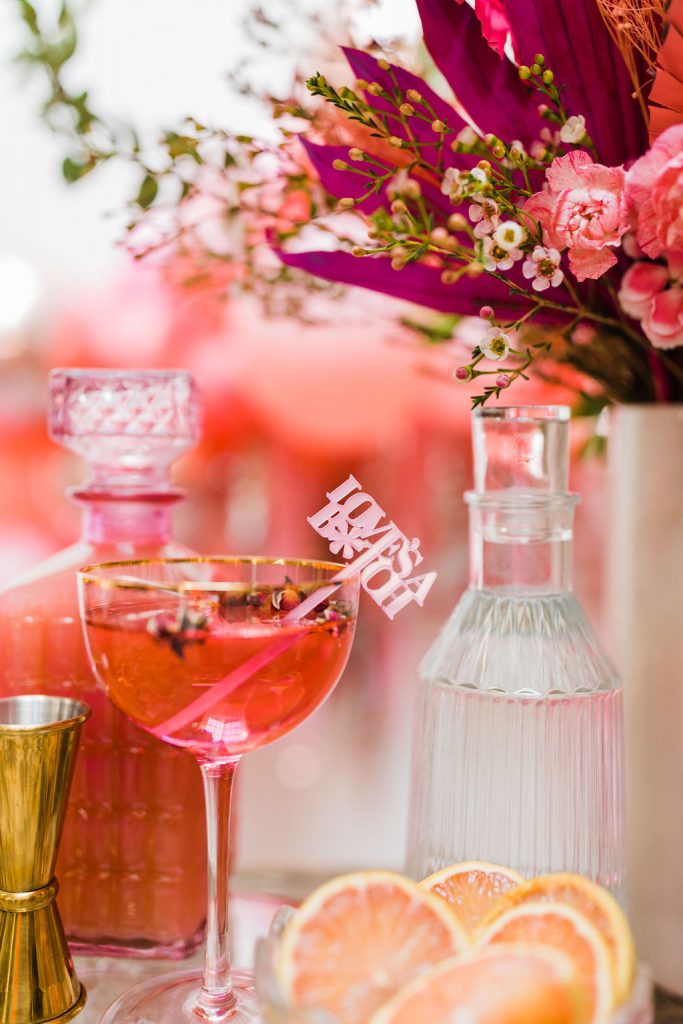 Bottles & Blooms set up our pretty bar, they are the geniuses behind all the drinks you see at our shoots! And let me tell you, being a taste tester at our shoots has become a very serious job for me, hehe… Lucky us, the girls are sharing their recipes!! Keep scrolling…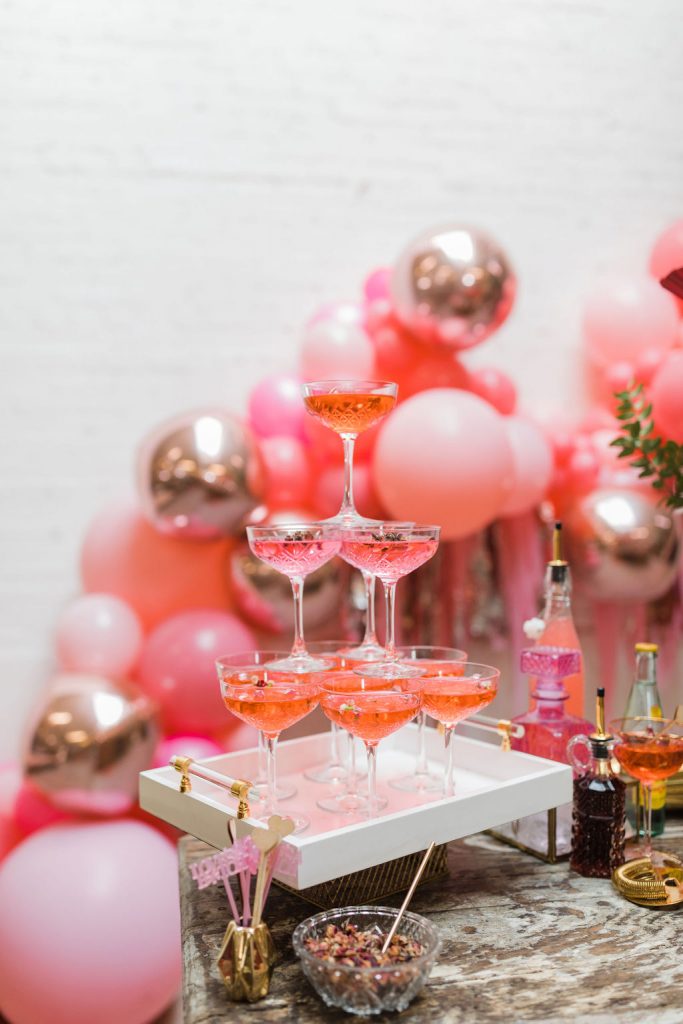 This pretty little drink tower is a mixture of our two recipes! The Roses are Pink and Try a Little Tenderness. So pretty, loving all the PINK!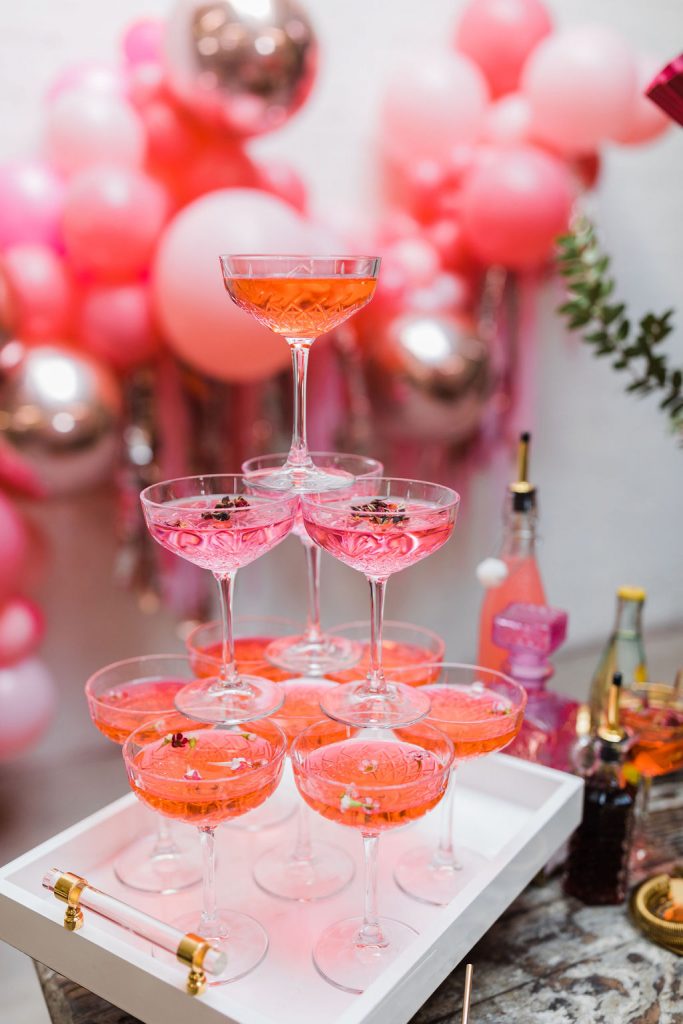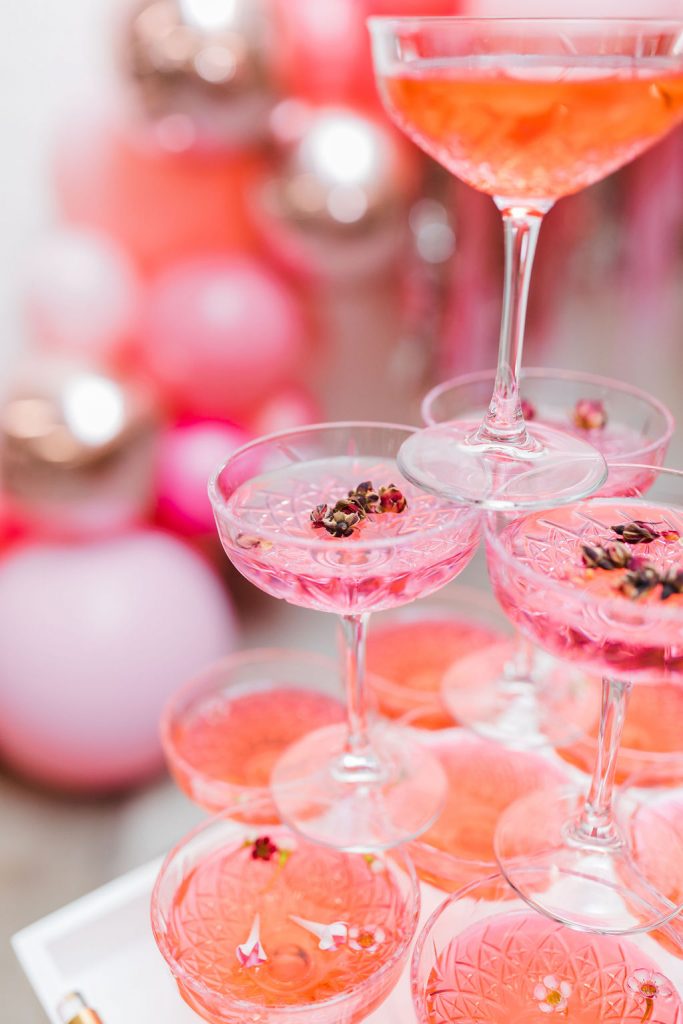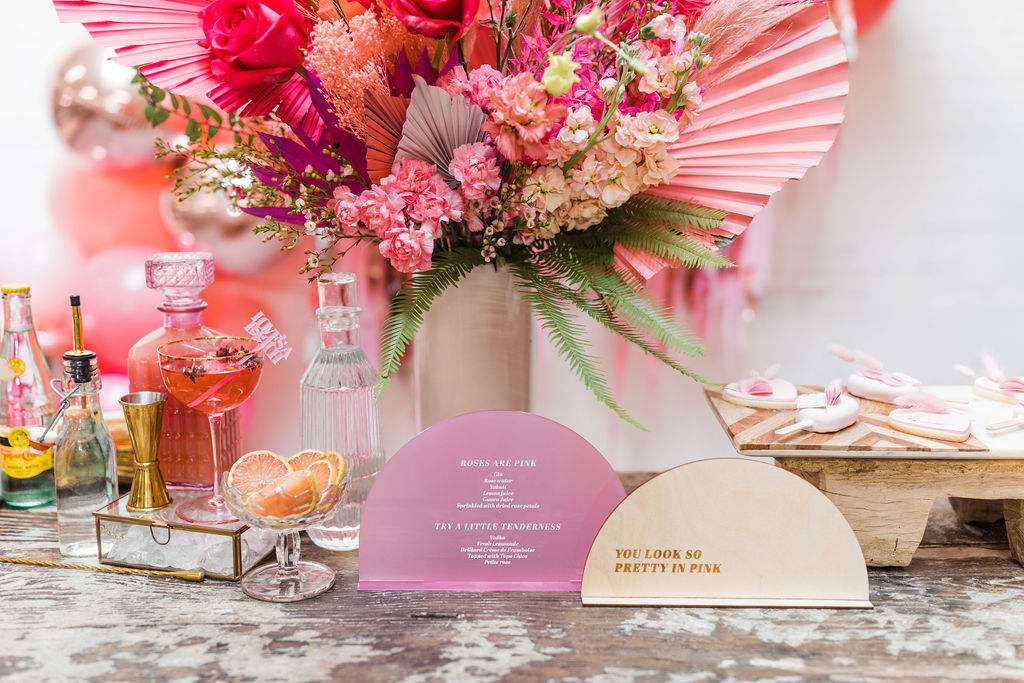 Here are the recipes…
Roses are Pink
Served in a glass on the rocks
In a shaker with ice add:
1.5oz Gin
1oz Rose water
1/2 bottle Yakult
1oz Lemon juice
2oz Guava Juice
Shake hard till combined.
Pour contents into glass.
Sprinkle with dried rose petals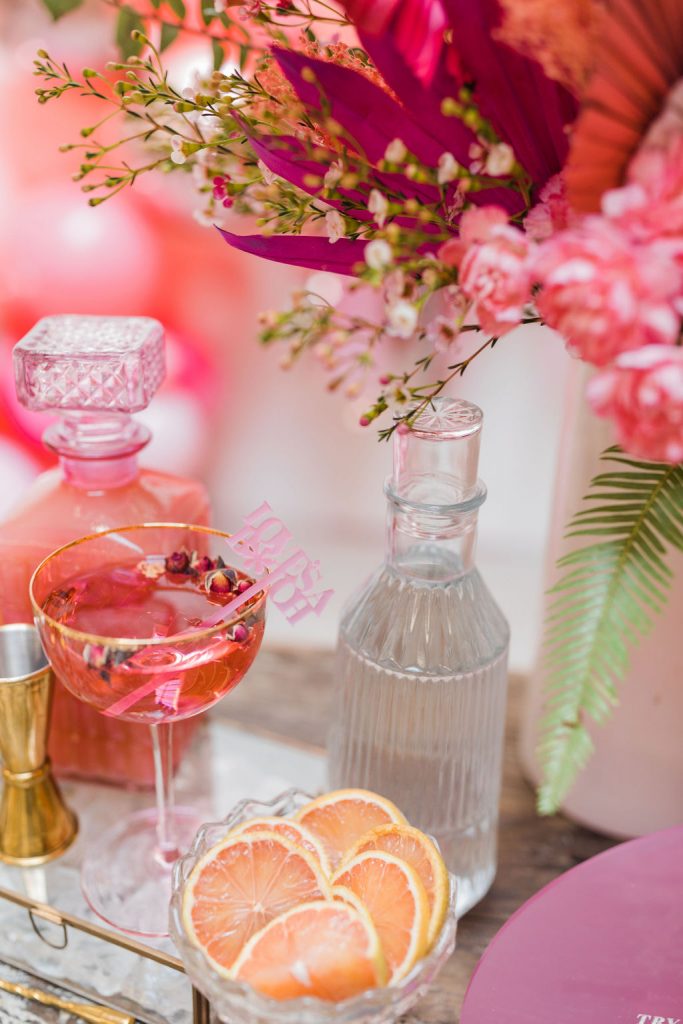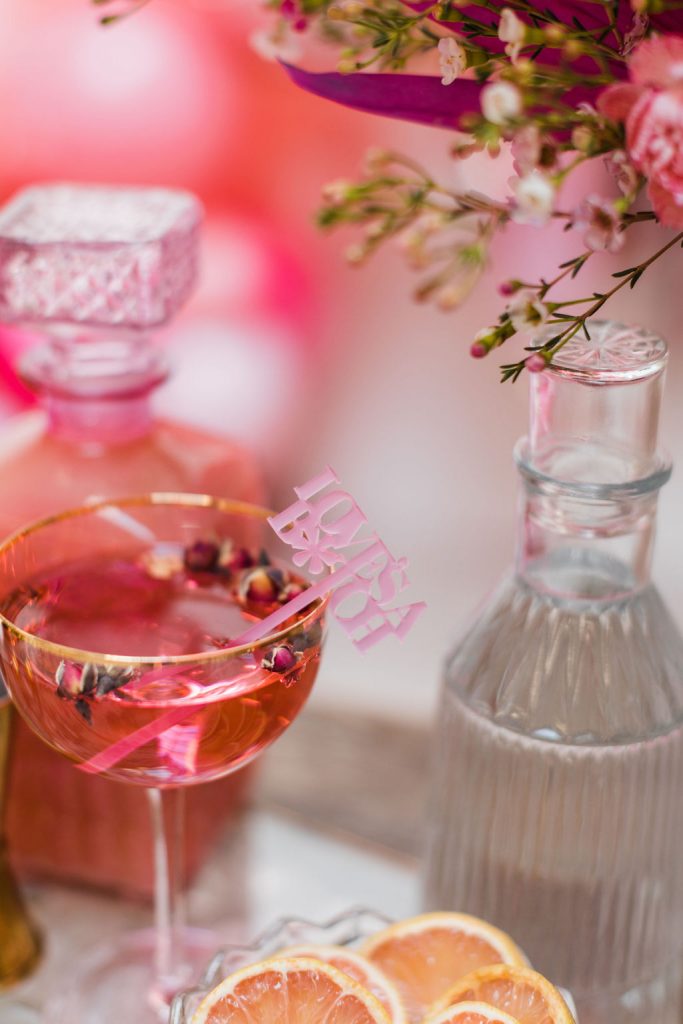 And the second recipe…
Try a Little Tenderness
Served in a coupe up
In a shaker with ice add:
1.5oz Vodka
2oz Fresh Lemonade
1oz Drillard Crème de Framboise
Shake hard till combined.
Strain contents into coupe
Top 2oz with Topo Chico
Garnish with petite pink edible flowers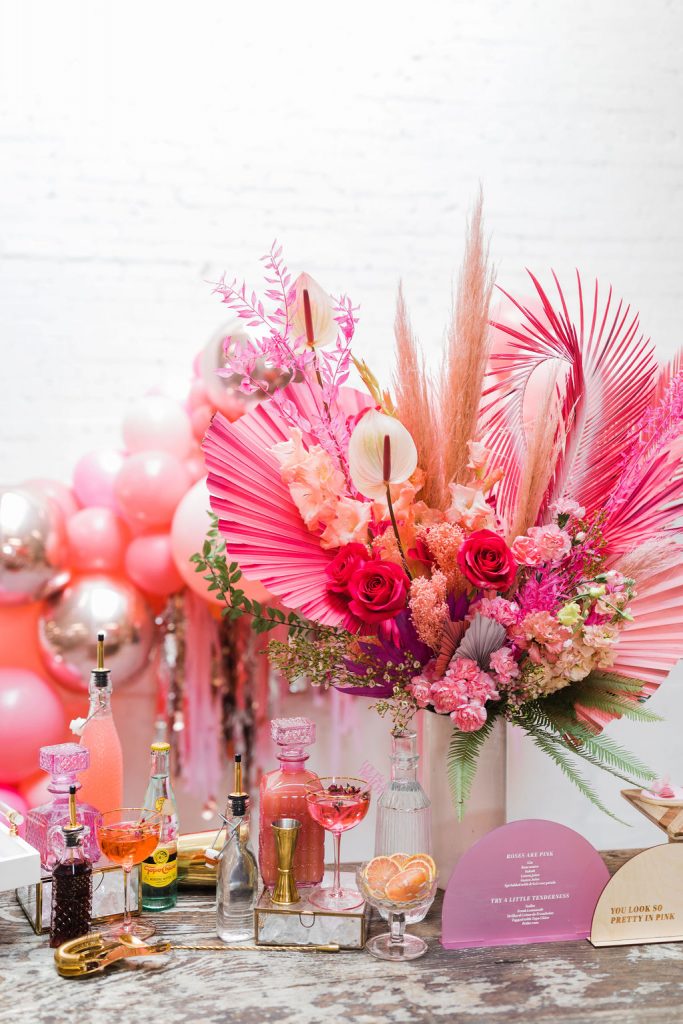 More pretty florals because you know I'm head over heels…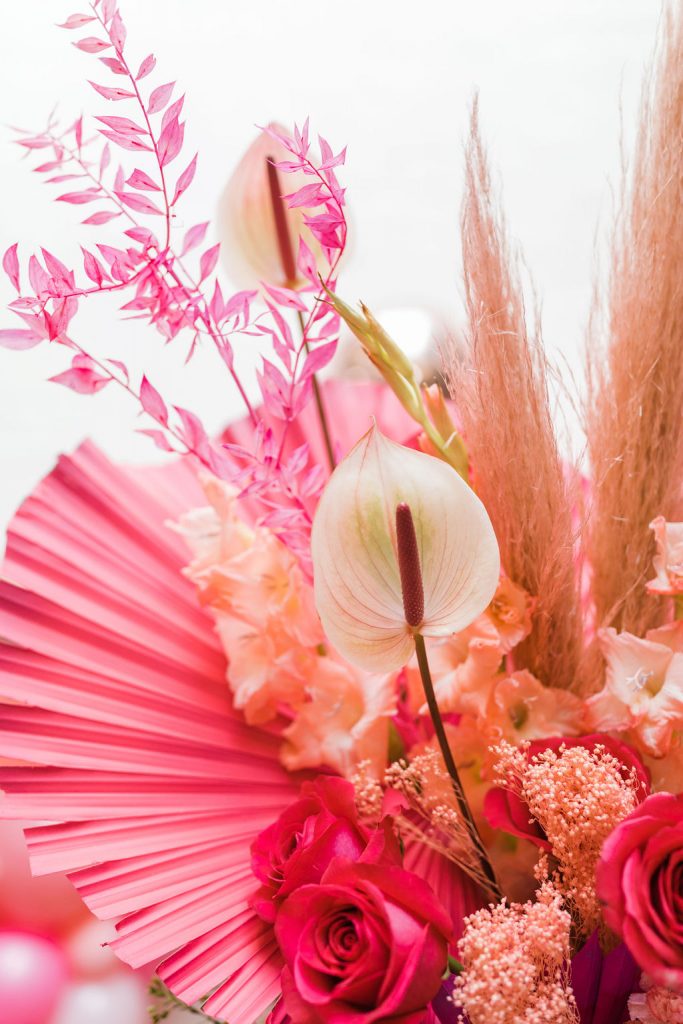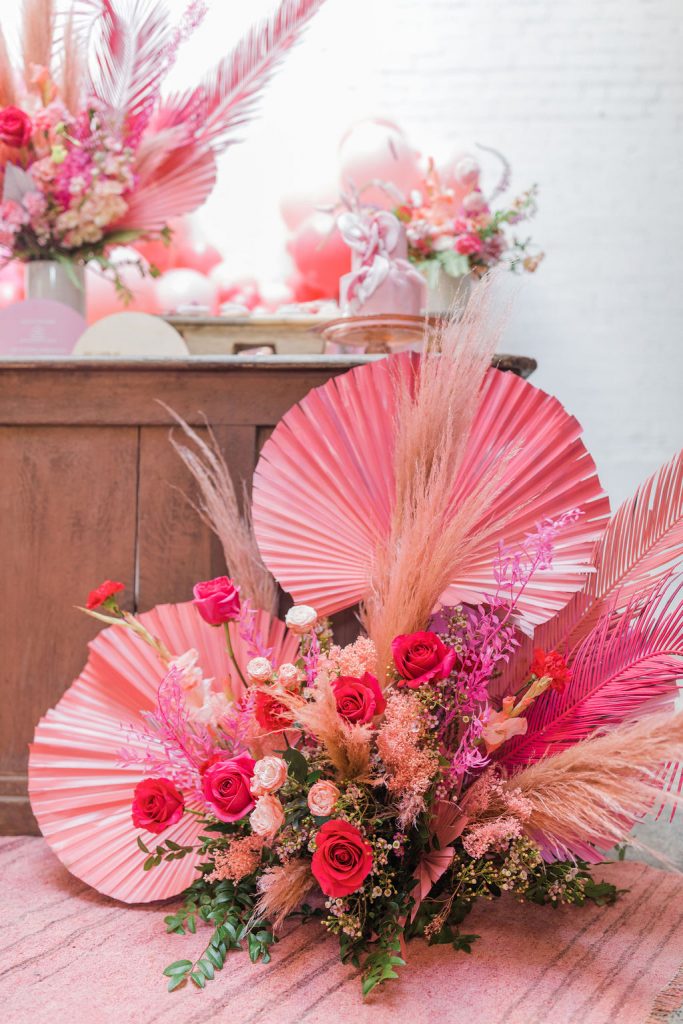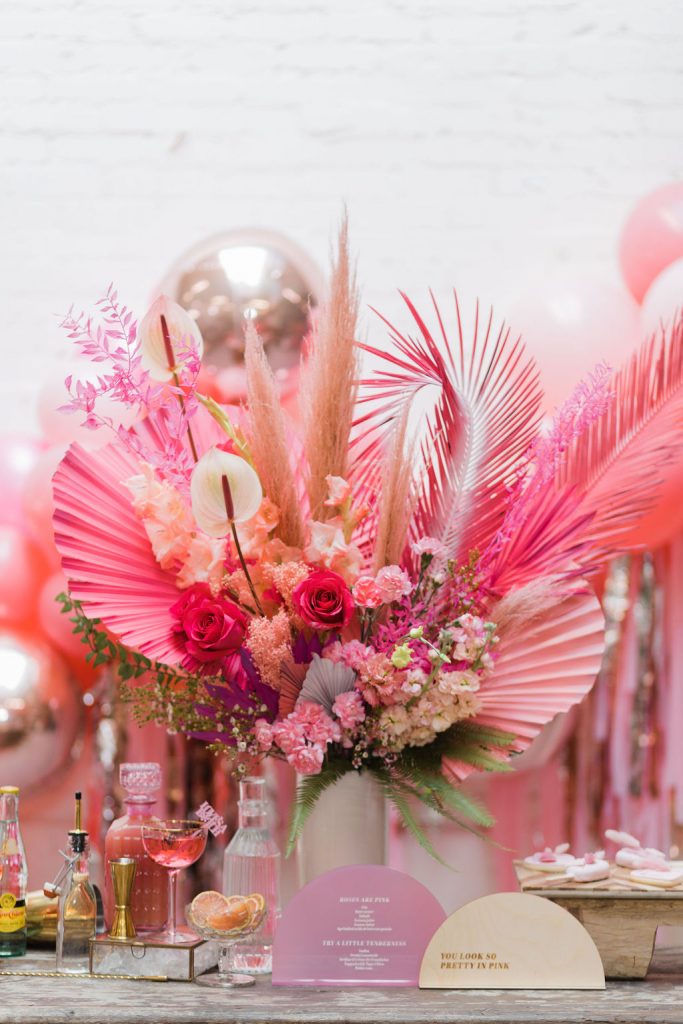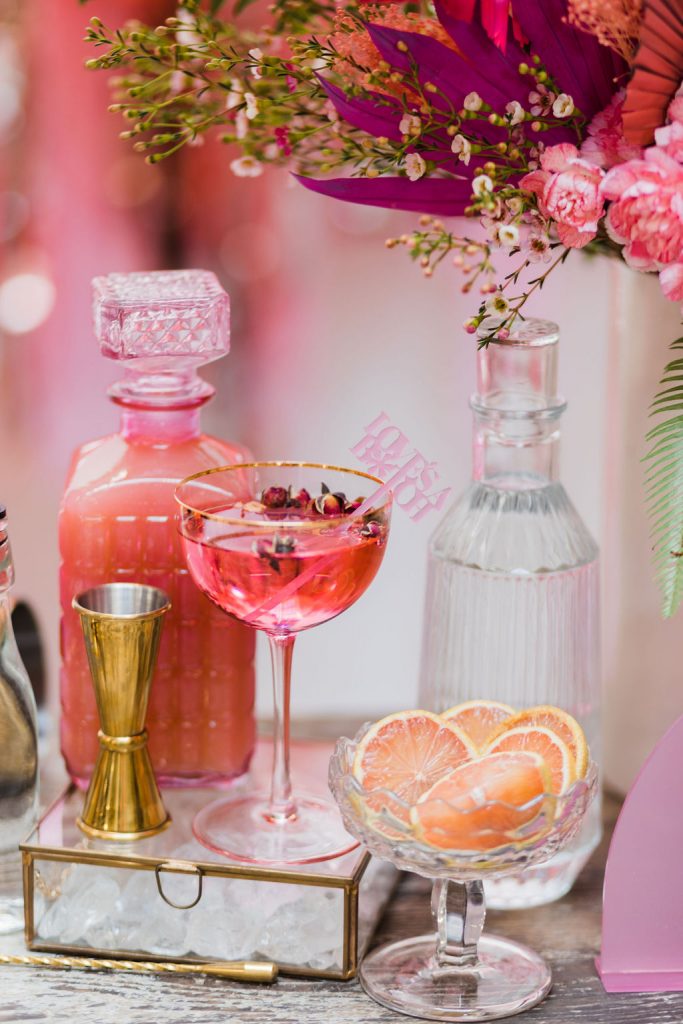 This bar didn't just have drinks, it also had desserts!!! Now that's my kind of bar! Sugar Crush Sweets brought the prettiest and pinkest desserts I ever did see! The cake is one for the books! I'm not sure your pink-loving hearts can handle it…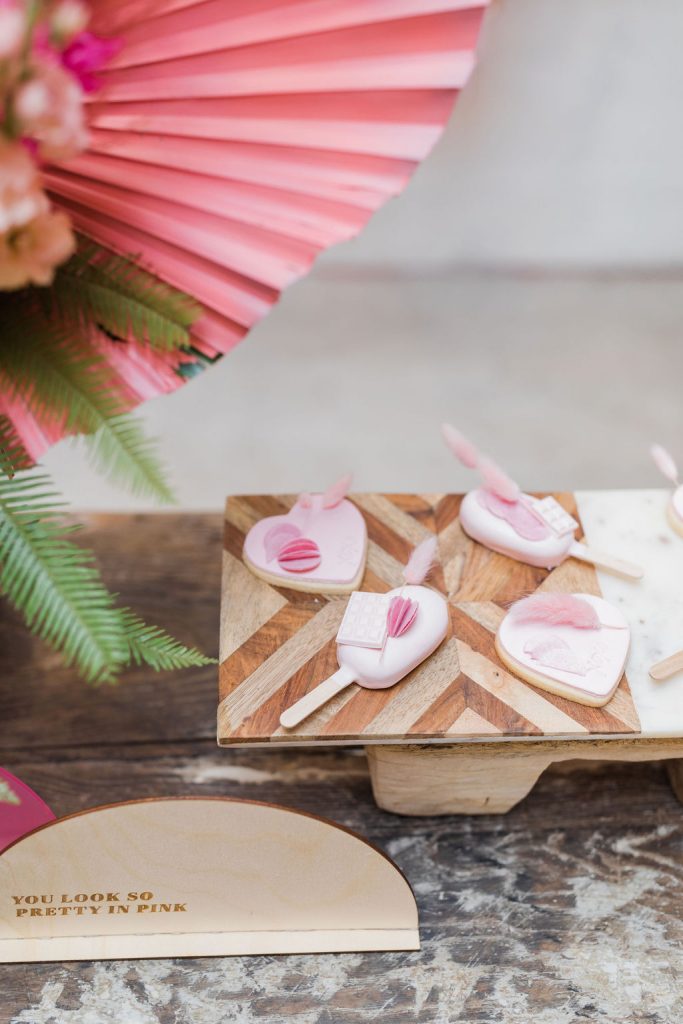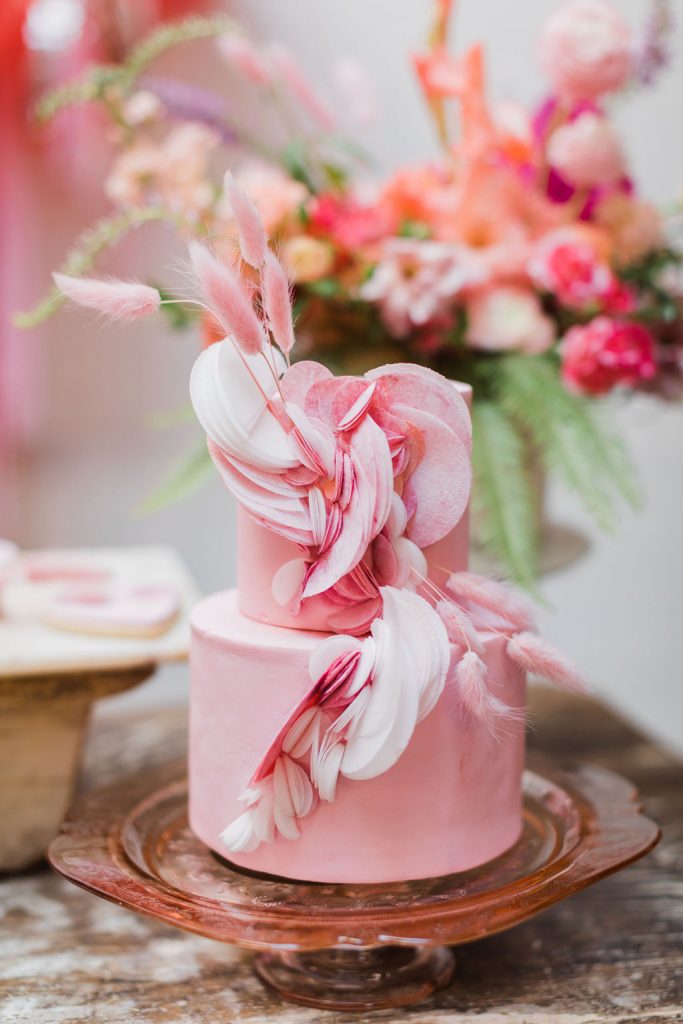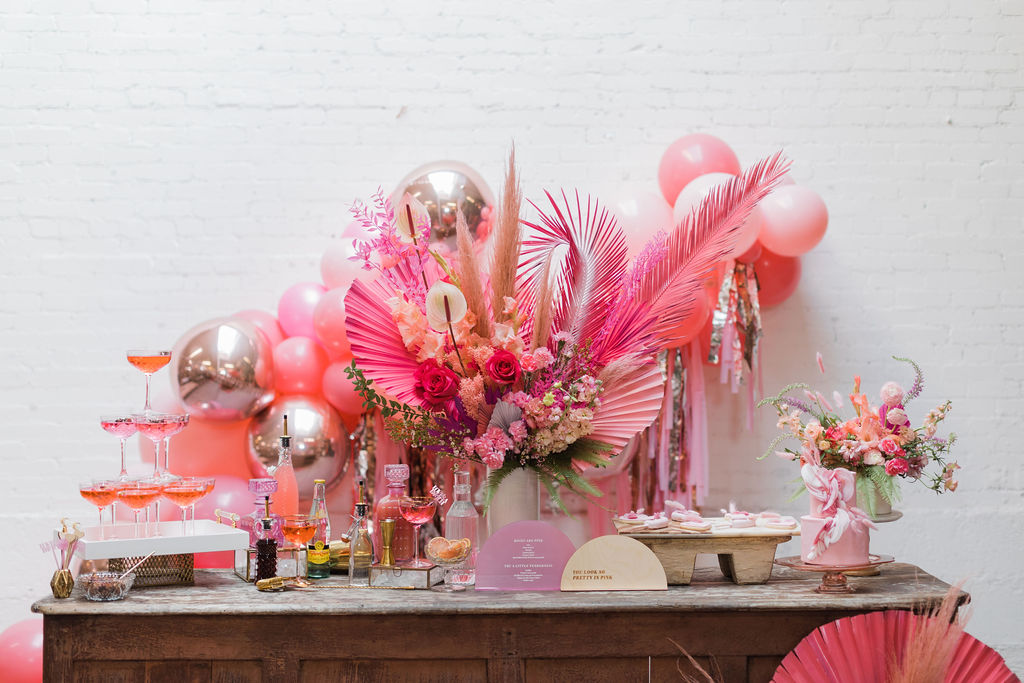 Serving up ALL THE PINK!!!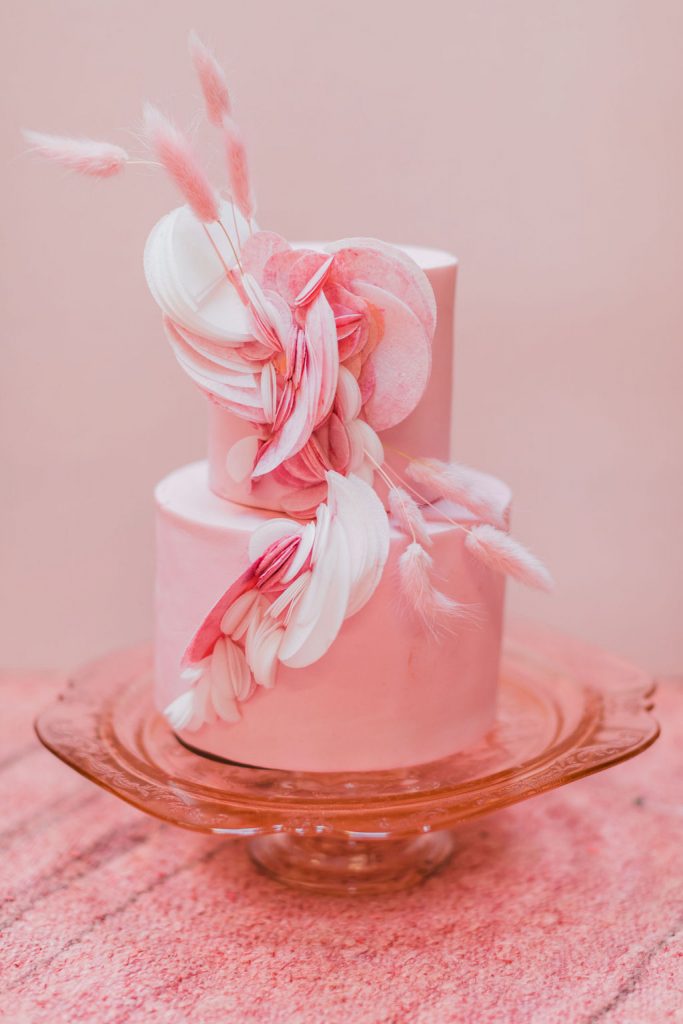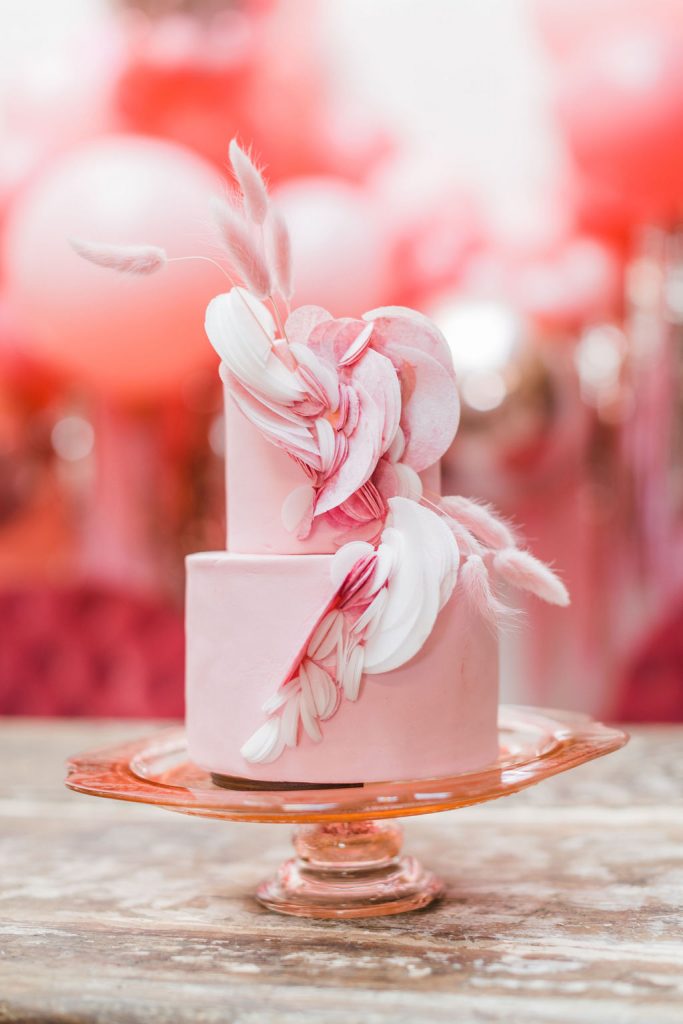 These desserts and this quote!!!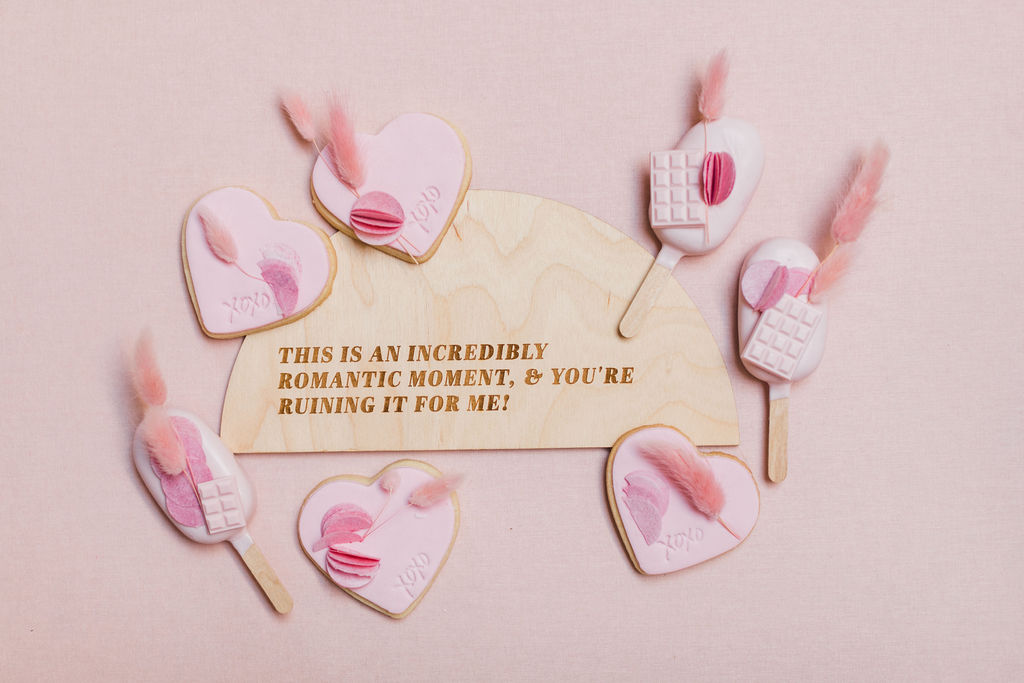 I'll cheers to that, especially with something this pretty!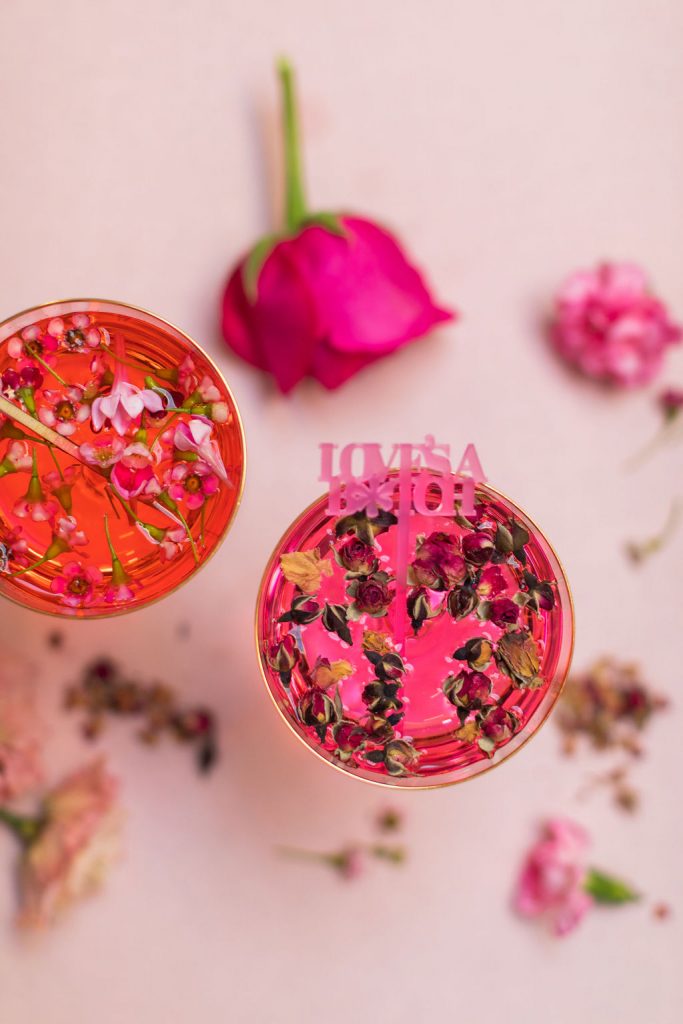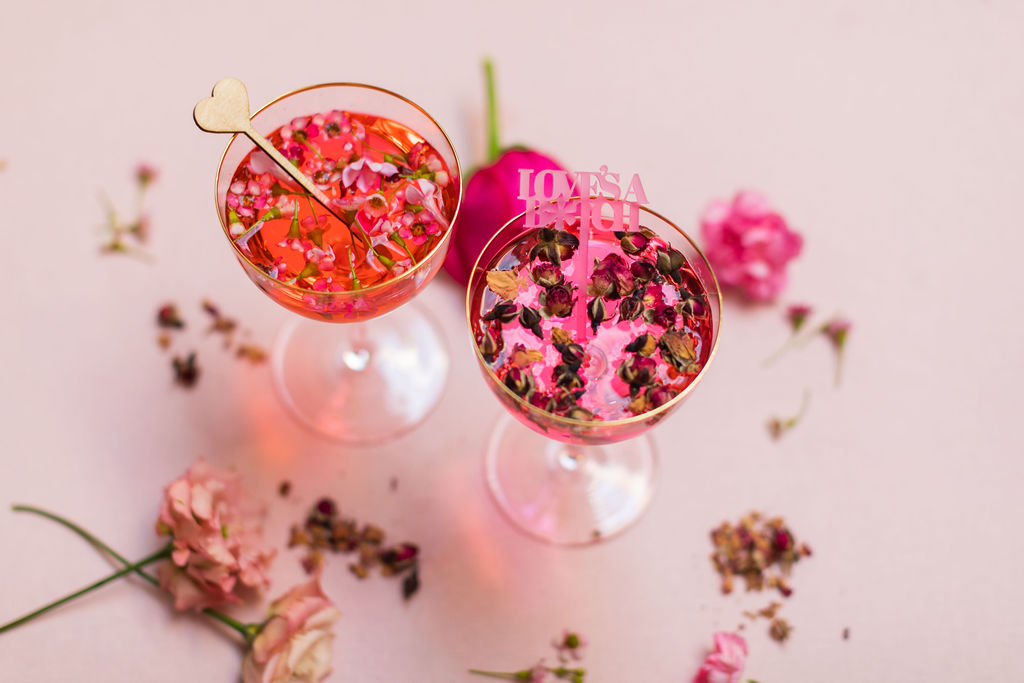 Last but not least, the lounge. Because when you have the prettiest pink velvet chairs, you make a lounge with them!! They are sitting pretty and if I was having this party I'd be sitting in them all night with a cocktail in hand! Thank you Sweet Salvage Rentals for always having the dreamiest pieces for our events and shoots!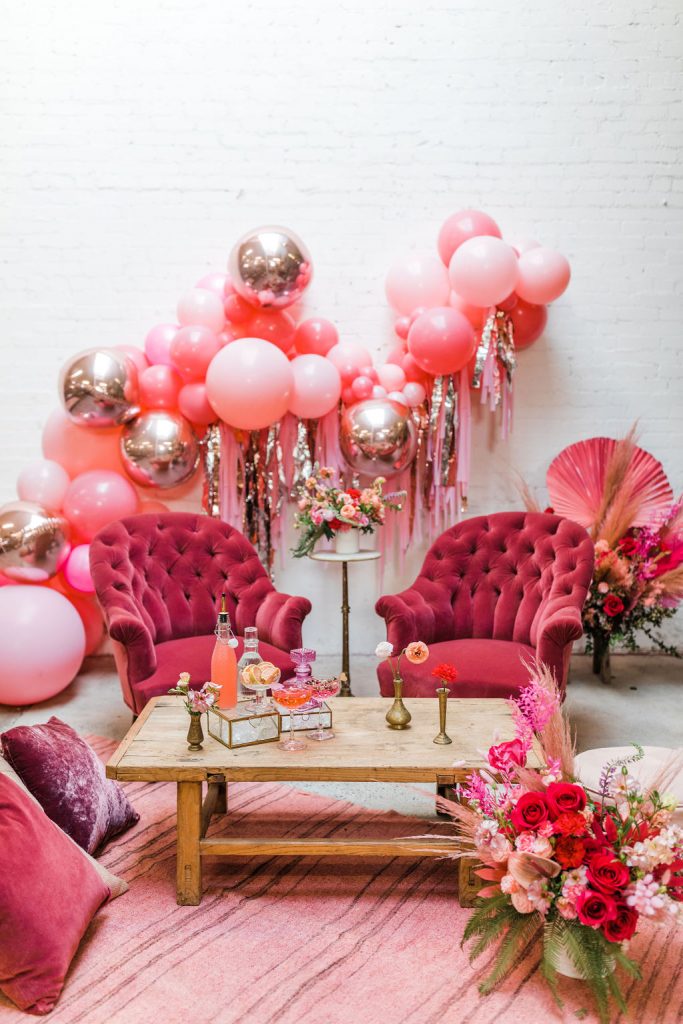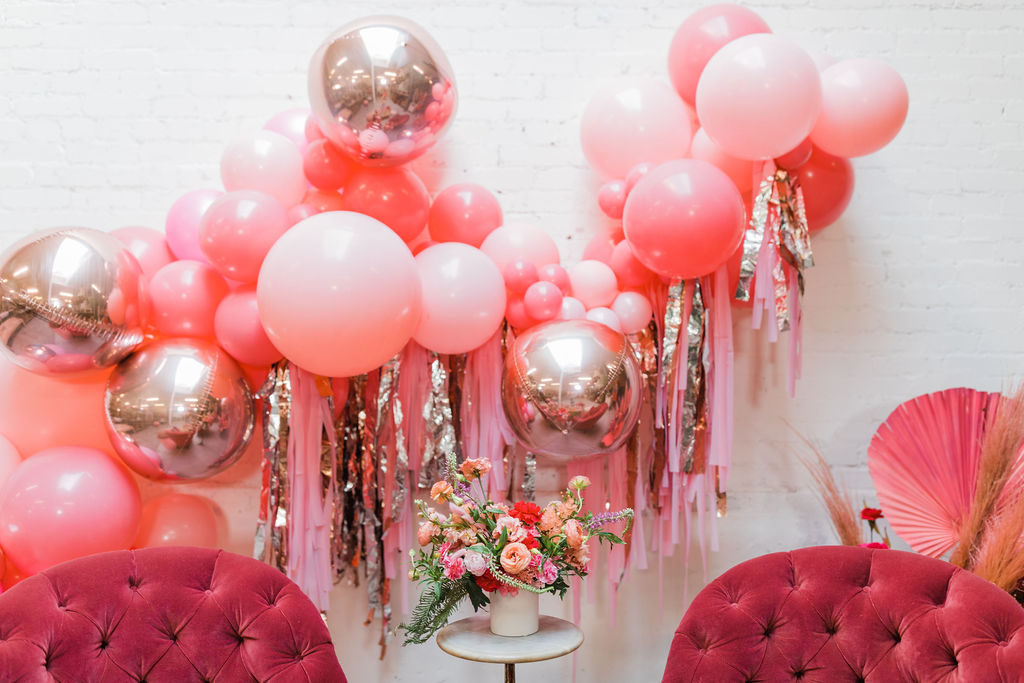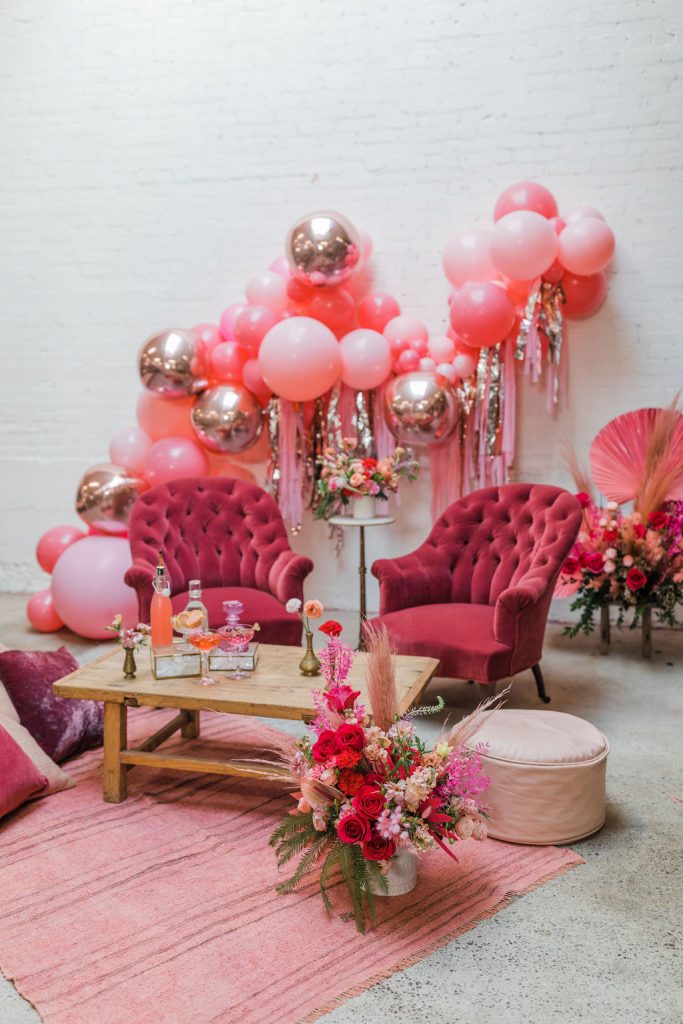 Simple bud vases and tasty cocktails, that's the perfect coffee table!!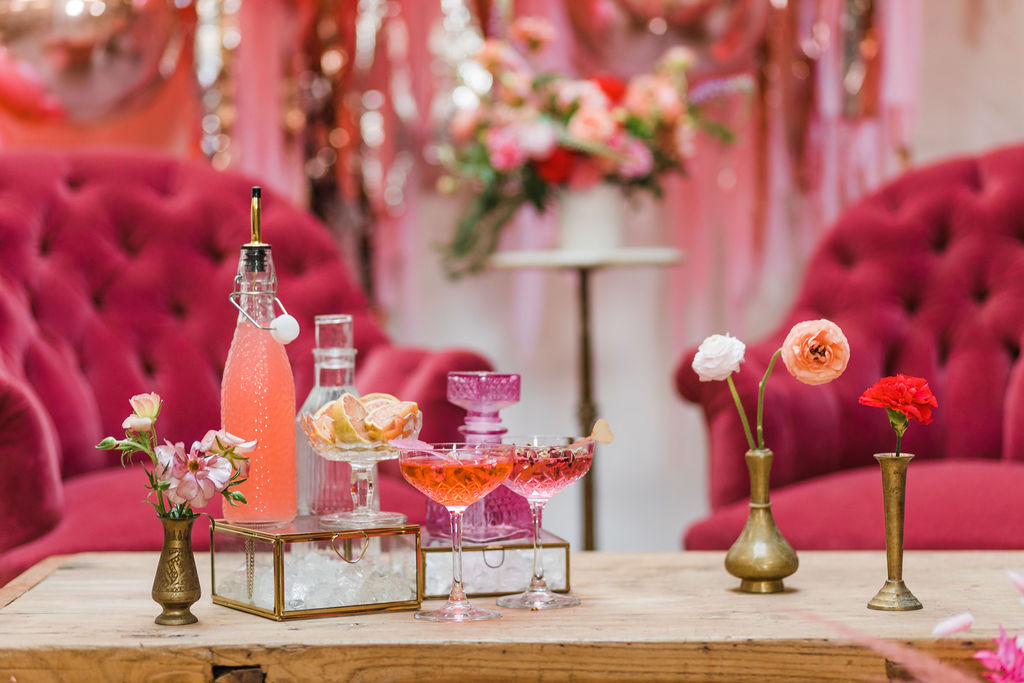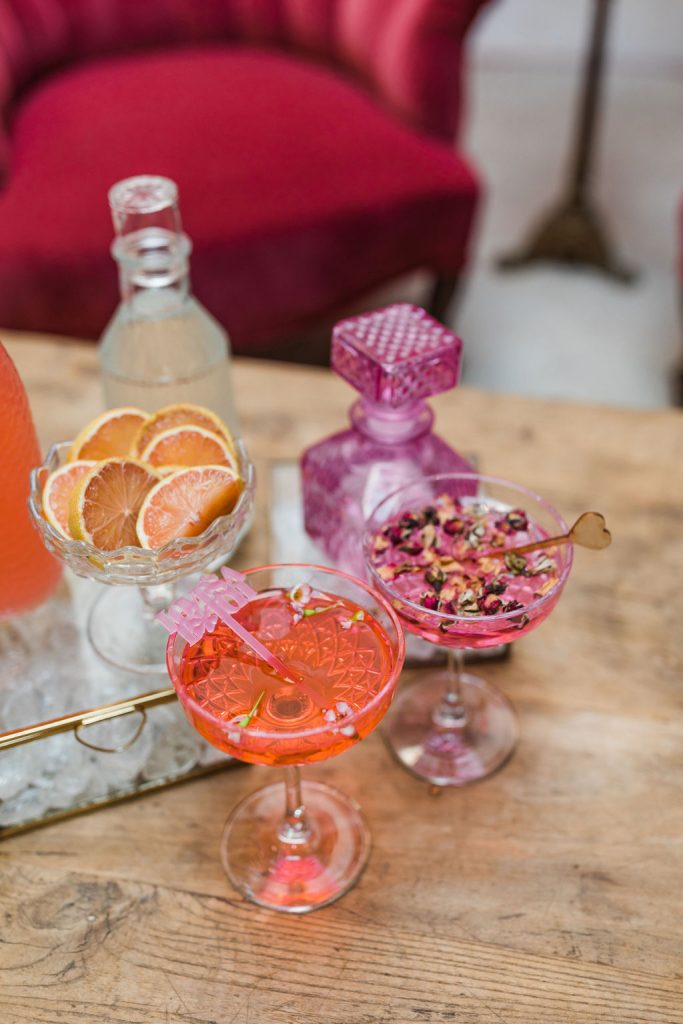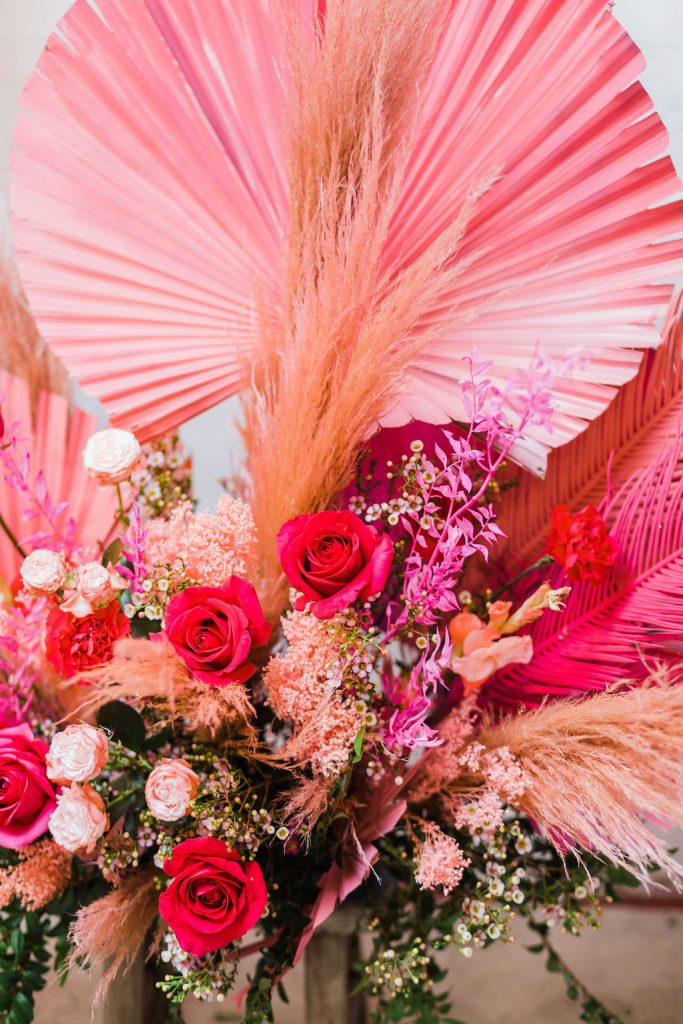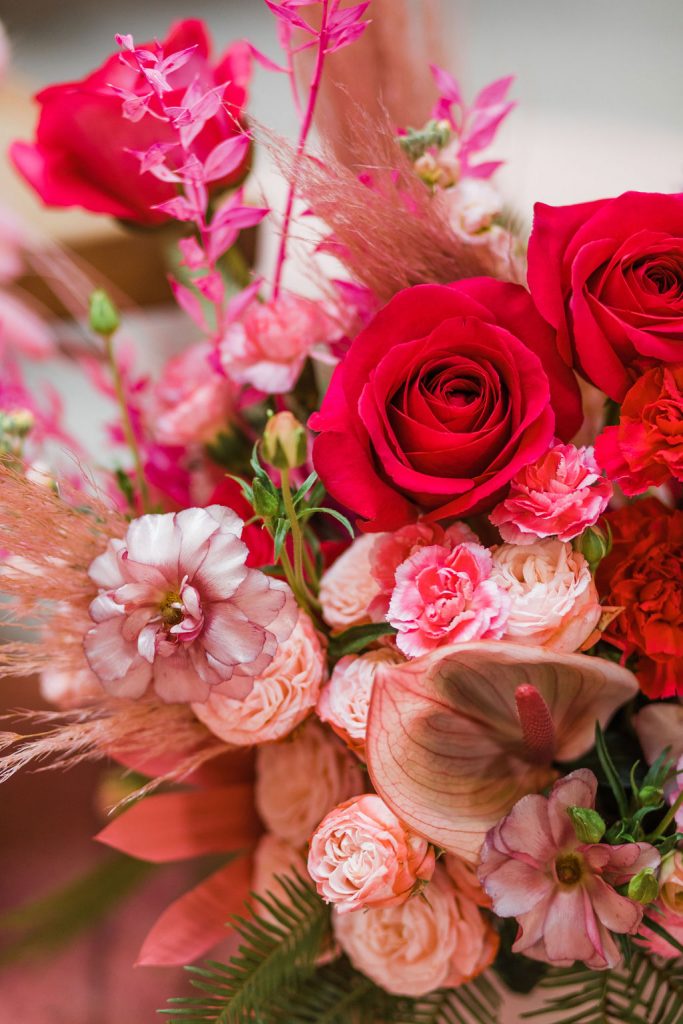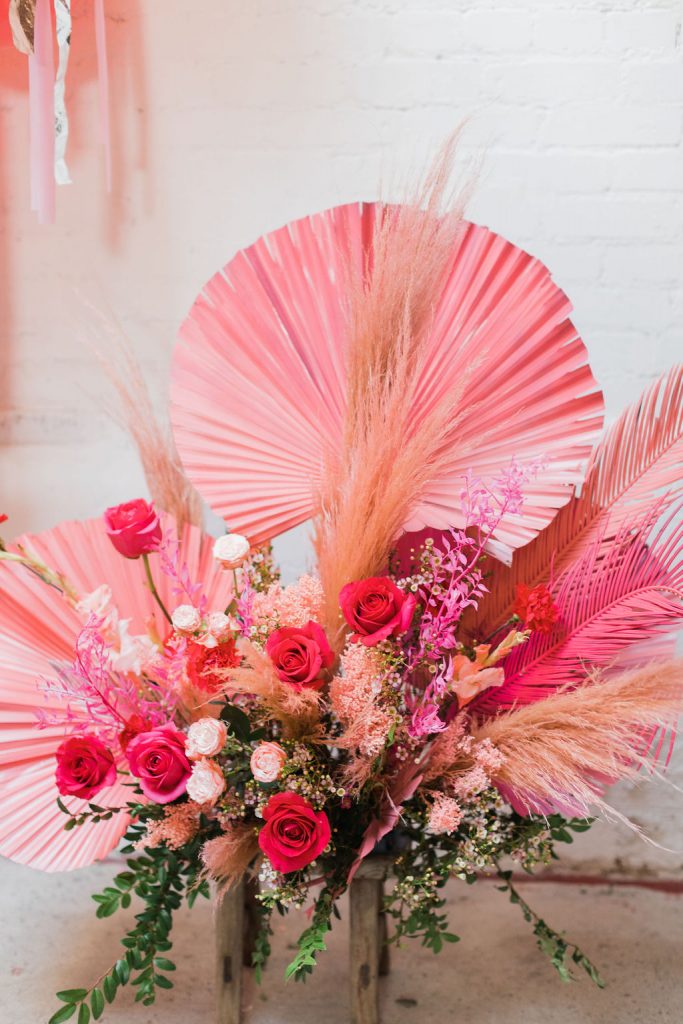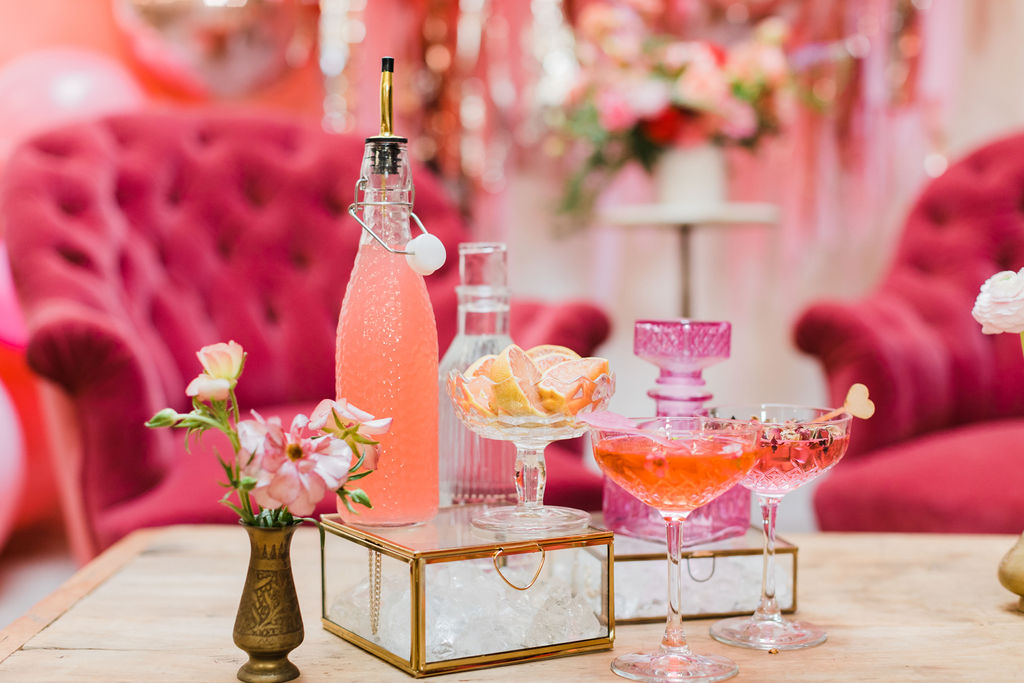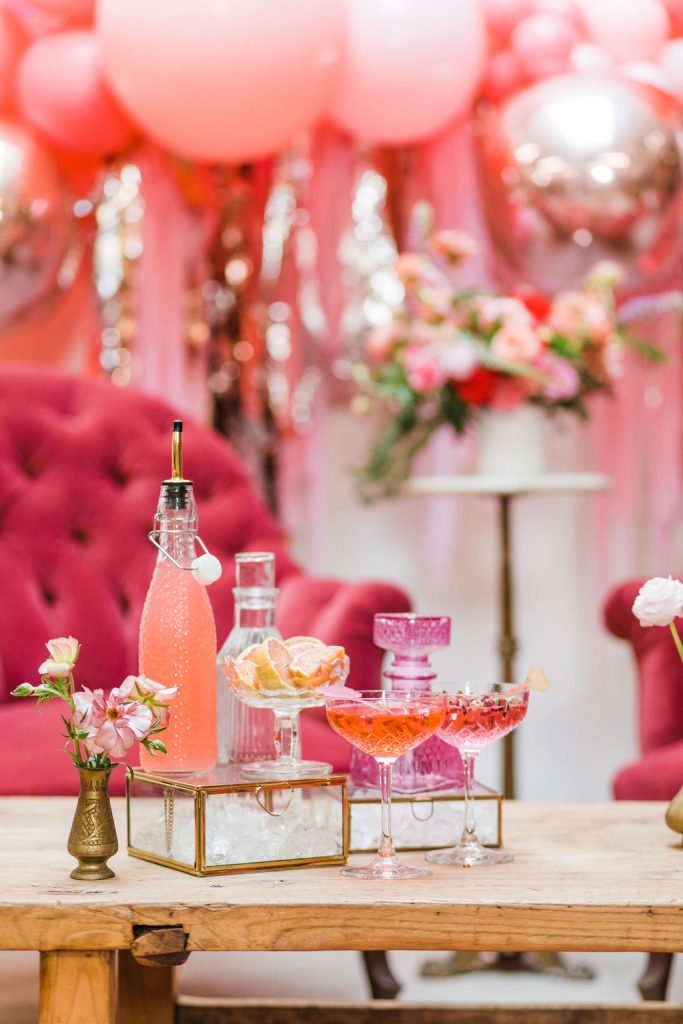 So who's hosting the Pretty in Pink viewing party?! I'll bring the cocktails!!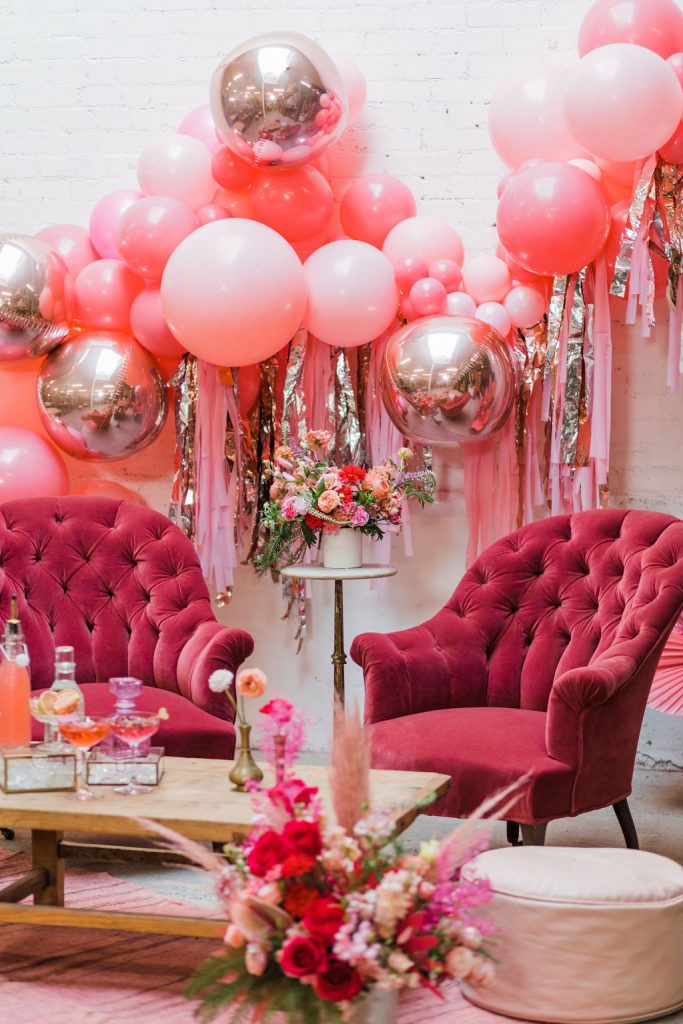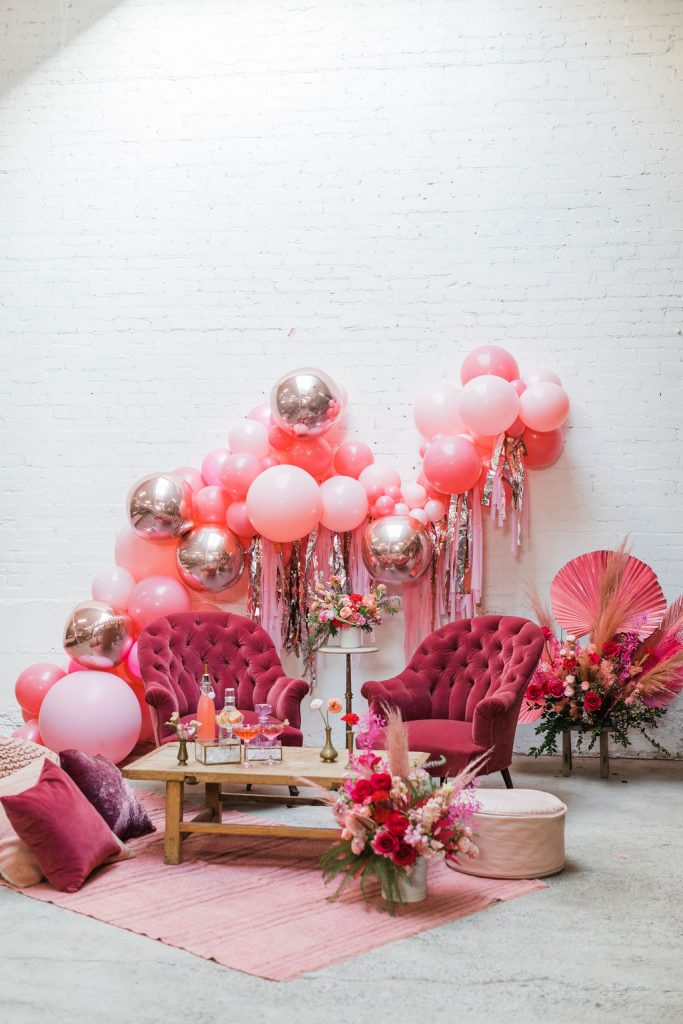 Well guys, I'm off like a dirty shirt! I hope you loved this dreamy shoot as much as me and it inspires you to have a fun Valentine's party or even just an amazing PINK party!
xx
Jacquelyn