Let's play a little dress up today in the kitchen. Did you see our fun cherry bomb feature yesterday? So cute! I had to do a little cherry recipe to go with it. With Valentine's Day around the corner, I wanted to show you how you can take a store-bought item like a chocolate éclair and take it to the next level. There is nothing better than pairing chocolate and cherries. So if you love that combo, then you will love this fun, easy, and pretty dessert to serve to loved ones for the day of love. The sweet cherry glaze is literally the cherry on top. My mouth is watering just thinking about these yummy éclairs.

Photos by Dayna Studios
---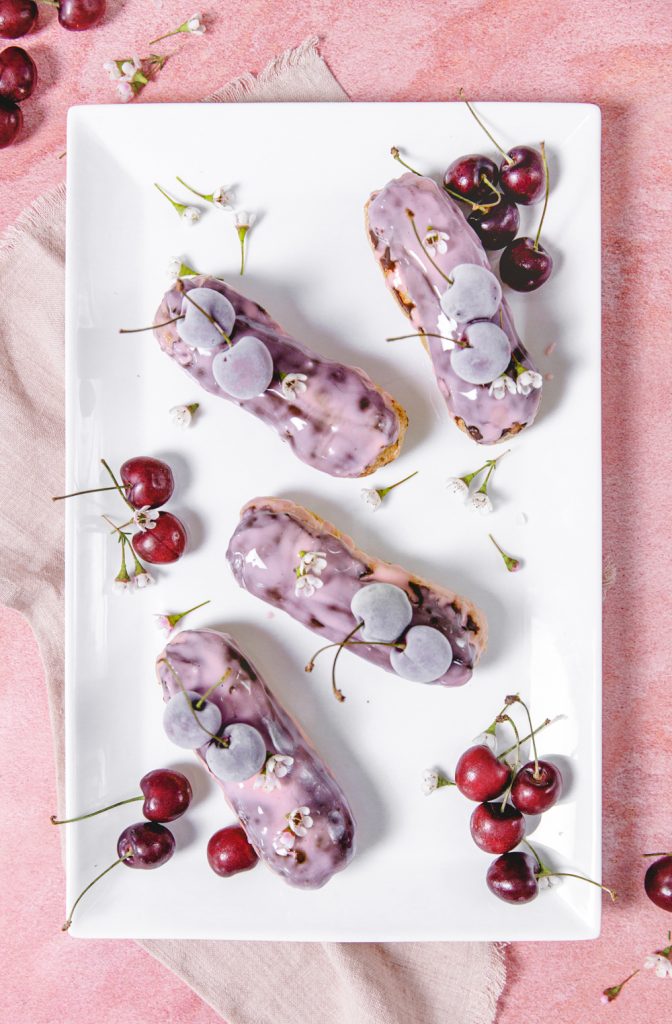 ---
WHAT IS A CHOCOLATE ÉCLAIR?

An éclair is an oblong pastry made with choux dough filled with cream and topped with chocolate icing. The dough, which is the same as that used for profiterole, is typically piped into an oblong shape with a pastry bag and baked until it is crisp and hollow inside. Once cool, the pastry is then filled with a vanilla-, coffee- or chocolate-flavored custard (crème pâtissière), or with whipped cream, or chiboust cream; and then iced with fondant icing.
---
CHERRY COVERED CHOCOLATE ECLAIR
SERVES: 20 | PREP: 5 MINUTES | COOK: 0 MINUTES
W H A T Y A N E E D
Store-bought chocolate éclairs
Cherries

Cherry Glaze:
4 tbsp. cherry jam
2 cups powdered sugar
3-4 tsp. milk (more if needed and you can use any type of milk. I like to use almond or coconut)
B U S T O U T
Mixing Bowls
Whisk
Platter
Baking Tray
(use if you place the éclairs in the freezer)
---
I N S T R U C T I O N S

Let's start with making the cherry glaze. Whisk the glaze ingredients in a medium shallow bowl until smooth. It's as simple as that!! To glaze the éclair, dip the chocolate side into the glaze and place the glazed side up on a rack to set. Once all glazed, place a couple of cherries on top for a pretty garnish. You can serve immediately, but I like to set it in the freezer to have it all set. Serve up frozen fruit straight out of the freezer is so pretty, can you see that pretty iced look on the cherries?
---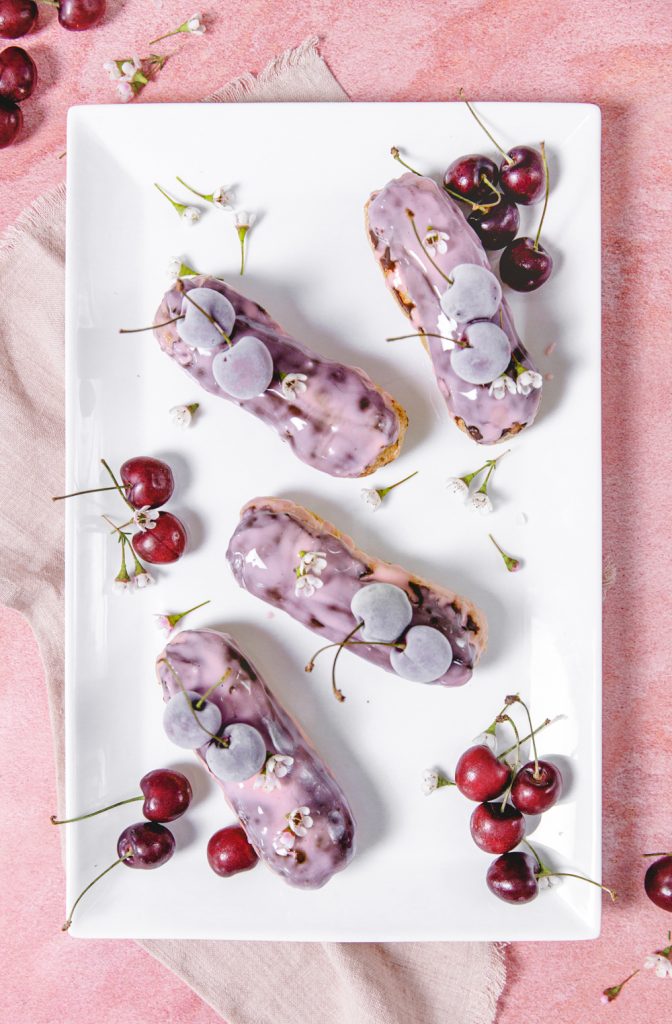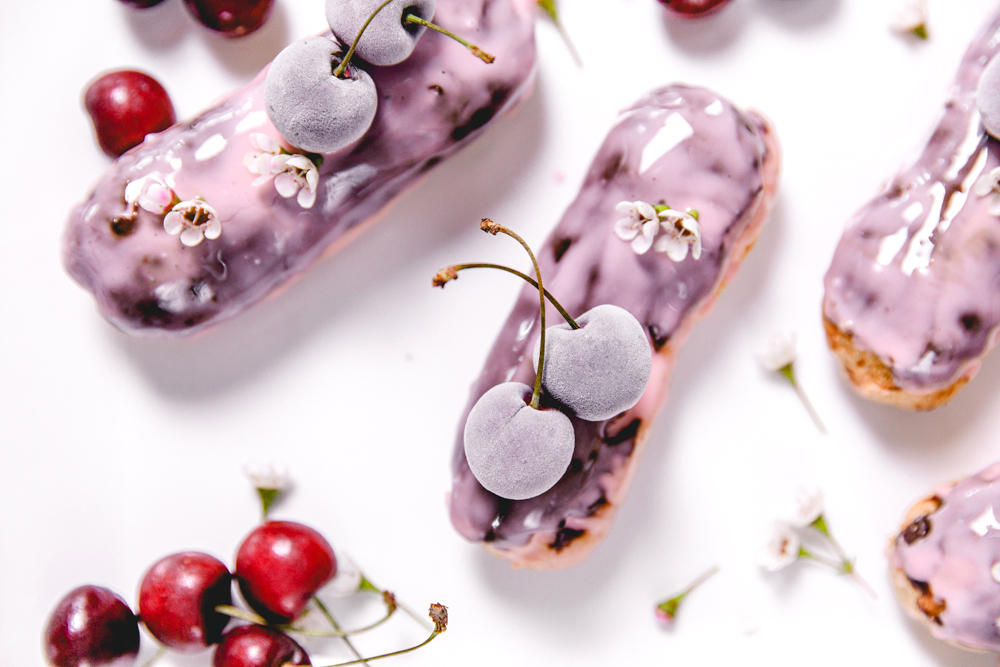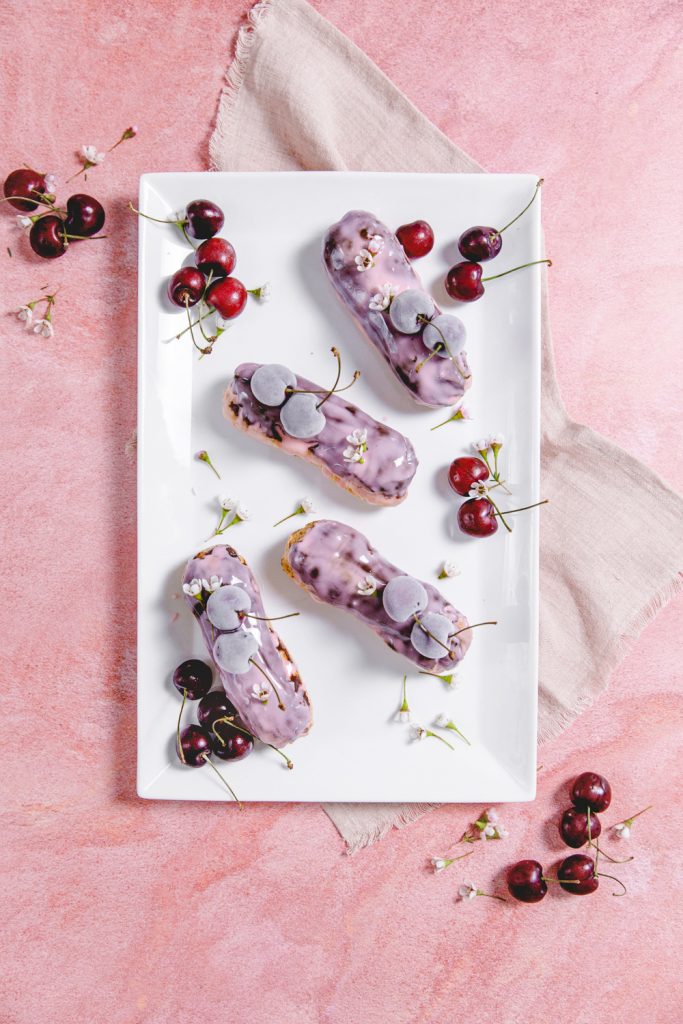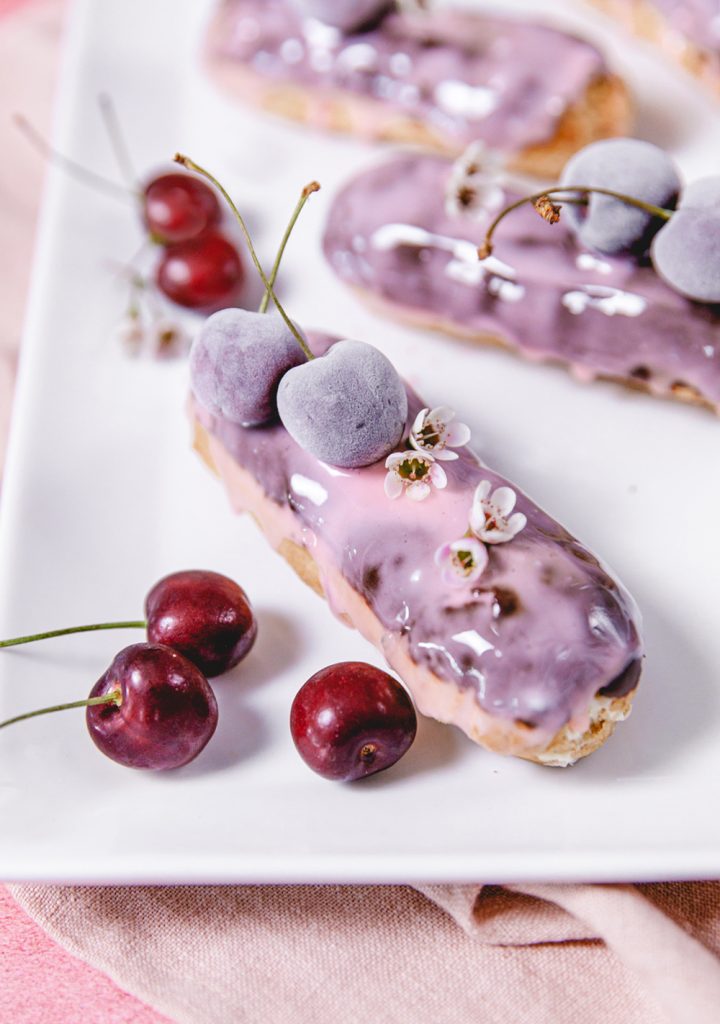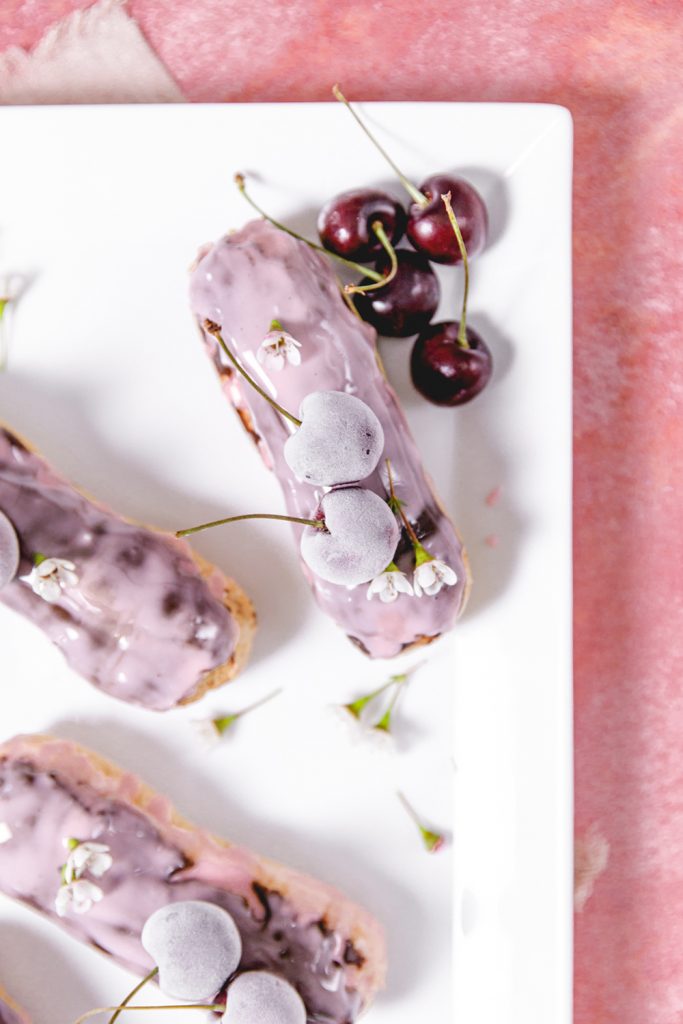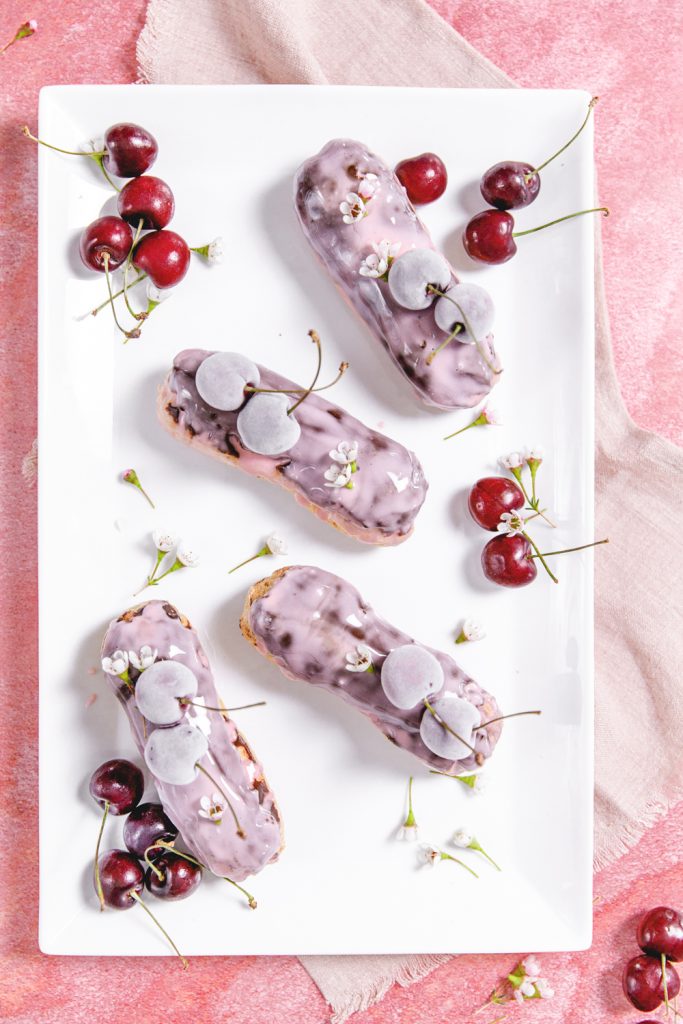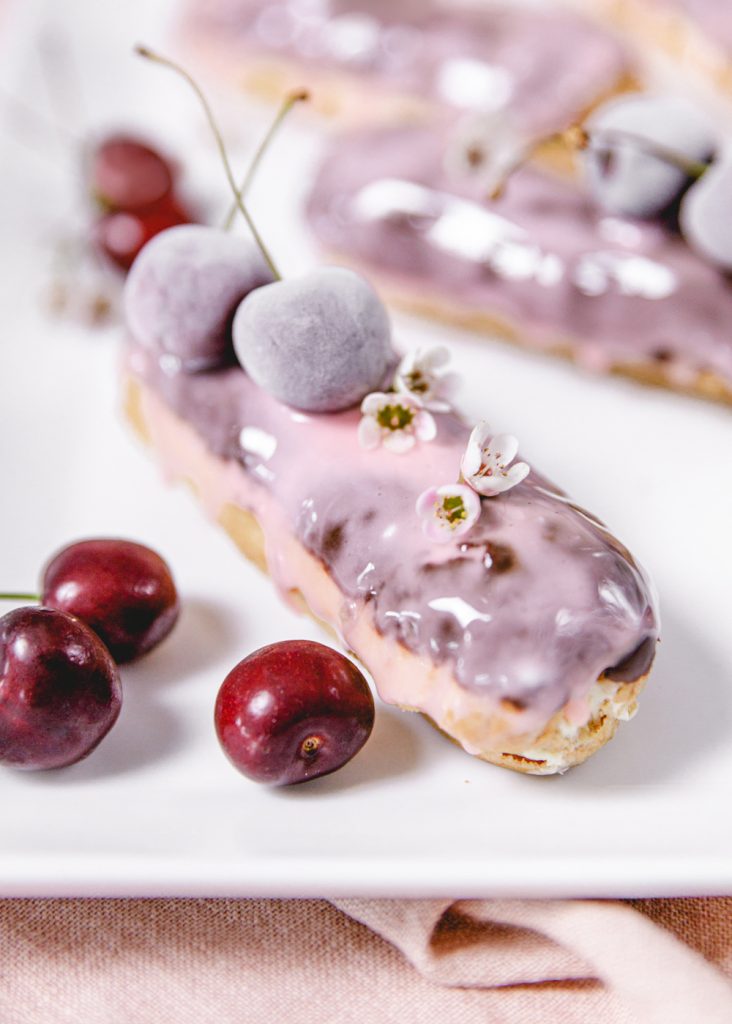 ---
B E I J O S K I T C H E N

xx
Abby