---
As the summer is sadly coming to an end soon with school right around the corner, I want just to hit the pause button and make summer slow down! Although with this heat, I don't mind at all that fall is approaching. One of the ways we have been cooling down in our house is by freezing watermelon. I just freeze slices/cubes and its an instant cool down snack for the kids. Stock up to keep that summer vibe going well into fall. With national watermelon day happening today, this summer staple gets a little extra tasty for the adults in this watermelon slushy. You will for sure beat the heat with this tasty treat!
I N G R E DI E N T S
Qty: 2 drinks
small ripe watermelons
strawberries
limes
lemons
vodka
water (non-alcoholic version)
D I R E C T I O N S
This is pretty simple here guys. Cut the small watermelon in half. Scoop out all the yummy watermelon and place on a baking sheet and send them to the freezer. I actually used a golden watermelon (its yellow inside) and it was so good! But feel free to use whatever watermelon you have! Once frozen, throw in 4 cups of the watermelon cubes, juice from a lime and lemon, and about 2 shots of vodka. The amount is up to you! Use more, use less, or use none at all. If you use none, then use coconut water or just plain water. Throw in a couple strawberries. This is where you can add whatever fruit you want, or just keep it straight up watermelon flavor.
Blend and pour right back into the watermelon. You can serve right away, or put back into the freezer and bring out to thaw a little bit before drinking!
Enjoy by the pool!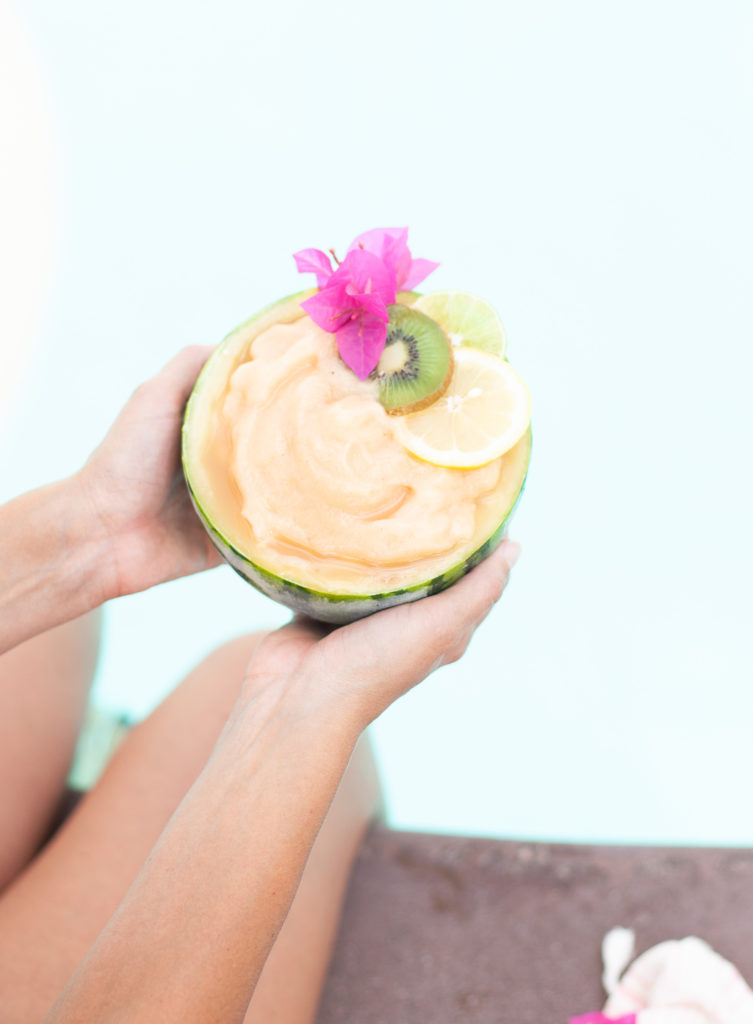 A super cute and fun way to celebrate our favorite summer fruit, WATERMELON!
xx
Abby
SaveSave