Just like all of you, I'm pretty sure we are gathering up all our recipes for our Thanksgiving menu. Whatever they are, the true and tried ones, a long line of family tradition that you can't change at all, or sneaking in some new ones for the family to try! In our house, I would say we are 50/50. We have a couple of dishes that our Grandma did that we won't change a step cause, well, it's G.G.'s recipe. And that's that! The other half is new recipes that I save thru the year to try and see if they will make the lineup. This year, I'm trying out a couple of dessert recipes. My family isn't a big pumpkin fan, so I'm giving a whirl on some other fall flavors. Today, it's about the beautiful combo of ricotta and lemon! Add in honey and cream cheese, a simple whipped topping with some pie cookies to pretty it up, and we have ourselves a cheesecake that I think will make the cut! Line up those forks, kids!

Photos by Dayna Studios
---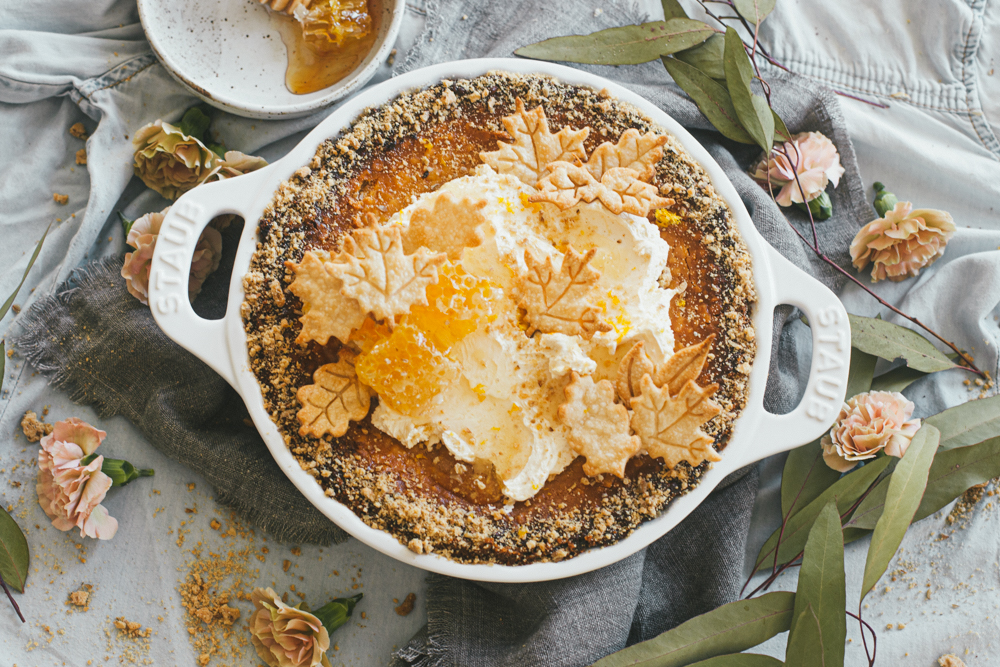 ---
RICOTTA AND LEMON HONEY CHEESECAKE
SERVES: 6-8 | PREP: 20 MINUTES | COOK: 45-65 MINUTES
W H A T Y A N E E D

CRUST
One box BelVita cinnamon sugar breakfast cookies (4-5 packs)
6 tbsp ground almonds
4 tbsp ground macadamia nuts
1/4 cup caster sugar
1/2 cup unsalted butter melted

FILLING

1 1/3 cup caster sugar
8 oz. (1 cups) softened cream cheese
16 oz. (2 cups) ricotta (drained)
4 eggs
1/2 cup honey
1 tsp vanilla extract
1 1/2 tbsp corn starch mixed with 1 1/2 tbsp water

TOPPING

1 tub Cool Whip (any kind of cool whip, I used a vegan coconut)
2 tsp. vanilla extract (feel free to add more or less)
Zest from 1 meyer lemon
Juice from 1/2 meyer lemon

GARNISH

Pre made pie sheet
Ground breakfast cookies
Honeycomb honey

B U S T O U T

Pie Dish or Springform Cake Pan
Stand Mixer or Handheld Mixer or Whisk
Food Processor
Parchment Paper
Leaf Cookie Cutters
Baking Sheets
---
I N S T R U C T I O N S
Let's start with the crust of the cheesecake.
Start by preheating your oven to 350 on a convection bake. If you don't have the option of convection, that's ok! In your food processor, throw in the breakfast cookies, nuts, and sugar. Pulse until everything is well combined and grounded into a fine mixture. Mix in the melted butter and combine. Take a greased pie dish or springform pan and add some parchment paper on the bottom. I like to use my 1 cup measuring cup and press the crust into the pan and up the sides. Place in the oven for 15 minutes. Turn off the oven, and let cool with the door open for about 5 minutes. Once I took out the pan, I used my measuring cup again and pressed down the crust.
While your crust is cooling, let's make the base now; if you have a stand mixer or handheld, that's great, less arm work. If you don't, use a whisk and get those muscles going! Throw all the ingredients into the mixing bowl except for the cornstarch mixture. Mix it all for about 5 minutes. I did both my stand mixer and used a whisk at the end to break up any cream cheese that didn't incorporate. Then, add in your corn starch mixture.
Pour your batter into your pan and bake on 350 for about 45 minutes. With my pan being on the smaller side, it took about 45 minutes. If you are using a springform pan, it will probably take close to 60 minutes. You will know it's done when the outer edges are firm, and the middle is still a bit giggly. Also, since my pie dish is on the smaller side, my batter could make two pies. If that is the case for you, double your crust mixture and make 2.
Let the cheesecake cool in the oven with the heat turned off for about 30-45 minutes. Place in the fridge so it will cool down and you are ready to serve.
Let's make the fall leaf cookies! You can do this ahead of time as well! Set your oven to 450. Take a pre-made pie sheet and put it on a floured surface. Using your cookie cutters, stamp out the leaves. Place on a baking sheet with parchment paper. I placed some of the leaves on the side of the pan to create a curled look. Bake for about 5-7 minutes. Keep an eye on them as they cook fast, and you don't want to burn them. Set aside to cool.
It's serving time!
Take your whipped topping and mix in the vanilla, lemon juice, and zest. Set aside in the fridge. You can do this ahead of time too. Dollop your whipped topping in the middle, and place your leaf cookies around the topping. Add some honeycomb honey squares and drizzle honey around the whipped topping. Sprinkle some ground breakfast cookies for an added crunch!
---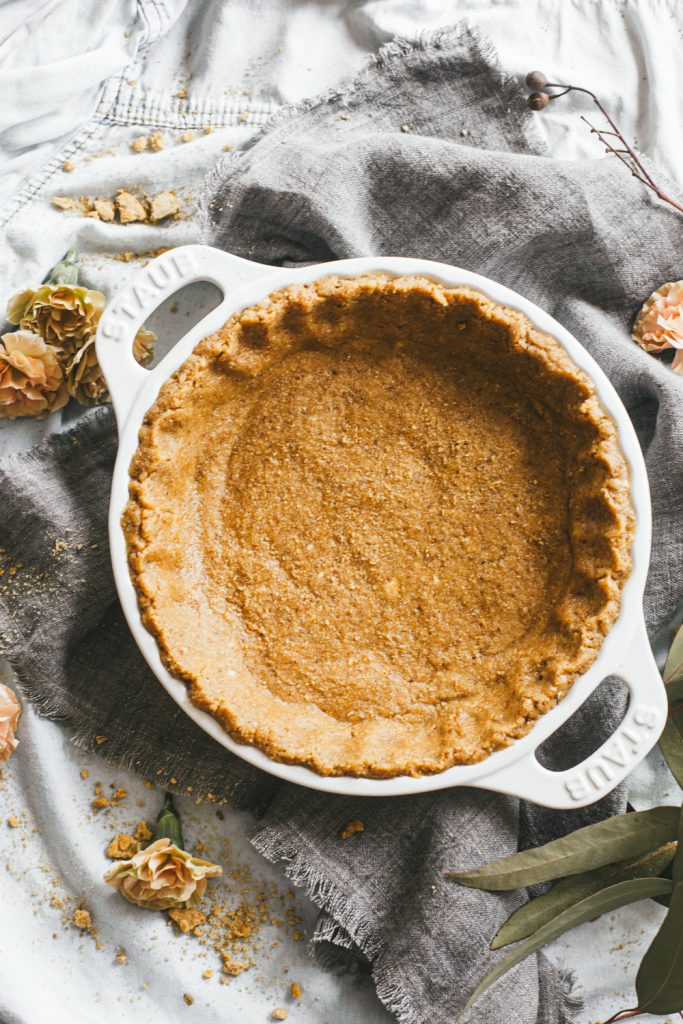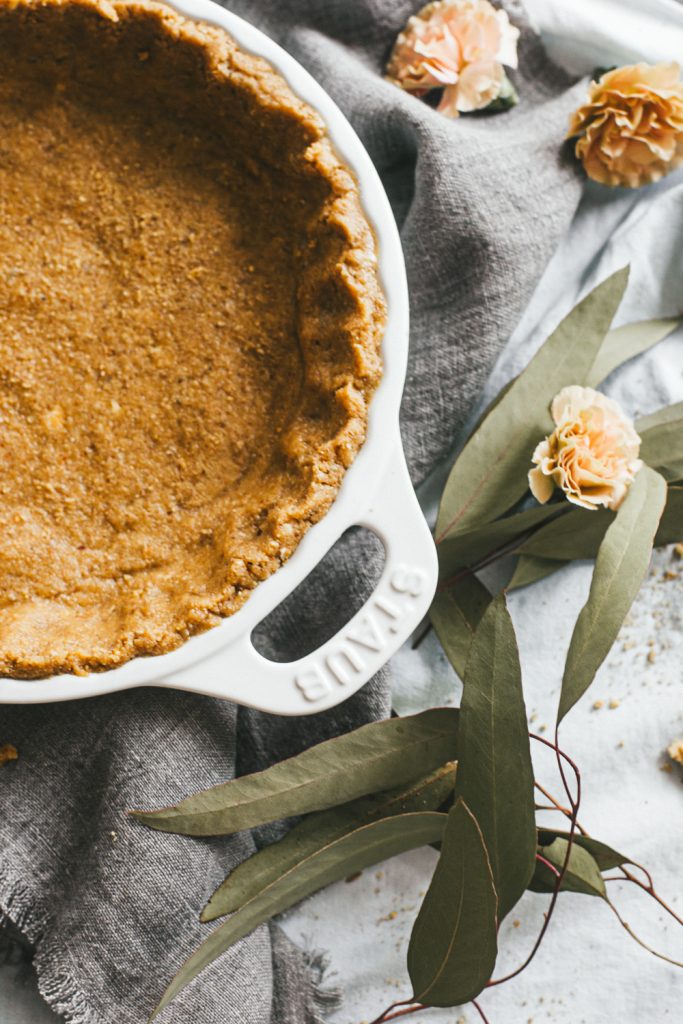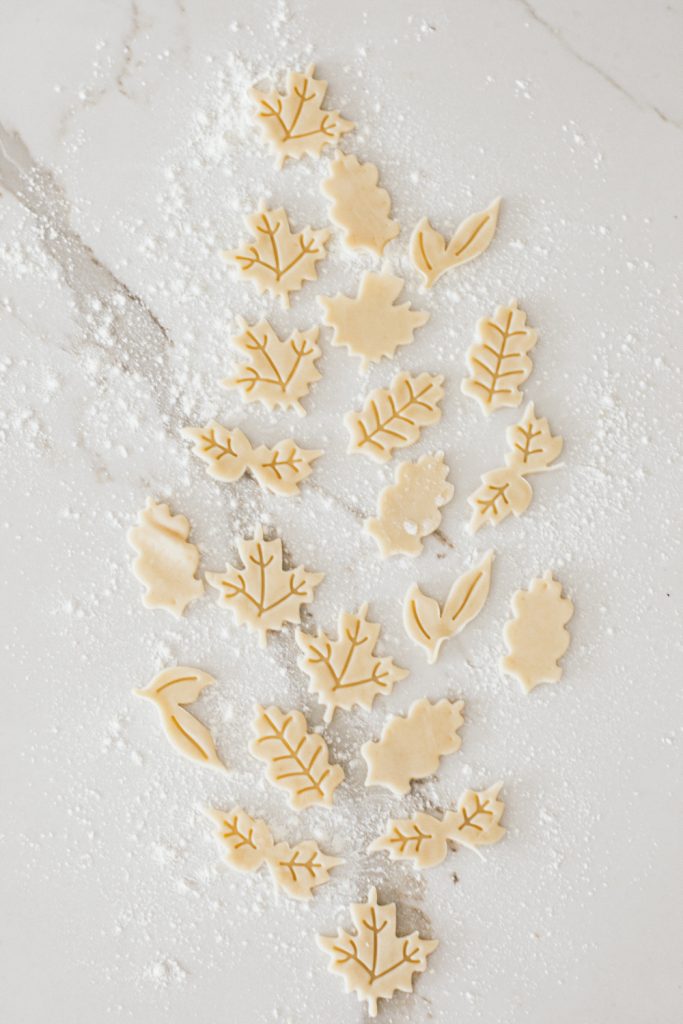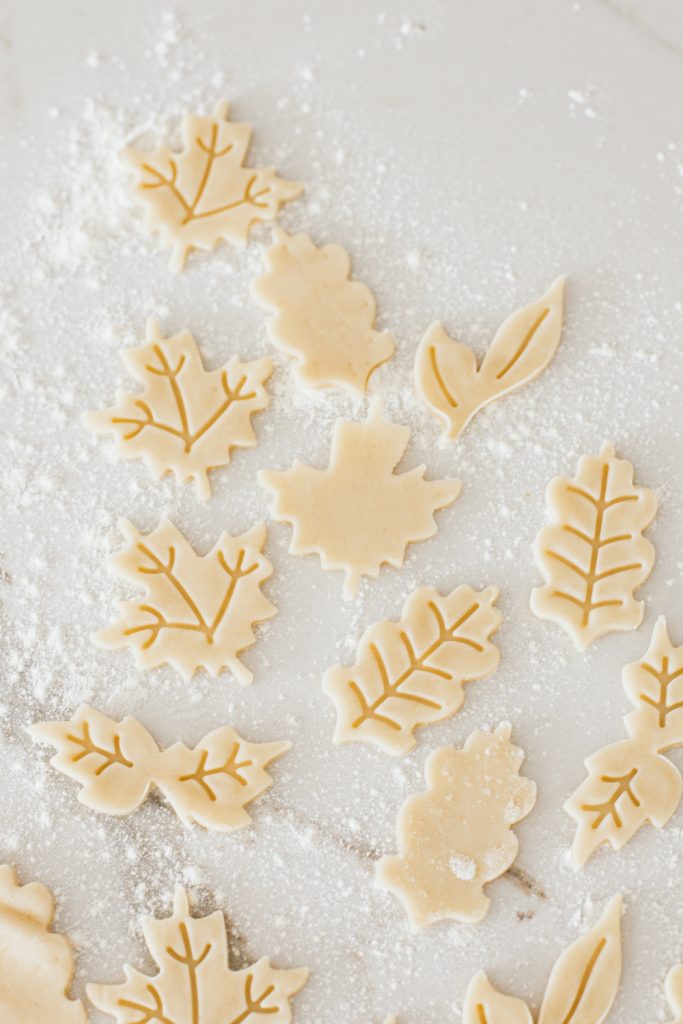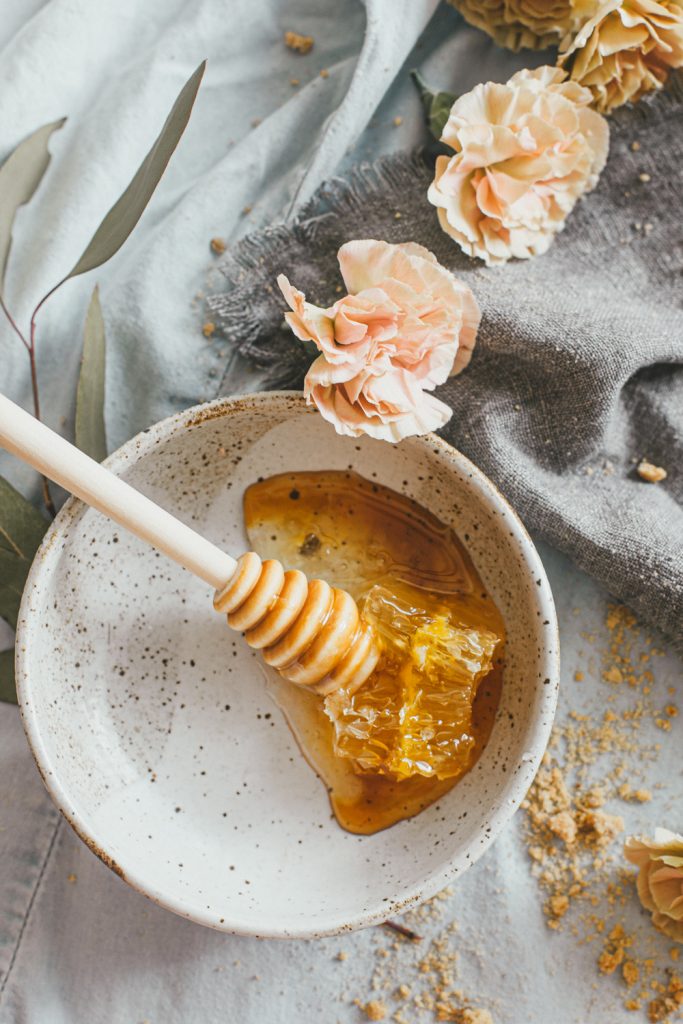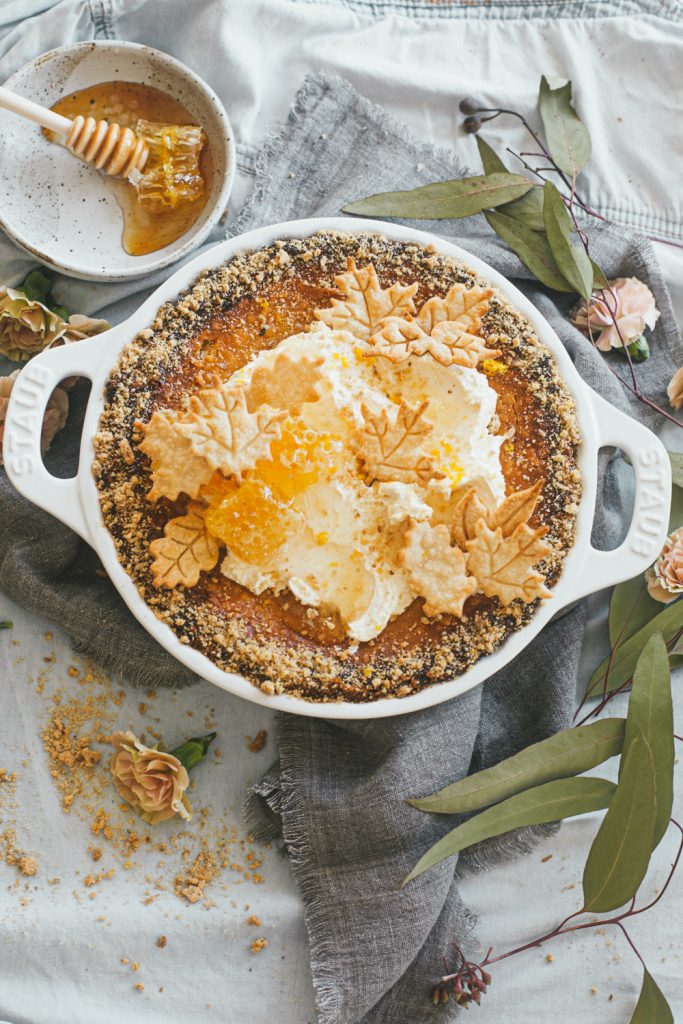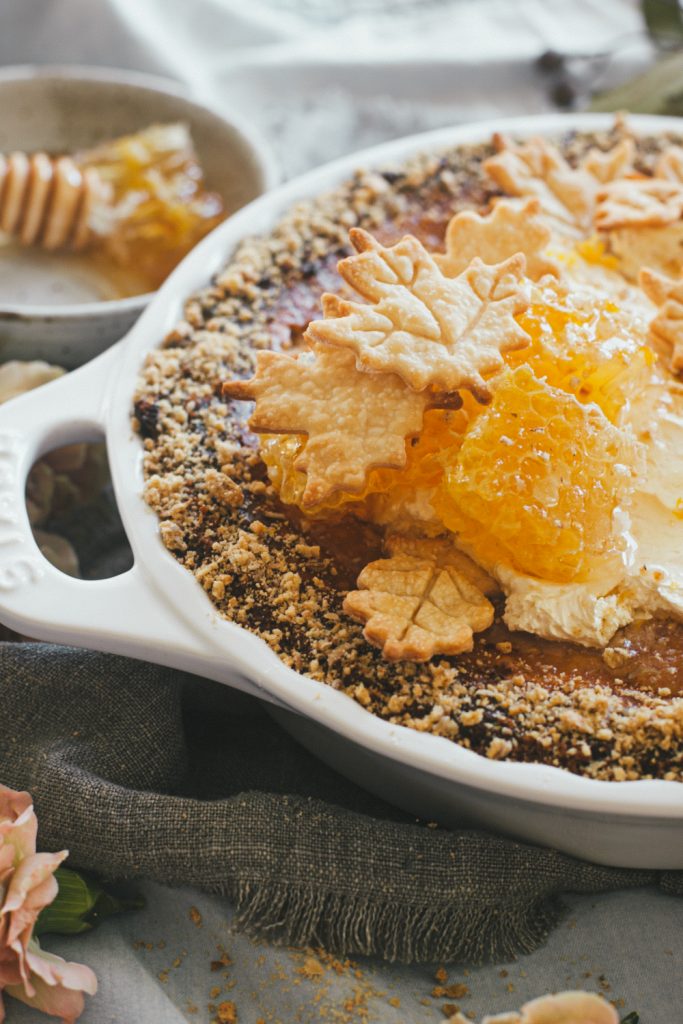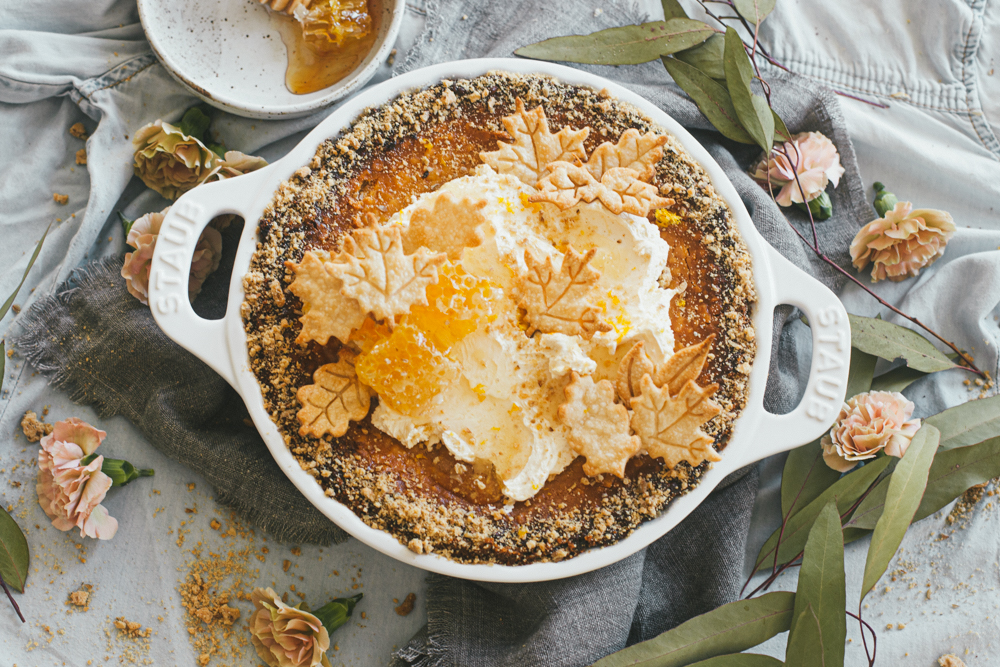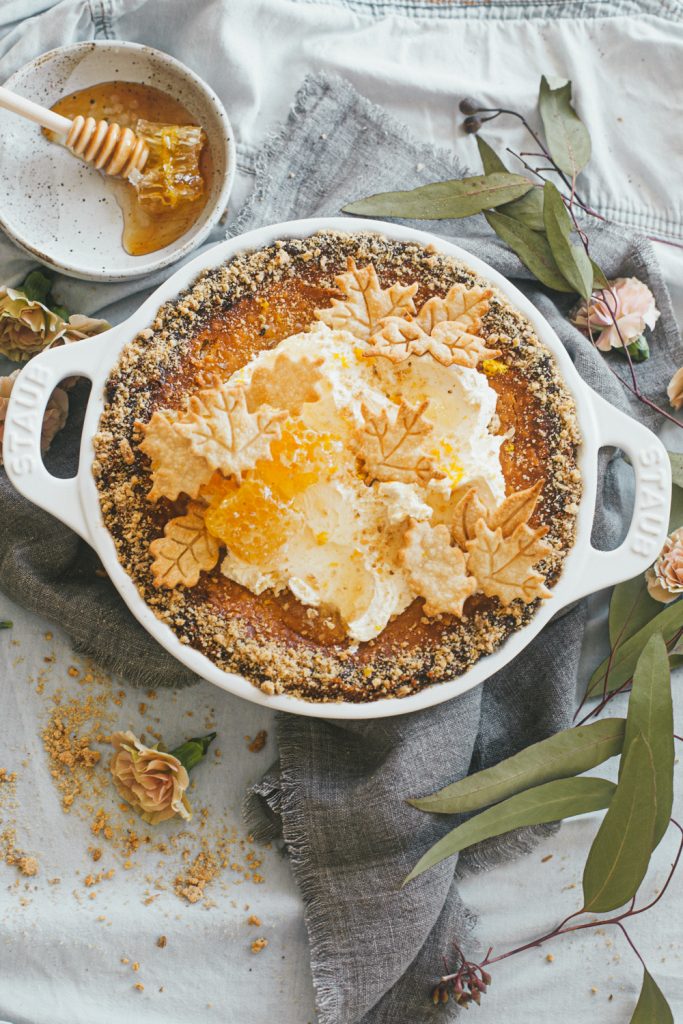 ---
B E I J O S K I T C H E N

xx
Abby