---
We are rolling up on that special day for Dad this weekend. One of the ways to his heart is thru a cocktail, or at least it is for my husband. Each year, I try to make it a dream day for him, filling it with everything he loves. Hanging out with me should be a dream day in itself, but I like to sprinkle a few more activities in there. The day will usually start off with an early tee time, getting home just in time for some yummy breakfast that I spent hours making, which results in one messy house, and me certainly looking like a hot mess. Then, a little QT time with the kids, which will probably be swimming, and then ending the day with dinner and of course a cocktail! Each year, I try to create a cocktail that screams, "Mike Guido." I look for something spicy, fresh ingredients, and refreshing to help with that warm weather. A sure way to his heart is any spicy margarita. And this roasted mango jalapeño margarita will have any Dad or anyone for that matter one happy camper.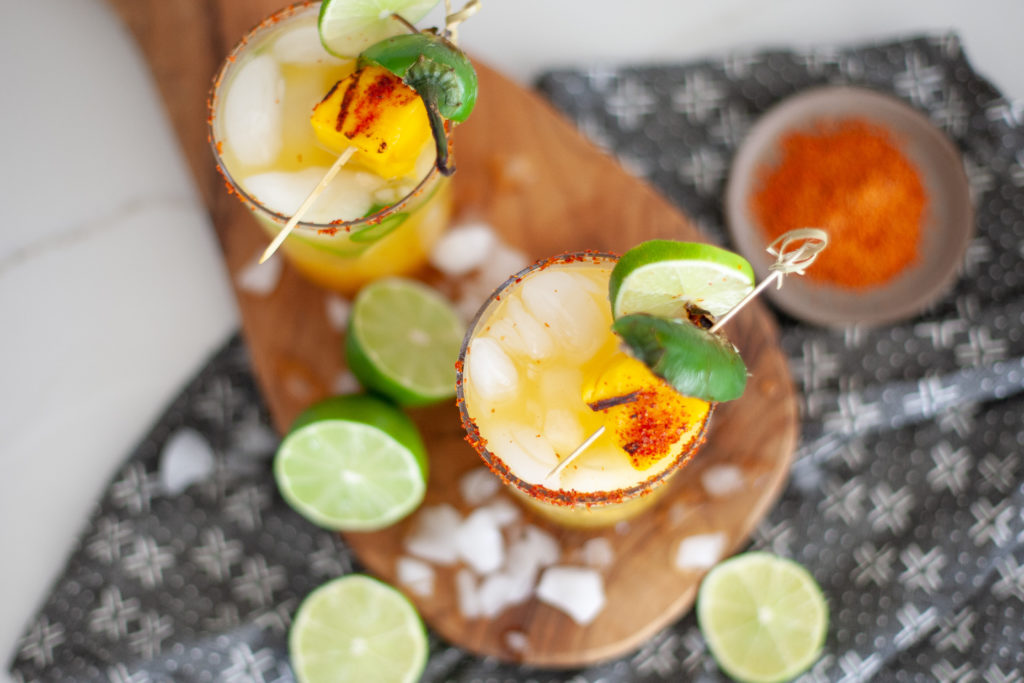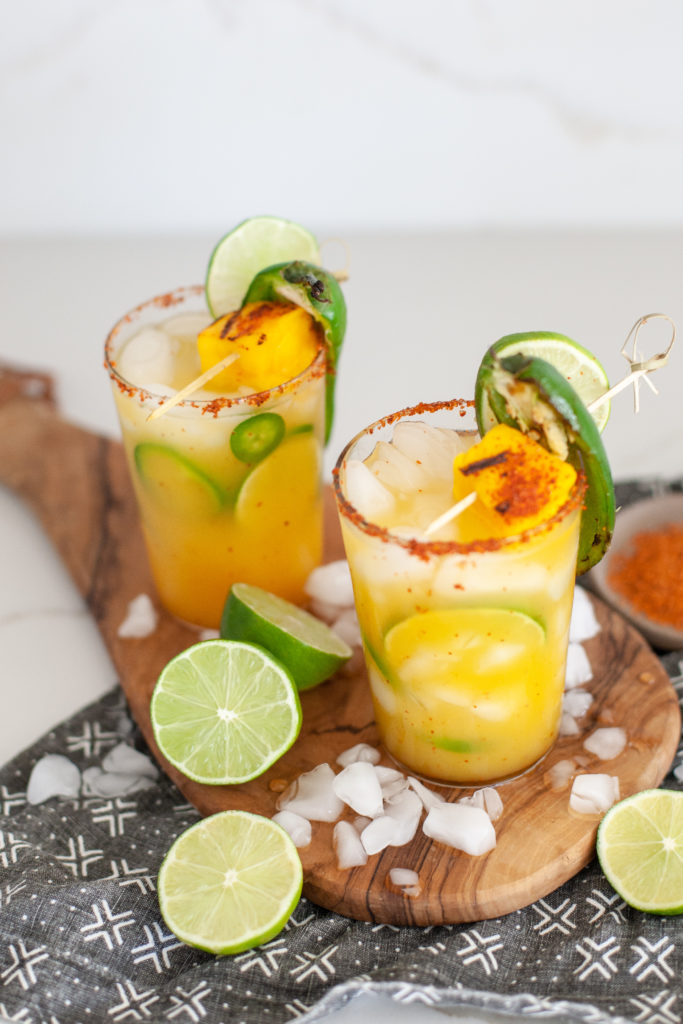 I N G R E D I E N T S
makes one drink
2 oz Blanco Tequila (my favorite is Casamigos)
1 oz Cointreau or any Triple Sec
1-2 oz fresh lime juice
4 oz fresh mango juice
fresh mango, cubed
Two small jalapeños, slice in half
Tajin
limes for garnish
D I R E C T I O N S
Start off by pre-heating your cast iron skillet or bbq. You will want this HOT! Once you see it smoking, place your jalapeños halves and cubed mango on the grill or cast iron.  If using a cast iron, you don't need to oil it up. Char the sides and take off the heat when you have some pretty grill marks. Roasting brings out the sweetness in the mango and a smoky flavor from the jalapeños. Take off the heat, and slice up one of the jalapeño halves and save the others for garnish. The skin once its charred will bubble up, so you will want to remove the skin once cooled.

Rim a cocktail glass with lime and dip in Tajin seasoning. If you aren't familiar with Tajin, its a chili, lime, and salt seasoning that you can find in any grocery store. The Tajin adds a zesty pop, which balances out the spicy flavor from the jalapeño.
In a cocktail shaker filled with ice add a few slices of charred jalapeño, a couple of slices of lime, and a few chunks of fresh mango. Muddle away! Muddle until the chunks of mango are basically juice. You could also blend the mango, roasted jalapeño, and lime juice and make into a puree and use for batches of the margarita. Next up, add in the tequila, fresh lime juice (yes people, it has to be FRESH!), mango juice, and shake it all up until your hands can't shake anymore. Take those rimmed cocktail glasses and fill them up with crushed ice. Fill those bad boys up, and garnish with a skewer of the grilled mango which is sprinkled with Tajin, the charred jalapeño, and a lime slice.
A refreshing, spicy, smoky, and sweet cocktail you can enjoy all summer long!
xx
Abby
SaveSave
SaveSave