One of my favorite aspects of Fall is the colors. The deep hues of rust, berry tones, and even mustard yellows are just too pretty to turn down. A color that really resonates with me is terra cotta. Its earthy tone will always have a special place in my heart and I love how it can really be used year-round, mixed with other pretty hues. I thought a terra cotta shoot was necessary to showcase this beautiful color and bring out everything else that Fall has to offer.
This inspiration leads to many vendors collaborating and bringing lots of beauty – from a stunning tablescape to gorgeous handmade macrame pieces and even to delicious food, cocktails, and desserts. We used our love for bohemian flair with this one and I am so proud of how it turned out.
You can see these beautiful images by Jessica Lynn Photography featured on Martha Stewart Living.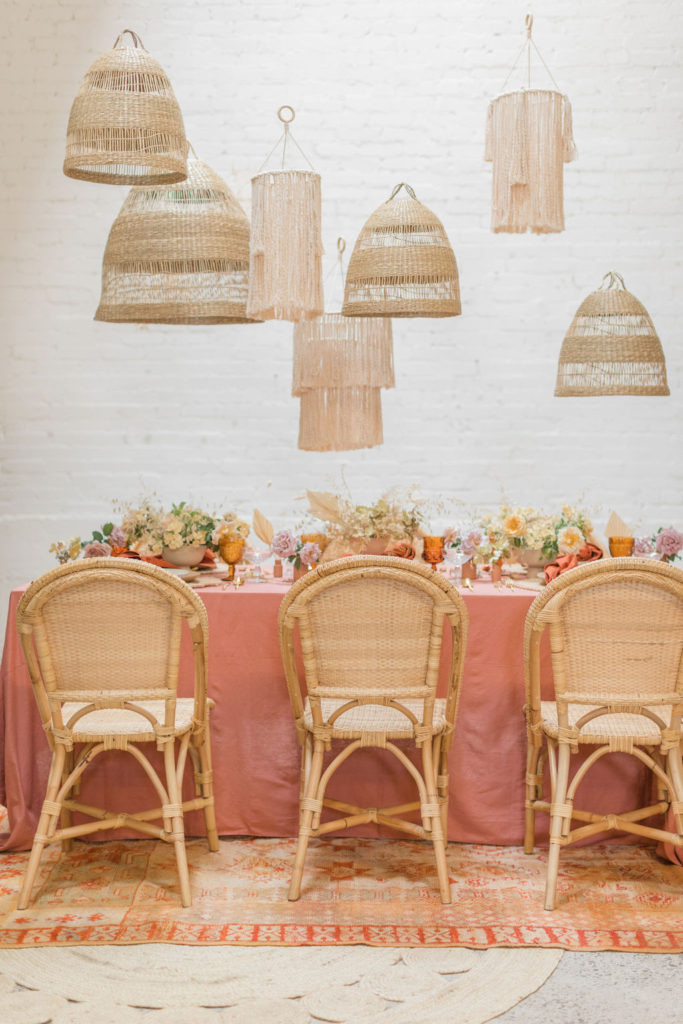 All good parties begin with an invite! Proper Letter added this soft blue tone to the shoot and I really love how it mixed in. Plus, those little terra cotta place cards may be my favorite detail!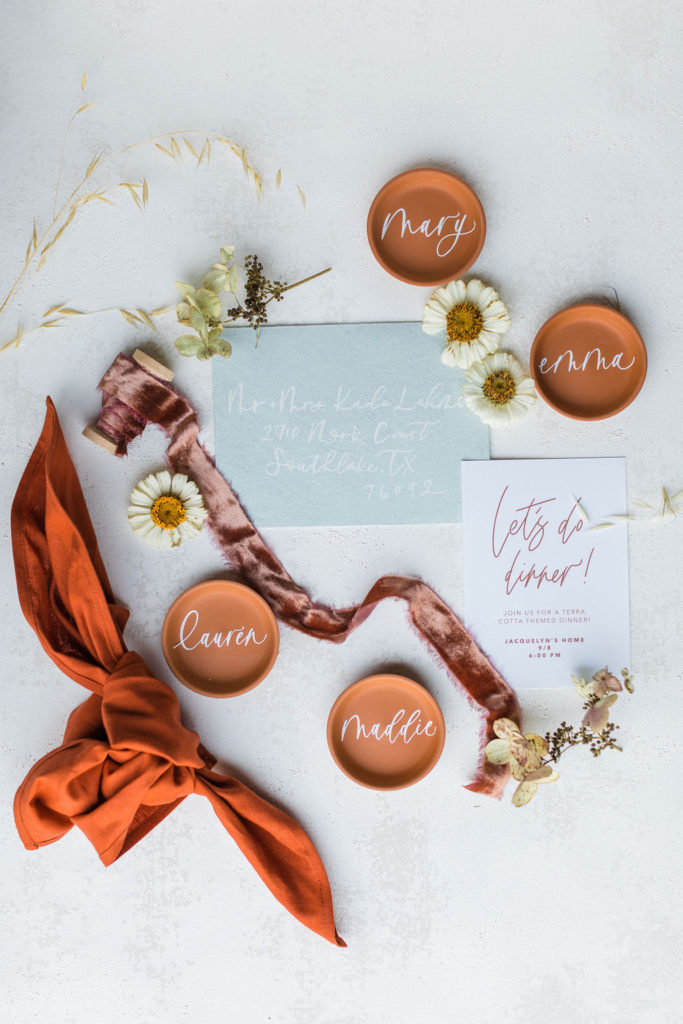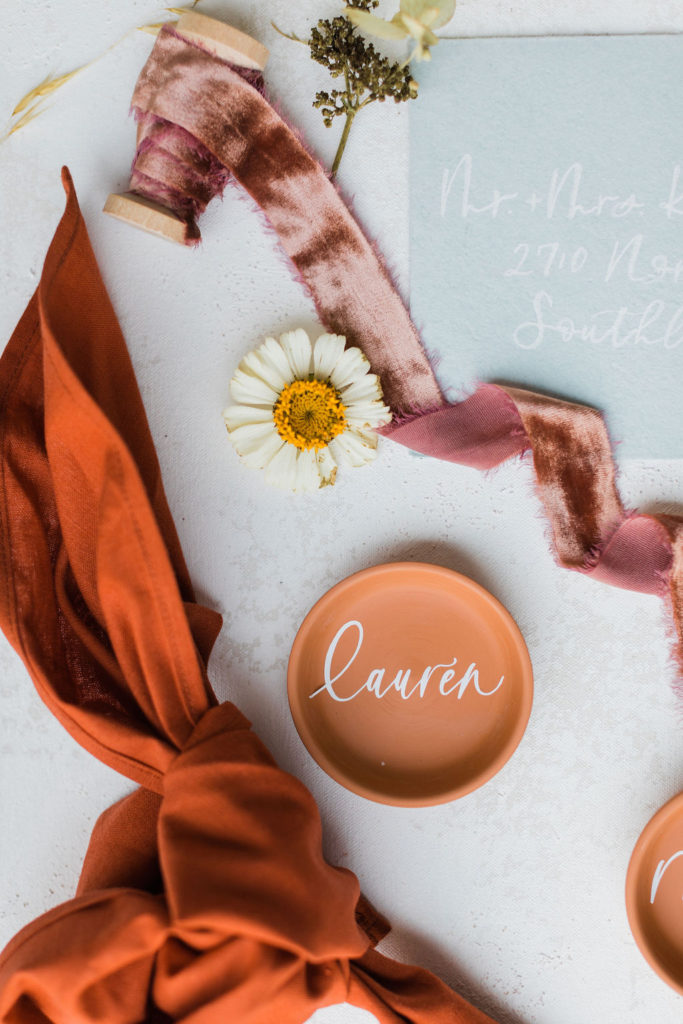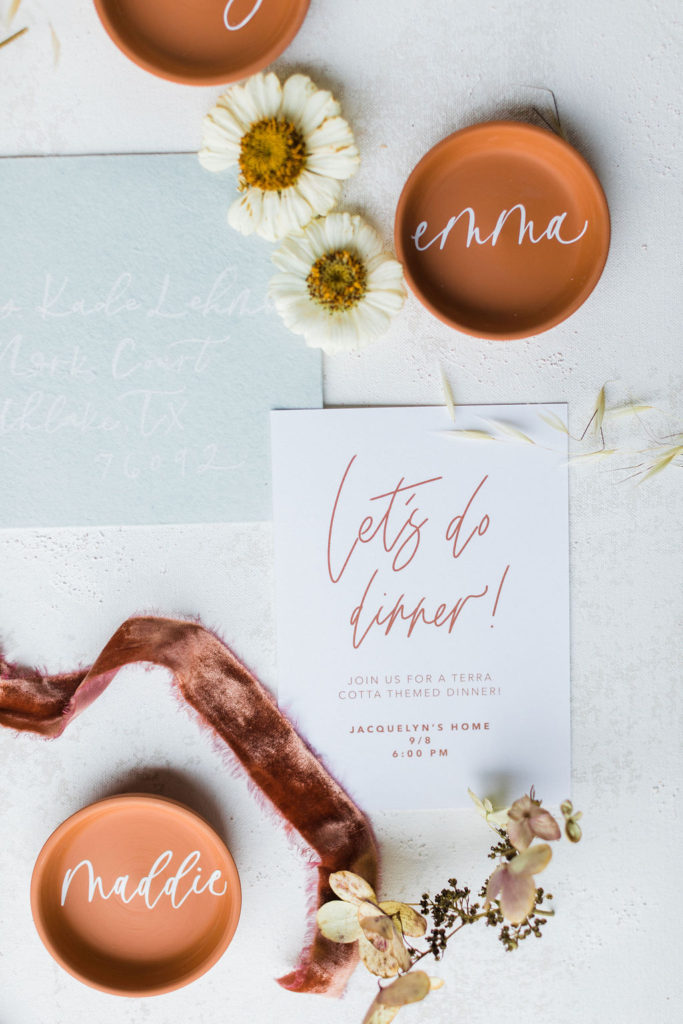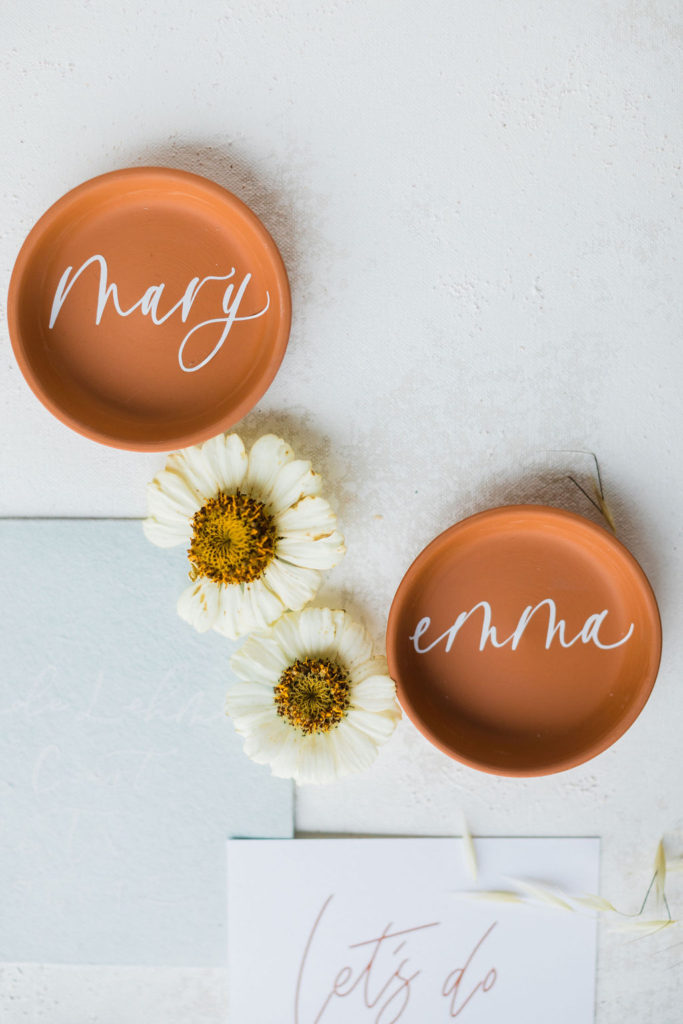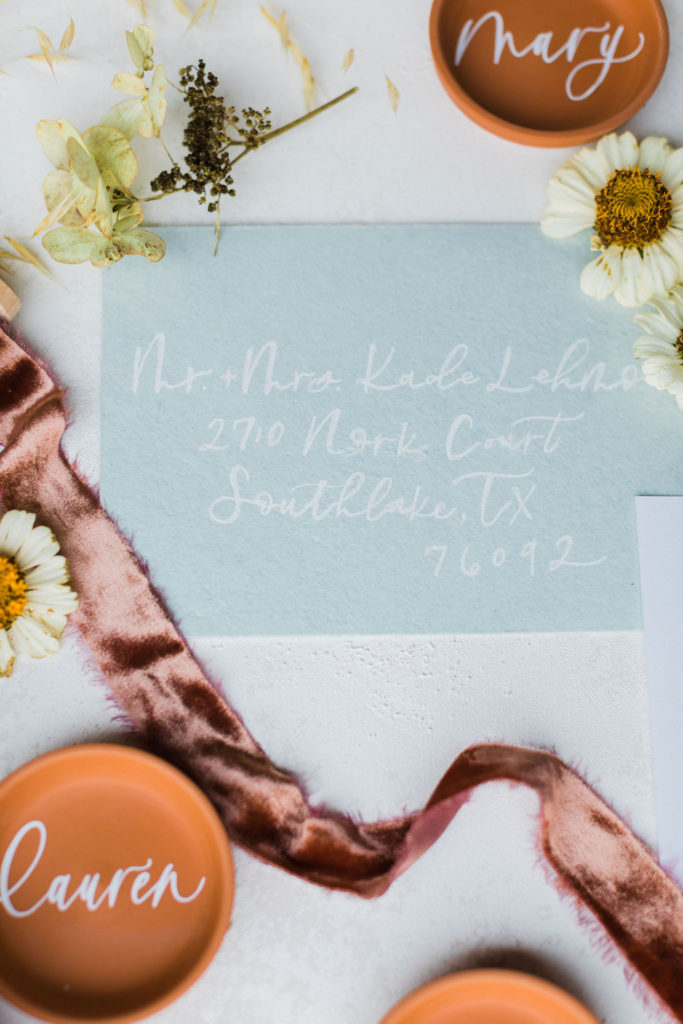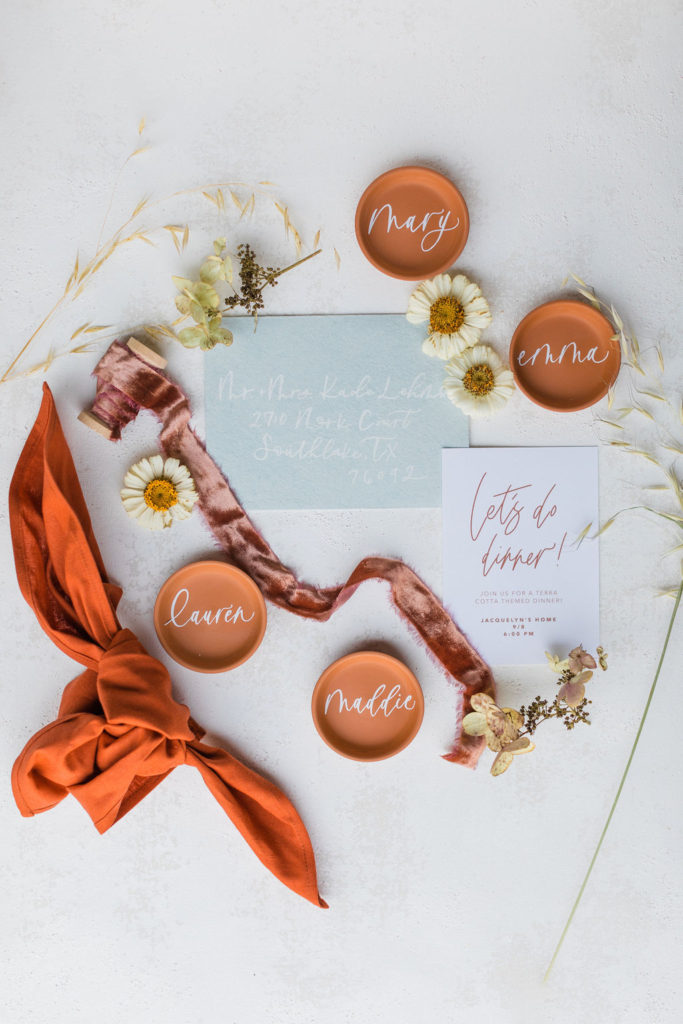 When planning an event there are so many different aspects to consider. We started with the table using a gorgeous terra cotta linen tablecloth from Party Crush Studio and having macrame chandeliers overhead created by The Neutral Knot. There were the terra cotta place cards by Proper Letter and vessels used for the amazing floral arrangements.
The colors of the florals by Third & Park were a mix of neutrals with pops of lavender that paired so well with the rust tones. We also added a touch of rattan with more chandeliers, chairs, and placemats. With all this layering of elements, details, and textures our vision came to life!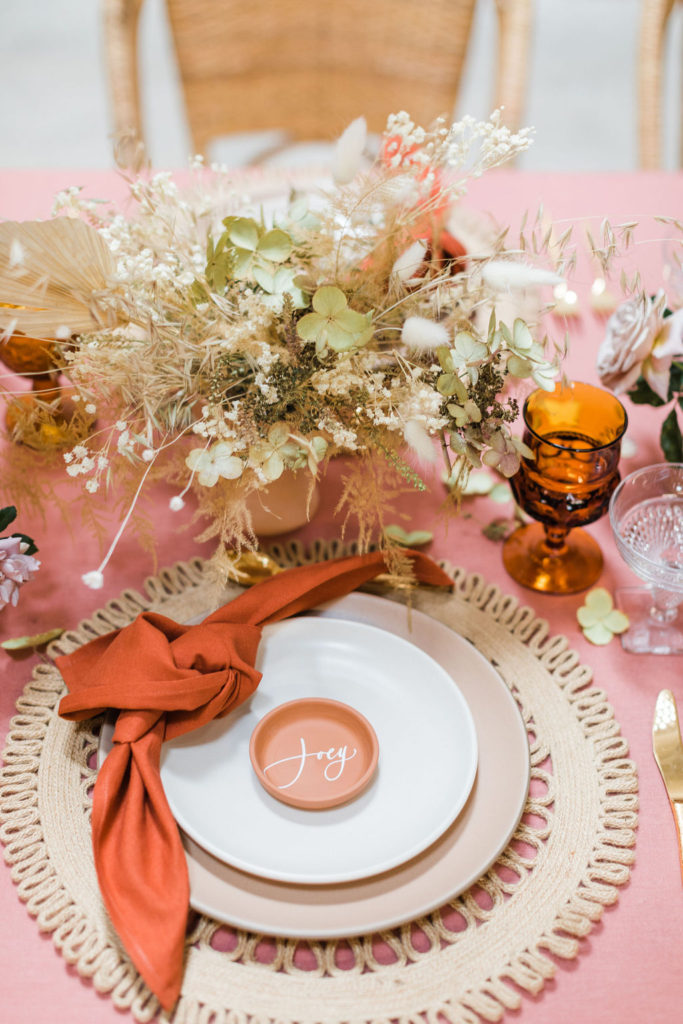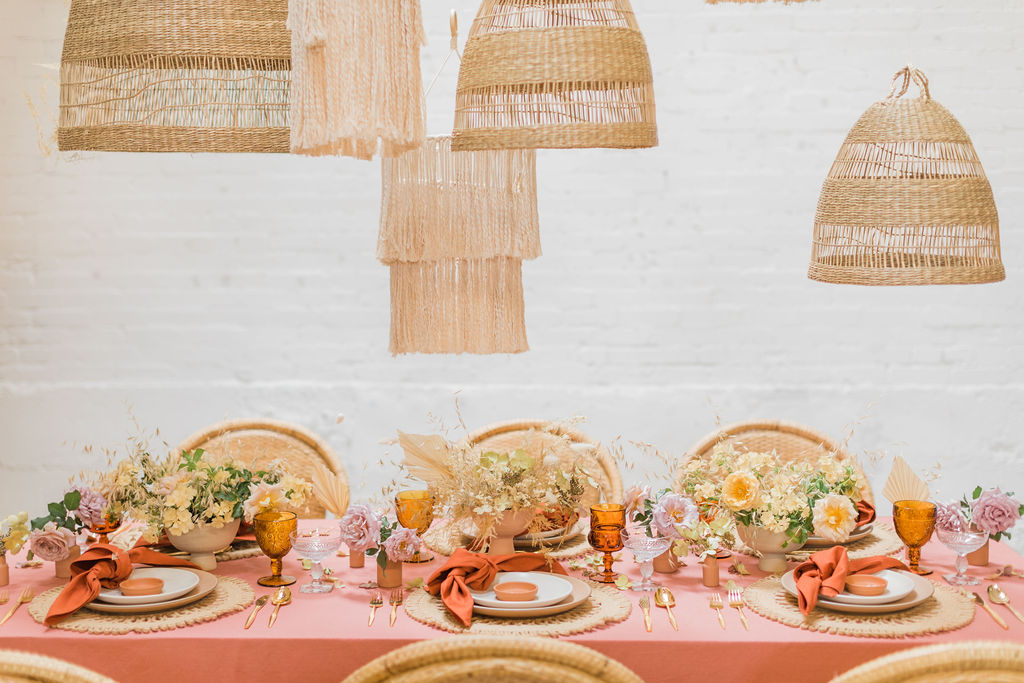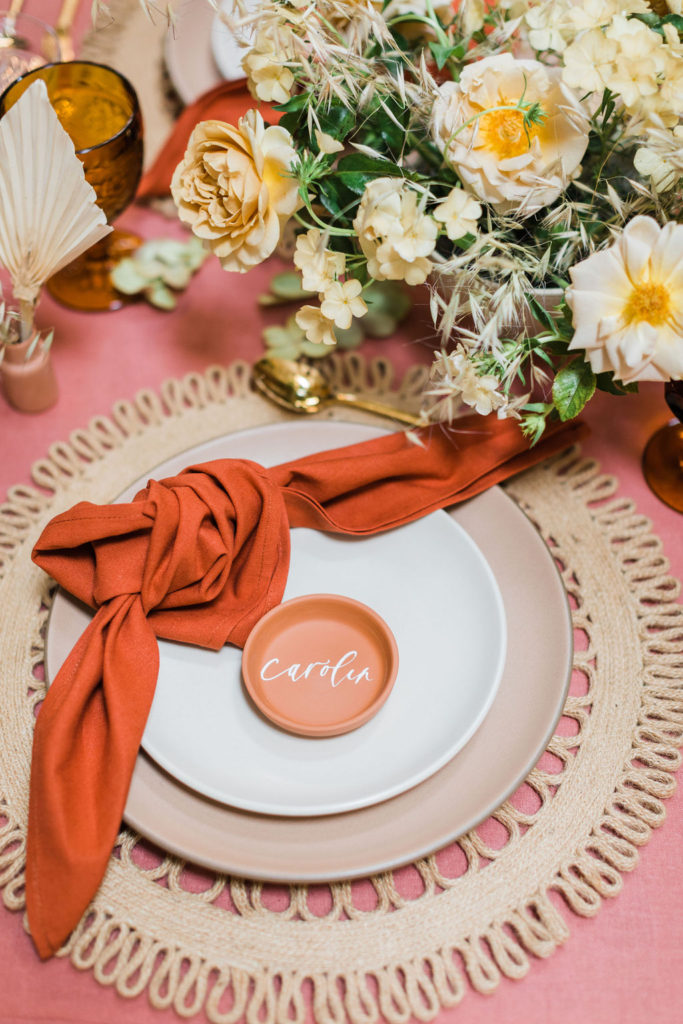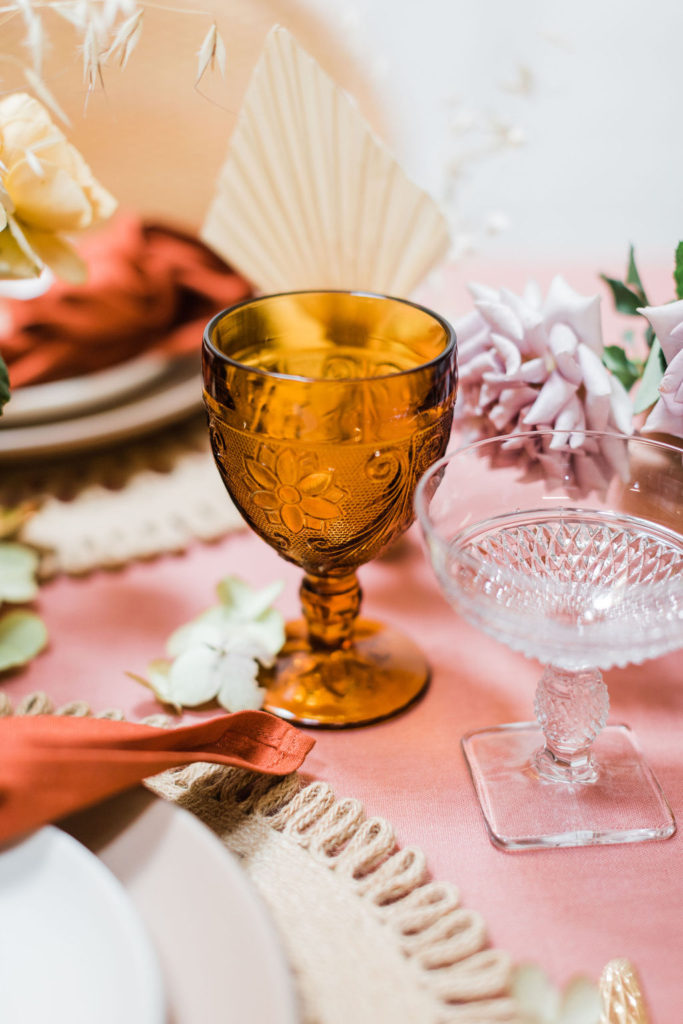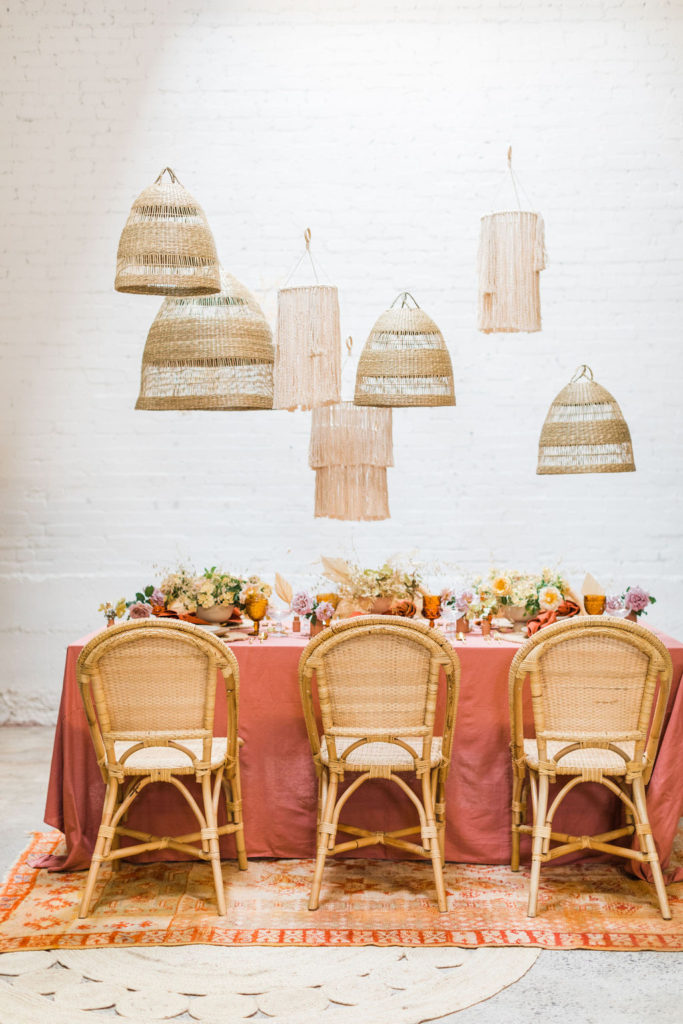 I love a layered look for a table and including pretty details. For this table, as I said, we layered a beautiful rust-colored tablecloth from Party Crush Studio with placemats from Third & Park along with a beautiful series of heath plates and amber glassware from Cherished Rentals. Of course, we had to add another rust element with the napkin from Hostess Haven.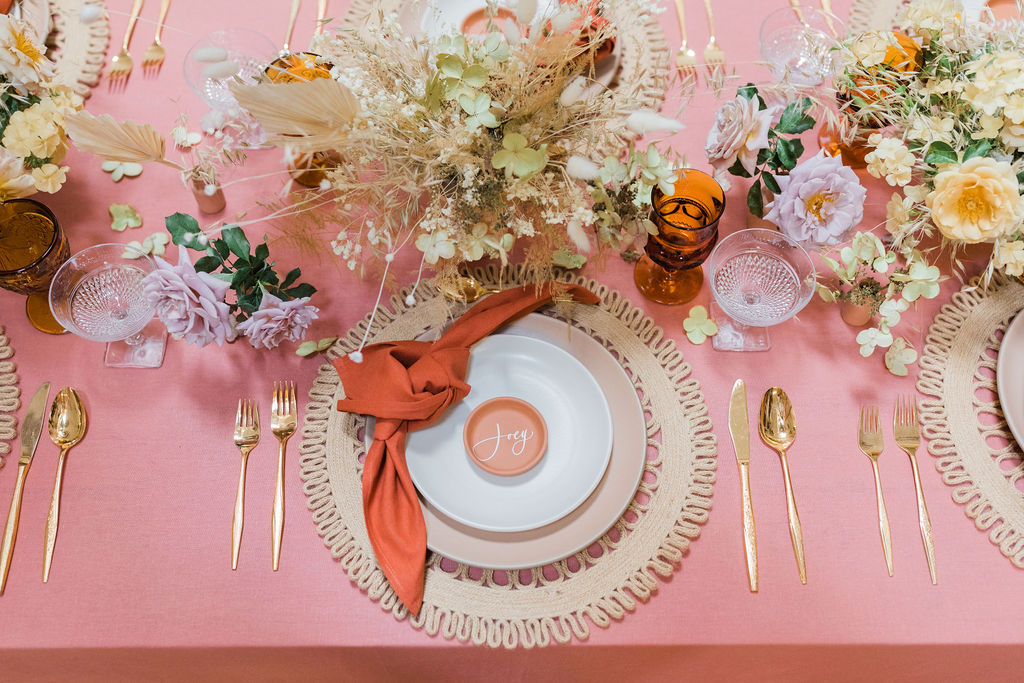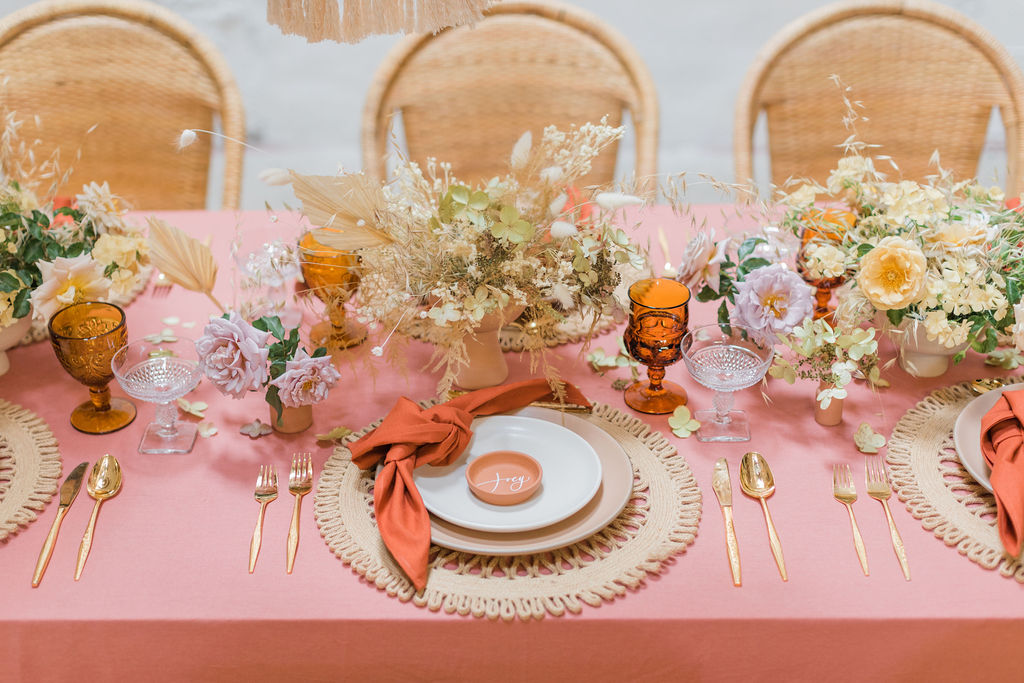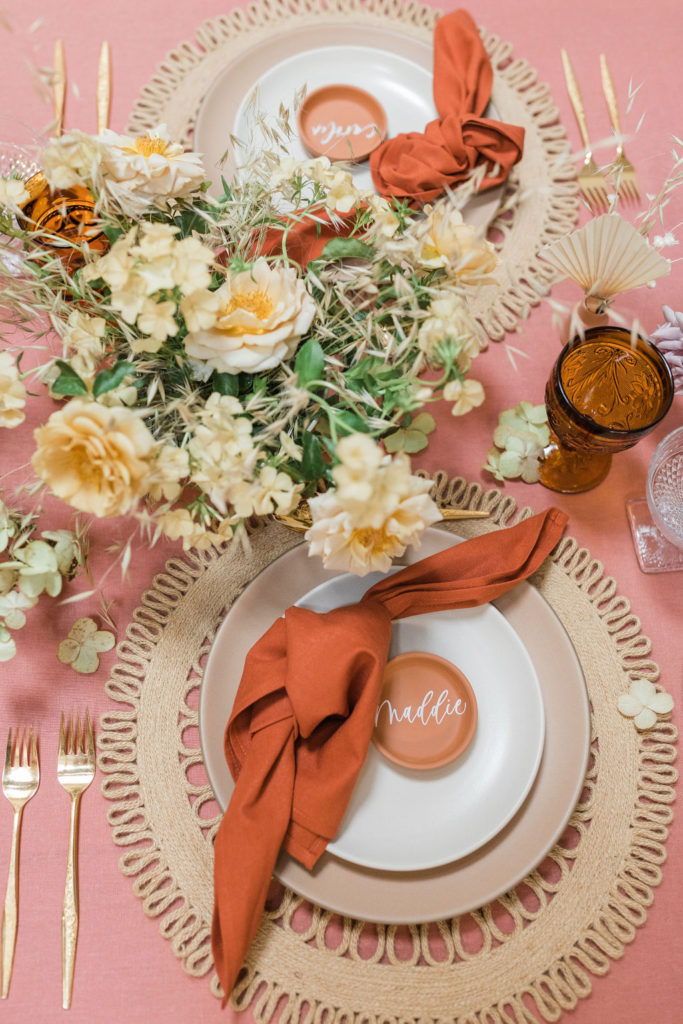 Here's a little bit from Alex owner of Third & Park on the florals…
"I chose neutral-hued blooms to complement the overall palette of the tablescape. Creme brûlée Phlox, koko loko and honey Dijon garden roses from psalterfarms in San Diego and dried wild grasses. The lavender flowers were koko loko garden roses, and I used pee gee hydrangea. I also used handcrafted terra-cotta pottery from Leila Ray ceramics!"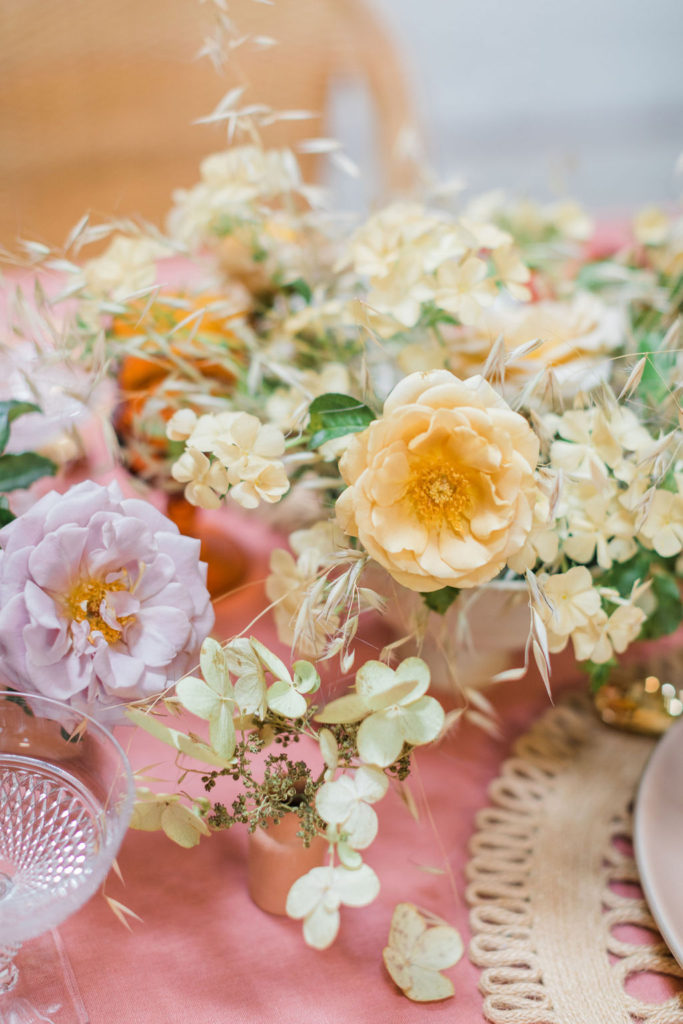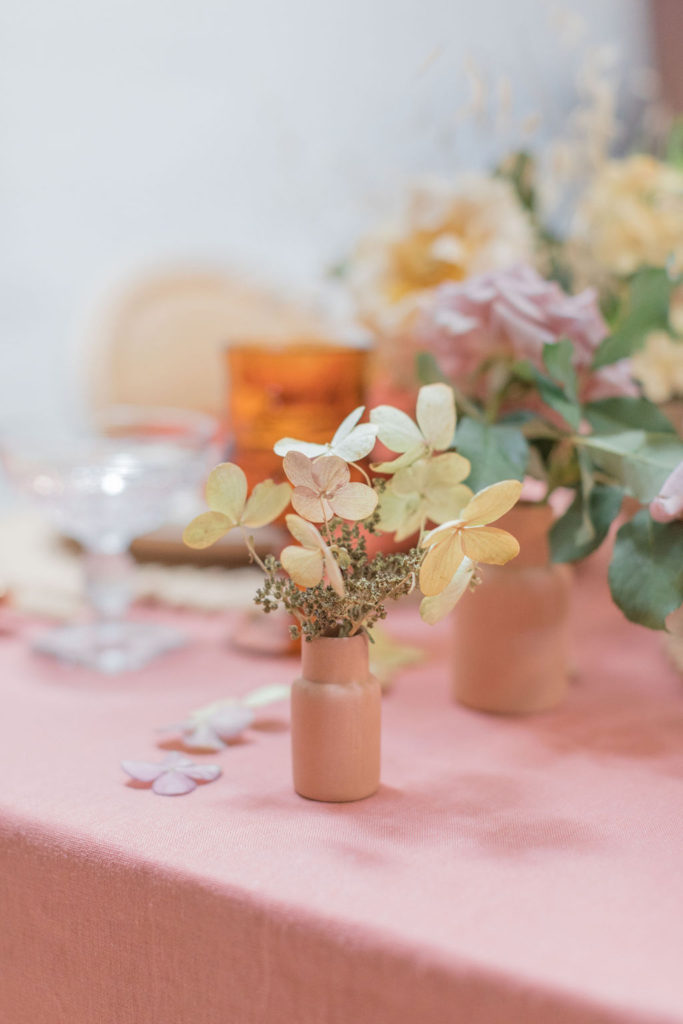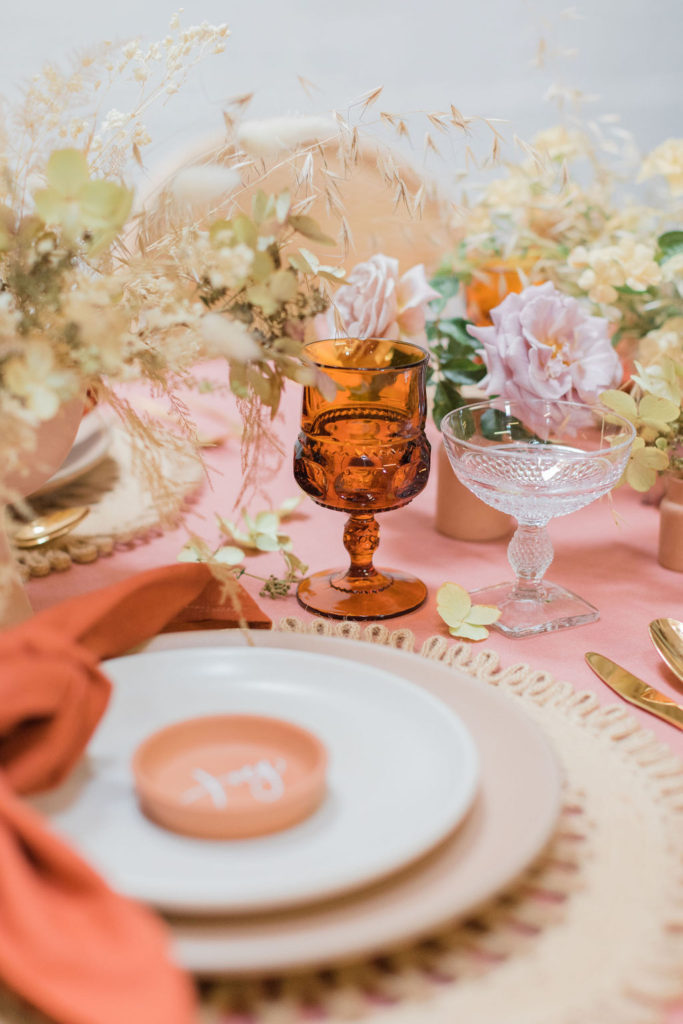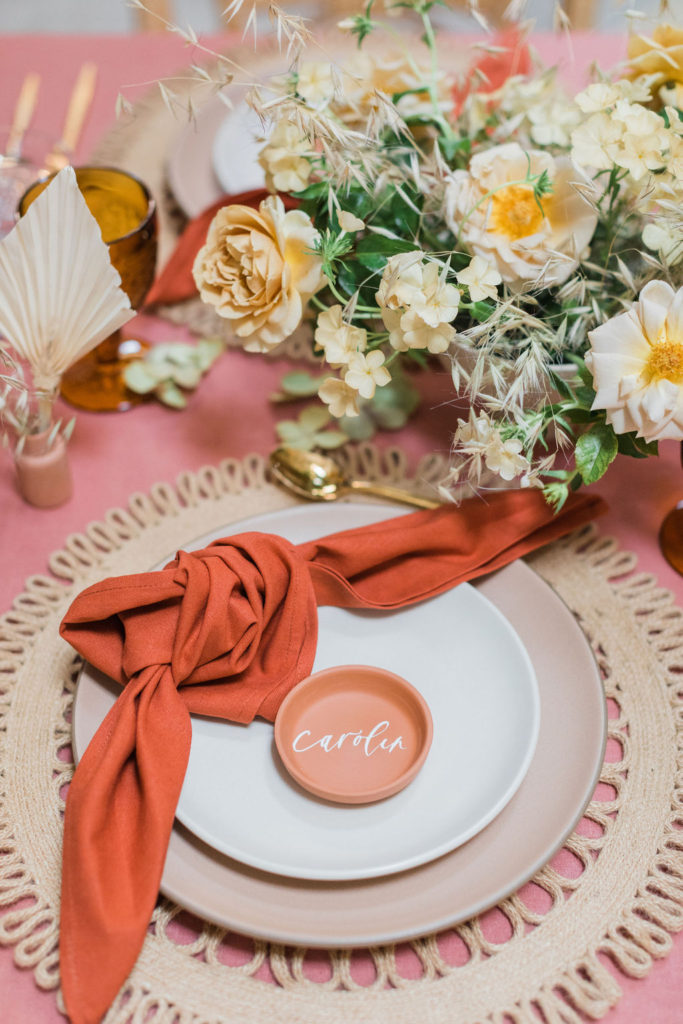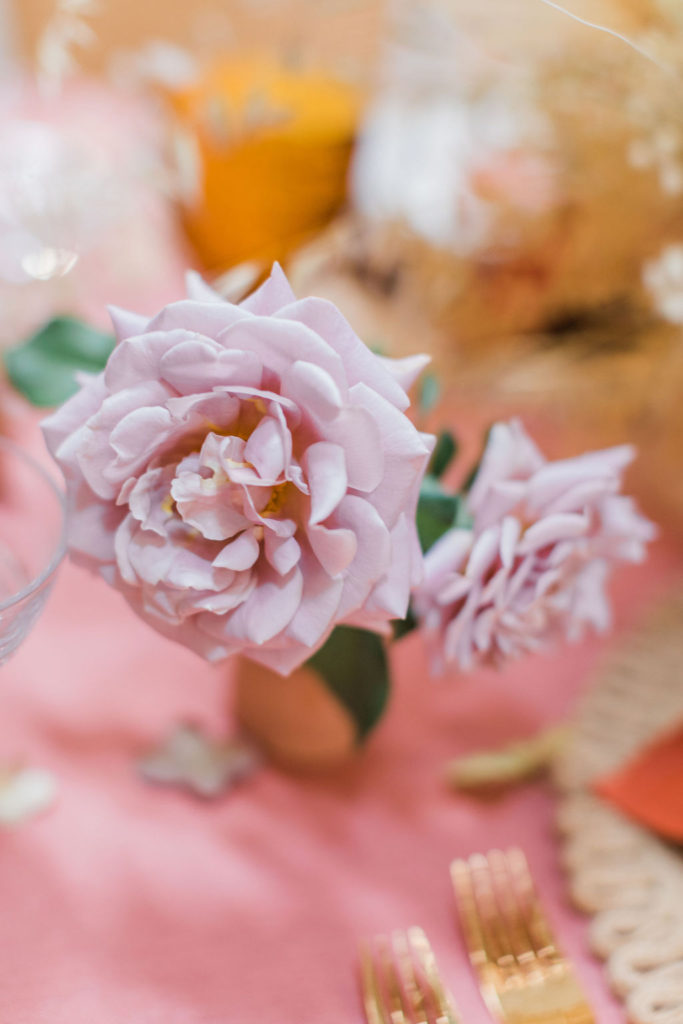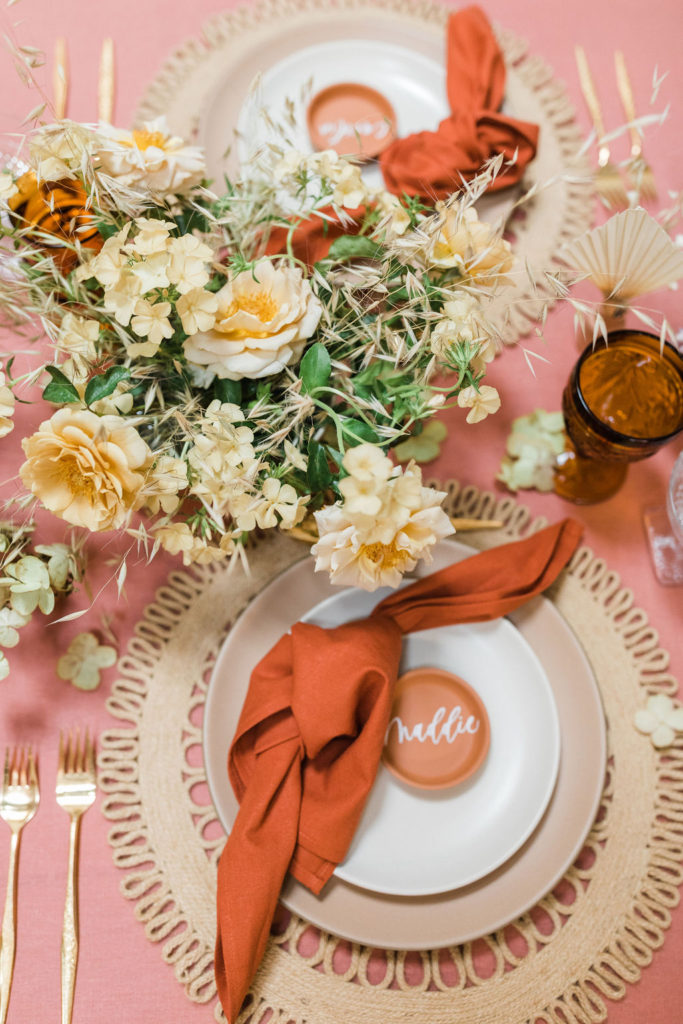 I was asked by Martha Stewart for advice on making Thanksgiving special for your quarantine pod. My answer was one I've said before – have a plan and prepare as much as you can the day before. Set the table beforehand and take care of the food in the morning. Or you can have everyone bring a dish. That way the day of you can focus on entertaining and being in the moment. As much as you can make things pretty and delicious, the most important thing is to be together and share in the fun!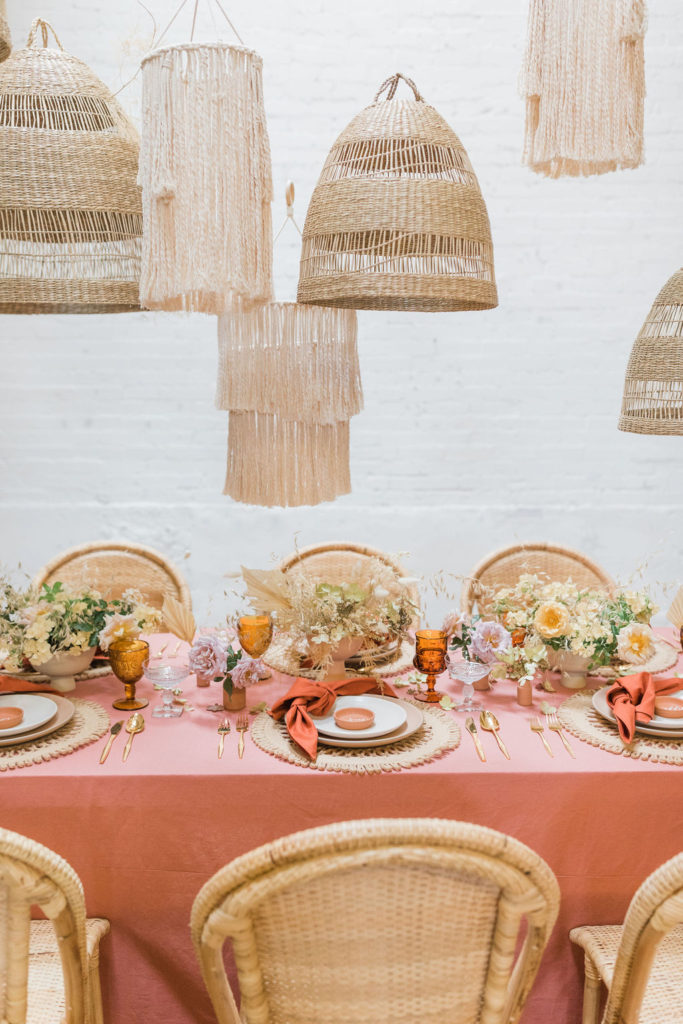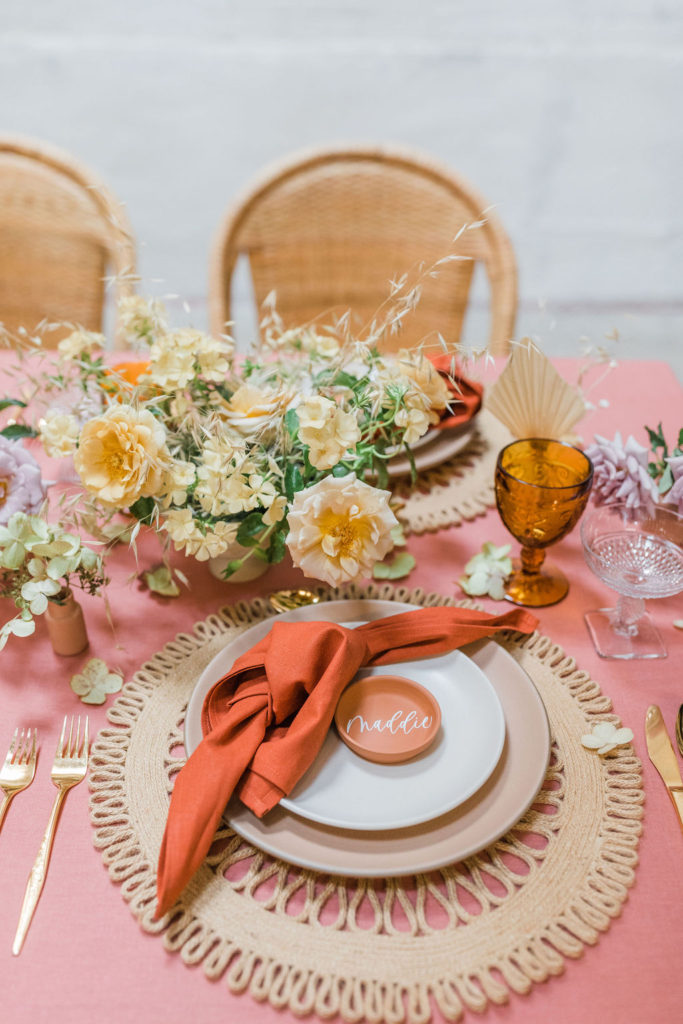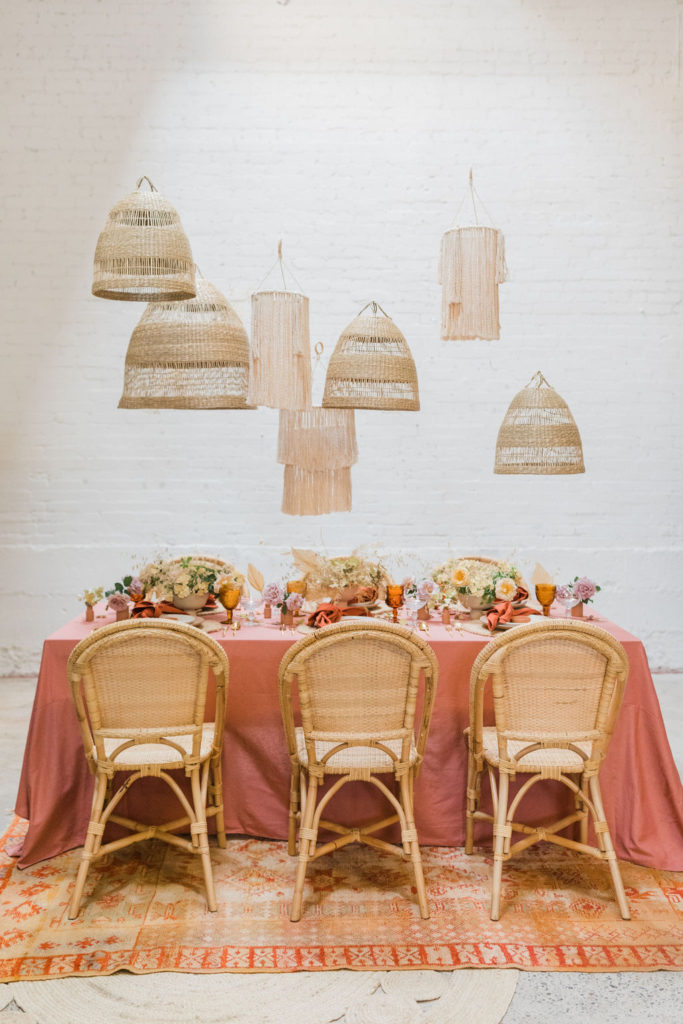 Our talented friends at Colette's Catering created the most scrumptious and beautiful menu. I love how their food is always delicious but also an eye-catching moment for an event. This spread was full of color and fun flavors!!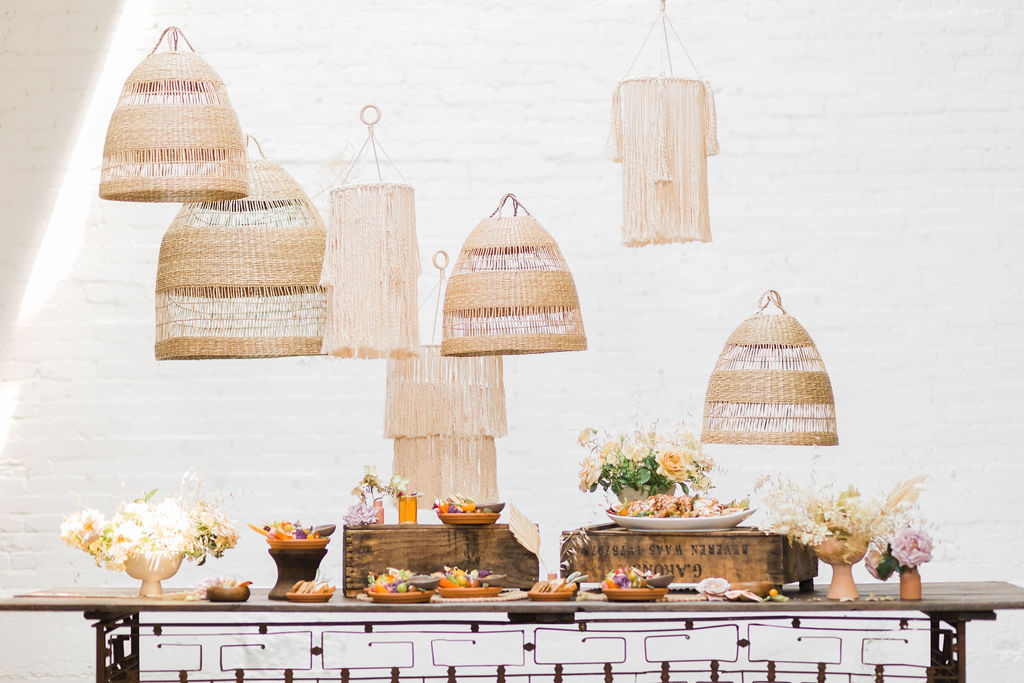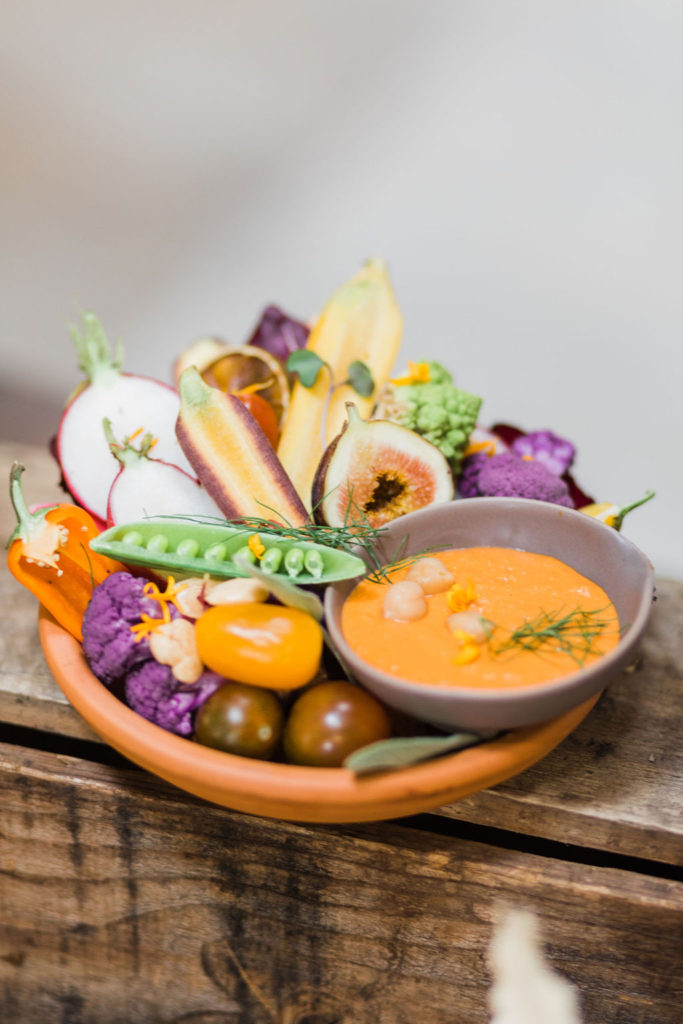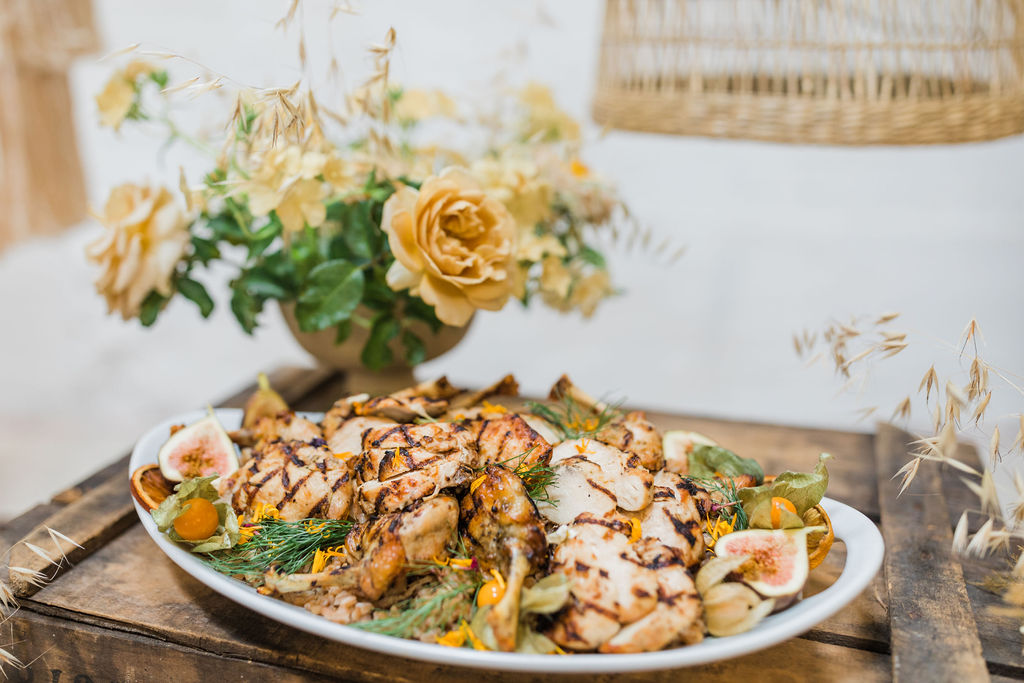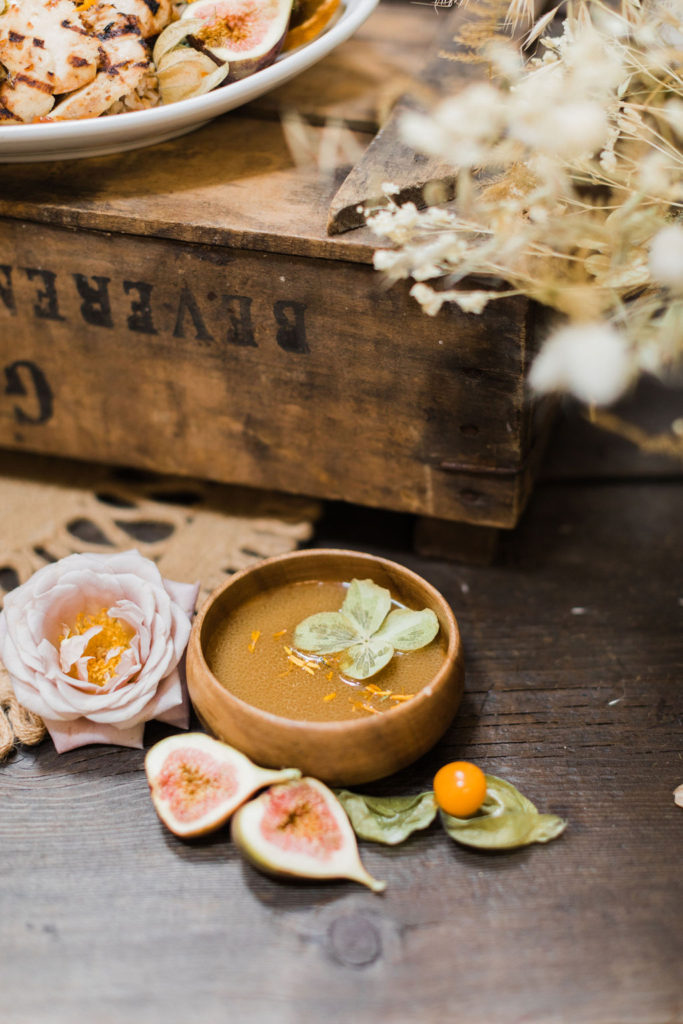 Here's a little bit about their spread from Sarah Kuhlberg, the creative director of Colette's Catering.
"For the menu, not only were we inspired by the lovely hue of terra cotta, but seasonally inspired small dishes added to the fall gathering experience. First, we choose to do a grazing table where each guest can choose their small plates. The menu consisted of Grilled Organic Chicken with Farro, Figs, and Herbed Jus, and the most inspired dish of all — Fall Crudités with Roasted Pepper Hummus. We work with some great local farmers and purveyors when it comes to seasonal produce. The mini crudités included tri-colored baby carrots, romanesco florets, heirloom tomatoes, french radishes, and purple cauliflower, all of which reflect a true Southern Californian harvest. Of course, we had to incorporate the color scheme into the overall food display and plating, to round out the entire vision."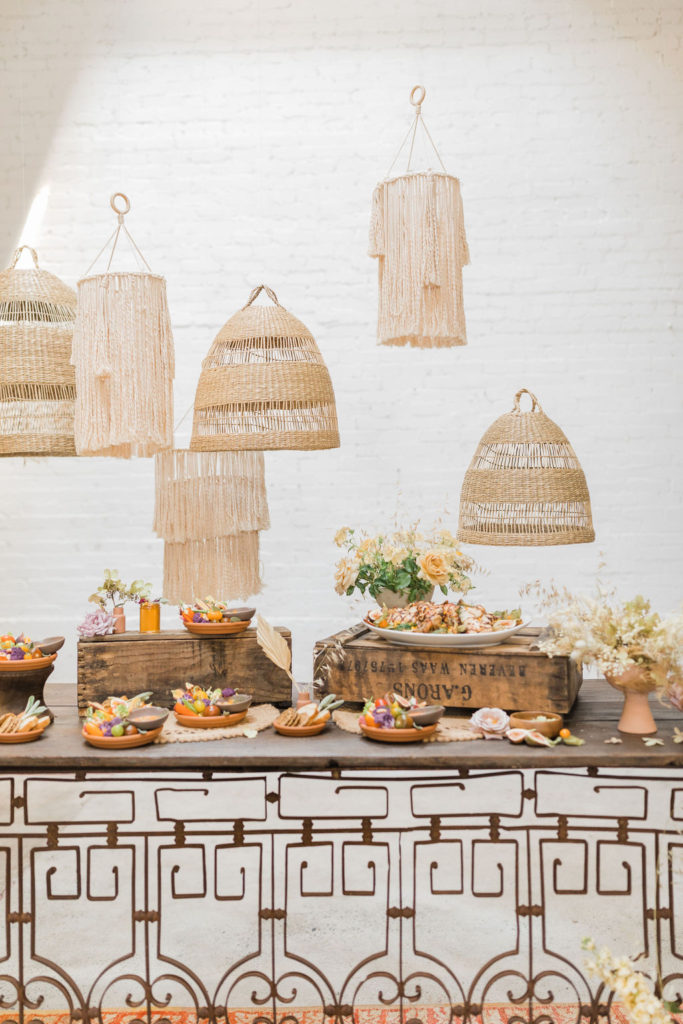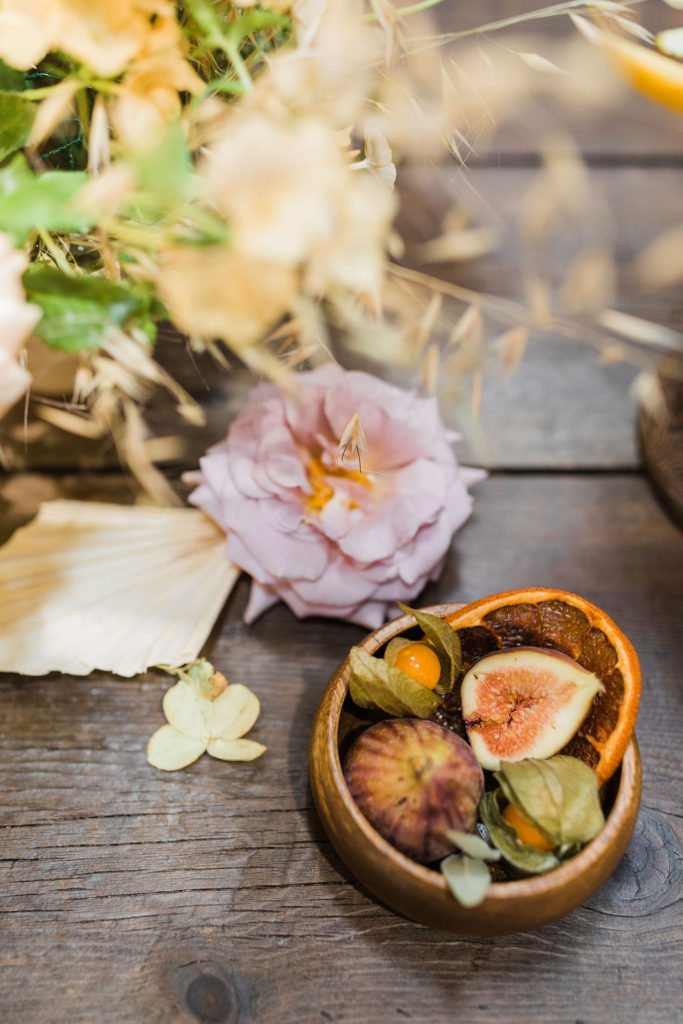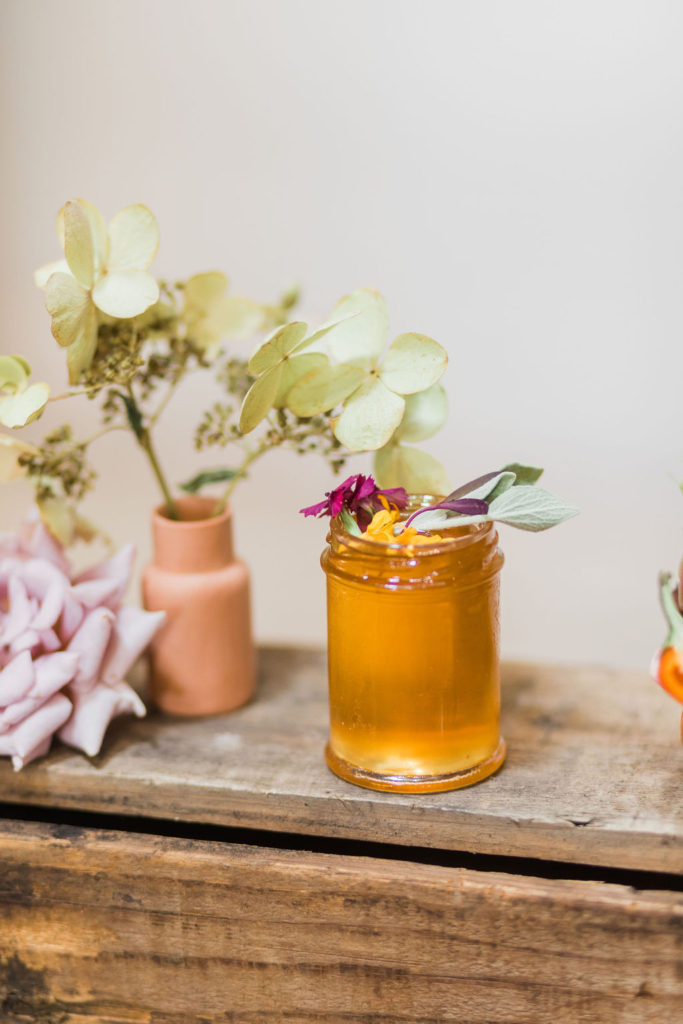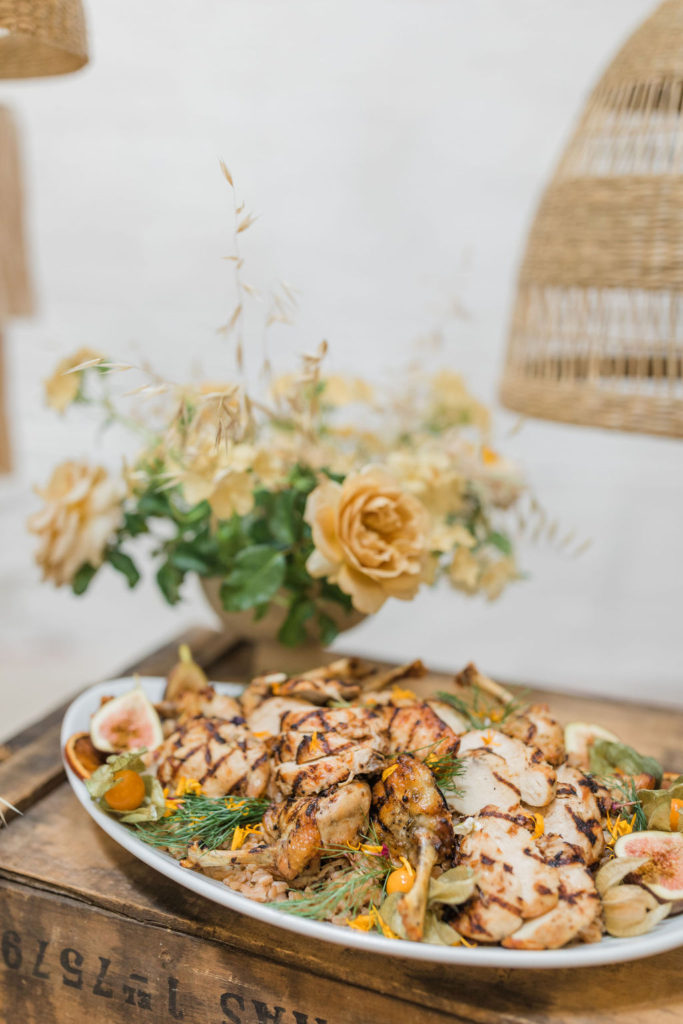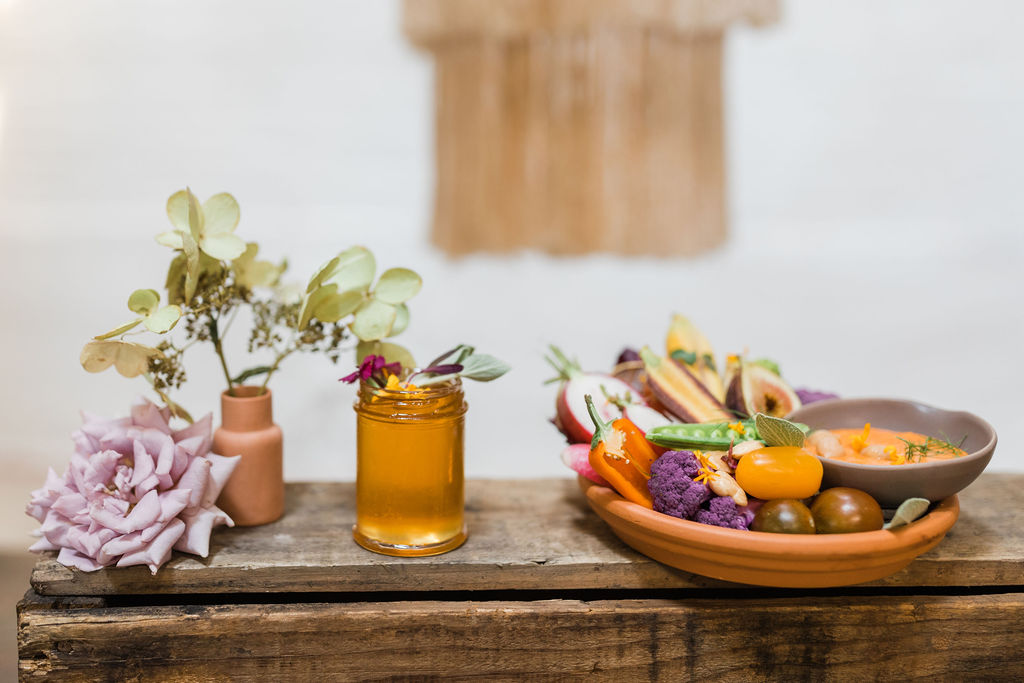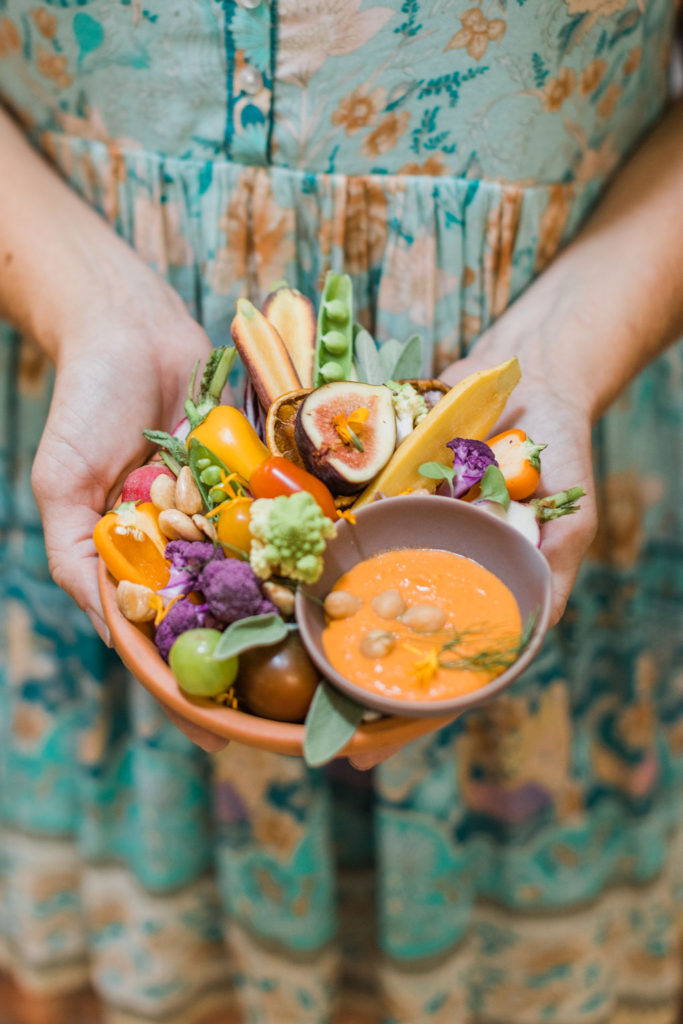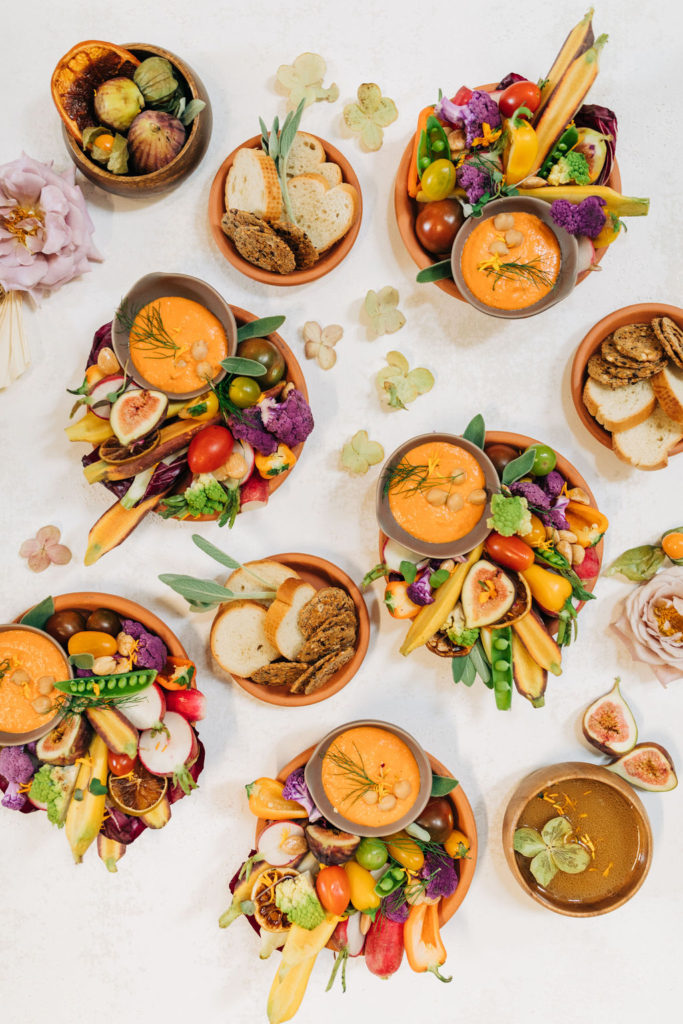 The bar was the place to be!! Of course, our friends at Bottles & Blooms created the most beautiful and delicious cocktails for this soiree! At a party, themed cocktails are a must, don't you think?! A little fun personalization along with a whole lot of pretty can go a long way!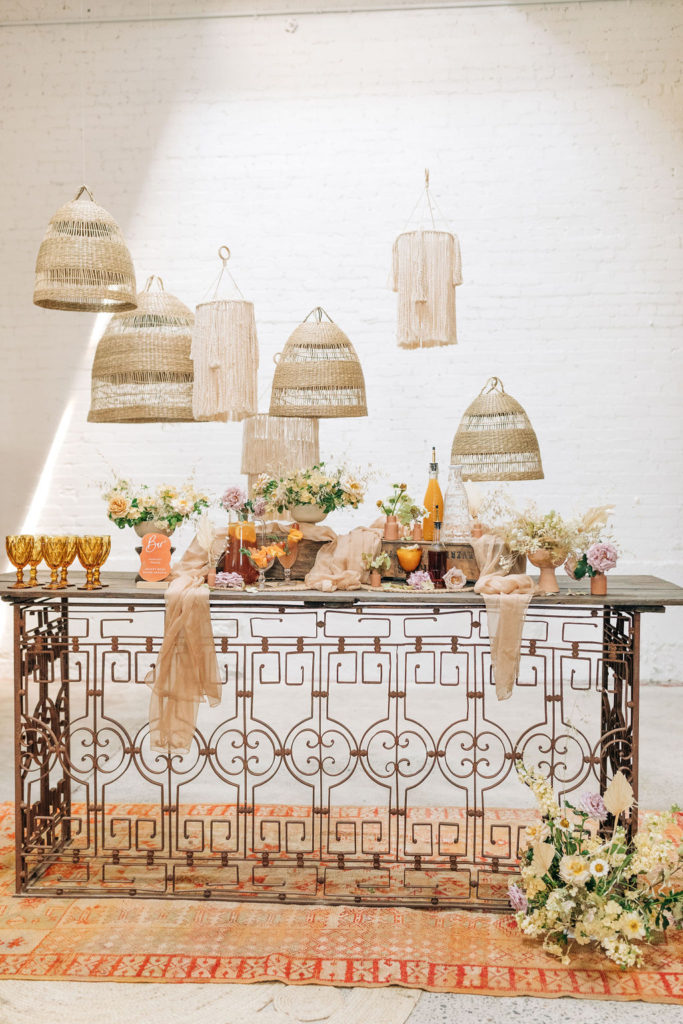 Our friends at Martha Stewart wanted to know about that pretty little bar sign by Proper Letter. Aislinn, the owner, and the designer was happy to reply!
"For the bar signage, I hand-lettered the words in my signature calligraphy and then digitized everything on the computer. After that engraved and laser-cut the acrylic on my laser cutter and then filled in the engraving with white ink!"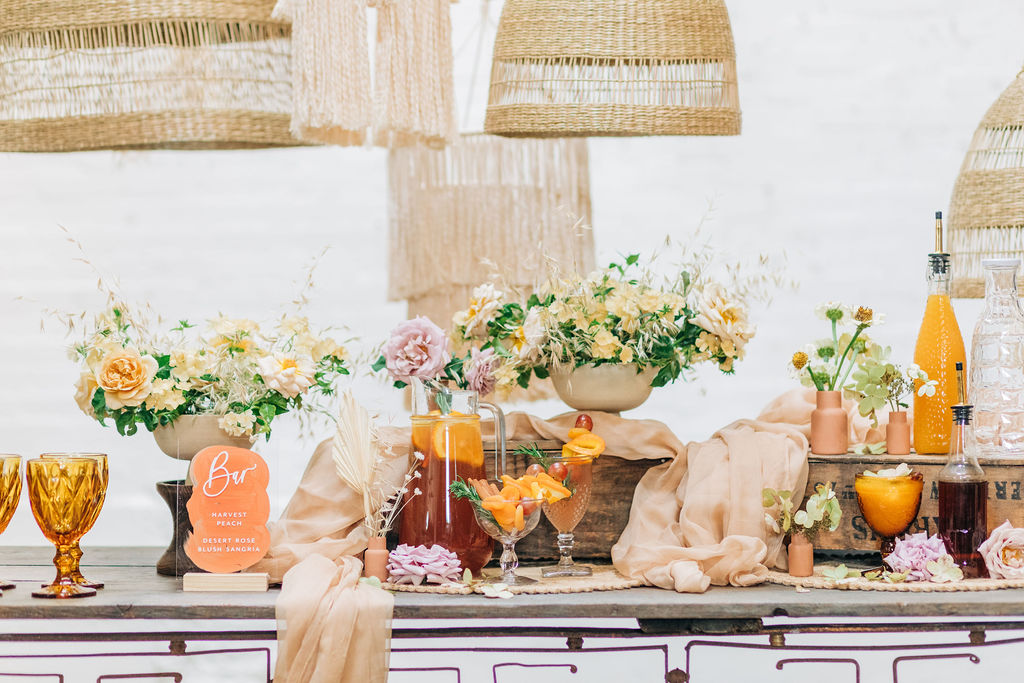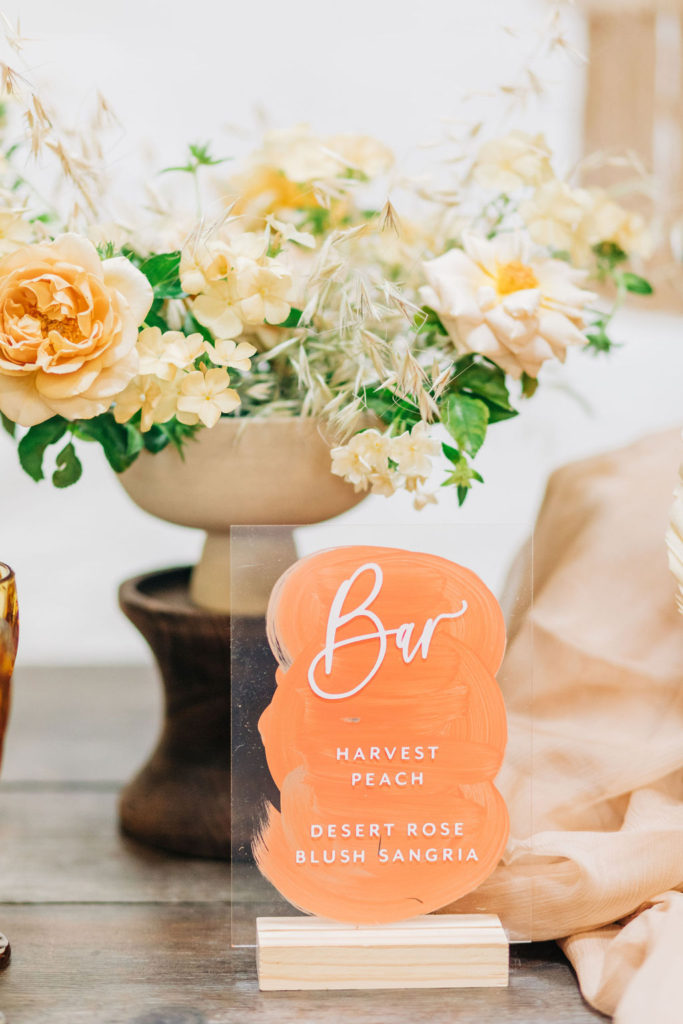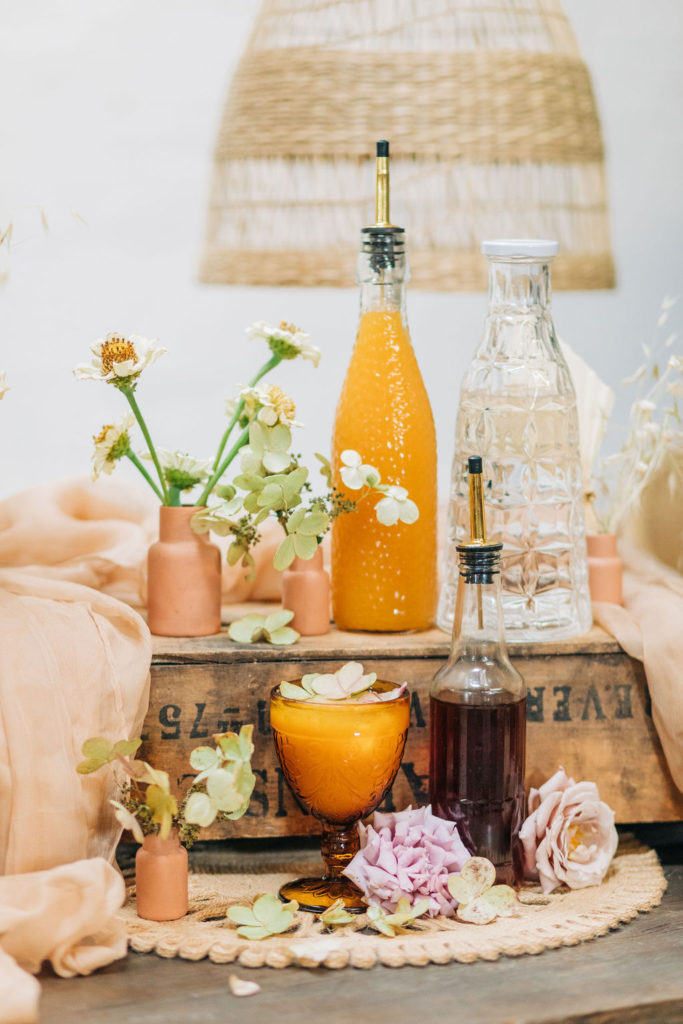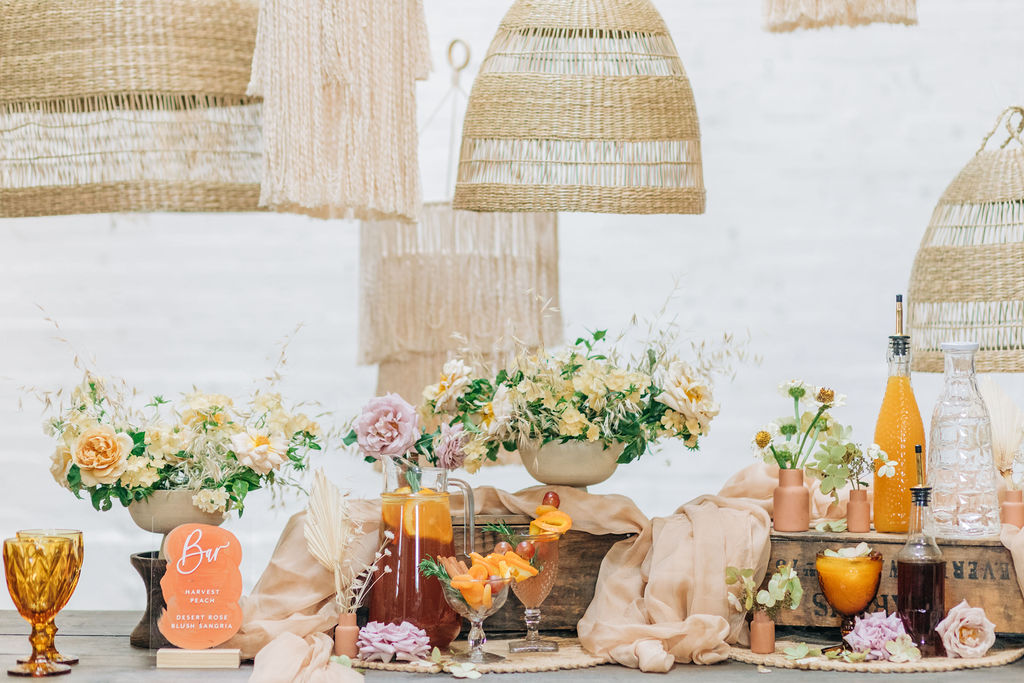 Here's a little bit from the ladies behind Bottles & Blooms including the recipes to these yummy cocktails…
Who doesn't love a good sangria? This fun play on a traditional sangria combines a crisp rosé with fruit juices, a delectable apricot brandy, all topped off with spicy ginger ale and macerated fruits. We garnished this cocktail with a fresh rosemary skewer stacked with grapes, dried apricots, and citrus for a delicious and flavorful treat. This Sangria is sure to bring everyone together for the holidays.
Desert Rosé (Blush sangria)
In a large pitcher add
1- 750ml bottle Rosé
16oz White grape juice
7oz Apricot brandy
4oz Lemon juice
For more flavor and fun add:
2 Cinnamon sticks
A handful of Dried apricots
A bunch of Halved grapes
1 Orange cut into wheels
4 fresh pieces of rosemary
Stir & set in refrigerator for up to 2 days
Upon service top with 16oz of ginger ale and over over ice
With leftover fruit and herbs,
Take a long sprig of rosemary, using it as a skewer, and stack the fruit for a festive garnish.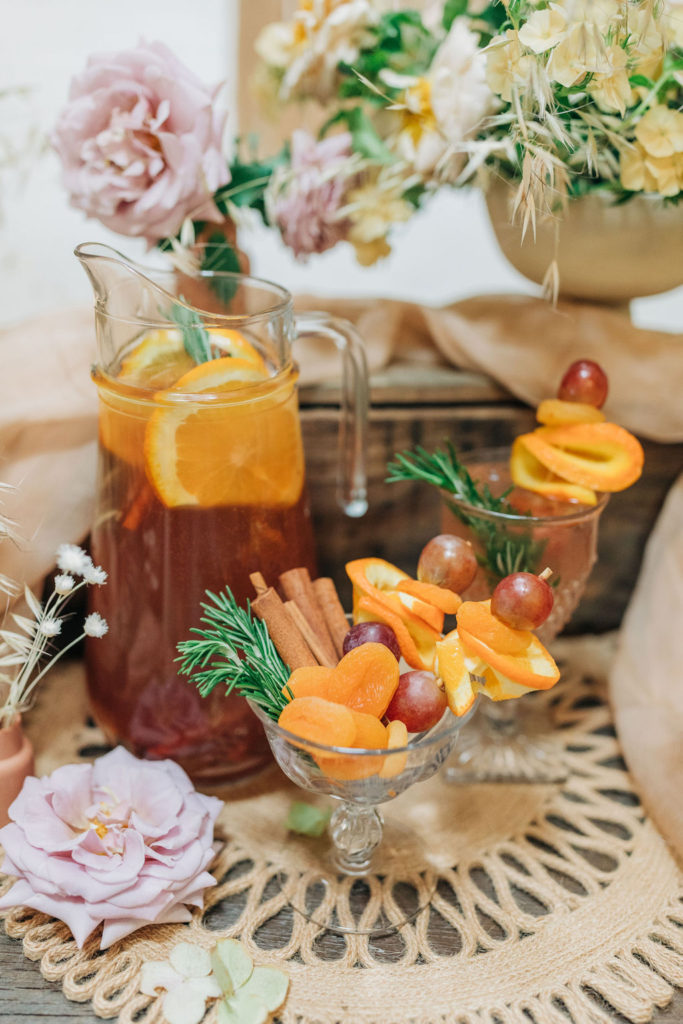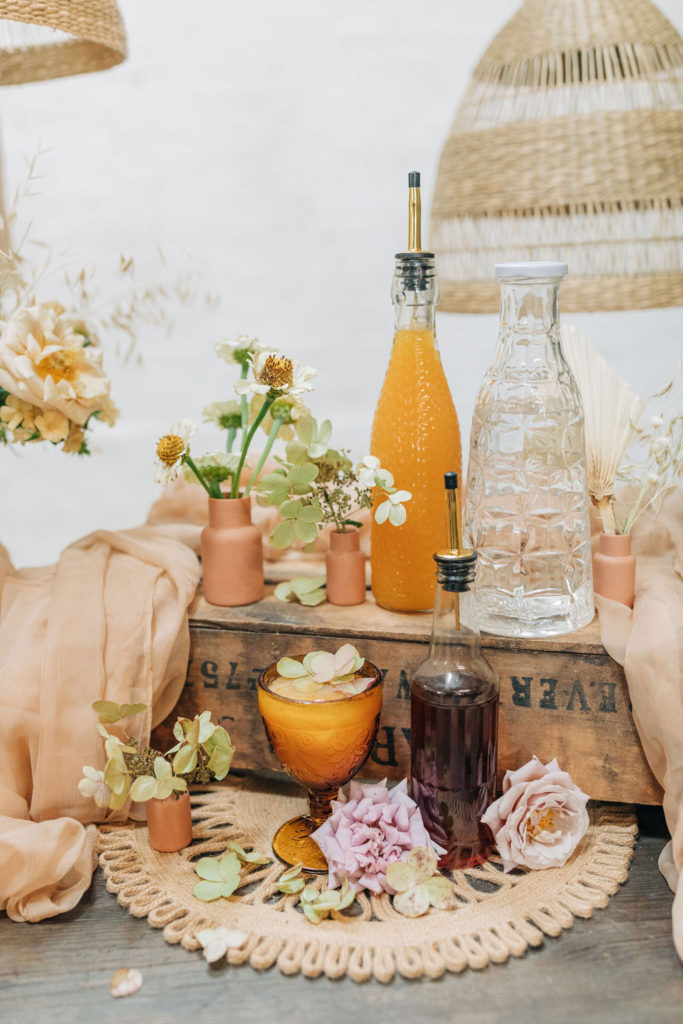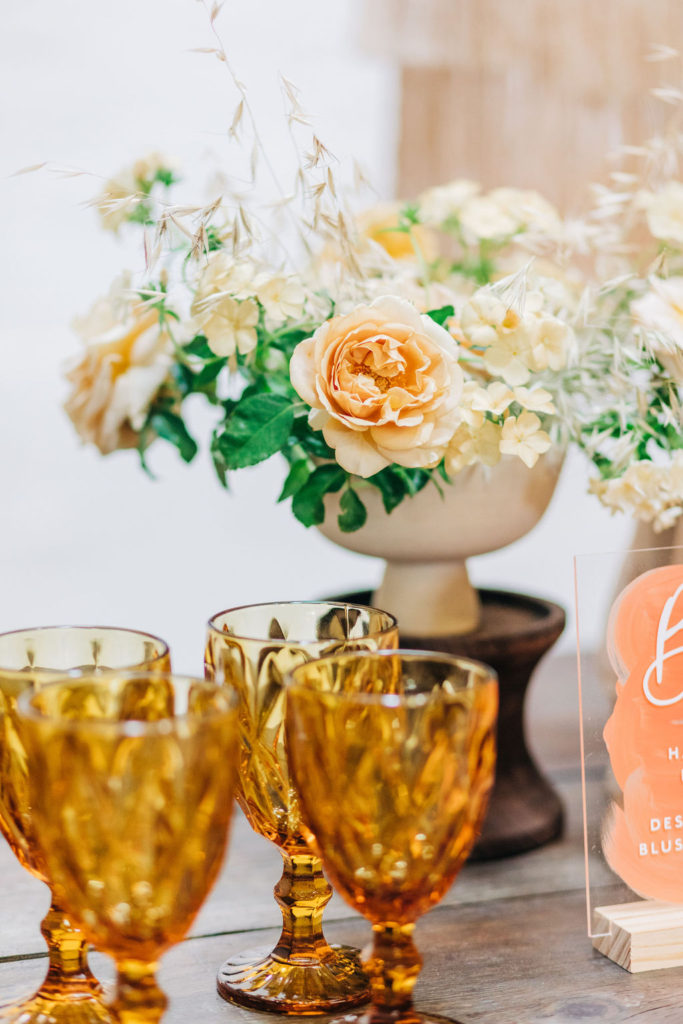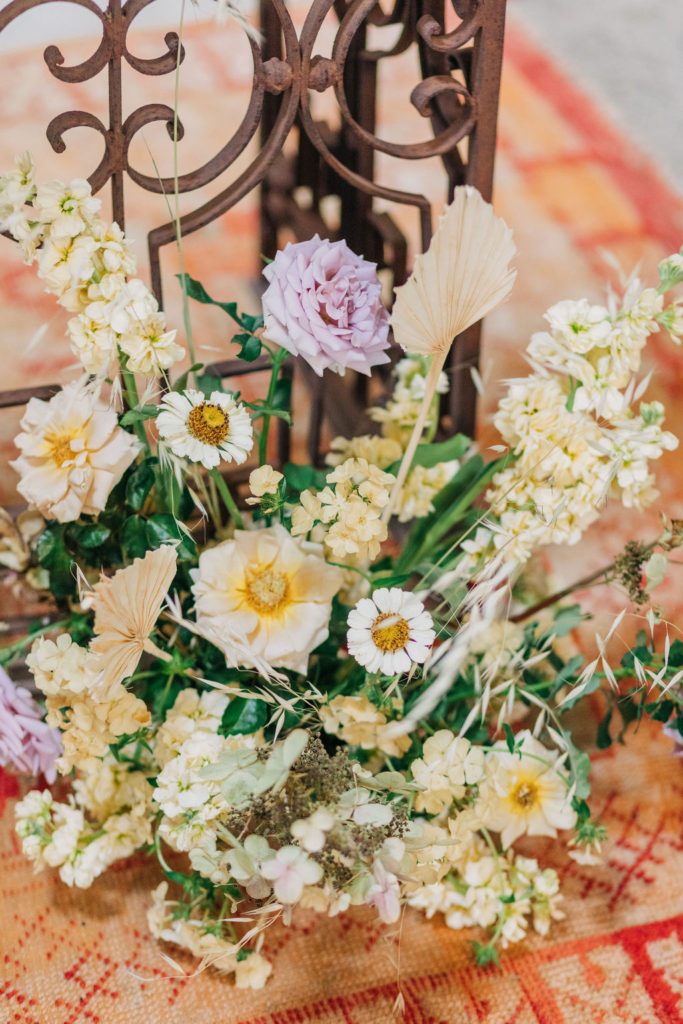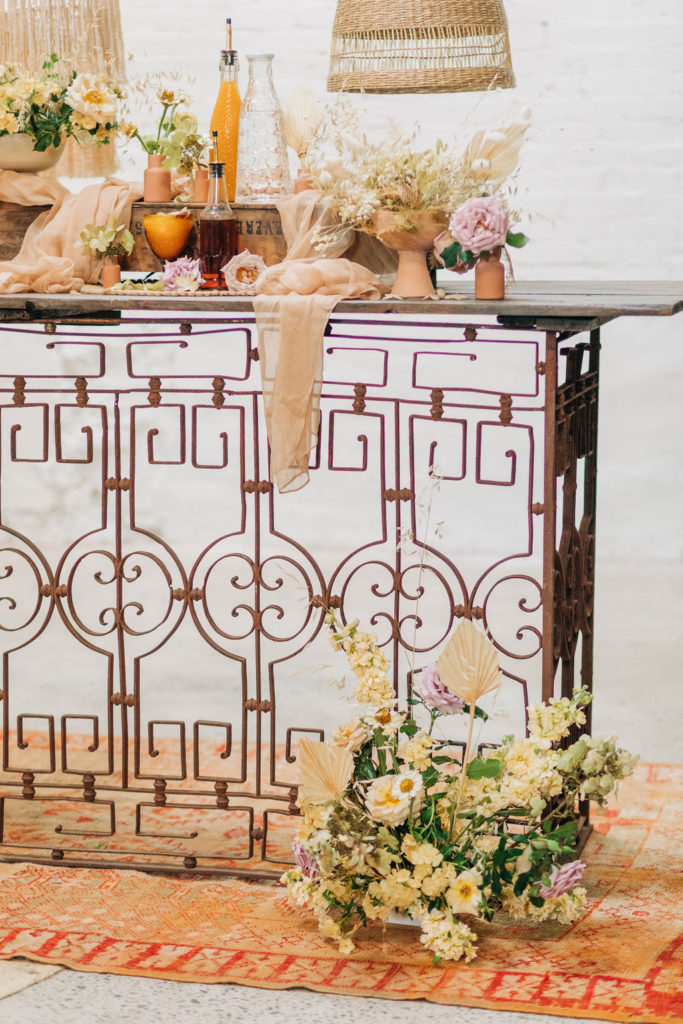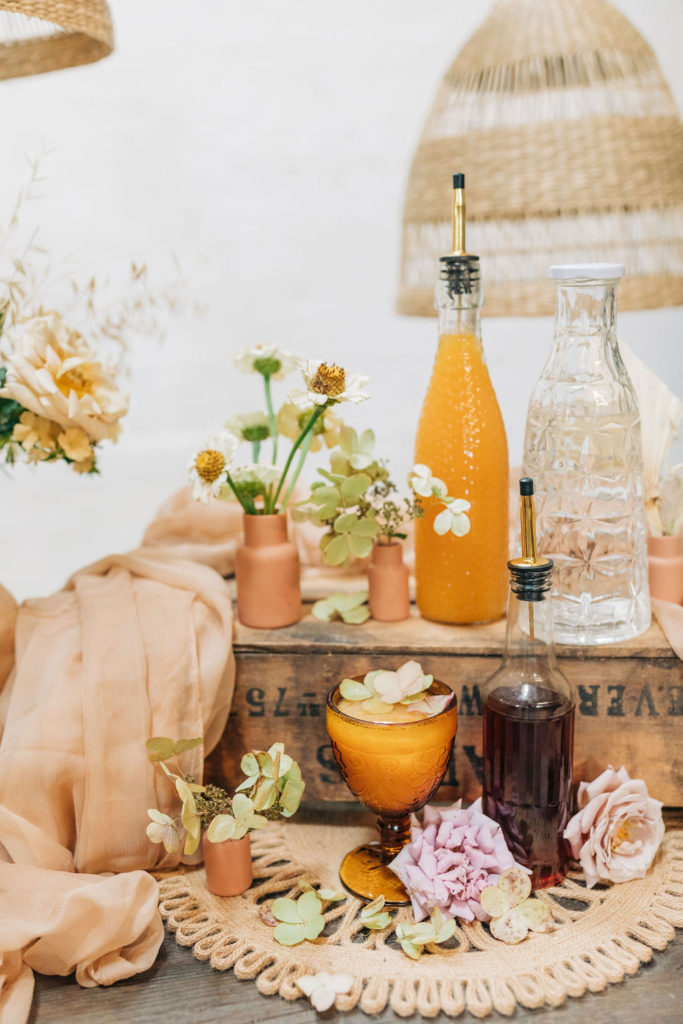 Our Harvest Peach cocktail is a delicious and fresh fall staple with a fun twist. Combining the sweet and savory flavors of amaretto liqueur with fresh peach juice and yakult, a japanese sweetened probiotic beverage, this cocktail is sure to get you in the fall mood and please the whole crowd.
Harvest Peach
Served in a 12oz cup on the rocks
In a shaker with ice add
2oz Vodka
1oz Amaretto
2oz Peach juice
1/2 bottle of Yakult
Shake hard until frothy
Pour all contents into cup
Garnish with fresh blooms & enjoy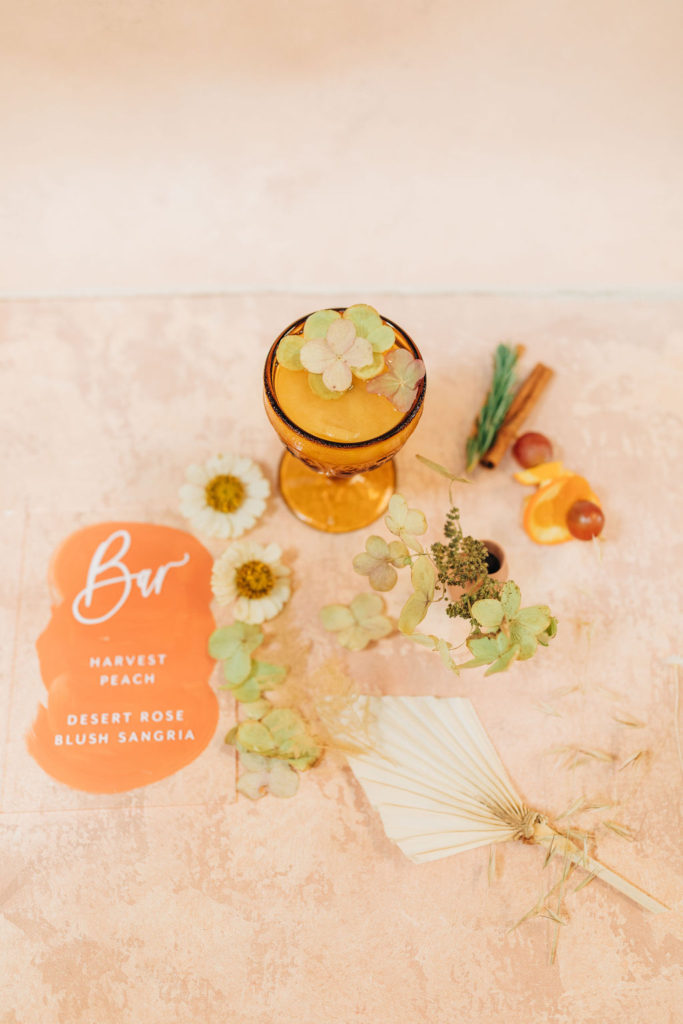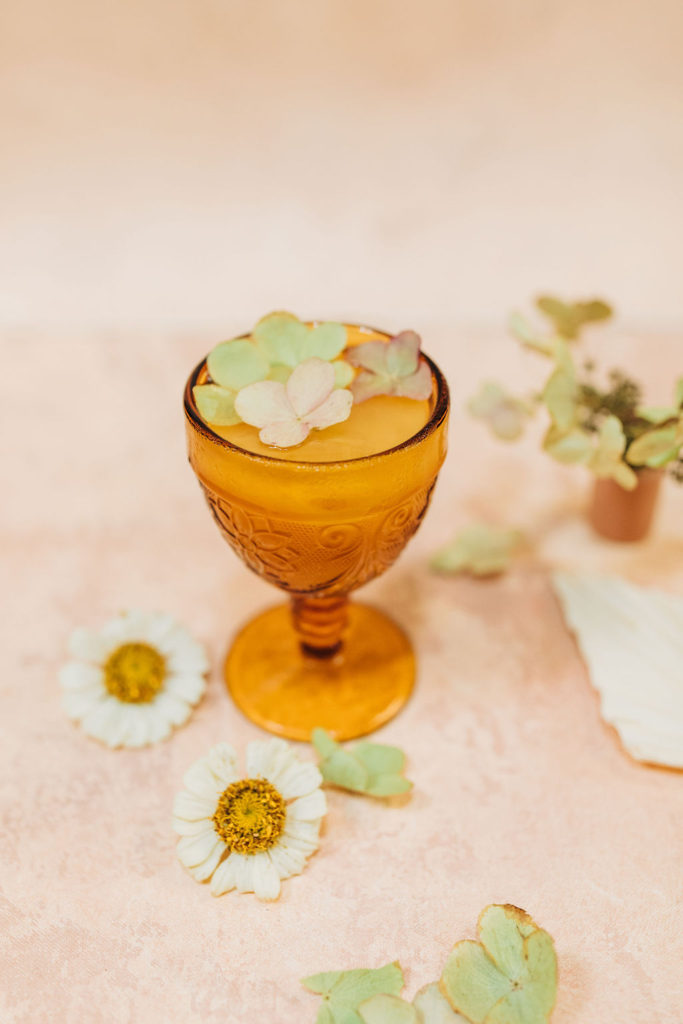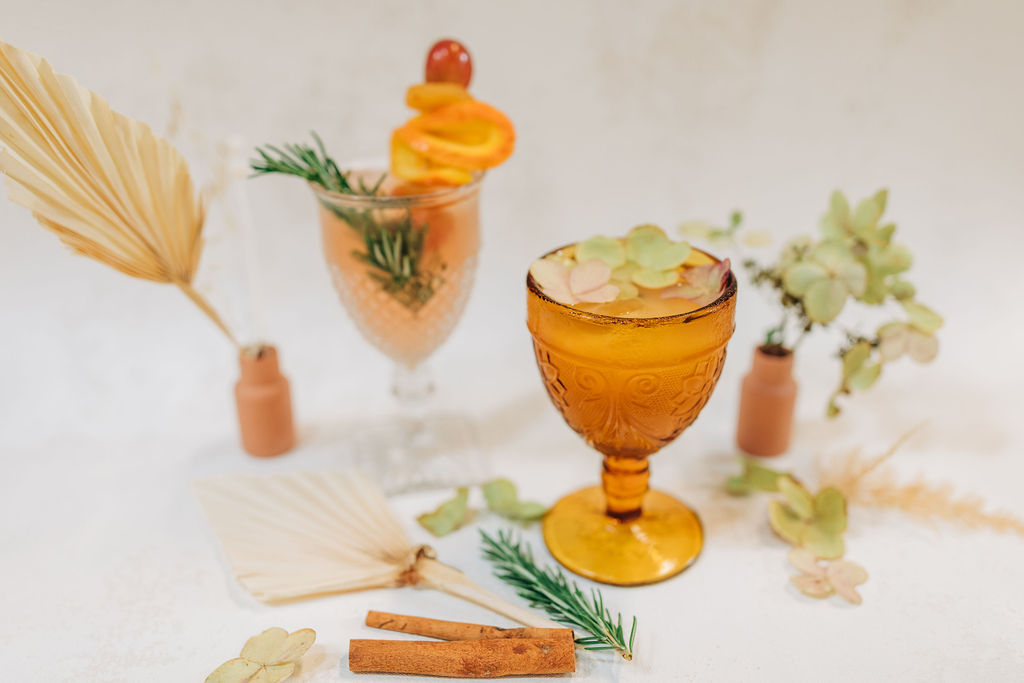 Onto desserts!!! Sugar Crush Sweets really wowed us with this one! I sent her a few modern cake images that I liked and I absolutely adore what she created!! Plus all the bite-sized desserts are equally amazing!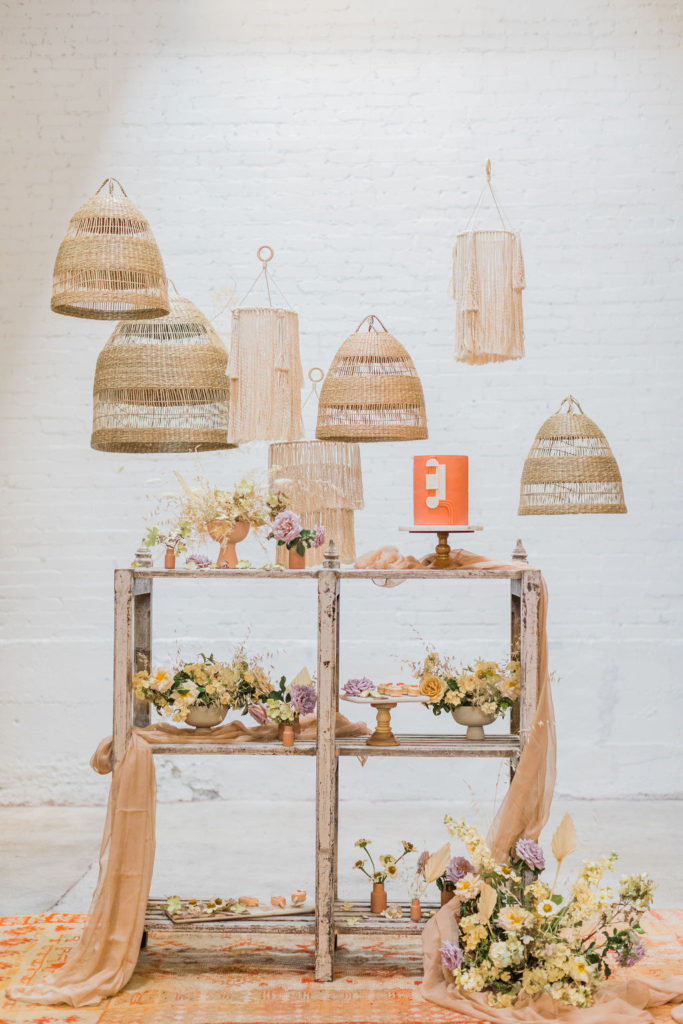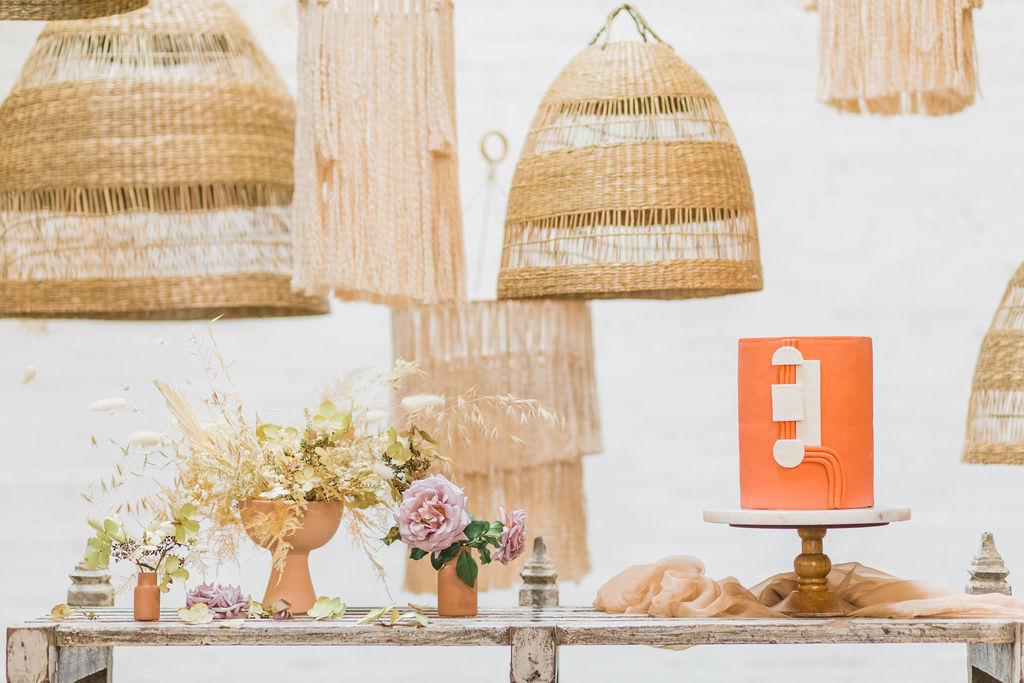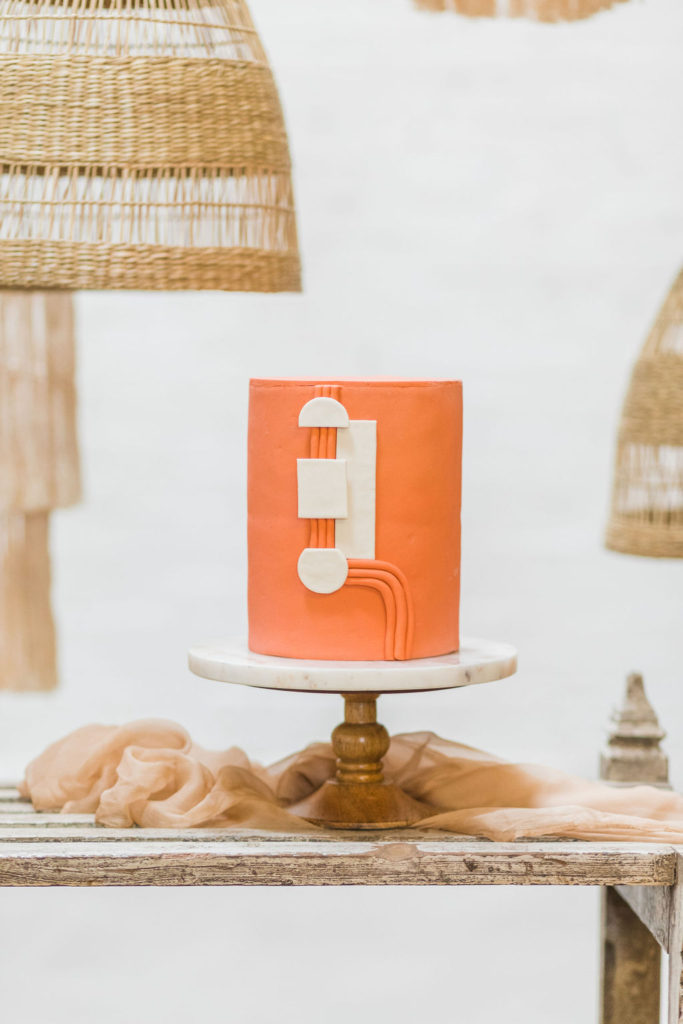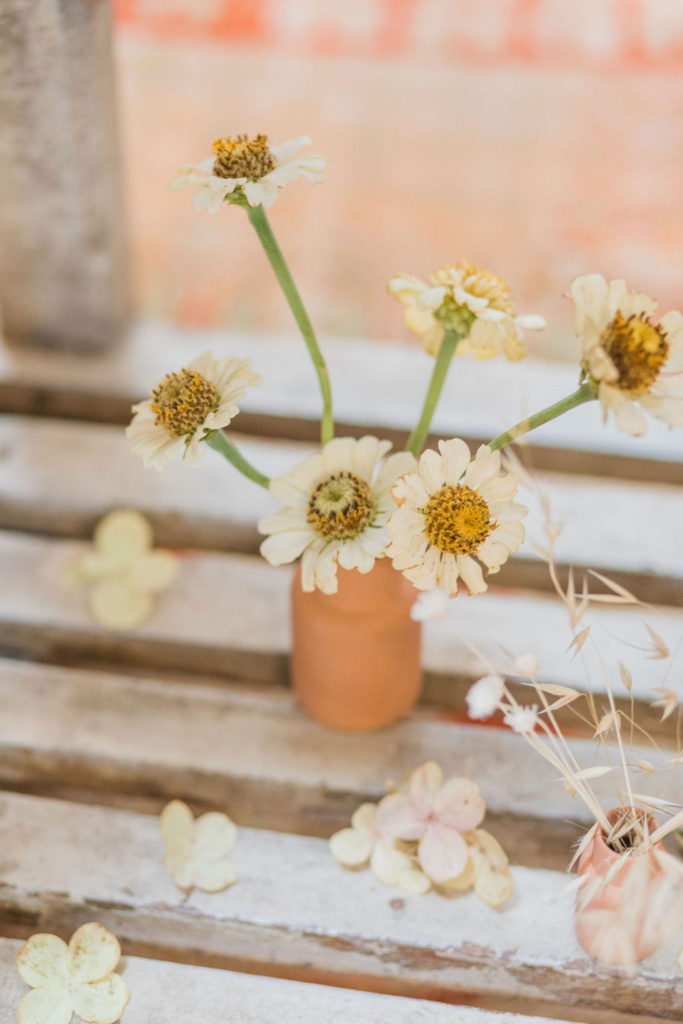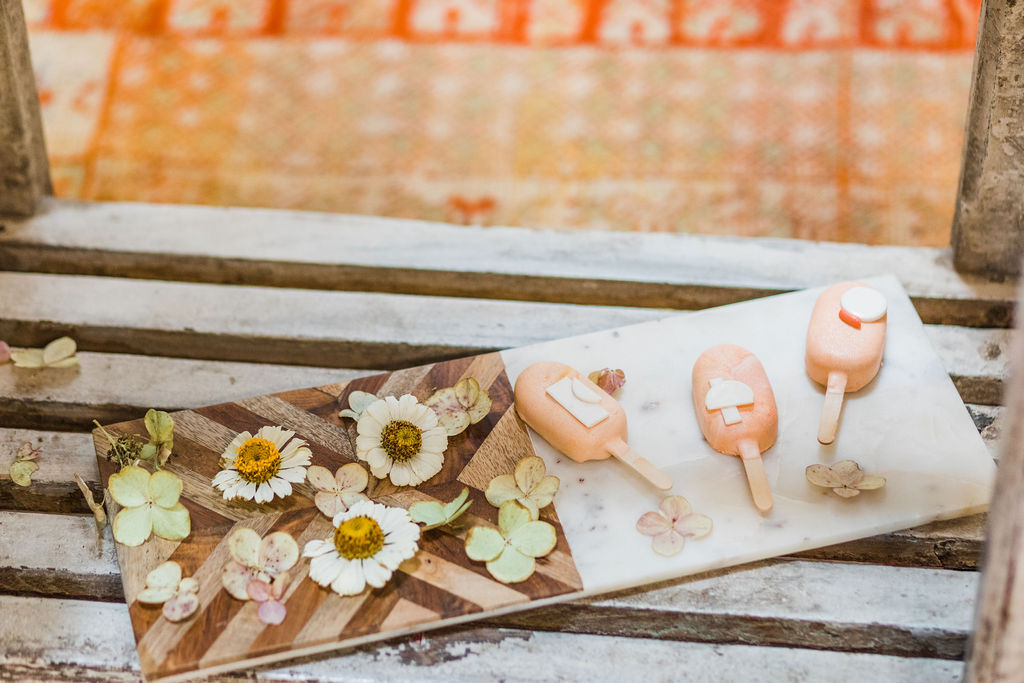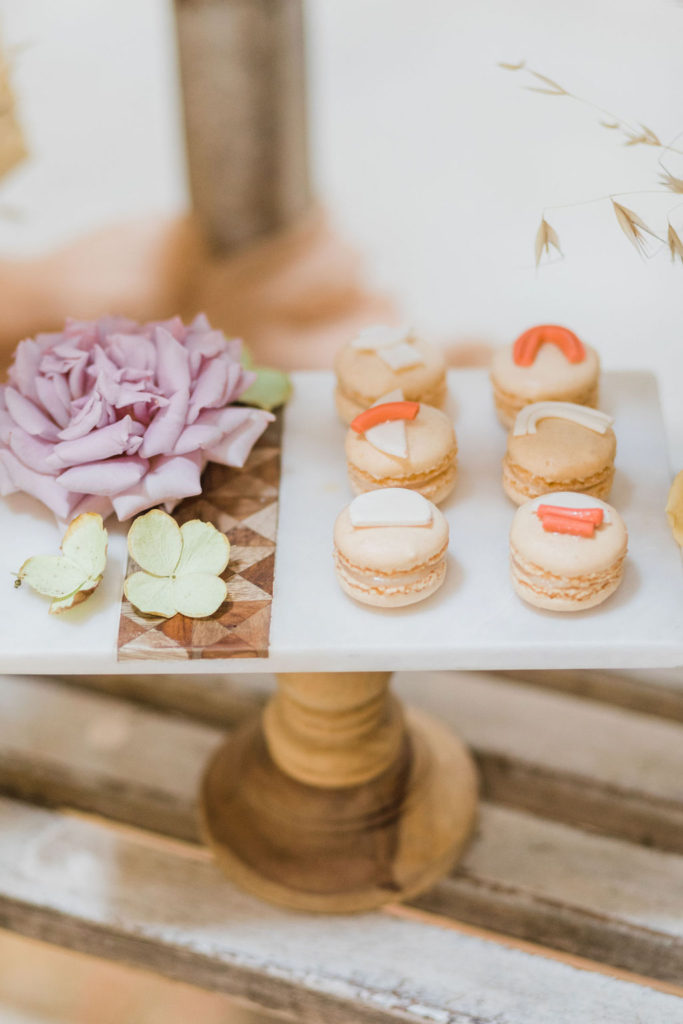 Here's a little bit from Diana Murguia, owner of Sugar Crush Sweets, talking about this gorgeous cake!!
"For the cake, I wanted to create something with a modern aesthetic, clean lines, and an artful appearance. The flavor is our most popular, moist, and velvety lemon cake with raspberry filling and raspberry buttercream frosting. The buttermilk in this cake makes the cake extra moist!"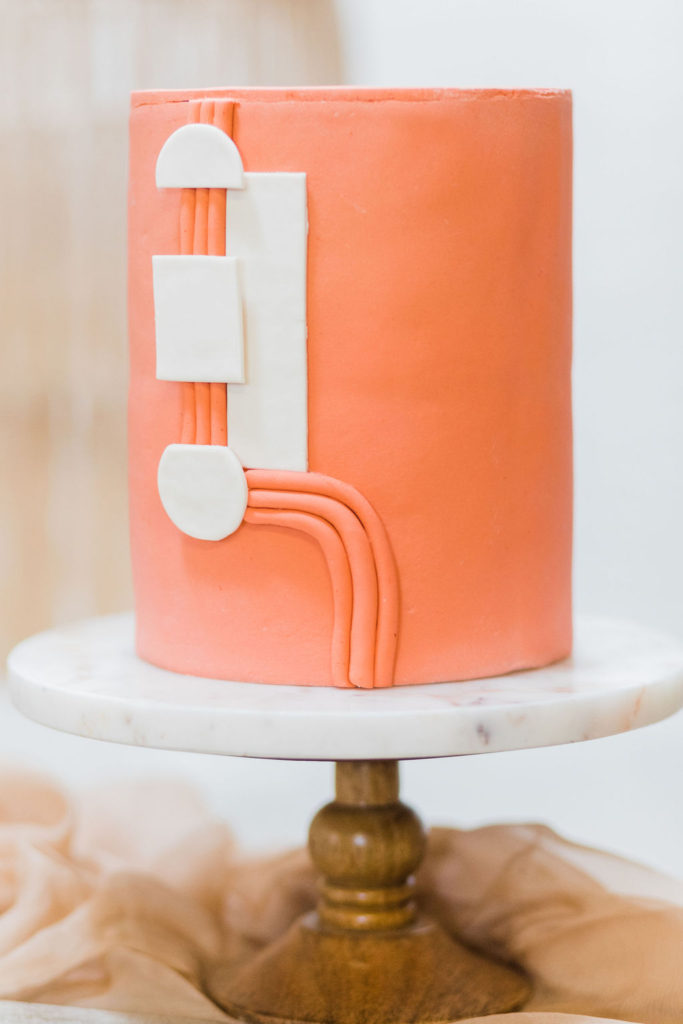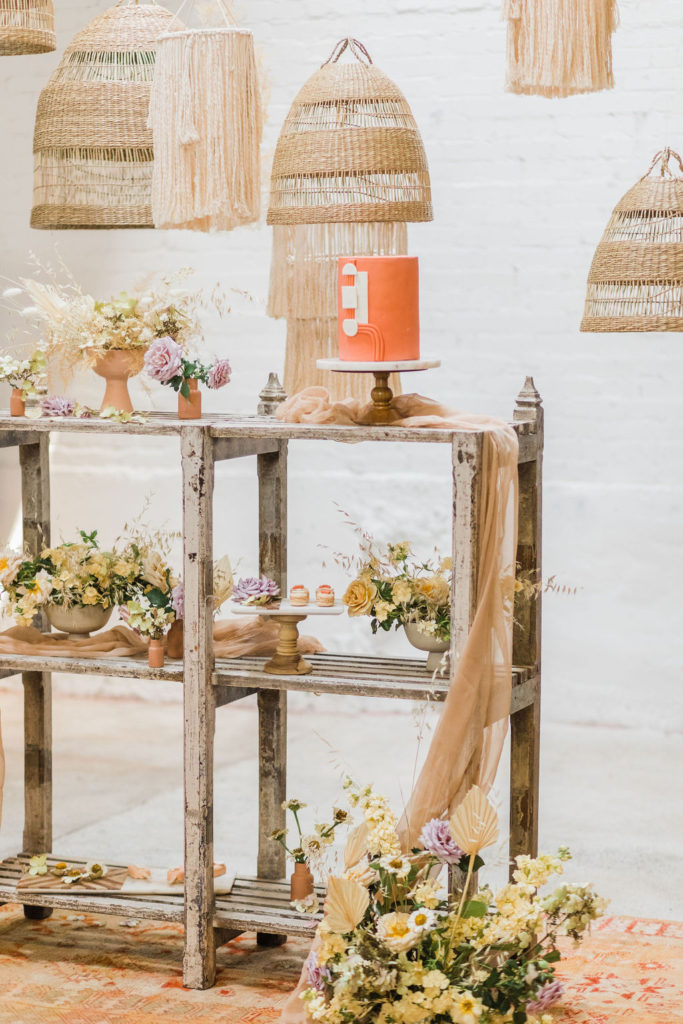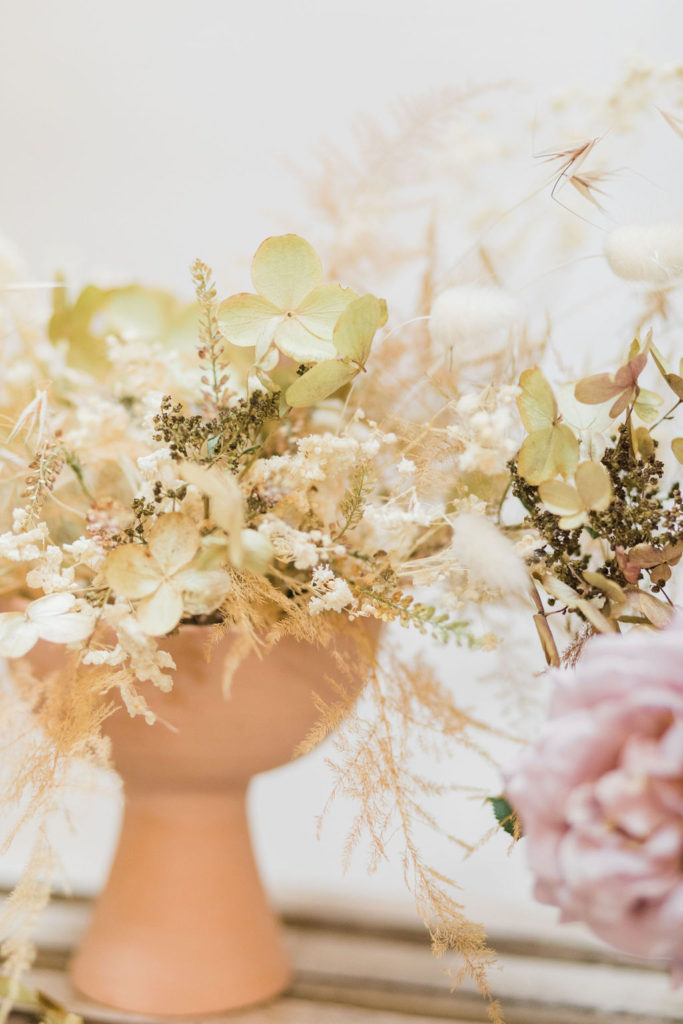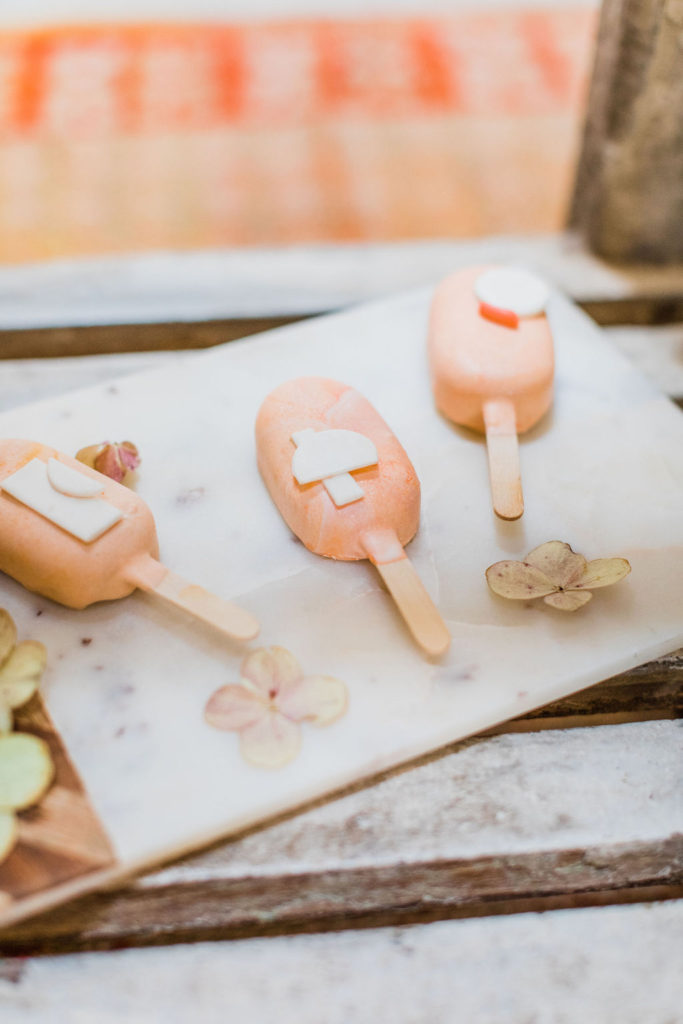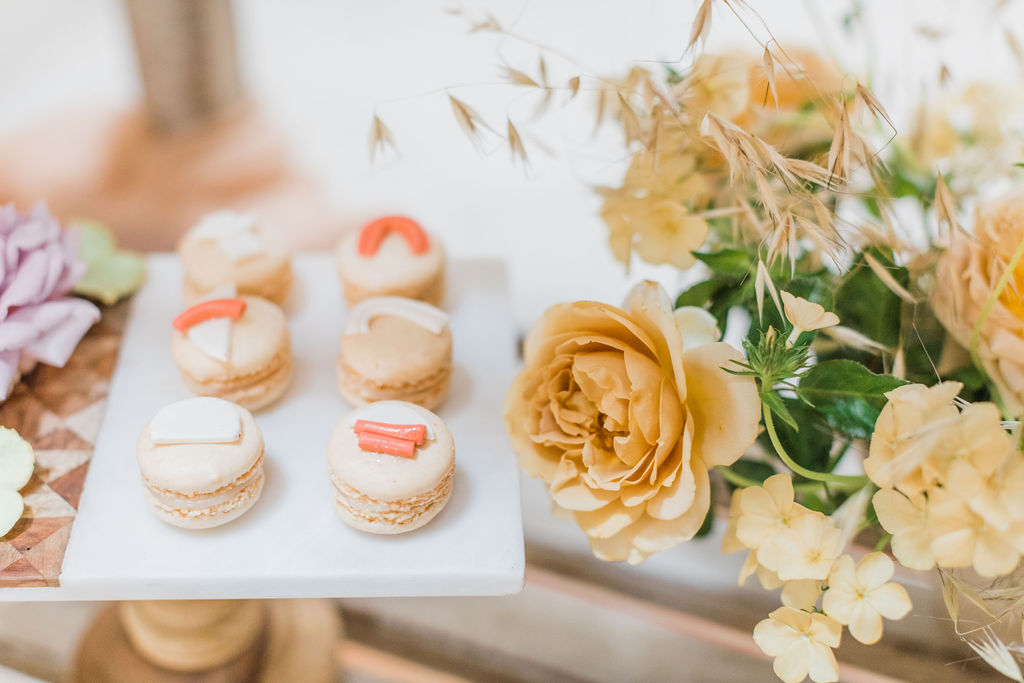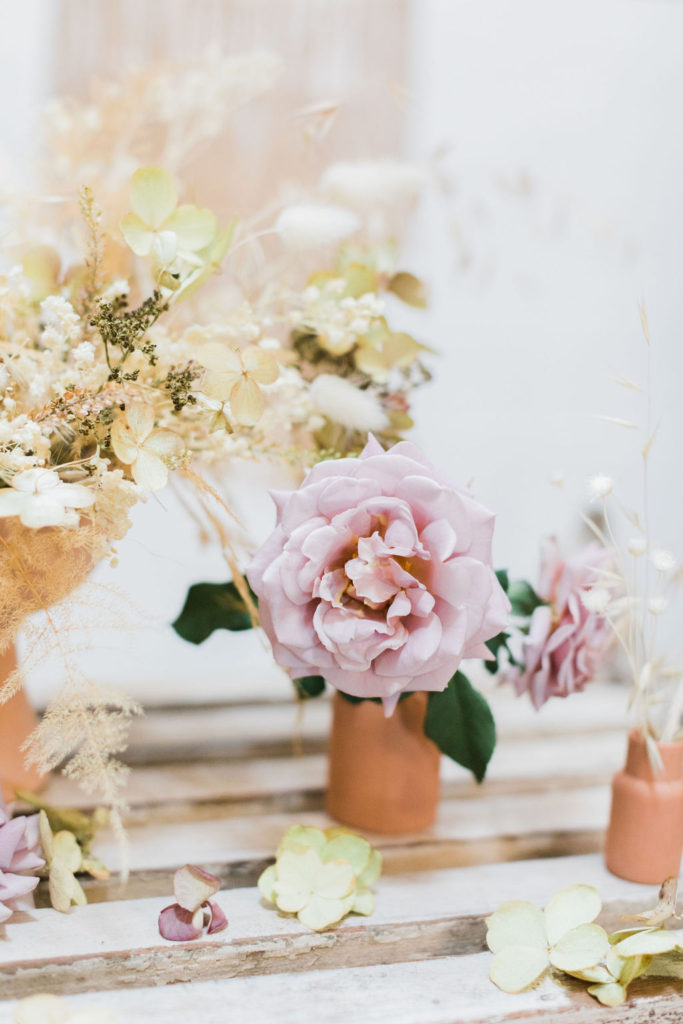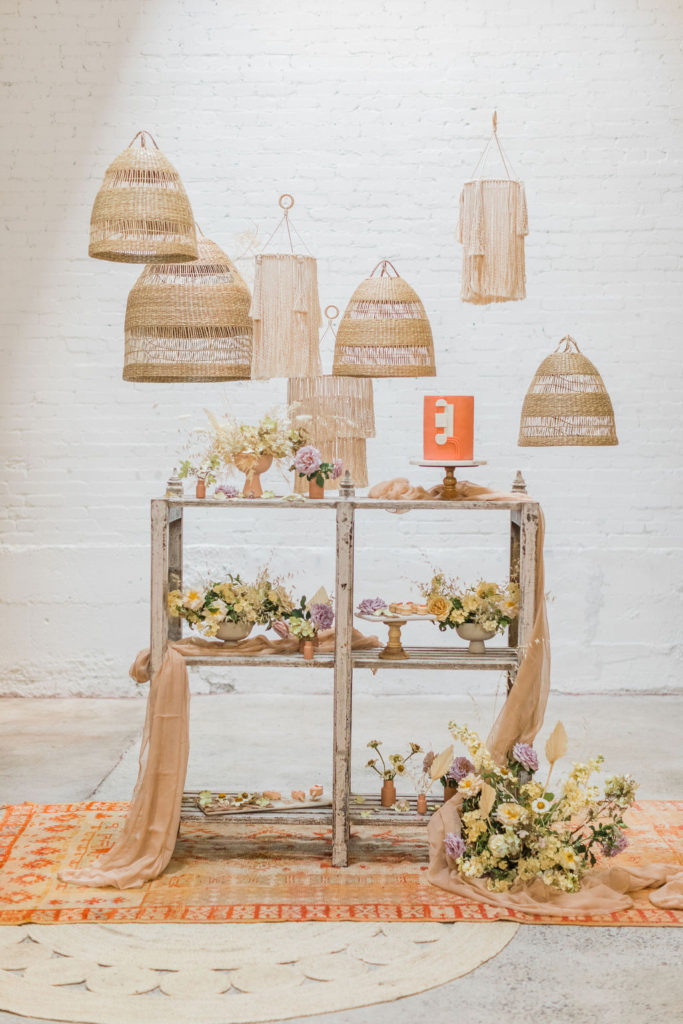 And as always, Marnie from Sweet Salvage Rentals put tighter a beautiful mini lounge. Perfect for your quarantine gathering! Martha Stewart asked her about this stylish setup and the unique high/low seating arrangement…
"By not going full bohemian with all low seating, we've combined sumptuous velvet high-back chairs that compliment the pouf and pillow arrangement. Pair that with some tables in varying heights and you've pulled off the perfect 'seating landscape' that makes each guest comfortable."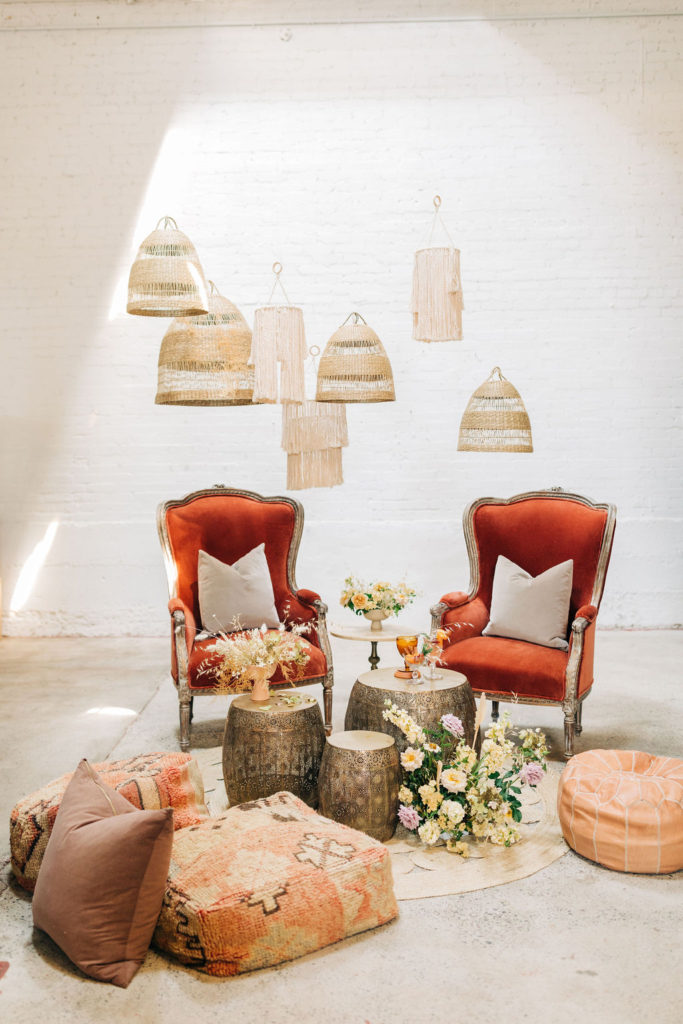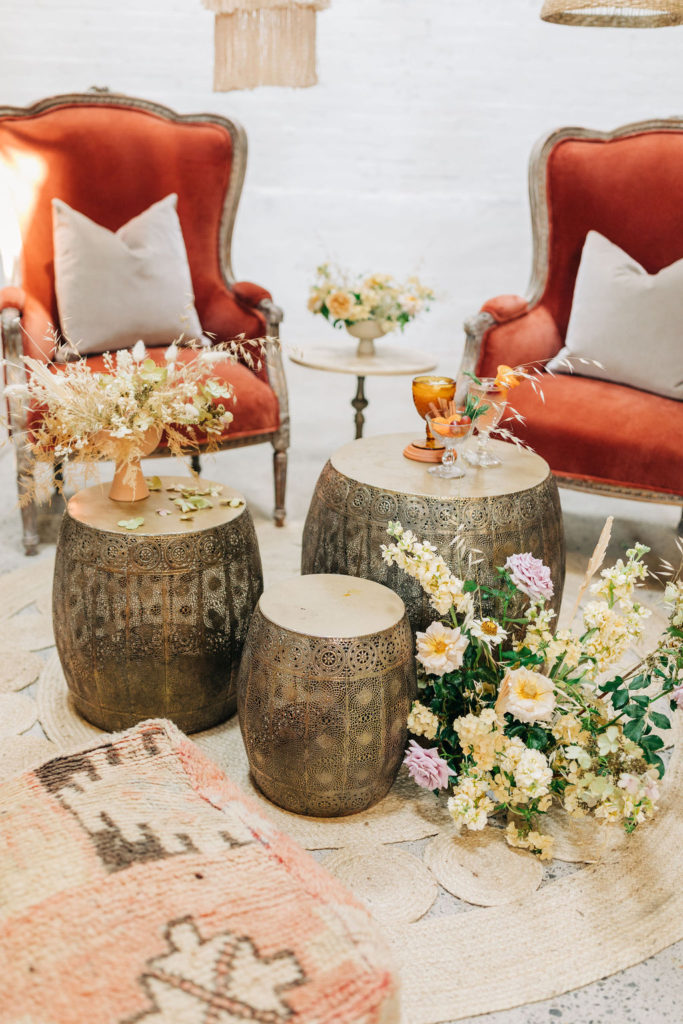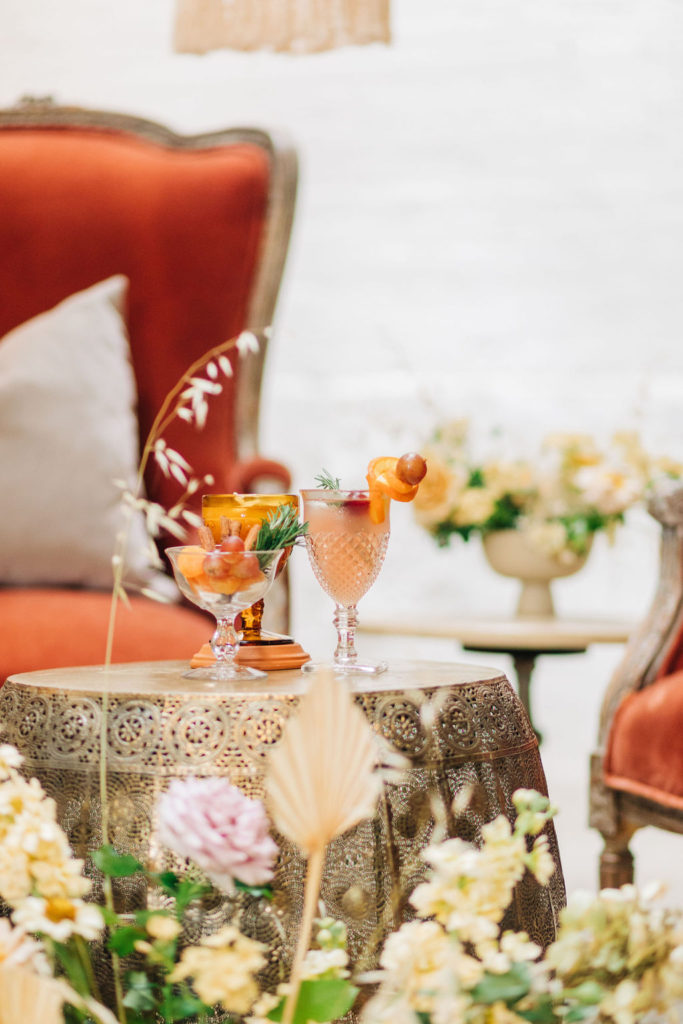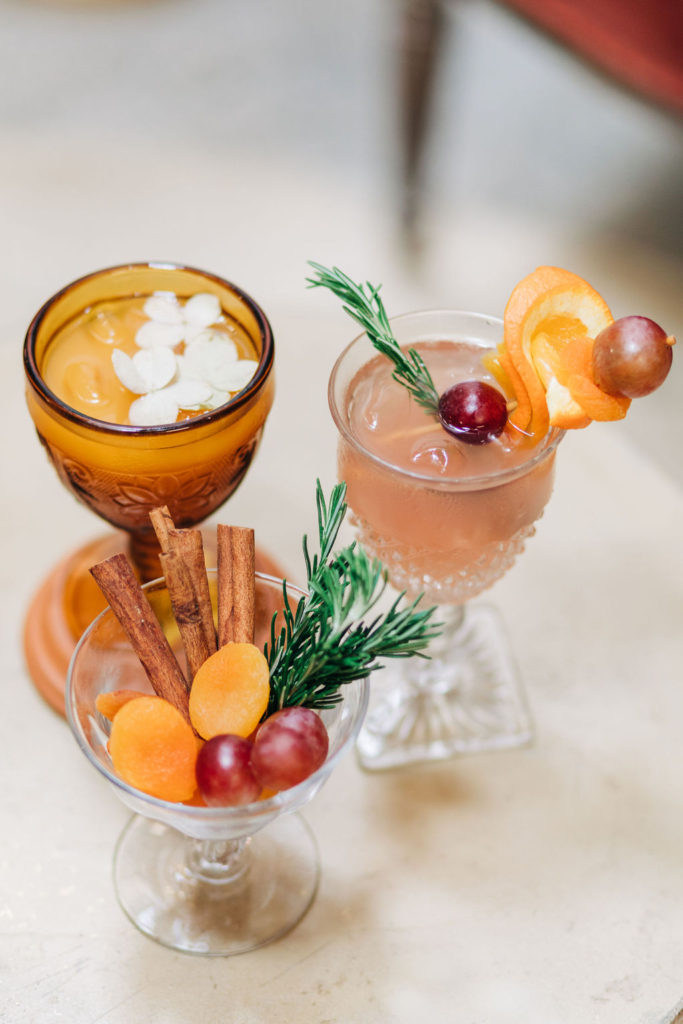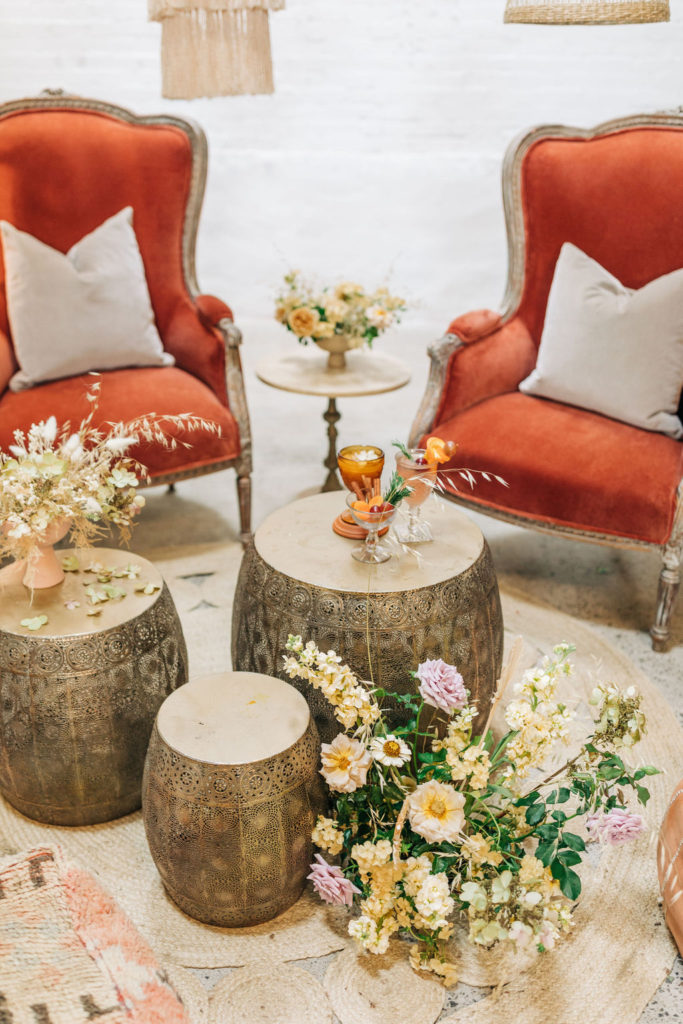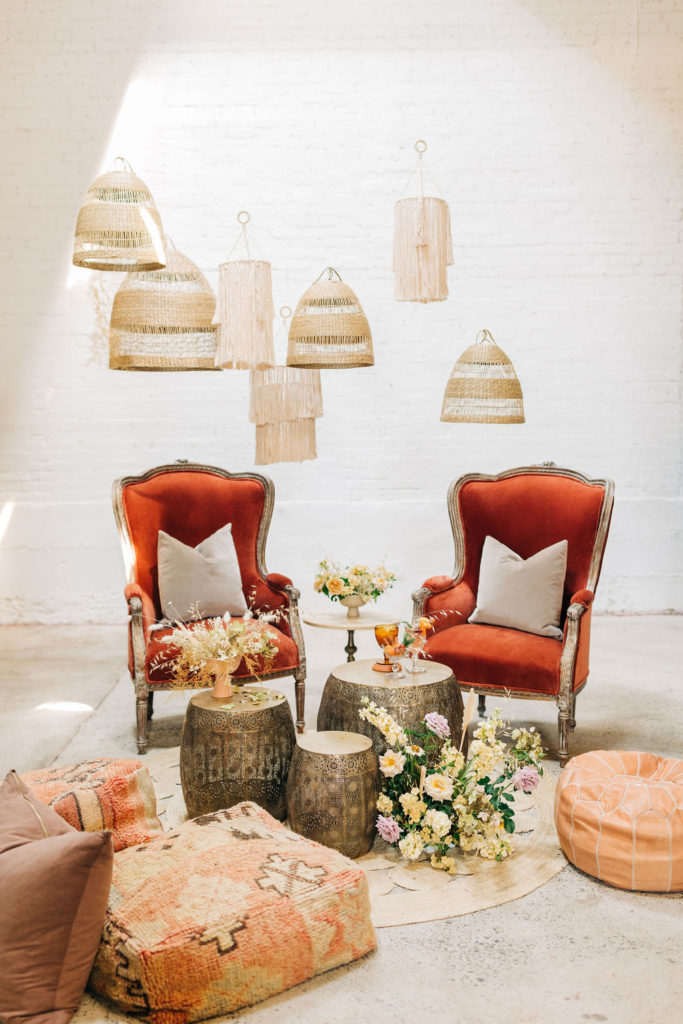 And there you have it! The prettiest little terra cotta inspired Fall gathering I ever did see! And so so perfect for Thanksgiving, don't you think? Thank you again to Martha Stewart for featuring this beauty!!
xx
Jacquelyn