We take our food just as serious as we do our table settings here on the blog for the holidays. So when it comes to, in my opinion, the leading holiday for foodies, I have got to be ready with one killer of a menu for my Friendsgiving and Thanksgiving. Now, I tend to do a non-traditional menu for a Friendsgiving and a traditional, family recipes for Thanksgiving. A Friendsgiving is a time to have fun and let loose a little bit. As for family, well it's family, traditions, and memories to be made. So this my menu this year for my Friendsgiving.
I have a little secret! You know how you spend all day, or even a couple of days cooking and prepping for Thanksgiving? Well, I did this whole menu by myself while the kids were at school! It's a little called an instant pot, and it's my new best friend!
Okay, the table settings are just as important as the food!  All these pretties are from Sur La Table! They have a great selection of tabletop items for any holiday. This year, I went with dark tones as the pops of color and wooden textures around classic white plates to bring it all together. You can shop all the tableware below at the bottom of the post!
Happy Cooking!
Photos by Dayna Studios
---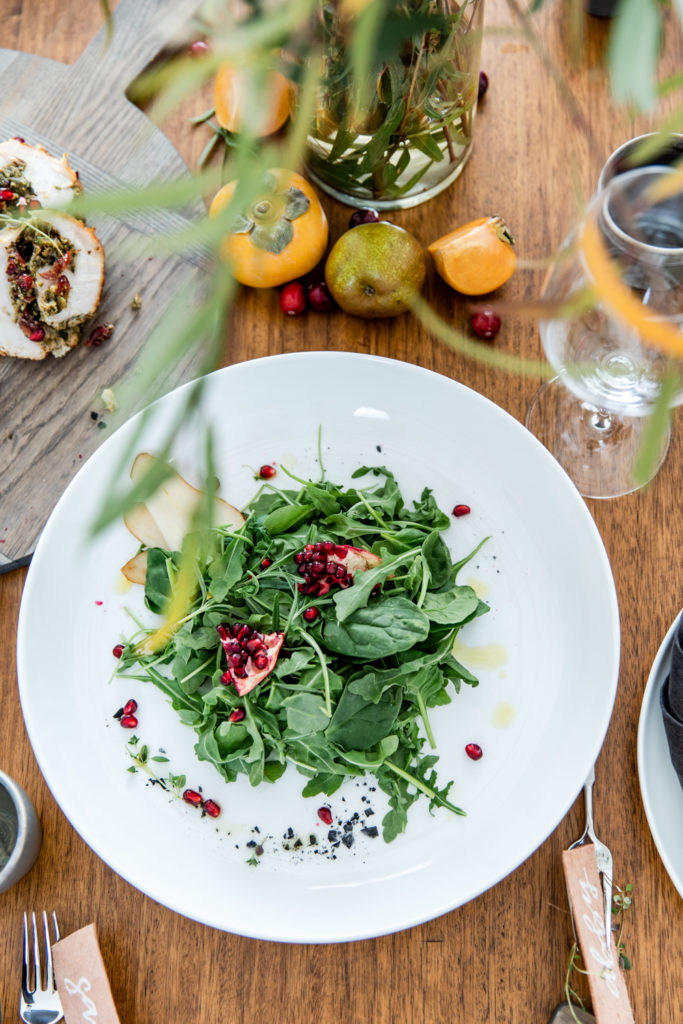 Pear and Arugula Salad with Pomegranate Vinaigrette
SERVES: 4 | PREP: 15 MINUTES | COOK: 0 MINUTES
W H A T   Y A   N E E D!
1 medium shallot, minced
1 tablespoon pomegranate juice
1 tablespoon apple cider vinegar
¼ cup extra-virgin olive oil
Kosher salt and freshly ground black pepper
4 cups arugula, washed and dried
2 cups baby spinach leaves, washed and dried
2 ripe pears, such as Bartlett, peeled, cored and cut into ¼-inch slices
2 tablespoons pomegranate seeds

B U S T   O U T:
Whisk
Mixing Bowls 
---
I N S T R U C T I O N S
To prepare the vinaigrette: In a small bowl, use a whisk to combine the shallot, pomegranate juice, and vinegar. Slowly drizzle in the oil, while whisking vigorously until emulsified. Taste and season with salt and pepper.
To prepare the salad: In a large bowl, combine the arugula, spinach, and pears. Add enough vinaigrette to cover the salad leaves and toss until well blended.
To serve: Arrange the dressed leaves between 4 salad plates and sprinkle with pomegranate seeds. Serve immediately.
---
---
Sweet Potato and Leek Soup
SERVES: 6 | PREP: 10MINUTES | COOK: 30MINUTES
W H A T   Y A   N E E D!
1 tablespoon olive oil
2 tablespoons unsalted butter
1 large yellow onion, coarsely chopped
3 large leeks, white and tender green parts, coarsely chopped
1 large garlic clove minced
¼ teaspoon nutmeg
1-½ pounds (about 2 medium) sweet potatoes, peeled, cut into 1-inch pieces
1 tablespoon minced thyme leaves
2 cups vegetable stock, low-sodium
2 cups whole milk
2 tablespoons fresh lemon juice
Kosher salt and fresh ground pepper
2 tablespoons chopped chives
Optional sour cream for topping
B U S T   O U T:
Saucepan
Immersion Blender Or Blender
Soup Bowls
Ladle

---
I N S T R U C T I O N S
Place a large, heavy-bottomed saucepan on the stove over moderate-high heat and add the oil and butter. When the butter is melted, add the onions and leeks and cook until tender, about 6 minutes. Add the garlic and nutmeg and cook until fragrant, about 1 minute.
Add the sweet potatoes and cook until just starting to color about 5 minutes. Stir in the thyme and broth and simmer until the vegetables are tender about 25 minutes.
Using an immersion blender, or working in batches with a food processor or blender, puree the mixture until smooth, about 2 minutes. Pour the soup back into the pan, add the milk and bring to a simmer. Add lemon juice and season to taste with salt and pepper.
To serve: Ladle the soup into warmed bowls and sprinkle with chives. If desired, dollop with a tablespoon of sour cream and serve immediately.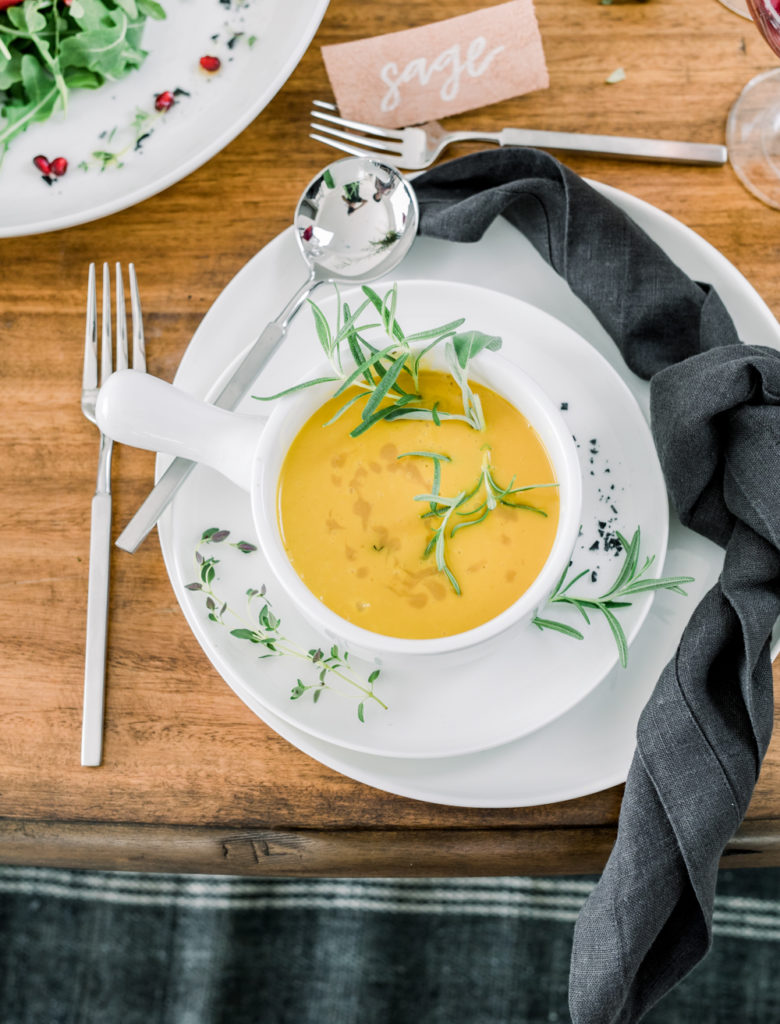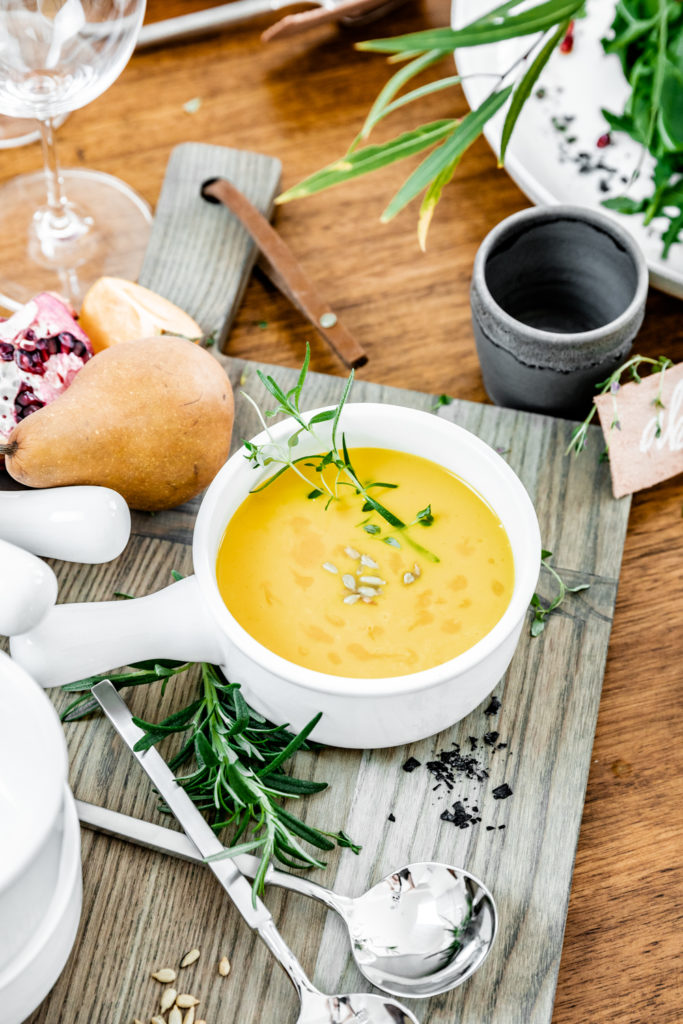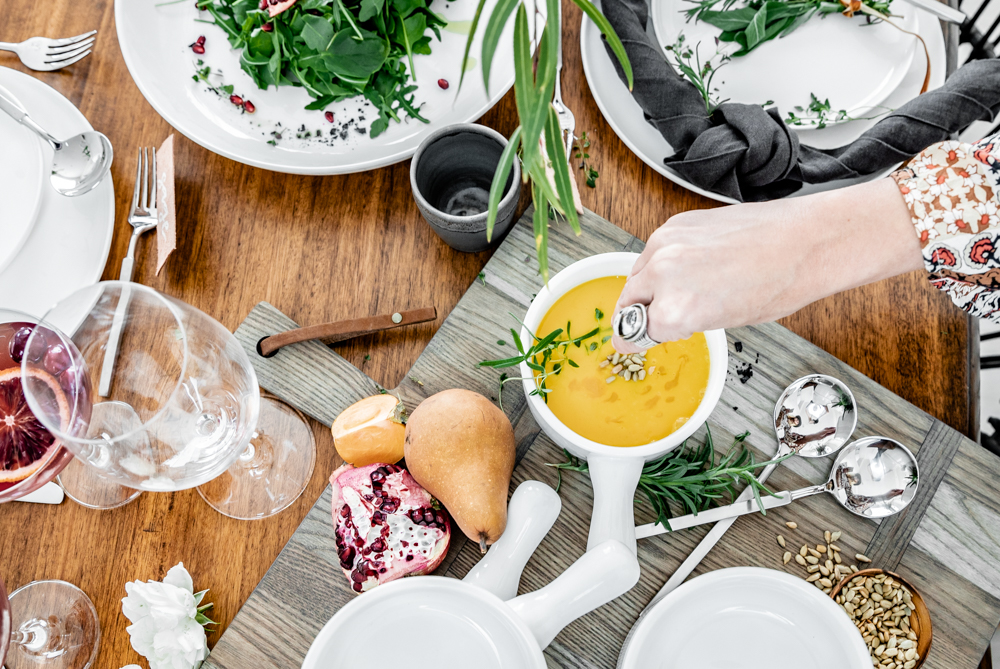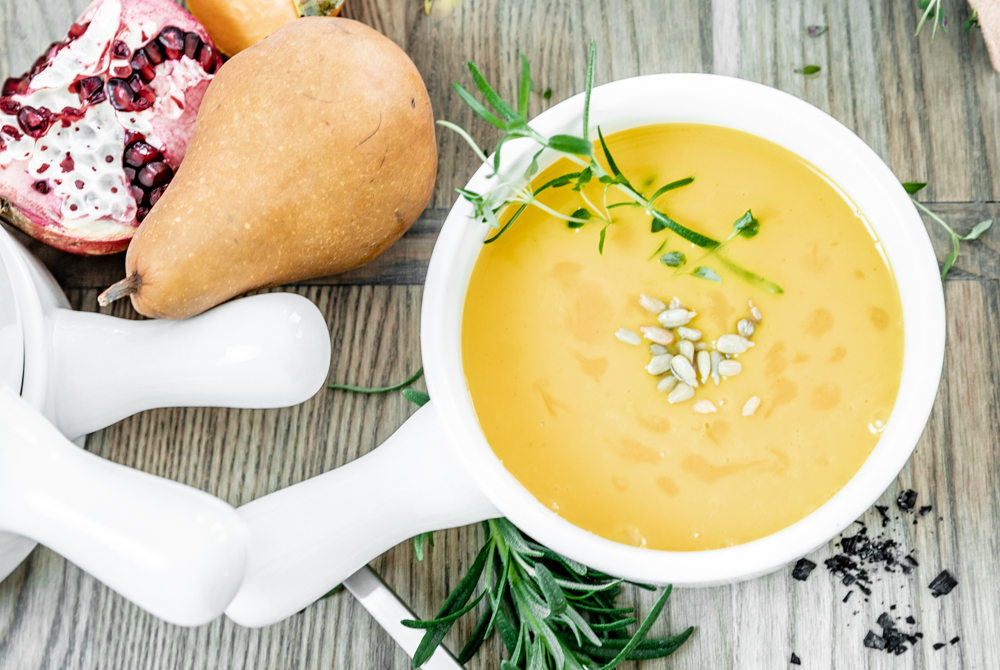 ---
Pumpkin Risotto with Sage & Goat Cheese
SERVES: 4-6 | PREP: 5 MINUTES | COOK:30 MINUTES
W H A T   Y A   N E E D!
1kg pumpkin, peeled, trimmed, diced into cubes
1 tablespoon olive oil
50g butter
1 onion, finely chopped
2 cloves garlic, crushed
2 cups (400g) Arborio rice
½ cup (125ml) dry white wine
1¼ liters chicken stock
15g fresh sage leaves
½ cup (40g) finely grated goat pecorino
150g fresh goat's cheese
Fried sage leaves, for garnish
Salt and pepper to taste
B U S T   O U T:
Instapot
Baking Tray
Baking Paper
---
I N S T R U C T I O N S
PRESSURE COOK: 40kPa / 7 min / Auto Quick
Procedures:
Preheat oven to 200°C.
Toss the pumpkin and olive oil together and season with salt and pepper. Arrange on a baking tray lined with baking paper and roast for 15 to 20 minutes. Remove and keep warm.
Select SAUTÉ, MED heat, and preheat the cooking bowl. Add olive oil, half the butter, and onion and cook until soft, 3 to 5 minutes.
Add garlic and rice and cook, constantly stirring, for 2 to 3 minutes. Stir in wine and cook until reduced by half. Stir in 1 liter of stock and fresh sage leaves.
Select PRESSURE COOK RISOTTO.
When cooking has completed, stir through remaining stock, pecorino and remaining butter. Stir through half the roasted pumpkin and season with salt and pepper.
To serve, spoon risotto into serving bowl and top with remaining roasted pumpkin, crumbled goat cheese and fried sage leaves.
---
---
Cranberry and Herb–Stuffed Turkey Breast
SERVES: 4-6 | PREP: 10 MINUTES | COOK: 15 MINUTES
W H A T   Y A   N E E D!
¼ cup (30 g) dried breadcrumbs
¼ cup (15 g) chopped fresh flat-leaf parsley
2 tablespoons (5 g) chopped fresh sage
2 teaspoons chopped fresh rosemary
2 cloves garlic, finely chopped
½ cup (60 g) dried cranberries, finely chopped
1½ teaspoons kosher salt, divided
¾ teaspoon freshly ground black pepper, divided
¼ cup (60 ml) extra-virgin olive oil, divided
1 boneless turkey breast (3 pounds, or 1 .4 kg)
1 teaspoon paprika¼ cup (60 ml) dry white wine, such as Pinot Grigio
B U S T   O U T:
Instapot
Butcher's twine
---
I N S T R U C T I O N S
This recipe was designed for use with the Instant Pot.
In a small bowl, combine the bread crumbs, parsley, sage, rosemary, garlic, cranberries, ¼ teaspoon of the salt, ⅛ teaspoon of the pepper, and 3 tablespoons (45 ml) of the olive oil. Stir well to combine.
Butterfly the turkey breast: Place the breast on a cutting board, skin side down. Using a chef's knife, hold the blade parallel to the board and slice into the breast, starting at the thickest part. Cut along the length of the breast but not all the way through. Open it up like a book.
Season the inside with ¼ teaspoon of the salt and ⅛ teaspoon of the pepper. Spoon the stuffing onto the center of the breast, spreading evenly from top to bottom. Starting with one long side, roll the breast into a log, so the stuffing is tightly enclosed. Use 5 lengths of butcher's twine to tie up the breast at 2-inch (5 cm) intervals along the length of the breast. Season the outside with the paprika and the remaining 1 teaspoon salt and ½ teaspoon pepper.
Turn the Instant Pot® on to [Sauté]. Heat the remaining 1 tablespoon (15 ml) olive oil. Add the turkey and cook until all sides are golden brown, 10 to 12 minutes. Add the wine. Press [Cancel].
Lock the lid. Press [Manual] and cook on high pressure for 30 minutes. Use the "Quick Release" method to vent the steam, then open the lid. Transfer the turkey to a cutting board and let rest for 5 minutes before slicing.
Excerpted from Instant Pot Electric Pressure Cooker Cookbook by Sara Quessenberry and Kate Merker. Copyright ©2017 Race Point Publishing. Photography copyright ©2017 Evi Abeler. Published by Race Point Publishing, an imprint of The Quarto Group. Reproduced by arrangement with the Publisher. All rights reserved.
---
---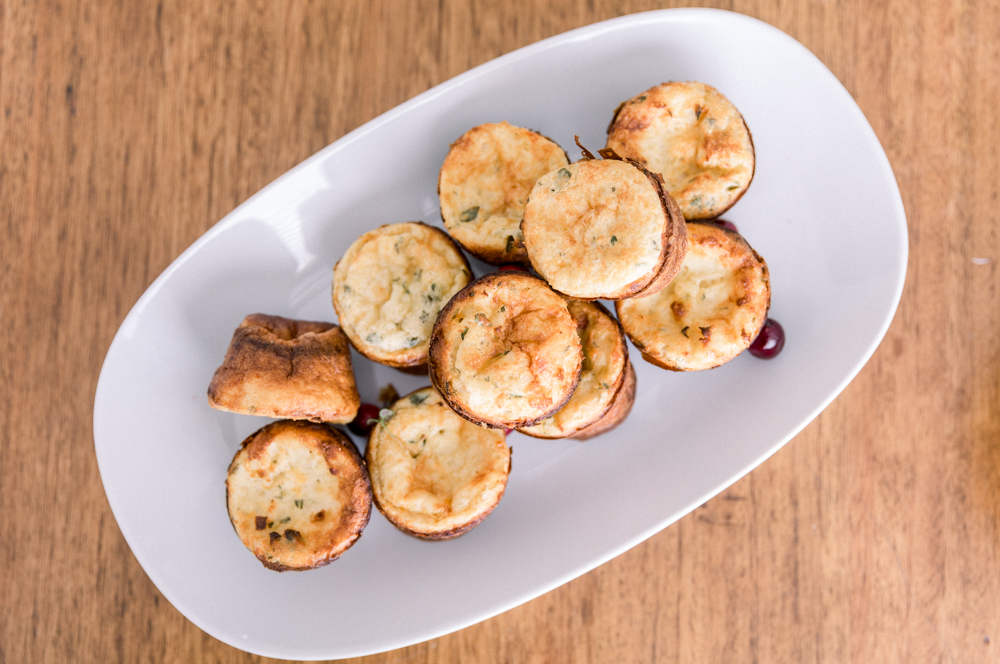 Parmesan-Herb Popovers
SERVES: 12 | PREP: 5 MINUTES | COOK: 30 MINUTES
W H A T   Y A   N E E D!
1-¼ cup (10 ounces) whole milk
2 large eggs
1 cup (5 ounces) all-purpose flour
½ teaspoon kosher salt
½ cup (2 ounces) freshly grated Parmesan cheese
1 teaspoon finely chopped fresh thyme
4 tablespoons (2 ounces) unsalted butter, cut into 12 equal pieces
B U S T   O U T:
Popover Pan
Mixing Bowl
Spatula
Whisk

---
I N S T R U C T I O N S
Popovers are culinary sleight of hand. Their simple ingredients and mixing method belie the great heights to which they rise during baking, puffing up like crispy brown balloons. All of the ingredients may be measured in advance, but do not combine them until you are ready to bake the popovers. A popover pan is designed to optimize that rise, with tall narrow cups that force the batter upward. You can bake popovers in a regular muffin pan although they don't rise as high and they develop a rounded depression at the bottom that, when turned upside down, is the perfect spot for some gravy. Popovers do not hold or store well, so plan on enjoying them when they are fresh from the oven. If they have cooled, reheat them briefly in a 350°F oven for 5 to 10 minutes, until warm.
Preheat the oven to 450°F and position a rack in the center. Once the oven is fully heated, heat the popover pan in the oven for 7 minutes. In the medium bowl, whisk together the milk, eggs, flour, and salt until well blended. Add the Parmesan cheese and thyme and blend well.
Use a spatula to scrape the batter into a measuring cup. Remove the pan from the oven and close the oven door. Drop one piece of butter into each hole of the popover pan. Divide the batter evenly among the prepared cups.
Return the pan to the oven and bake for 15 minutes. Turn the oven down to 400°F and continue to bake for 10 minutes longer, until the popovers are puffed and deep golden brown. Cool the pan on a rack for a couple of minutes. Remove popovers from the pan with a spoon or small offset spatula and serve hot.
---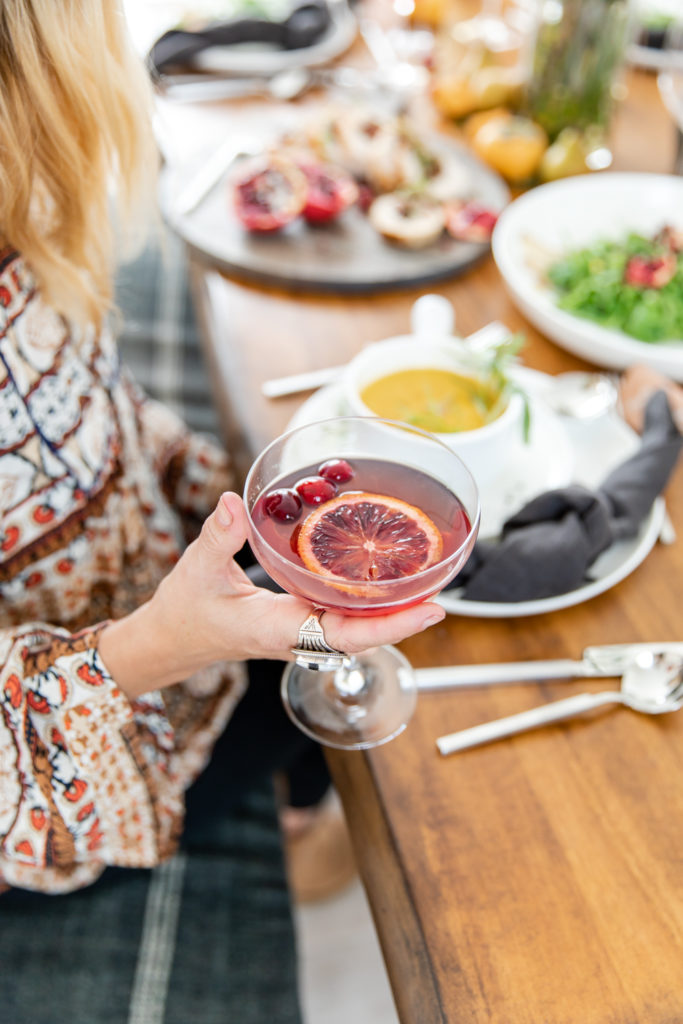 Pomegranate Cranberry Cocktail
SERVES: 1 | PREP: 5 MINUTES |
W H A T   Y A   N E E D!
Pomegranate Juice
Cranberries
Sparkling Champagne
Blood Oranges
B U S T   O U T:
Champagne flutes
---
I N S T R U C T I O N S
Pour about a quarter full of cranberry juice in a champagne flute. Fill the rest with sparkling champagne and garnish with a slice of blood orange and 3-4 cranberries! Simple and delicious!
---
---
B E I J O S  K I T C H E N  

xx
Abby