It's that time of year again! Today marks the first day of Lunar New Year and we are ready to celebrate! I love learning about and exploring other cultures. We have done a few Lunar New Year shoots before and I had to do another one. Especially since it's the year of the Tiger! "The Year of the Tiger will be about making big changes. This will be a year of risk-taking and adventure. We're finding enthusiasm again, both for ourselves and for others. Everyone is fired up, generosity is at an all-time high and social progress feels possible again." Love this positive take on 2022, I am definitely excited for that!! So without further ado please enjoy our Lunar New Year party for 2022, we are so excited to celebrate!
Photos by the talented Jessica Lynn Photo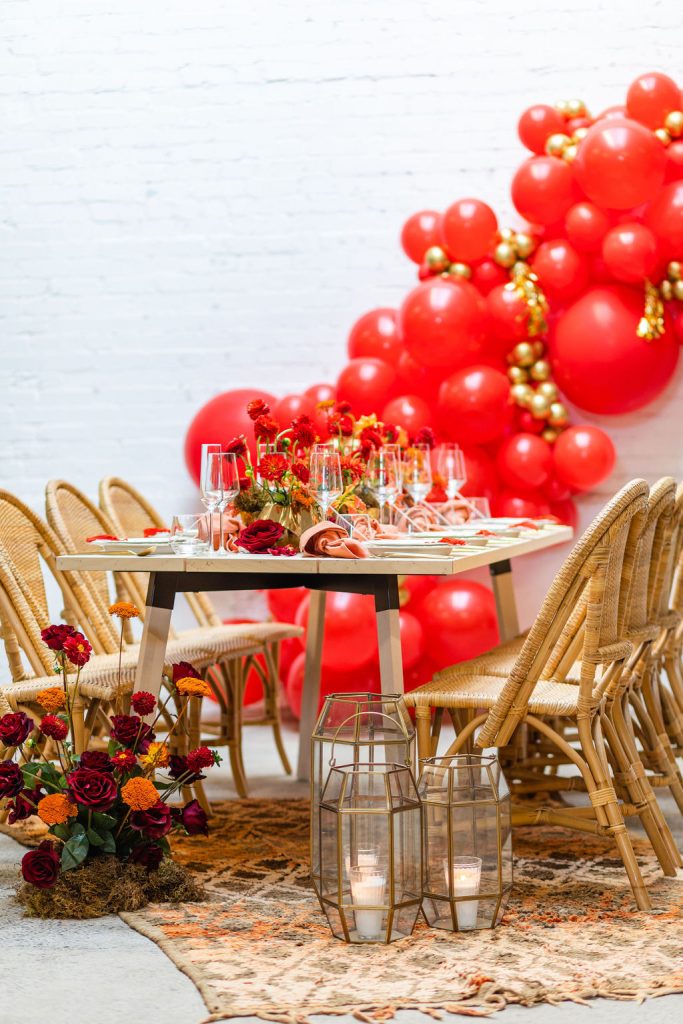 This is such a stunning invite suite! Pirouette Paper outdid herself with the details. I love the beautiful invitation, the extra touches and the place cards! Are you as in heaven as me with this beauty? Jessica styled it all perfectly on the Chasing Stone mat.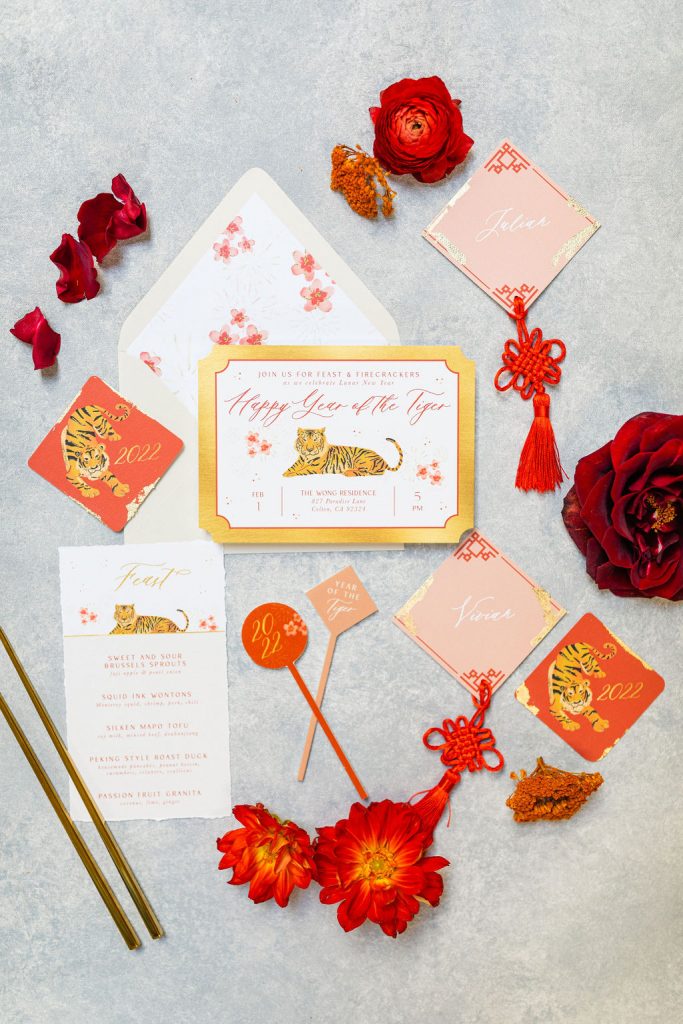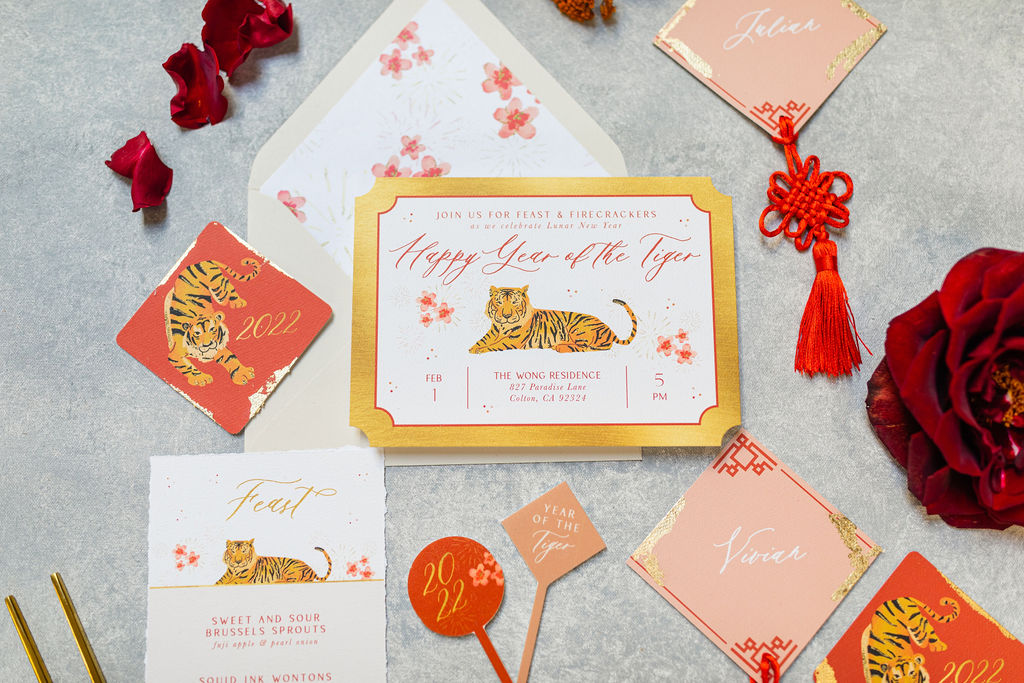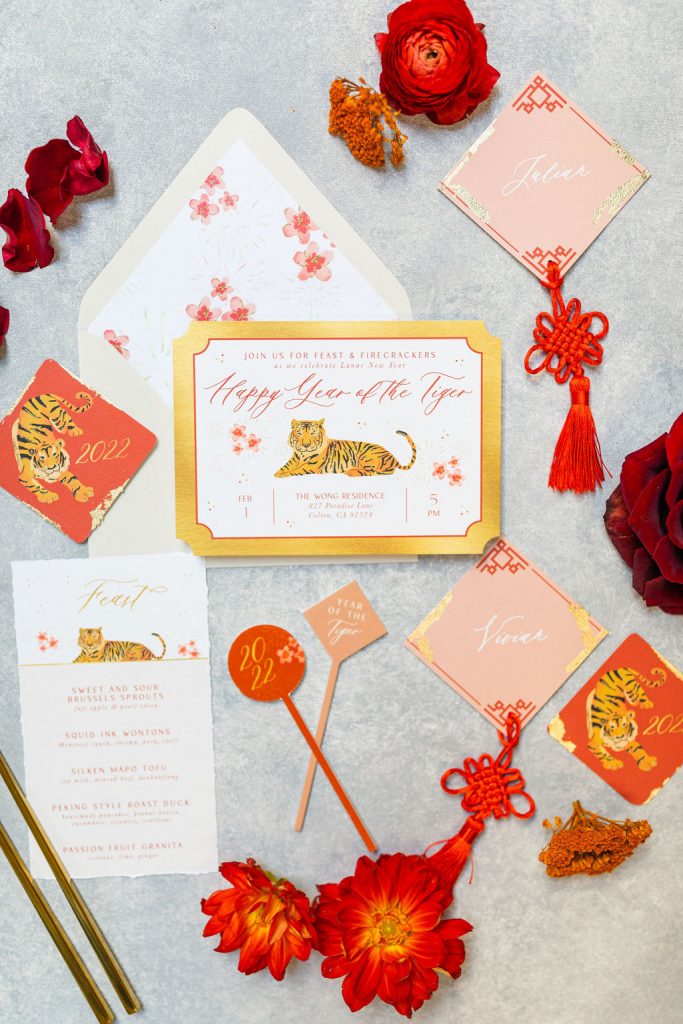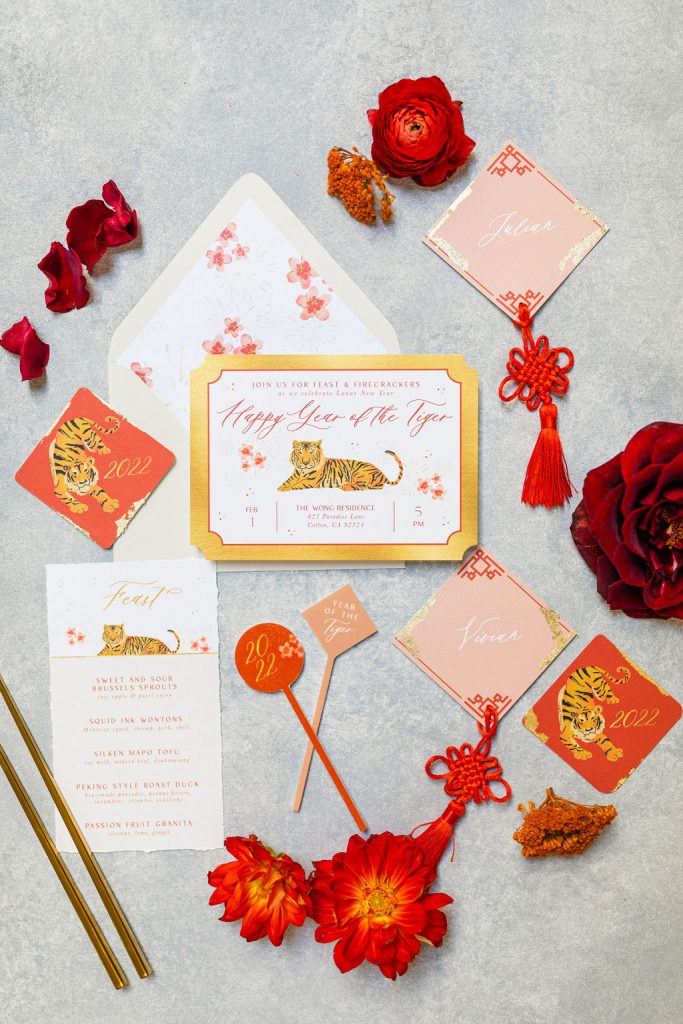 The table was set and our colors were Red and Gold! In Chinese culture, the colors red and gold are evoked during times of celebration, especially throughout the Lunar New Year. Red traditionally symbolizes fire, good fortune, and joy. Gold, on the other hand, represents wealth, illumination, and prosperity.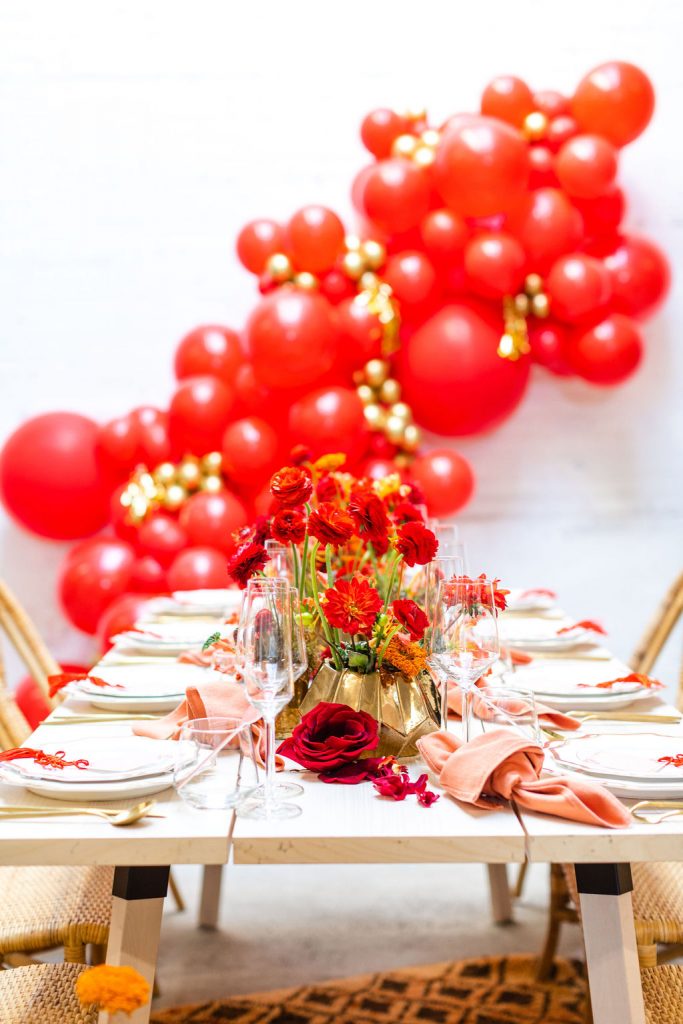 The gorgeous backdrop of balloons is by The Pop Shop. Our amazing rentals are of course from Sweet Salvage Rentals, I love those rattan chairs!! And the beautiful flowers are by Earth & Grace. I love how she combined the red and orange in the gold vessels. It all came together so wonderfully.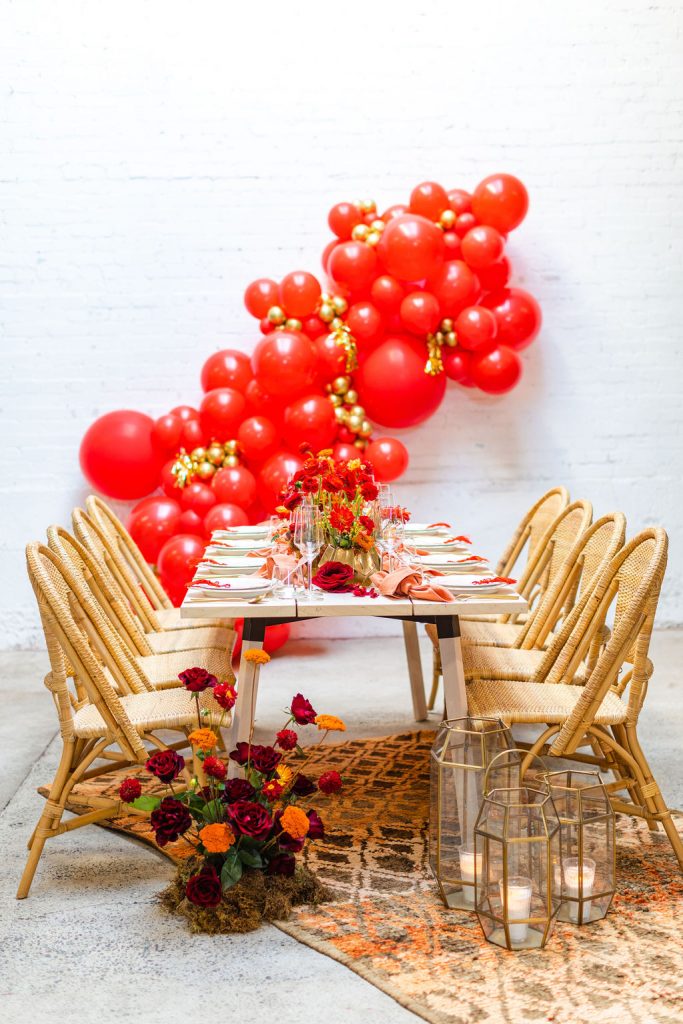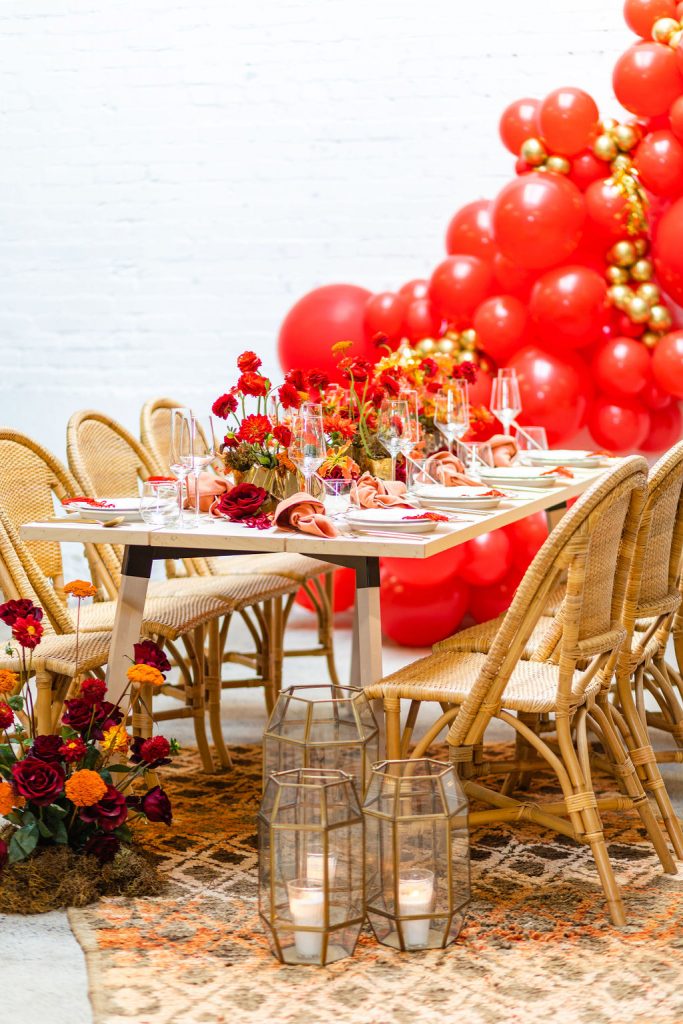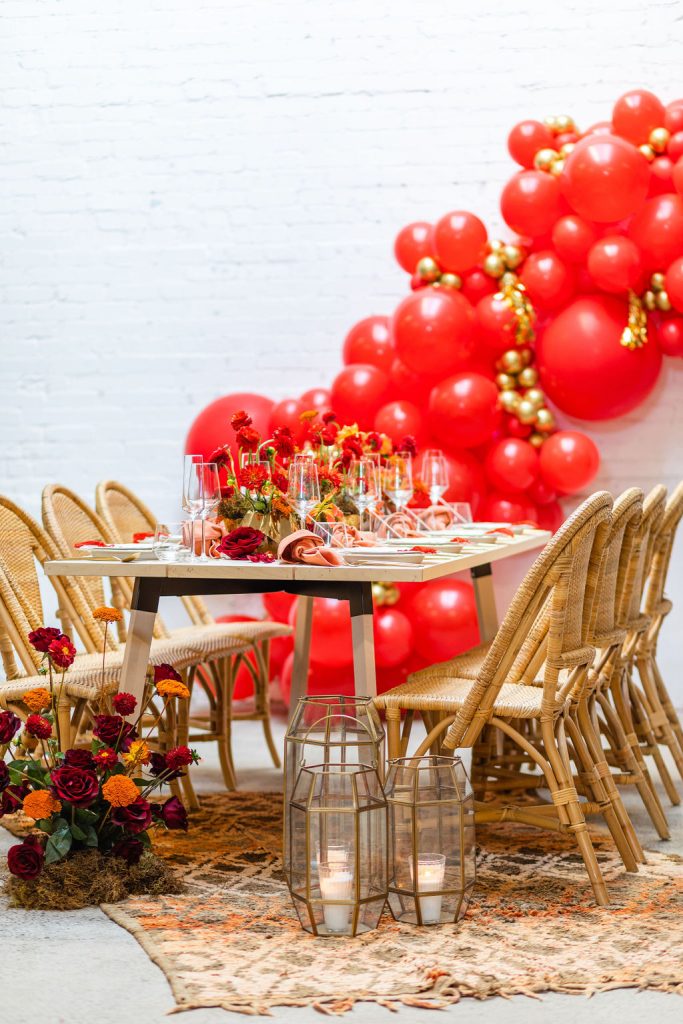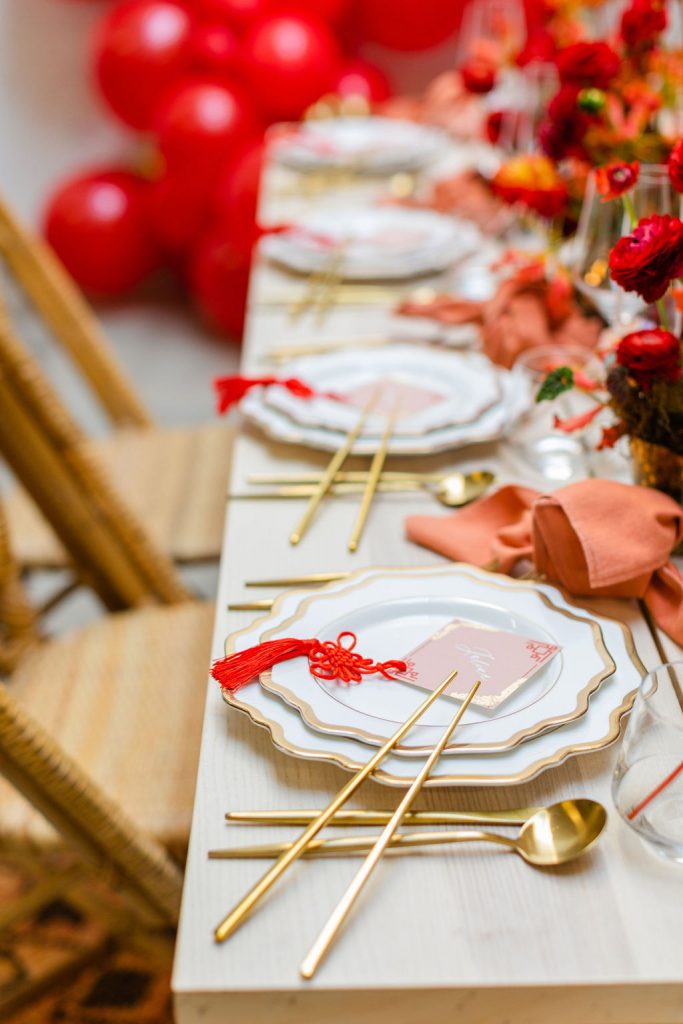 I had fun choosing something different for the tabletop and these gorgeous plates from Signature Party Rentals. I also loved the modern gold flatware they have and simple glassware I paired with them. The touch of the coral napkin from Hostess Haven offset all of the red and gold. Plus, adding Pirouette Paper's amazing details made it even more perfect.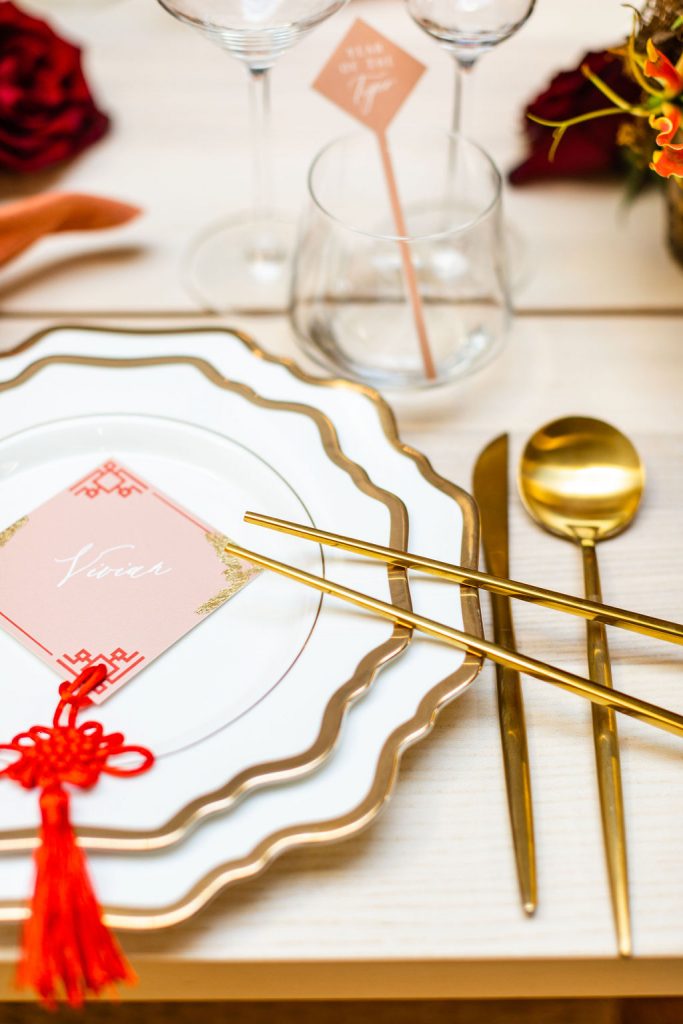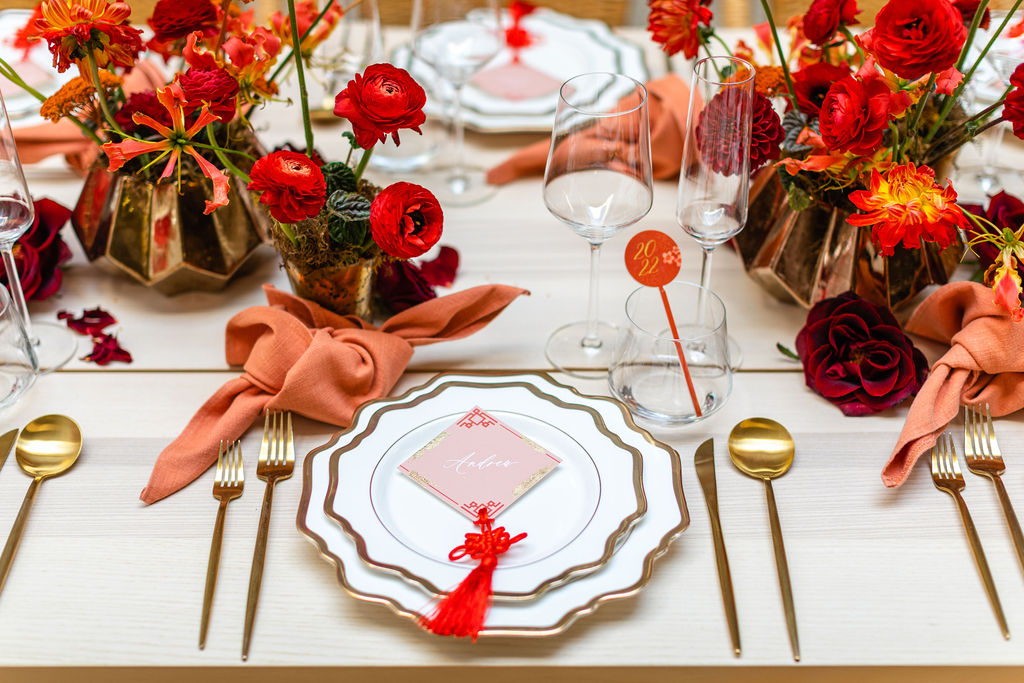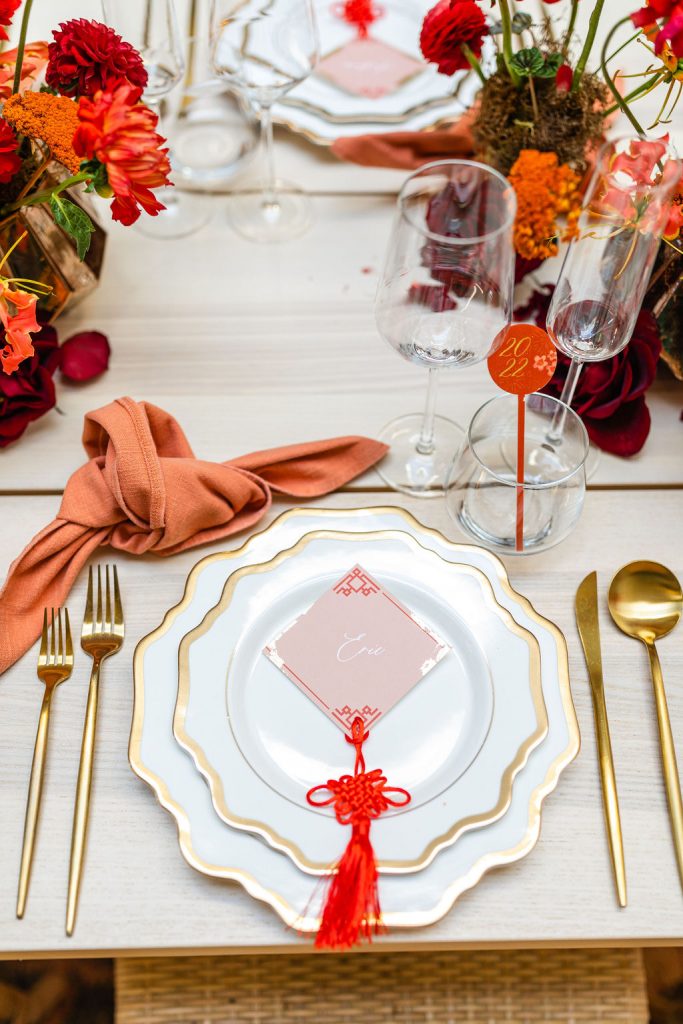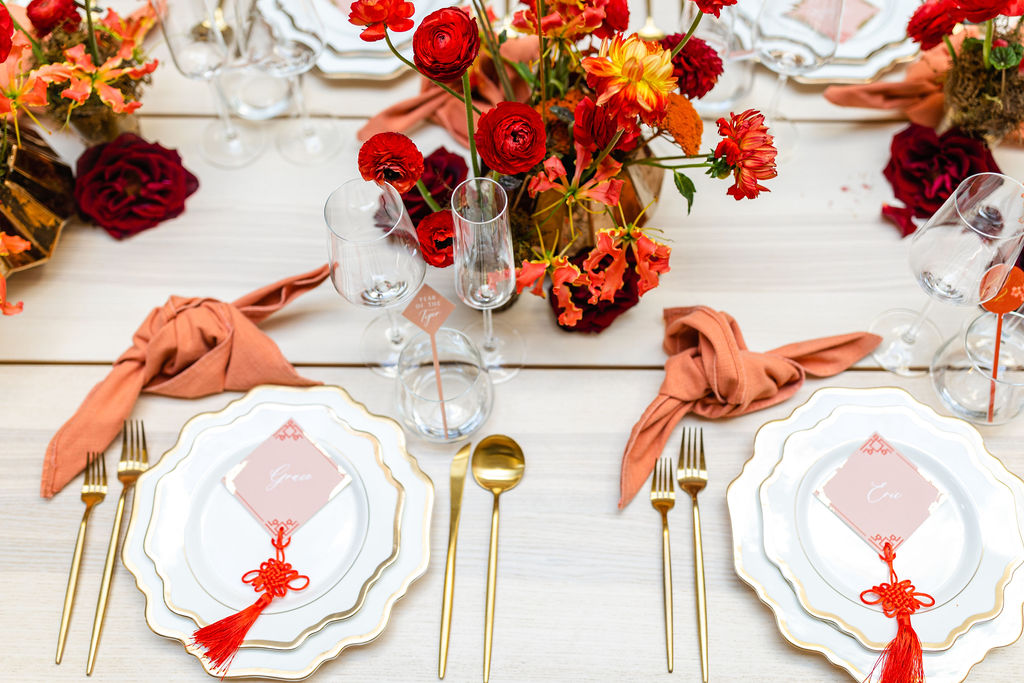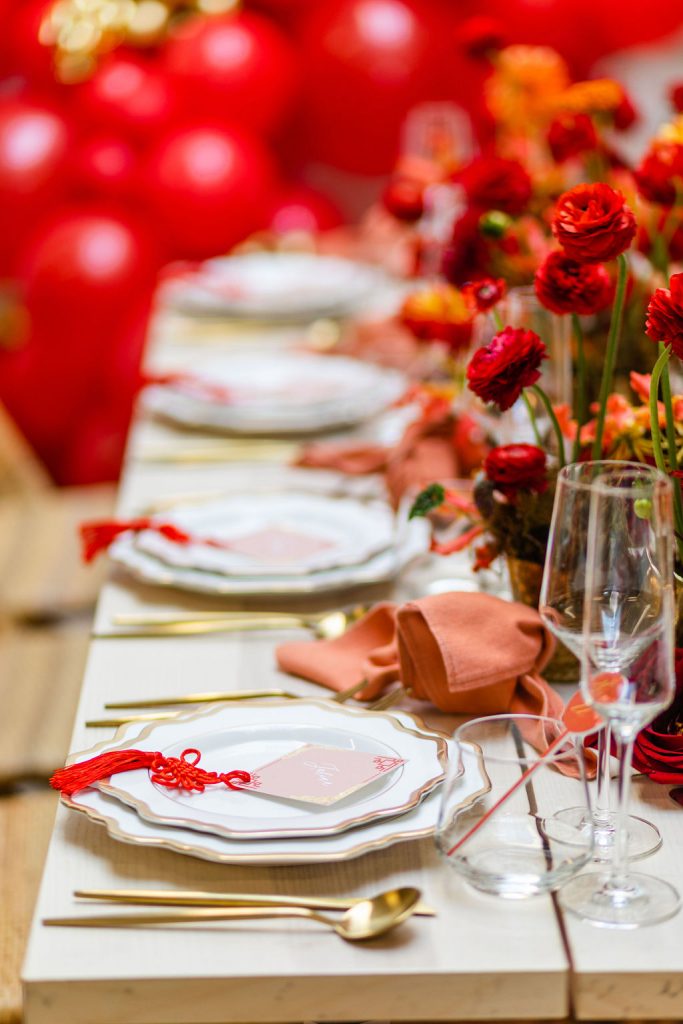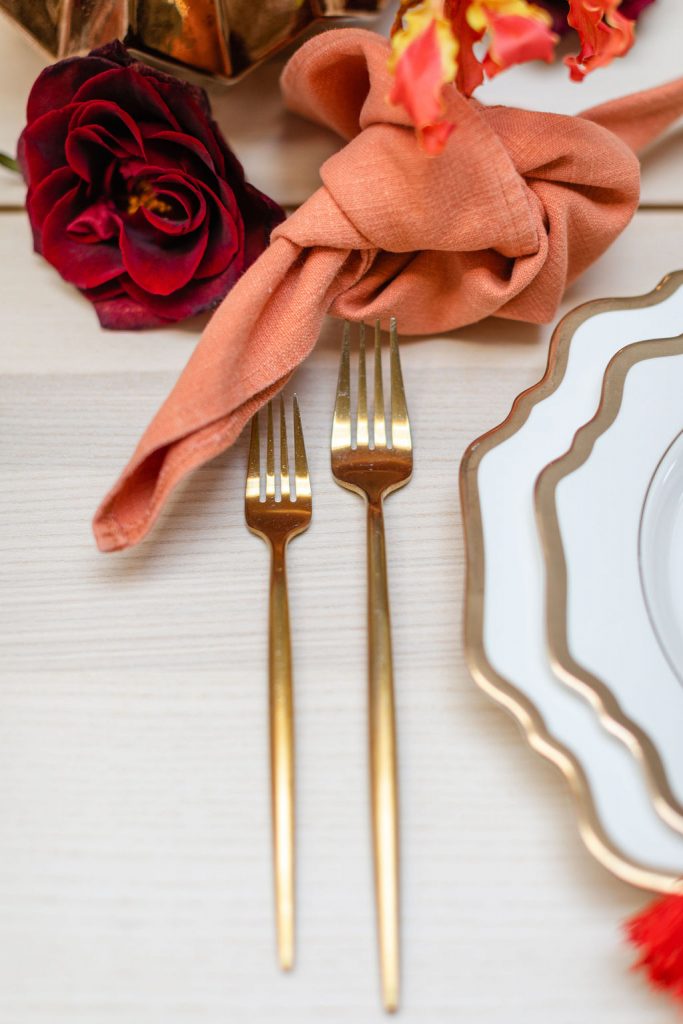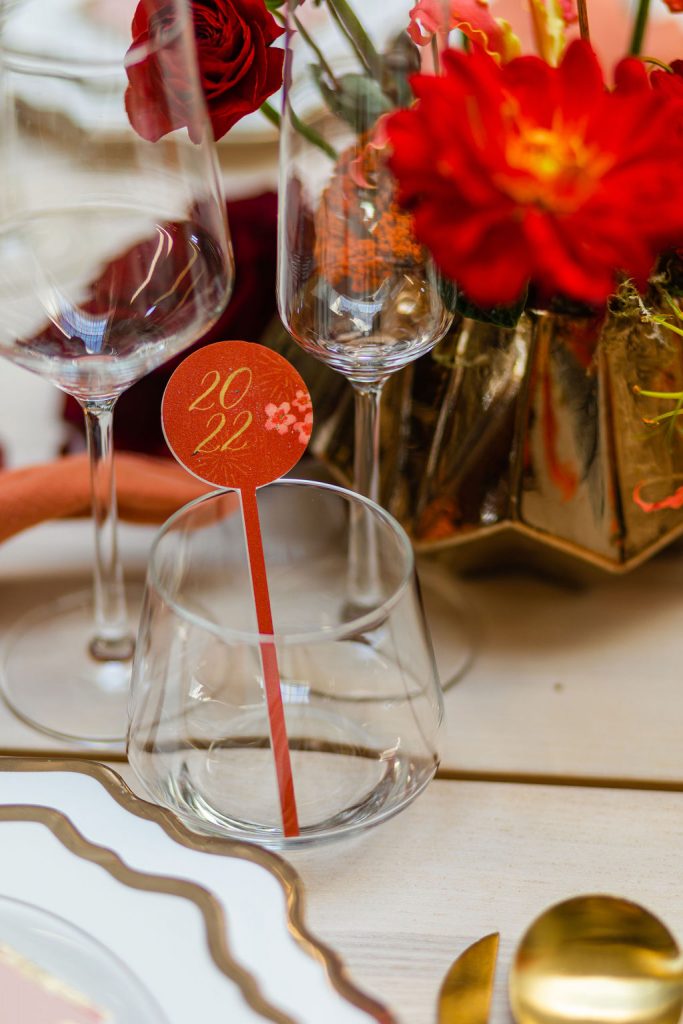 I'm not usually a fan of red, but these flowers by Earth & Grace are just SO good. Makes me want to give red more love.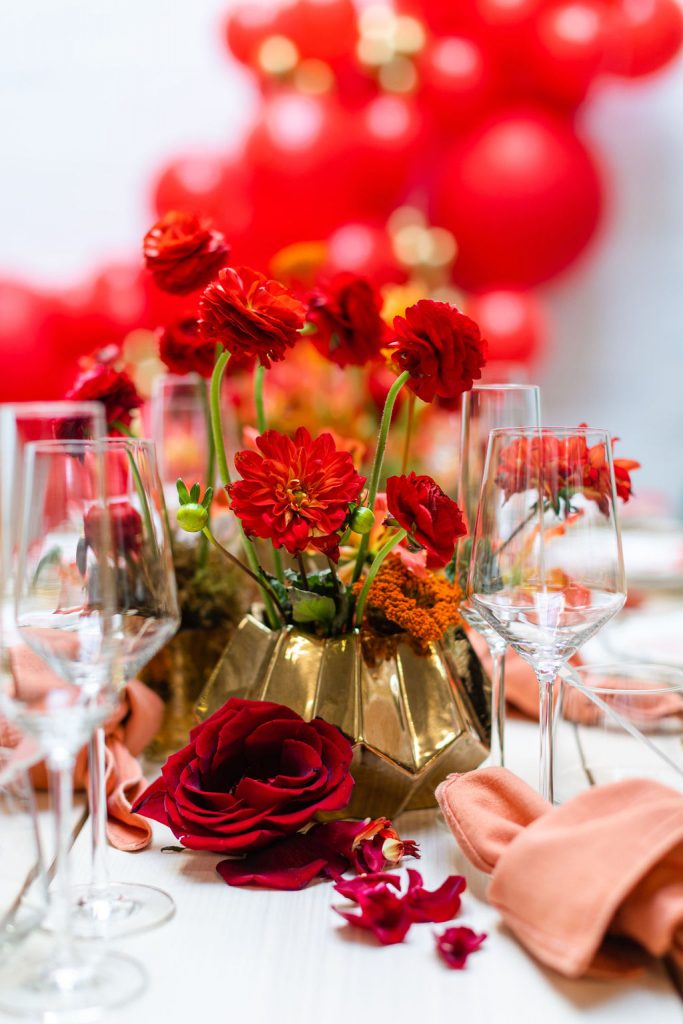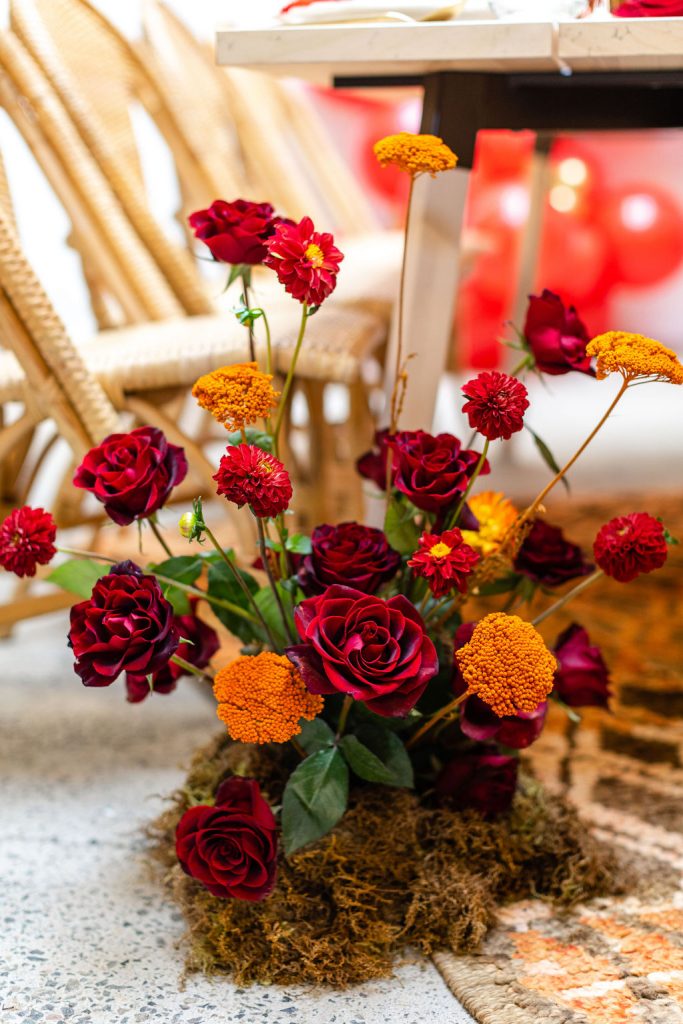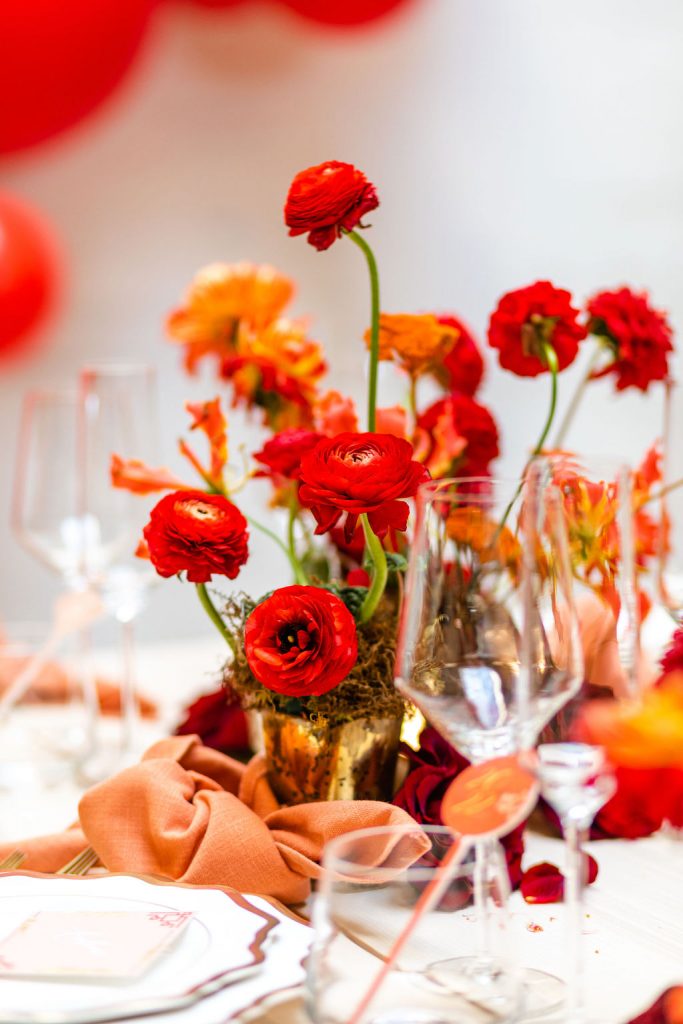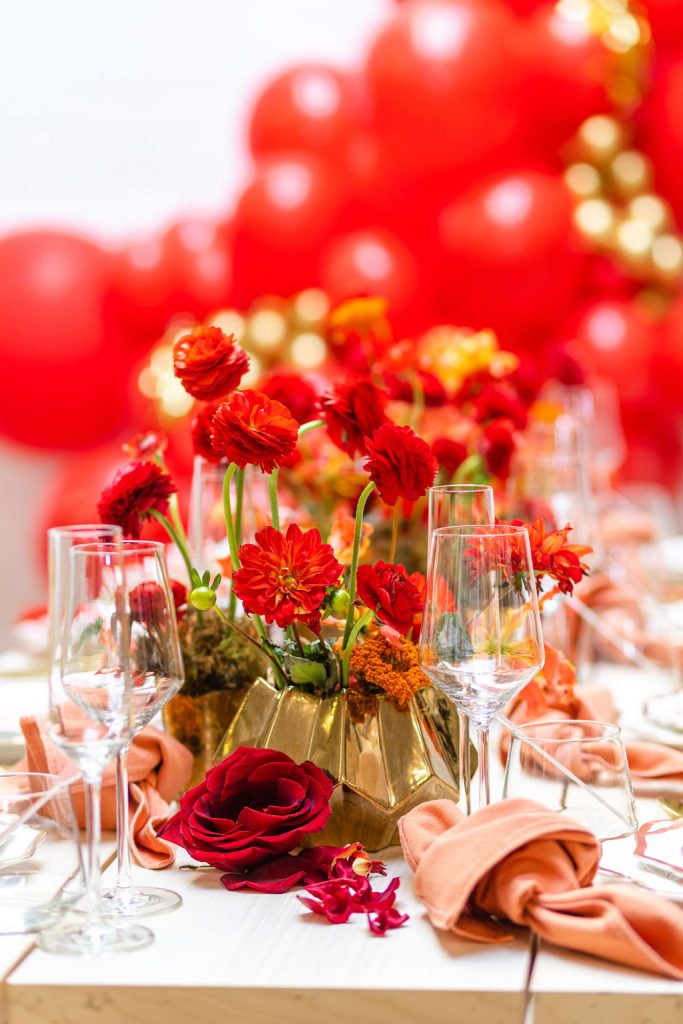 Here's an up close shot of that amazing backdrop of balloons by The Pop Shop. I sometimes try something different than balloons but I just can't quit them, haha! They make such a statement and I just can't get enough of them!!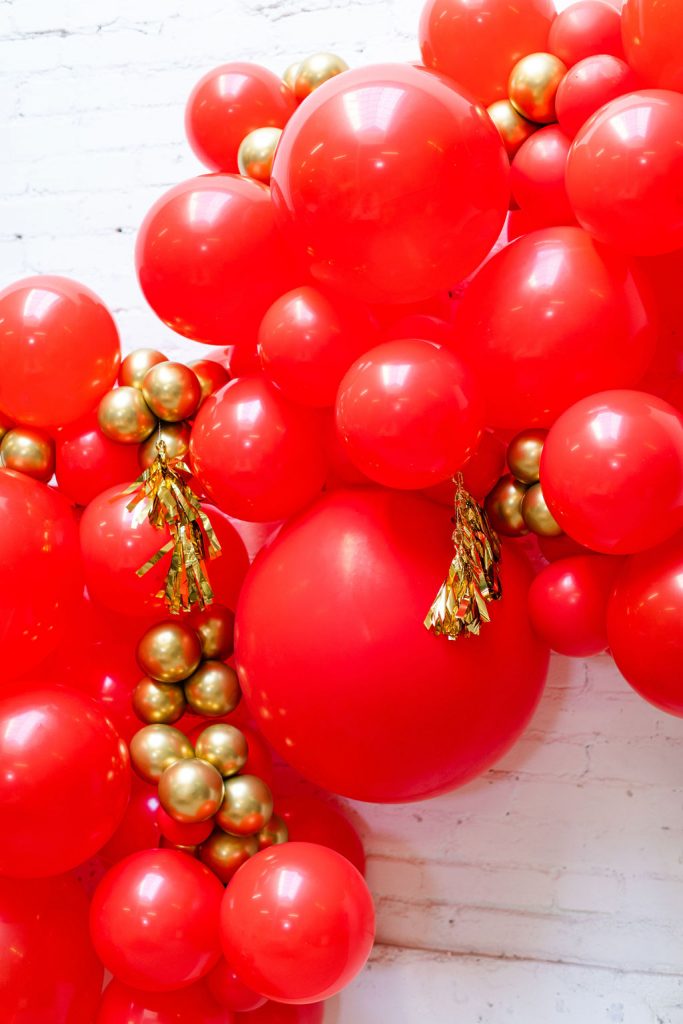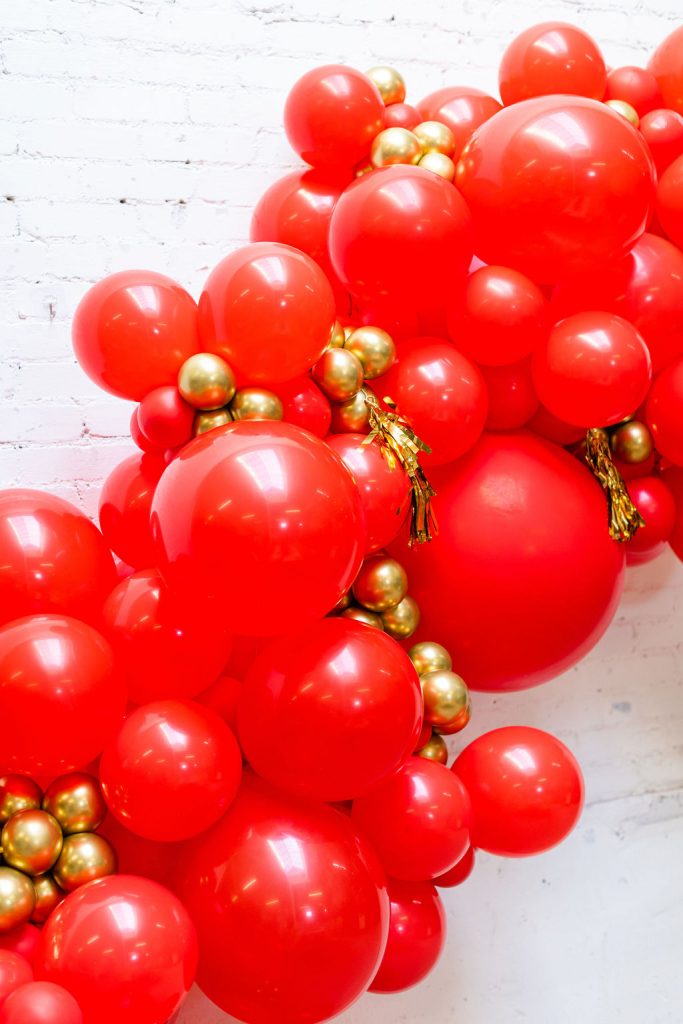 Here's an up close look at the place setting – pretty darn gorgeous, right?!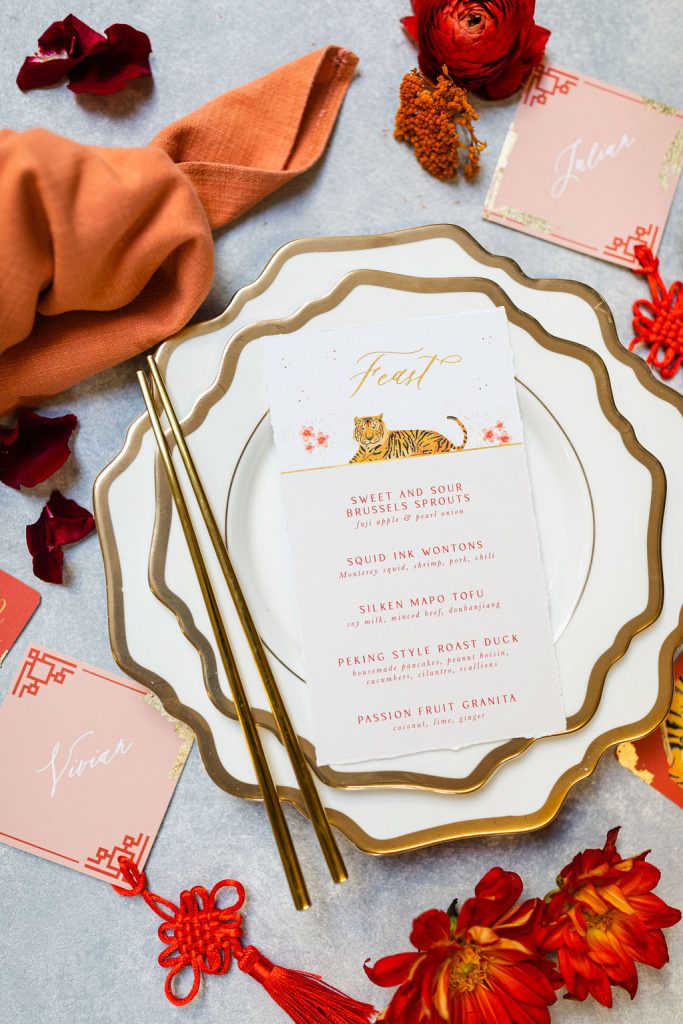 Such a stunning table!!!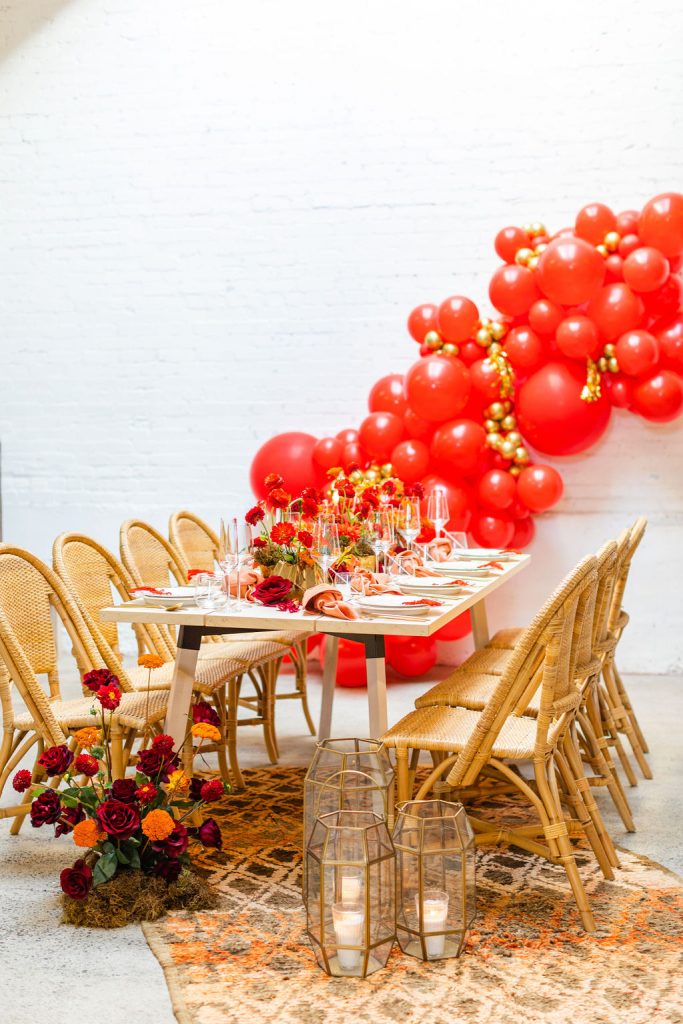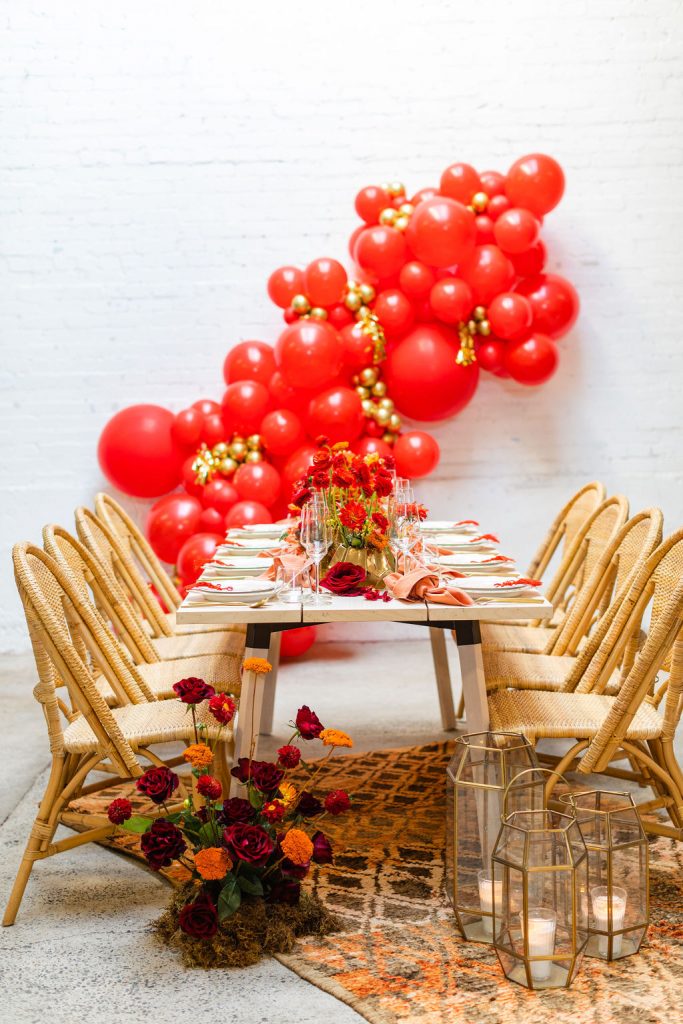 Time for the good stuff… Dinner, Drinks, and Dessert!! How fab is this new bar that Sweet Salvage Rentals has?! I'll be using it at lots of events in the future! Wait till you see all of the yummyness and cute details…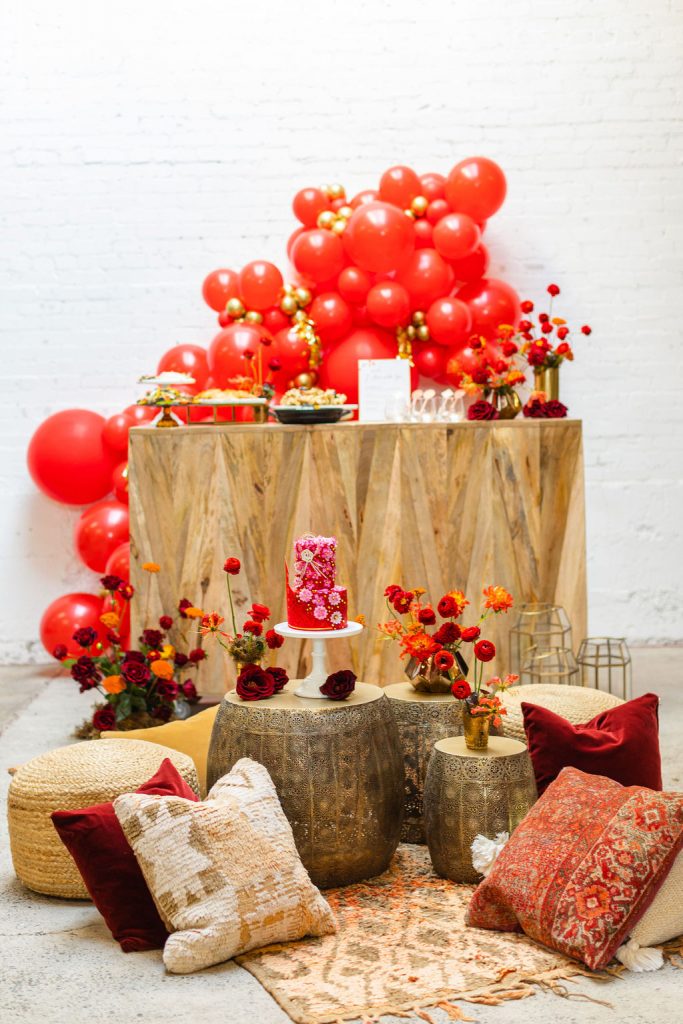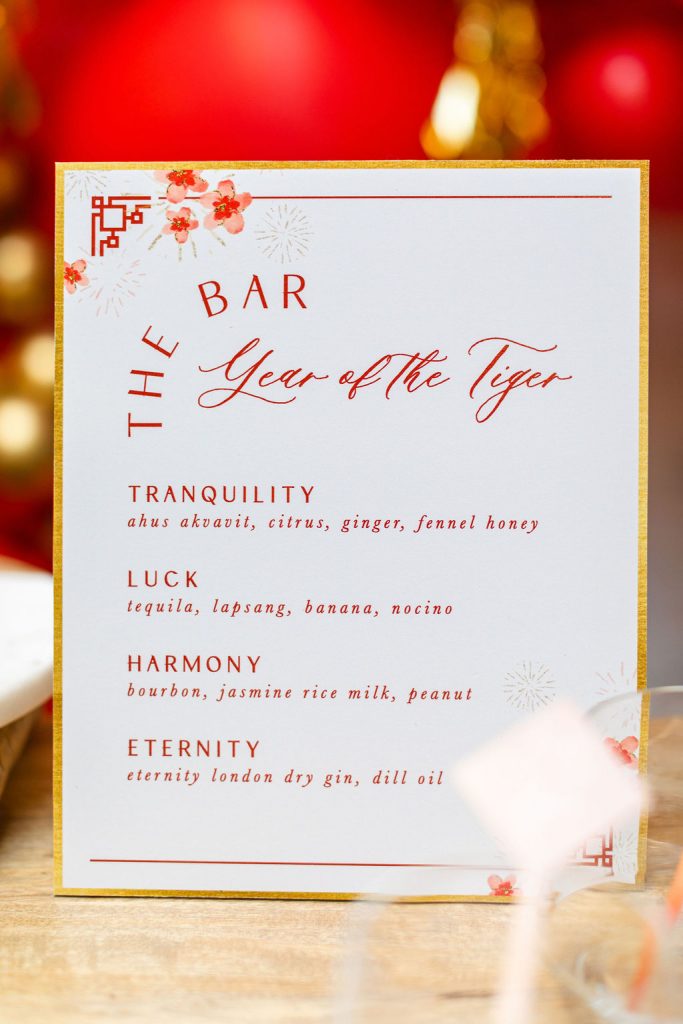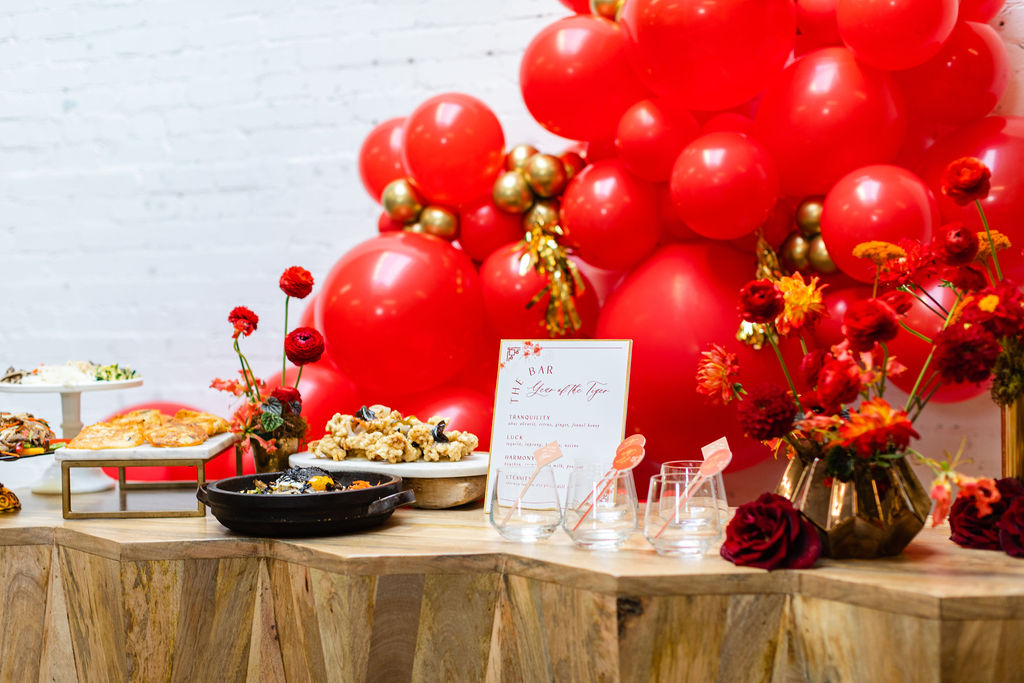 The food was provided by Yoo's Place and it was all SO yummy! Traditional dishes that are also delicious!!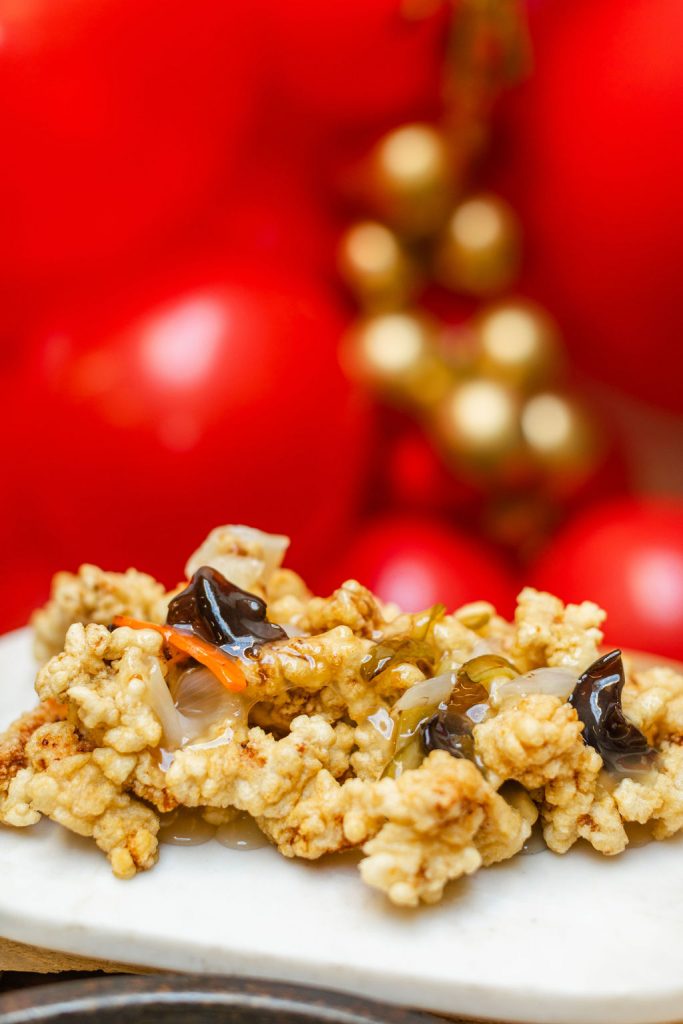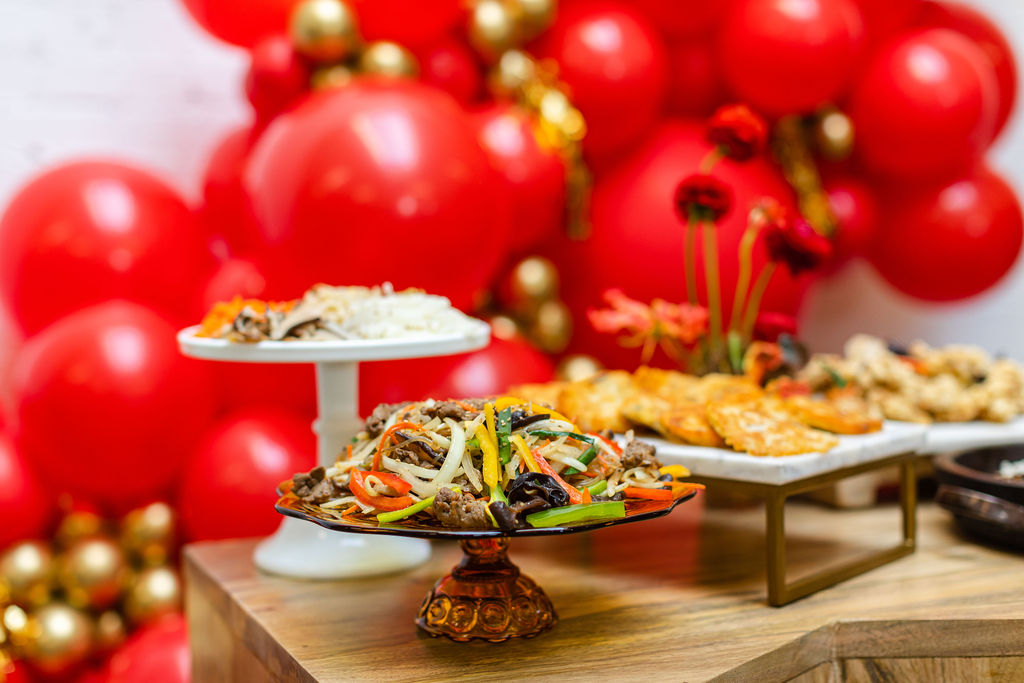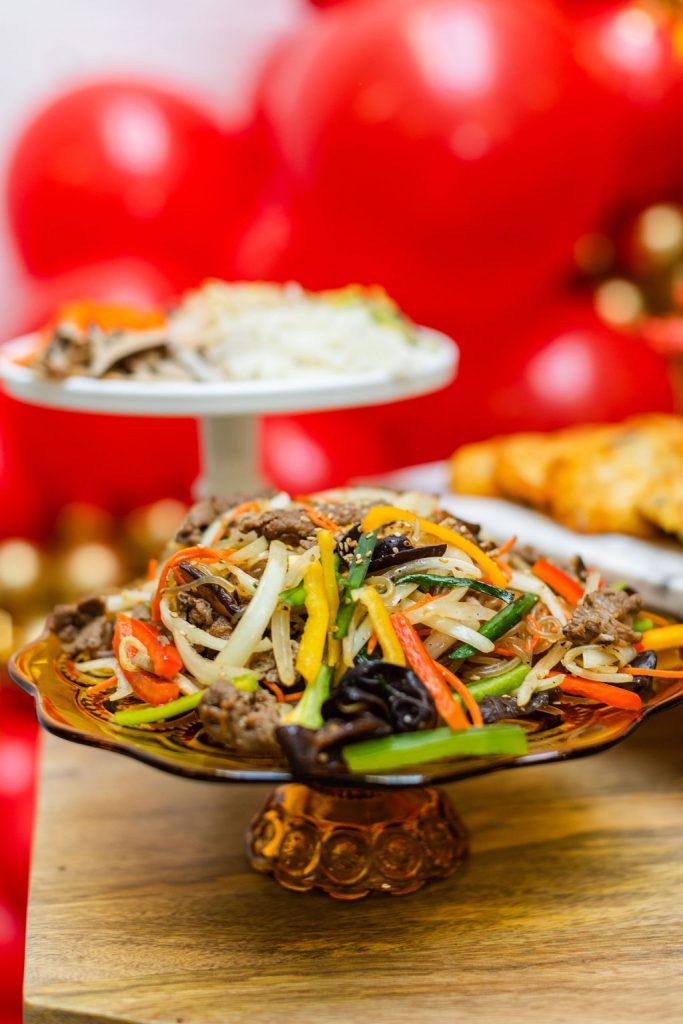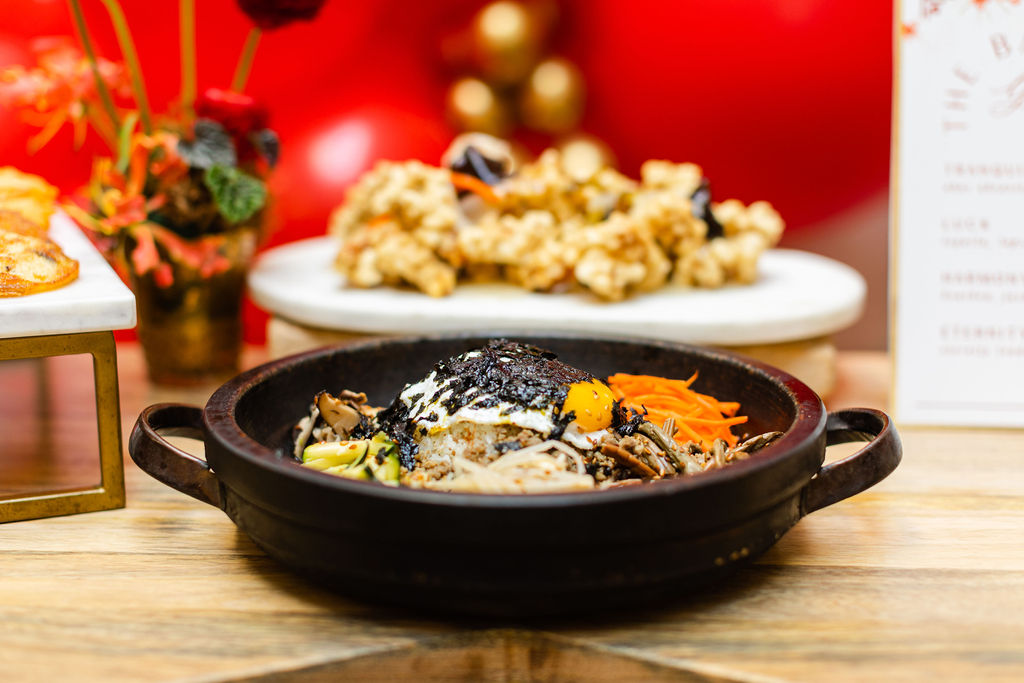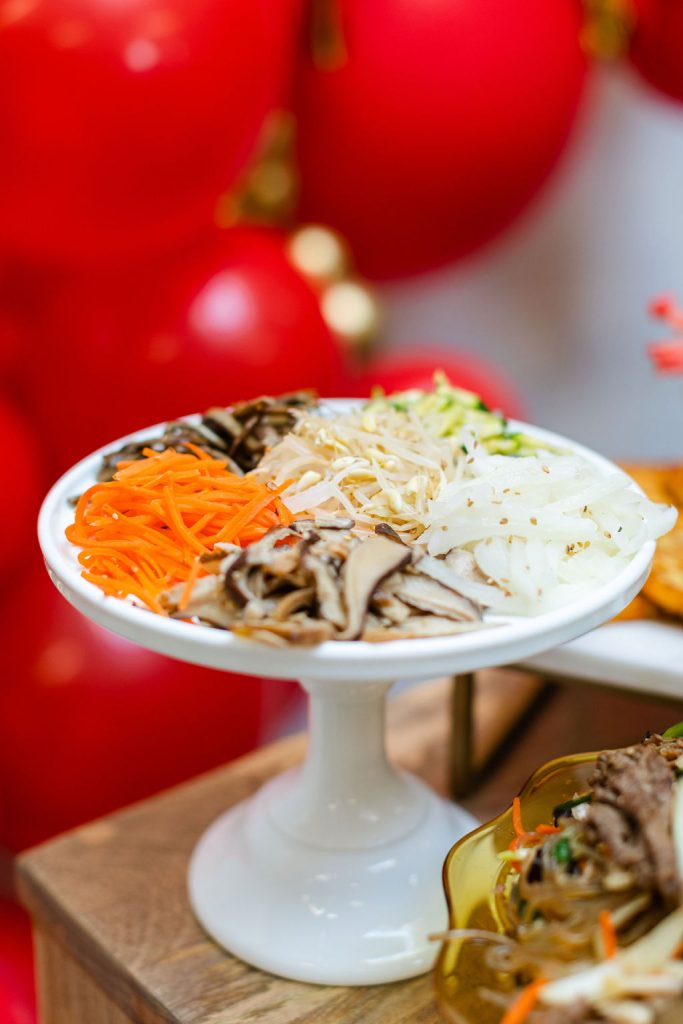 This was the prettiest! And oh so tasty!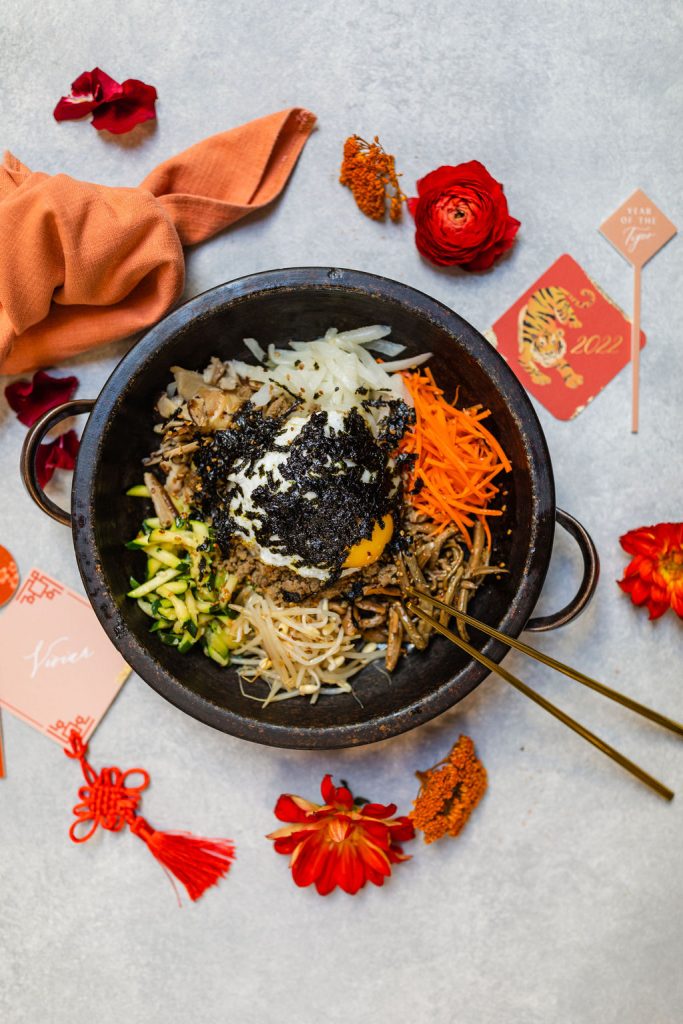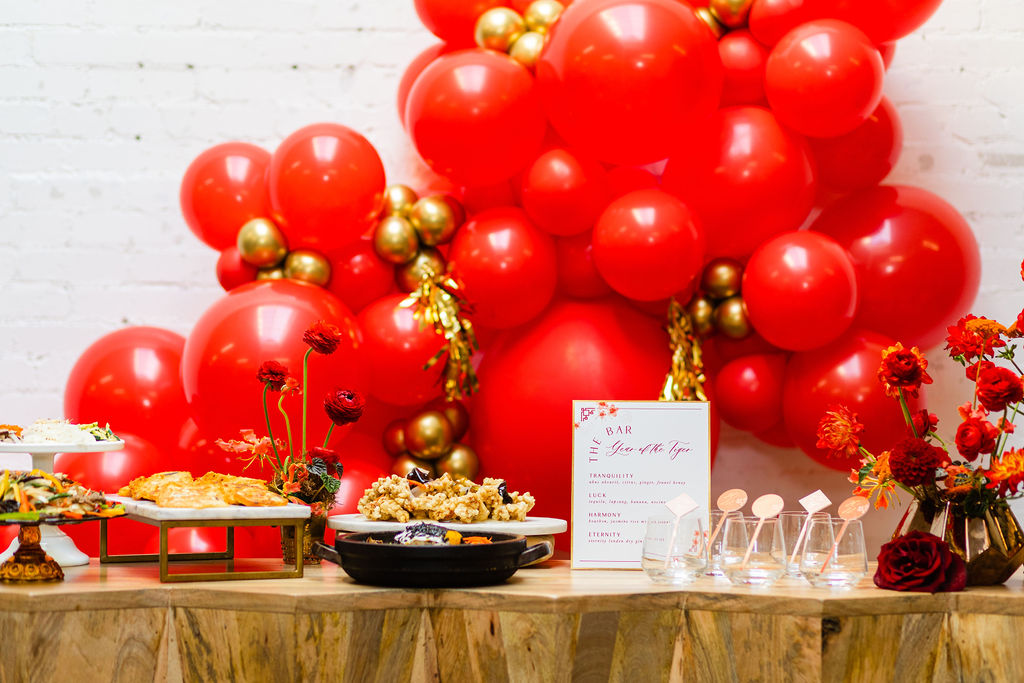 An event wouldn't be complete without dessert! This one is no exception and had the most beautiful cake by Sugar Crush Sweets. Talk about a showstopper!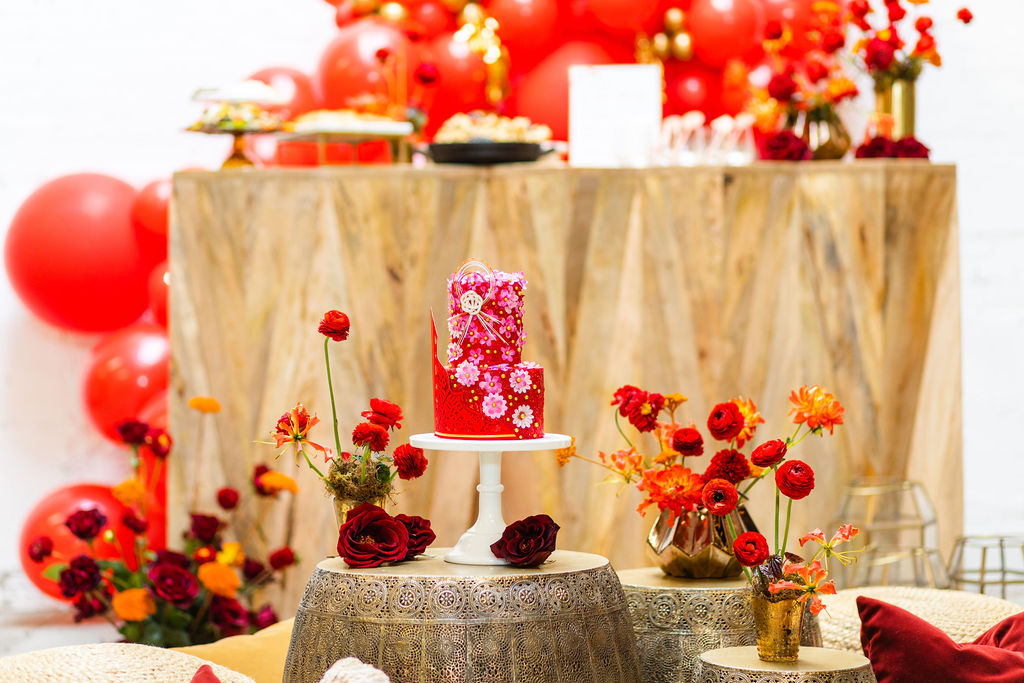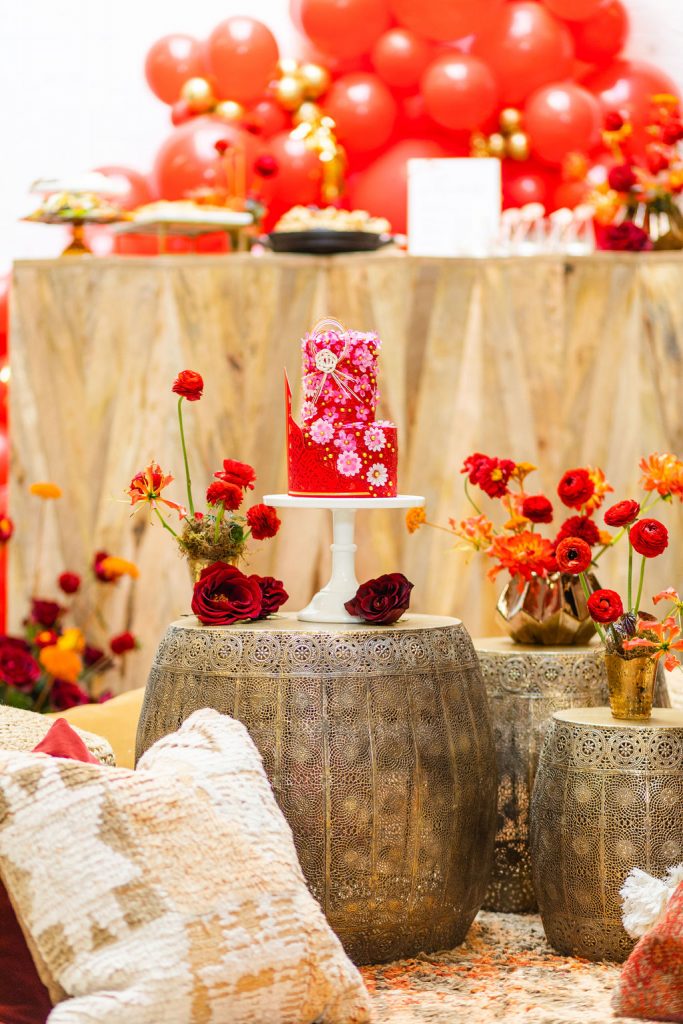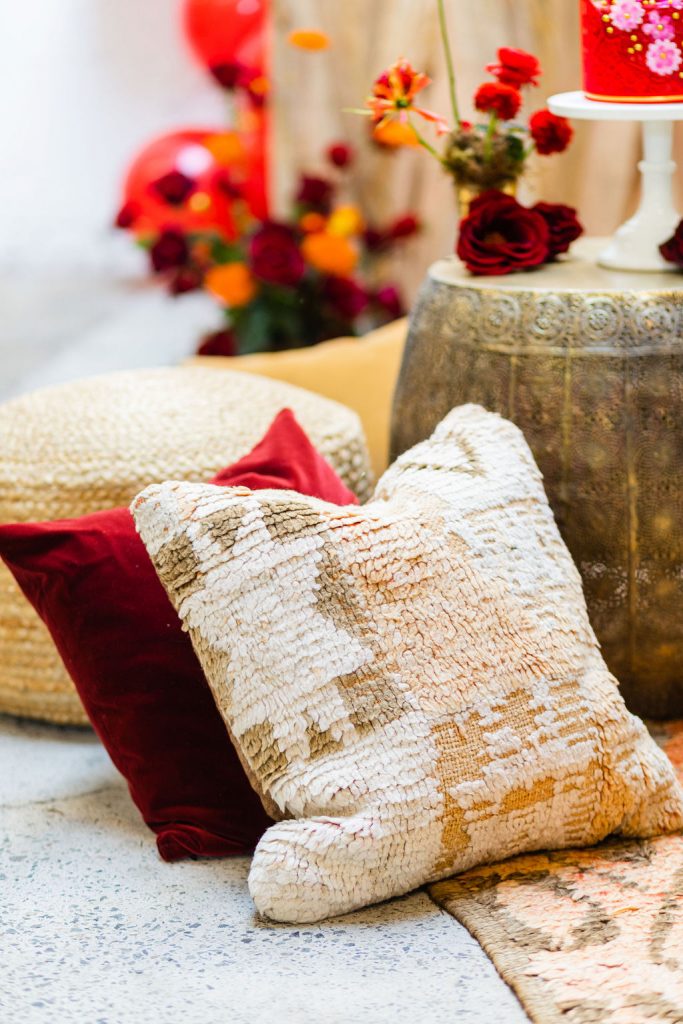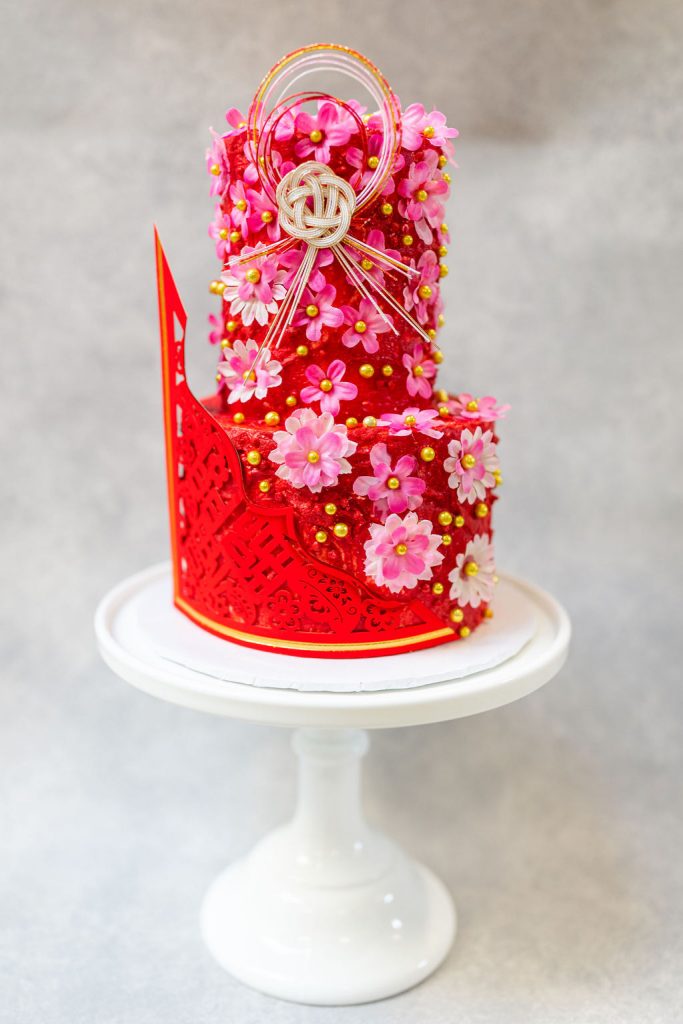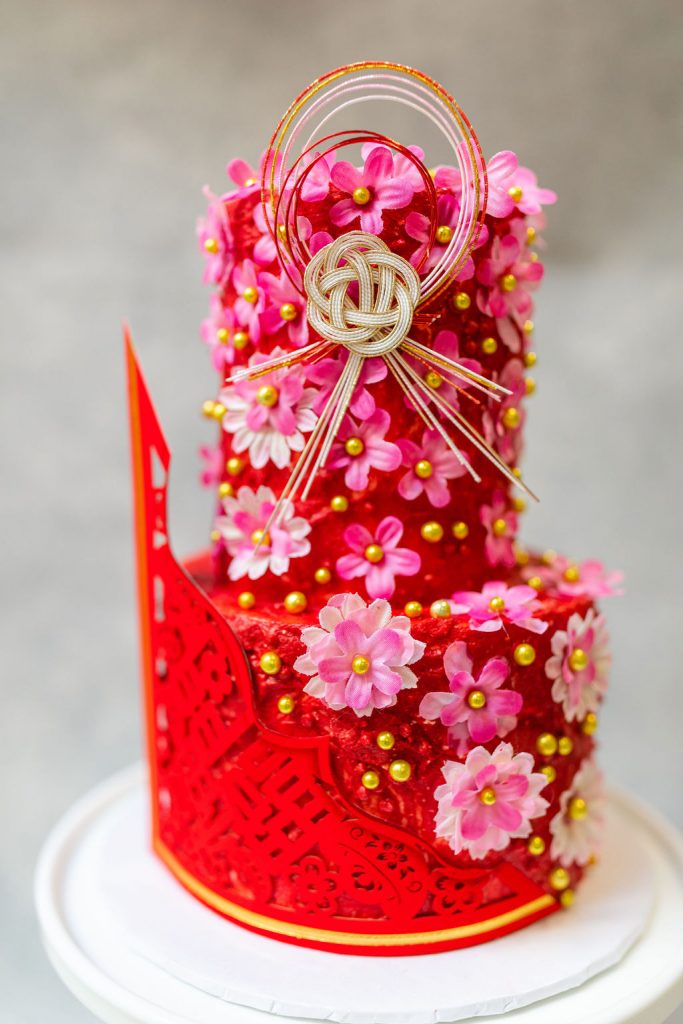 And that's it folks! Another beautiful shoot in the books! Happy Lunar New Year to all who celebrate, I hope that this gives you inspiration for your next party!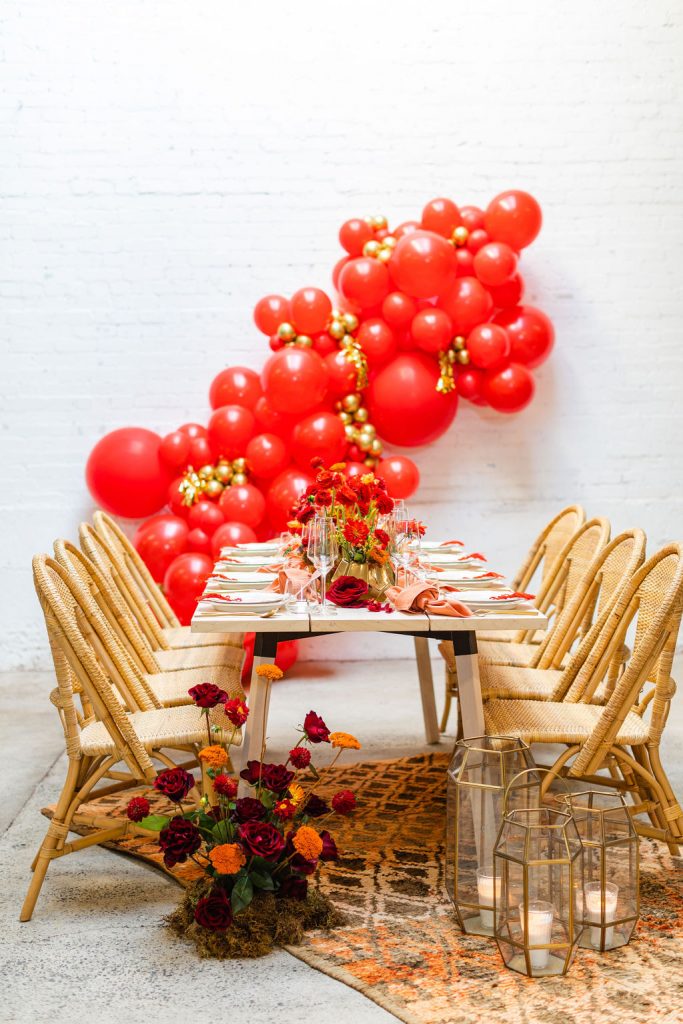 xx
Jacquelyn