This week marks the last of my summer harvest of passionfruit! I have grabbed every last little nugget of yumminess off the vine. If you know, it's one of my favorite fruits and the easiest to grow. So what to do with all this tropical goodness. Besides eating it fresh with a spoon right at the kitchen sink, is panna cotta. It's one of those desserts that are easy to make, and you can make a big batch to store in the fridge or freezer and even make a big batch to hand out to friends and family. Even a great dessert for a party or gathering you have coming up.

Passionfruit can be tricky to find in the grocery store if you don't have access to it in your backyard. BUT, if you can find passionfruit, use it! It is the best fruit! If you can't, you can use puree or choose a different fruit topping.

This mysterious-looking fruit also is beyond healthy for you. A few of these benefits include its ability to enhance digestion, boost immune function, improve eye and skin health, lower blood pressure, boost circulation, and improve bone mineral density. Furthermore, it is known for lessening inflammation and improving sleep. So hurry up and start growing this fruit in your backyard! It's full of vitamin A, vitamin C, riboflavin, niacin, iron, magnesium, phosphorus, potassium, copper, fiber, and protein. Let's get to that tropical panna cotta now.

Photos by Dayna Studios
---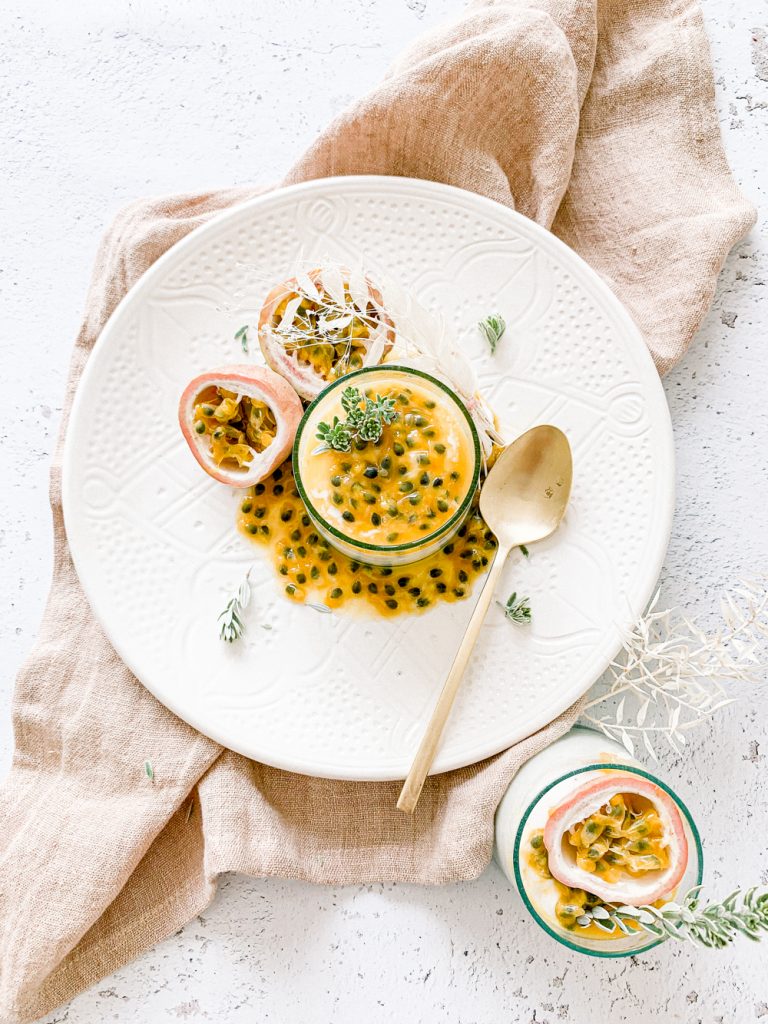 ---
WHAT IS PANNA COTTA?

Panna cotta (Italian for "cooked cream") is an Italian dessert of sweetened cream thickened with gelatin and molded. The cream may be aromatized with coffee, vanilla, fruit sauces, or other flavorings.
---
PASSION FRUIT PANNA COTTA
SERVES: 6 servings | PREP: 15 MINUTES | COOK: 5 MINUTES
W H A T   Y A   N E E D

1/2 cup of fresh passion fruit juice or passion fruit puree or concentrate
2.5 t Knox plain gelatin (1 packet)
2 cups cream
1 cup whole milk
2 t vanilla bean
Zest from 1 lemon, preferably Myer lemon
1/2 cup sugar
1 cup Greek yogurt

For the garnish:
3 fresh passion fruits or 1 1/2 cups chopped mango or pineapple
B U S T   O U T

Mixing bowls
Saucepan
Whisk
Ramekins (Qty. 6)
Plastic wrap (if your ramekins don't have lids)
---
I N S T R U C T I O N S

Ok, let's do this! Put half a cup of passion fruit in a small bowl and sprinkle with Knox plain gelatin. Allow softening for 15 minutes. 

Next, put the cream, milk, vanilla, lemon zest, and sugar in a heavy-bottomed sauce pan. Heat until mixture just starts to bubble at the edges of the pan. Do not allow to come to a full boil. Remove from heat, cover, and let steep for 15 minutes. 

Whisk the passion fruit and gelatin mixture together and then slowly into the warm milk and cream mixture to dissolve. Make sure the cream mixture hasn't become too cool. If it has, warm it briefly to dissolve the gelatin mixture, just make sure to not let it boil. Whisk in the yogurt and divide into 6 ramekins or decorative glasses. Each portion will be about 3/4 cup.

Allow to cool to room temperature then cover each ramekin or glass with a sheet of plastic wrap. Refrigerate for at least 3 hours or overnight.
Top each panna cotta with fruit from 1/2 passion fruit, including the seeds. You can use fresh chopped mango or pineapple to some more tropical goodness to this yummy dessert!

Serve with a spoon, and see how fast you and your guests will eat this up!
---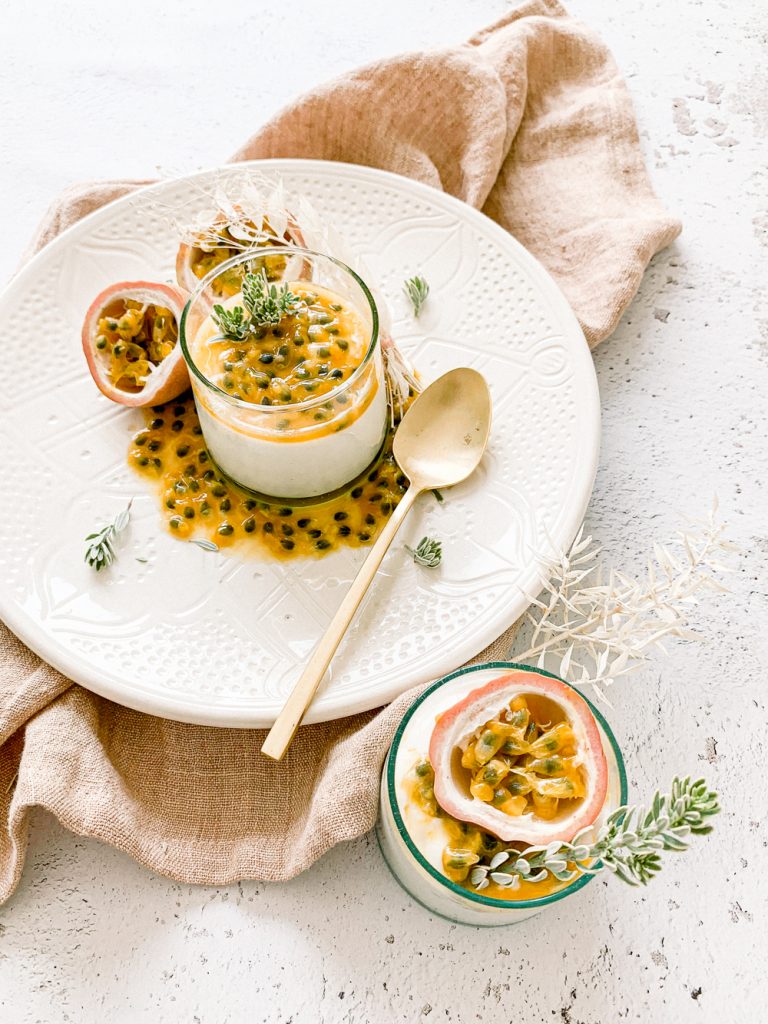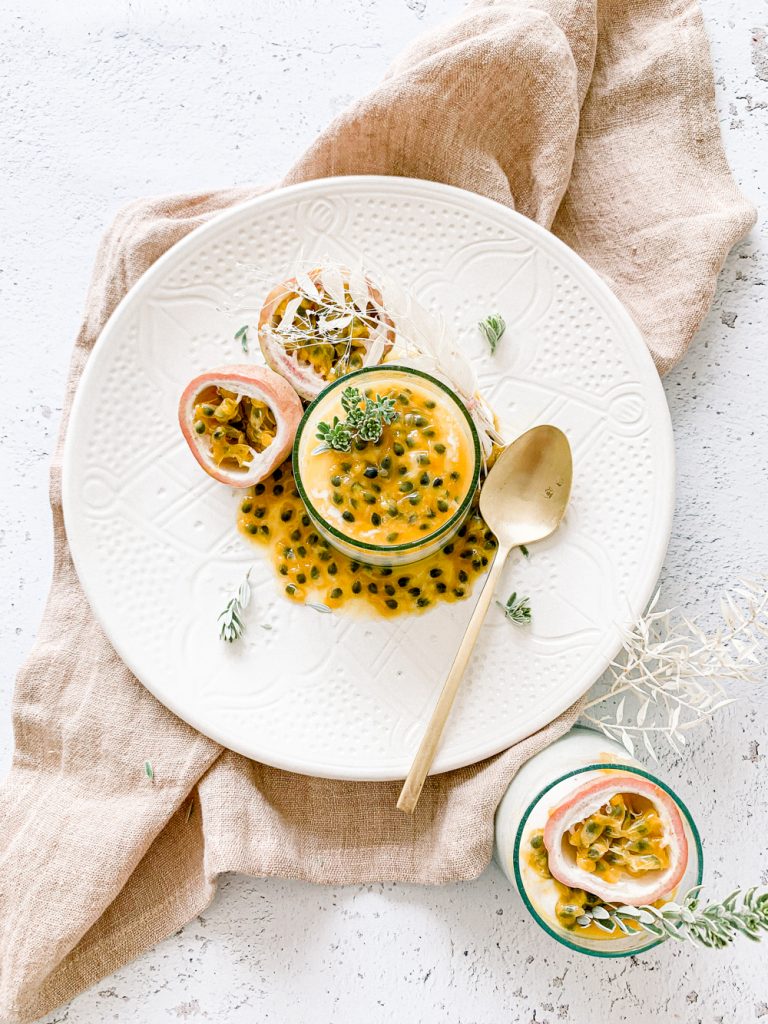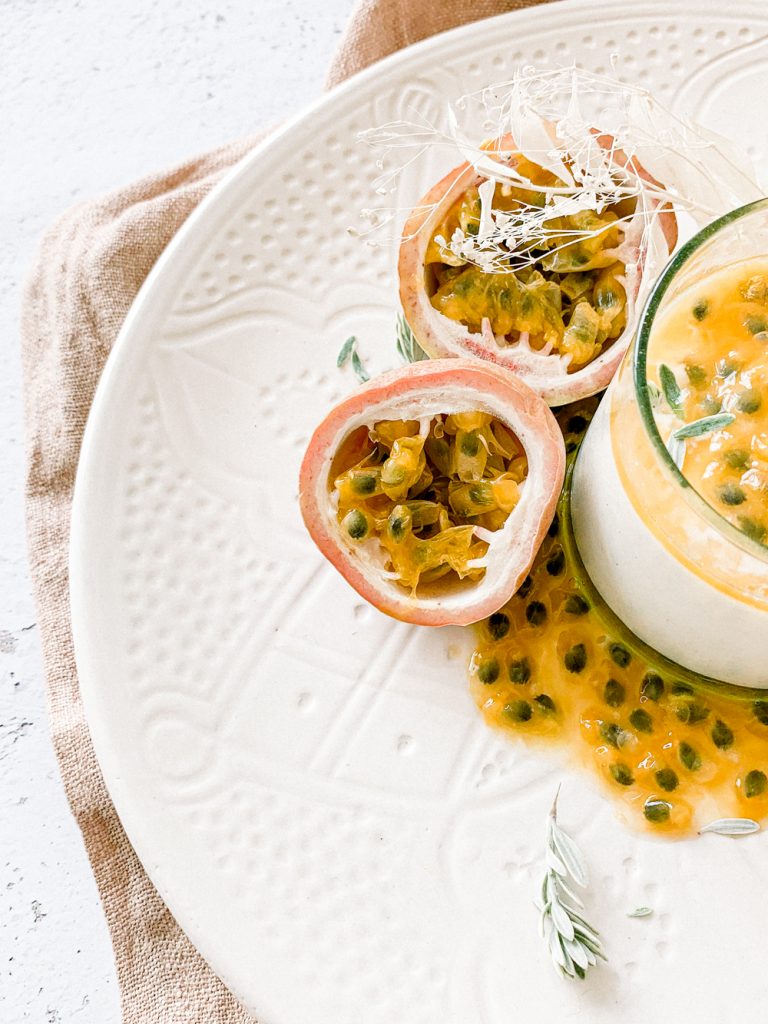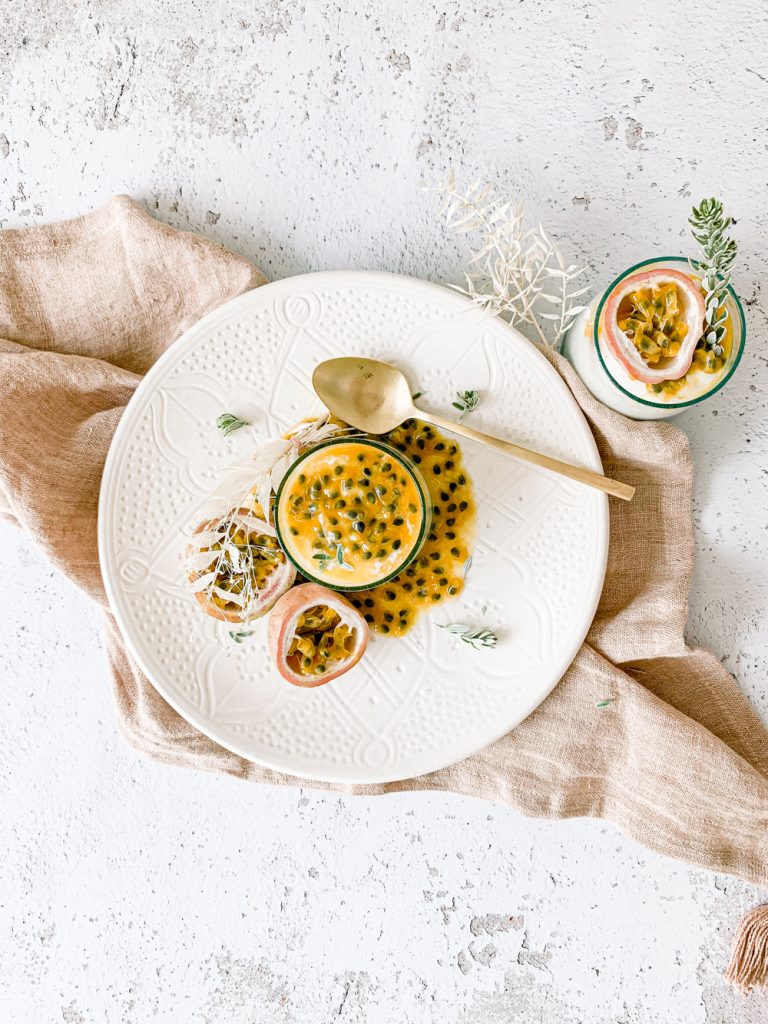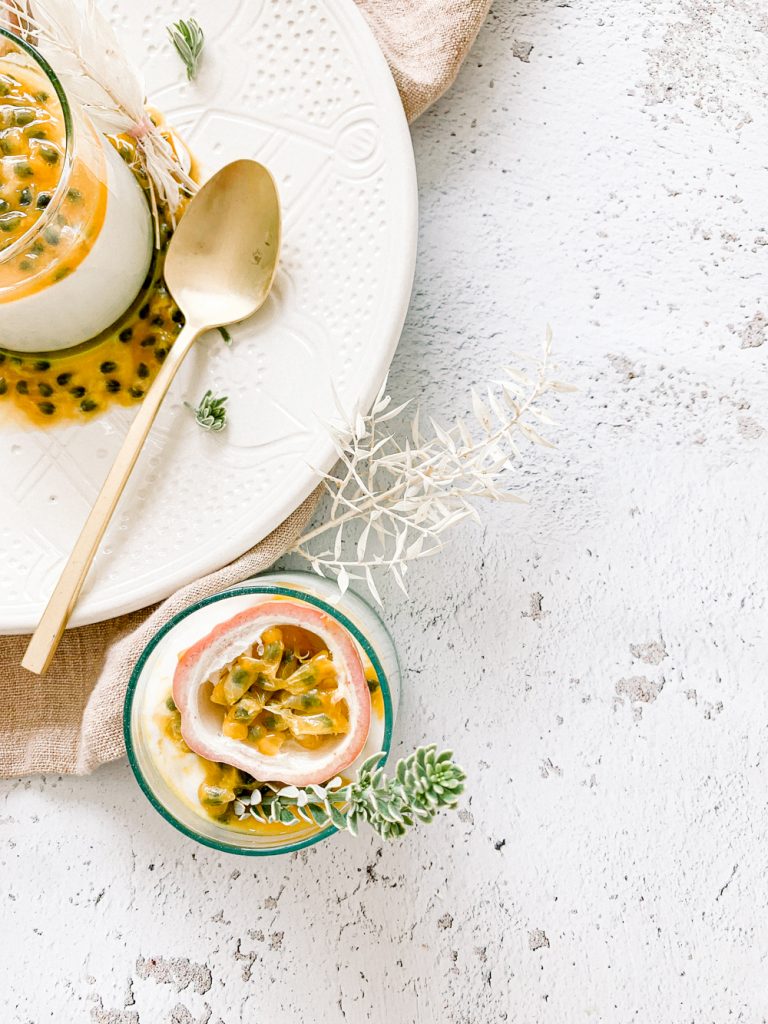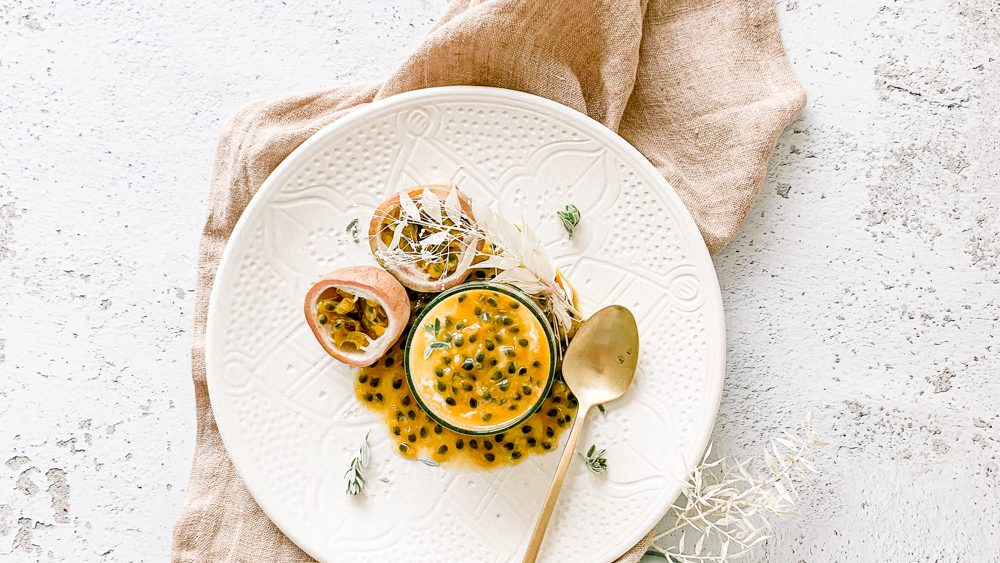 ---
B E I J O S K I T C H E N

xx
Abby